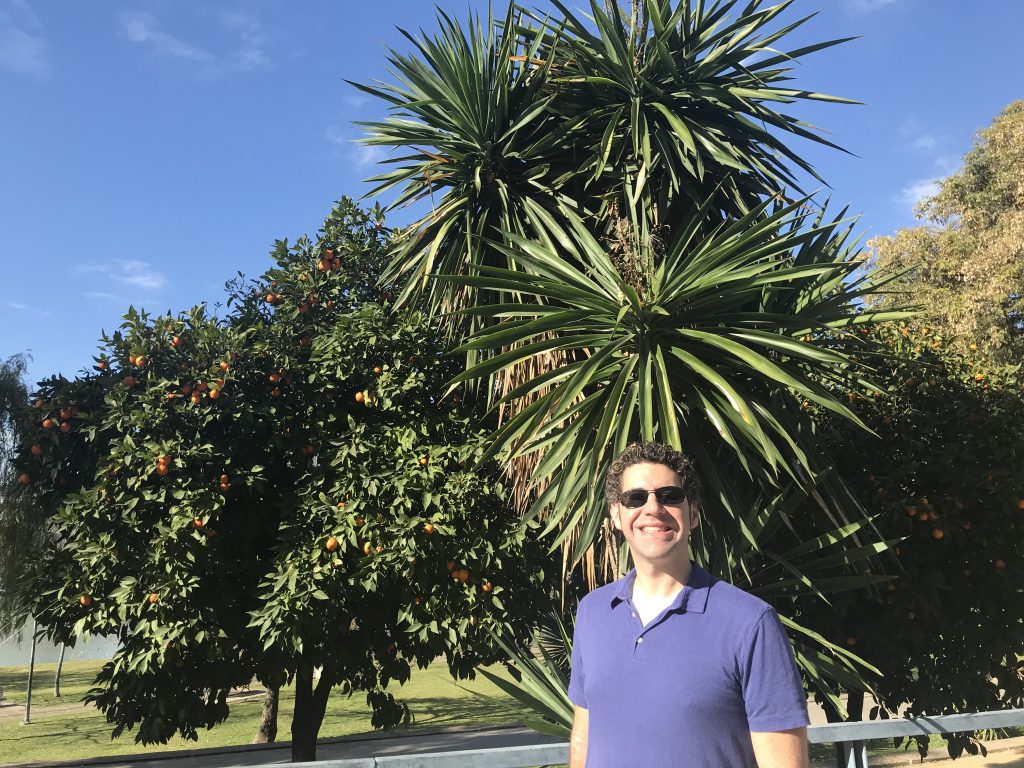 Spaniards' adoration for Sevilla is unparalleled. When we told our friends either where we were going or where we had been in mid-February, they all made goo-goo eyes and made their jealousy known. Set in the heart of Andalusia, it is certainly one of the most classically Spanish cities… muy castizo, as some might say.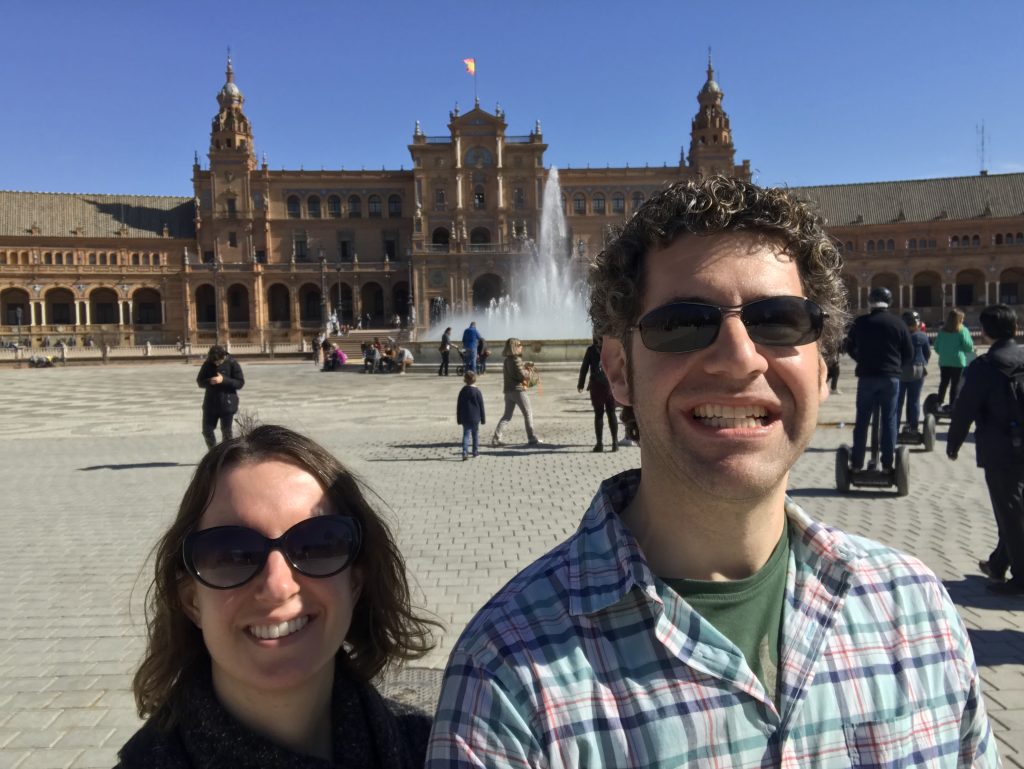 Nowhere in the city was this influence felt more strongly than in the Plaza de España, an homage to Spanish design.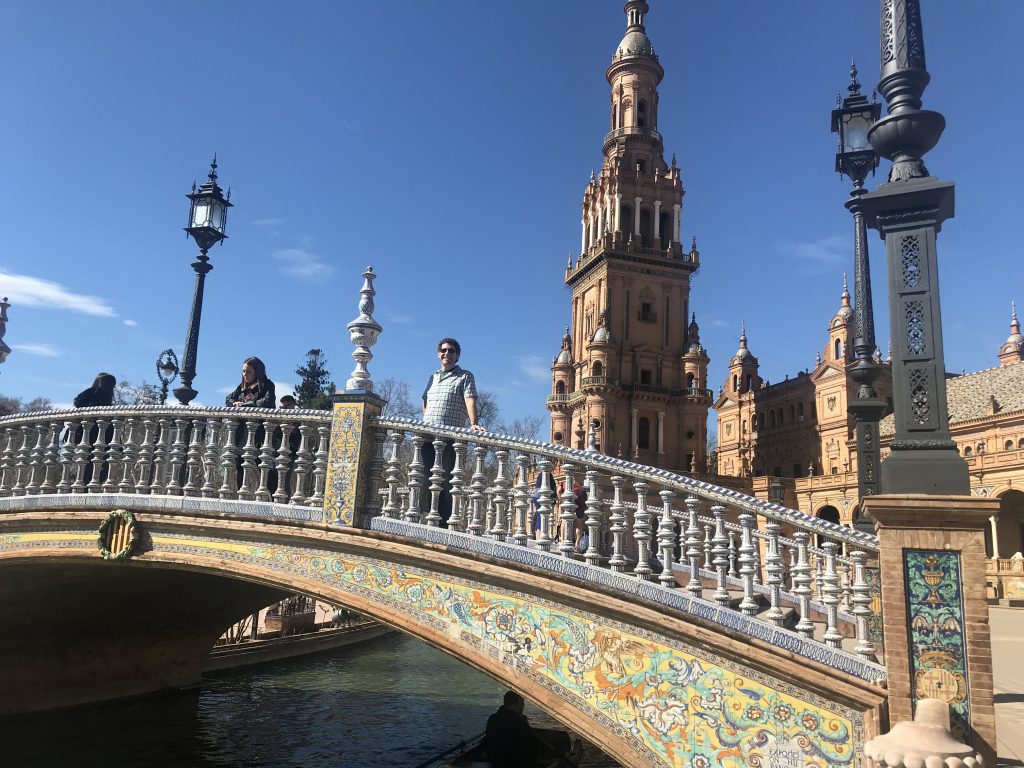 Initially built for the Ibero-American Exposition of 1929, this giant monument of stone and tile, along with its surrounding pavilions, were later repurposed for locals and visitors to enjoy, becoming synonymous with the city of Sevilla itself.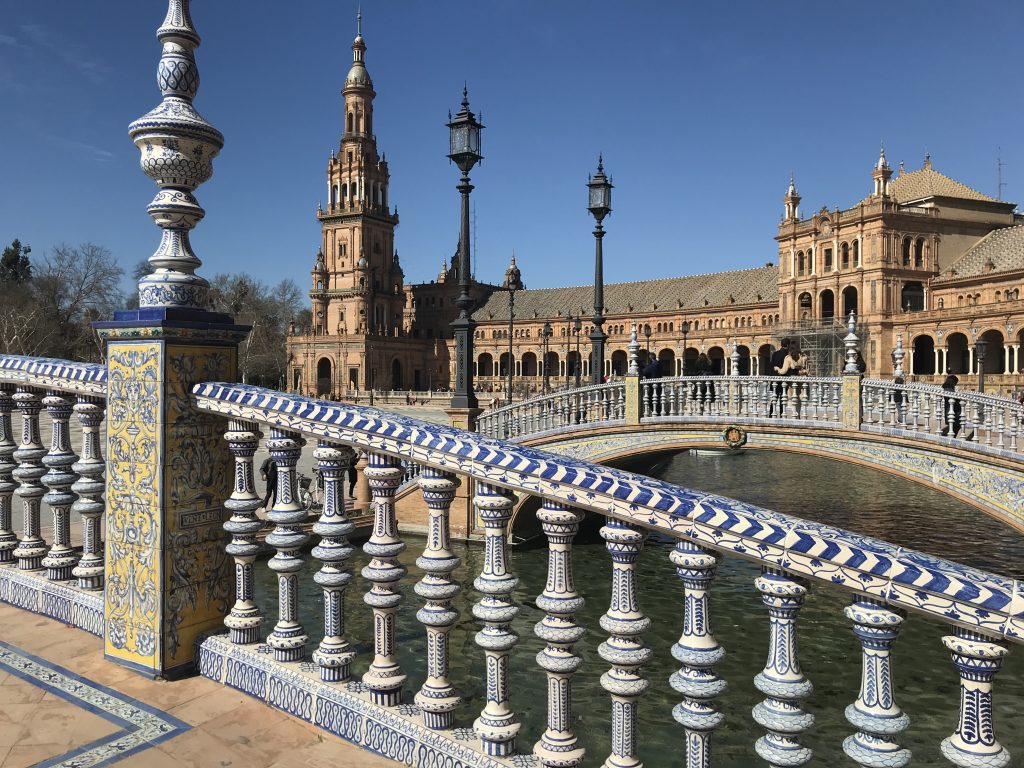 Did you know that part of a Star Wars movie was filmed at the Plaza de España? The one with Anakin and Padme.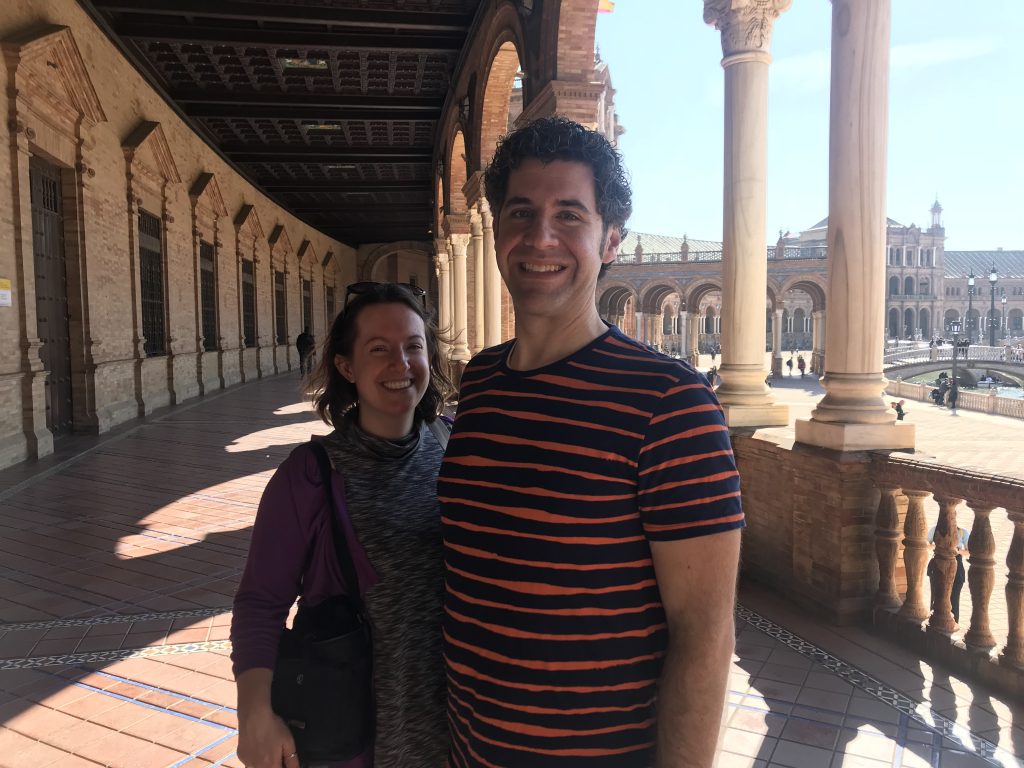 The plaza features beautiful tile benches celebrating each autonomous community in Spain.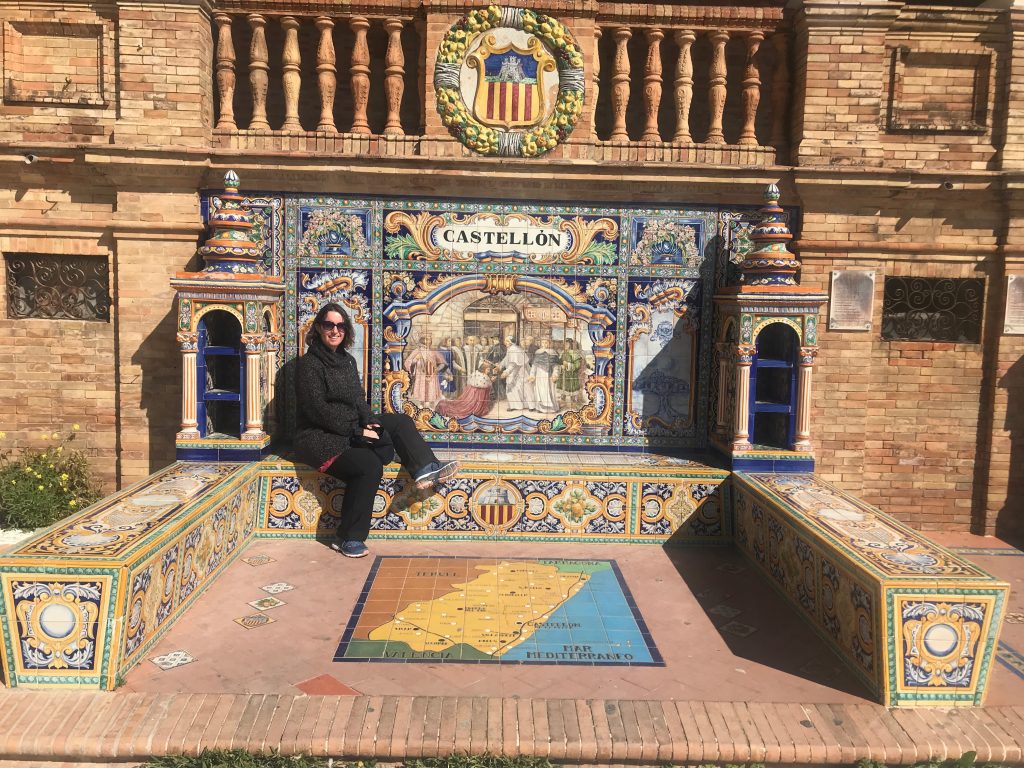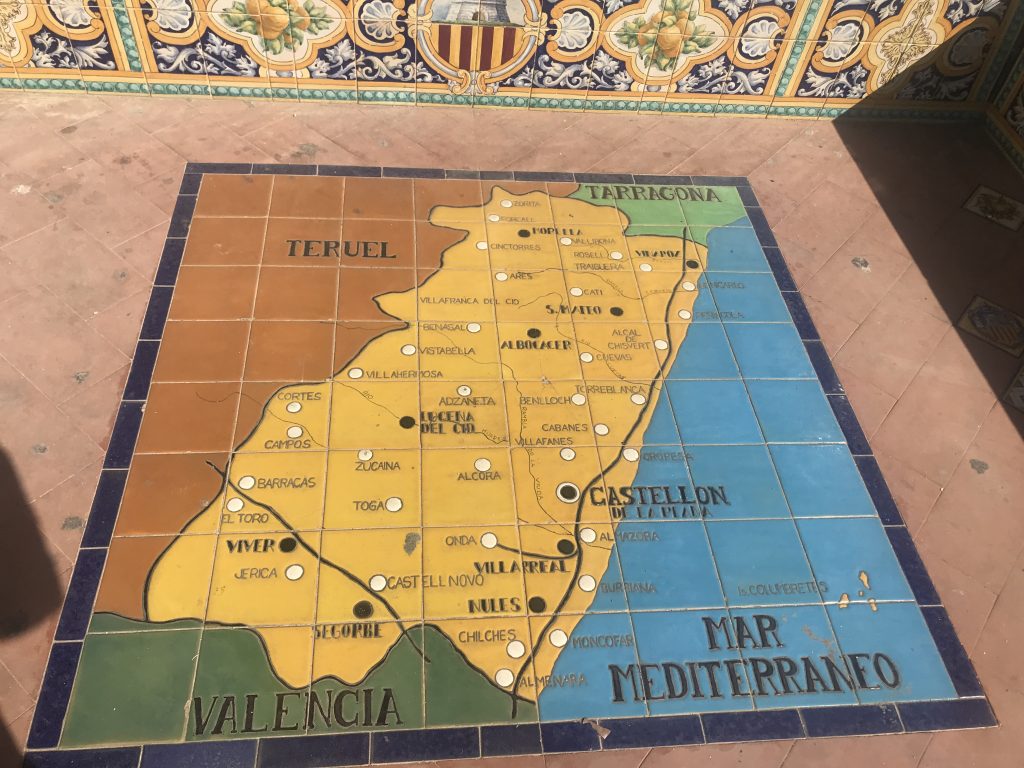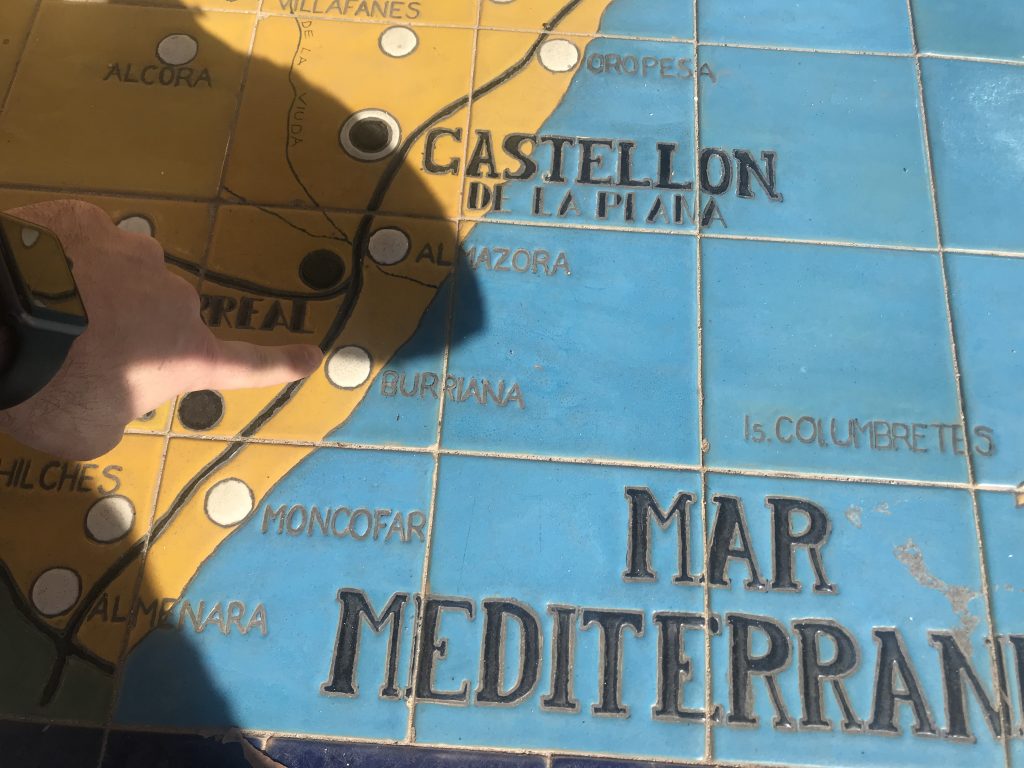 Each bench featured symbols representing the corresponding autonomous community.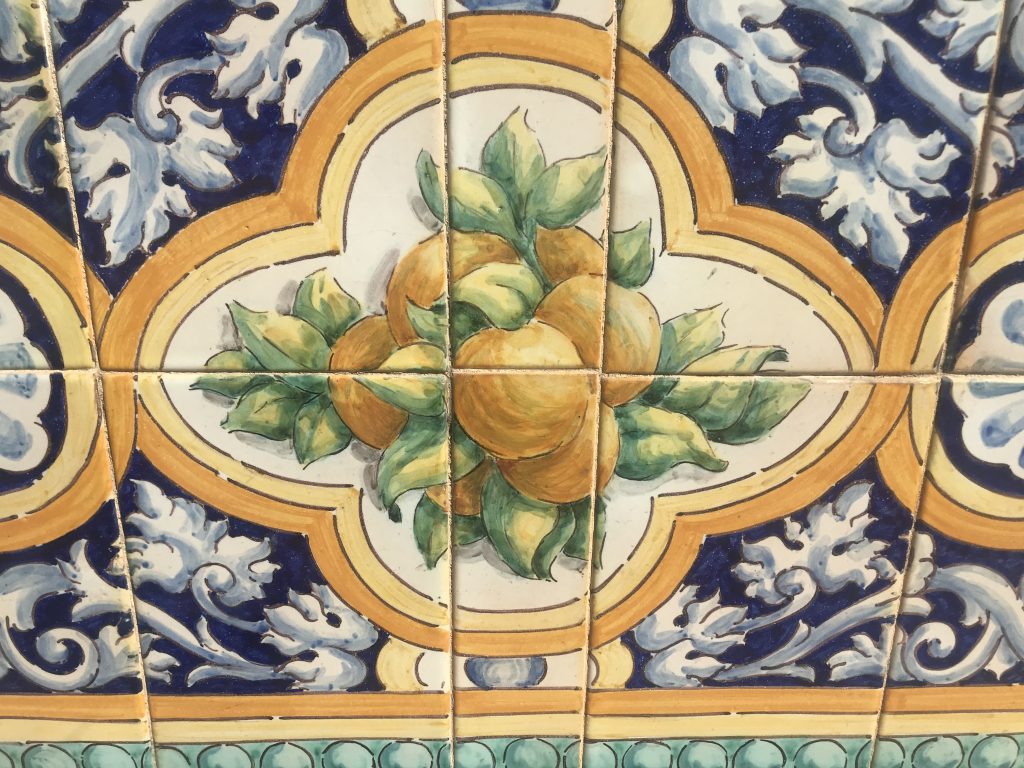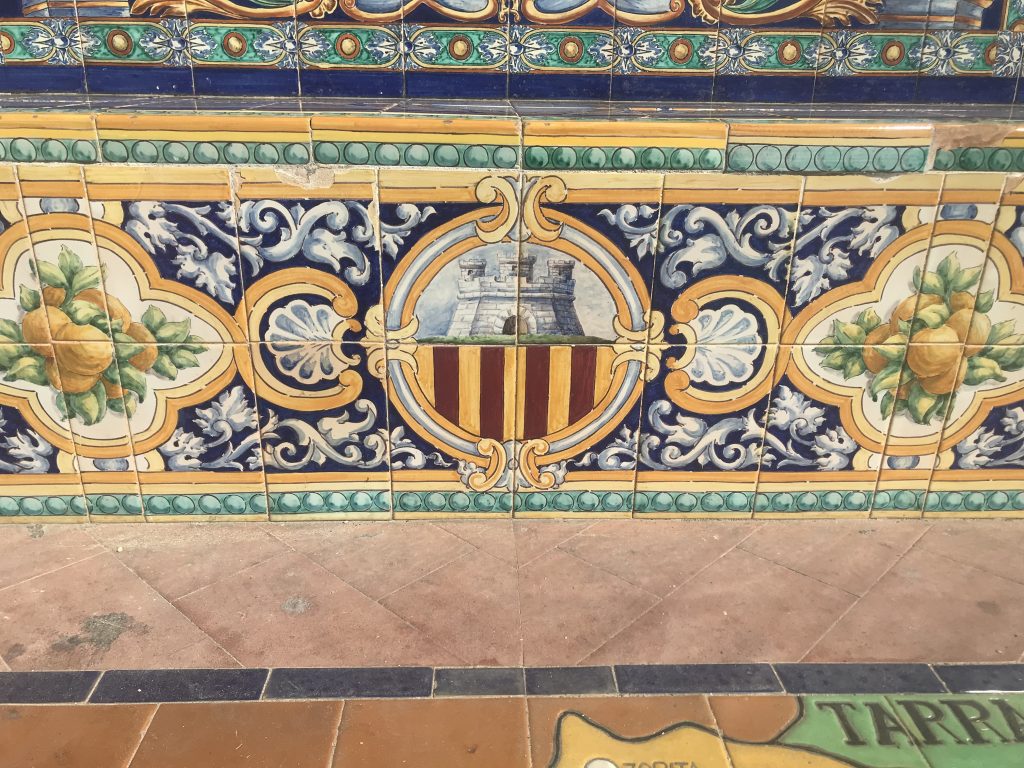 We also needed a picture on the bench honoring our current home!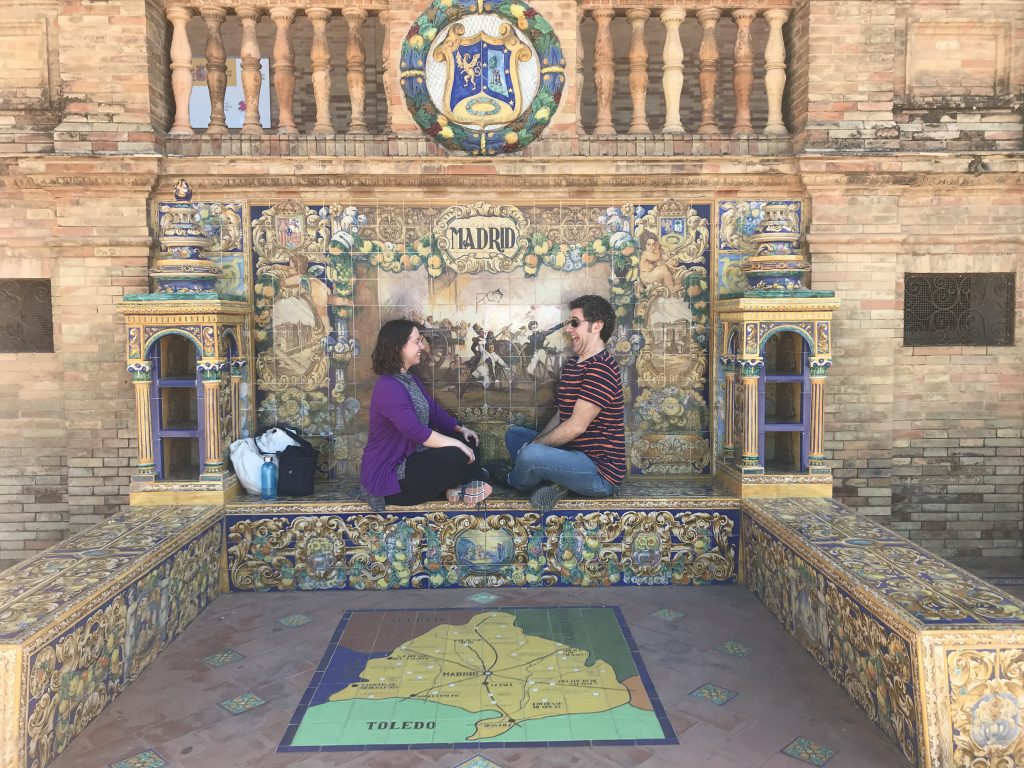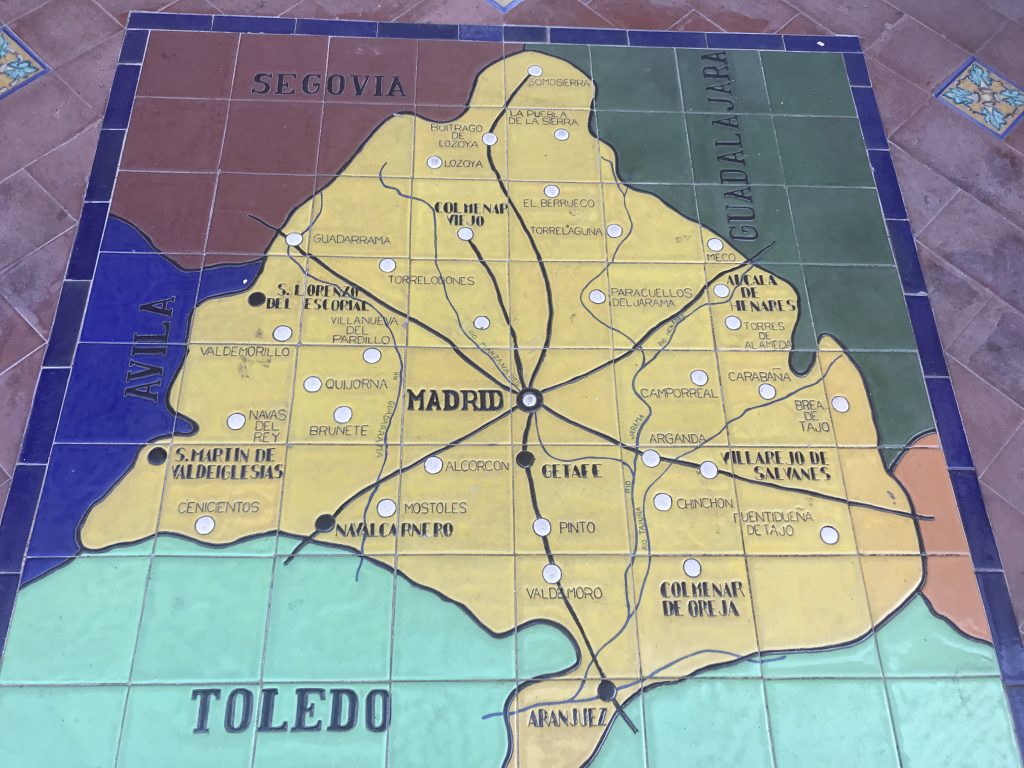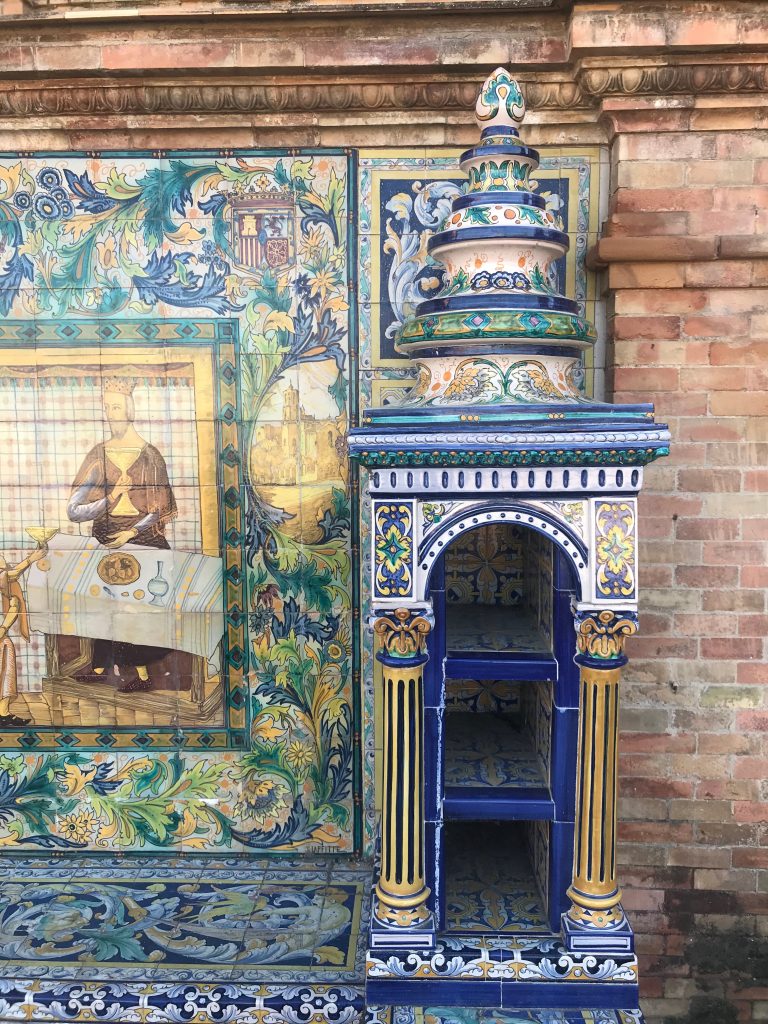 We were lucky enough to meet up with Dreamer's childhood friend and her family on this trip – like any locals, they were excellent tour guides.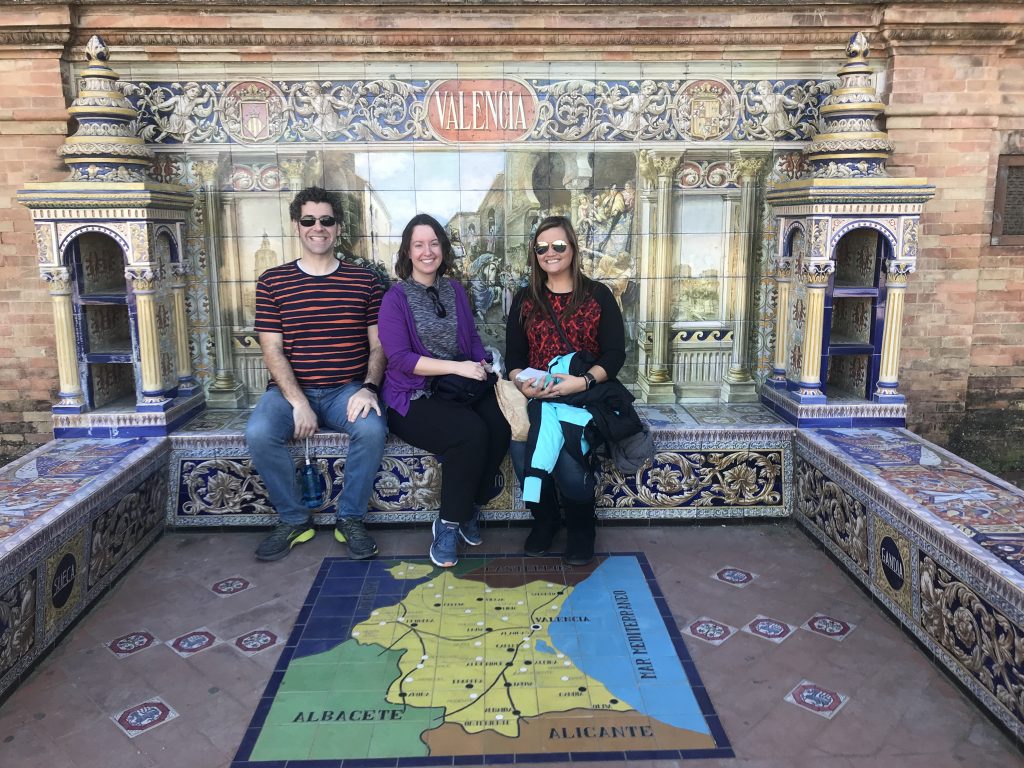 It also made us feel better that other English names get just as misspelled by the baristas at Starbucks here.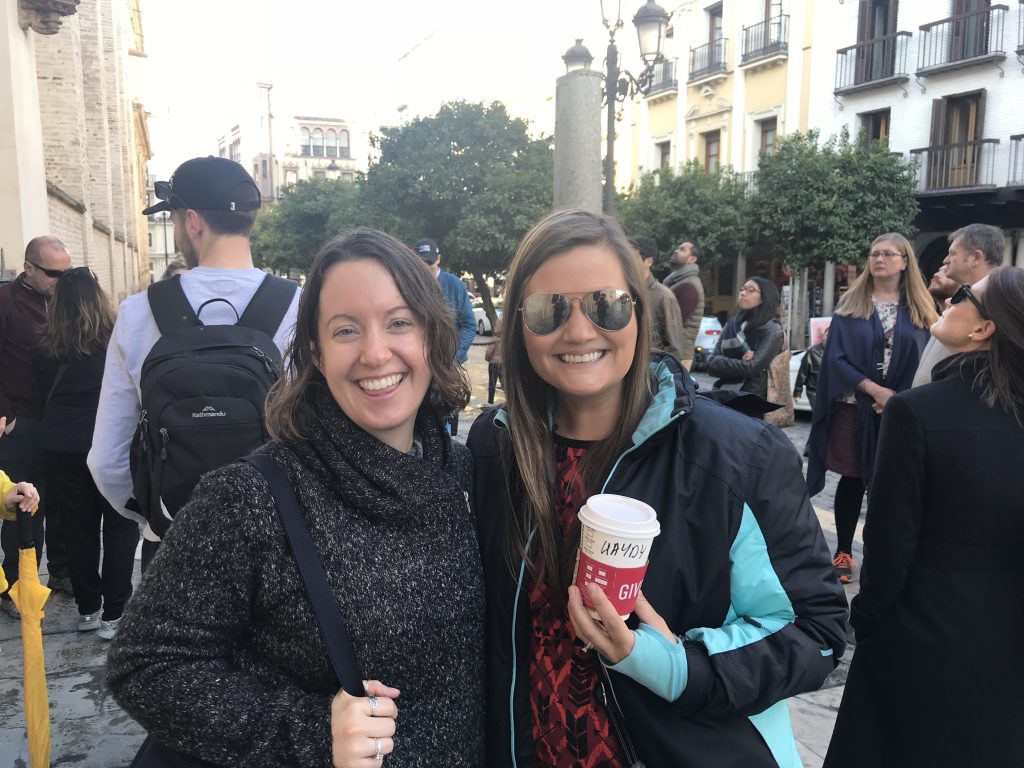 We reserved a tour of the Real Alcázar de Sevilla with our friends.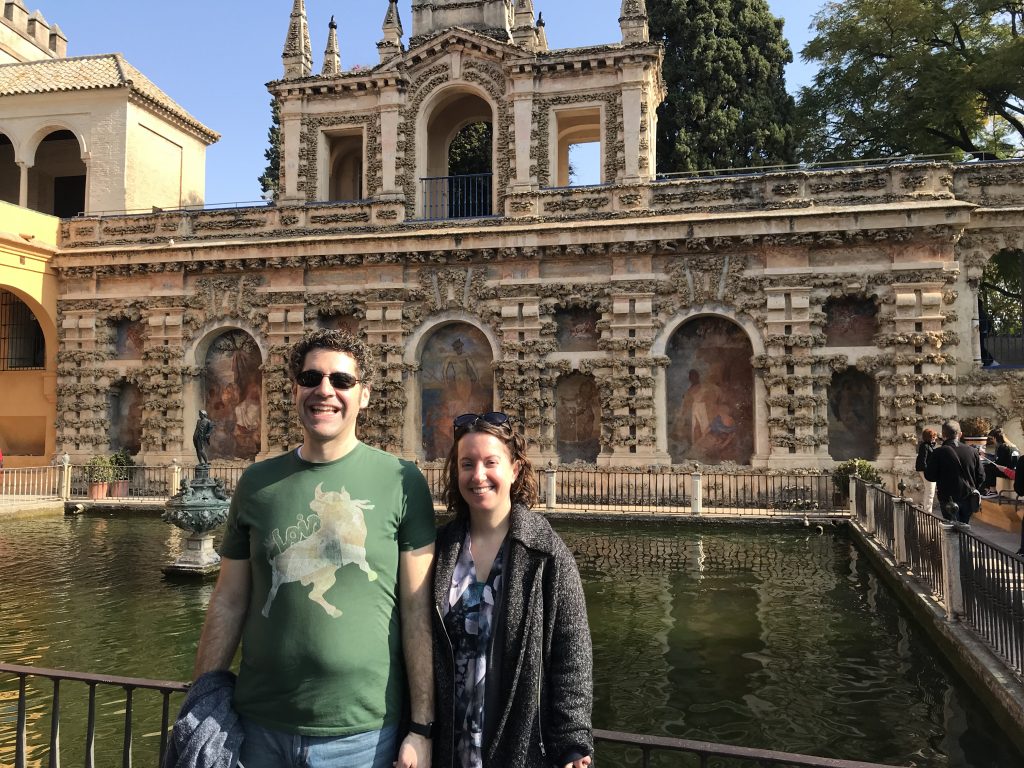 The royal palace, a shining example of Mudéjar architecture, is undoubtedly as famous as the Plaza de España. Like so many important Spanish monuments, the Alcázar was built on the site of another important monument – an important Muslim fortress destroyed when Christians reconquered Sevilla.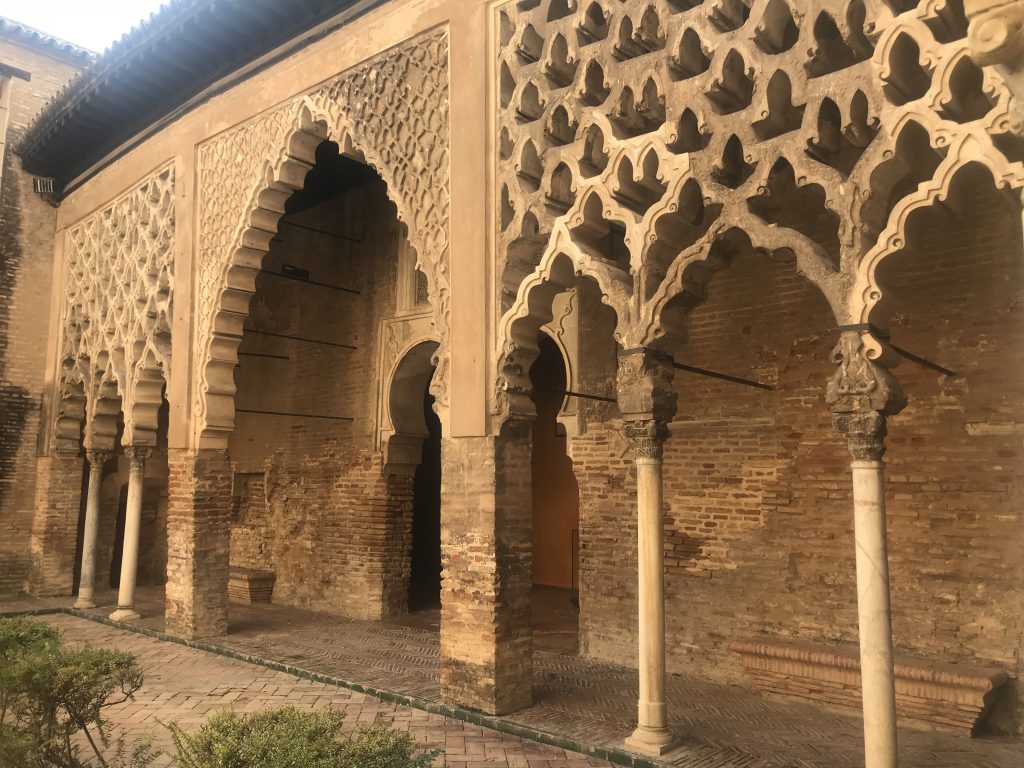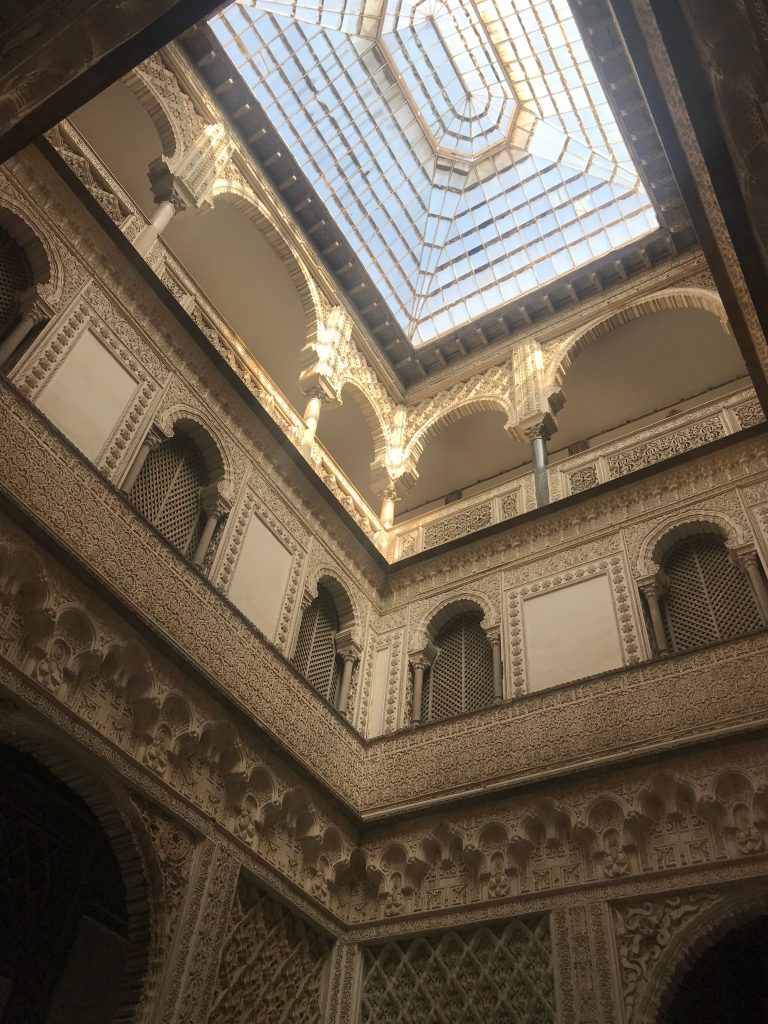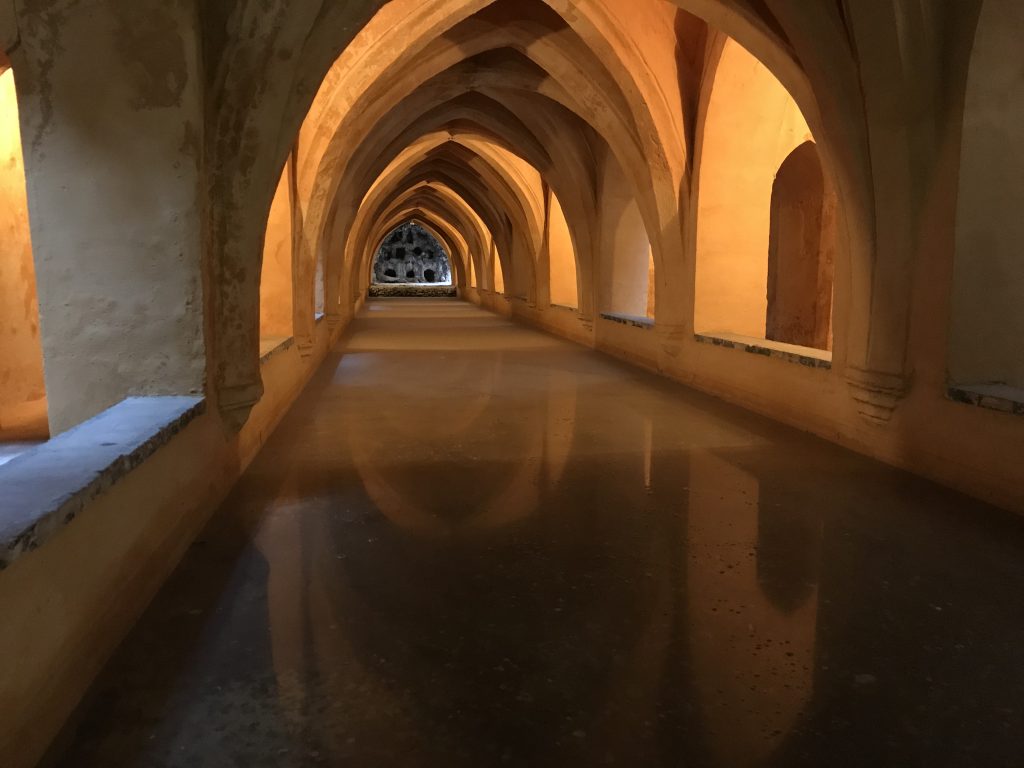 As usual, Dreamer couldn't get enough of that Spanish tile.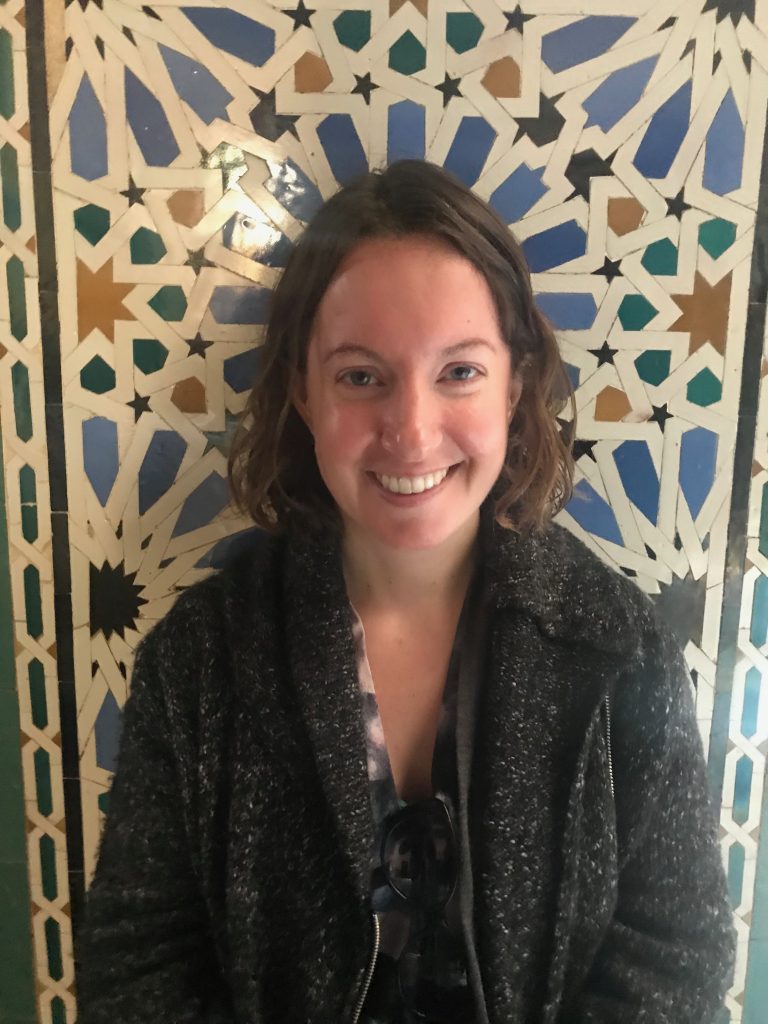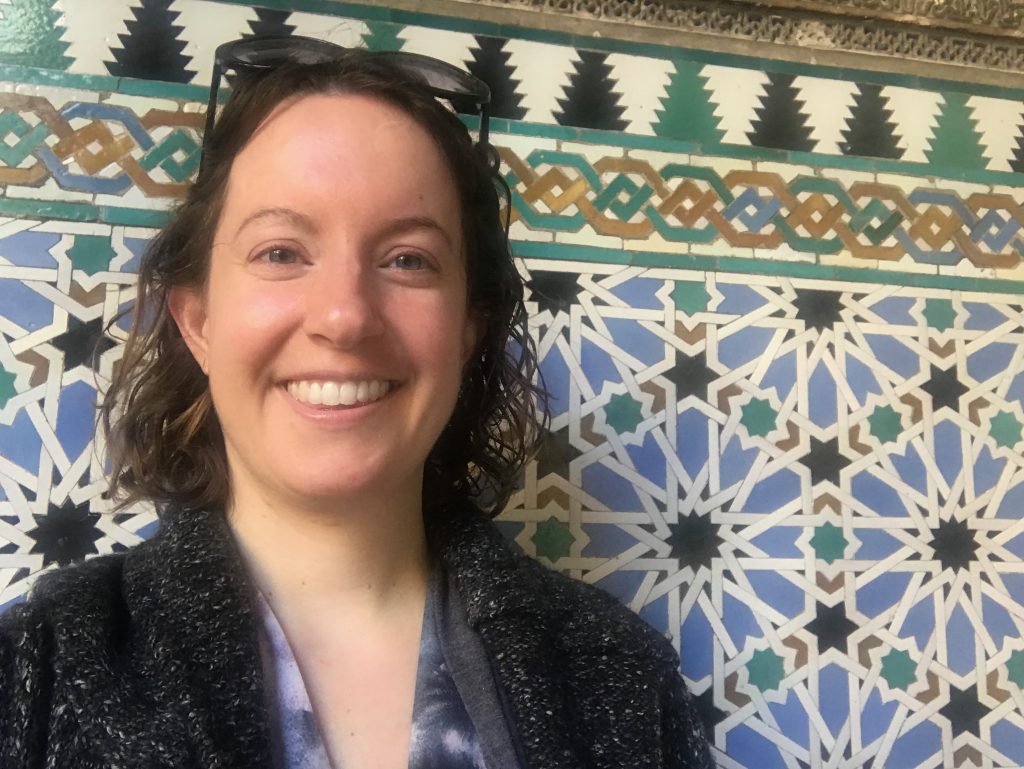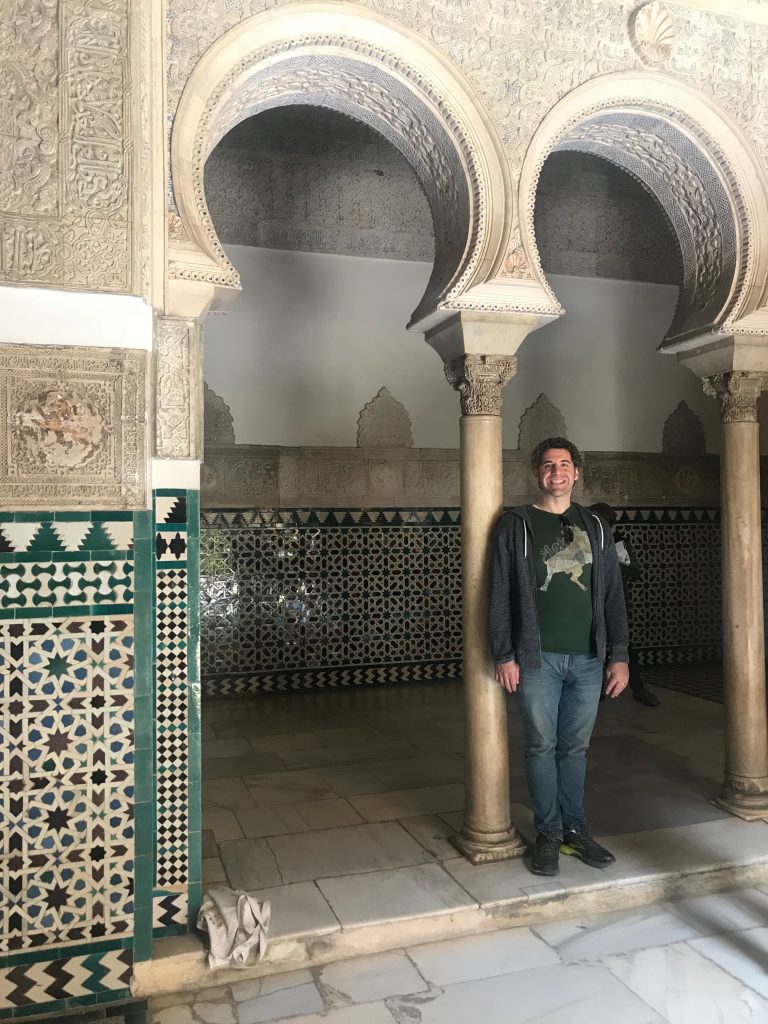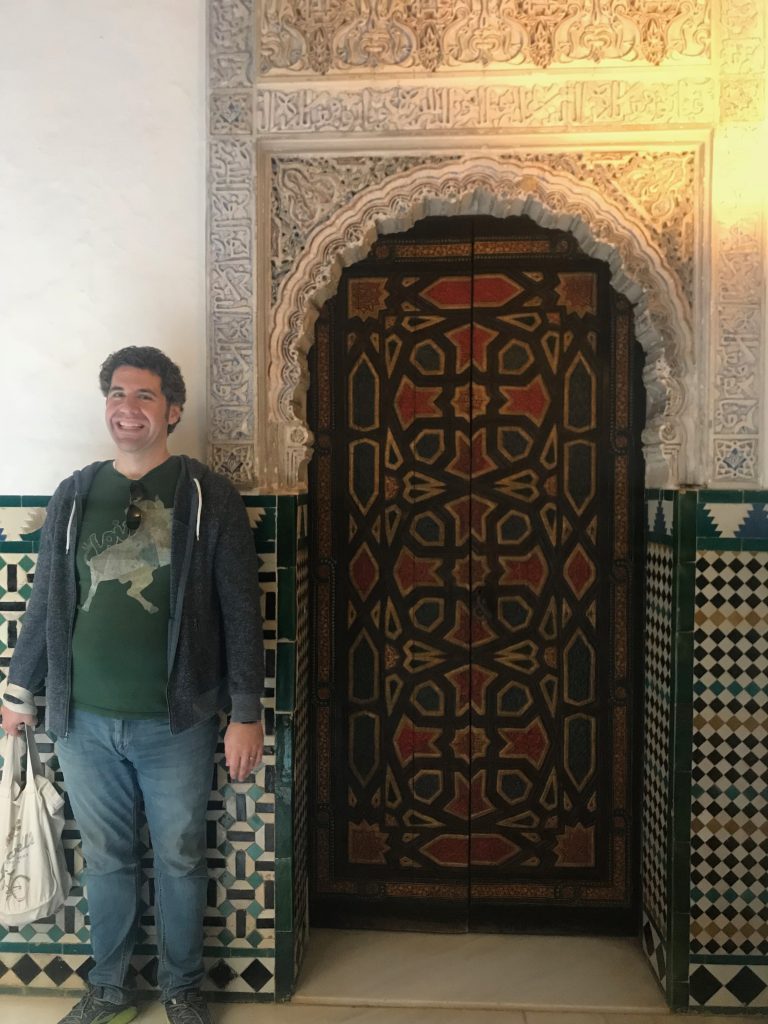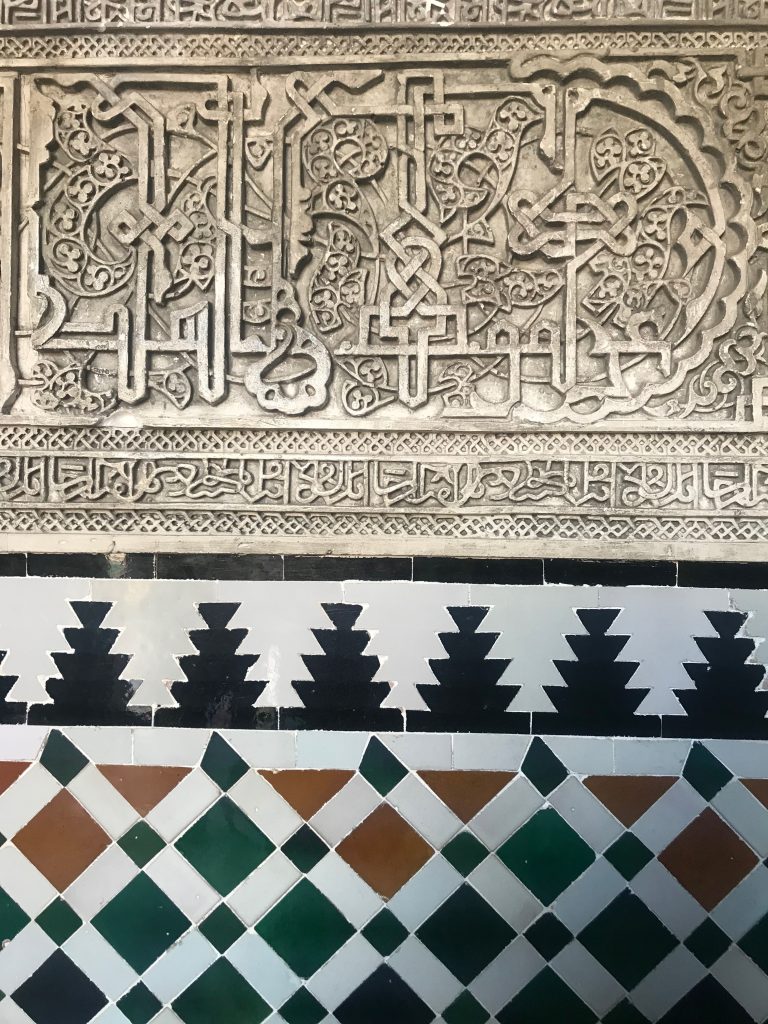 Of course, it wouldn't be a Mudéjar palace without some luscious gardens.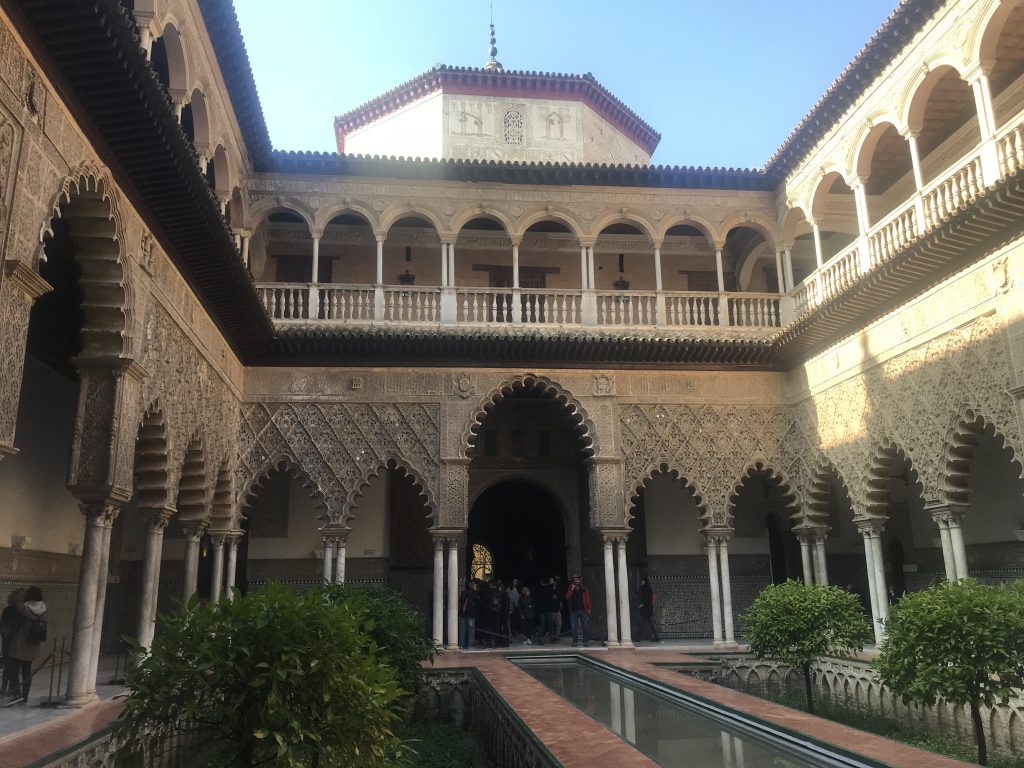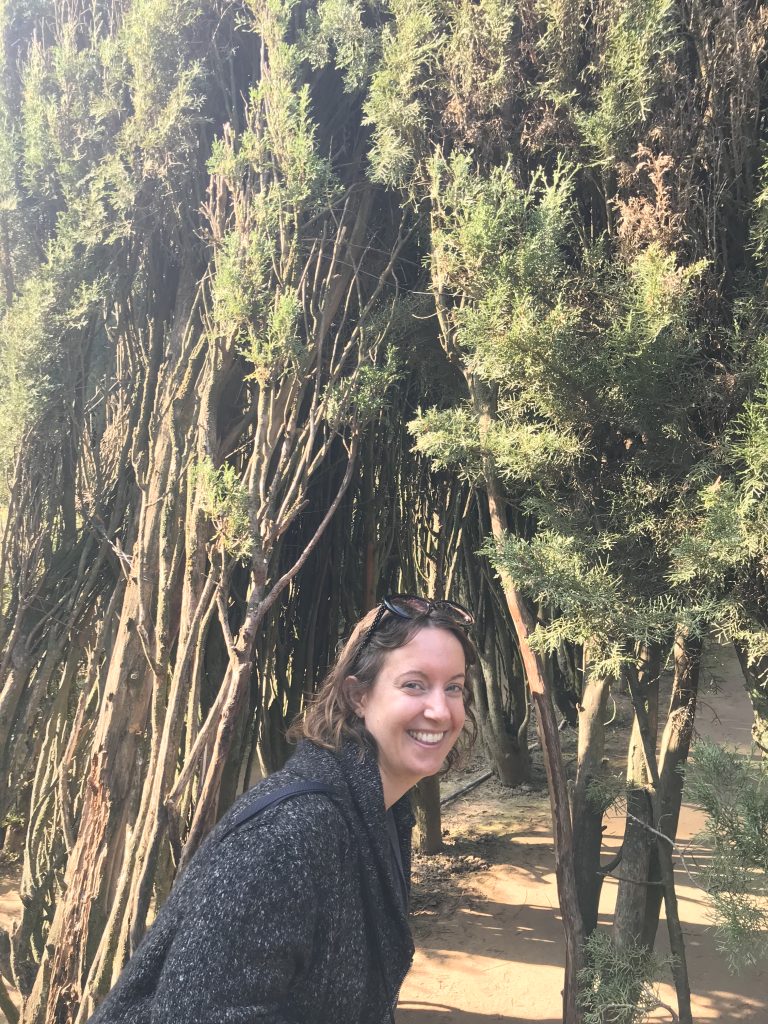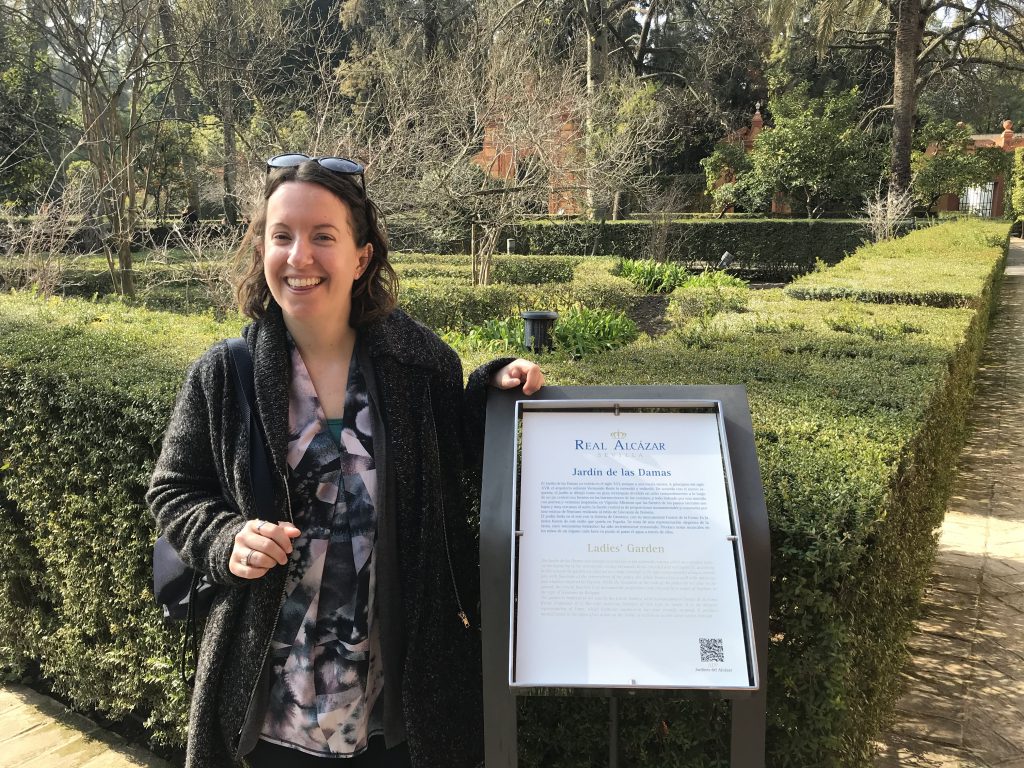 The gardens of the Alcázar are home to one of just a few remaining hydraulic organs remaining in the world. Since it only plays every hour on the hour, we waited around a bit to hear it. Doer was sad he could not really see the water-powered insides, not to mention the muffled sound. The whole experience was a bit underwhelming, to be honest.
On our way to lunch with our friends, we passed a very strange sight.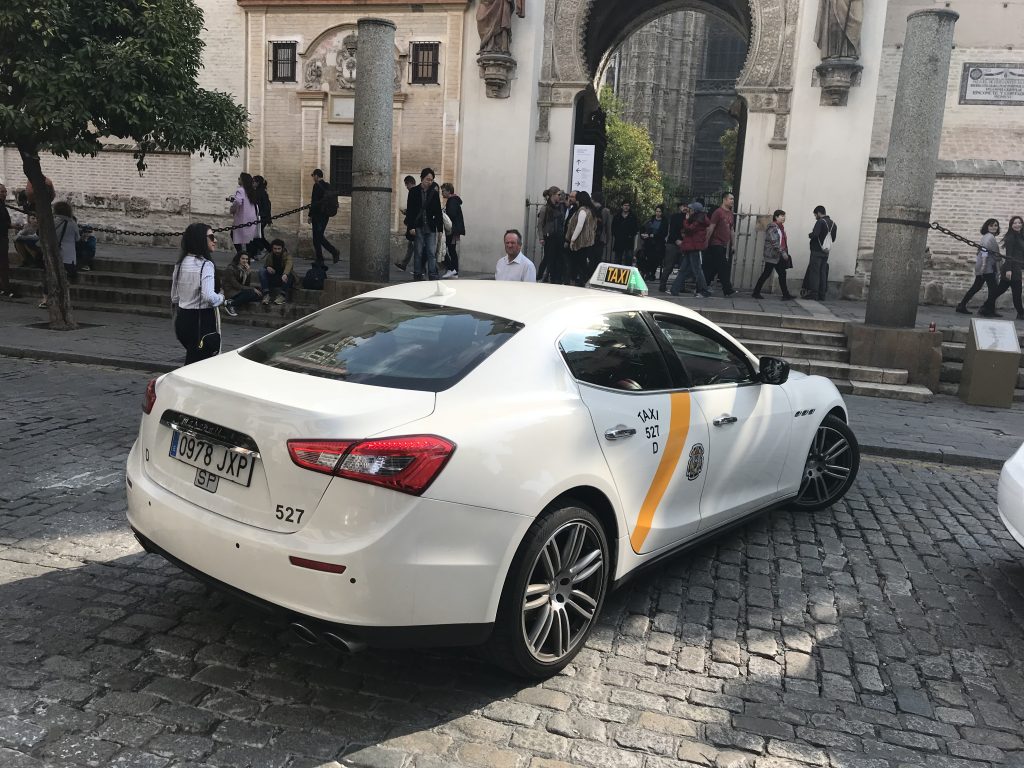 While we were in Sevilla, we spent a fair amount of time in Triana, a historic neighborhood known for its tile, pottery, and flamenco. We started our visit to the neighborhood at the Centro Ceramica Triana, a museum in an old ceramics factory.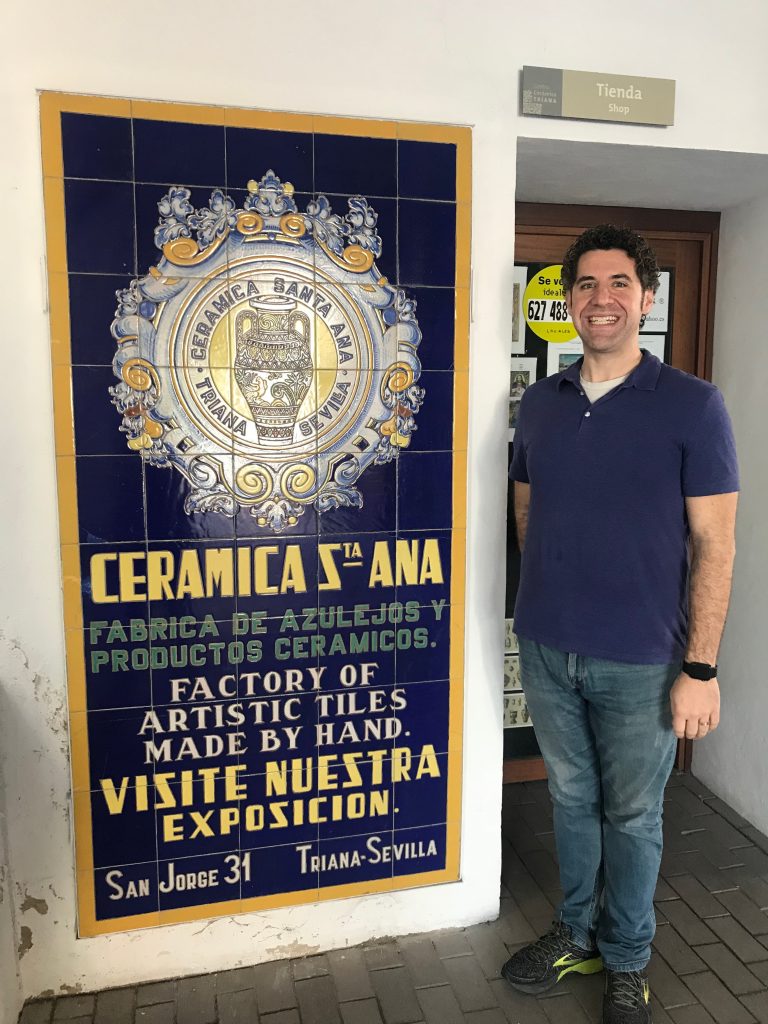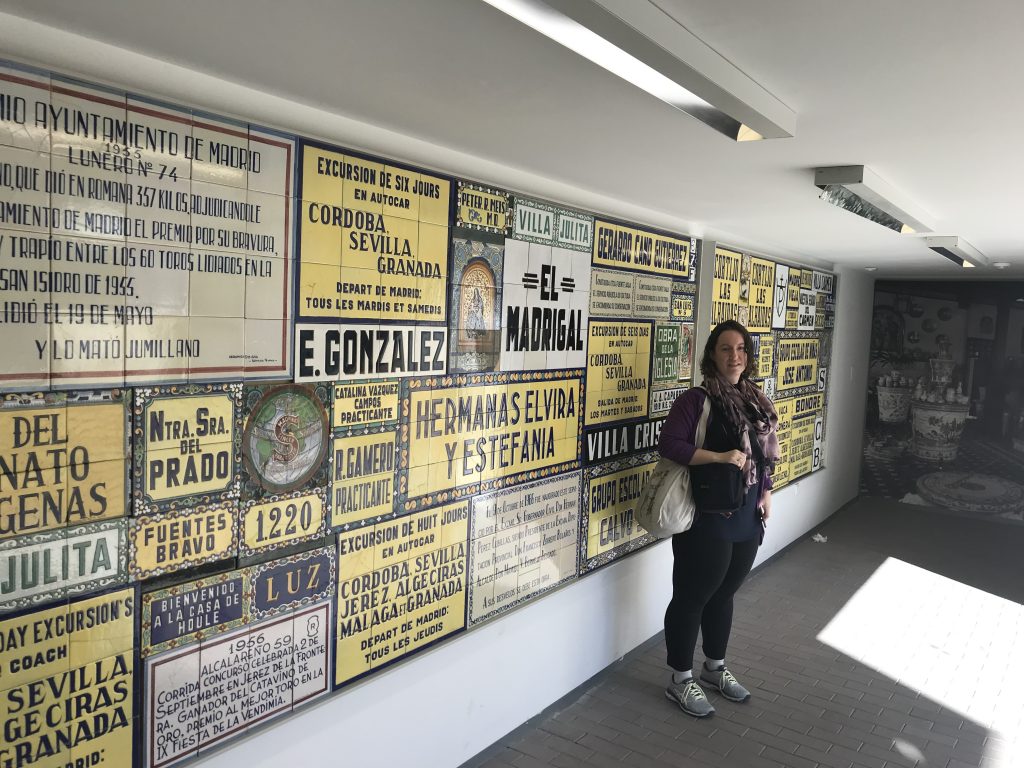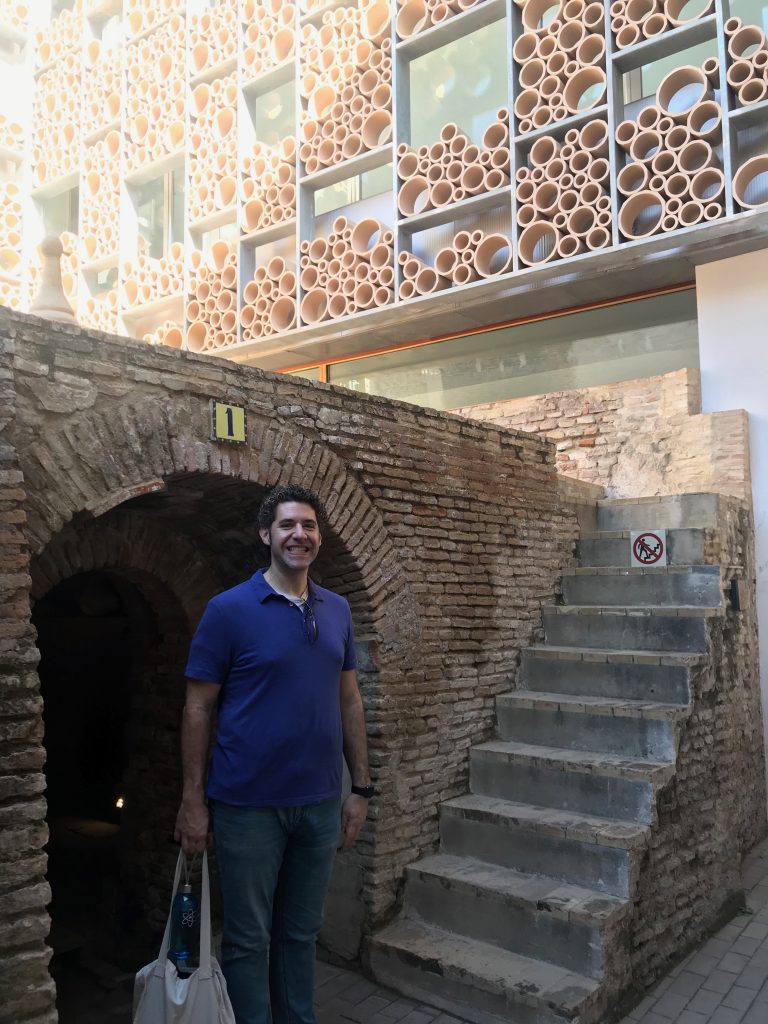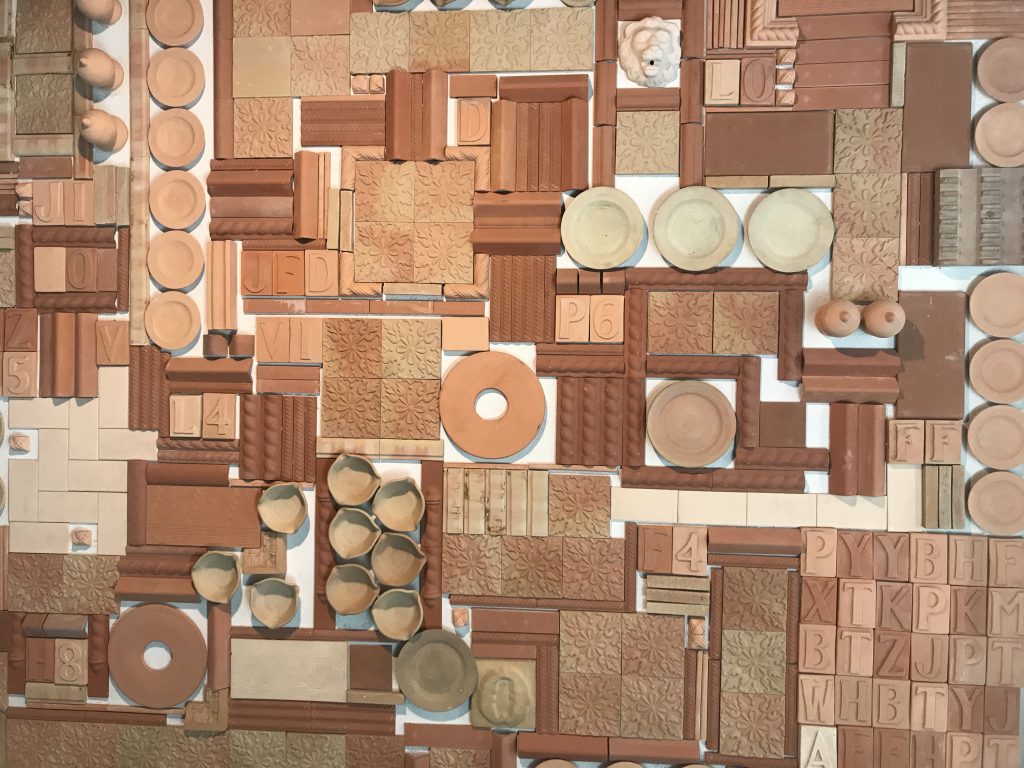 Another fun Triana activity: flamenco in a tiny venue in the neighborhood market.
Speaking of tile, there was plenty more to see at Isla de La Cartuja.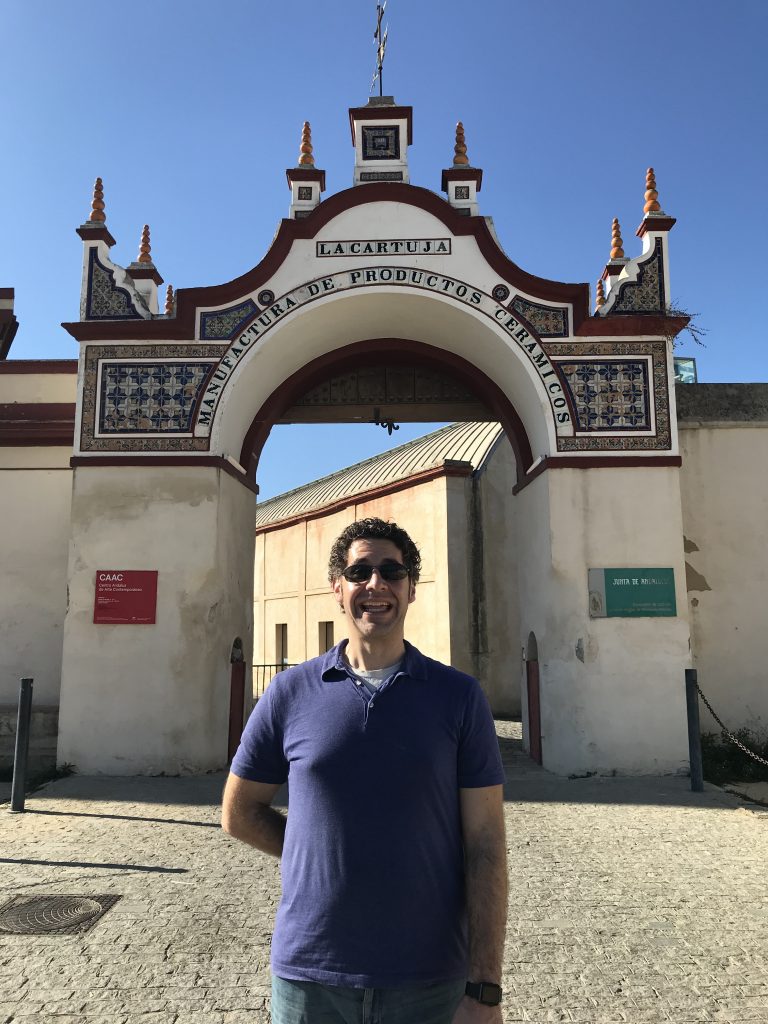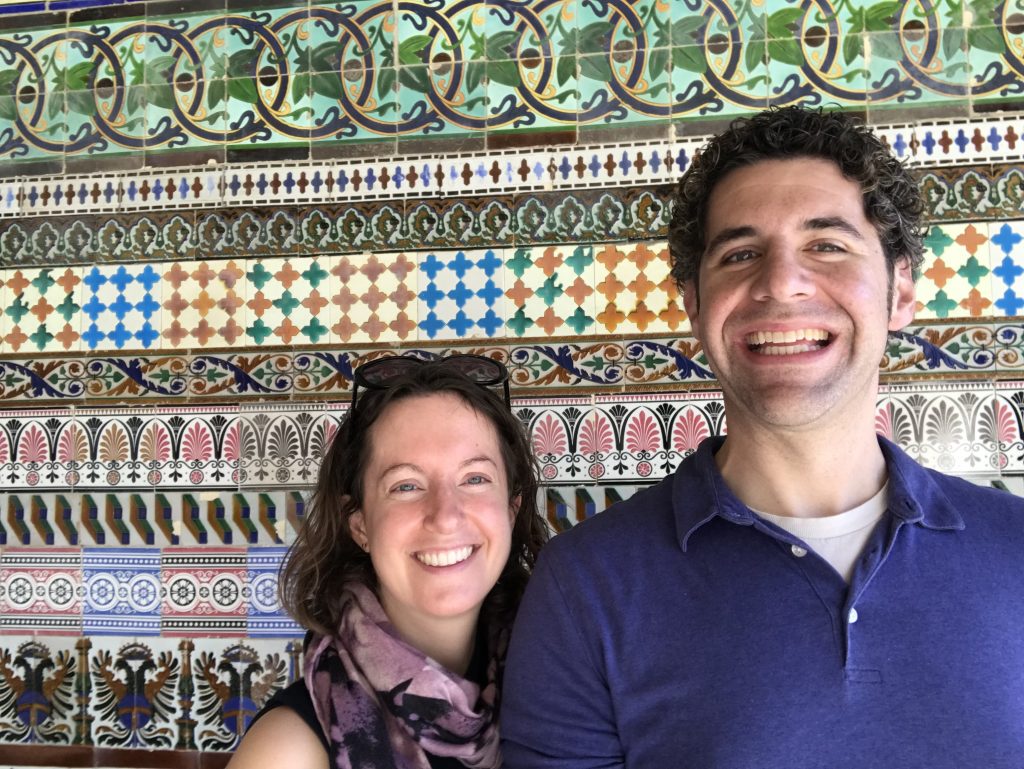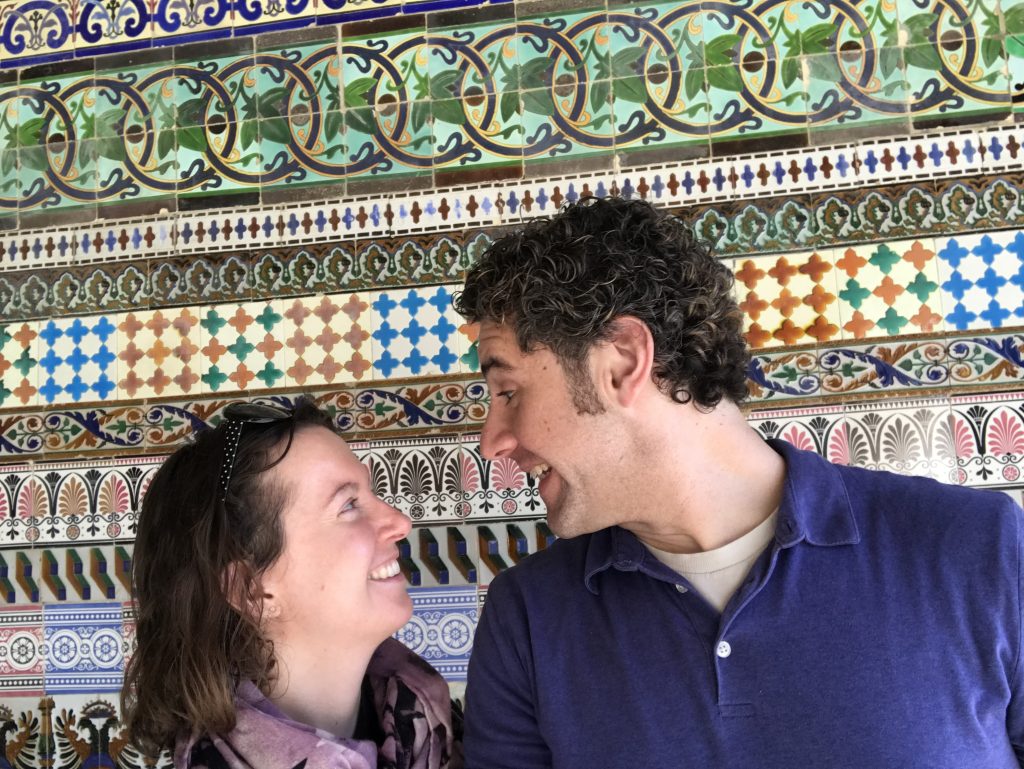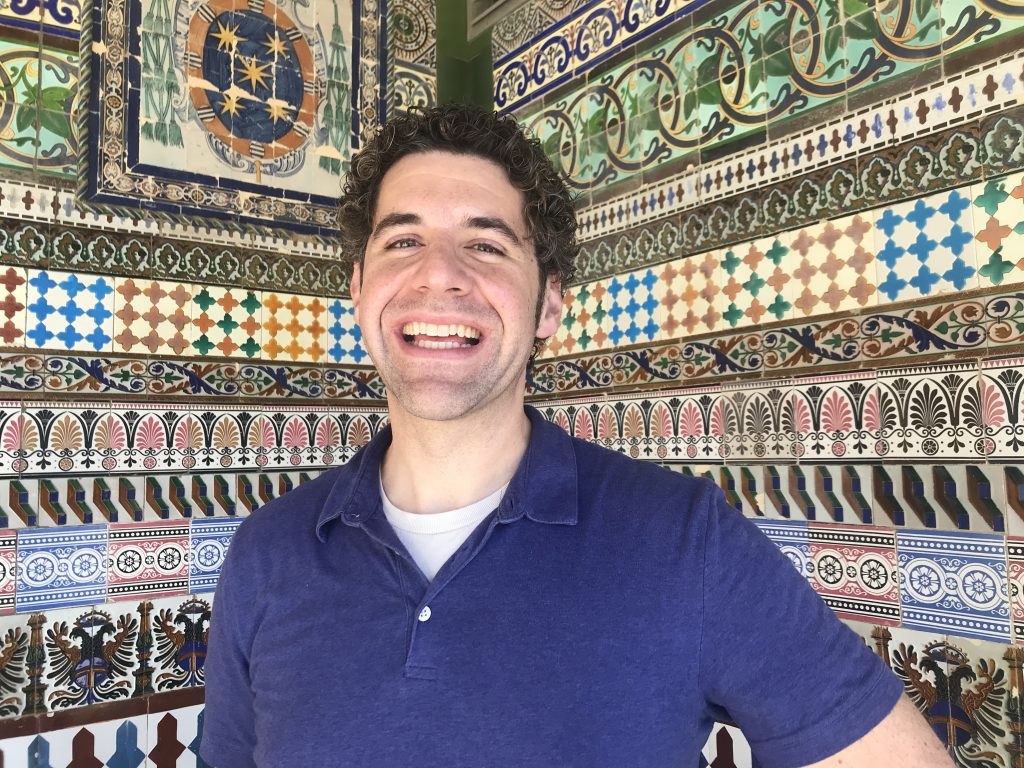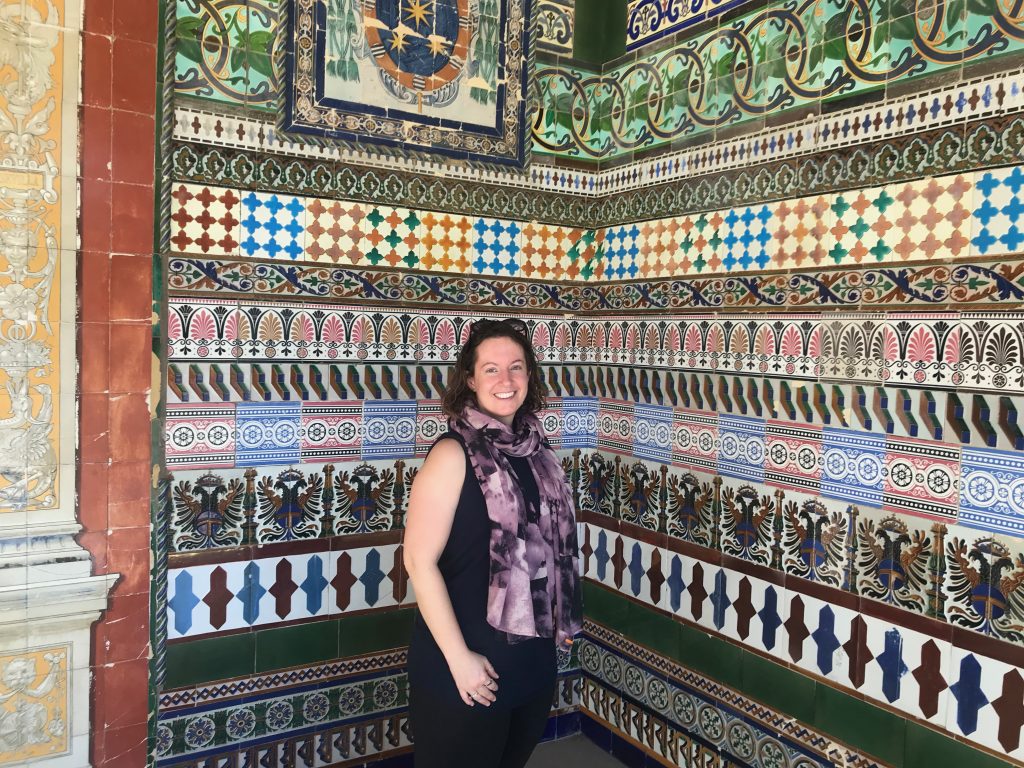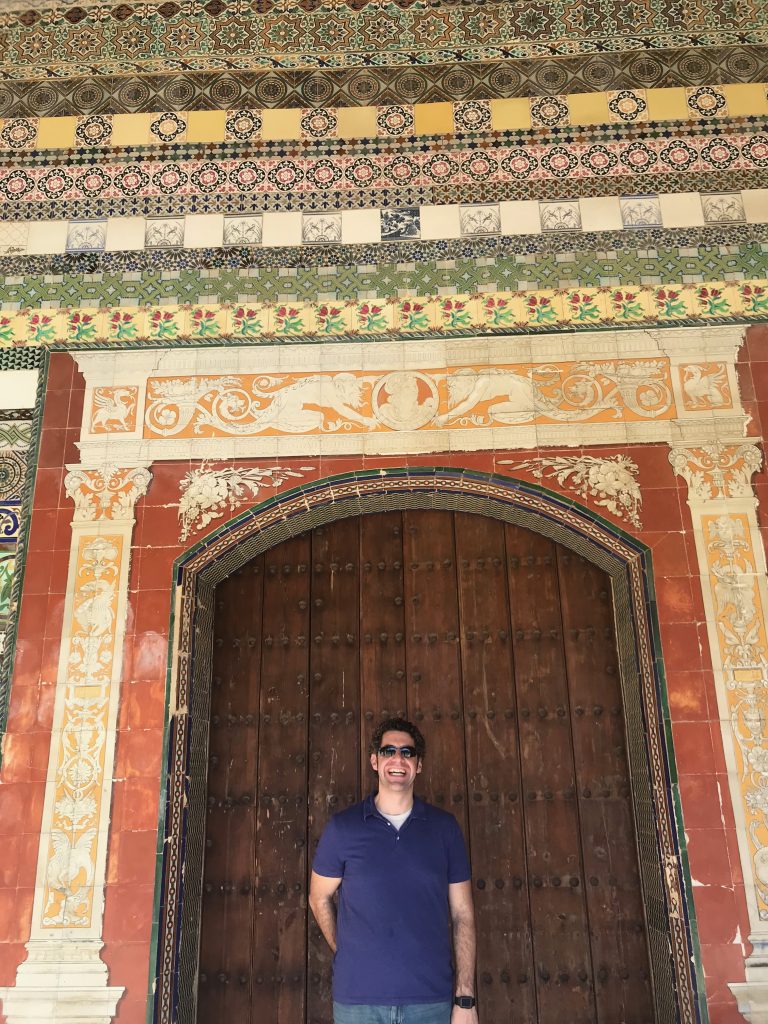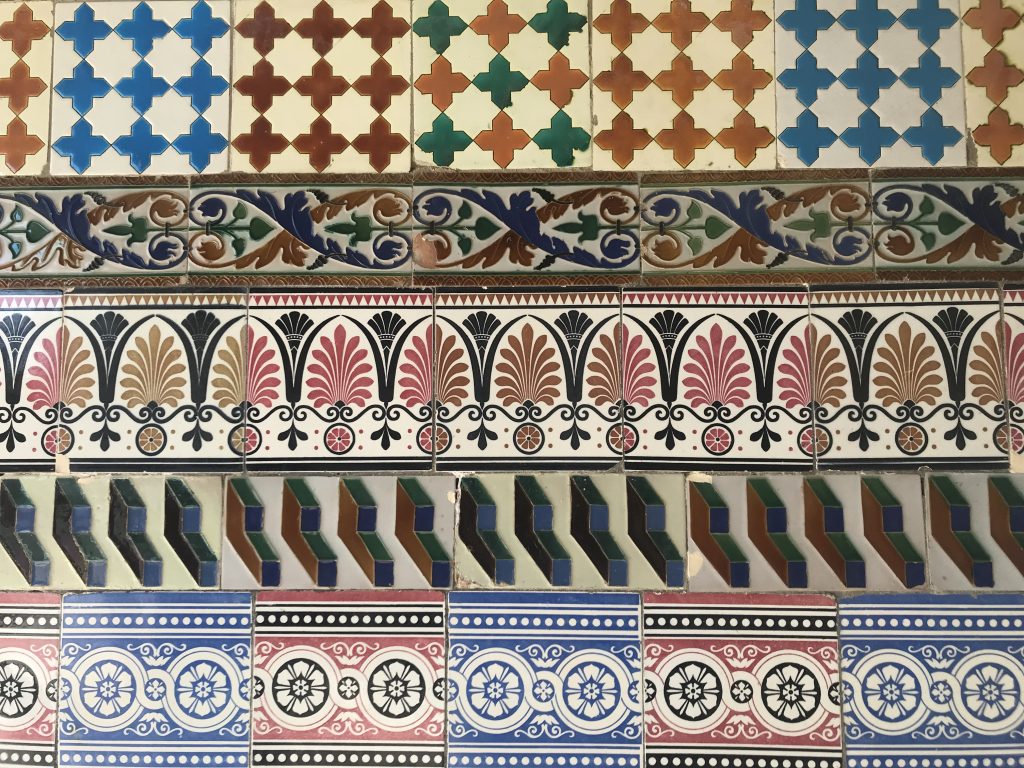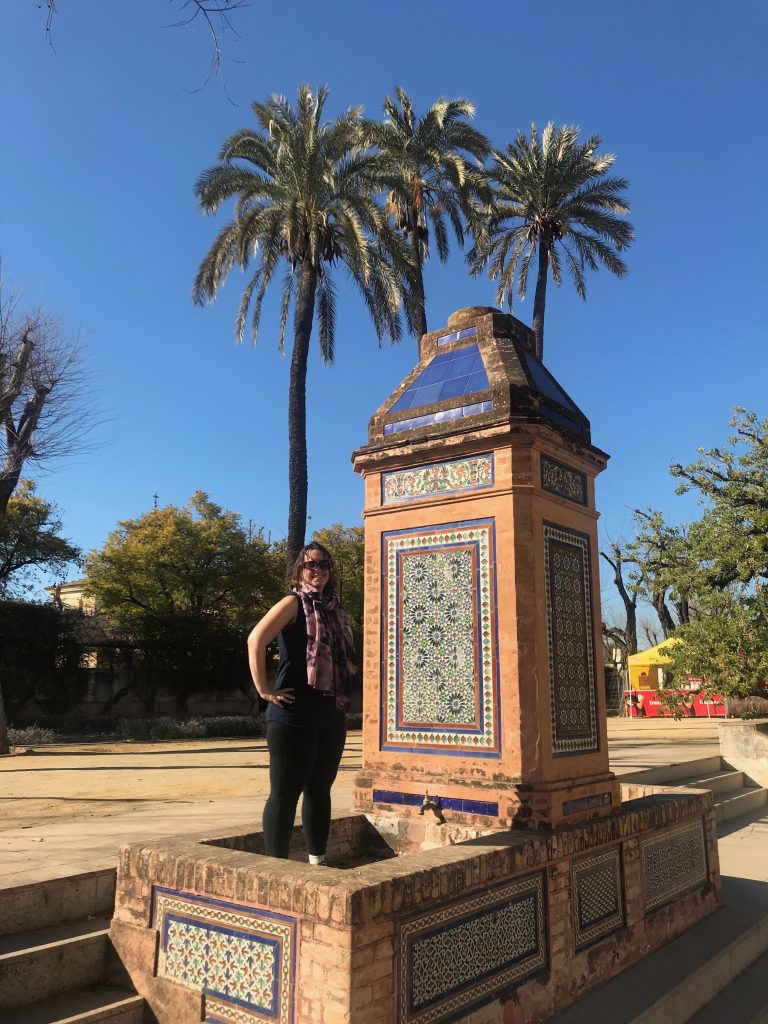 More than 500 years ago, Christopher Columbus stayed at a monastery on the former island while he was planning his journey that ended up in the Americas.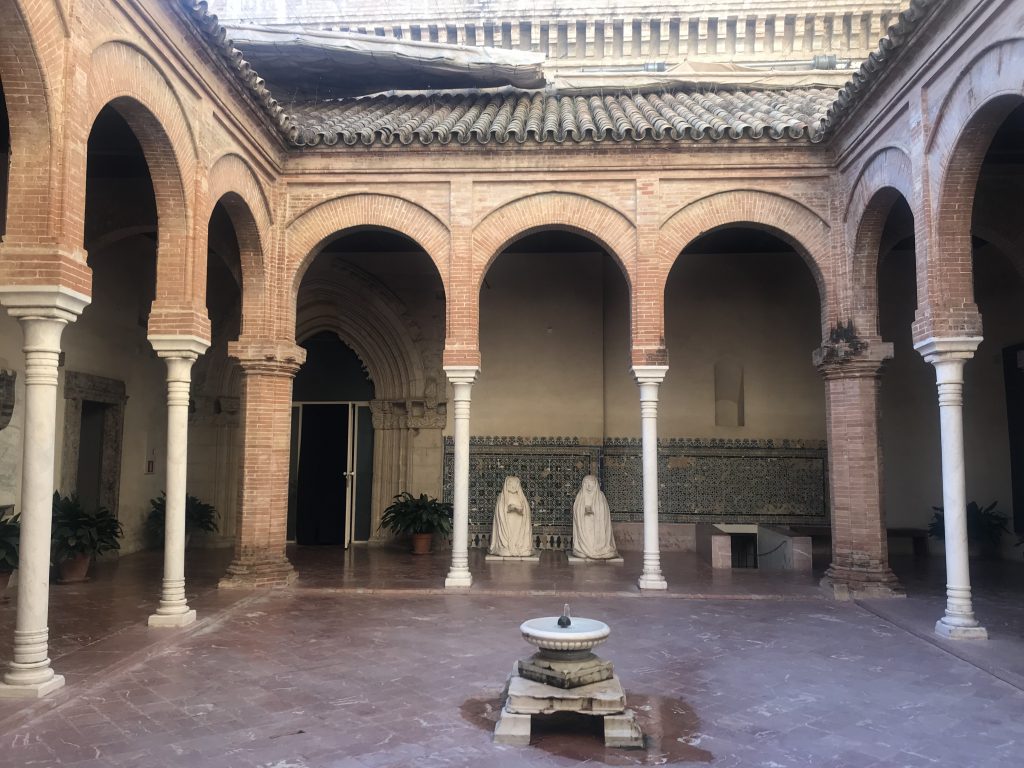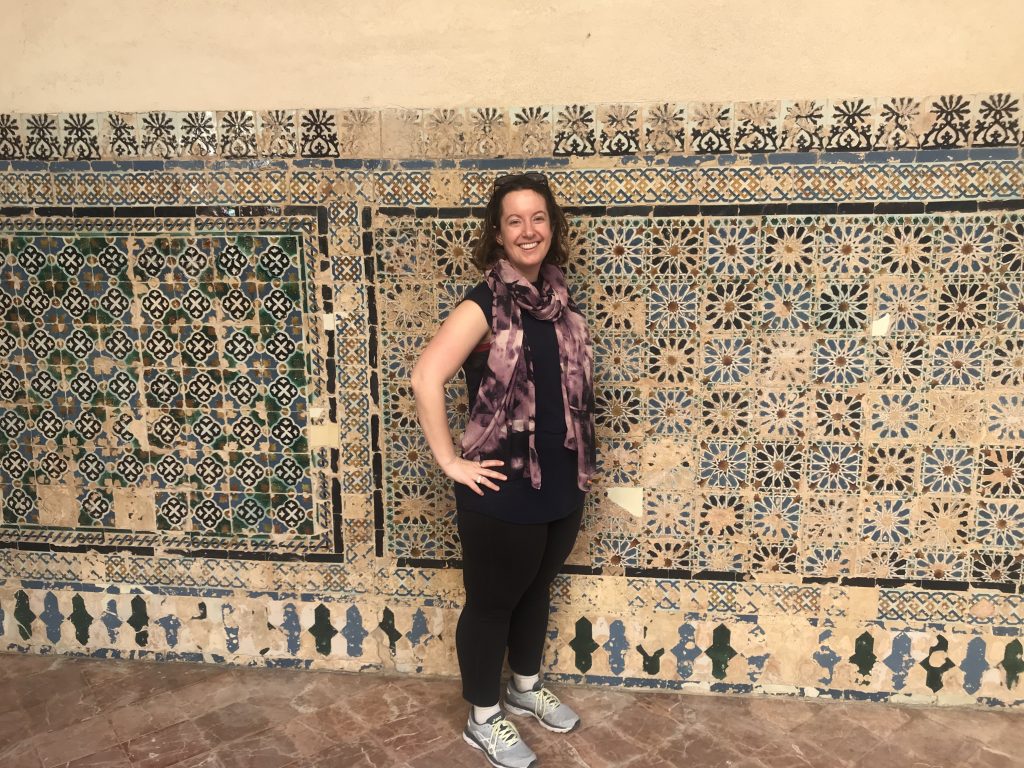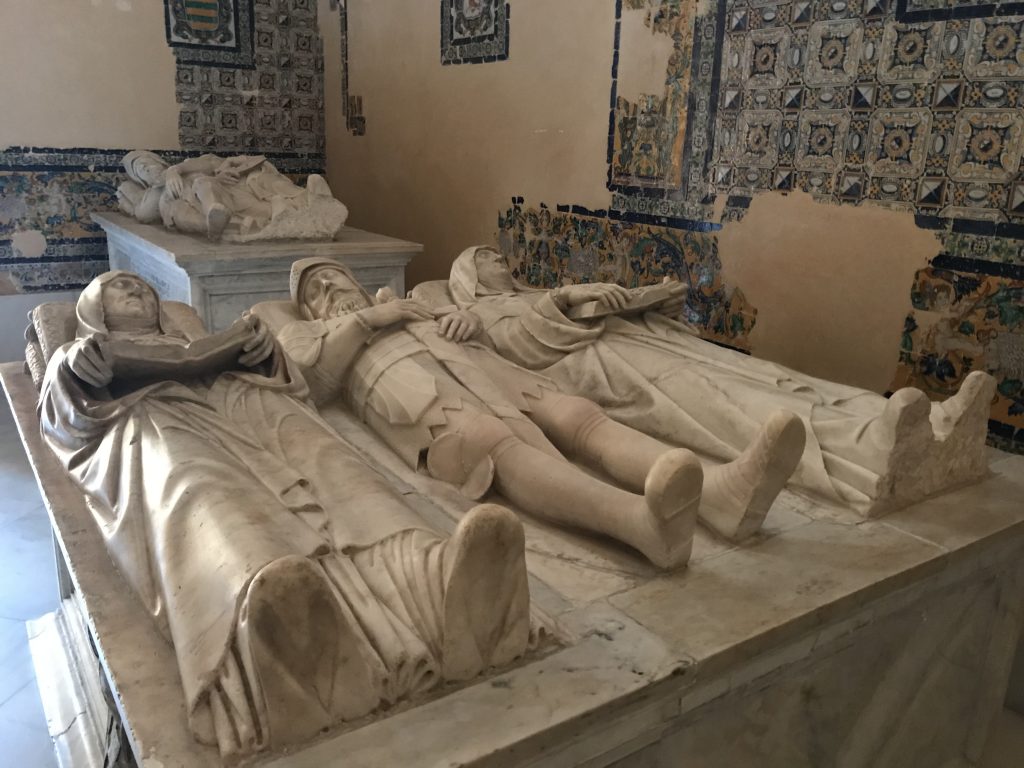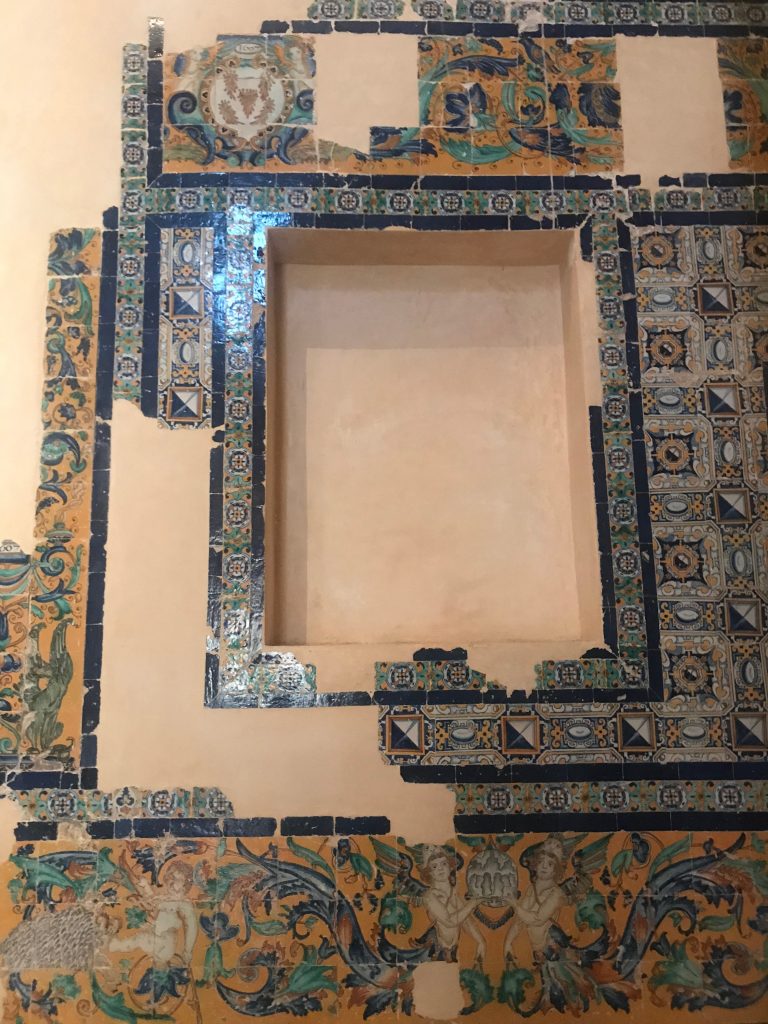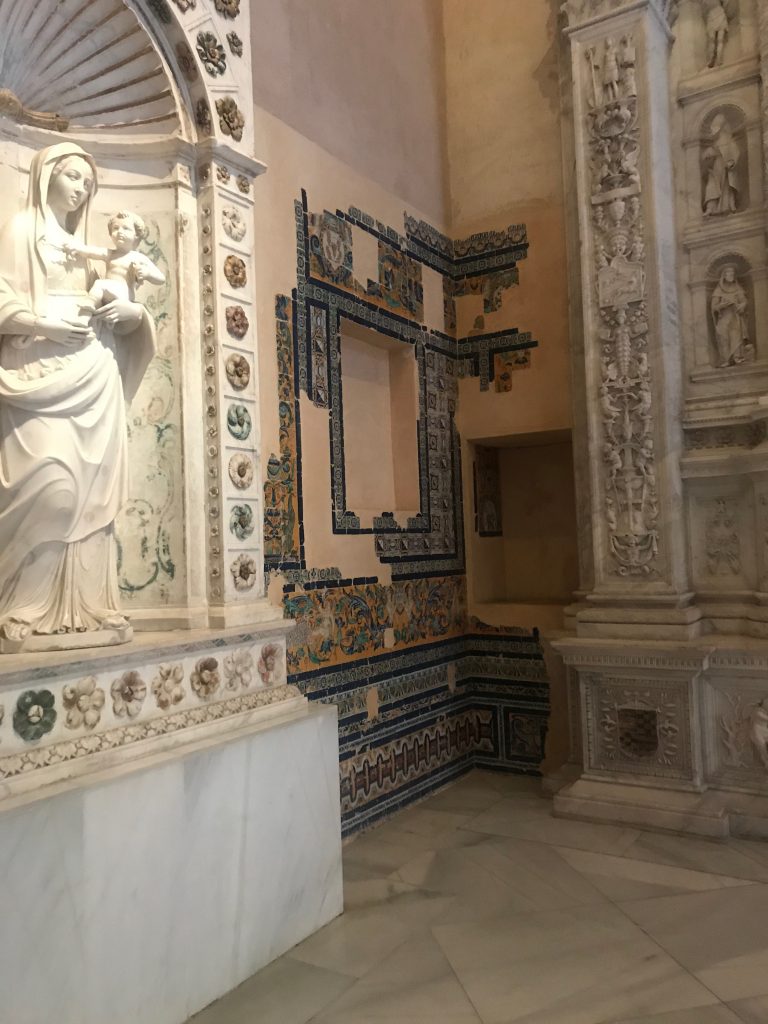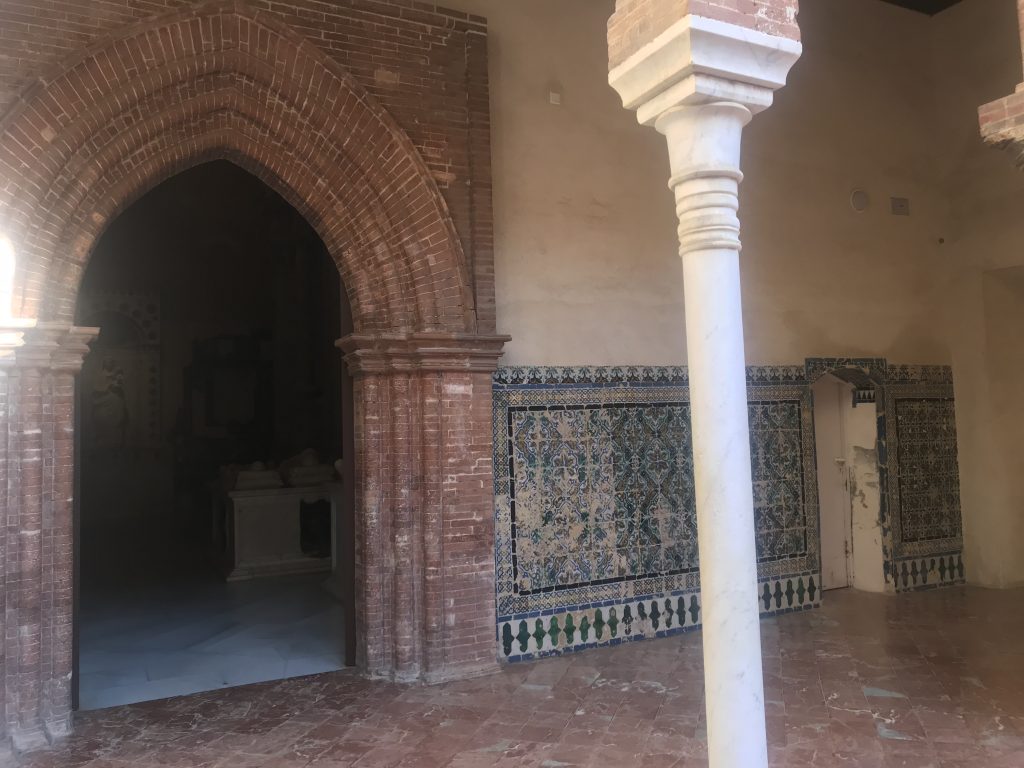 In the 19th Century, Englishman Charles Pickman converted the monastery into a ceramics factory. Doer was rather obsessed with the old kilns and smokestack still standing on the grounds.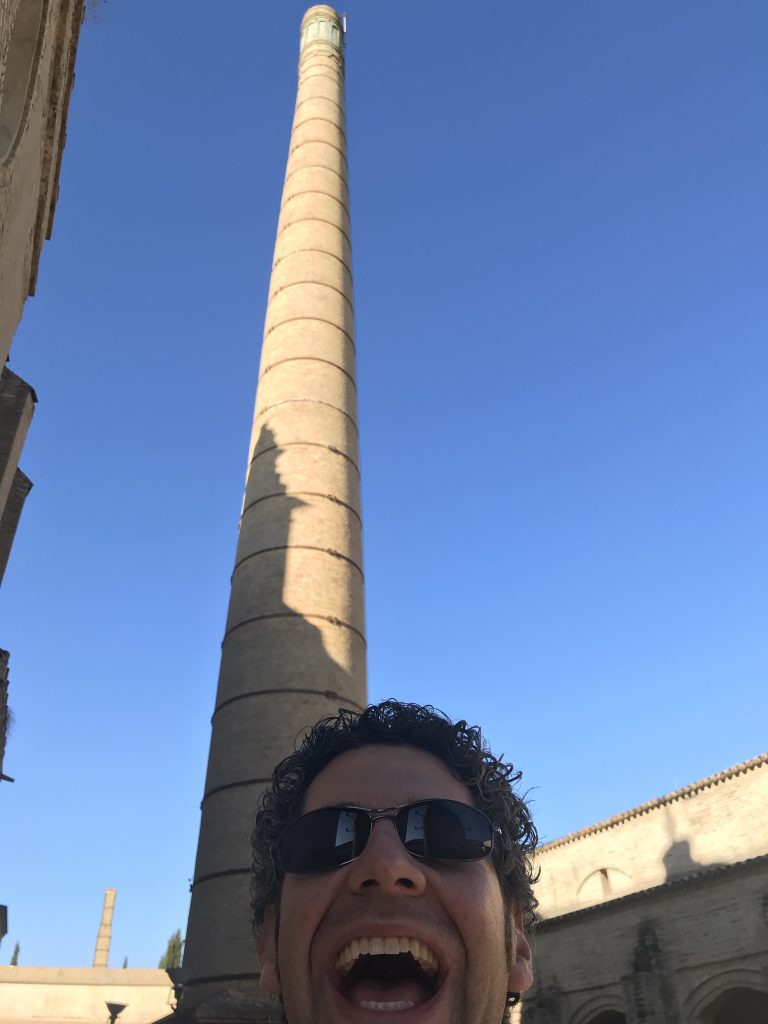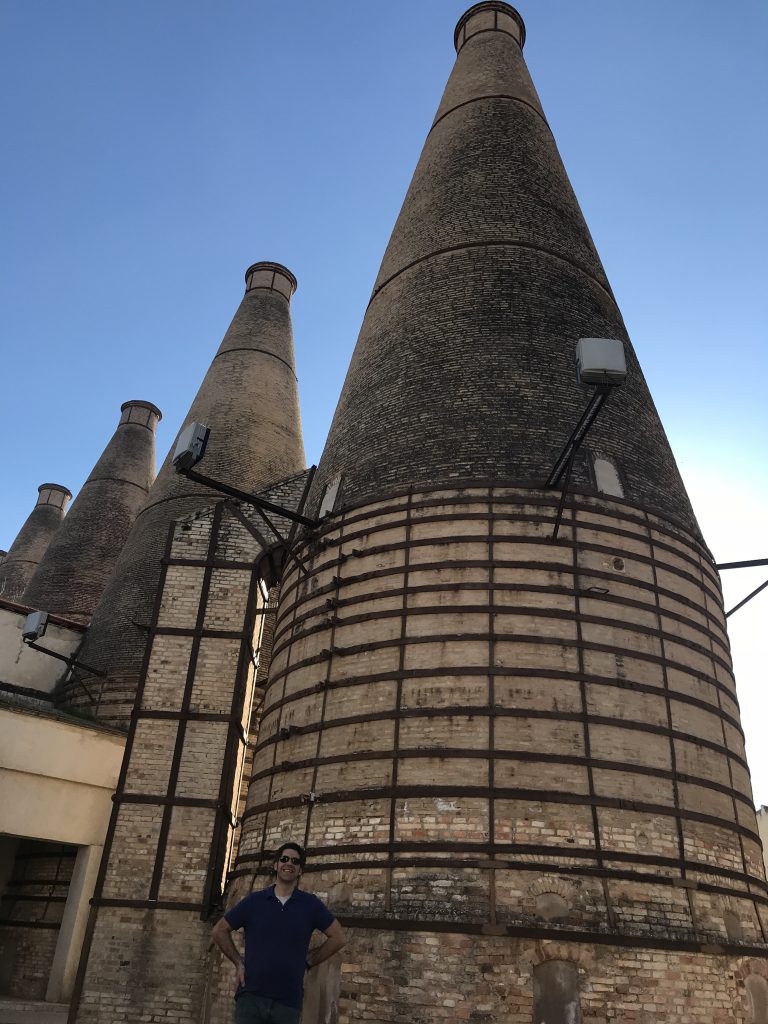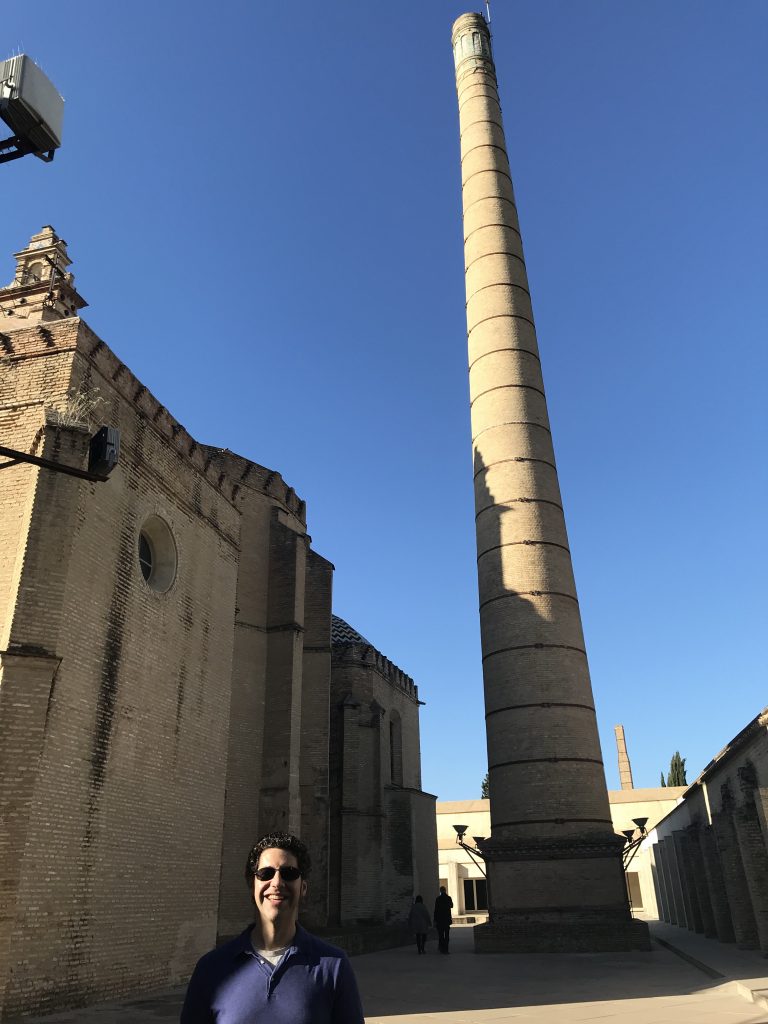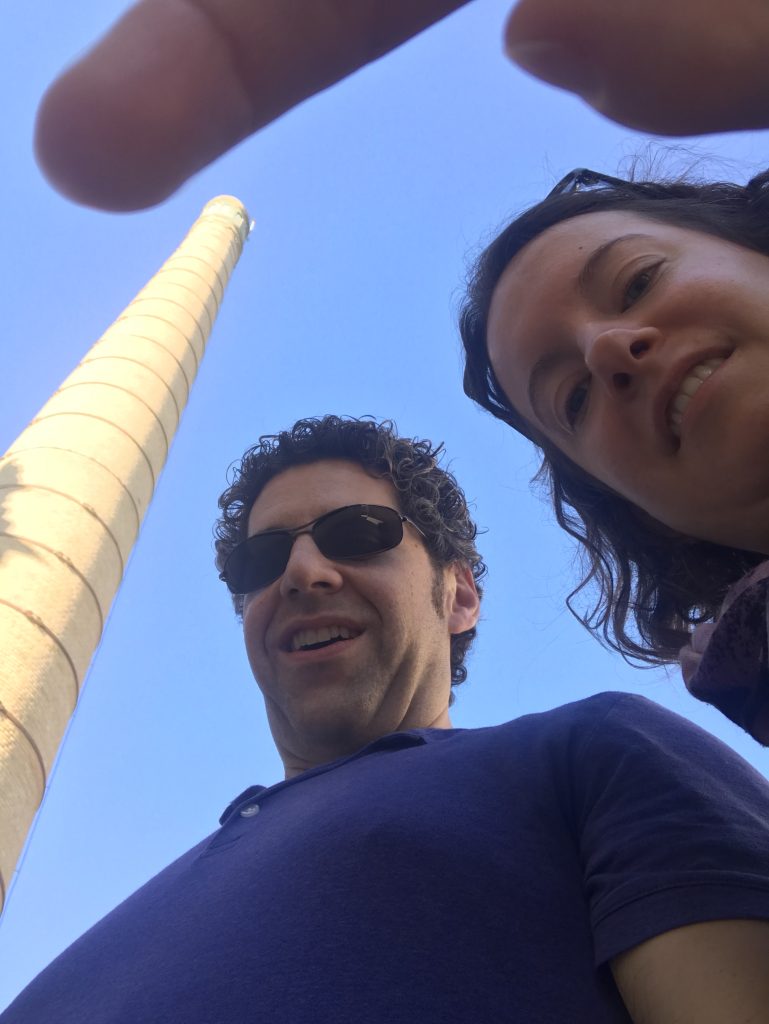 Somewhat more recently, La Cartuja played host to the Expo '92. A contemporary art museum now resides in the monastery. Parts of the monastery were well-preserved, but clearly the city is still looking for a use for much of the grounds and buildings.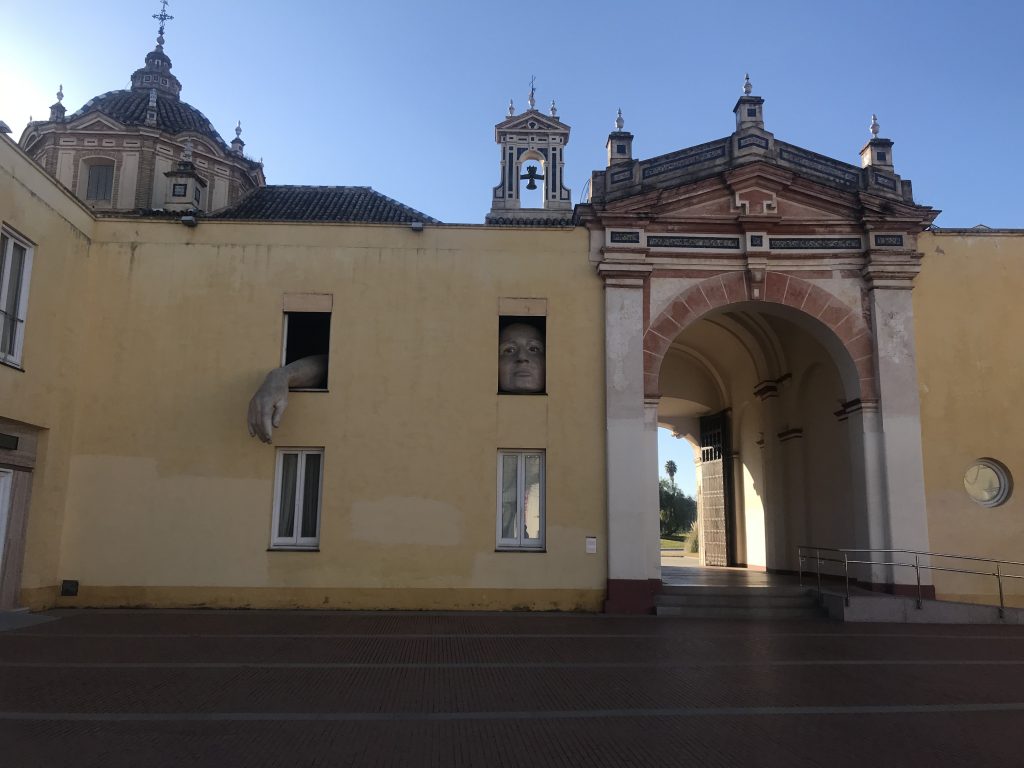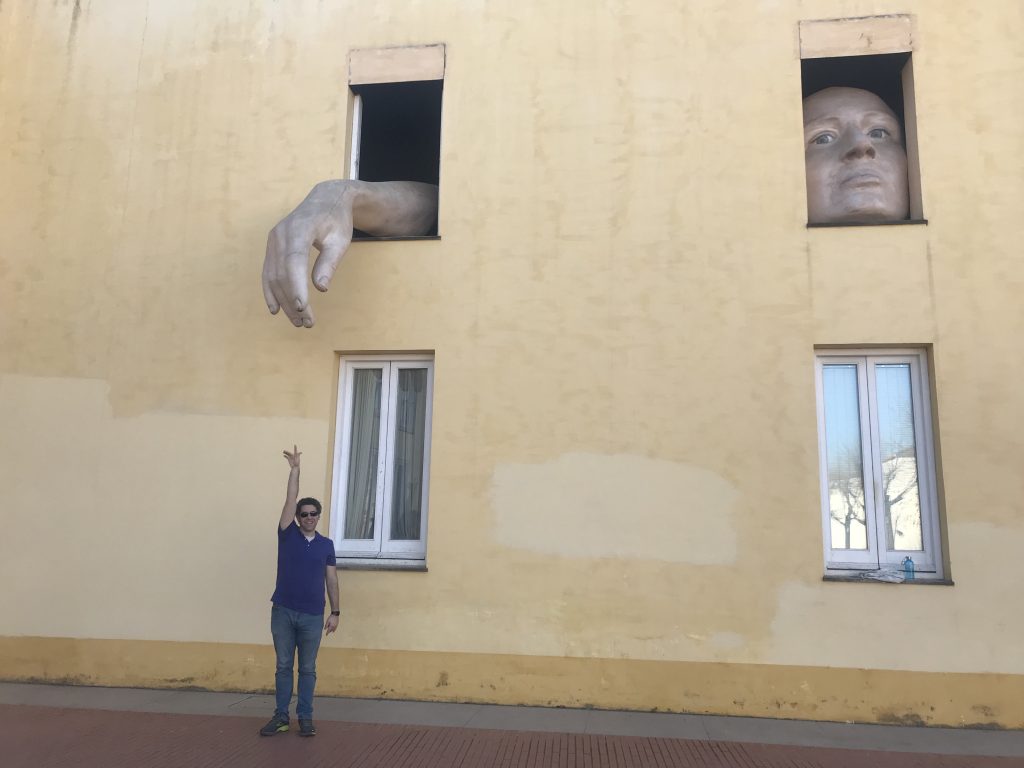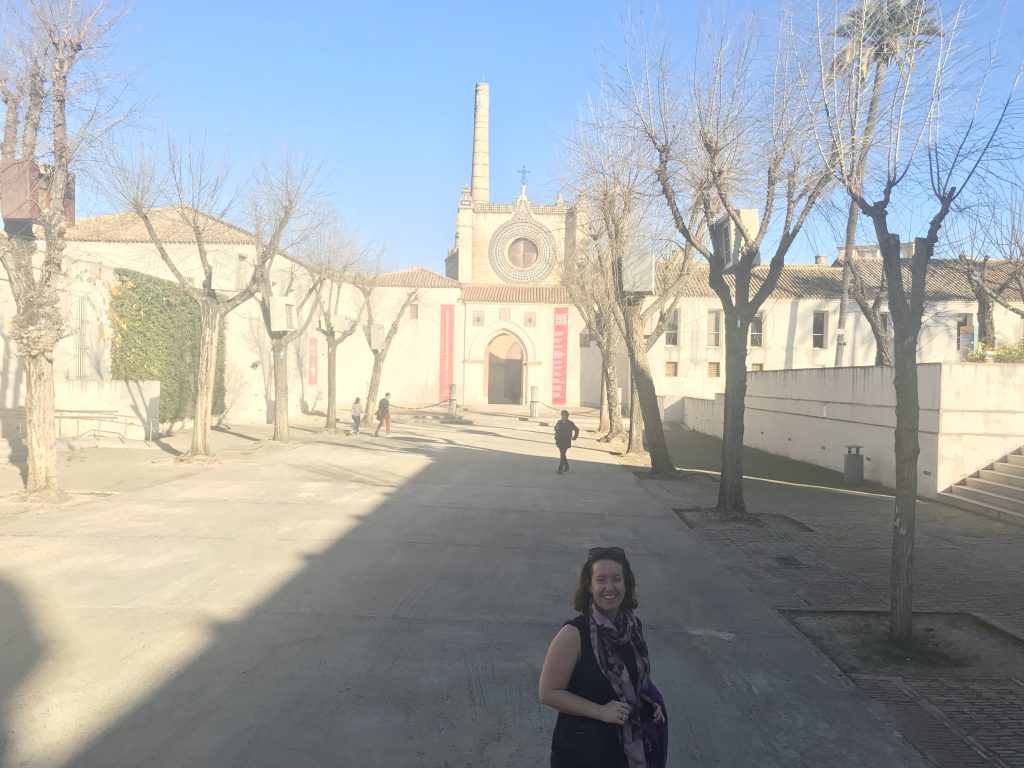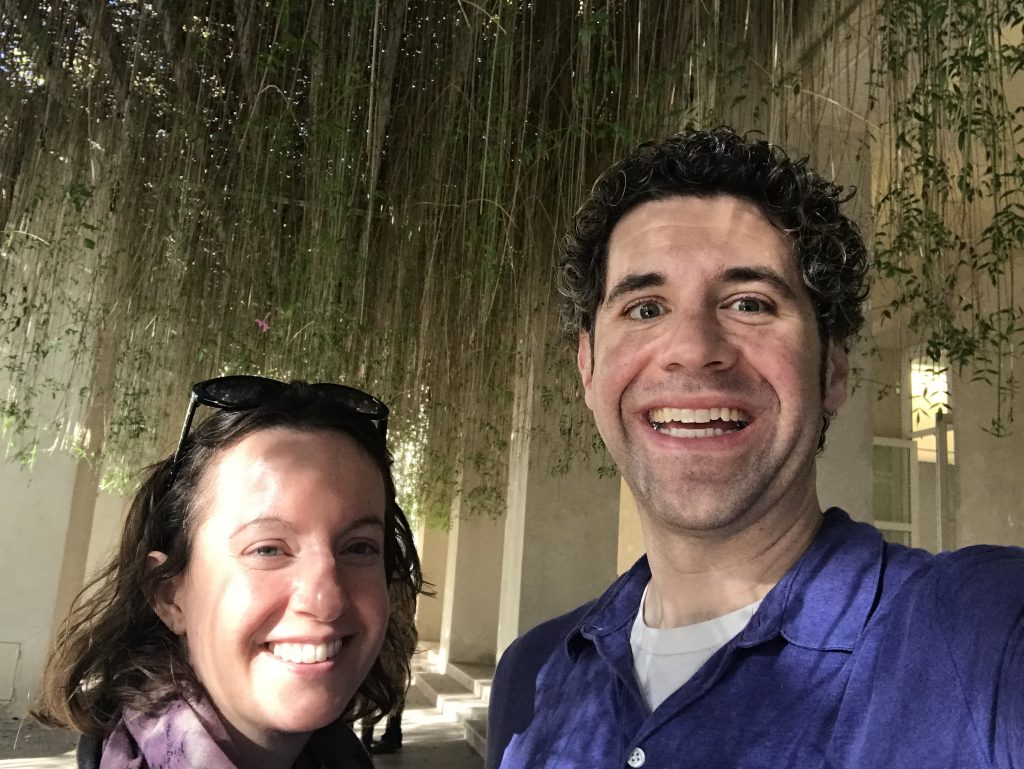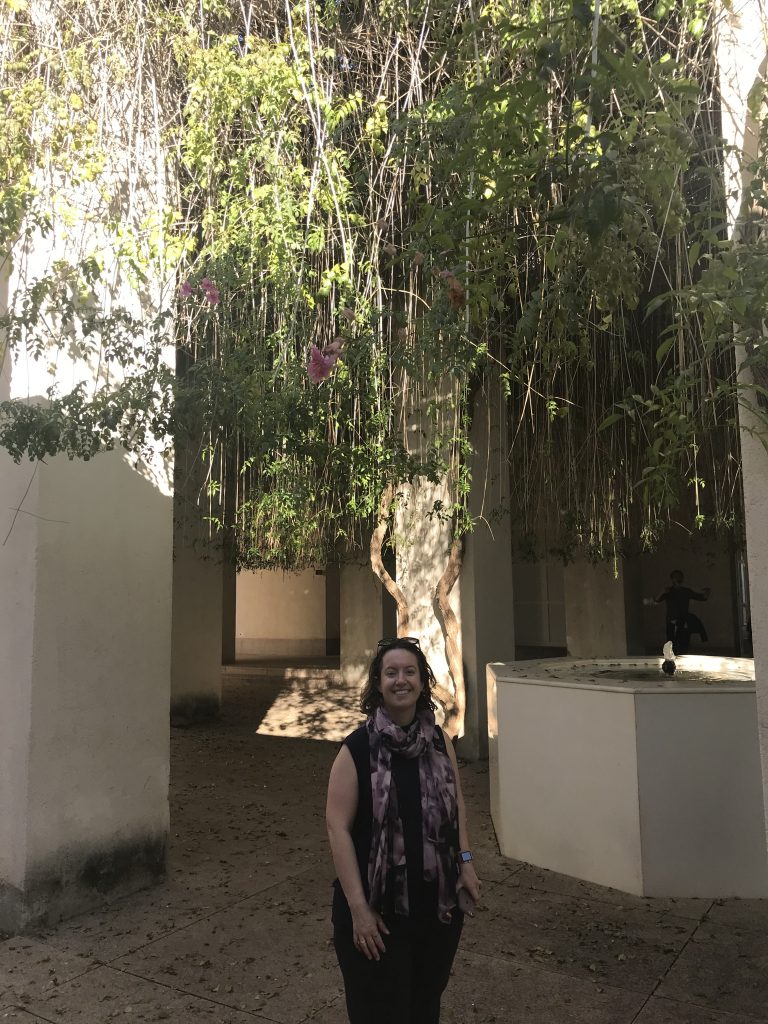 You would think we were done talking about tile by about now, right? Well, you would be wrong, because Dreamer was once again bowled over by beautiful tilework and open Mudéjar-style patios inside the Casa de Pilatos.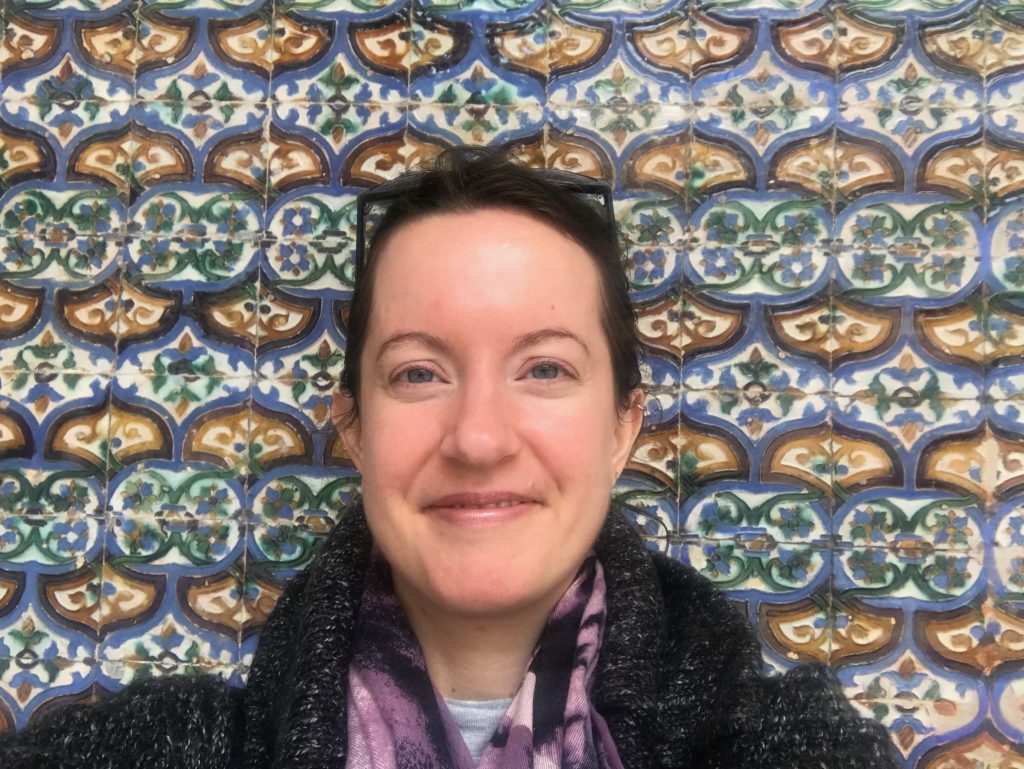 Construction on the palace started in 1483. It was meant to be modeled after the Pontius Pilate prison in the Holy Land.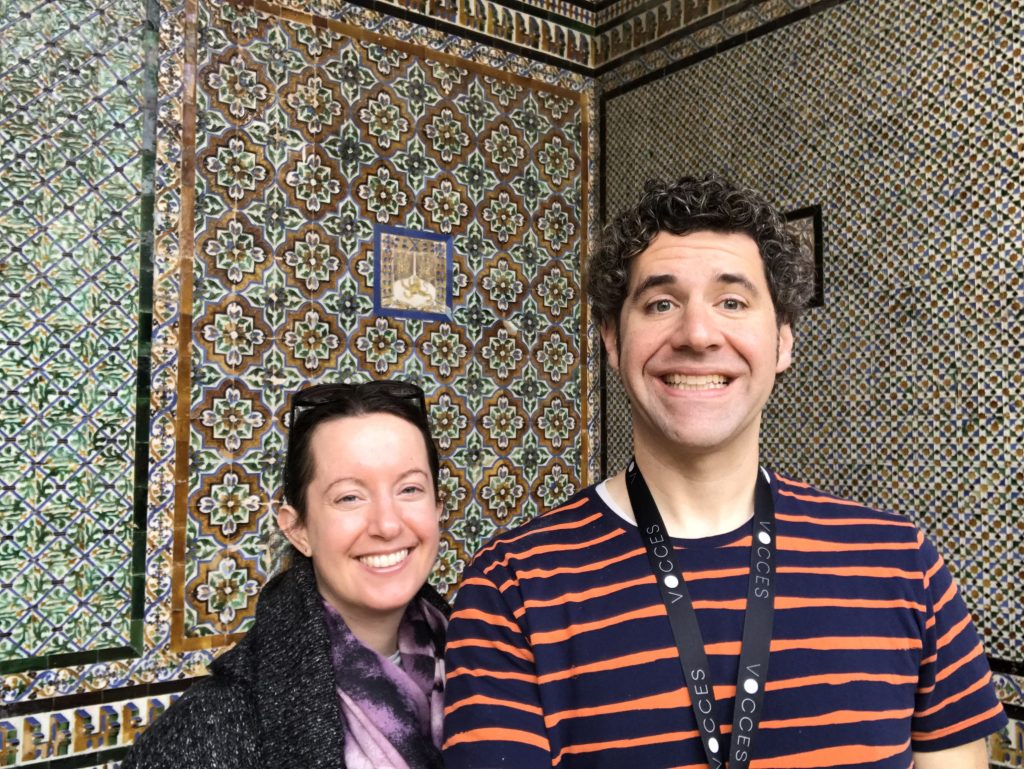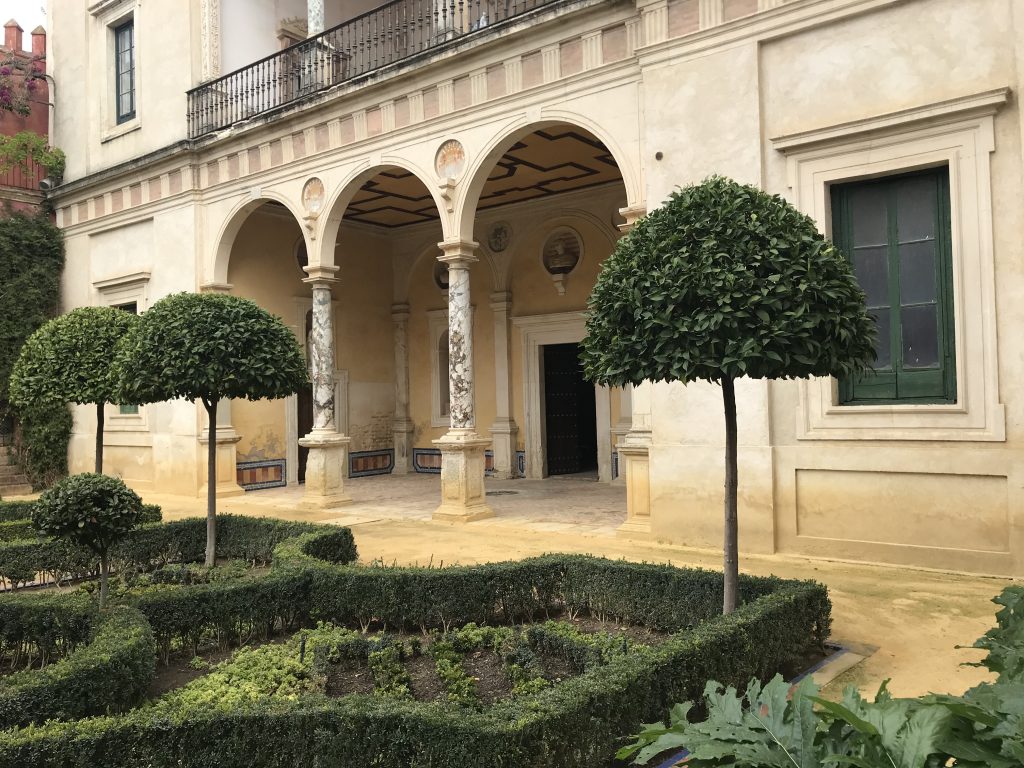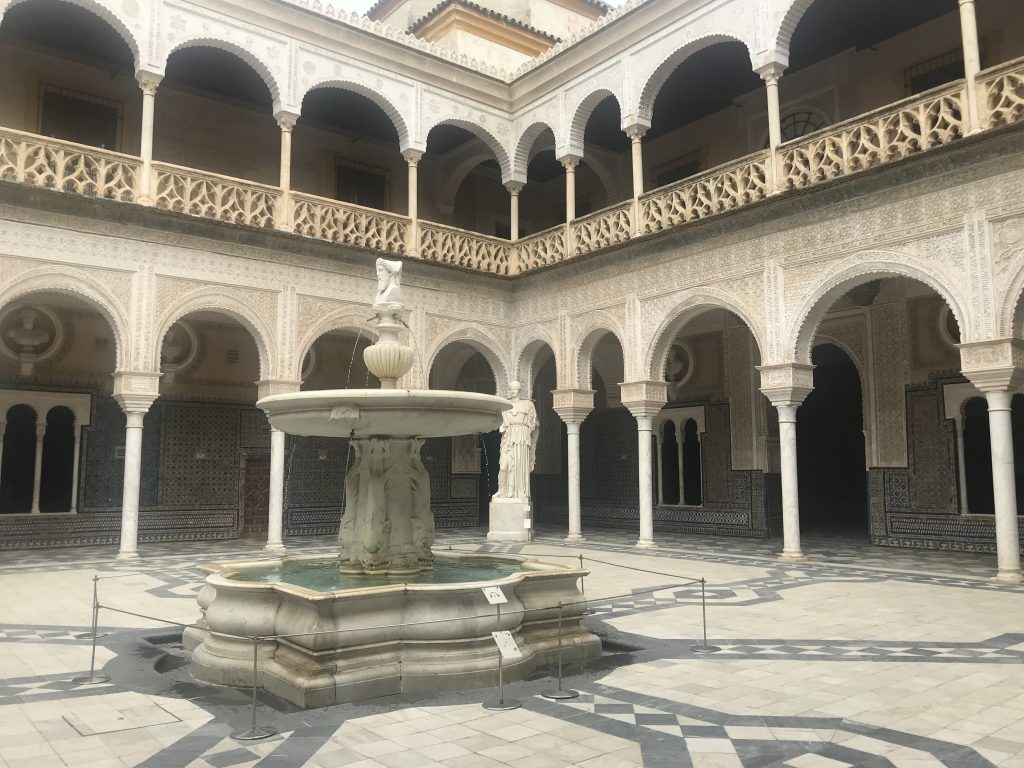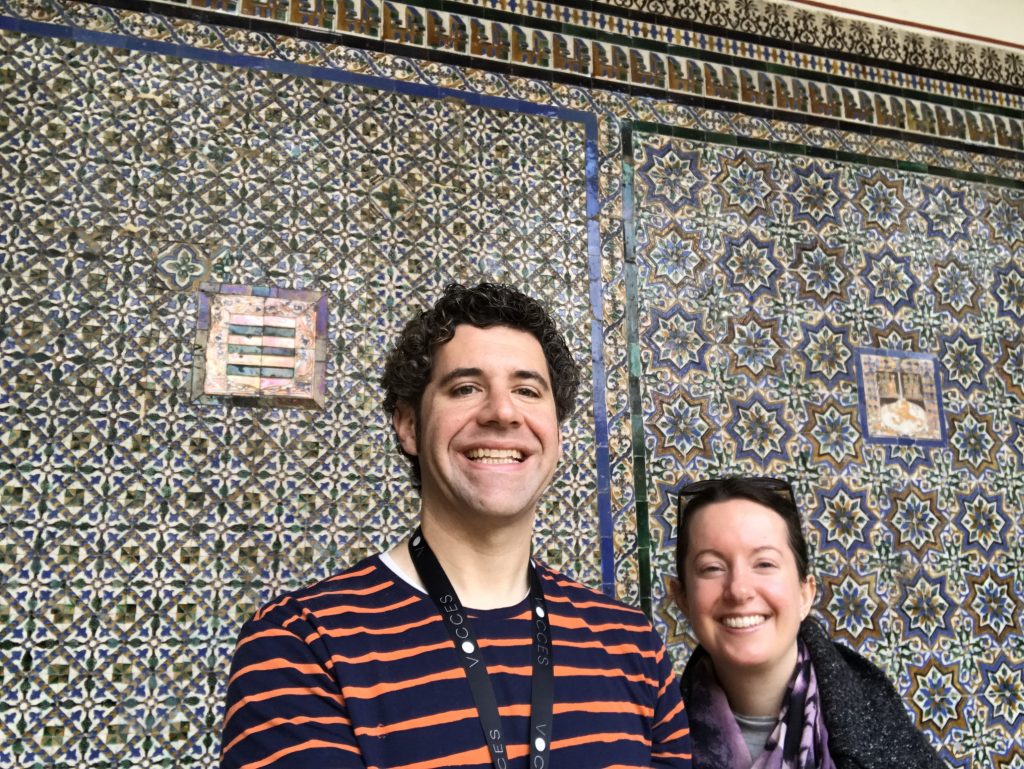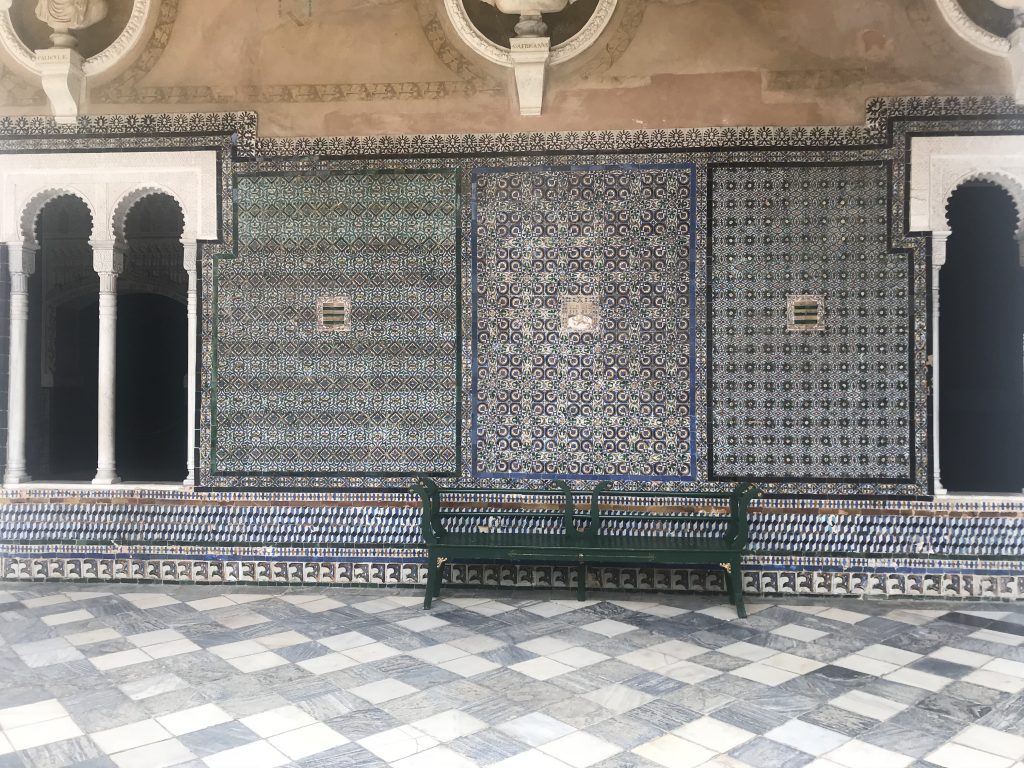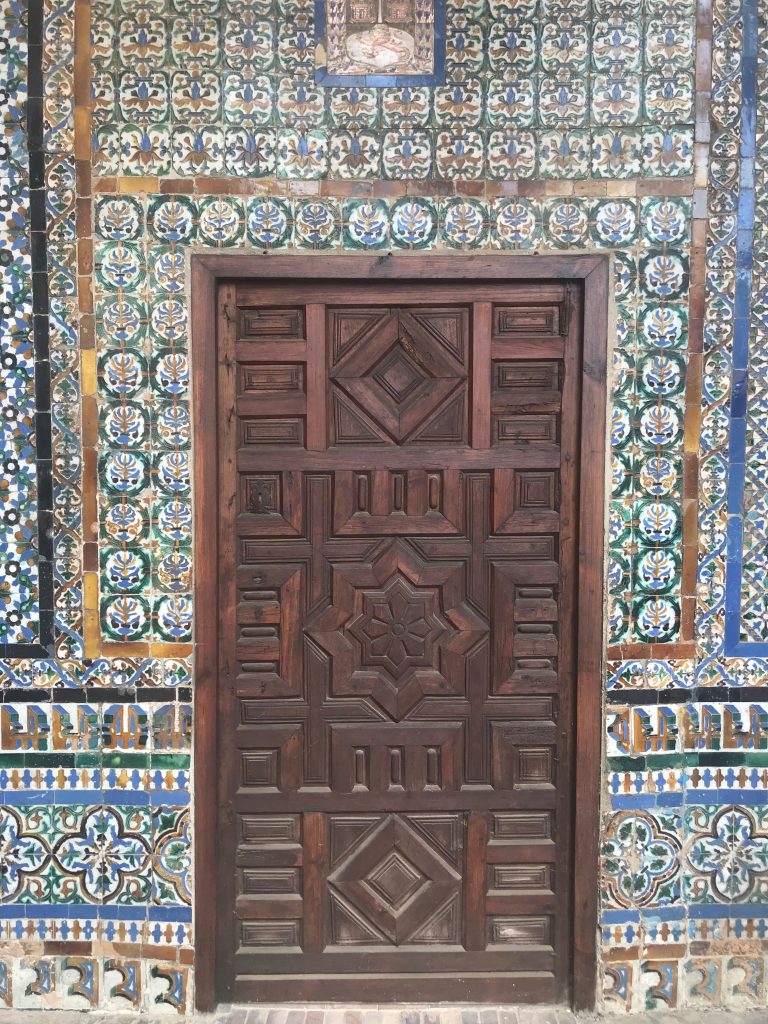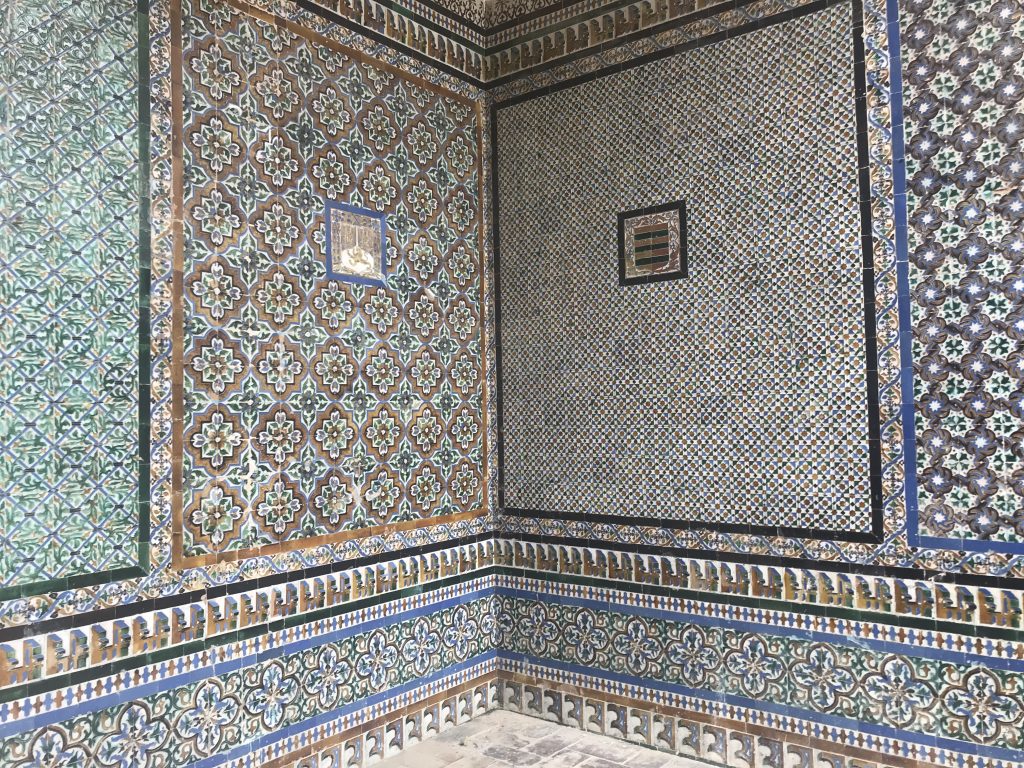 It seemed like when we weren't looking at tiles, we were in a church. The Capilla de los Marineros is a sailors' chapel in the Triana neighborhood.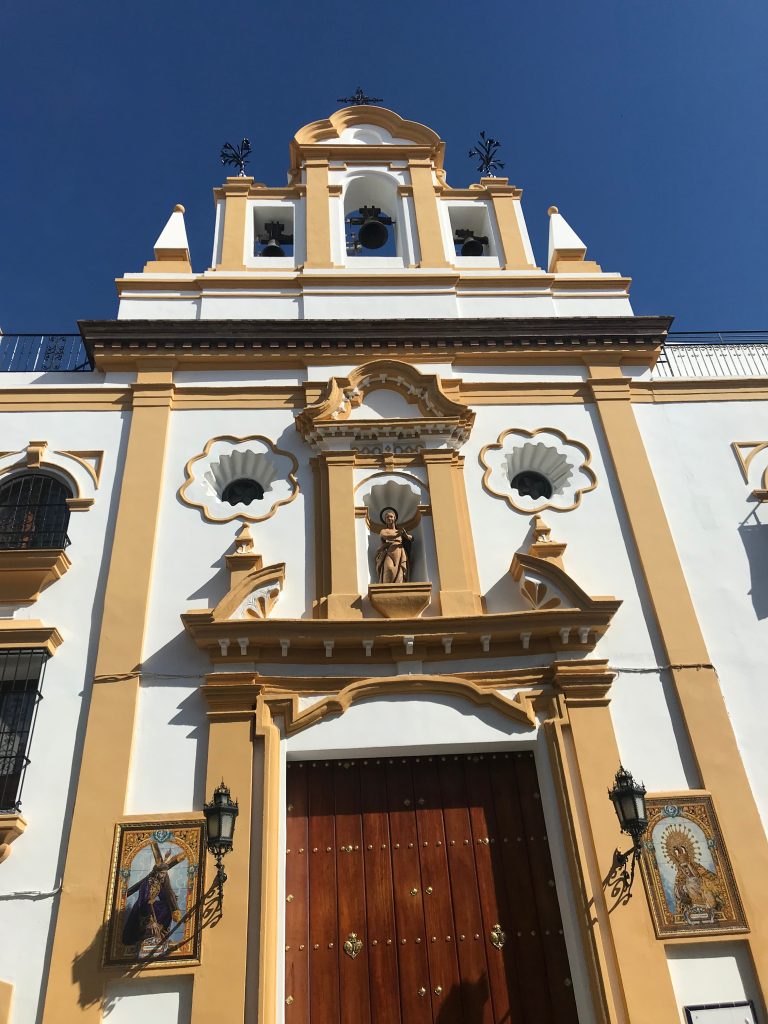 .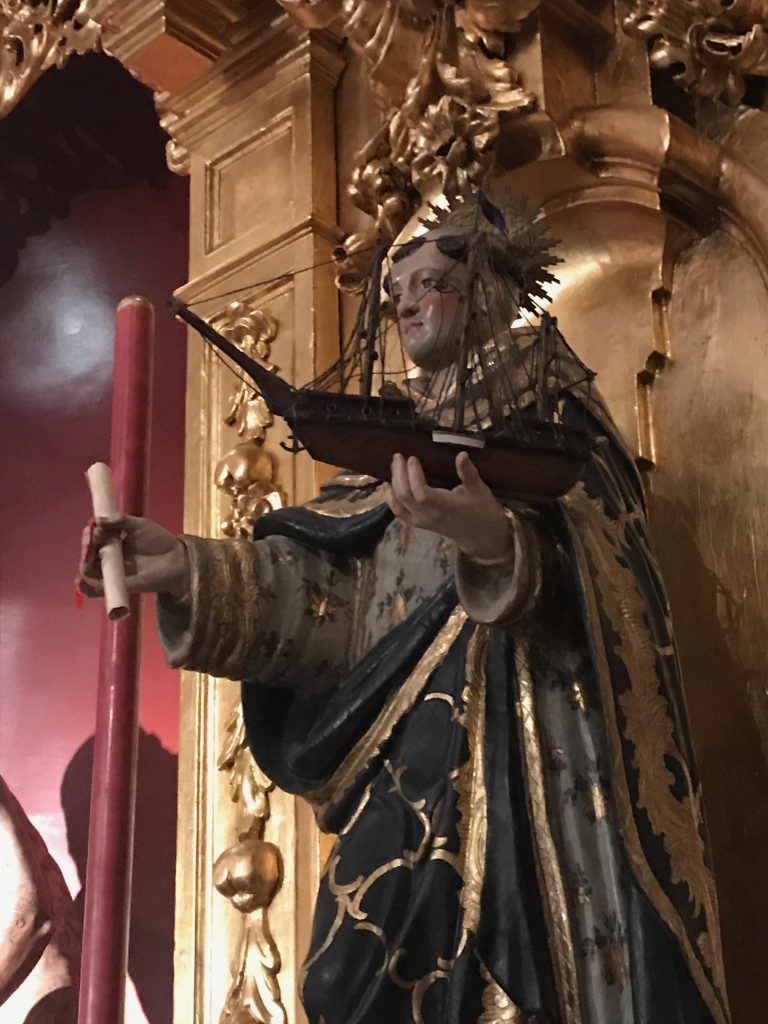 Headquarters of the Brotherhood of the Esperanza de Triana, the chapel attracts worshippers who come to kiss a statue of Jesus carrying the cross. There's even a guy whose sole responsibility seems to be wiping the statue between kisses.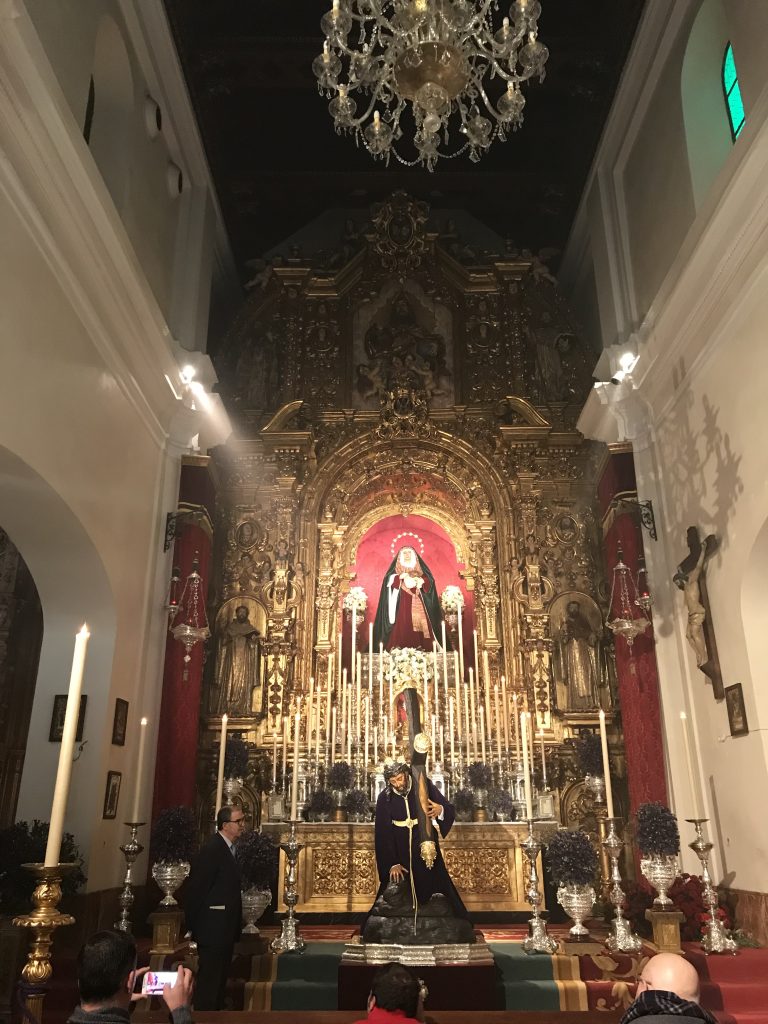 Another church, the Basílica de la Macarena, reminded us of a certain famous song from our teen years.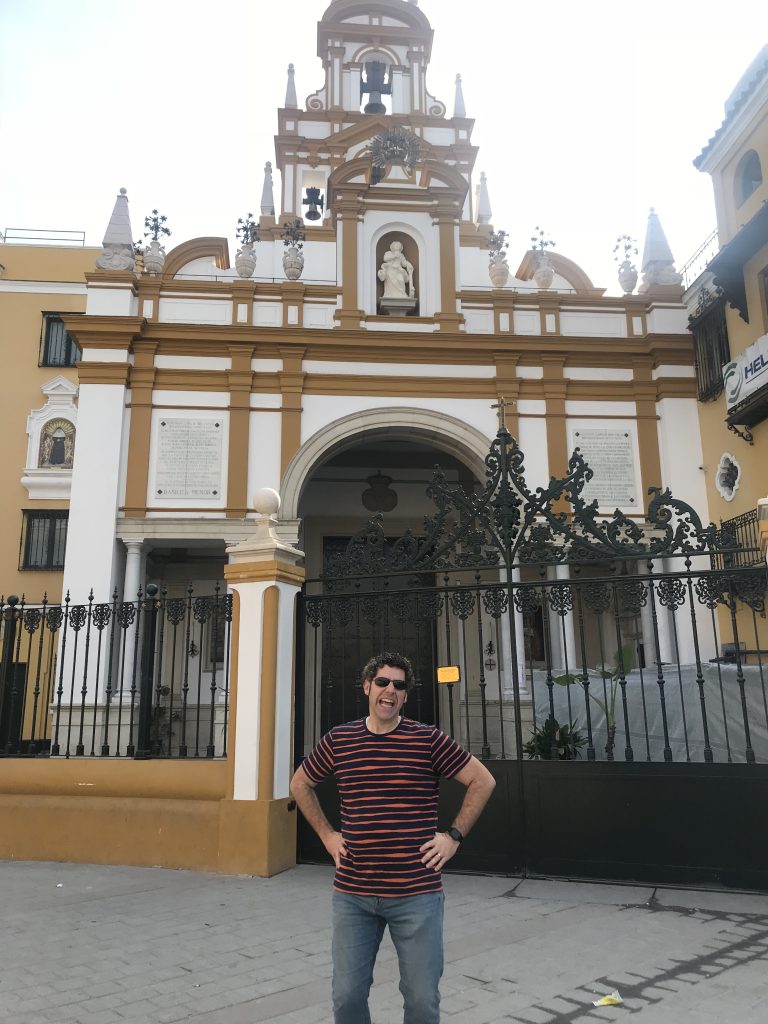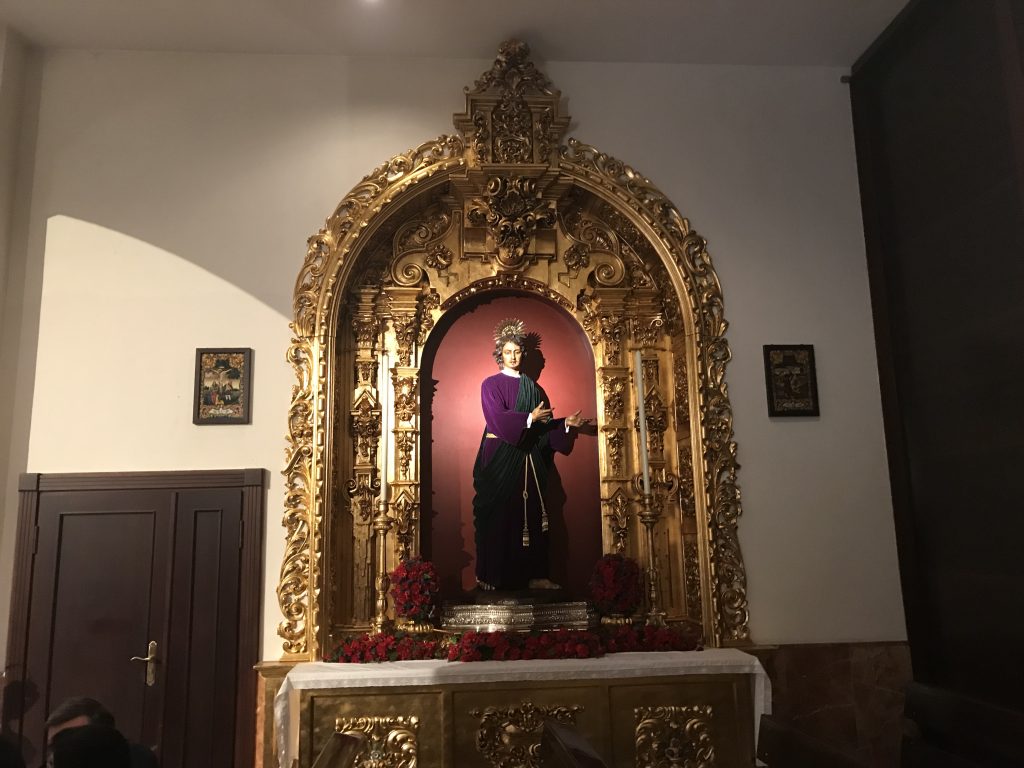 Fun name aside, the Macarena plays an important role in Sevilla's famous holy-week processions.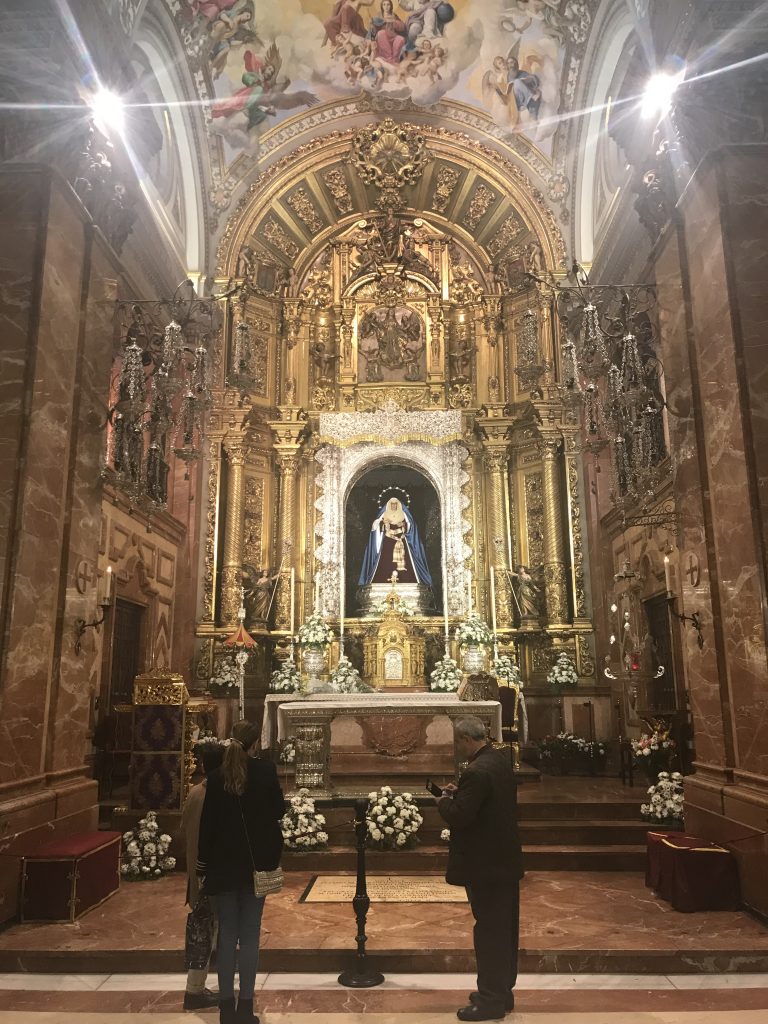 In fact, we got to see some kind of pre-holy week procession when we visited. Maybe it was a dress rehearsal?
Amazing how many people it takes to carry around the float on their shoulders. When it's time for a break, someone lifts the knocker and all set the float down for a minute or two.
We also visited the city's cathedral and climbed La Giralda, its bell tower, for a better view of the city.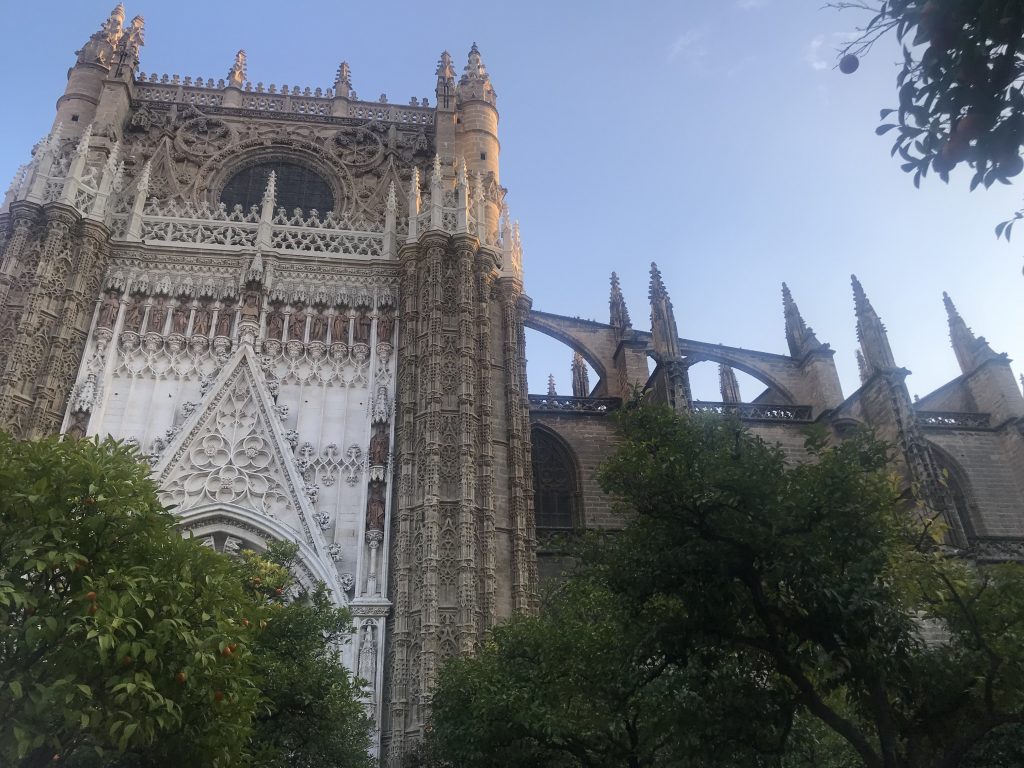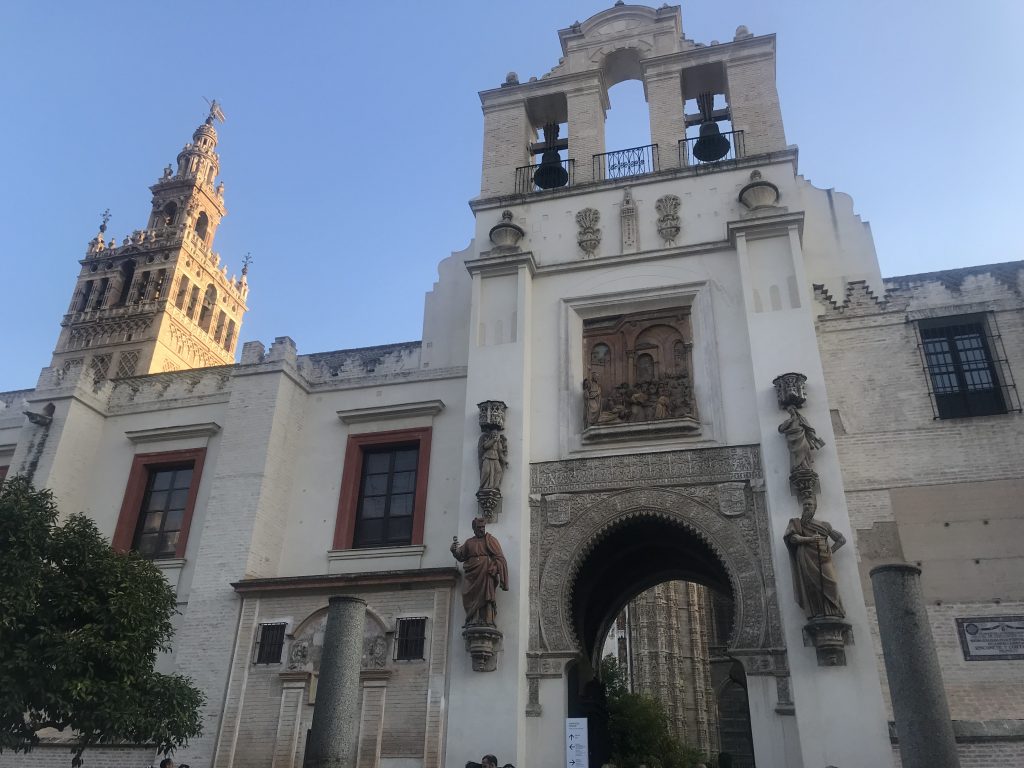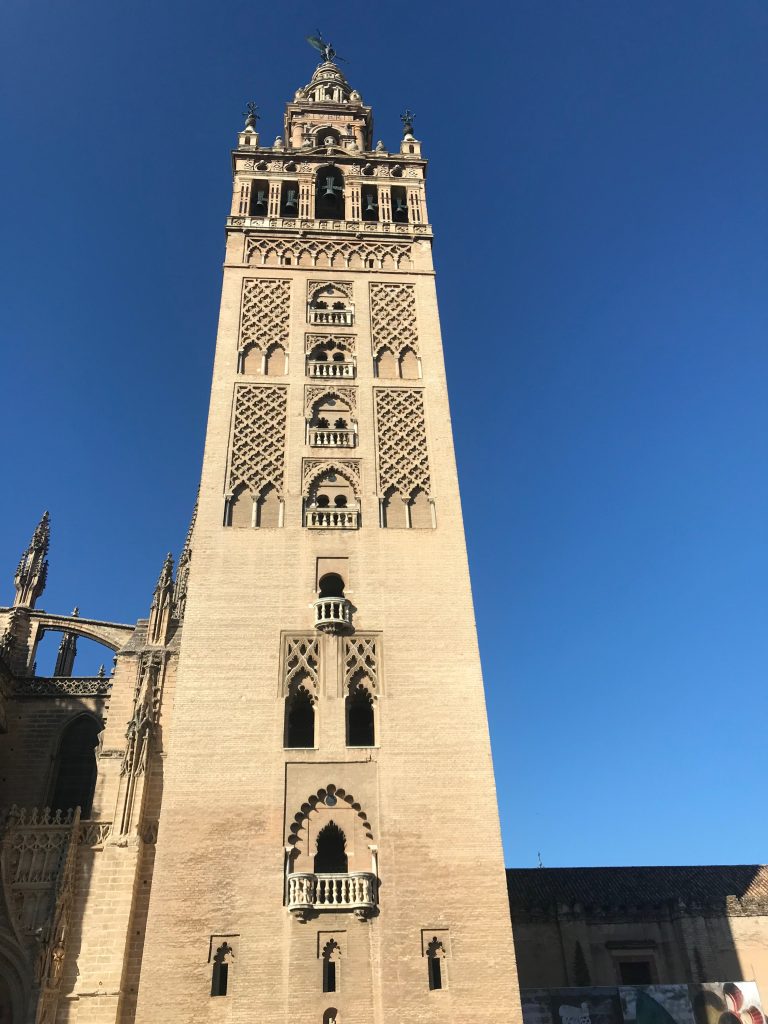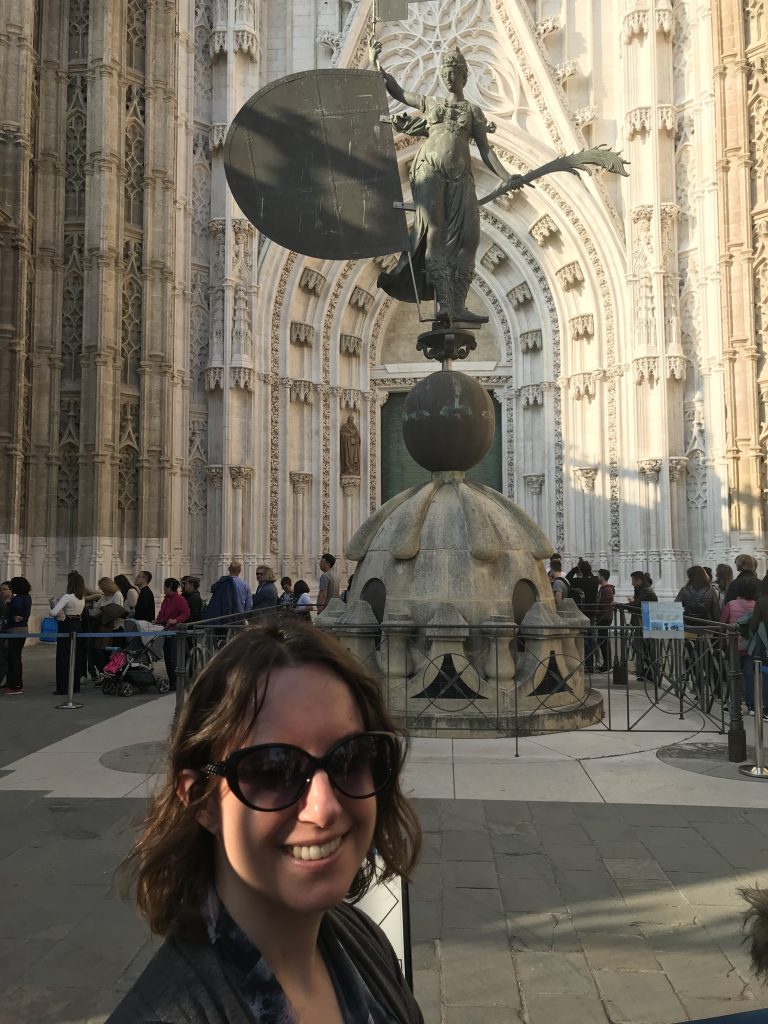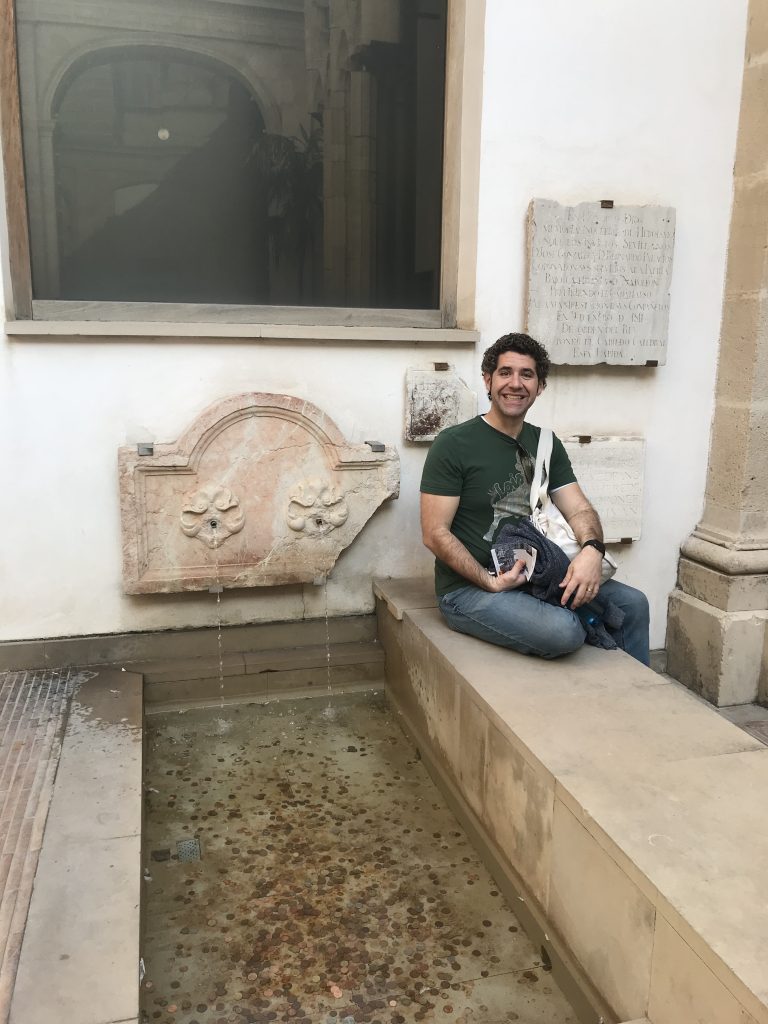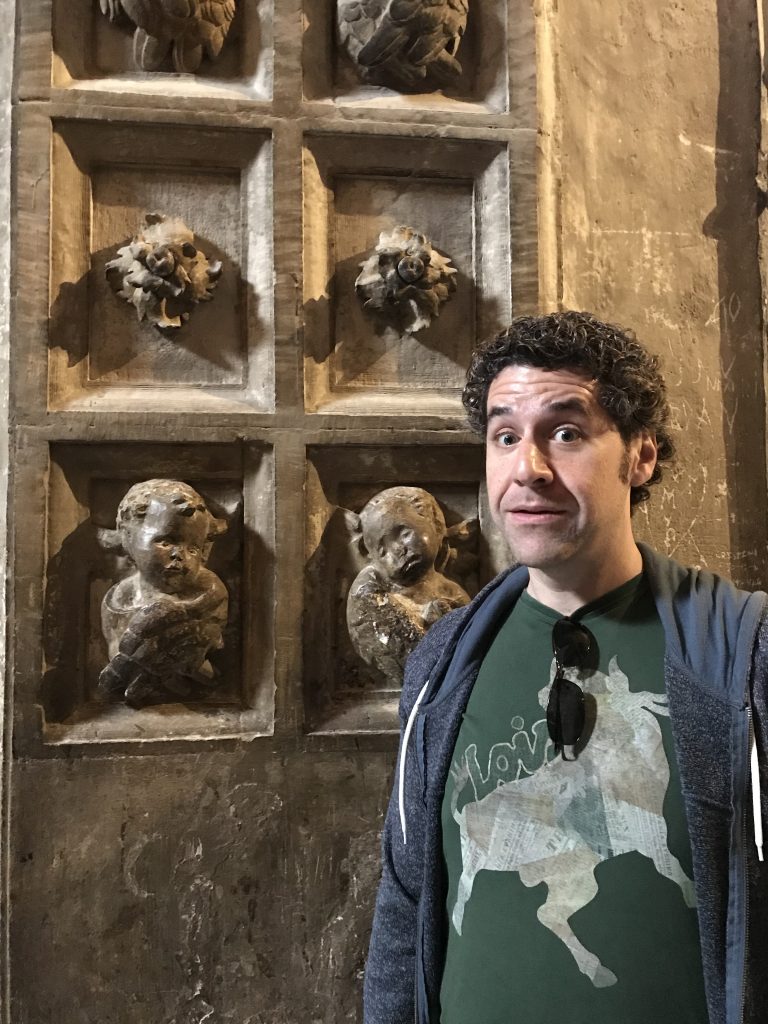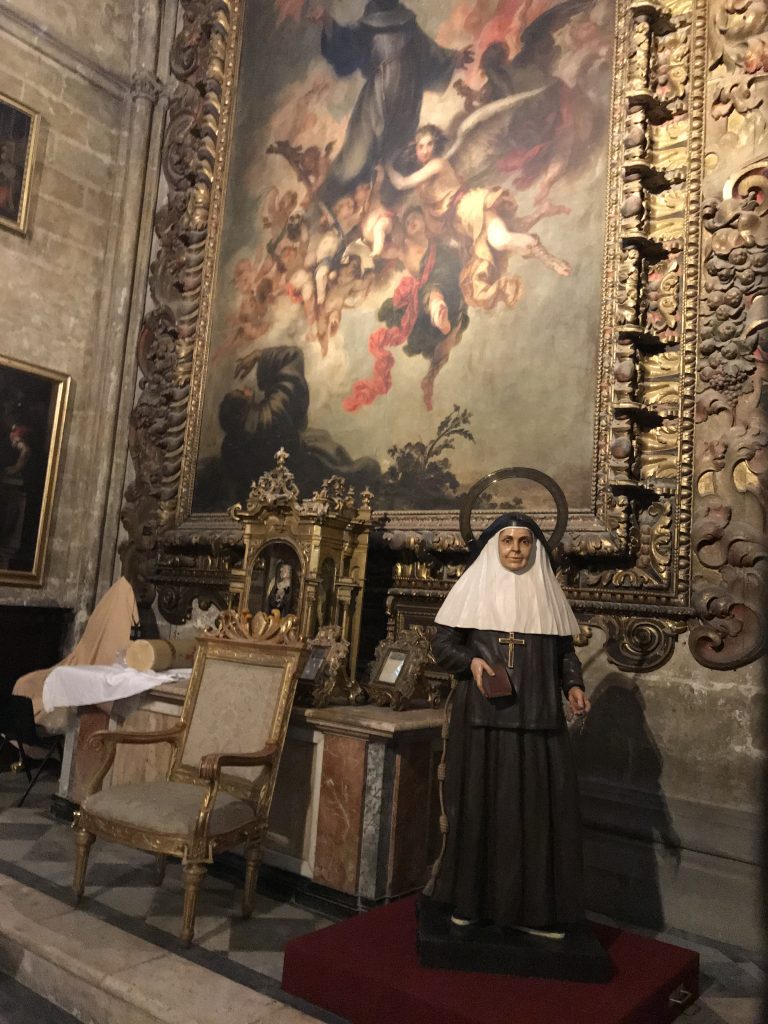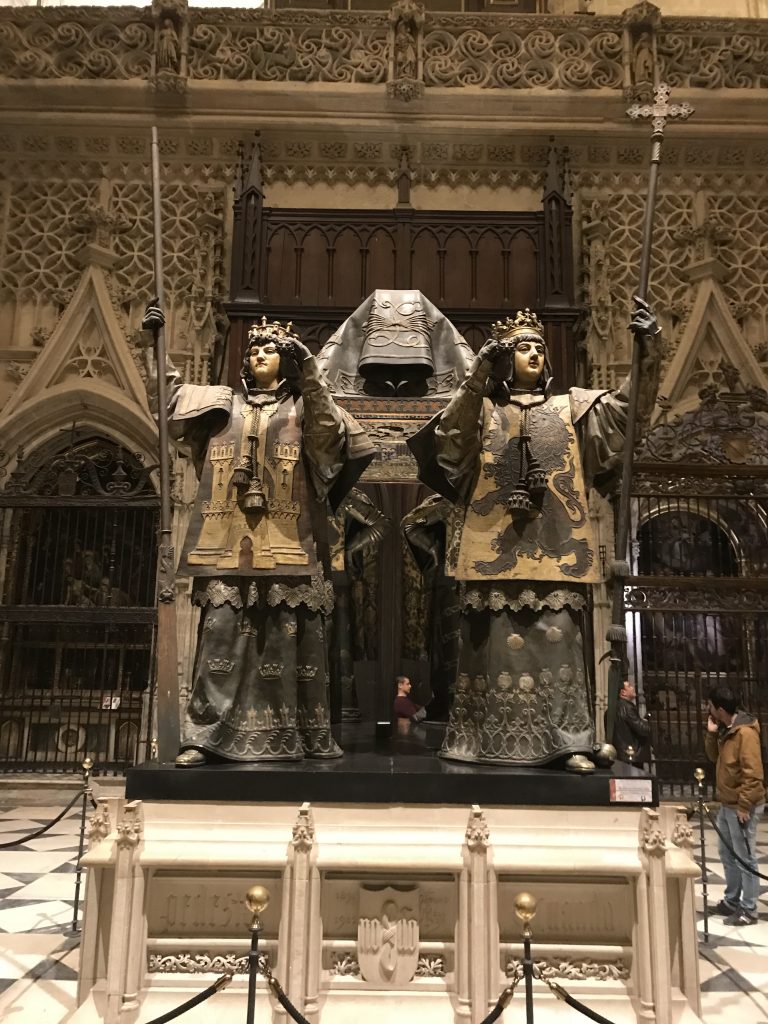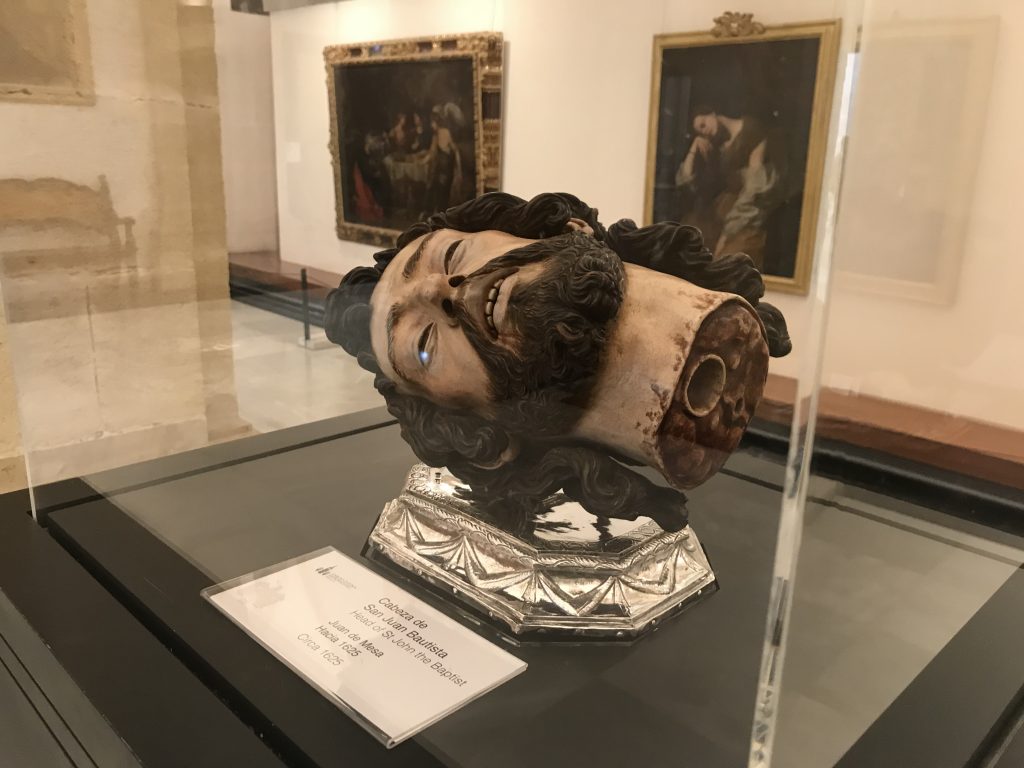 And up into the bell tower! Fun fact: there were no steps. The whole thing featured ramps around all four sides so the ringer in a time before elevators could go up and down on his horse.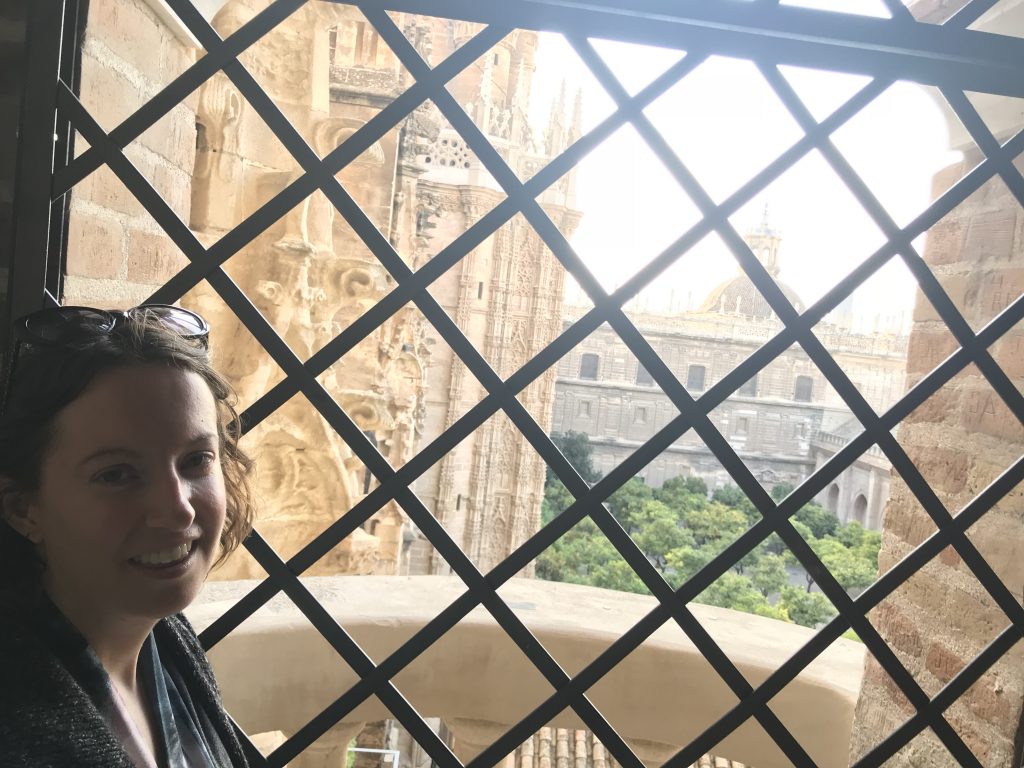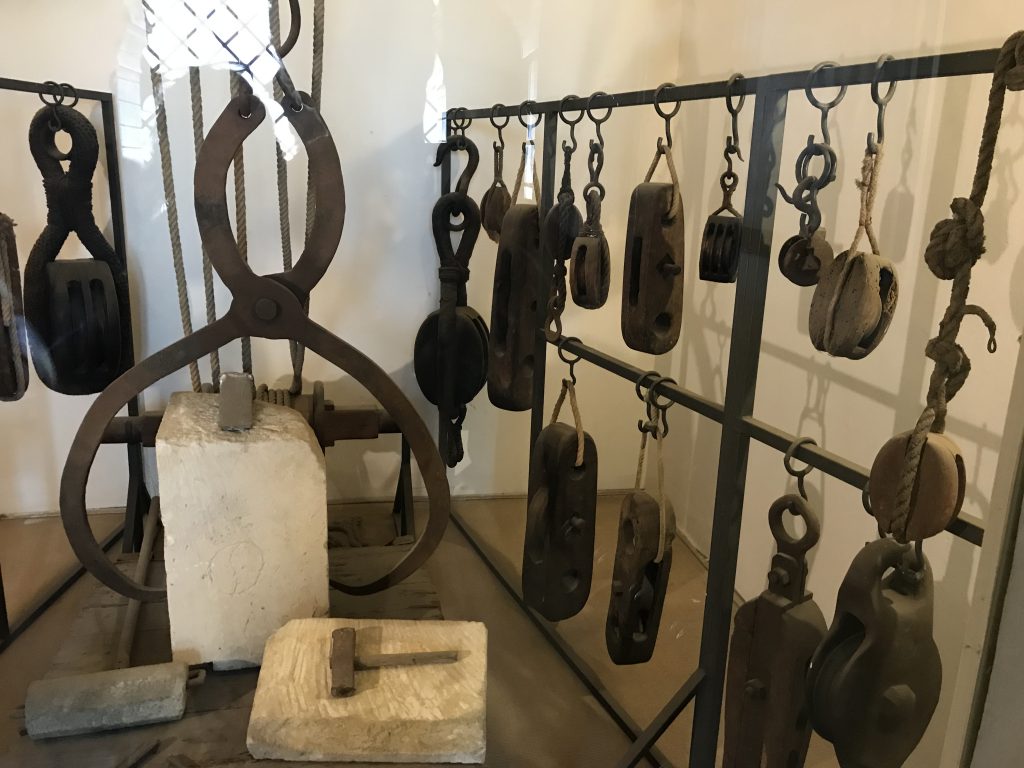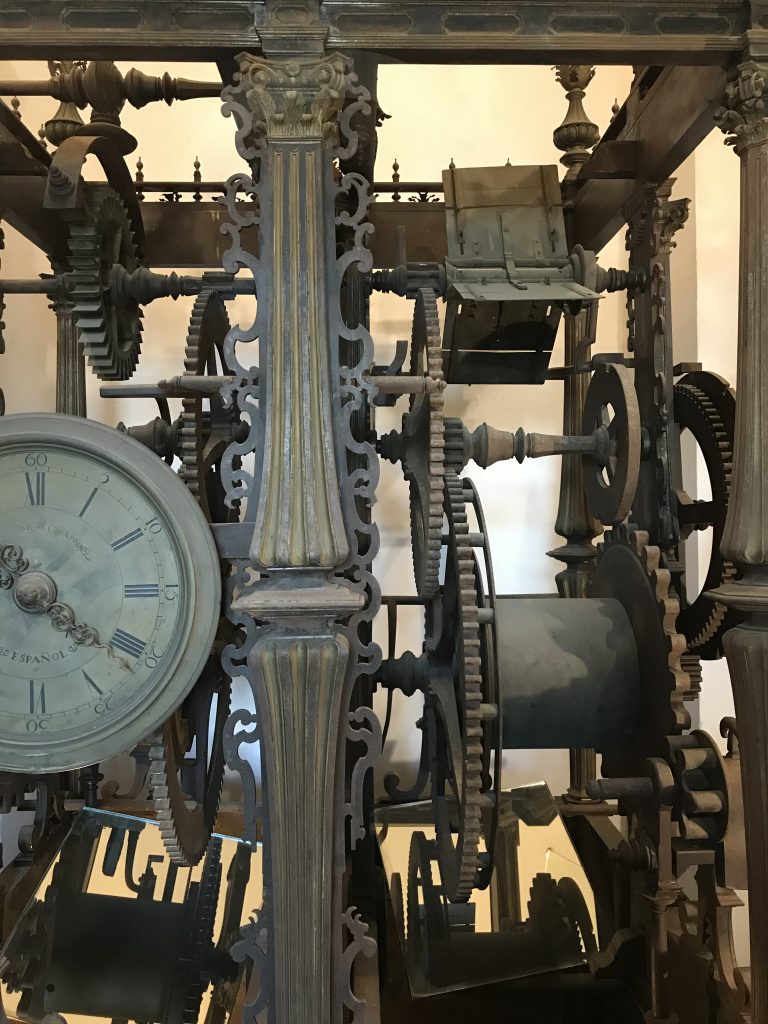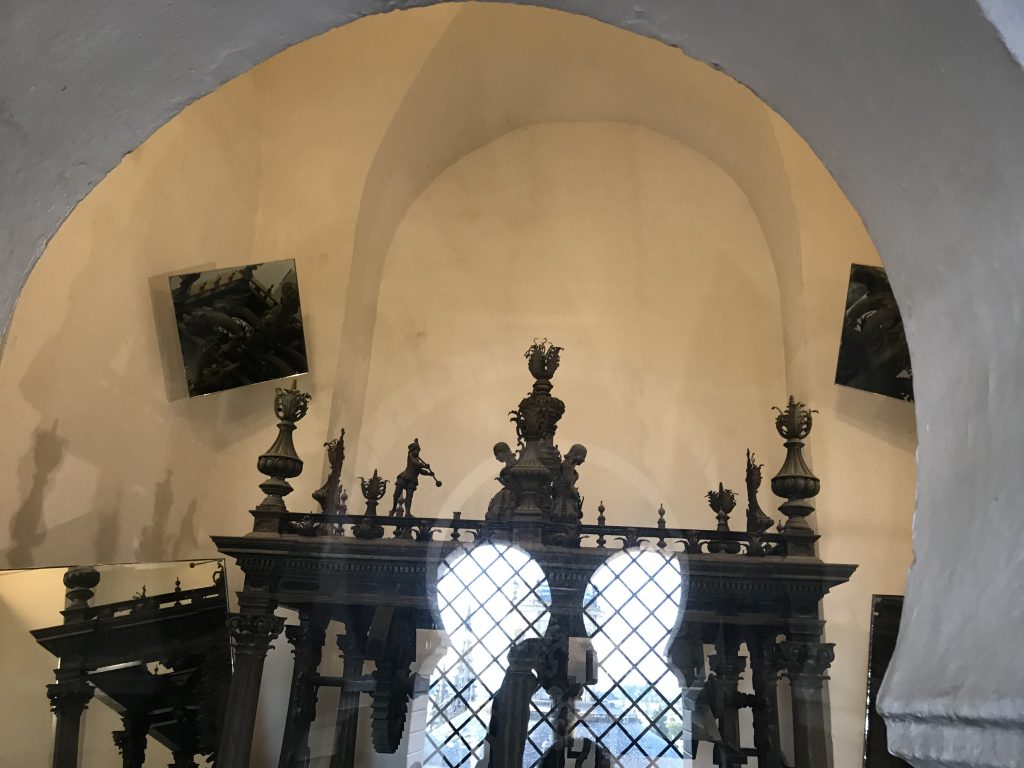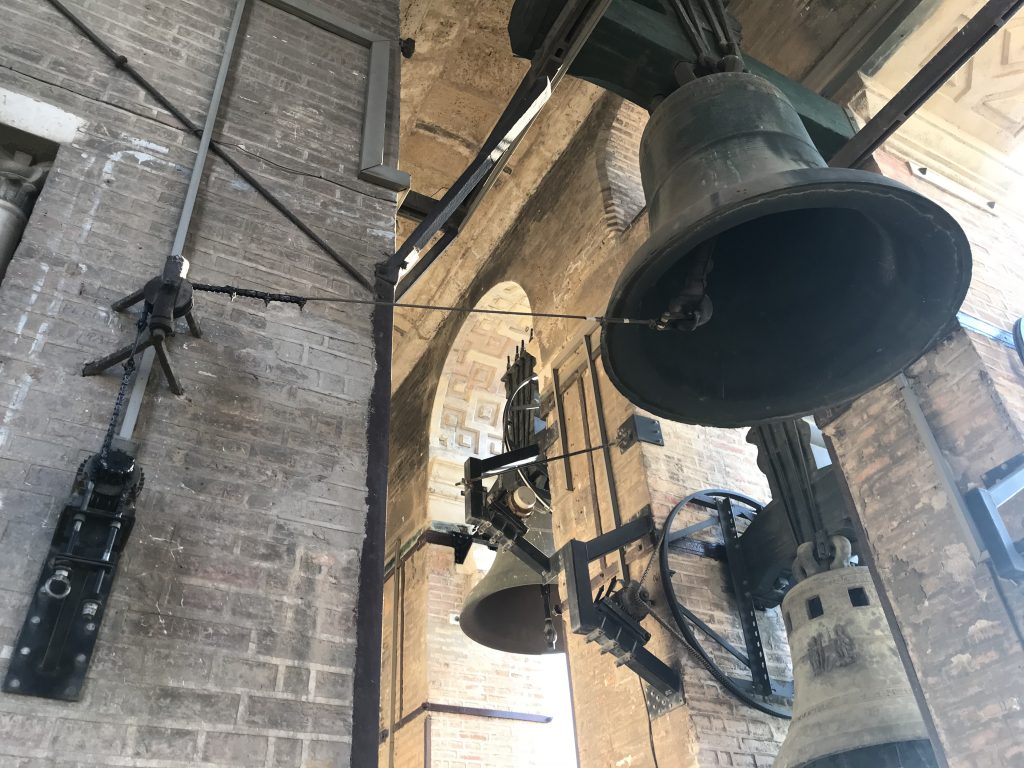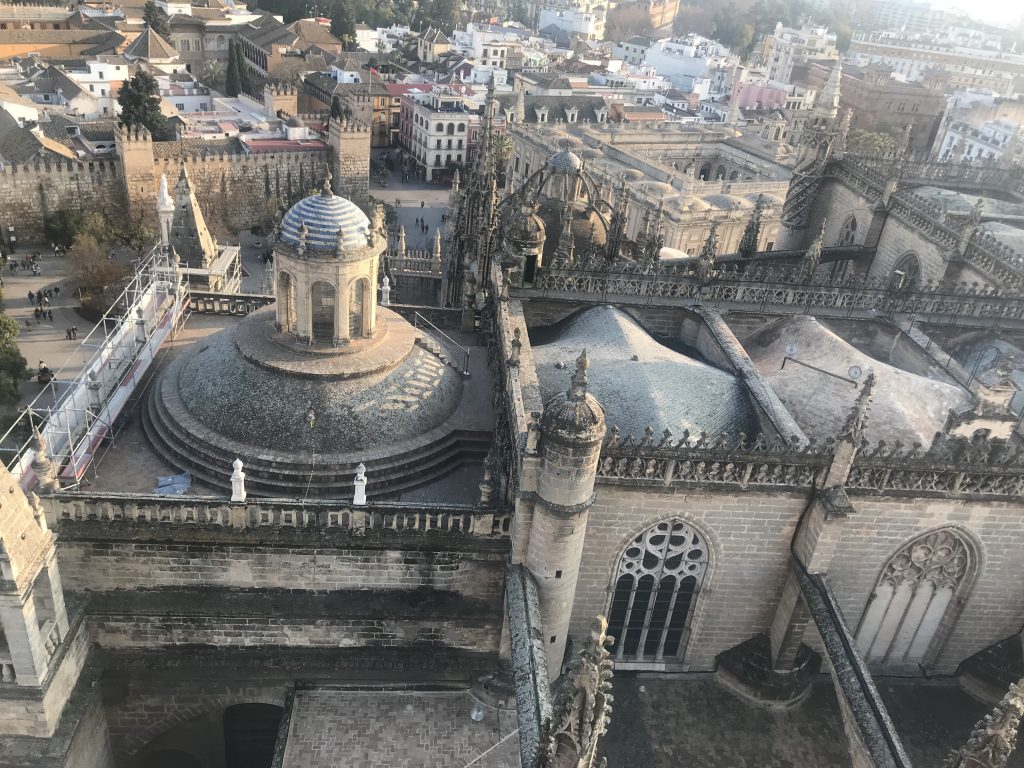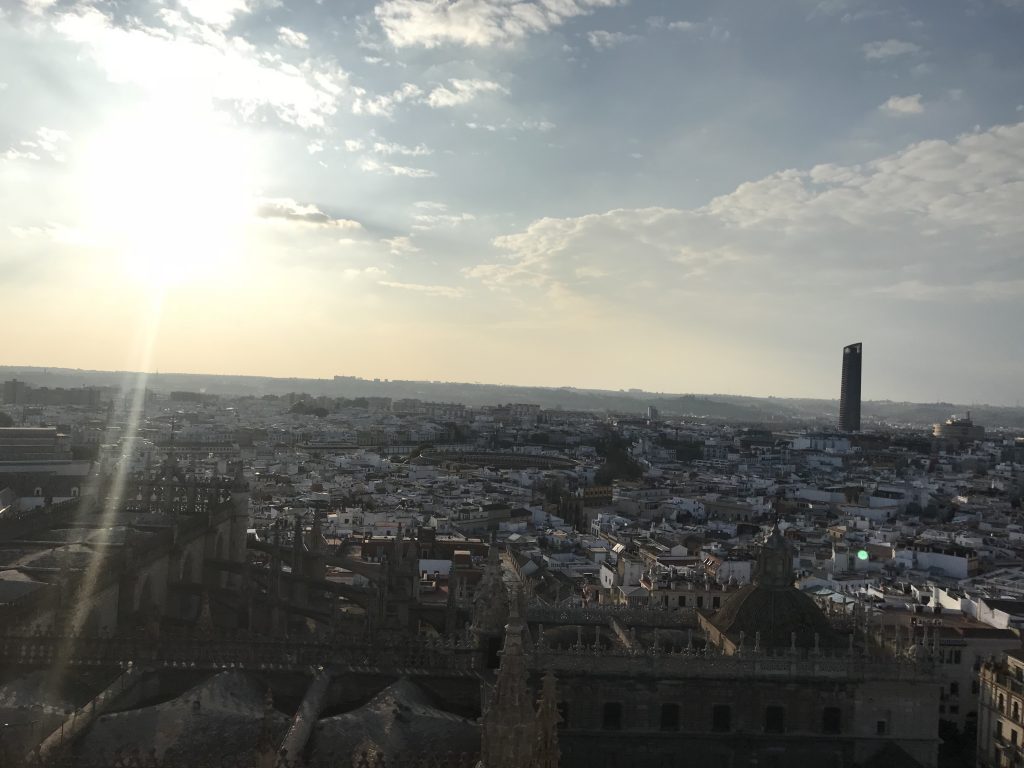 Speaking of views, now THAT'S a monstrance.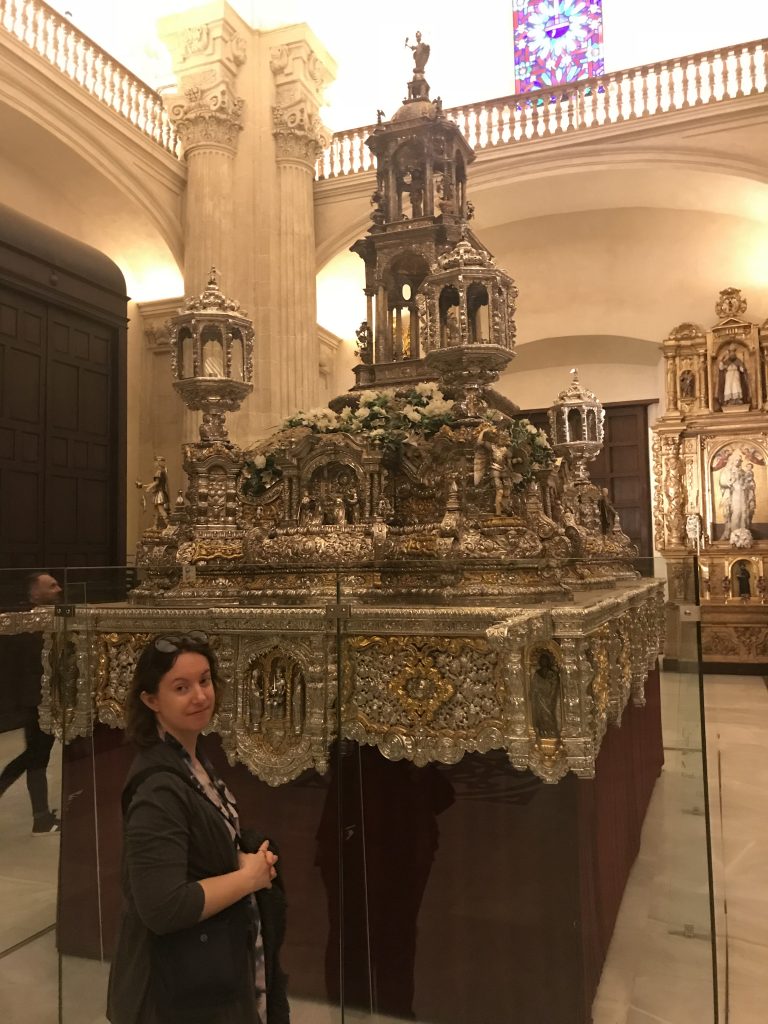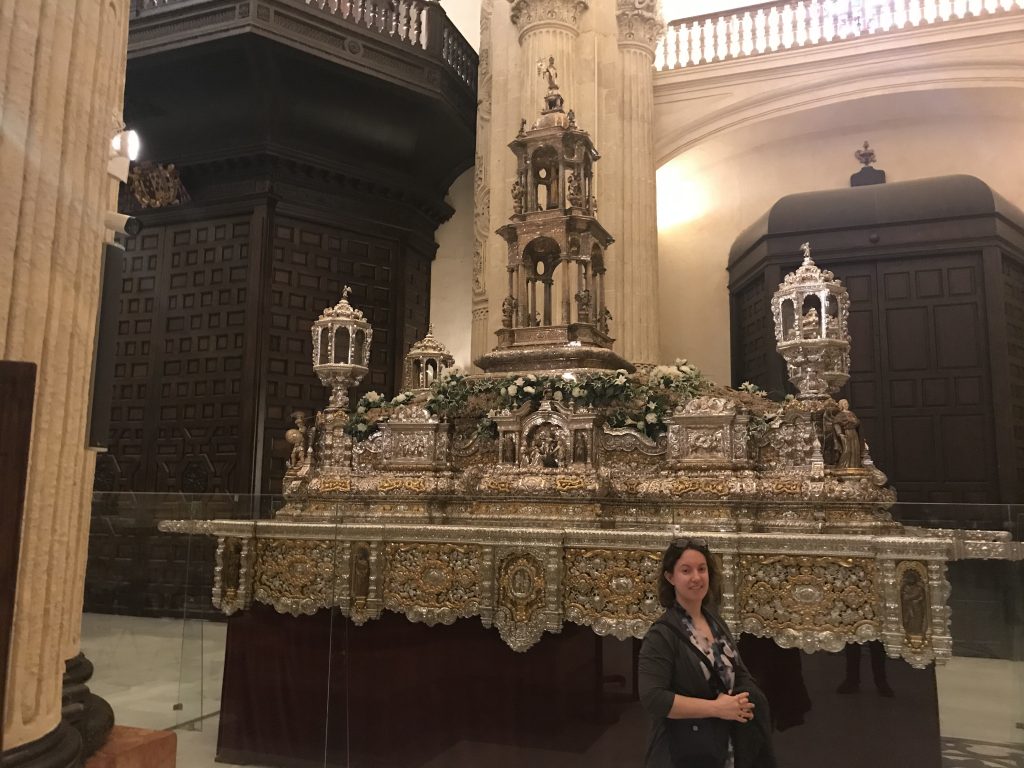 We found more fun stuff inside La Iglesia de El Salvador. Spanish history being what it is and all, the church was actually built on top of the Ibn Adabbas mosque, itself built in the year 829. The back of the church featured photos of an excavation done in the 1990s, attempting to uncover all of this history.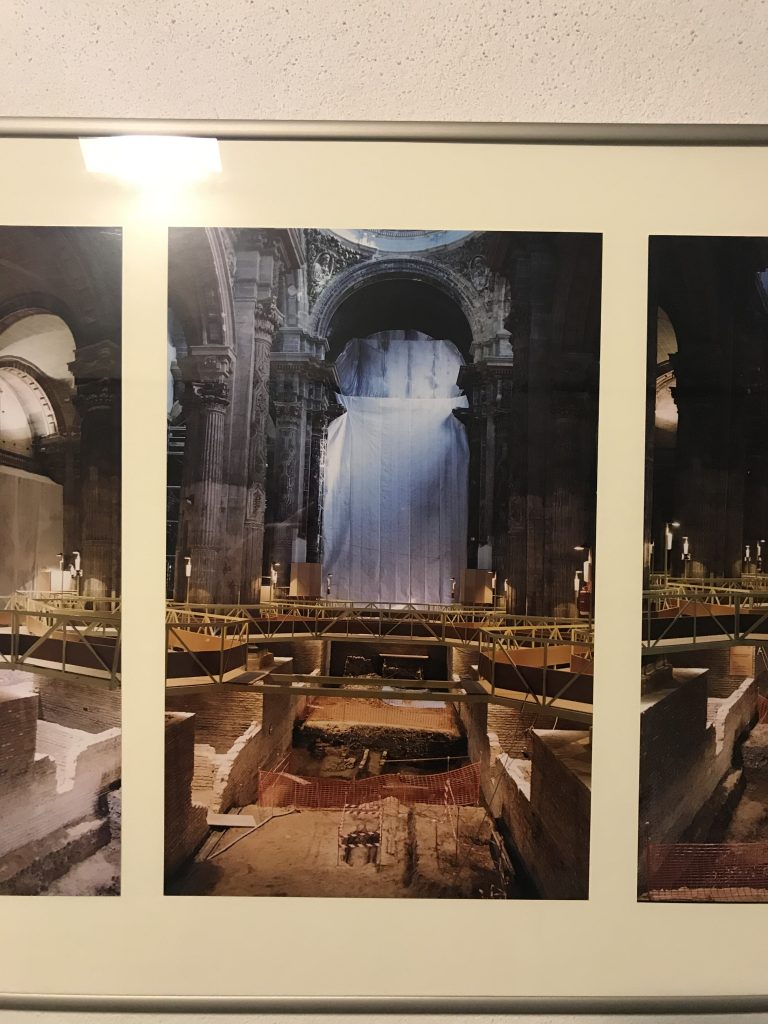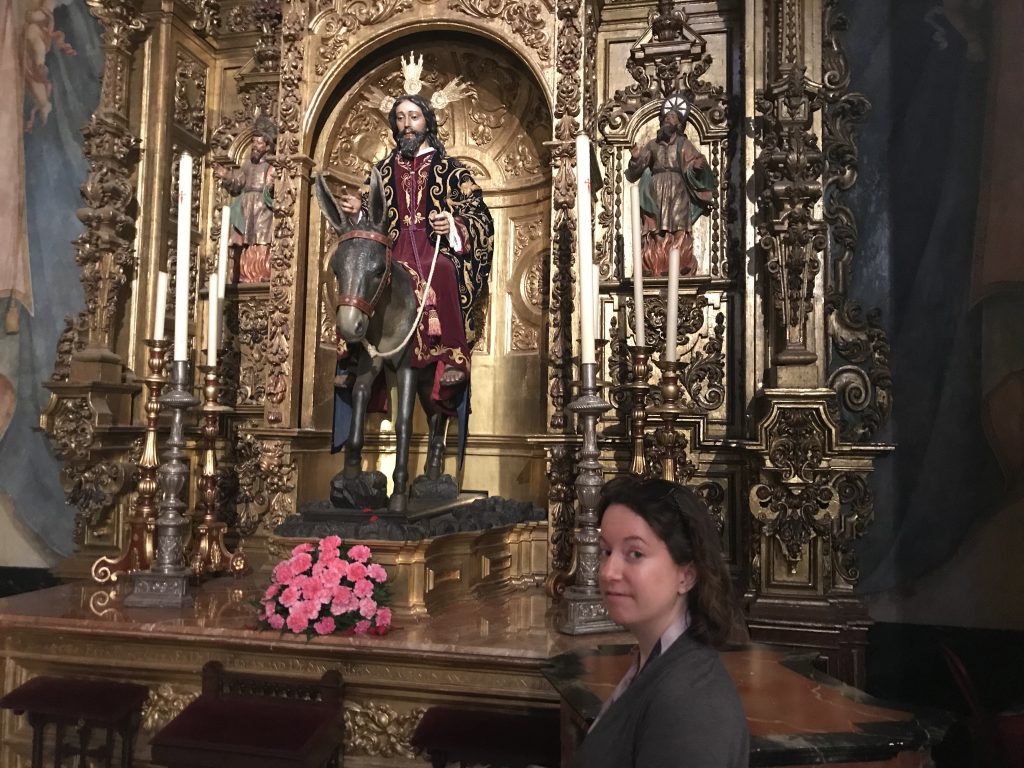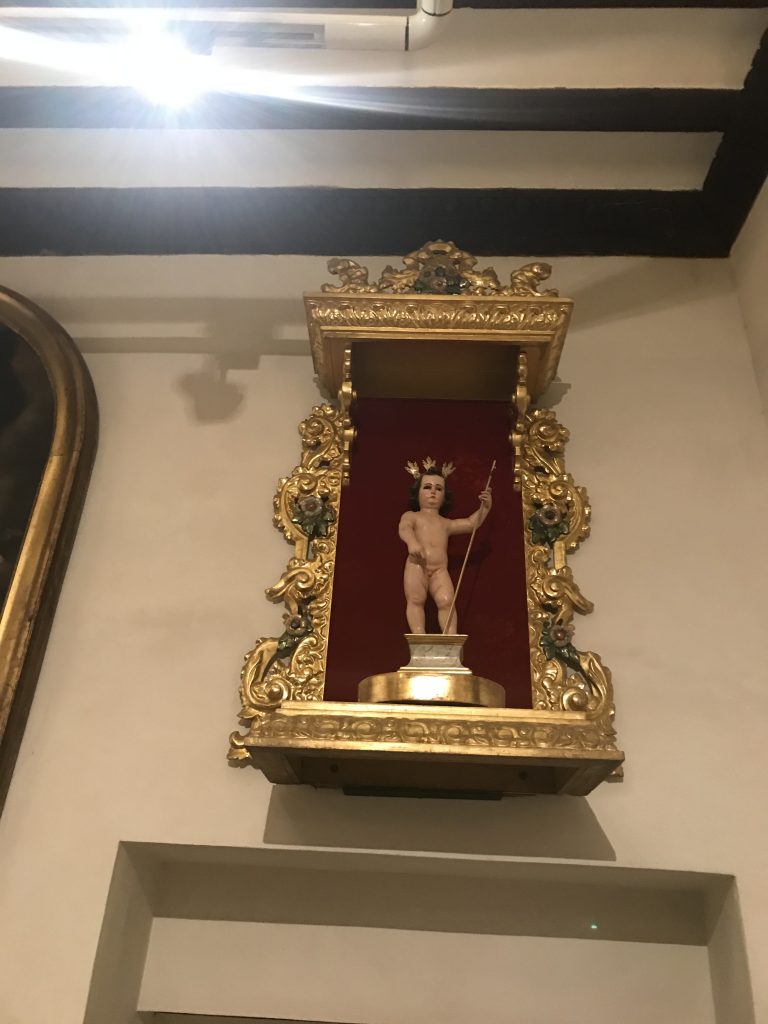 The strangest of our Catholic experiences was the Convento / Monasterio de Santa Paula. We were welcomed with open arms to see the art collection amassed by the sisters. They even have baked goods, jams, and preserves for sale.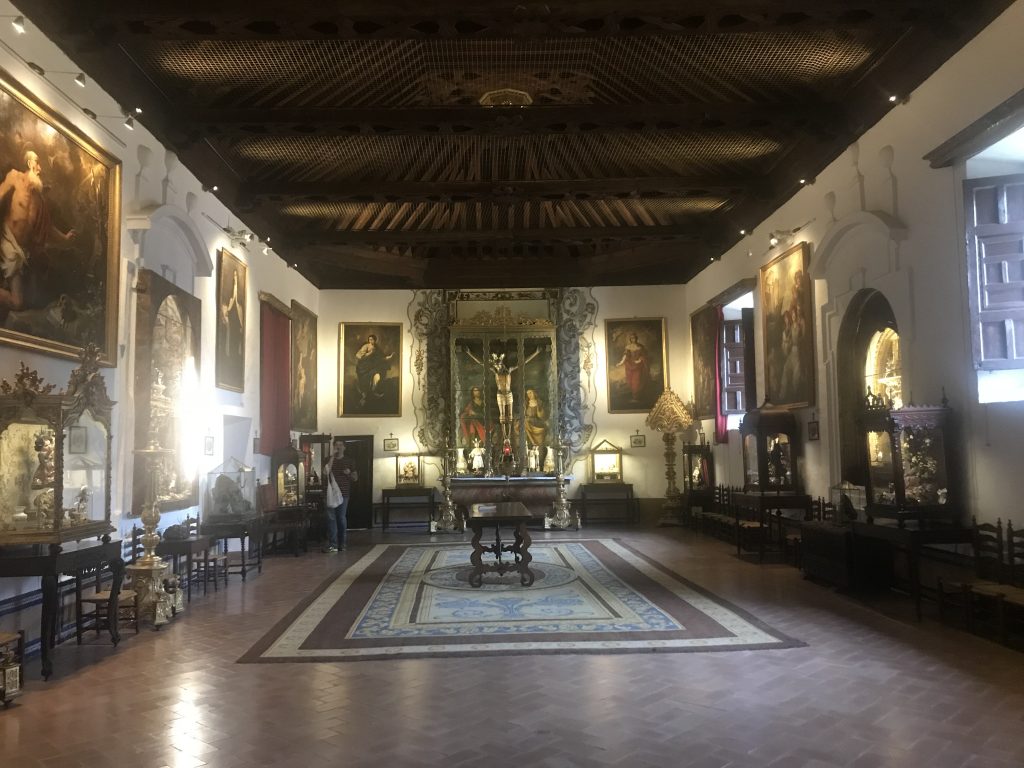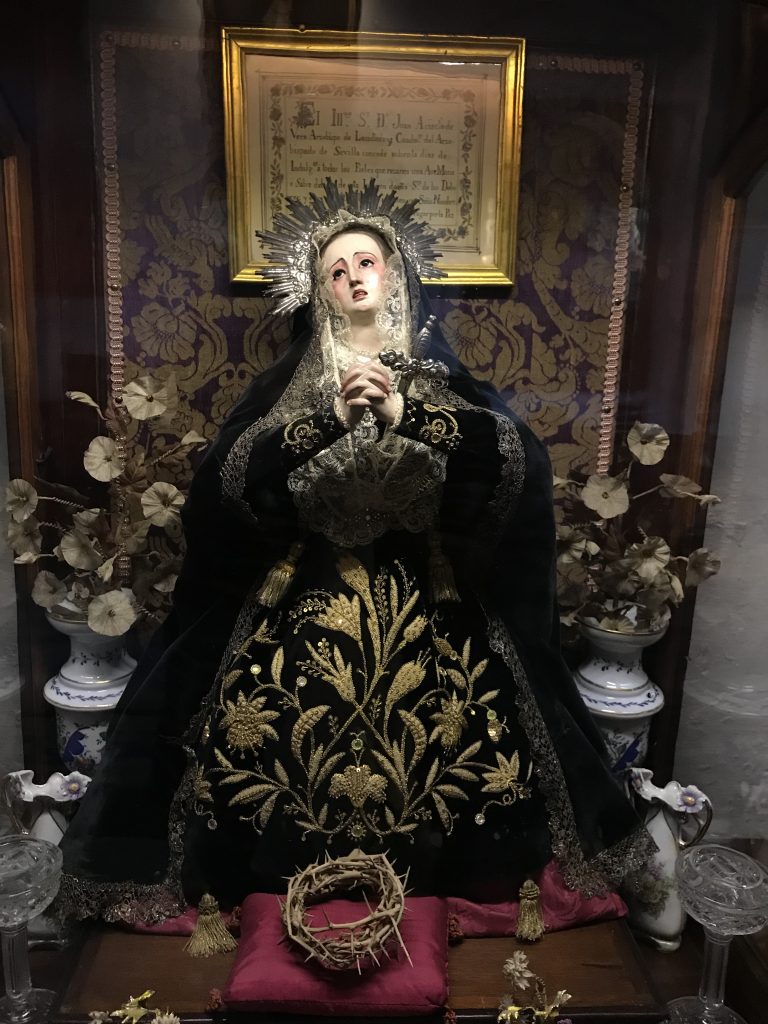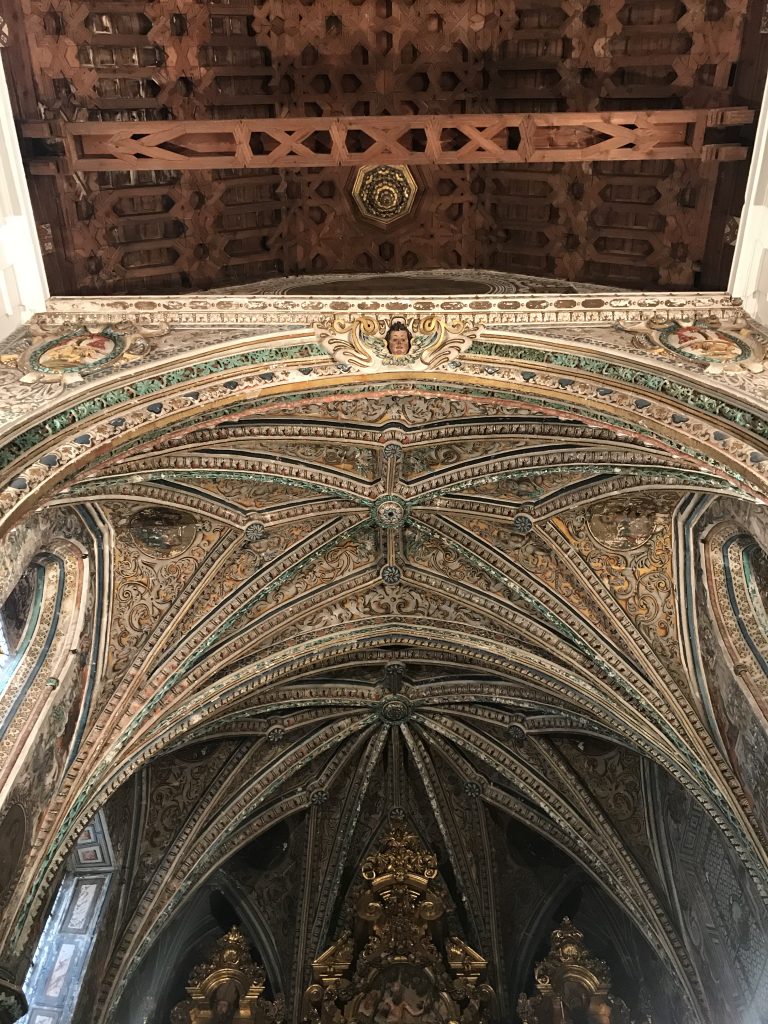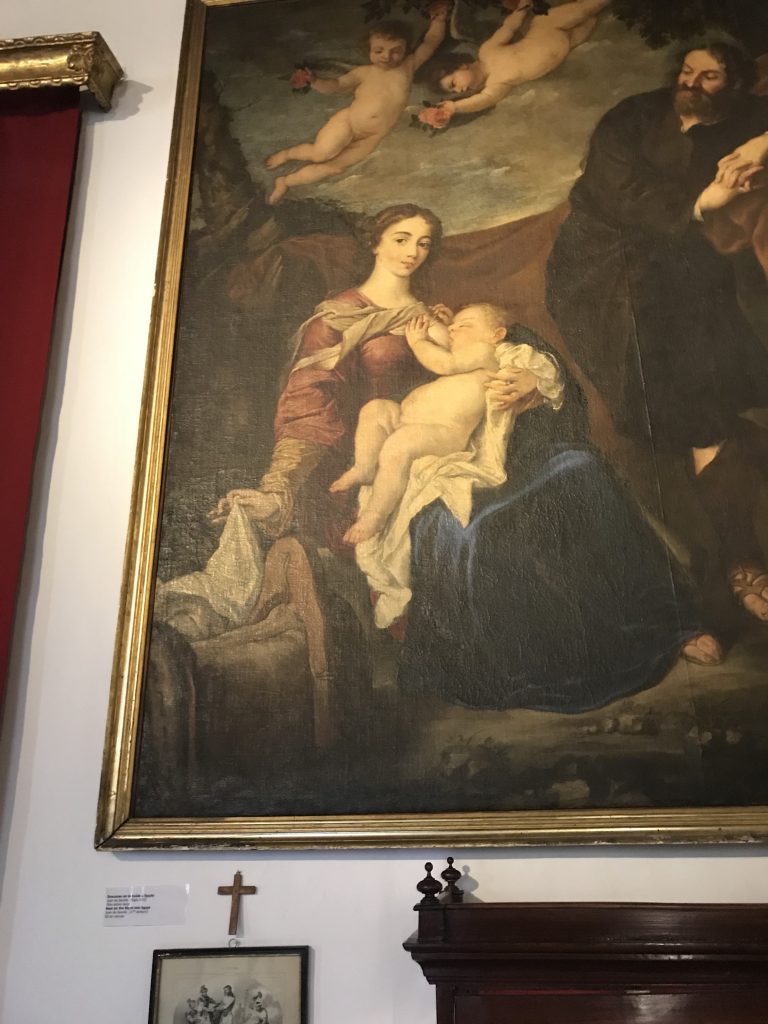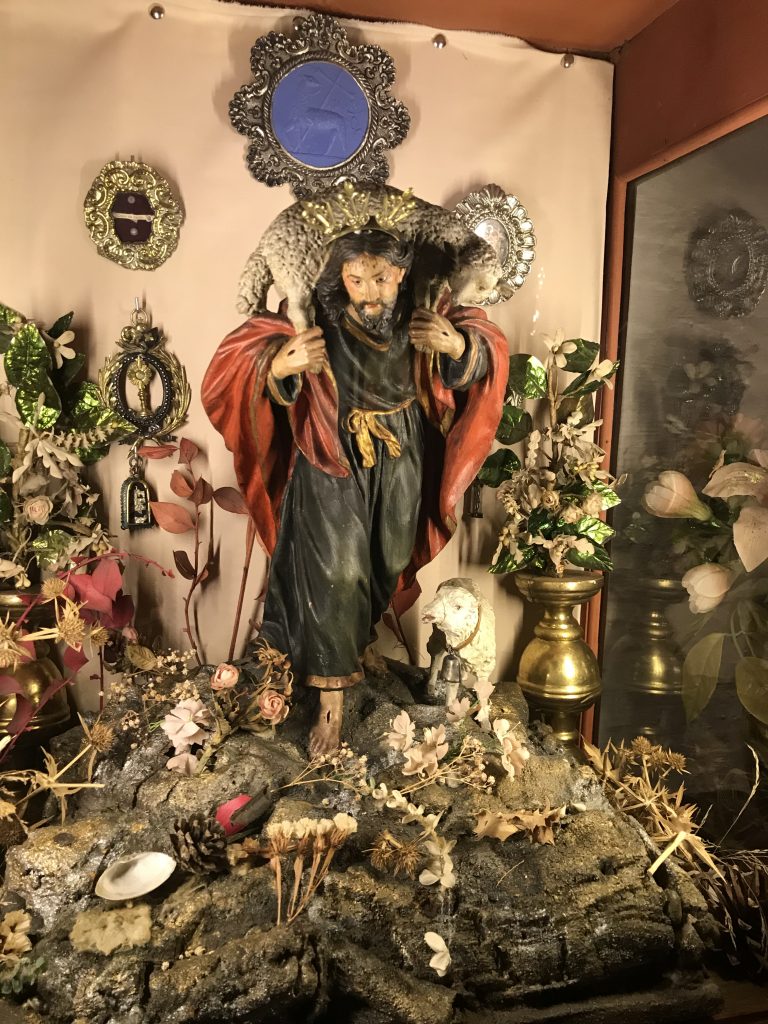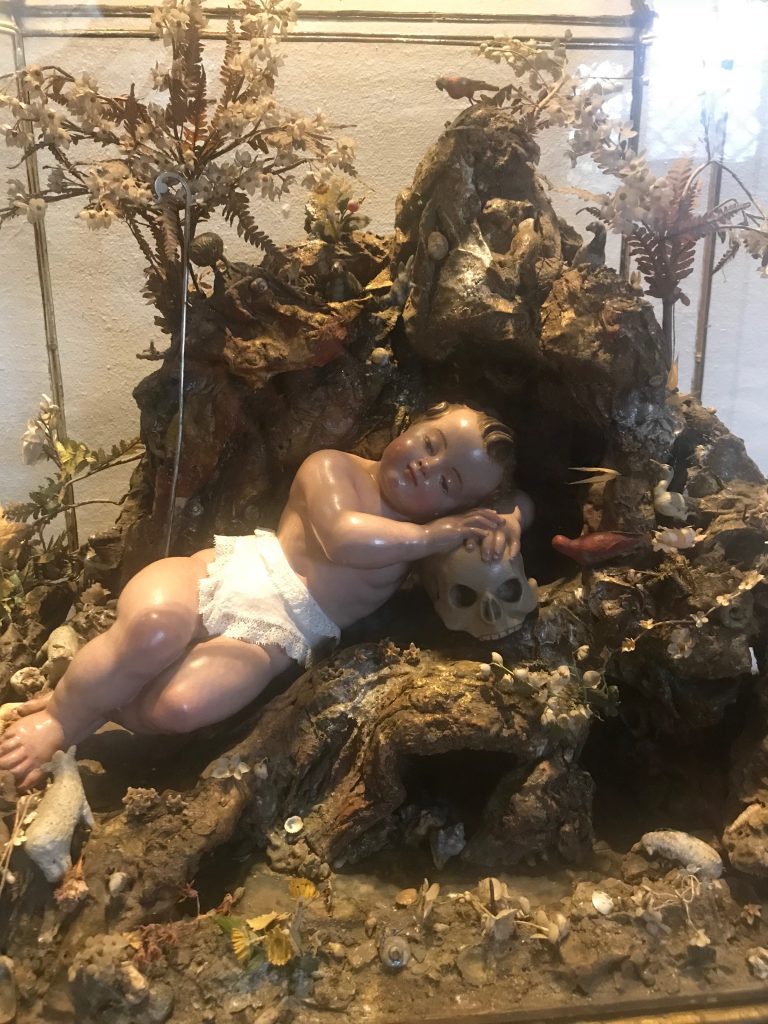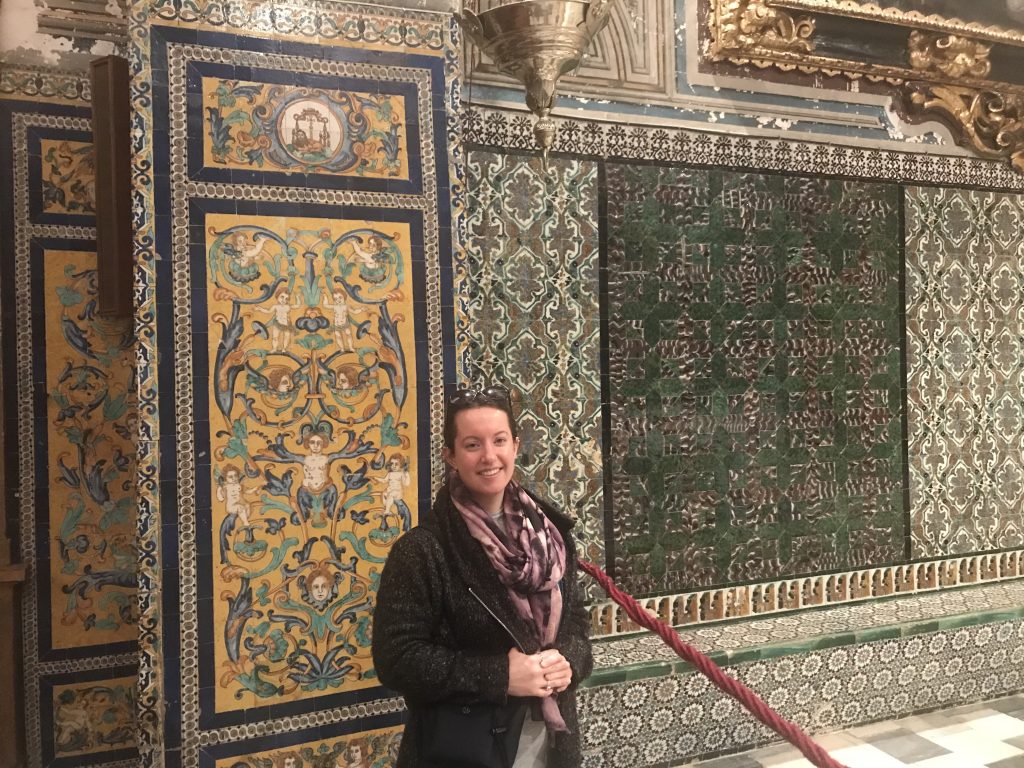 Getting around to see all of this religious art was real pain and suffering for us.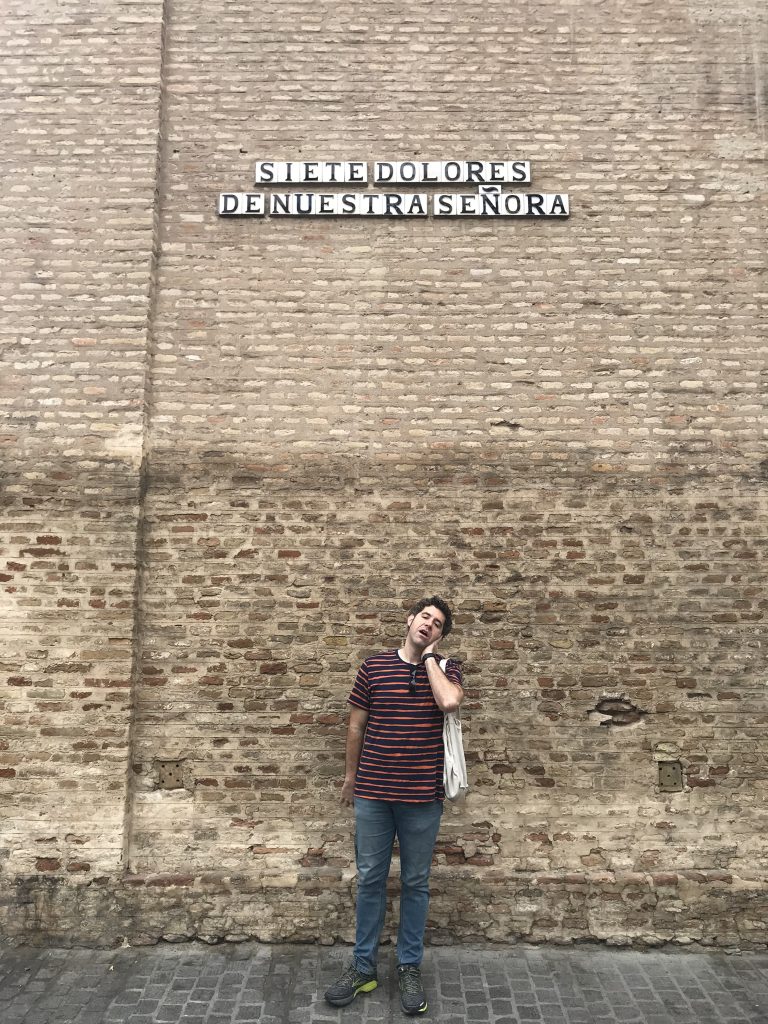 And eventually Doer said he'd seen enough churches for one trip, thankyouverymuch.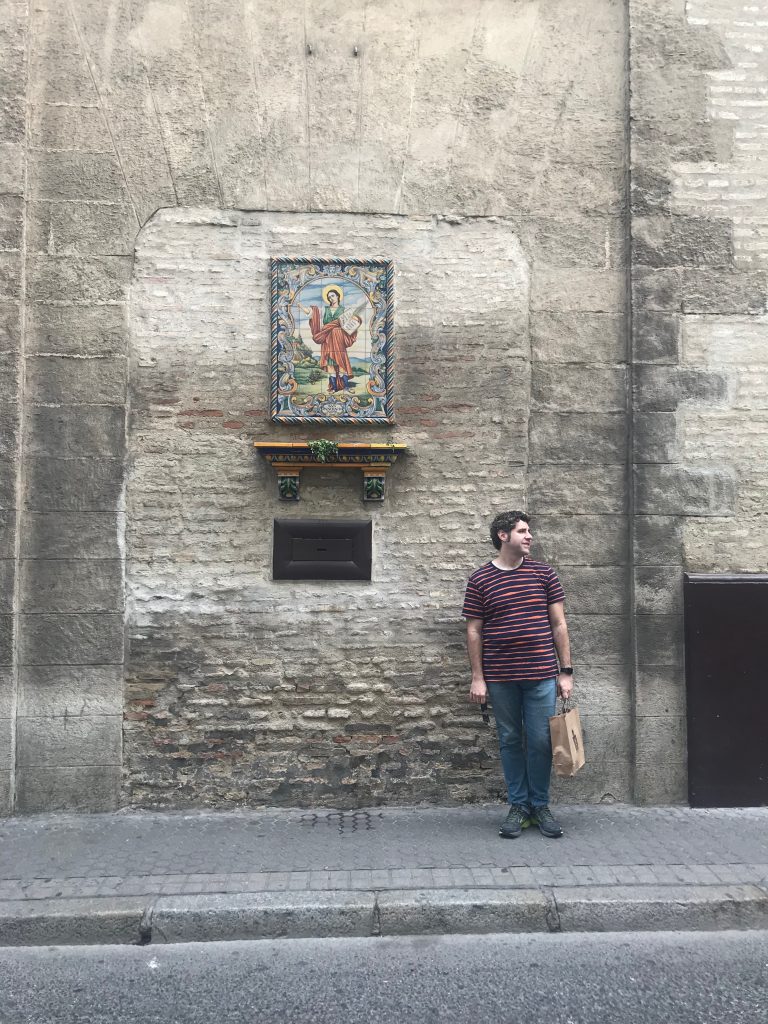 After a few days of serious churching, we stopped outside the Iglesia del Salvador for our weekly FaceTime with Grandma Esther.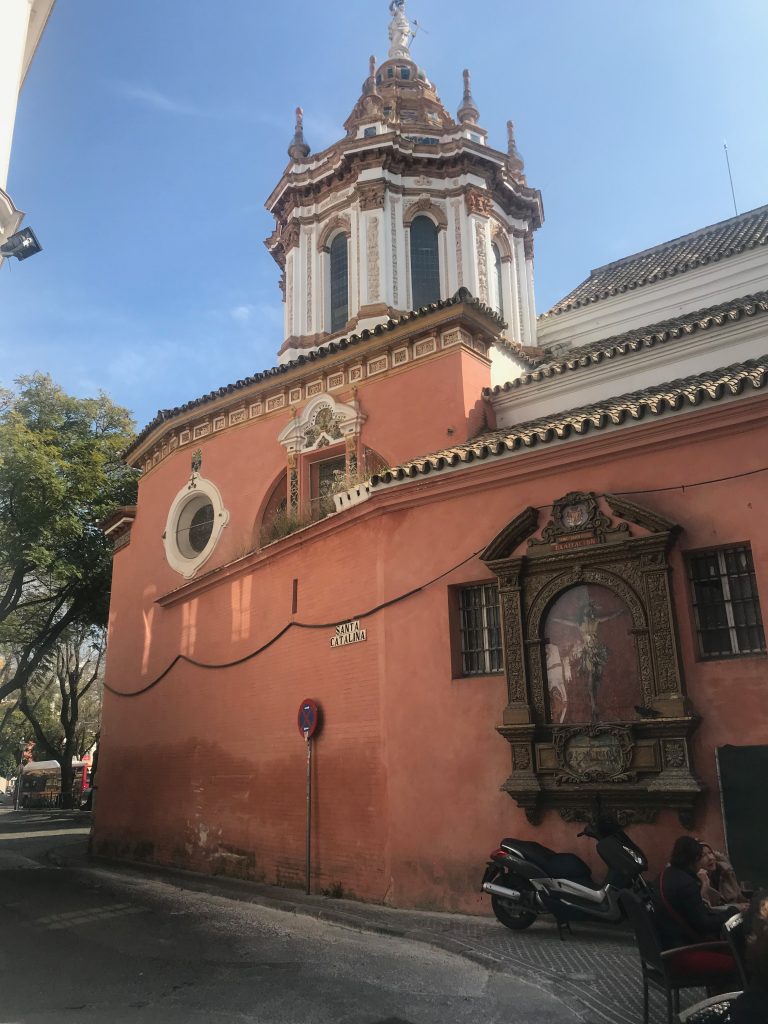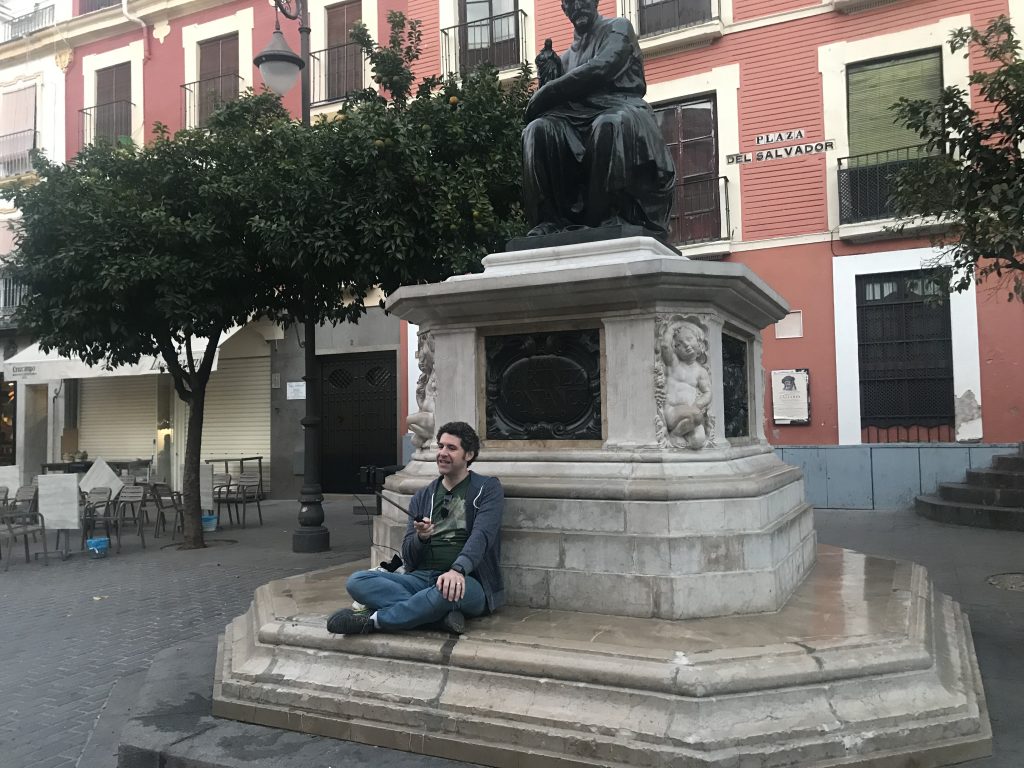 Moving on to more secular things, La Real Fábrica de Tabacos de Sevilla, a tabacalera or old tobacco factory and the setting of four different operas, the most famous being Bizet's Carmen. Sevilla's position on the Guadalquivir river allowed ships returning from the Americas to unload tobacco and other products they were carrying back to the Old World. Today, this complex is home to the University of Sevilla.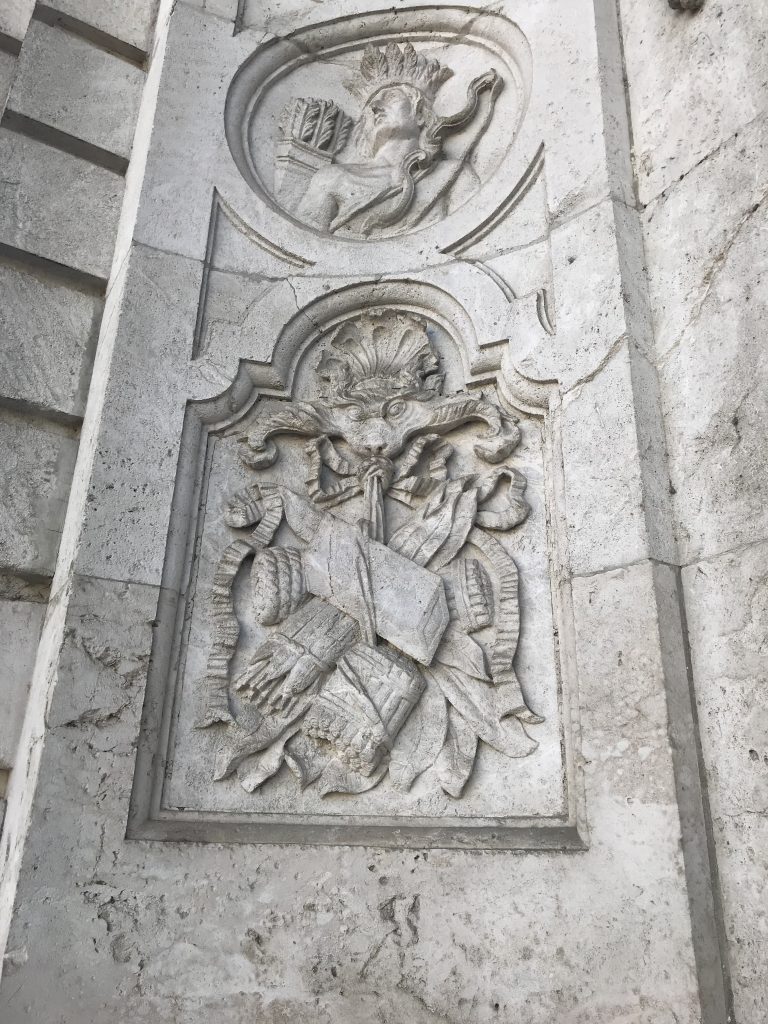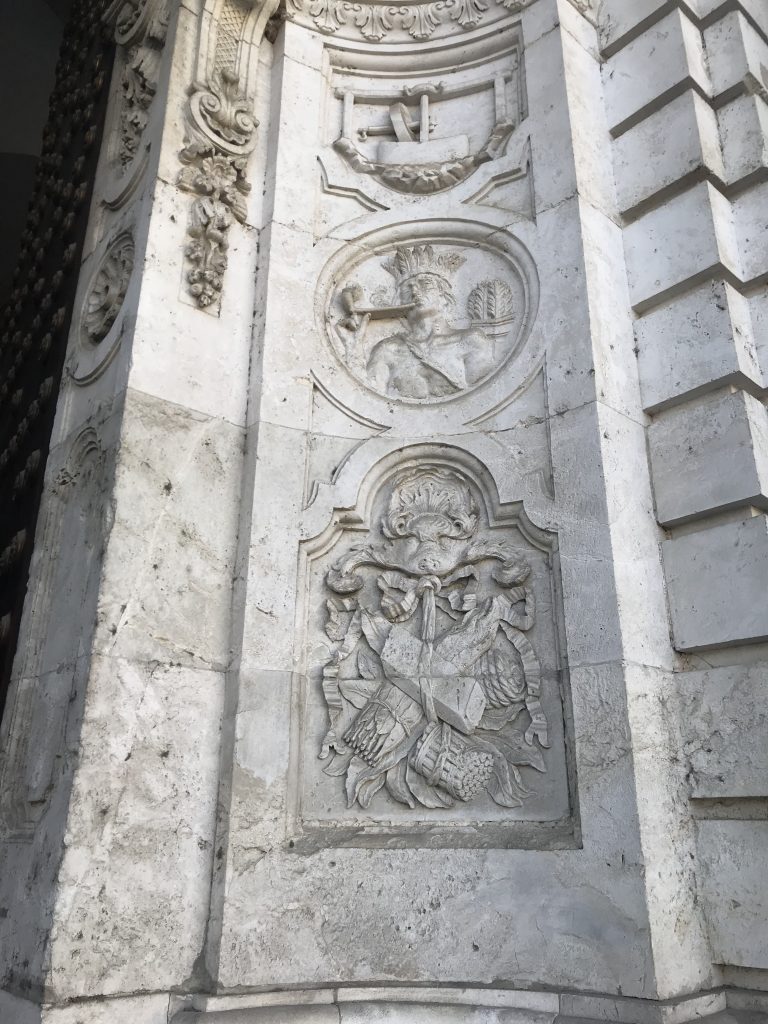 We took a tour of the grounds and passed an exhibition of sculpture inside one of the corridors.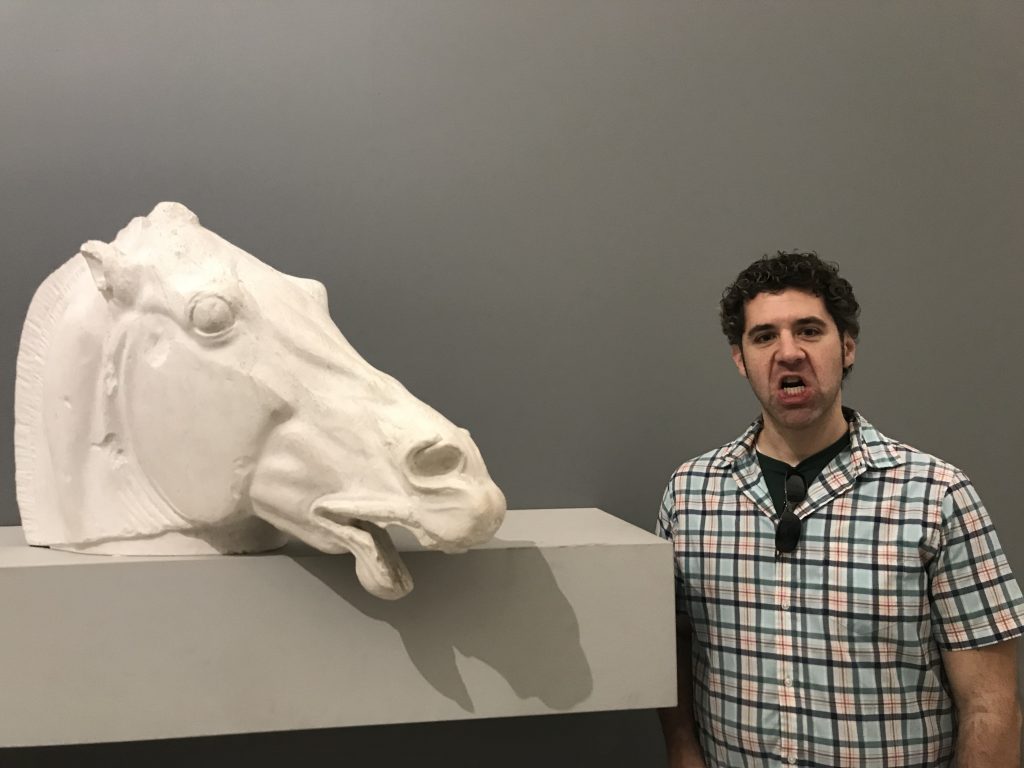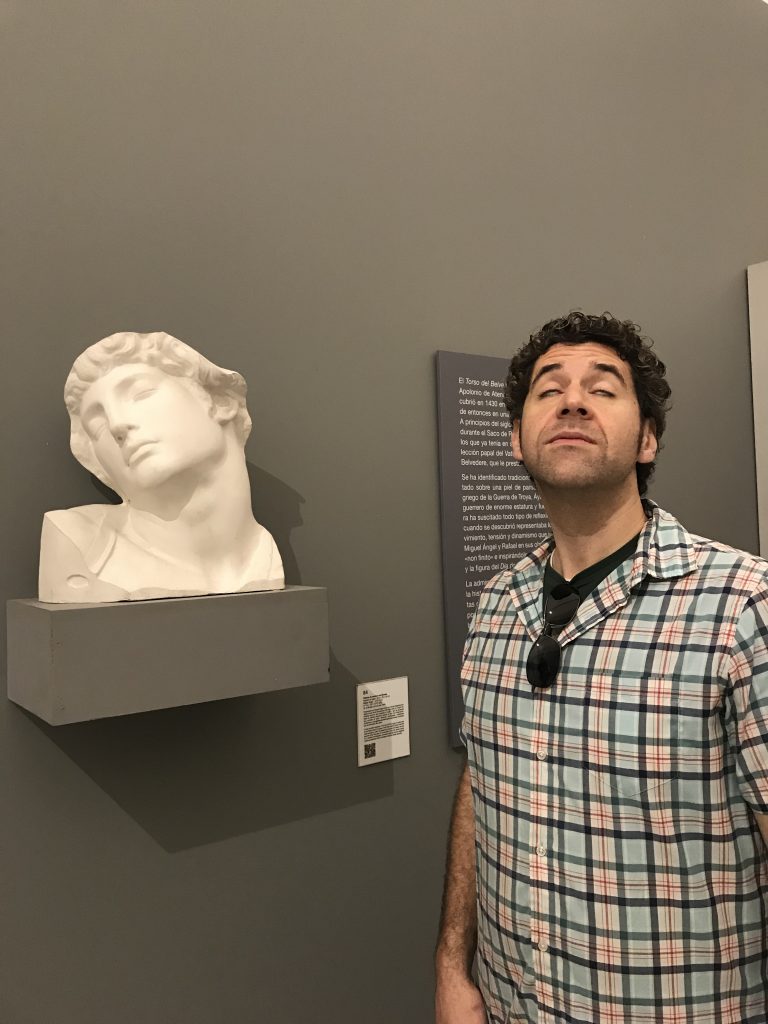 We ate very well in Sevilla, it being one of the few places in Spain that one can still get free tapas with a drink.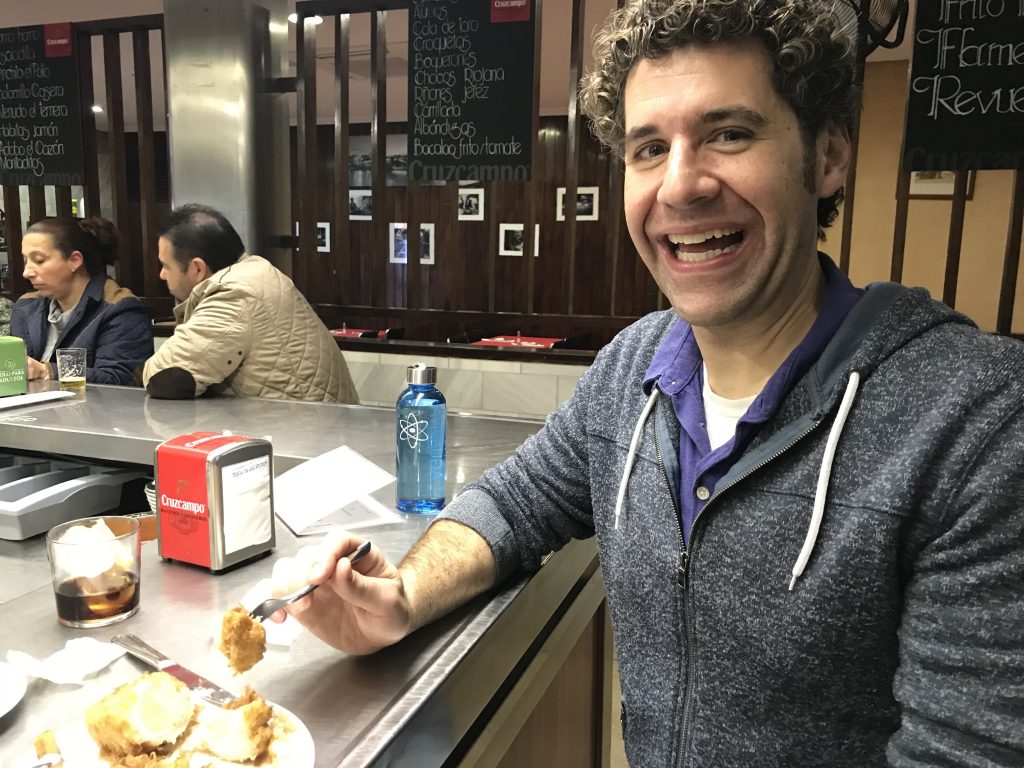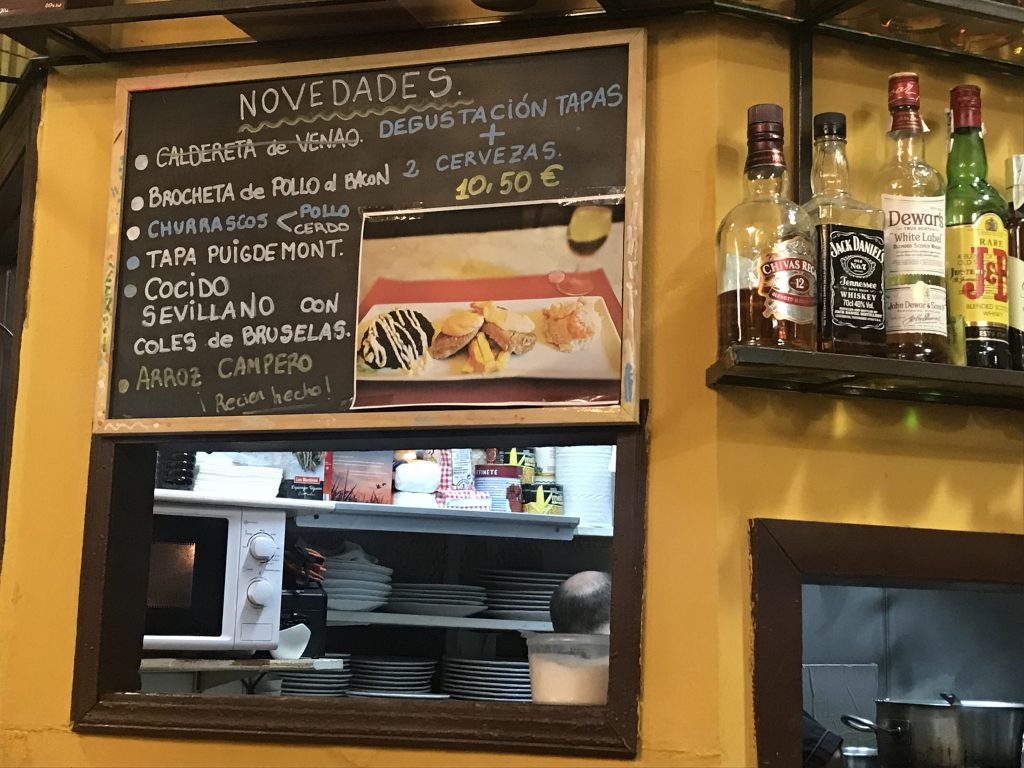 We found time to do a food tour with the same company we used in San Sebastián. Our guide found some local dishes we would not have encountered on our own.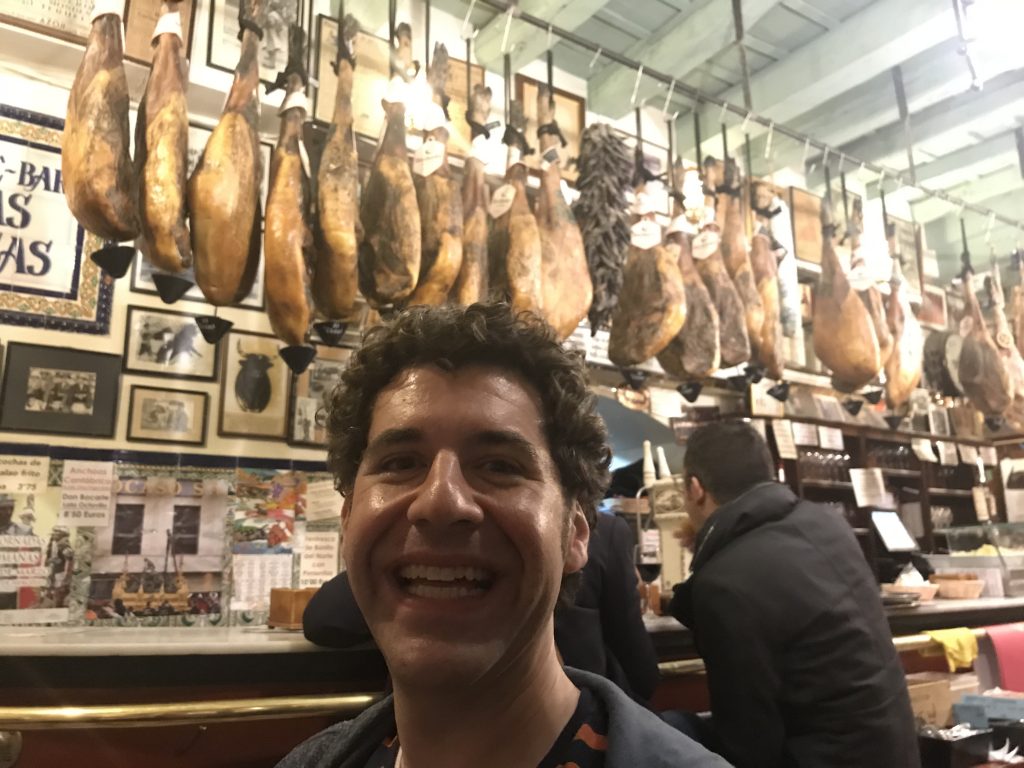 We even drank well despite the local beer.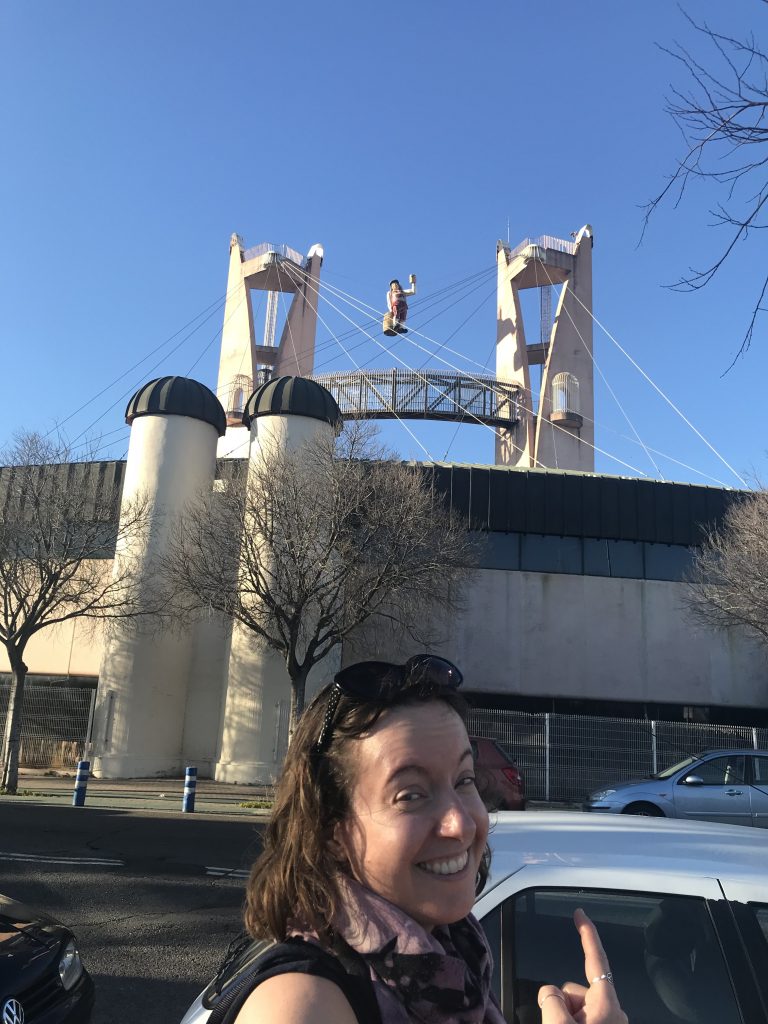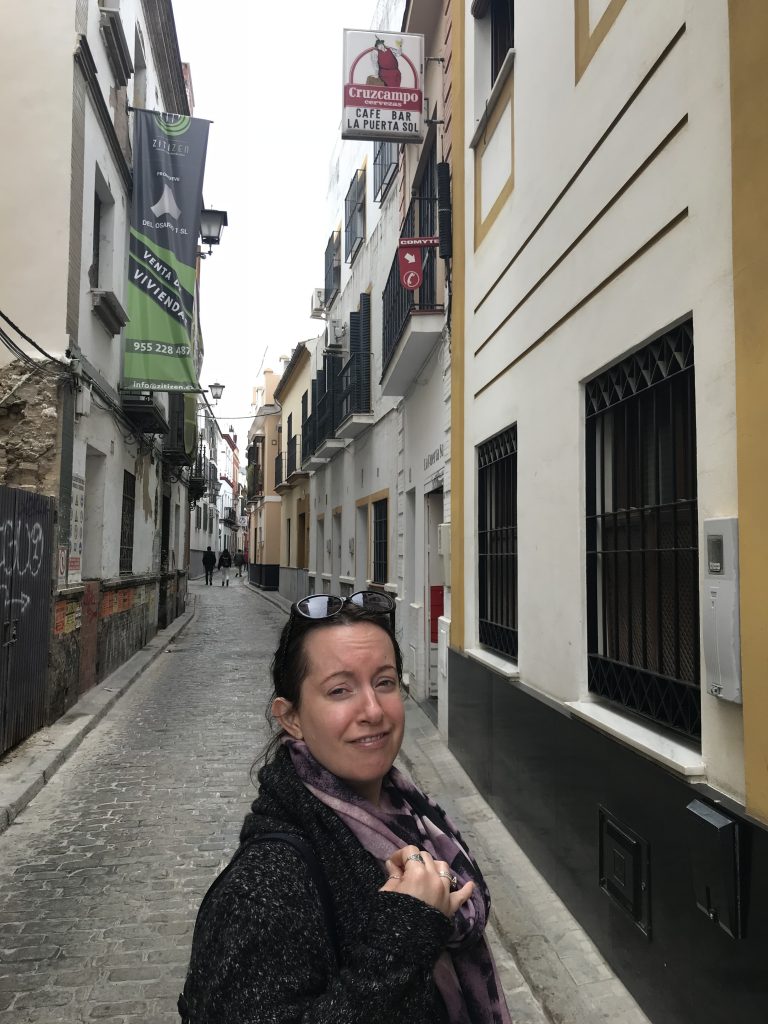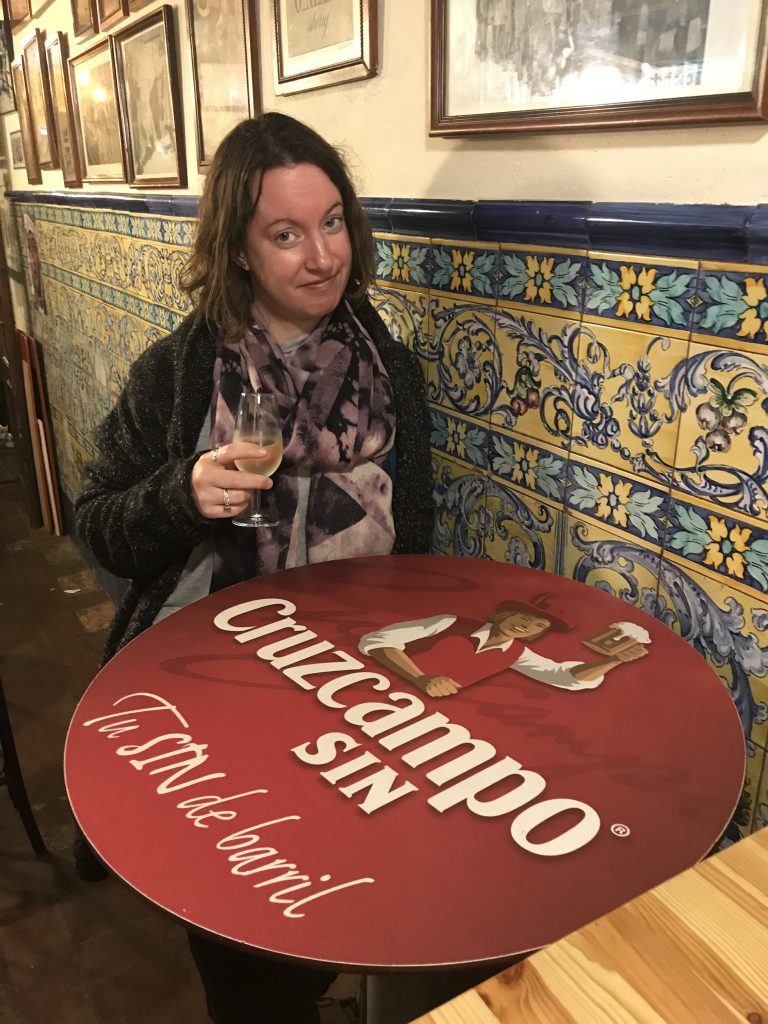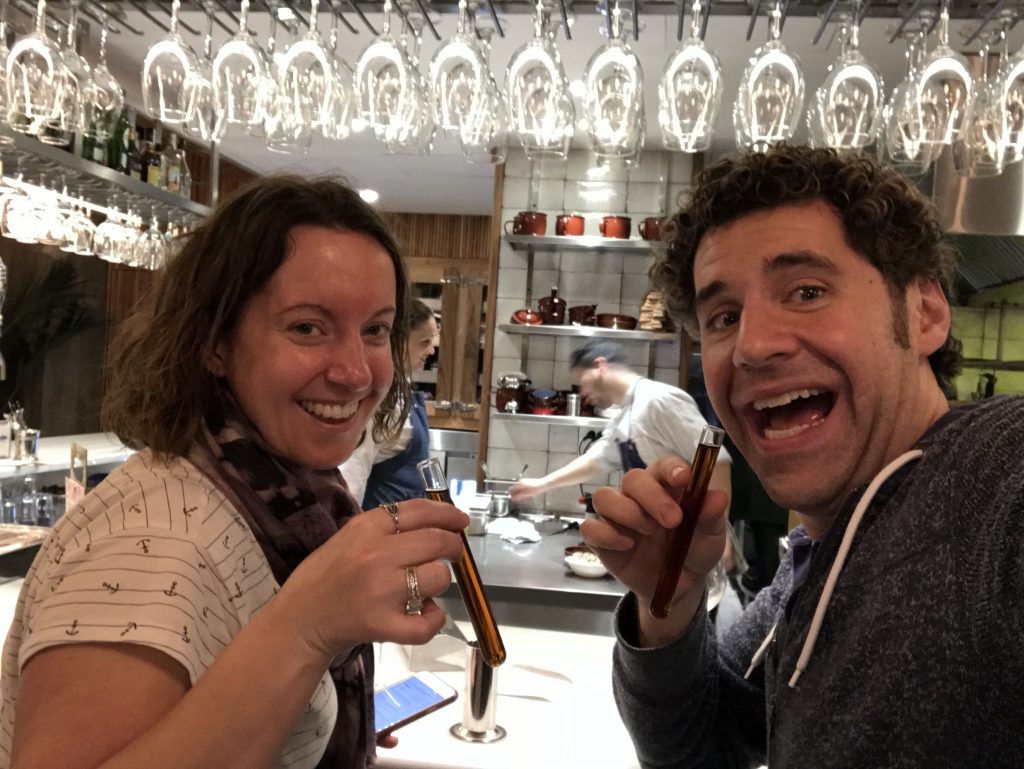 One time, Dreamer was really craving a beer.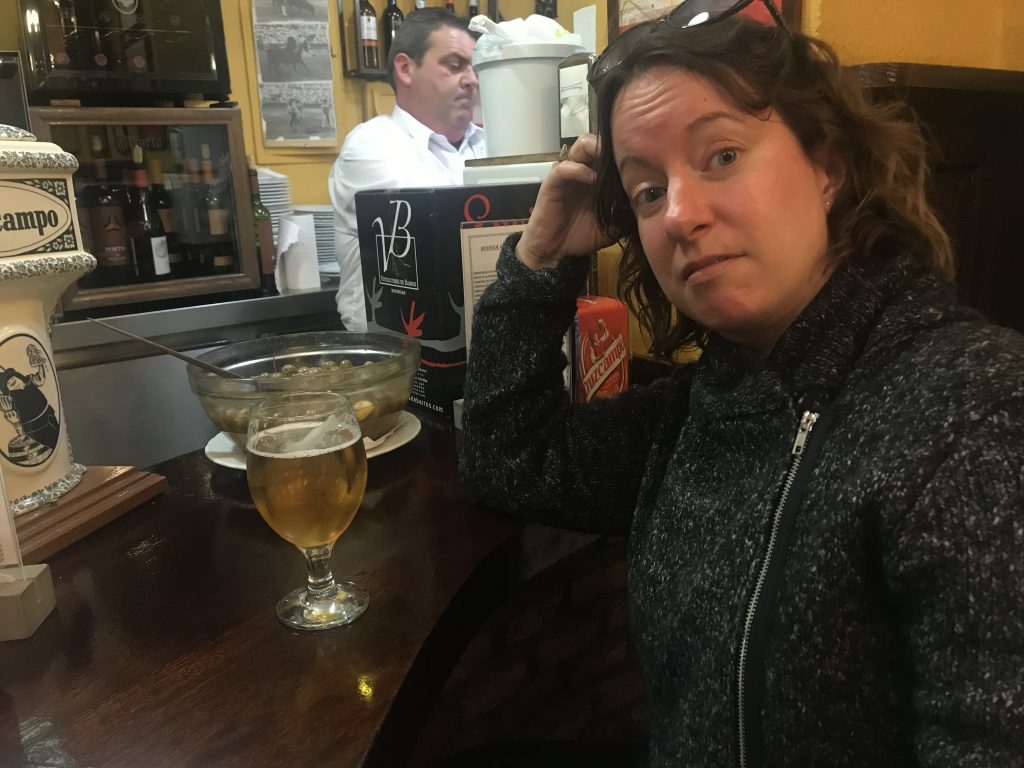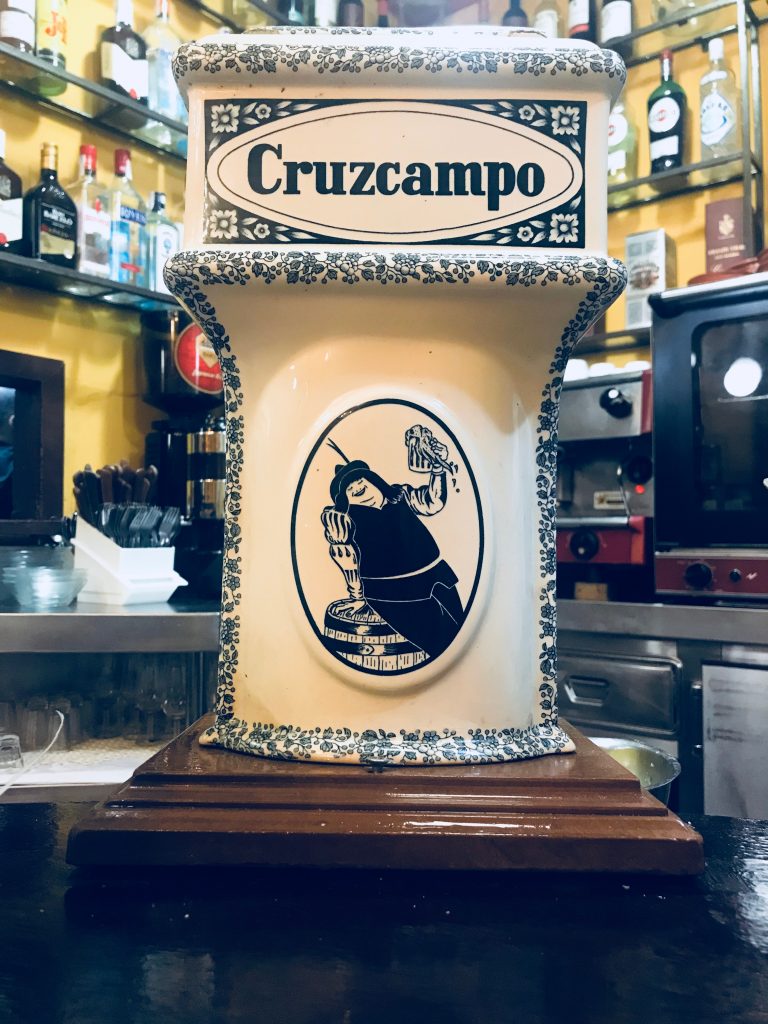 She won't make that mistake again! Always drink the sherry in Cruzcampoland.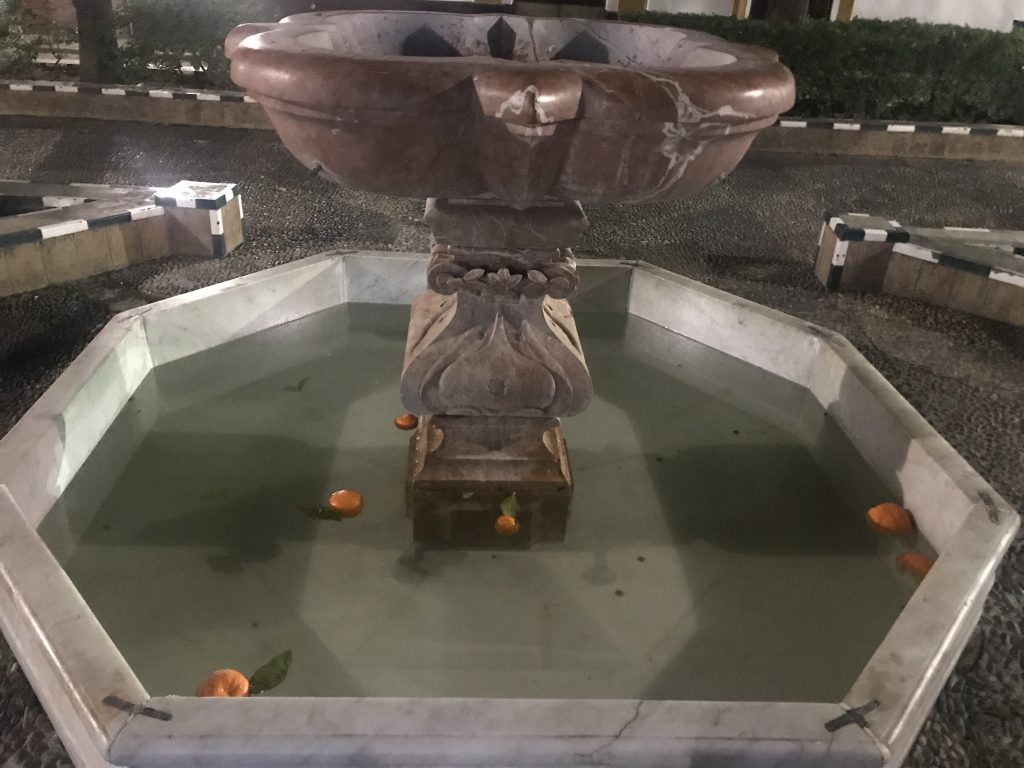 Sevilla is an interesting mix of new and old. The center of town features La Seta, or The Mushroom, an undulating roof covering a central plaza and bustling retail area.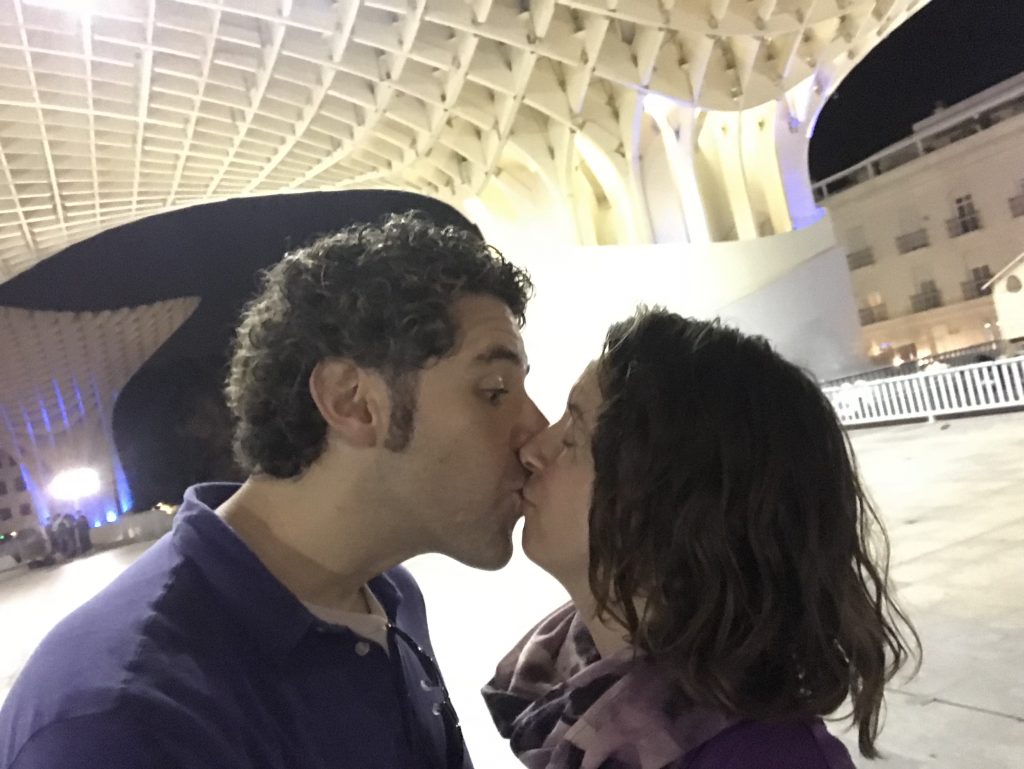 We made one more visit to Plaza de España before our train left. One part of the plaza is now a military history museum, complete with all manor of relics, from uniforms…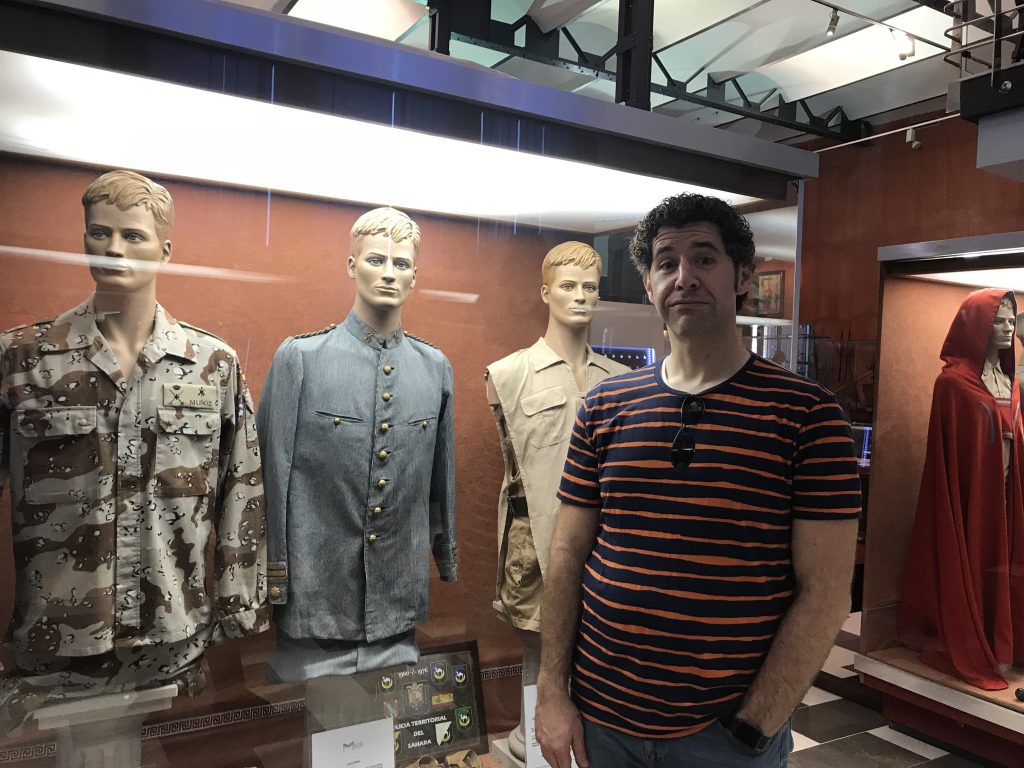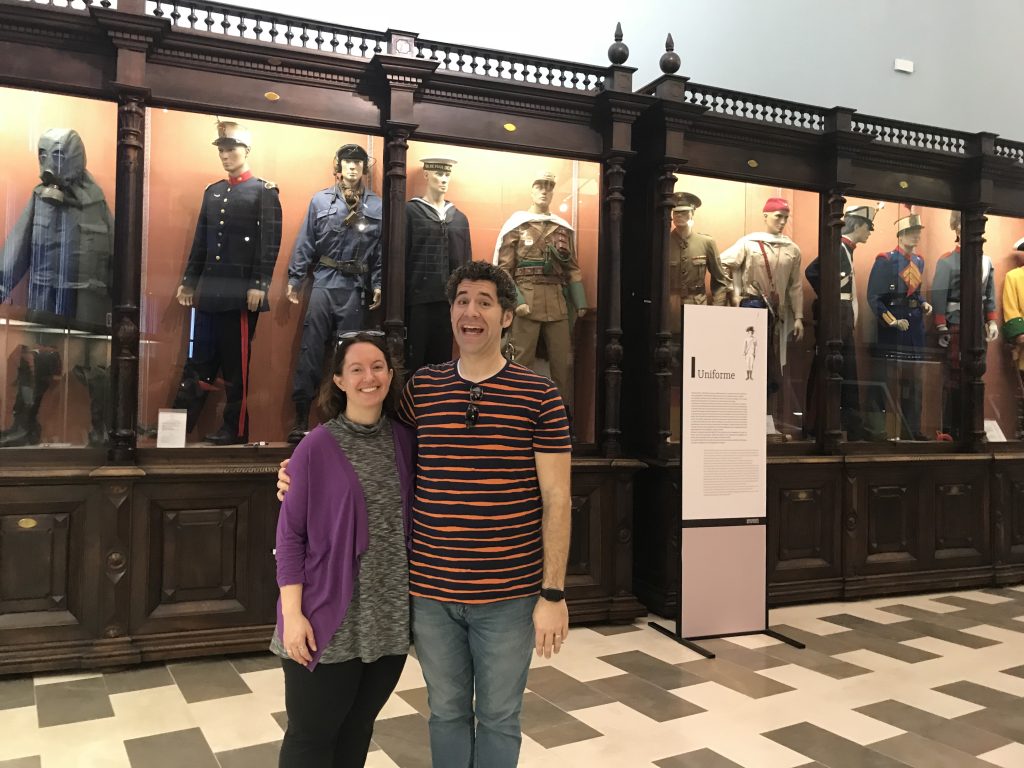 To artillery…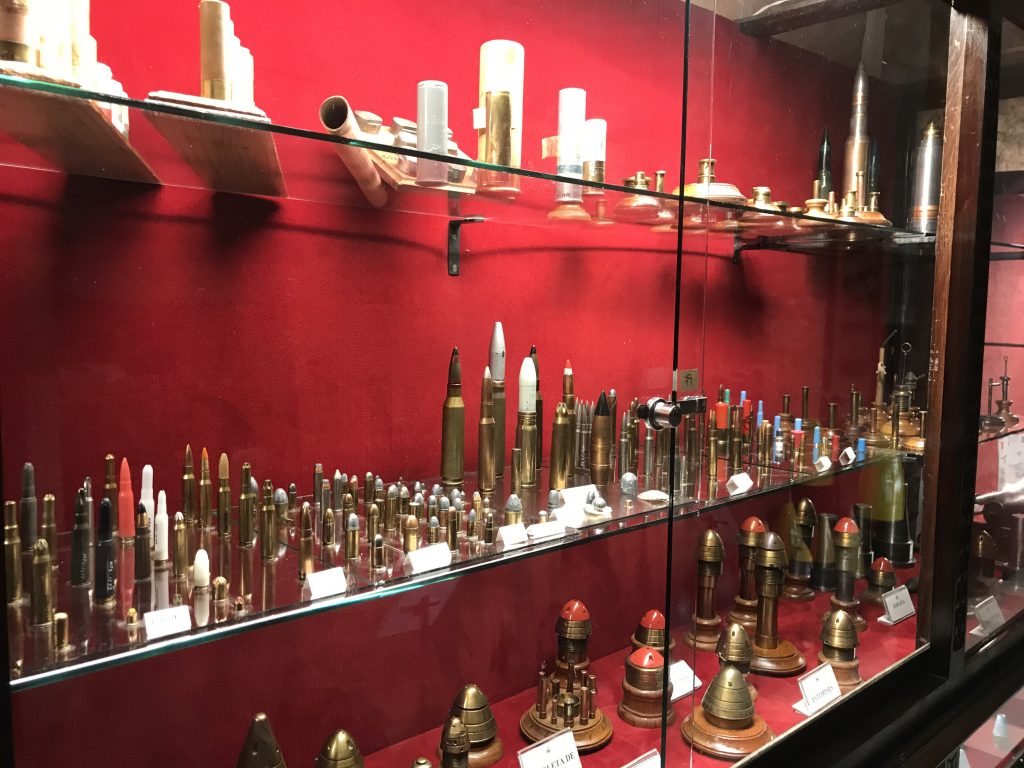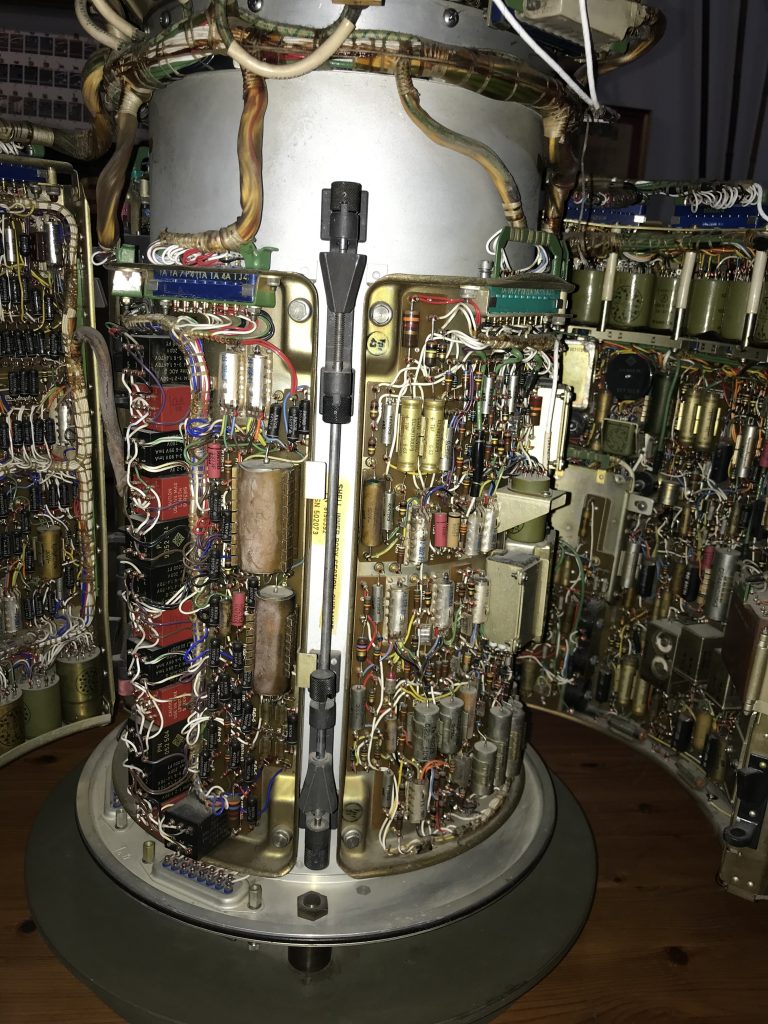 To an old Heidelberg printing press used to disseminate the day's briefing…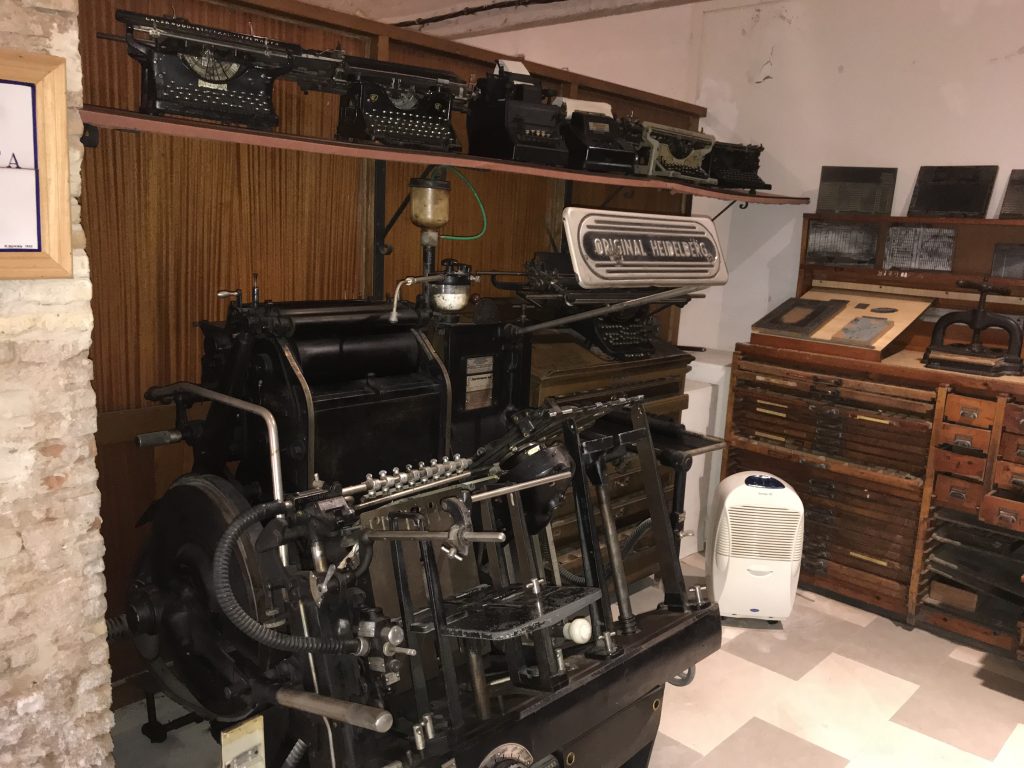 To surgical implements…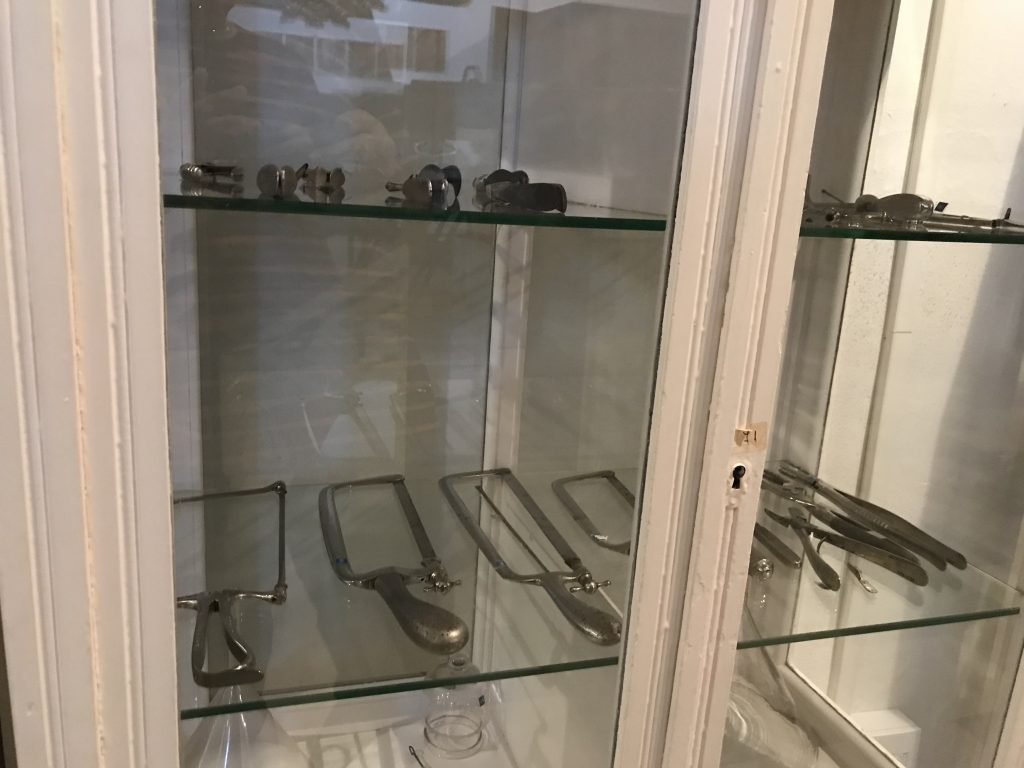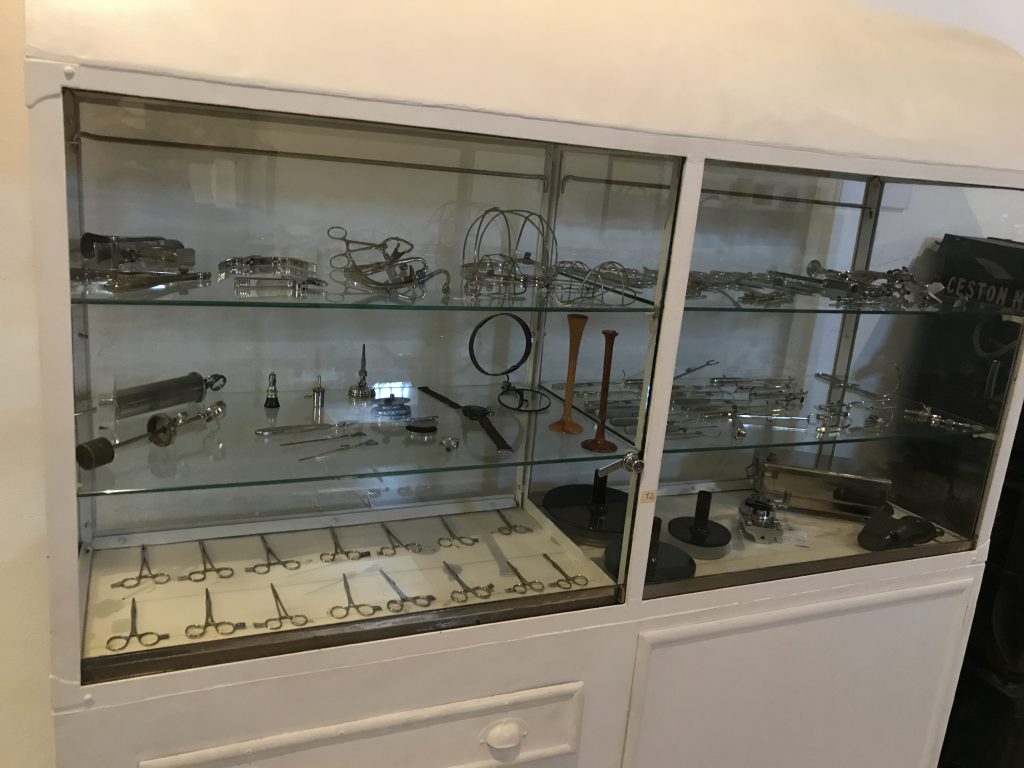 To WWII-era technologies.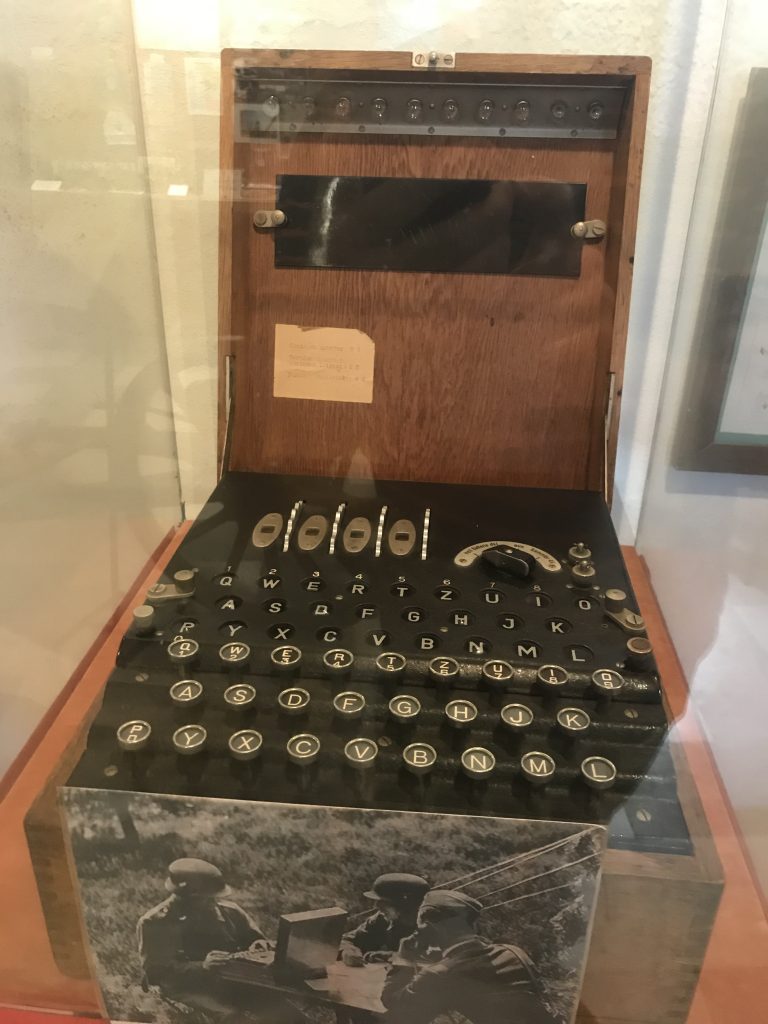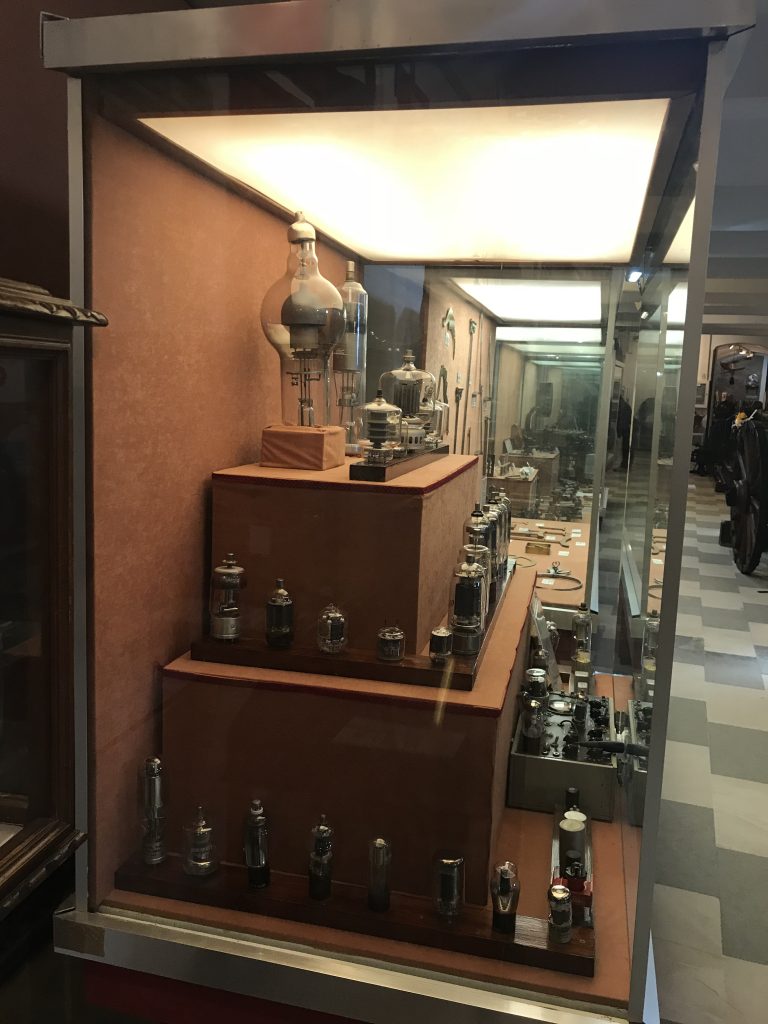 Anyway, only one of us really enjoyed the last visit.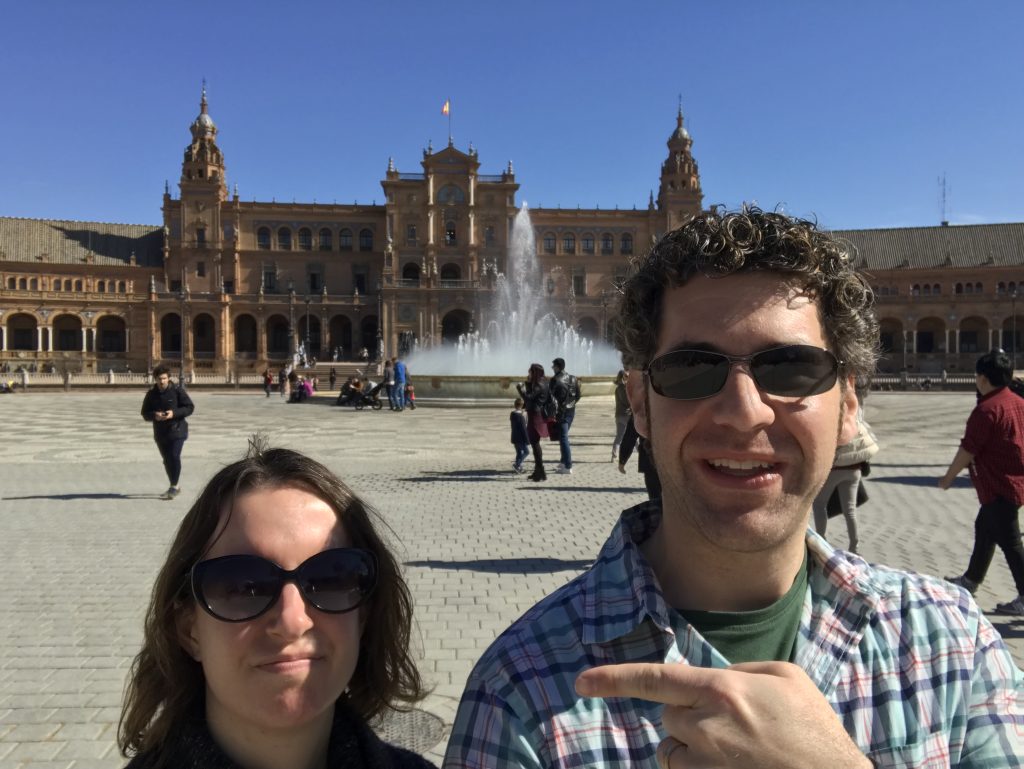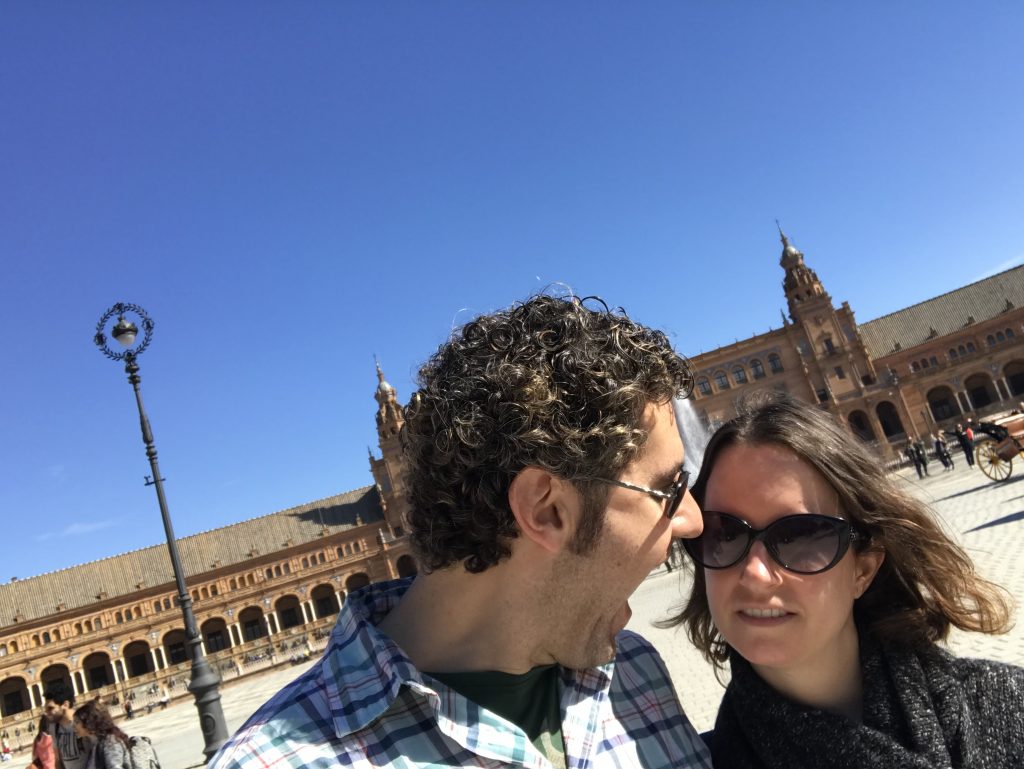 And no surprise, we still arrived at the train station in plenty of time to return home for our next adventure.