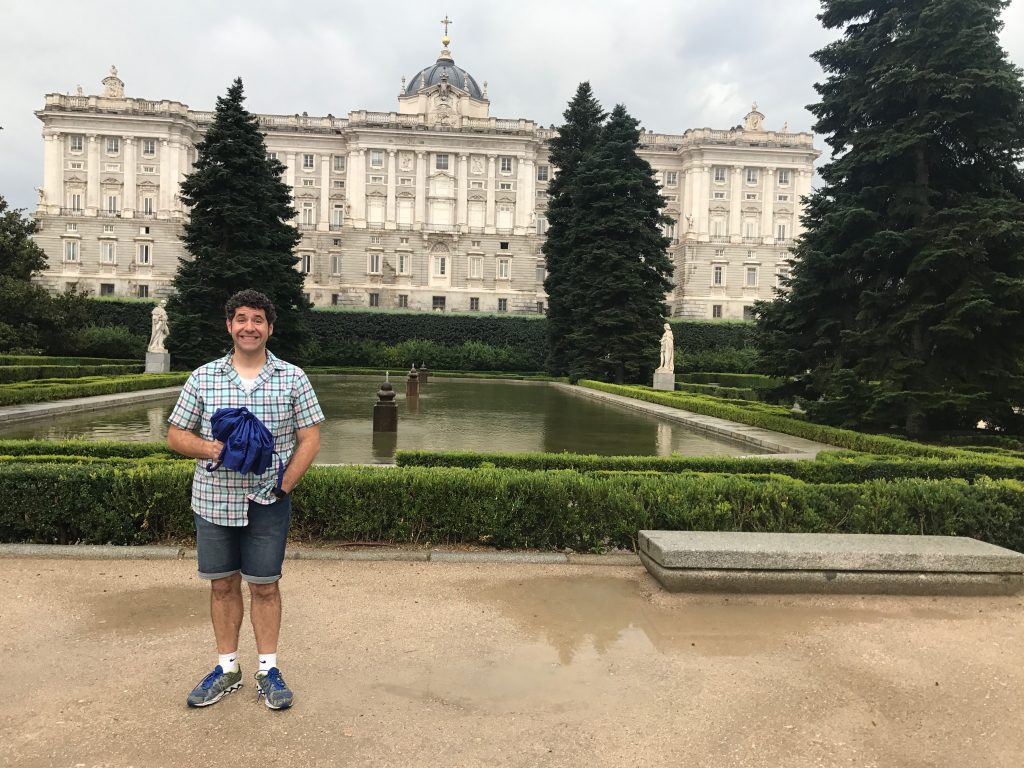 Although we loved living in the Valencian Community, we decided to try living in a major international capital for our second year in Spain. The difficult part was waiting to find out where Dreamer would be working within the Community of Madrid – we didn't want to rent a place until we knew. We still didn't have any idea where she would be placed when the time came to take her mom to the Madrid airport in mid June. It was an opportunity to scout the city, as well as a preview of Madrid's steamy summer.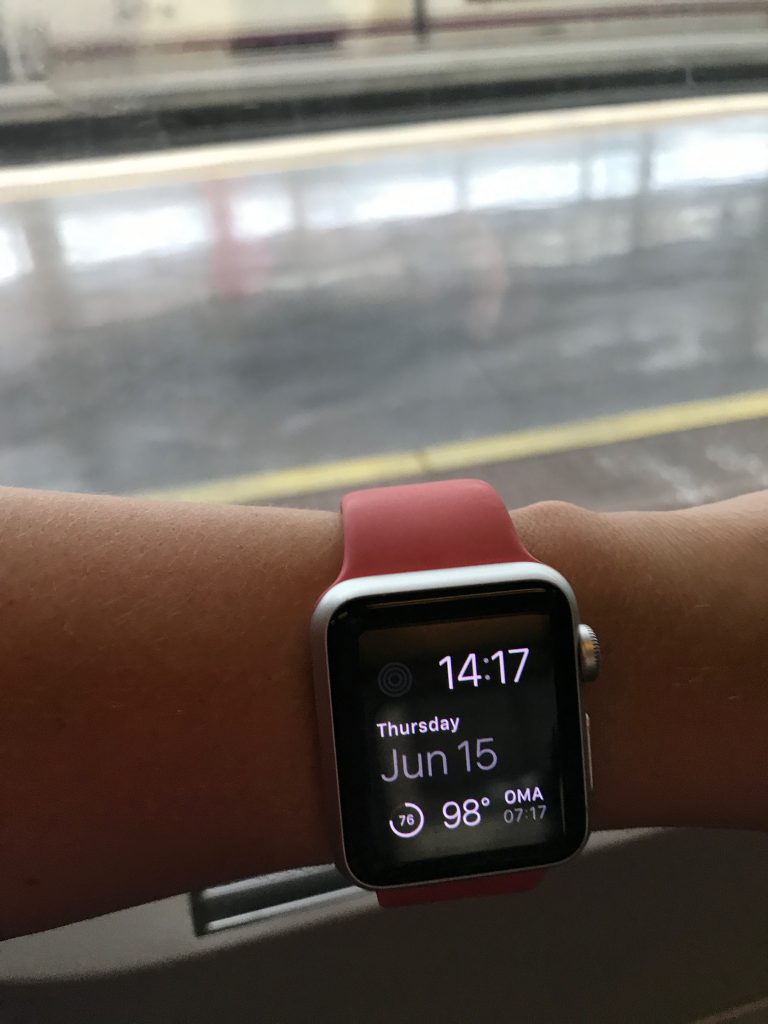 A couple of frosty cervezas to the rescue!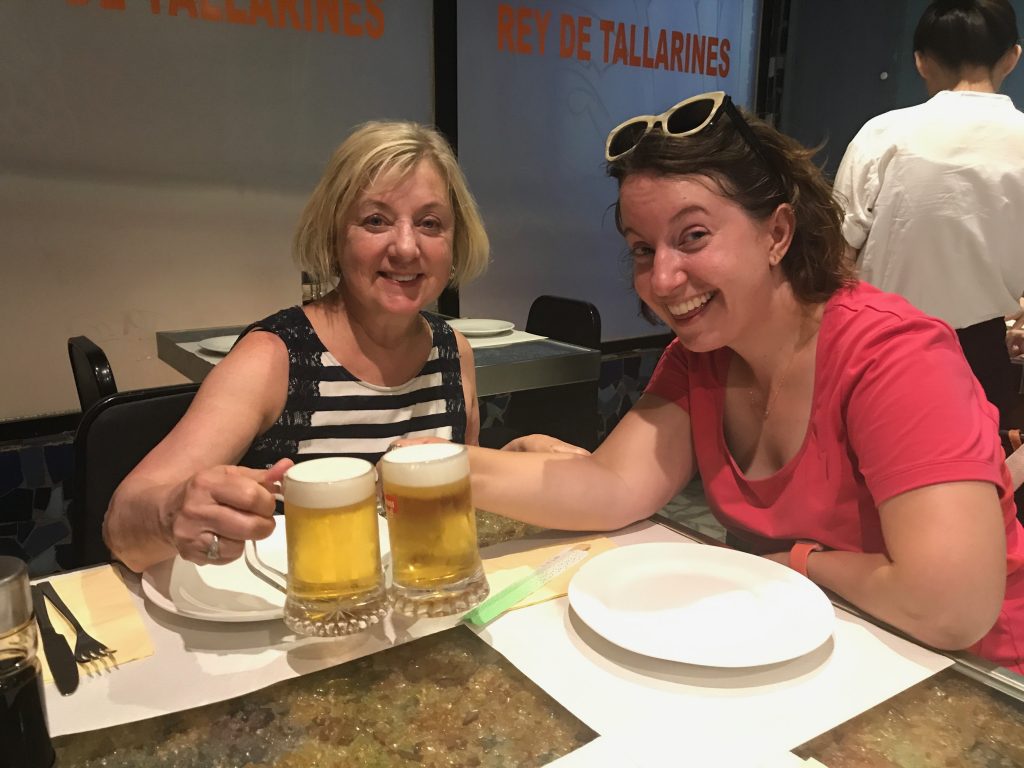 Before heading to the airport, we explored a bit of the city with Mom. Everyone liked the living plant wall outside CaixaForum.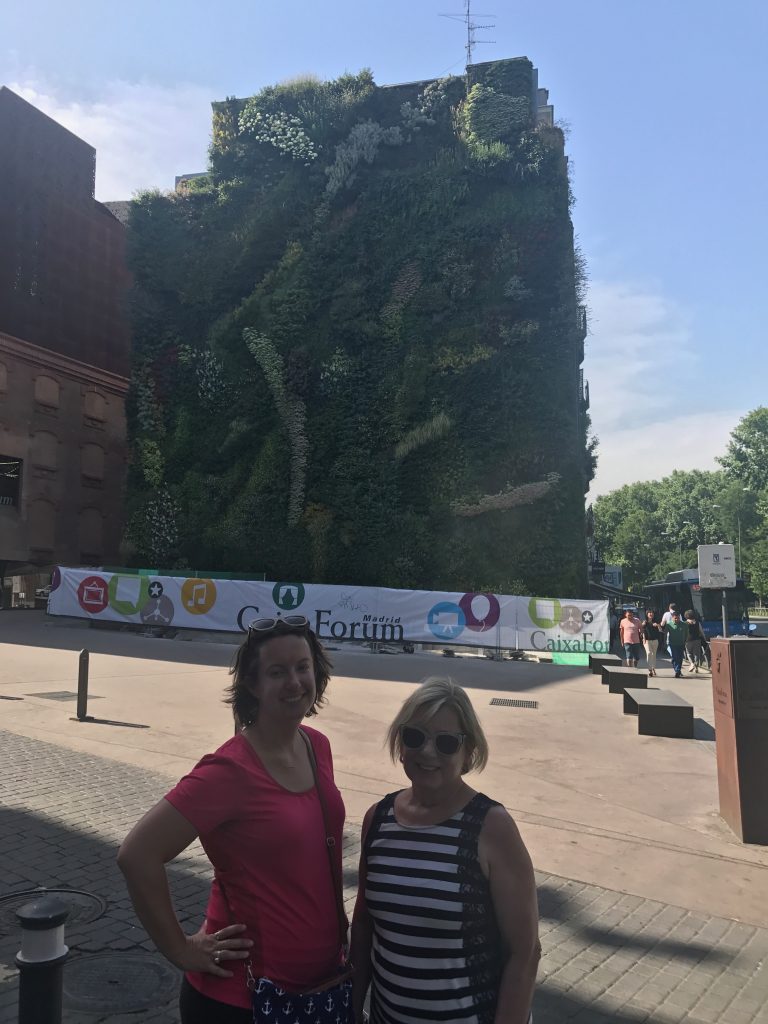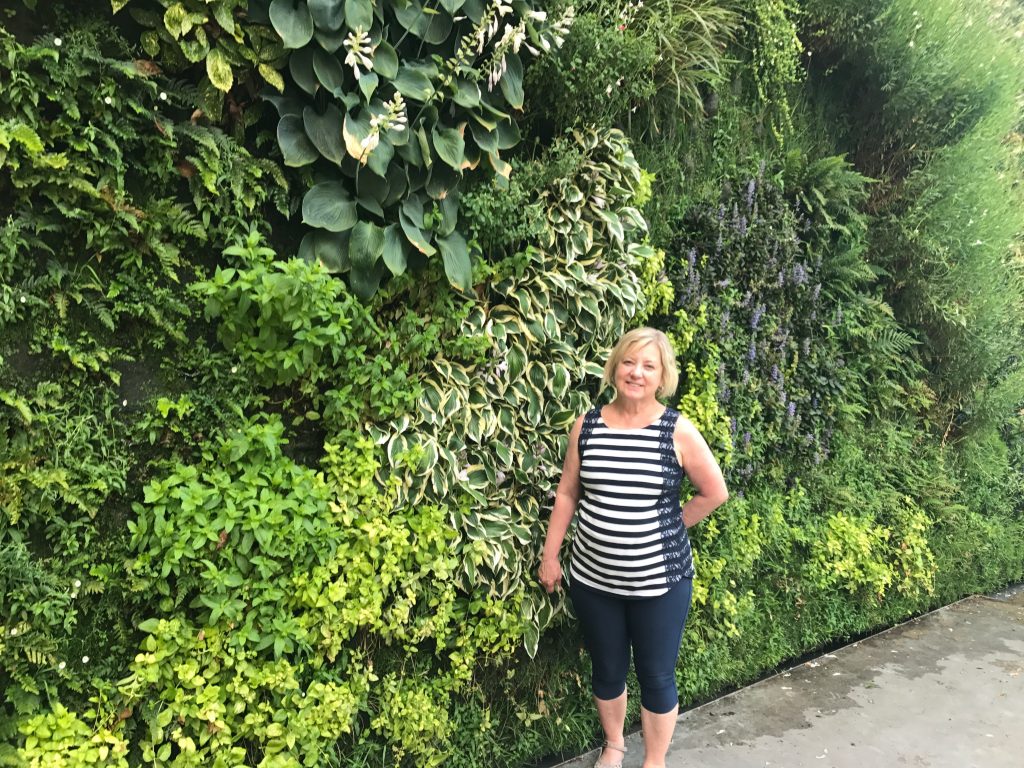 The museum had a filmography exhibition.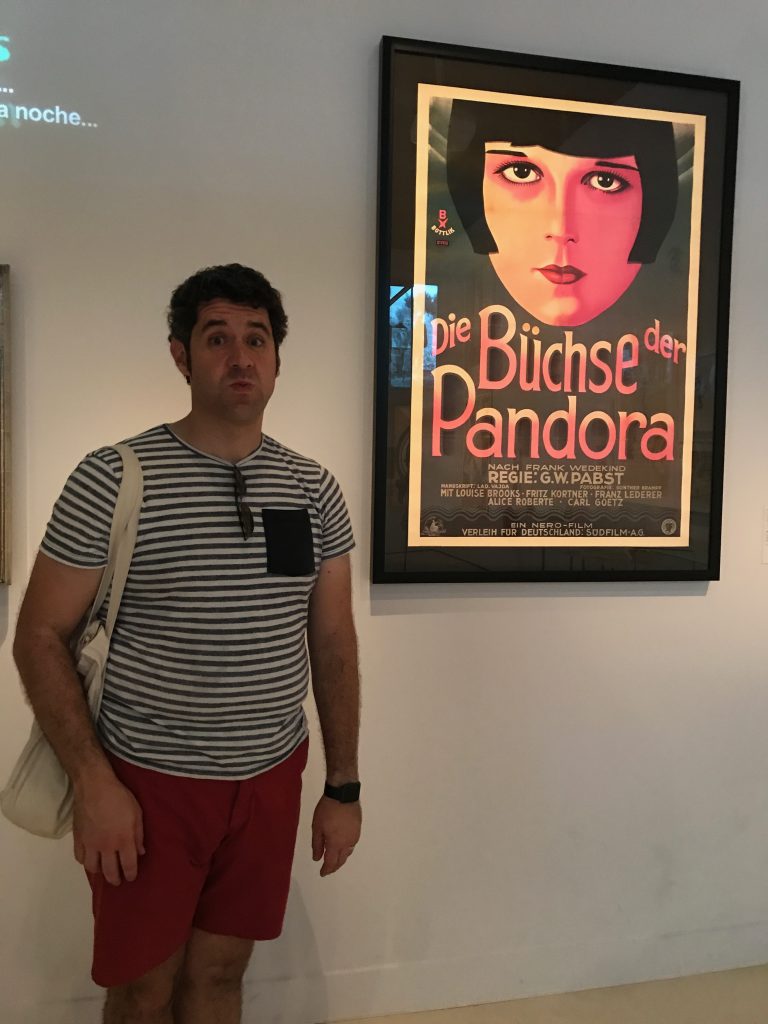 After dropping Mom off, we went to the national library.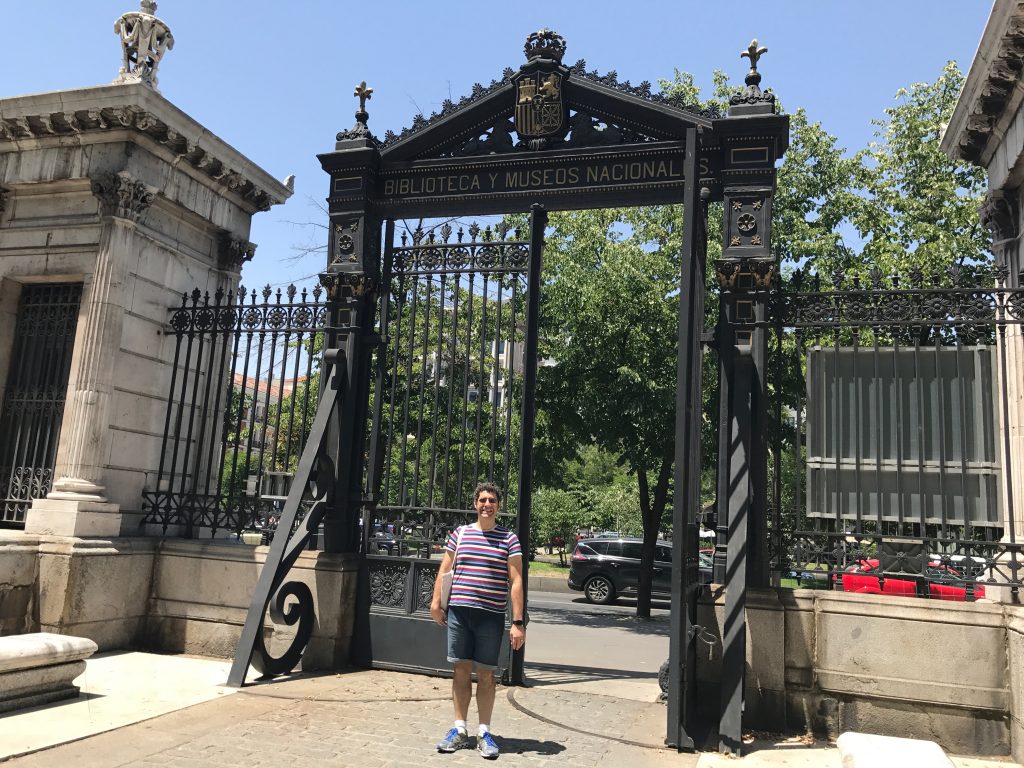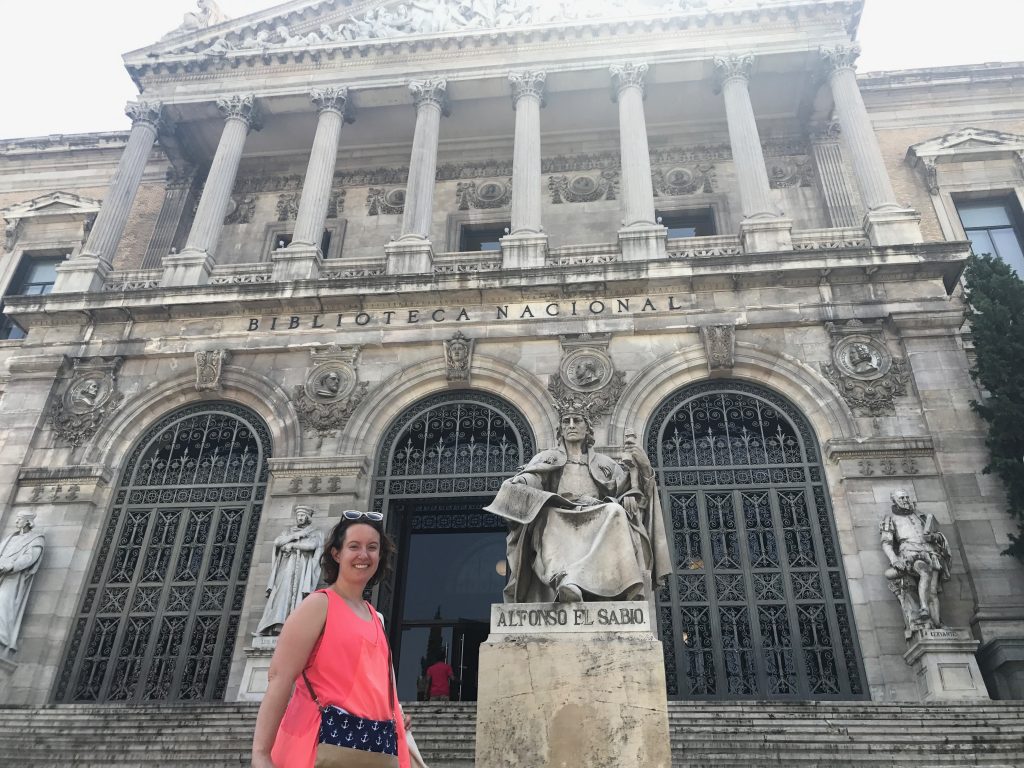 Besides old books and art, there was a collection of vintage machines and you can guess who was intrigued by that.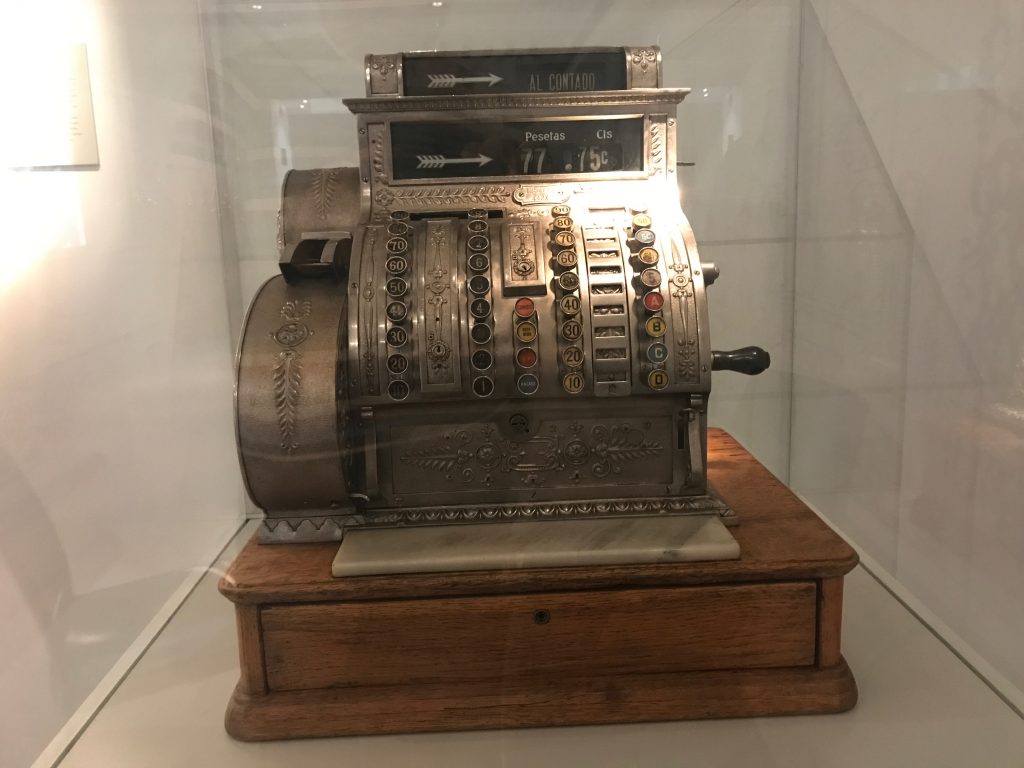 Later we stumbled across this nifty fountain.
It's hard to see why this is so cool from Dreamer's video. Have another look at the hundreds of perfectly synchronized nozzles in action, like an inkjet printer:
We visited local markets.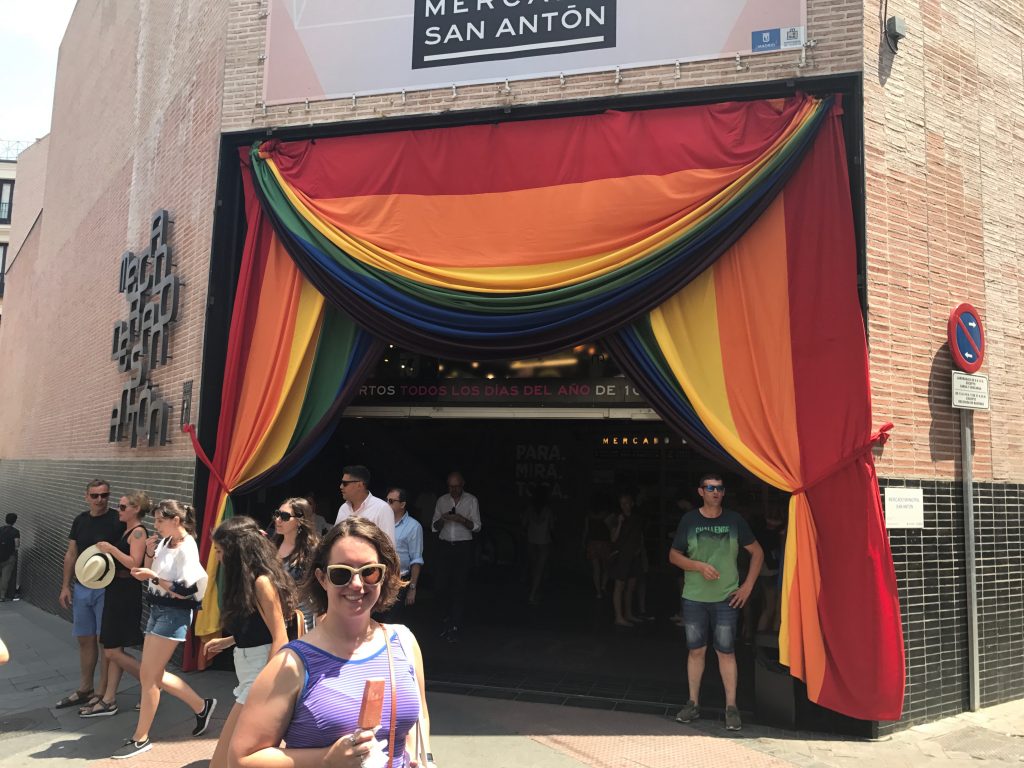 And Doer fell in love with the Espacio Fundación Telefónica, a museum in the old telephone building.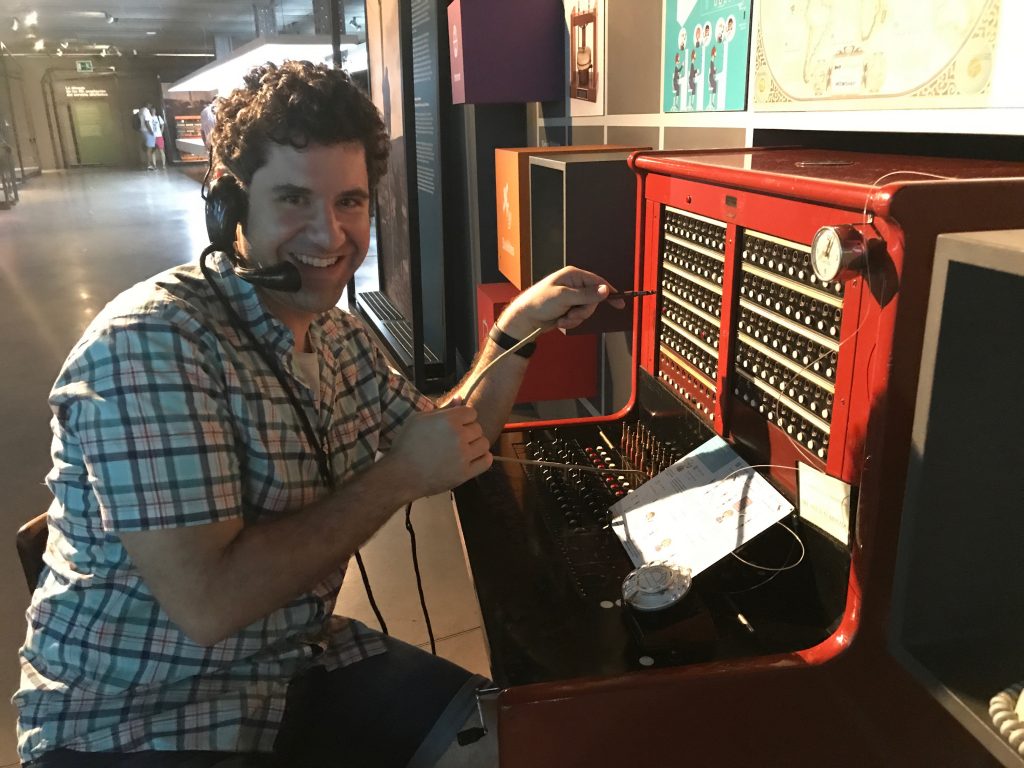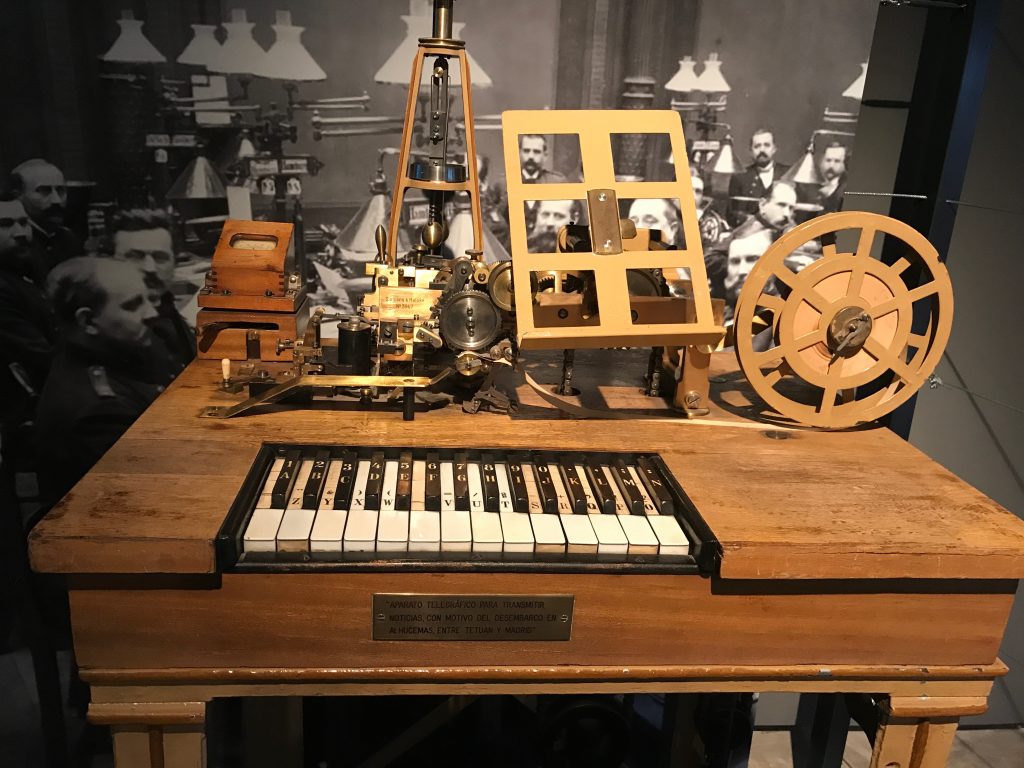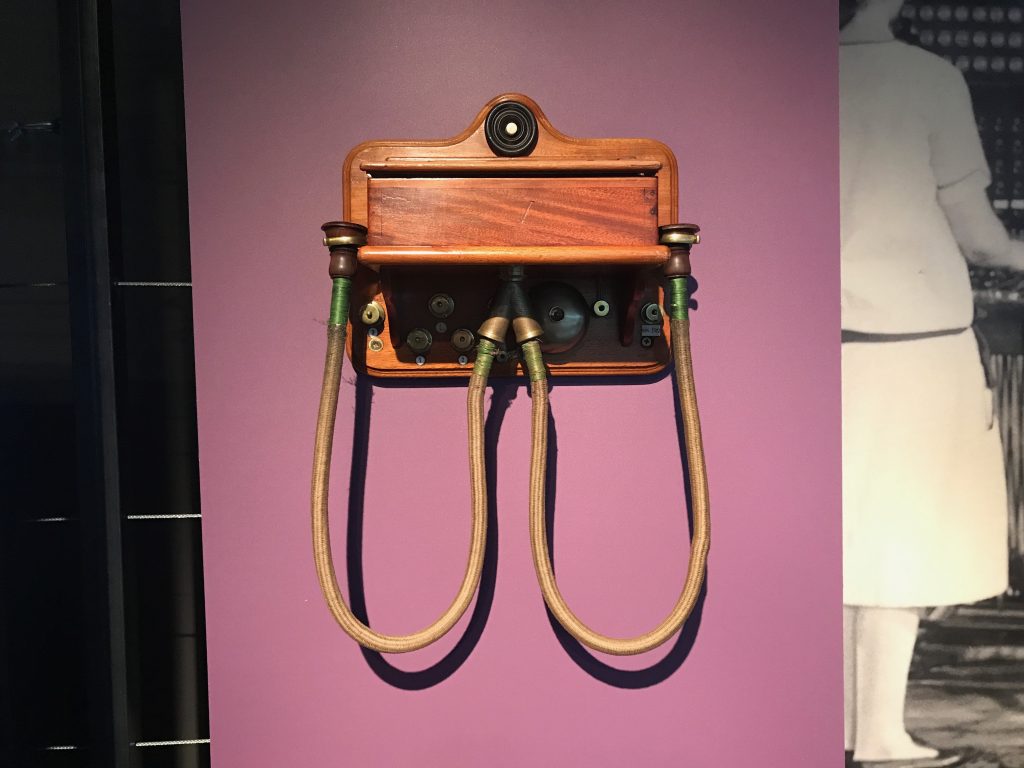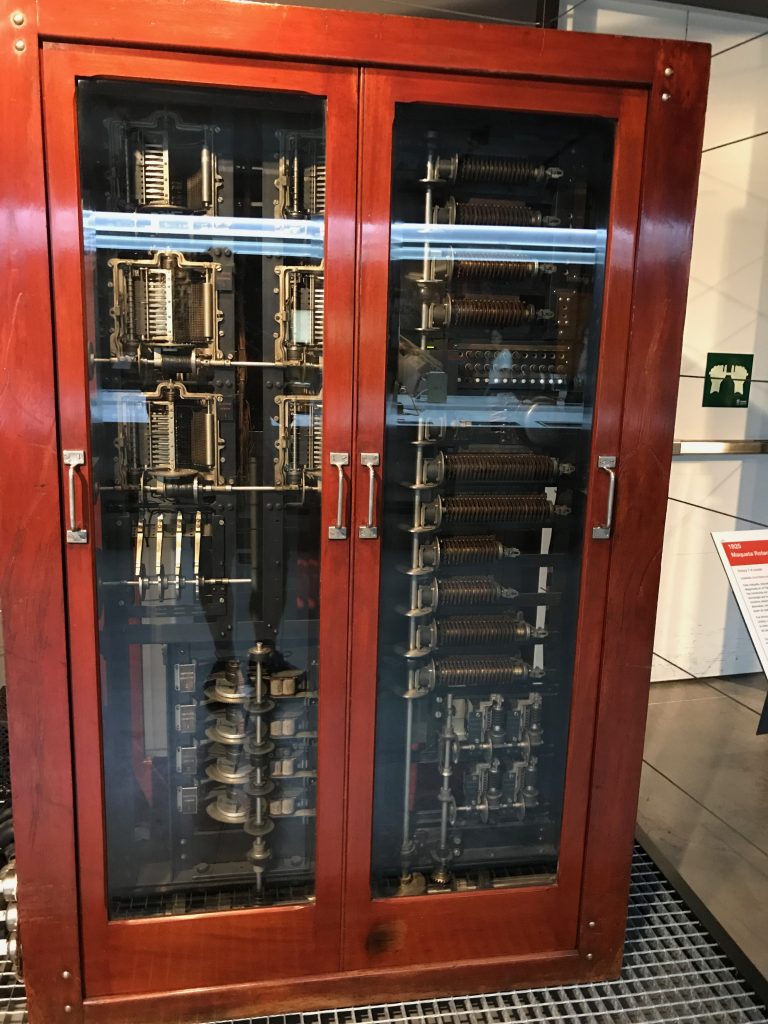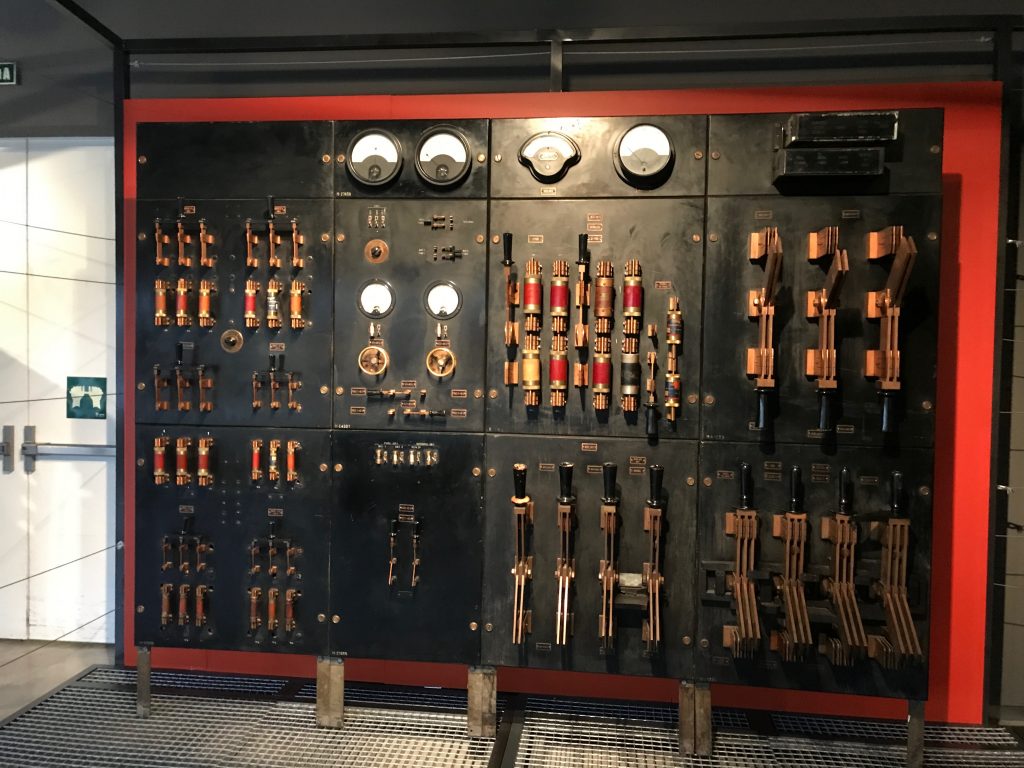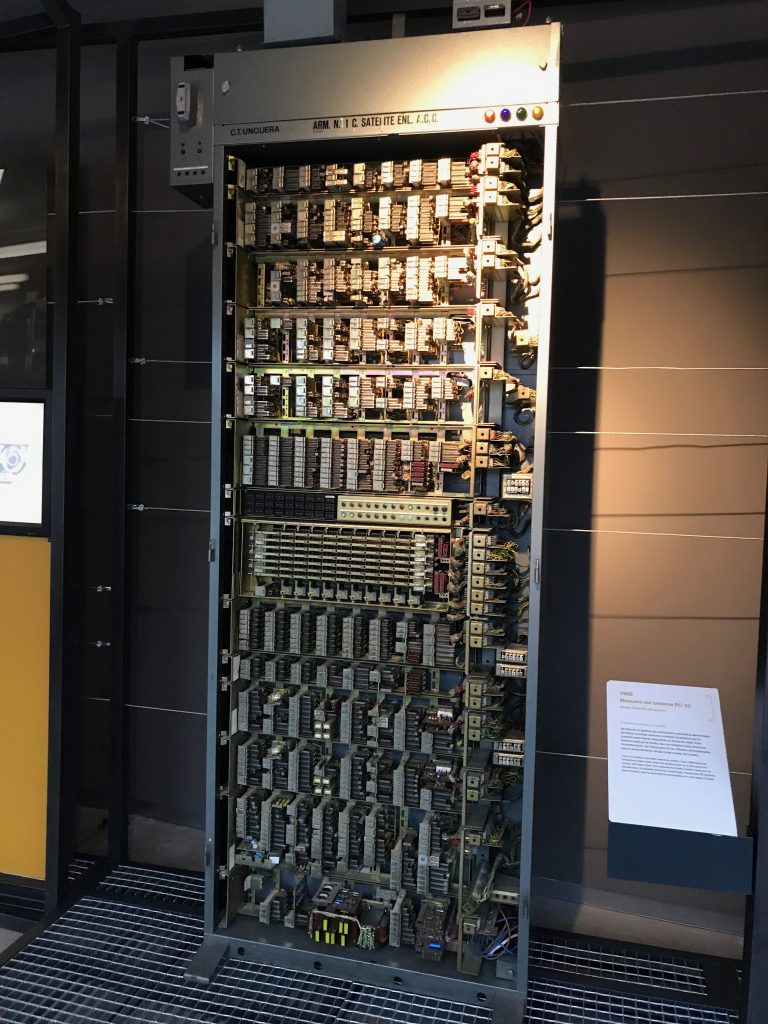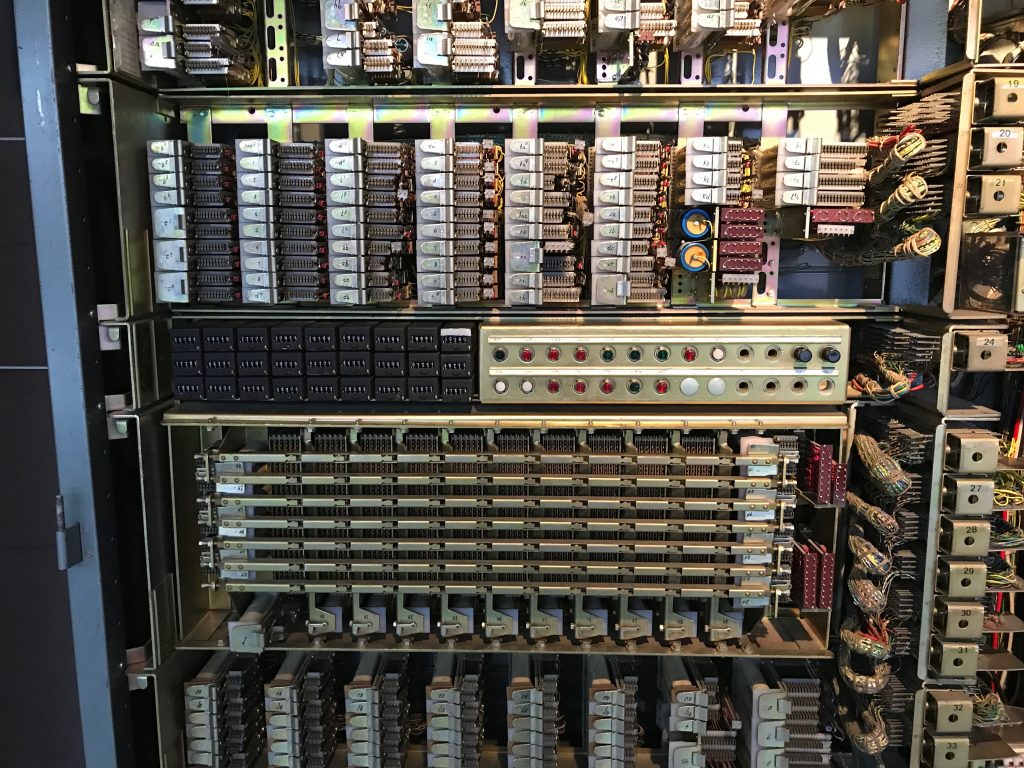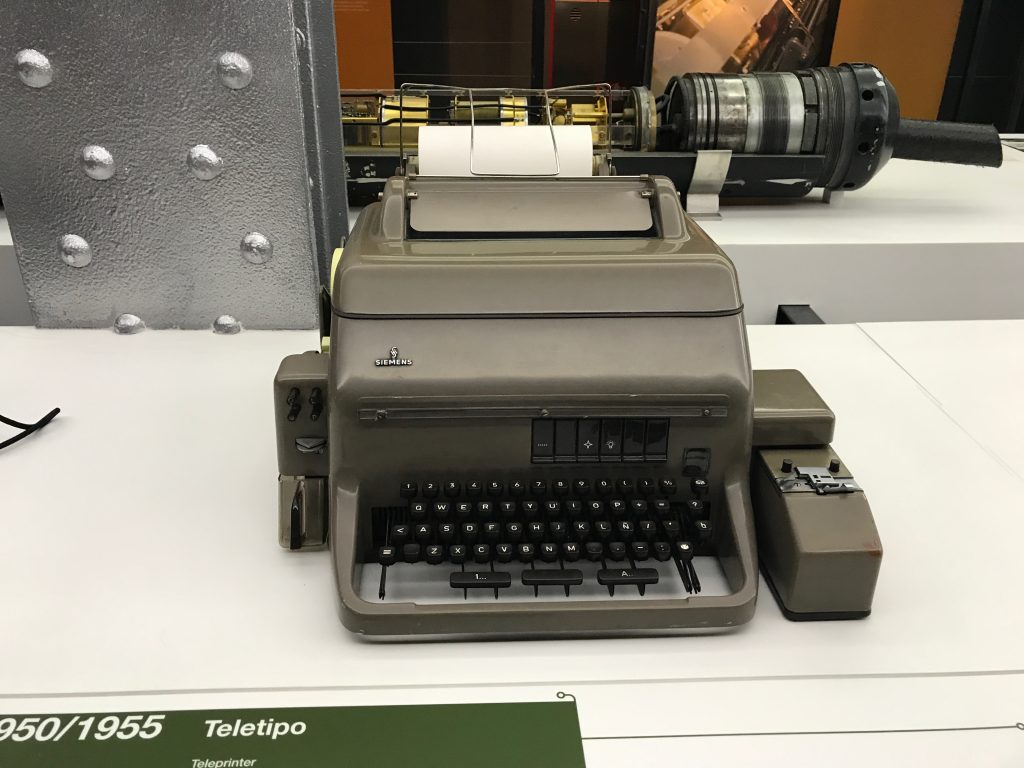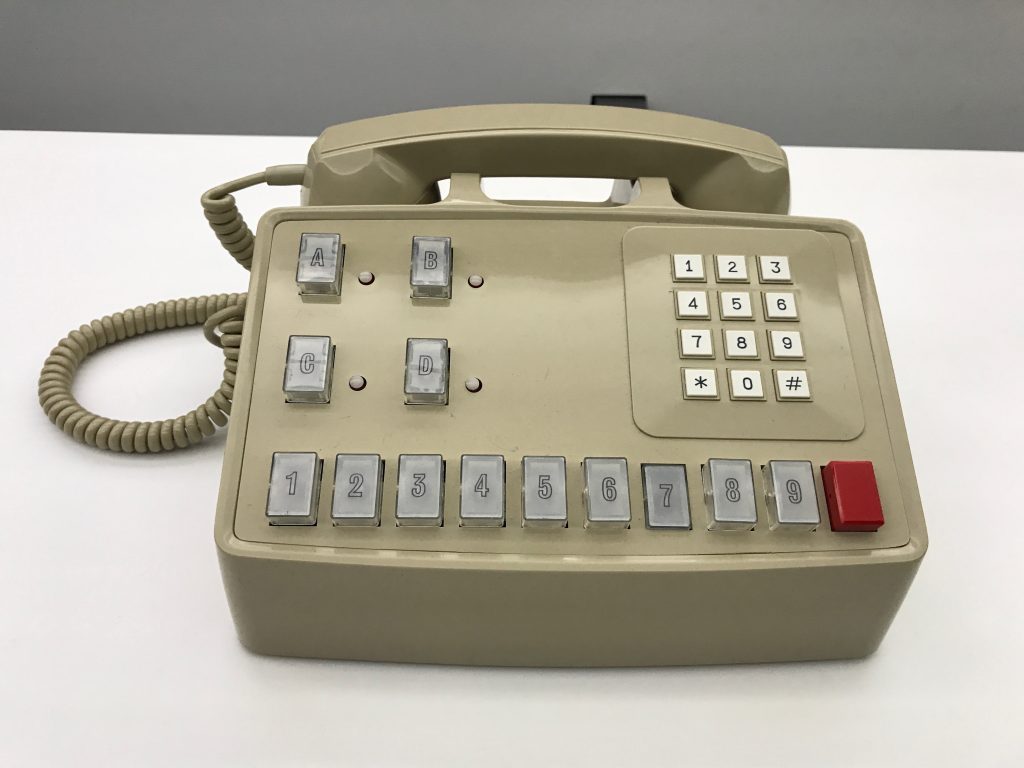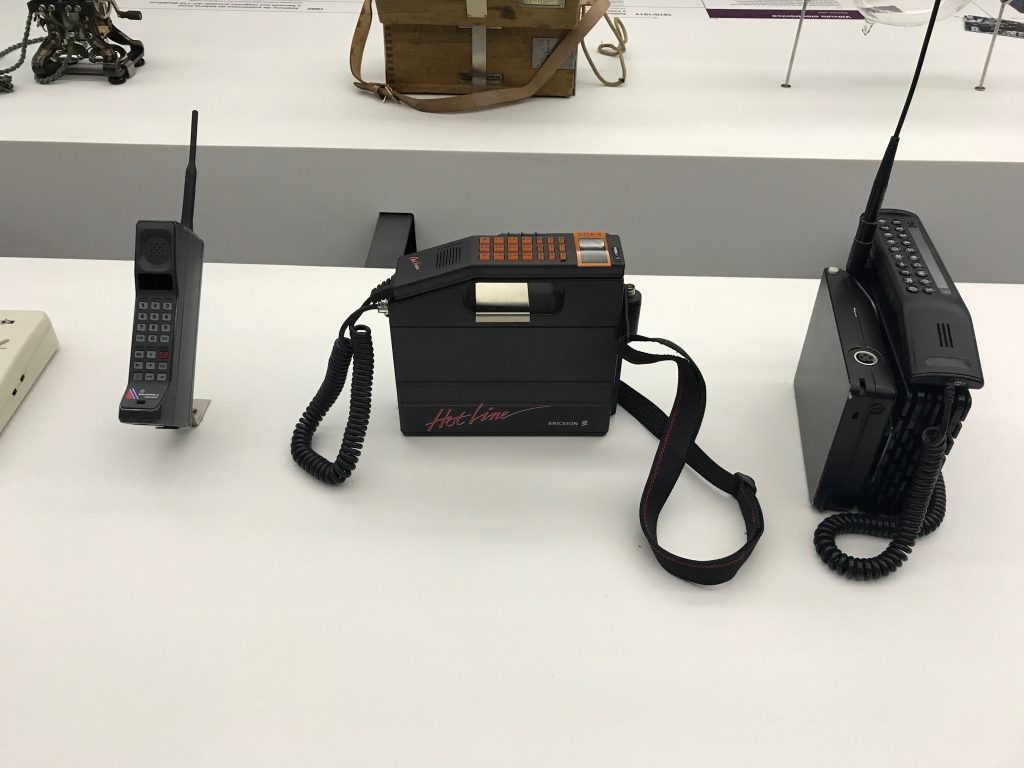 What constantly impresses us the most about Madrid is how well the public transit works. Everyone told us not to worry about having a car if we lived in the center, and they were 100% right.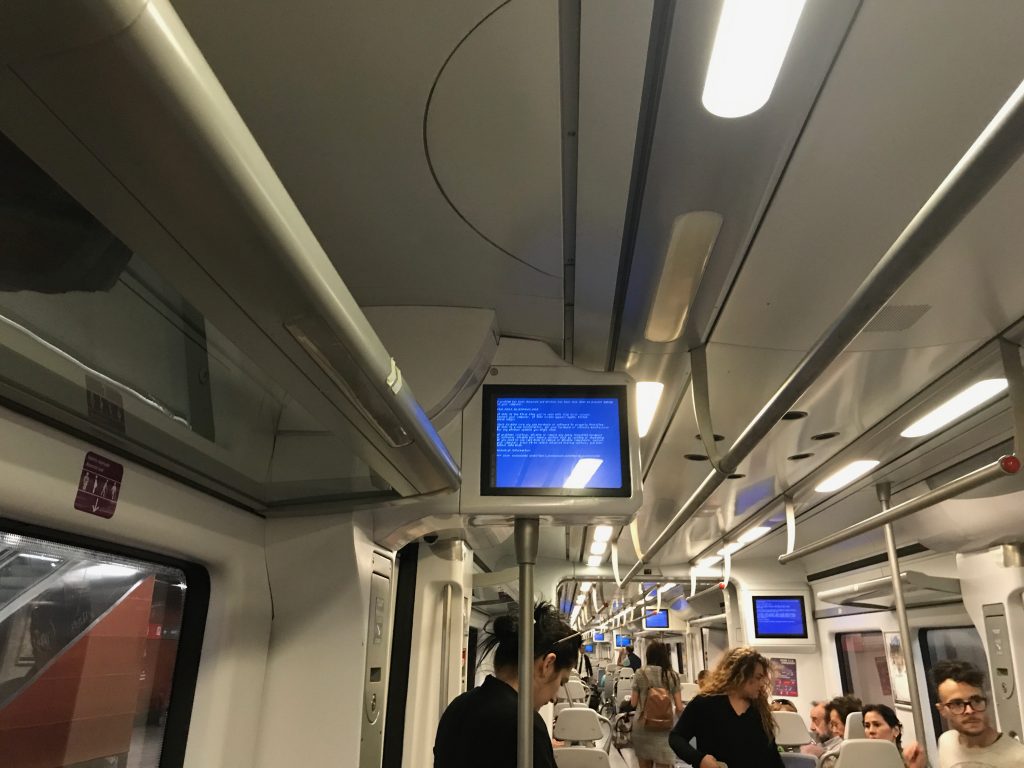 Mom didn't have such great luck at one of the train stations, though. There are lots of metal rods you can run into if you aren't paying attention.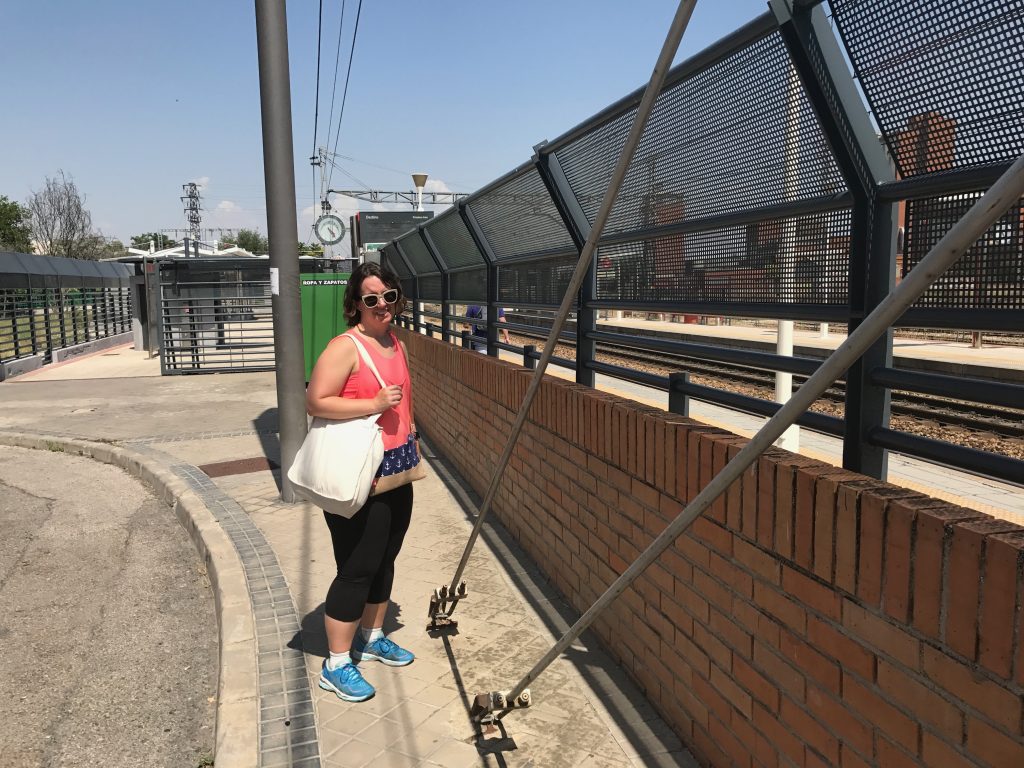 We ended our June trip in the Madrid suburb of Getafe, where our Spanish family took us to a local football match.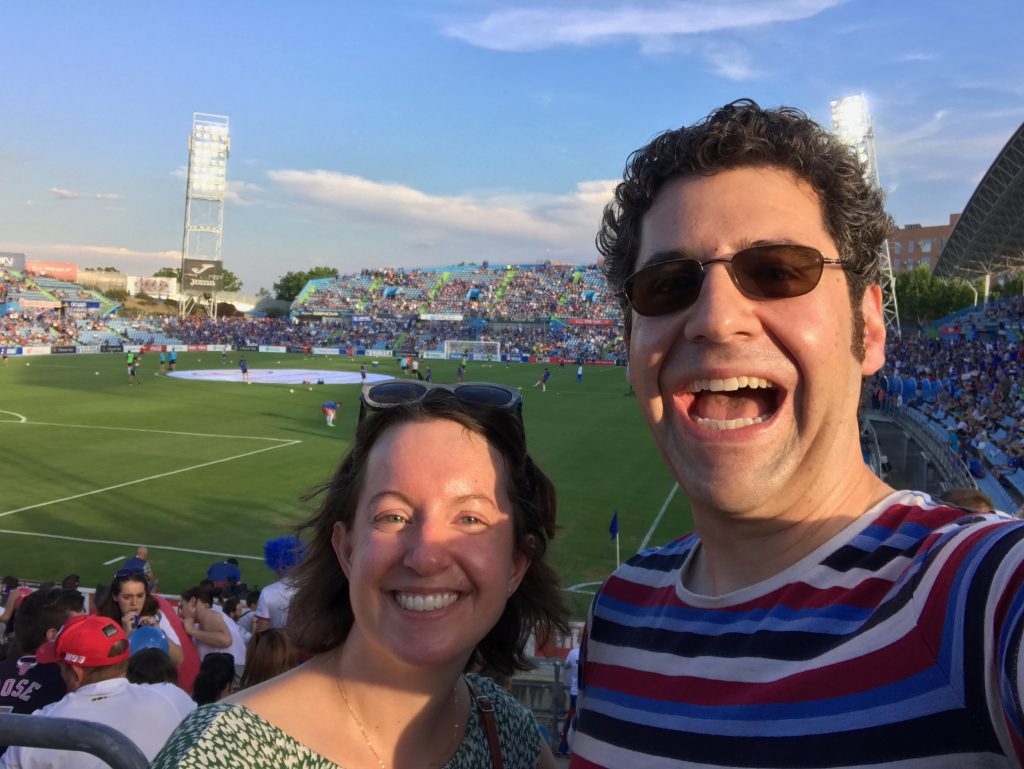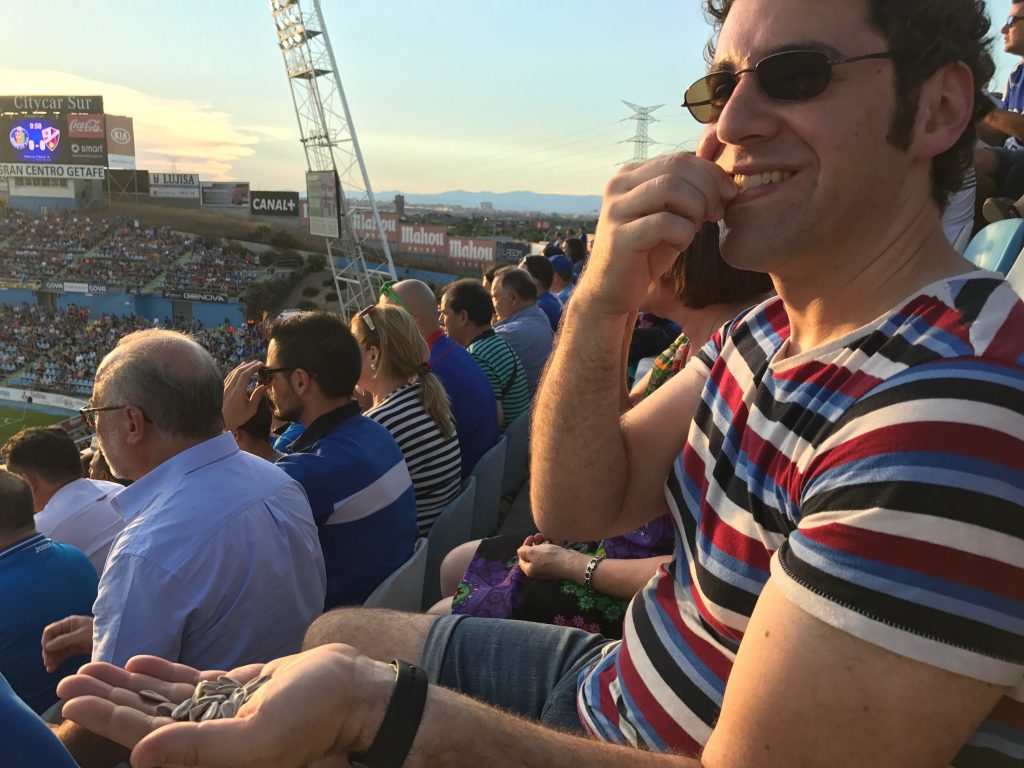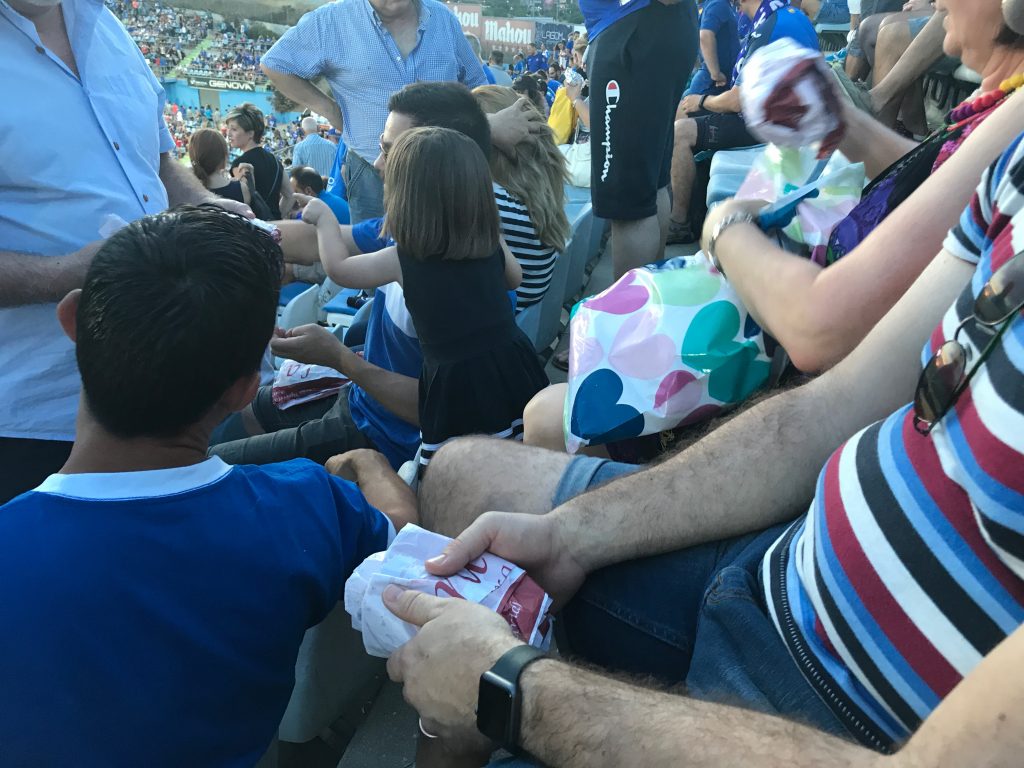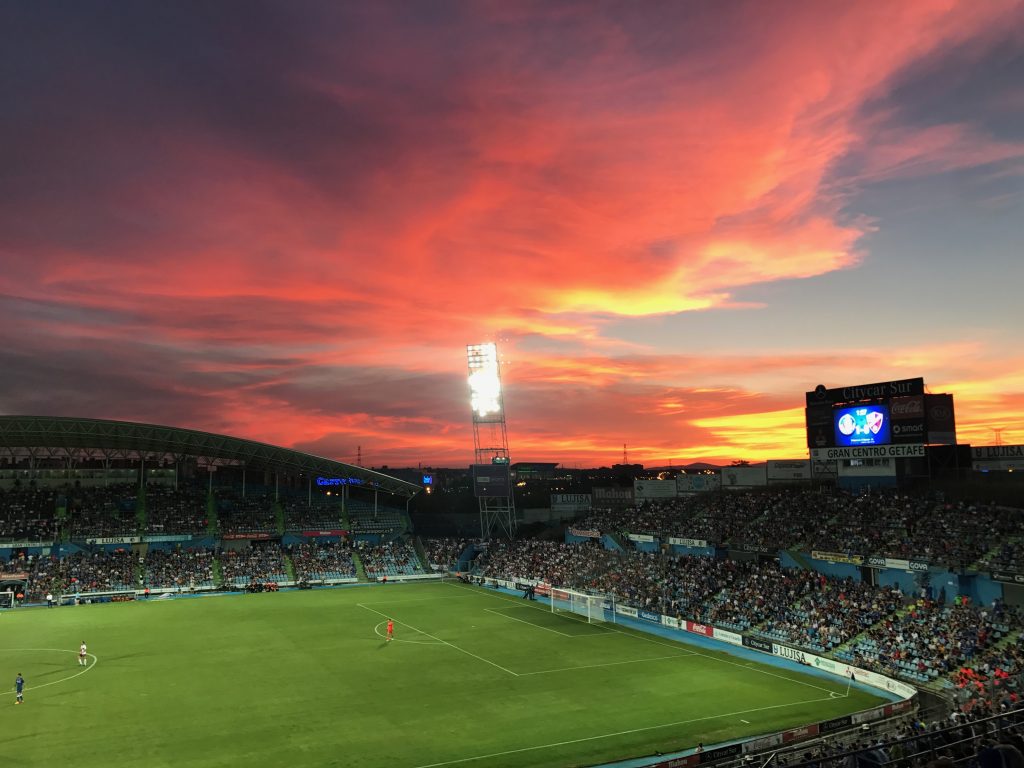 And of course, Getafe scored…
A few weeks later, after we learned where Dreamer would be working, we returned to Madrid to look for an apartment. We ended up settling in the very heart of the city, not far from the royal palace. Dreamer is working in a small town about an hour outside the city by bus, but we knew we wanted to live somewhere bigger than Burriana this year, not smaller. And for that you can't do any better than downtown Madrid. We looked at about ten places in one weekend before settling on one that was both of our favorite.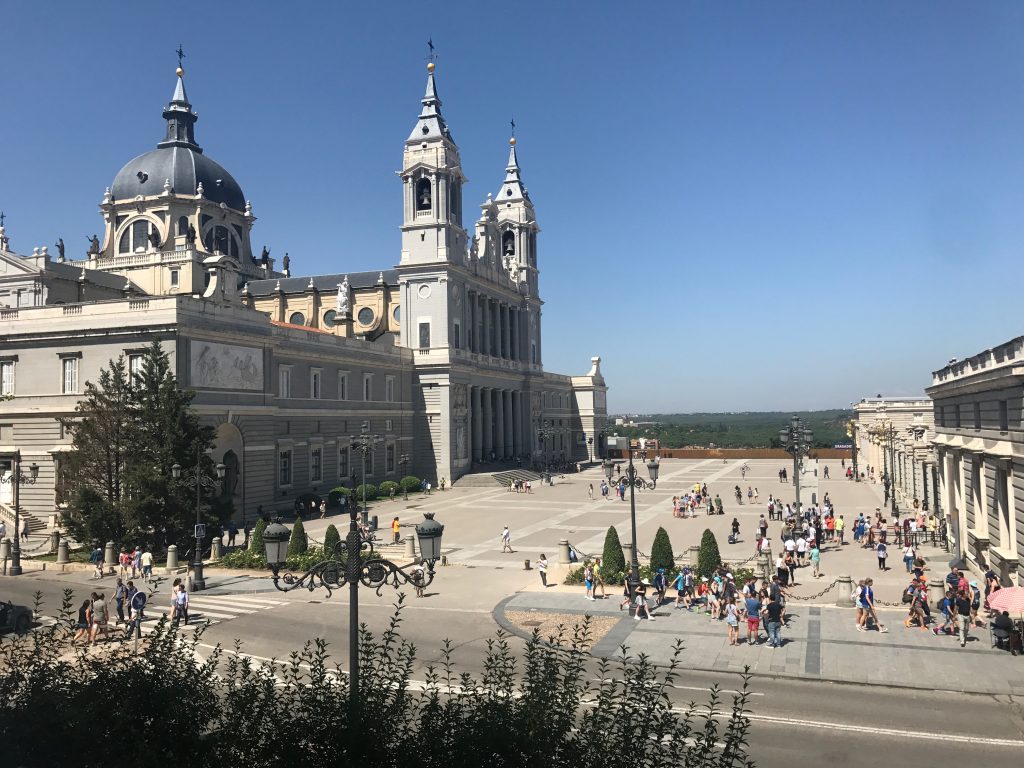 Before heading home to pack, we visited the turtles at Atocha Station. These were all abandoned by their owners in the indoor pond and the station ended up taking custody; it was quite the sight. Just a few weeks ago as of this writing, they have been moved to a new sanctuary outside the city built specially to house them, and also as an adoption center. The best part? The sanctuary is in the town where Dreamer works!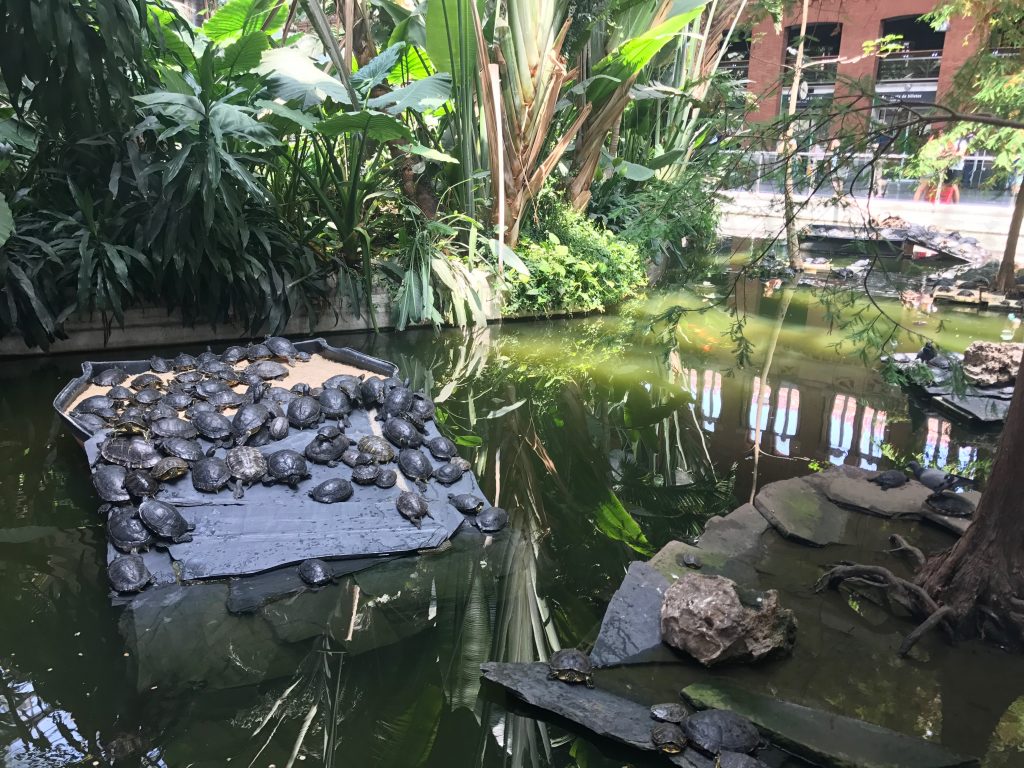 We forged ahead quickly after we nailed down a place to live. The following week, we hired a mover with a truck to take us from our temporary digs in Vila-real to our new place in Madrid.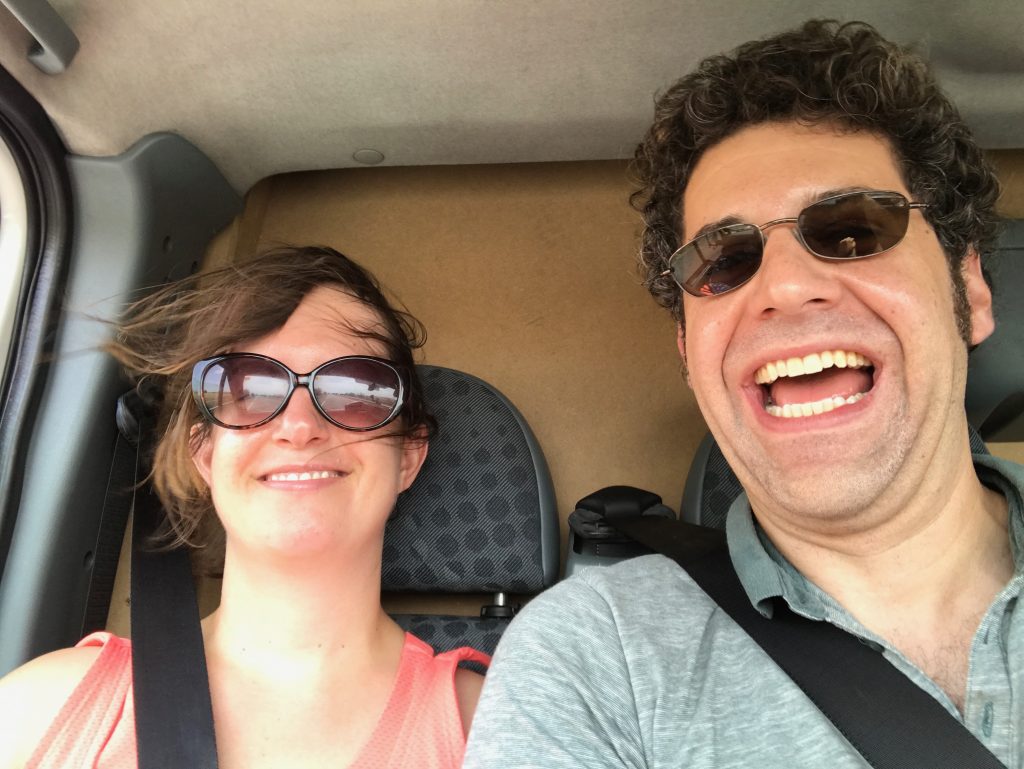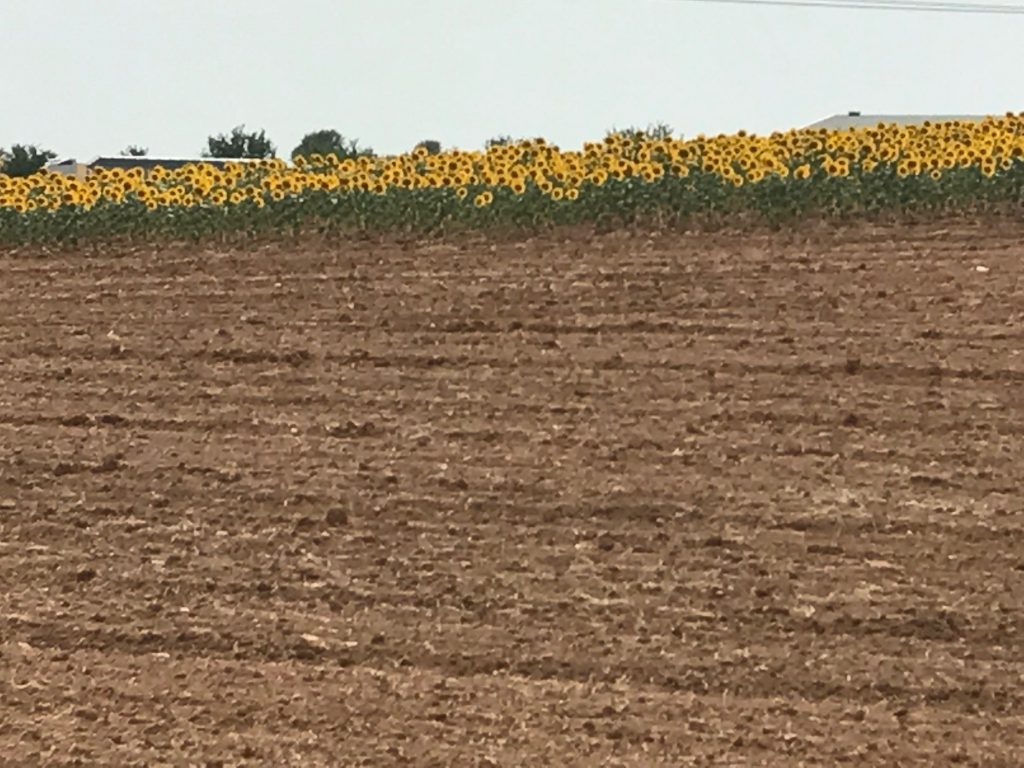 Since we found our new place in short order, it wasn't until the morning after we got to Madrid that we could actually unload our stuff, so we had to stay in a hotel near our new place for a night. That was in the middle of Madrid, though, and our driver had just dropped us off close by so he didn't have to drive the truck into the center twice. A half-hour walk uphill in the summer heat was of course just what we were looking forward to! Finally, we got to our hotel and settled in.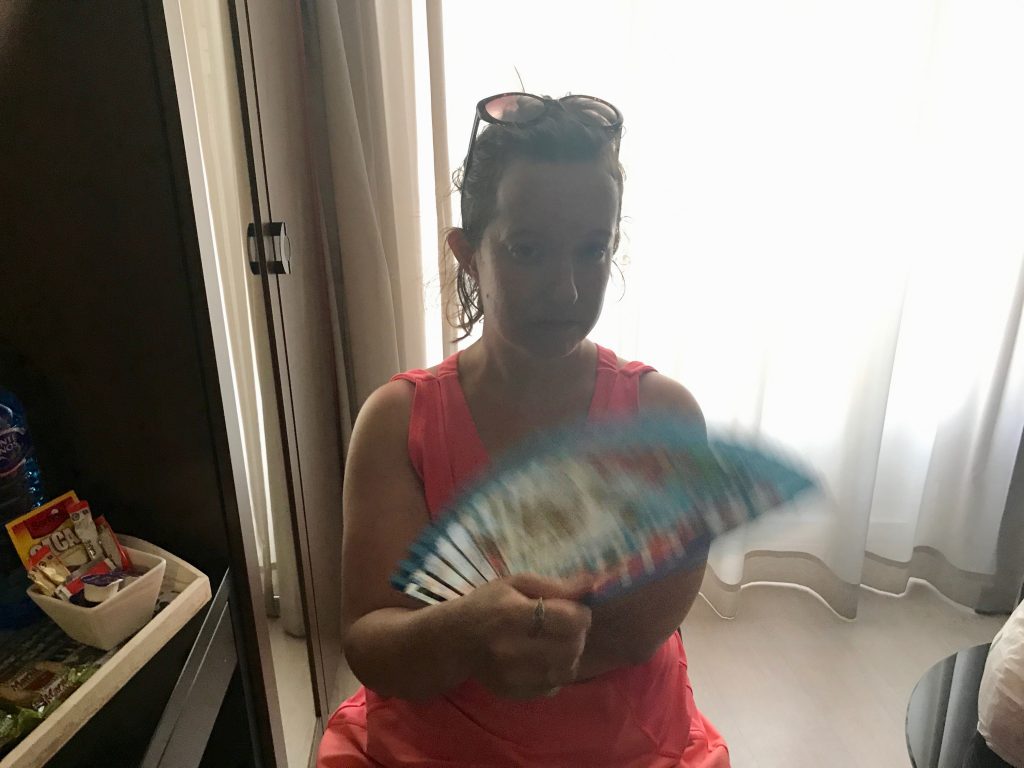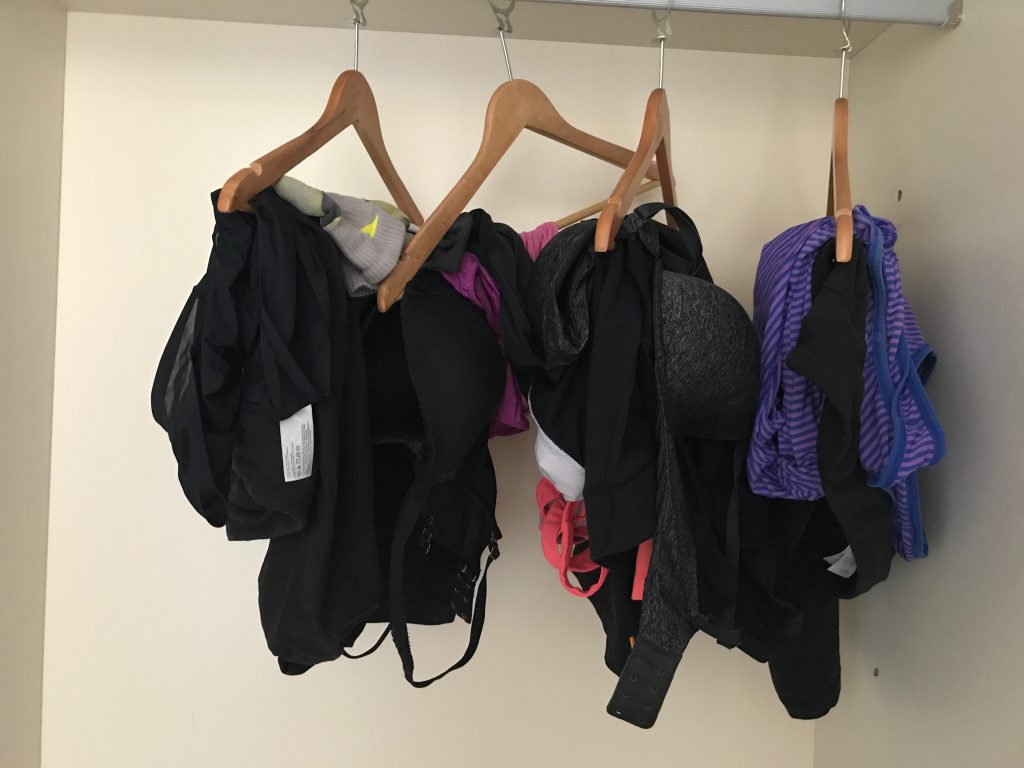 Now, we had survived 10 months in Valencia without air conditioning – opening the windows and using fans was enough to keep us cool (and to let in a mouse). Not so in Madrid, without the Mediterranean a few kilometers away.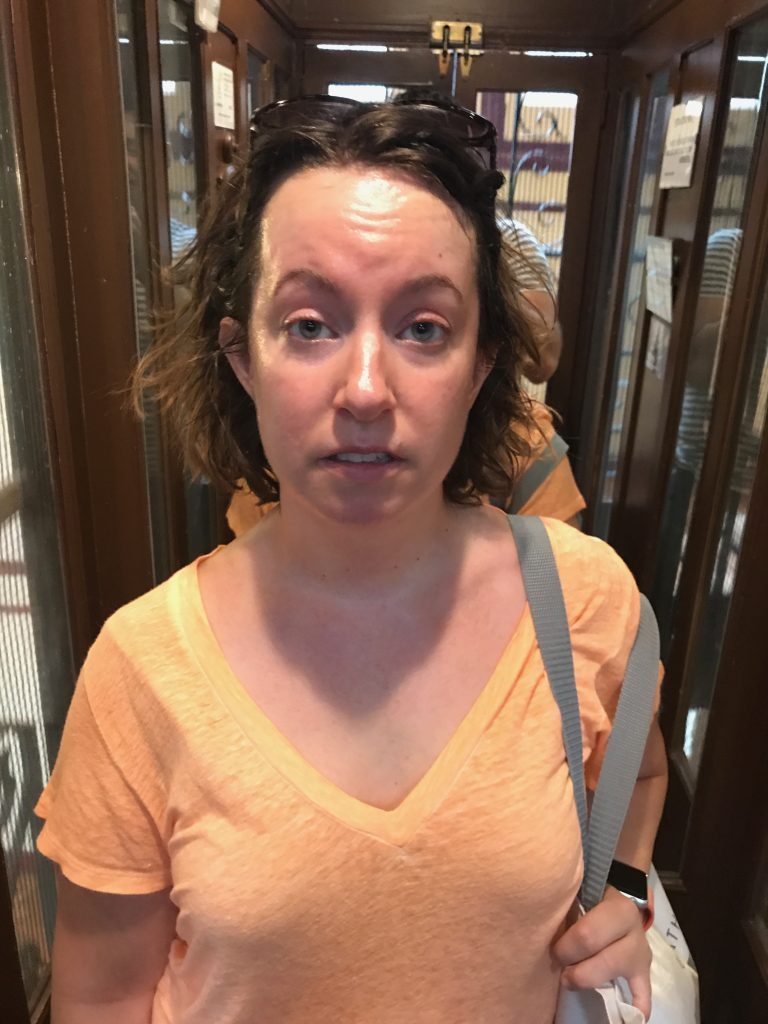 After one sleepless night in our new Madrid home, we hopped on a train to buy a bedroom air conditioner in the suburbs. Of course, we had to buy a portable dolly, too, so we could get the unit home on public transit and all.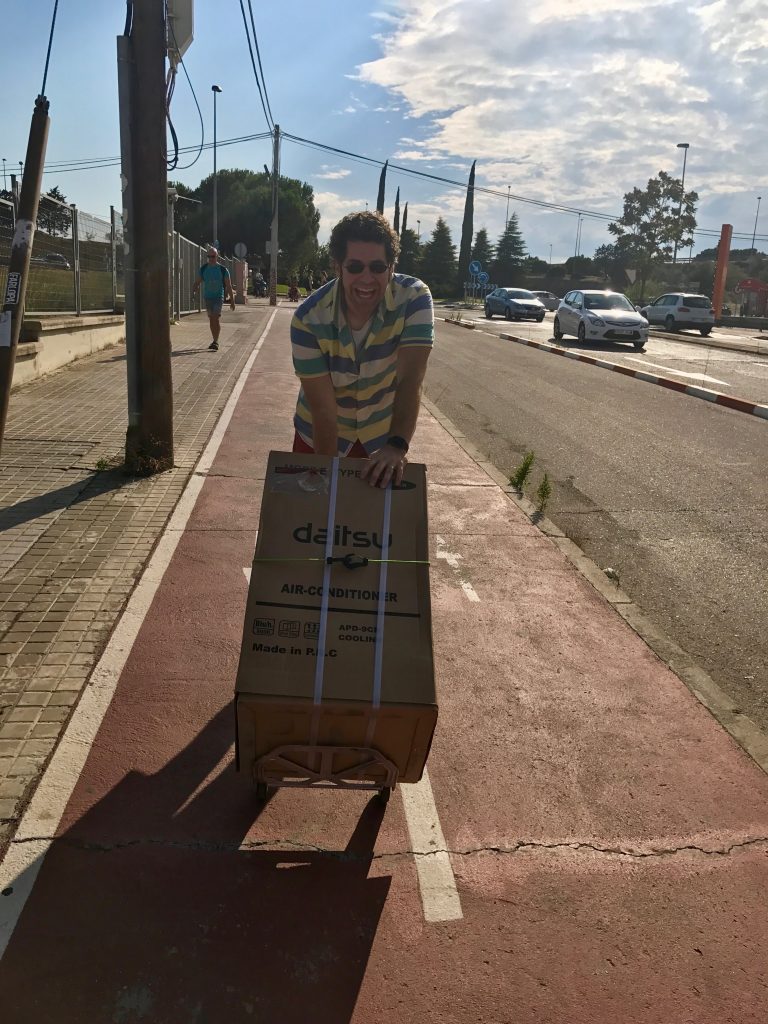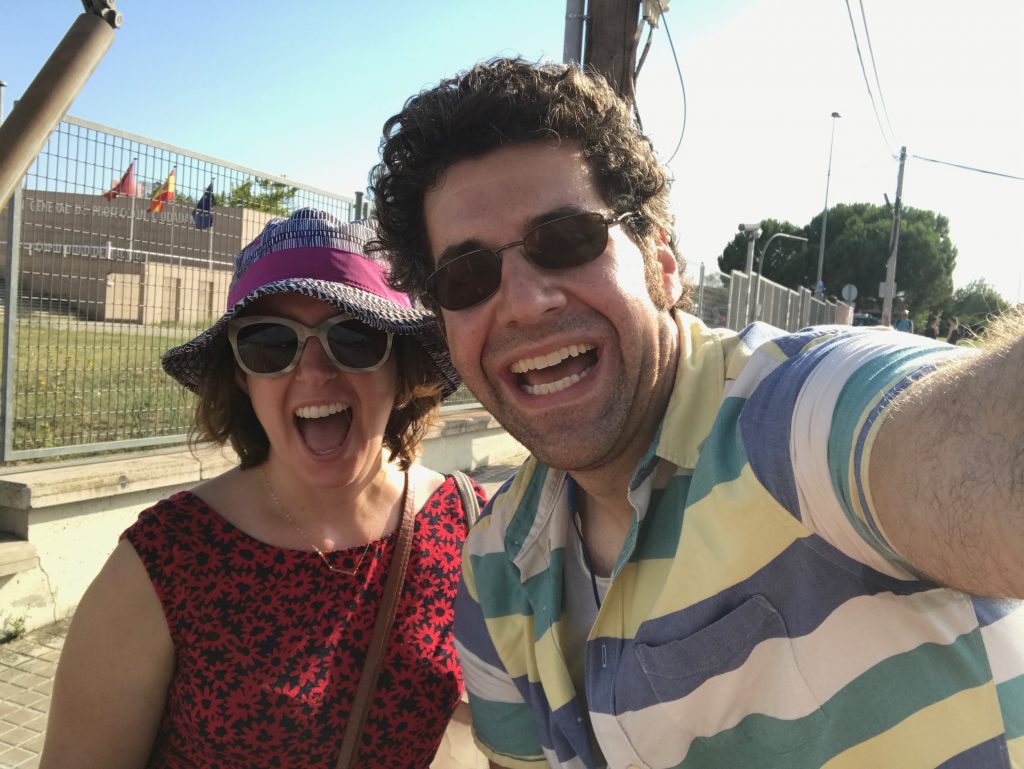 Dreamer was not super enthused about having to carry the accessory bag.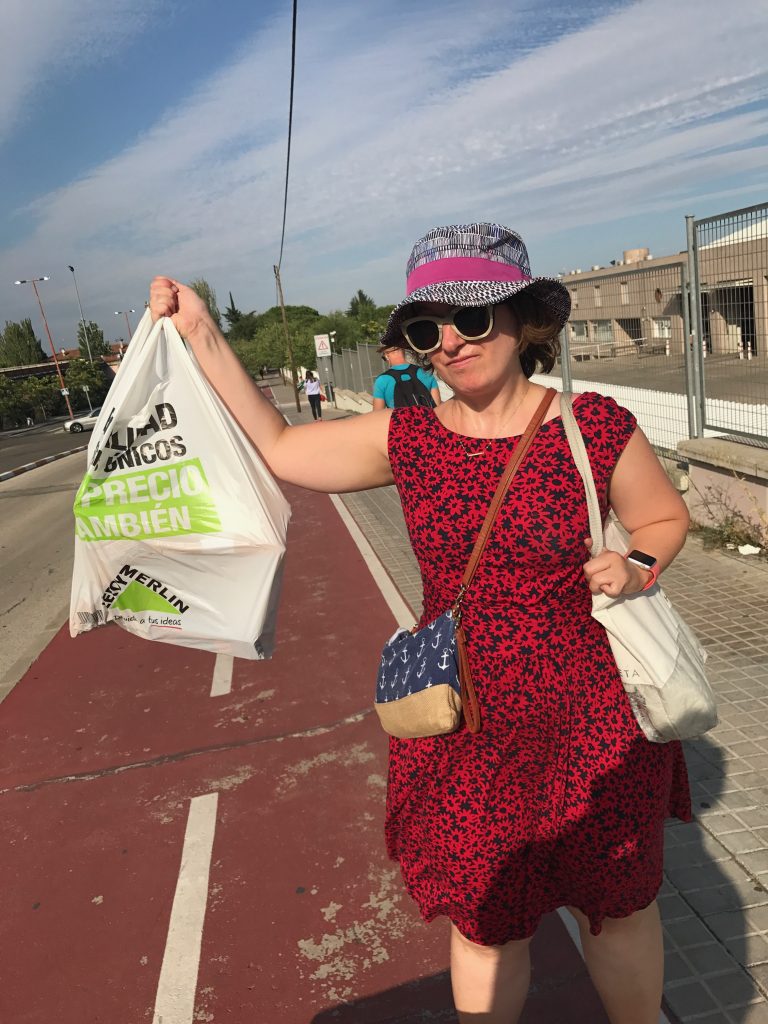 There was a requisite trip to Ikea for Doer's new office desk, and then some. Between the shopping trips and unpacking all those boxes, it took a few weeks before we could say we were fully moved in.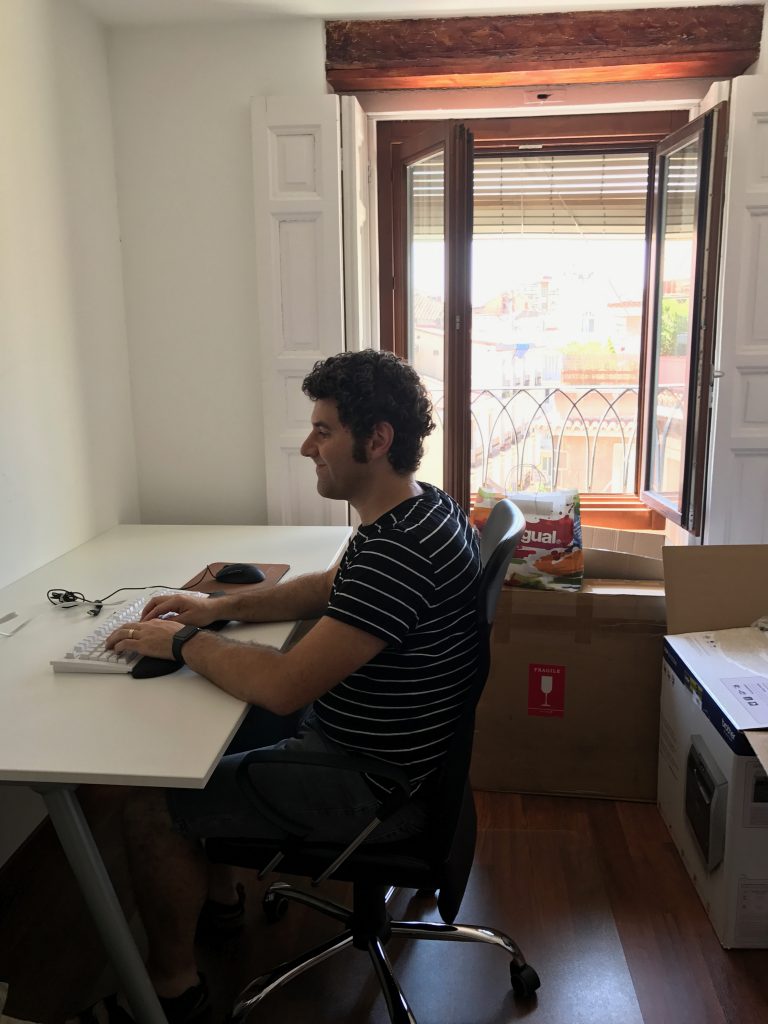 After we were able to get some rest, we set out to explore our new neighborhood, El Madrid de los Austrias. The Royal Palace and Theater (Opera house) are in our backyard!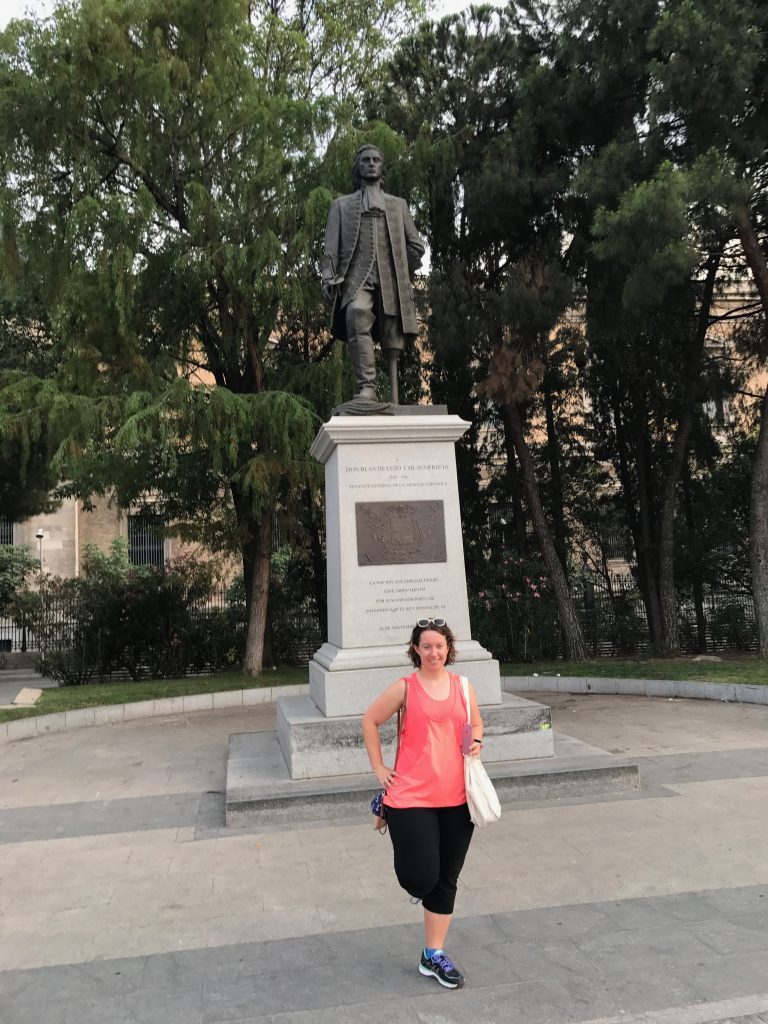 And if it's public transit you want, the metro (subway) is just a block away. Check out that plaza!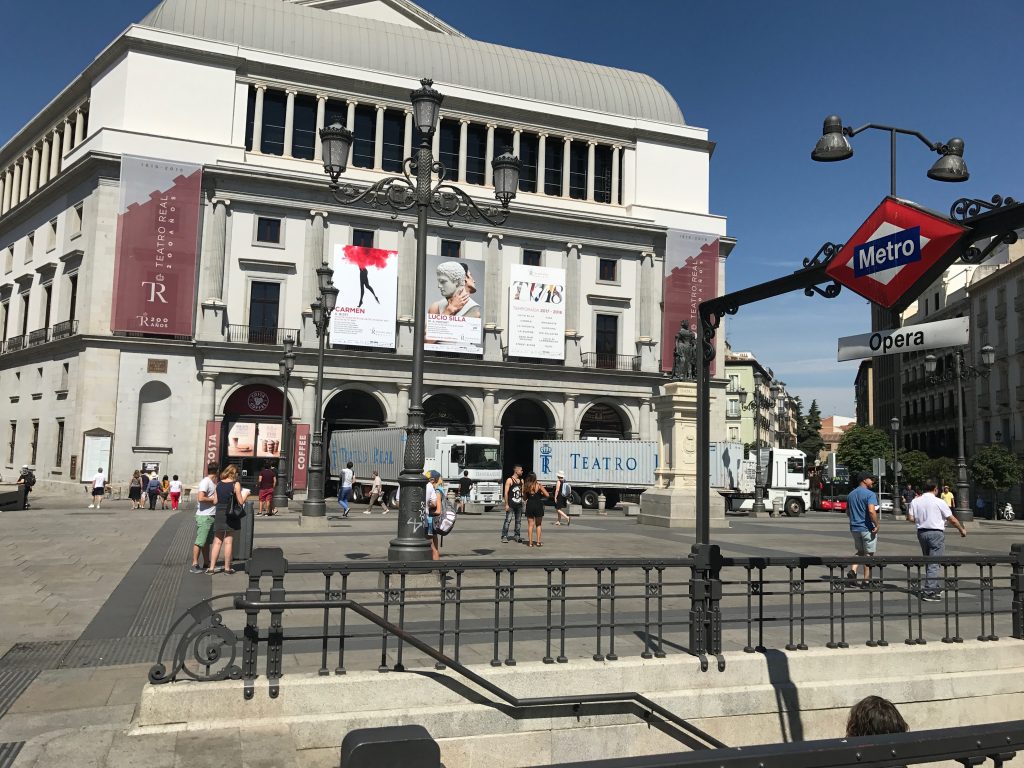 Crossing the main shopping street, Gran Vía, can be a bit of a challenge, though. Especially at Christmastime, or in the Summer.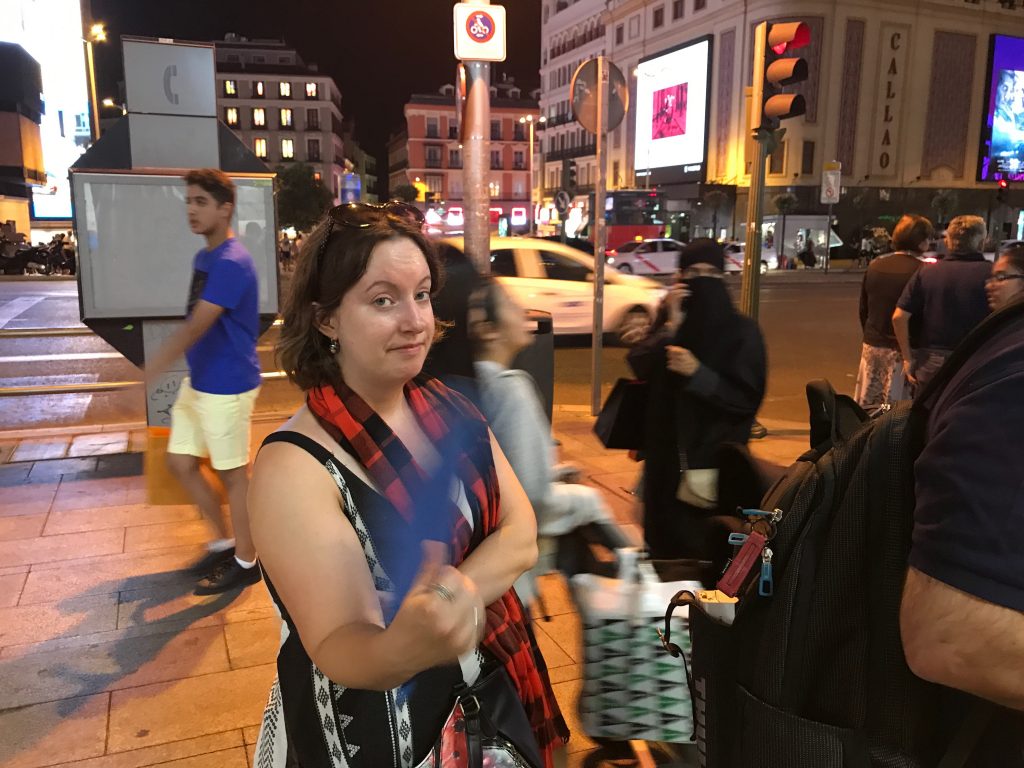 Some of the locals get creative with the Summer heat.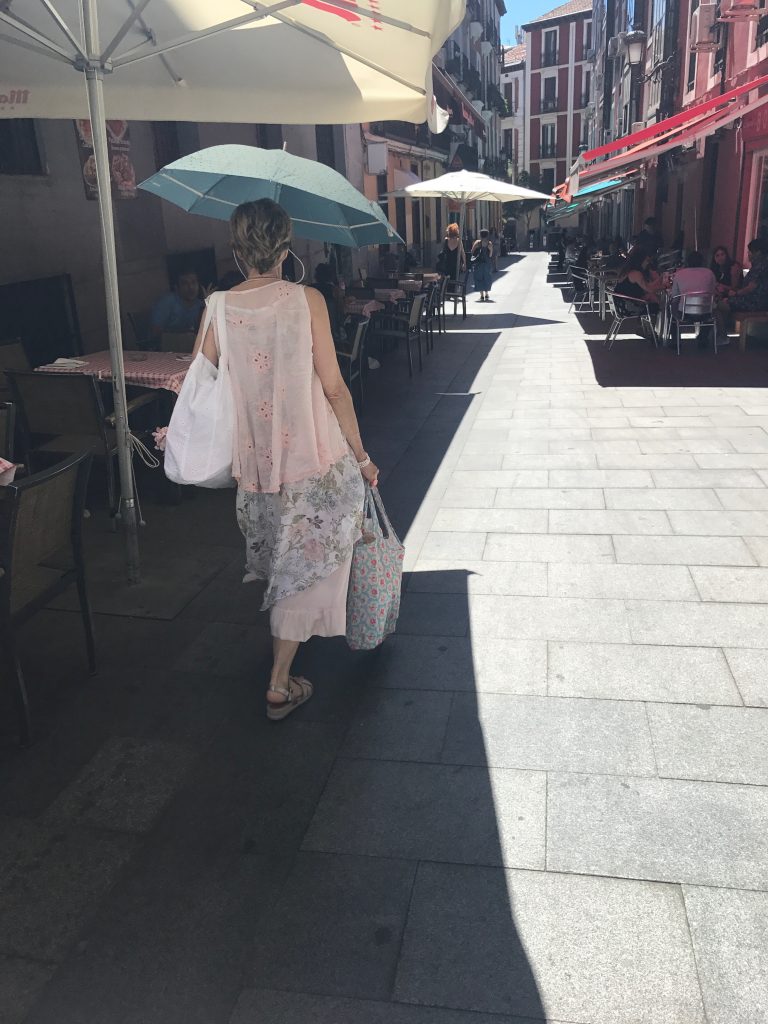 Churros and chocolate are the local specialty, eaten as late night turns into early morning.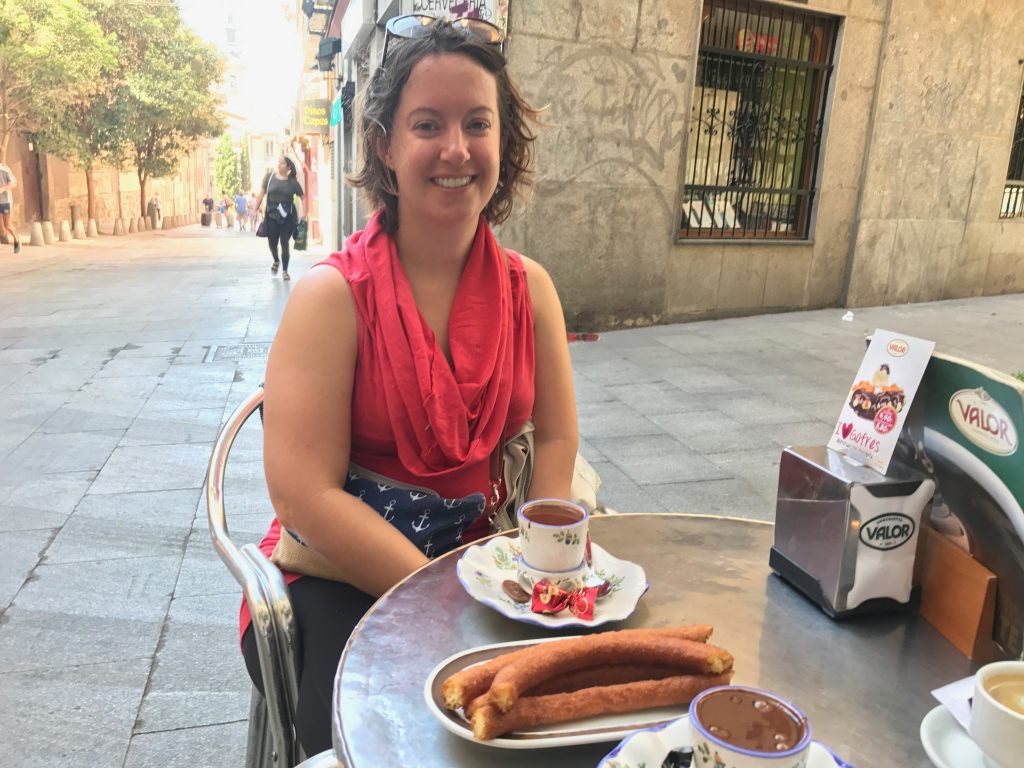 We quickly discovered what was to become one of our favorite restaurants.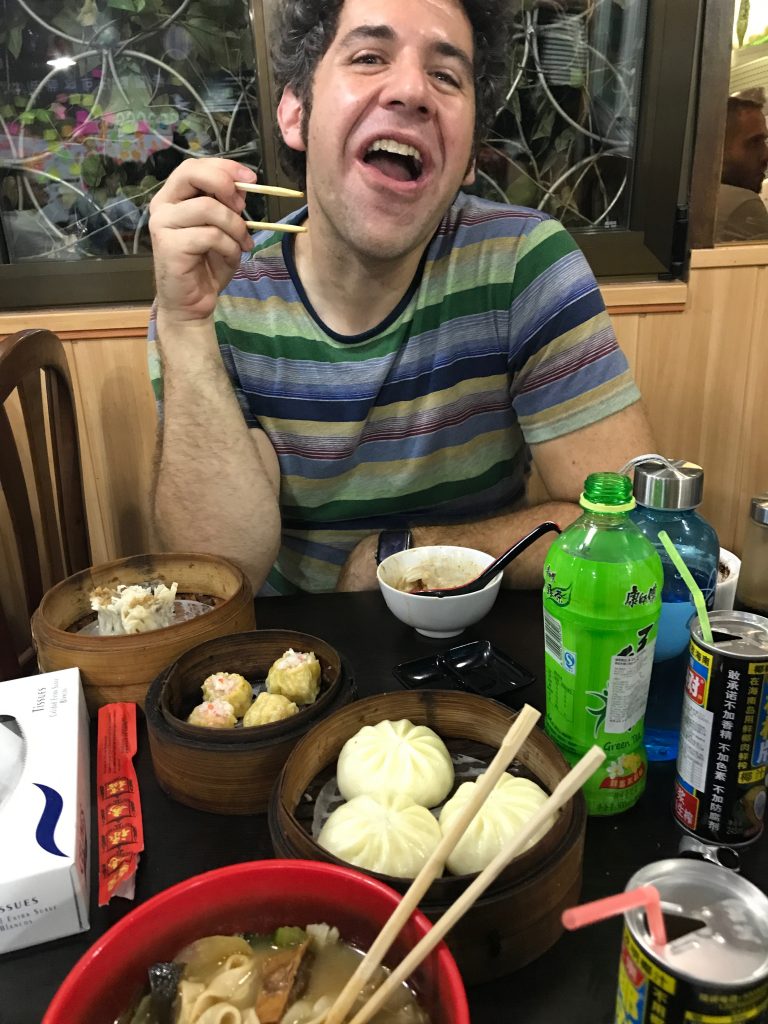 We call it Pooh Bear. The locals call it El Winnie.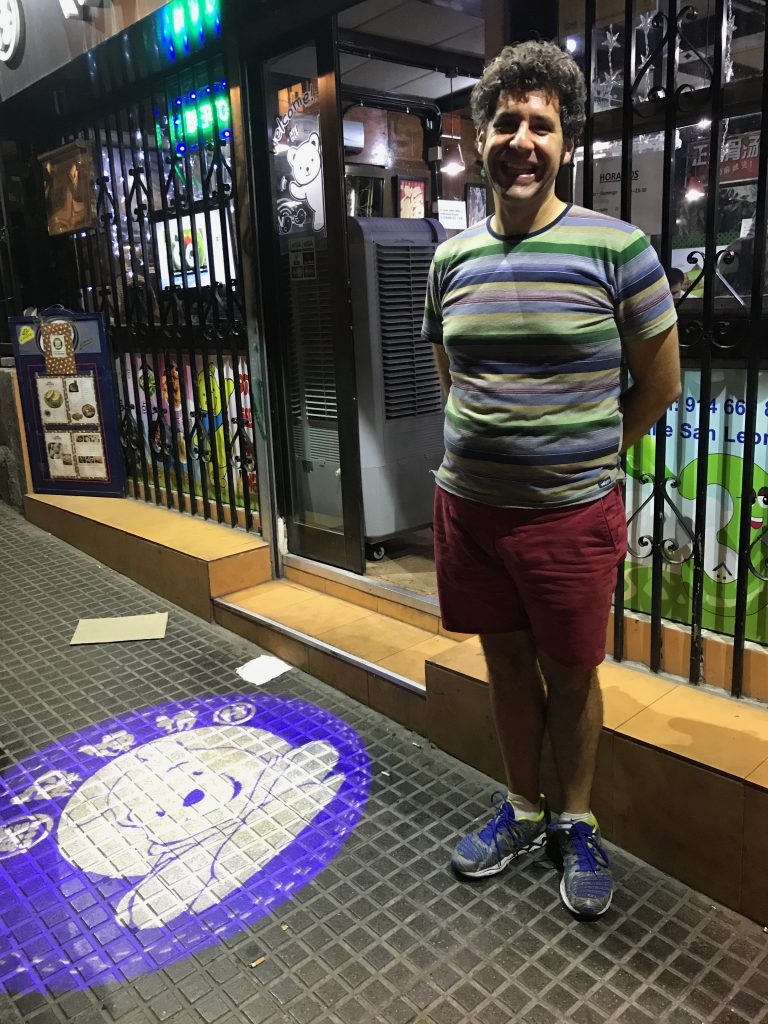 One of the many reasons we moved from a city of 35,000 to the booming metropolis of Madrid was to have more choices for eating out. And it certainly does not disappoint, even if we are looking for a taste of home from time to time.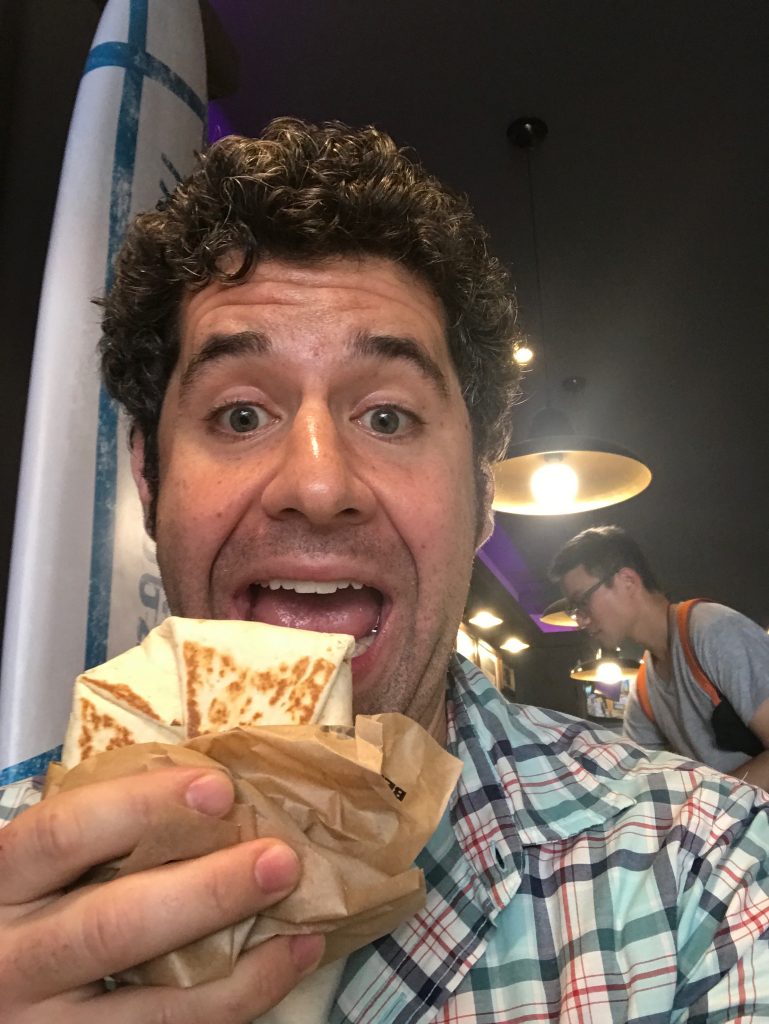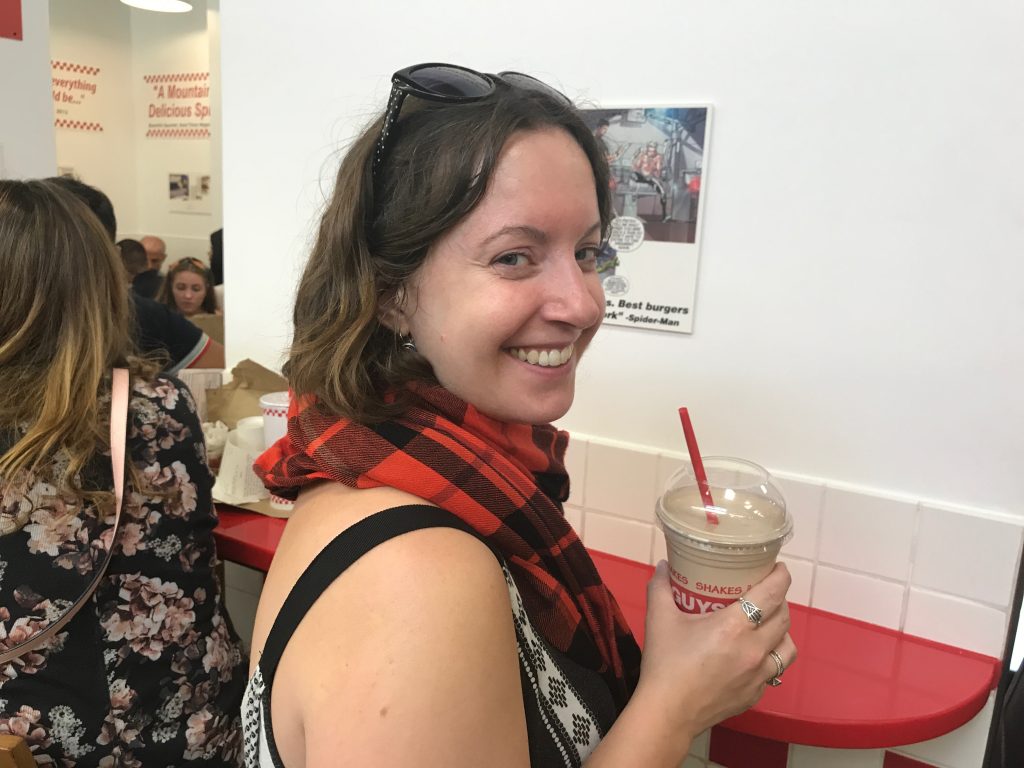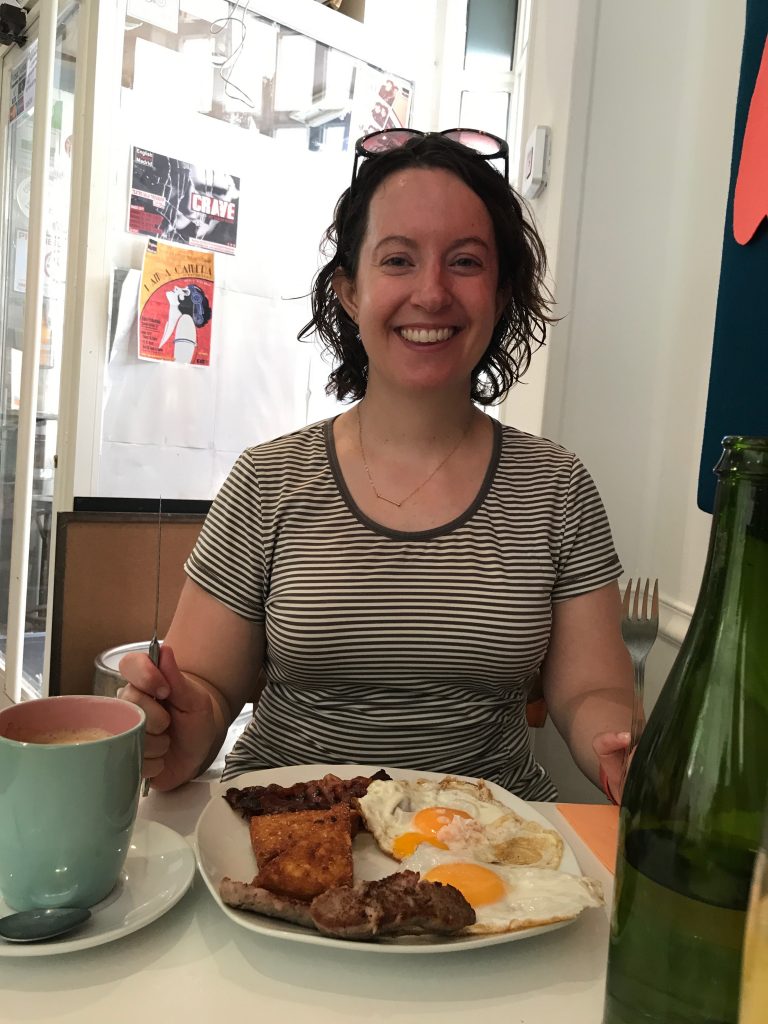 Mexican? South or Central American, Cuban? Plenty of options apart from Spanish food. Chinese in central Madrid abounds, along with Indian.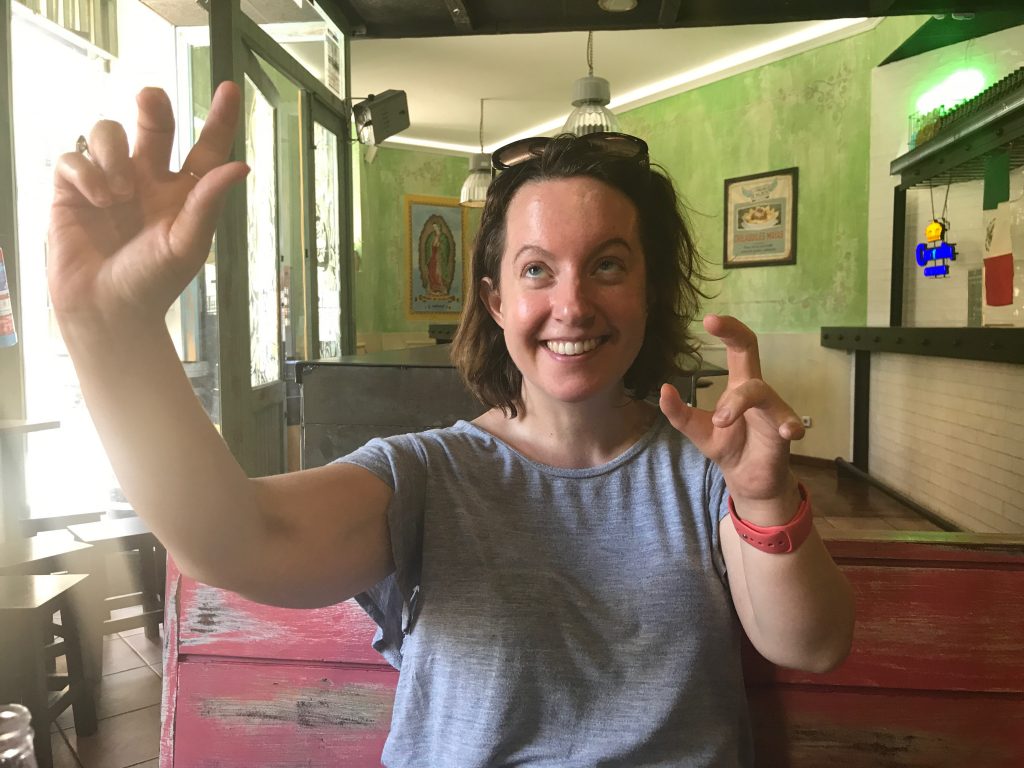 Even the Spanish food options are high-quality. A lunch prix fixe menu for eight or 10€ will fill you up. Just pick your dessert carefully, or you might be eyeing someone else's prize.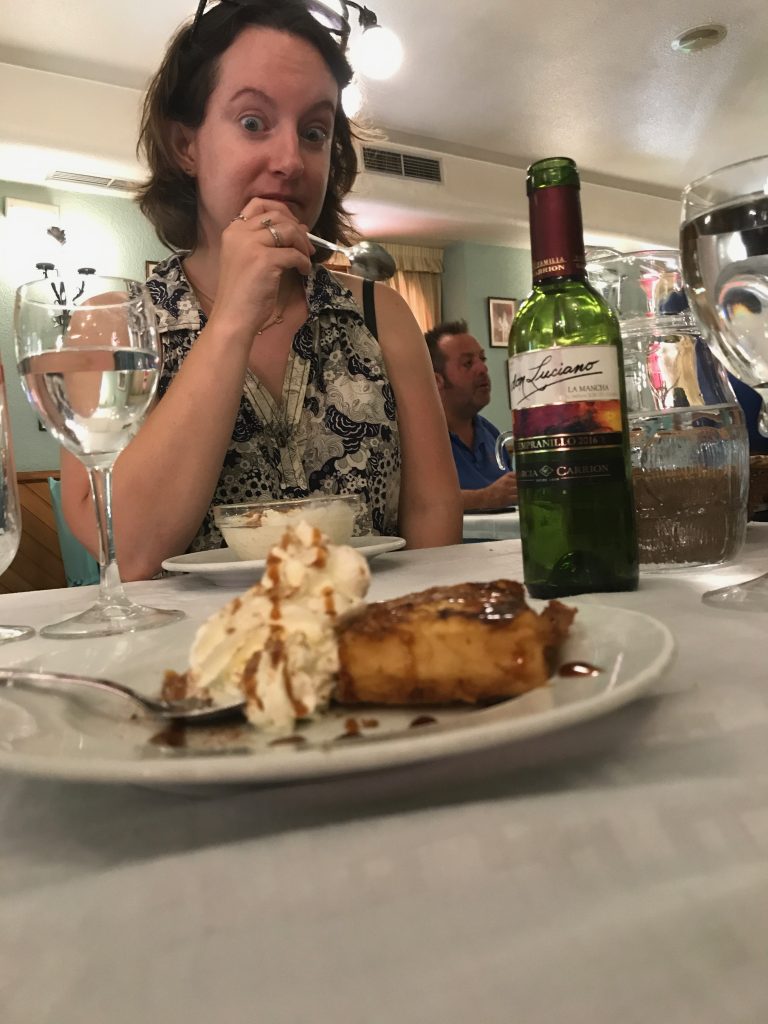 But, of course, nobody can resist the need for a post-menu del día descanso. Locals tell us they don't say siesta any more, but you know what we're talking about.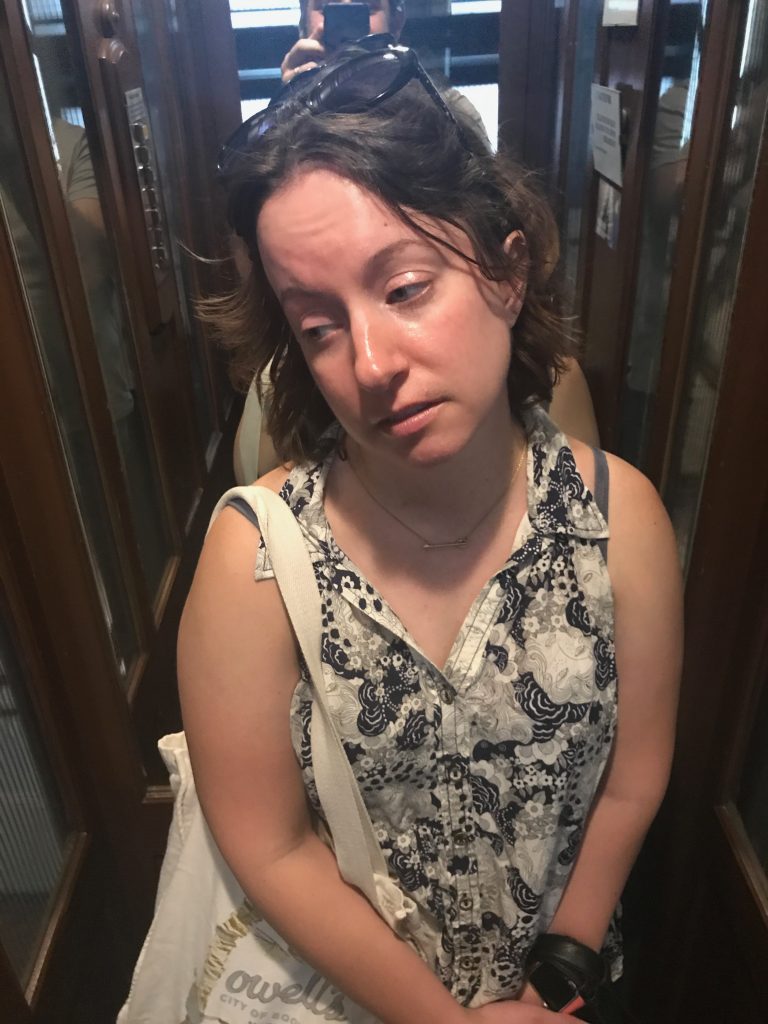 Cocktails are readily available, too.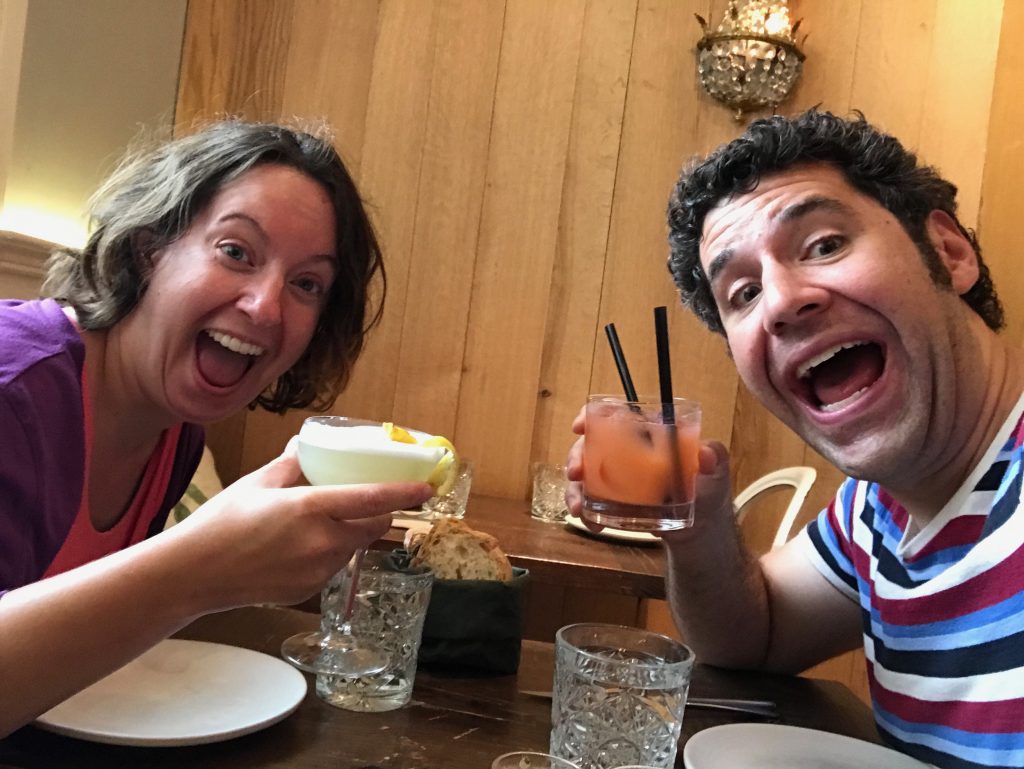 And if you don't like all the options previously presented, there are always vending machines.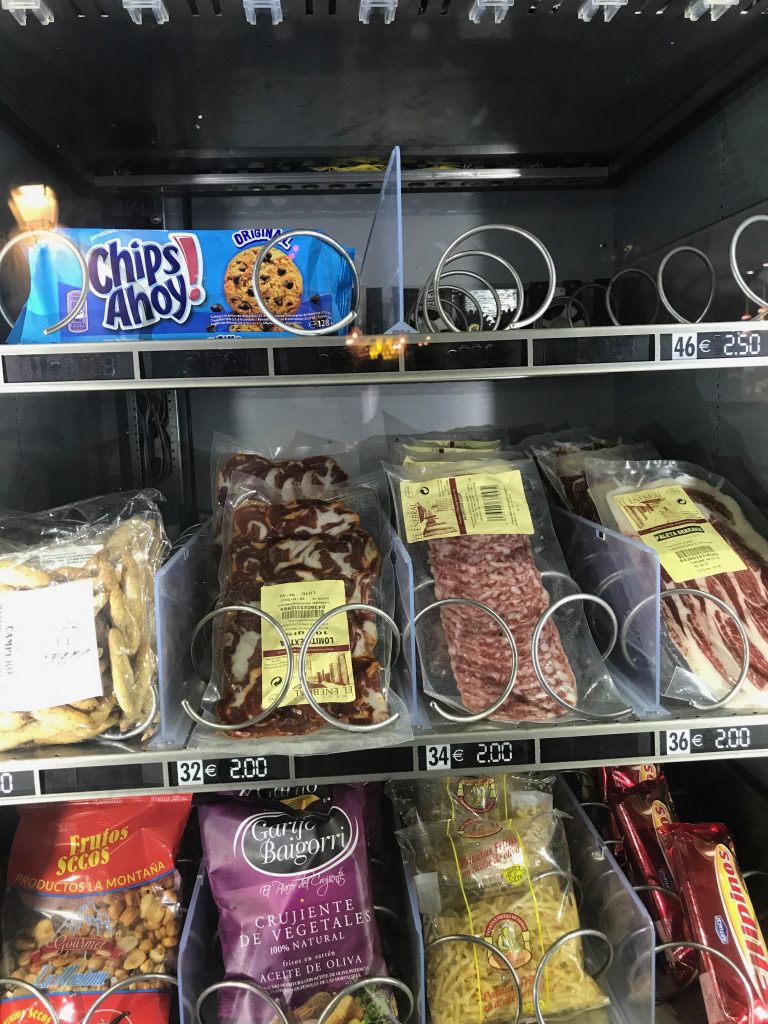 One thing we'll never eat in a restaurant here, though, is paella. Doer can manage just fine at home, thanks.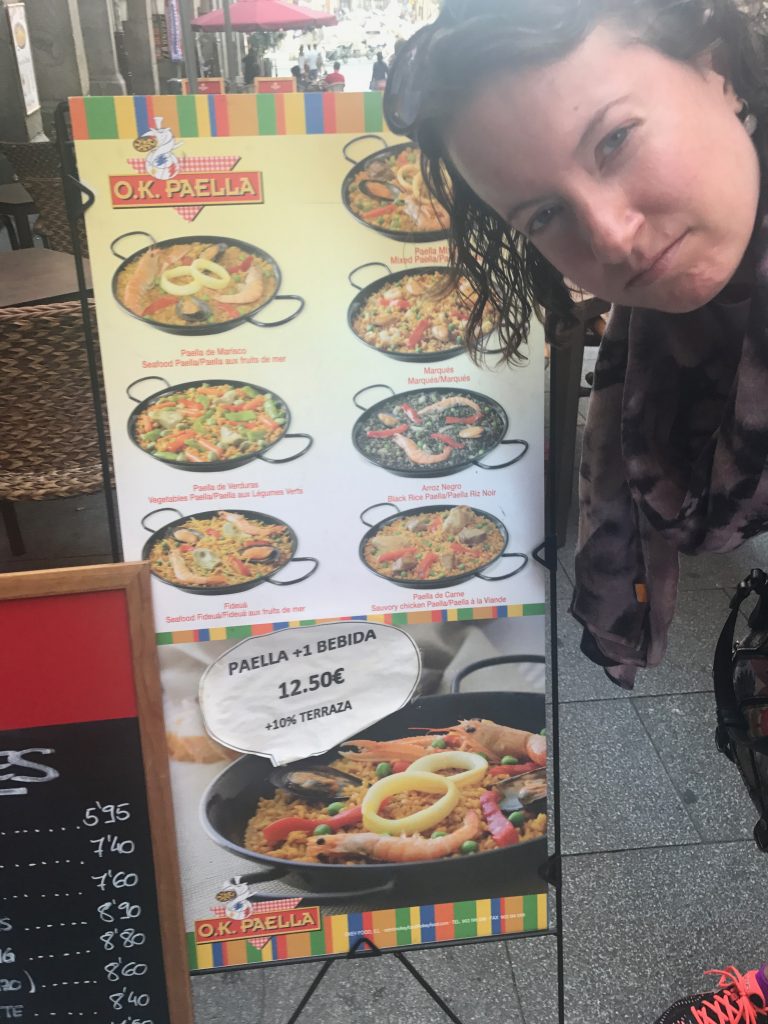 Of course, we christened our new Spanish home with an acorn-fed ham. We had to, because Spain. Again, though, lack of car was a bit of a challenge. Carrito to the rescue!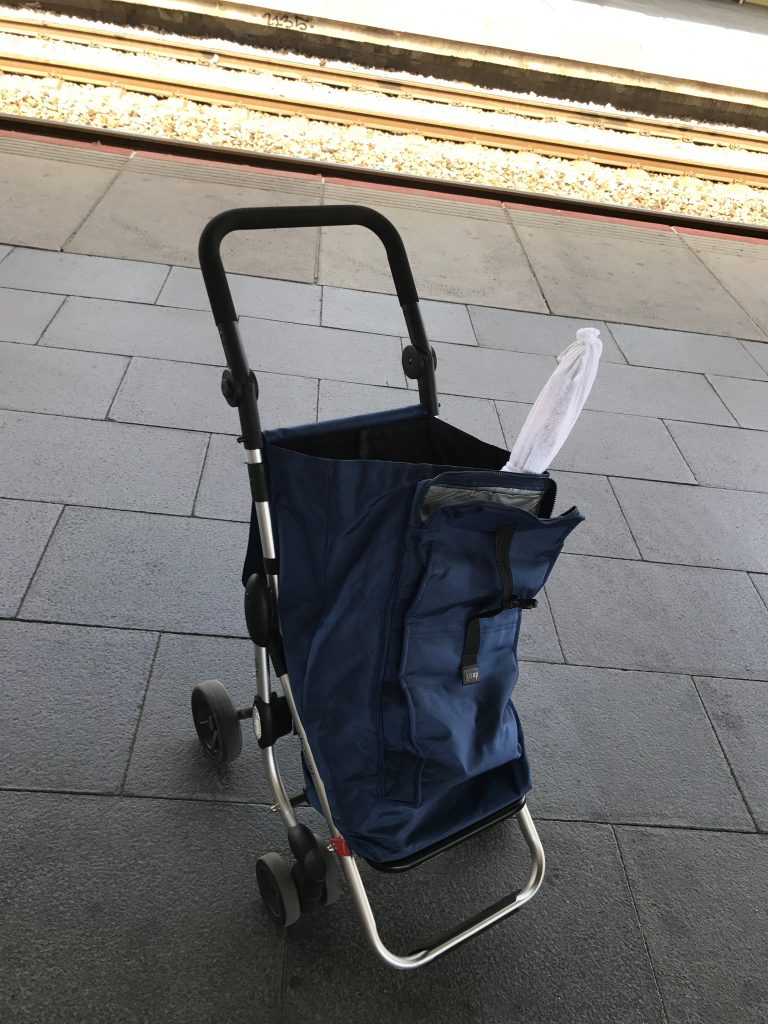 Thanks to Manolo in Getafe for taking Doer to a great local place to buy one!
And you'll notice we finally have a place to hang that painting we bought in Barcelona, too.