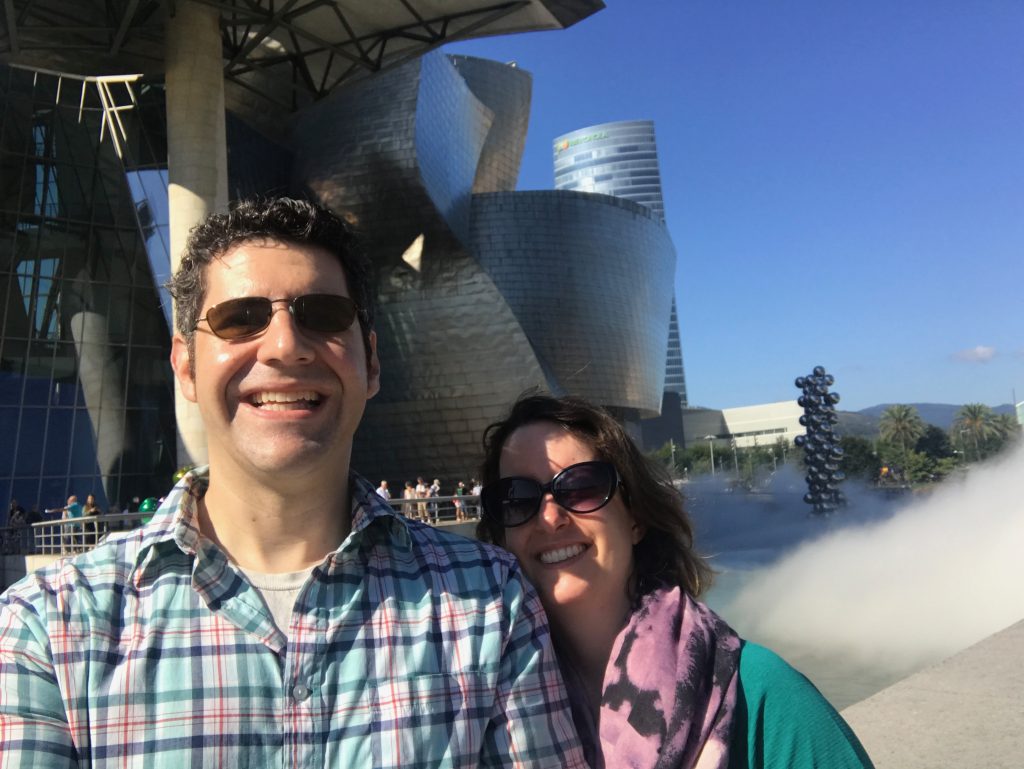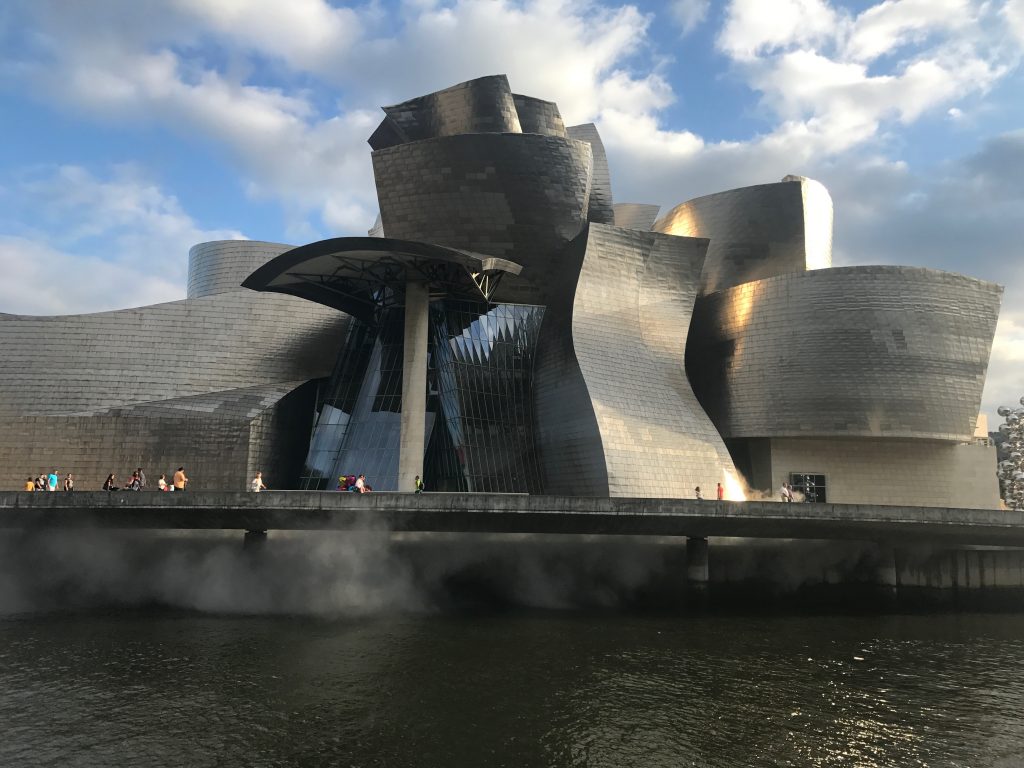 Bilbao: that most modern of metropolises (metropoli?), home to the Frank Gehry-designed Guggenheim Museum, a contemporary city that embraces its ancient roots… We'd heard it all and decided to experience this place for ourselves during our Basque Country road trip.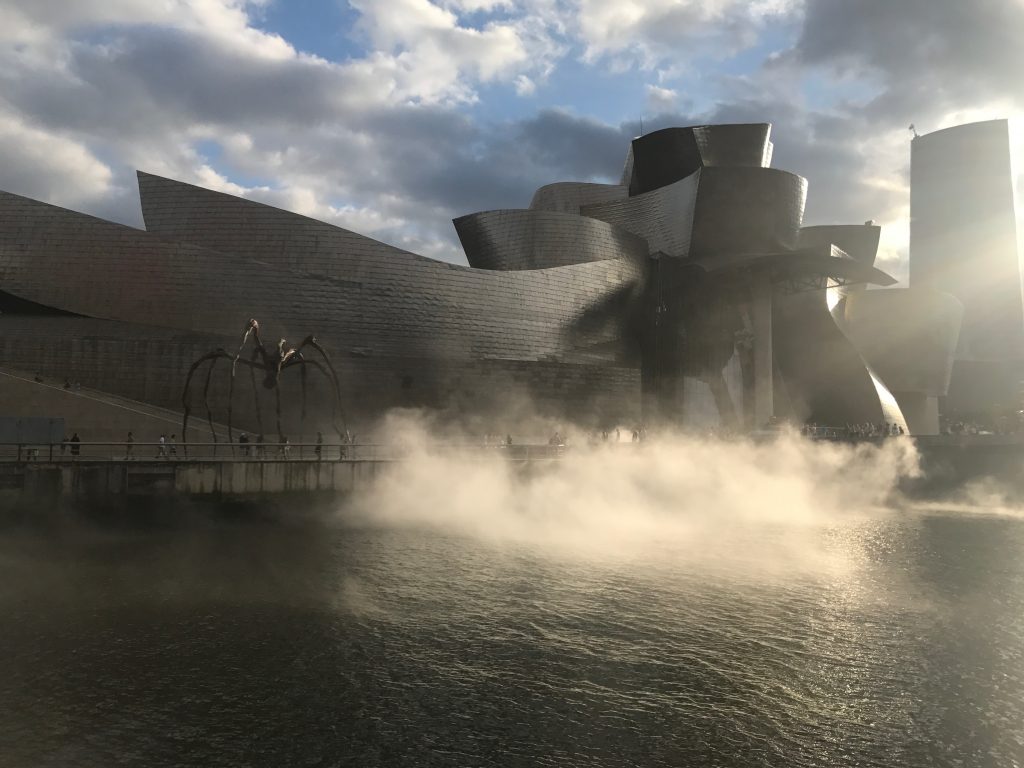 It's not for nothing that the Guggenheim is one of the main attractions.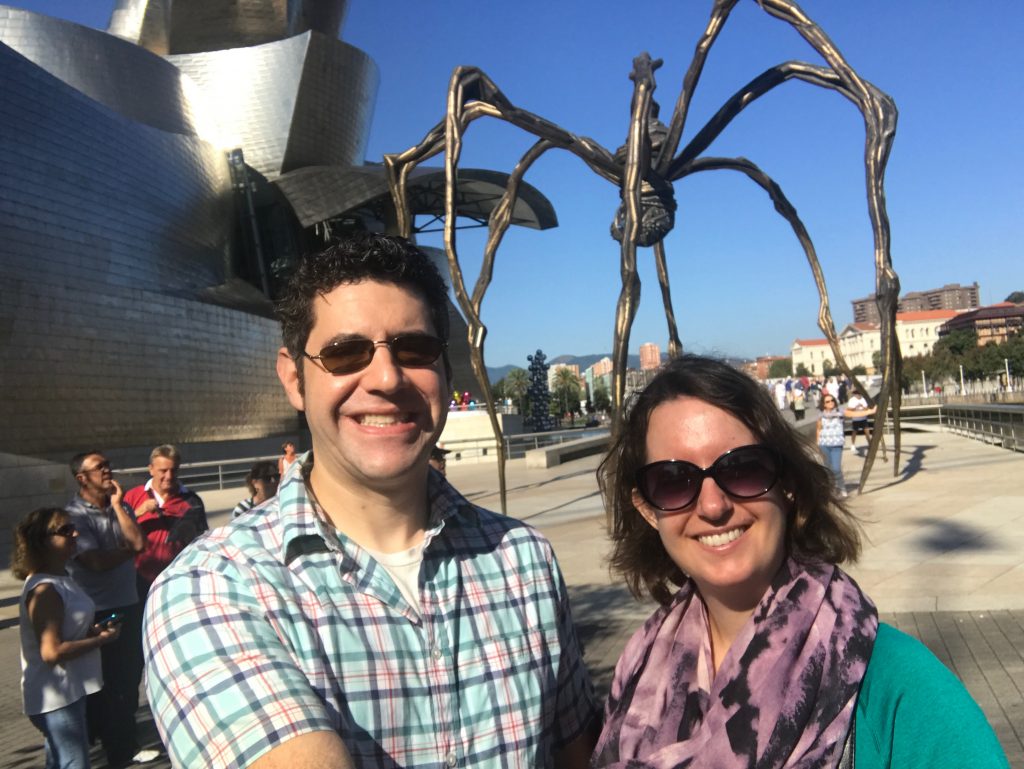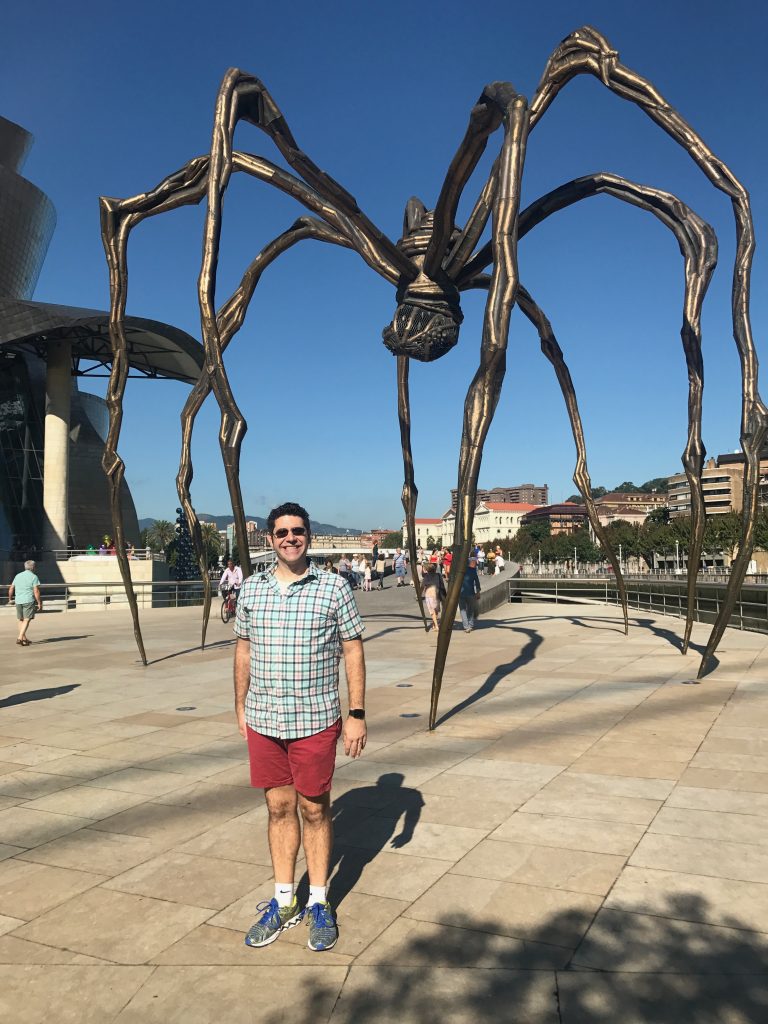 One of the strangest moments of the trip came when two women approached us outside the museum and started speaking in Valenciano. We'd lived in the Valencian Community almost a year, so we recognized the language, even if we didn't understand everything they were saying. It's strange, because Spanish and Euskara are spoken by natives of Bilbao, but Valencian really isn't spoken outside of Valencia. All of the paella, seafood, and citrus must have rubbed off on us.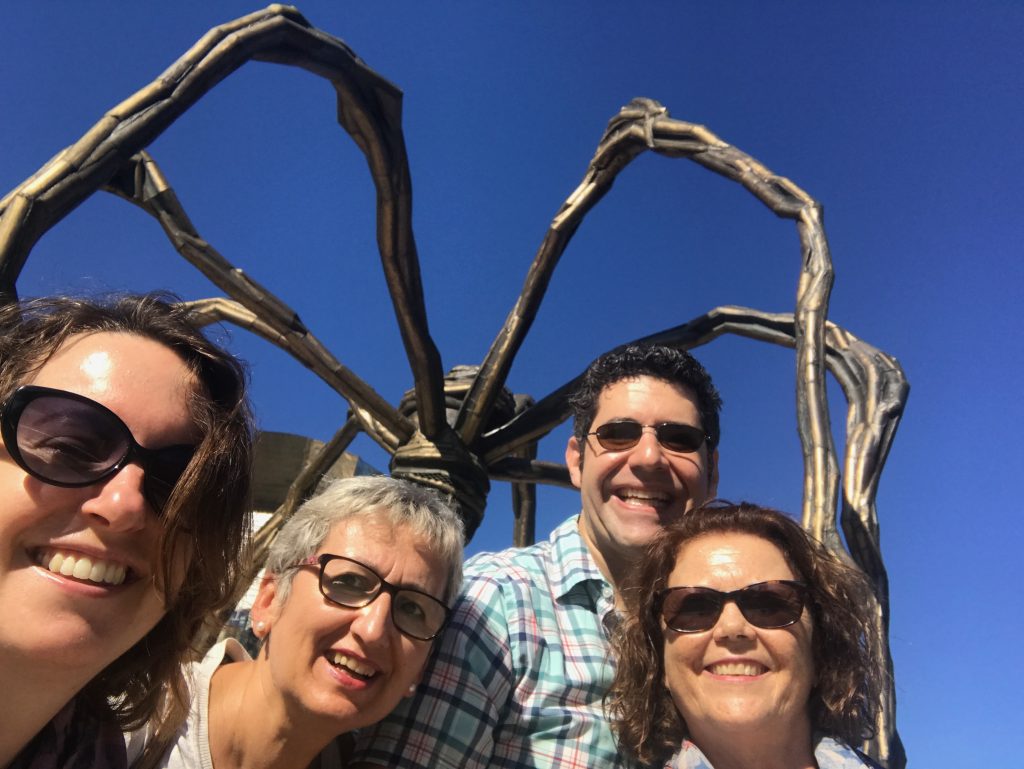 Never fear! The Guge's got more going on outside than giant spiders (though they are said to kill giant mosquitoes). Like a moving cloud of mist, for instance.
Soundtrack courtesy of a street musician.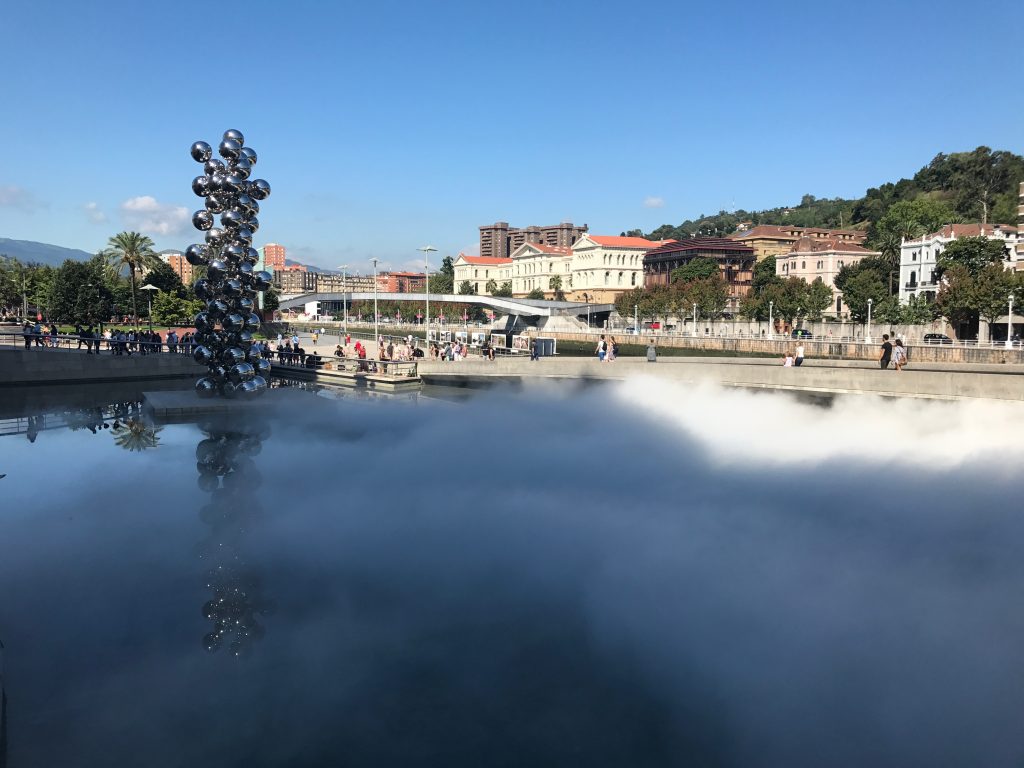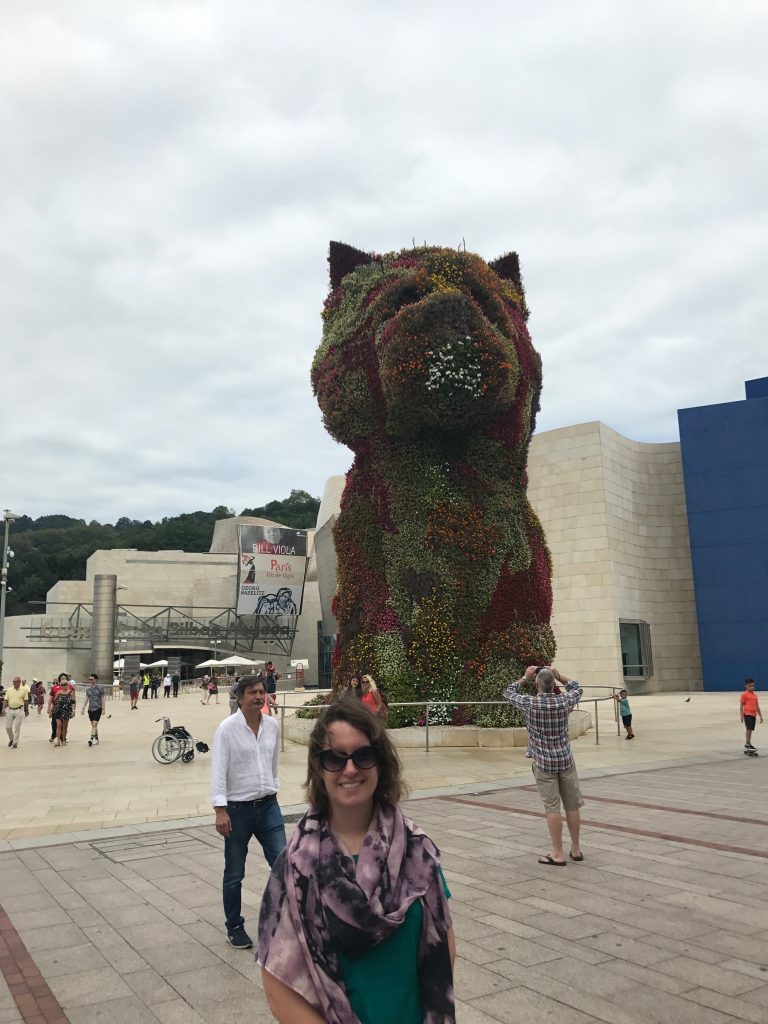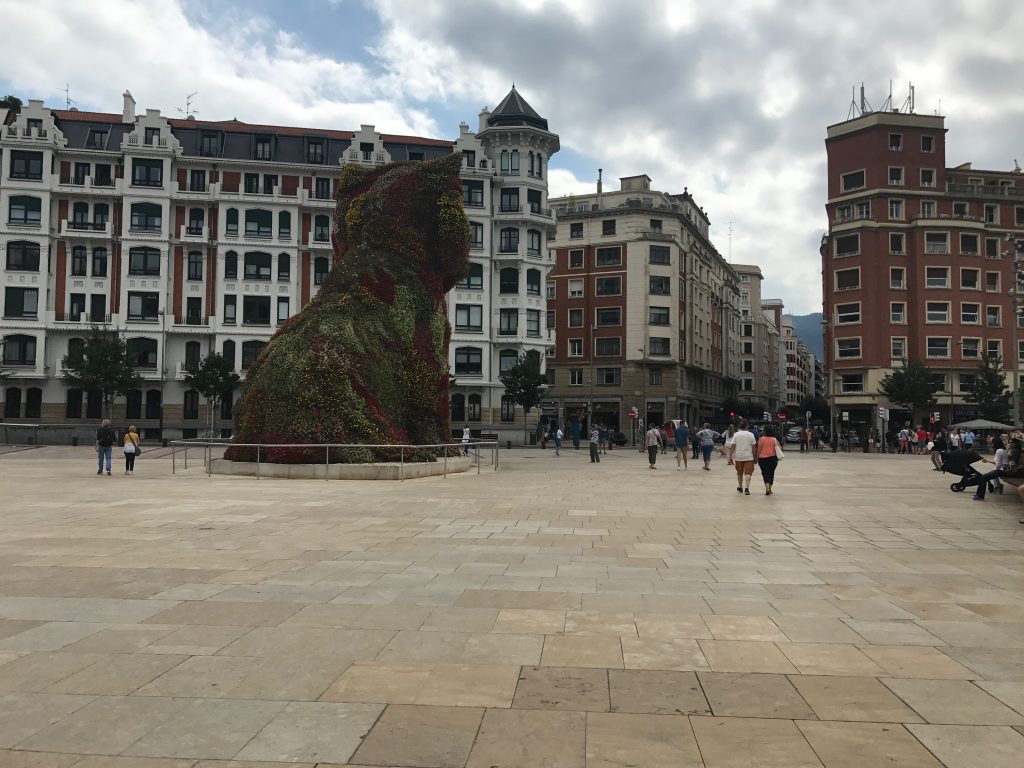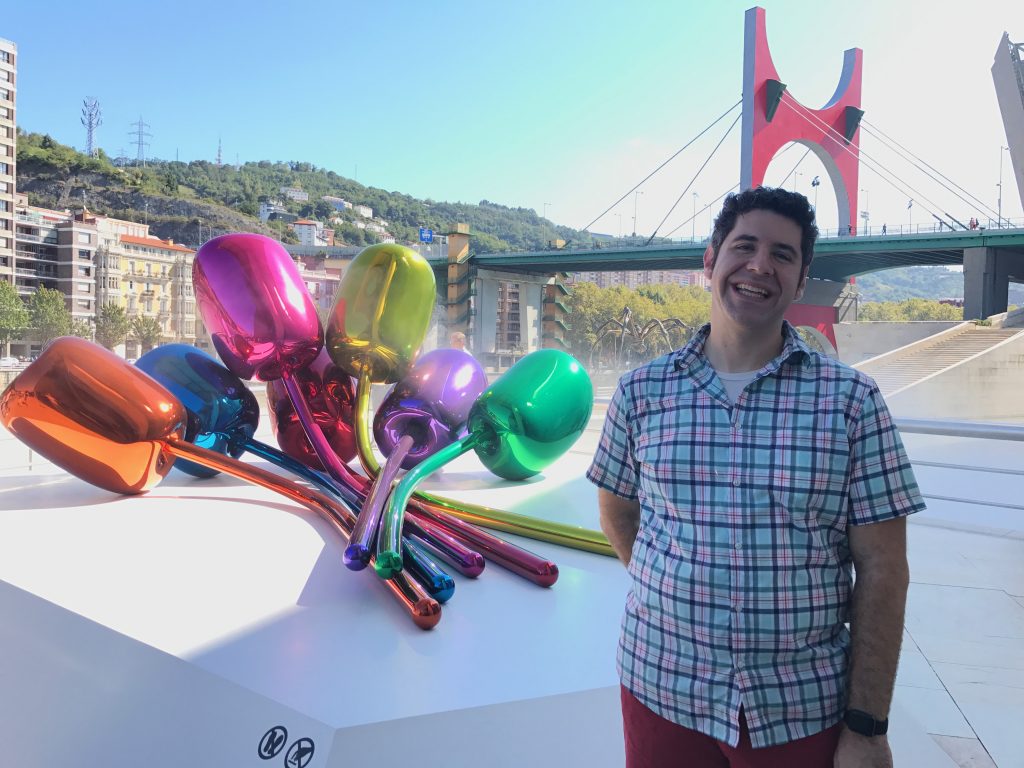 While this city has some great things going for it, it is also seemingly a victim of its own success. Constantly under renovation and filled with tourists, it can be a bit frustrating to move around at times. Scaffolding are everywhere, including next to our hotel, where we noted they went up overnight on a building that did not have them when we arrived. While one could make a great living in construction here, this constant reality is rather inconvenient for tourists. Despite all this inconvenience, at least the city does not lack for modes of public transit.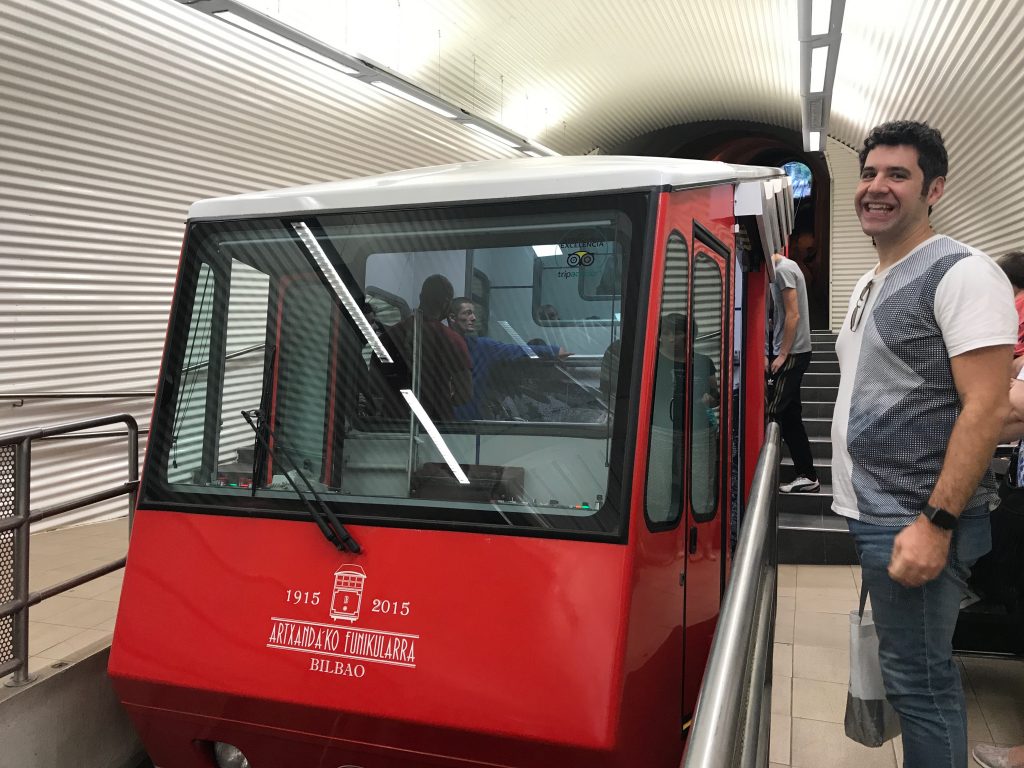 Of course, our favorite form of transportation is a bit . . . unconventional. First order of business: the Artxanda funicular railway. Love that logo!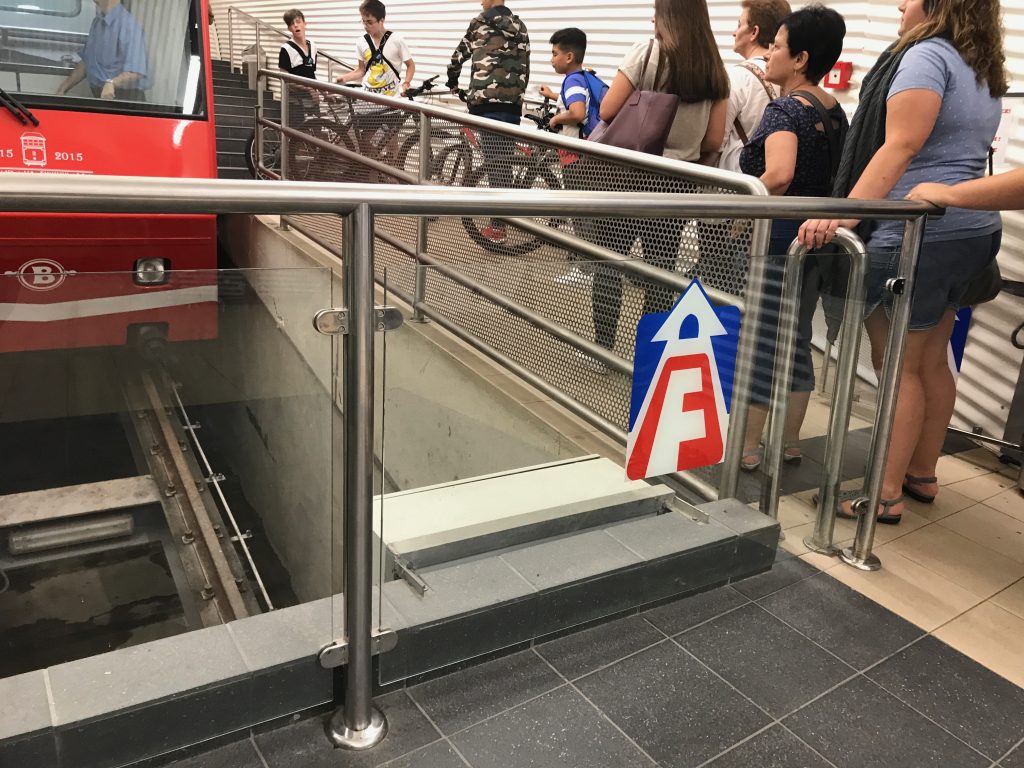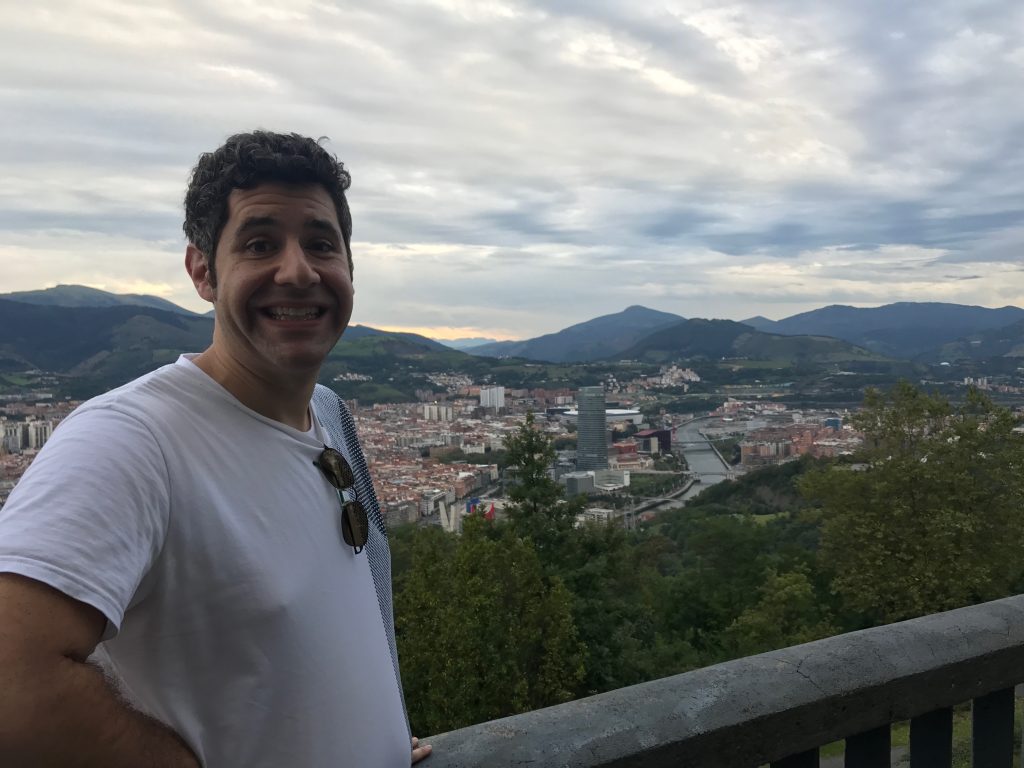 They still have one of the old gears on display at the summit.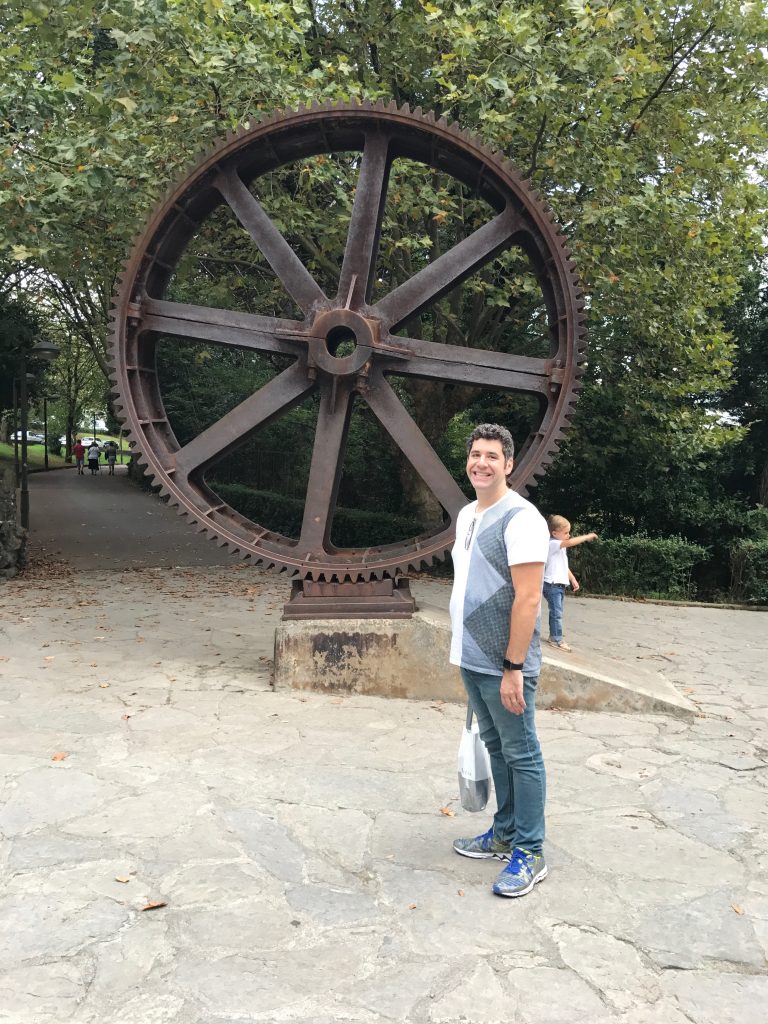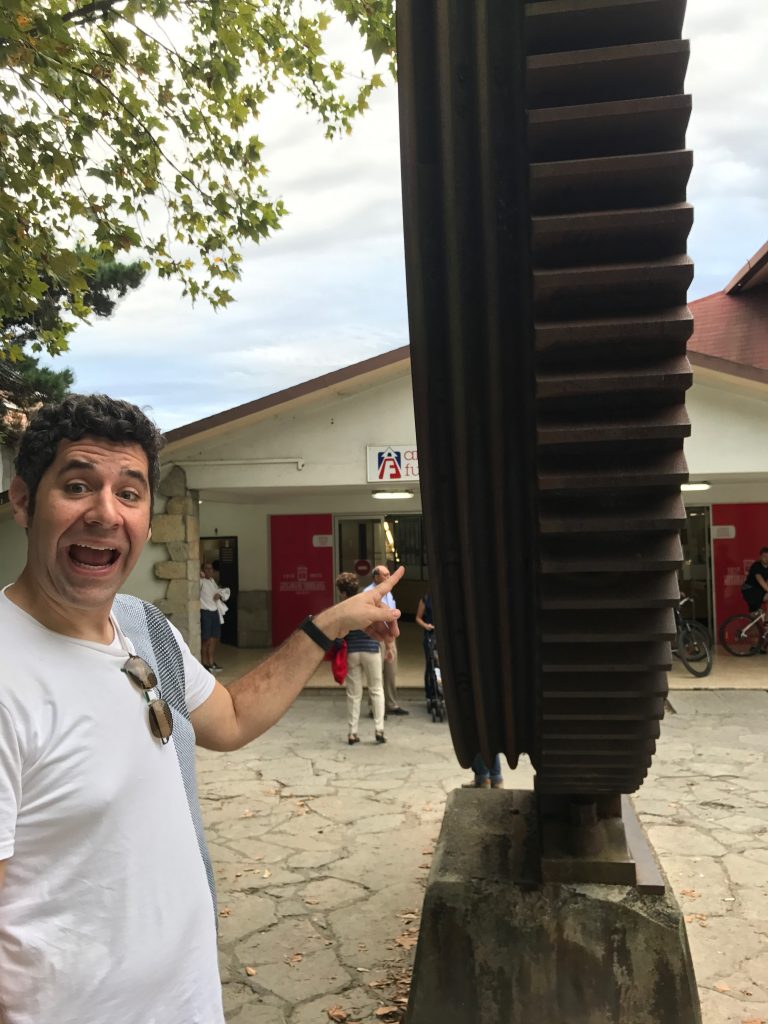 The tram or streetcar is also very cute. Many have compared it to a green caterpillar, and you can kind of see why when the tracks go over a grassy area.
Bilbao's terrain is quite mountainous. One solution for this? Public escalators and elevators!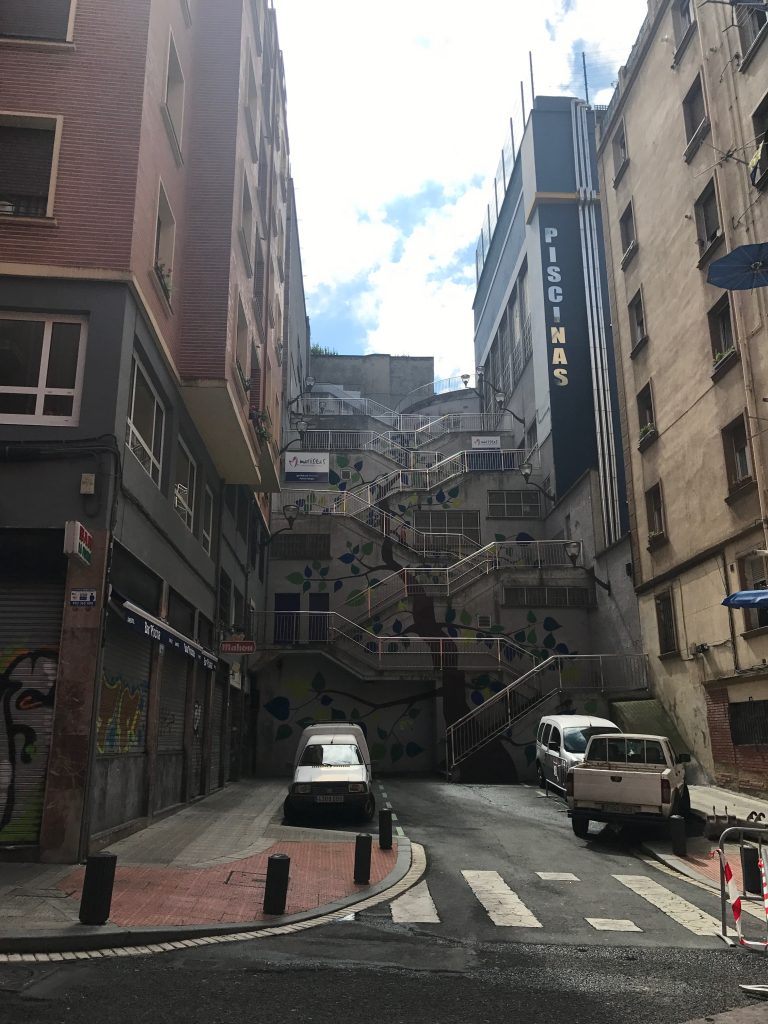 Oh, and those elevators. They were a first: Doer learned all about incline elevators on this trip.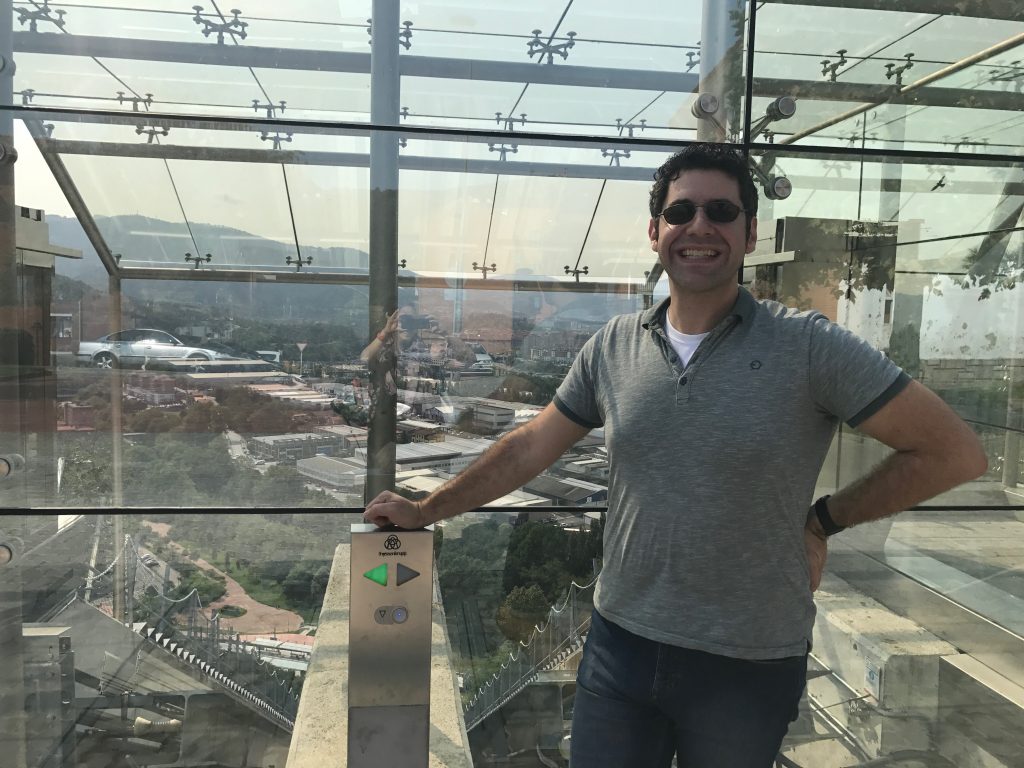 Even with all these options for climbing the mountainous terrain, our feet still hurt every day here.
Needless to say, we were still whelmed by many aspects of Bilbao (no, that is not a typo). Our guidebook recommended spending lots of time here, so that's what we planned, but somehow we found ourselves longing for more side trips away from the city center and pining after the great food of San Sebastián.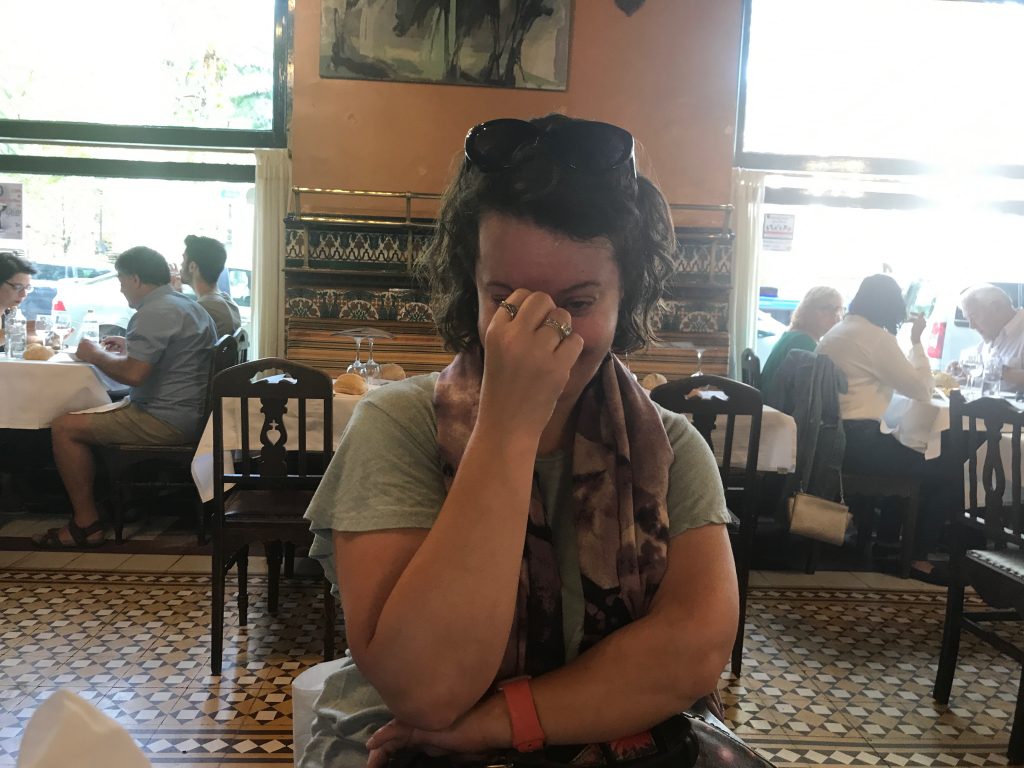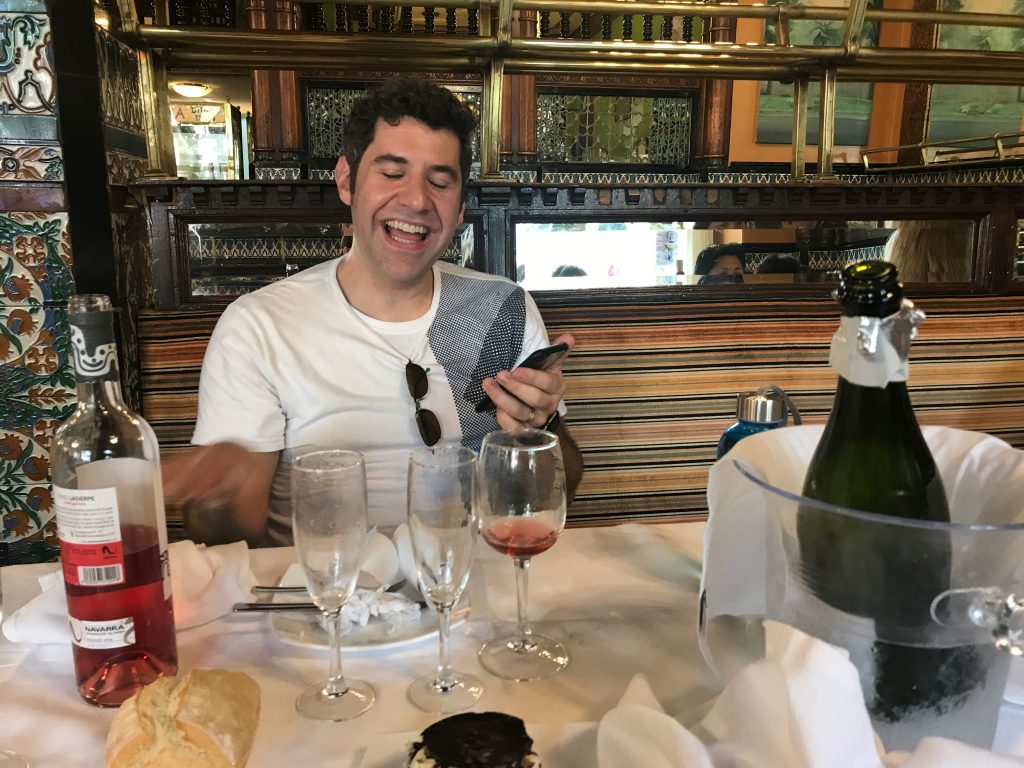 For one thing, unlike the great luck we had with food in San Seb', where it was nearly impossible to get a bad meal, there seemed to be an abundance of tourist traps here. The food was also much more international, as opposed to Donostia's reliance on featuring creative pintxos using local ingredients that have made the region so famous.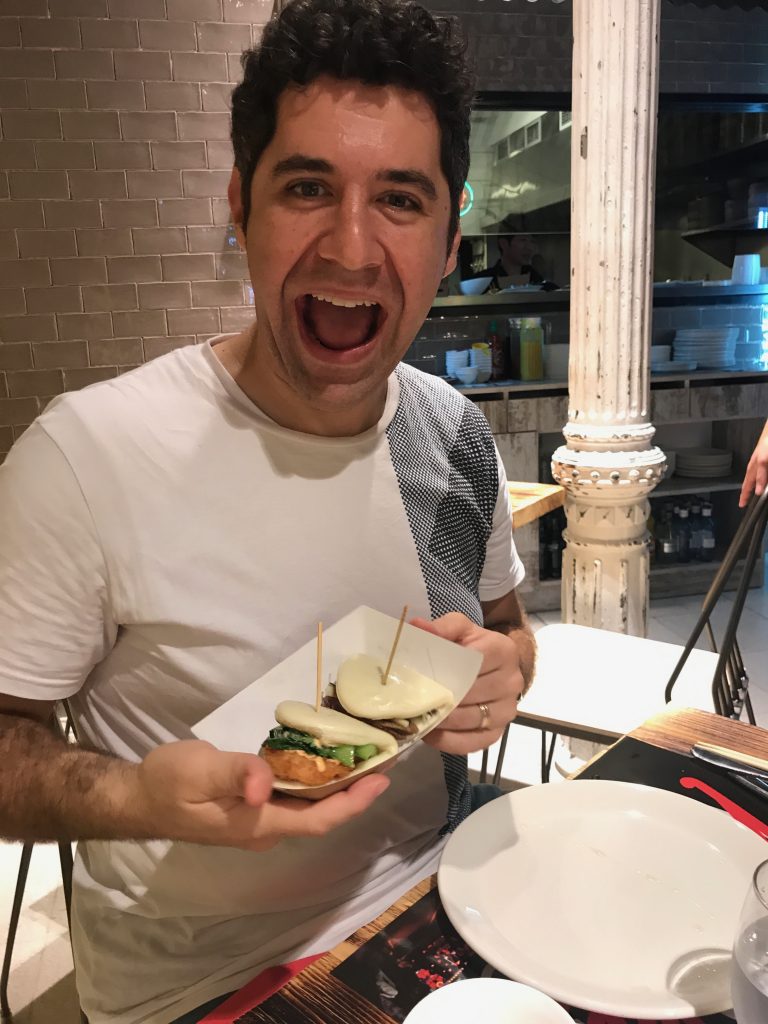 And you can tell by the lack of food discussion in this post just how whelmed we were. One thing we did discover was the marianito, or prepared vermouth. Many bars have a secret recipe prepared in front of you from unlabeled bottles – a dash of this, a dash of that. This quickly became our favorite spot to grab this refreshing concoction. If only they were open in the afternoon! Oh, Spain.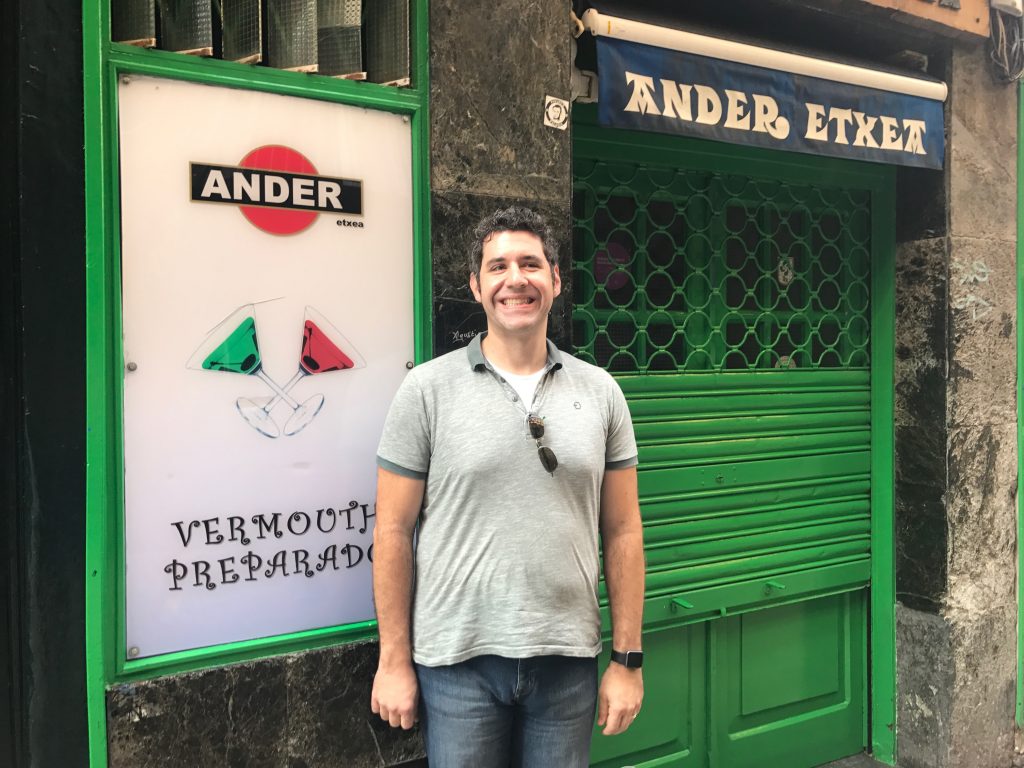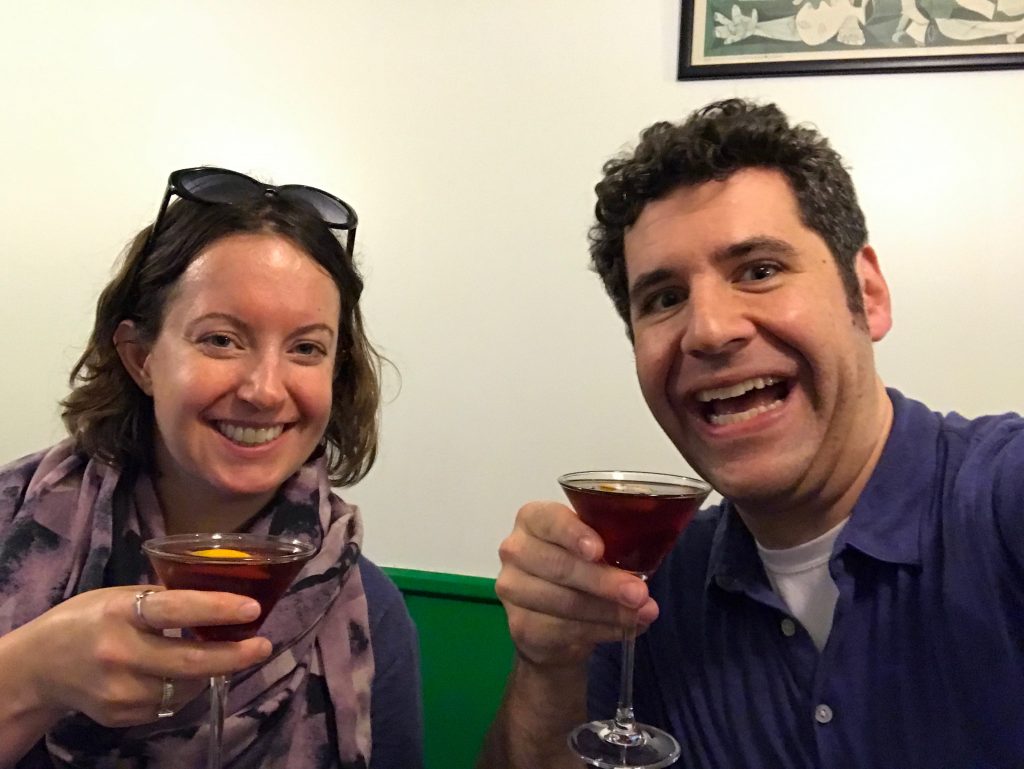 We also found a cocktail bar we liked, but it was closed during most of our time in the city.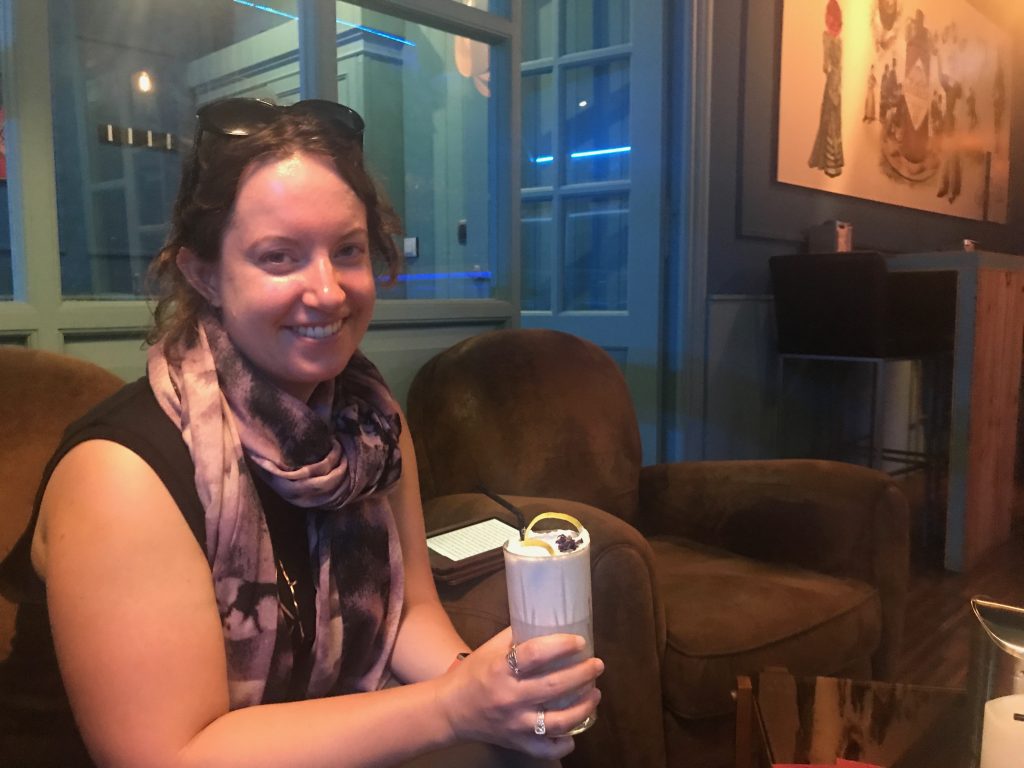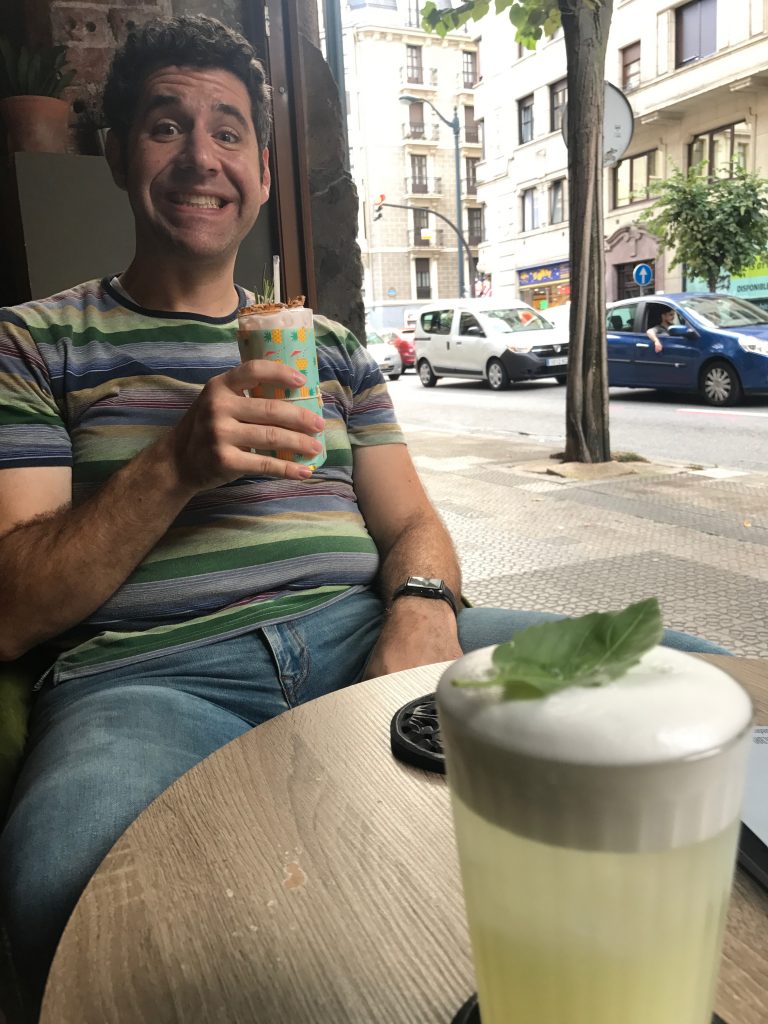 We did find an exhibition of the work of artist Antoni Miralda, who worked a lot with food. Not really edible or even appetizing, but it certainly makes a statement.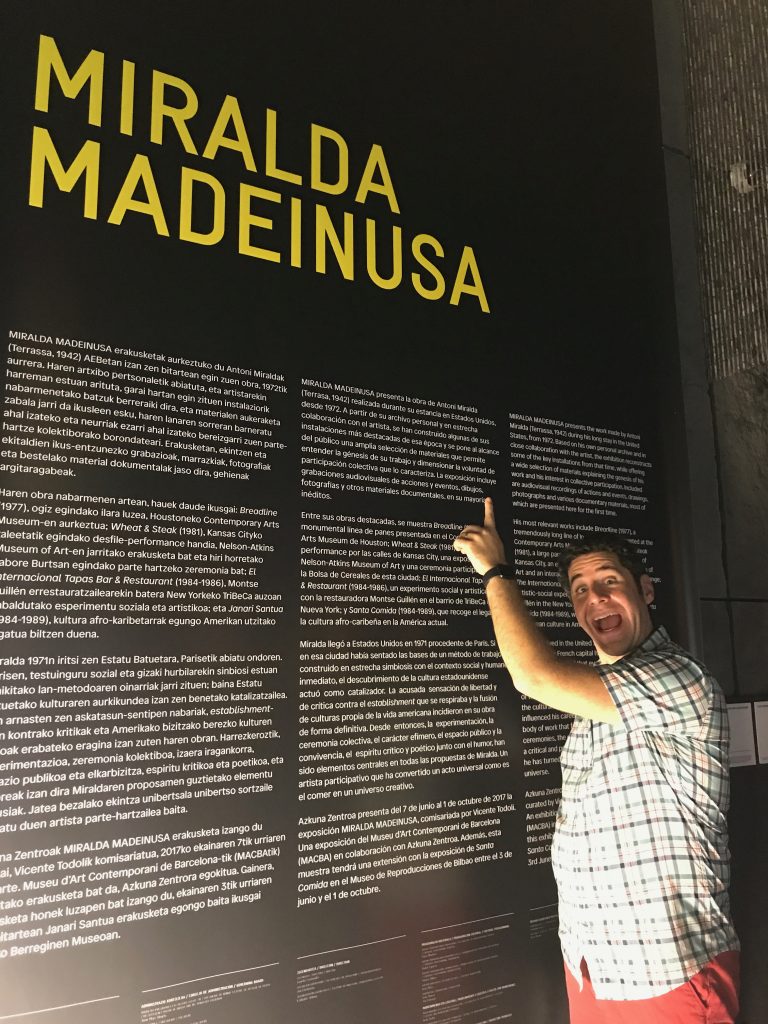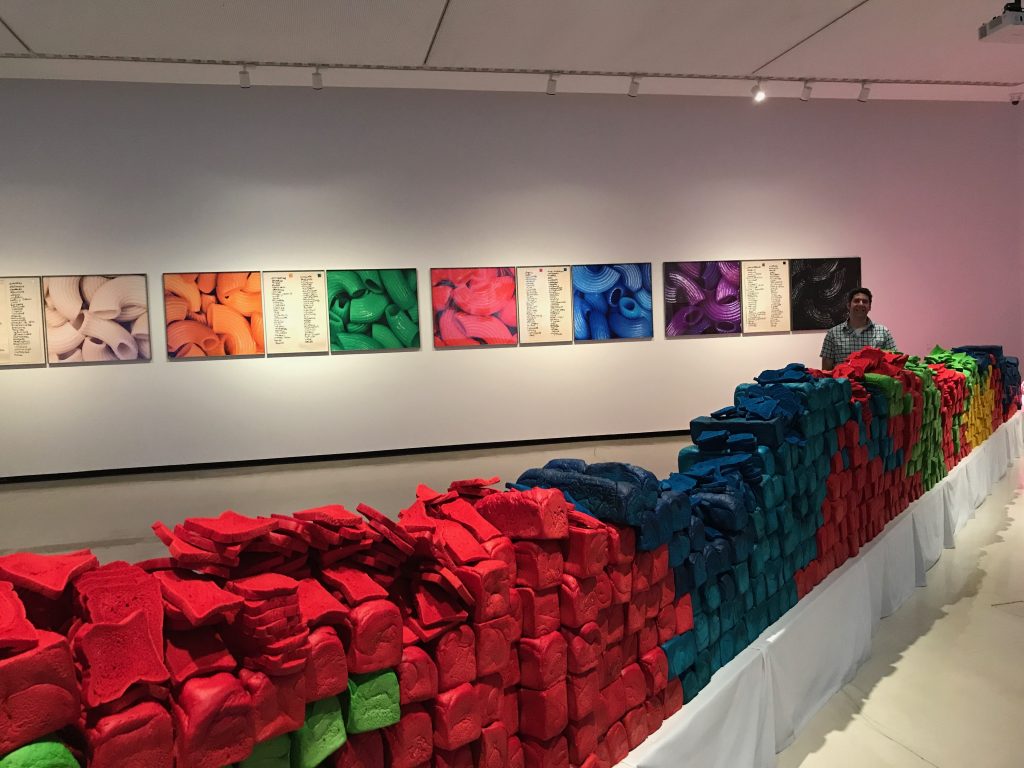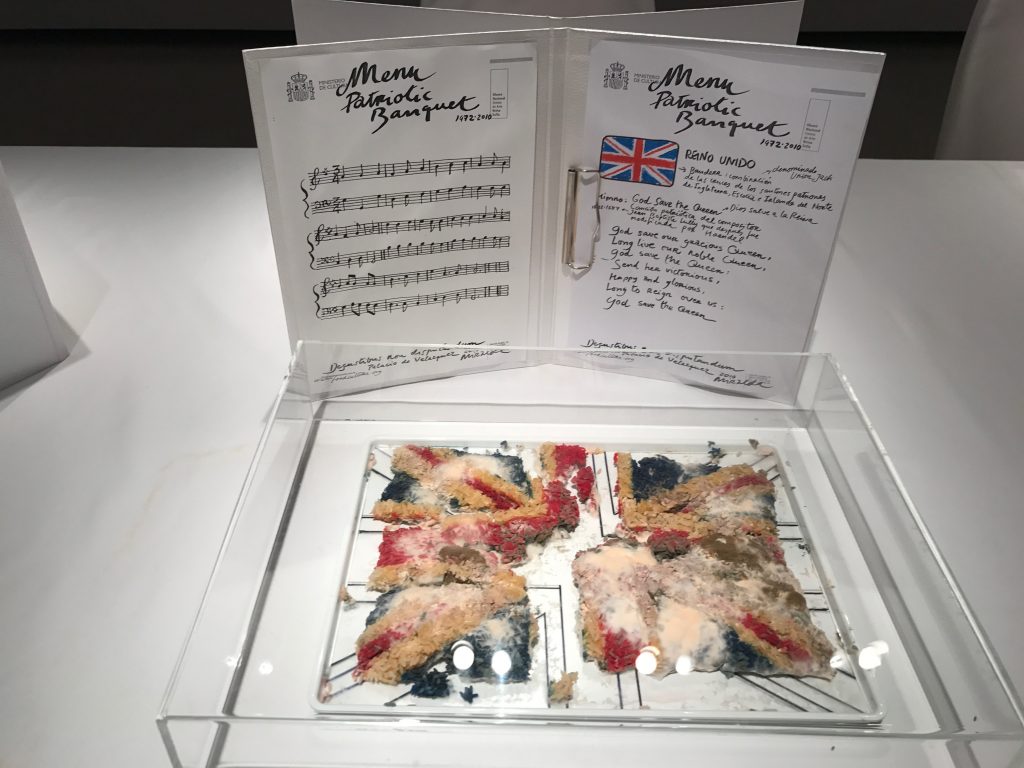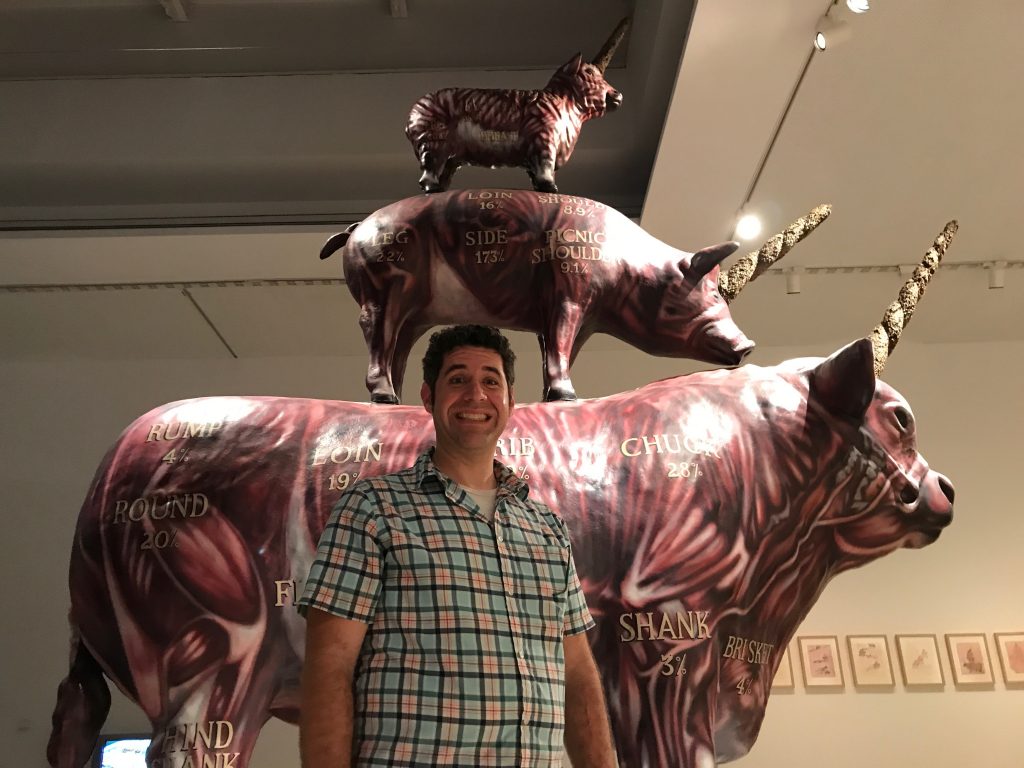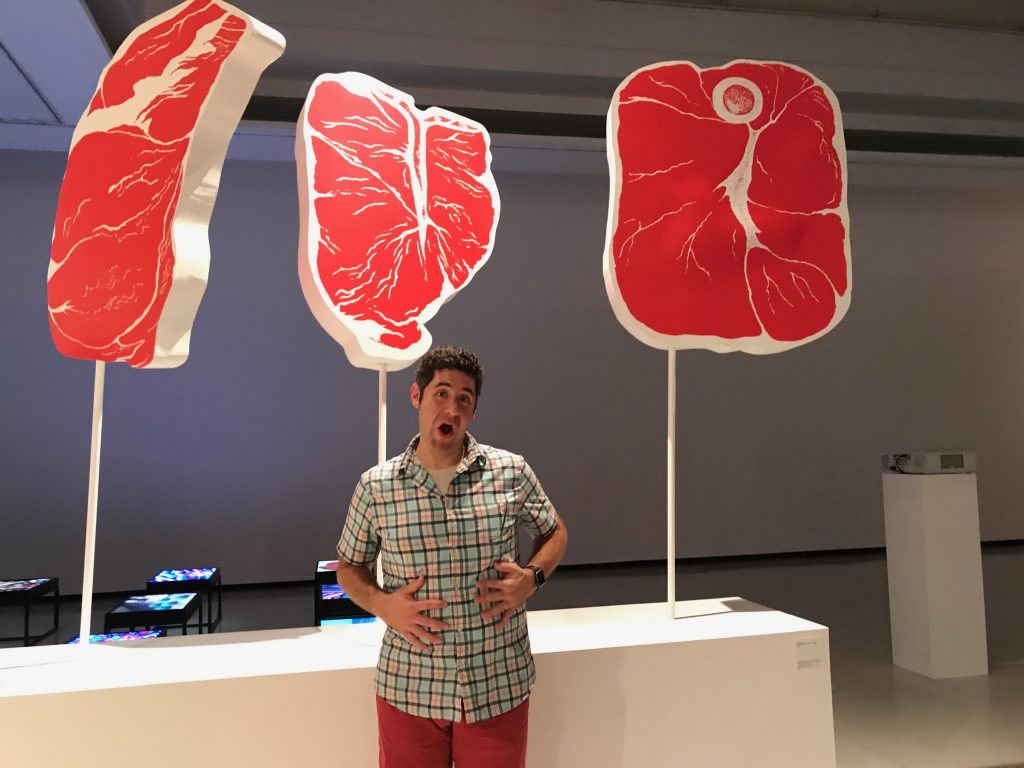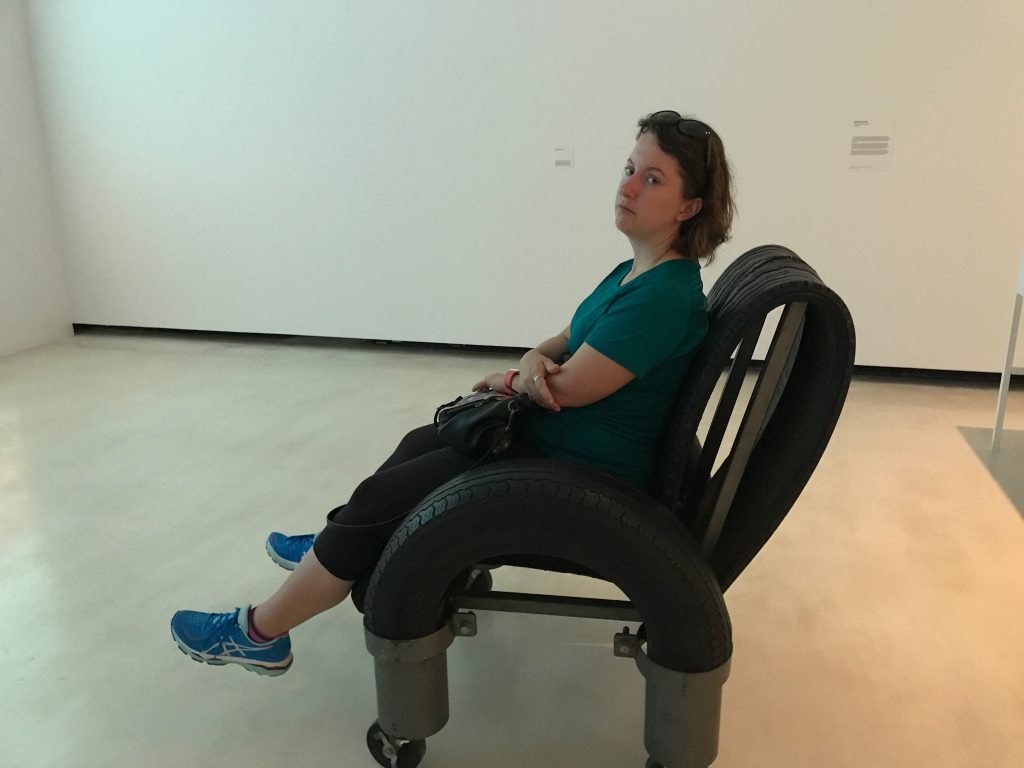 In a separate exhibition space – an old church, in fact – the artist's exploration of food related to Santería was presented.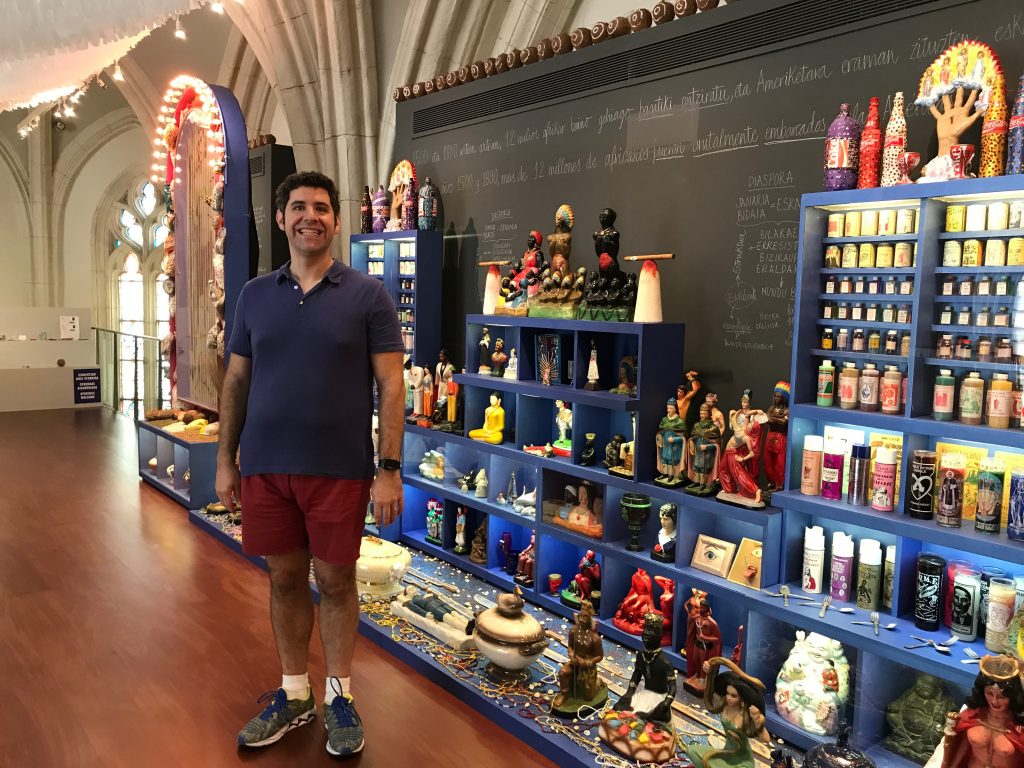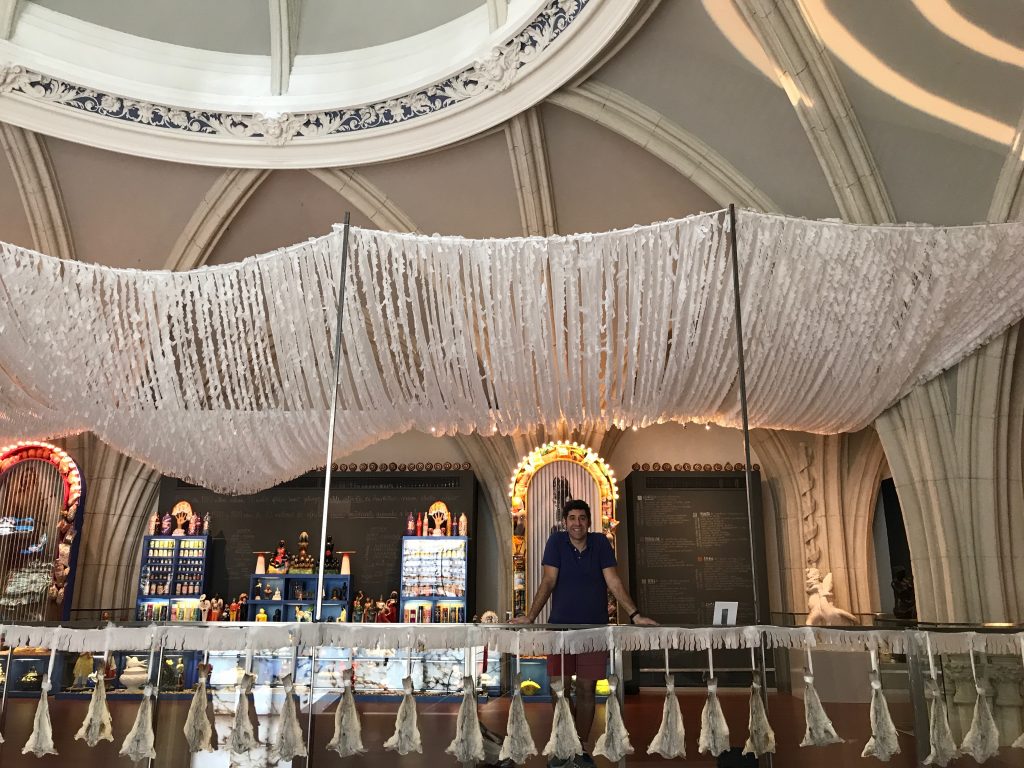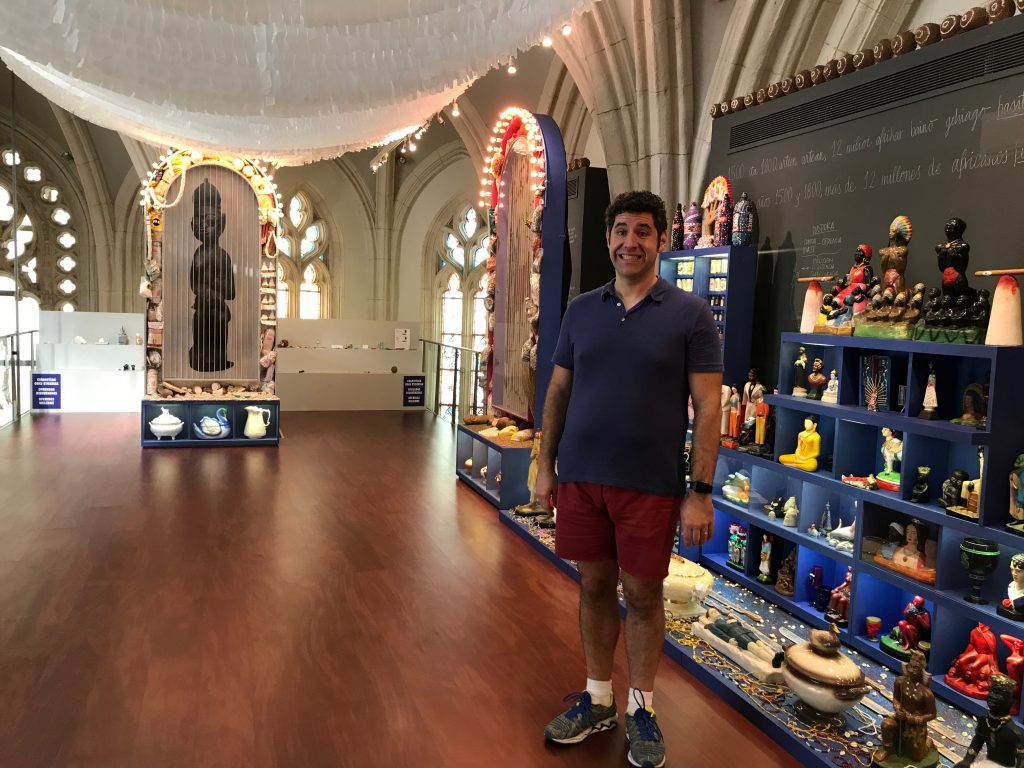 While we're on the topic of art, perhaps we should describe what we saw inside the Guggenheim. You've seen its iconic Frank Gehry-designed exterior, but perhaps few people give thought as to how this shapes the interior spaces.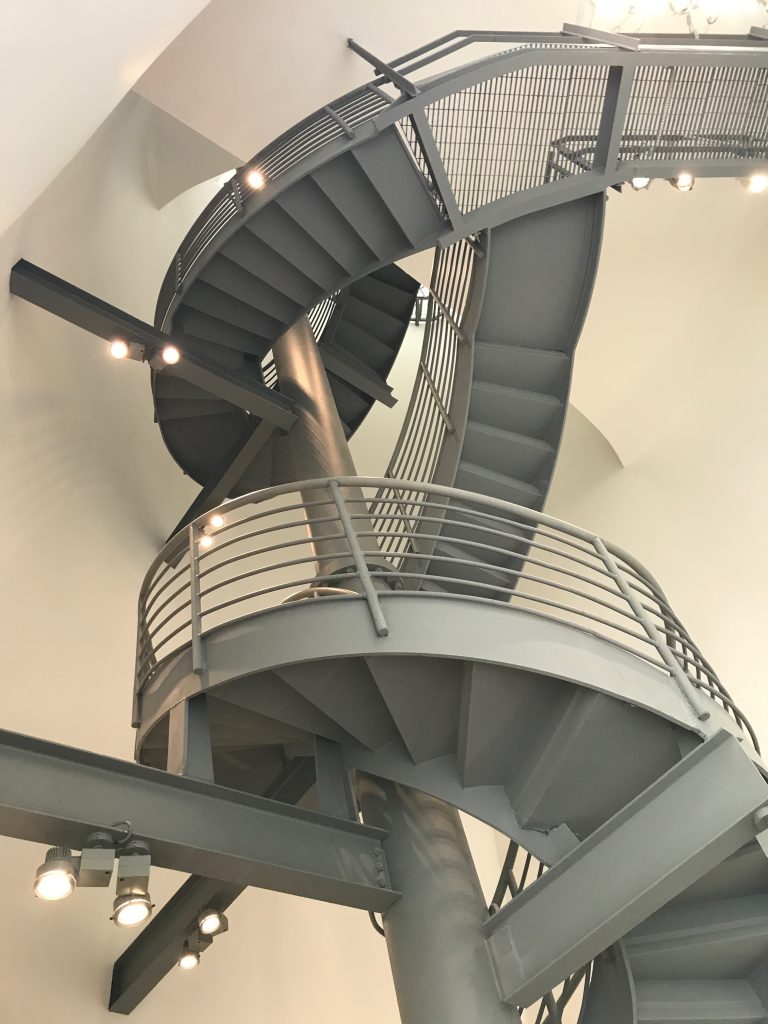 Dreamer felt a bit claustrophobic inside the Richard Serra room.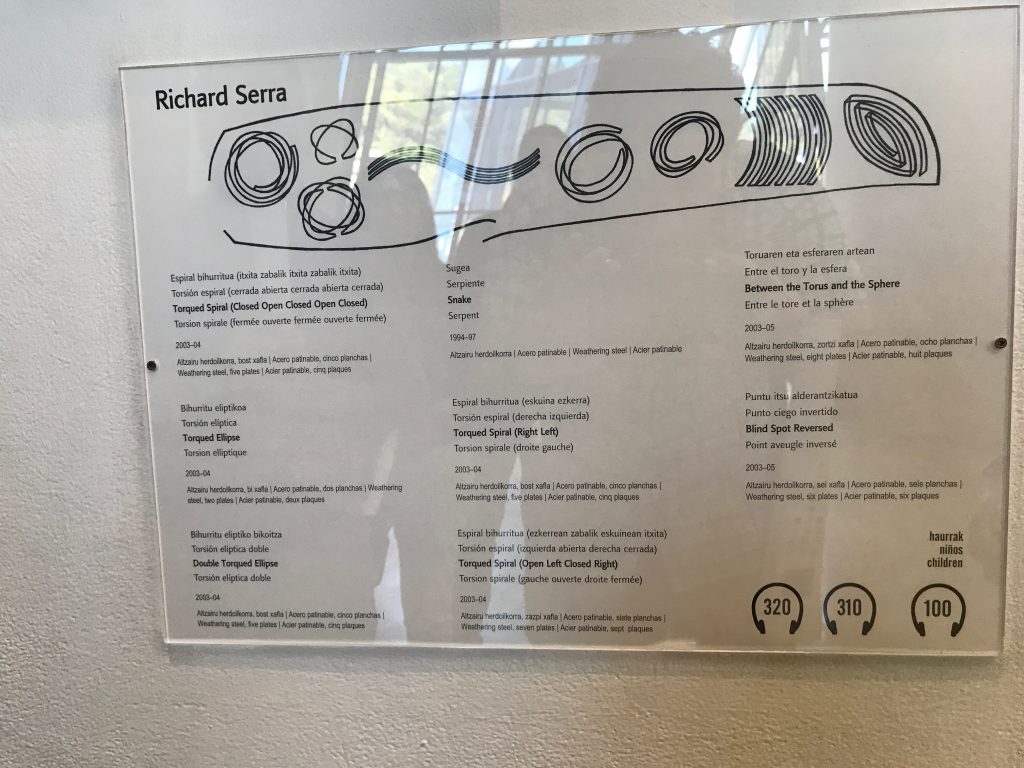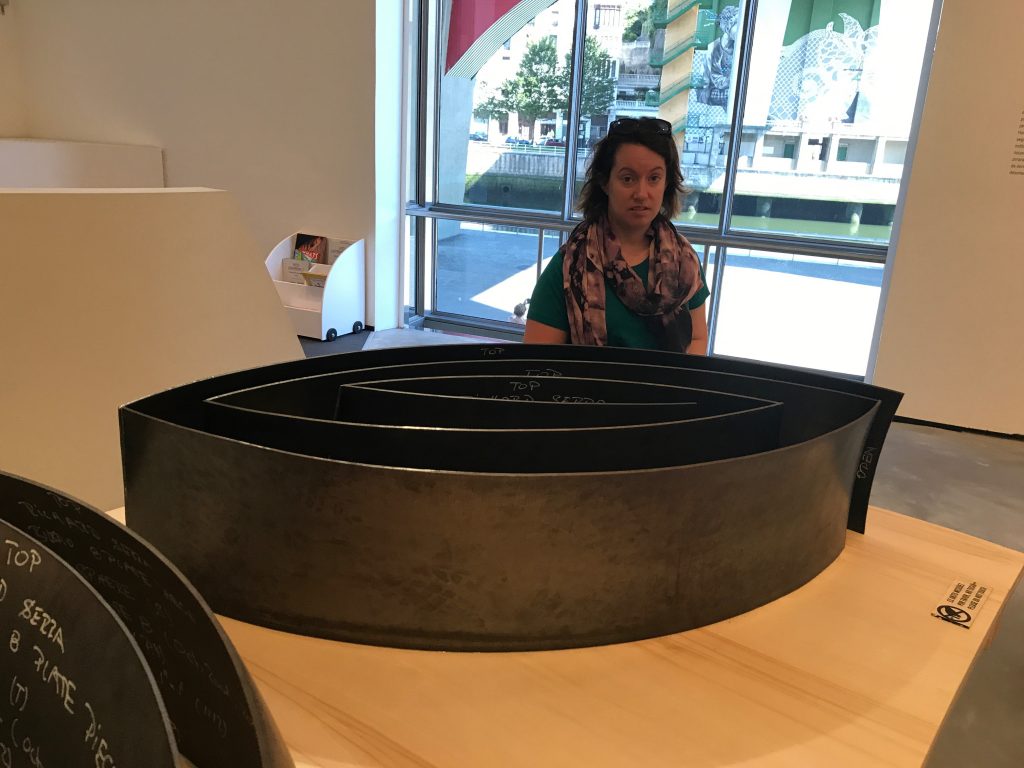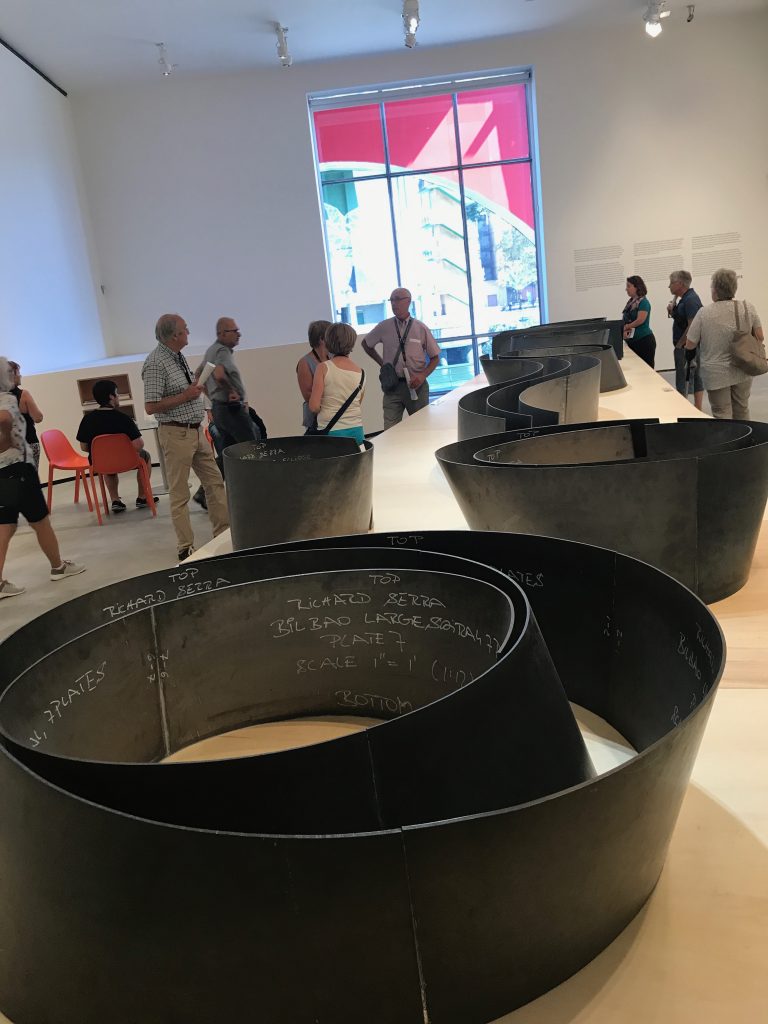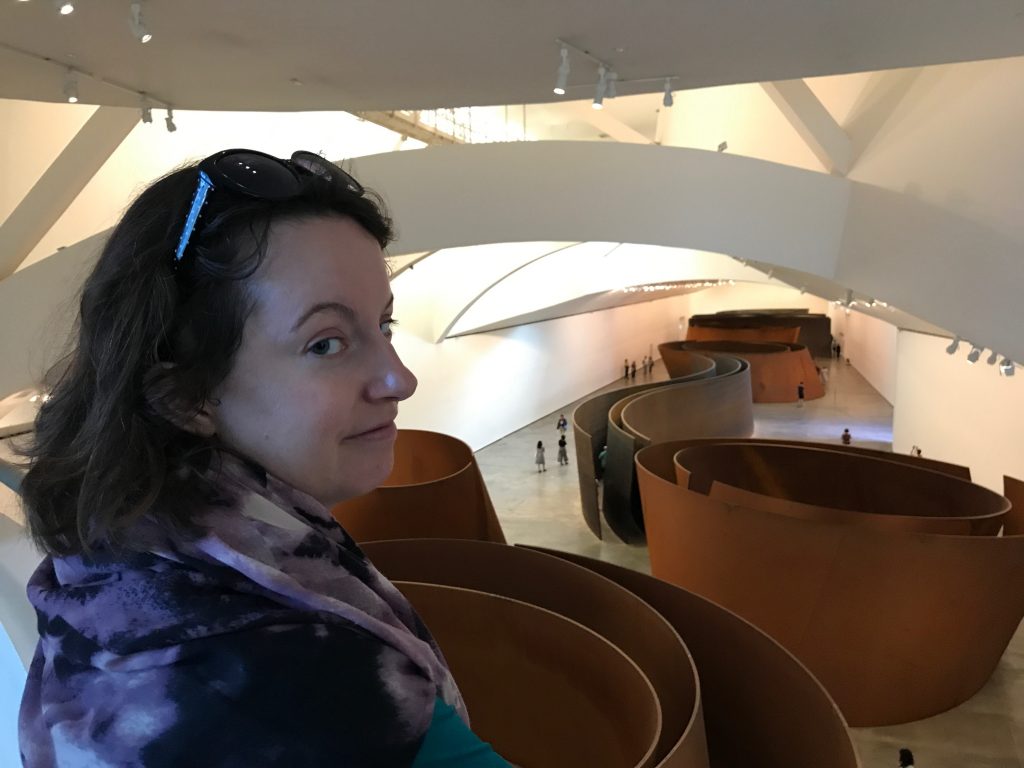 Meanwhile, Doer pondered a question of the ages.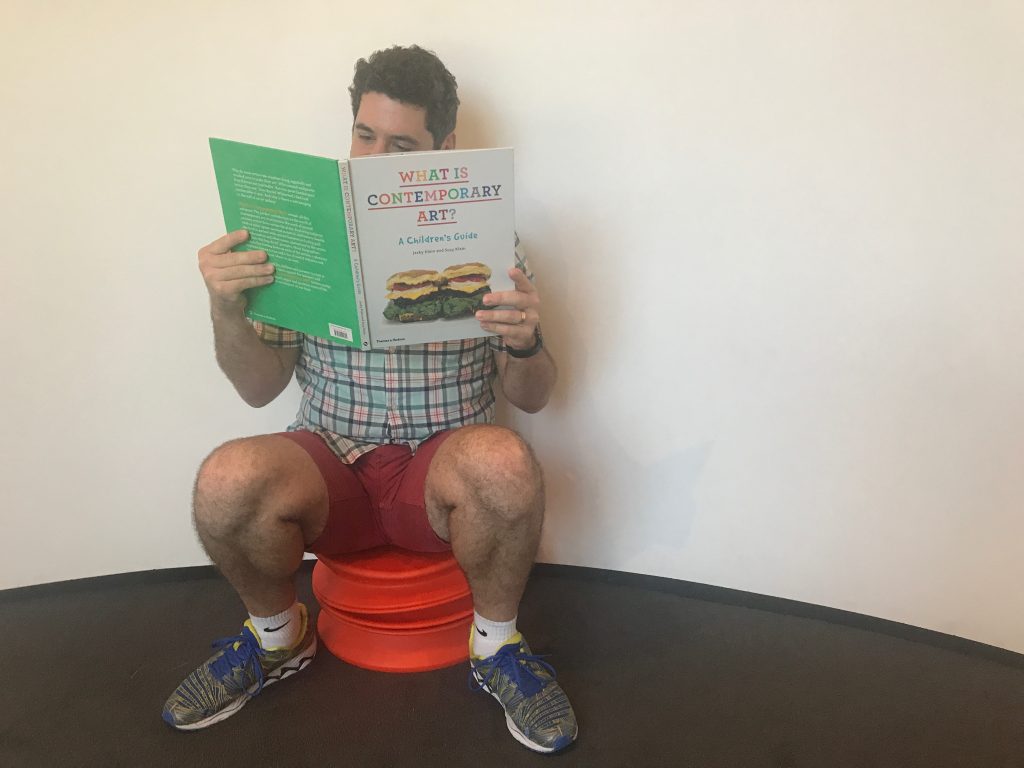 As a foil to all this modern art, we also checked out the Fine Arts Museum.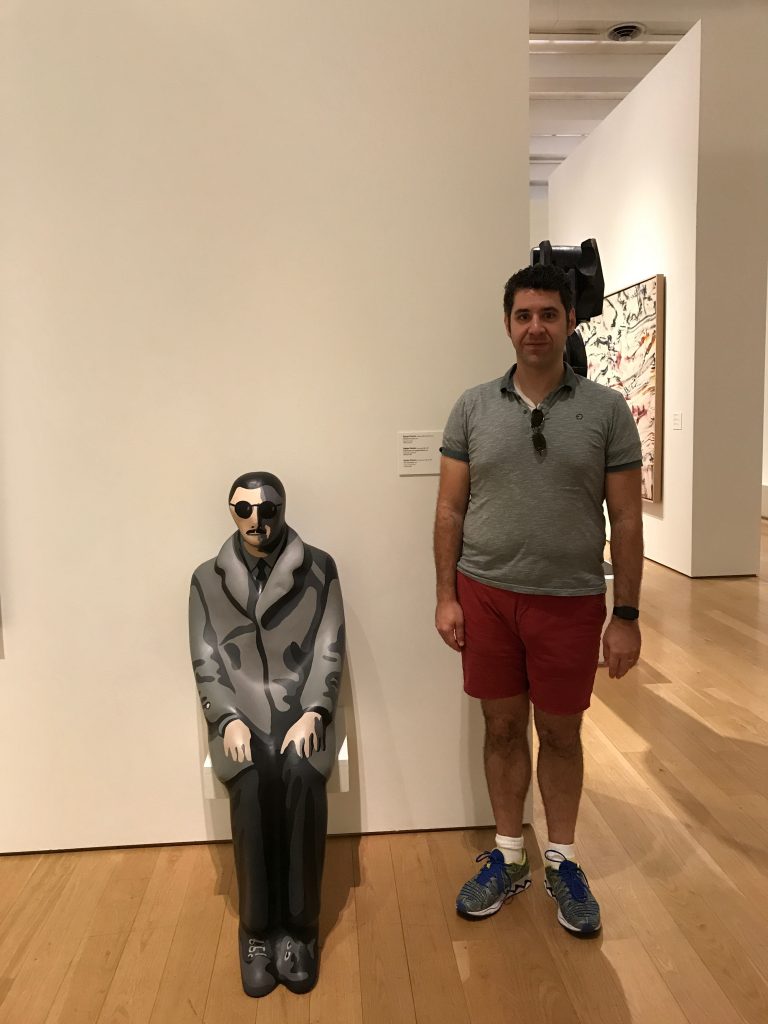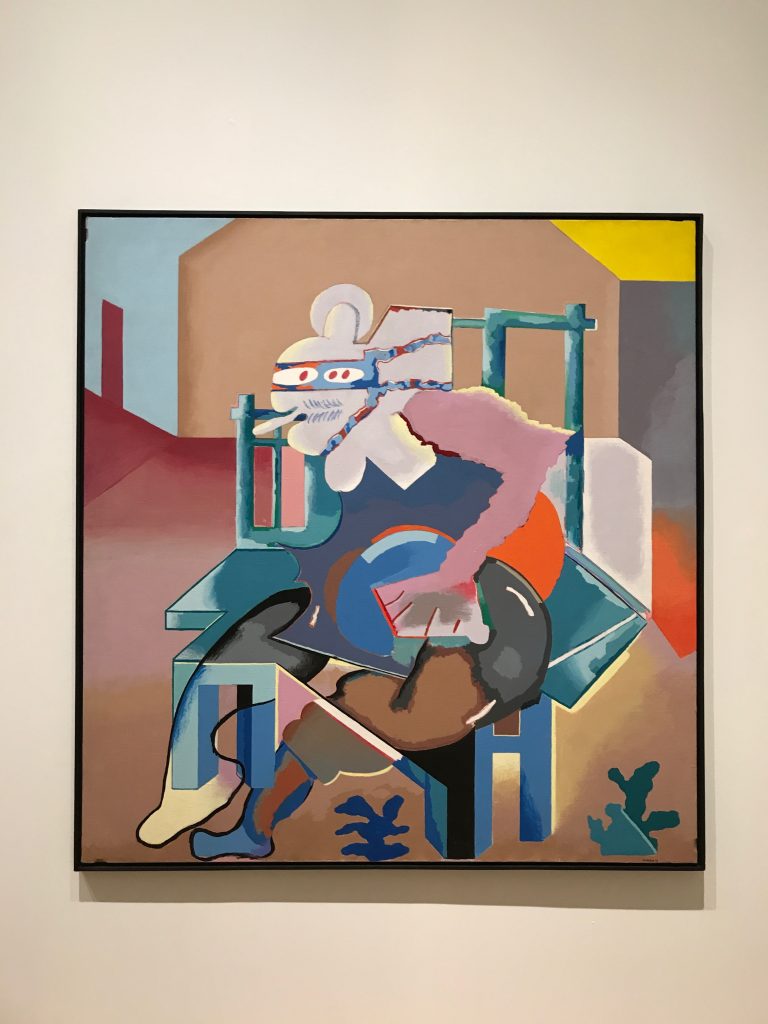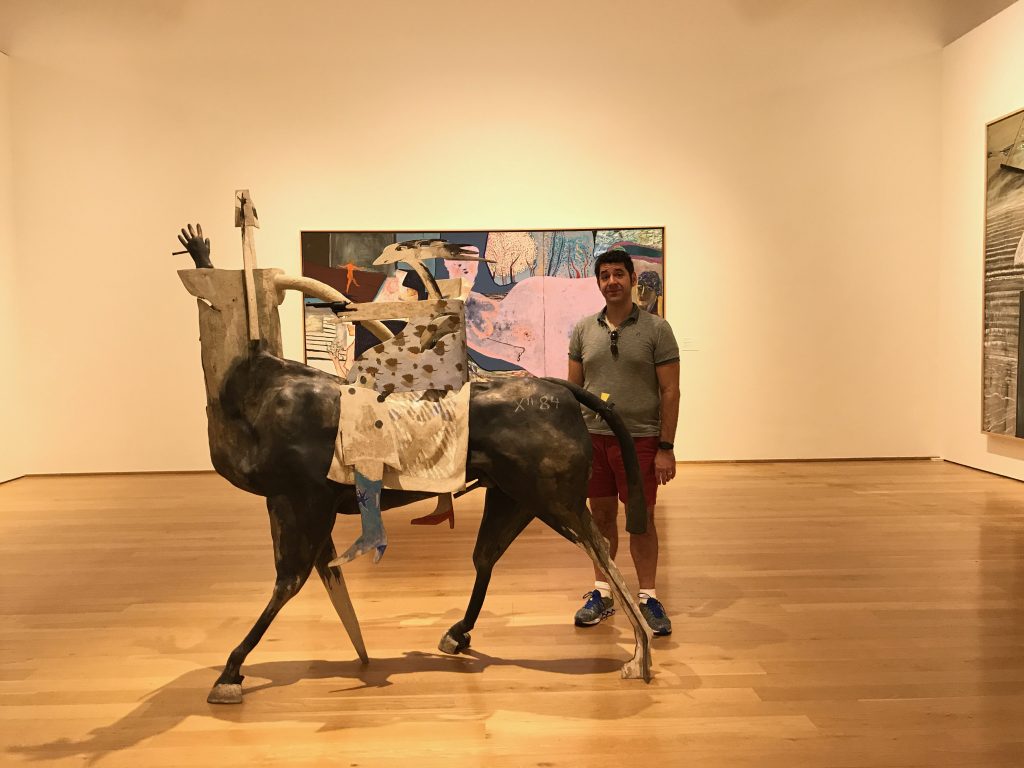 …and the Basque Museum.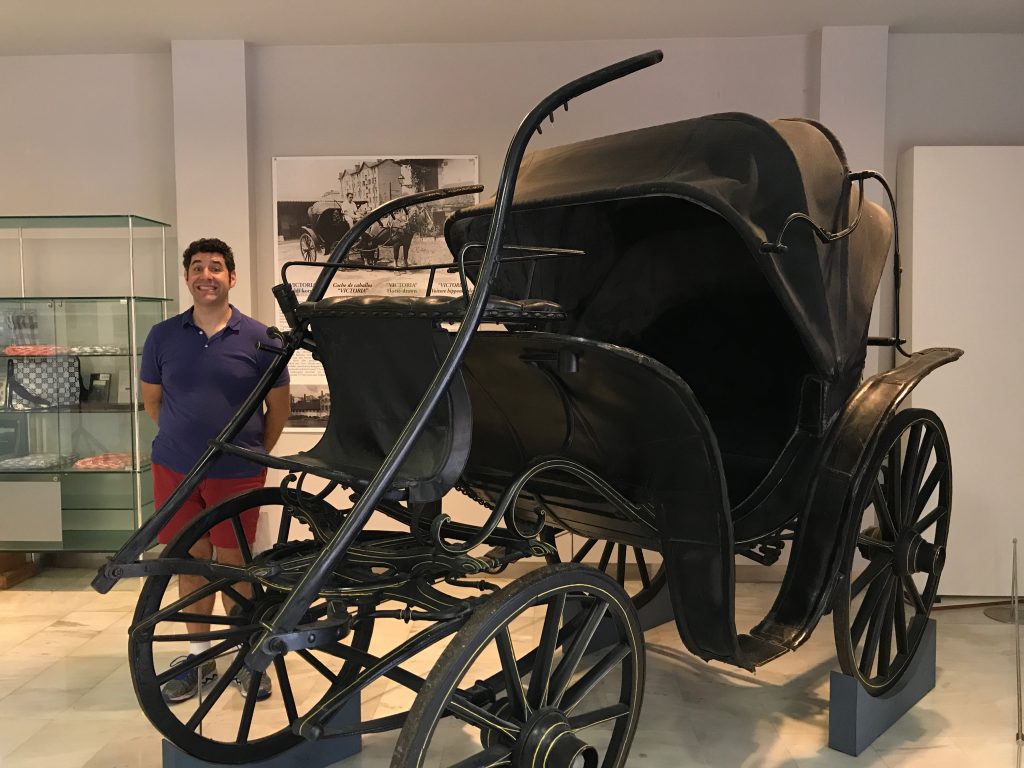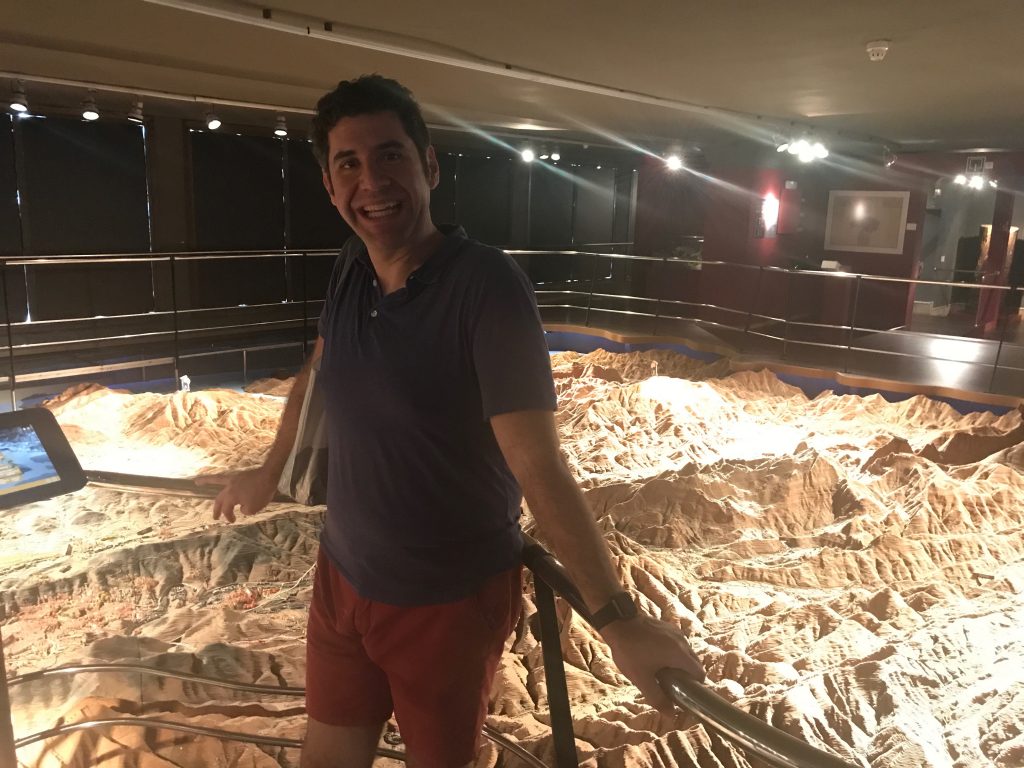 There is no shortage of modern architecture; it's what made the city famous.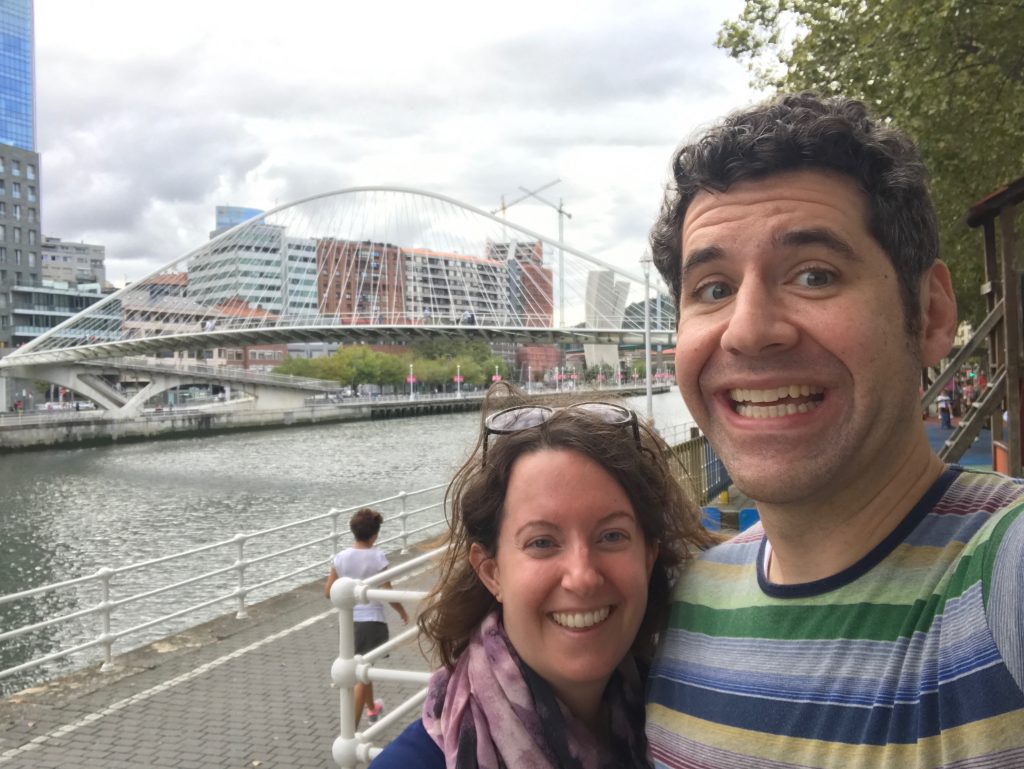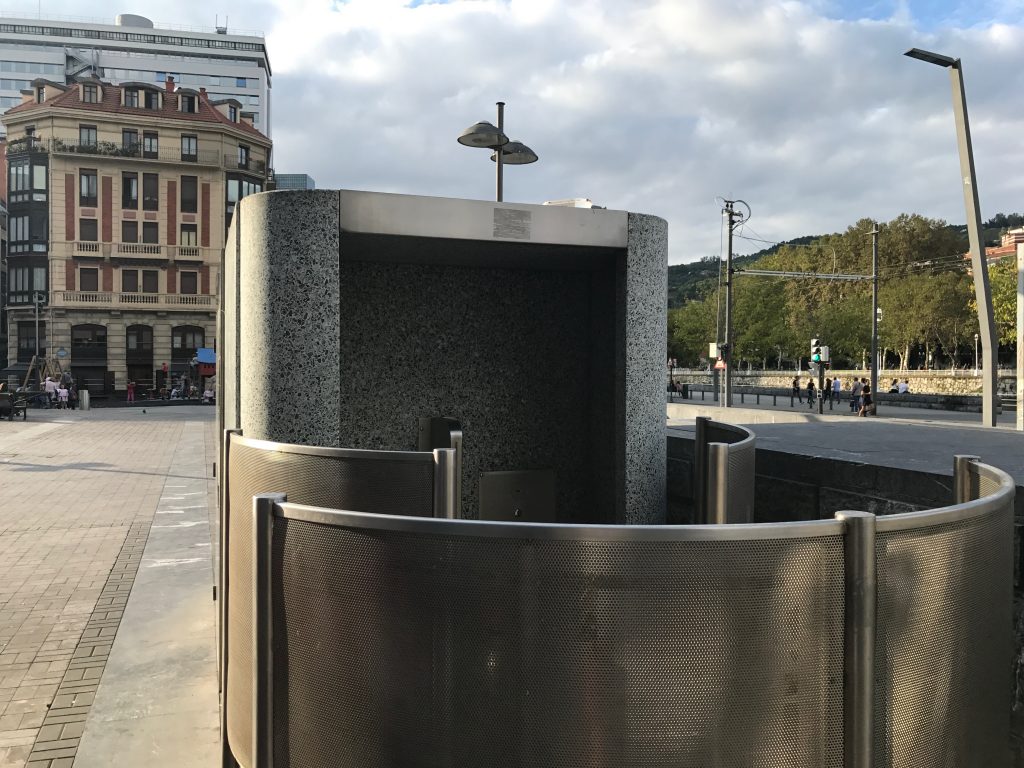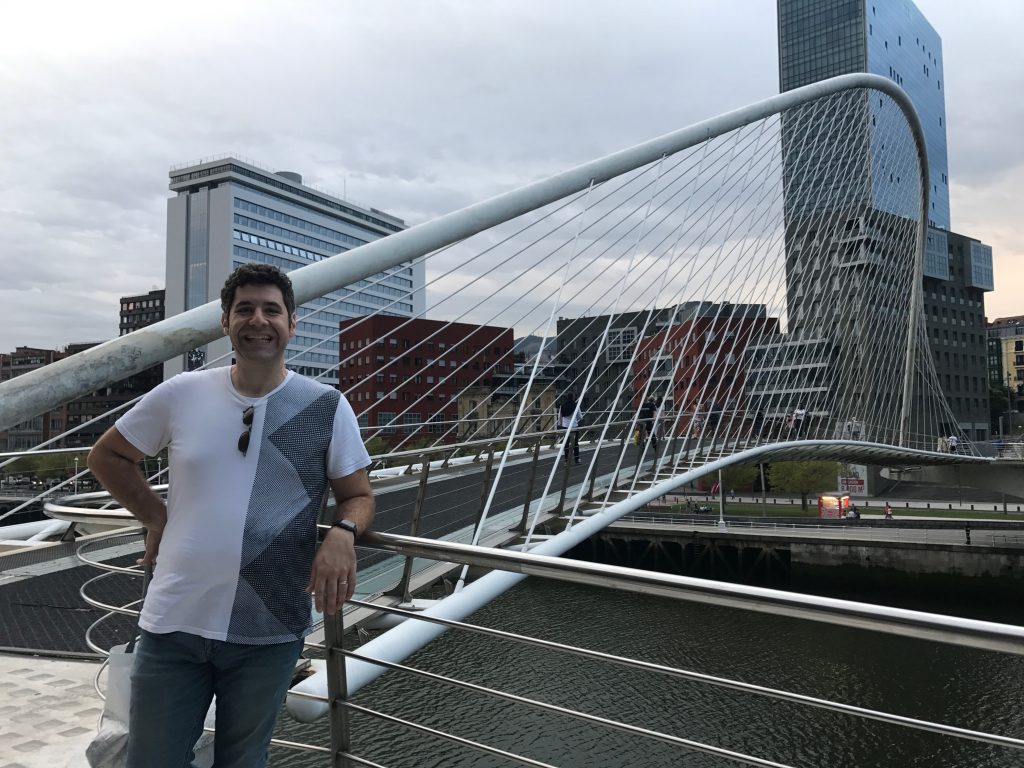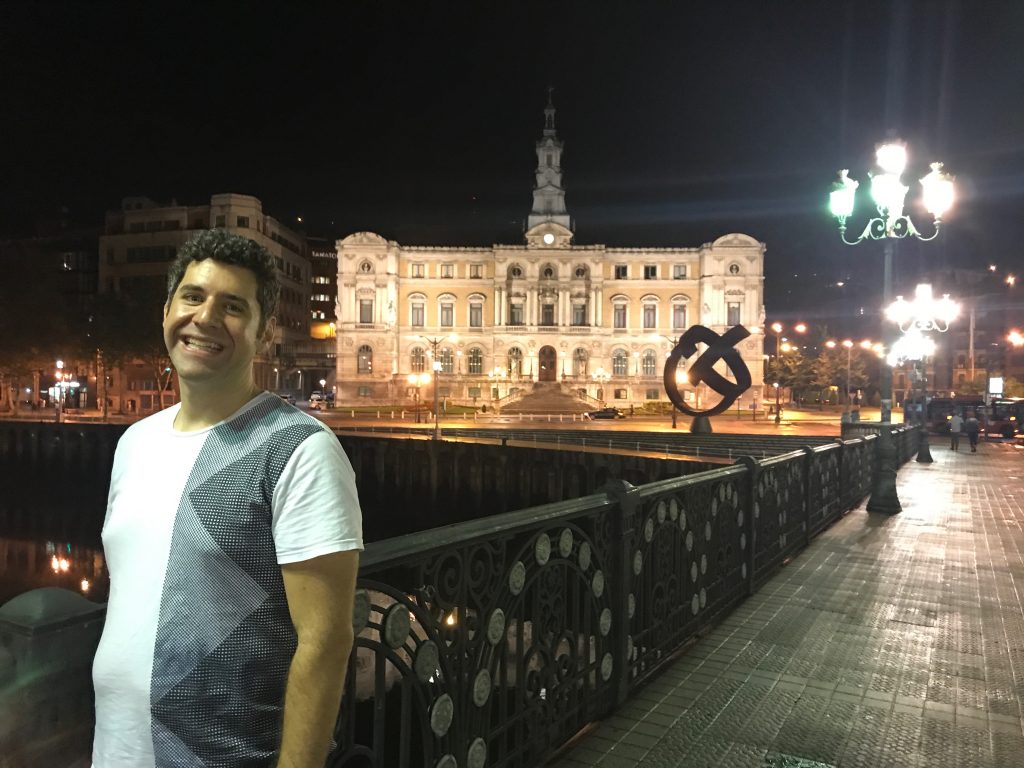 The 5th-floor swimming pool in this building is pretty neat to walk under, too.
Some older architecture is preserved, too.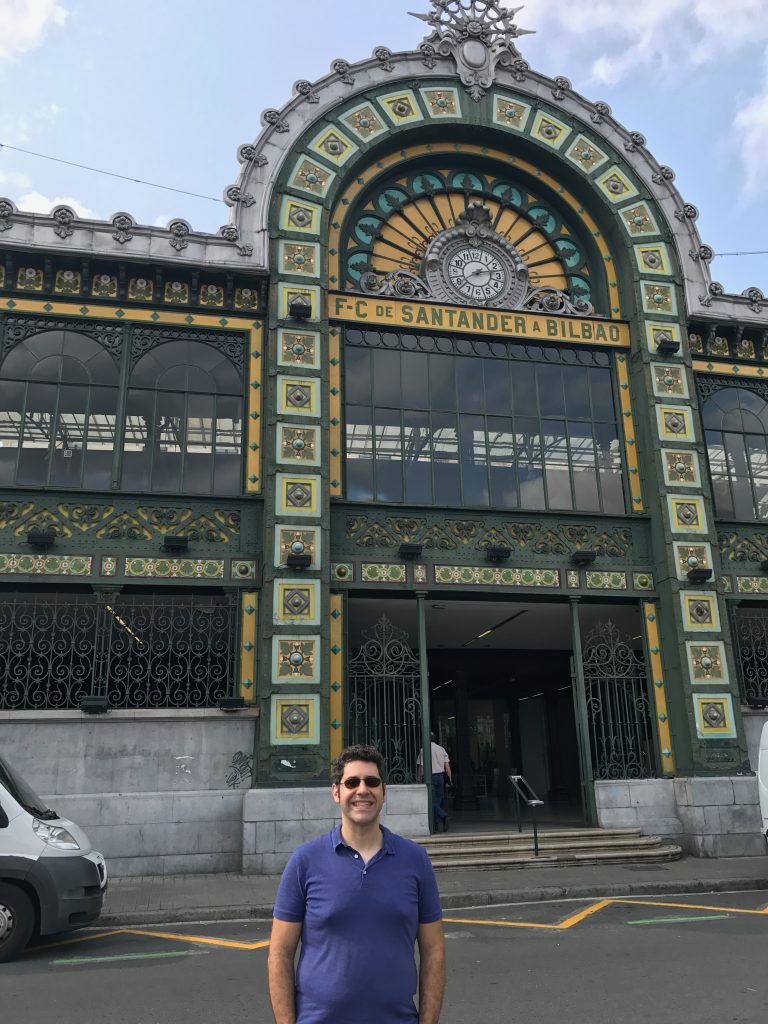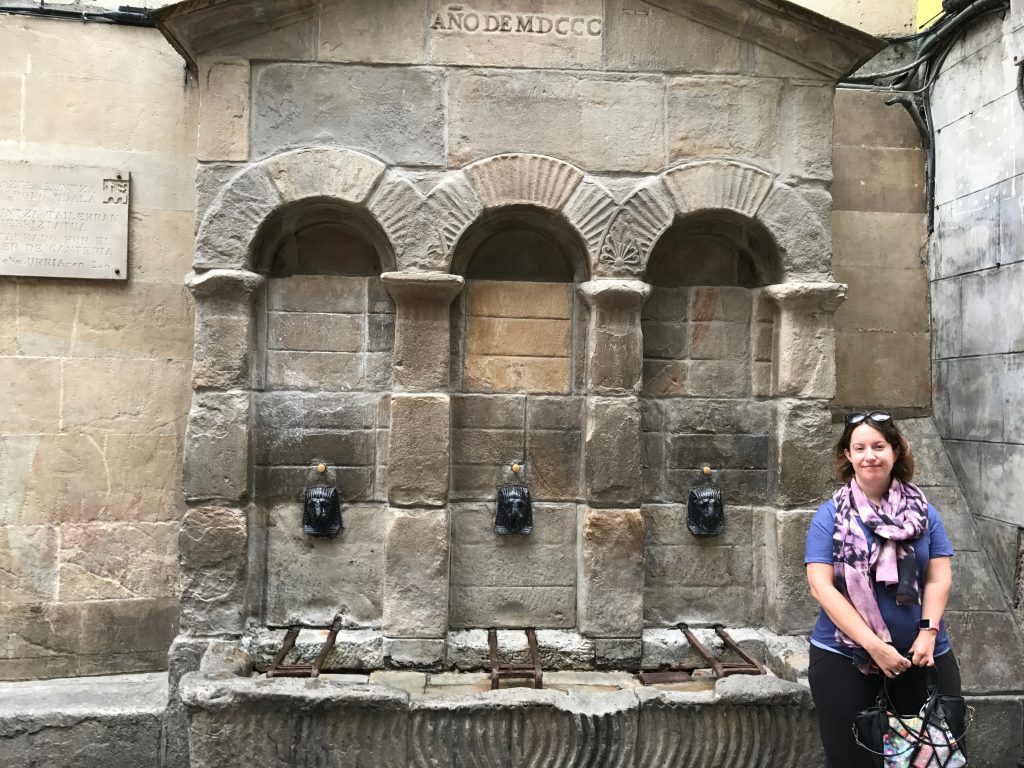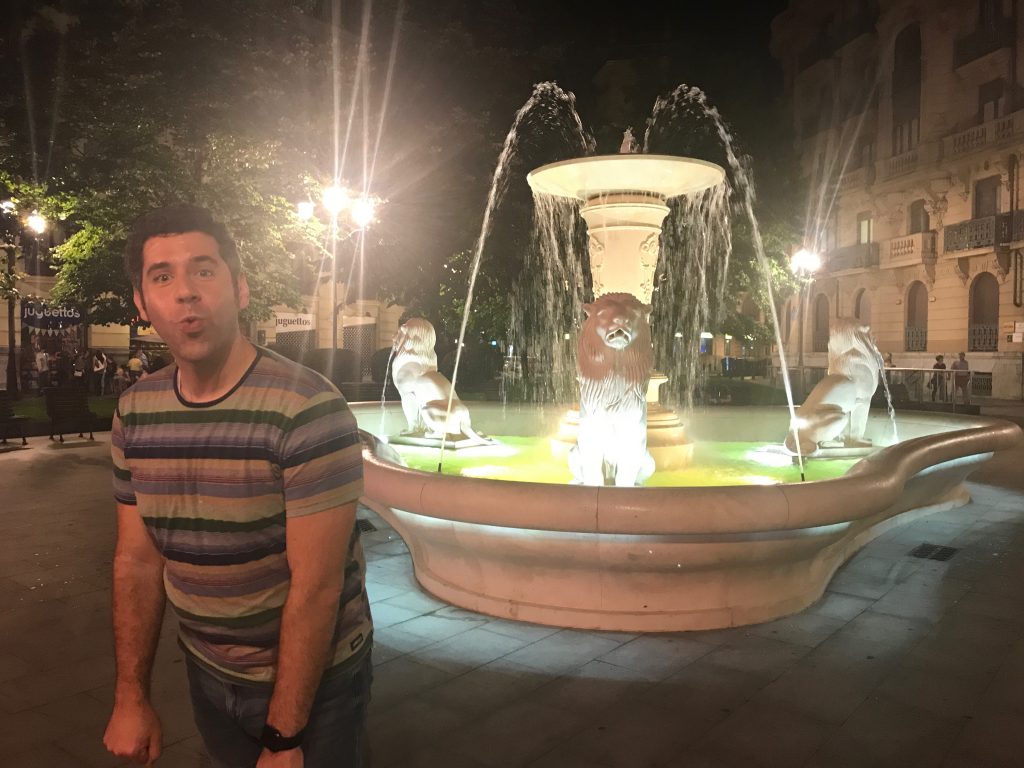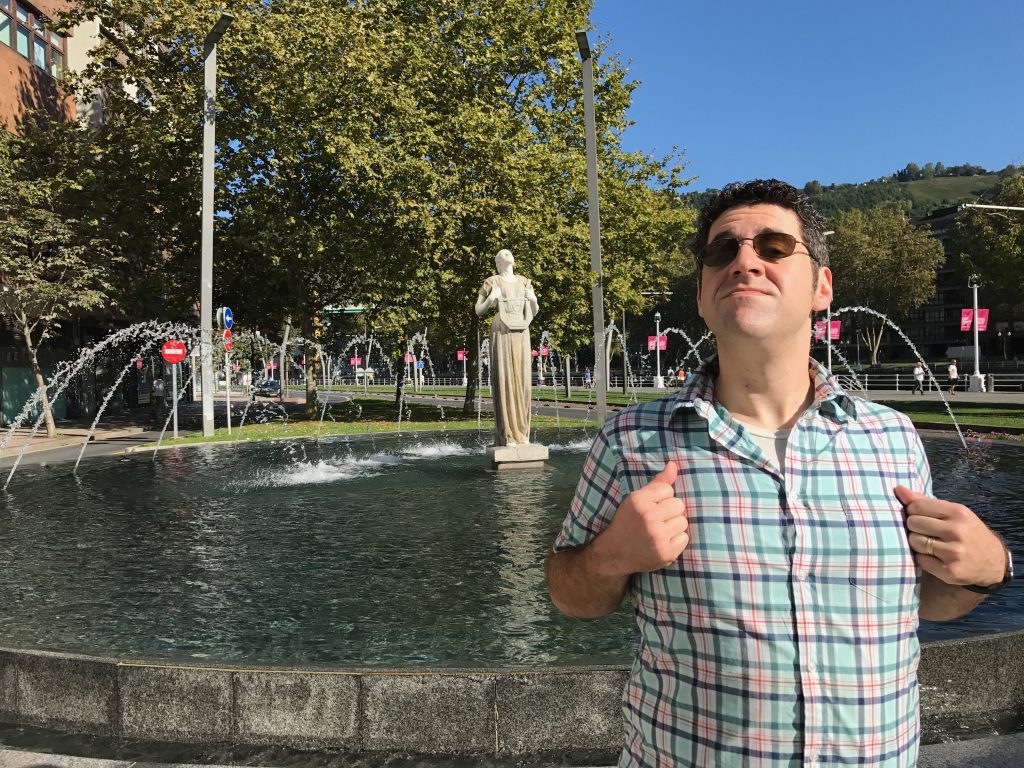 We took a river tour to appreciate better the architecture in renewal here.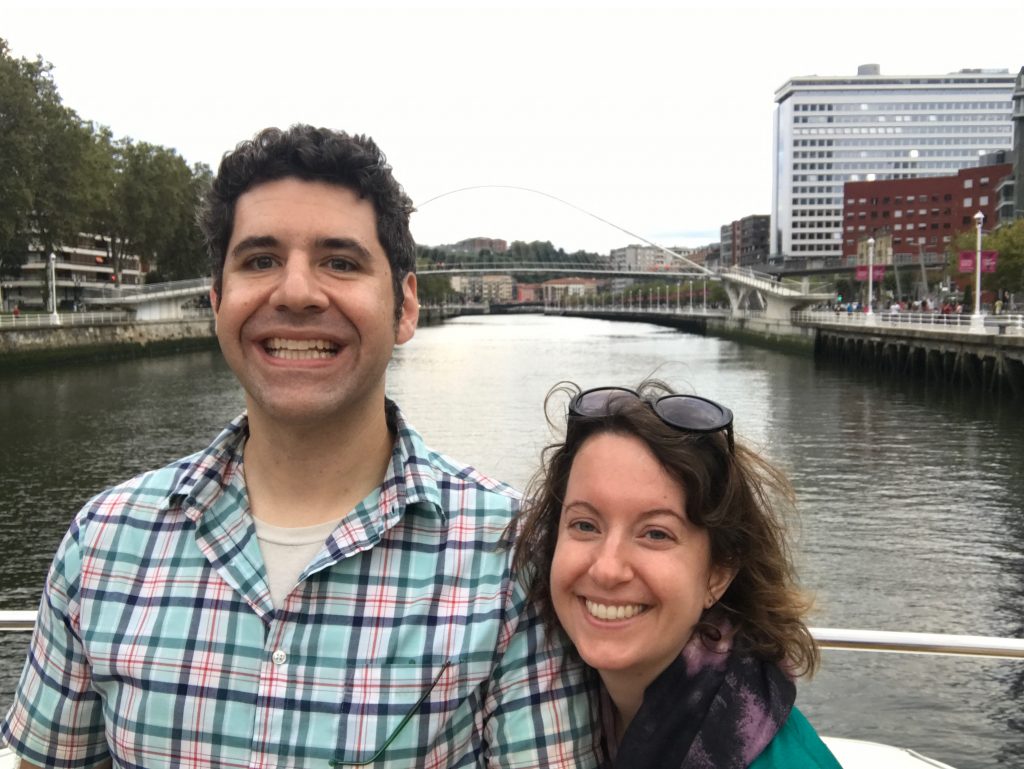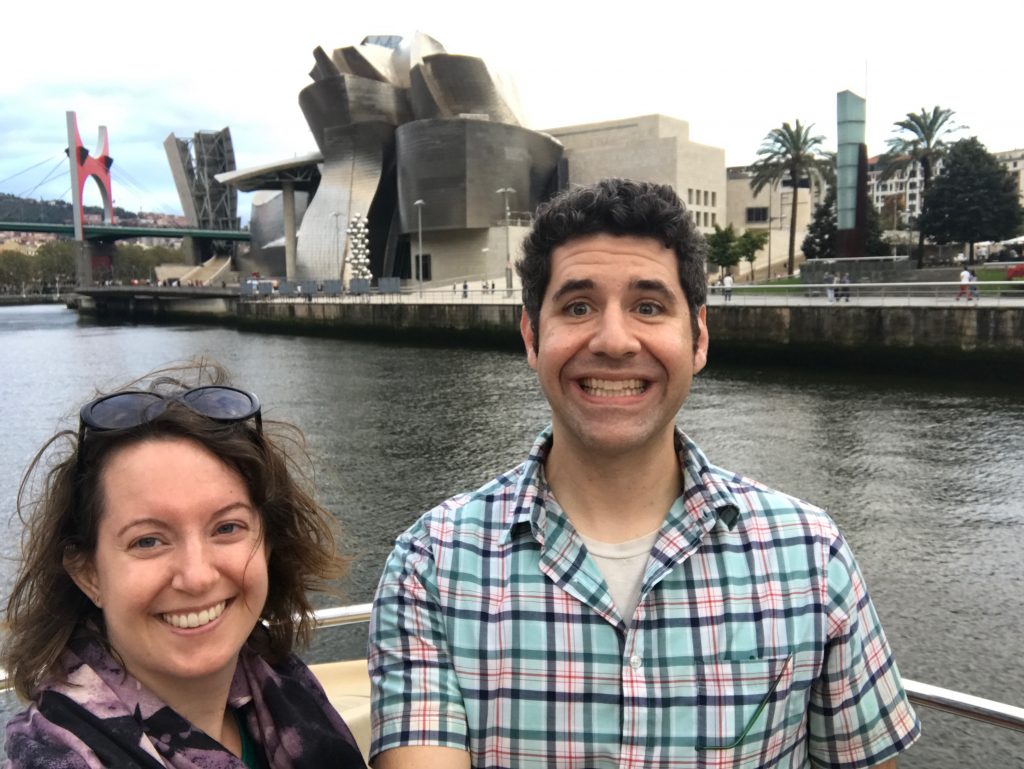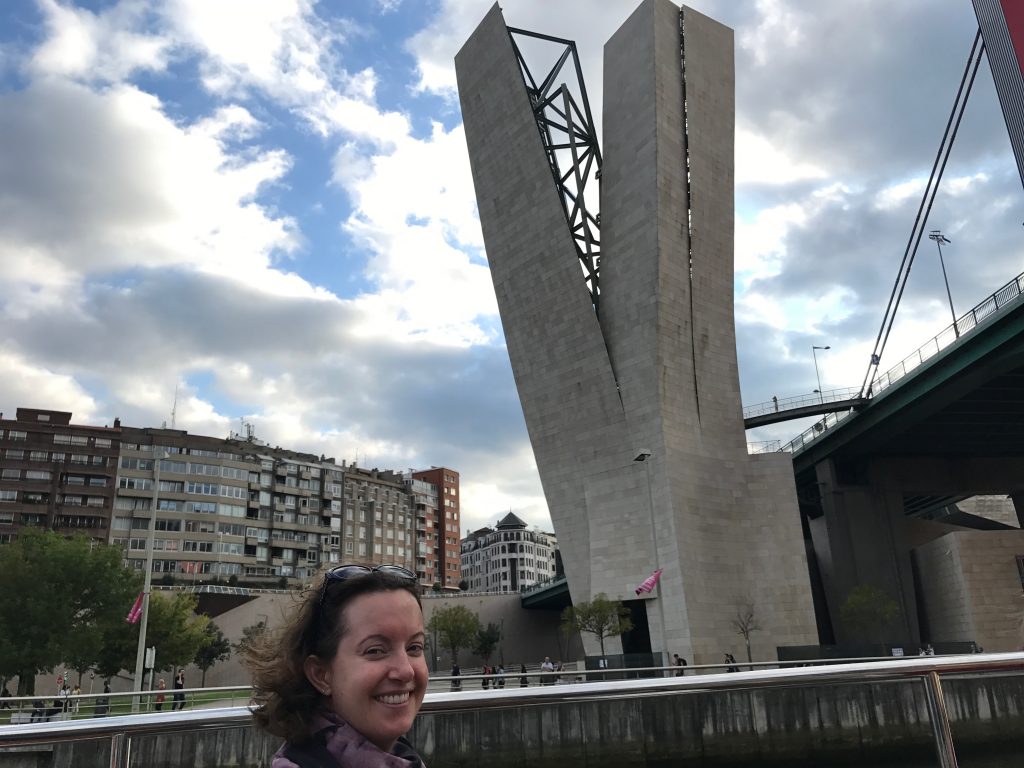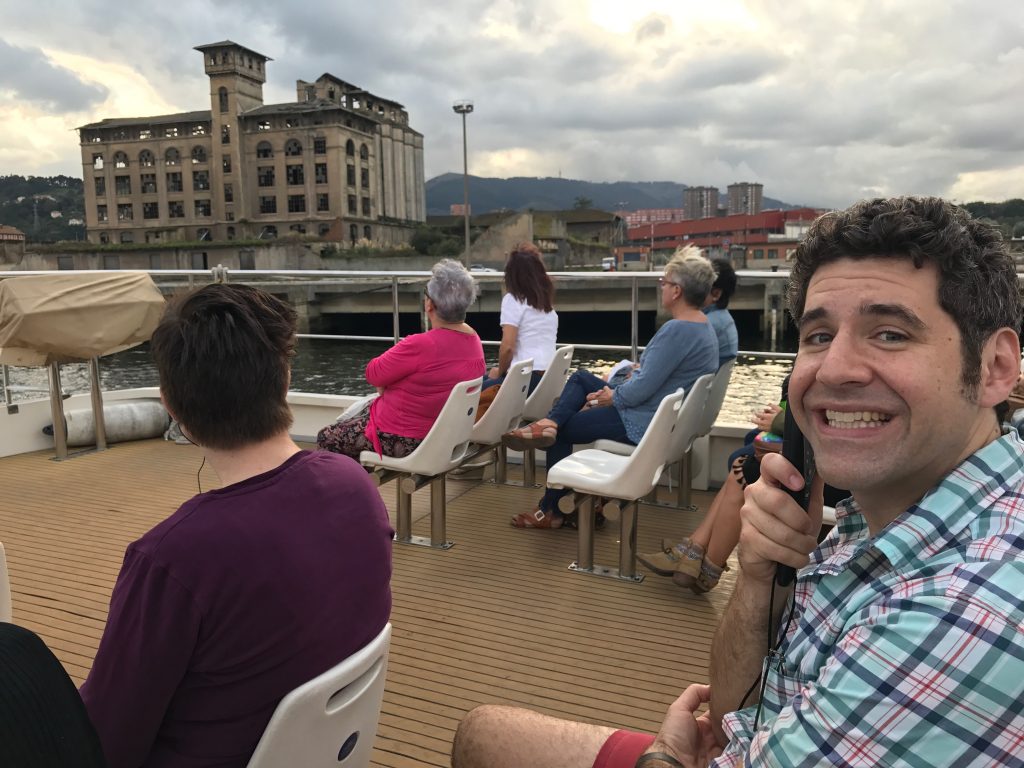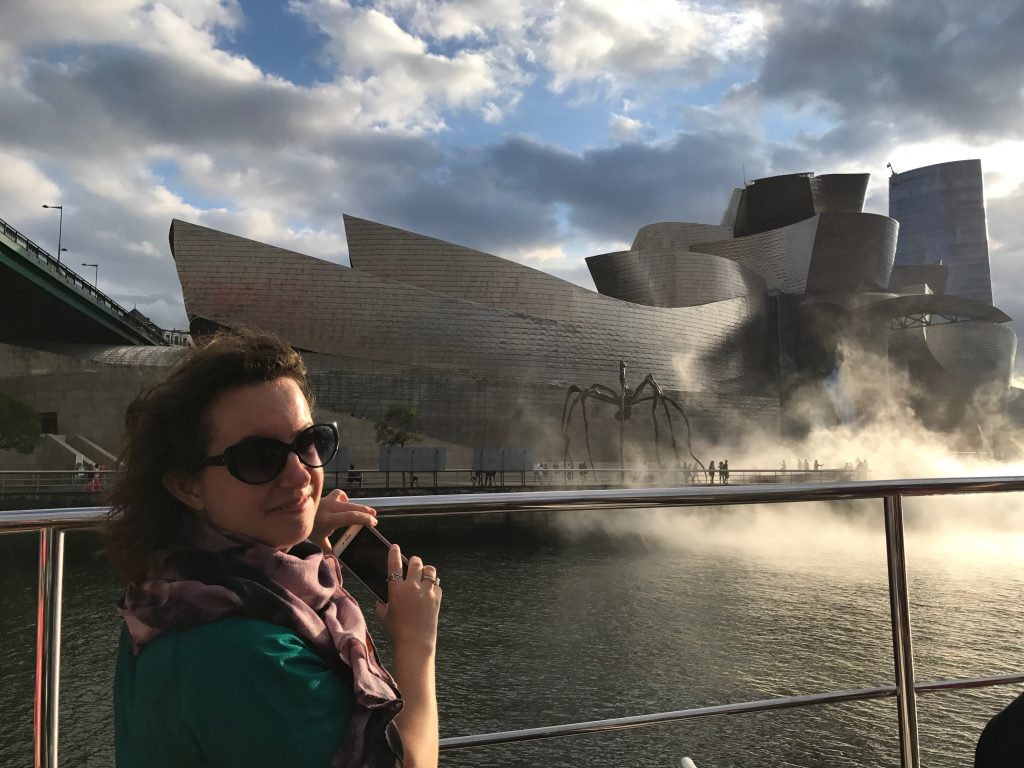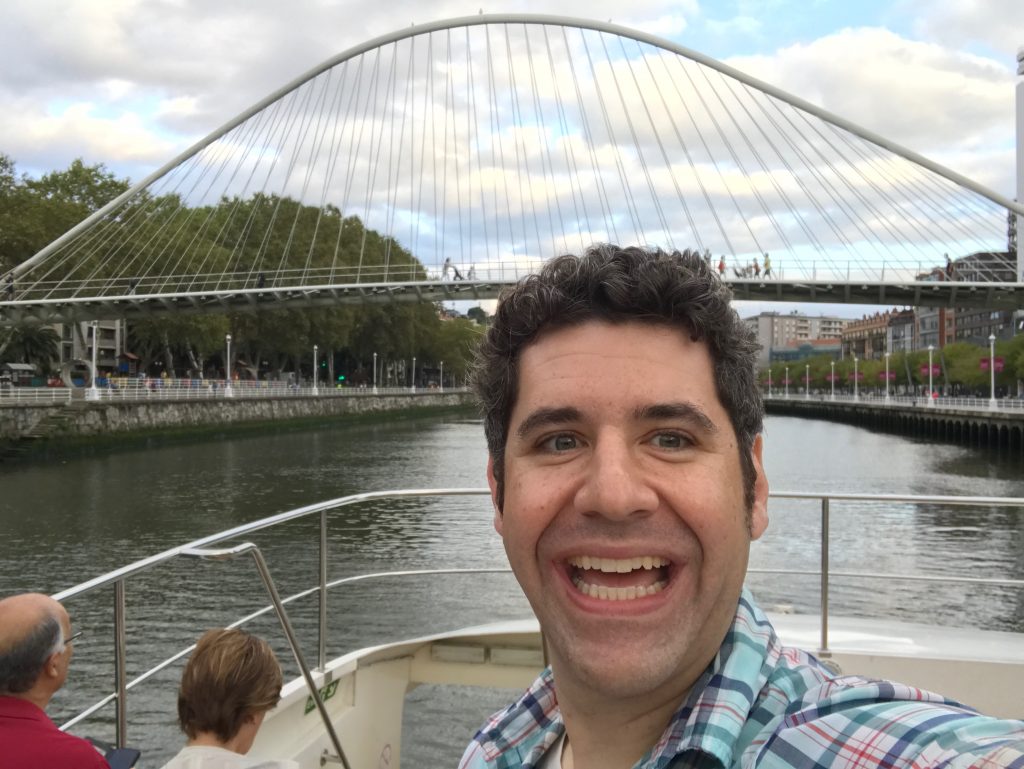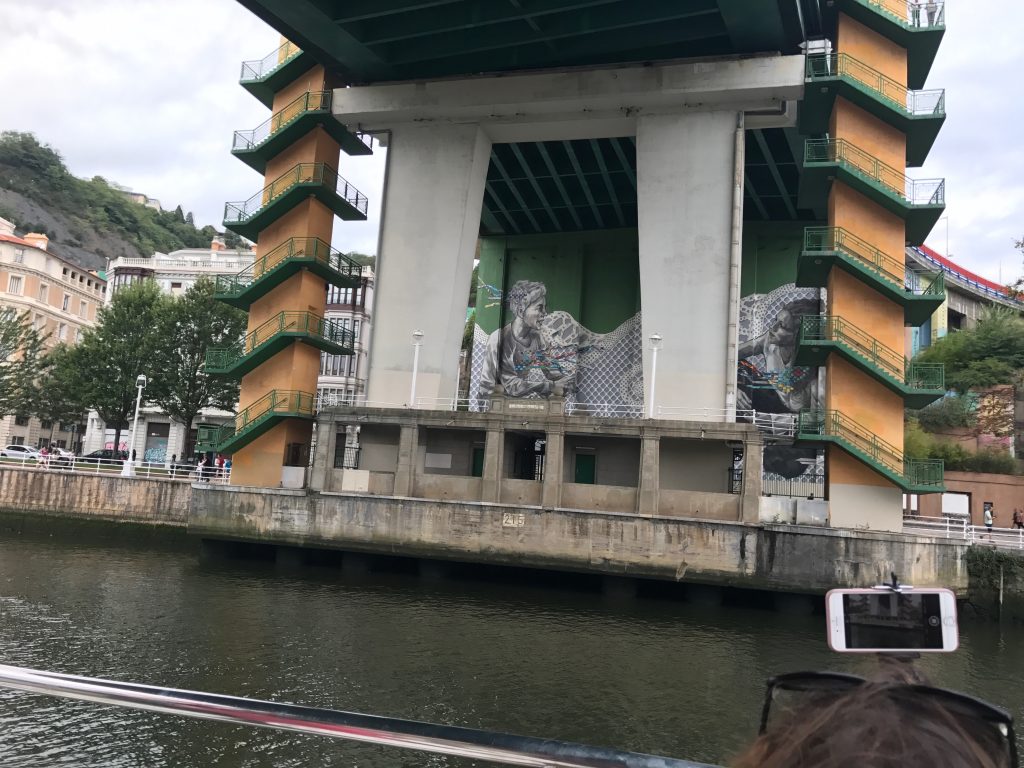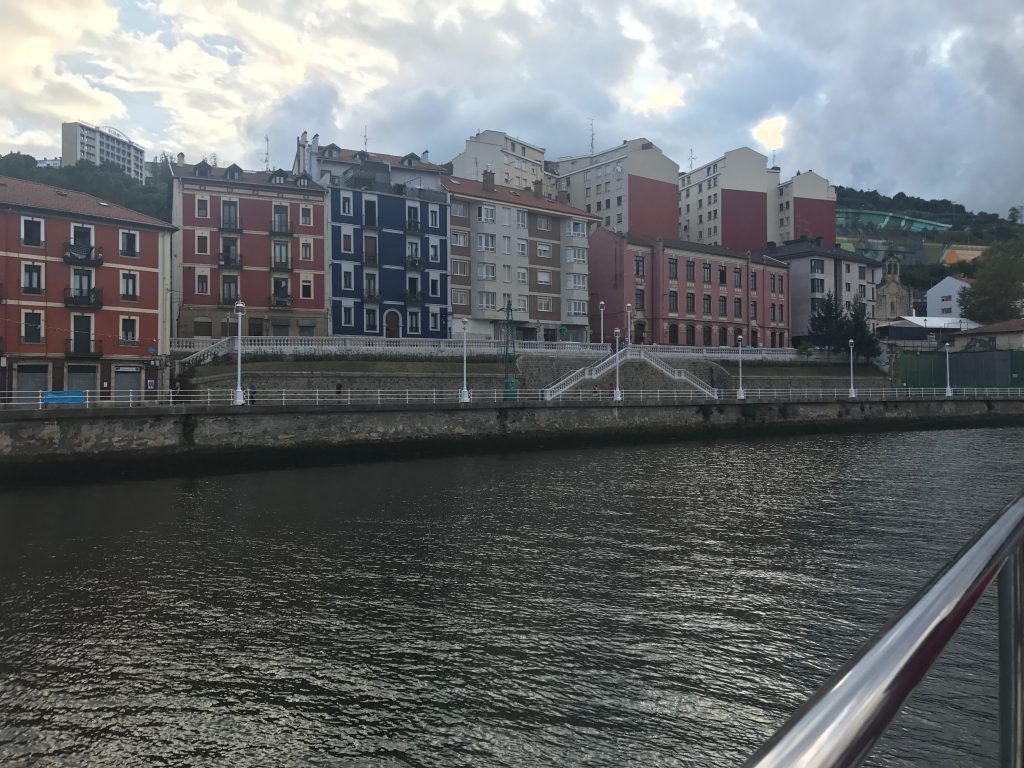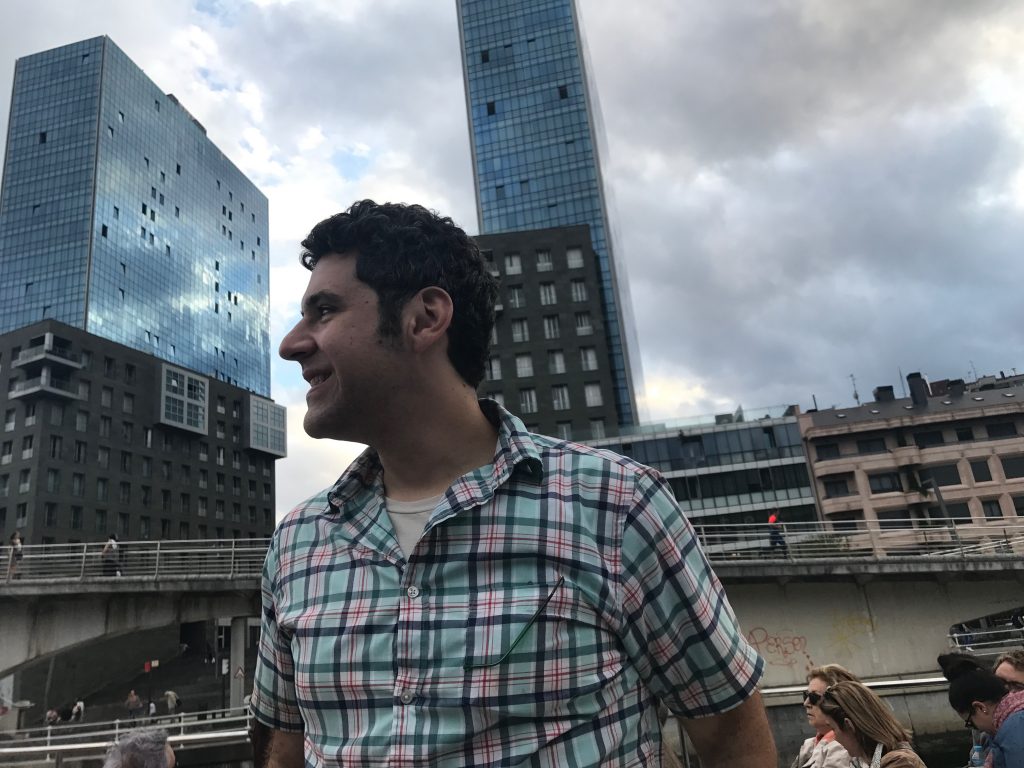 By the way, water sports are big in Bilbao, too. See if you can spot the boaters below.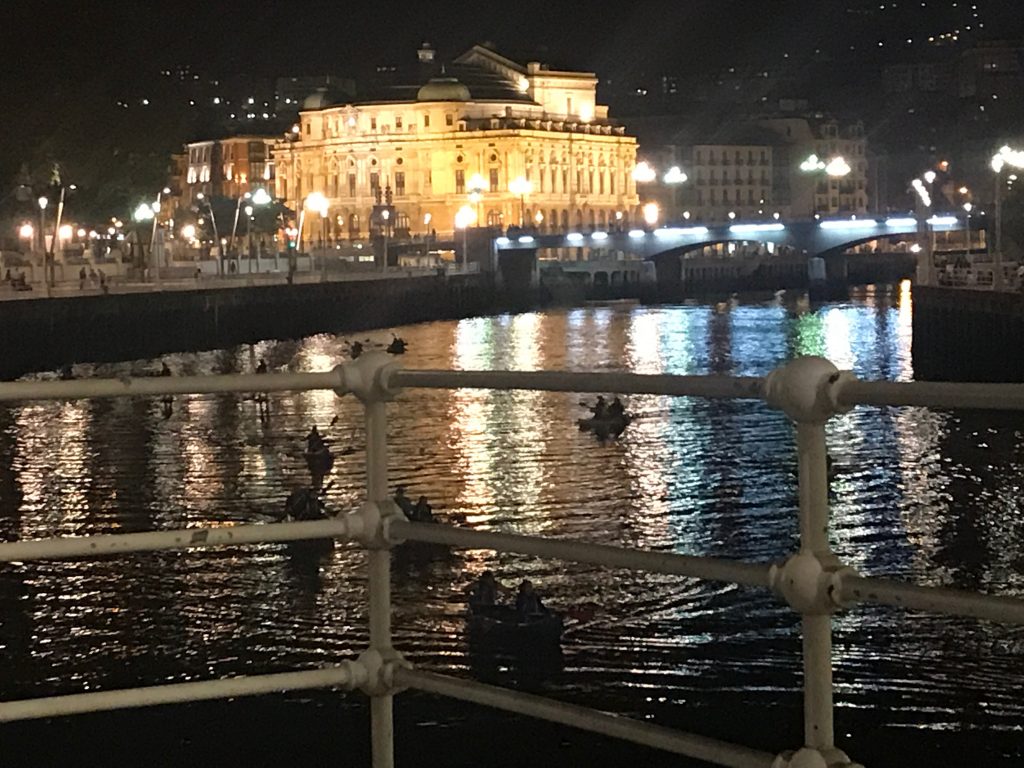 As we found out on our river tour, the terrain quickly changes as large swathes of abandoned industrial sites still exist outside the city center. Plans are in the works to gentrify these areas, but this takes time. For now, you take the changing city as it presently stands. We enjoyed our trip, but will check out other areas of Basque Country in the future.