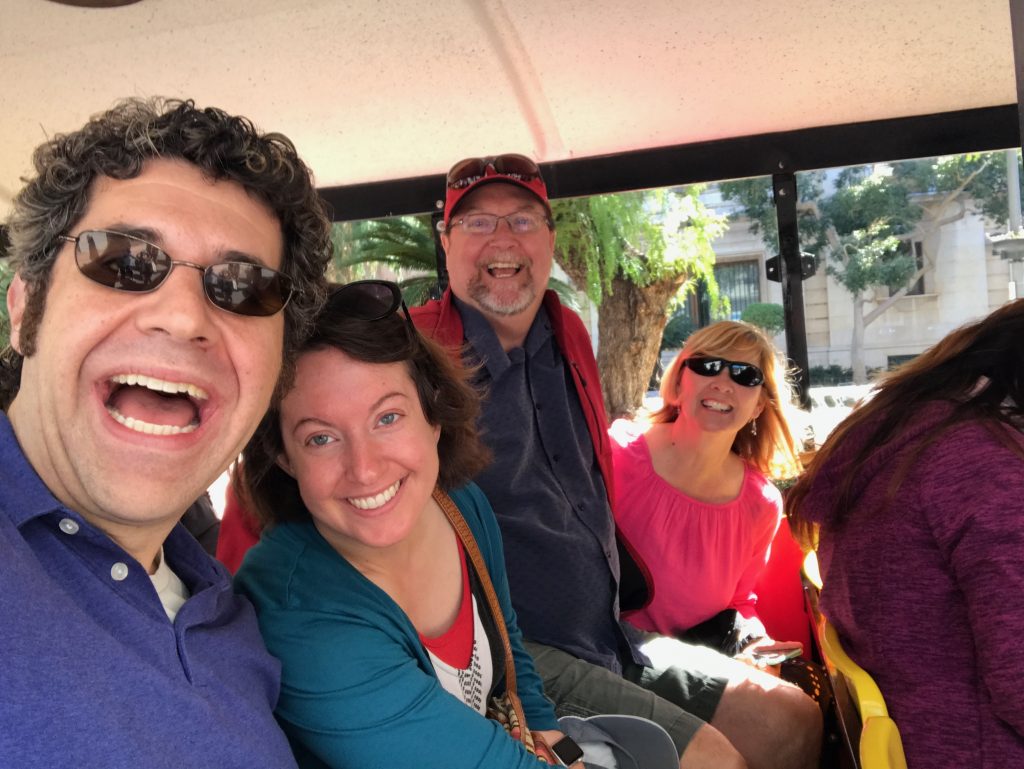 Choo, choo! The fallas train is about to depart and take you all around our town's different displays!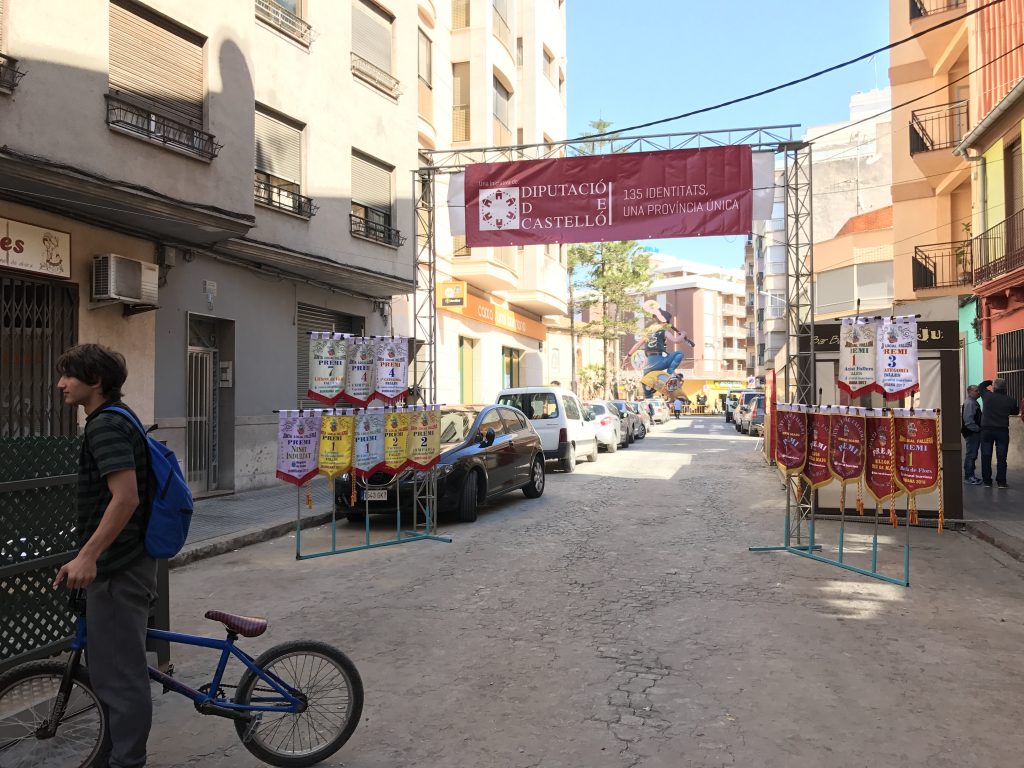 Our small city featured a surprising number of fallas during their namesake festival this March. Yes, there was a real "train" that drove through the streets, taking passengers past each one. And yes, we did wait in line for an hour and a half to ride it.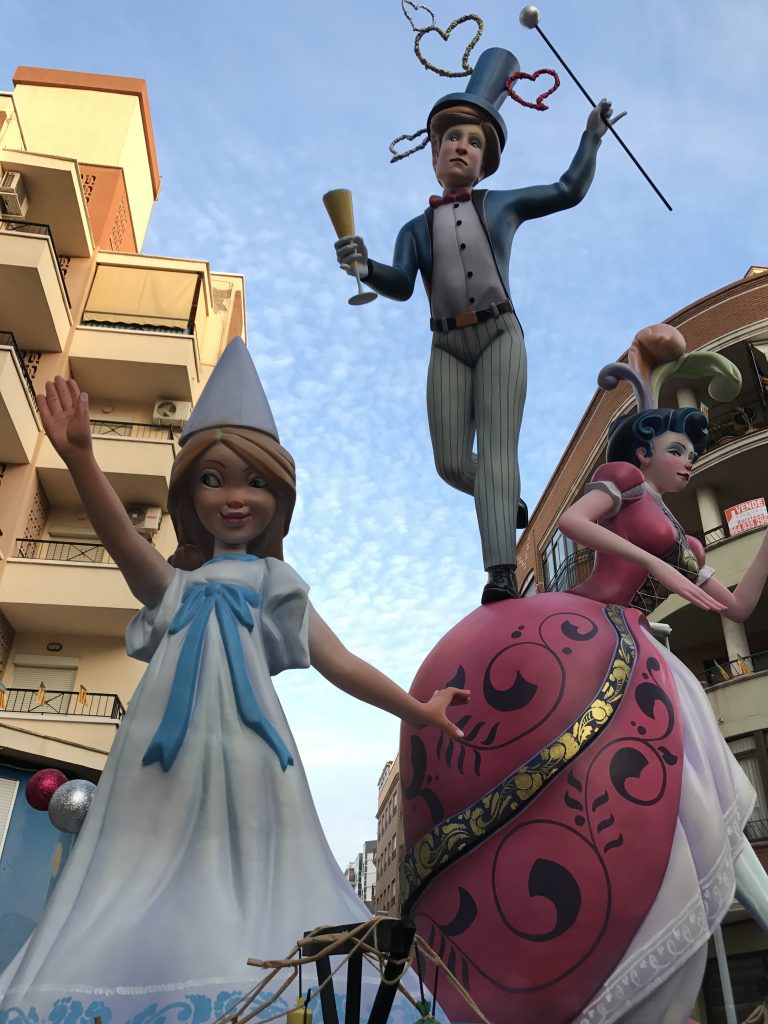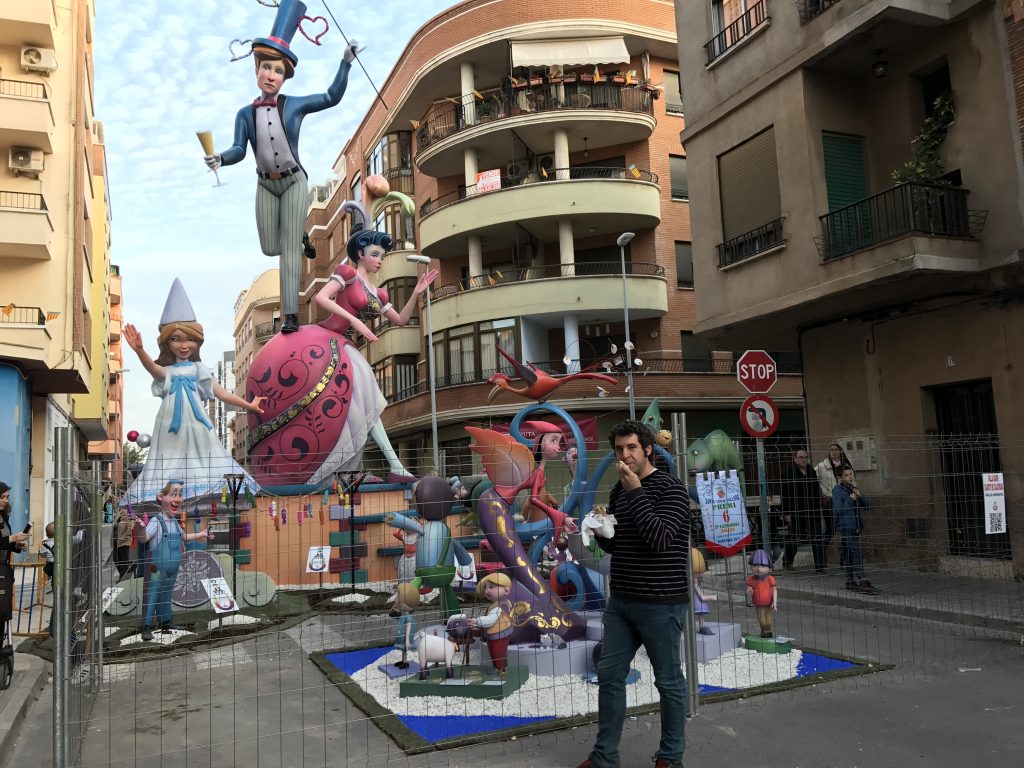 Before we get to the train, let's take a look at what got us to this point: fallas, you'll remember, are grand artistic monuments constructed in different cities and towns around the Valencian Community and displayed during the weeklong celebration, at the end of which all are burned. In the meantime, there are many parades, frequent fireworks, and plenty of merrymaking.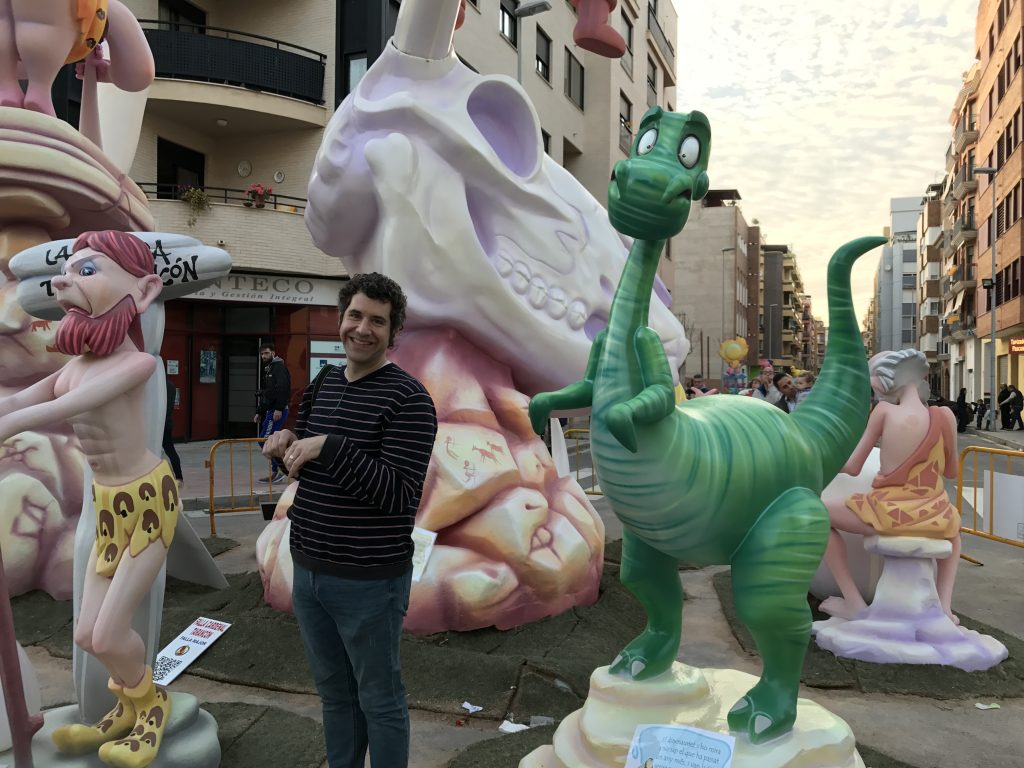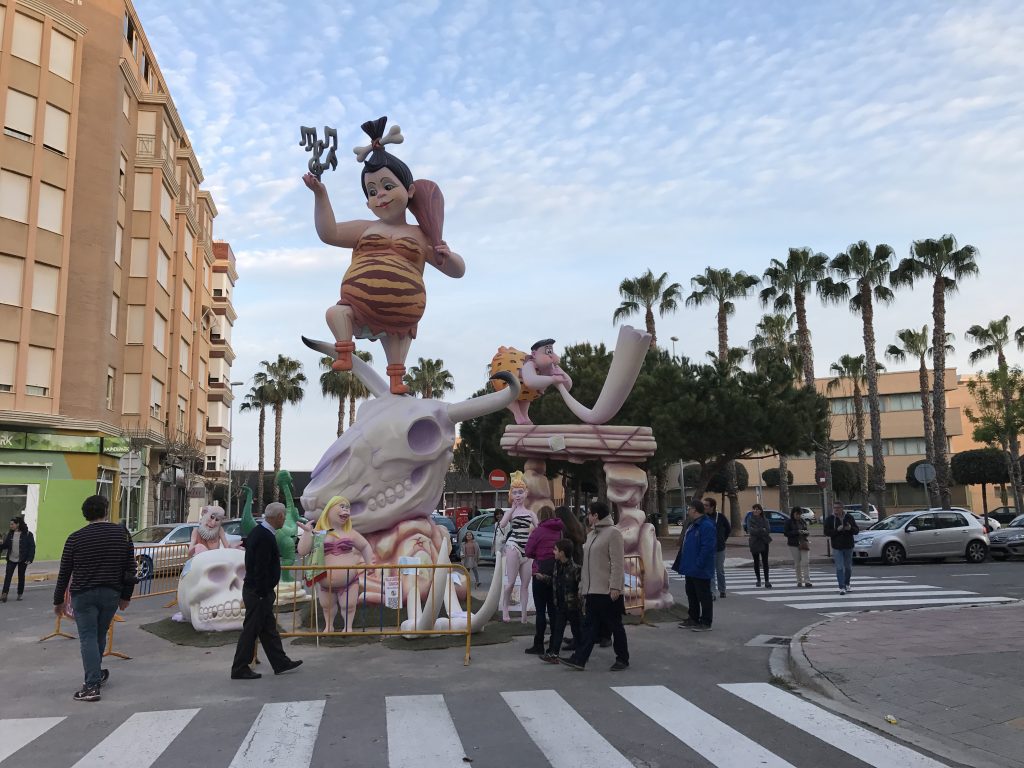 We'd been looking forward to the third week of March since we moved here. Even in our town, there are nineteen societies that each build an adult falla and a children's falla; the groups that build the monuments, which are also called fallas (natch'), have been working on these things all year. And just to make everything more confusing, the festival itself is called Las Fallas.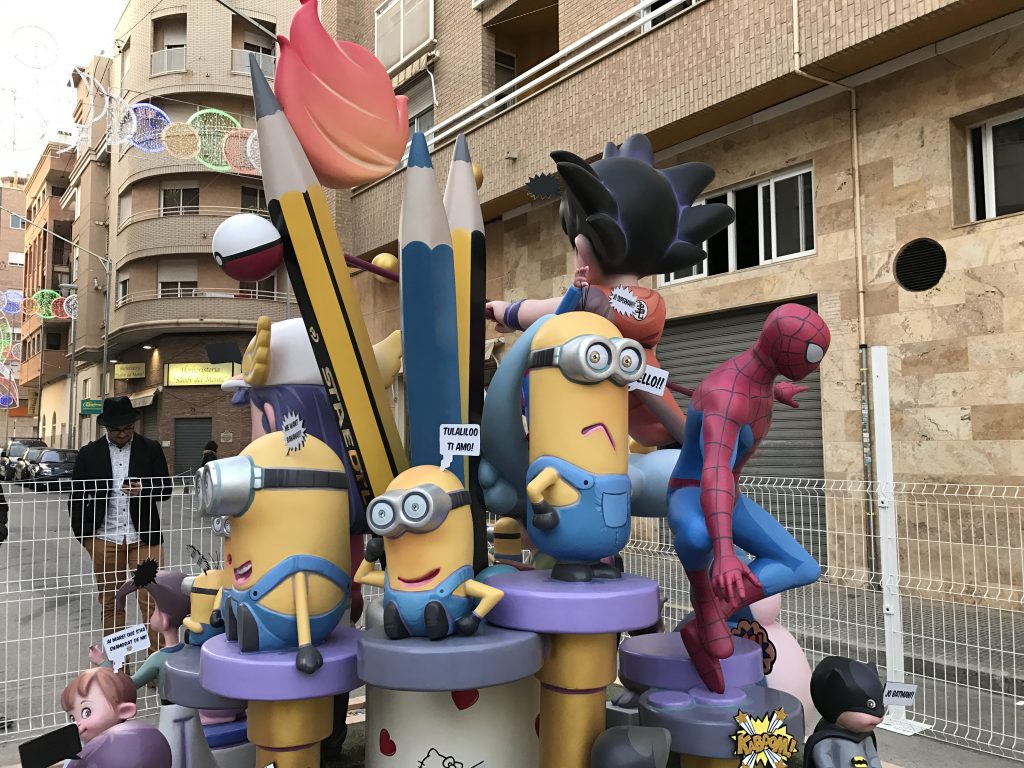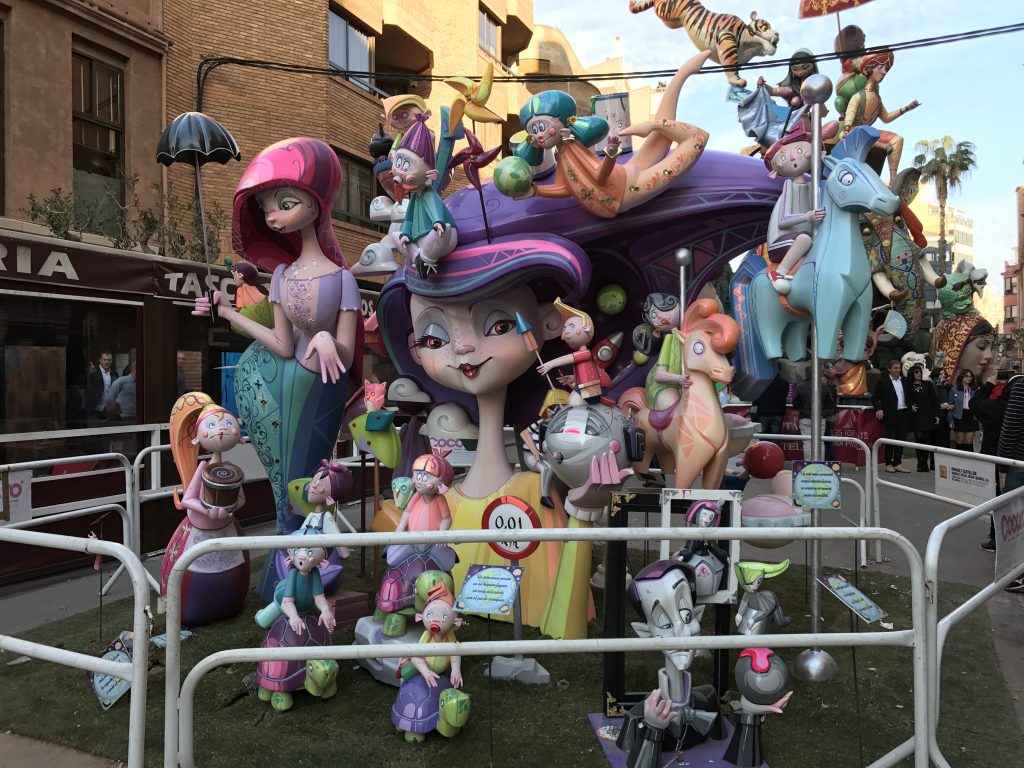 We had a unique bird's-eye view of everything from the terrace of our own apartment, and we watched in anticipation as one of the giant constructions took shape right underneath us. This particular falla chose Beauty and the Beast as their theme.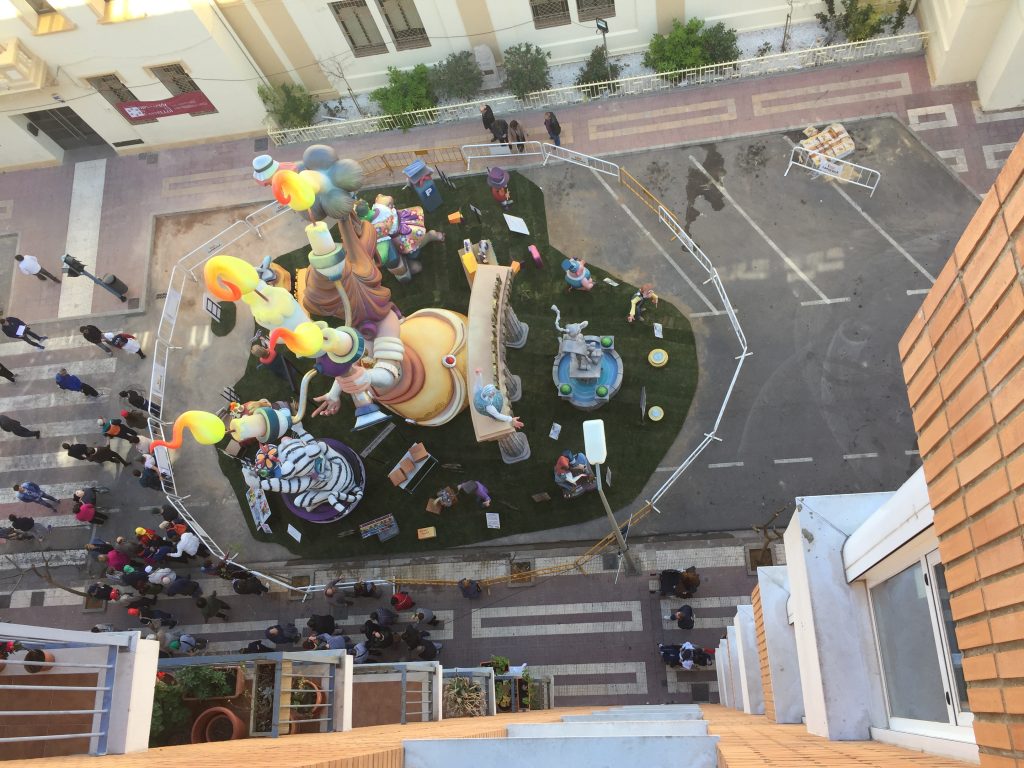 We did descend to take a look from ground level, of course. In addition to the large monuments, each group prepares a number of satirical ninots (Valencian for puppets or dolls) to complete the falla. Before adding them to the fallas monuments, Burriana showed an exhibition of this year's local ninots similar to the one held in Valencia (though ours was much smaller in scale, por supuesto).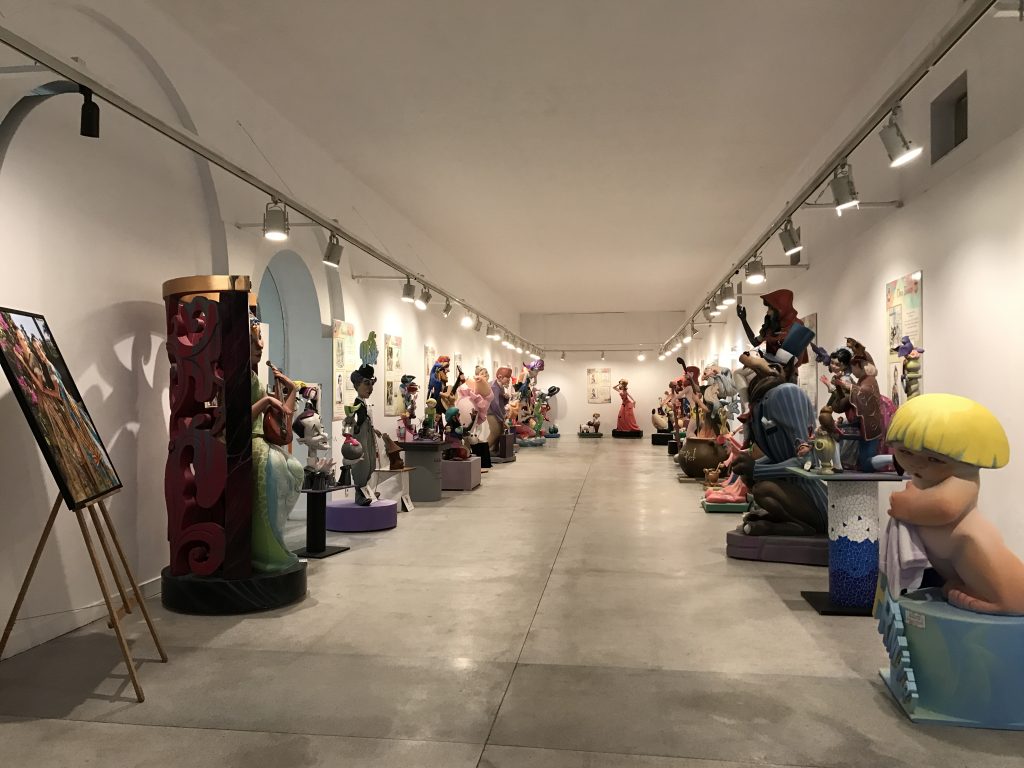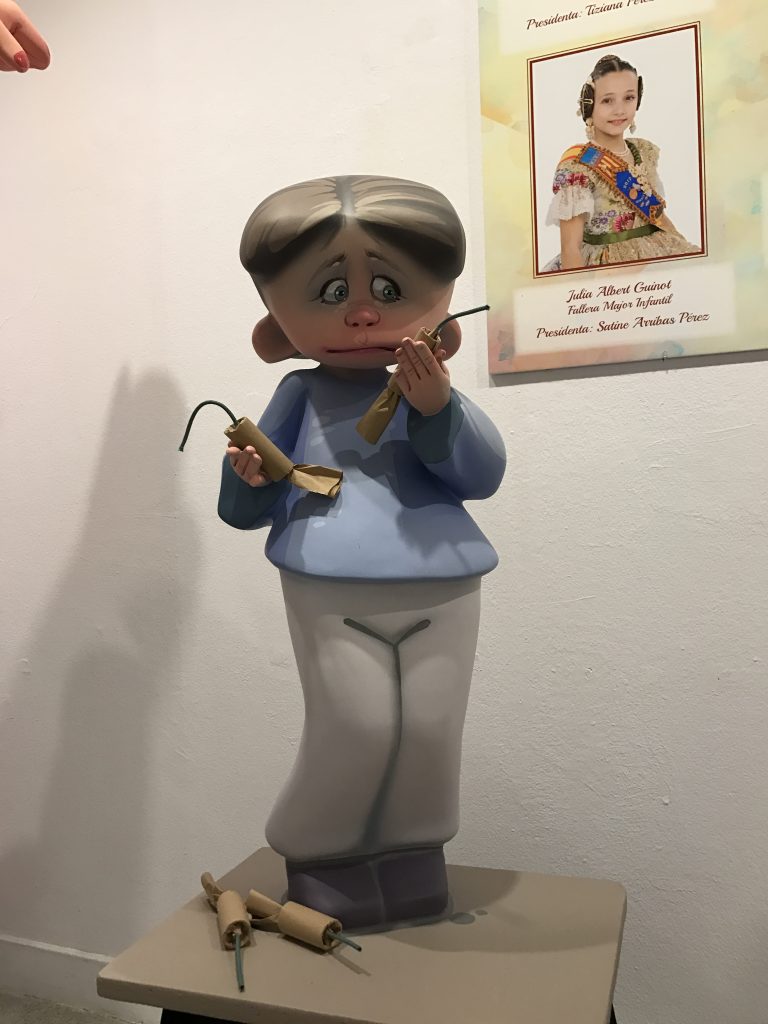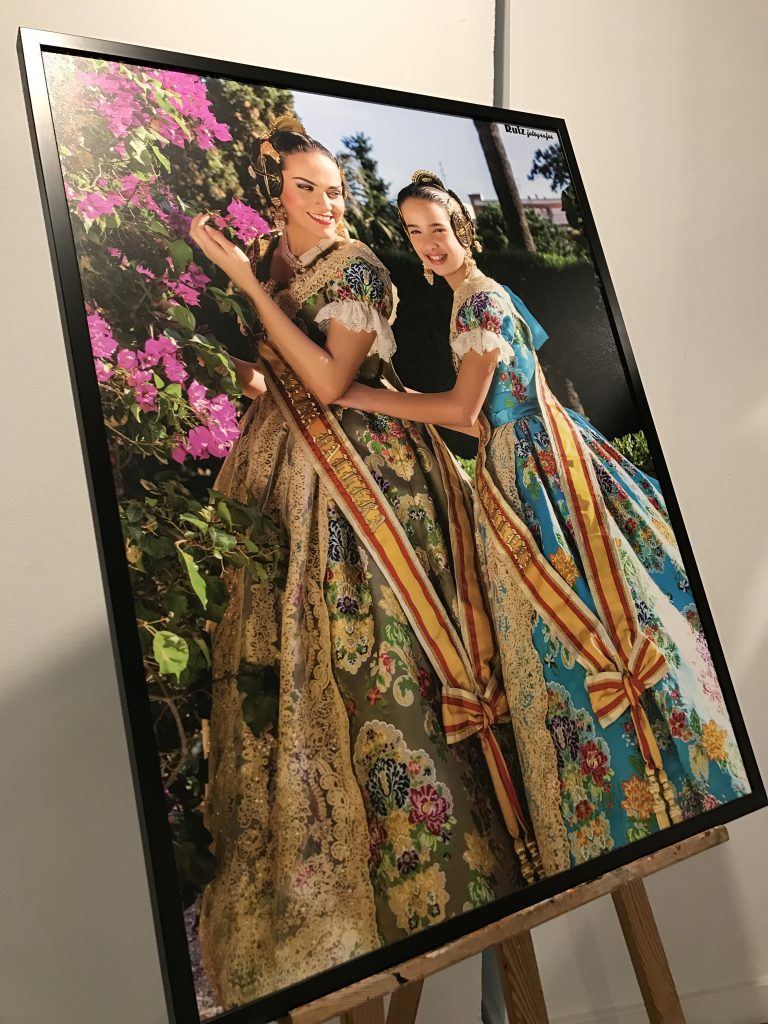 The fallas get a bit more crowded and busy once all of the ninot have been added. Observe, our own neighborhood falla before and after the addition of ninot: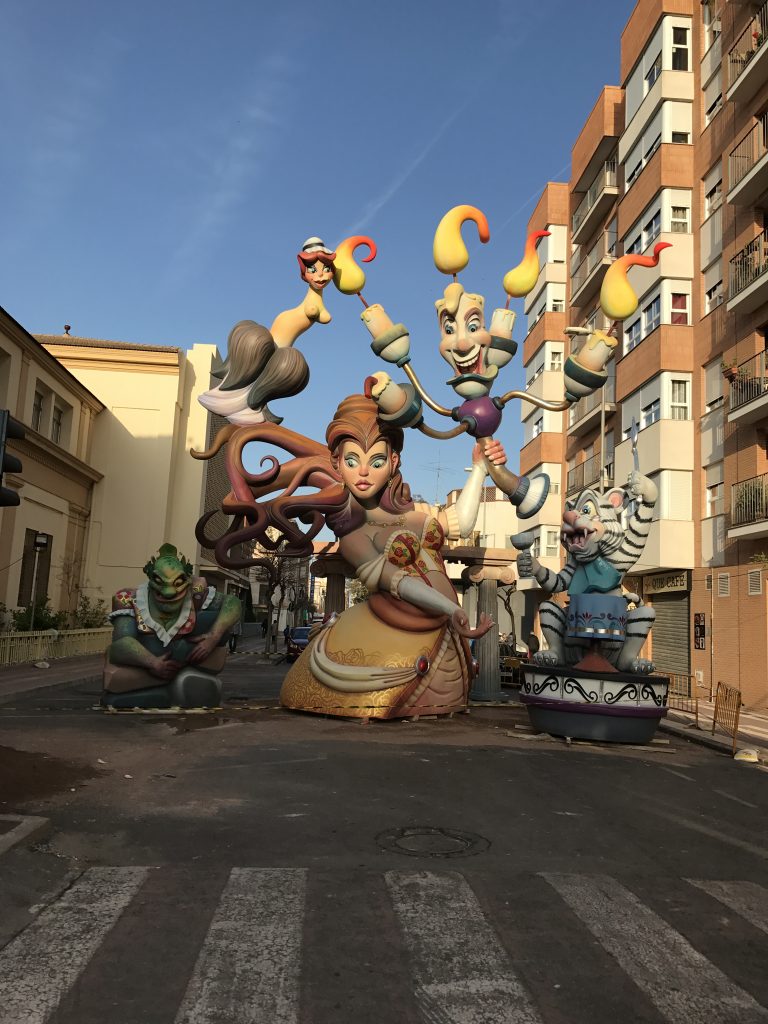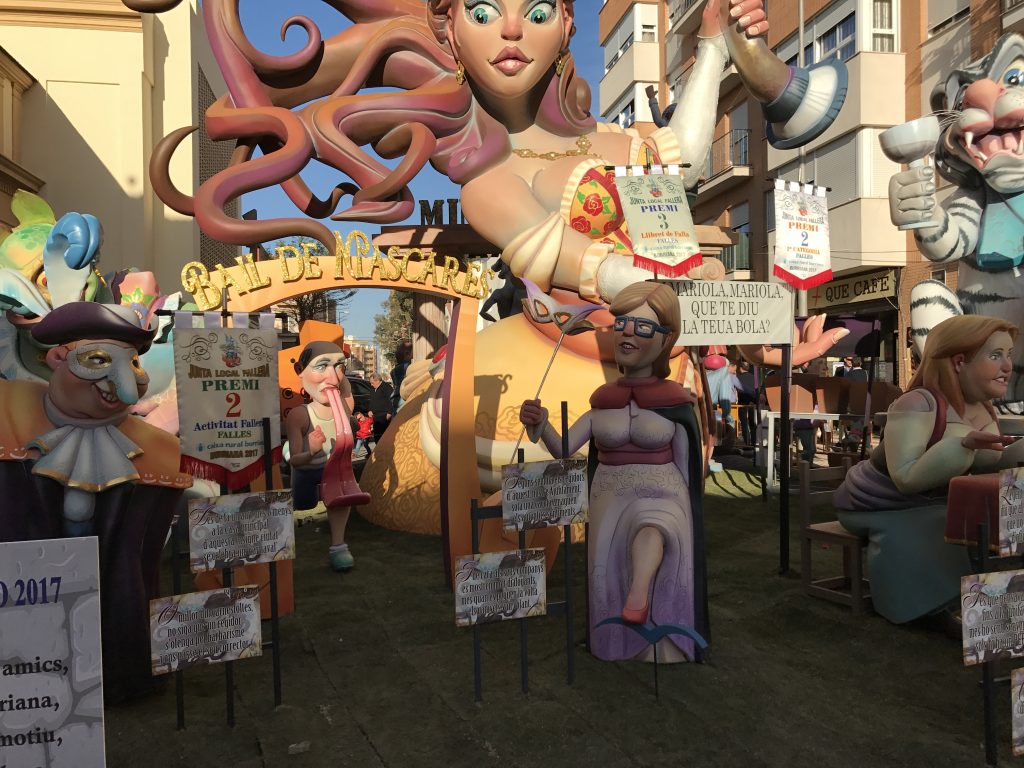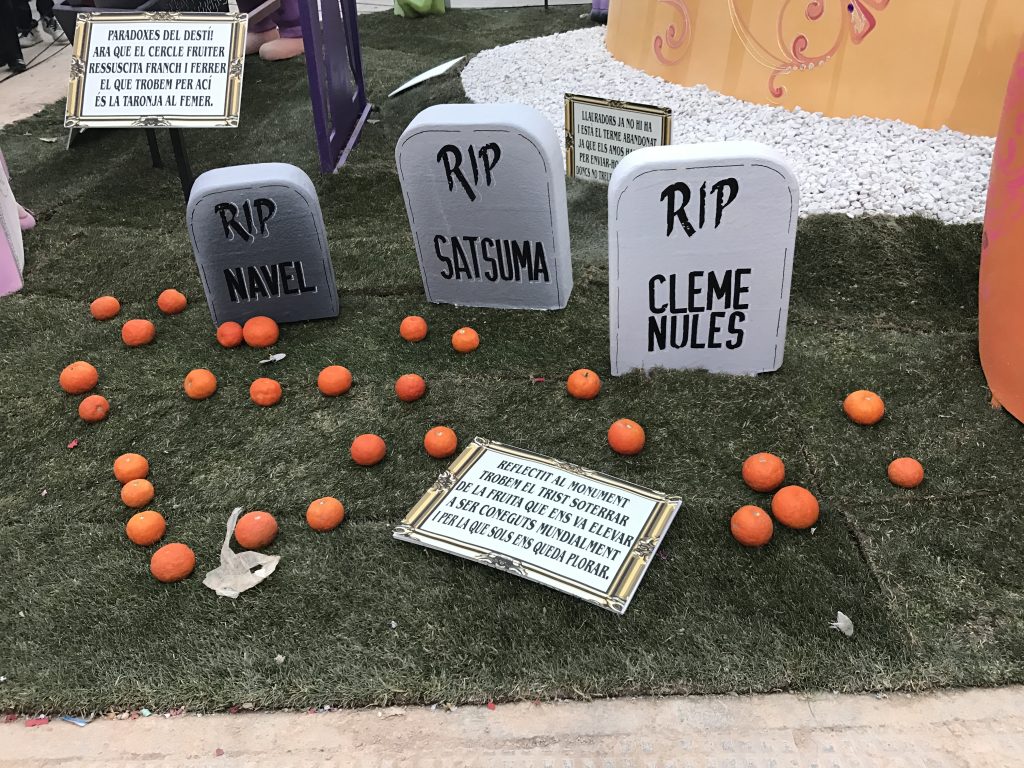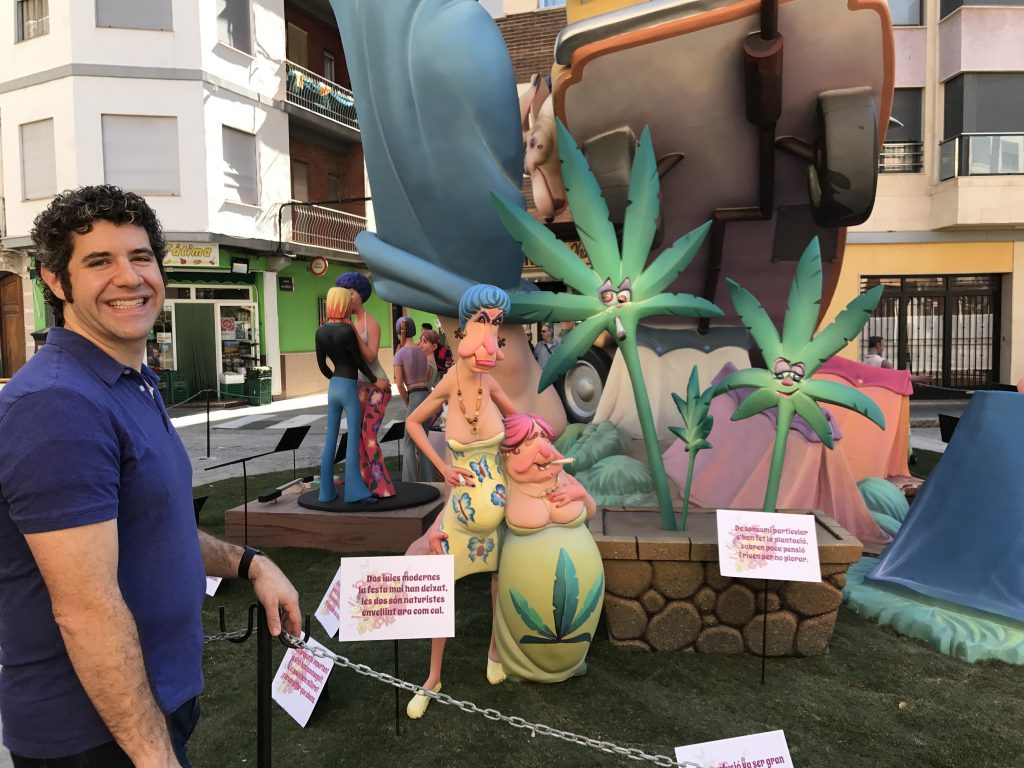 This is one time we really wished we had a better grasp of the Valenciano language, as much of the written satire was over our heads… but we have a hard enough time with Spanish! However, we could see that many of the ninot poked fun at national, regional, and local themes, and some of the references were more obvious.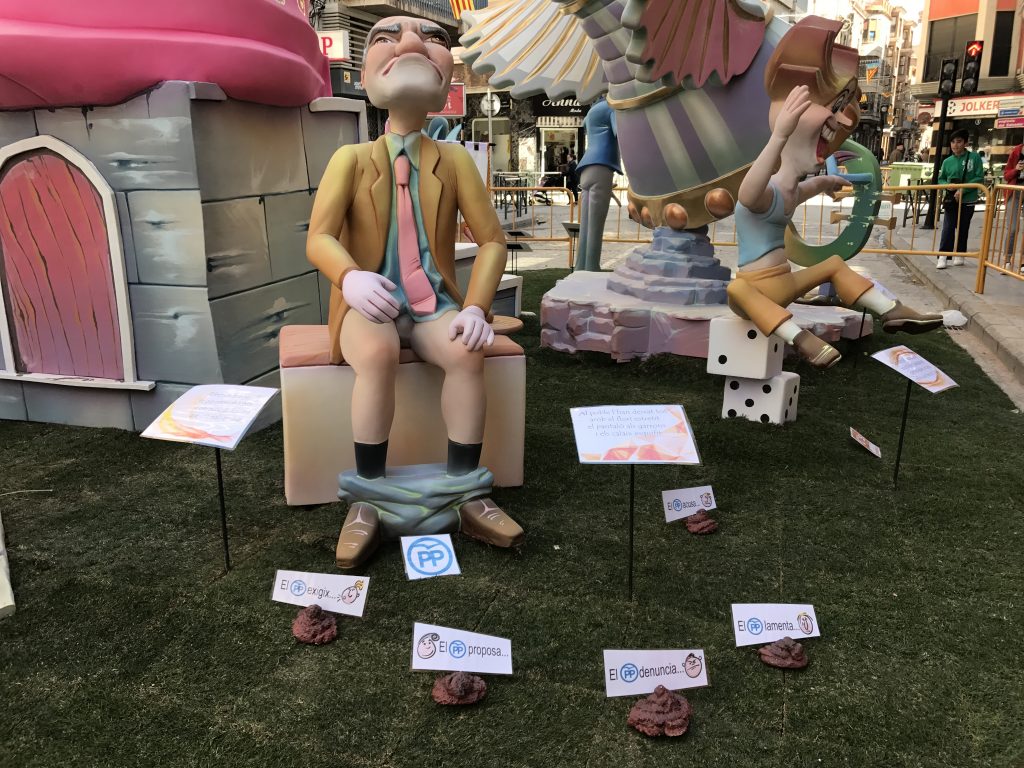 Below, a joke at the expense of the annual local music festival Arenal Sound (orinal is Valenciano for urinal).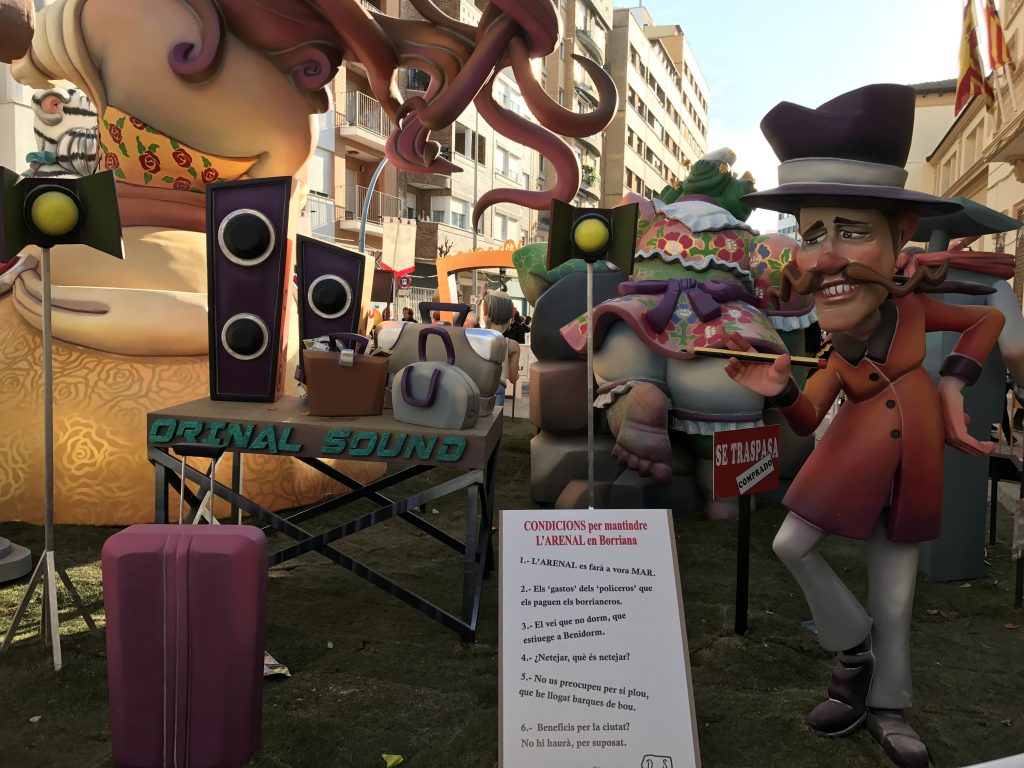 Other fallas around town were going up at the same time, of course. We saw lots of frenzied work on the 15th as workers toiled to have everything done by the morning of the 16th, known as the La Plantà – when each finished falla is displayed and the judging begins.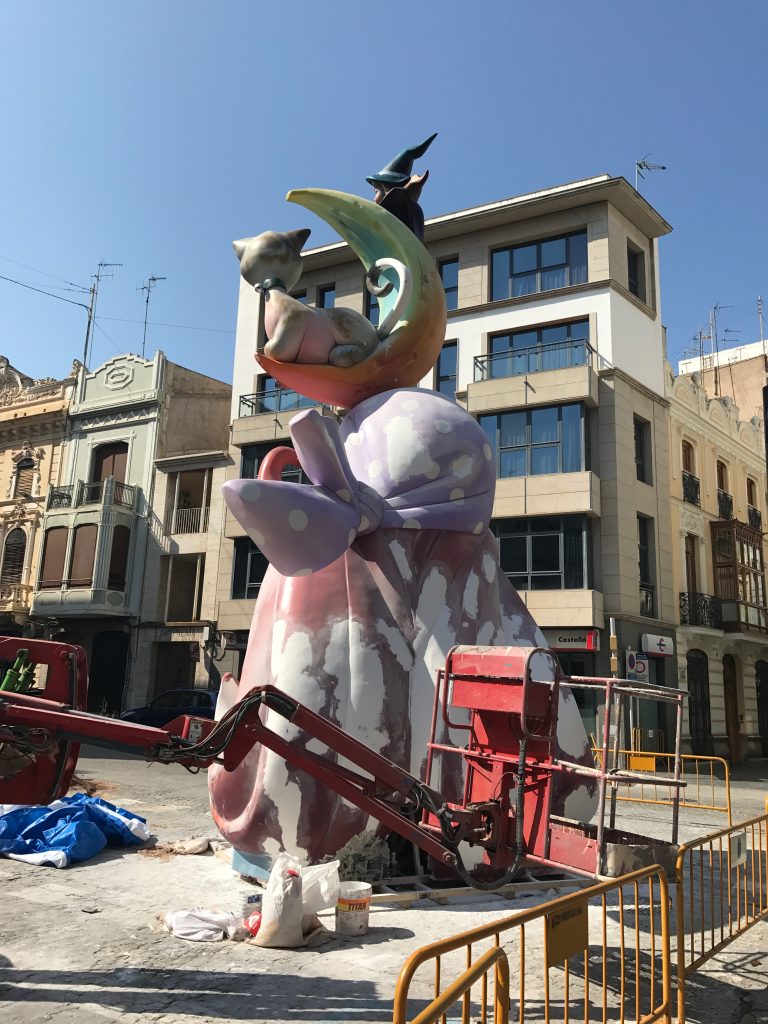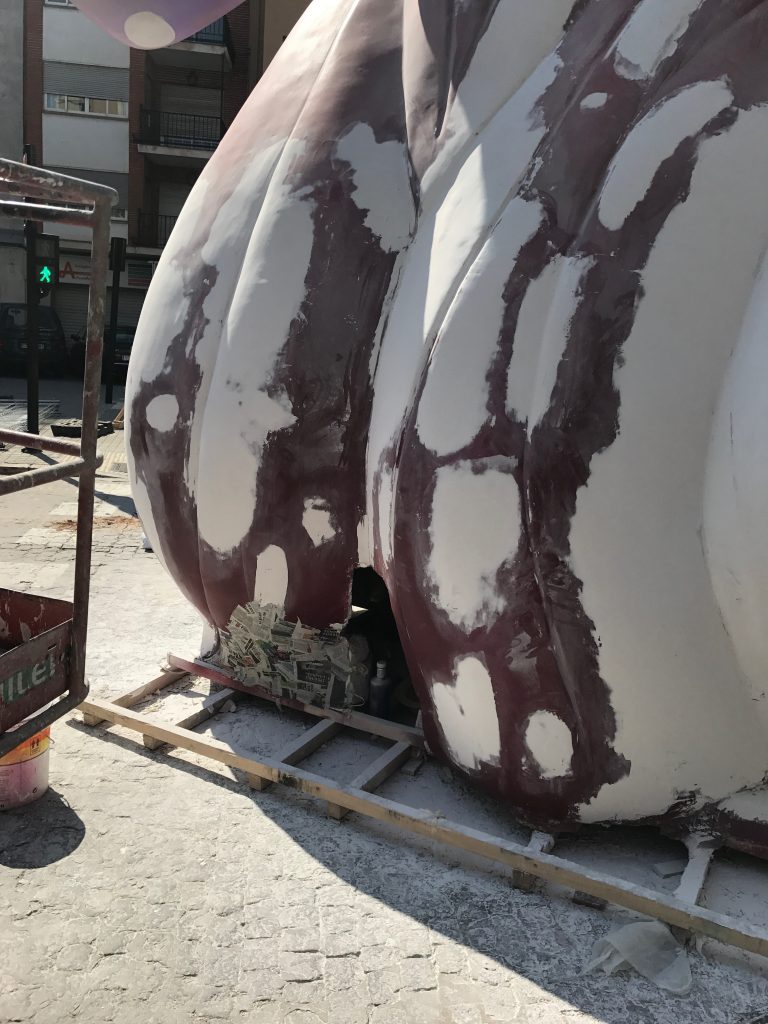 Some heavy machinery is involved.
Oftentimes members of all the fallas make their way around to visit the other fallas.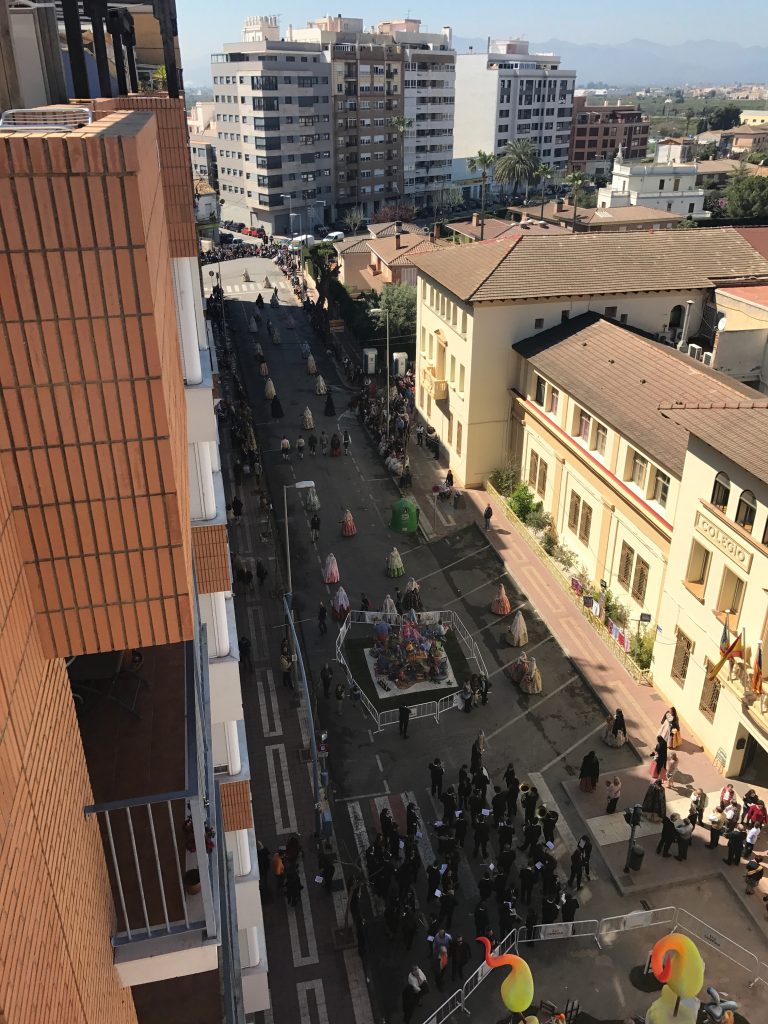 It's a good-time party!
And of course, the common, non-falla townsfolk make the rounds as well. Our guests, Dad and Deb, got to see how Dreamer has become a minor celebrity in our city – everywhere we went, we were greeted by students calling out her name.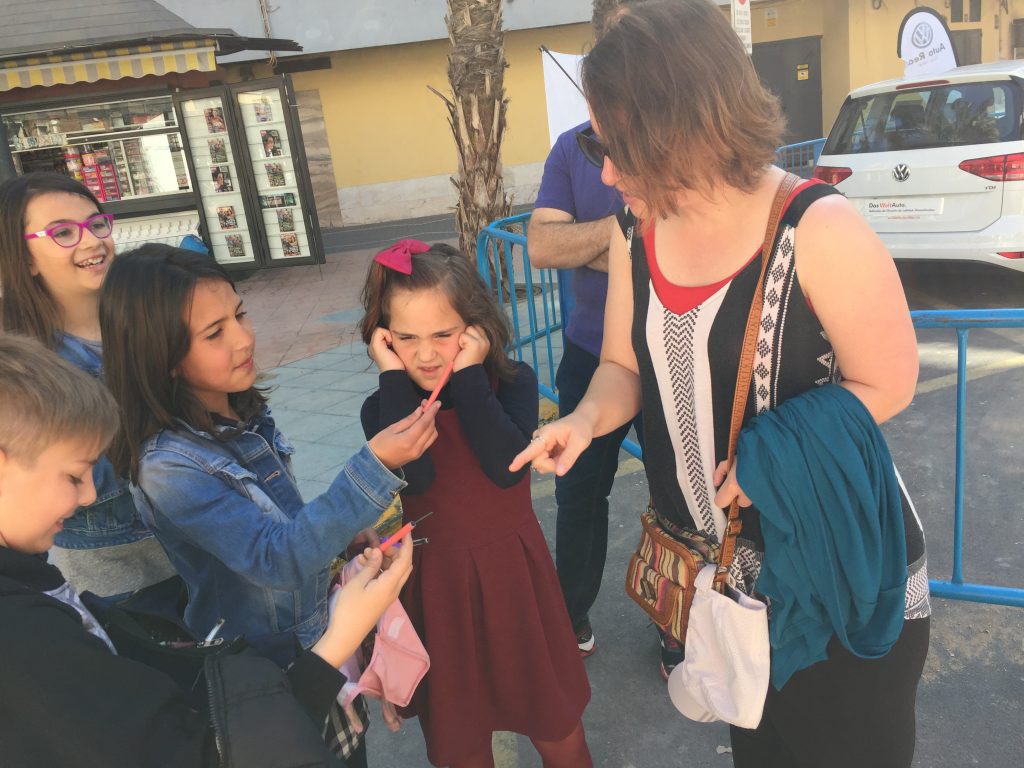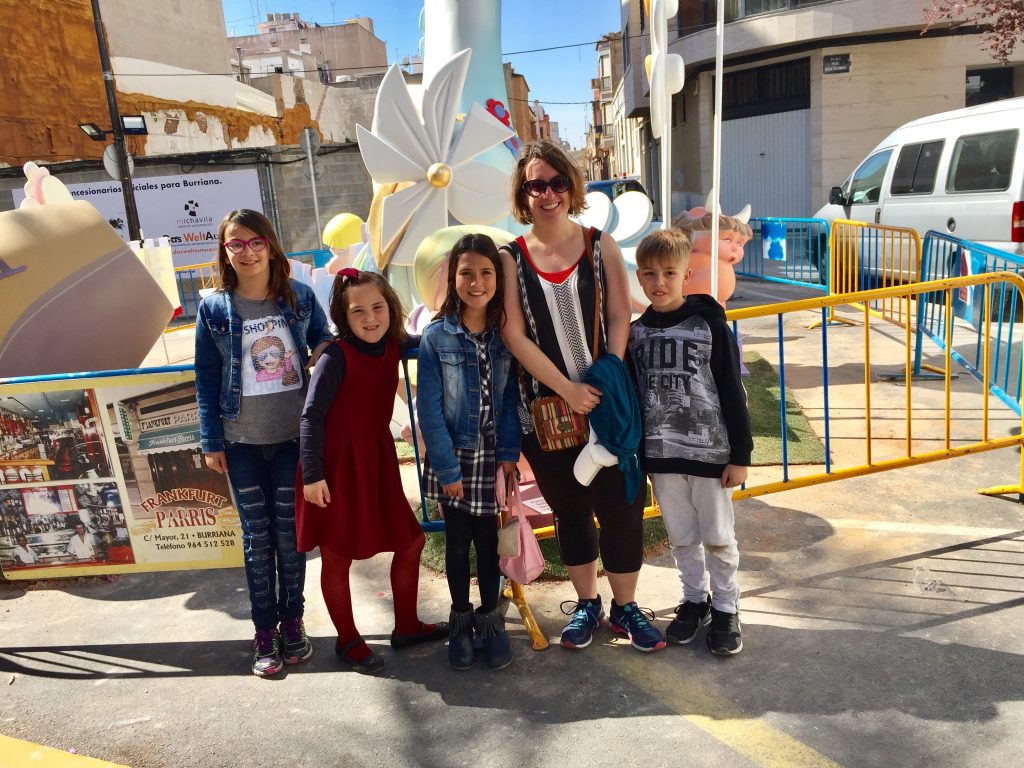 So, back to the the train, which perhaps was meant to emulate the fallera visitation experience a bit. This probably was the only part of the Fallas that didn't necessarily vale la pena because it was such a long wait and once the tour began, it went so fast, we didn't get to see anything closely. However, we did see some interesting slices of life during our long wait to board it. The video below features a parade stalled for a dance interlude while a charanga band plays. Take note of random fireworks and the train taunting us, as it's not yet our turn to board.
Once aboard, we were quickly whisked from one falla to the next – no stopping for photo ops. Although the train didn't draw close to most of the monuments, at least we got to see where everything was so we could go visit later.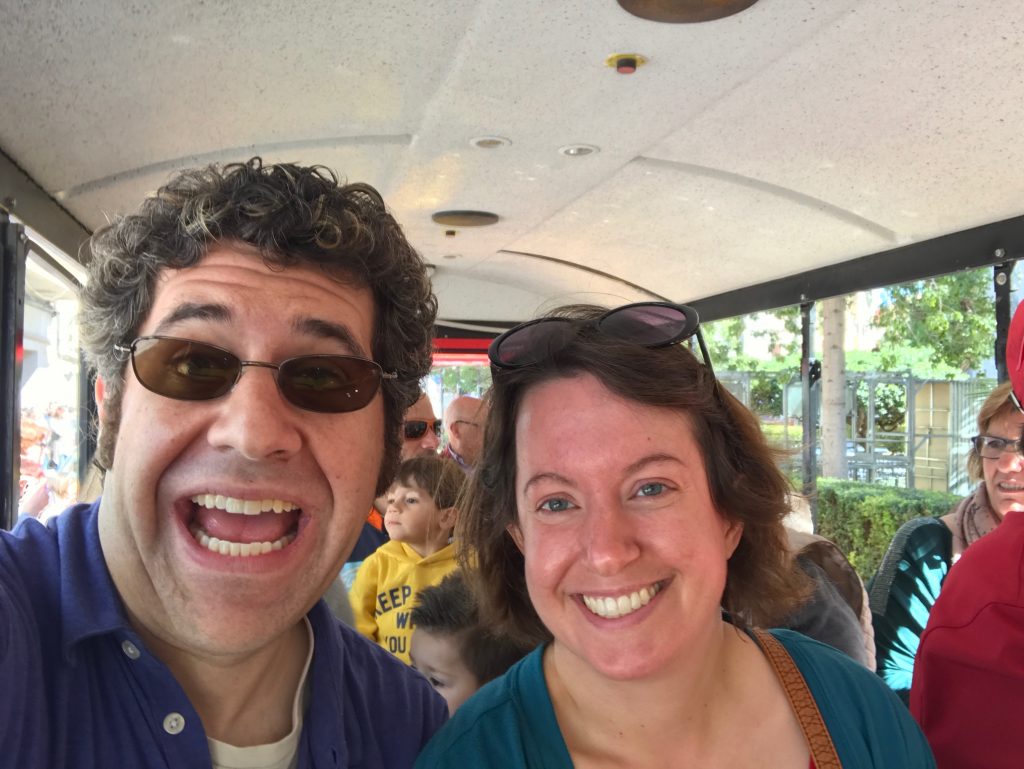 Most of the fallas are really well done. It is a shame they all get burned, but then again, they are so huge, there's really nothing else that could be done with them. They reminded Dreamer a bit of Tibetan Buddhist sand mandalas, another ephemeral art form that is dear to her heart.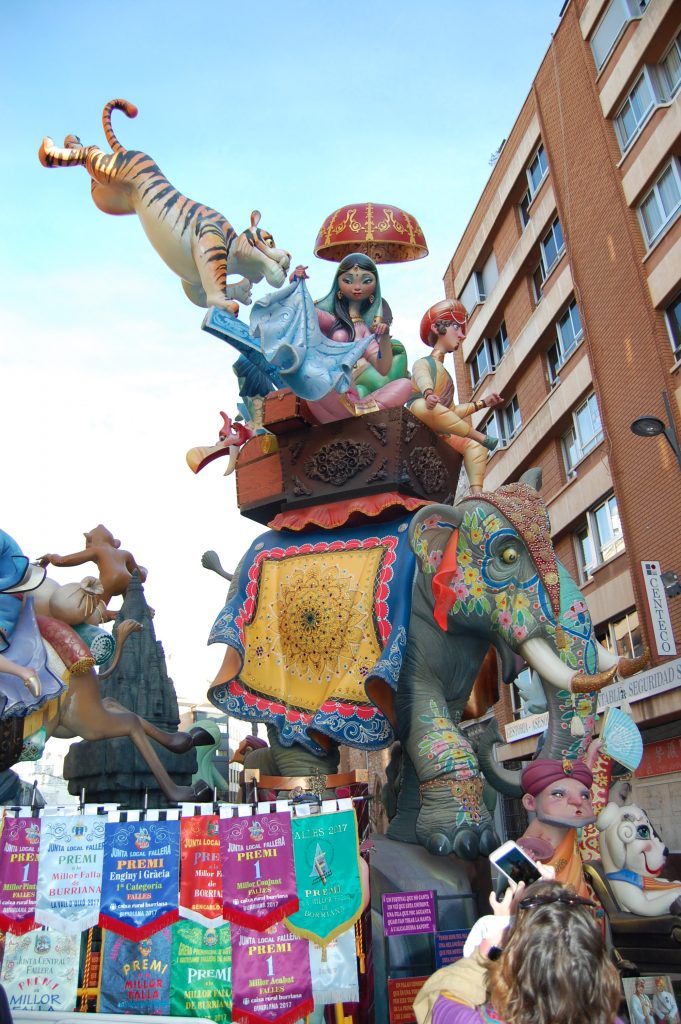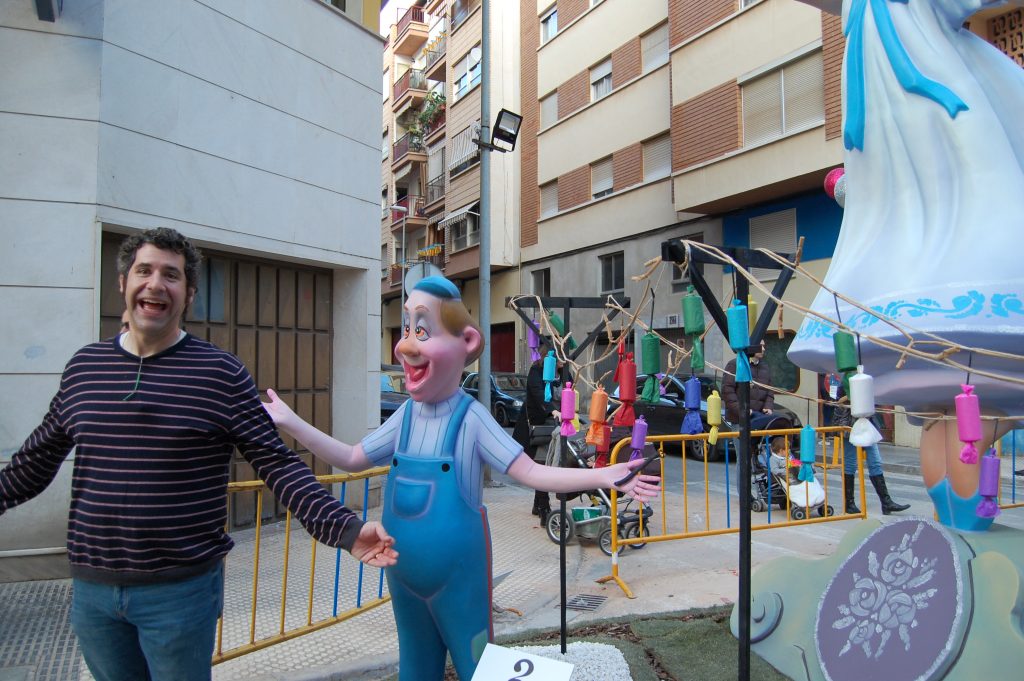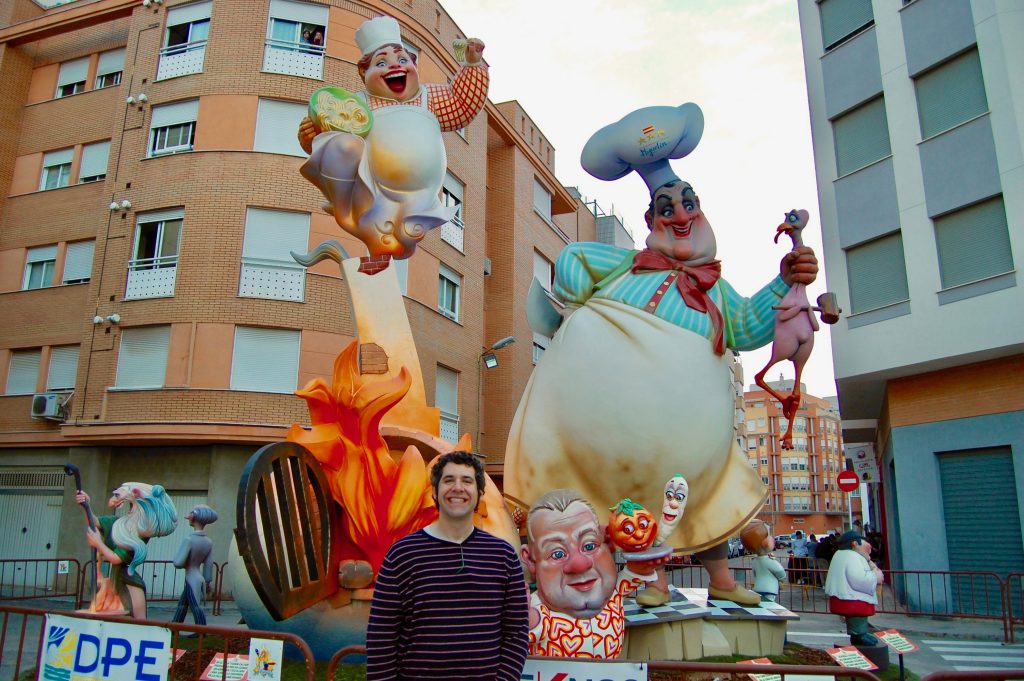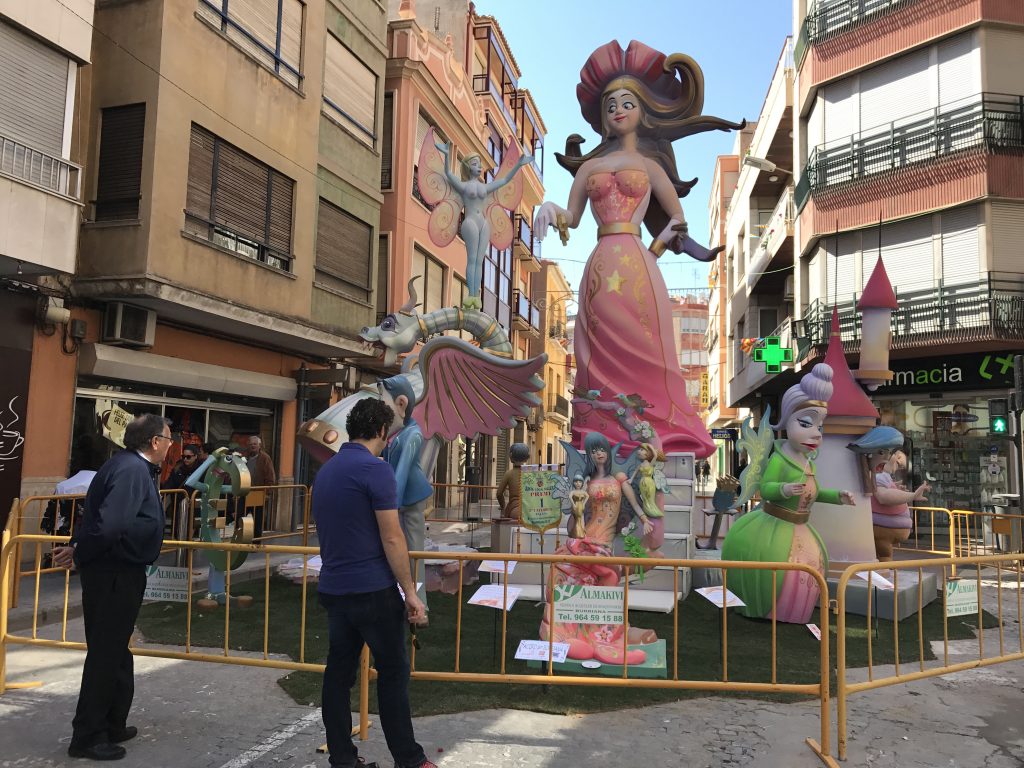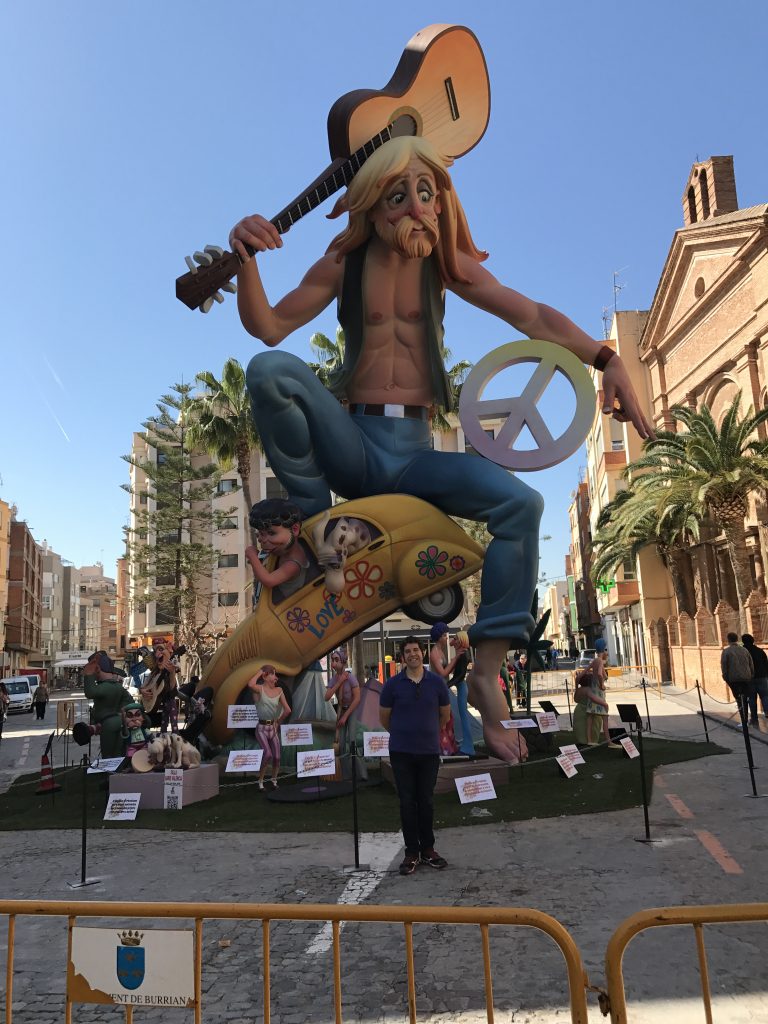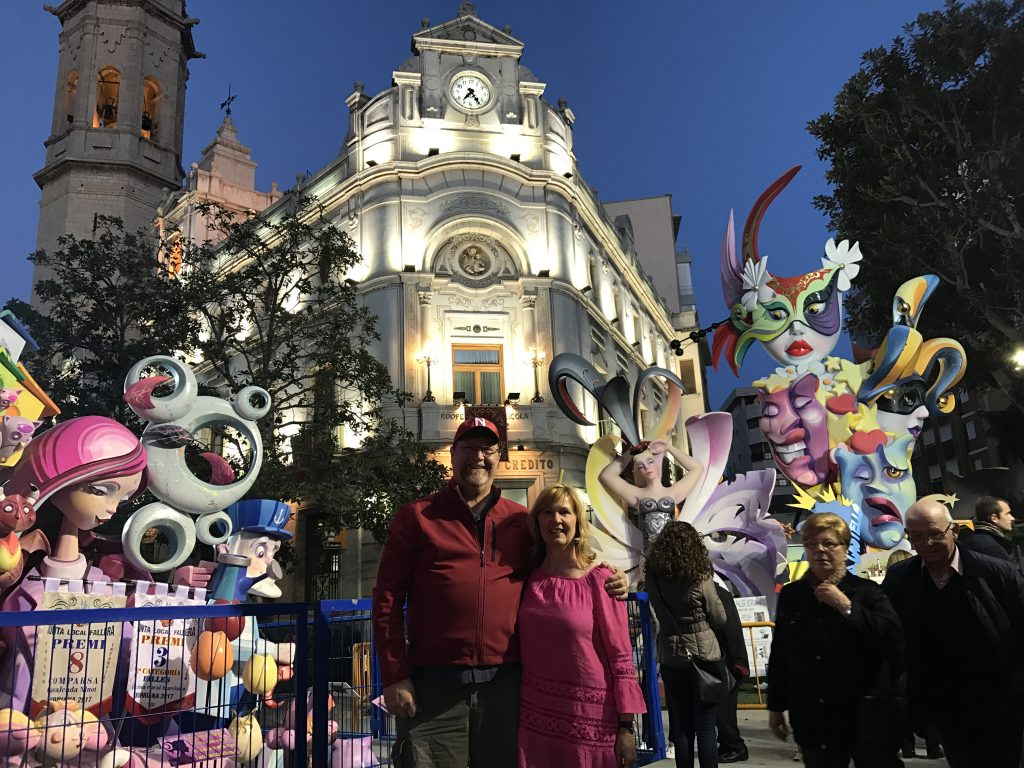 Each falla has a tent setup in the street where food and drink are served to its members as they enjoy the festivities.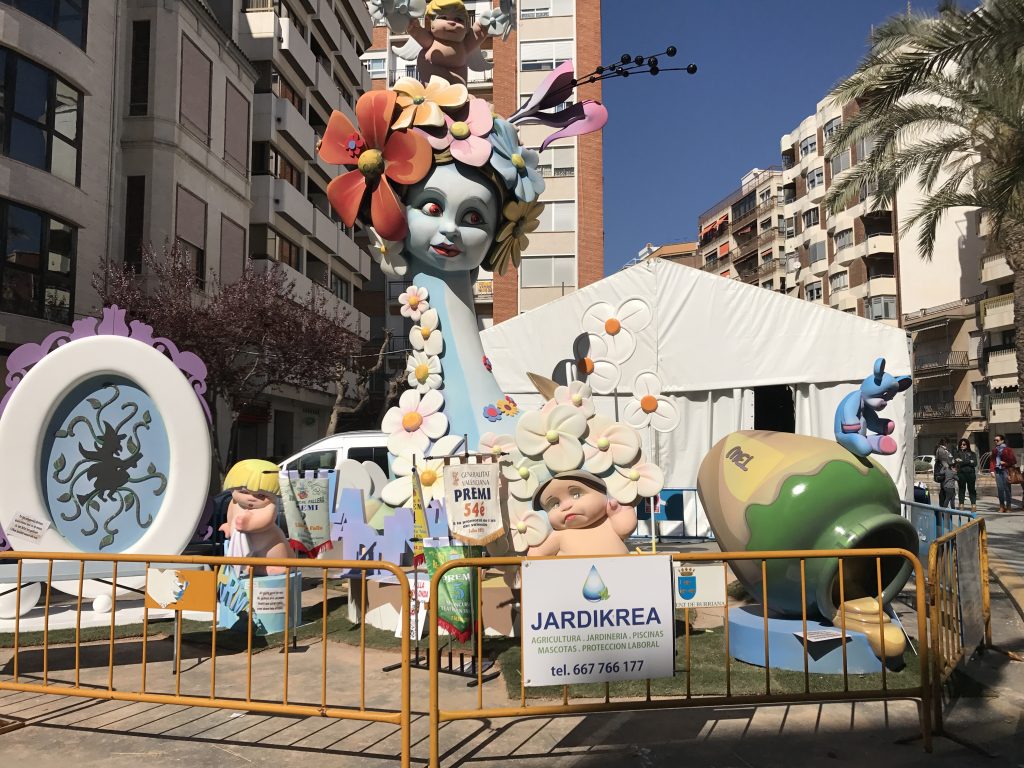 Many of the parties are highlighted by fireworks – again, no surprise there.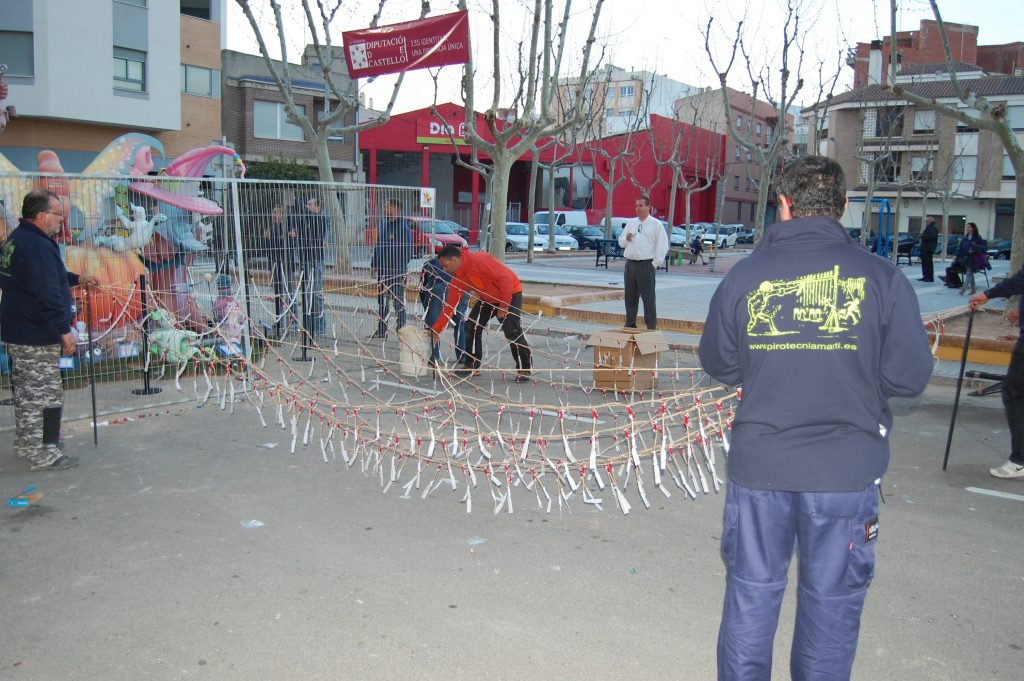 In fact, fireworks are a theme in many of the fallas.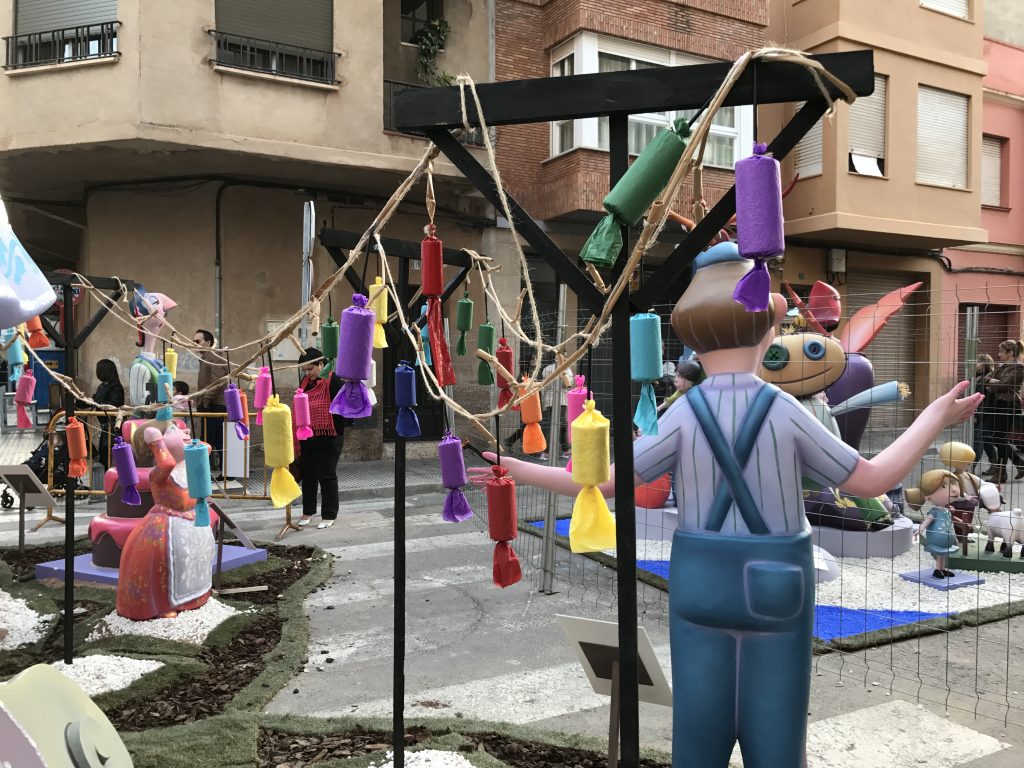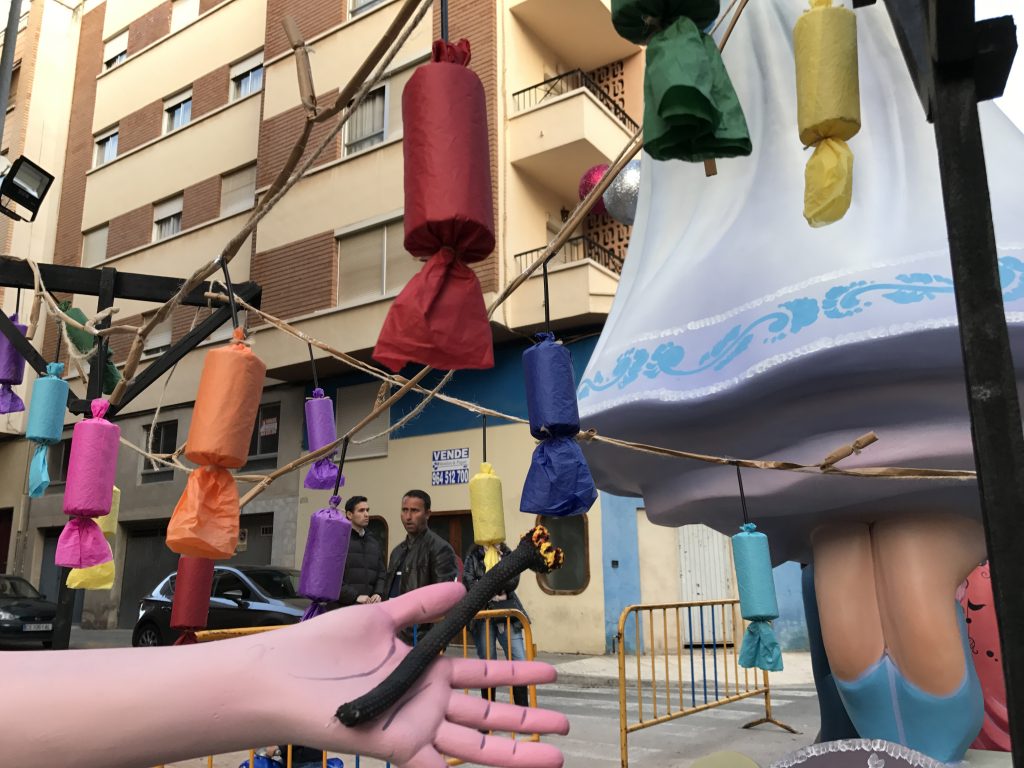 We were a little disappointed when we went to Magdalena in Castellón at the end of Fallas and found our same train had been rebranded for use there!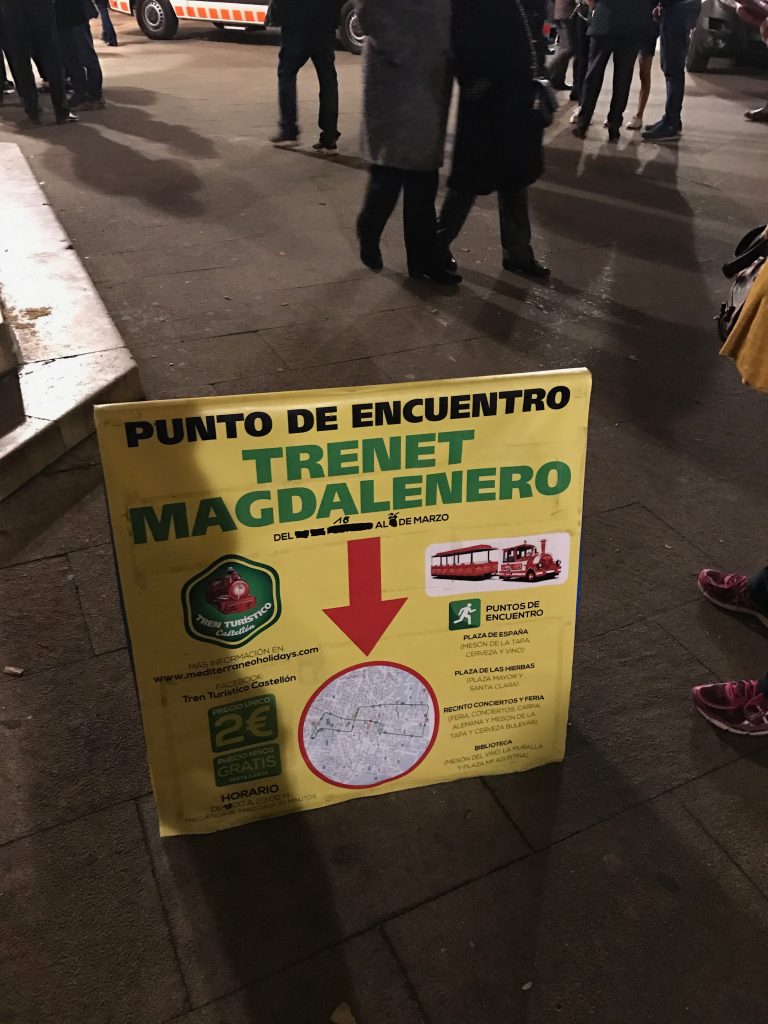 Oh, well. Easy come, easy go. More about La Magdalena after we finish filling you in on Las Fallas. If this is what we saw in our town of 35,000, imagine what's in store in the capital city of Valencia…