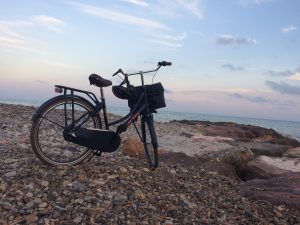 One of the middle-class, Midwestern American staples we decided to forgo in Spain is dependence upon an automobile. Yes, we occasionally rent cars – and I'm confident Doer will have more to say about these adventures in the near future. For the most part, however, I've come to rely upon other modes of transportation. And for the most part, I've been happy with this. We're very fortunate that we were placed in a city that's on a commuter train line, which can easily bring us to other train lines and even to an airport (with a little help from a metro line). For much of my day-to-day traveling, however, I either walk or ride a bike – which is something I've wanted for a long time.
For years, I've had a personal goal of biking more and driving less. I even read blogs about the cycling lifestyle. However, my success with that goal was very spotty in Nebraska. I only biked to work a handful of times; last year, despite living very close to work, I did not bike to work once. I drove my car to work, to run errands, and more often than not, I drove to the gym near our house (a 2-minute drive vs. a 7- to 10-minute walk). It was just so . . . convenient.
When we moved to Spain, we quickly decided that owning a car was not worth the dreaded bureaucracy (plus, it's really not a necessity). I was thrilled to find a business in Valencia that could sell me the Dutch bike of my dreams, and now I rely on this bike to get me around when I don't feel like walking. I even took my bike onto the train a few times when I traveled to Castellón for my Spanish class, but I quit doing that when I learned (the hard way) that the Burriana train station's elevator turns off at 7 p.m. – and I don't fancy carrying my heavy Dutch bike down and up a flight of stairs. Luckily, Castellón is large enough to have a bike-sharing network, and I'm usually able to ride a bike between the train station and my language school.
All of this is great when it works. Today, however, the bike-sharing software seemed to be malfunctioning. At the train station, a woman ahead of me seemed to be having trouble inputting her pin. I tried to input my own, and had similar difficulties. She was heading to the university, and I was heading to my school, which is on the way to the university, so we ended up walking together. We spoke in Spanish and in English and talked about learning languages, and when we said goodbye, we'd each learned one or two new words. After class, it was raining somewhat heavily, and the software for the bikes stationed near the language school also seemed to be malfunctioning. I ended up walking back to the train station with one of my classmates, who also had been unable to get a bike. When I arrived at the train station, I was a little wet.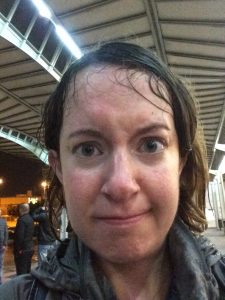 So wet, in fact, that my train ticket, which had been in the pocket of my raincoat, was soaked and wouldn't feed into the turnstile. Luckily, the employees stationed near the turnstile took pity on me and let me pass. As I shivered on the train, I briefly missed my car. I fantasized about driving with my heated seats, sipping a coffee and listening to NPR. And because I was fantasizing, I dreamed about my fantasy car. However, by the time the train reached my stop, the rain had stopped. My own bike, locked and waiting for me, was glistening and wet, but I had remembered to cover the seat before I caught the train, so at least that part was dry. As I pedaled home, I smelled ripening oranges, fat and wet, on the side of the road. I thought about how living in a different country, within a different culture, can either close you off or make you feel more open to new experiences. In Nebraska, within the confines of my car, I didn't always talk to strangers or to classmates. I was usually in a hurry, and casual conversation, while nice, wasn't always convenient.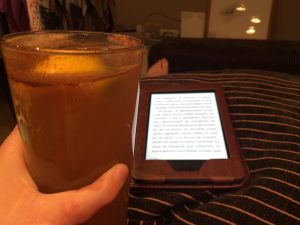 Once home, I quickly changed out of my cold, wet clothing – somehow, even my underwear were soaked. Doer soon placed a steaming hot toddy in my hands, and I proceeded to rewarm myself. I could have worked on homework or work work  as I drank it, but I decided a hot toddy is best enjoyed with a good book. And as I let the steam fog my glasses, I realized there is no pleasure quite like drinking a hot beverage and reading a good book after coming in from the rain.