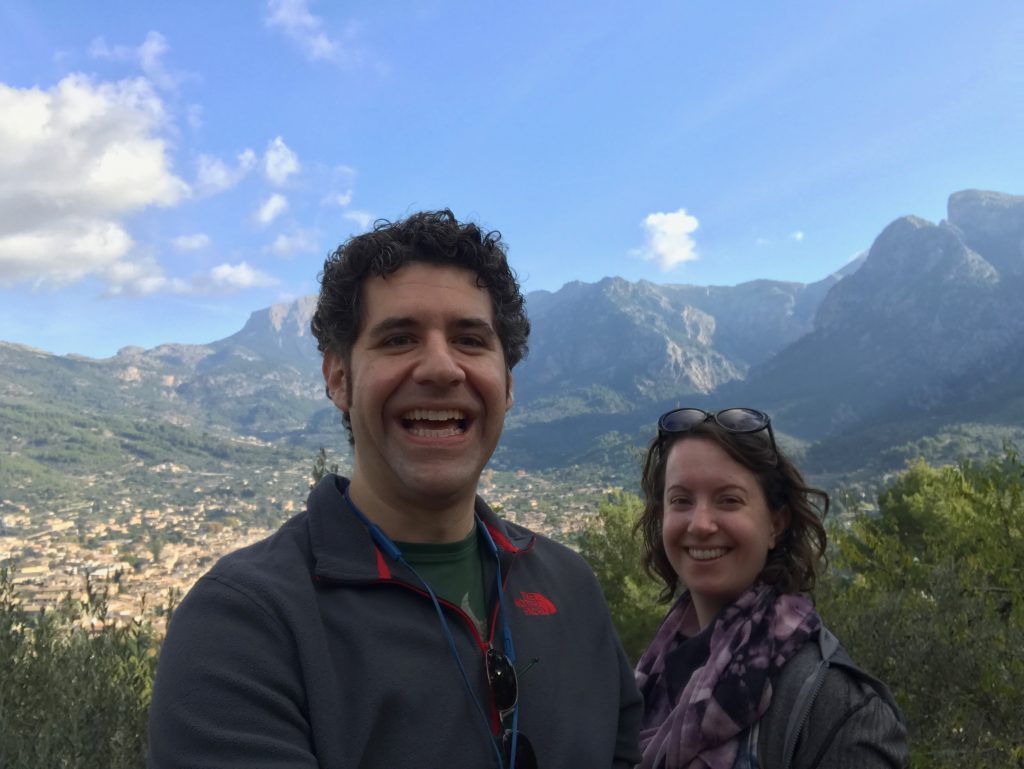 As winter descended upon Madrid last year, we really started to miss the Valencian Community – the weather, the food, the language, the sea. So when we came across some discount plane tickets to Mallorca in November, we decided it was finally time to visit the Balearic islands off the coast of our old home.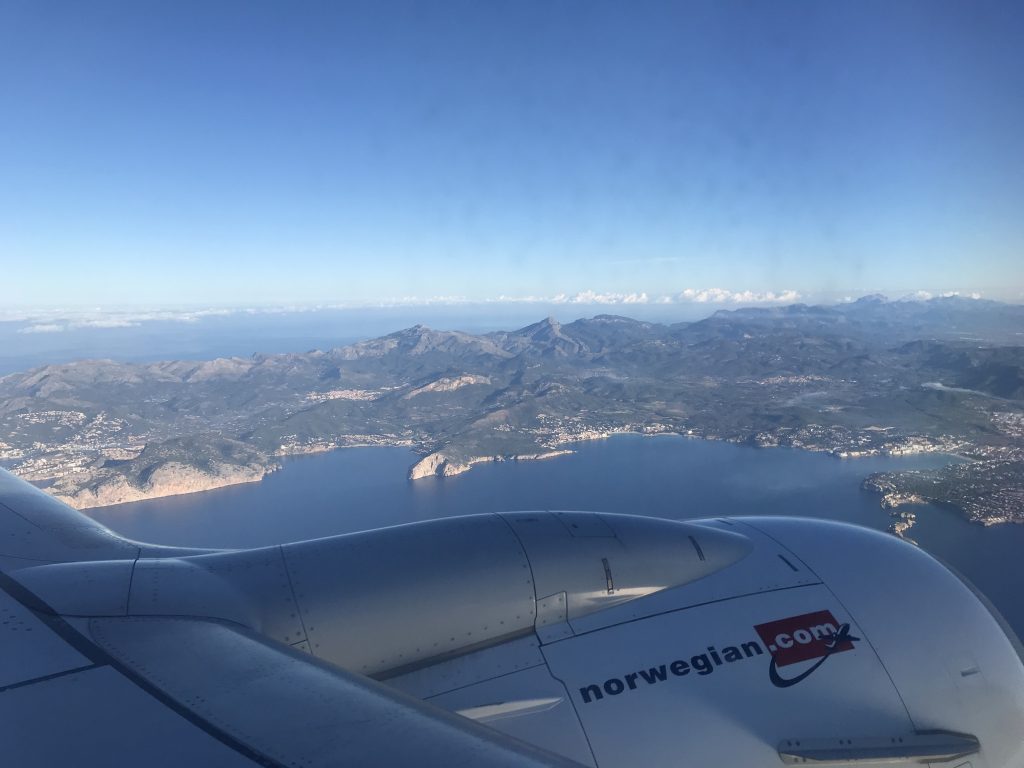 Of course, first order of business after landing in Palma de Mallorca was to try a local delicacy: ensaïmada, a flaky pastry made with lard (saïm in the Mallorquín language), and often filled with cream or fruit. According to our research, the best ensaïmada in Palma was to be found in C'an Joan de S'aigo, a 300-year-old cafe.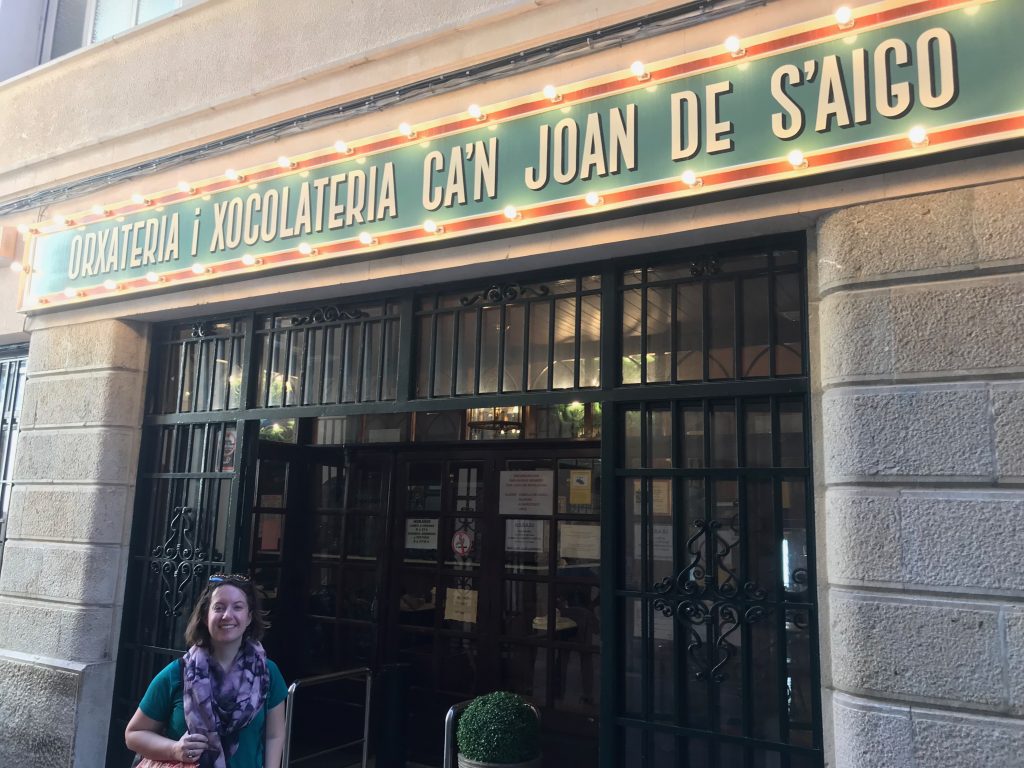 It did not disappoint.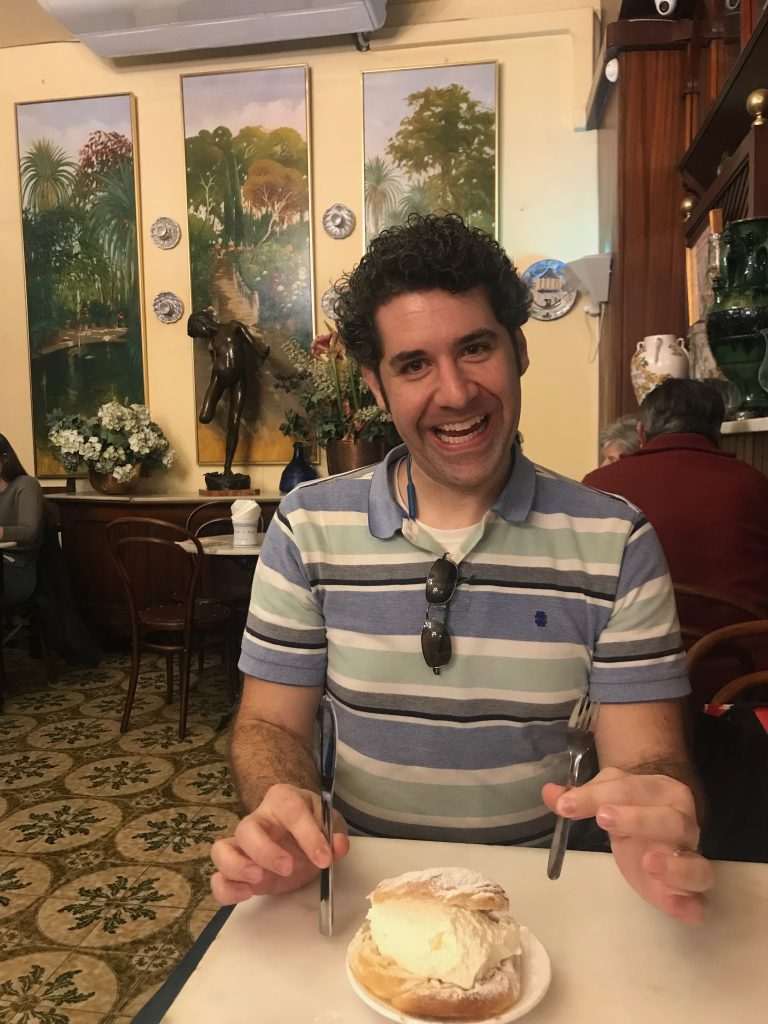 The cafe, like much of Palma, has some beautiful modernist touches.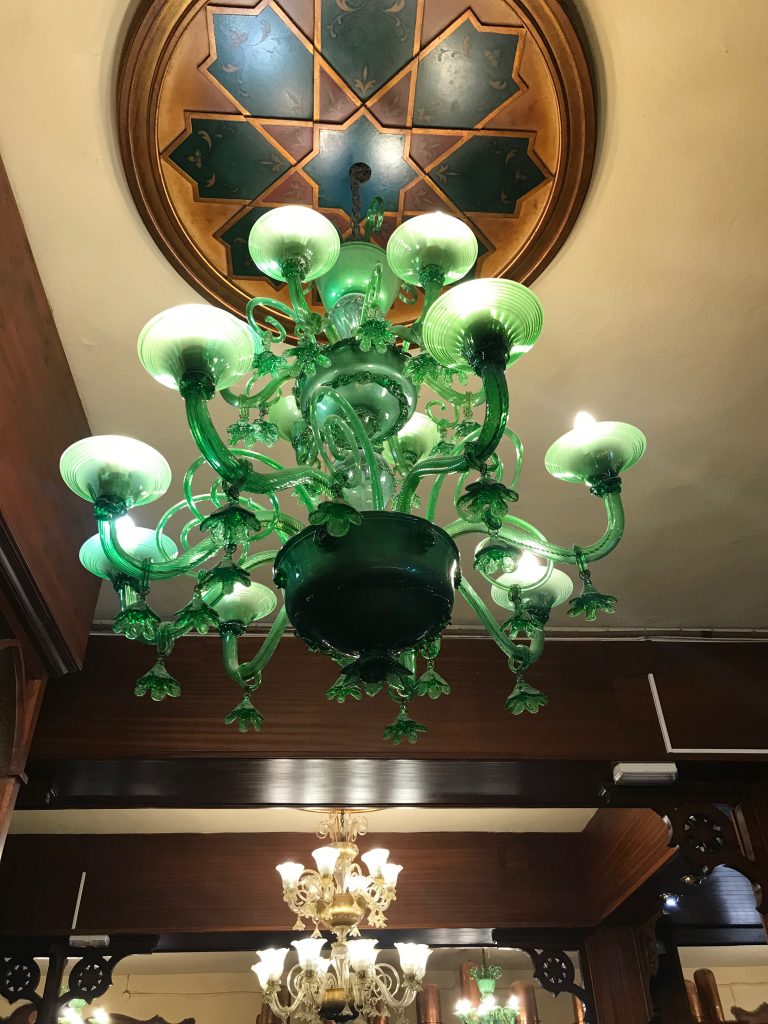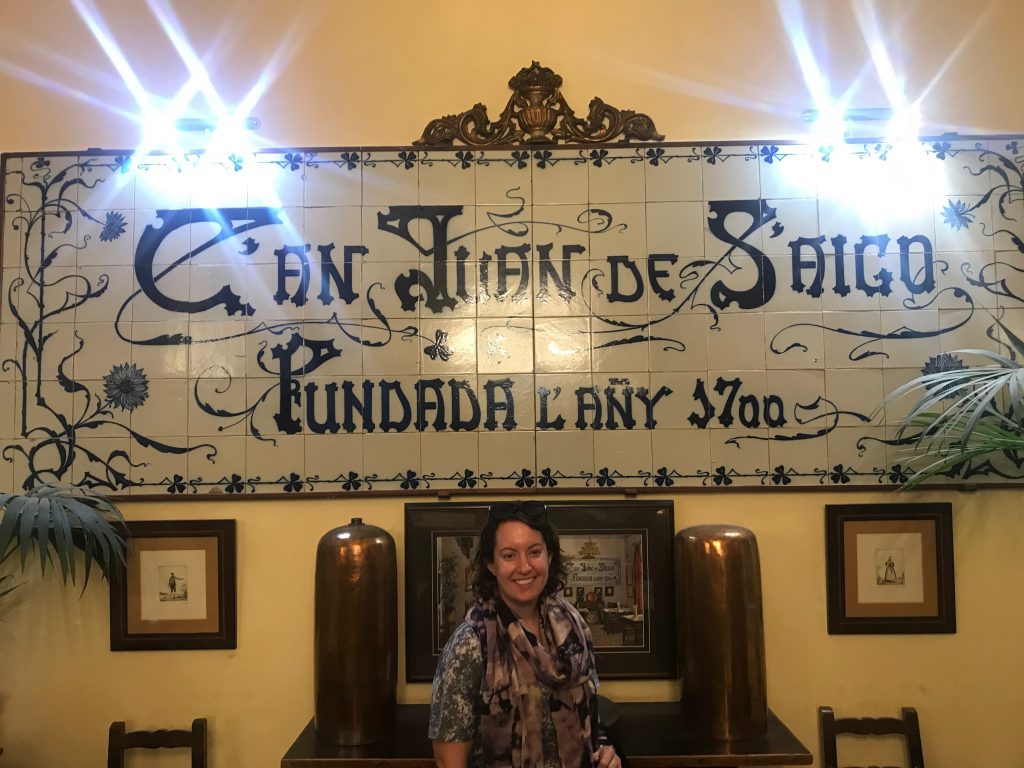 We also enjoyed a traditional Mallorcan pizza called coca.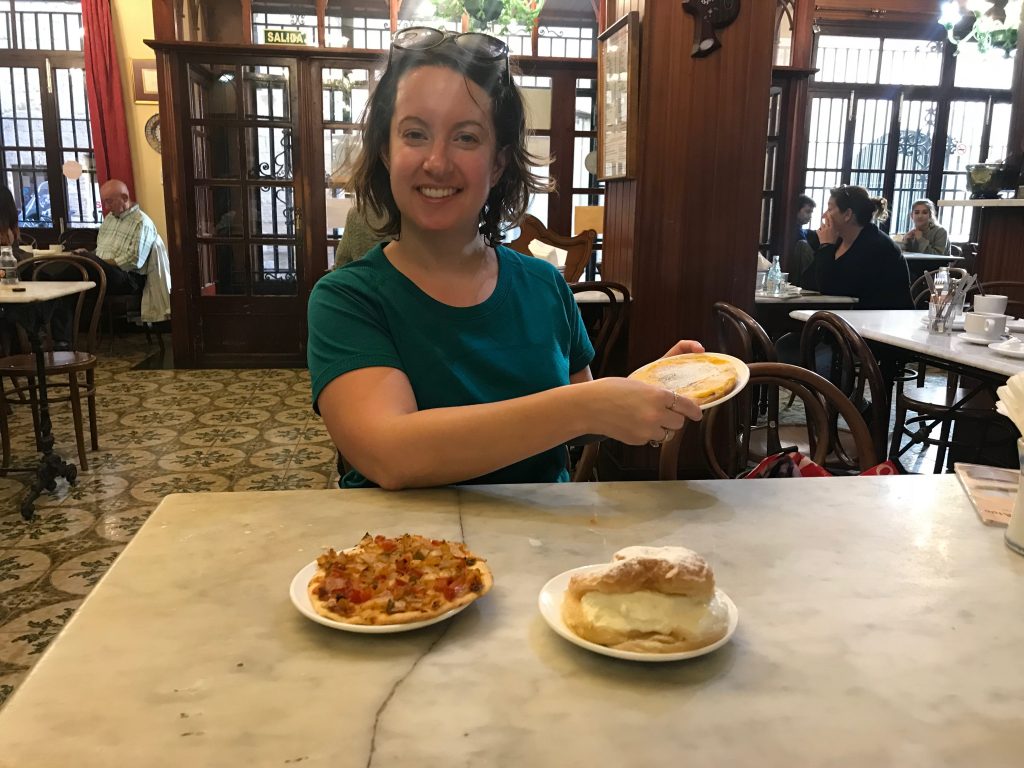 Later, on our return to Madrid, we kicked ourselves when we noticed many of our fellow passengers with boxes containing giant whole ensaïmadas as their carry-on luggage. There were of course lesser-quality versions for travelers who didn't plan ahead, or even bottles of ensaïmada liqueur if you weren't traveling carry-on only like we were. The bottle is even shaped like a box of the real thing!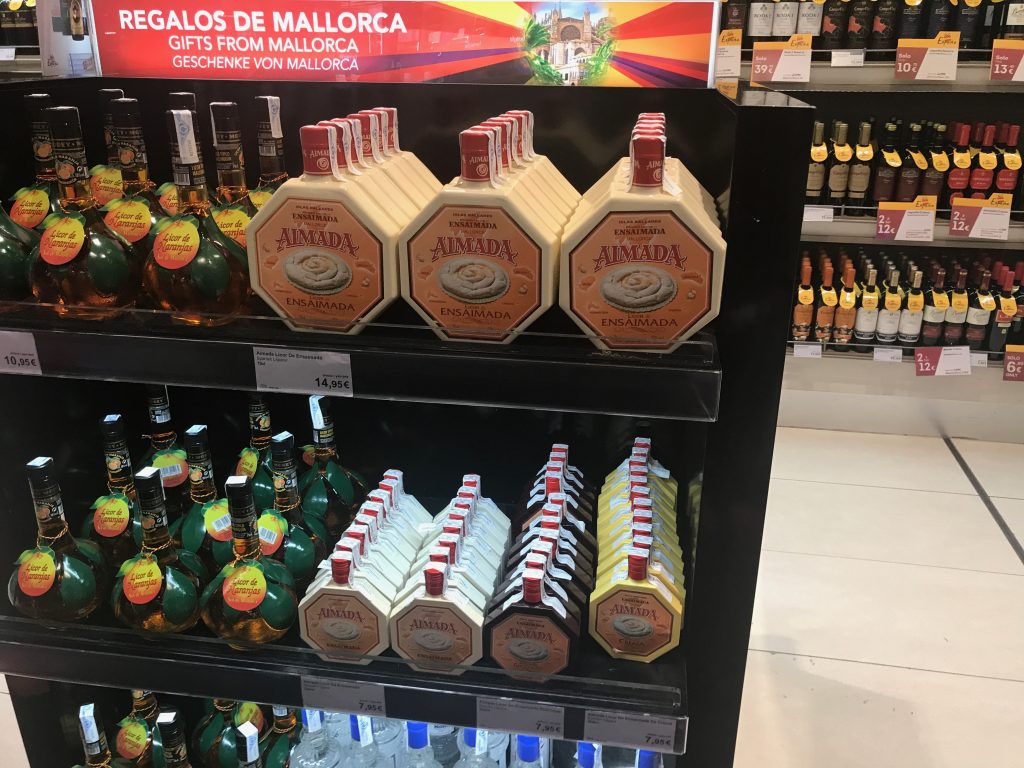 Good news, though: you can bring a whole lot of it back if you really like it.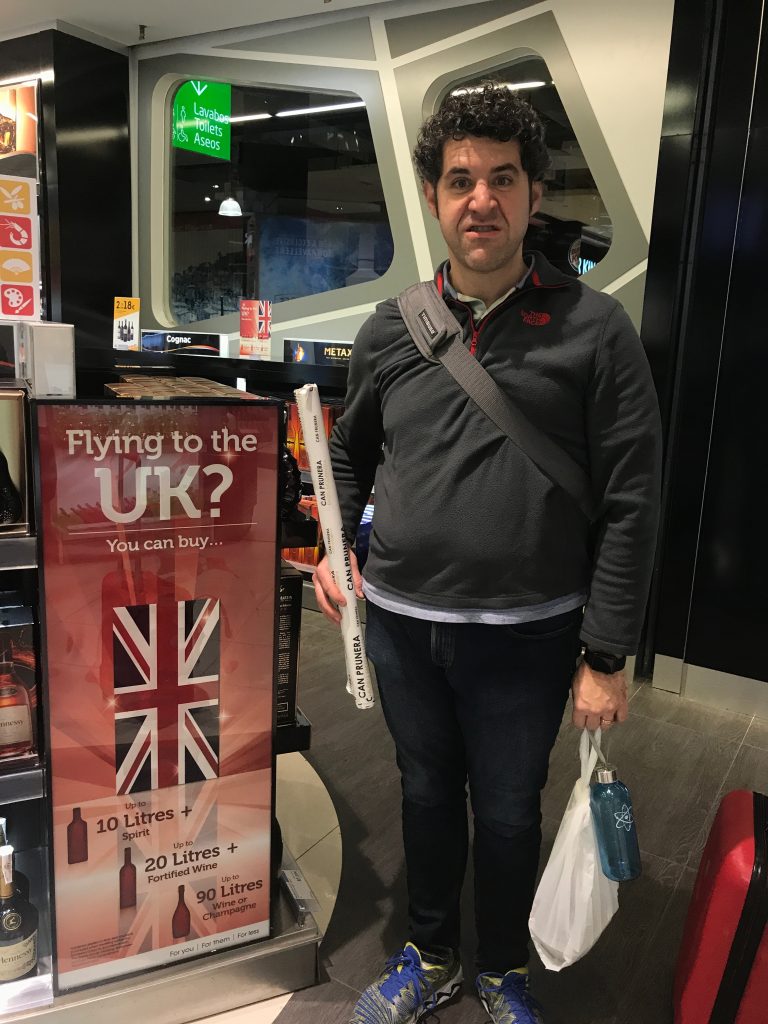 Naturally, after whetting our appetites, our next stop was also food-related: the Mercat de l'Olivar. We nearly wept at the sight of all of the fresh seafood and produce at this traditional market.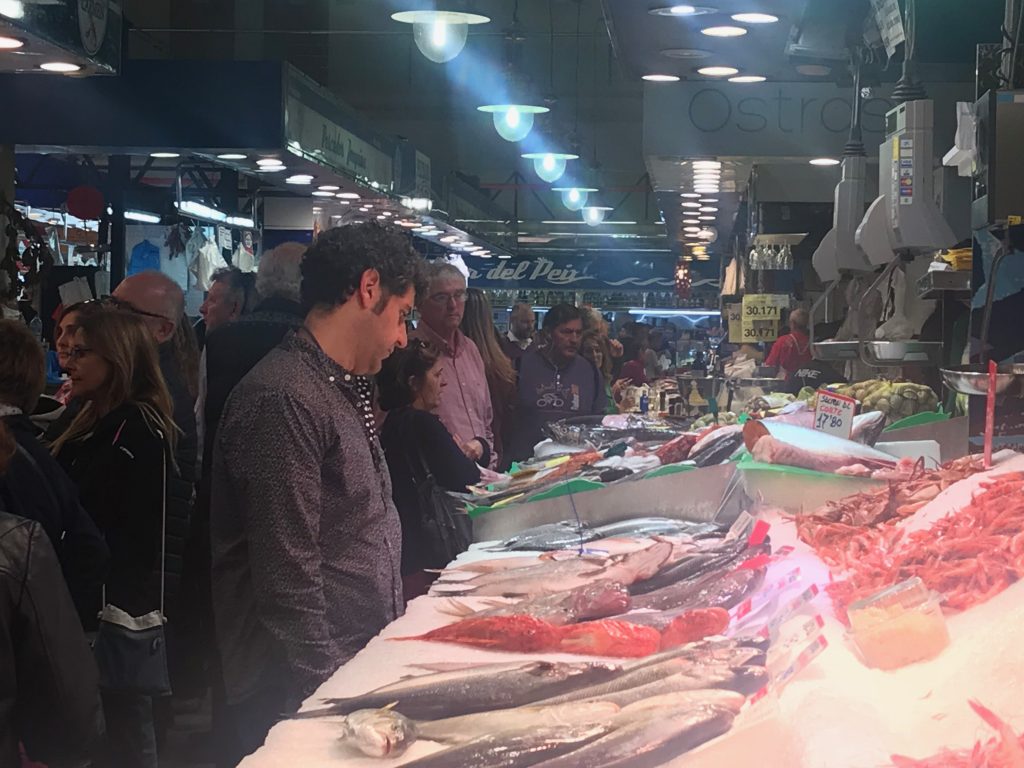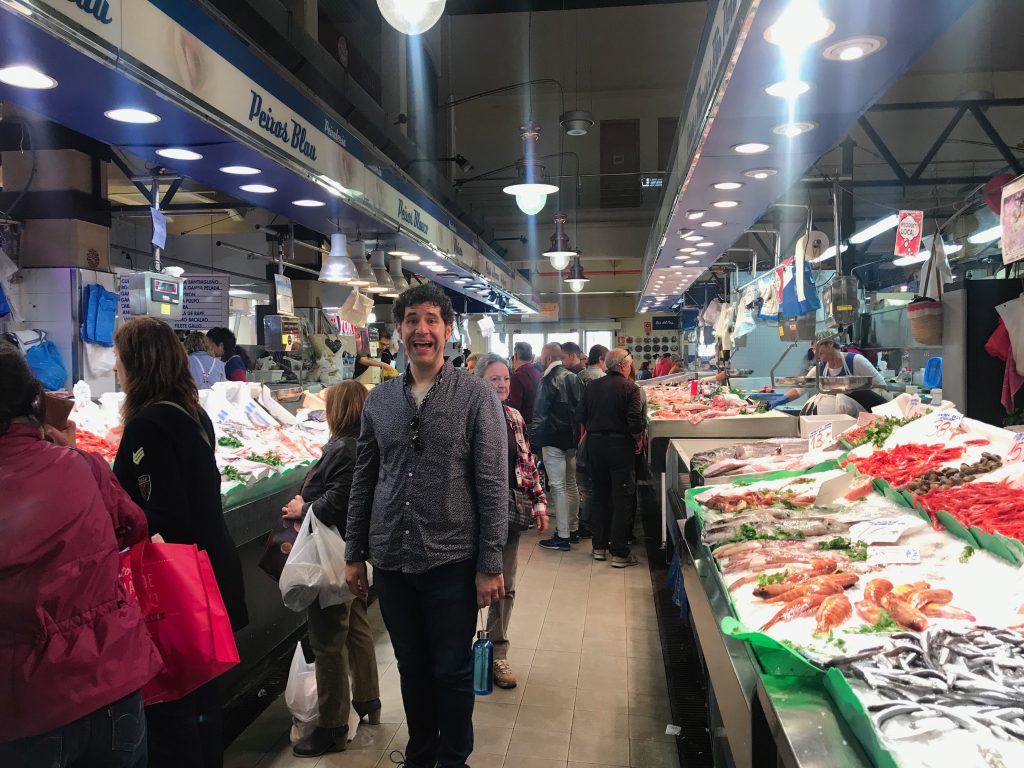 We were especially excited when we saw some fishies from our old stomping grounds in Burriana!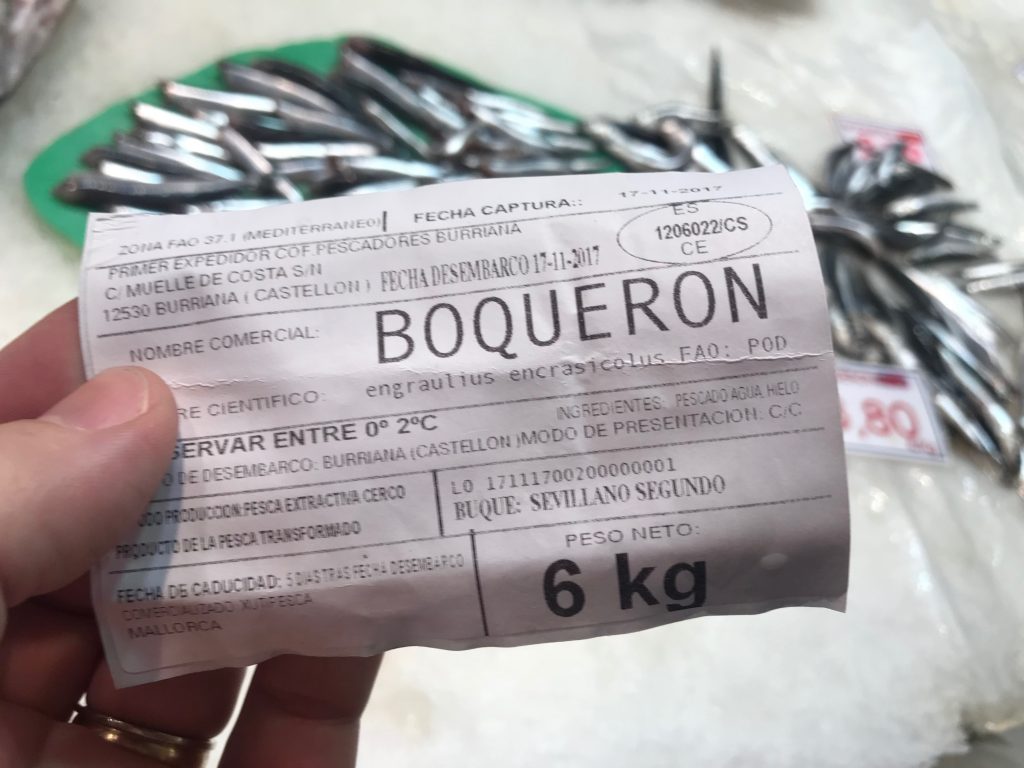 Thankfully, the market has one of those restaurants that will cook your seafood for you, so we could do more than just look.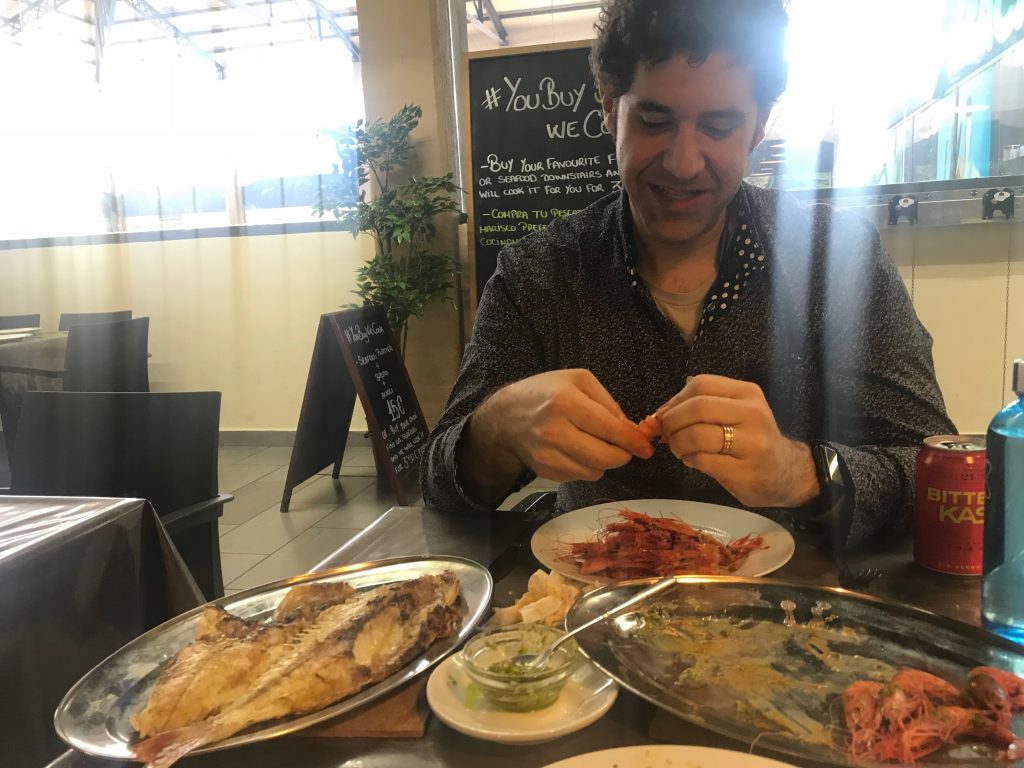 When we could eat no more, we headed to the La Almudaina palace.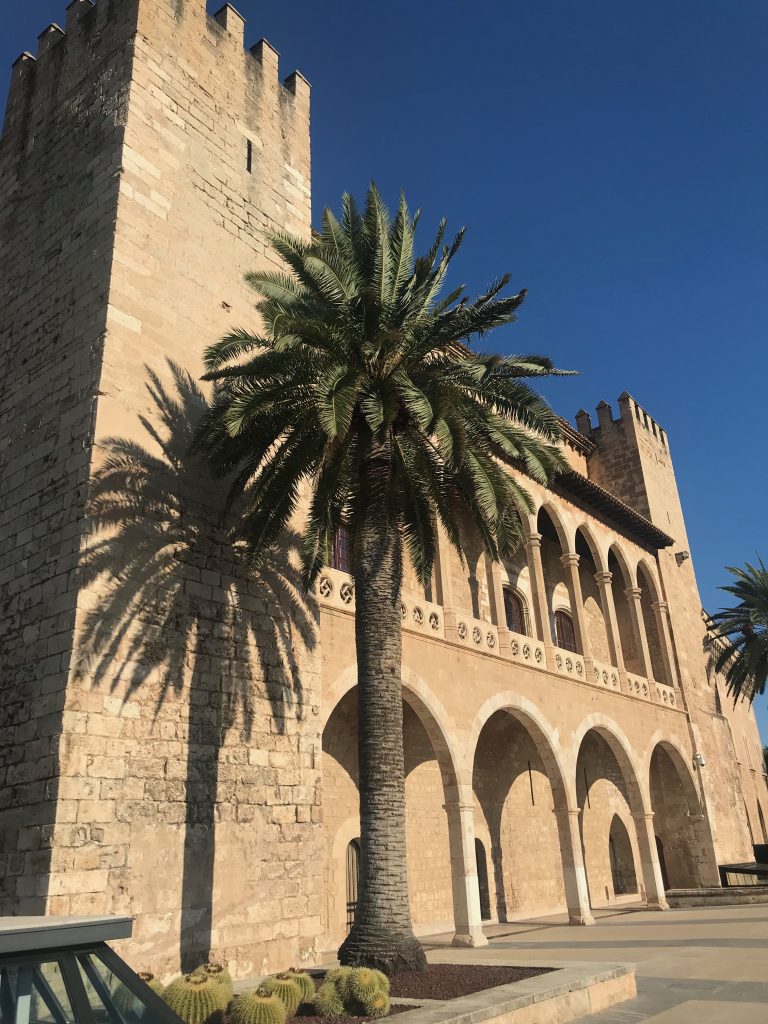 Historians believe the strategic location has been home to dwellings and fortifications since prehistoric times.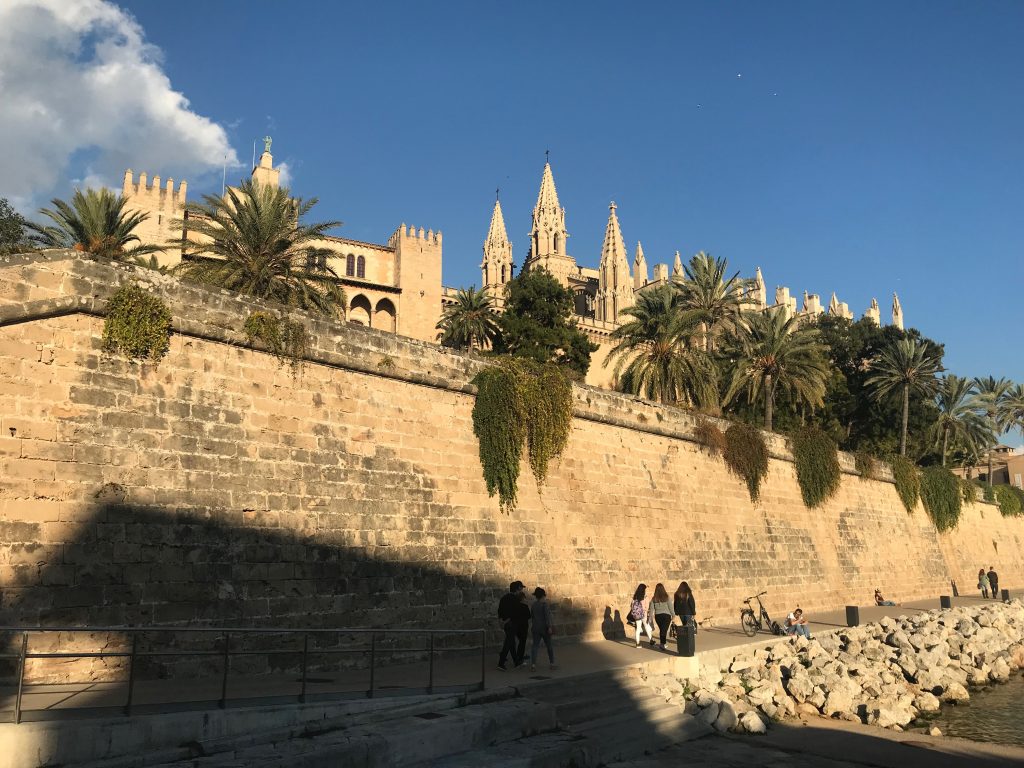 Home to a fortress during Spain's period of Muslim rule, the current structure was rebuilt after Christians regained control of the island in the 13th century.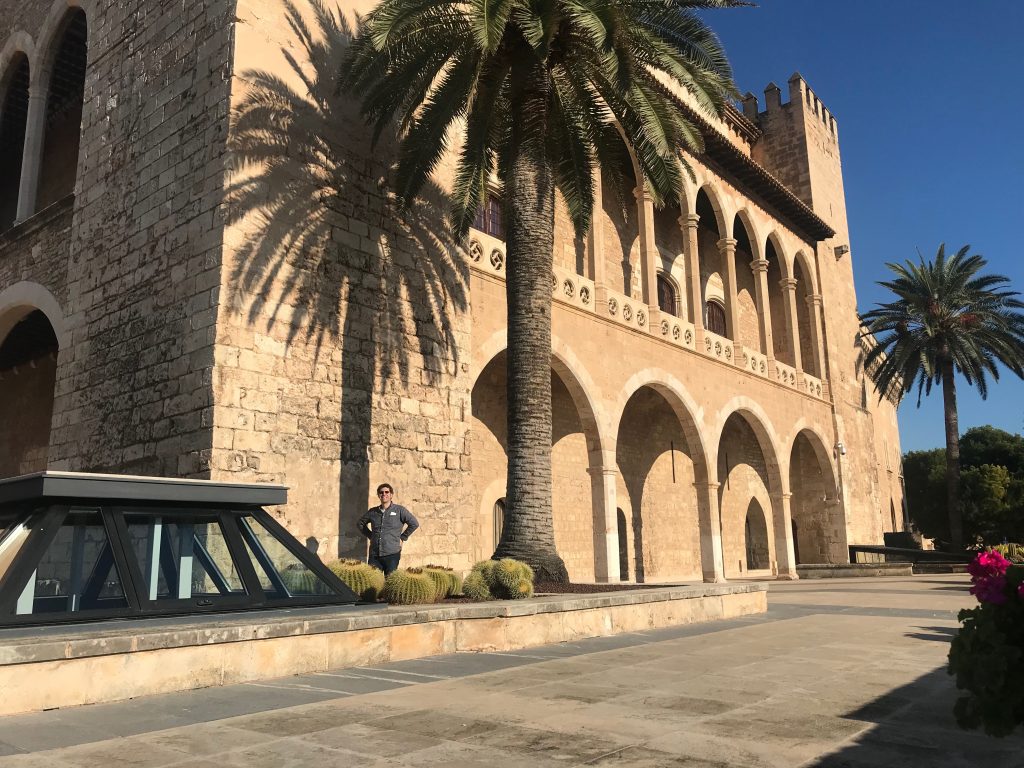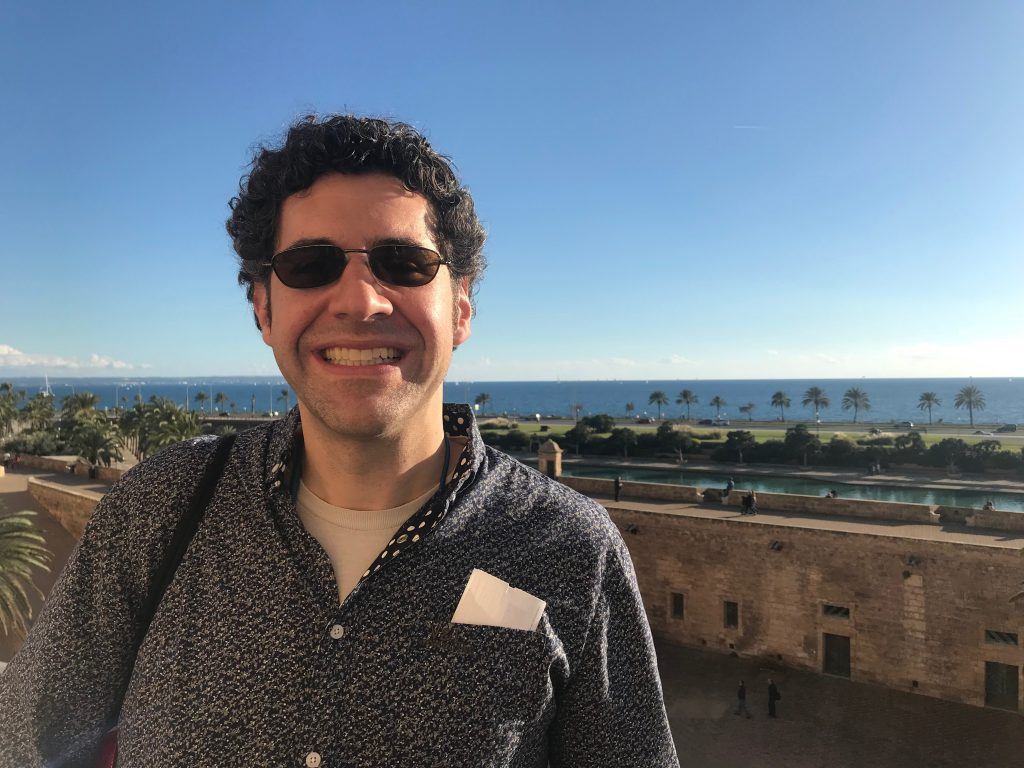 After a healthy dose of history, we immersed ourselves in art at the Miró Foundation, a museum dedicated to the life and work of iconic Catalan artist Joan Miró.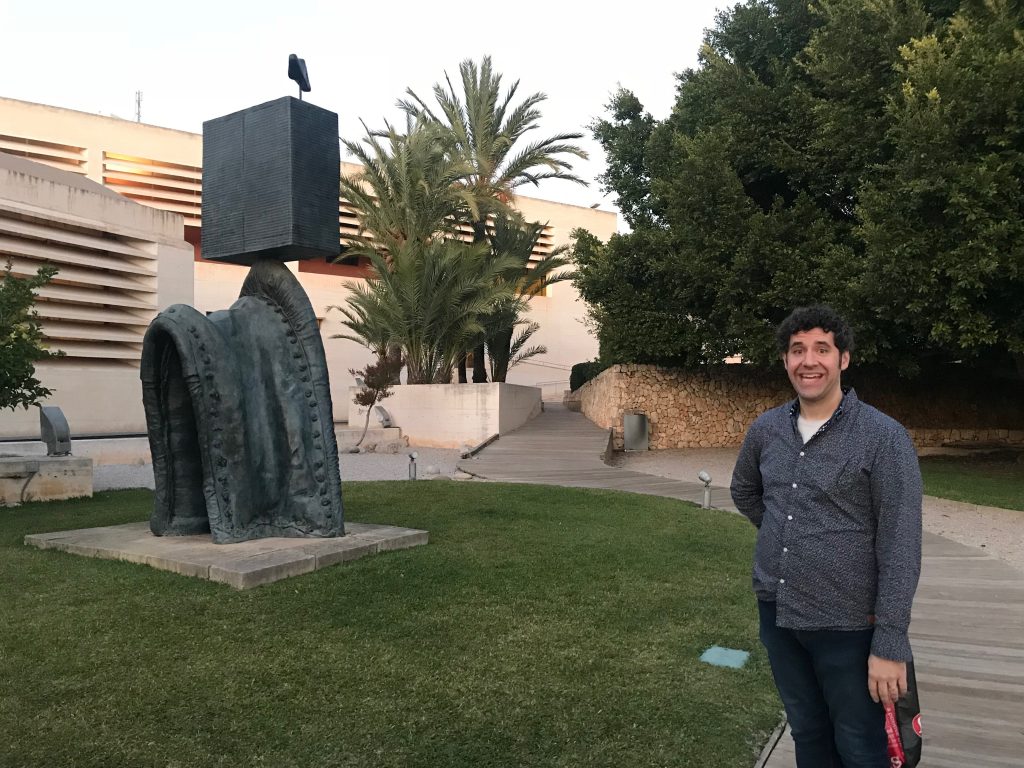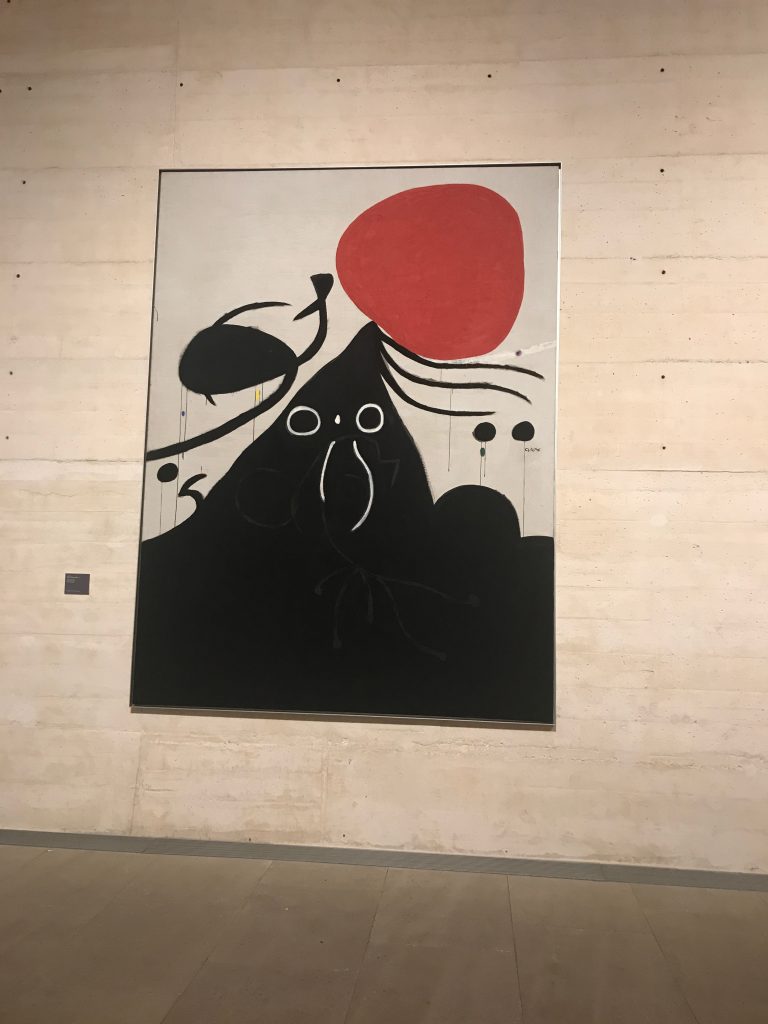 The museum itself was actually Miró's studio, which an architect friend created for him when he decided to settle in Mallorca.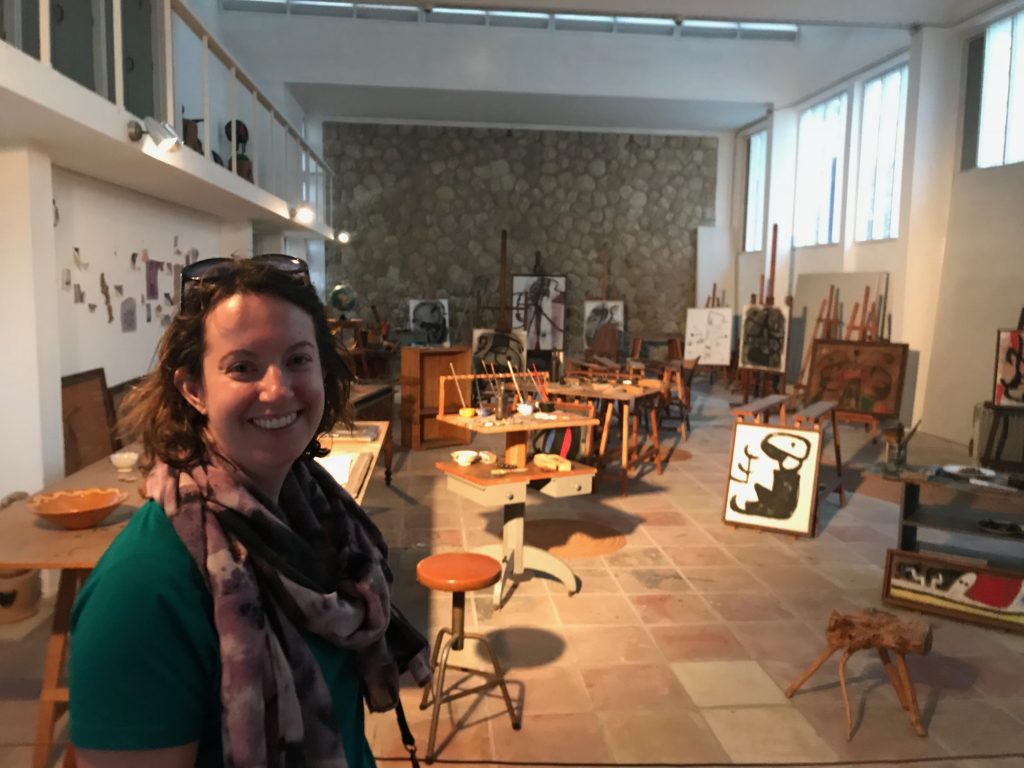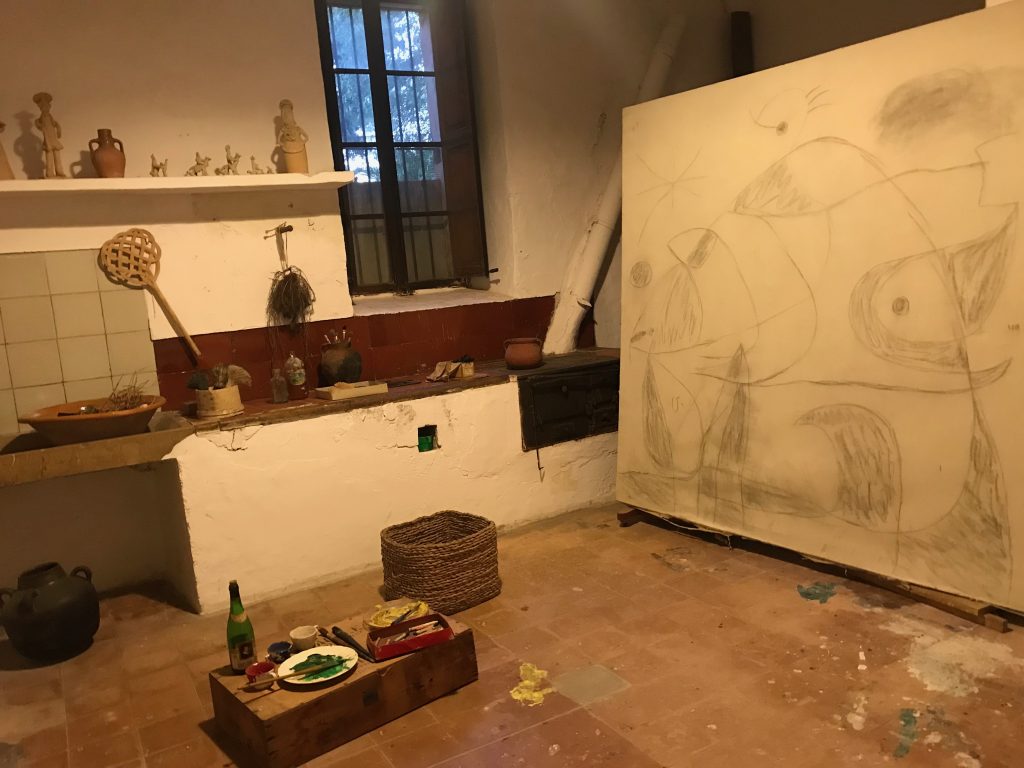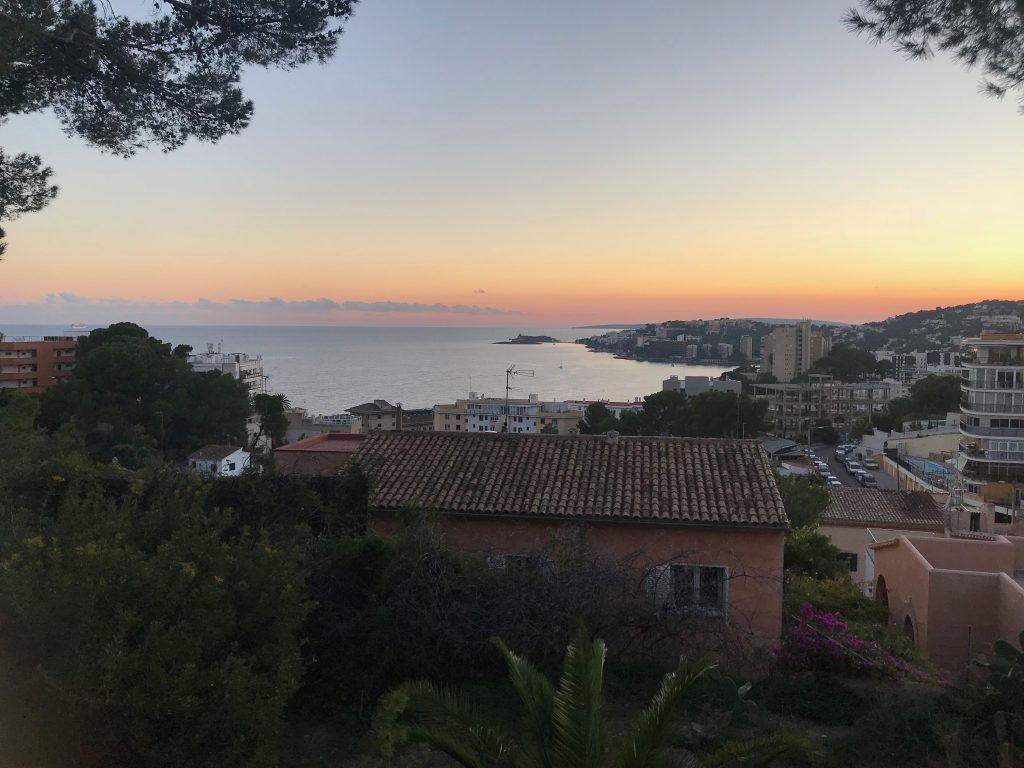 We really do like Miró's style; chin-scratching was minimal, but not completely non-existent.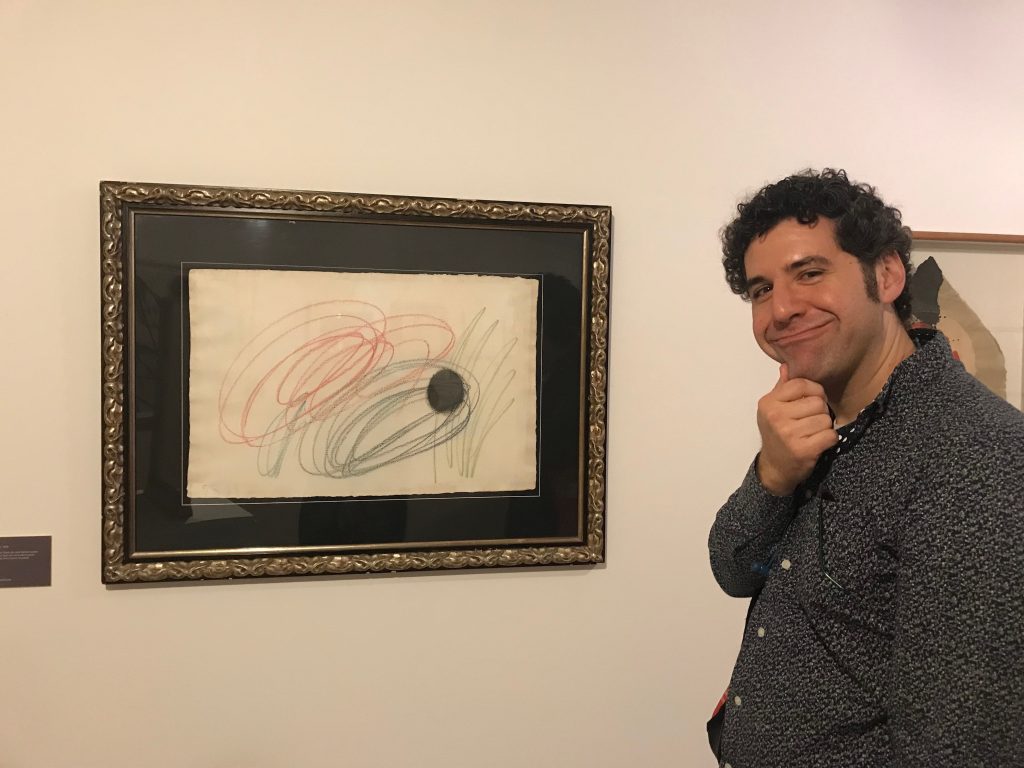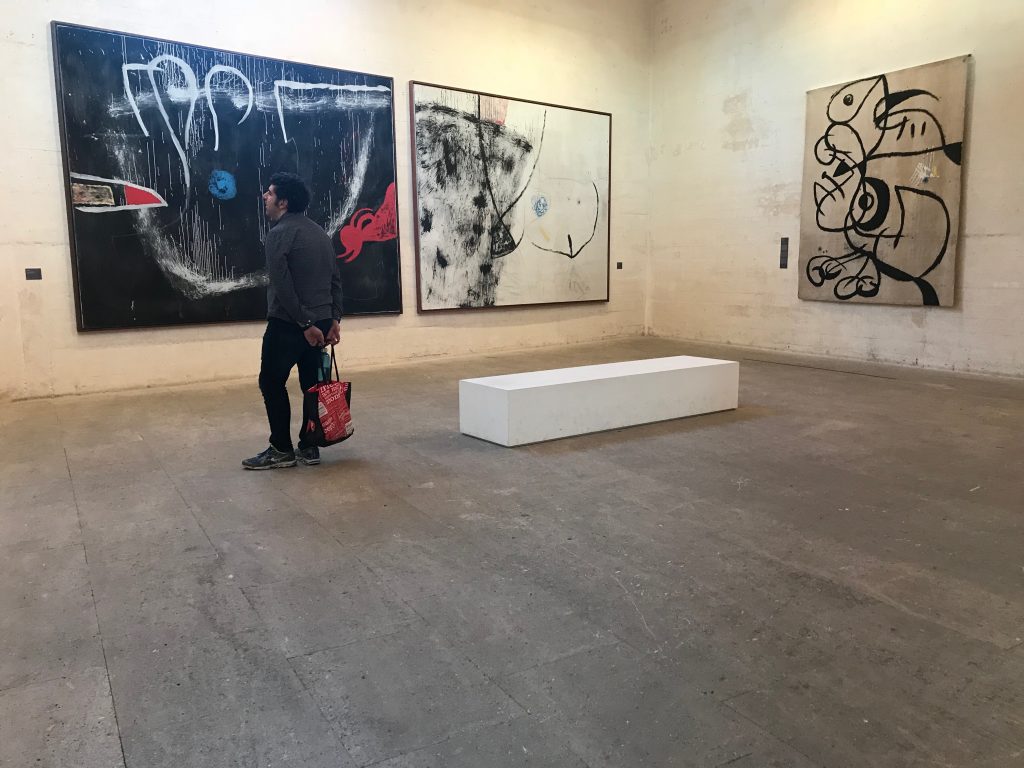 Some of those descriptions, though…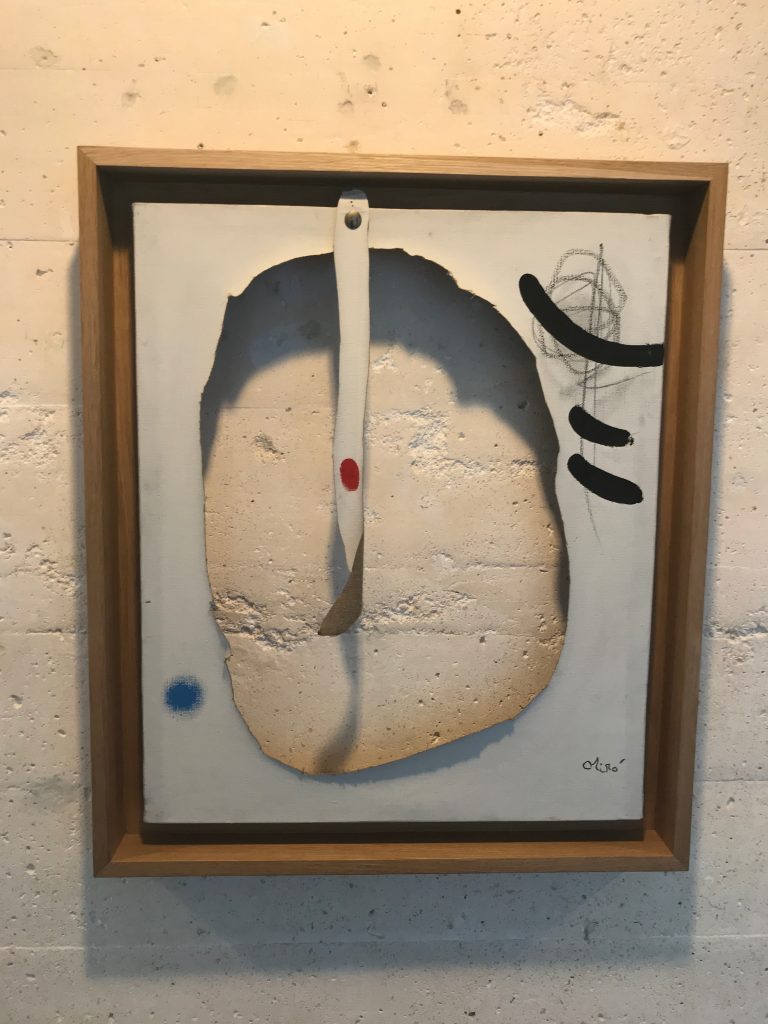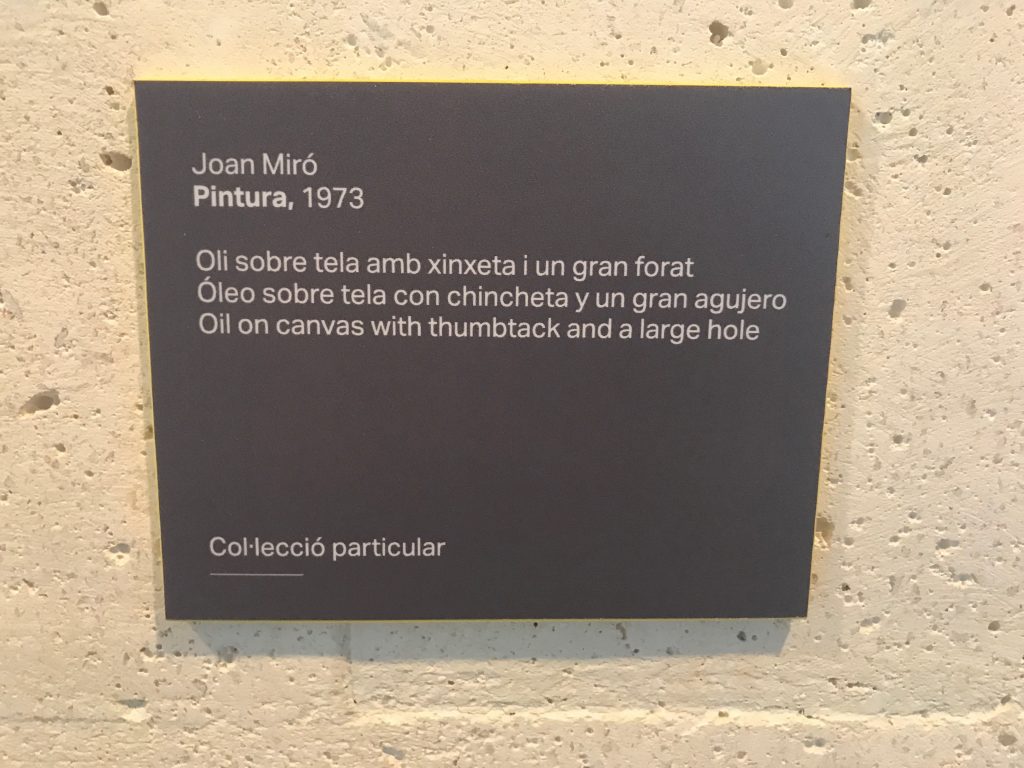 While Doer was keeping his chin-scracthing to a minimum, Dreamer was not pleased because there was an incident involving a water bottle, our travel day bag, and that most prized of all possessions: her Kindle e-reader.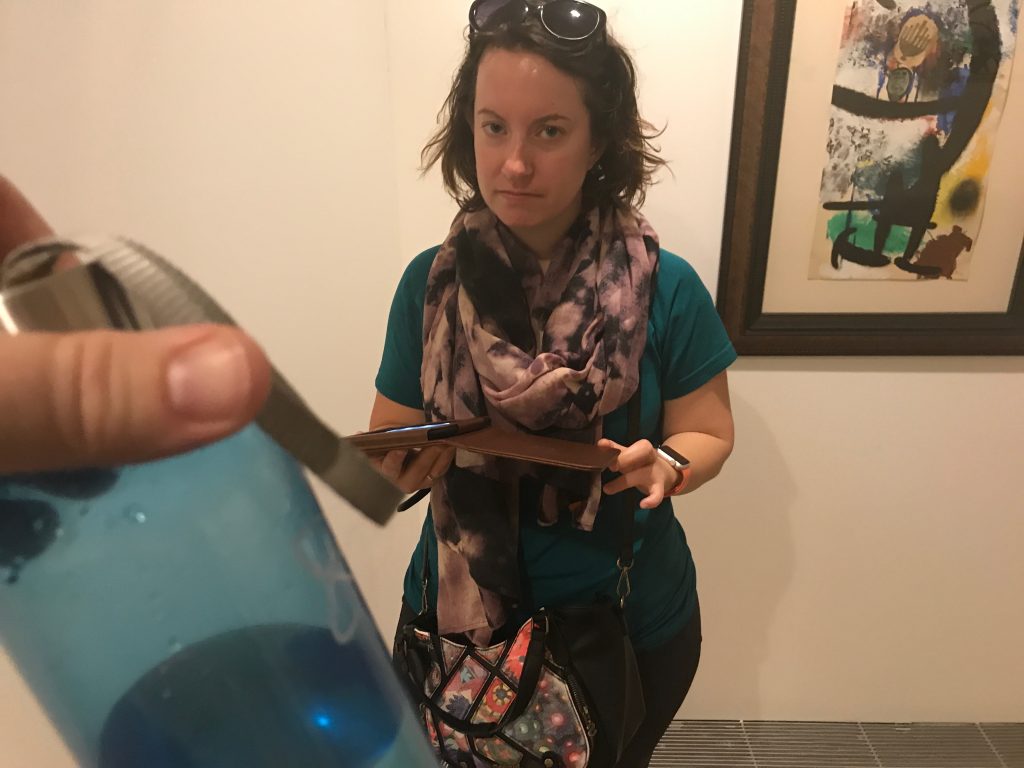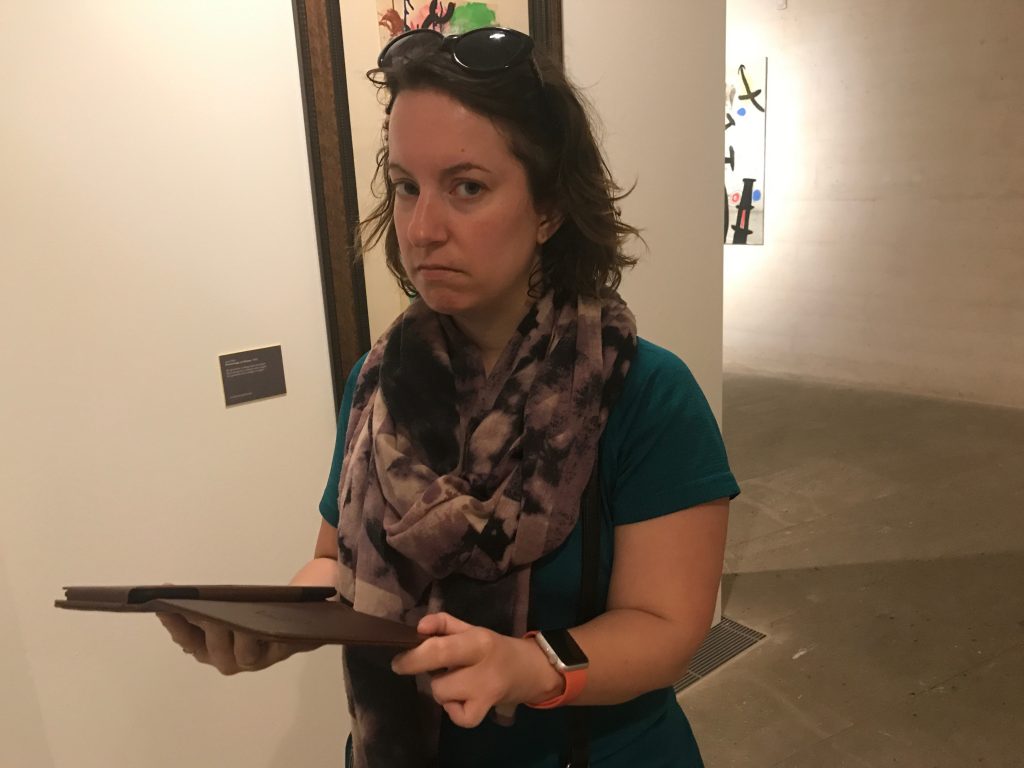 Thankfully, everything was OK and the few drops of water spilled on the cover quickly dried on their own. The water bottle has always gotten carried separately since this trip, though. To calm down from this most traumatic of experiences, we finished the day with cocktails at a bar that for some reason reminded us of the movie Eyes Wide Shut.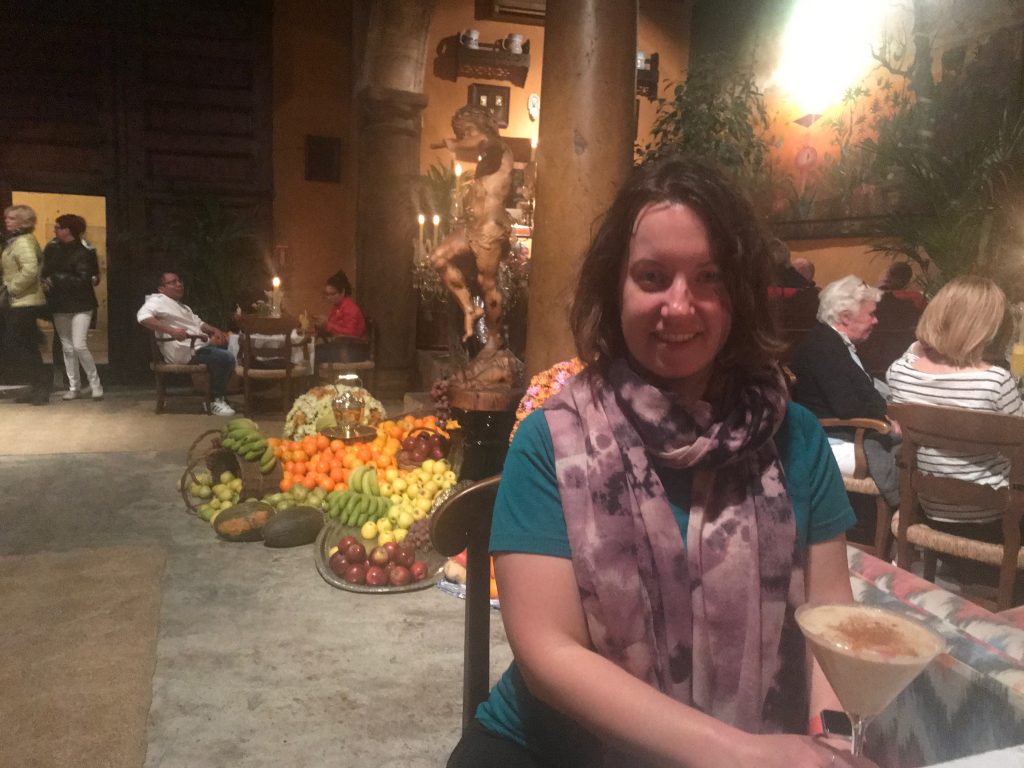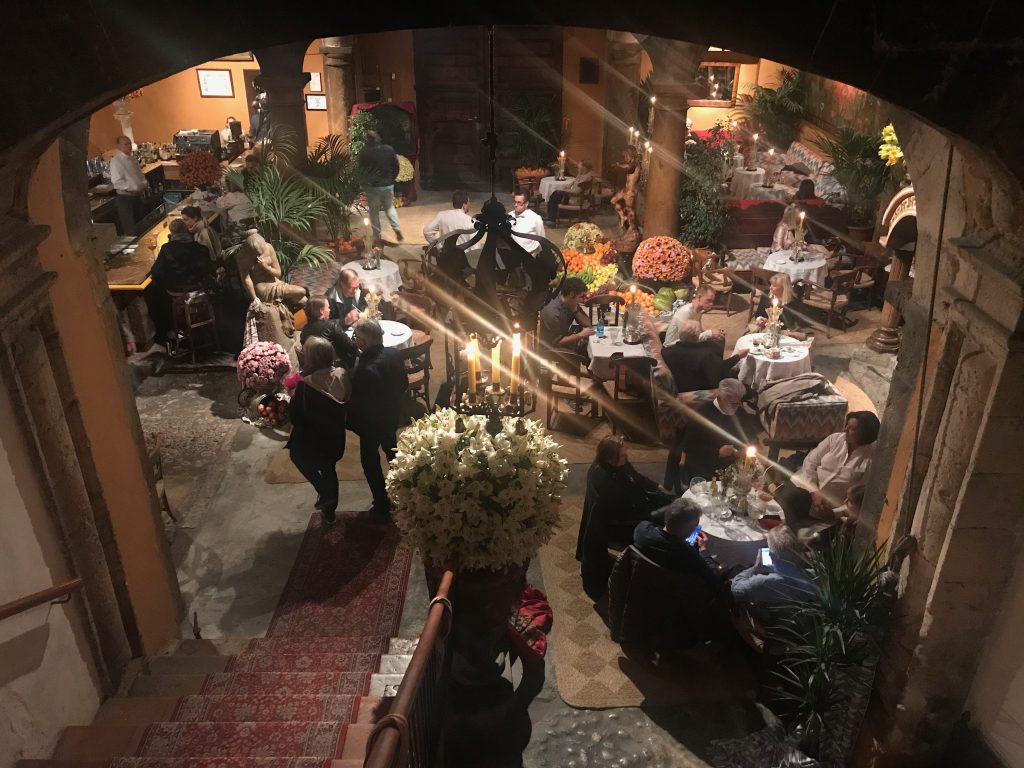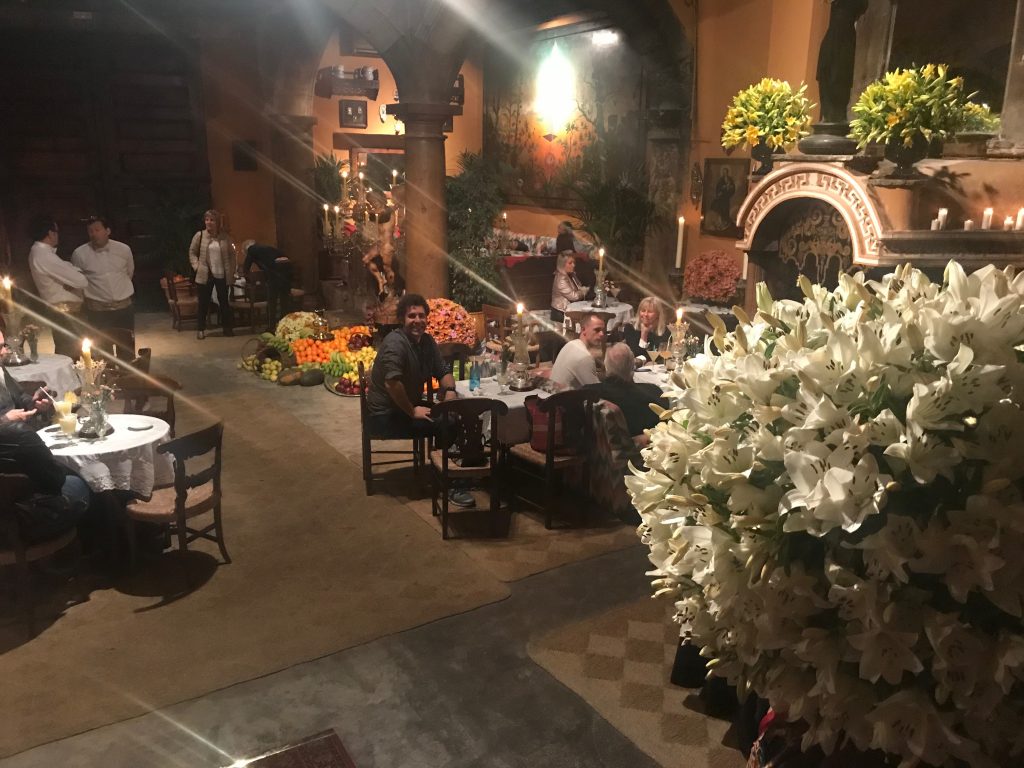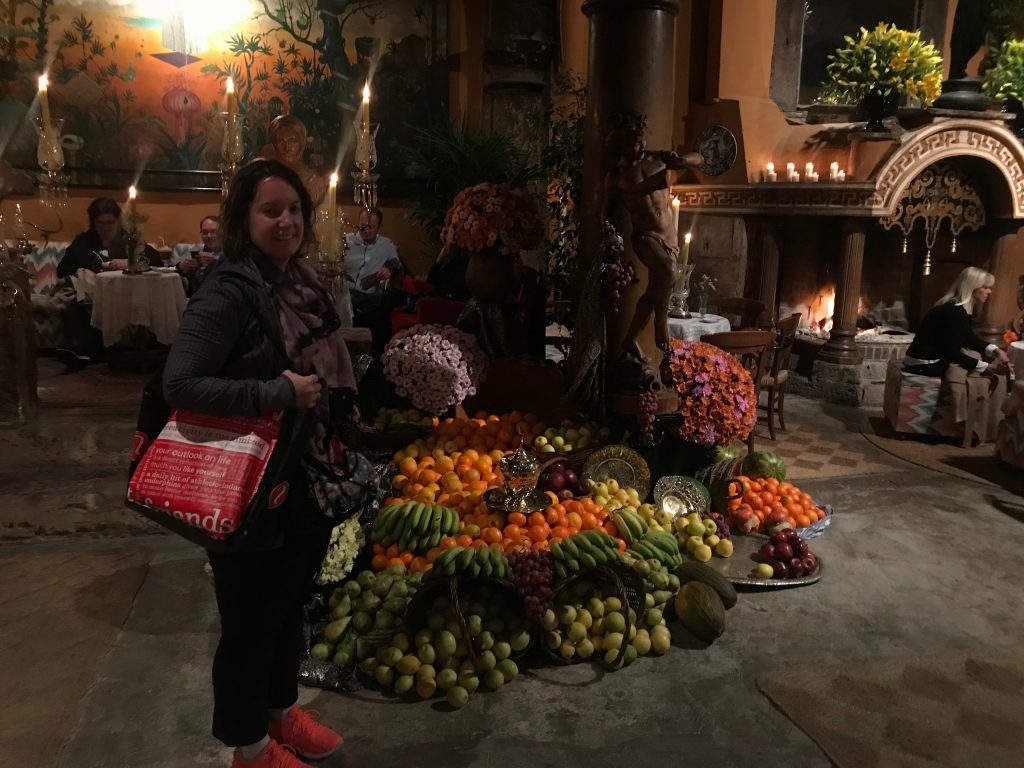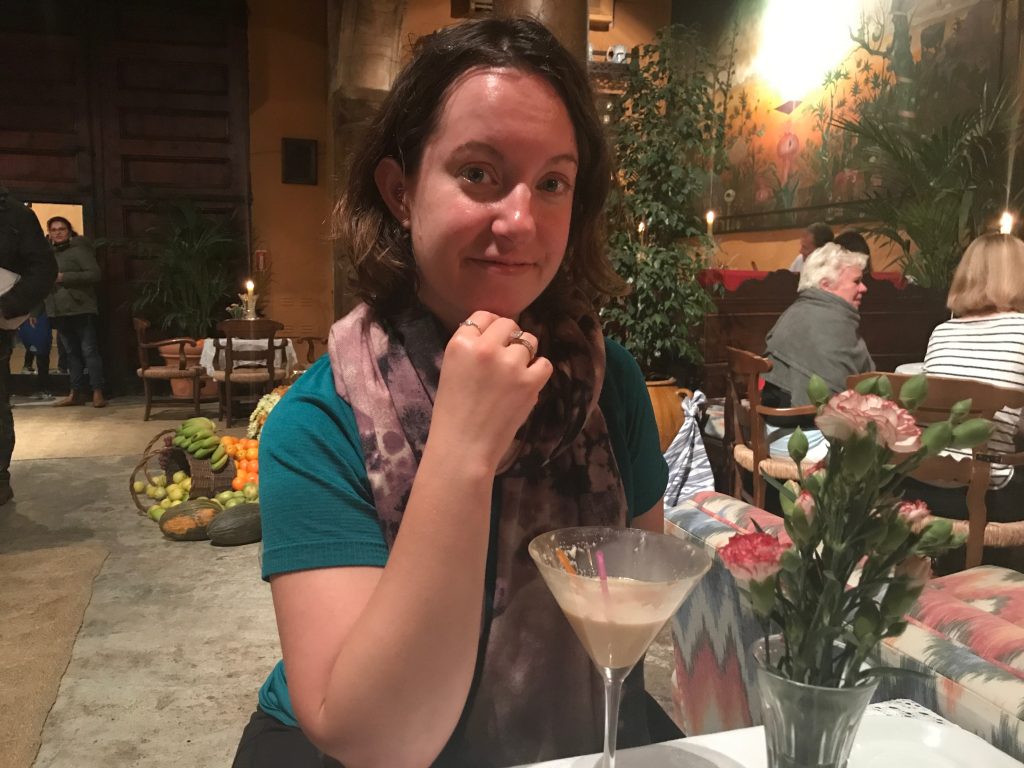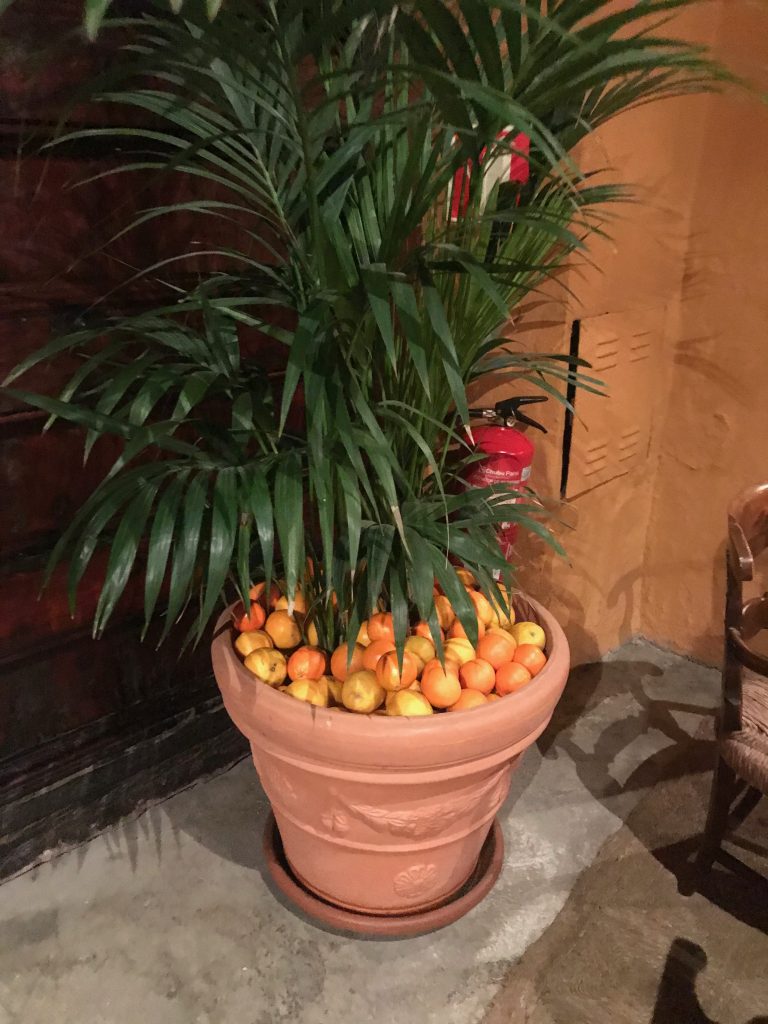 The next day, we boarded an old-fashioned train to the city of Sóller in the mountains. Basically unchanged since its inauguration almost 90 years ago, the Ferrocarril de Sóller offers both a trip back in time and some pretty scenic views as it slowly traverses its route through the mountains. It was once used to transport all the citrus grown on the island, but with the decline of the industry and modern roads being built, this remains an exclusively tourist attraction, but what a charming one at that!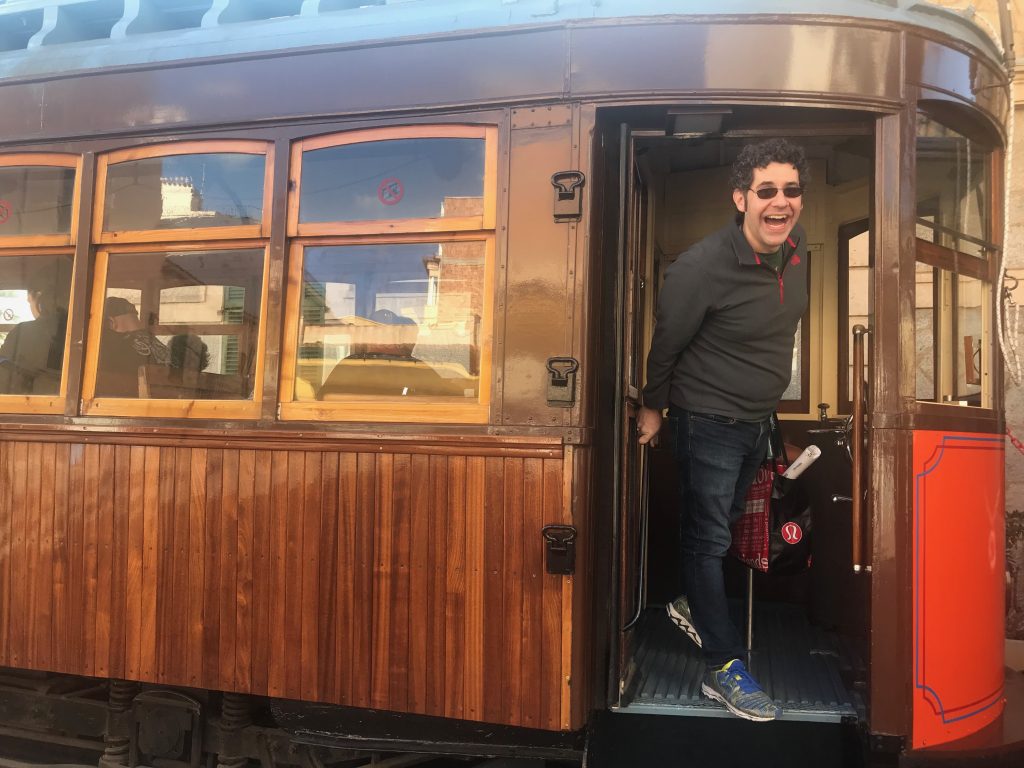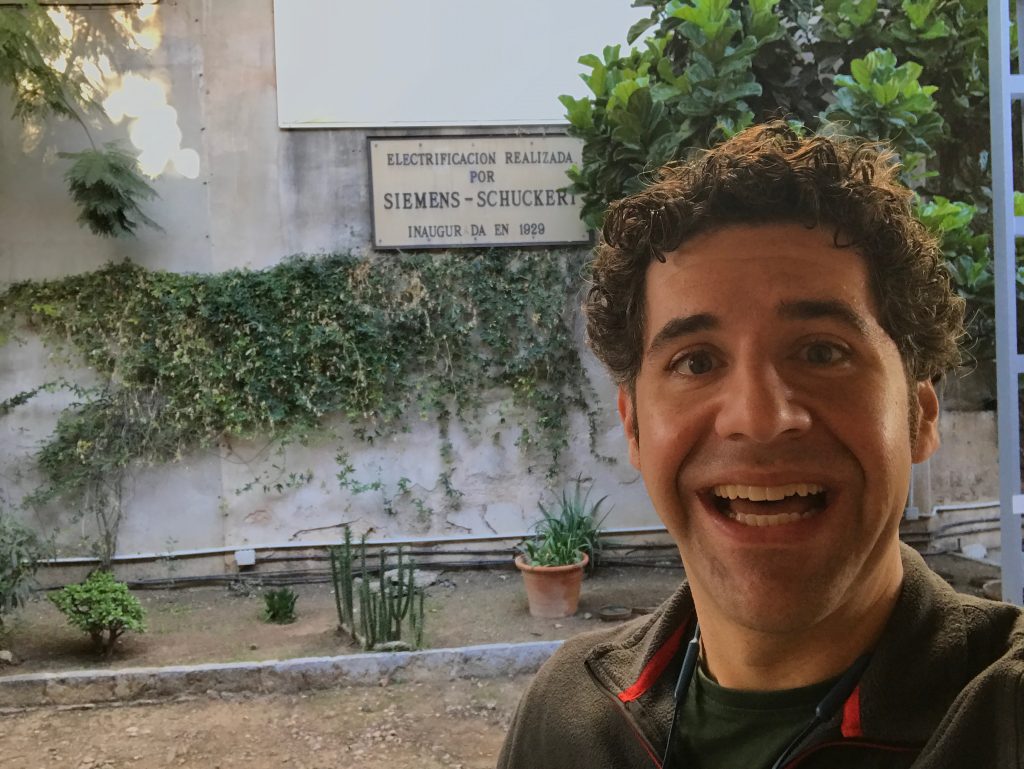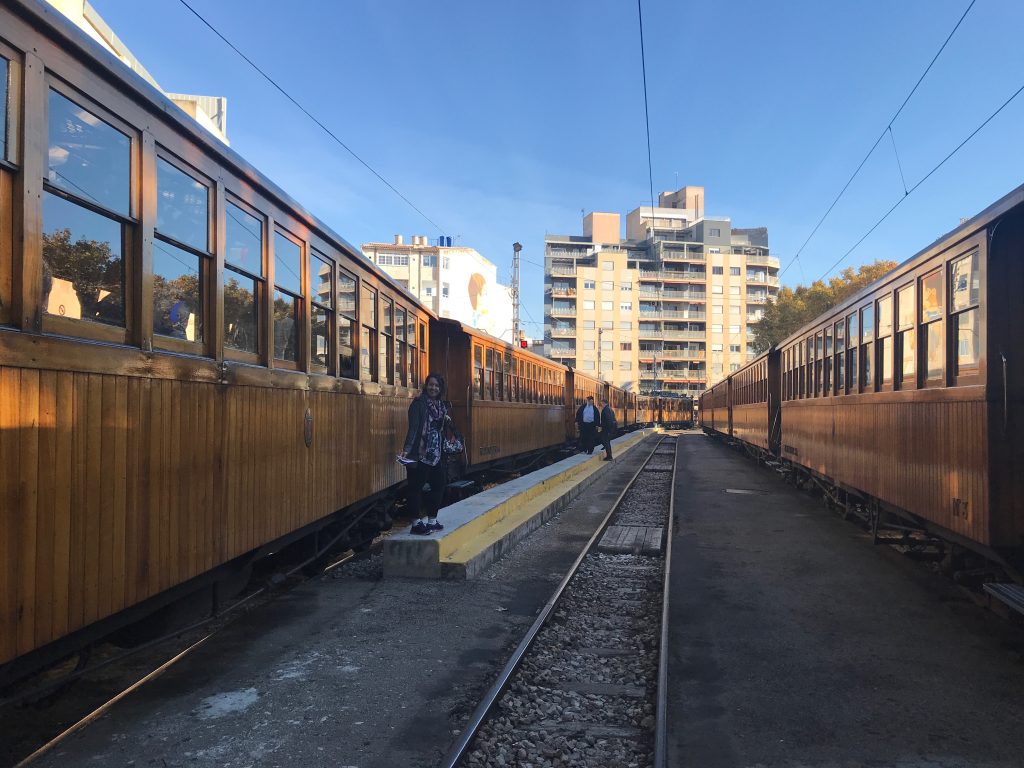 The train is a bit like a streetcar as it leaves the station in the middle of the city.
Not too soon after, we leave Palma behind and move into the mountainous countryside.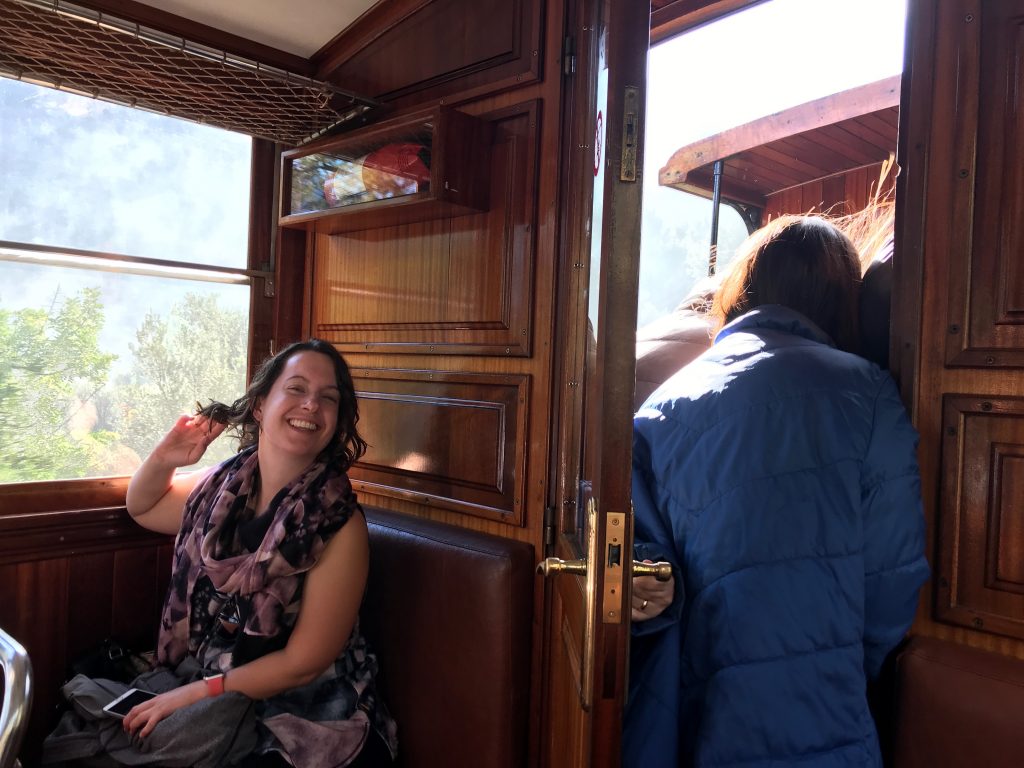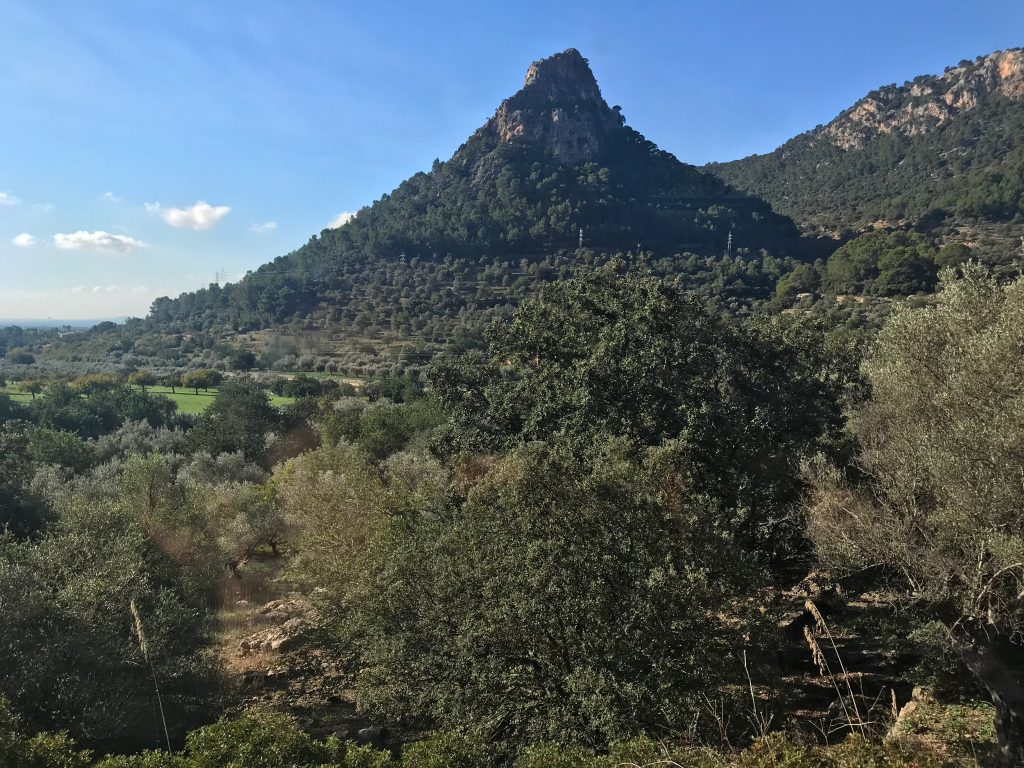 This being a slow, scenic journey, there is a picture-taking stop in the middle of the journey.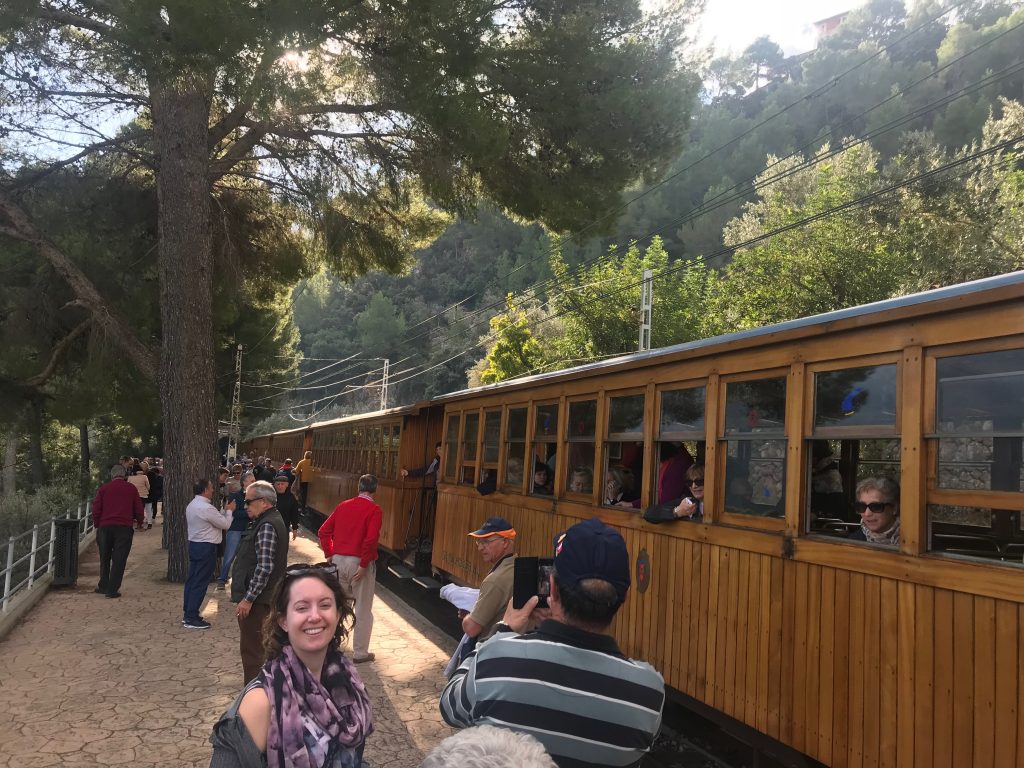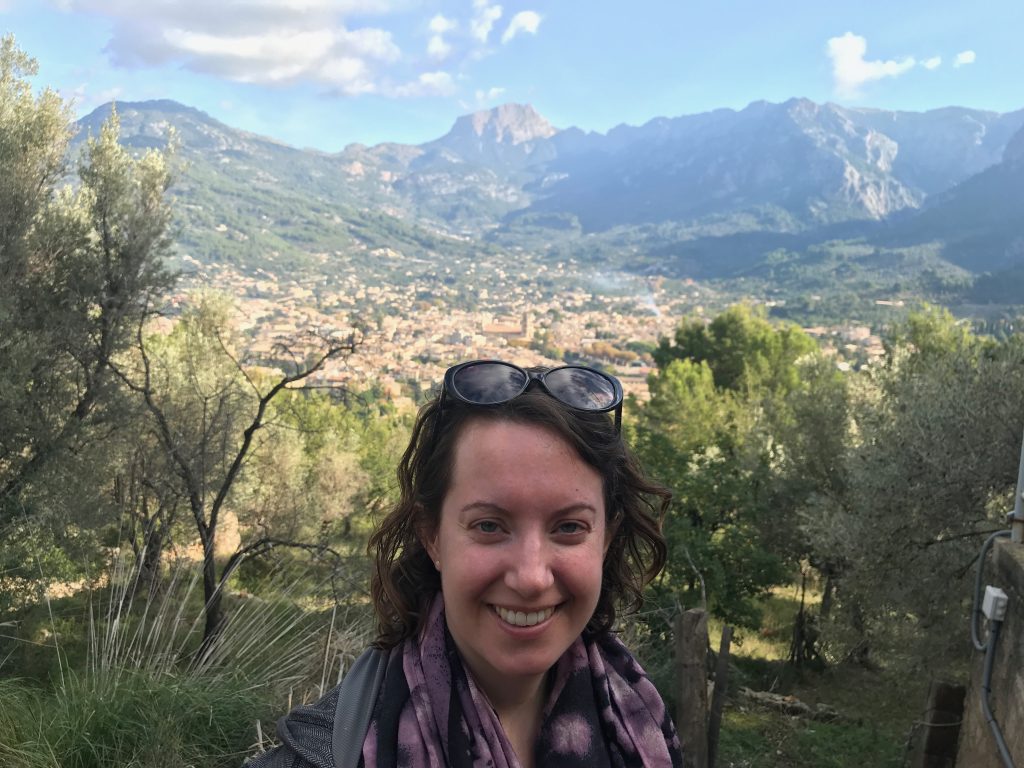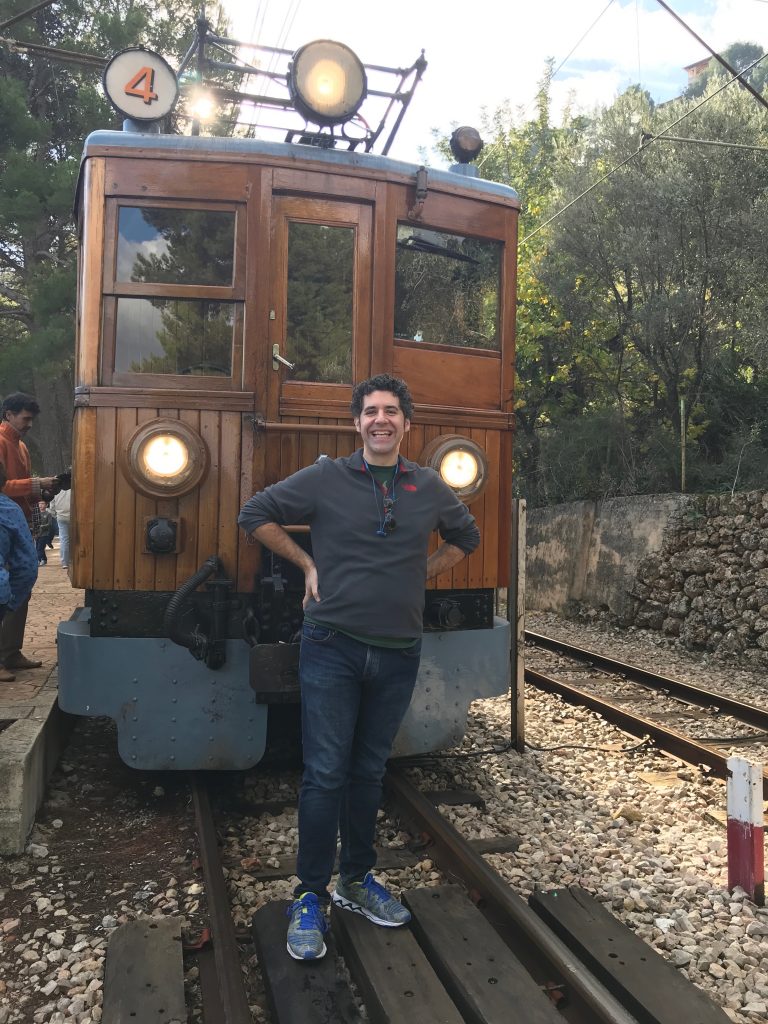 In Sóller, we visited Can Prunera, a modernist house museum.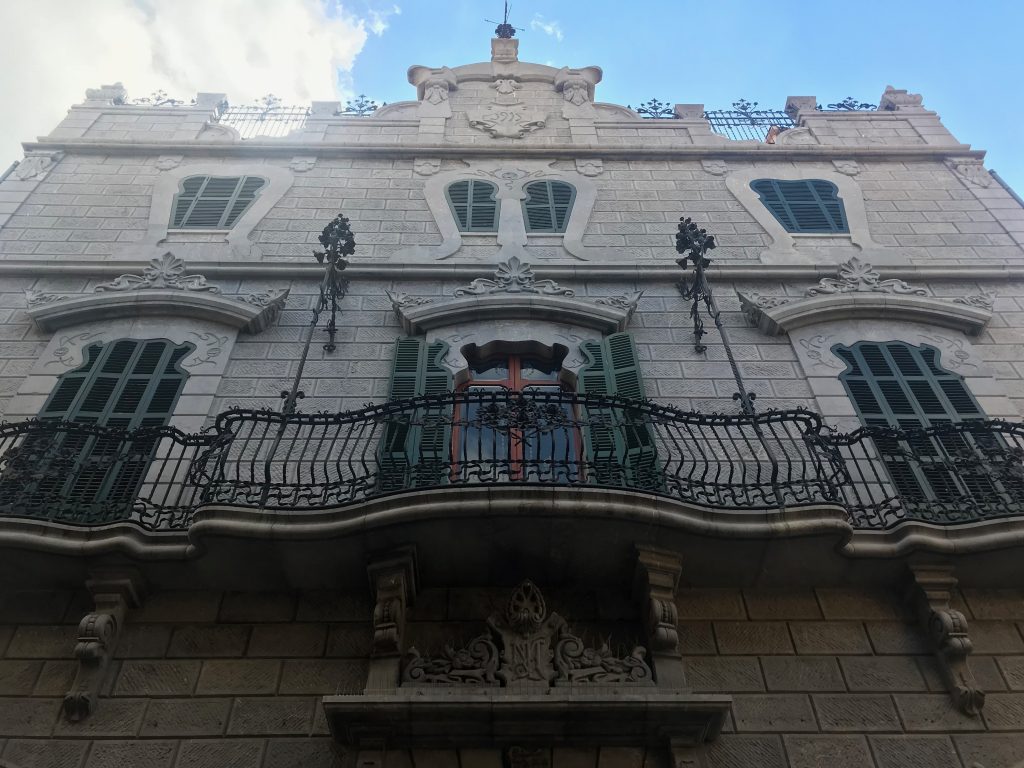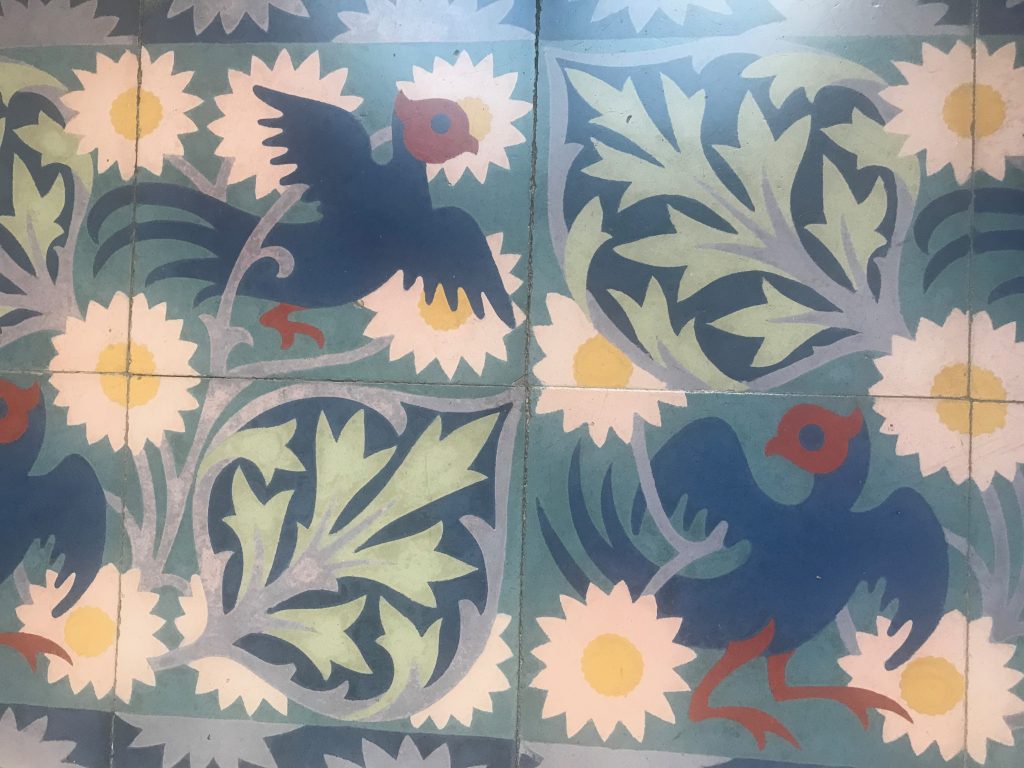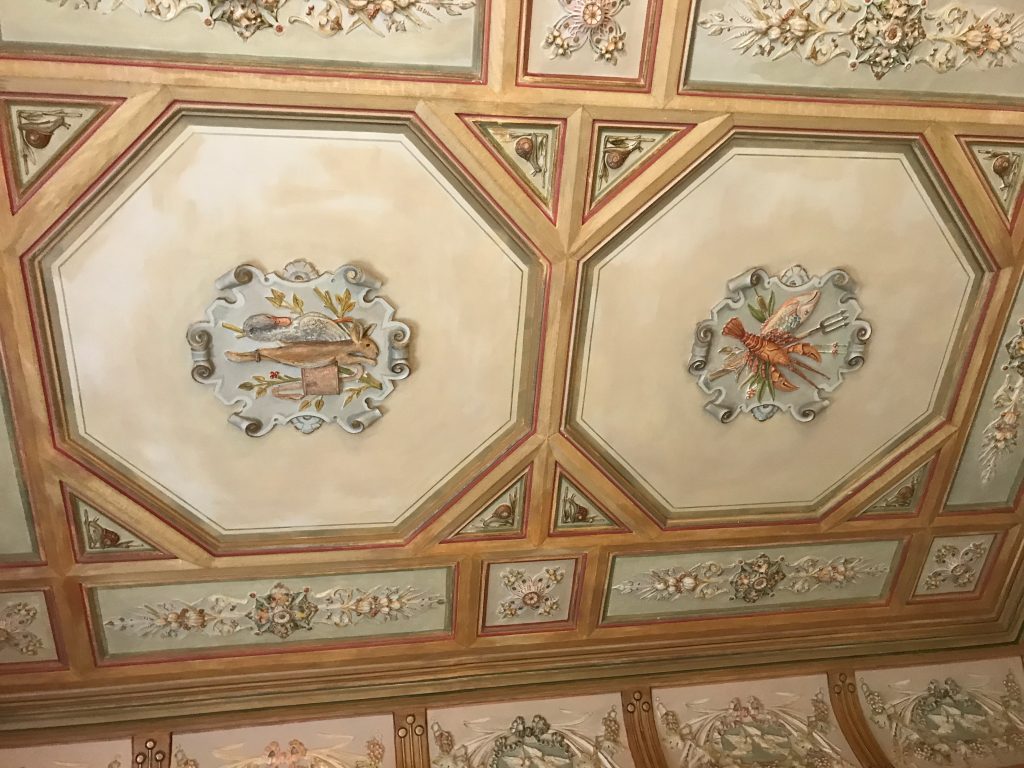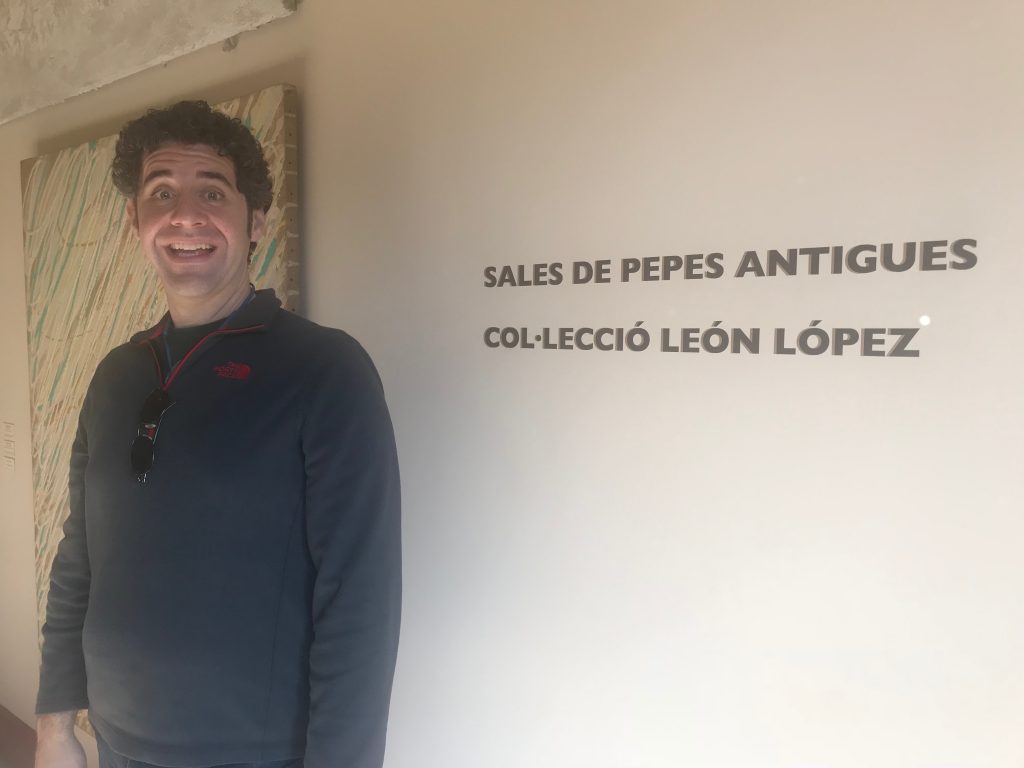 And what was inside Doer's favorite room? Why, old toys, of course! Not creepy at all.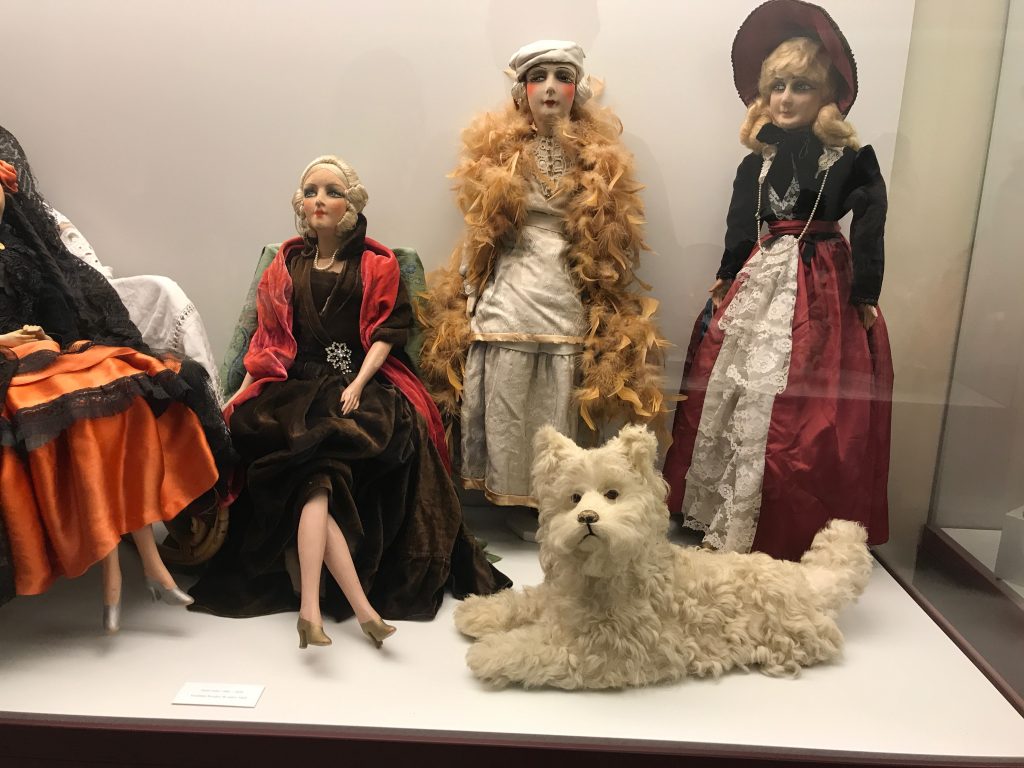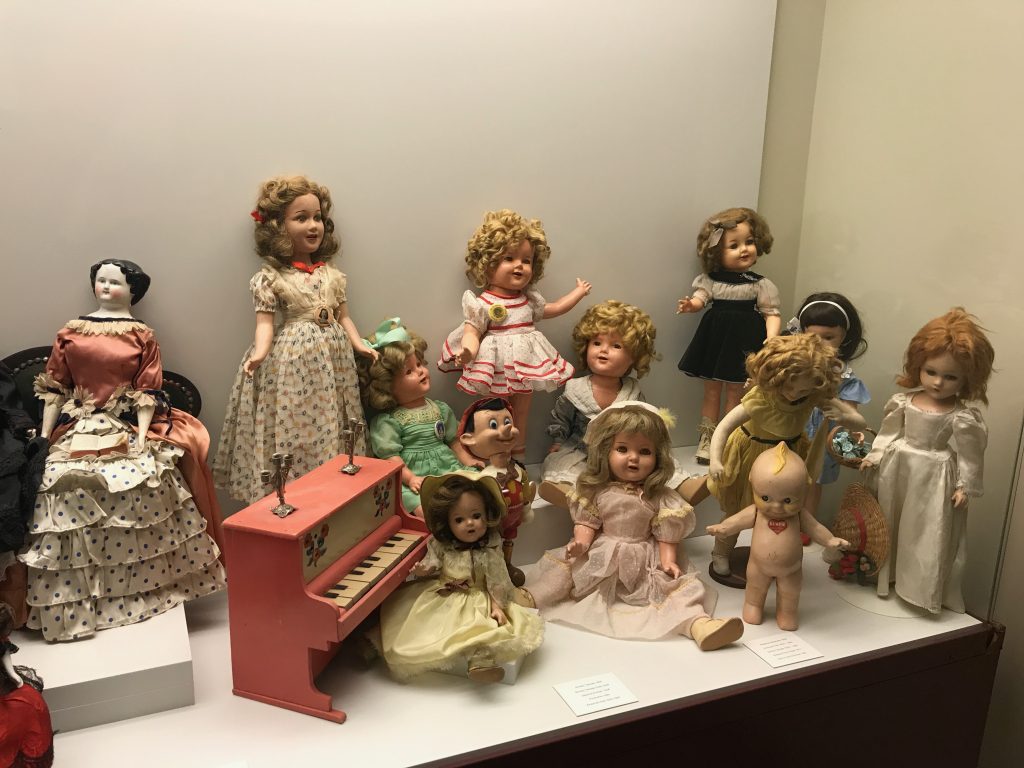 Doer was nonplussed at the stark, old kitchen.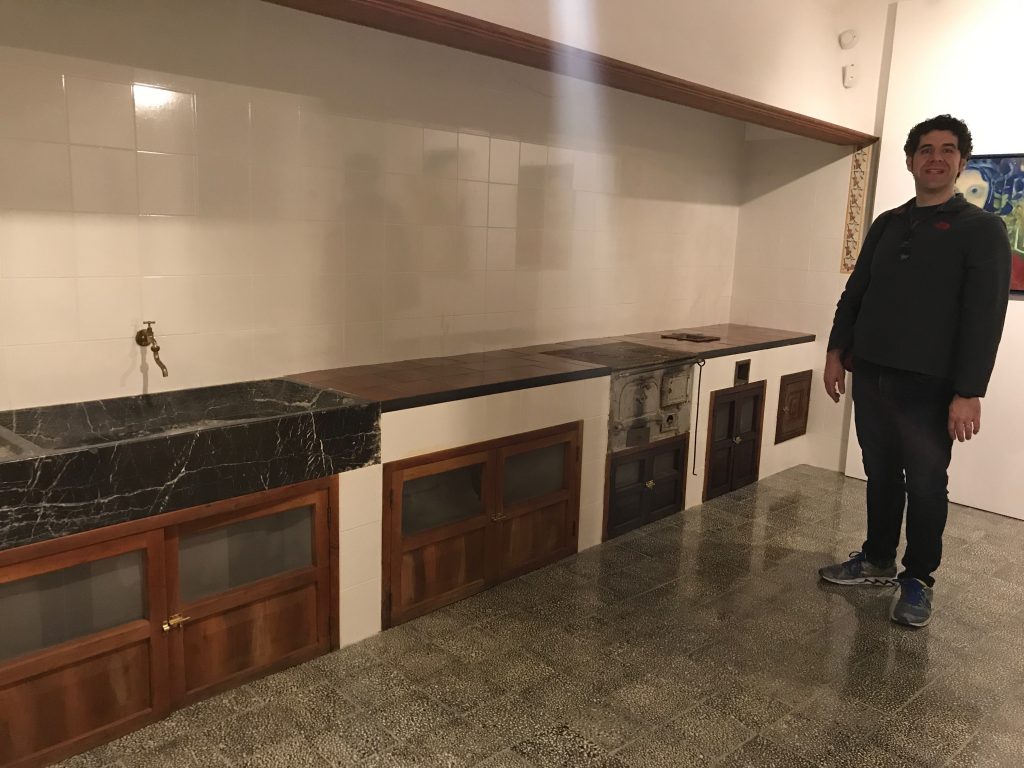 The museum featured a small exhibit paying homage to the friendship between Joan Miró and Pablo Picasso.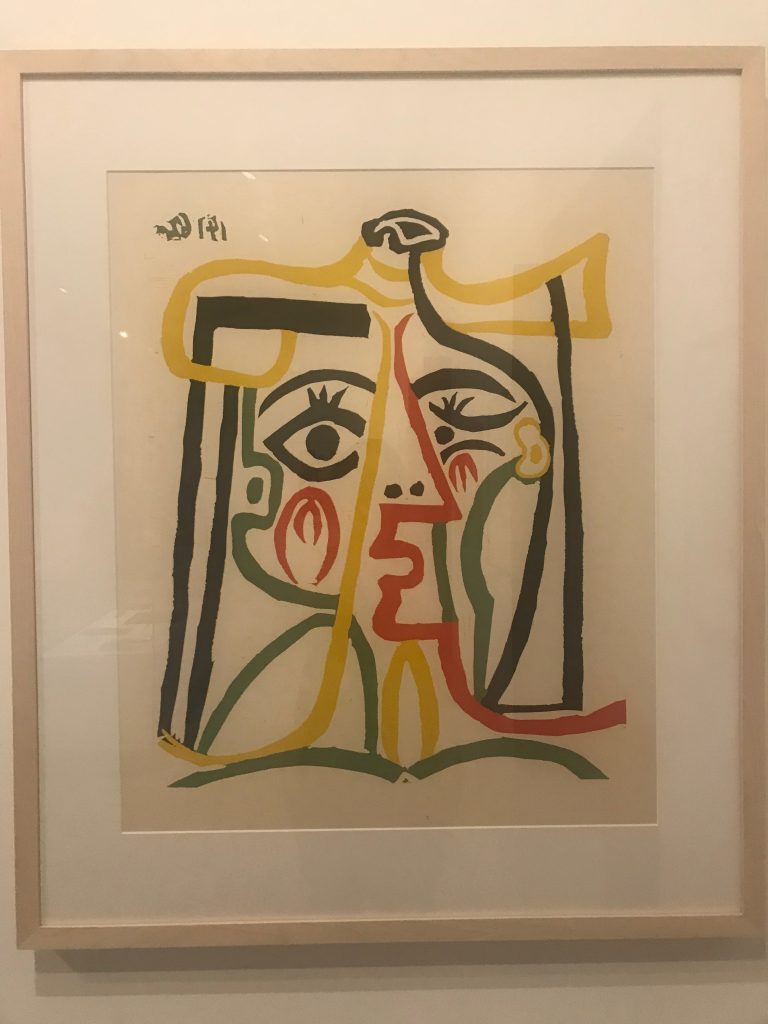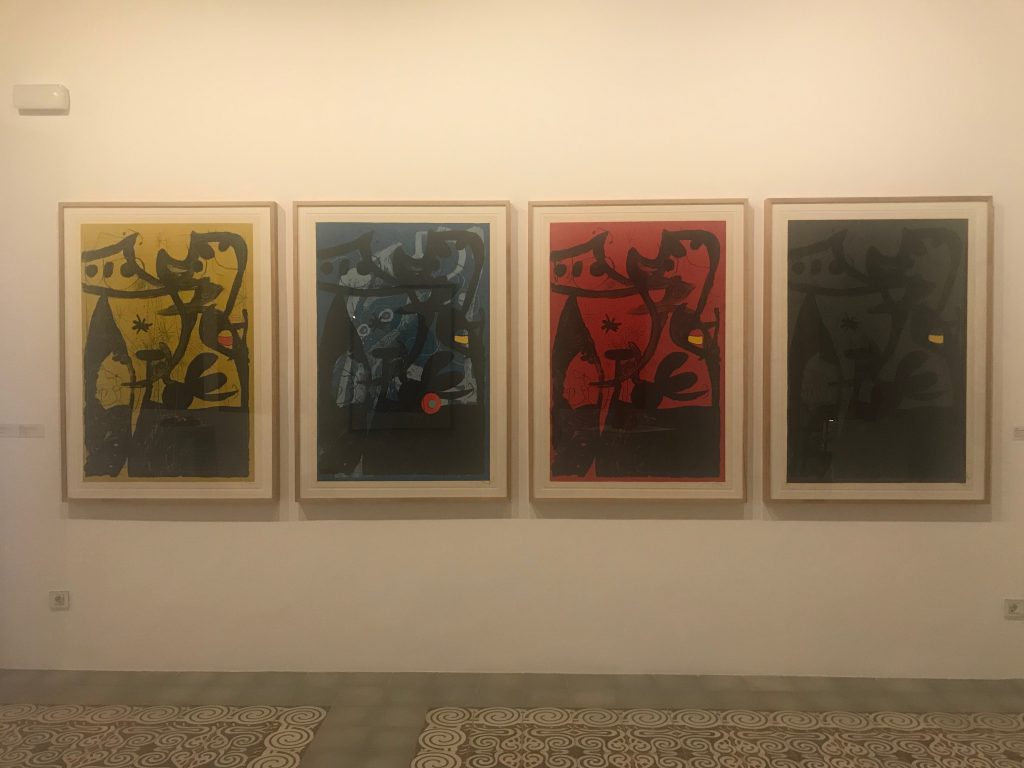 There was certainly no shortage of modern art at this house.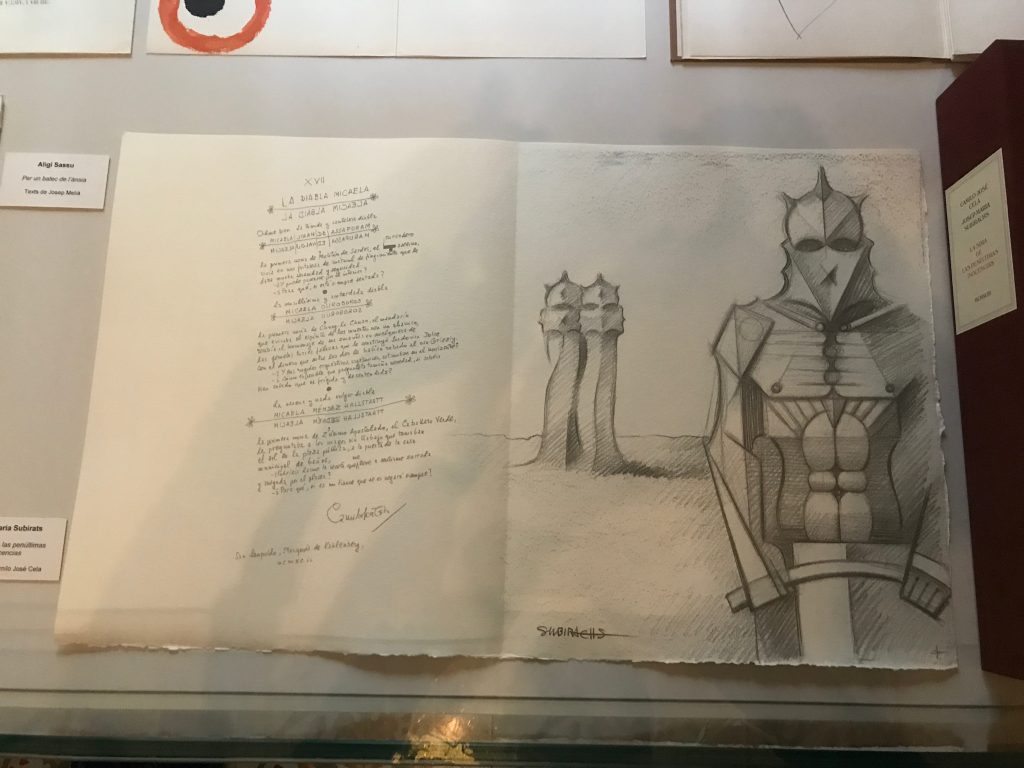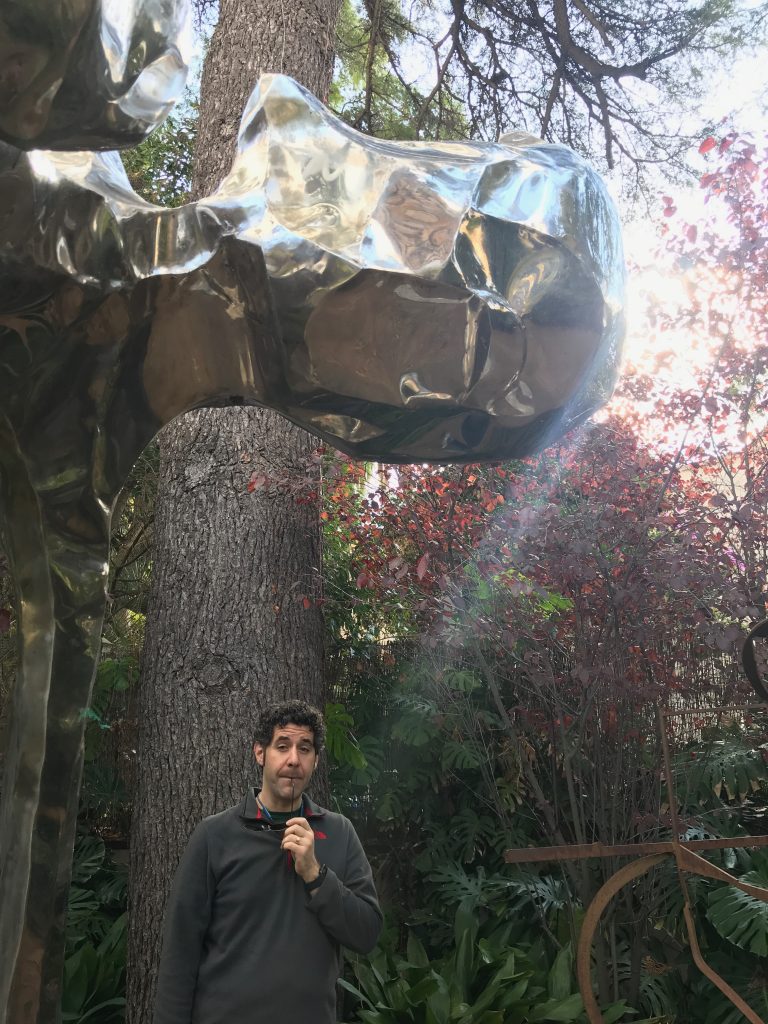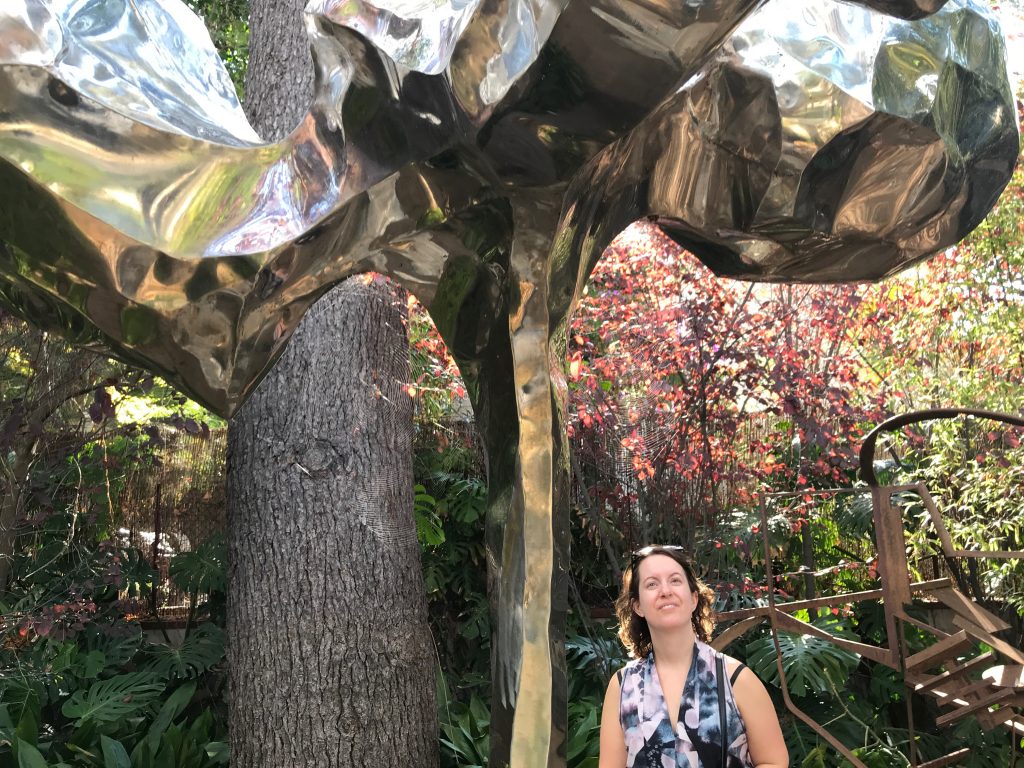 Lunchtime! There was something odd about the bathrooms at our restaurant of choice, though.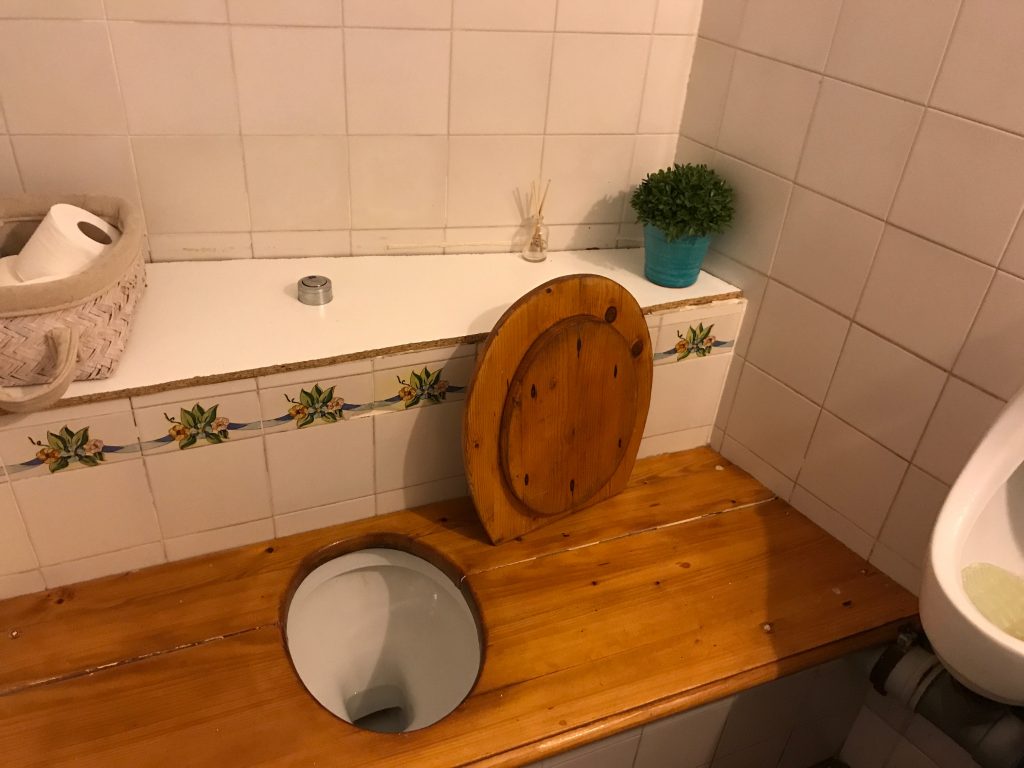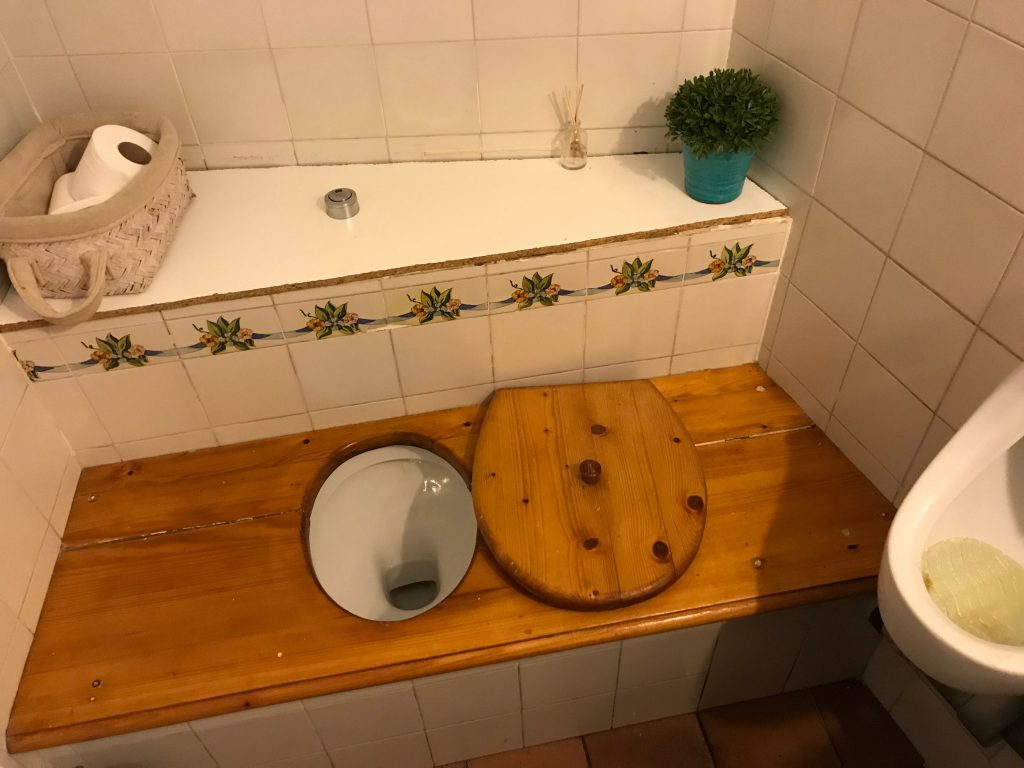 After lunch in Sóller, we boarded another, even more old-timier streetcar to get down to the beach.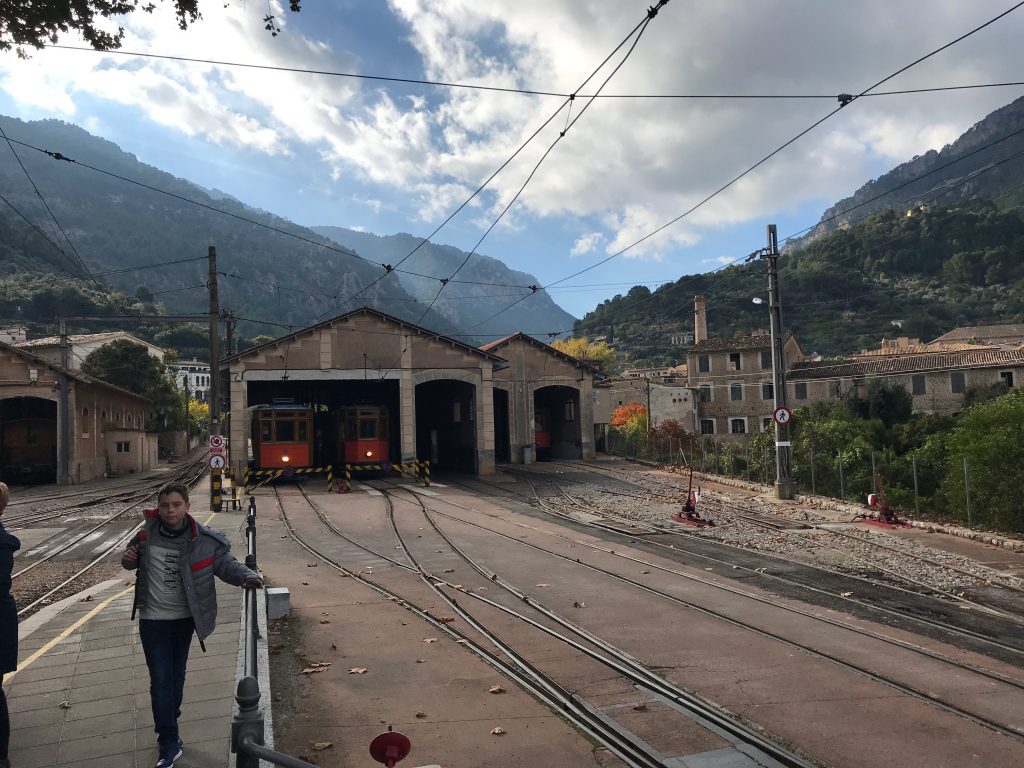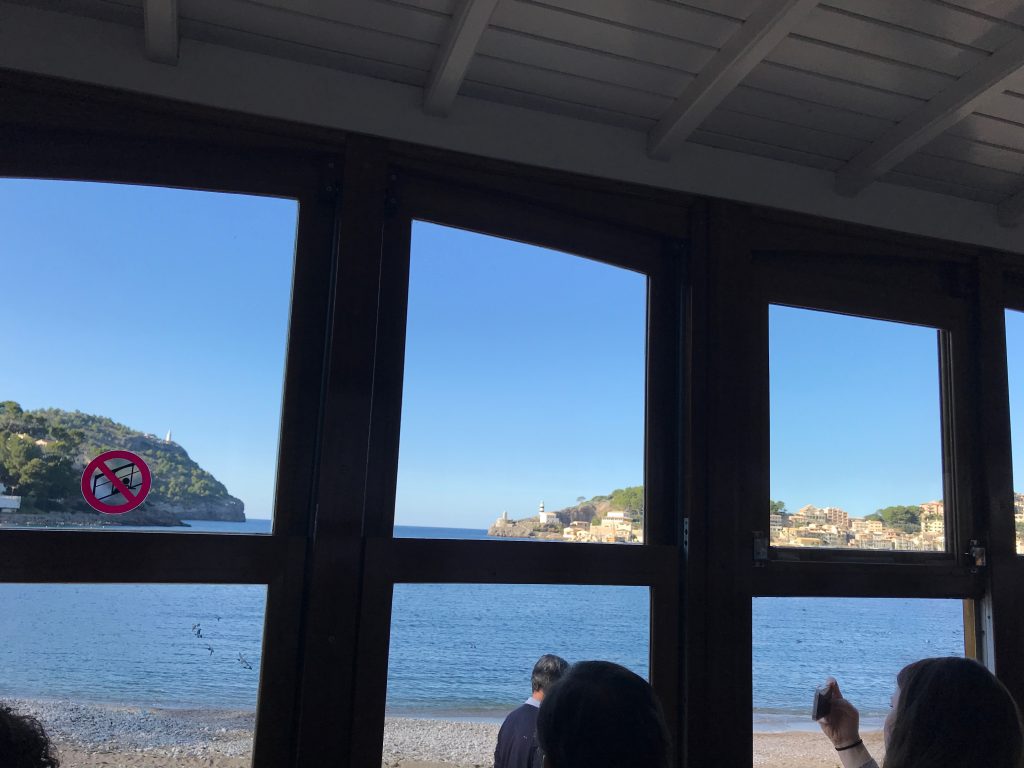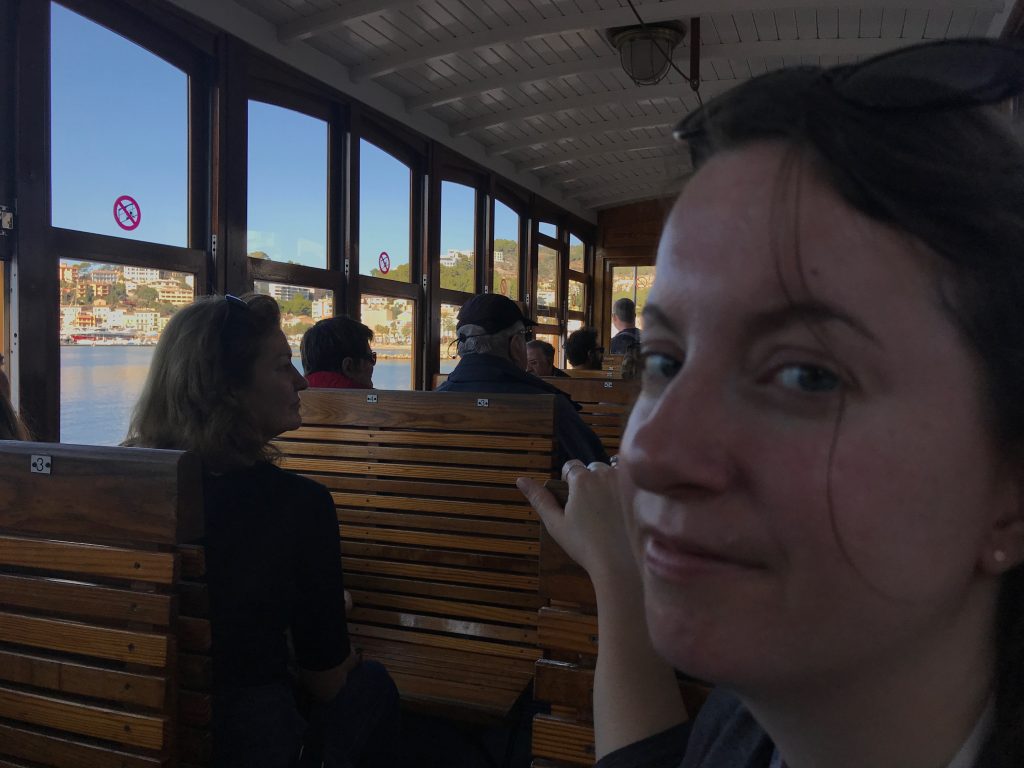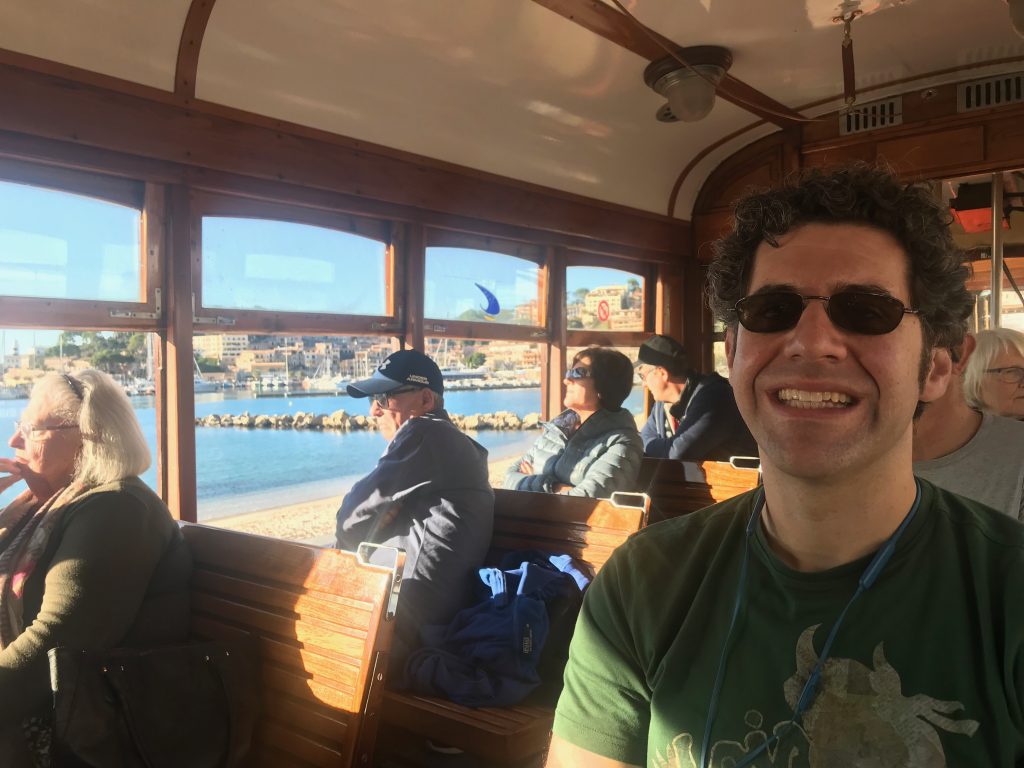 Doer had fun with some of the old-timey features on this tram.
The port was super picturesque.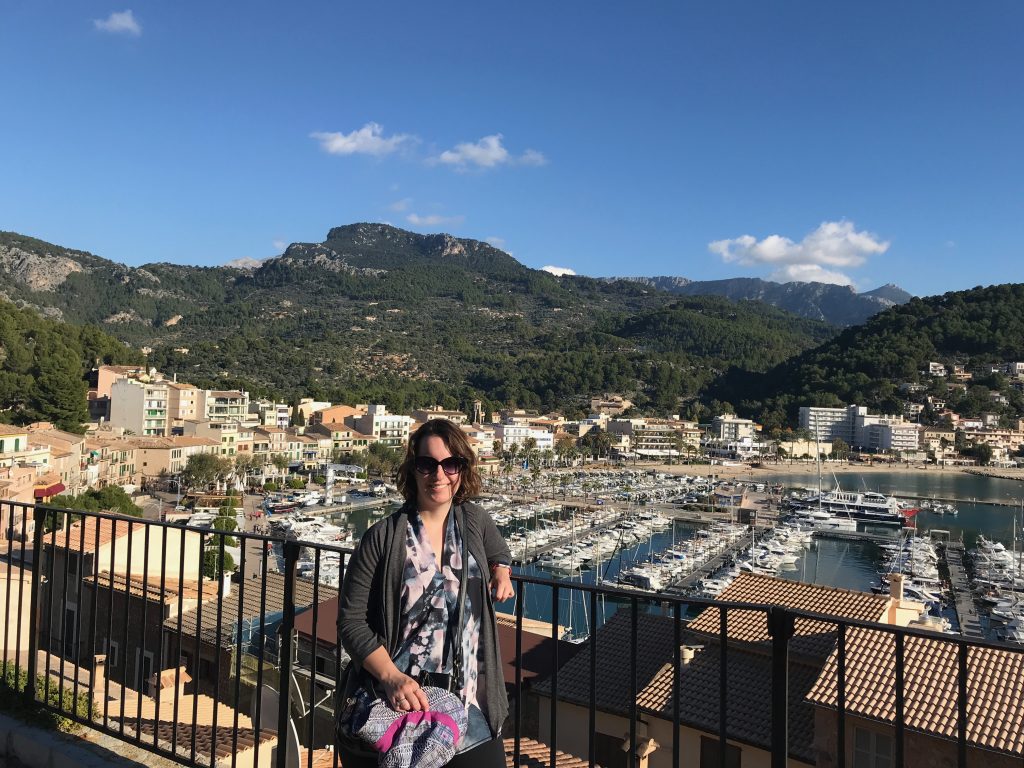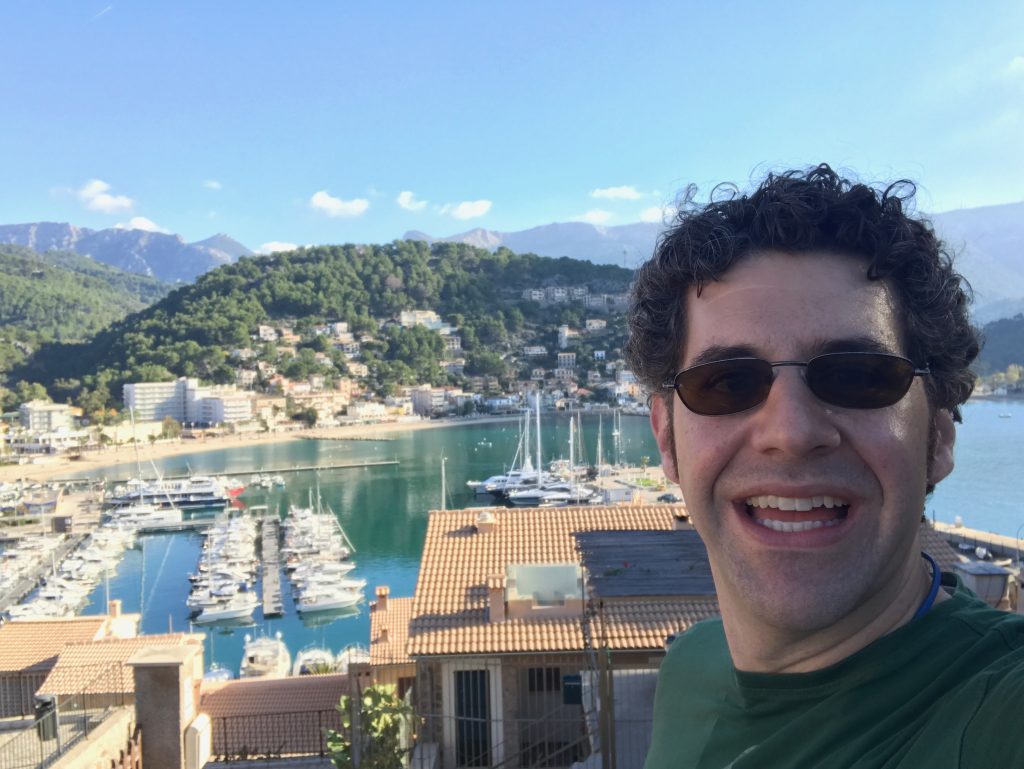 It was perhaps an odd place to have a car, though, since everything was on a hill and space was at a premium.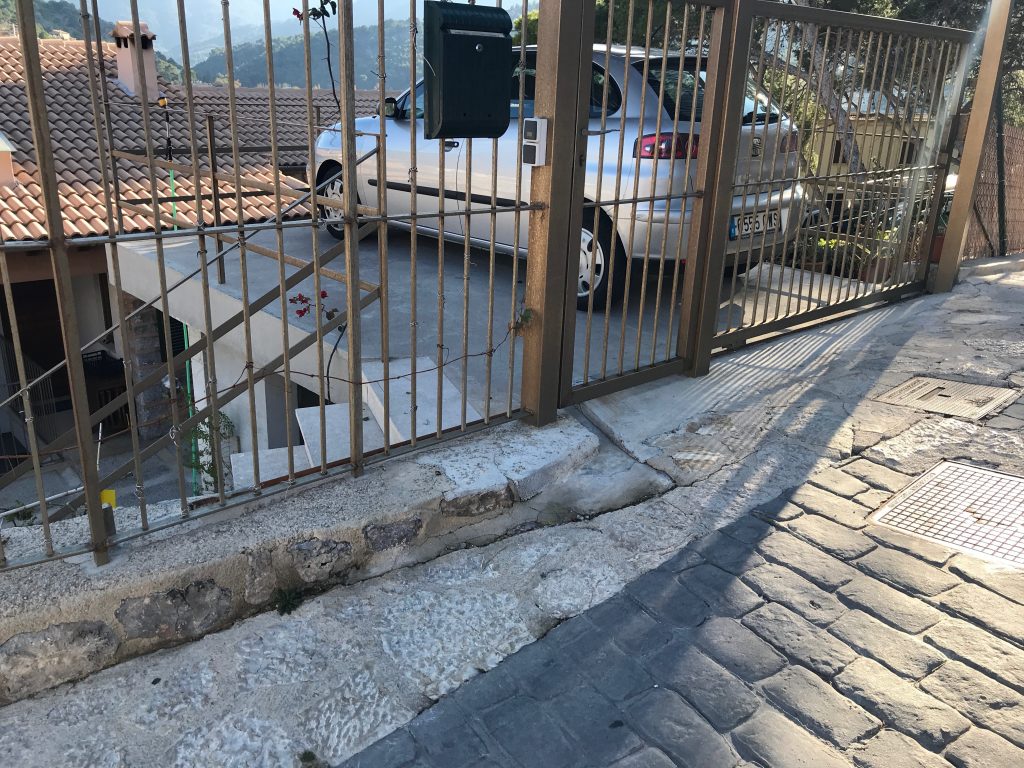 On our way back, we too almost made a grievous mistake. Dreamer did not appreciate this realization  at the precise moment train was boarding, either.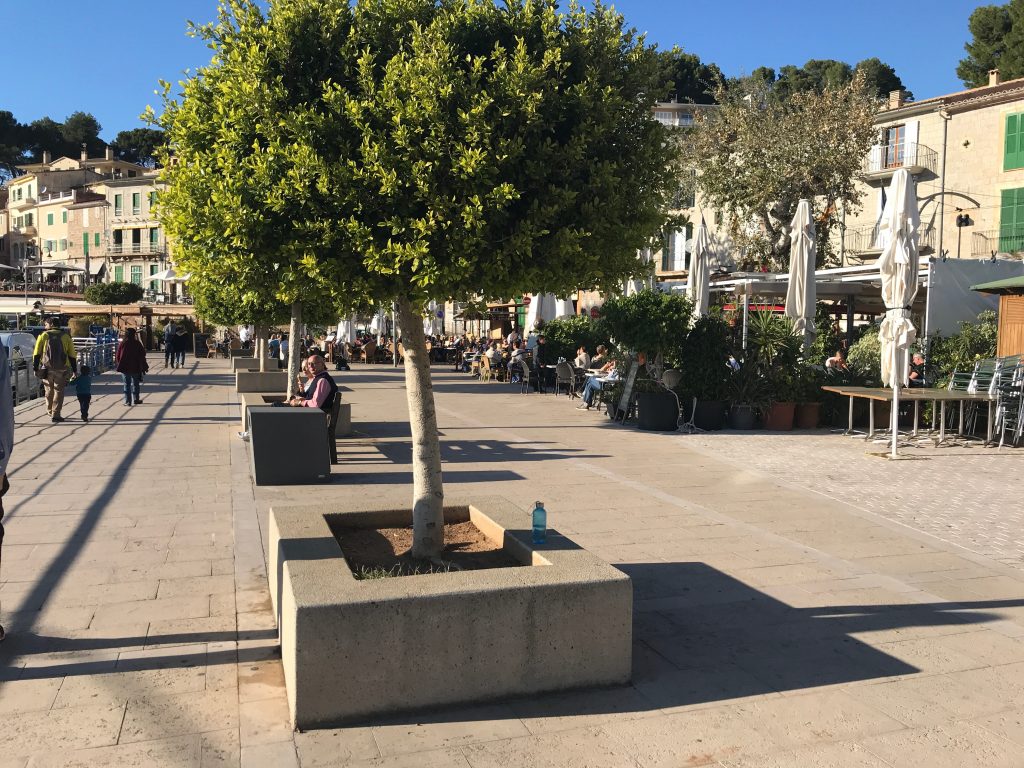 We did intend to spend some time on Mallorca's famous beaches, but our packed itinerary and the nippy November weather prevented that from happening. Doer did manage to carve out some pool time our last morning, however.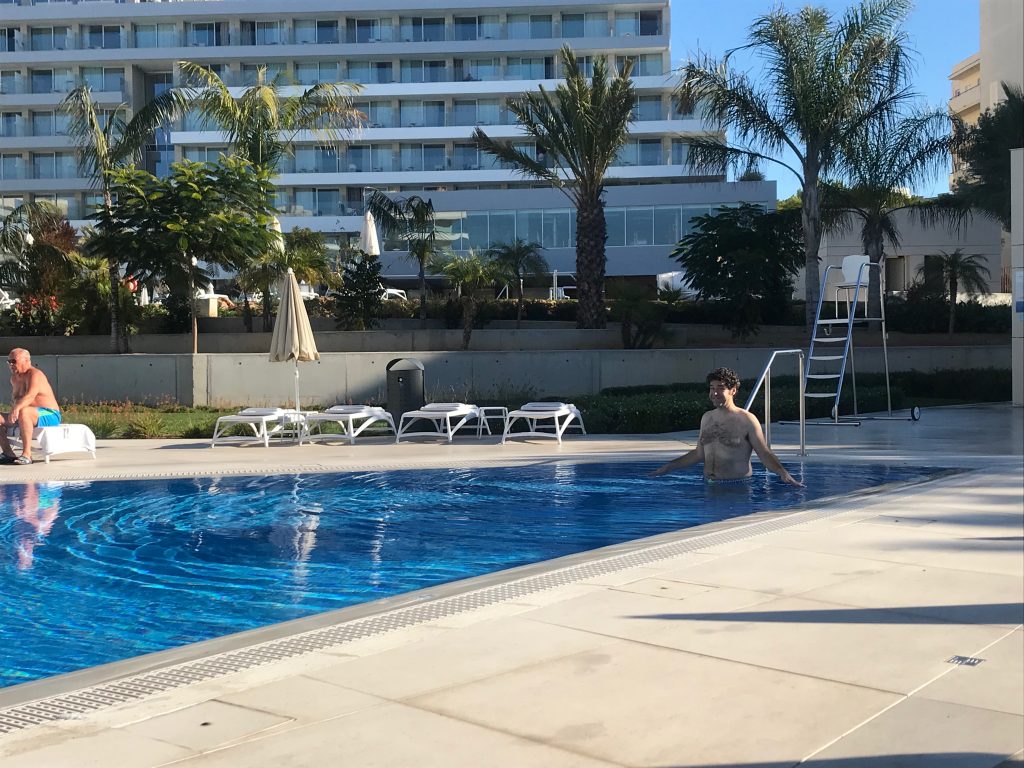 Thankfully, the sunsets were no less picturesque.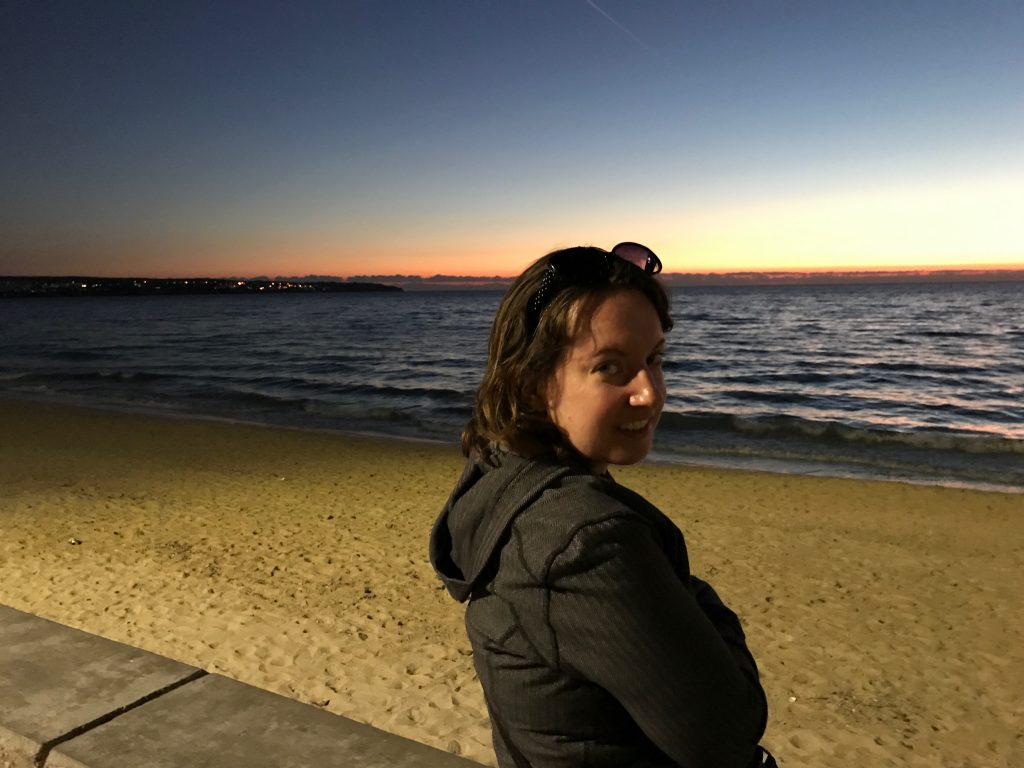 All toweled off, we made our way to the Cathedral of Palma to see its Gaudí touches.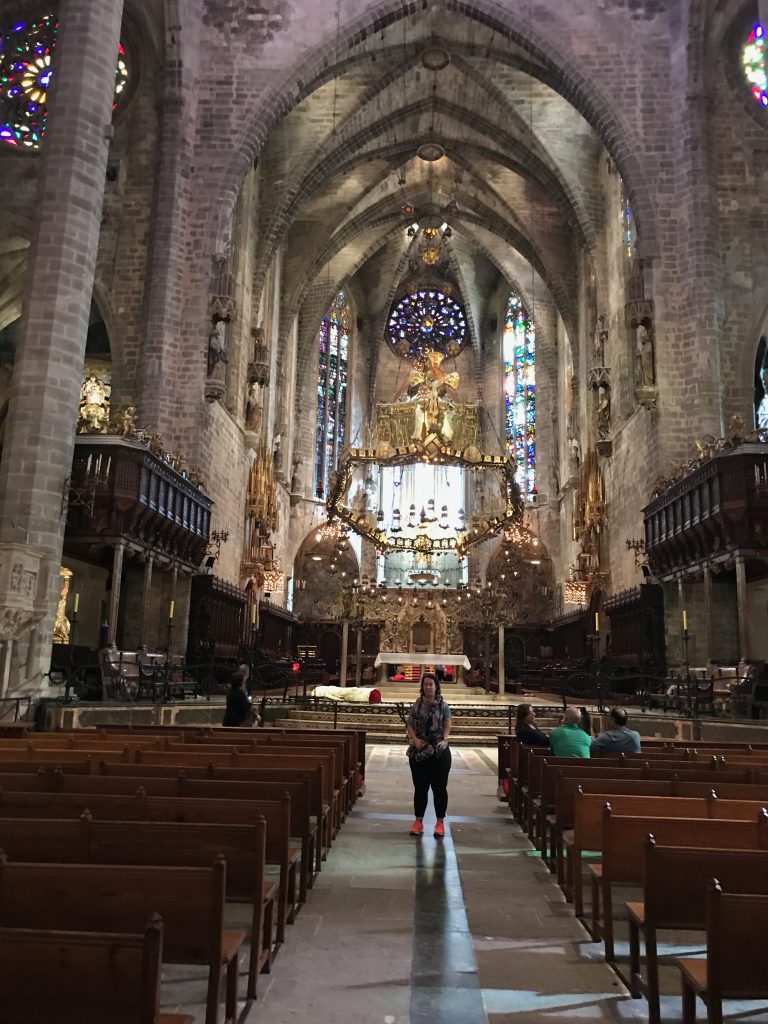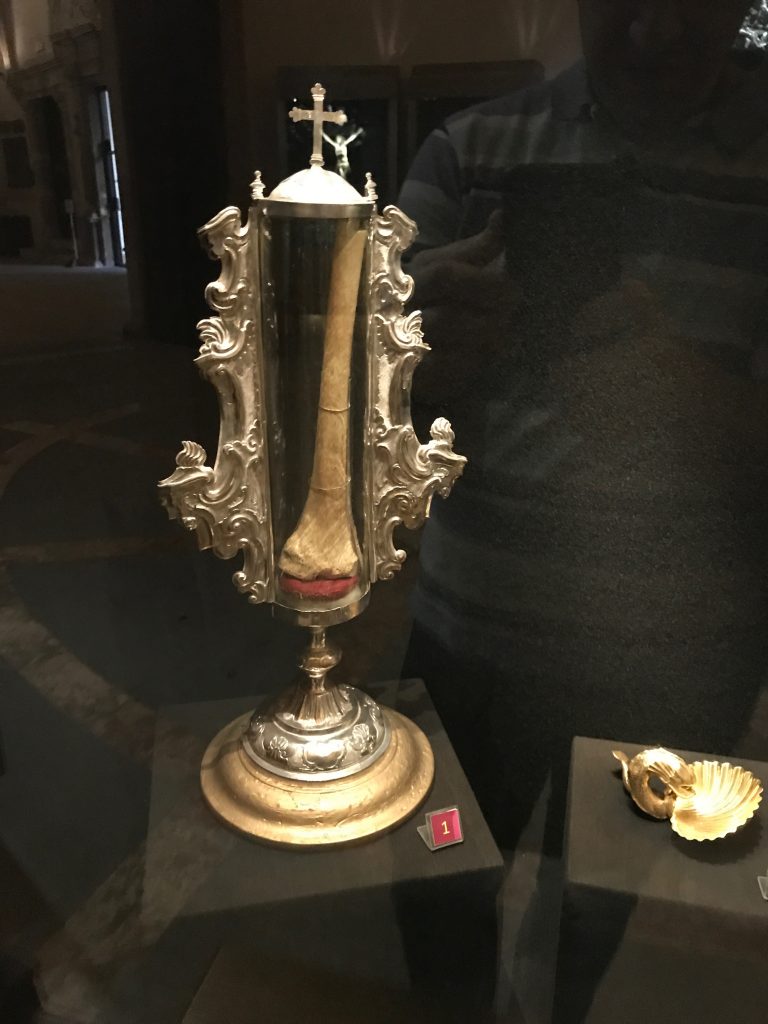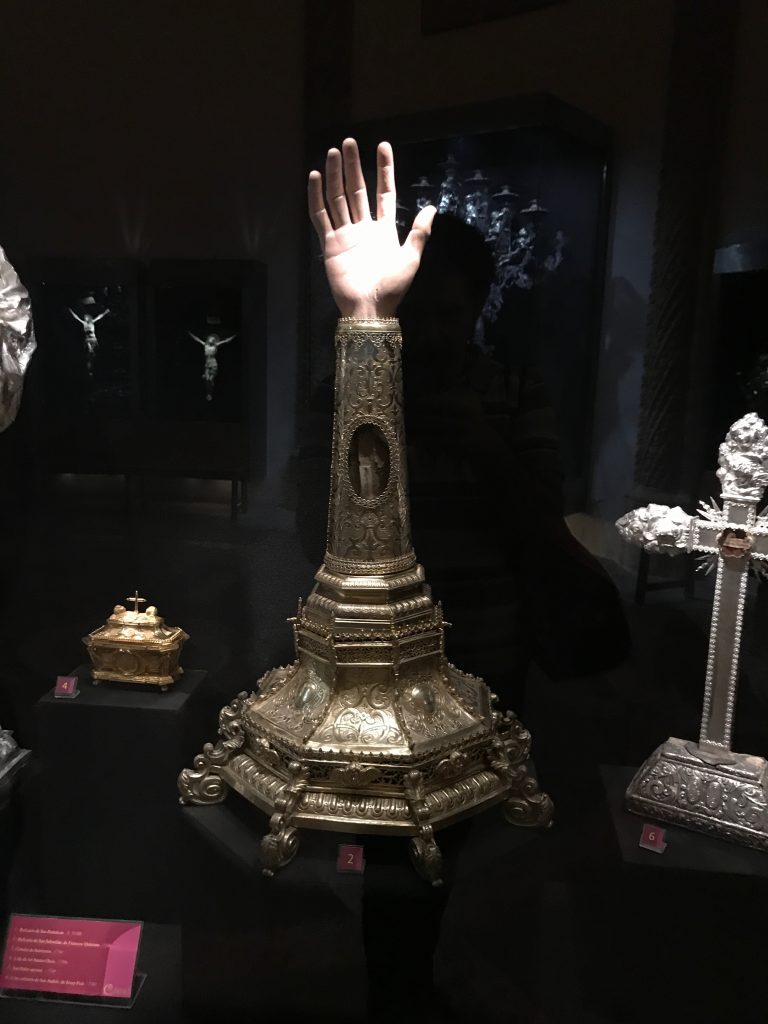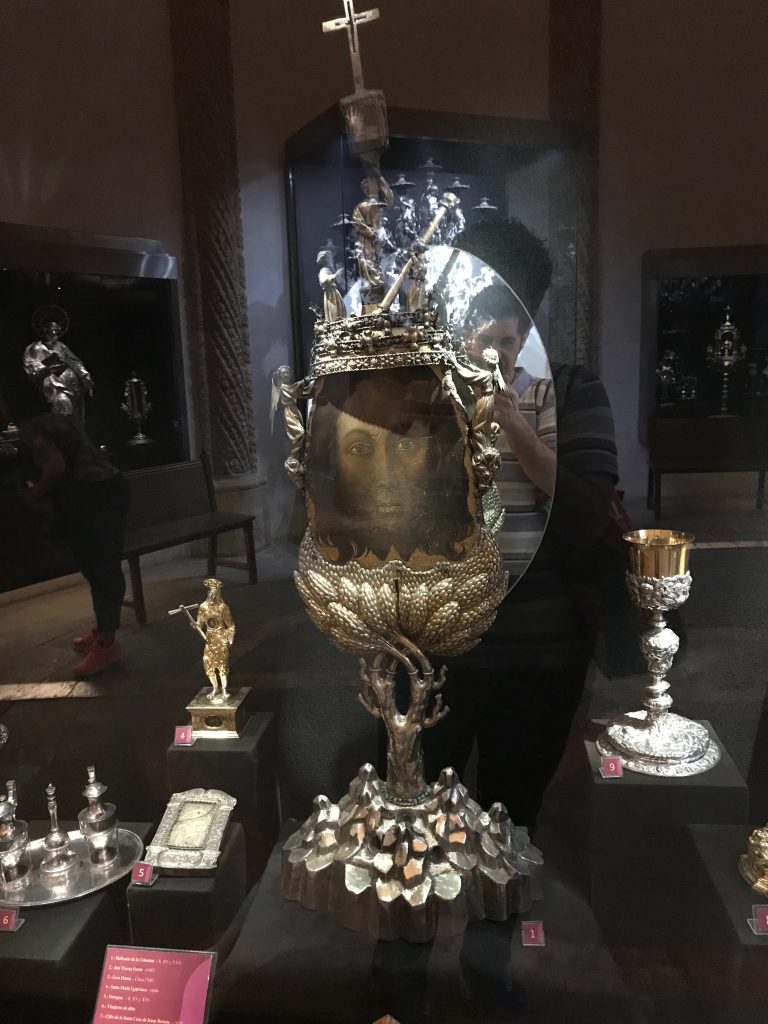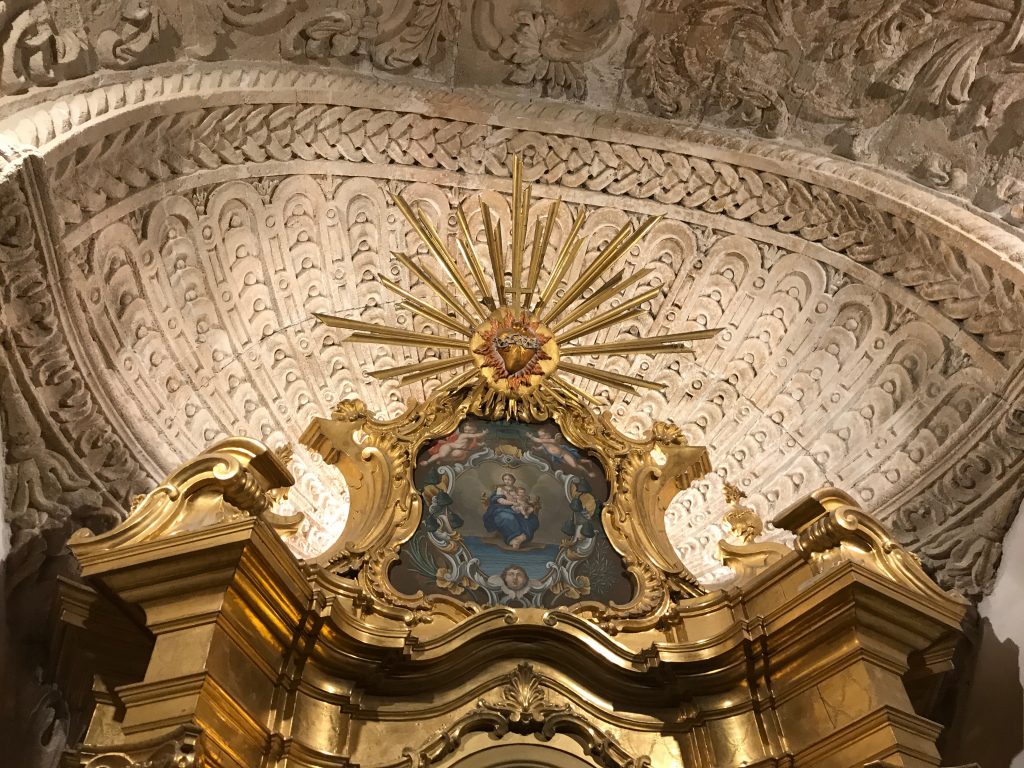 The cloister out back was nothing to scoff at, either.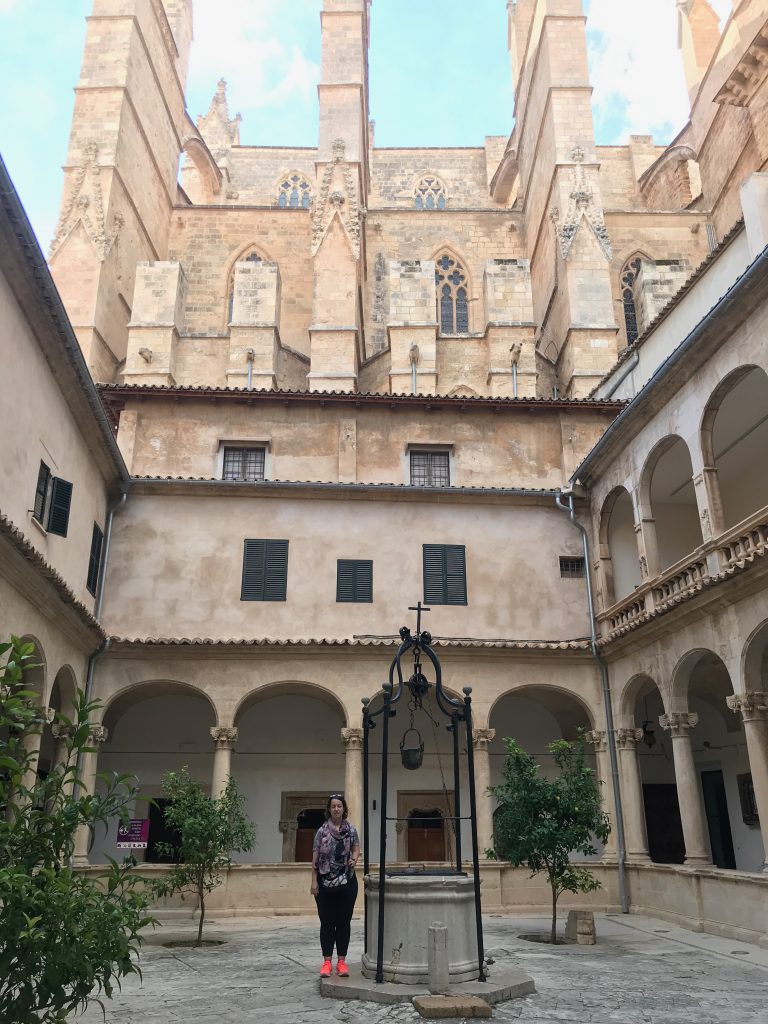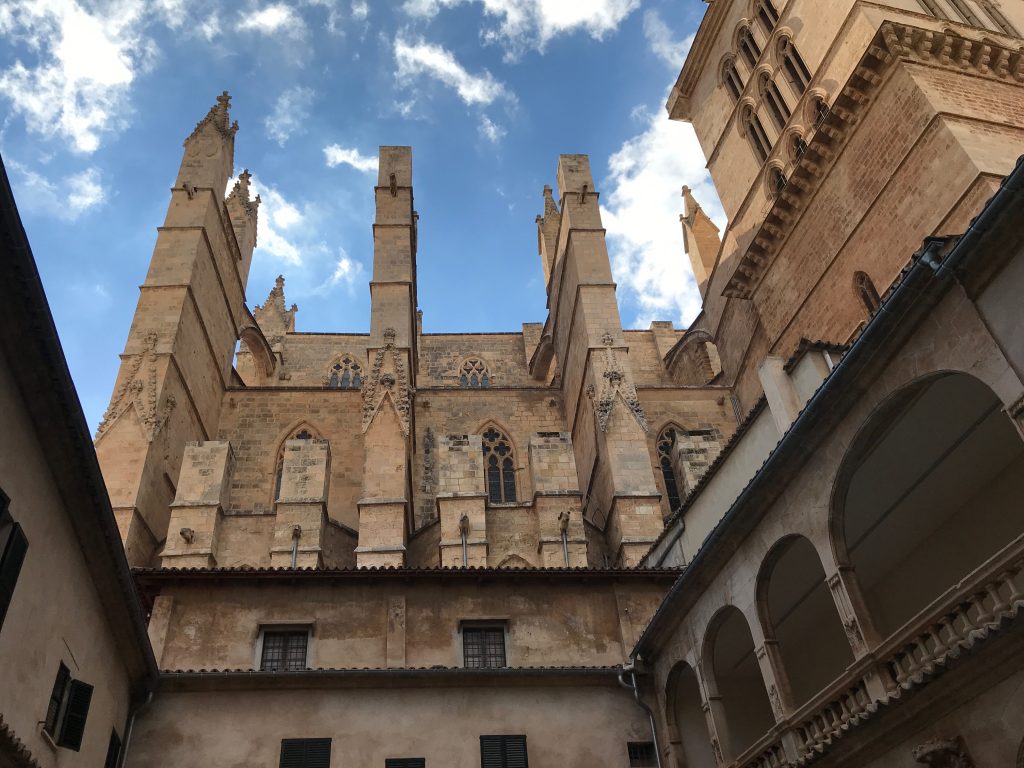 Those modernist touches on an old church were really quite stunning, though. Here, a modern artist has done some embellishment.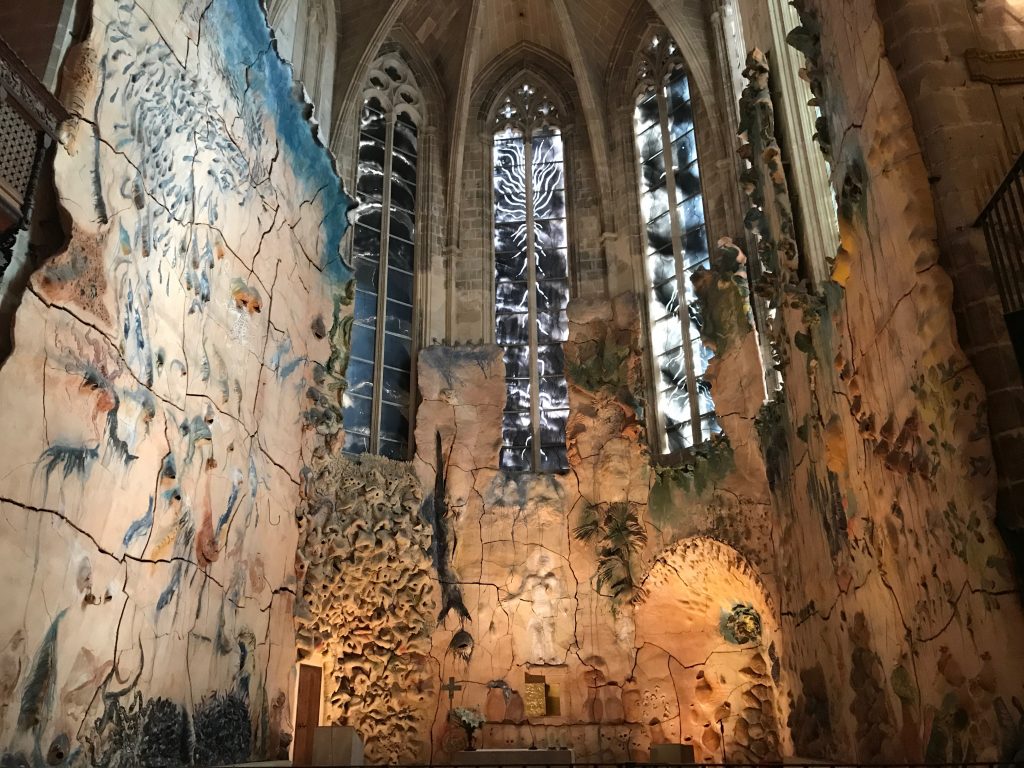 The Cathedral Museum also presented modern artworks in contrast with their Renaissance counterparts.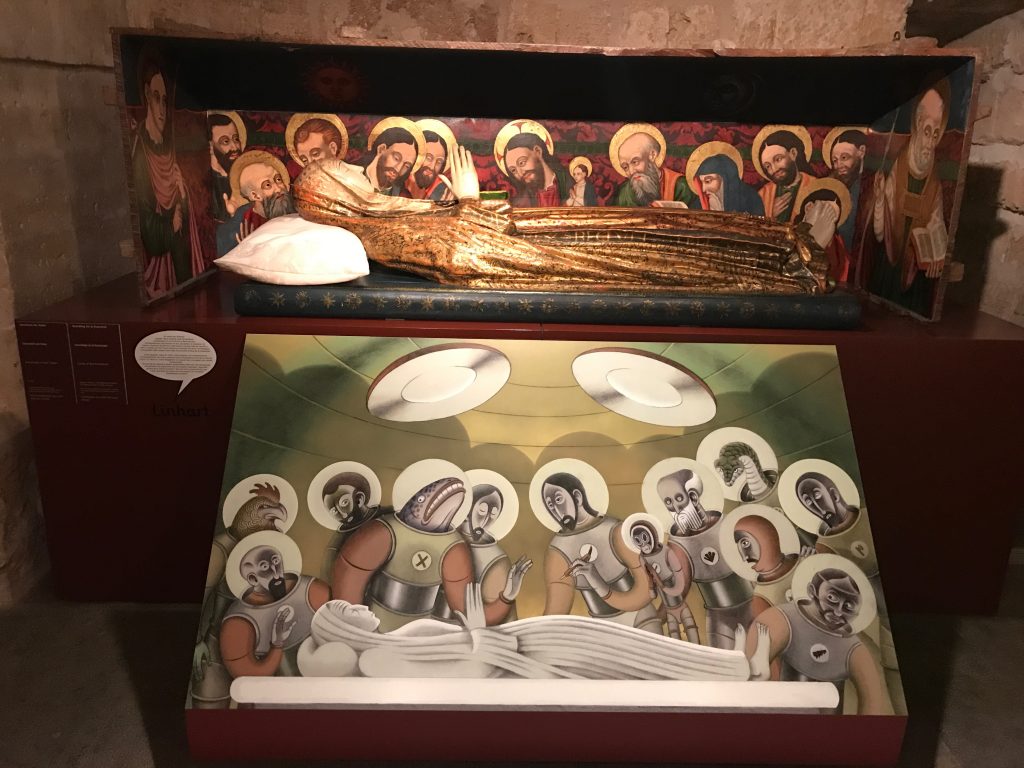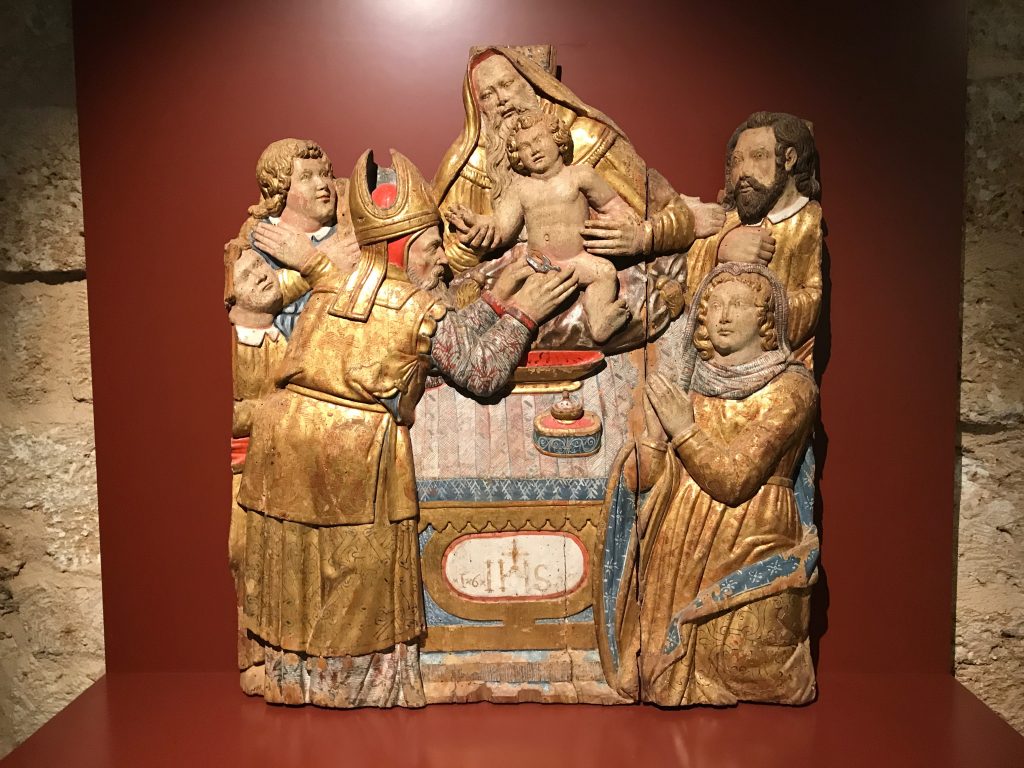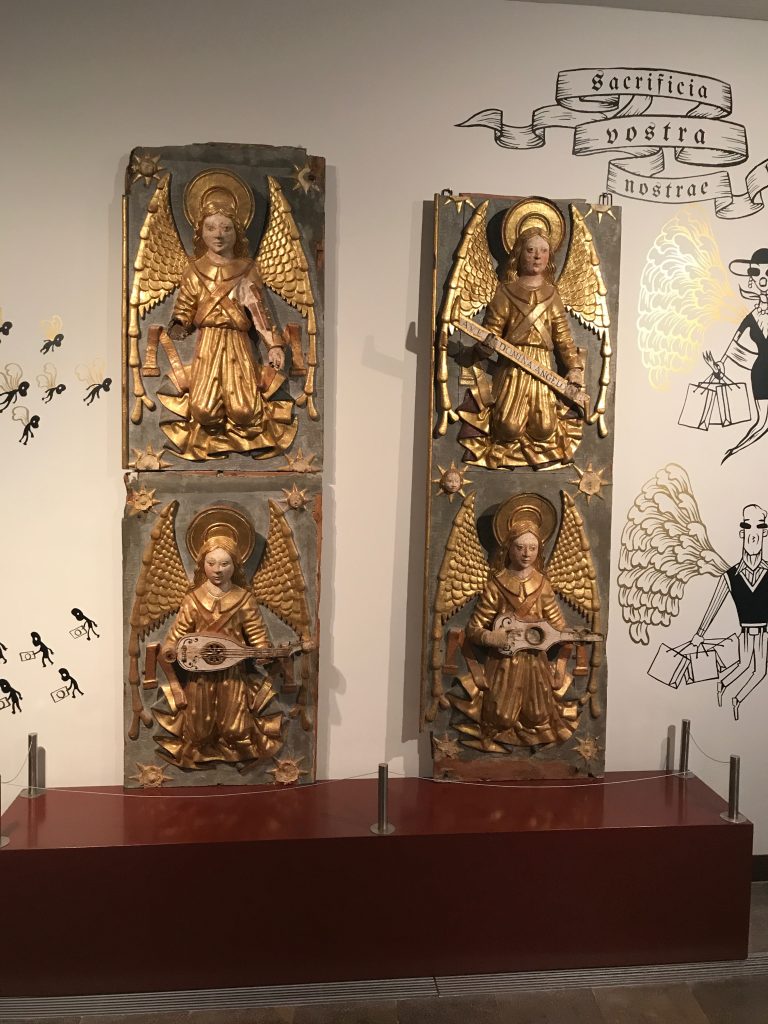 While this may not have been Dreamer's favorite museum, she at least found her happy place while Doer explored. Hanger may have been involved.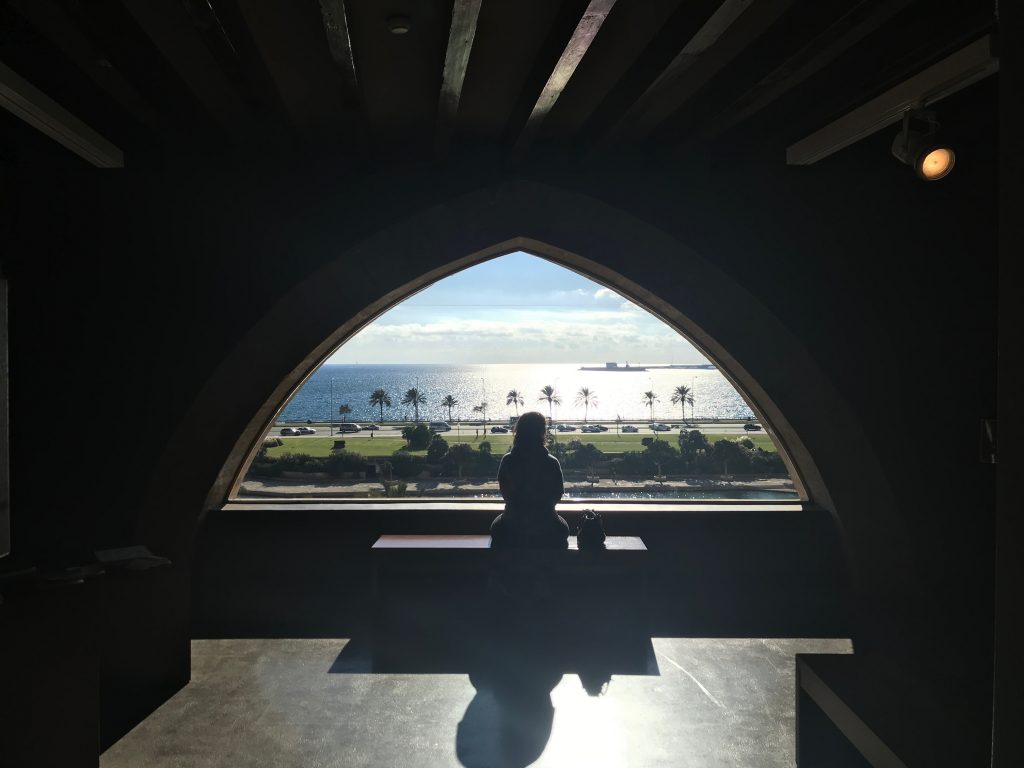 After lunch, we went to the Juan March Foundation Museum, where we saw some 20th Century Spanish art in a 17th century mansion.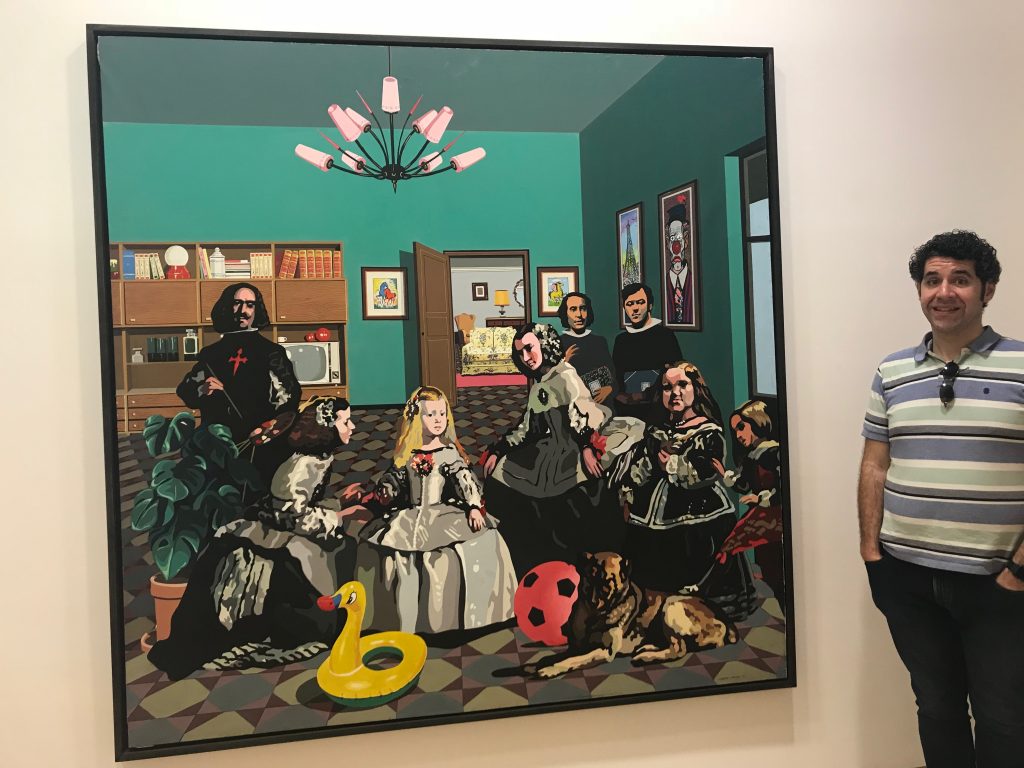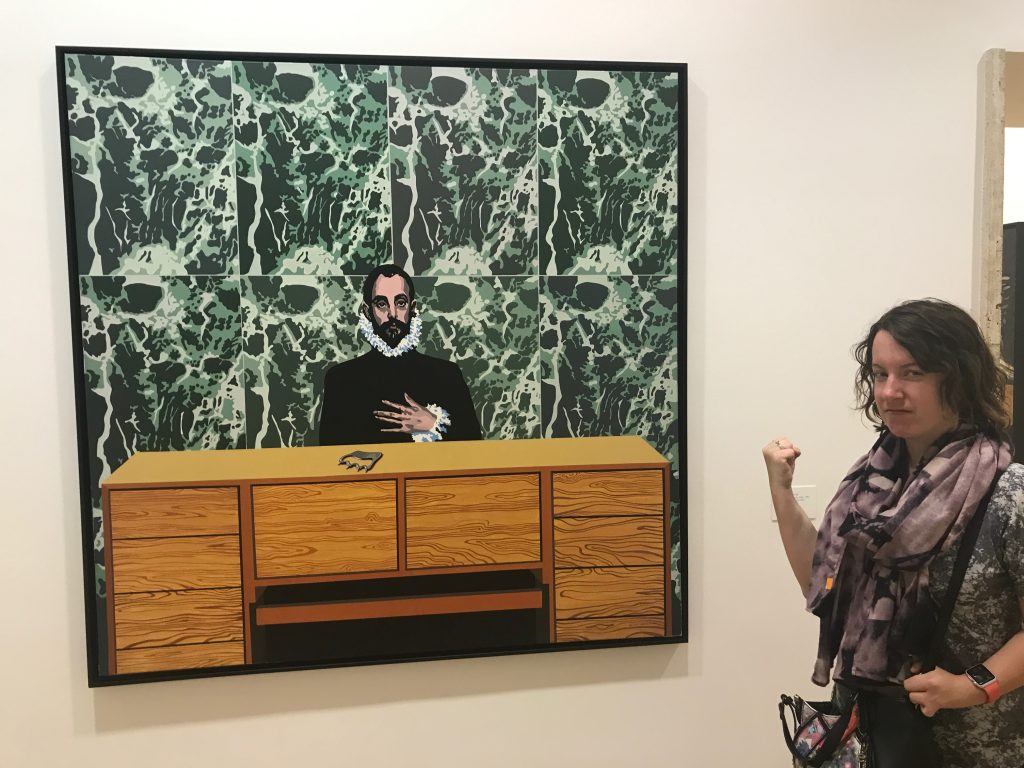 Doer found his tribe as well.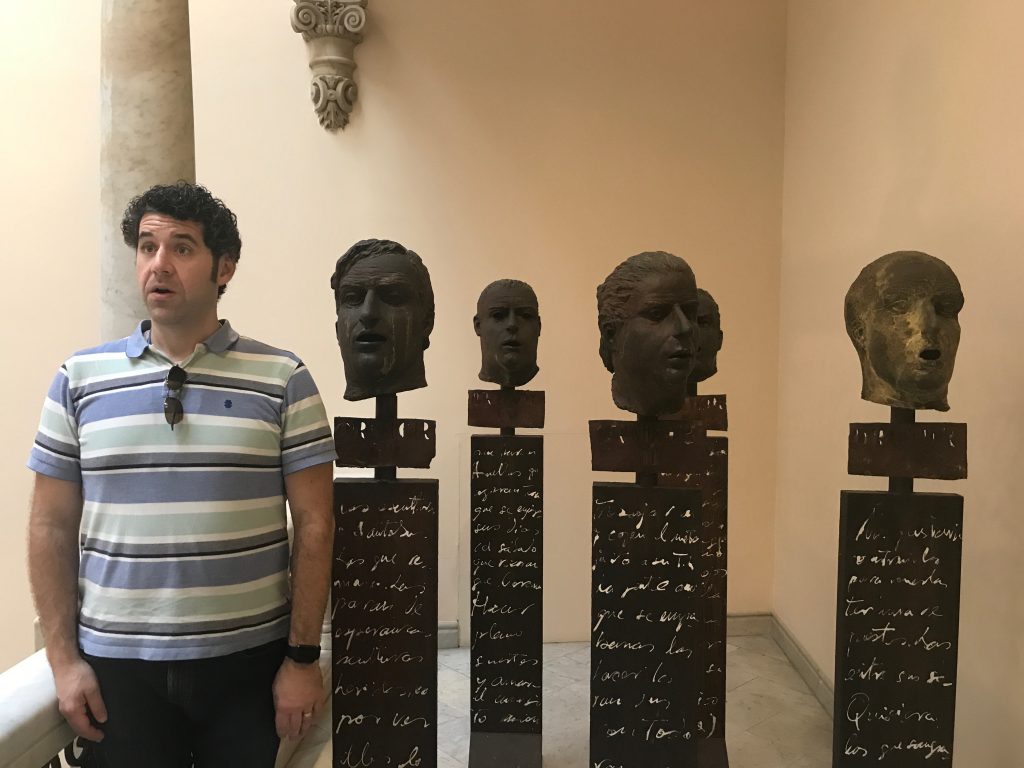 Our last hours in Palma were spent soaking up modernist buildings, Catalán posters, and eating more ensaïmadas.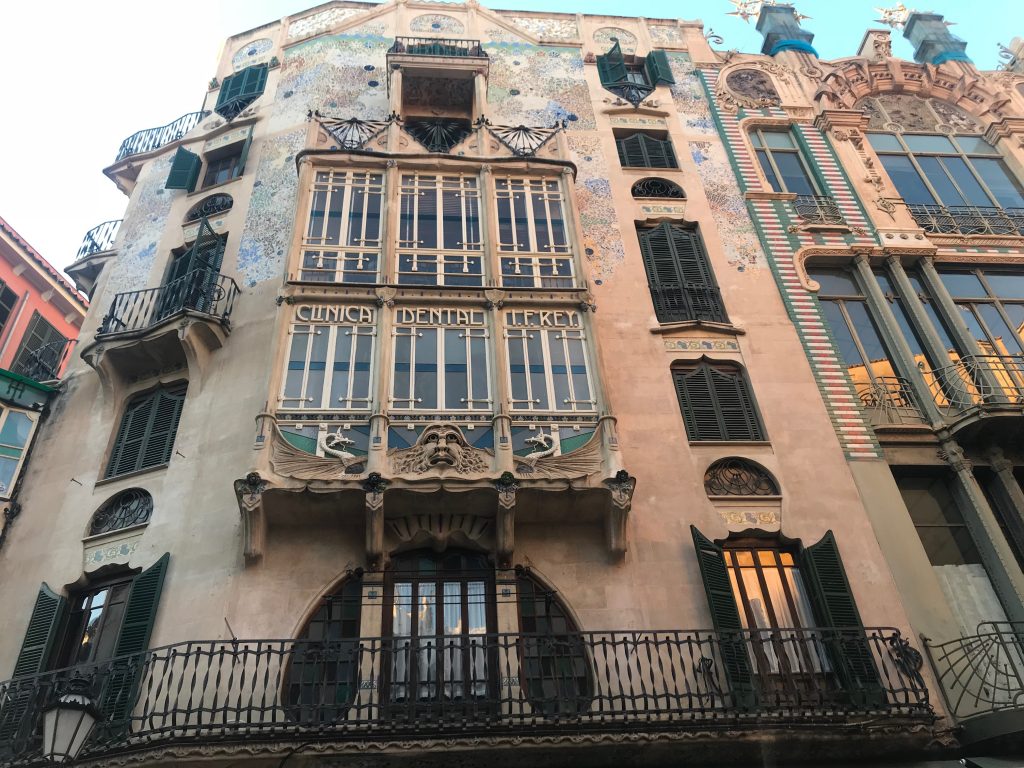 Dreamer was disappointed when we went to city hall only to find one of our favorite Spanish go-to sights was closed off for the day, ostensibly just . . . 'cuz.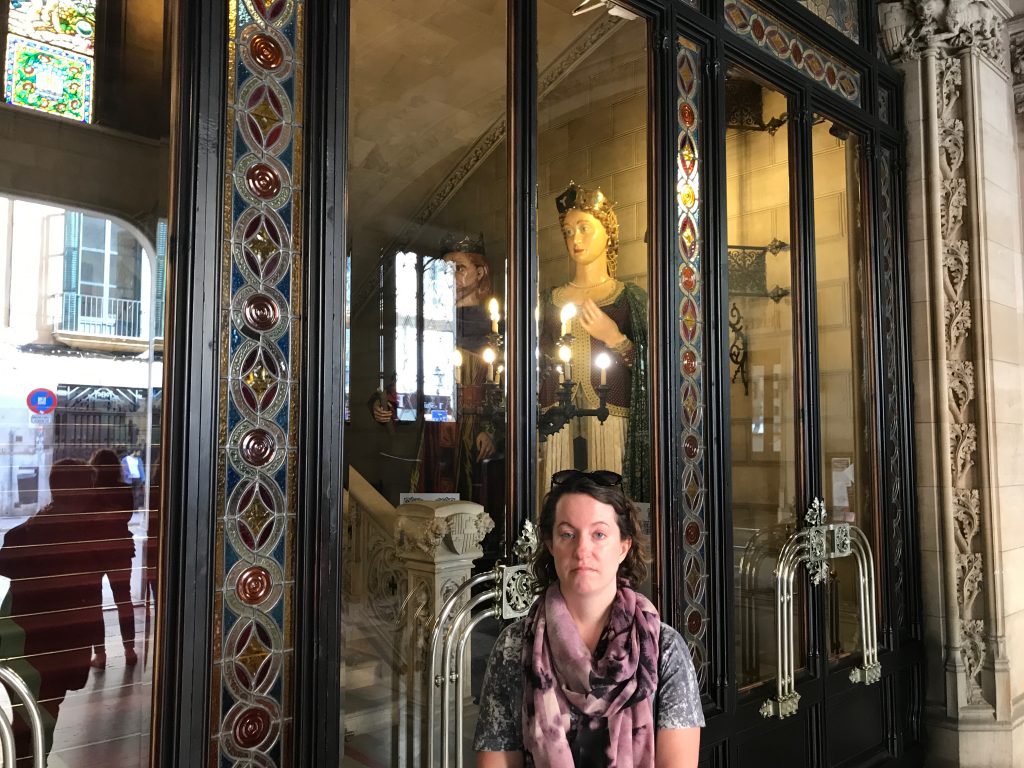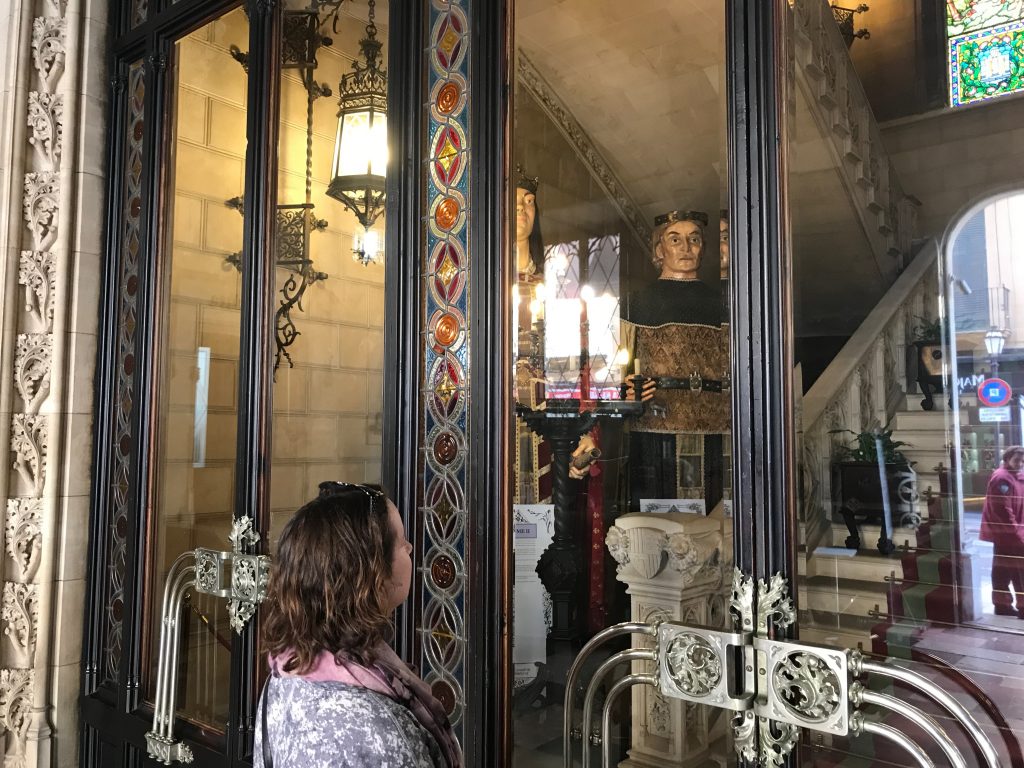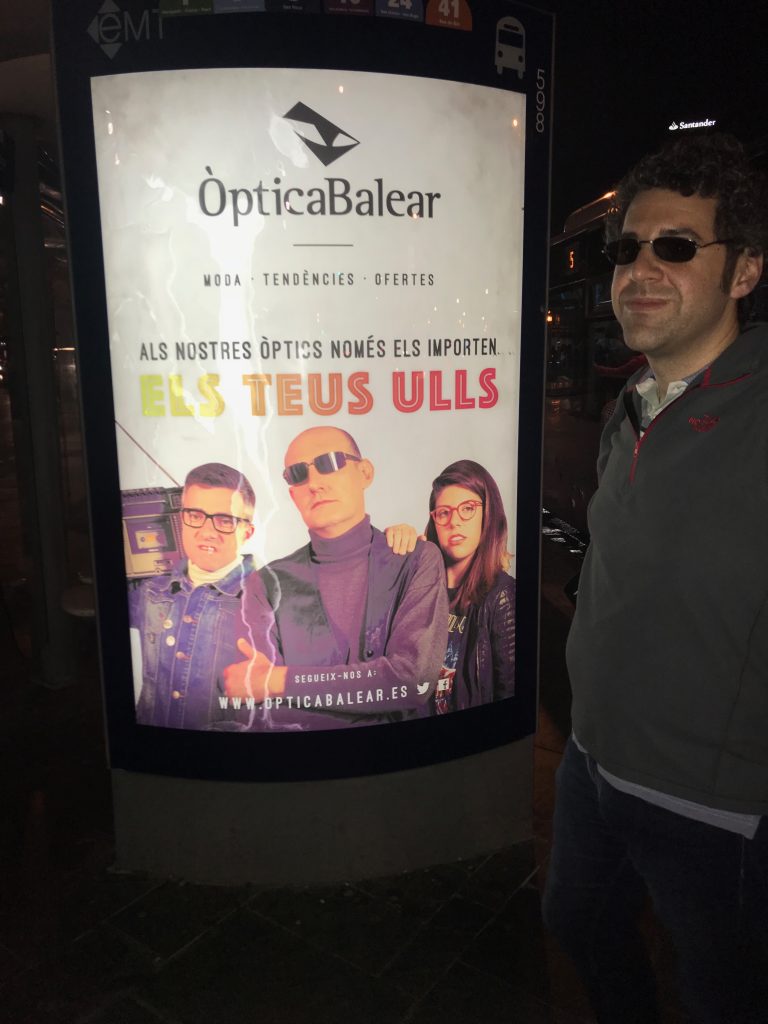 Gotta keep your ulls open.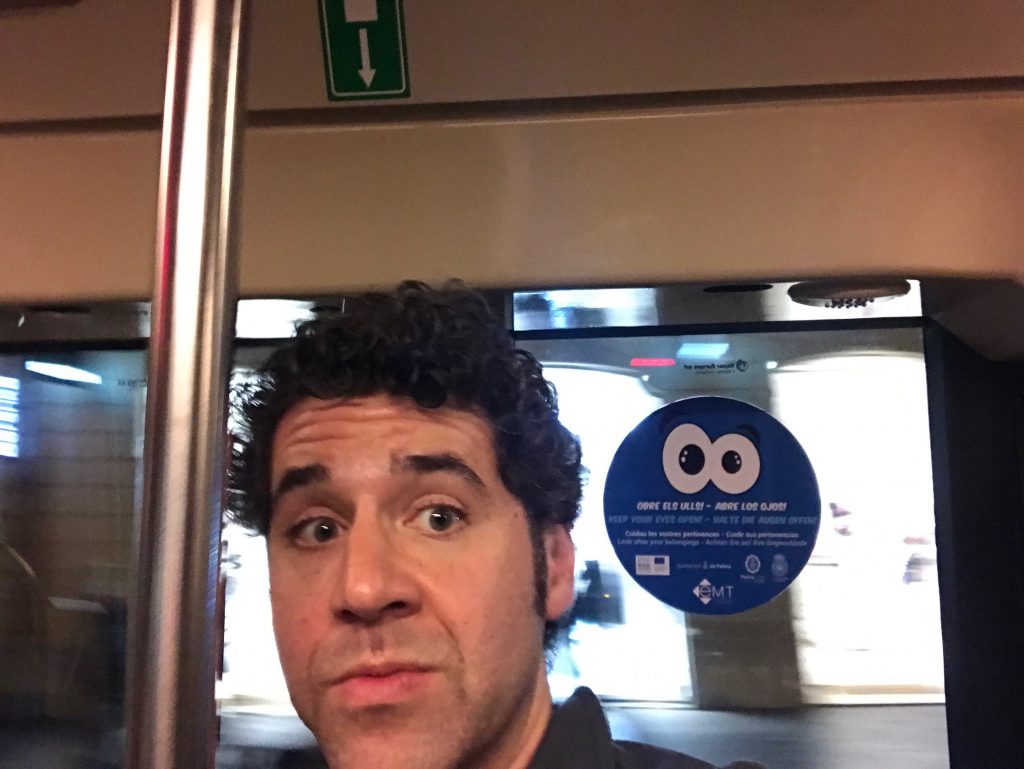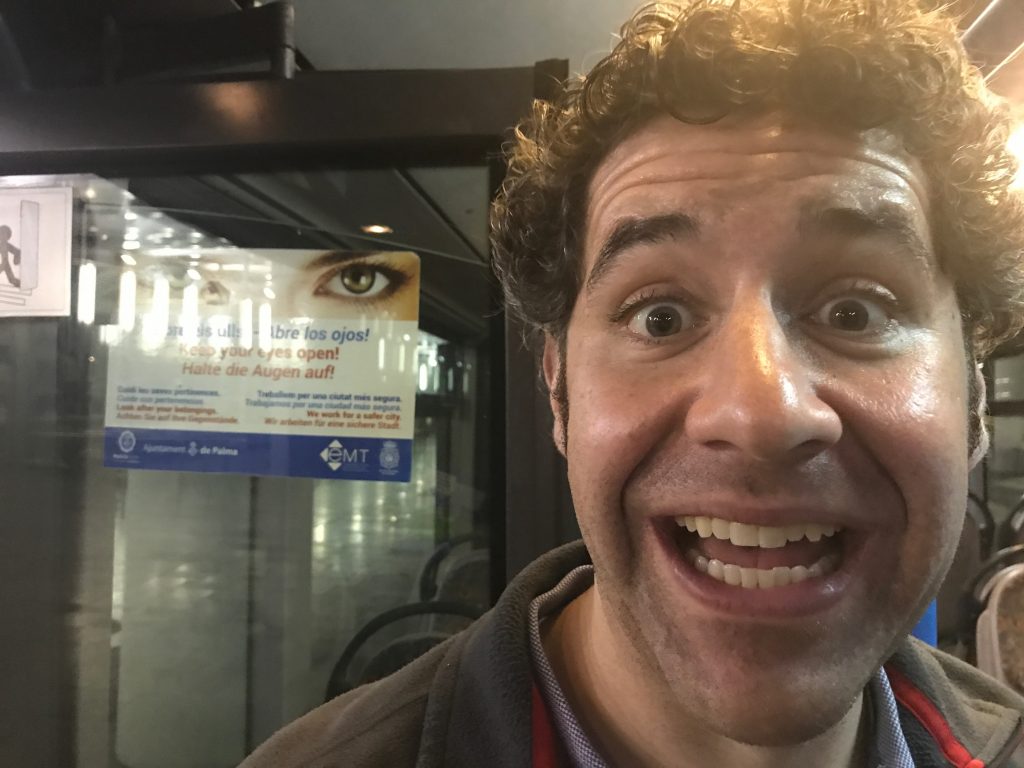 Did we mention there are a lot of seasonal German residents on the island? Certainly means you get a great breakfast at the hotel. And we will miss it tremendously.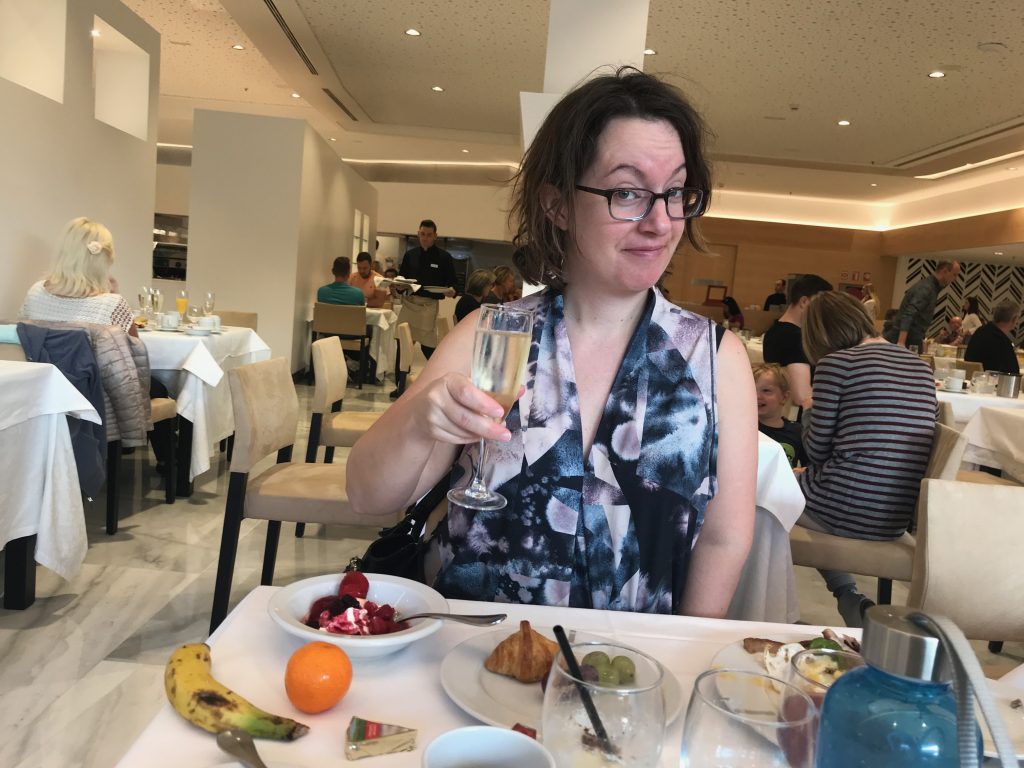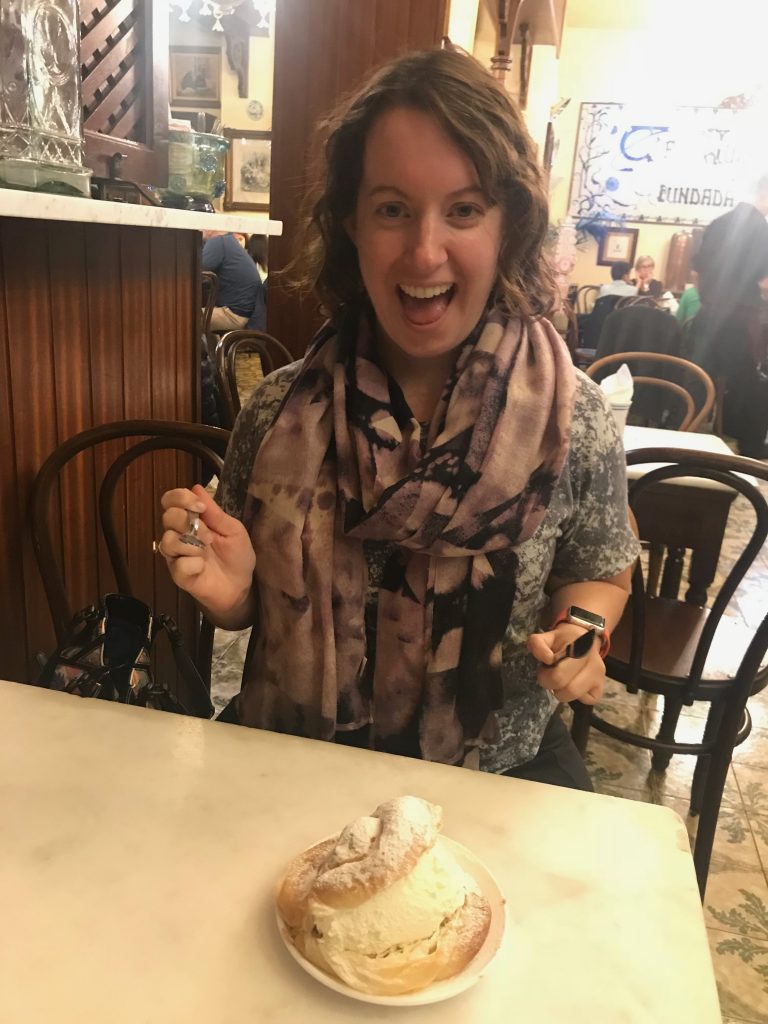 They weren't messing around at the airport. Probably because of all those people bringing home whole ensaïamadas… you can't be too careful.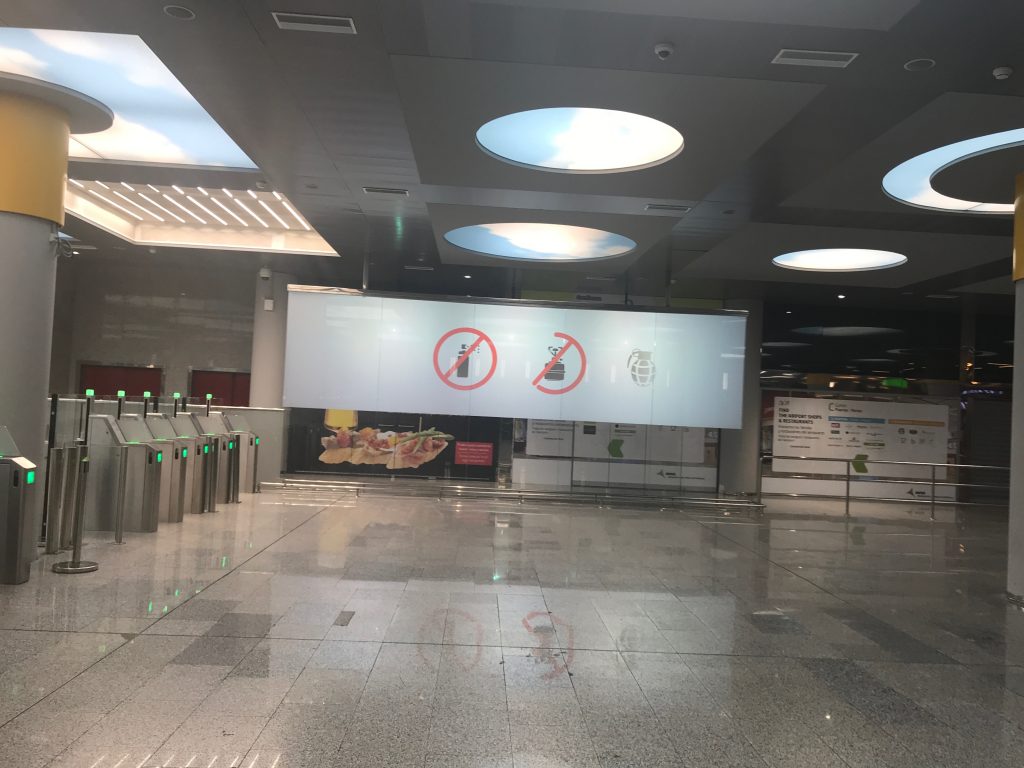 Doer found this coin-operated popcorn machine by our gate, which would have made all the cavity-searching better… if only it had worked!