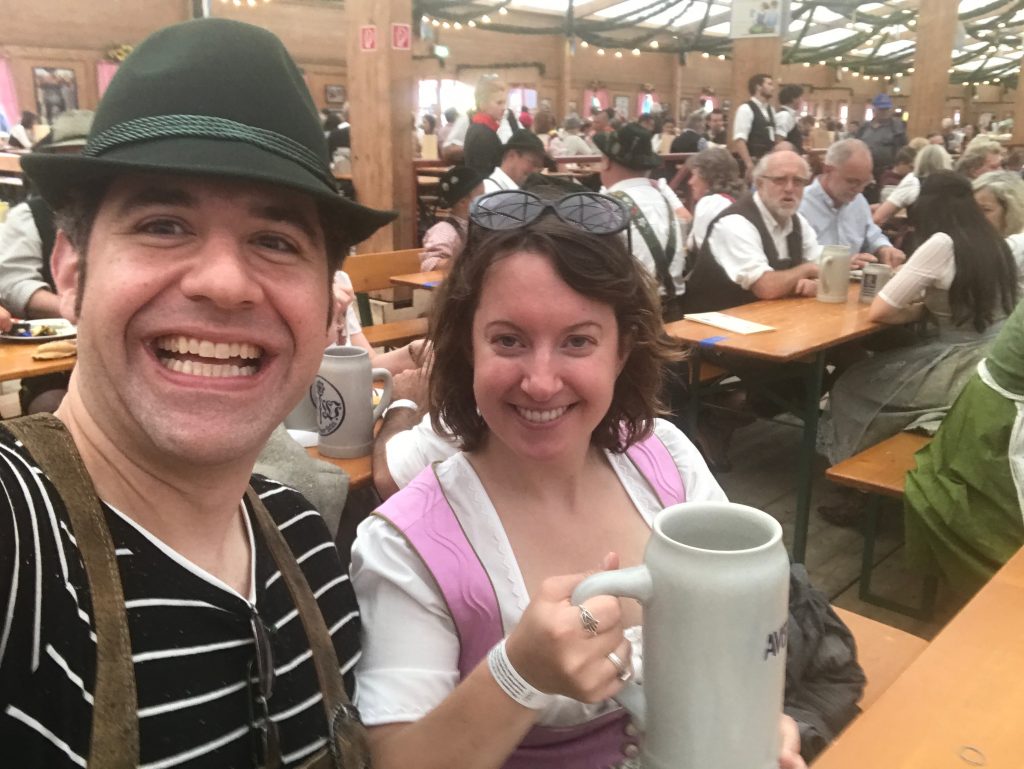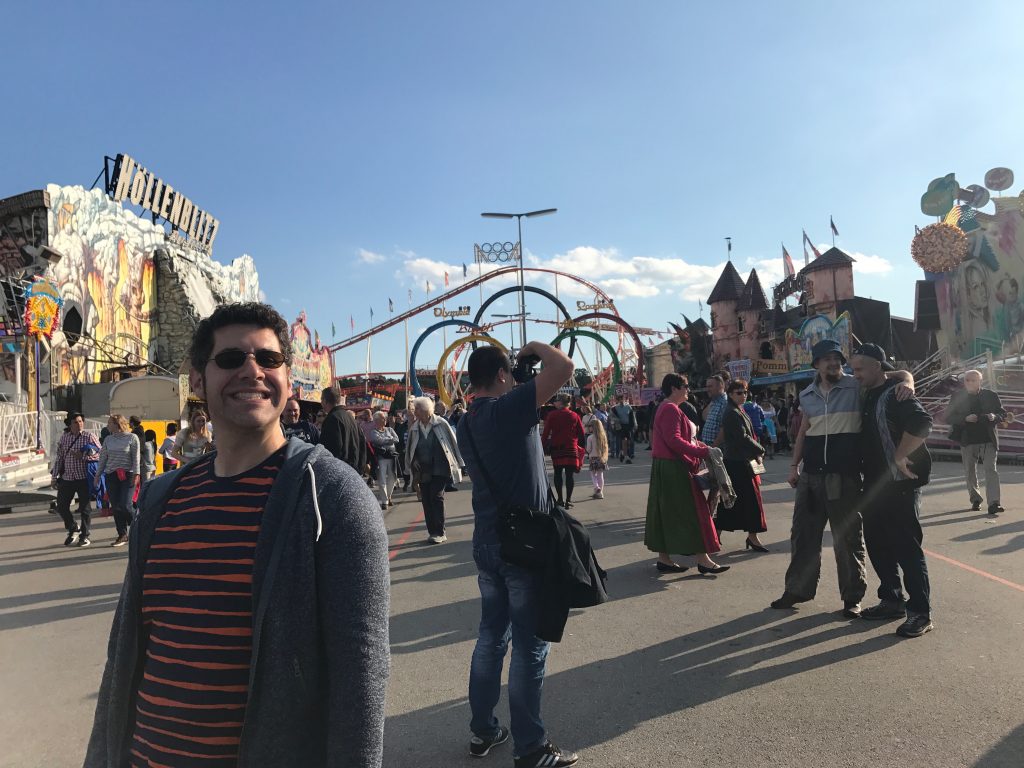 We went to Munich in mid-September to eat, drink, and be merry during the famed Oktoberfest, or The Wiesn as locals refer to it. Held in Munich every year since 1810, it is as Bavarian as beer and pretzels.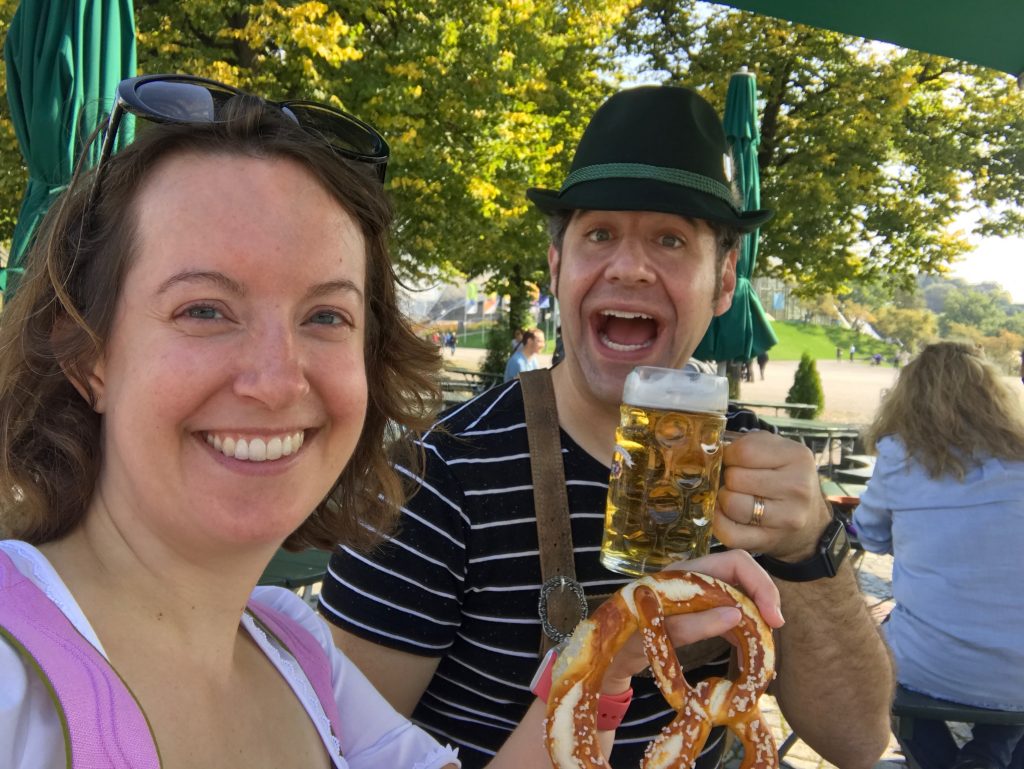 And yes, we said September: if you're looking to celebrate in October, you're too late. The original event celebrated Princess Theresa's wedding to King Ludwig I, and today's celebration is still held on the festival grounds bearing the princess's name (Theresenweise, also giving rise to "The Wiesn").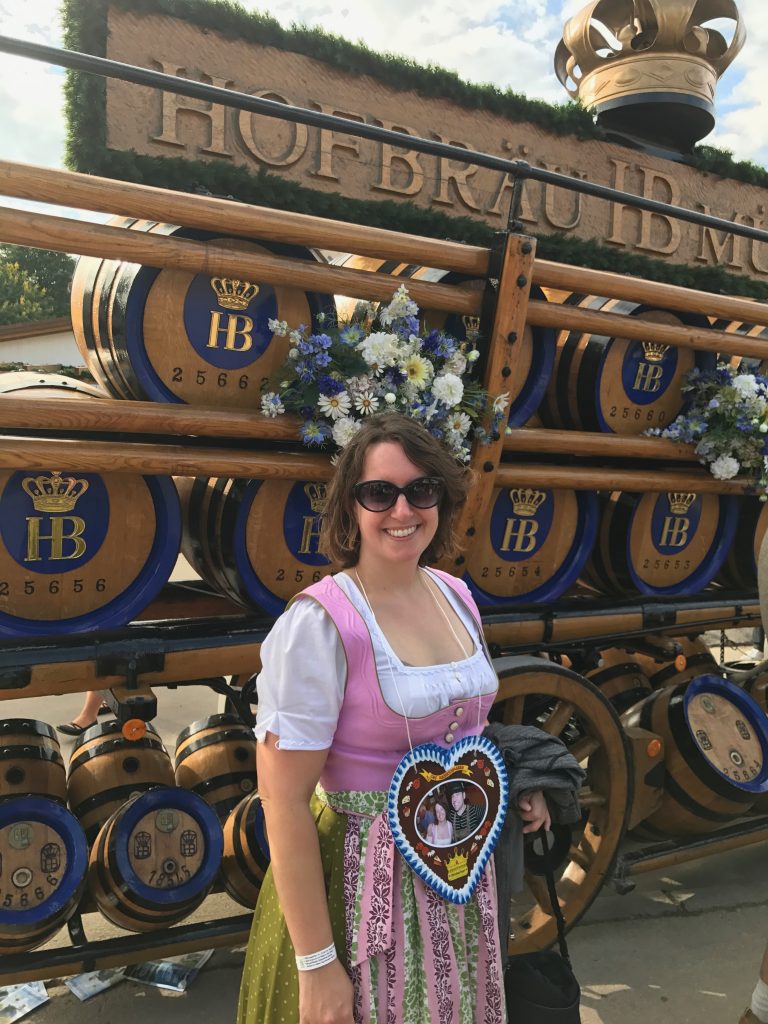 It was on this trip that Dreamer discovered her all-time favorite breakfast.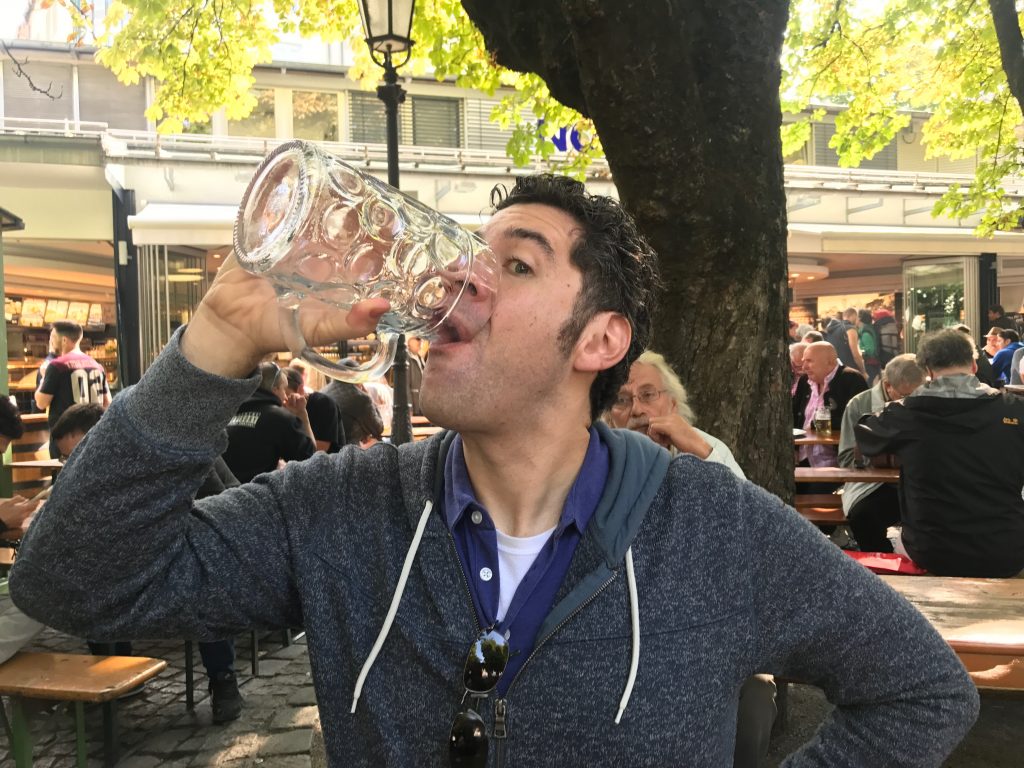 But we're getting ahead of ourselves, especially with us in those outfits above. Before diving into the festivities, we started with a tour of the city itself: first by climbing the tower at Town Hall, and then by taking a free walking tour.
We saw the famous mechanized animated clock known as a glockenspiel in Marienplatz (the main square) when it struck 11 a.m.
Our tour also took us by a bronze statue one can rub for luck. Interesting which part the Trumps of the world choose to rub most frequently, though…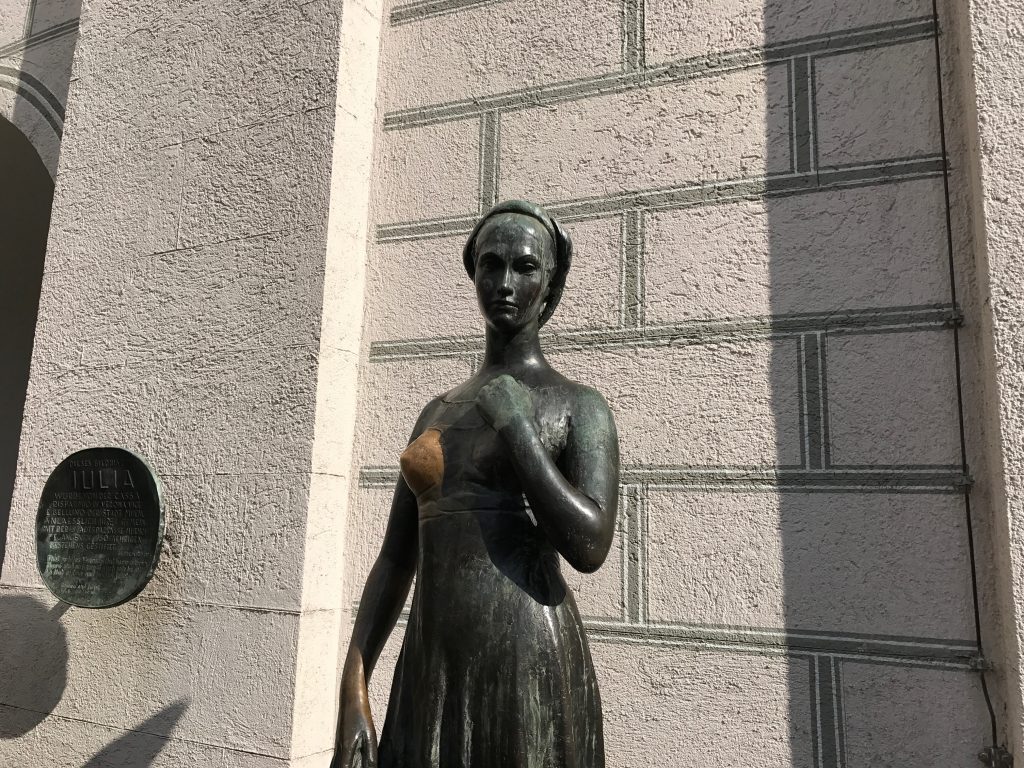 München is German for monks, which shows in the city's coat of arms.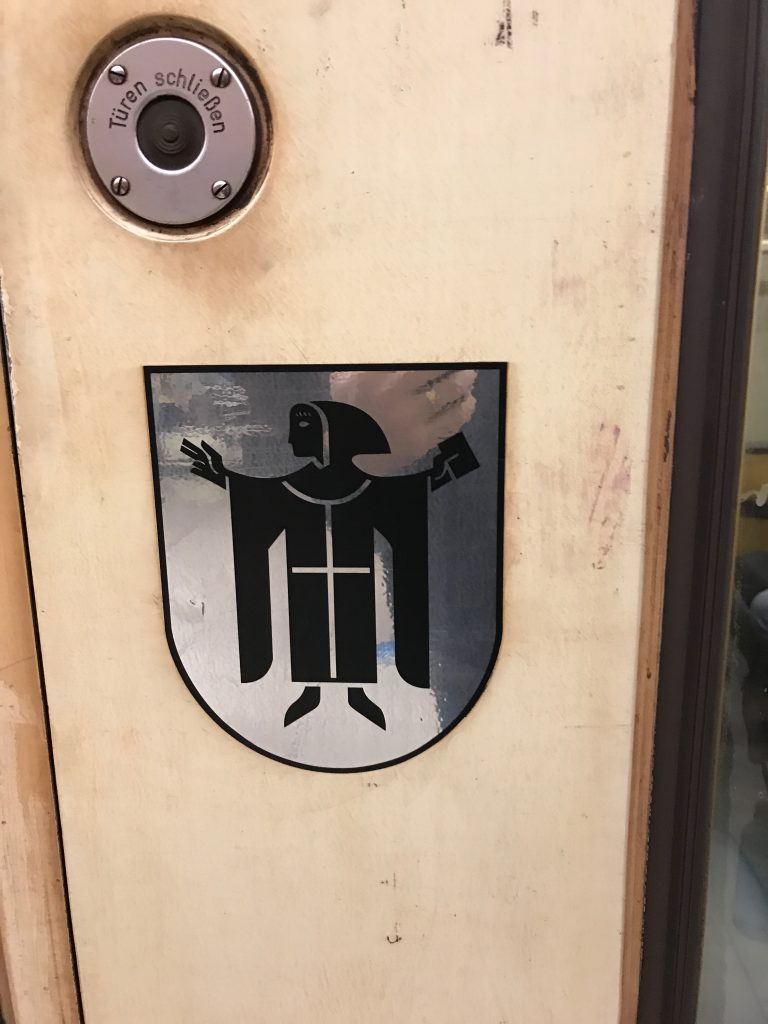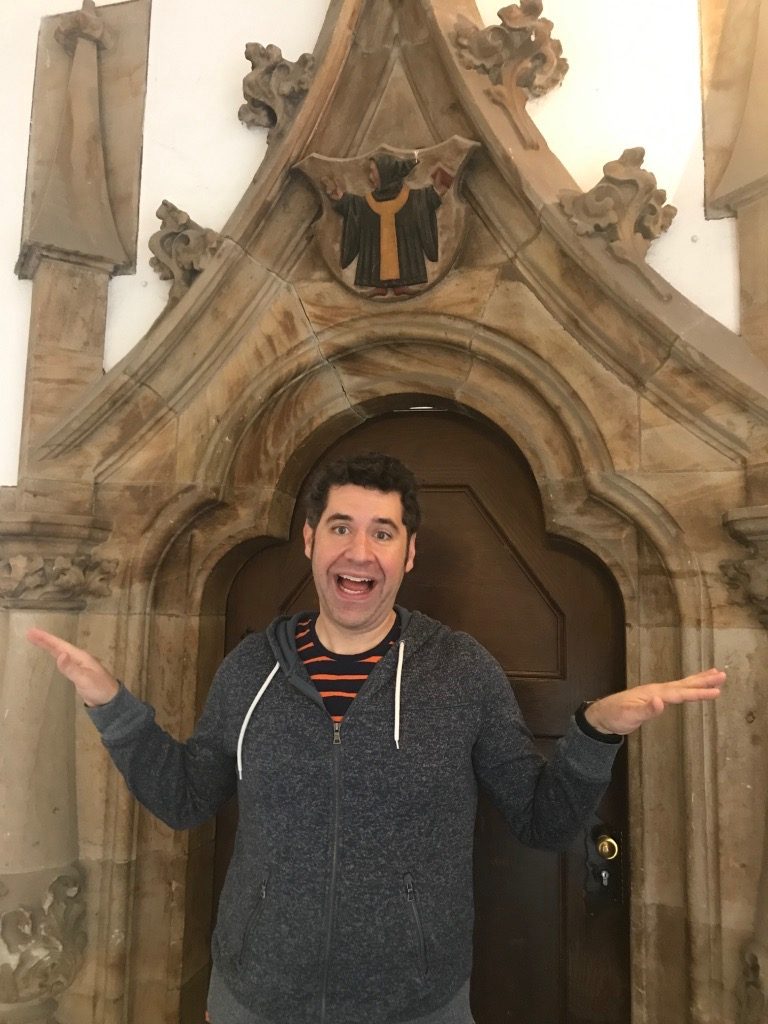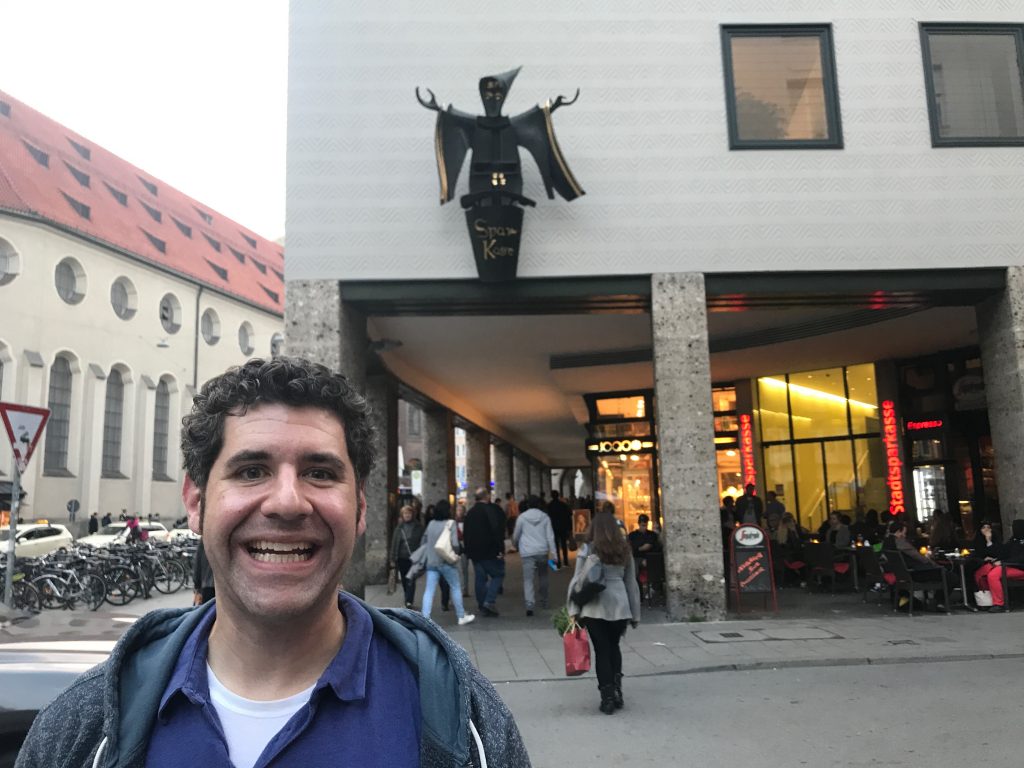 After the tour, the main reason for our visit: off we went to the Wiesn!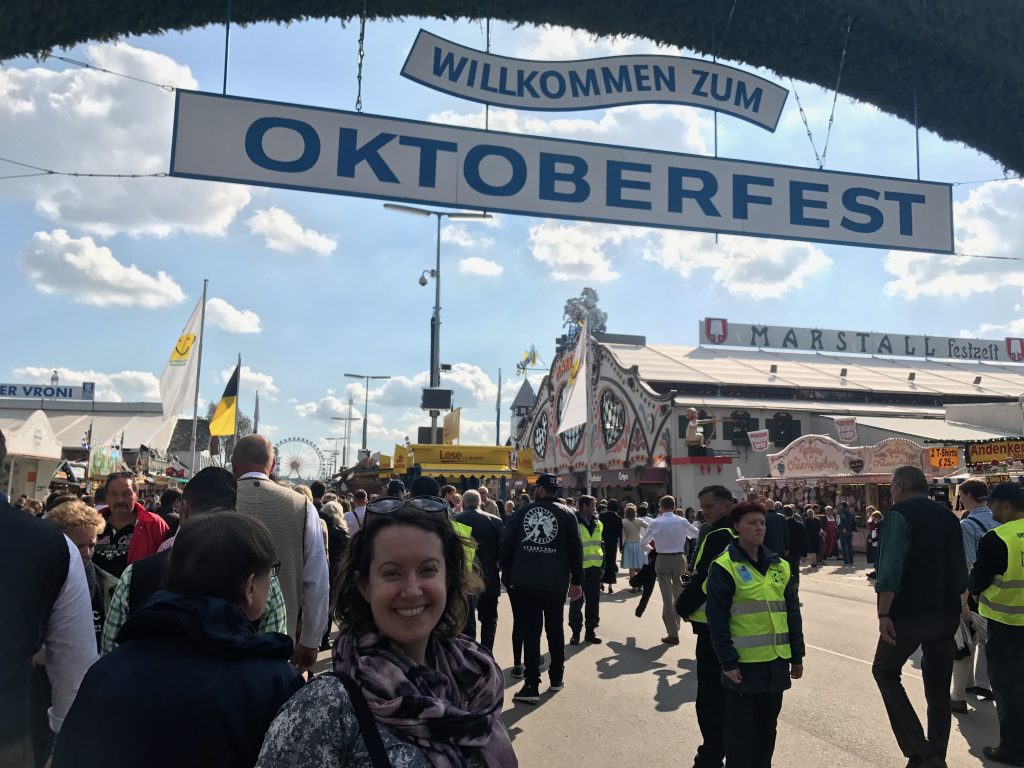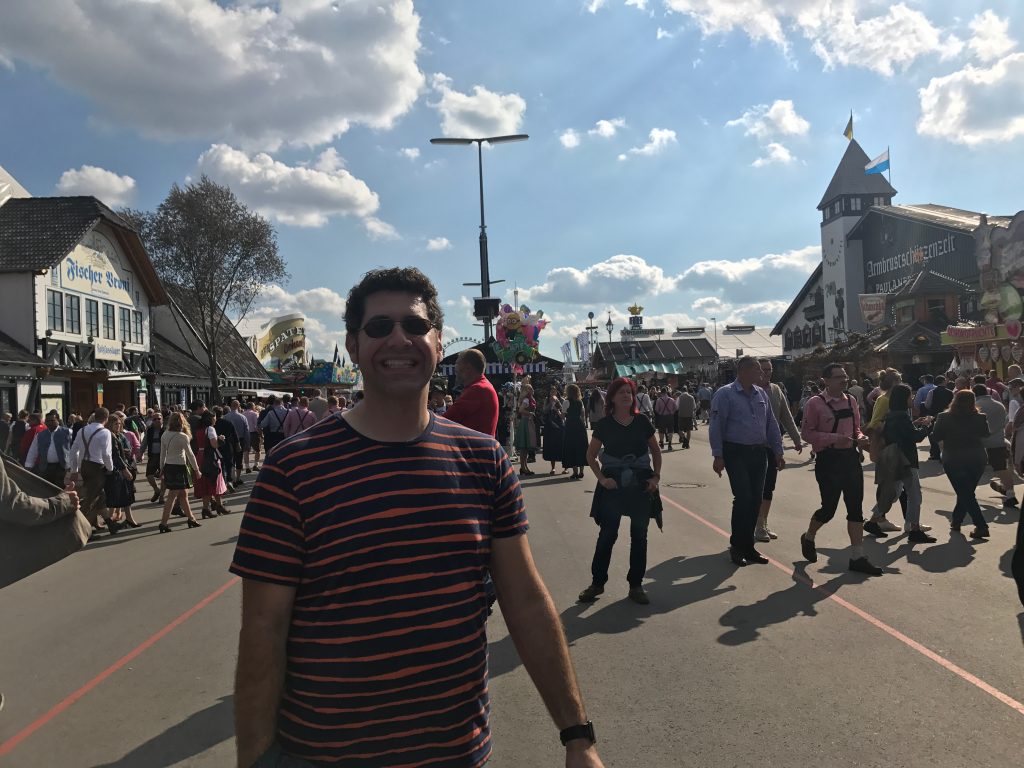 Entrance is free, but you will definitely pay once you are inside. 10€ for a stein of beer, just to start. Cash only!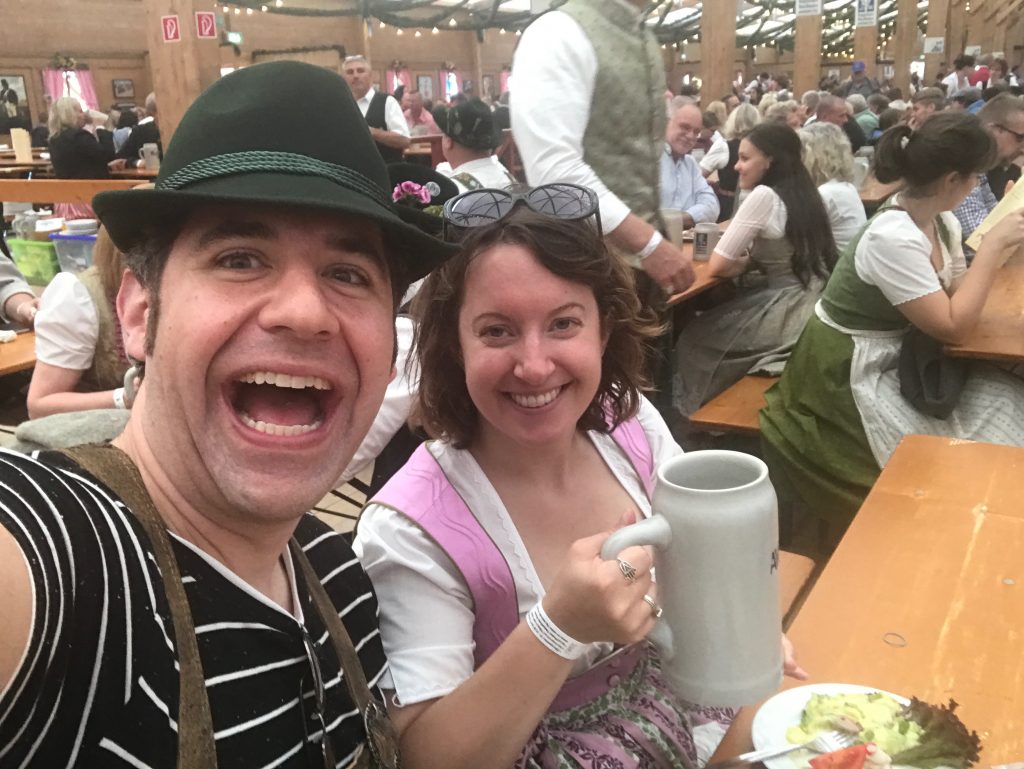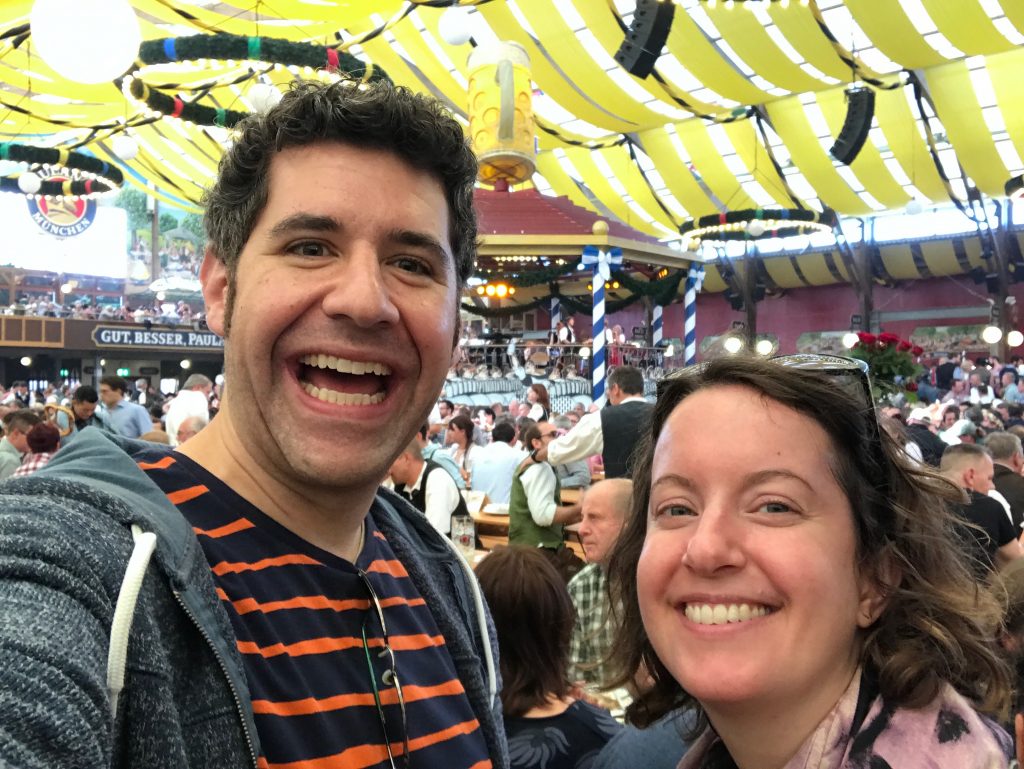 And how do they keep up with all that demand for product?
But let's be honest: we were kind of there for the food.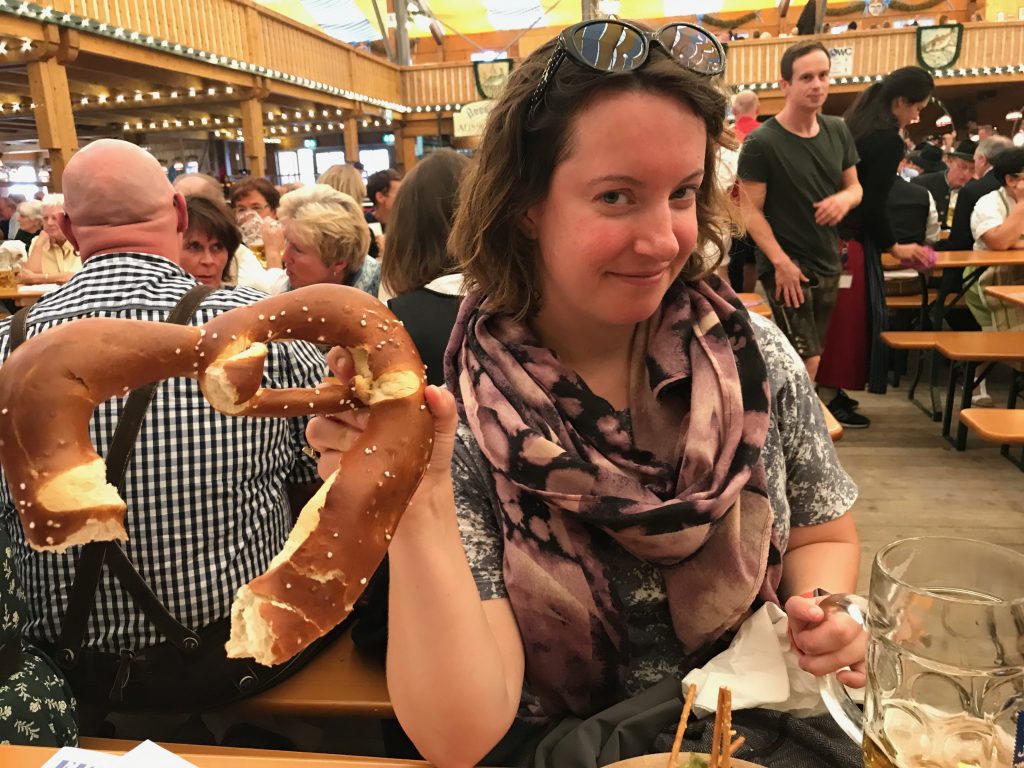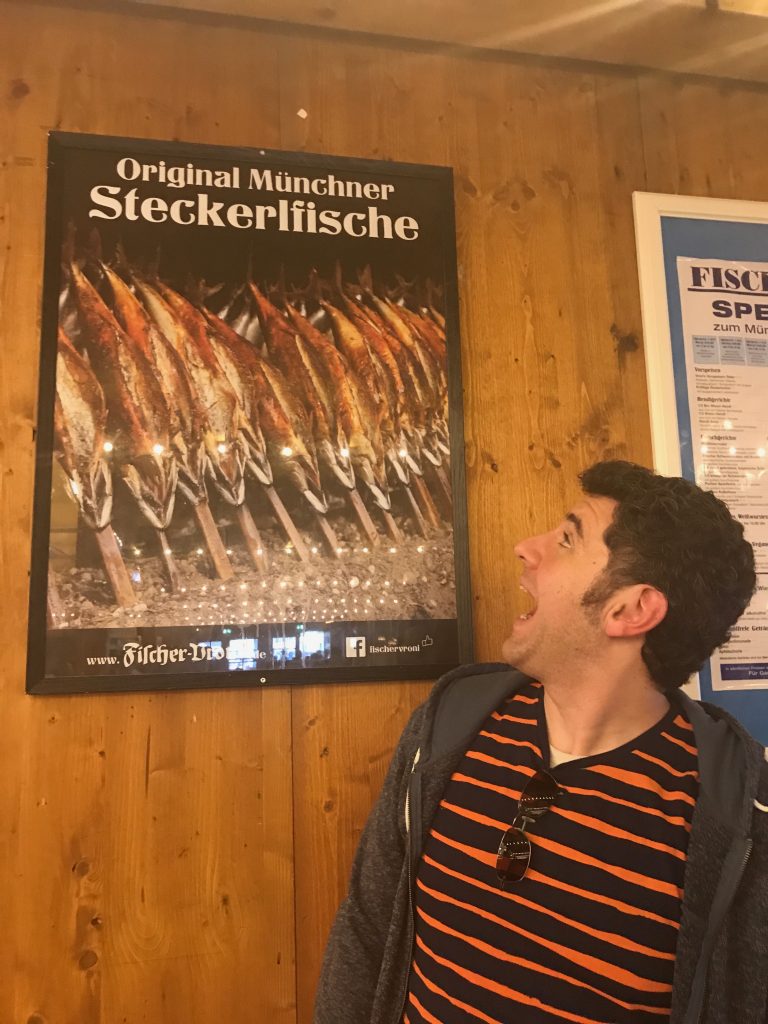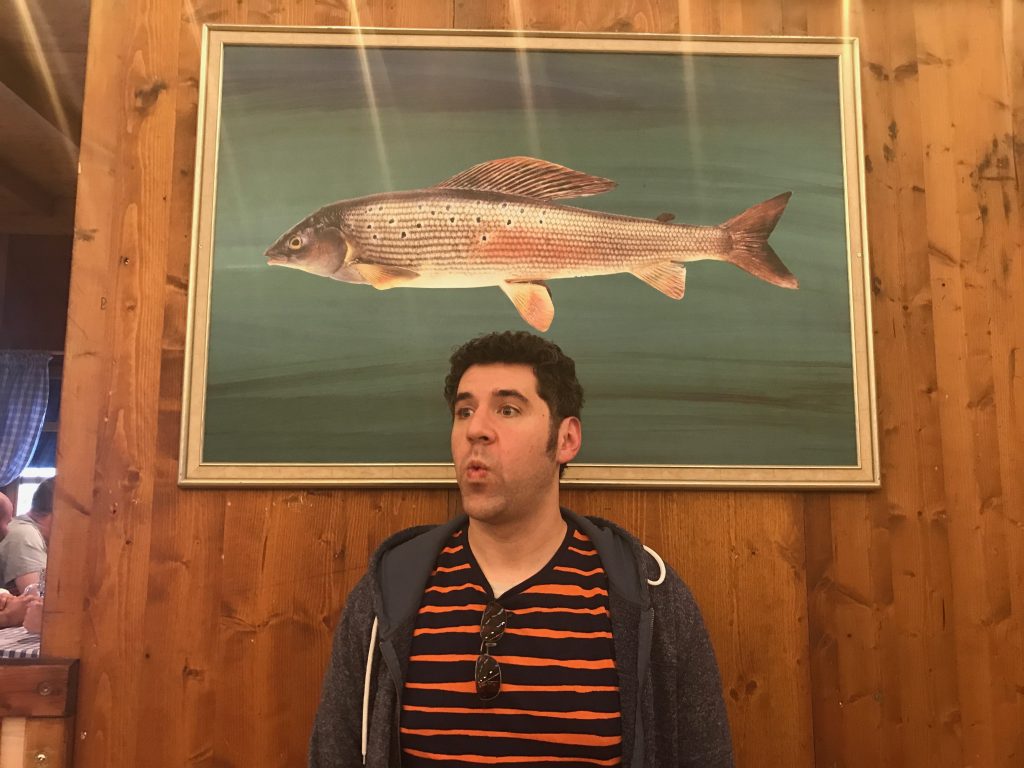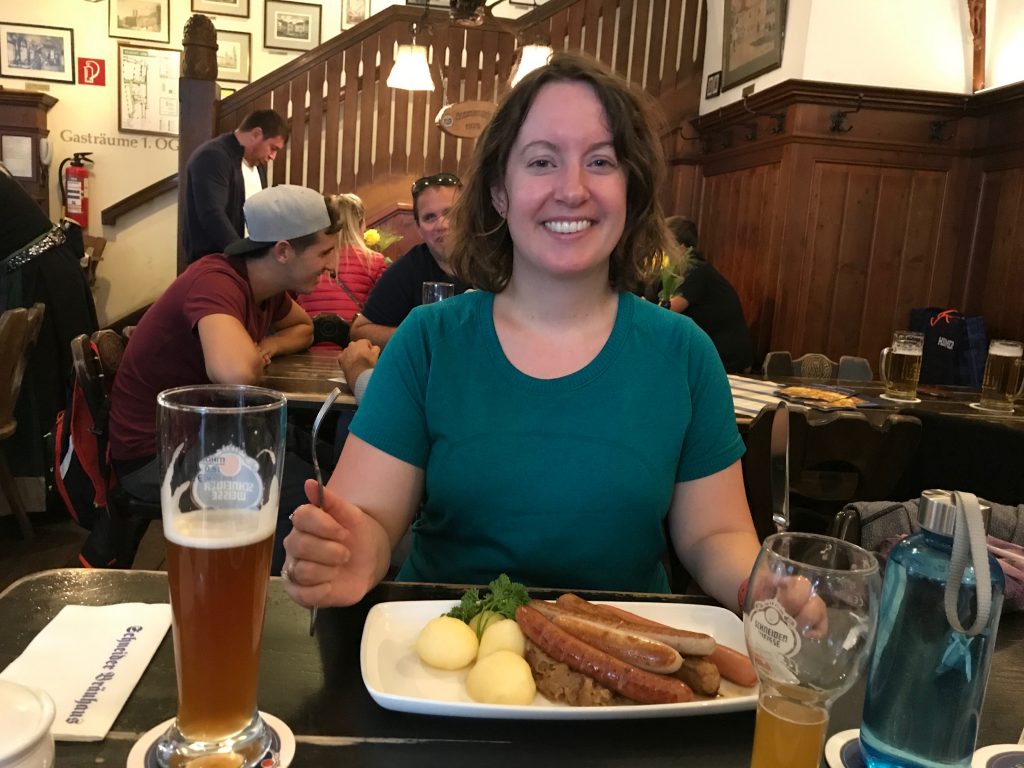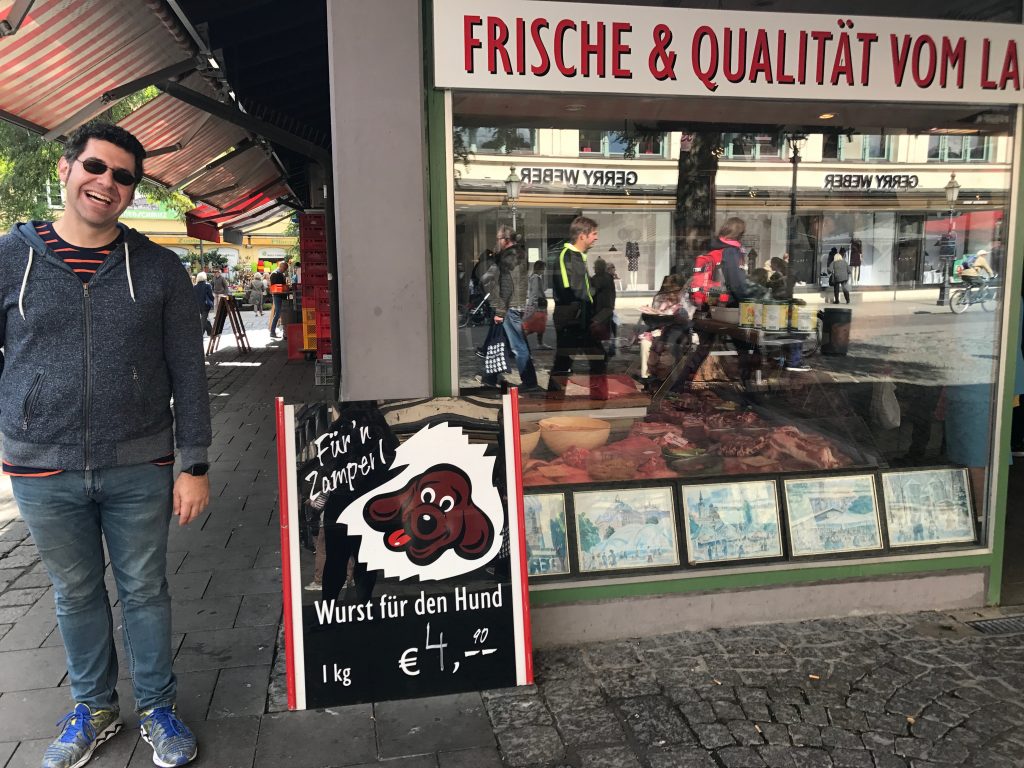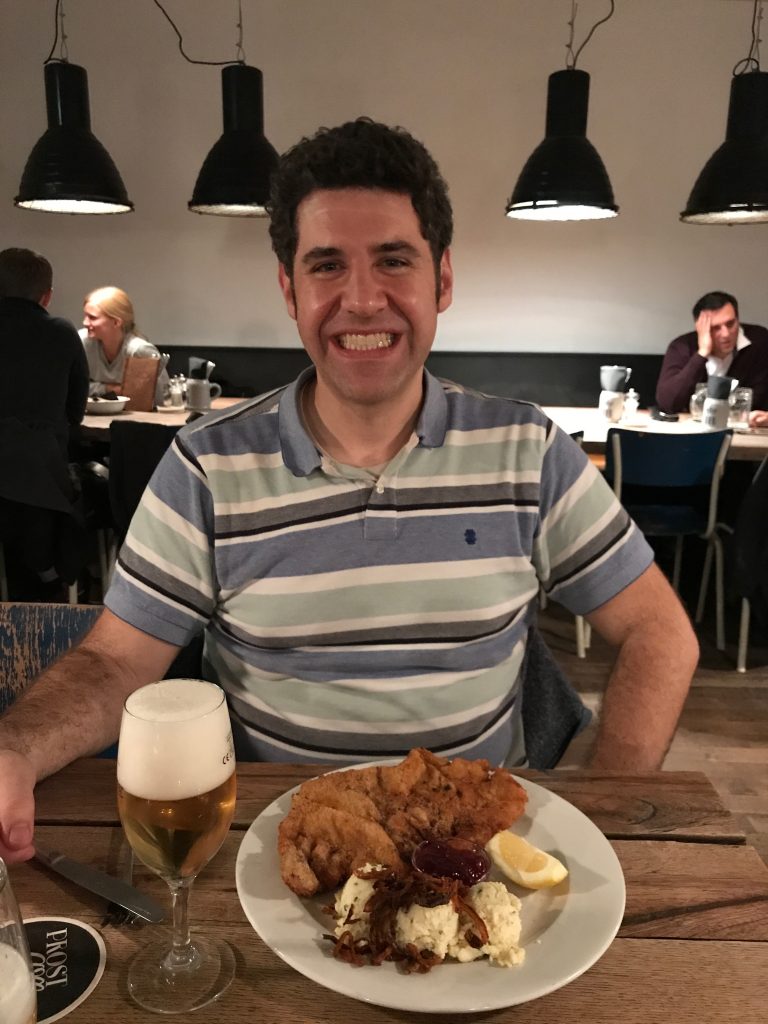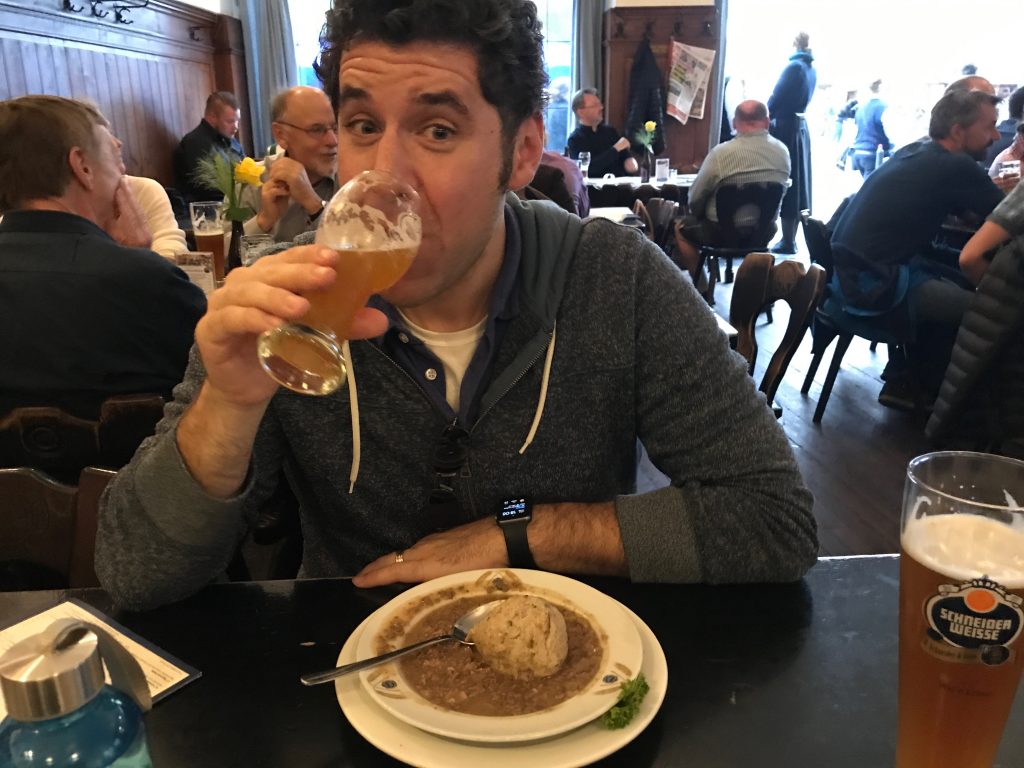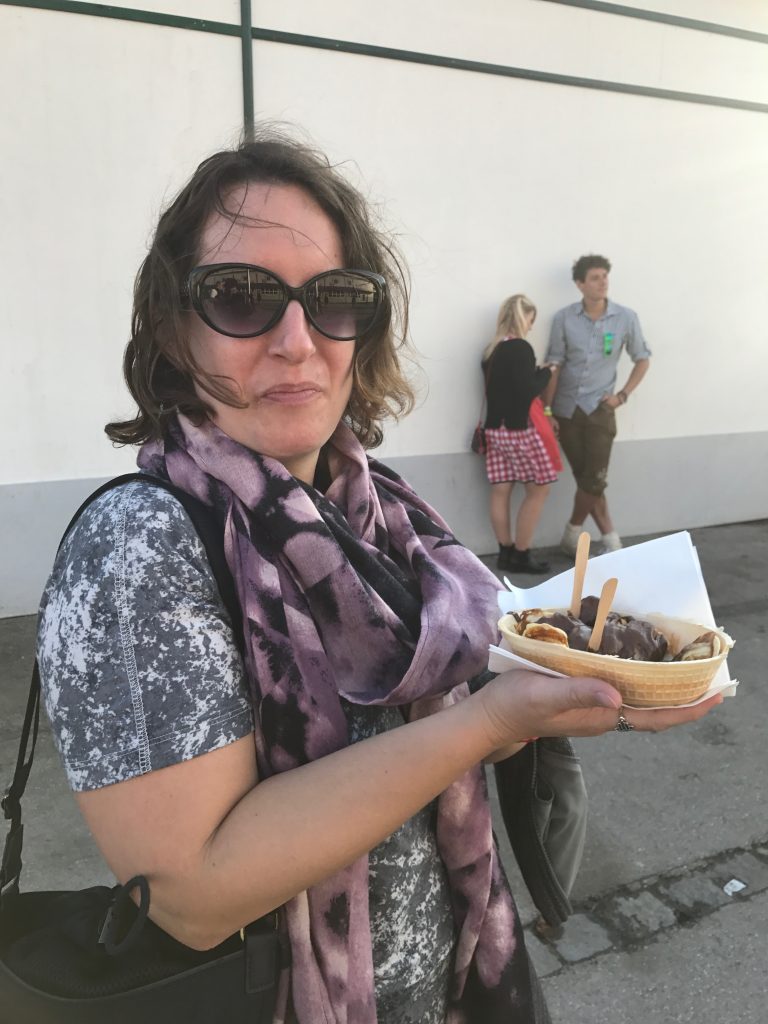 After our first day at the Wiesn, we couldn't help but be swept up in the merriment. They say traditional dress is making a comeback for the young people, and we felt the urge just to pop in a store and see what it might look like on us.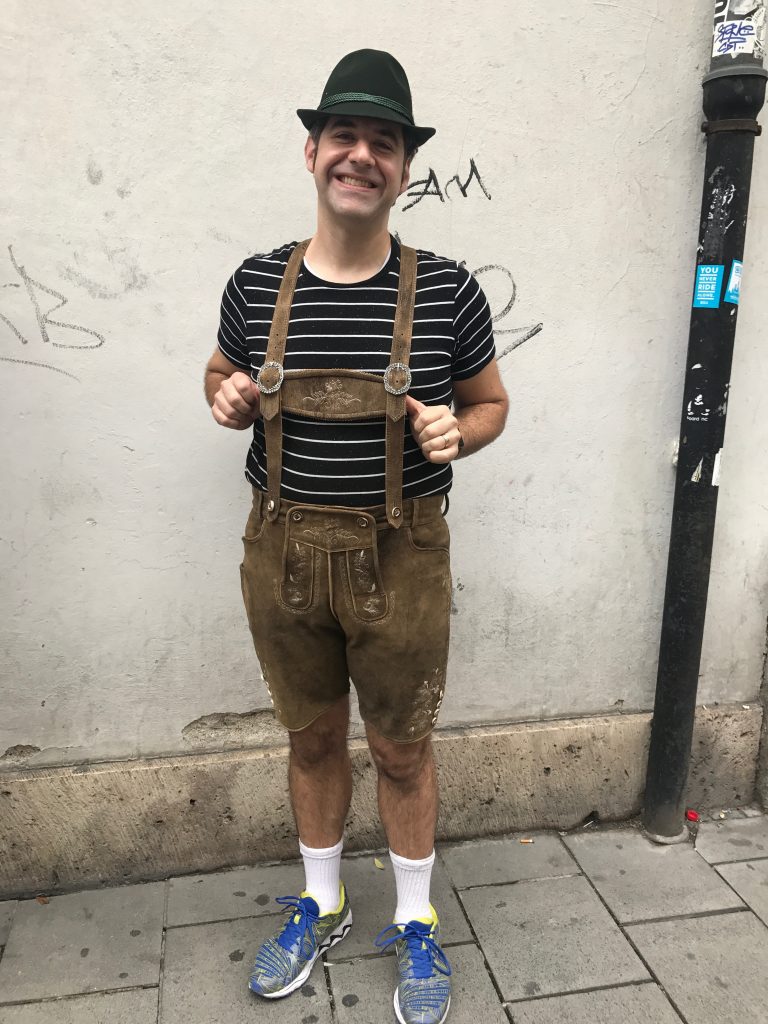 Even though it's not in our culture, so to speak, we couldn't resist and certainly blended right in. We fit in better, in fact, once we broke down and bought the duds, or what Spanish people would refer to as tiroles!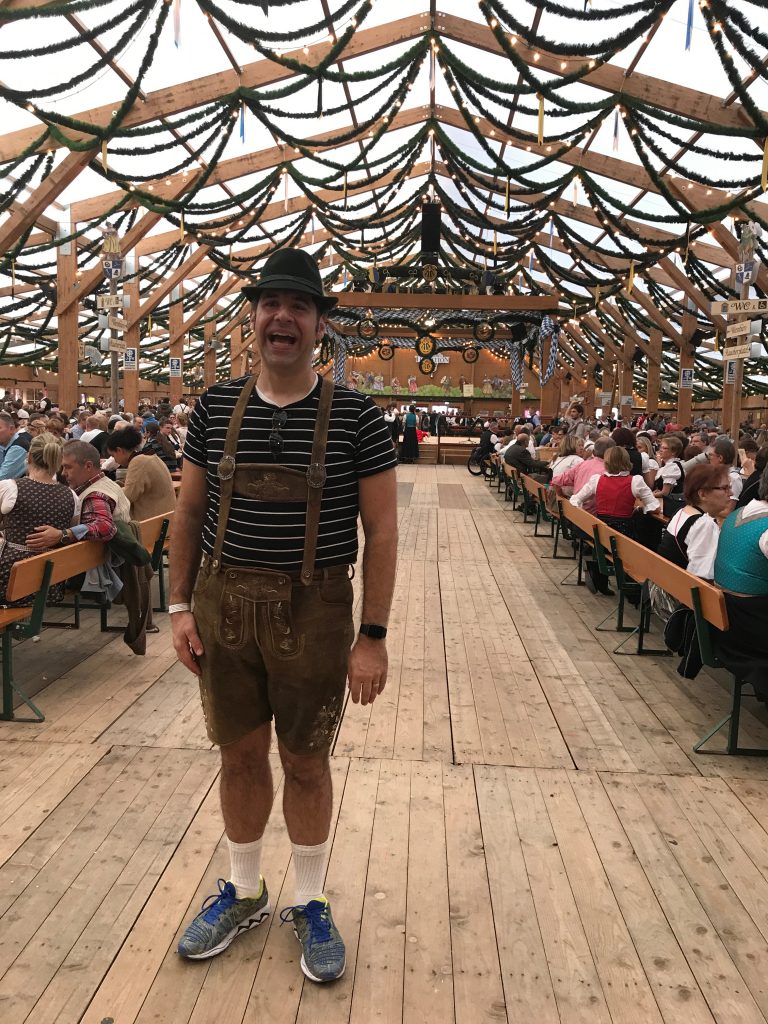 Lederhosen are pretty easy to buy: either they fit or they don't. Stuff for the ladies, maybe not so much. Luckily, Bavaria is a region that understands a guy's needs while his lady shops.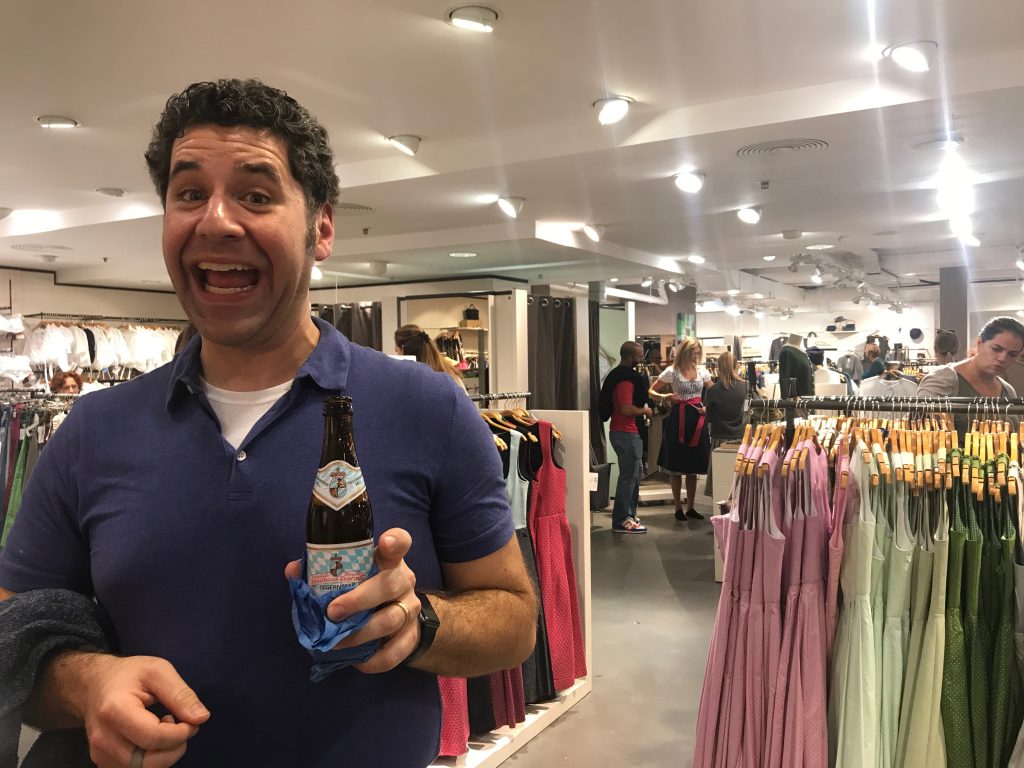 And finally: we had a matching set.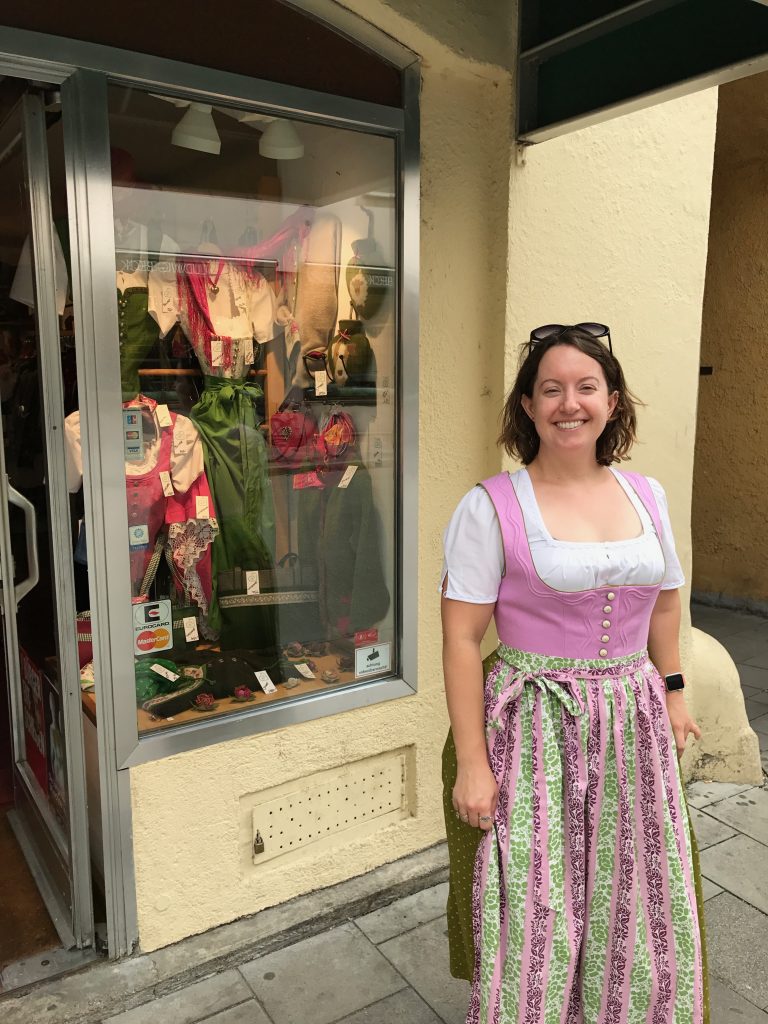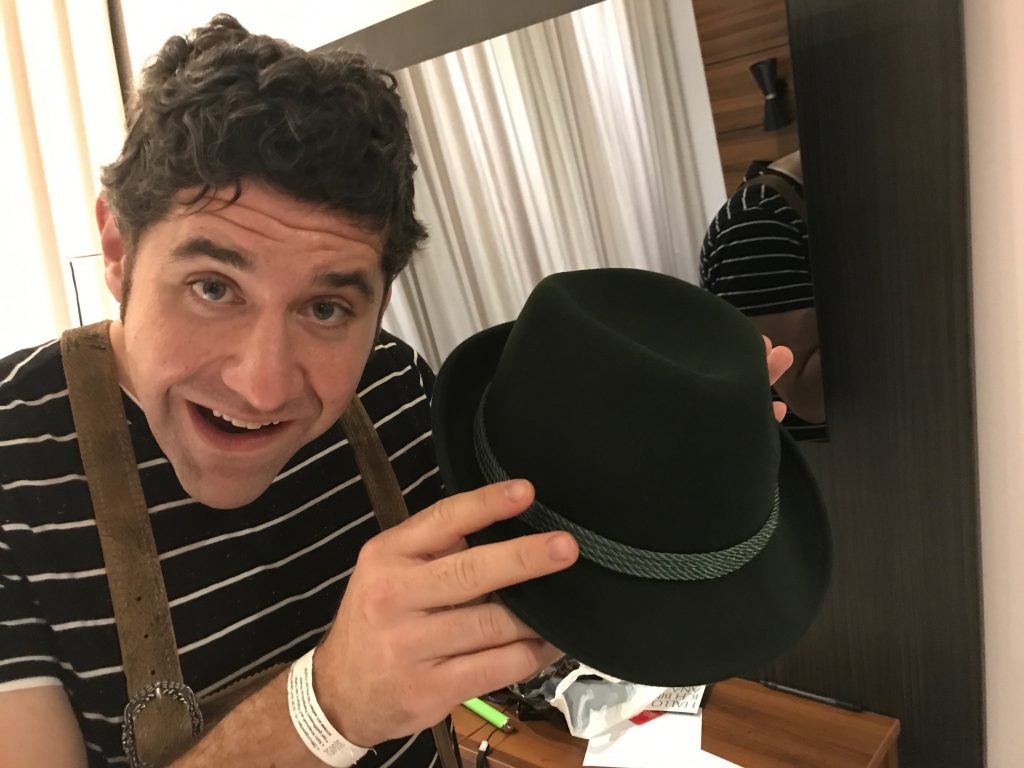 Comfortable in our new skins, back we went to drink and be merry again…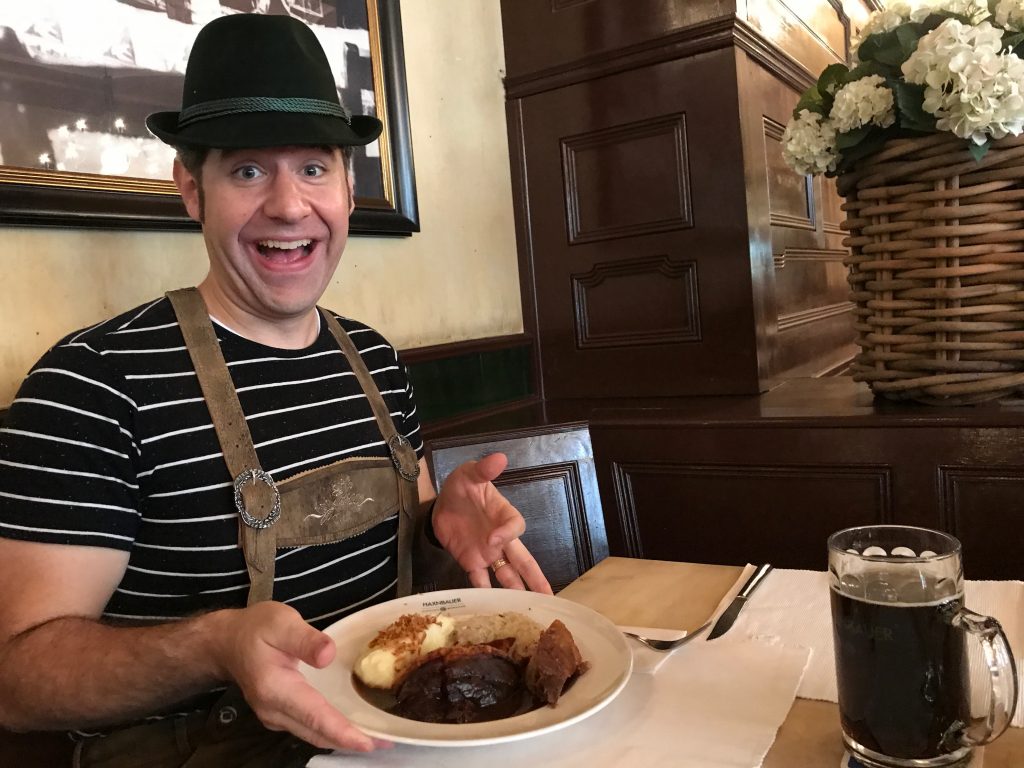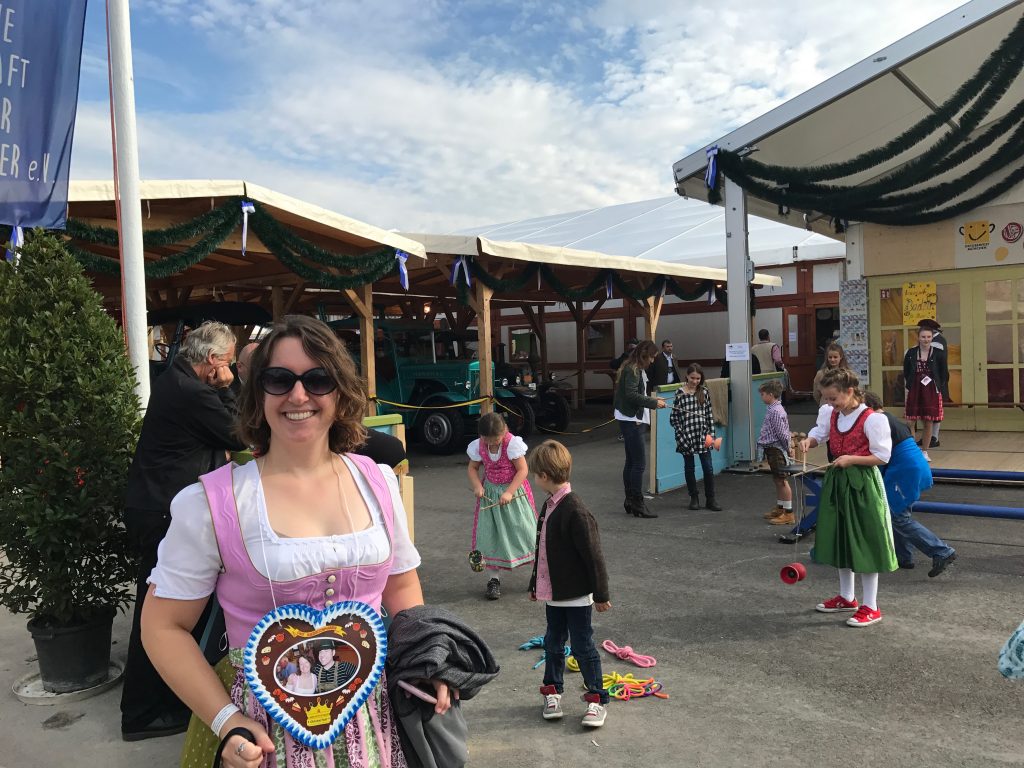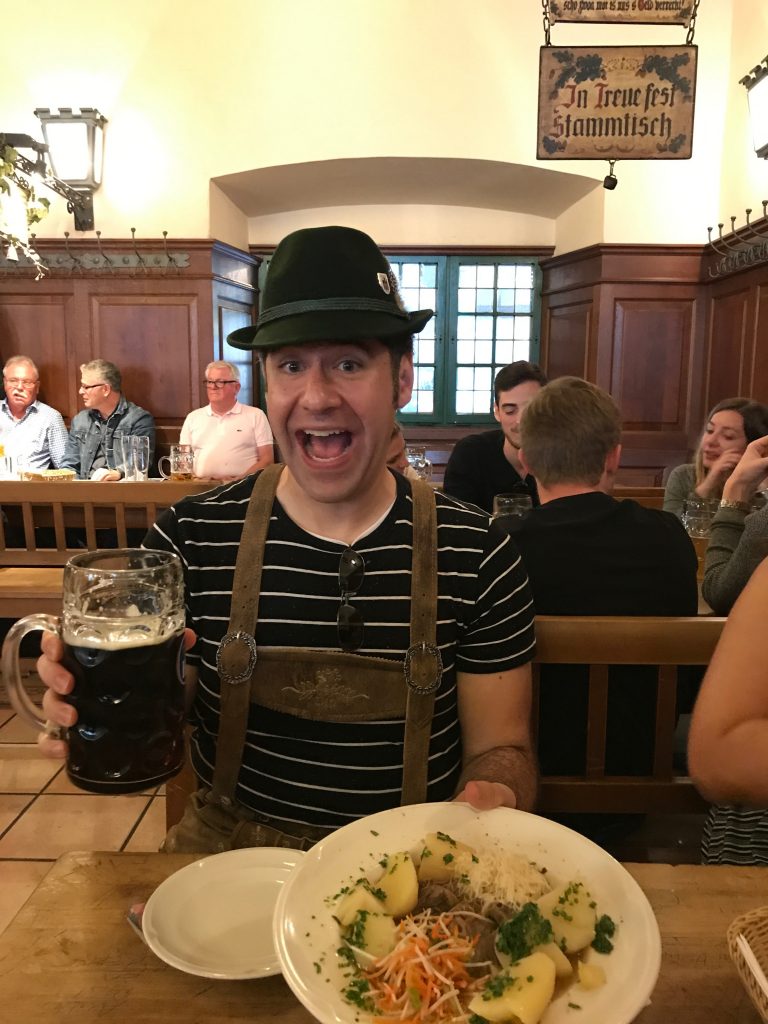 Back to the Wiesn. Each of the major sponsor breweries has its own tent, reconstructed every year since this is a temporary fairgrounds. That said, they seem pretty permanent to us. There are also other "tents" devoted to countless other businesses, like this one that just serves dessert and sweets.
In particular, these guys are famous for a local dish of cut up pancakes known as kaiserschmarnn. You can guess who was all over that.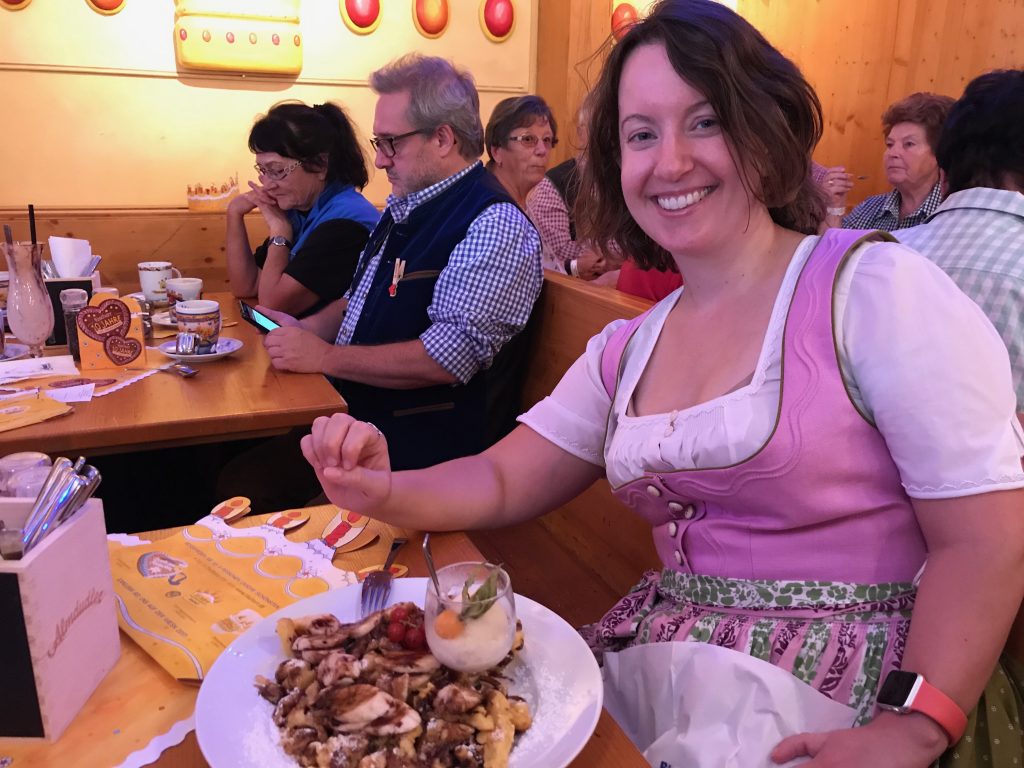 Each tent also has its own band to entertain guests while they eat and drink. Joining in is encouraged, of course.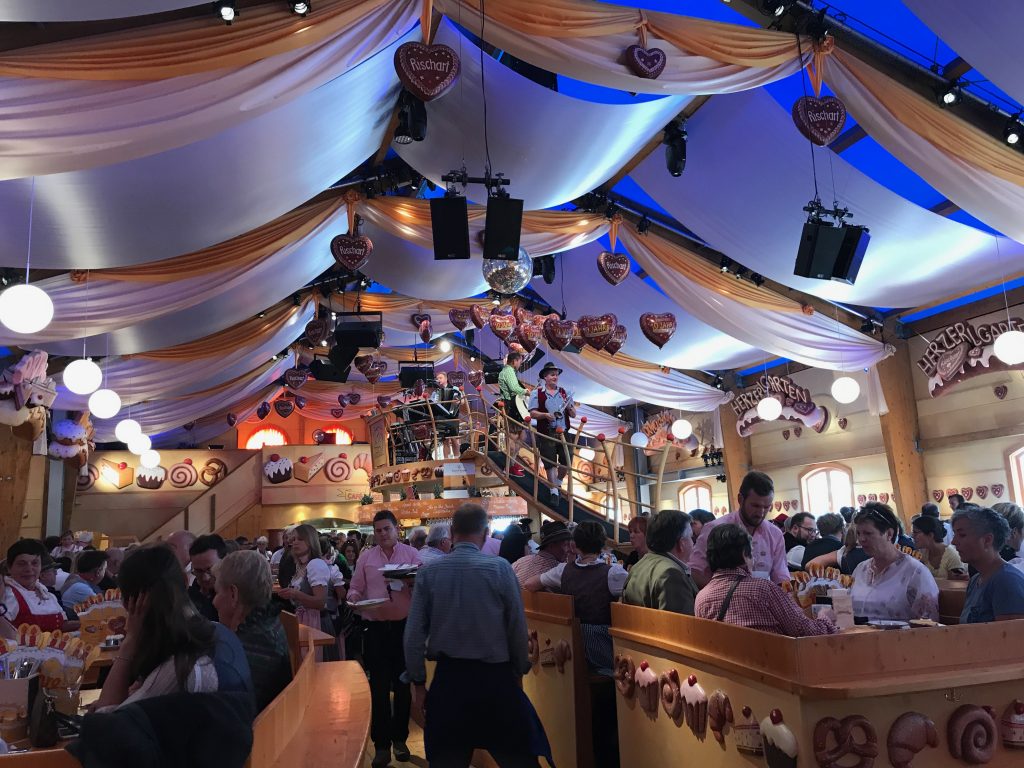 Here is a more typical look at a band in the Augustiner tent.
Tradition is obviously an important part of Oktoberfest. This is especially evident in "Oide Wiesn," an area that emphasizes the history and heritage of the festival.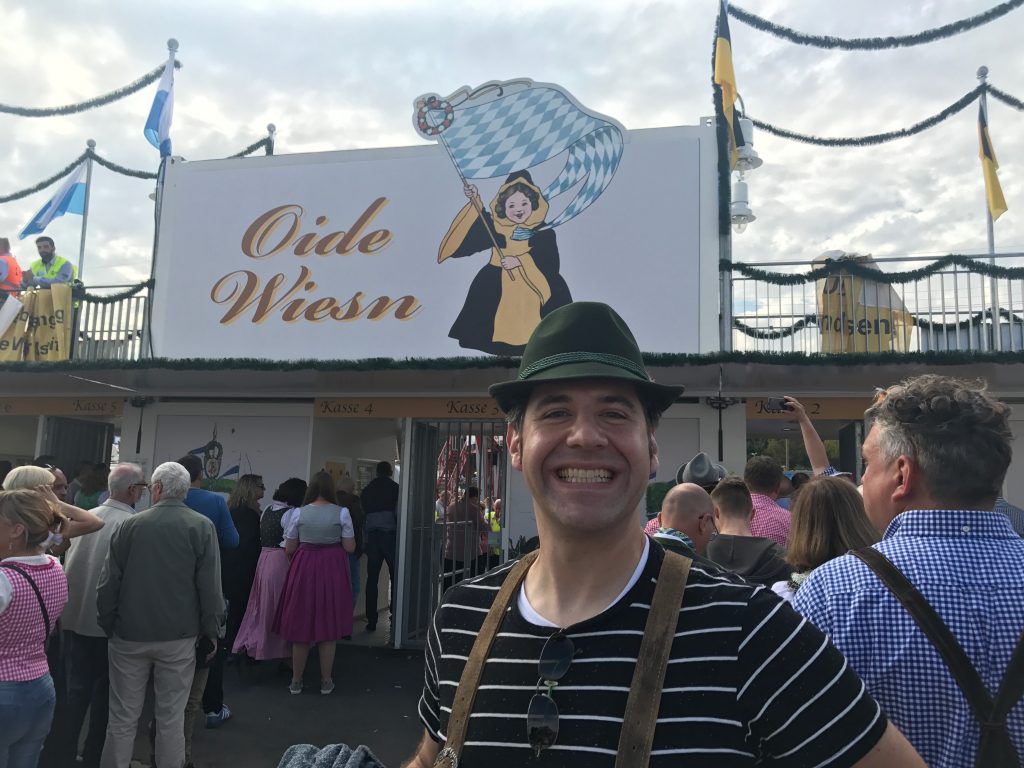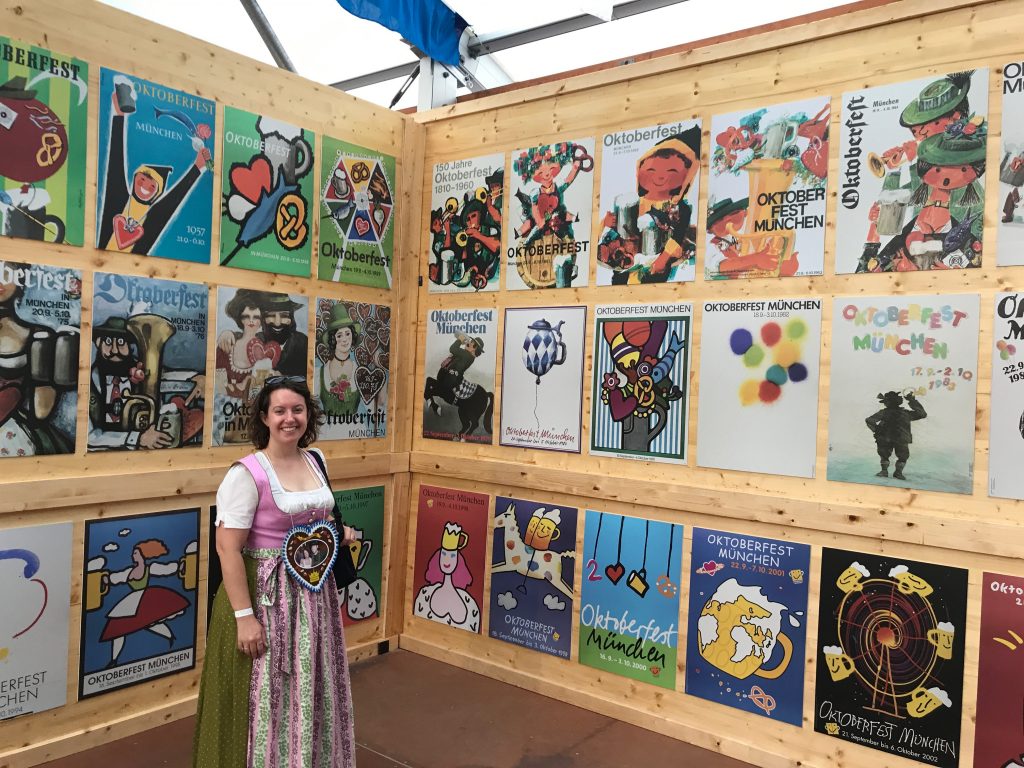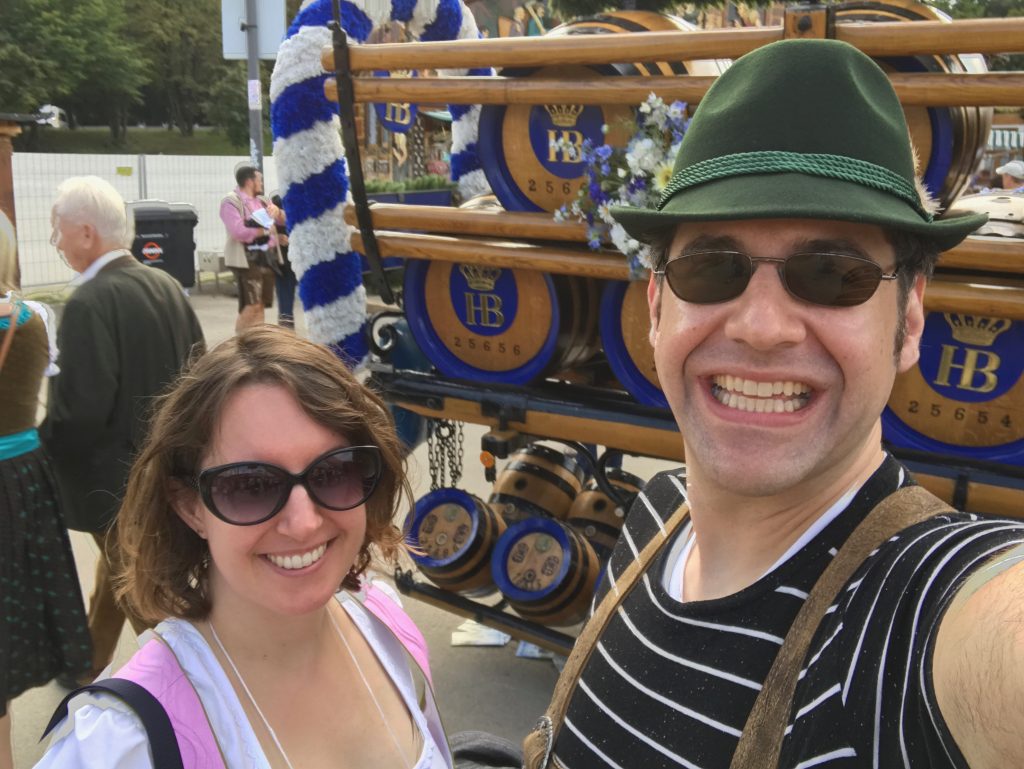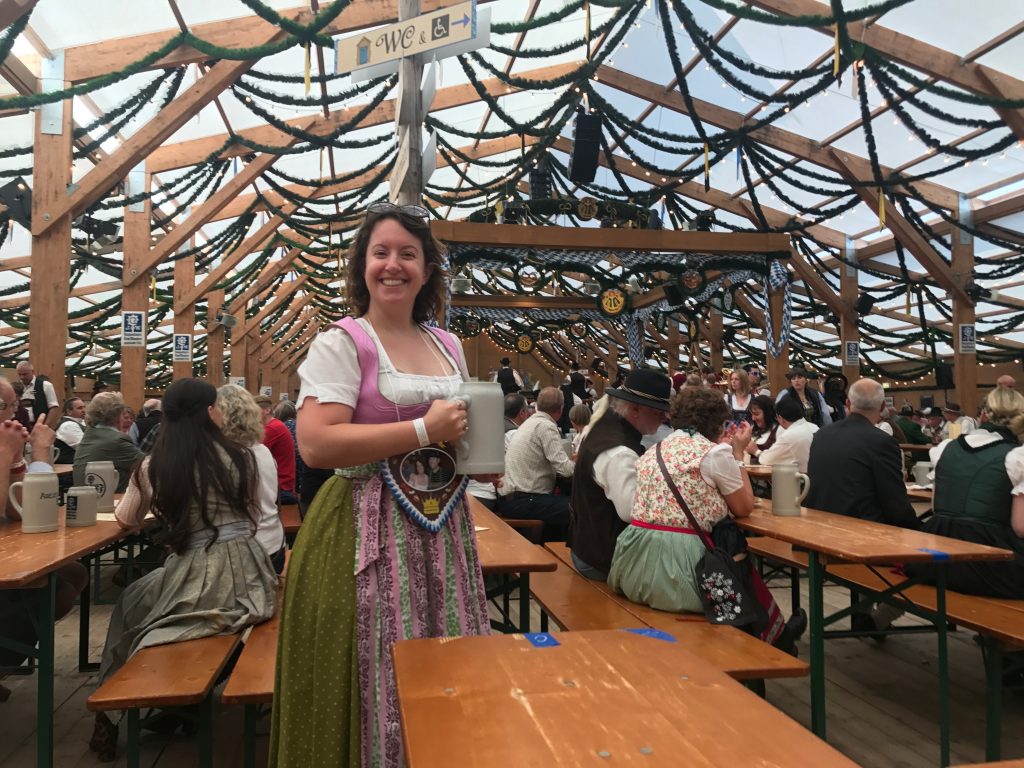 One tent featured traditional dances.
There was even a band in here playing on a merry-go-round – probably just because they could!
Check out those old-school ride controls!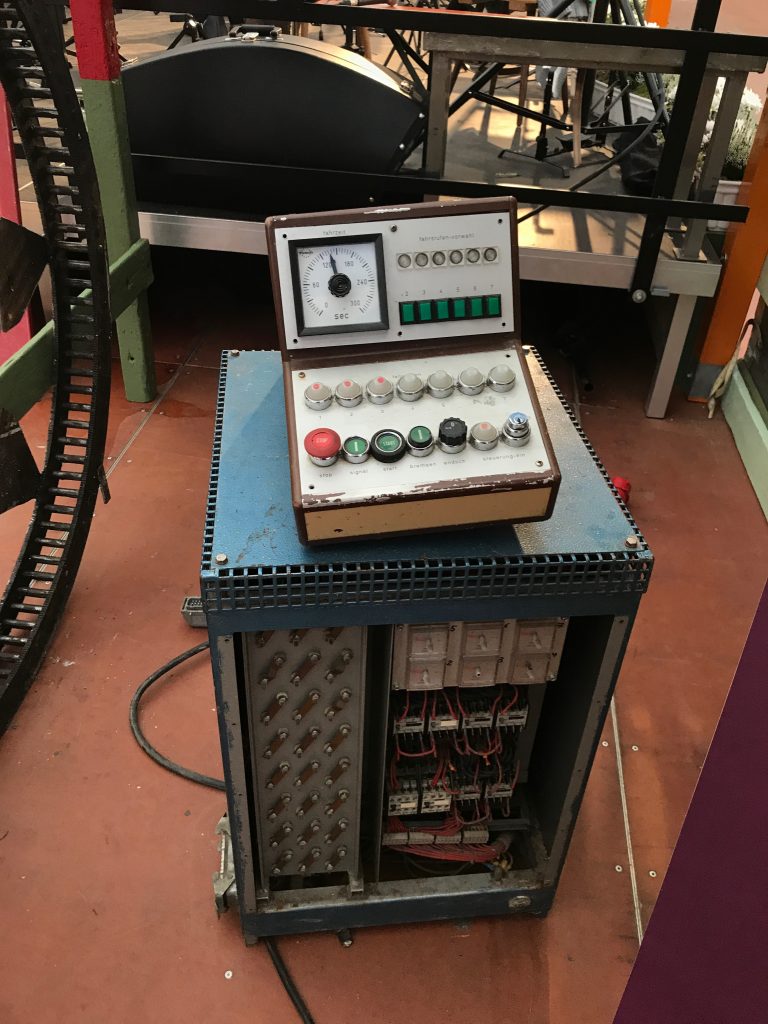 Honestly, this place is like a state or county fair, only on a much bigger scale.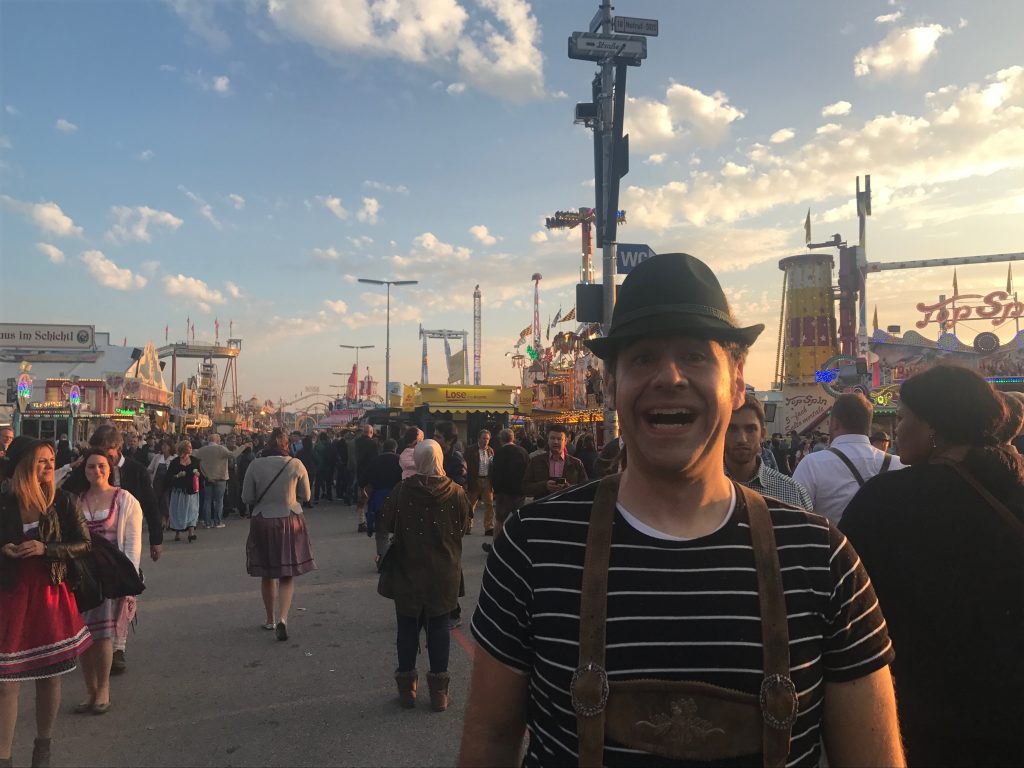 There are rides galore . . .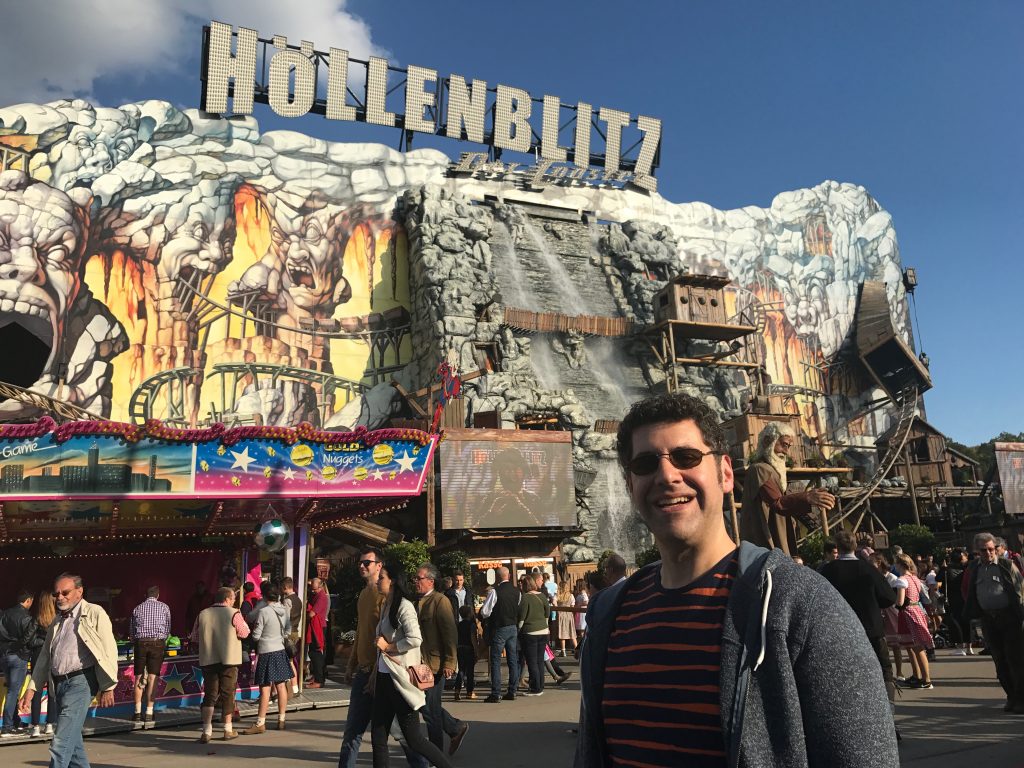 . . . Carnival games . . .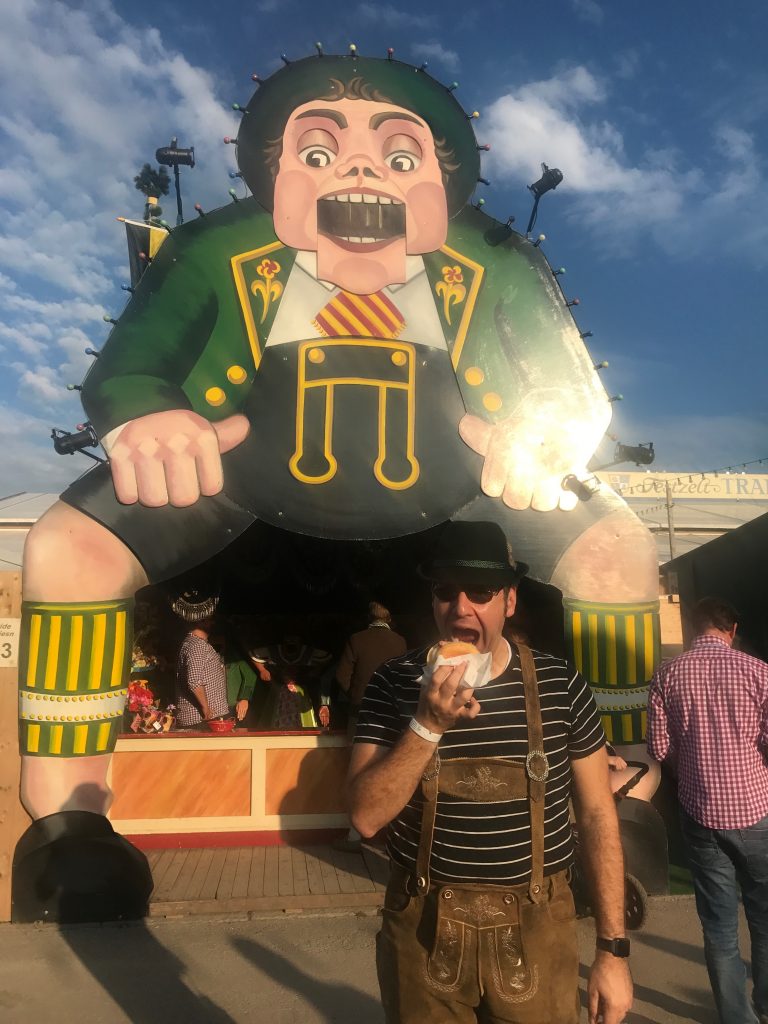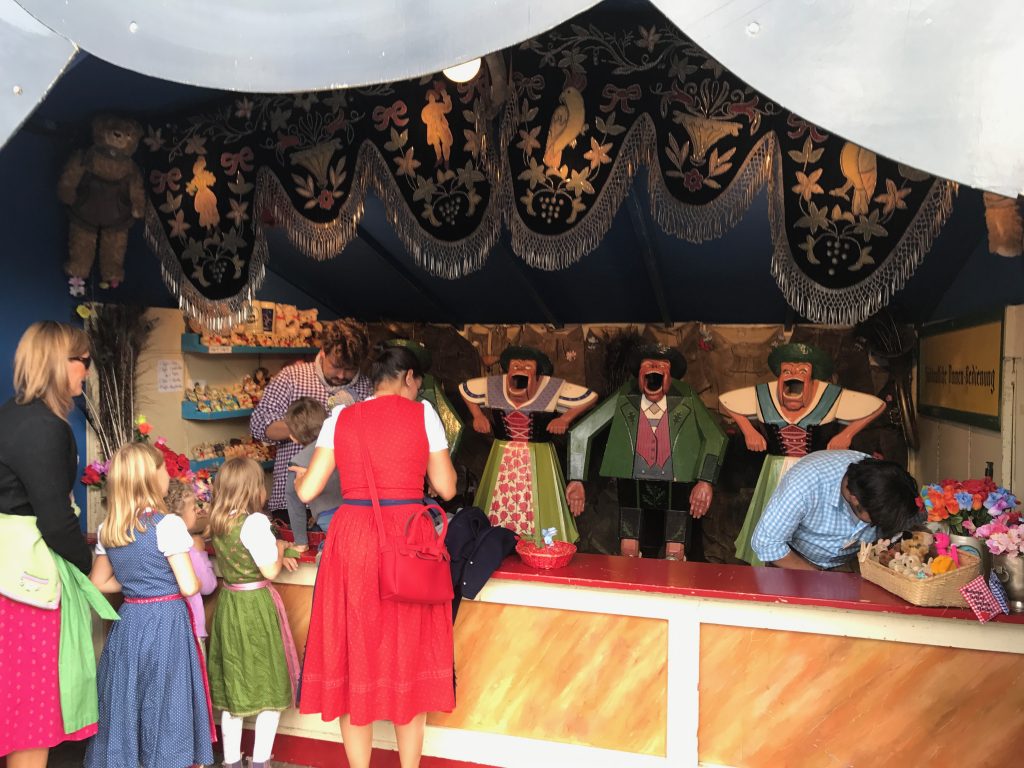 Not to mention animated characters.
Corn, of course.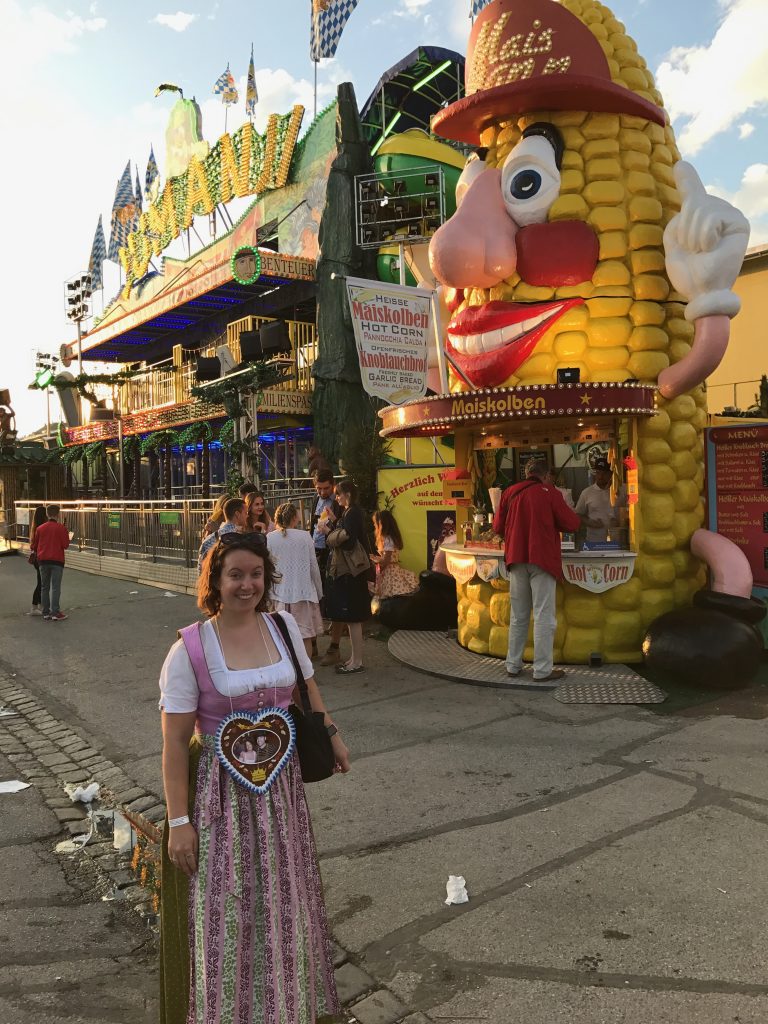 Heck, you can even play the lottery.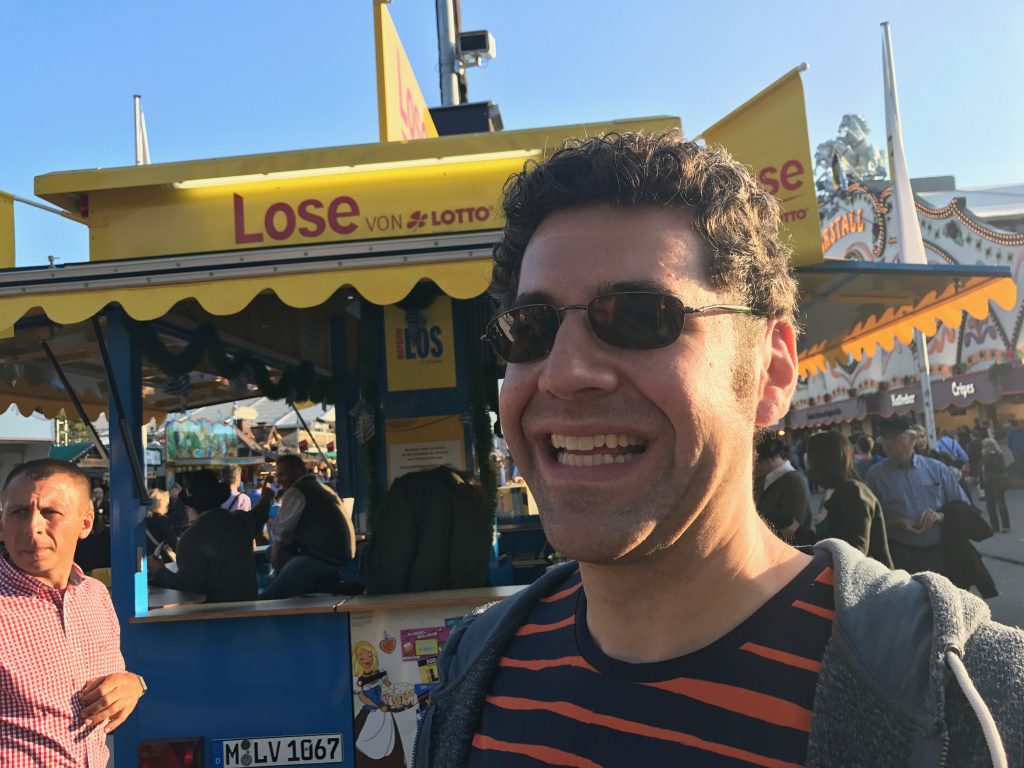 There is no shortage of fun things to see, eat, and do in Munich, and that's a good thing when the Wiesn is on. We started out attending the festival on weekdays, but once the weekend hit it was clear we didn't want to fight that beer-drinking, lederhosen- and dirndl-wearing crowd.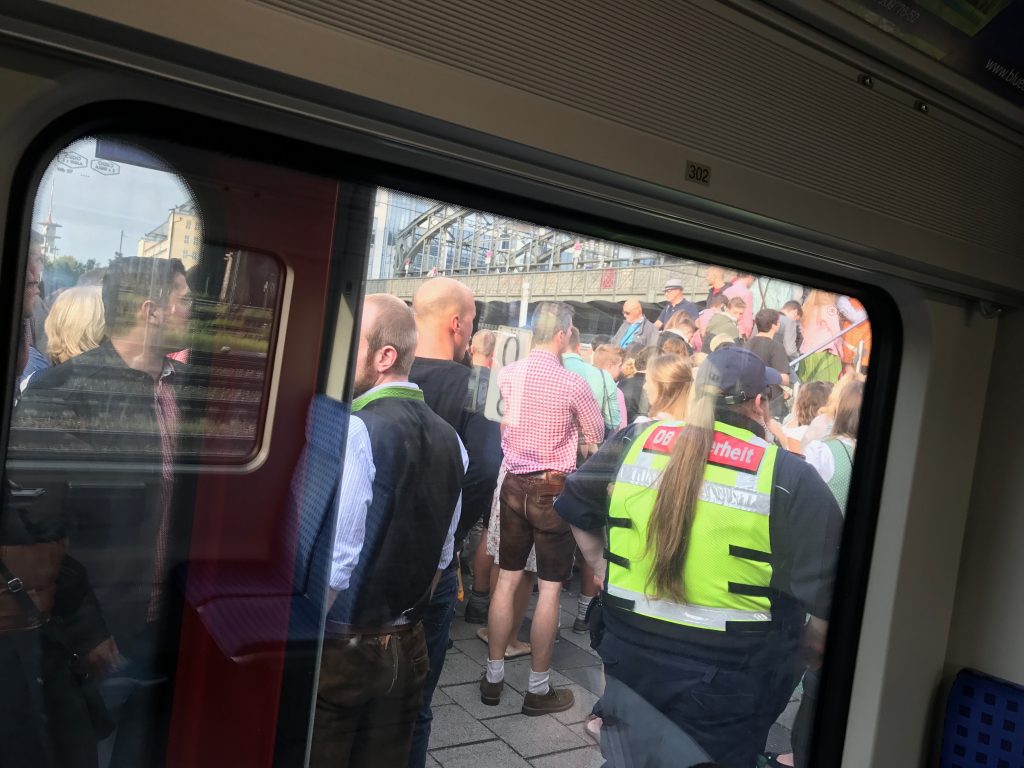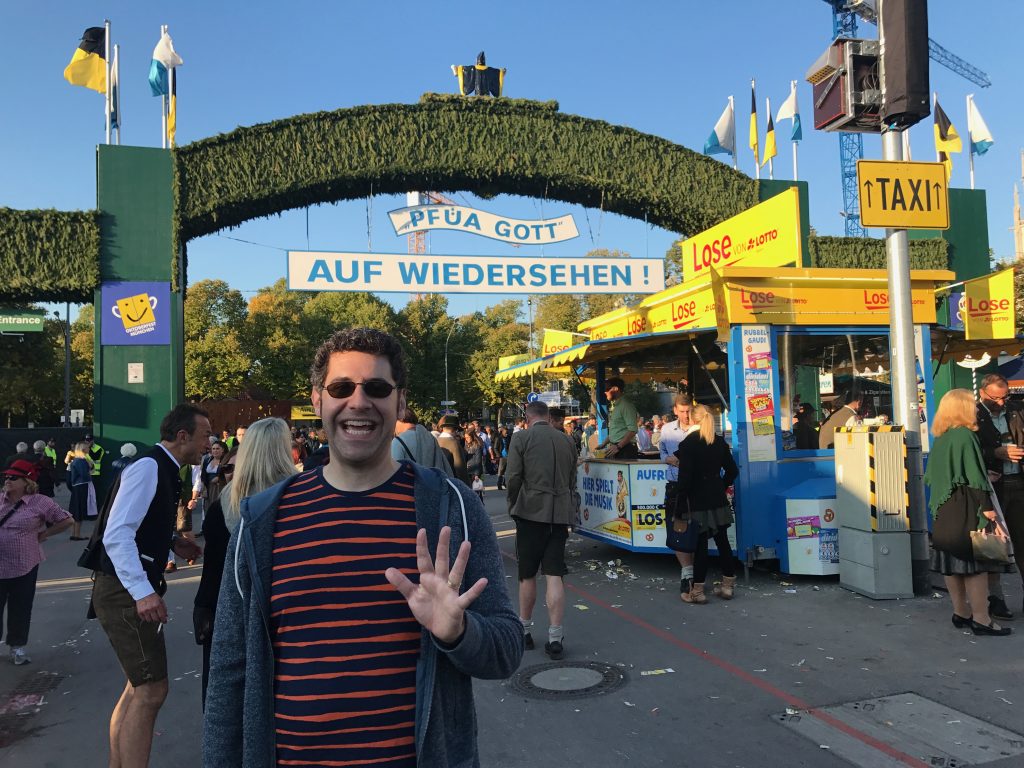 So these two introverts said "auf wiedersehen!" to the Wiesn and headed toward the less crowded parts of Munich.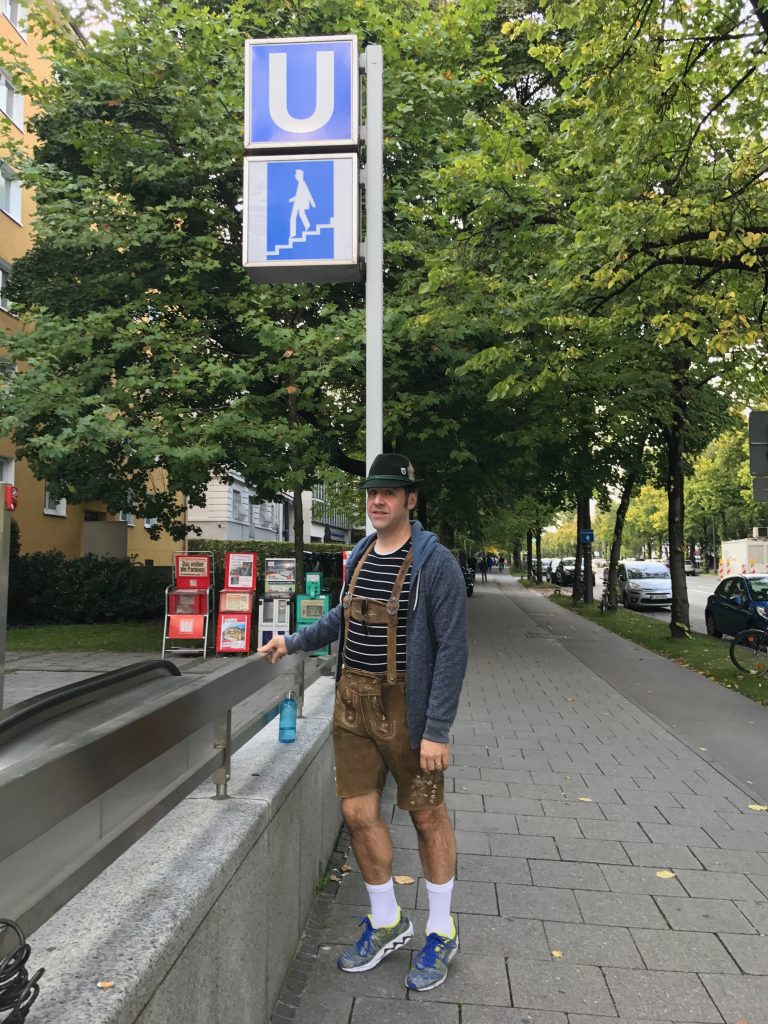 Luckily, we remembered there are tons of beer halls and biergartens in Munich, not to mention parks to be enjoyed on a lovely fall day.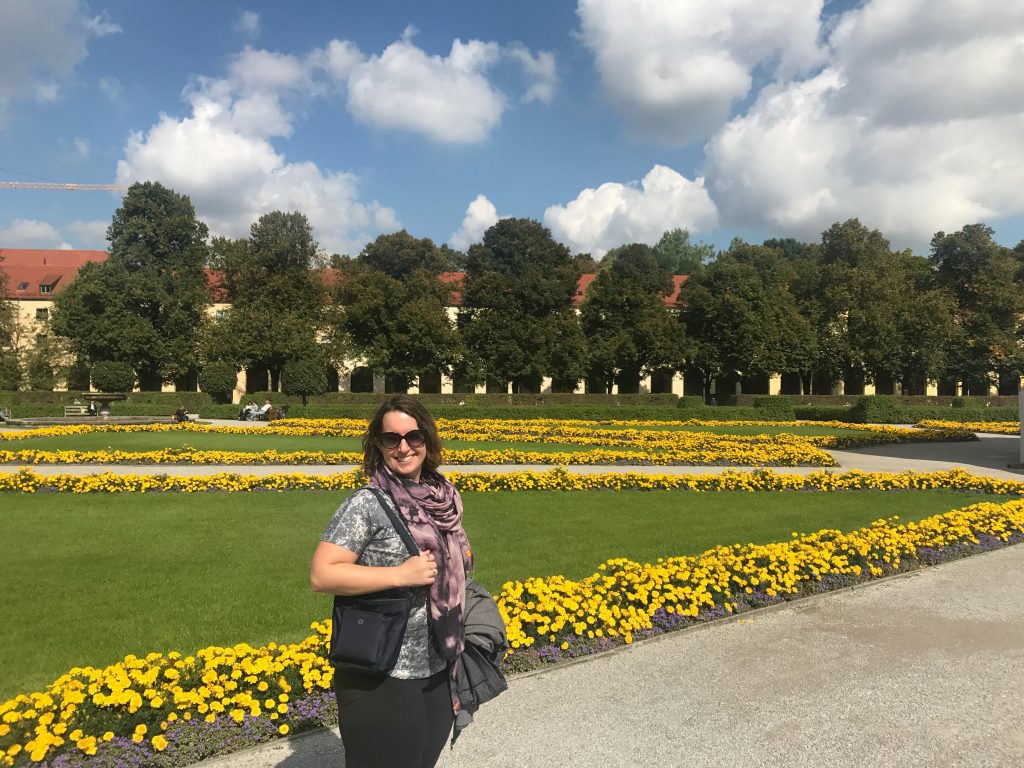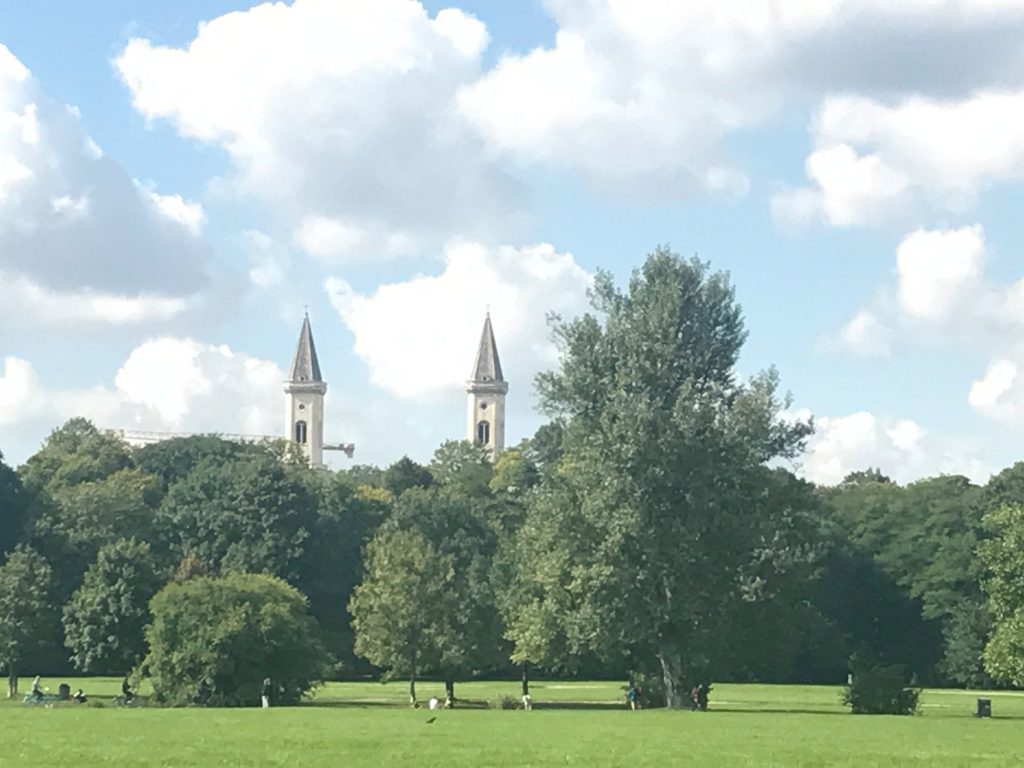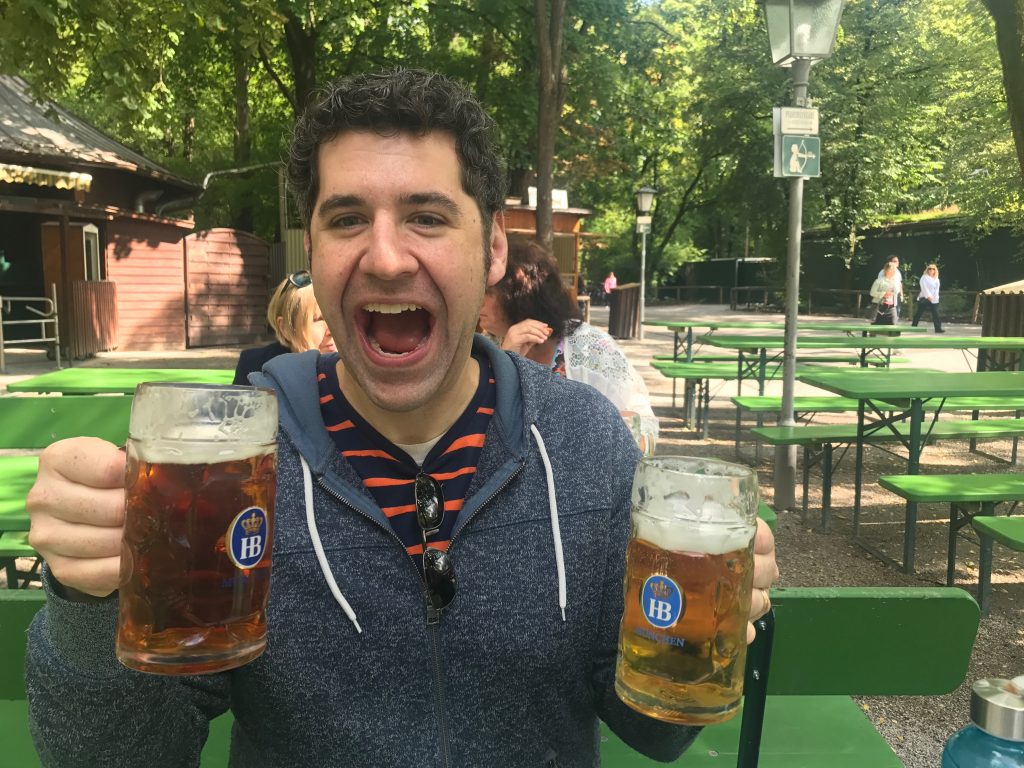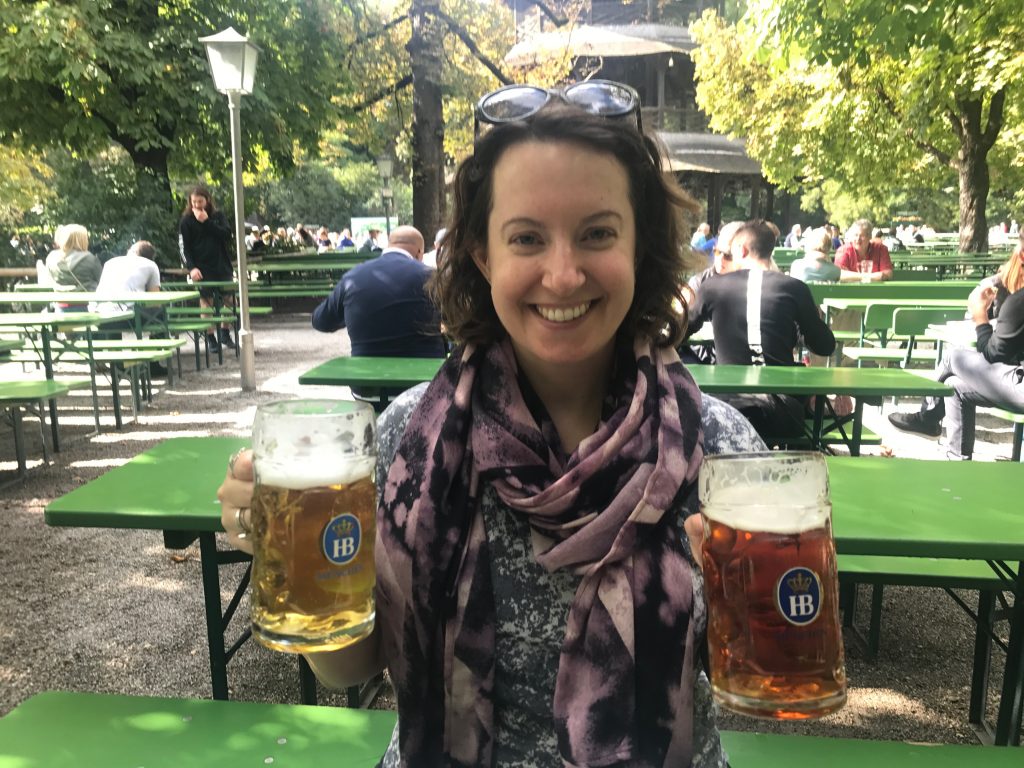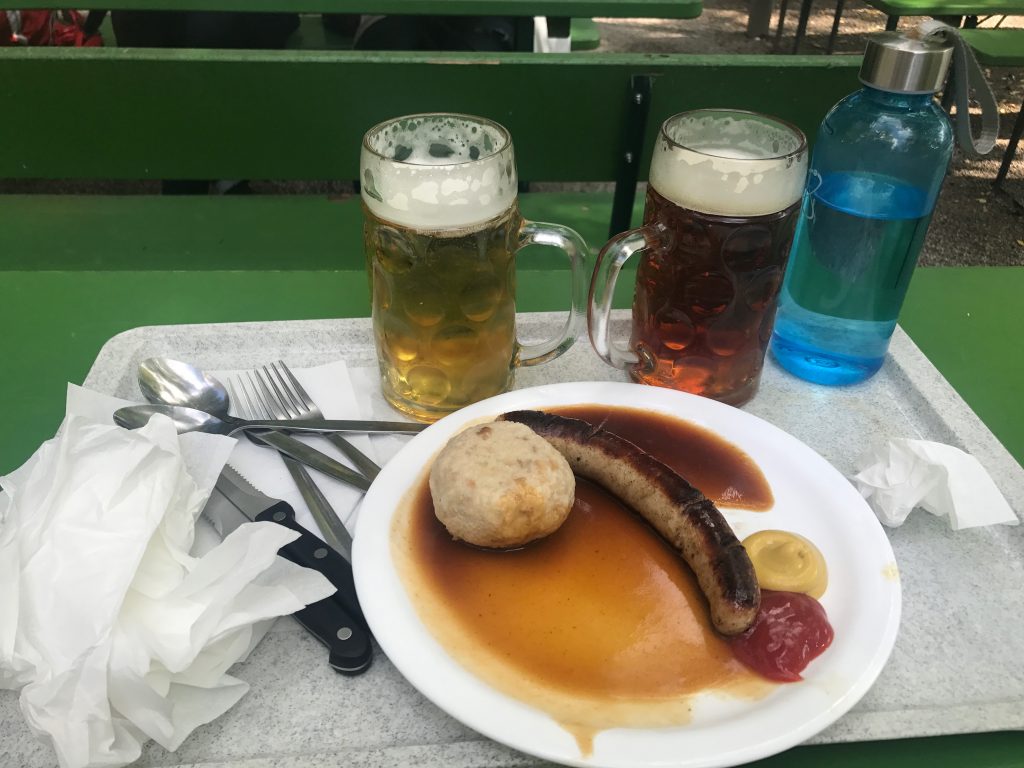 Somewhere between all the beer and sausage – out of nowhere – Dreamer asked Doer a question he just didn't want to answer.
And speaking of beautiful parks, Munich played host to the Olympics in the 70's.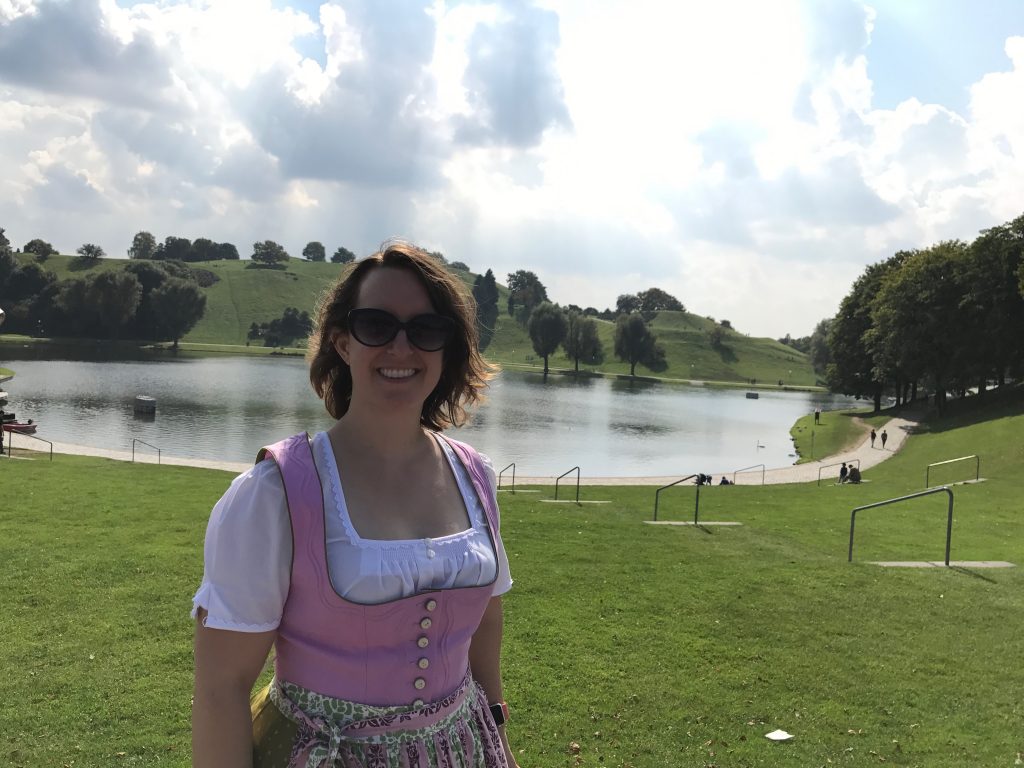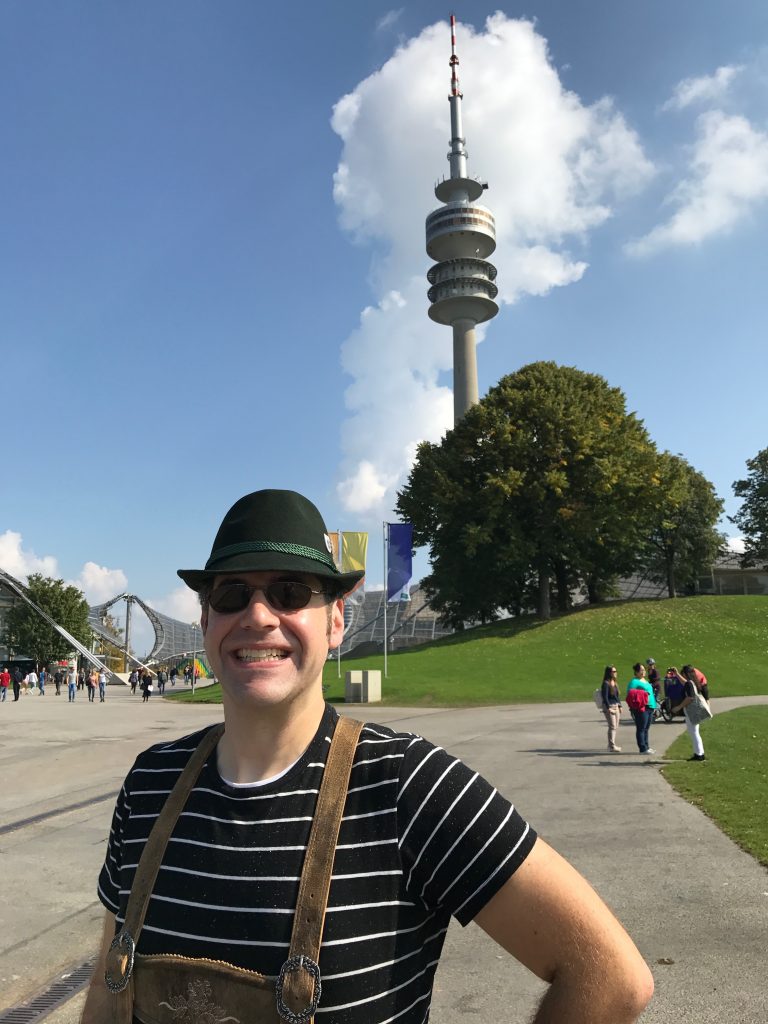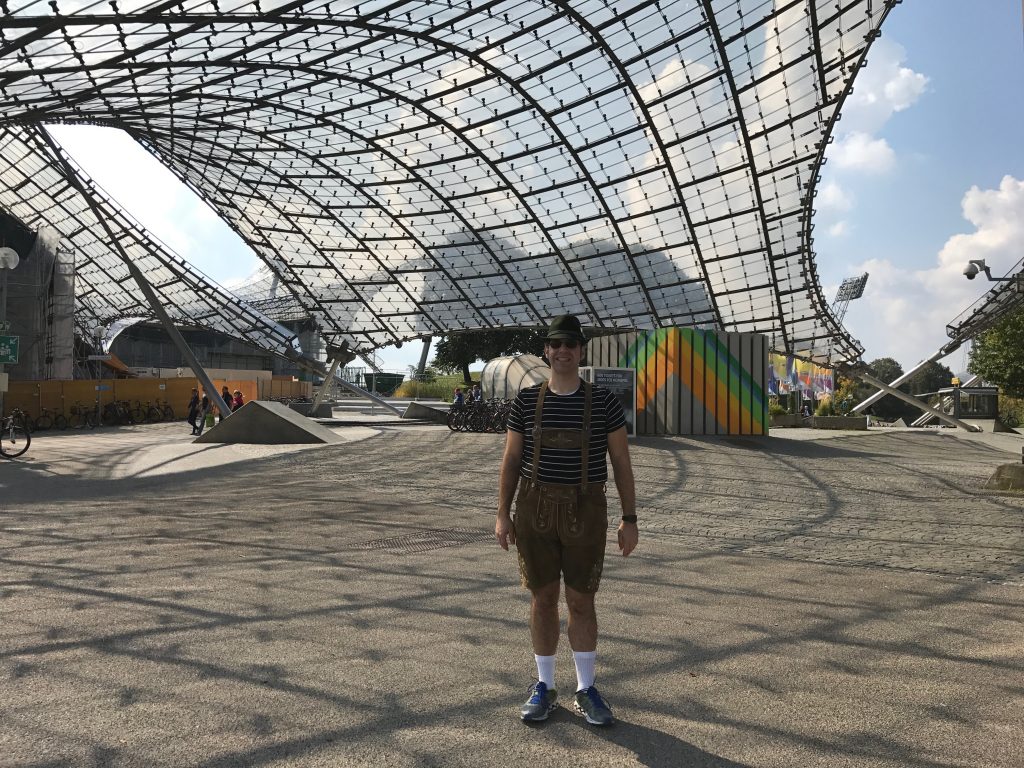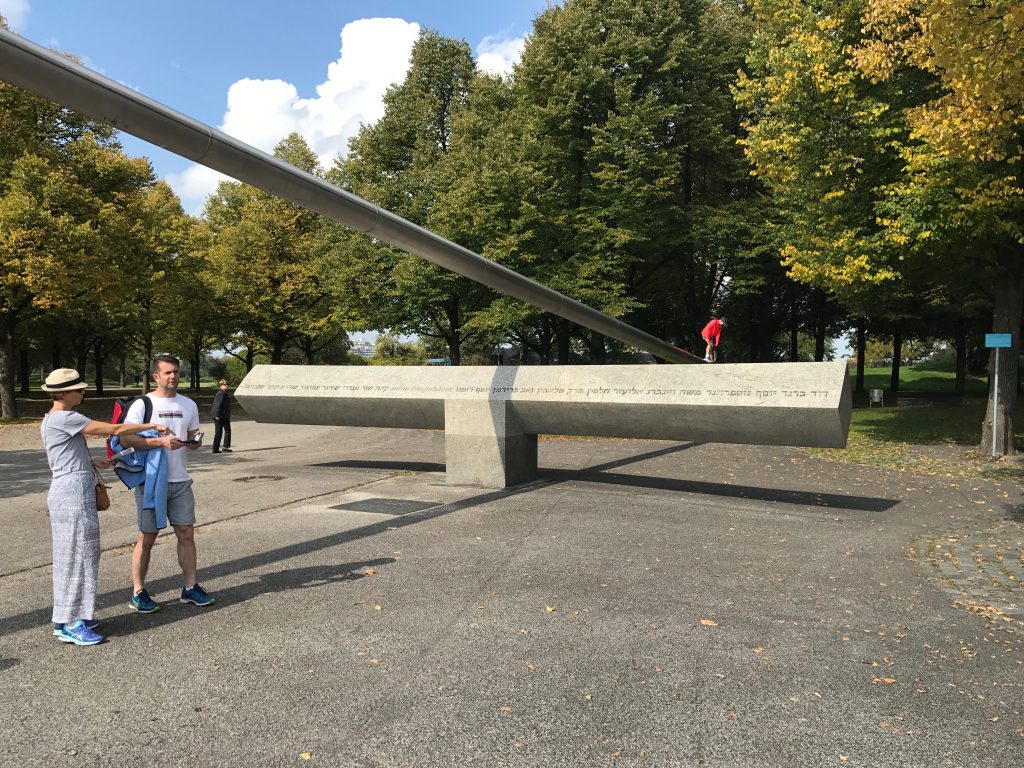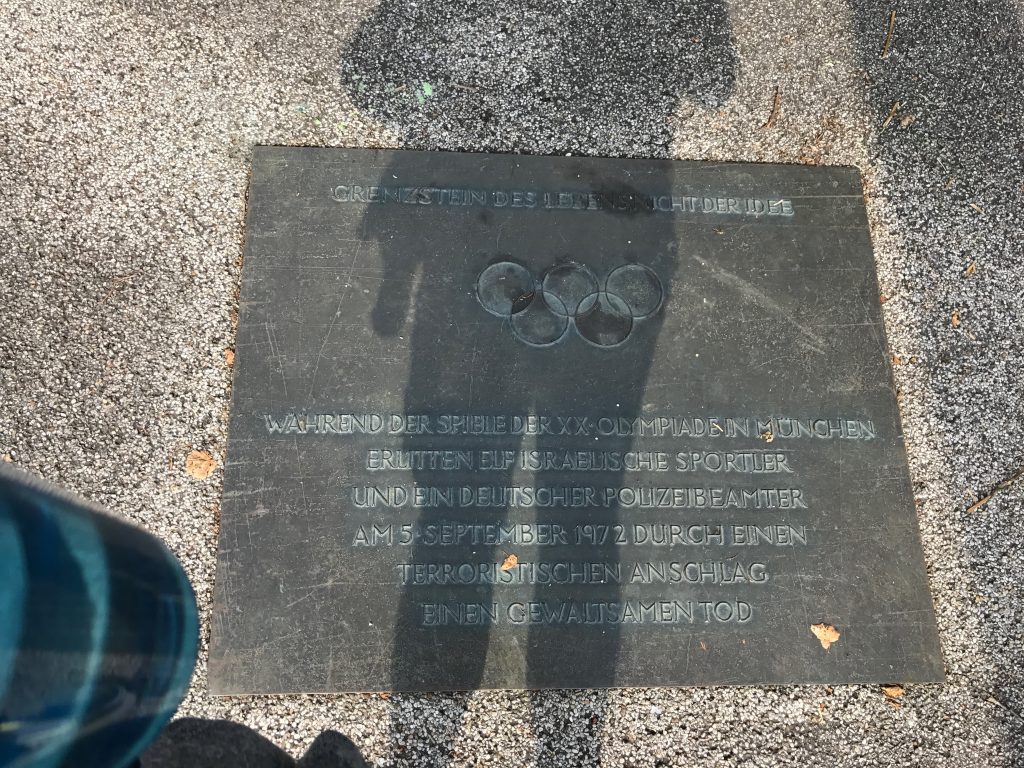 Like many former Olympic host cities, it seems Munich is still trying to make good use of all this space after the events. The former Olympic Village for the athletes serves as low-income housing now, which is a stark contrast at the edge of the area.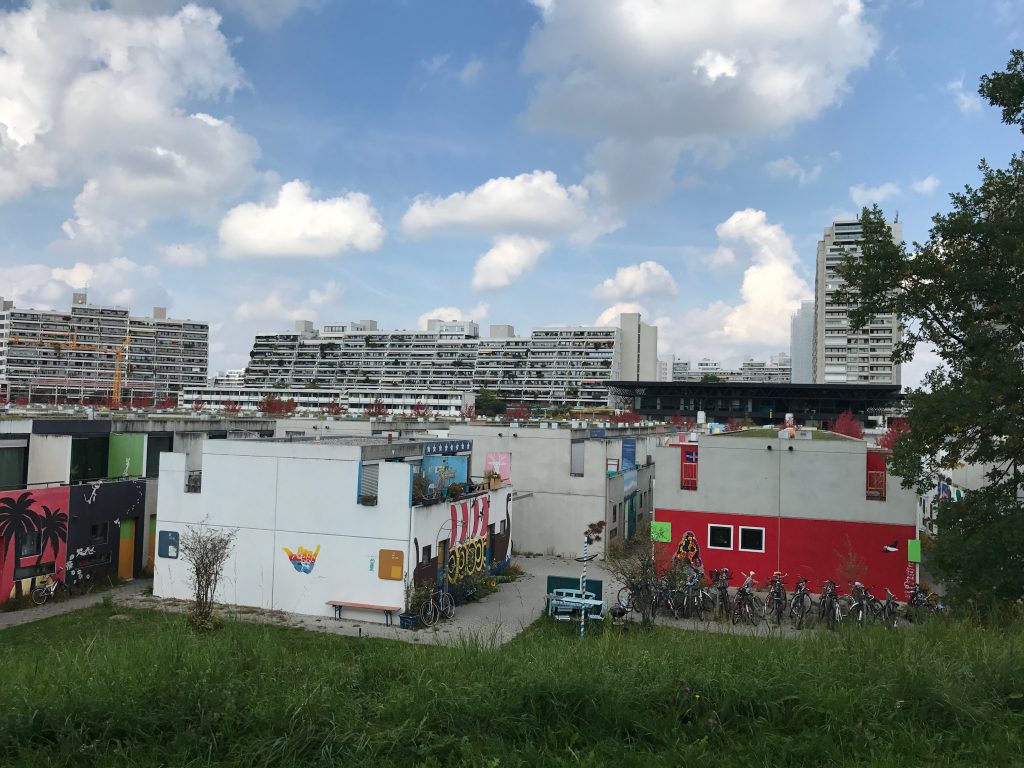 Back in the city proper, one can visit famous, historic beer halls, like Hofbräuhaus.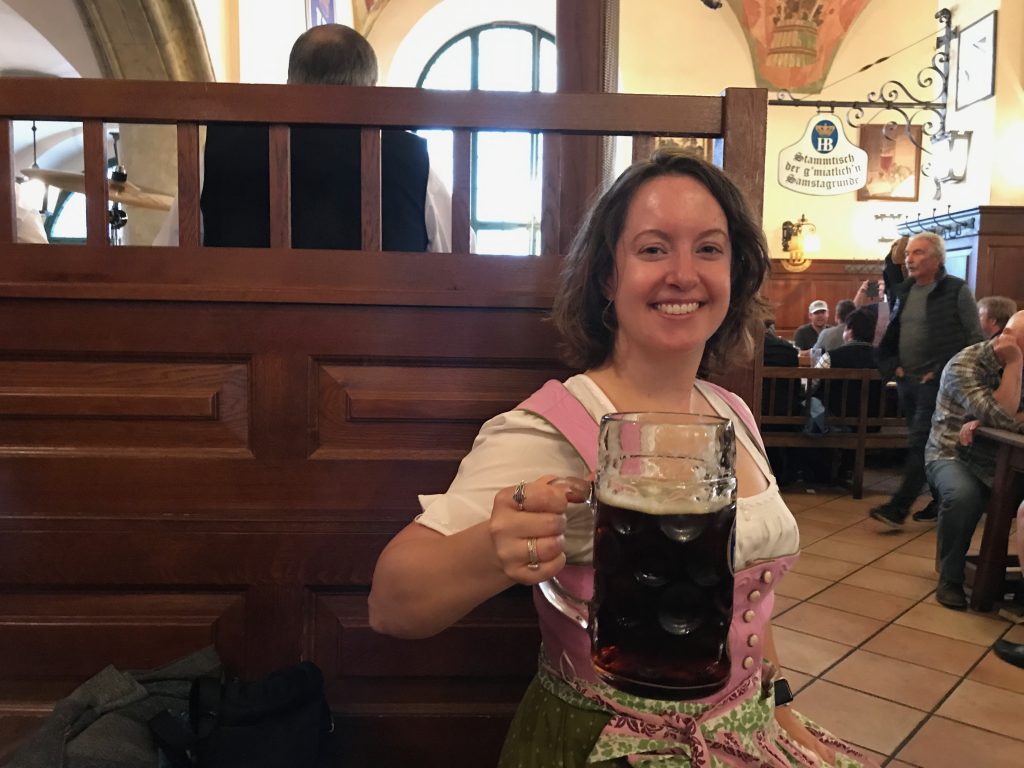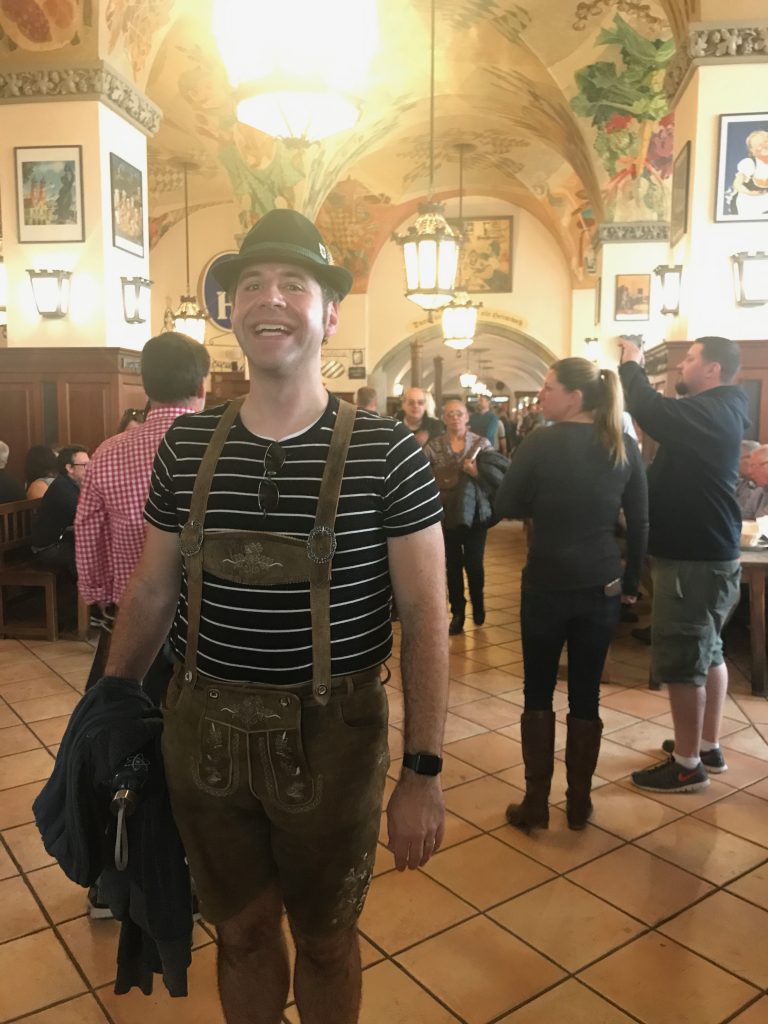 Simply strolling through the old town of Munich was a pleasure on its own as well.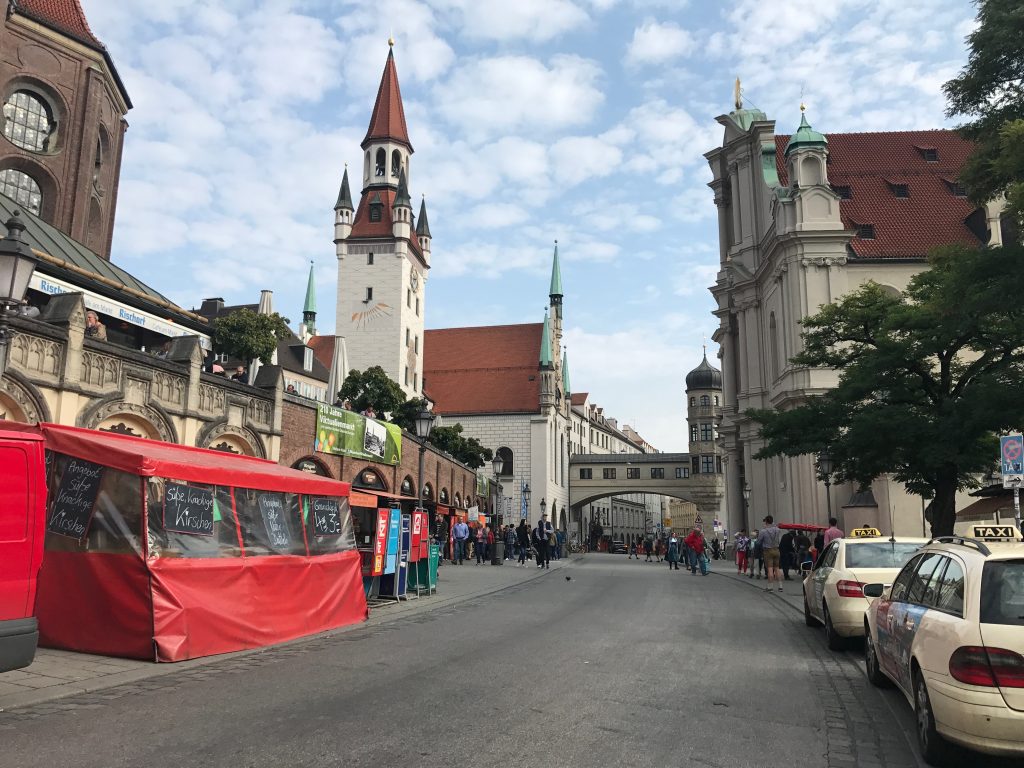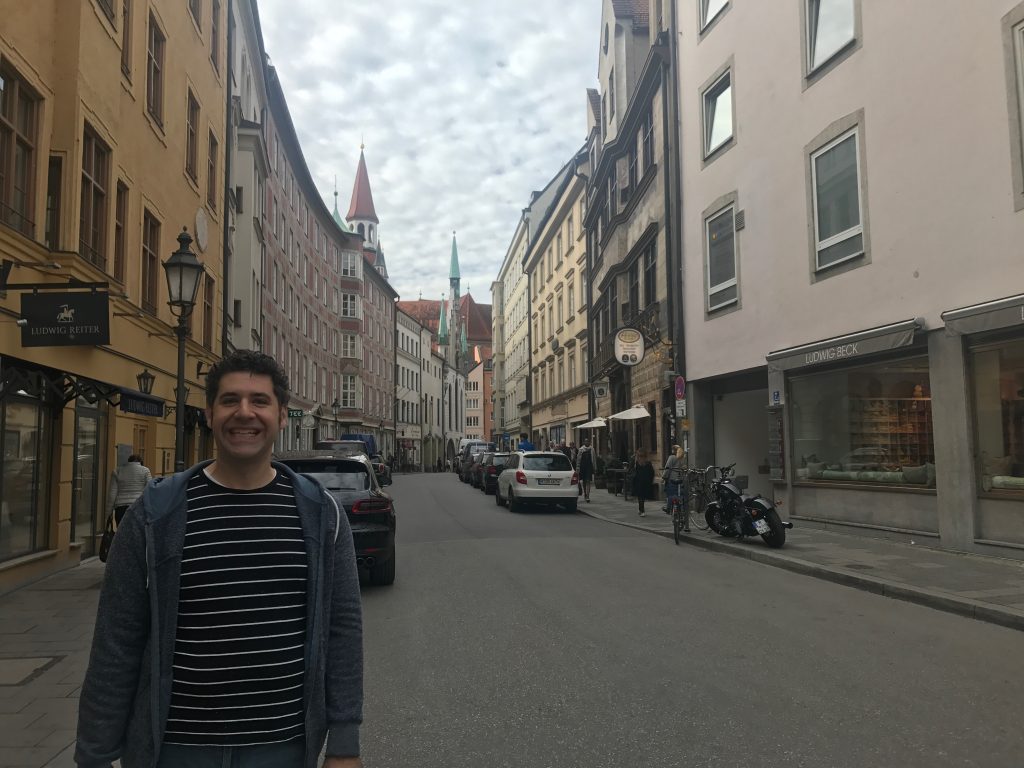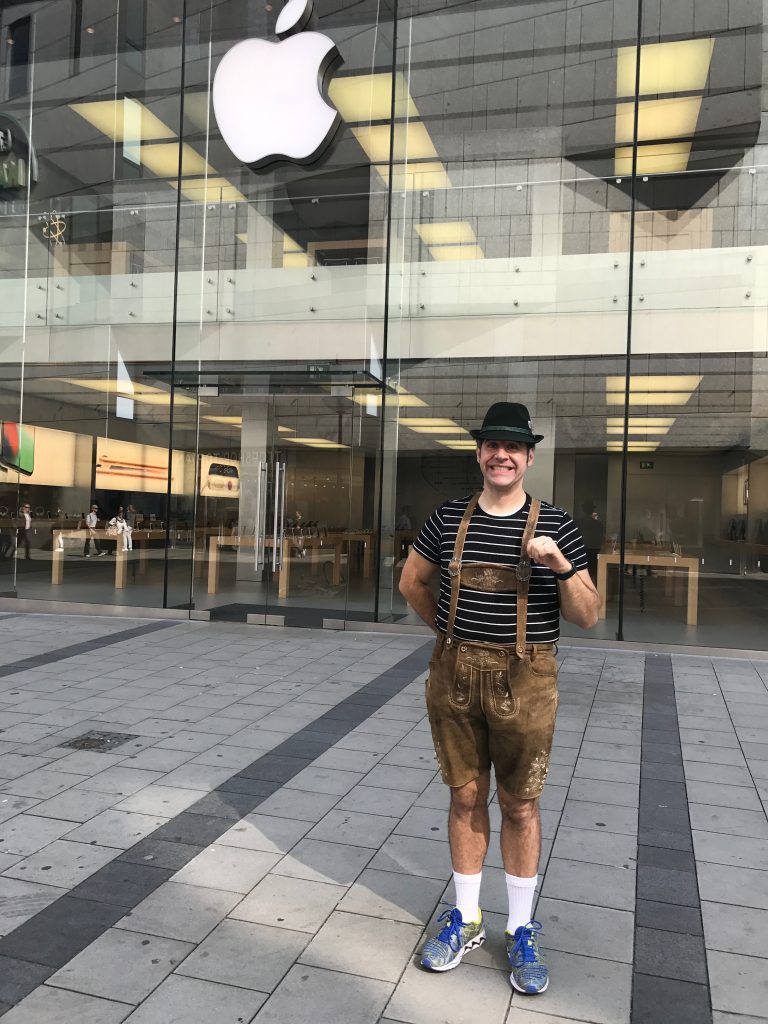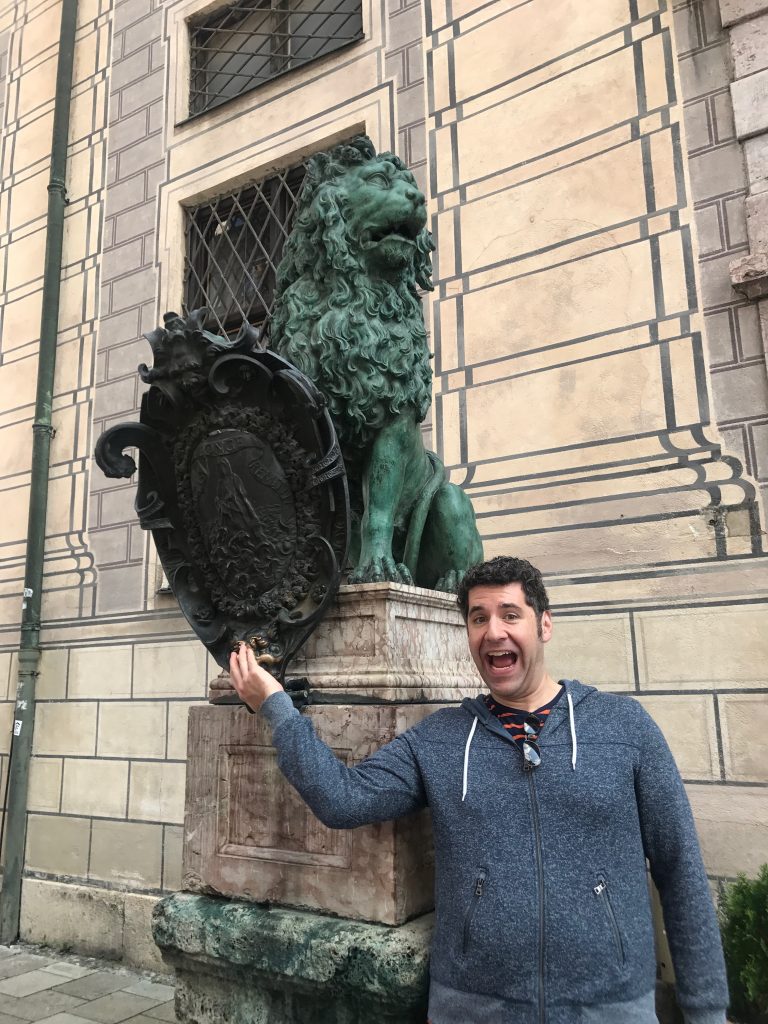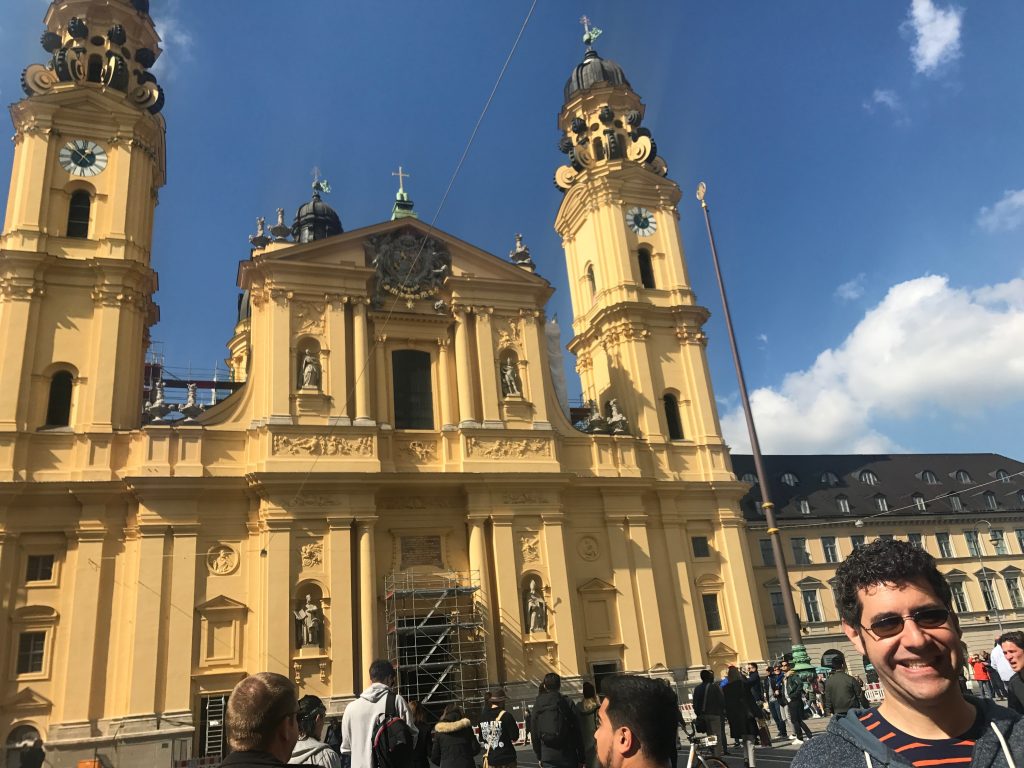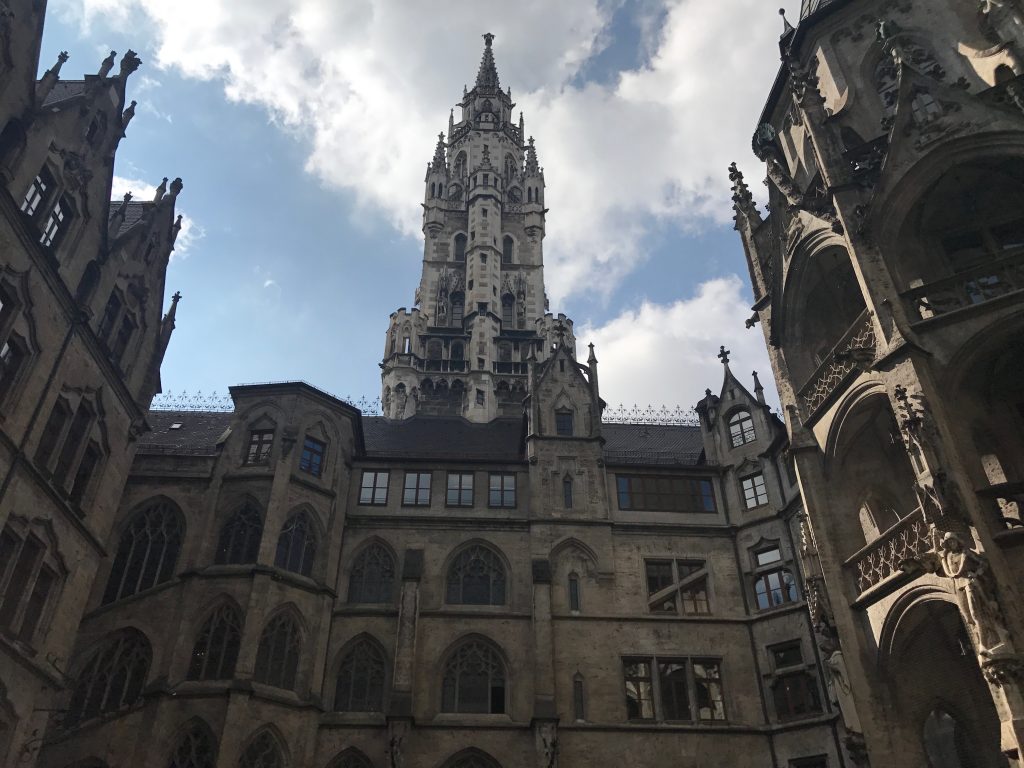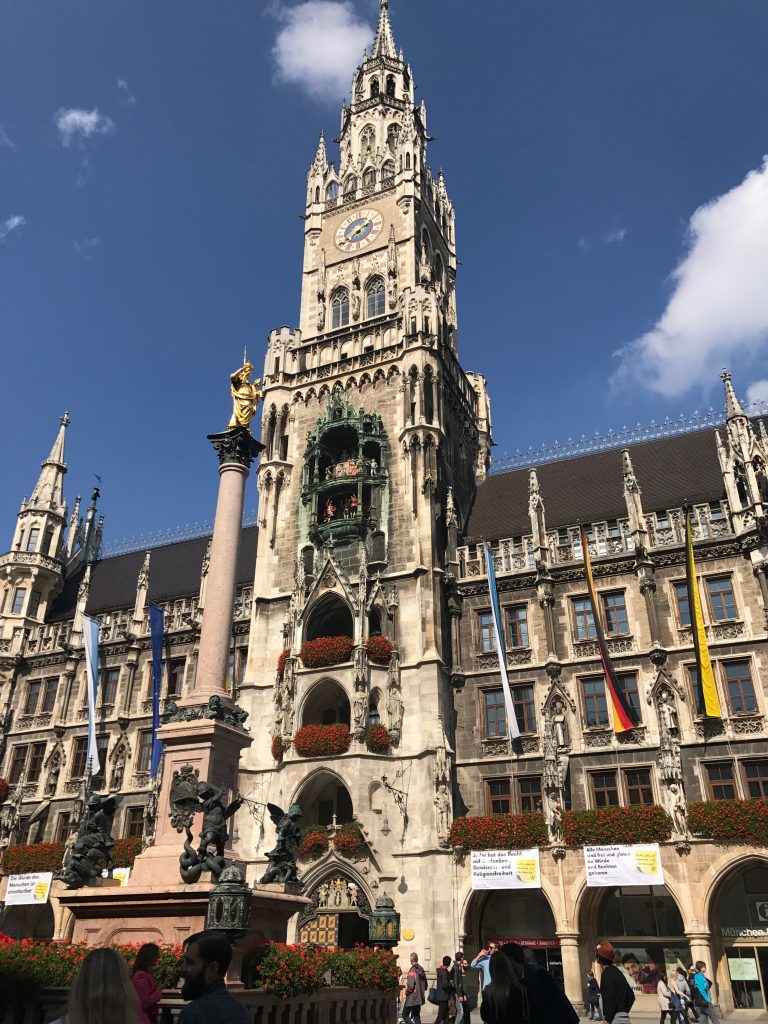 All in all, we had a great time in Munich. Bavaria as a whole is charming, and we certainly hope to be back someday. We'll let these street musicians play us out to capture some of the magic we felt walking through the center one night…
Just kidding, we're still here! After returning to Madrid, we decided to go to a Spanish imitation of Oktoberfest a week later. Let's just say we're glad we experienced the real thing!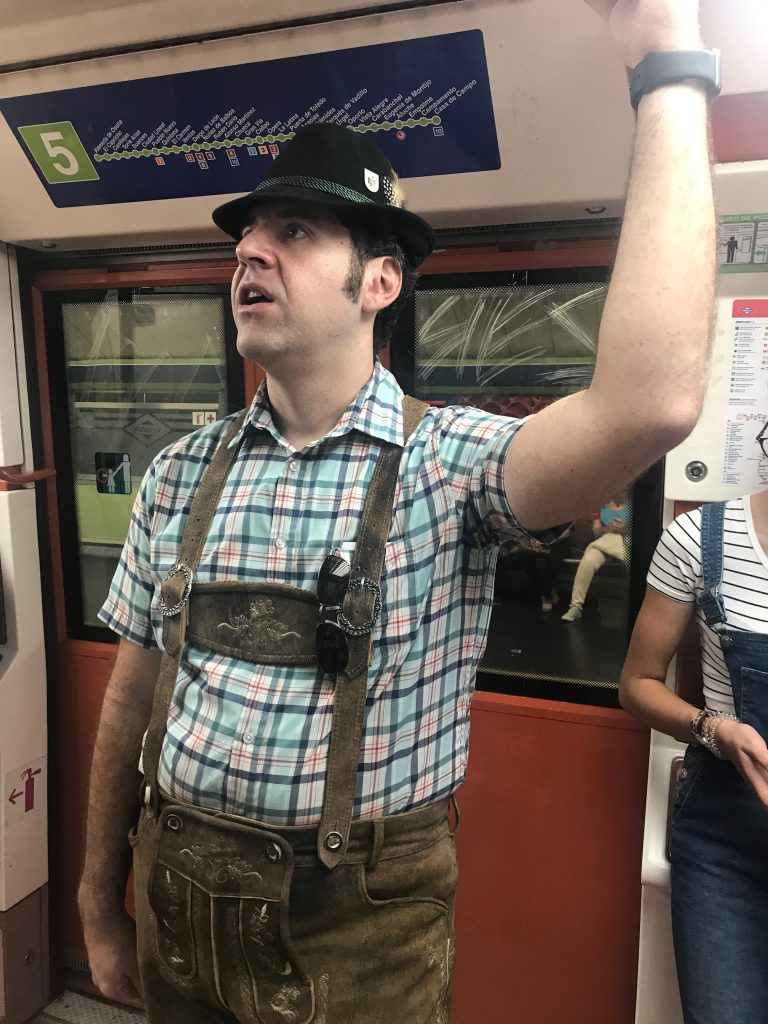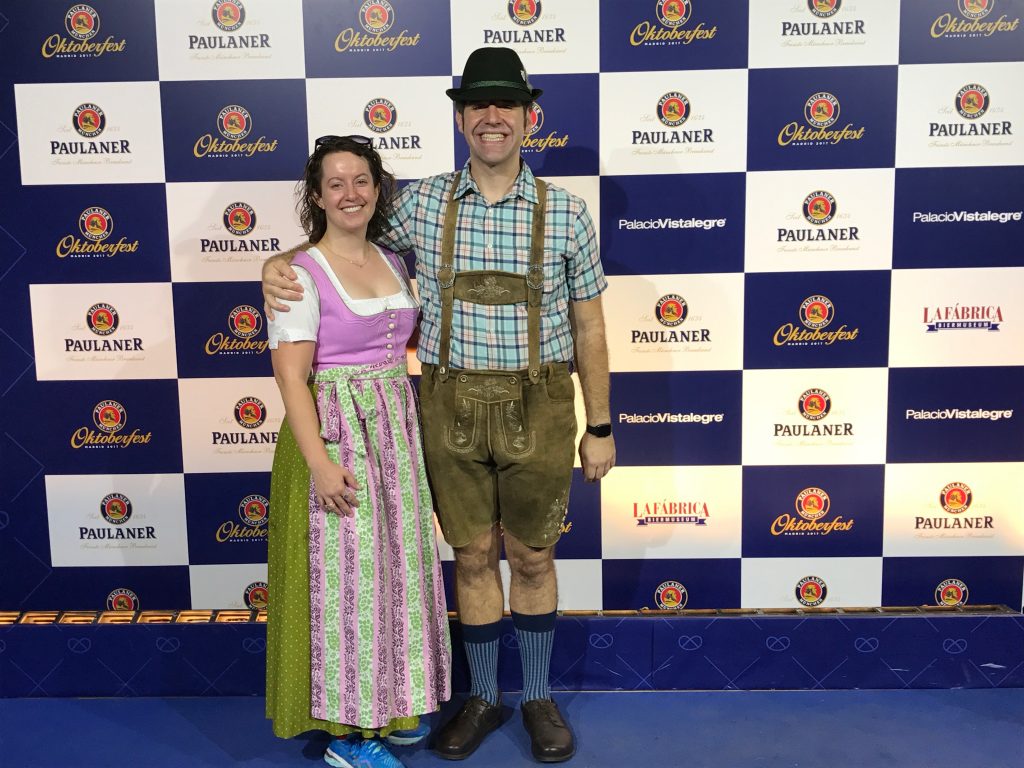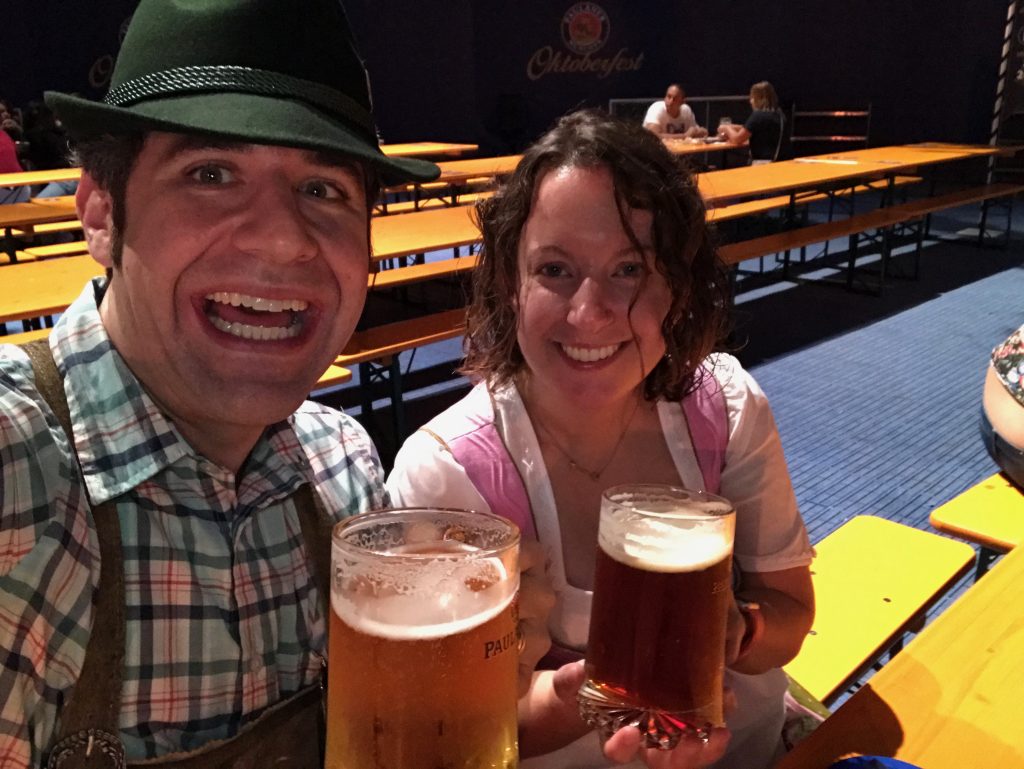 And maybe we're becoming hard of hearing, but this musical act doesn't sound very Bavarian to us. What do you think?