Quick! Name your top European destinations – the famous places you've heard of. Odds are Venice is somewhere on that list.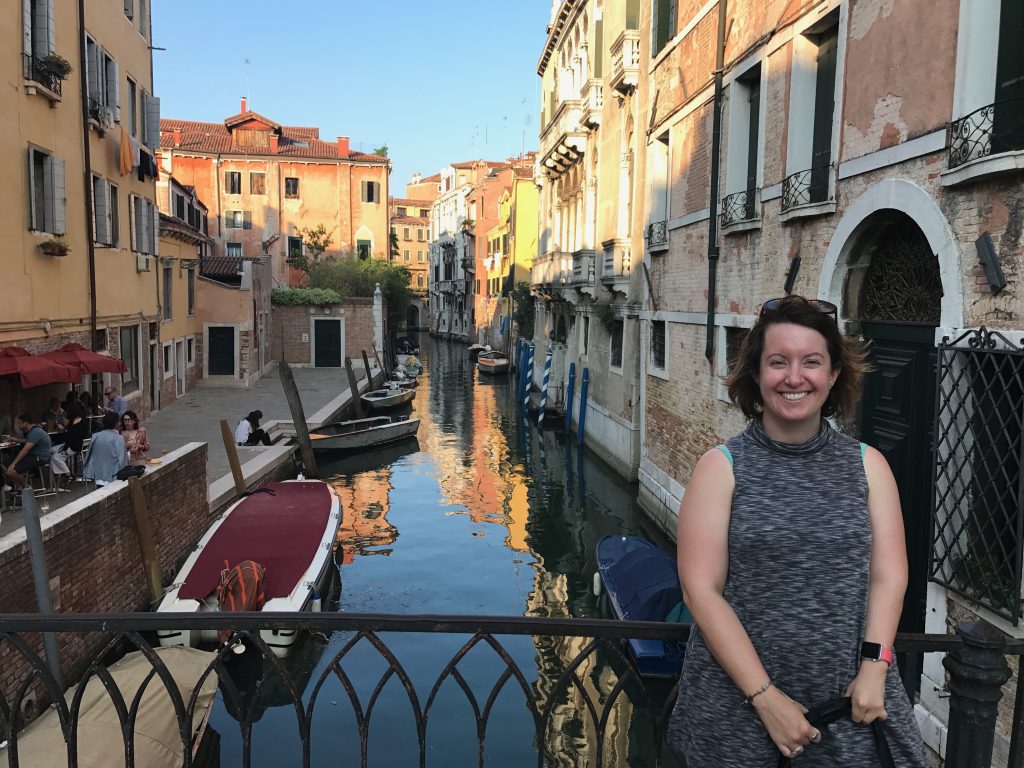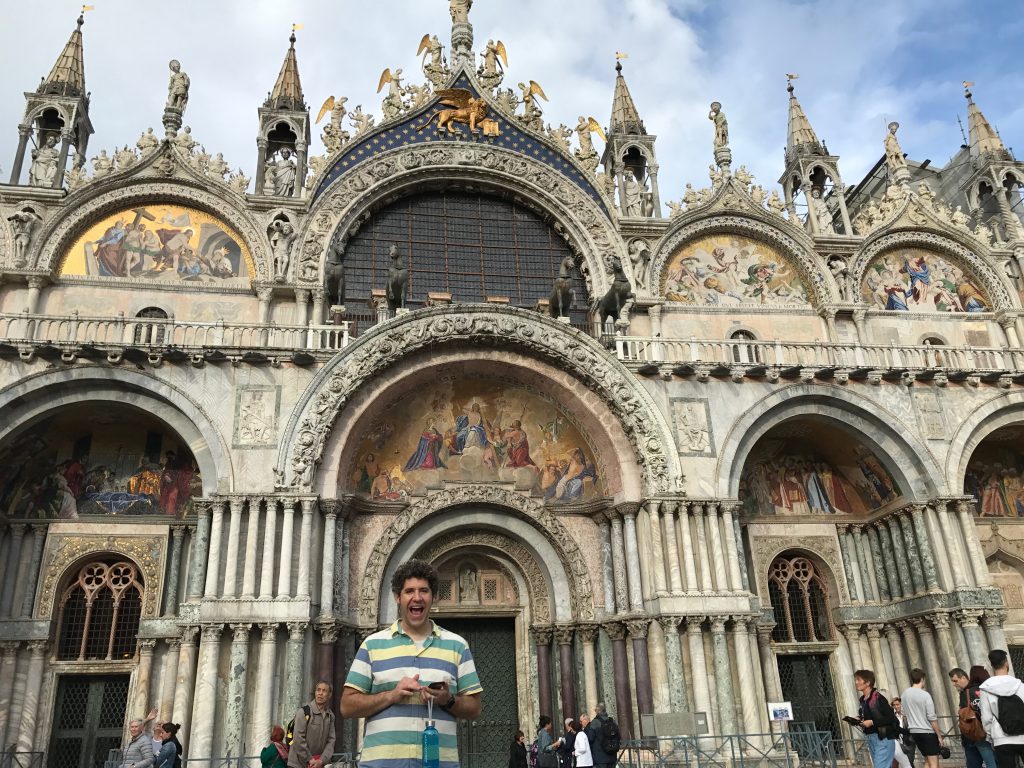 Though we'd both been to Italy before (and that hotel in Las Vegas, of course), this was new ground for both of us. Dreamer had the amazing idea to go before the summer crowds and the stench of the canals became too much to bear, and what a smart woman she is! A three-day weekend was the perfect amount of time there, and mid May a great time to visit.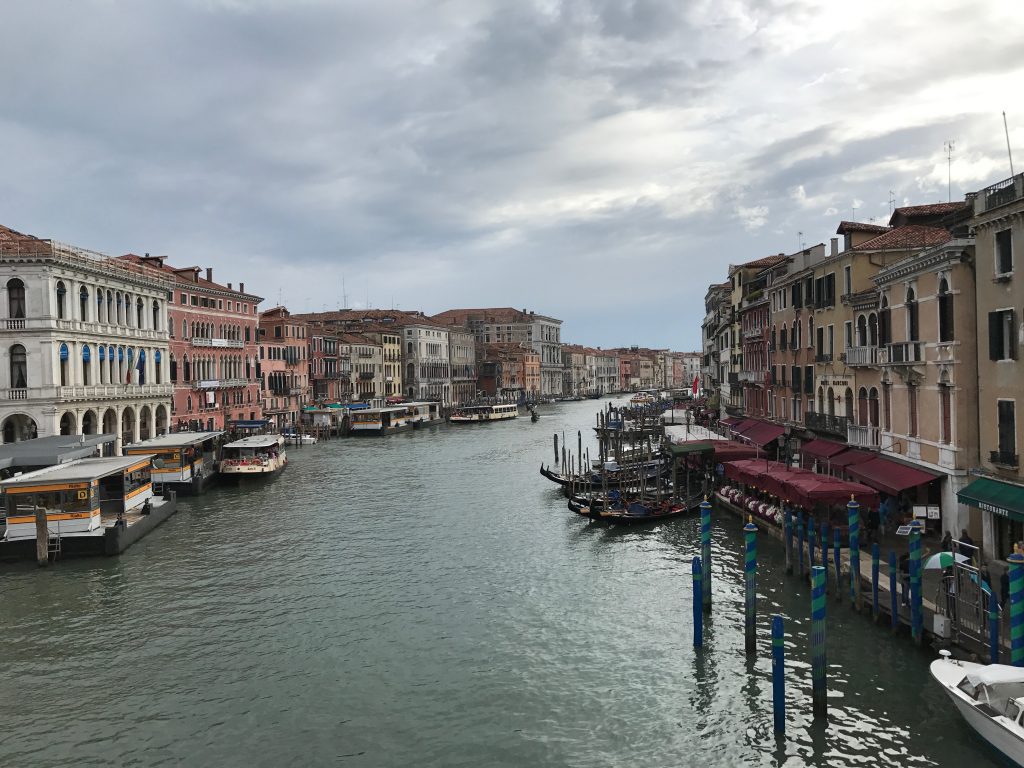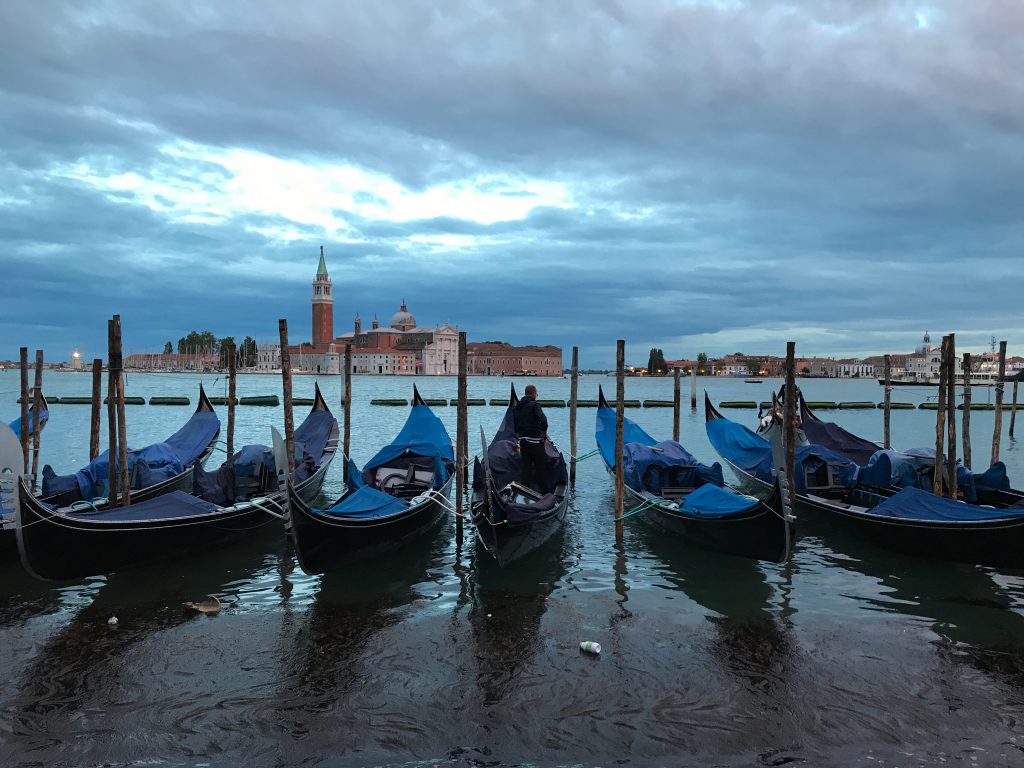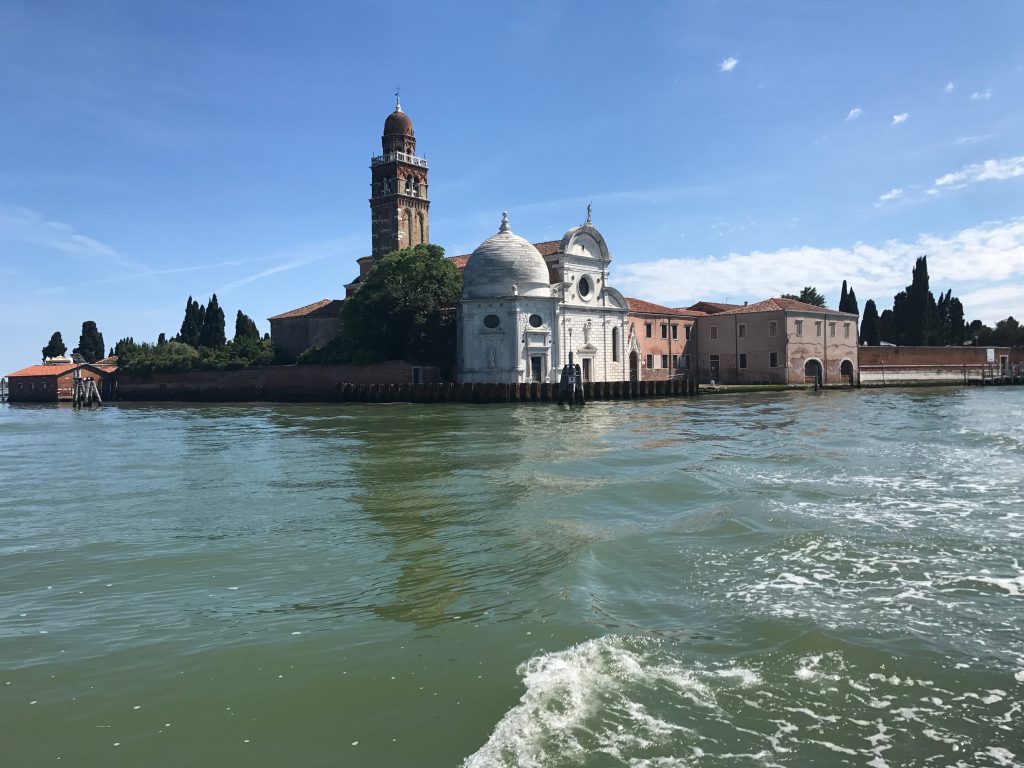 What one must keep in mind first and foremost is something that, paradoxically, not many travelers think about before they visit: nearly everything here comes in by boat.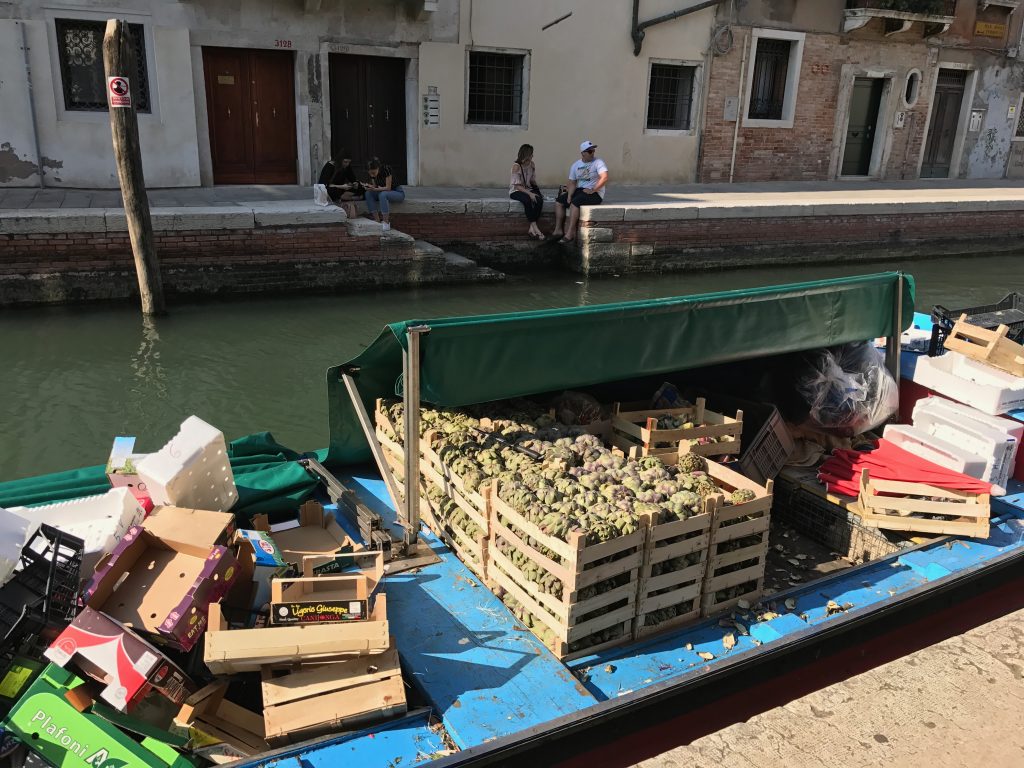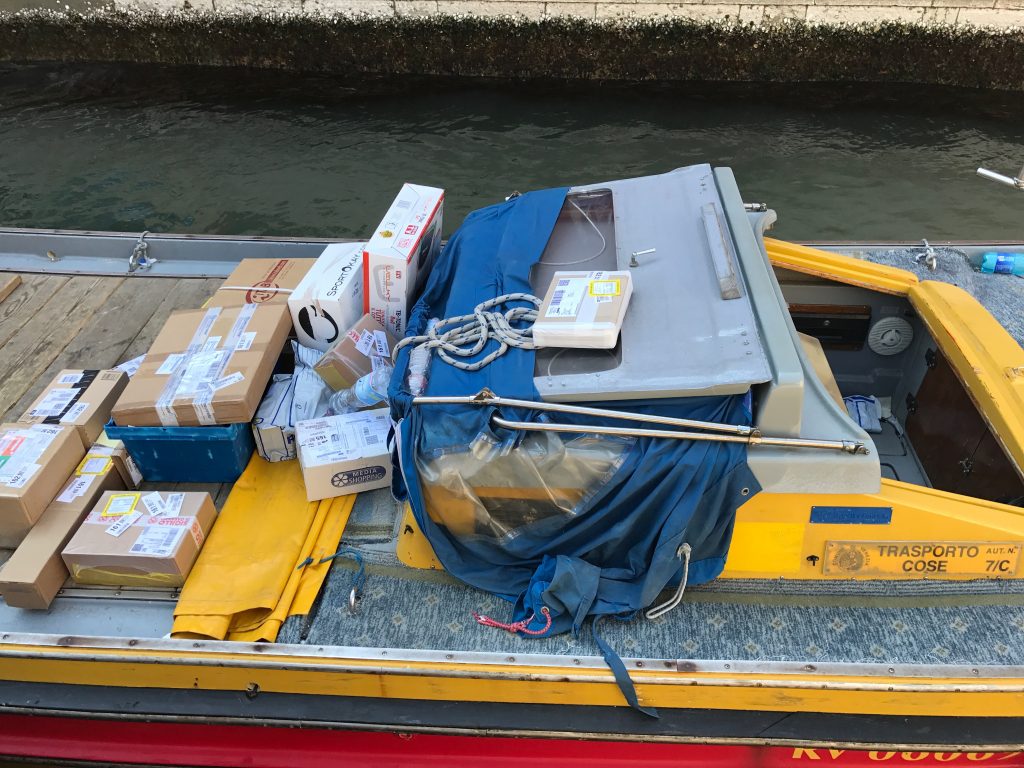 Many tourists we met during our short stay seemed confused, as they had not done any research ahead of time like Dreamer had.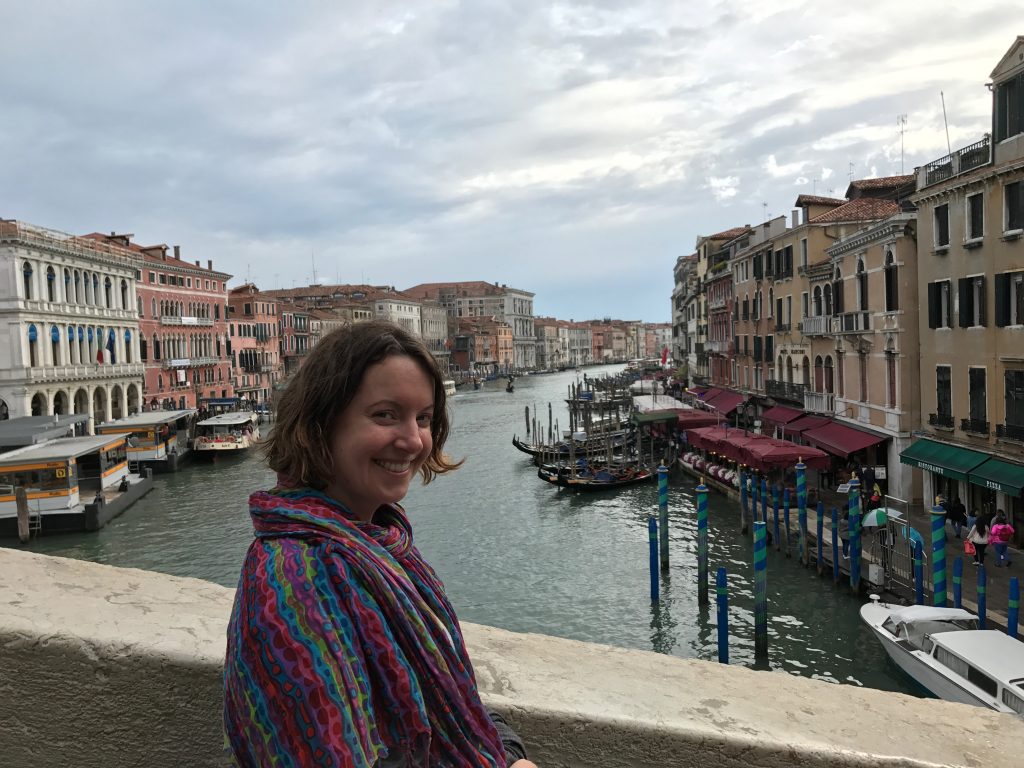 There are just a couple of terminals for auto traffic, a train station, and then that's it: everything else by boat. For access to anything inside the city, your options are by canal or on foot. No metro. No buses. No taxi. Not even bikes are allowed on the old streets, and while they haven't banned wheeled luggage, you get the feeling that they would kind of like to.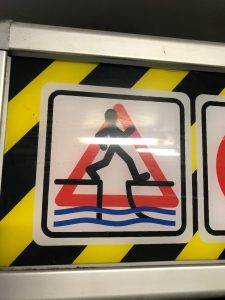 This creates somewhat of an airport economy for everything inside the city. It's fun for a while, but there are certainly much cheaper and more accessible places to visit as a tourist. The small population of native Venetians have become accustomed to this lifestyle, of course, and it is a great one for anyone with the proper pocketbook. The history, the views, the culture… all are exactly what we expected and left us feeling at ease during our time here. Spend enough time here and you might get it, too. The initial shock of one of those classy gondola rides costing between 80 and 100 Euros turned into an attitude of, "meh, ok," by the time we departed. The price makes sense after a few days when you see both what stuff around you costs, and the trouble everyone goes to to get it there.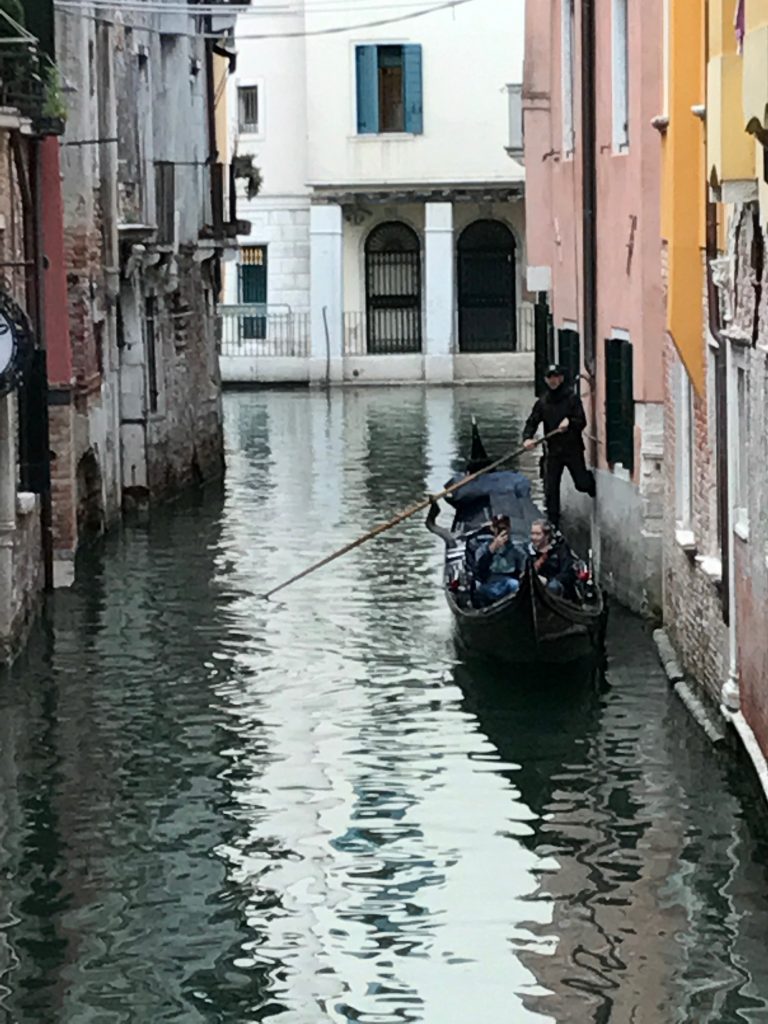 Venice has a system of public transit, of course: the vaparetto is like a public water taxi. And the price for a three-day pass makes any city's subway look like a deal. €40 per person gets you unlimited rides for three days. But hey, it beats €7 a trip if you want to pay each time, right?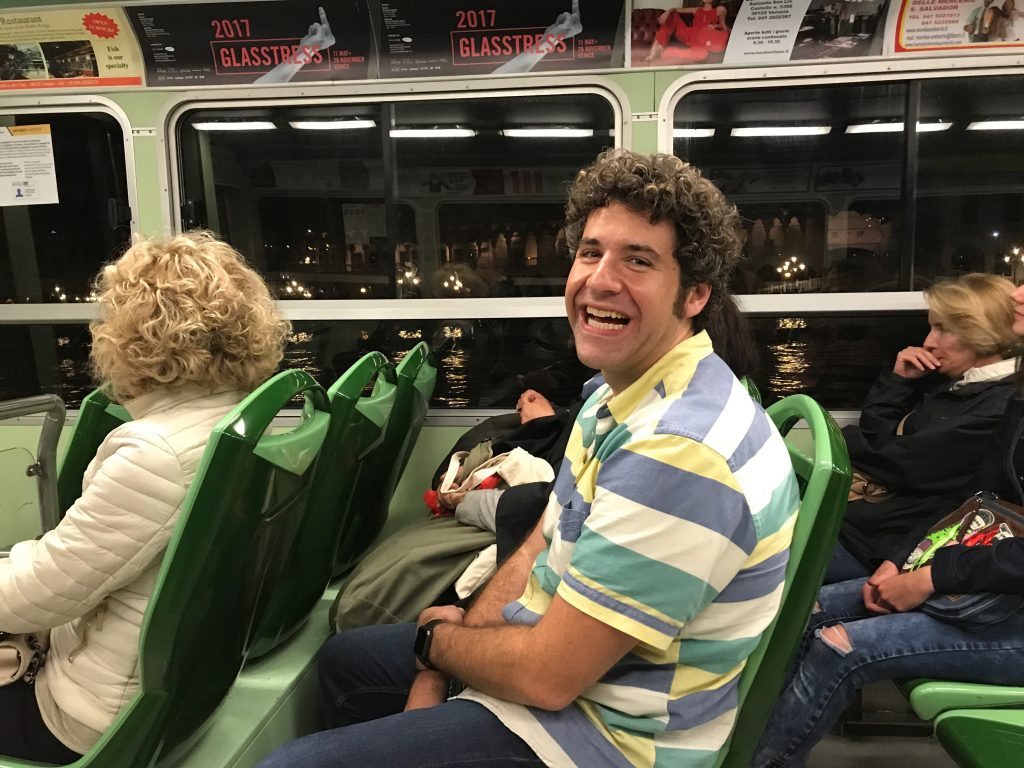 We got cheap tickets on a discount airline, which flew us into nearby Treviso. We also fell for the discount airline's pitch to buy our Treviso-Venice shuttle tickets ahead of time.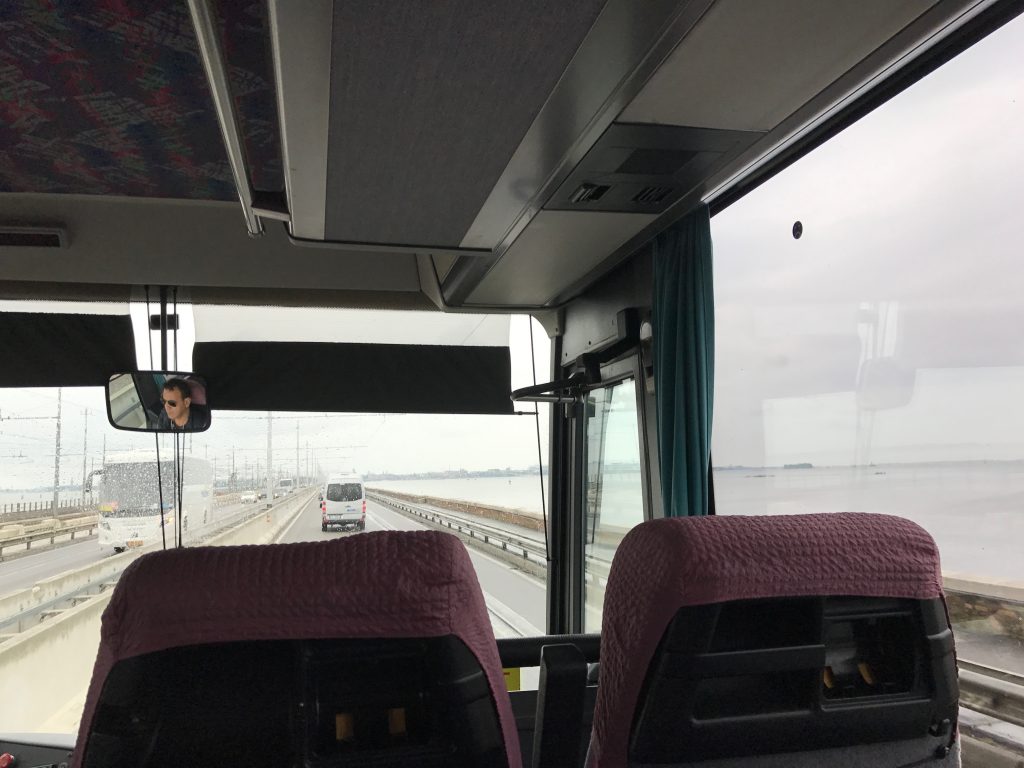 This took us into the Tronchetto auto terminus (also the cruise port), rather than the more centrally-located Piazzale Roma (which would have been closer to our hotel). Had we bought tickets after we landed, this would have been obvious, but we are suckers and even bought the round trip so we had to endure this pain twice. But all was not lost: in our confusion, we managed to find the PeopleMover, aka monorail. So all did not end too badly. What's it called?
After ten minutes of dragging our bags across 1,000-year-old sidewalks and bridges, we arrived and checked into our hotel. Google Maps walking directions work in Venice as in all other cities we've visited, but the geography throws off the phone compass from time to time. We missed the turn for the tiny alley to our hotel.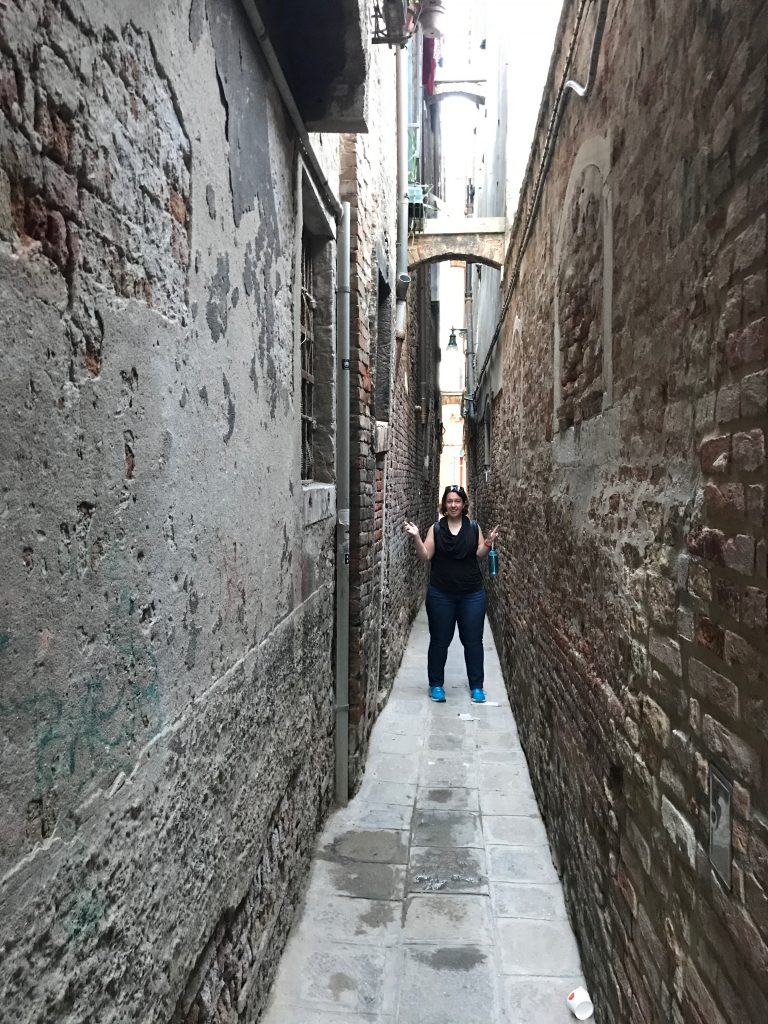 Time for our first snack! And when Dreamer thinks Italy, you know she's thinking…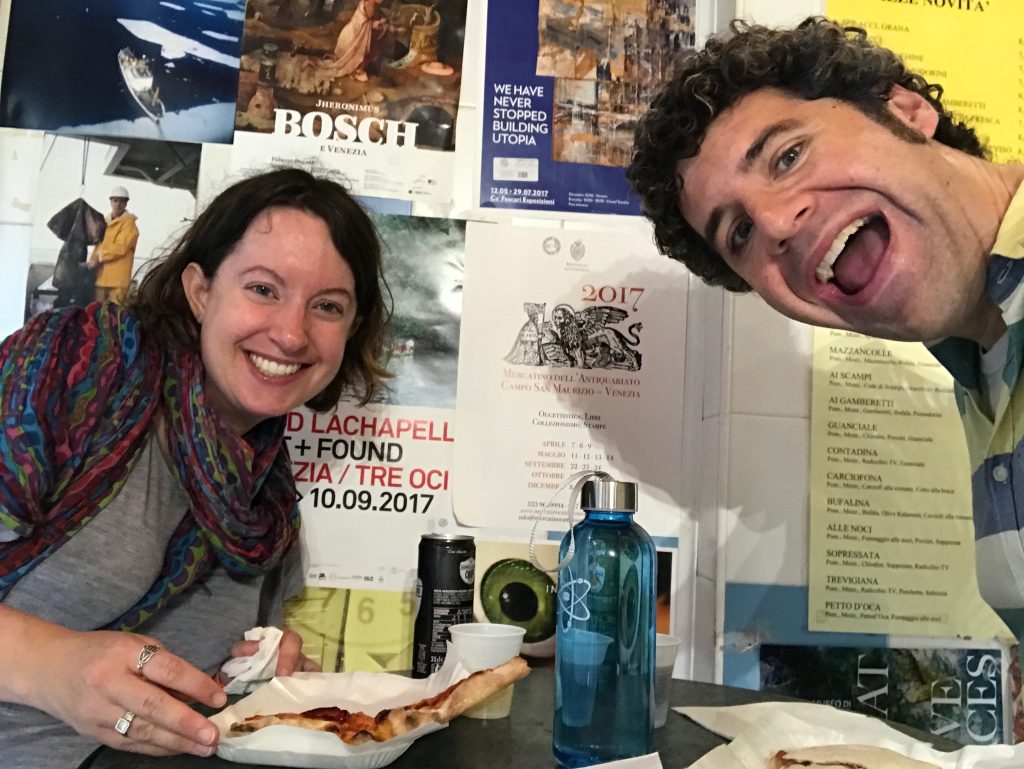 Not from anywhere near Venice, but hey… to be fair, it was like 5 in the afternoon and all the other options were not open. Also, note our friendly travelin' water bottle above. Like most of Italy, the tap water was fabulous. Public water fountains abound wherever you look.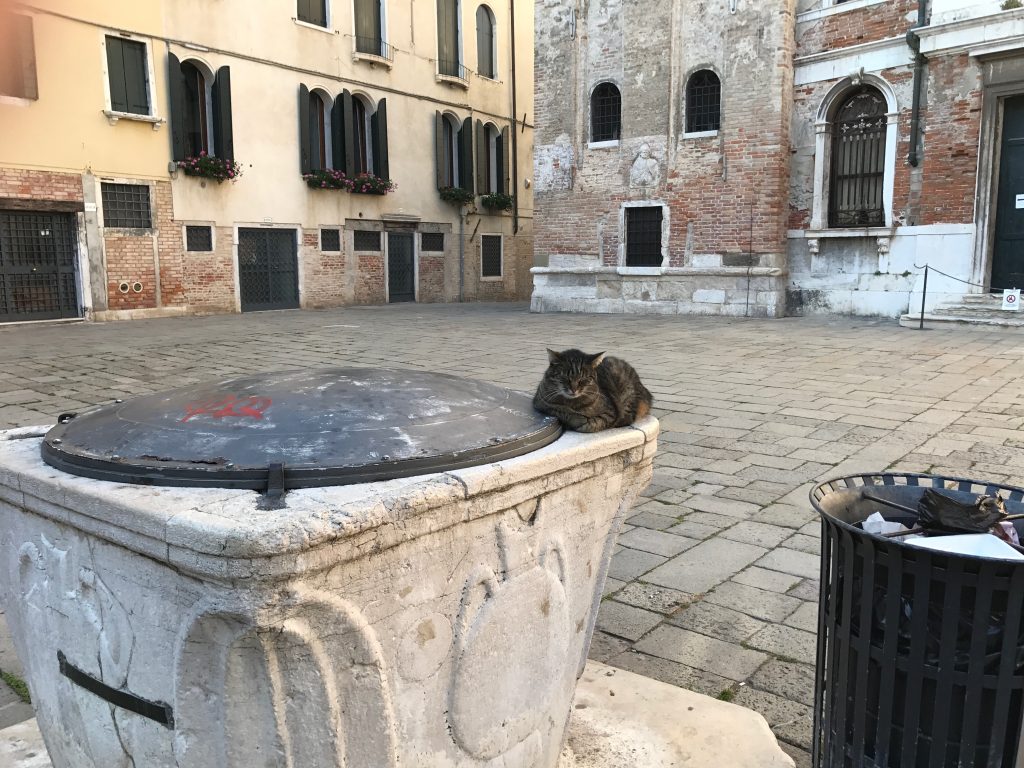 Pizza seemed like it would fill us up until dinnertime, but there's always room for dessert. Hand-made dark chocolate ice cream bar with almonds? Yes, please.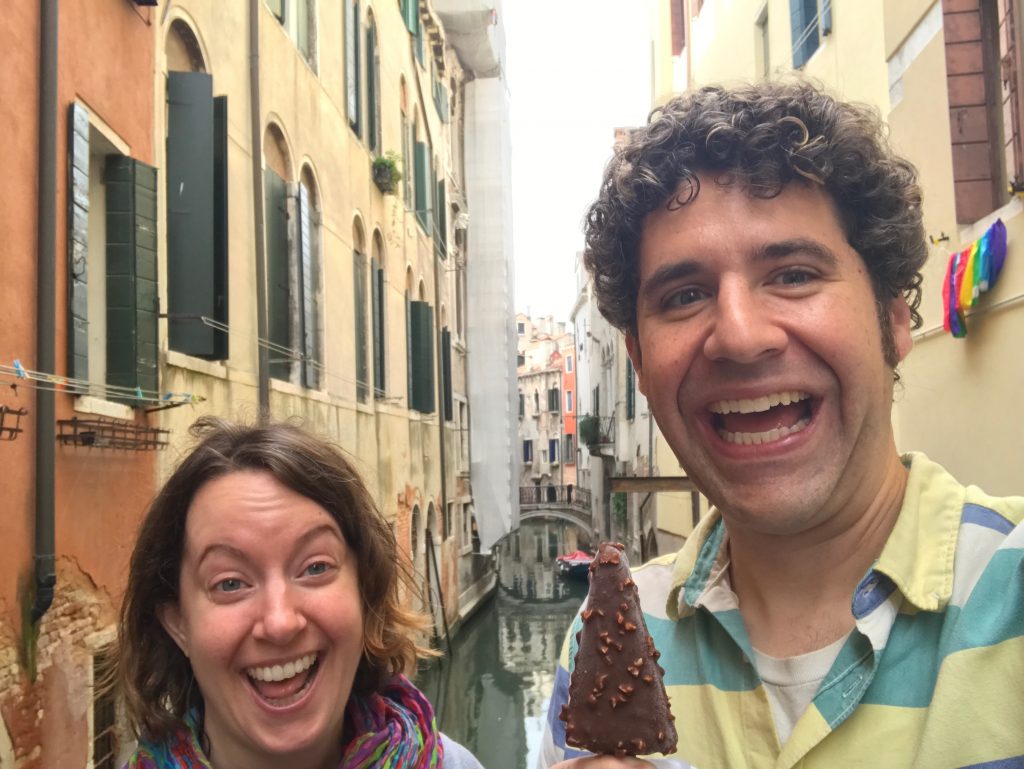 Fabulous-quality chocolate coating on this one. It's like the Italians knew we were pining for something really chocolatey from our time in Spain or something. Seriously, Spaniards, the brown coating you get at the pastry shops here is NOT chocolate. But we digress…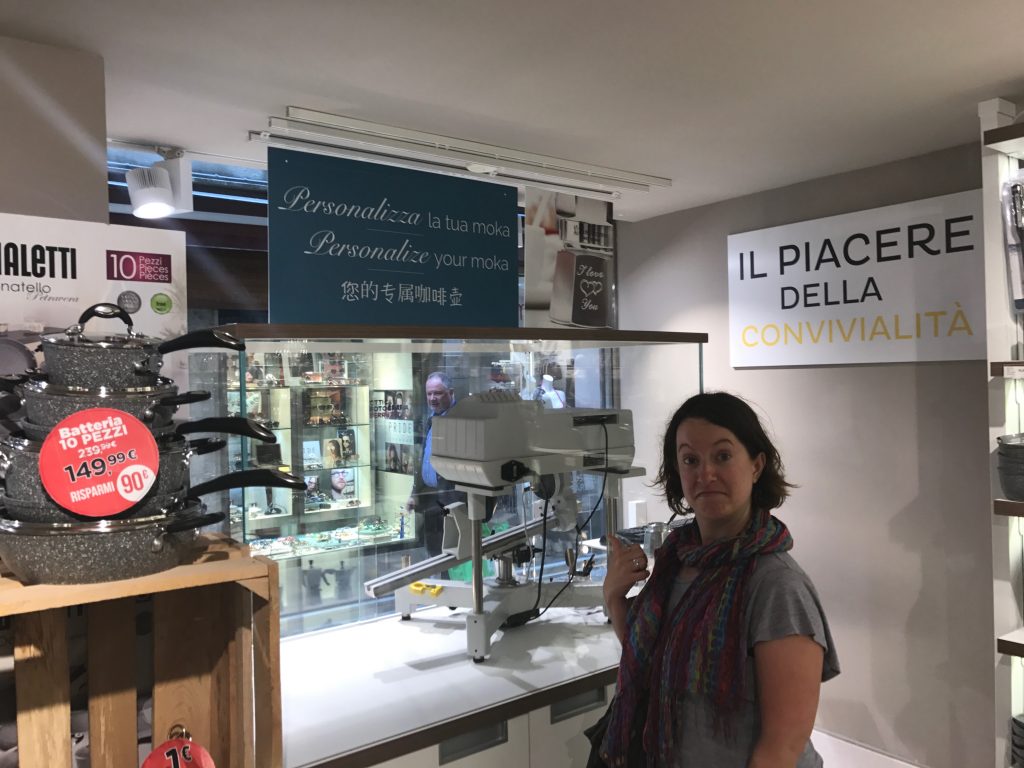 Maybe there was still room for coffee. We passed a Bialetti store, inventors of the Moka percolator pot, affectionately (and appropriately) known to all Spaniards as an "Italiano." You can guess which of us two does the cooking when we tell you Dreamer honestly wanted to know if this was a pasta machine. Spolier alert: it's for engraving your fancy new coffee pot.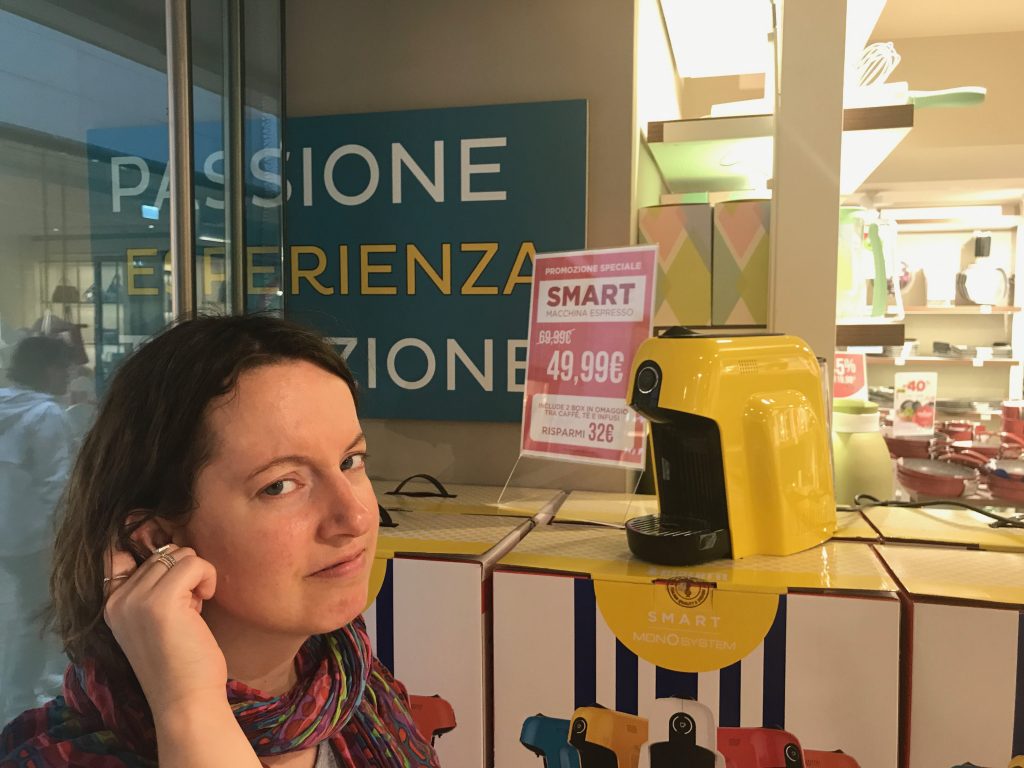 Wandering with our bellies full, we finally felt we'd arrived. The rich colors of the city beckoned and it was literally everything we had expected.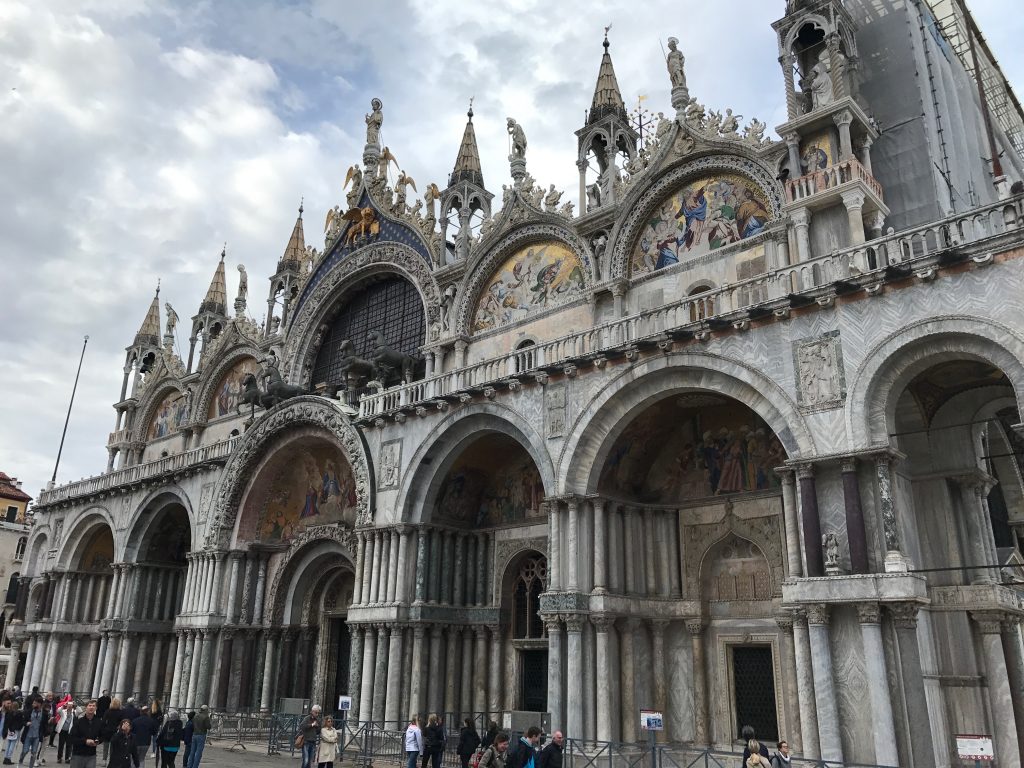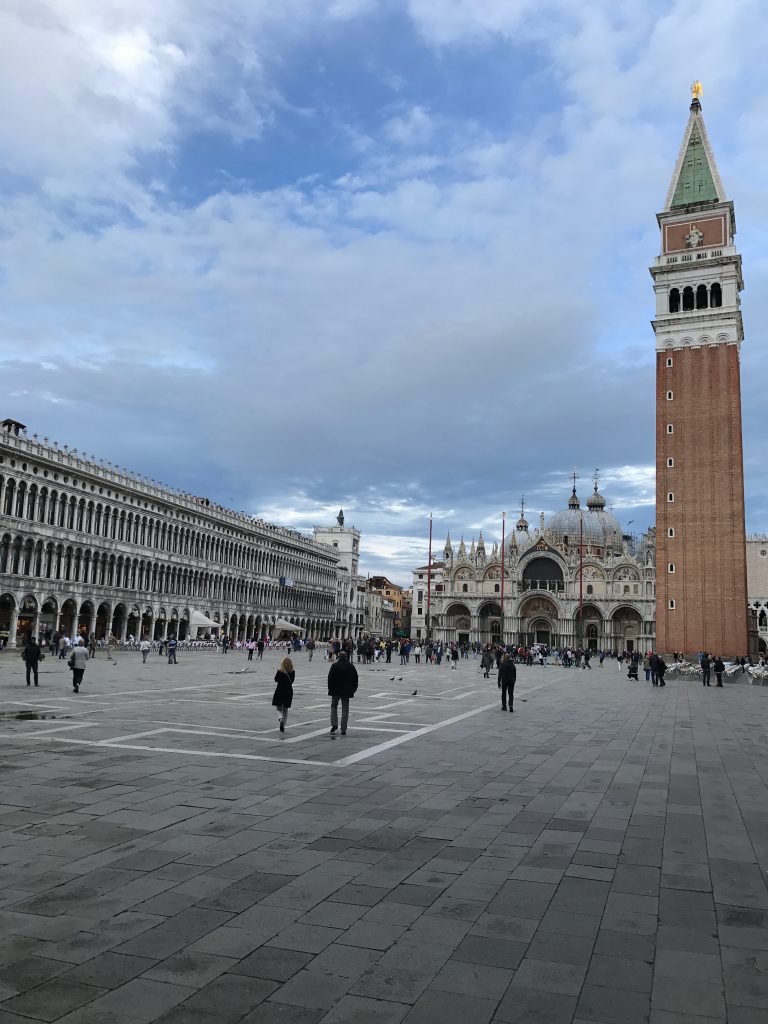 When we entered St. Mark's Square, the center of Venice for 1,000 years and the undisputed symbol of the city, we were surprised to note the relative lack of pedestrians on a Saturday afternoon verging on tourist season. After all, a number of famous buildings and monuments lie in the square, making it a World Heritage site.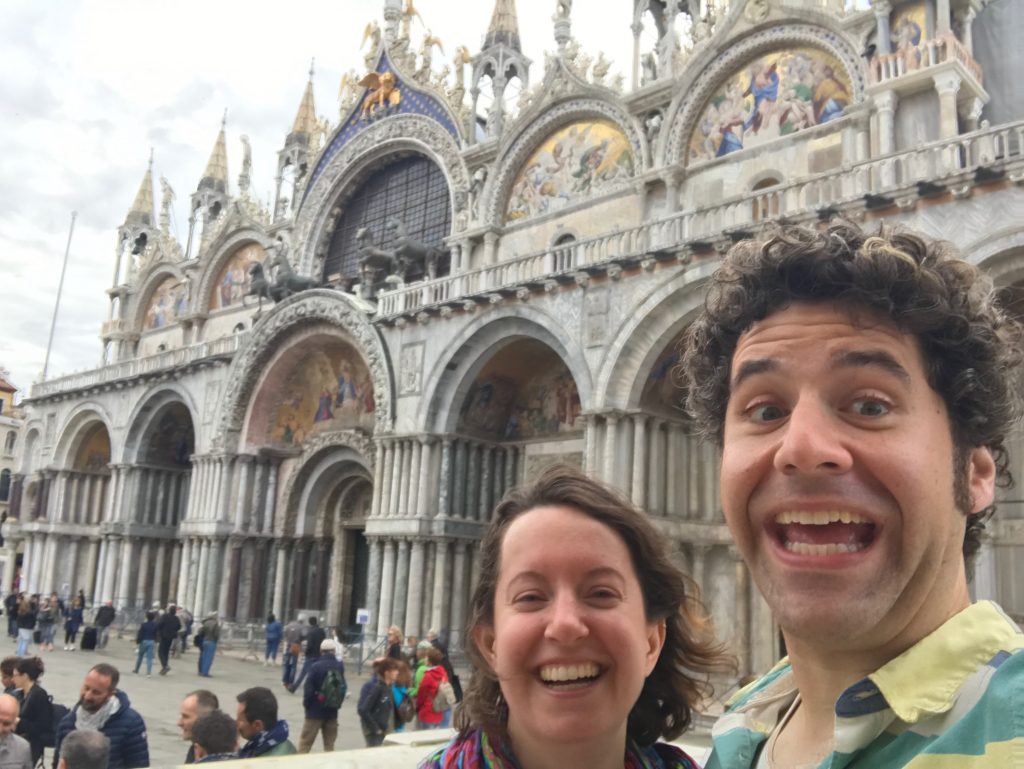 The basilica was built in the 9th century to house the supposed body of St. Mark. Over time it was rebuilt, and because of its opulence it's also known as the church of gold.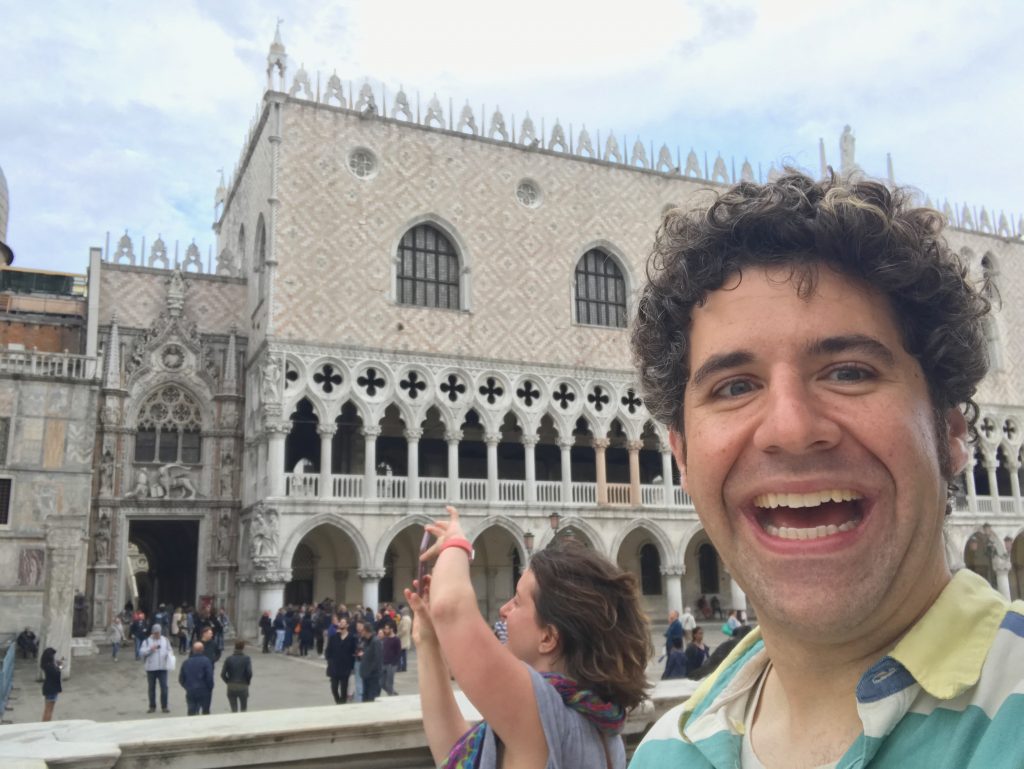 Dreamer just couldn't get enough pictures of that church.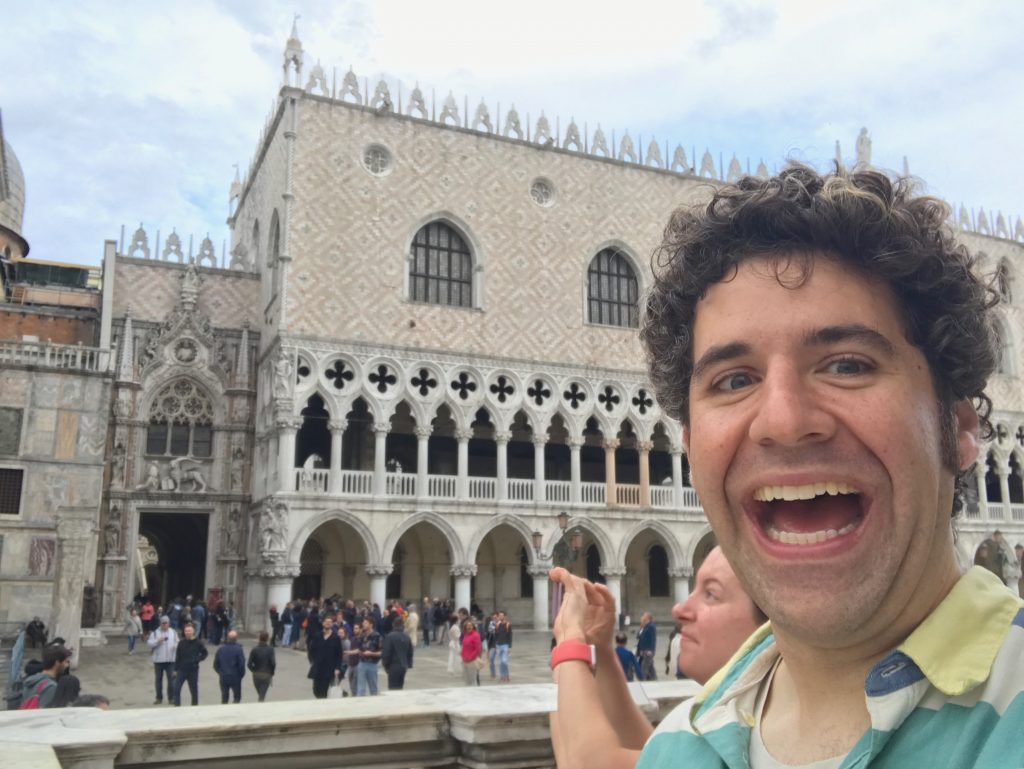 We paid the money and went up into St. Mark's tower (first built in the 12th century) for some spectacular views.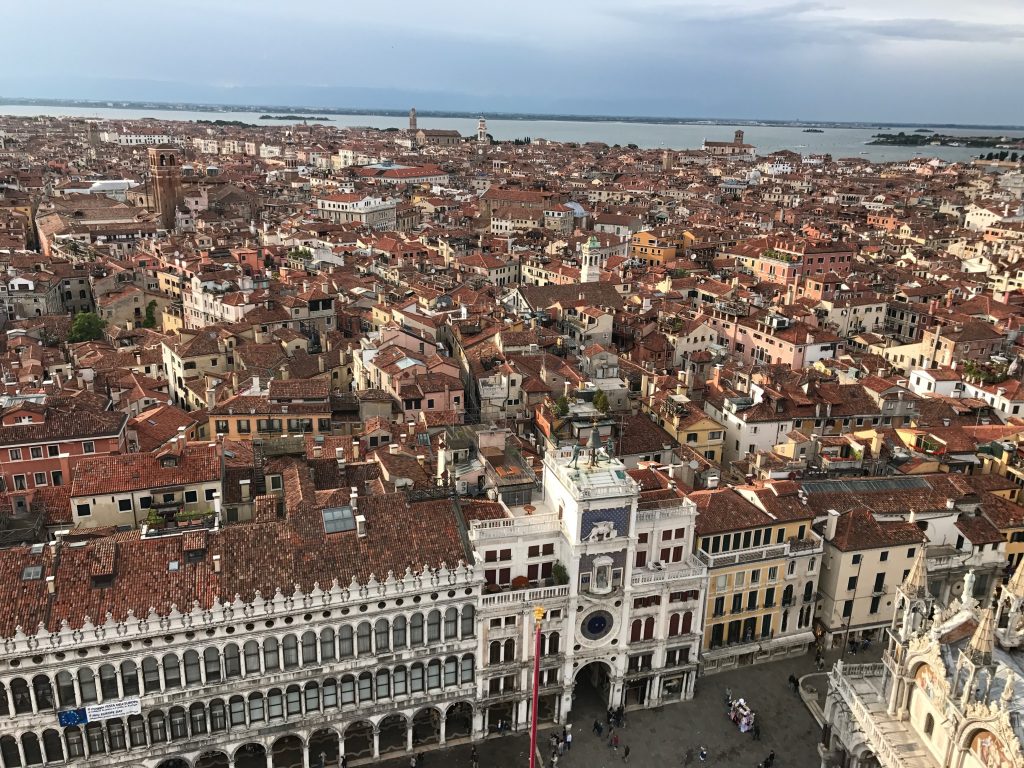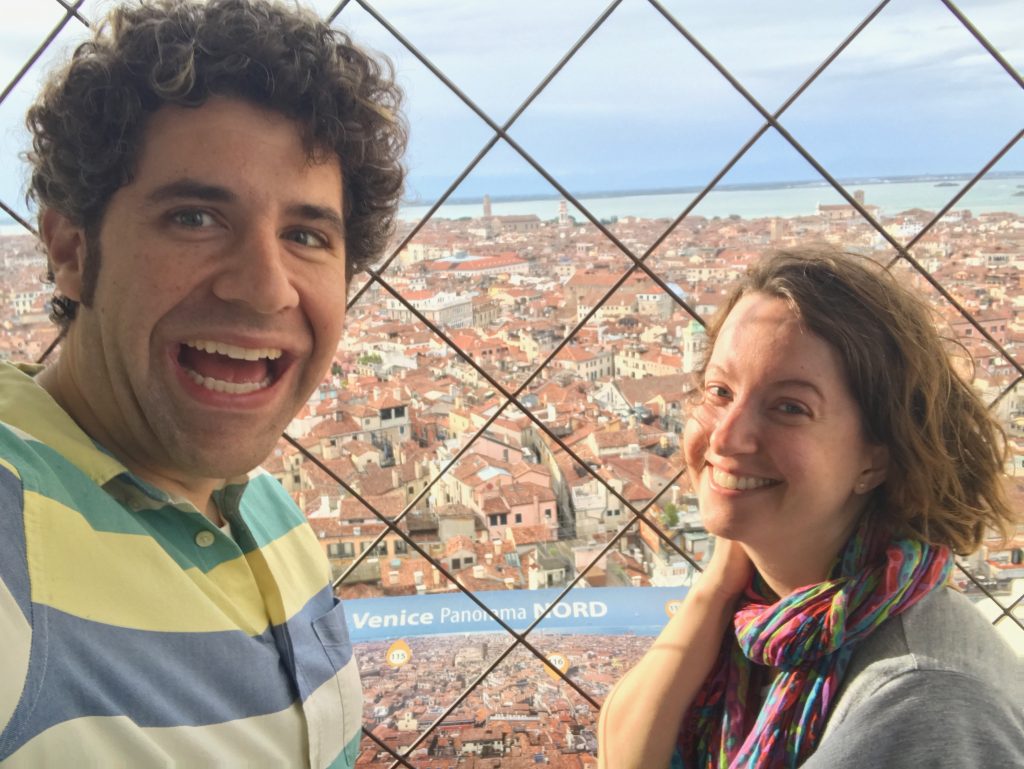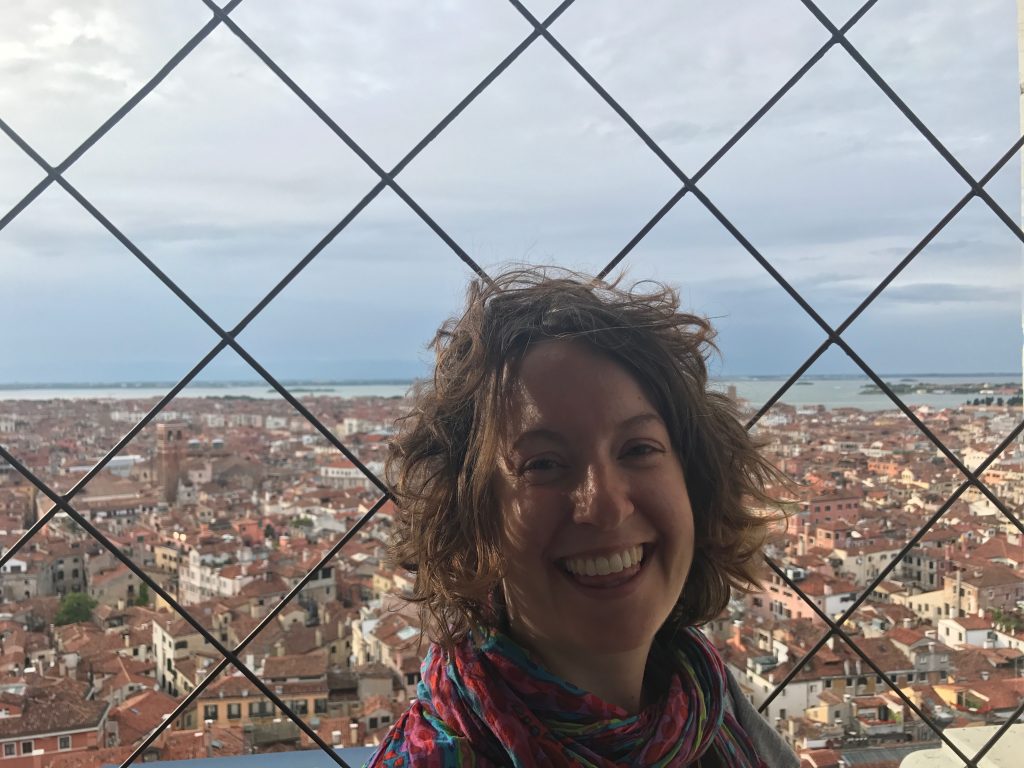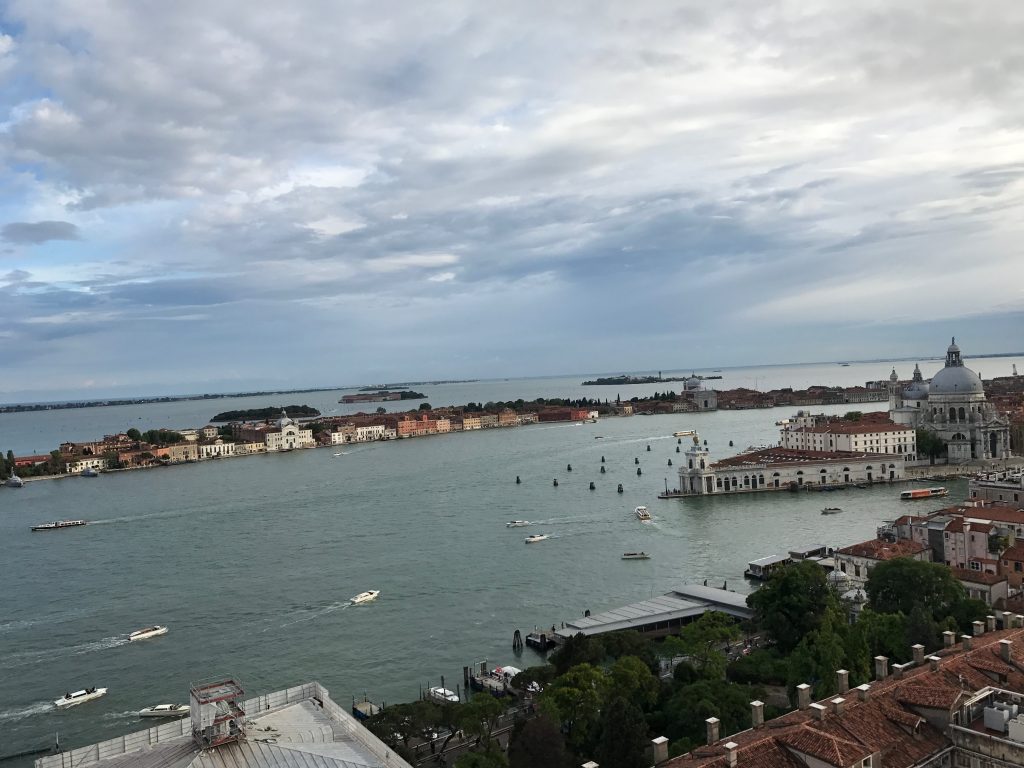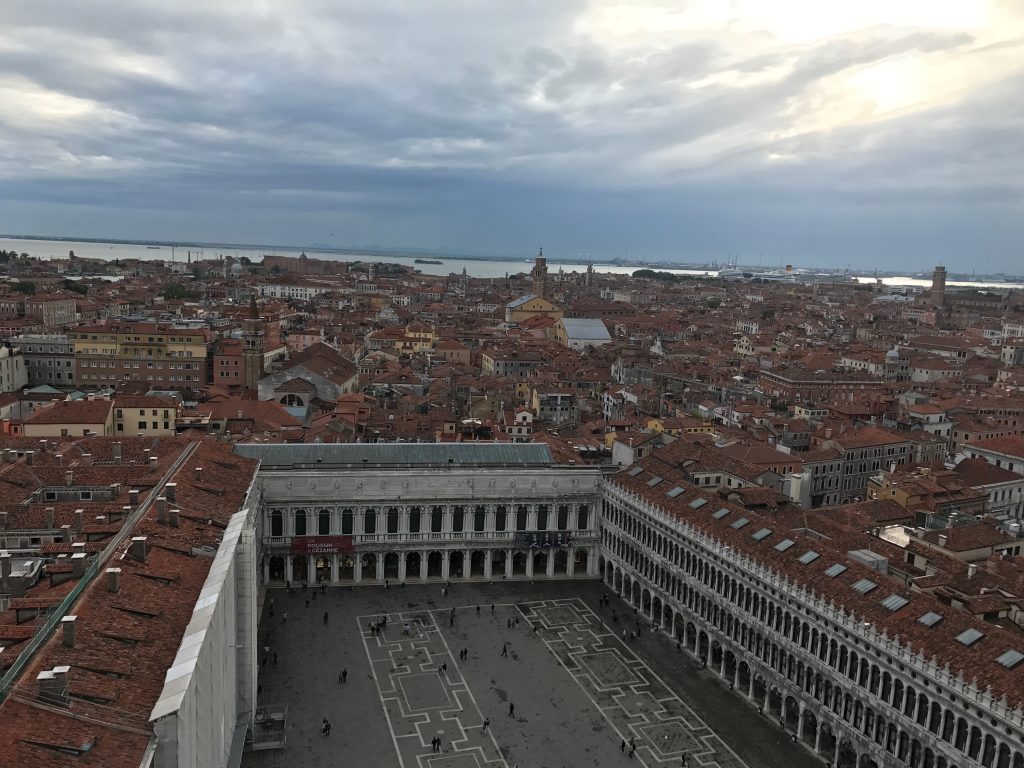 It sounded lovely up there as well.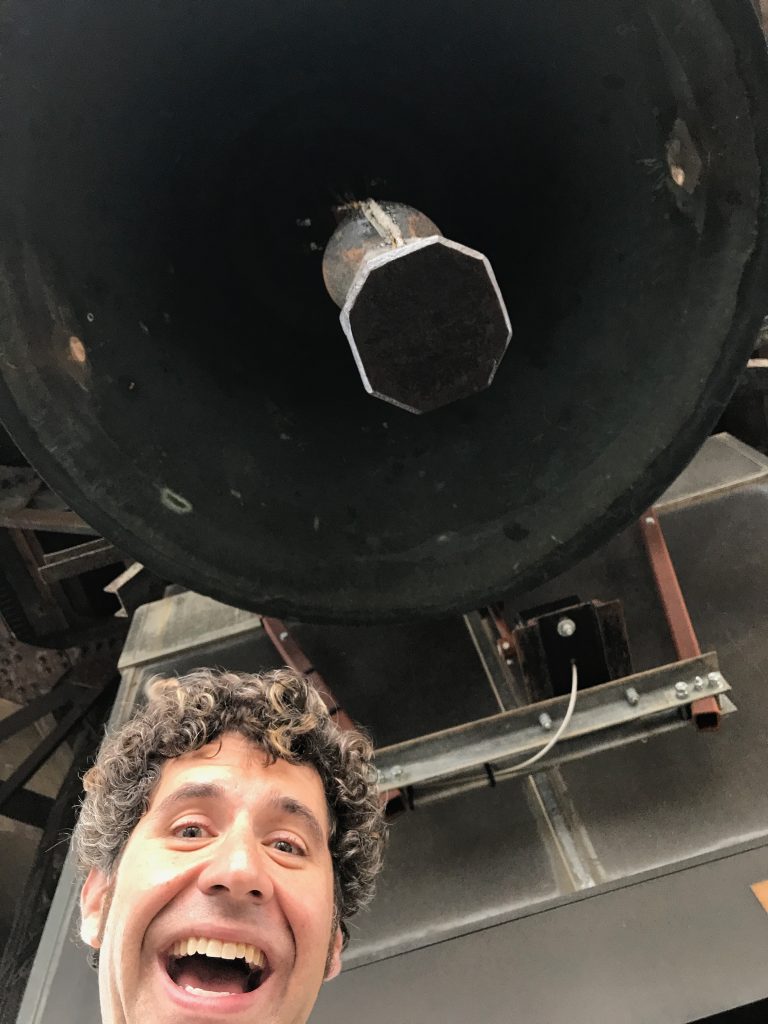 Now, it was Doer who couldn't get enough of those bells.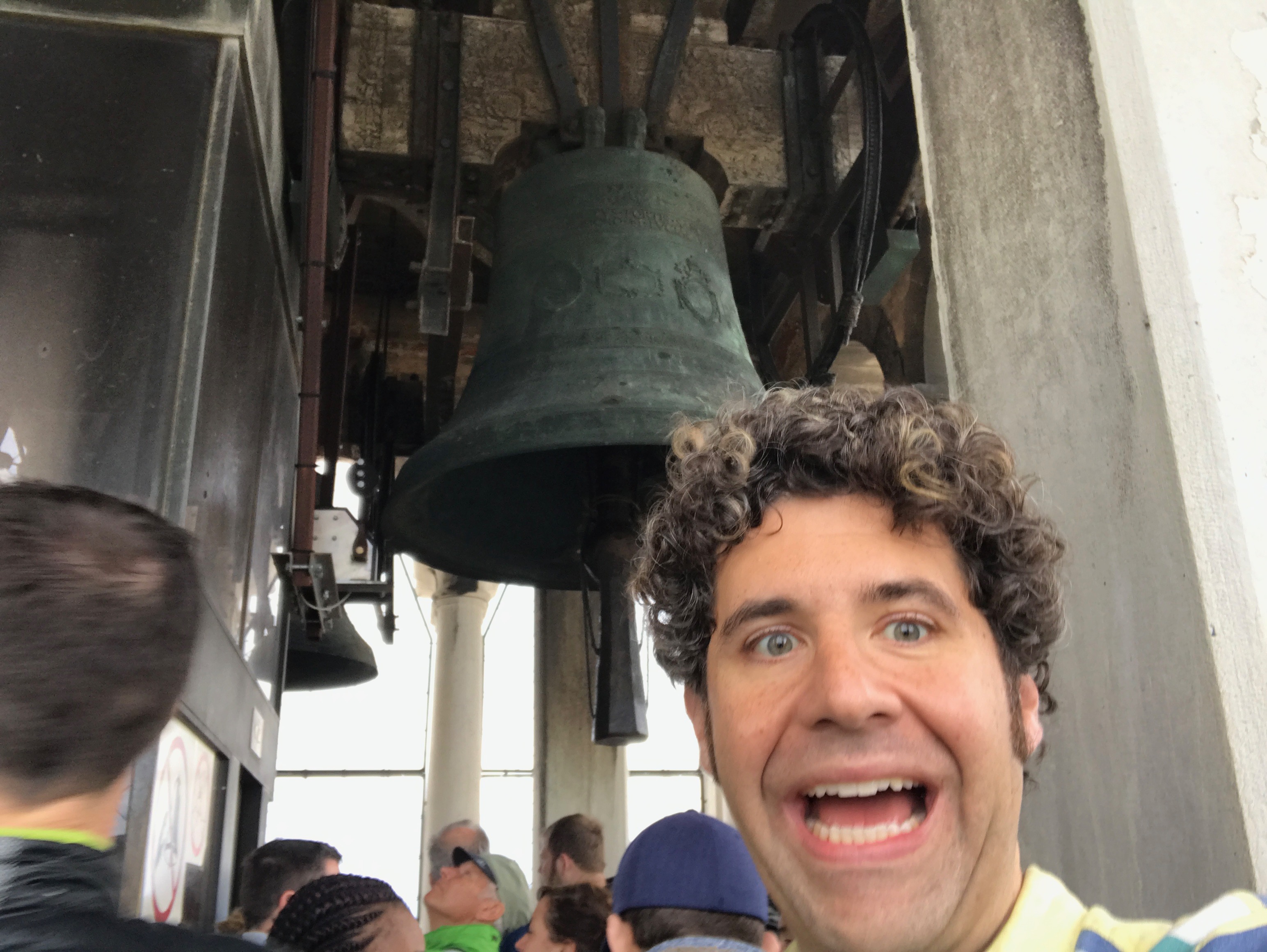 Time for some drinks! Off to Bar Longhi for some fancy cocktails. They did not skimp on the snacks, either. Nor should they have for what we spent on those drinks!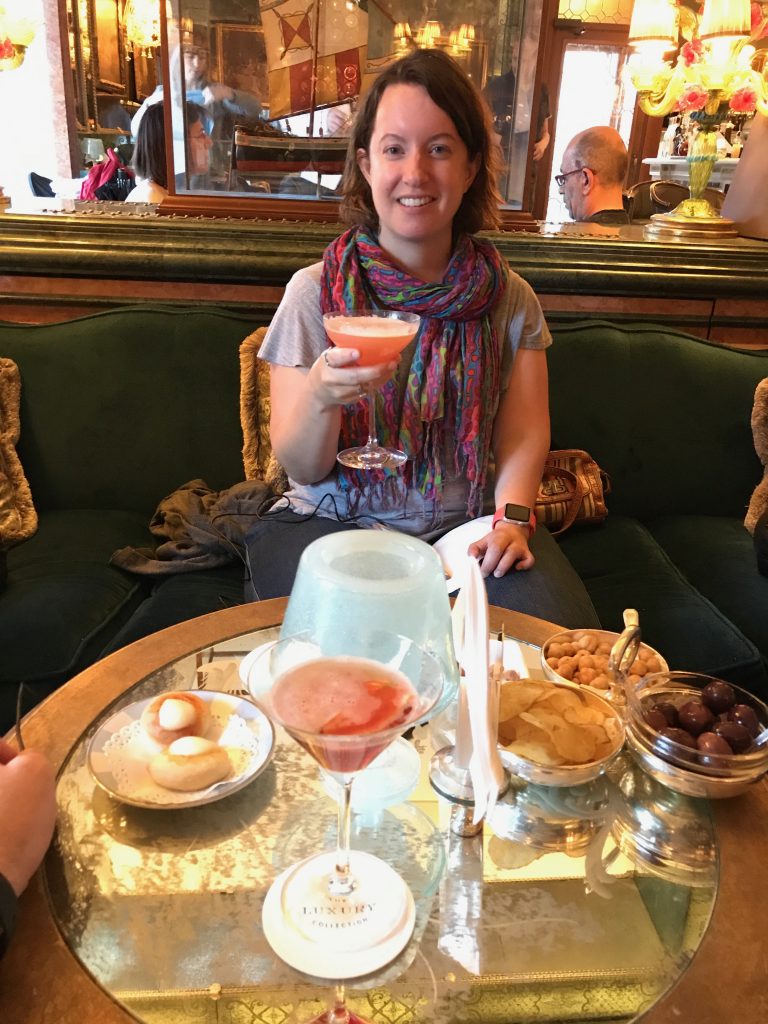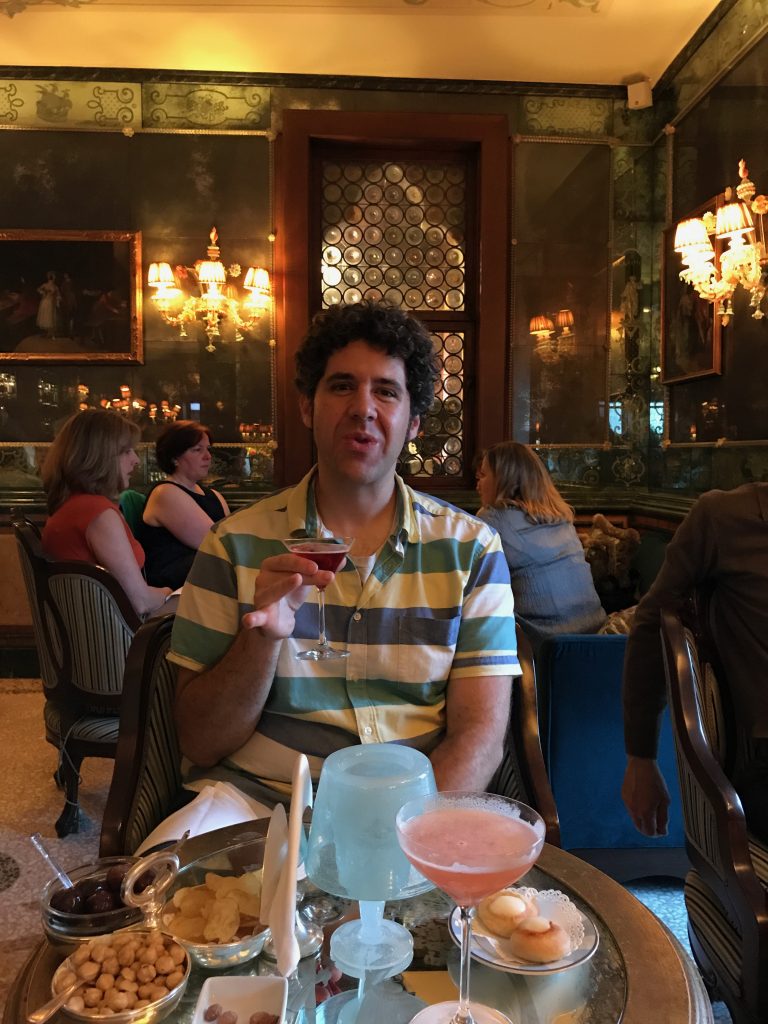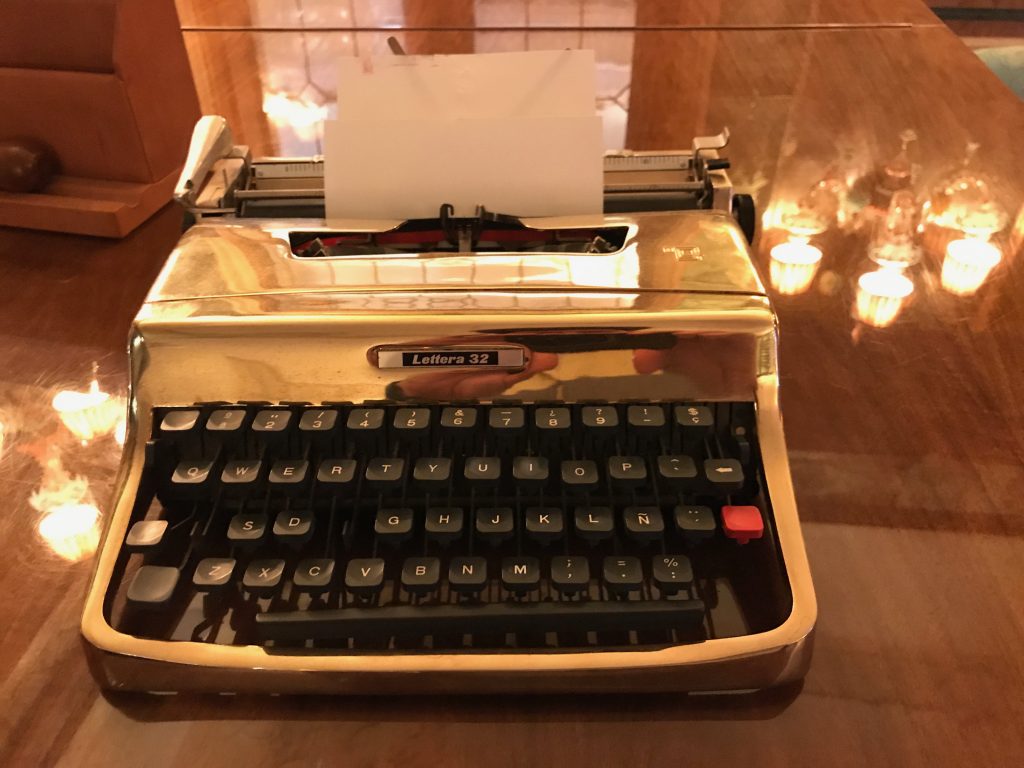 We made a dinner reservation at CoVino, which was easily our nicest meal of the trip. Only 16 seats in the whole restaurant, and two seatings a night! We were a little early for the second seating, so we grabbed some spritzes on the nearby plaza, then headed in for dinner. Service was really great!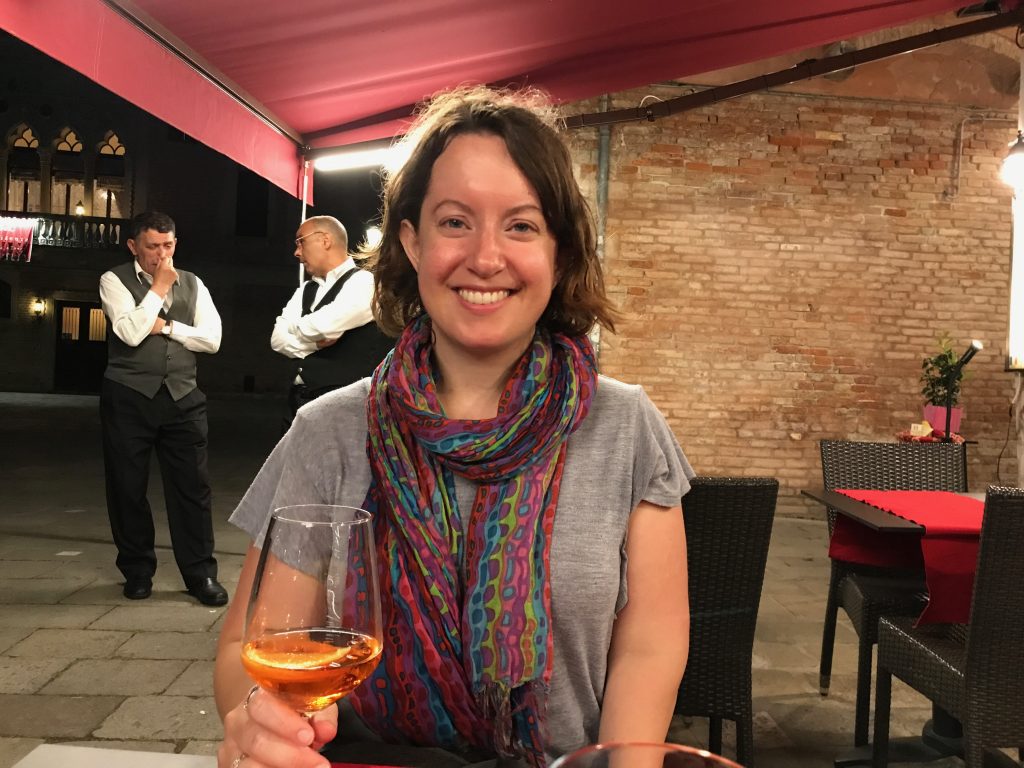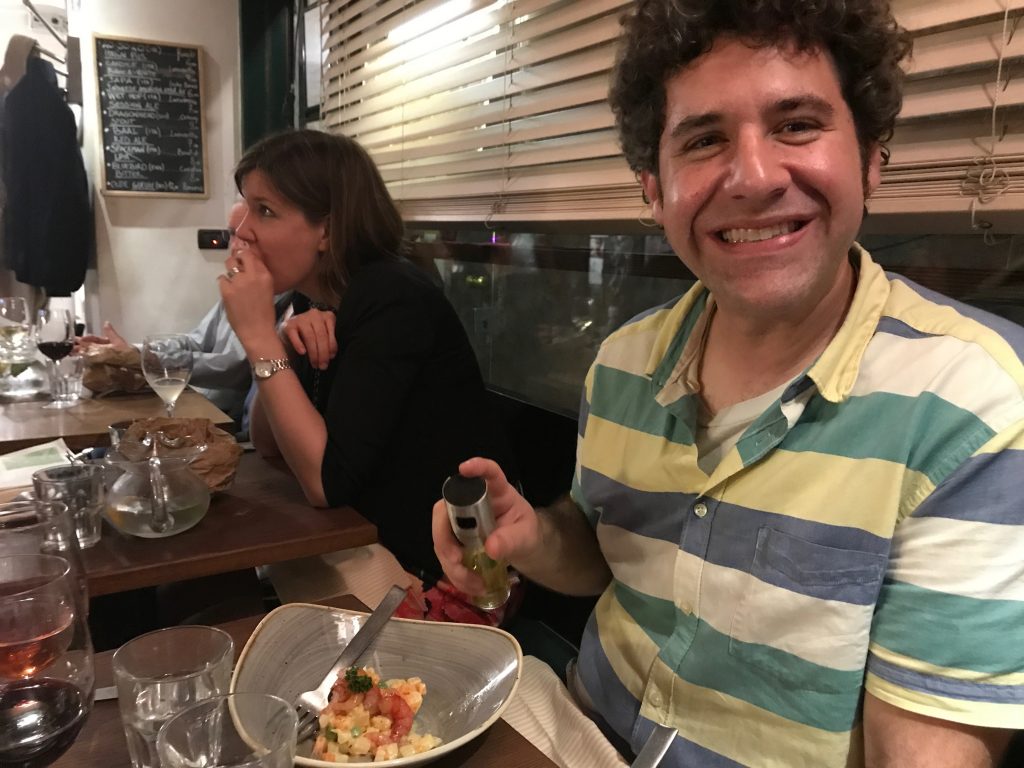 Our bellies full, we slept well and awoke Sunday morning with plans to hit a well-regarded coffee place. It left us unsatisfied, but luckily in Venice there is always a place next door serving spongy tea sandwiches on white bread. Doer got his eggs for breakfast! It took us forever not only to find the old synagogues and Jewish Museum, but also where the tour started. There was some high security and even the people working the ticket desk were a little… odd. By the time we figured things out, the tour had left and we had to wait an hour until the next one, but this gave us time to peruse the museum.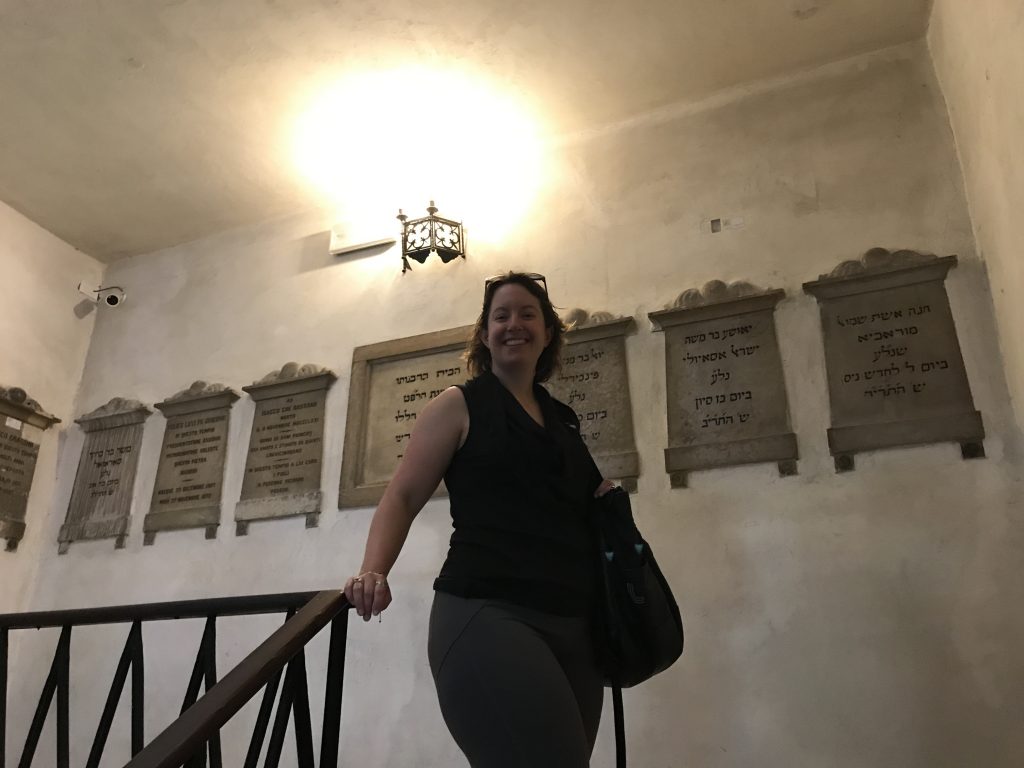 When the time finally arrived for our tour, we noted our guide also was lacking in social skills. She really liked to tell people when they could and couldn't take pictures, but it was not by area or any other rules we could discern. At one point, she let us take photos, then abruptly told us to stop. The tour covered three synagogues in the very small old Jewish district. All were a short walk from one another; the first two were even in the same modern-day building.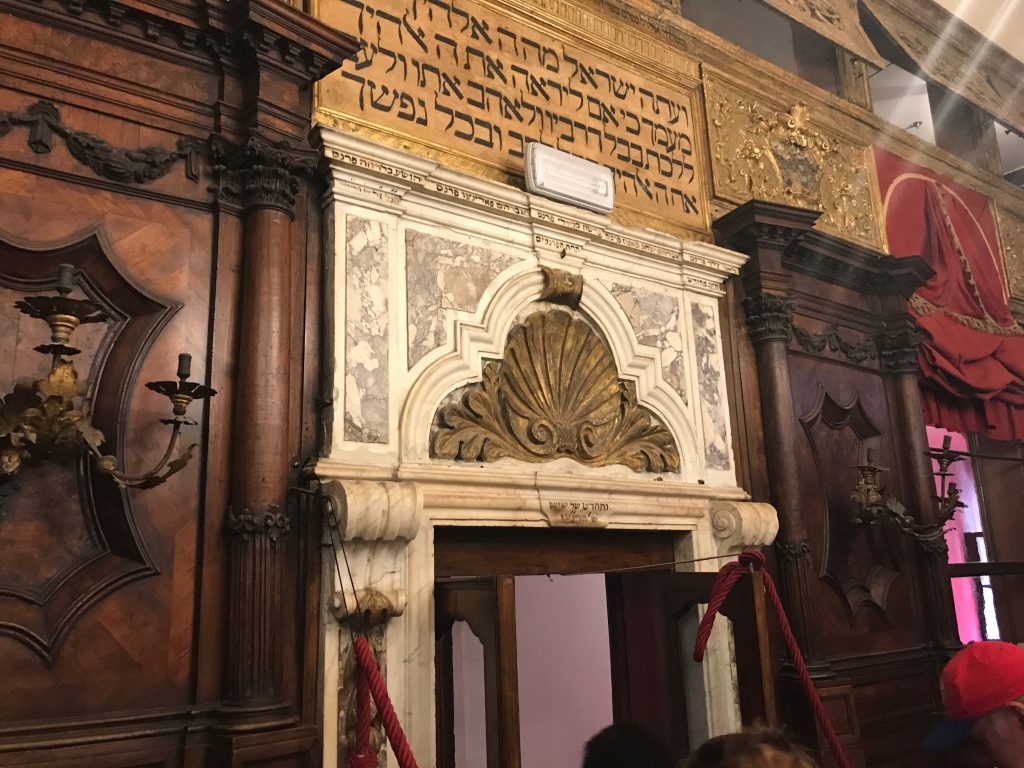 We were not allowed to take pictures in the first one, which was German (Ashkenazic) and dated to 1528. Above, you see the second, known as the Canton (corner), dating to the mid-16th century. Church artists constructed these synagogues, which is why there is a scallop shell detail. That's not really a thing in Judaism and all, you know, since the laws of Kashrut expressly prohibit eating shellfish.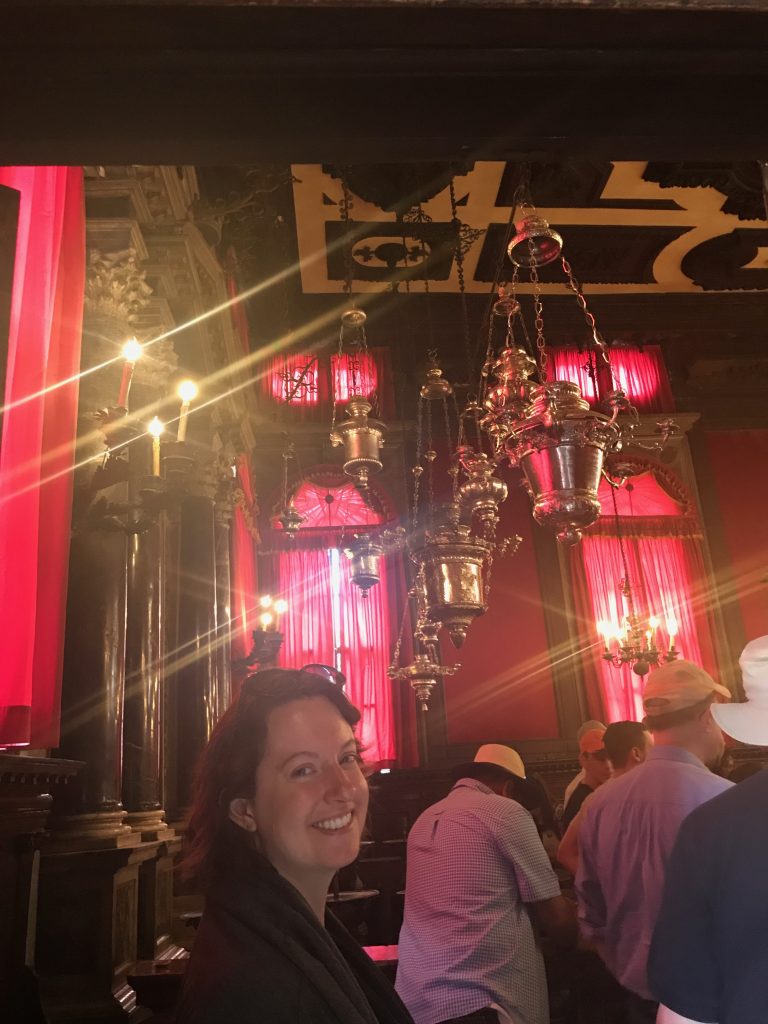 The last synagogue was known as the Levantine, and is still in active use along with the Canton above. Apparently, one has air conditioning and the other has heating, so the remaining Jewish community switches seasonally. This last synagogue was built by Turkish (Sephardic) Jews, who contracted one of the best church artists at the time in a then-modern Baroque style.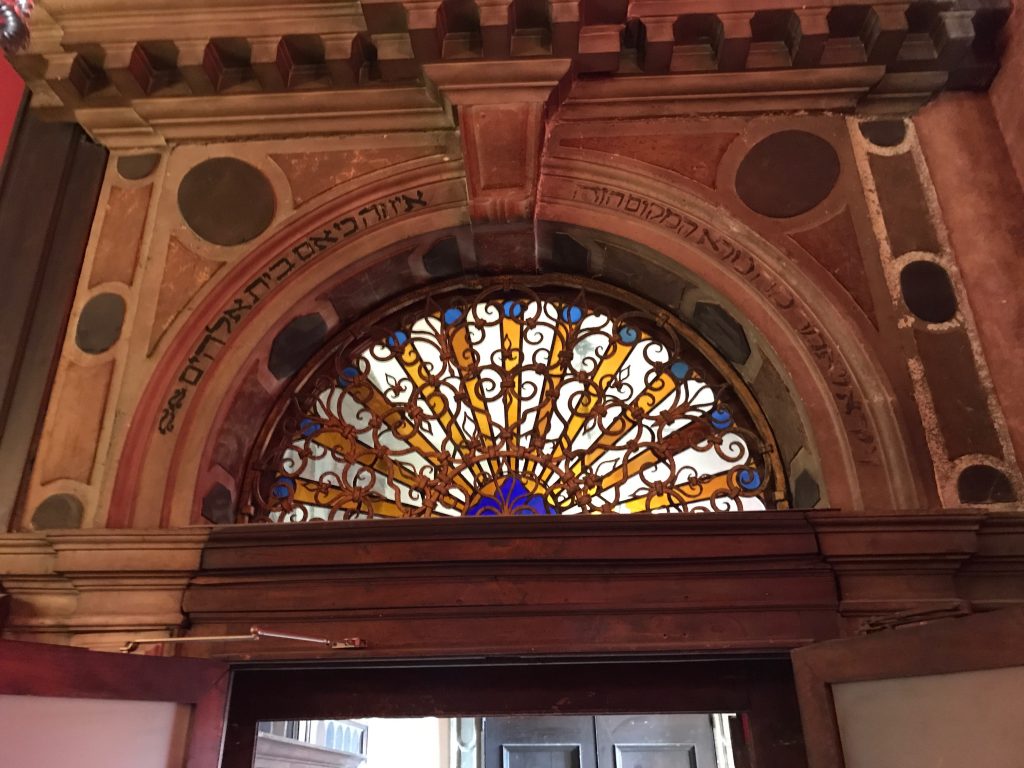 There is actually a fourth Synagogue, known as the Spanish Synagogue and built by Sephardim kicked out after the Spanish expulsion, but it is only open on the Sabbath. Giving our guide a key for this one would have been too much to ask, apparently.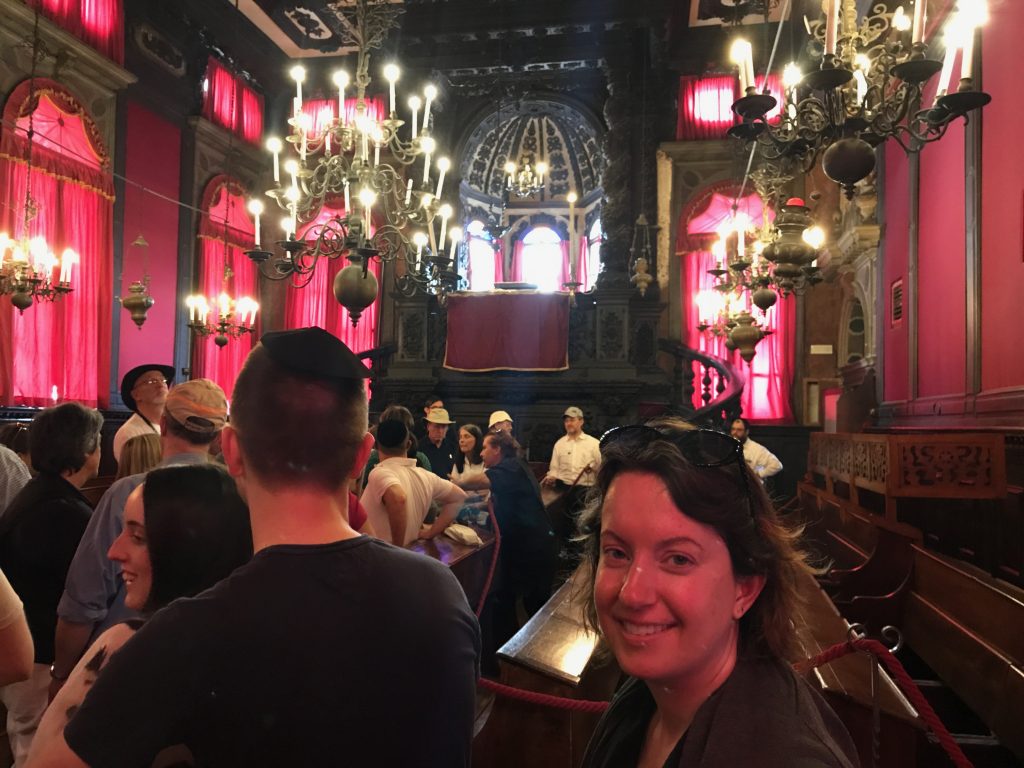 At one point, someone asked our intrepid guide why so many Synagogues were required in such a small area. "Clearly, you are not Jewish, madam," she responded. And there is really no better way to describe our tour experience than with this quote, so we leave you with that.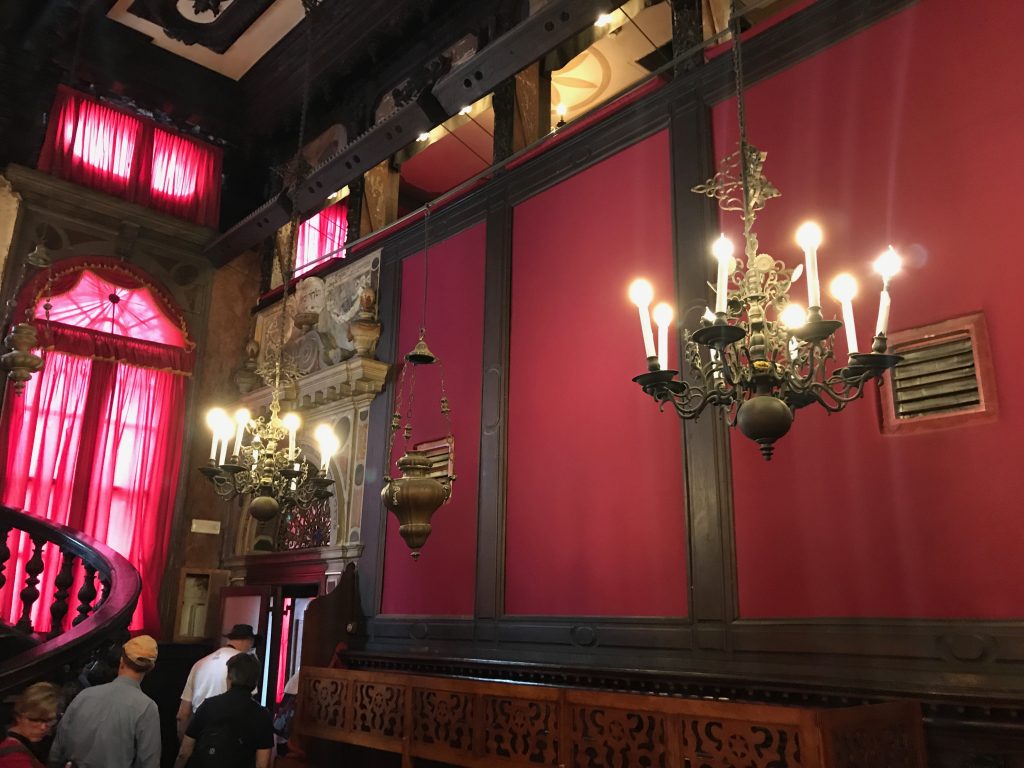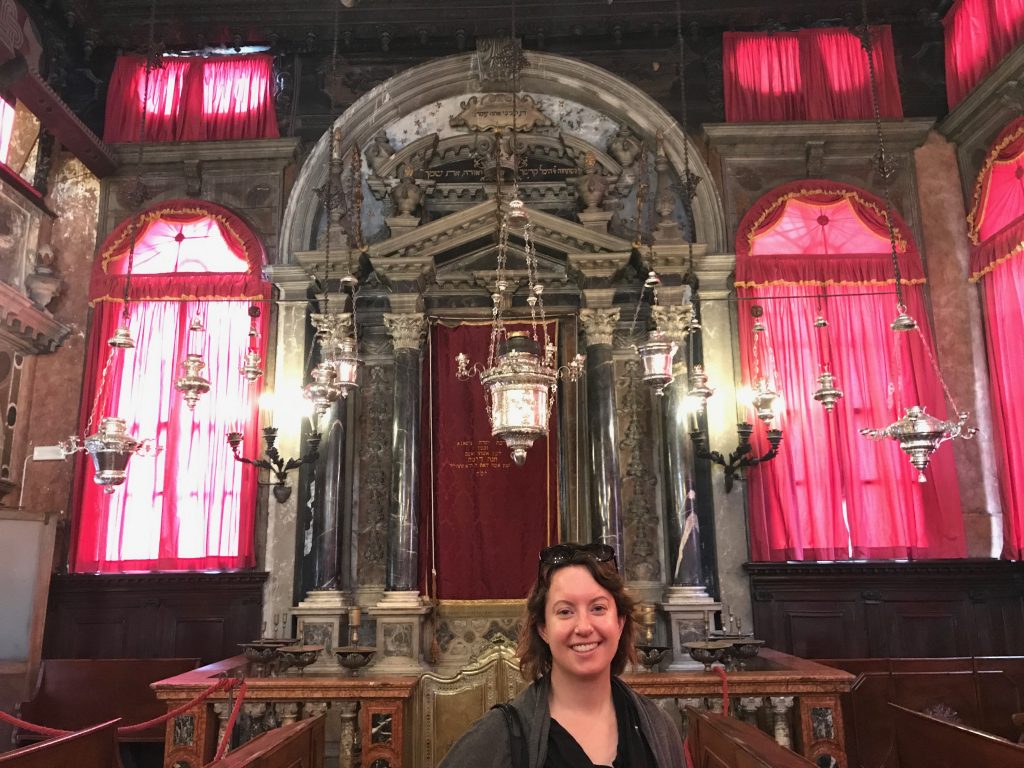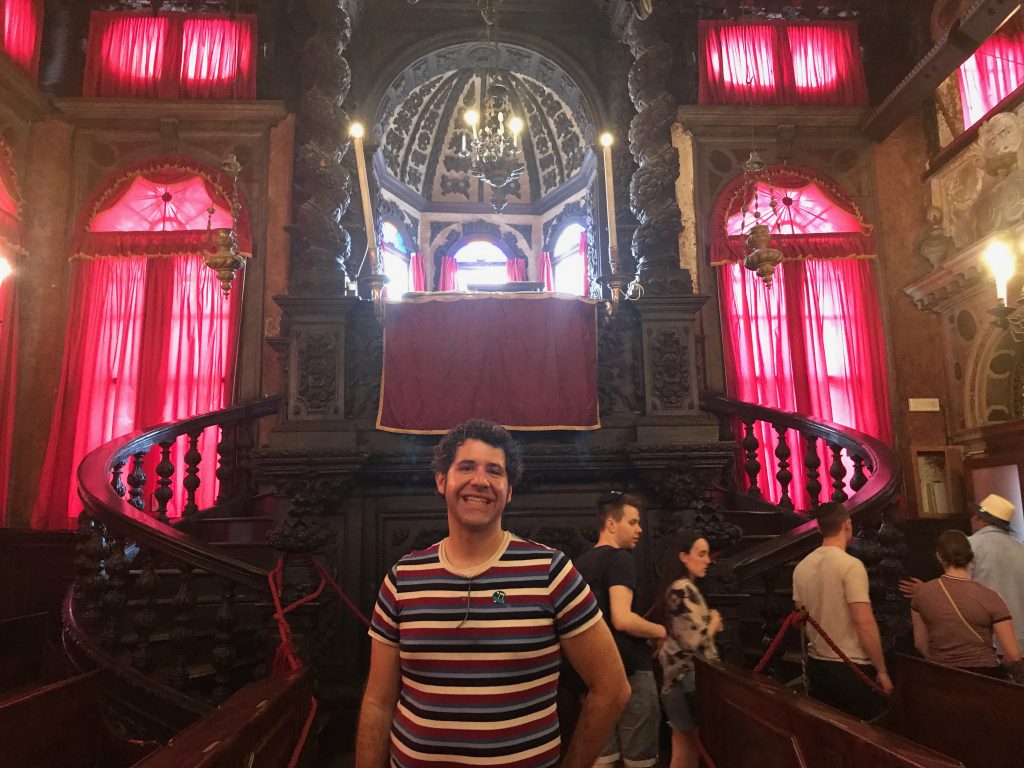 The museum actually had some great-looking Sephardic pastries, but sadly we did not get to try them. The tour had taken us out of the "secured area," and we really did not want to go through that rigamarole again just to have another nibble. We love snacking, but not when we have to go through airport-level security to get it.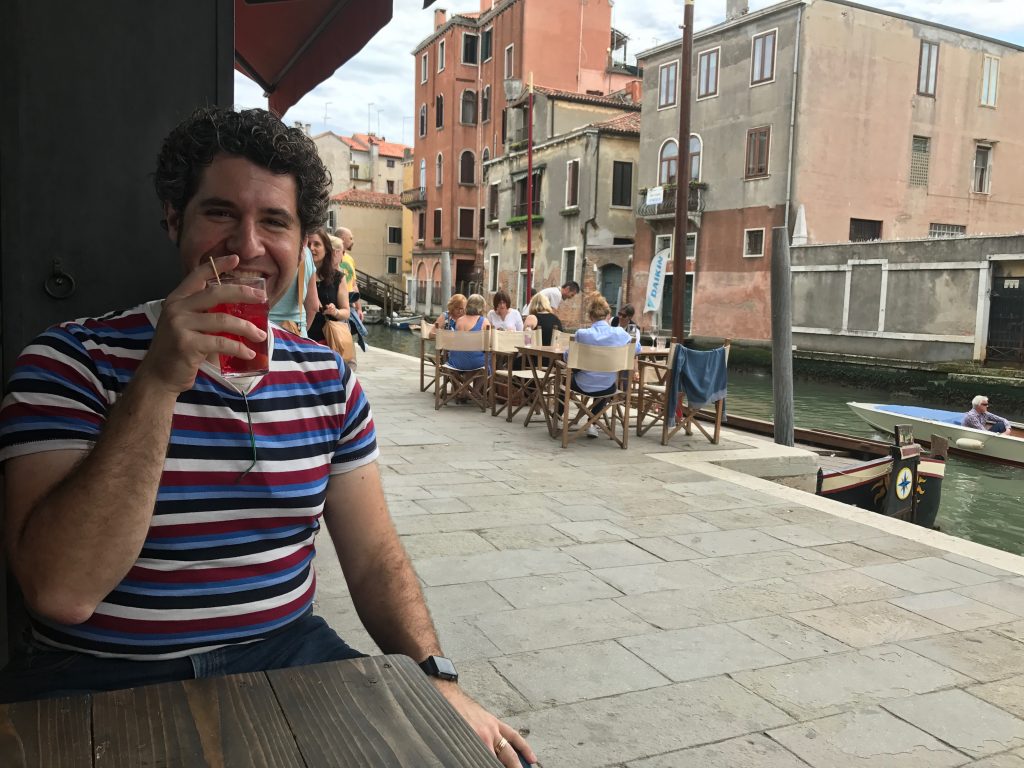 Lunch time! We chose to dine at Anice Stellato, but there was about a half-hour wait for a table since we hadn't planned ahead. We found a nearby bacaro and had some spritz while we waited.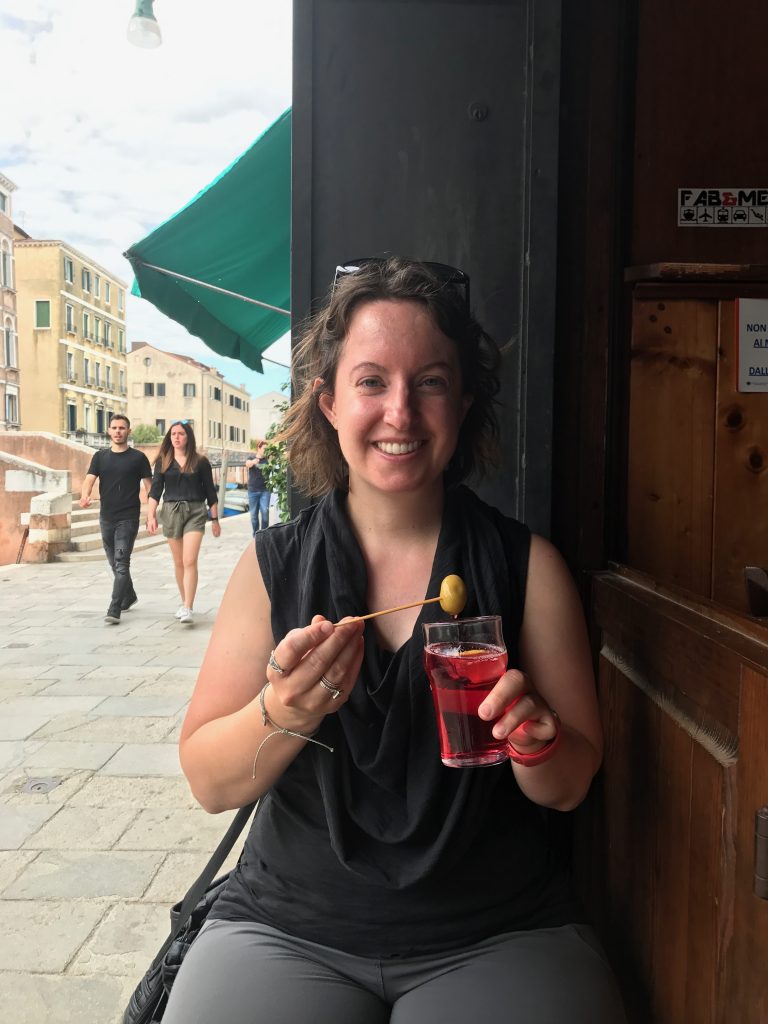 Back at the restaurant, we ordered more drinks – Doer loved his Americano made with a fine aperitivo! The Gnocchi with Horseradish was Stellato…er, stellar.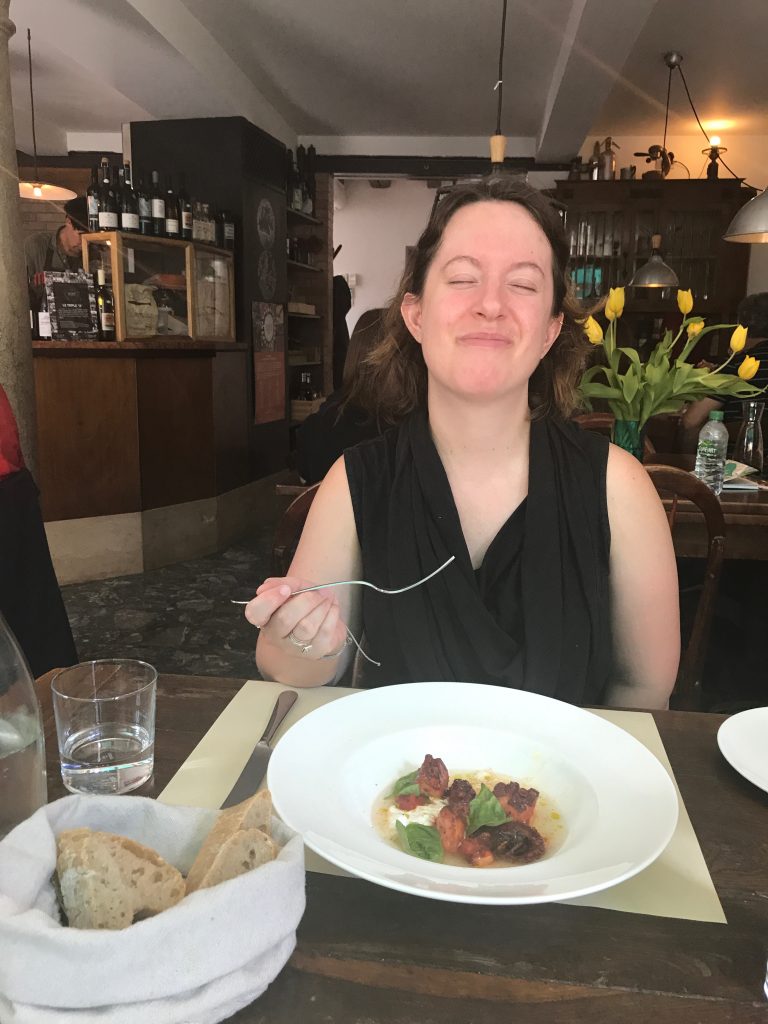 Unfortunately, during the course of our lunch, it became apparent we ordered too much food – imagine that! They were nice enough to cancel our fritti misti (fried seafood) before it was made, but unfortunately it was too late for Dreamer. Compare and contrast with that photo above.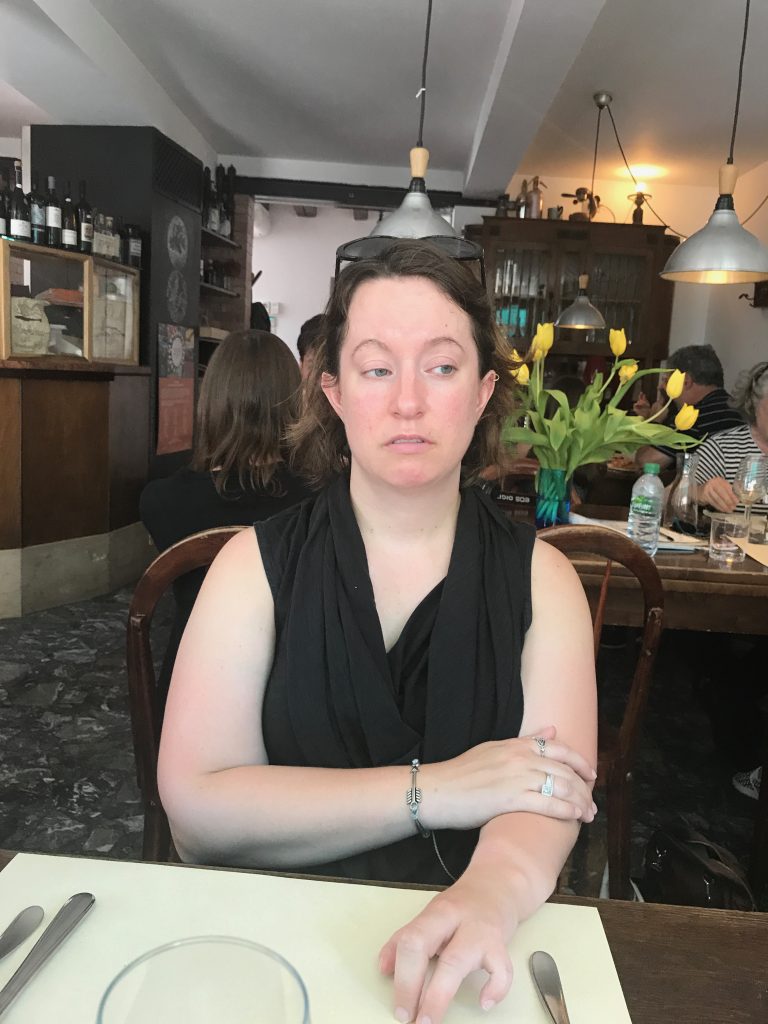 Alas, we had plans and a limited time in the city. Dreamer pulled herself together and we headed off to the nearby Murano islands on the vaperetto.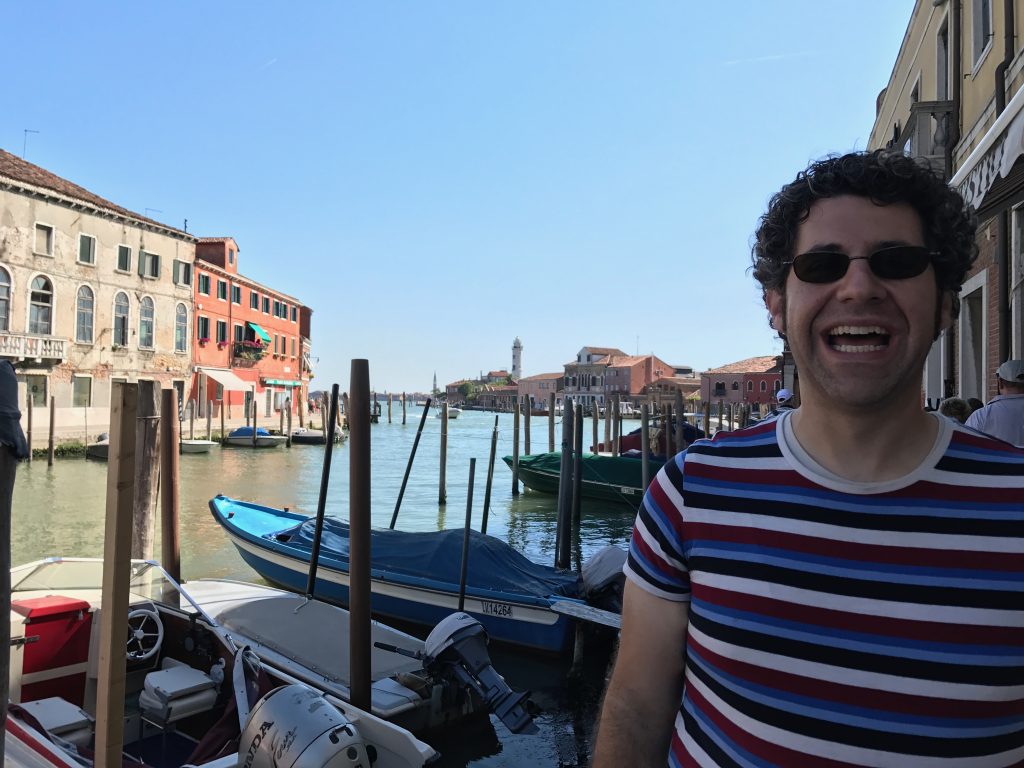 Did you know Murano, famous for glassmaking, was just outside Venice? Neither did we! Dale Chihuly spent time making glass sculptures on the island, don'cha know?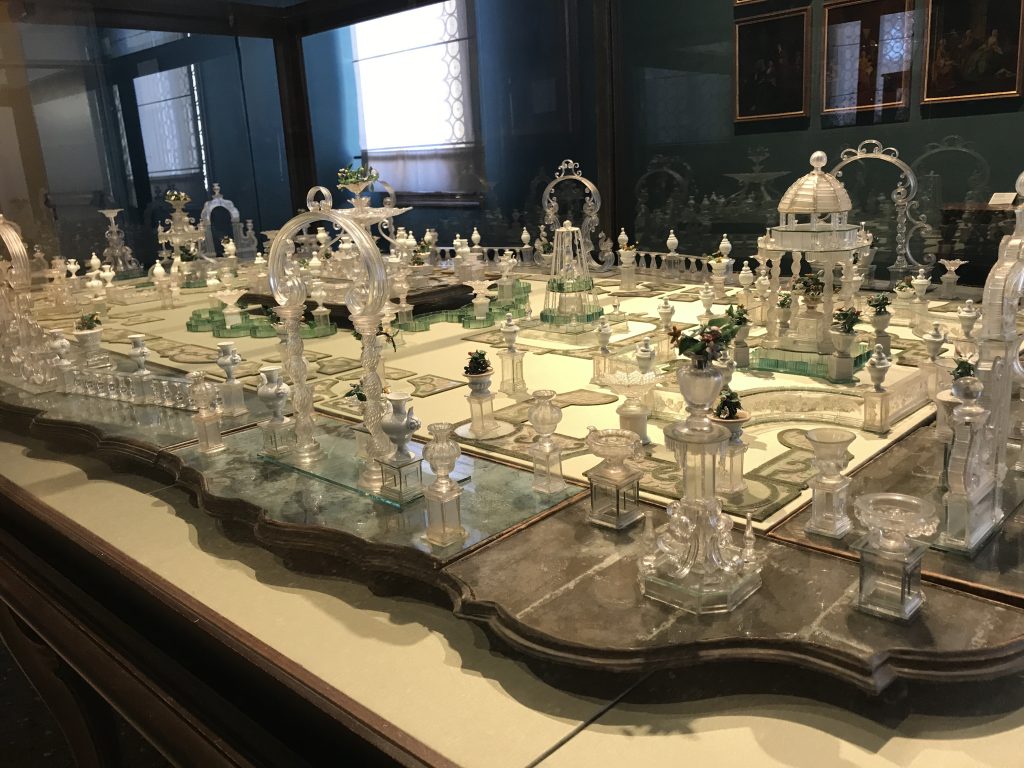 The glass museum (Museo del Vetro) was neat – if only we hadn't overpaid! Of course, nobody asked us if we were visiting any other museums when we bought our tickets at the entrance, and we wouldn't find this out until the next day. €20 for entrance to one museum; €24 for entrance to all ten museums. But such is Venice…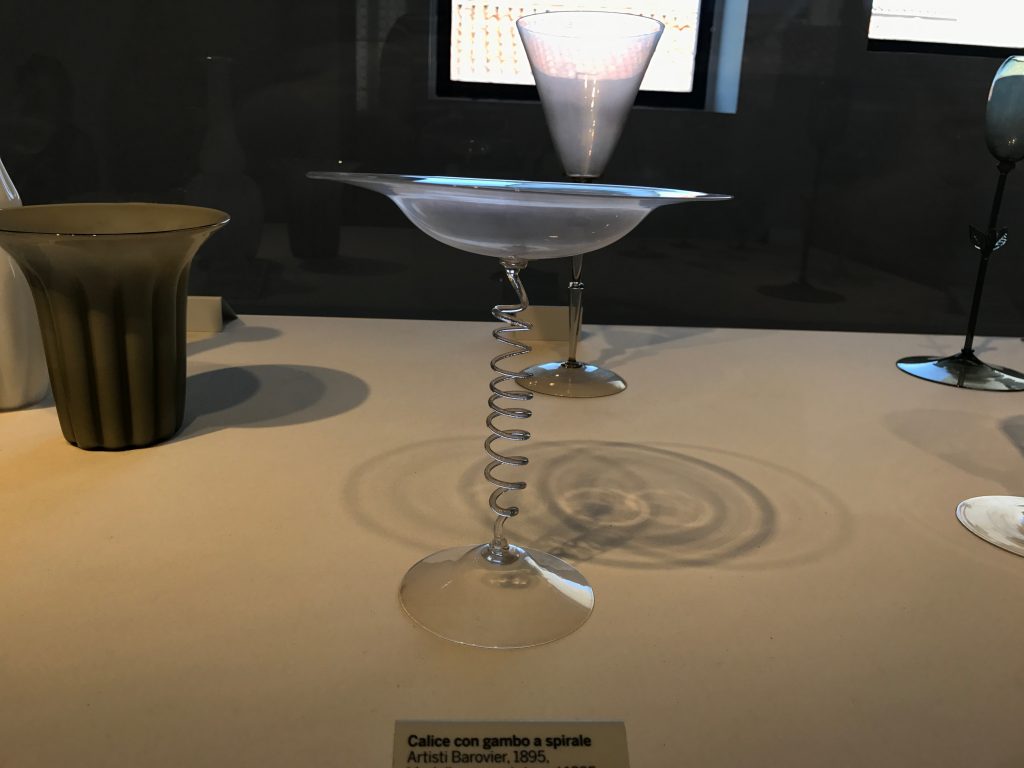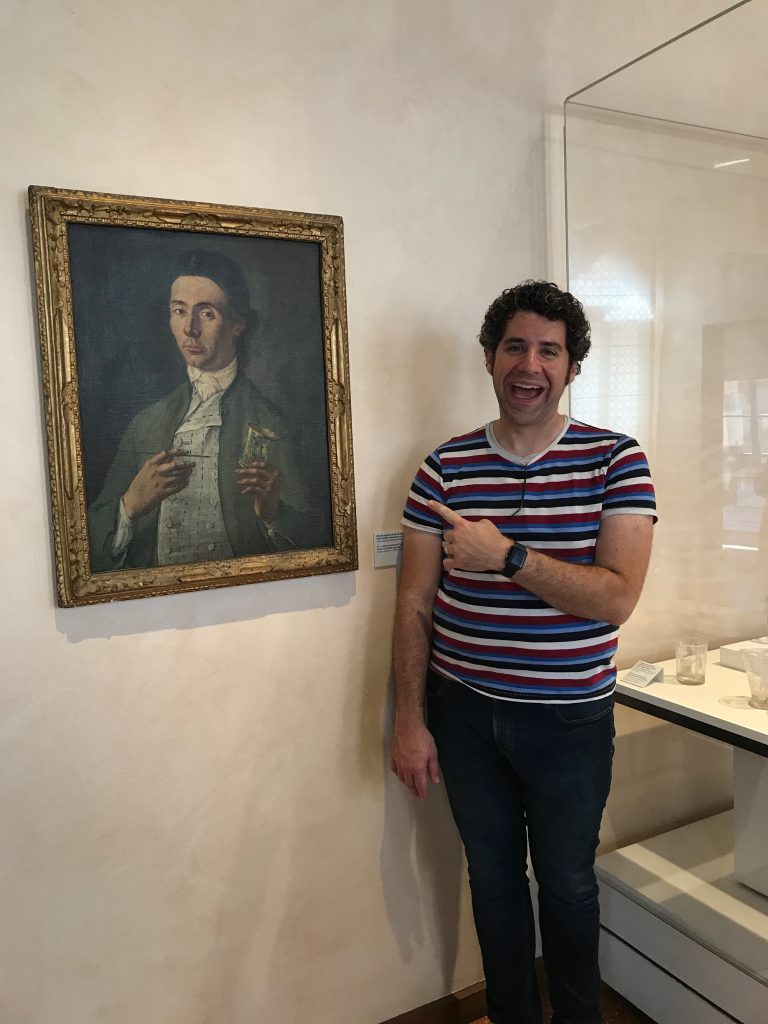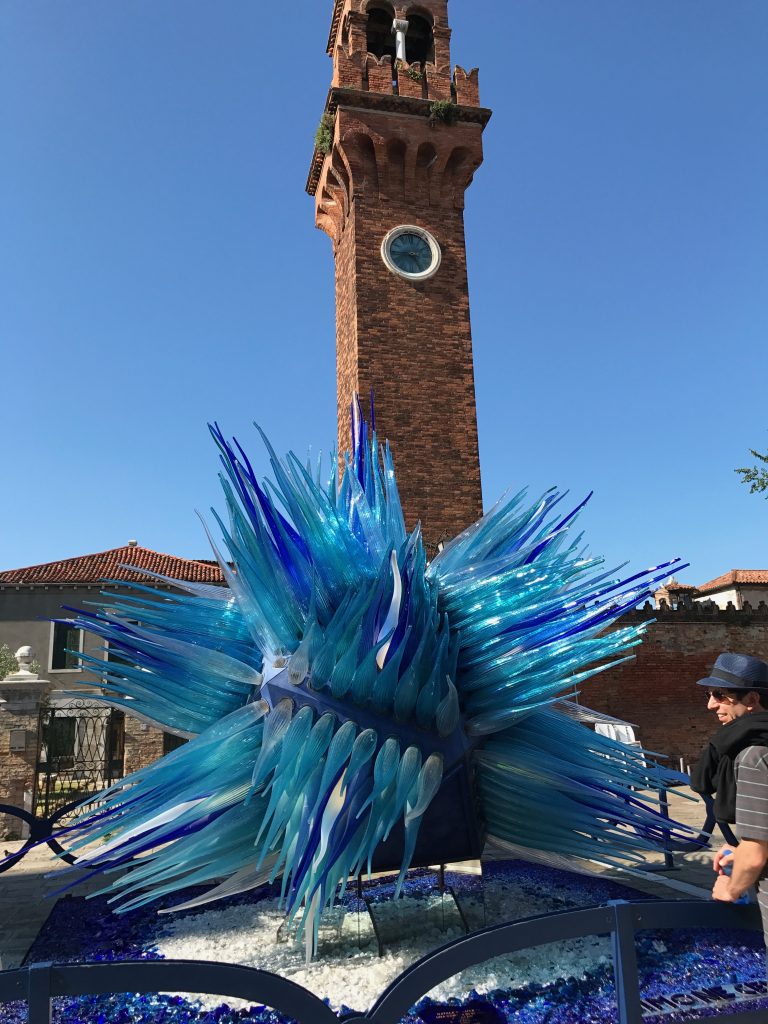 SNACK TIME! Gelati, which is the correct plural of gelato. Dreamer got Stracchietella that inexplicably (for what is basically Italian chocolate chip ice cream) had no chocolate chunks by the time it reached her. Doer went more traditional with two scopes, one cone: peanut butter and chocolate. Dreamer was insanely jealous and ended up eating most of it.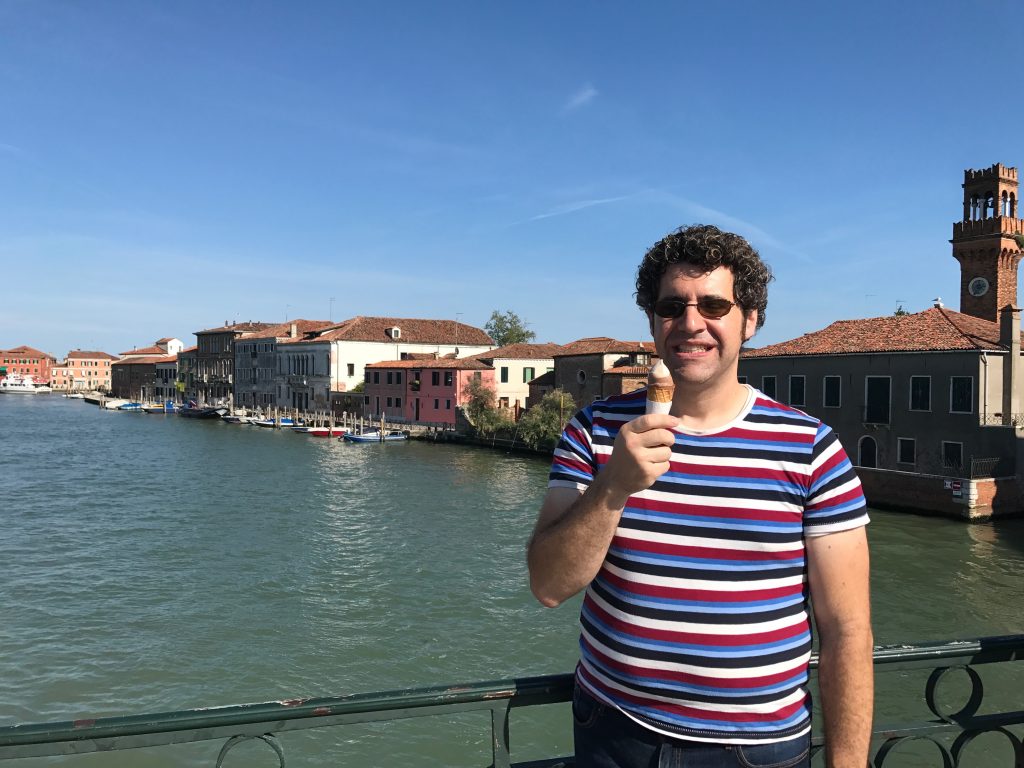 You've seen enough pictures of us eating ice cream by now, right? Enjoy this one instead.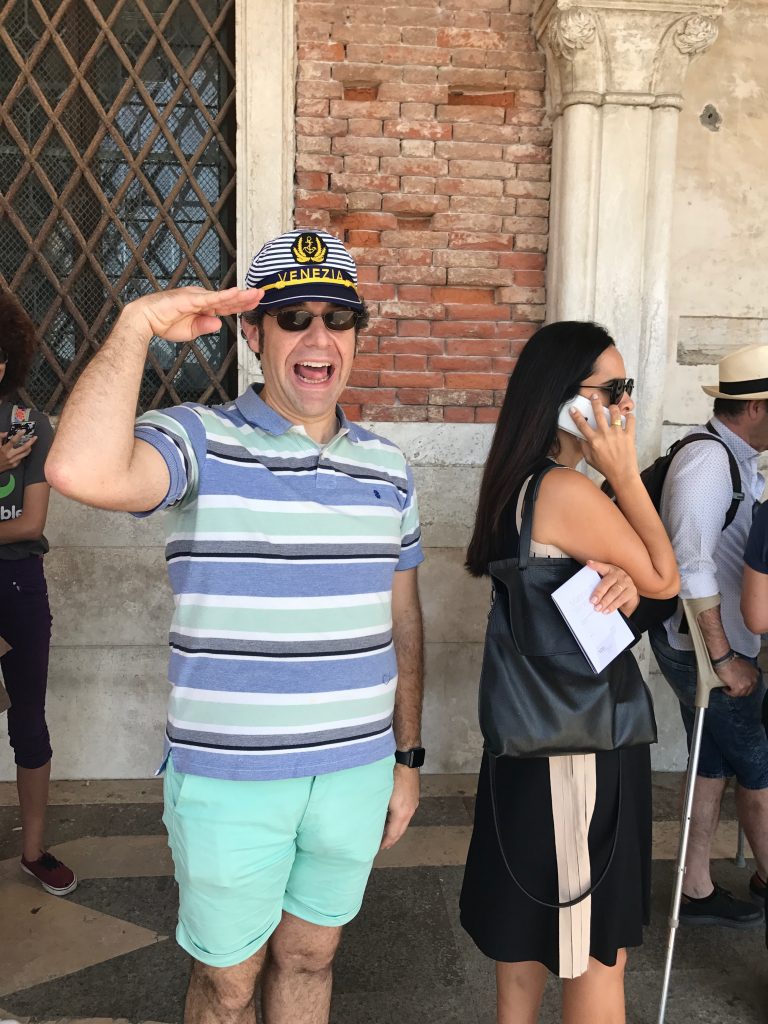 Somehow, when we got back from Murano, we were hungry again. There was a great place in the alley serving up fritti misti, cones of tiny fried seafood. Remember, we had to give this up at lunch before. It was one of the best things we ate all trip.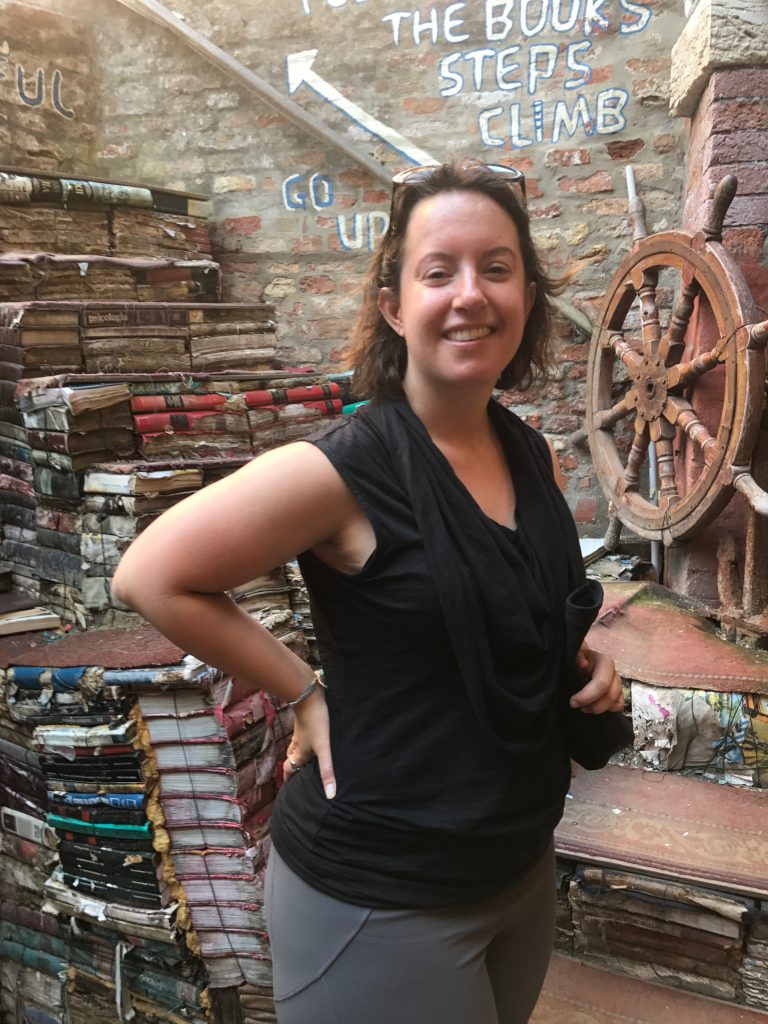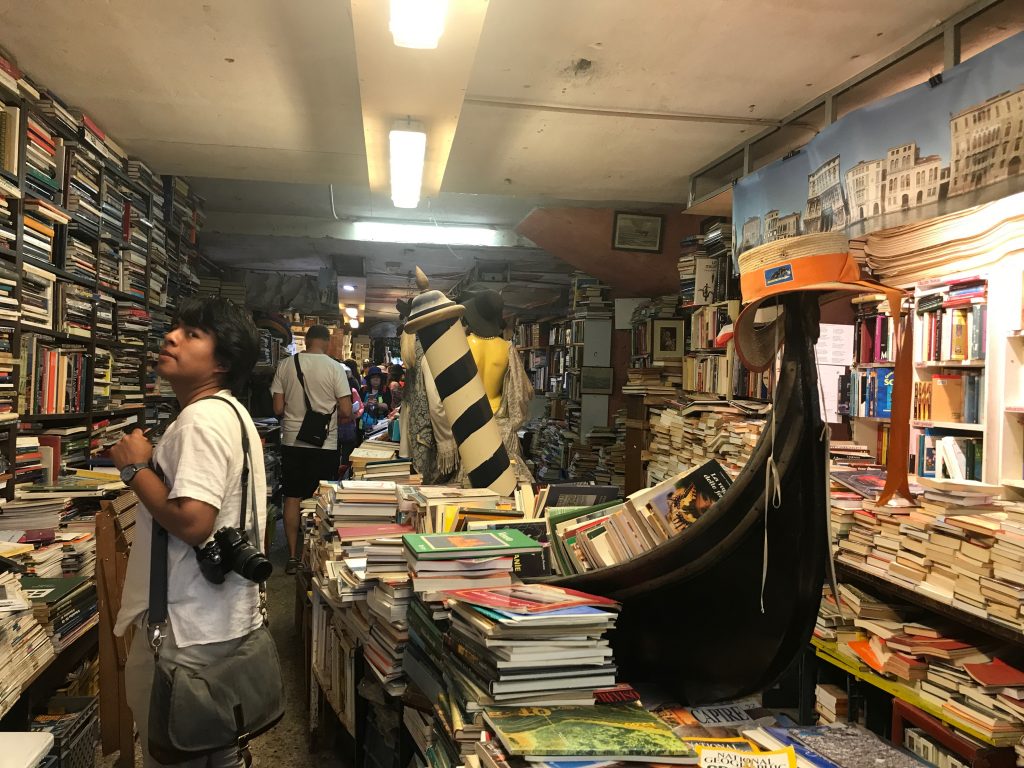 And yet, we still weren't full. We walked into a bacaro and had the quick reflexes to grab a table at a wine barrel. The potato and spicy sausage balls were delish. Also, stuffed calamari with polenta and lots of fried stuff. Plus, the bartender helping us was really fun. Somehow, though she was from Trentino, she hadn't ever heard of Doer's beloved aperitivo Cappelletti (made there), which he searched for in vain the entire trip.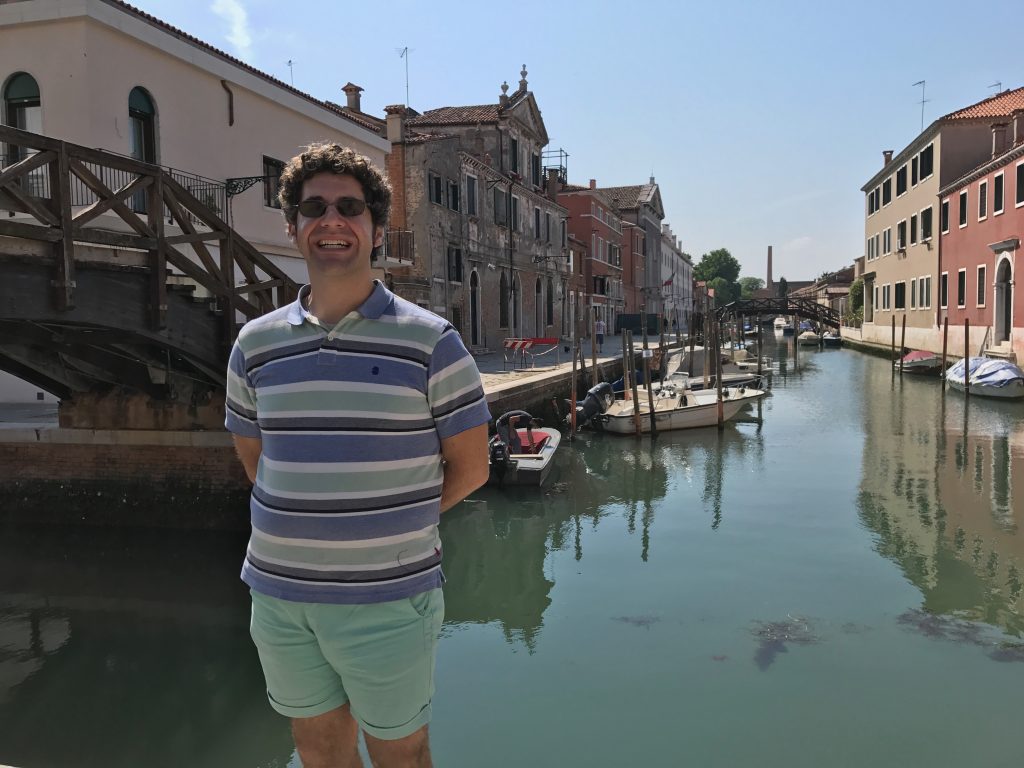 All that remained was dessert, but we didn't realize what a challenge this would be on a Sunday night. All the wonderful pastry shops were closed, of course. We finally sat down at a lovely-seeming outdoor table of a restaurant and were about to order, when the Spanish-speaking lady next to us asked for a cenicero. We knew what that meant and skedattled. We ended up at a bar sipping coffee and limoncello and planning the day to come.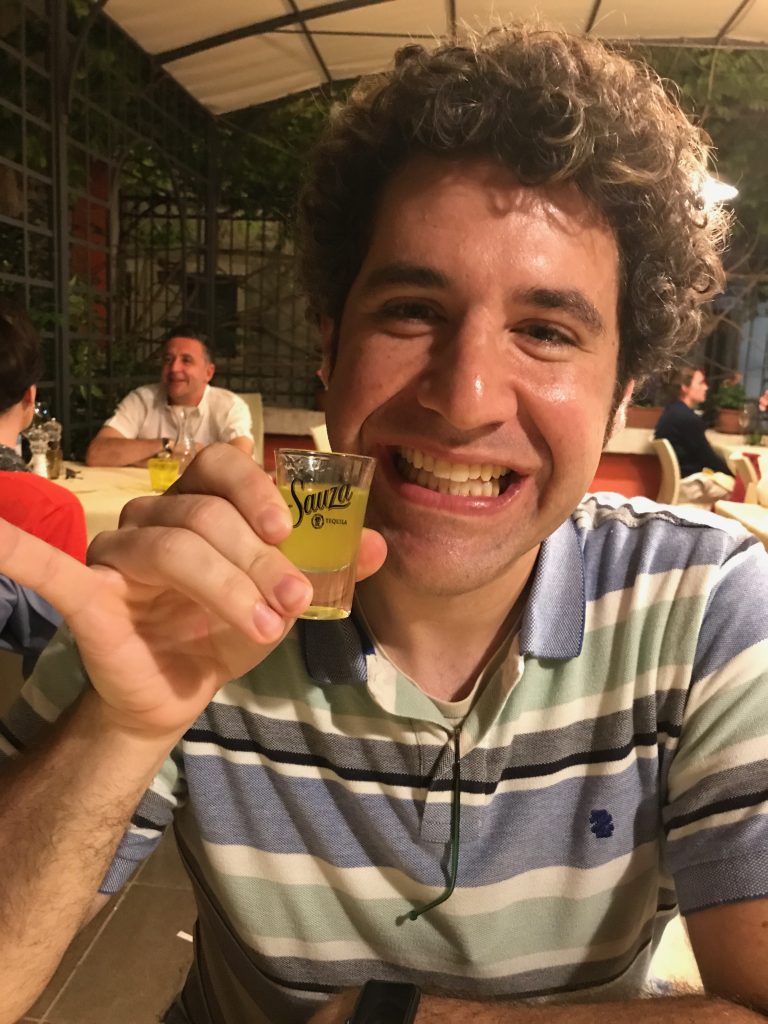 Monday started with some great coffee and marzipan cake, standing up-style, at Pasticceria Rizzardini. Really felt authentic: eat and go! We needed more than just sweets, though, so we found another of our must-trys nearby was just opening, All'arco.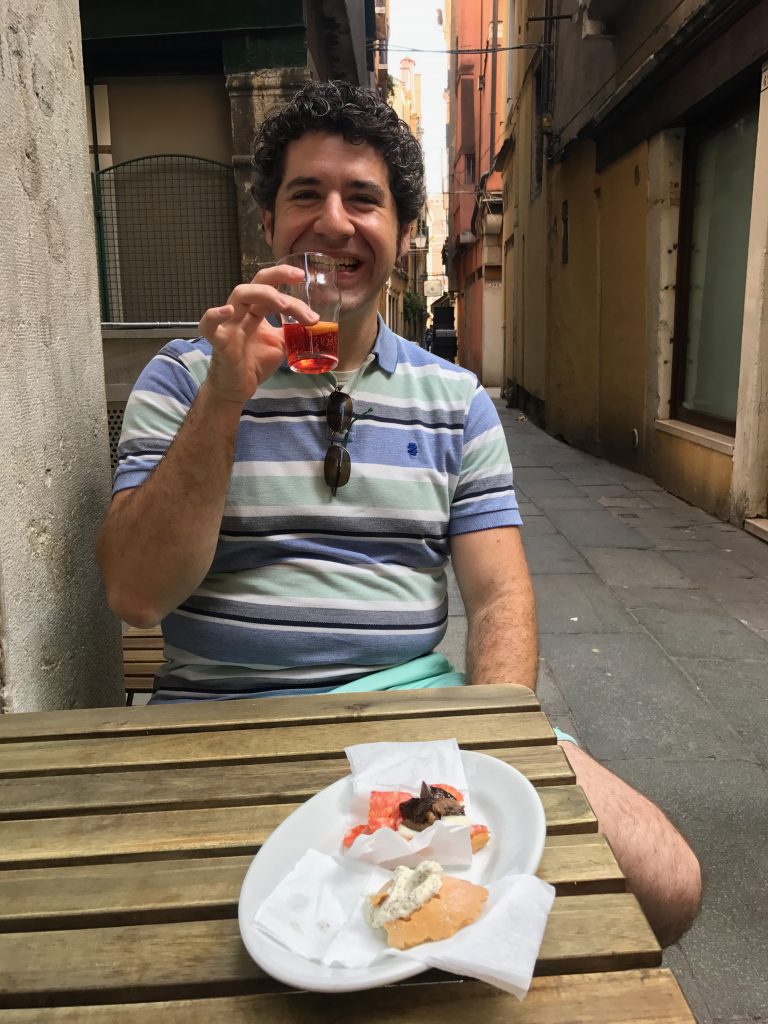 This was easily our best experience of the trip. Truly, full of local flavor as workers came in for a bit and carts whizzed by with deliveries. Two of their chichetti stood out above all others: one with robbiolo spreadable cheese mixed with truffle cream, and another with a simple slice of good mortadella.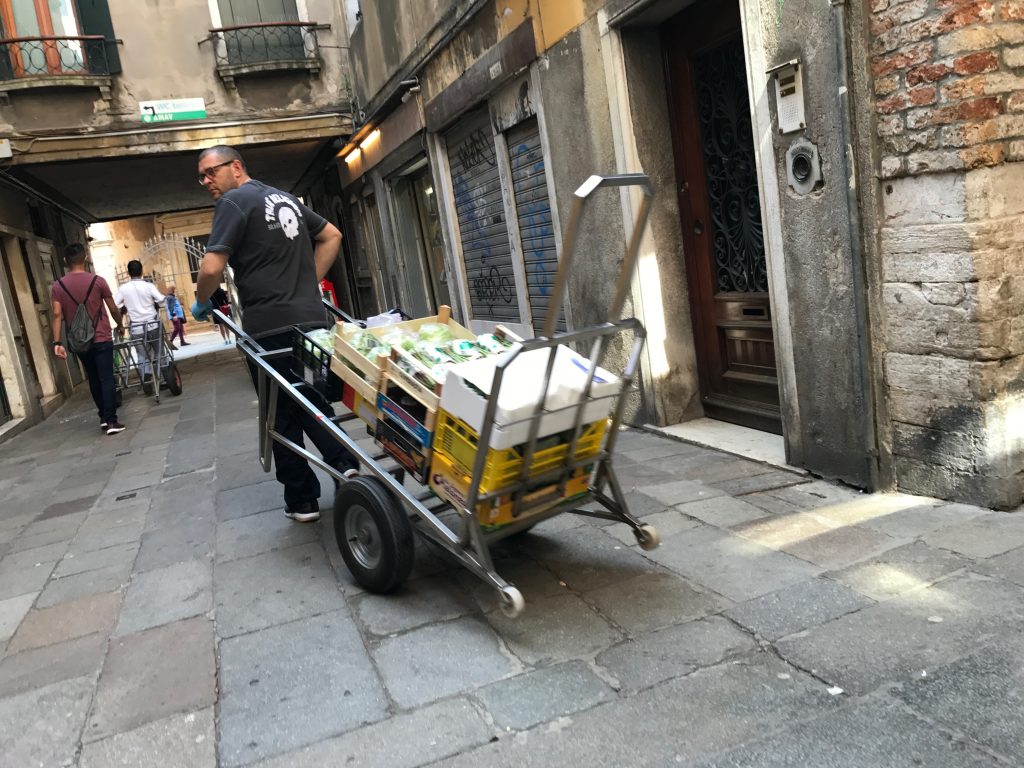 And, of course, there was Nani. Boy, we miss our dogs…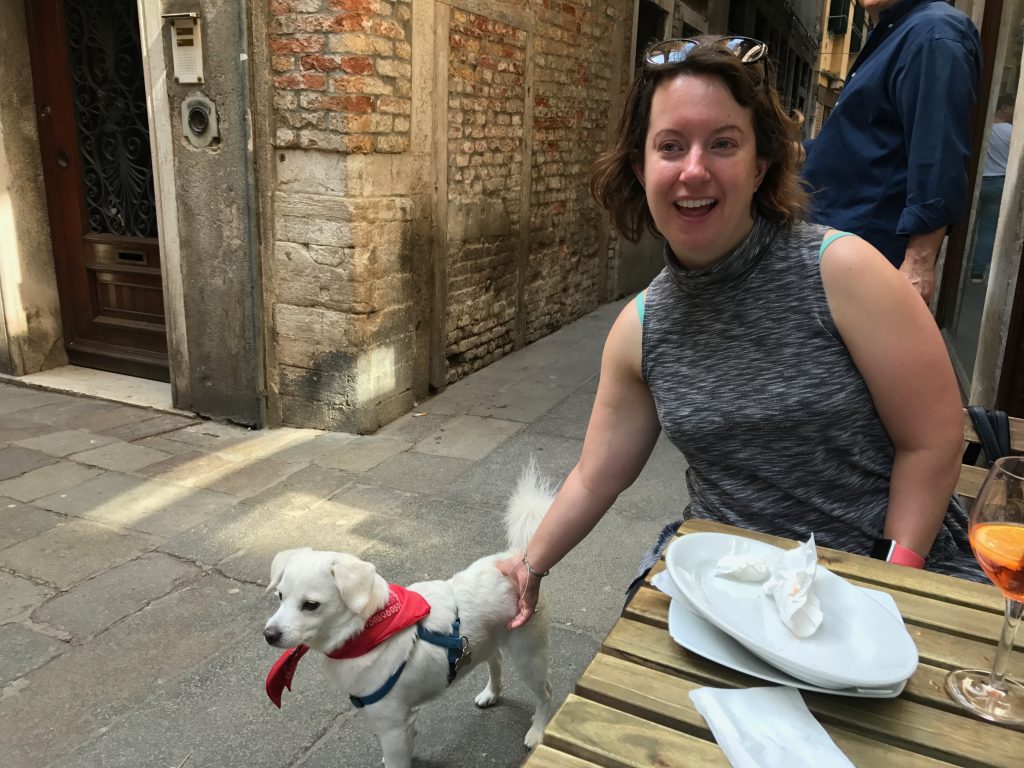 Nani was not the only dog we fell in love with. Check out how they groom their Cocker Spaniels here – looks like Doer's mom's hair!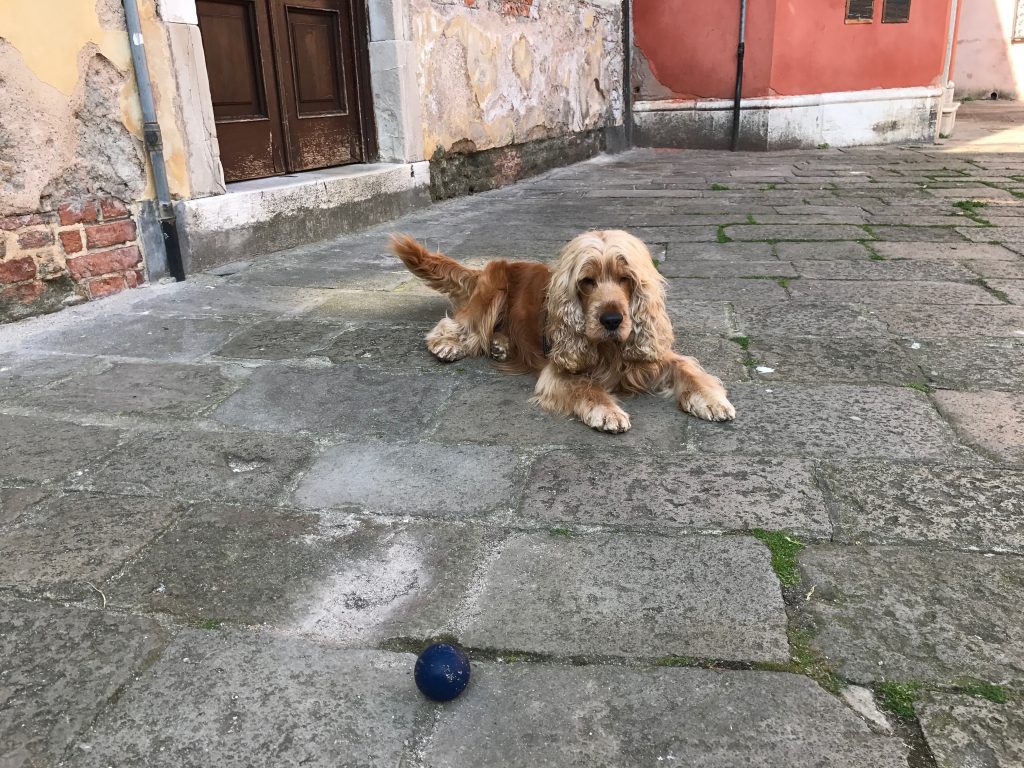 Monday was market day, too. No fish yet, but plenty of fresh produce.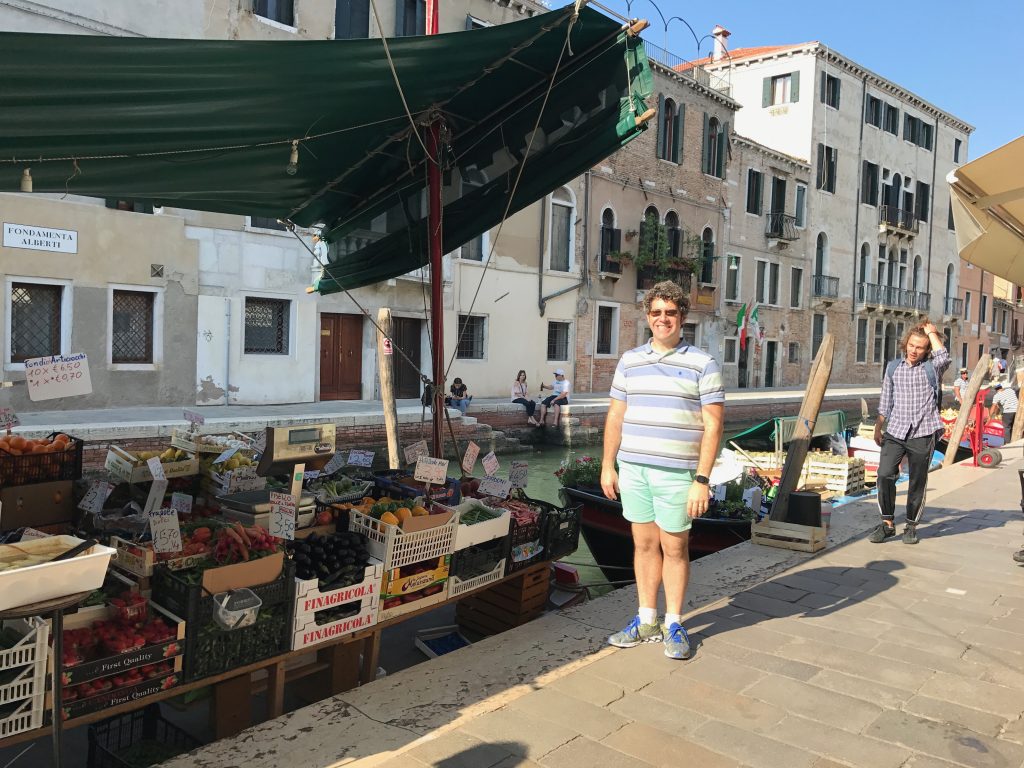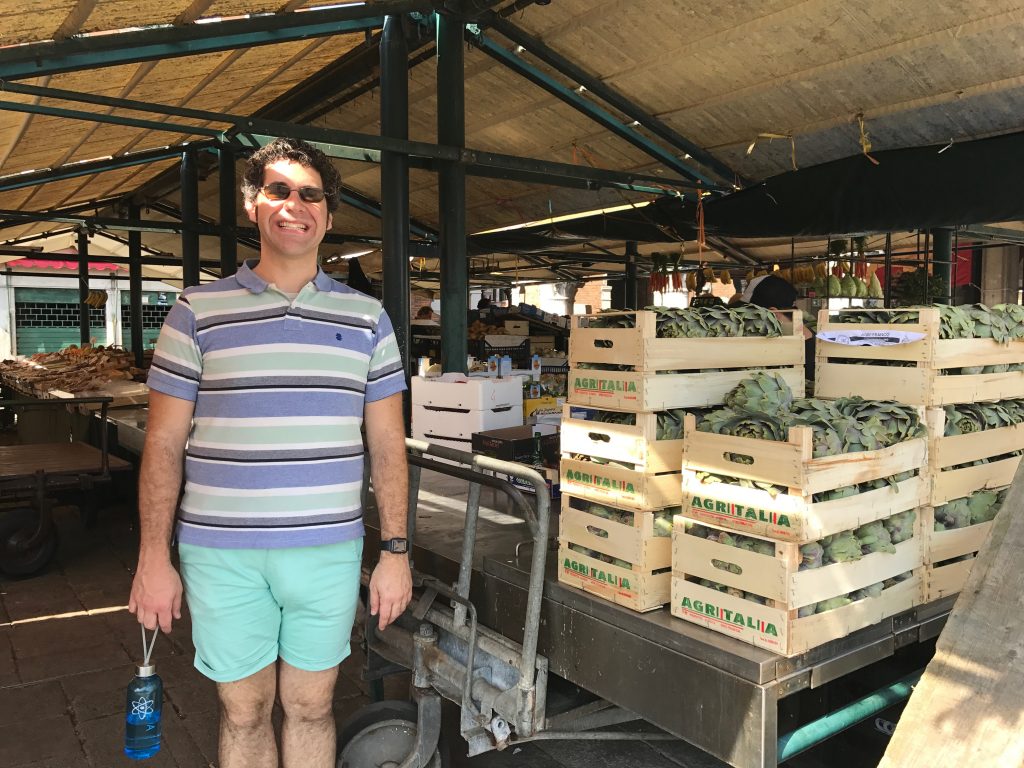 Deliveries don't just come onto the island, of course: stuff must get off. Monday was a much-needed trash day as well. Carting trash and recyclables down the street and to this waiting barge is a municipal service.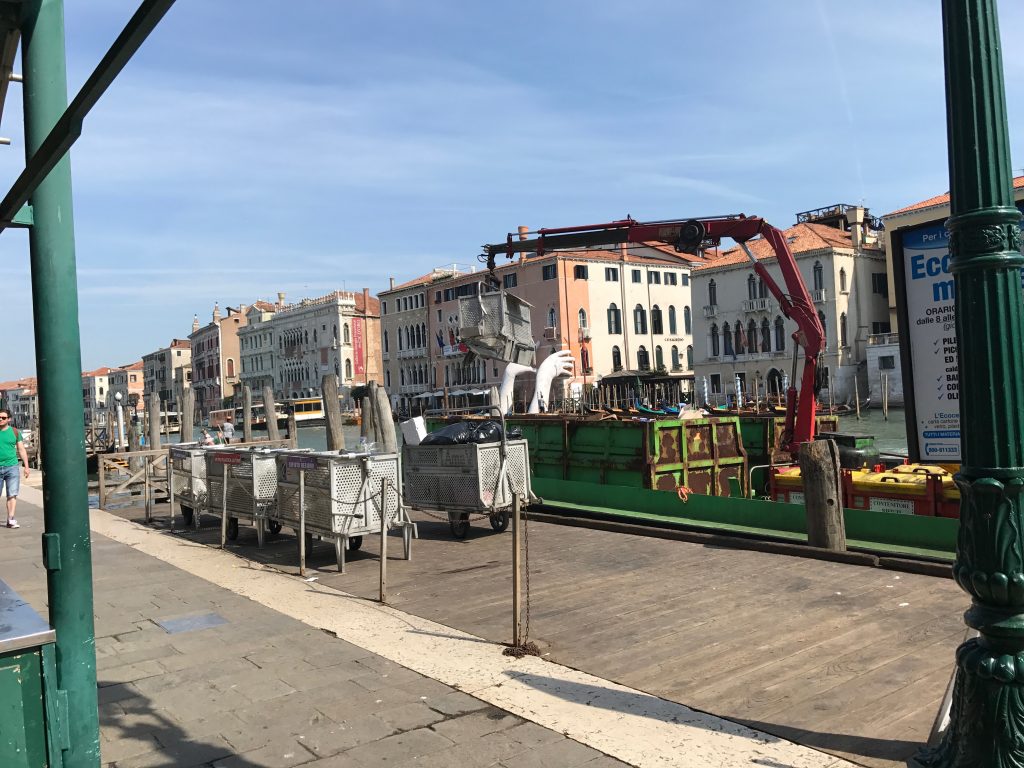 Of course, we saw where the carts coming into the city earlier were coming from, too: Italian Sysco was making deliveries!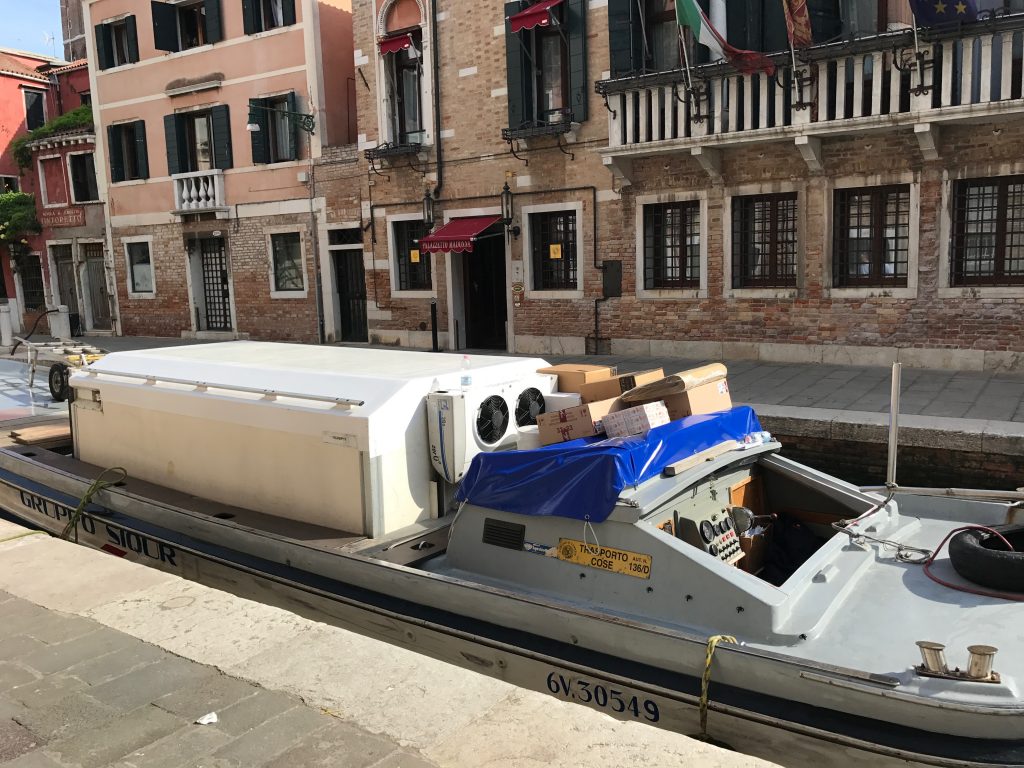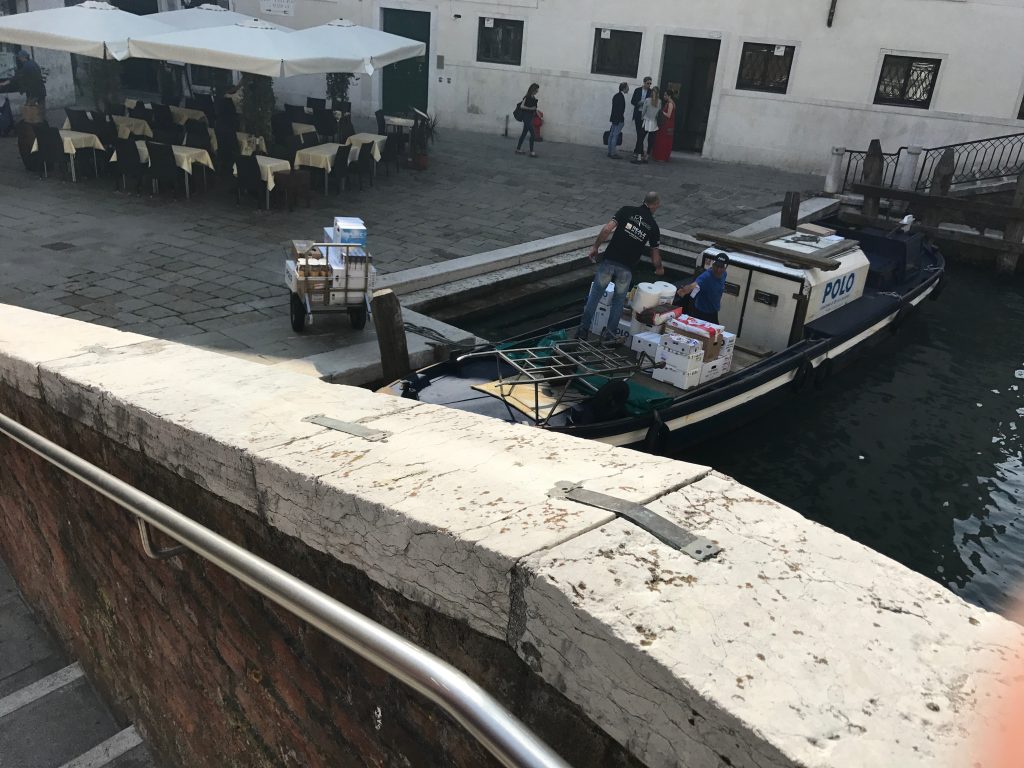 During all this, we had some more cicheti, then headed back to St. Mark's Basilica to see the inside. We noted there were many more people in the square this Monday morning. Interestingly enough, the cathedral seems to have taken a page from the App Store and subscribed to a freemium model: basic entrance to the cathedral is free, but if you want to visit any other parts (museum, crypts, etc.), there is a "small additional fee." They didn't allow pictures inside.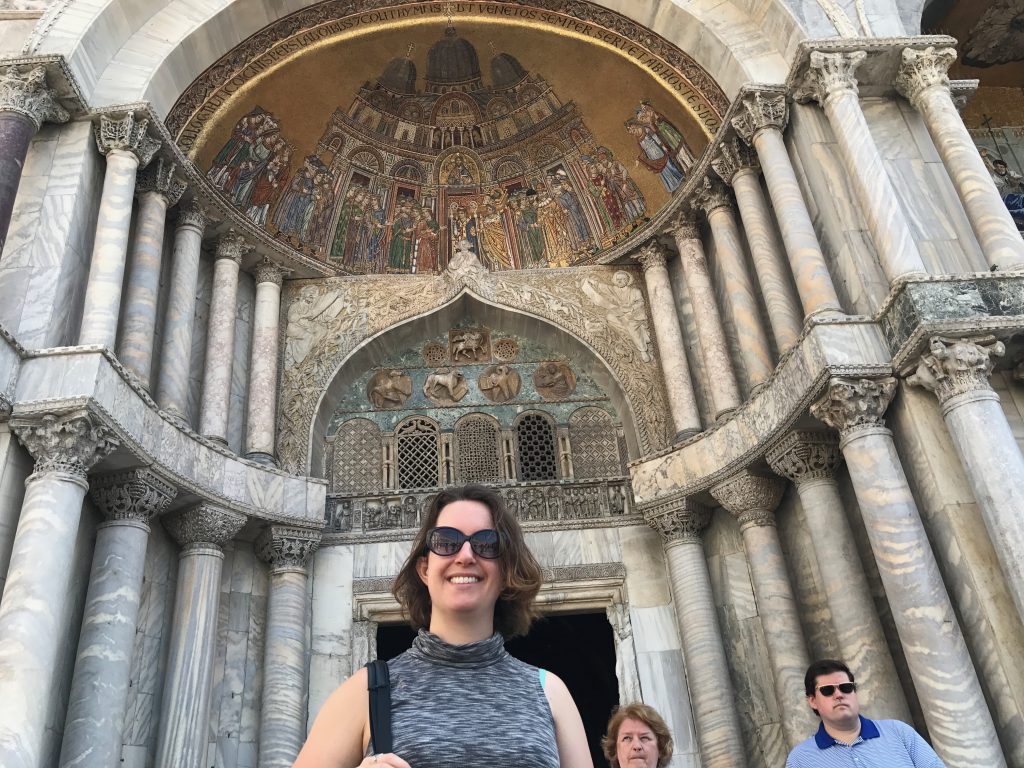 The basilica was built as the chapel to the neighboring Palazzo Ducale, or Doge's Palace – basically the Venetian royal palace. Rooms and rooms of opulence. While we were waiting in line, Doer bought that snazzy hat you saw previously. Also, we paid €20 each for tickets again like suckers because we didn't understand the program at the glass museum.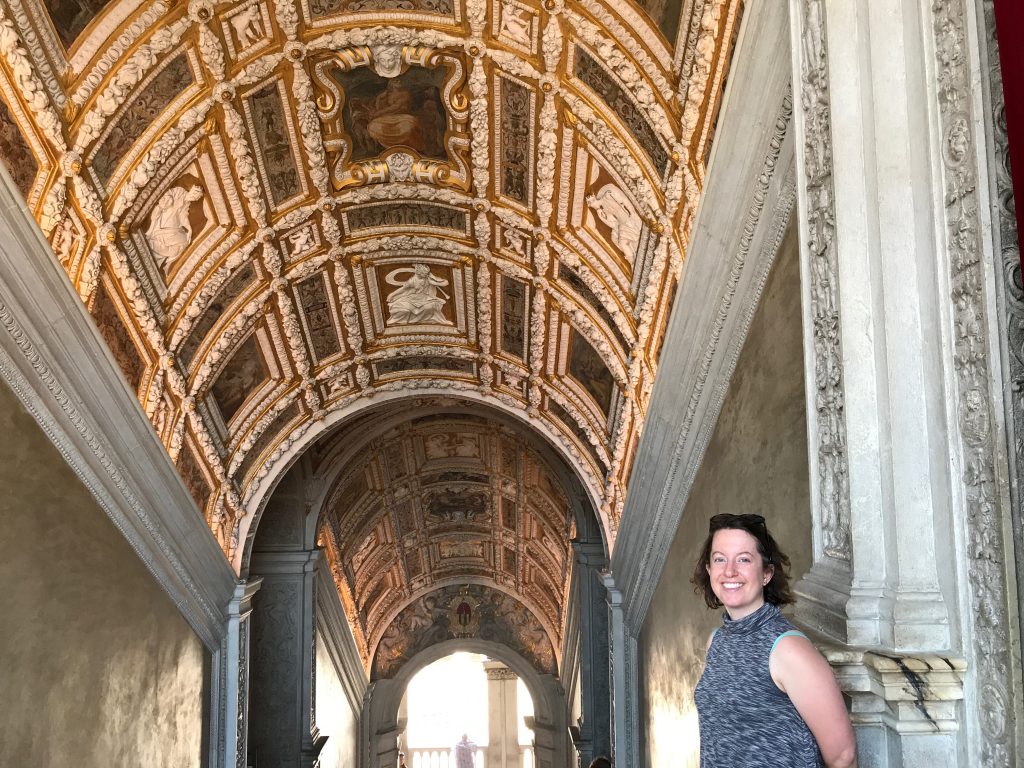 The doge was the ruler of the Republic of Venice. The palace was first built in the ninth century, but like other monuments in Venice, it has been rebuilt several times due to fires.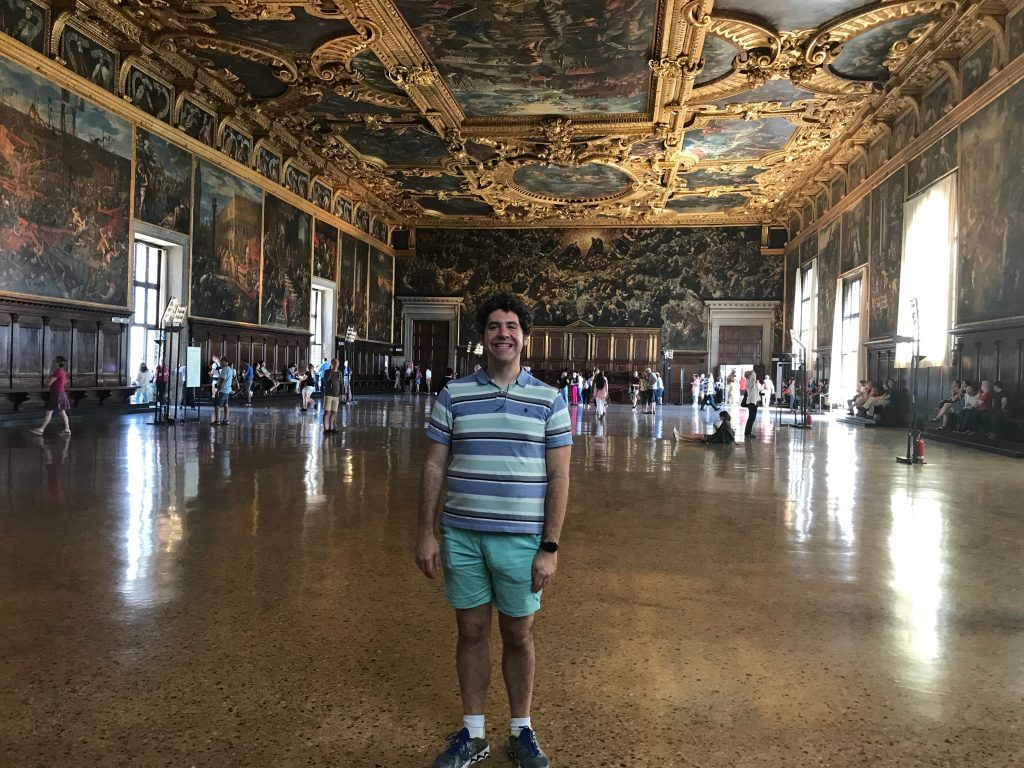 It's difficult to capture the scope of these large, grand rooms, and it's kind hard not to have your mouth agape when looking up here. But if you haven't seen a Doge Meme yet, go ahead and familiarize yourself all the same.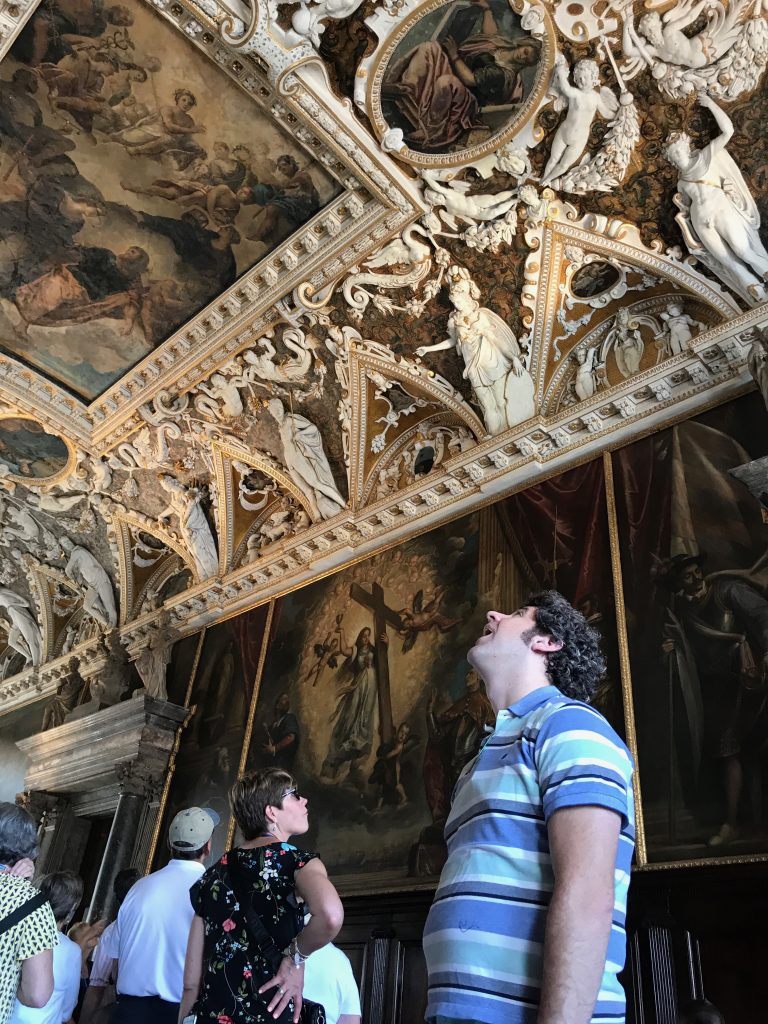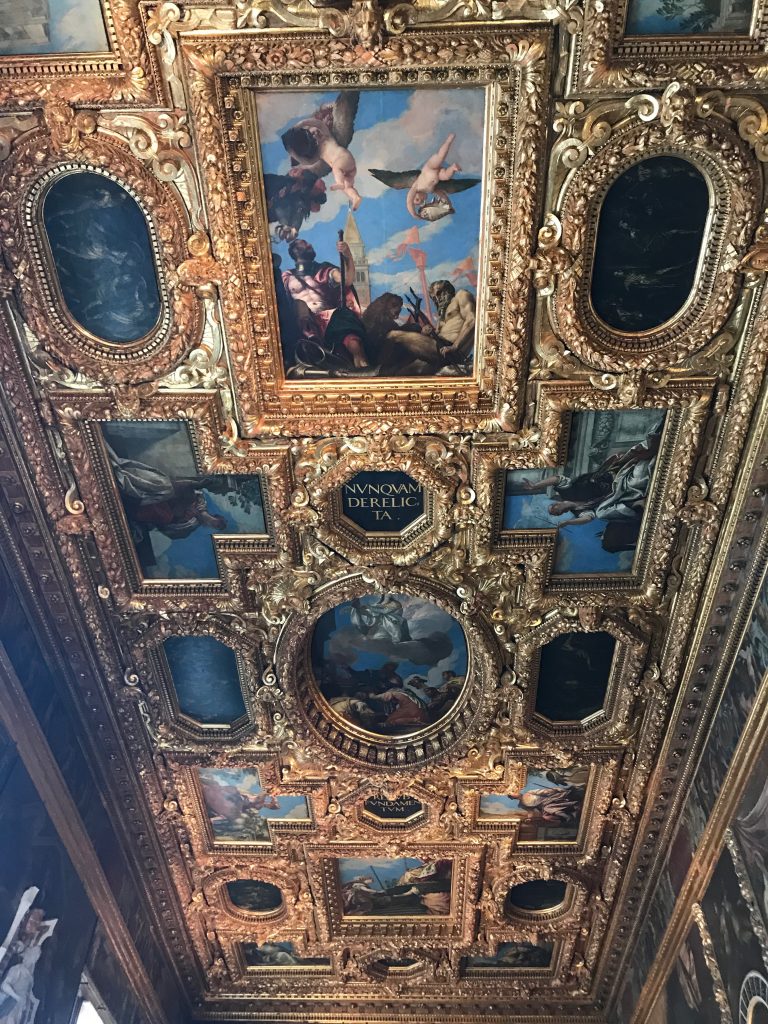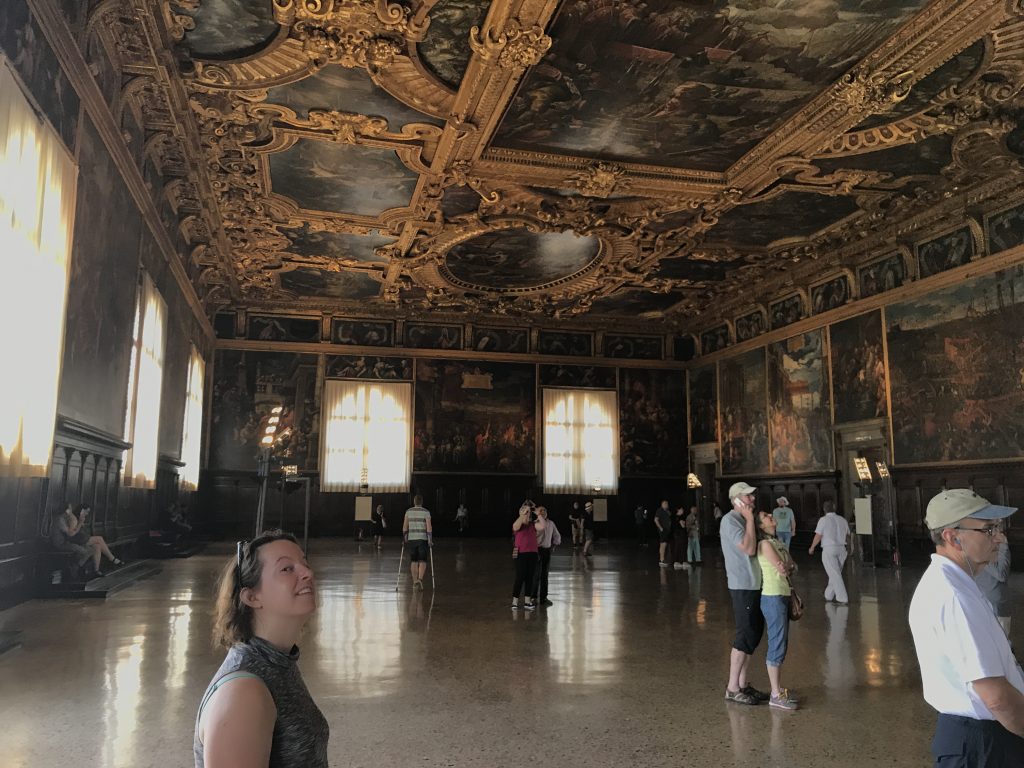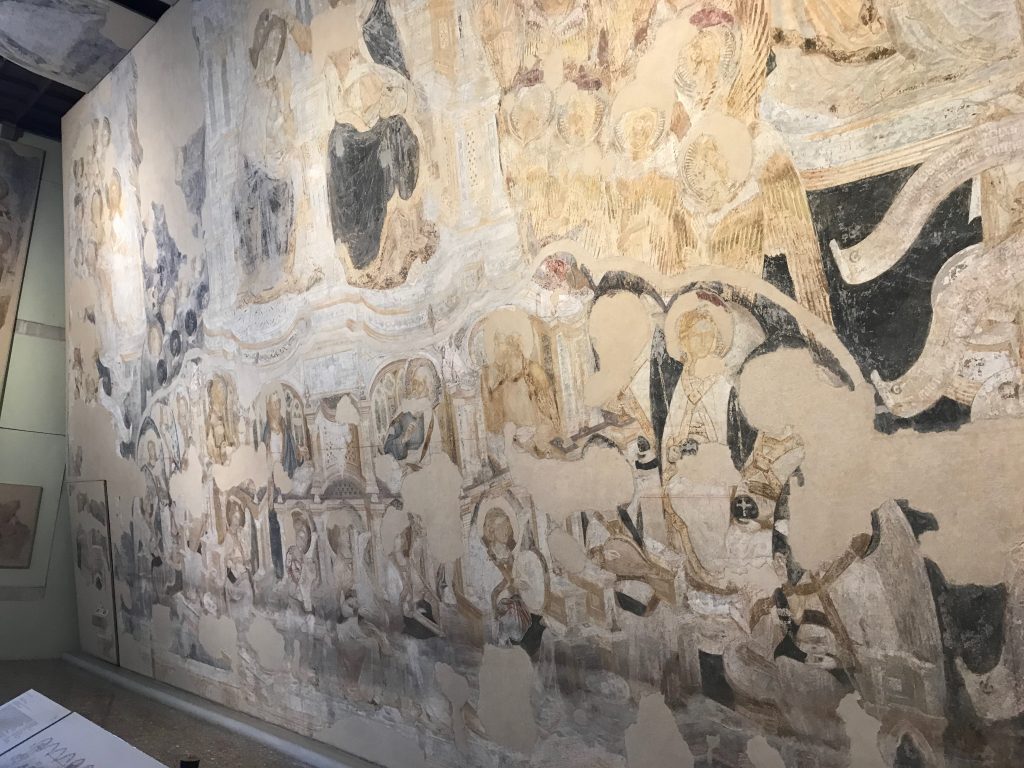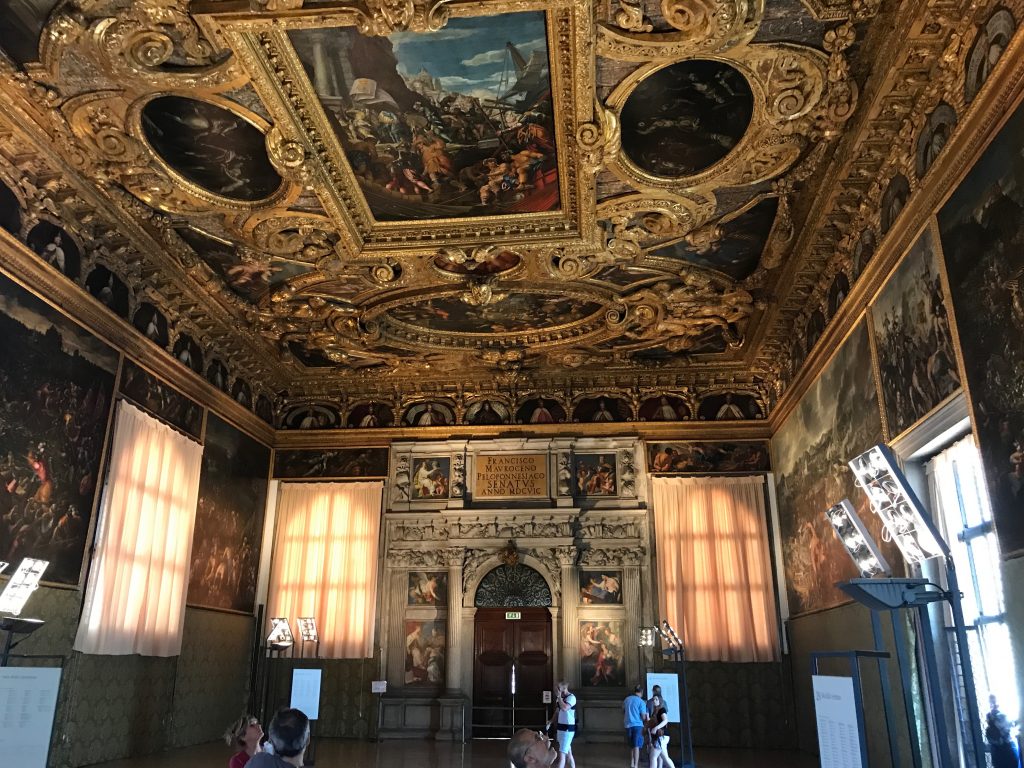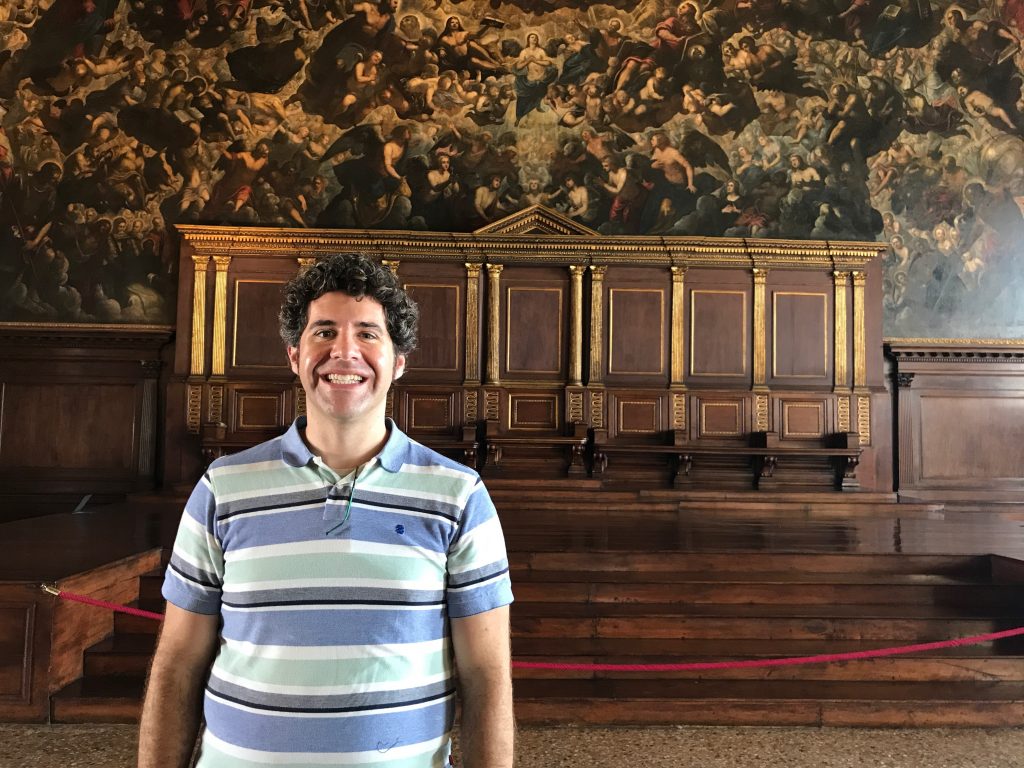 The palace has a strict no touching policy.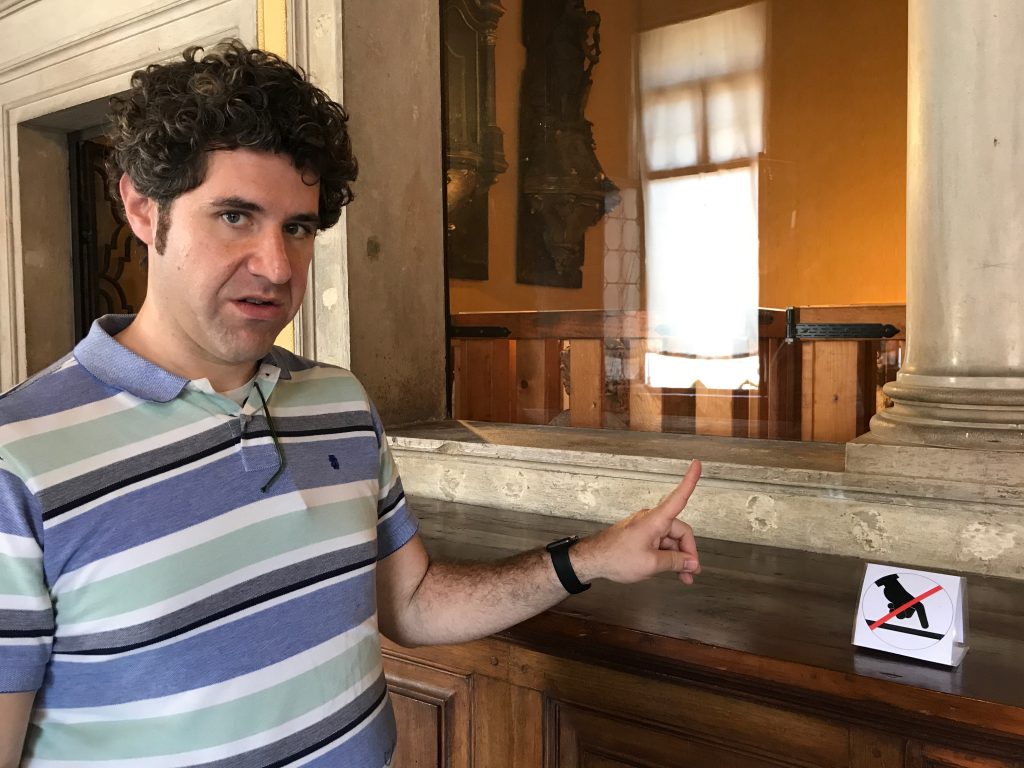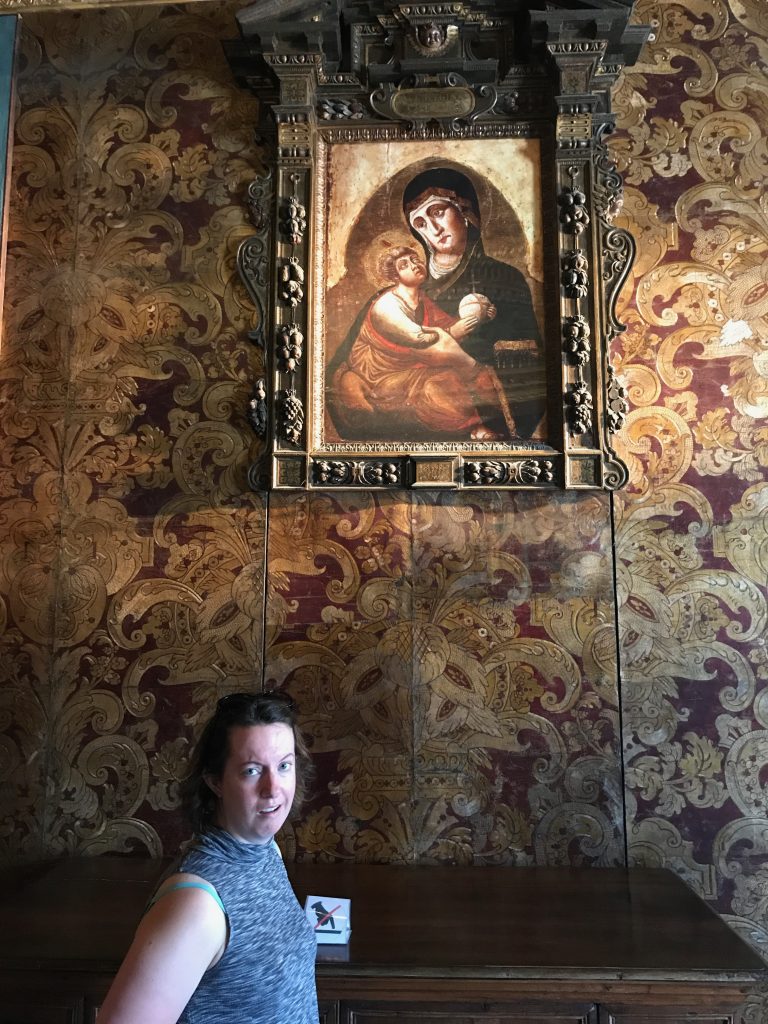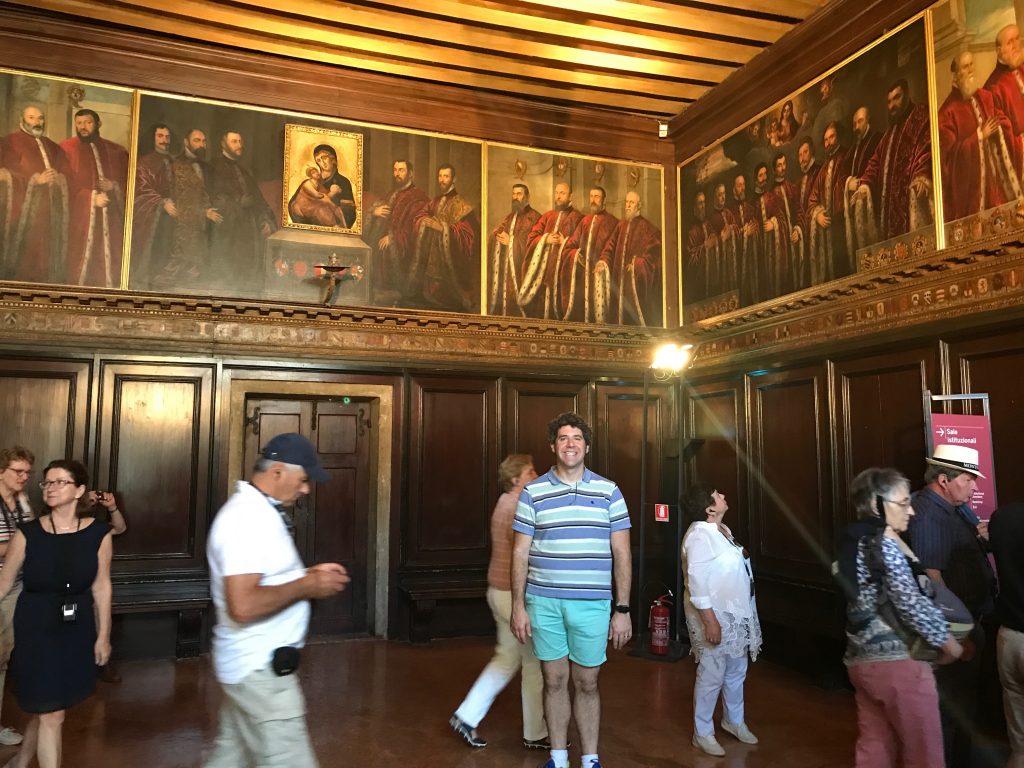 You have to enter the palace to cross the Bridge of Sighs, so named for the sound prisoners made as they had their last glimpse of Venice before being forever locked away in the connected prison.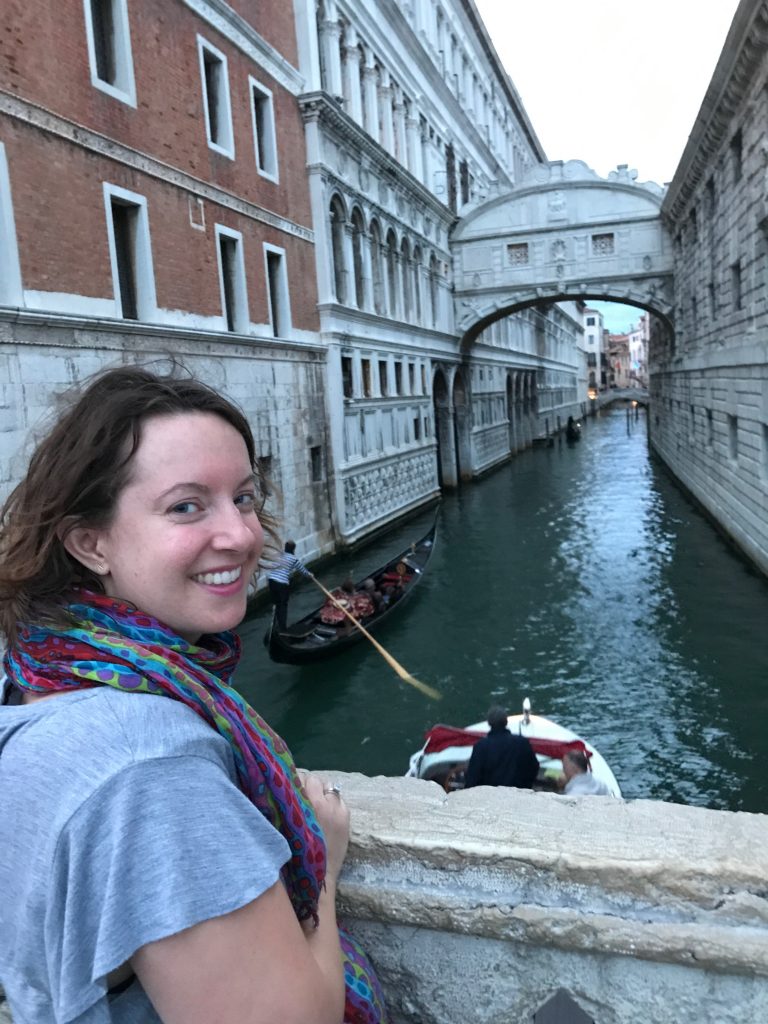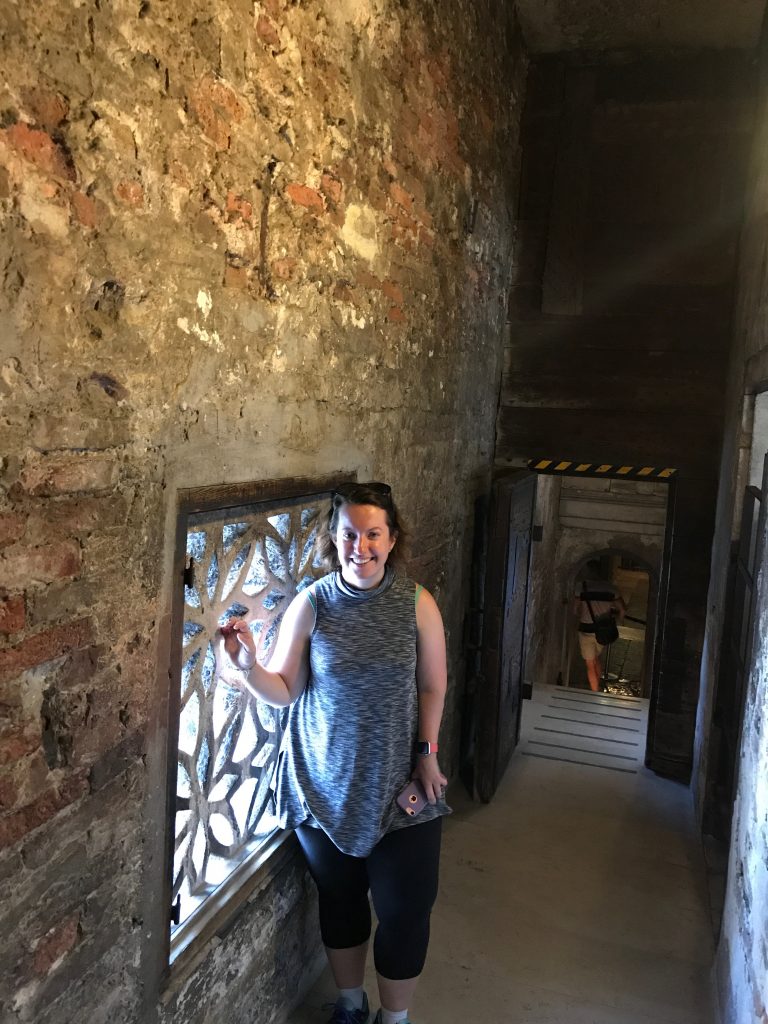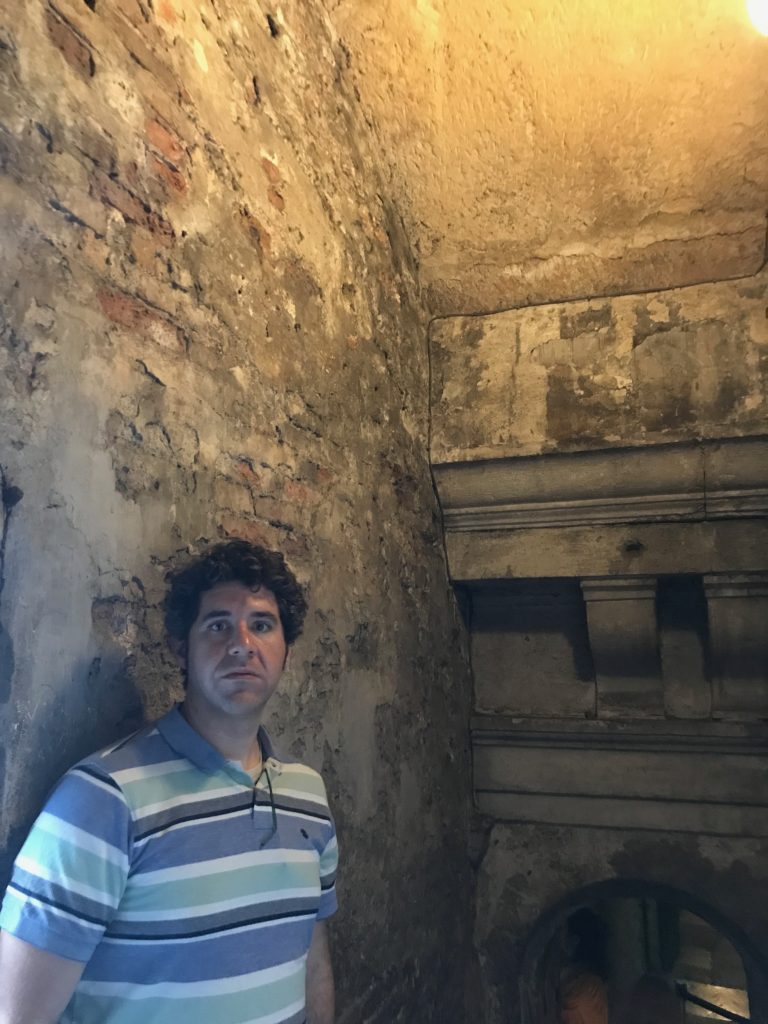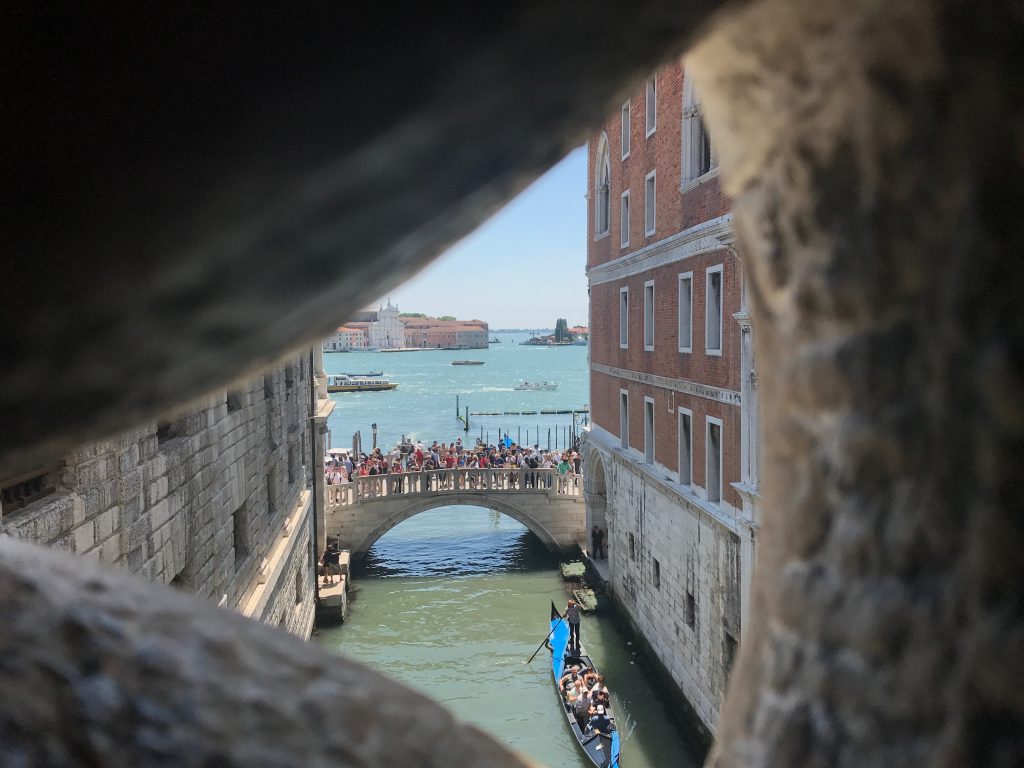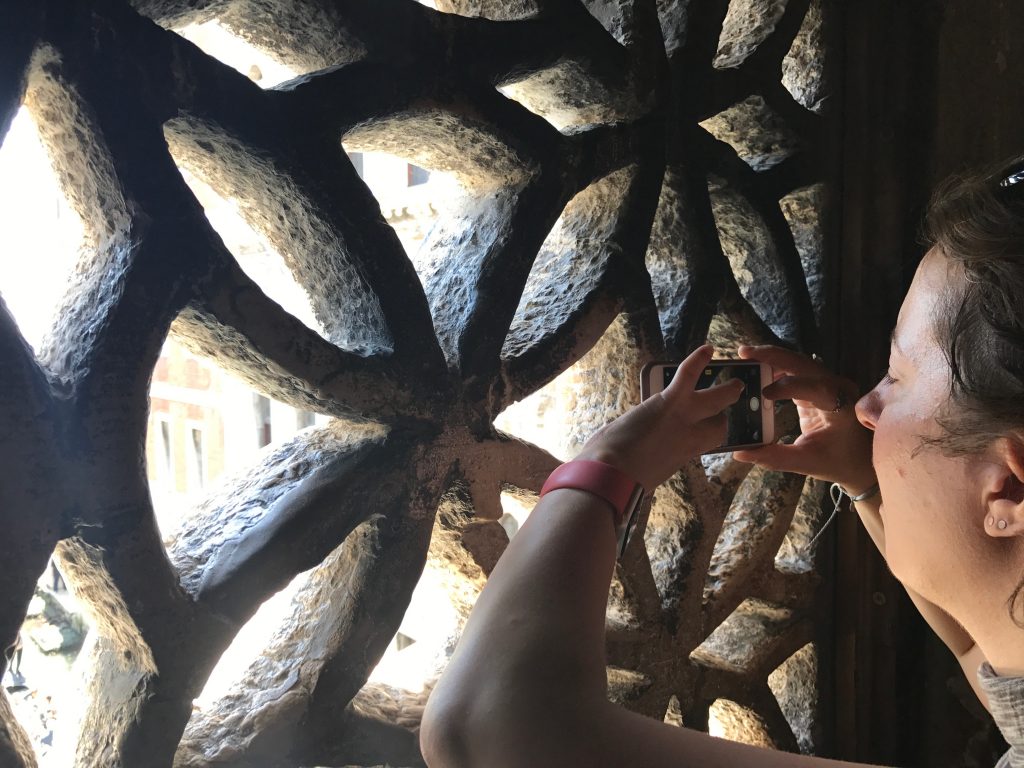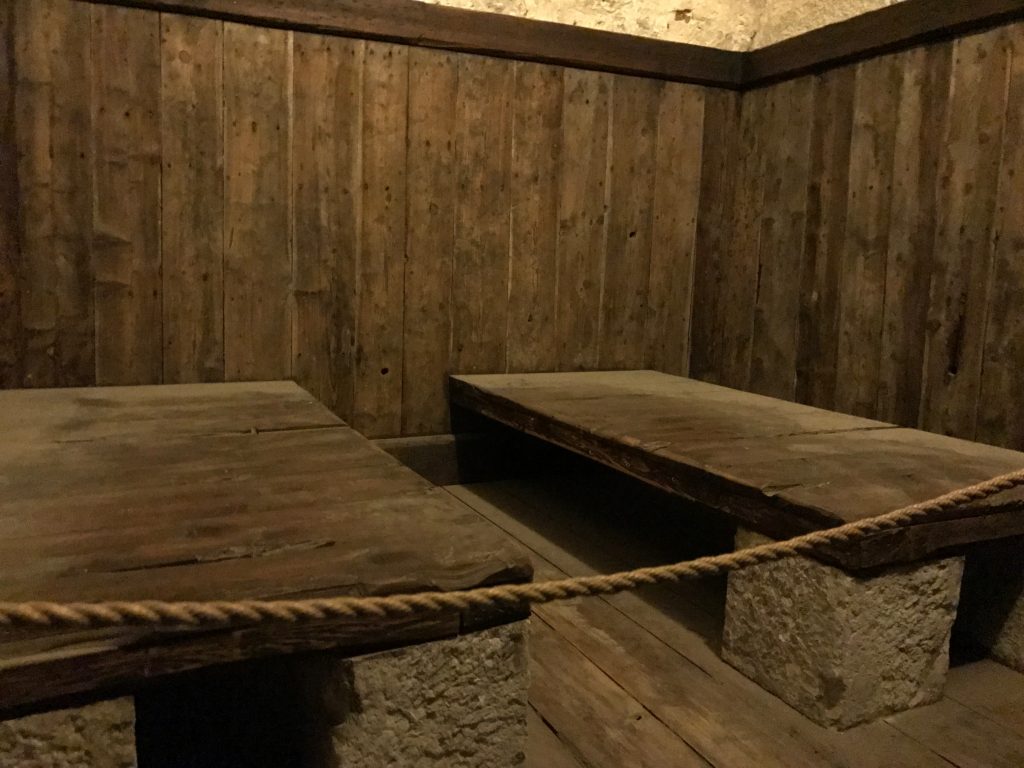 Doer had a little fun while Dreamer snuck off to the bathroom.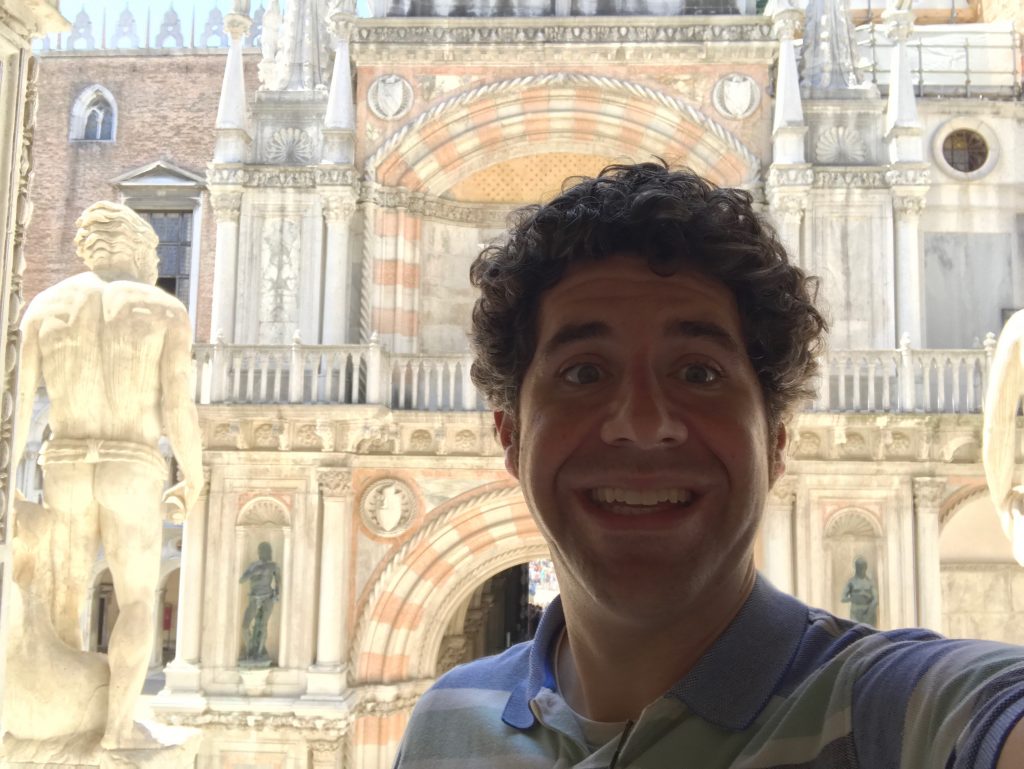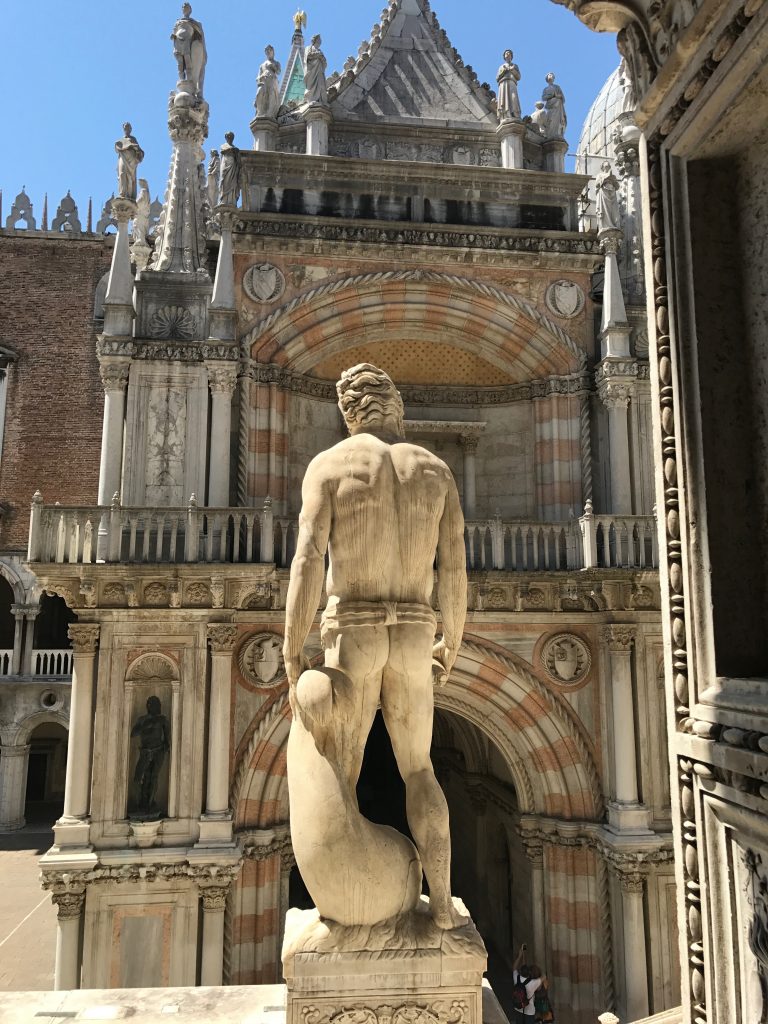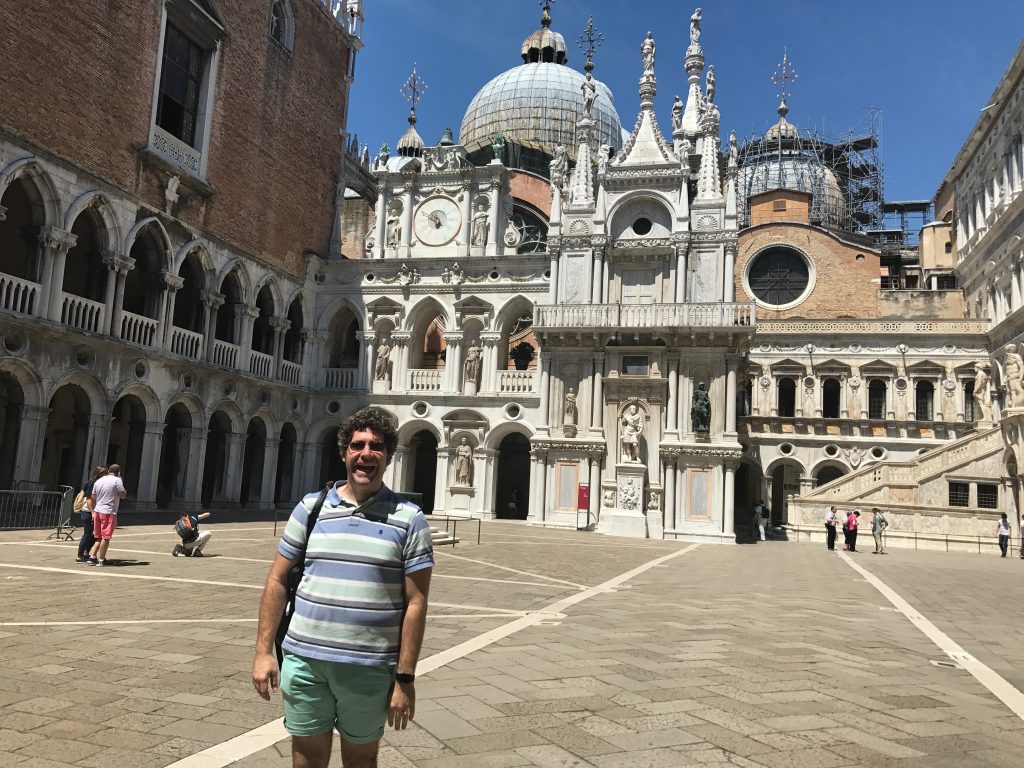 After the palace, we decided to treat ourself to an expensive snack in St. Mark's Square. Several competing restaurants here have offered live orchestral music since the late 1700s. It was lovely.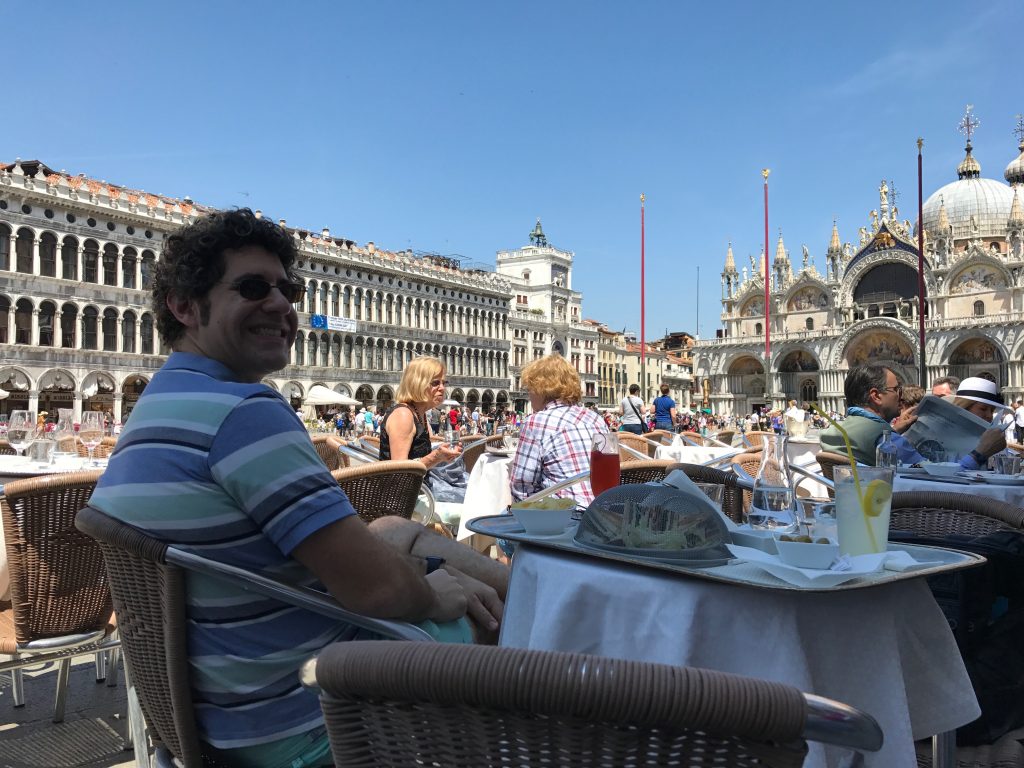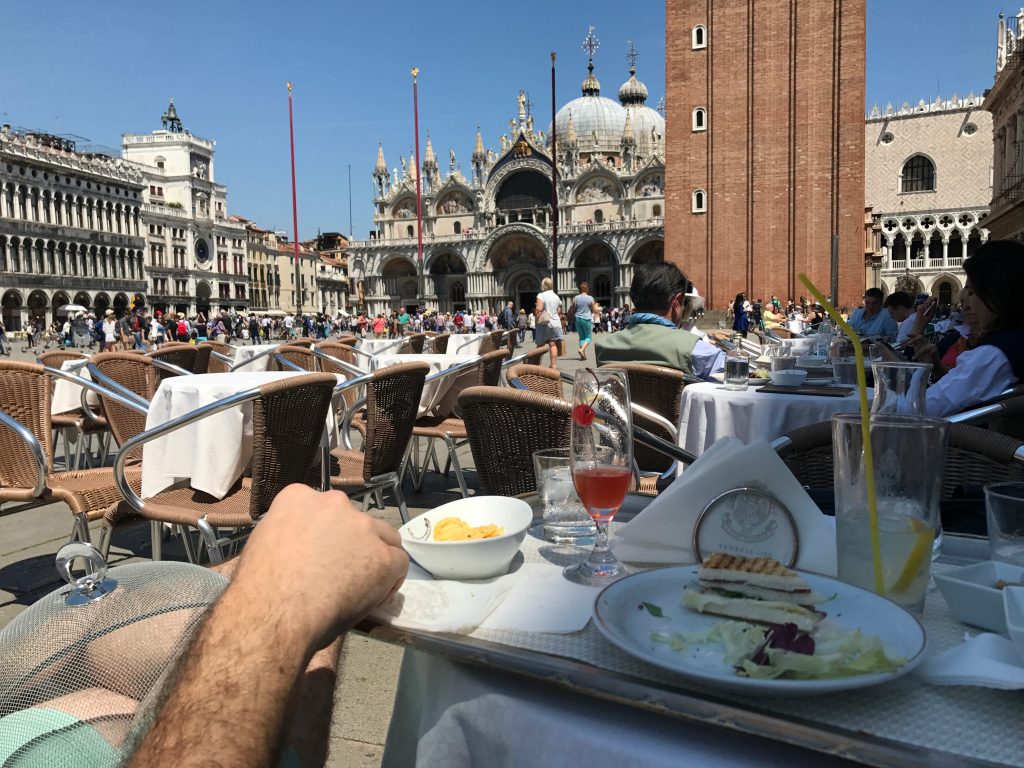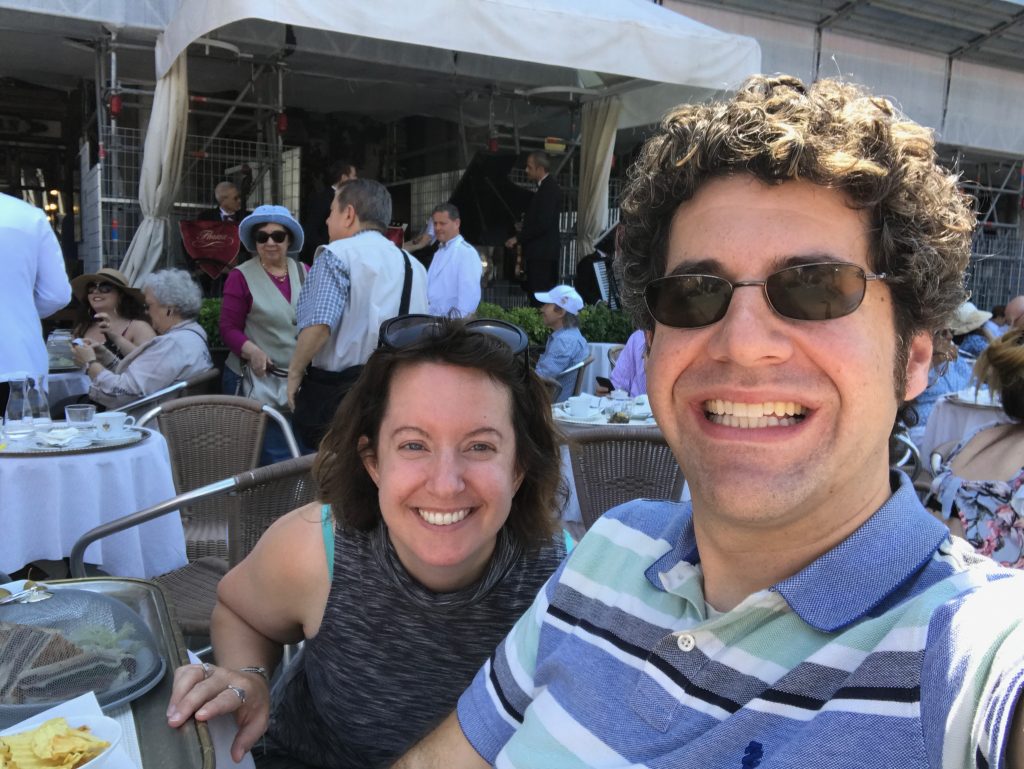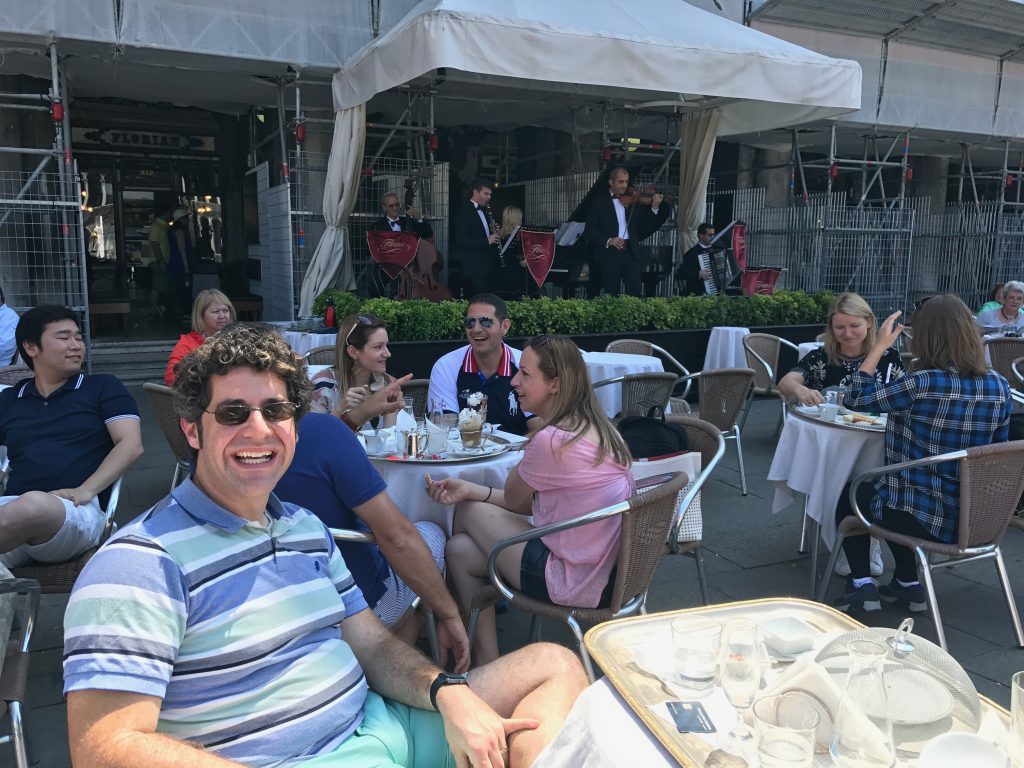 Final tally: 2 drinks @ €20 each + 2 orchestra charge @ €6 each + 1 club sandwich @ €15 = €67 snack! The supply carts were coming fast and furious, too.
Somewhat sated, we took the vaparetto to the St. Giorgio Maggiore island to take in grand views of all of Venice from its church bell tower.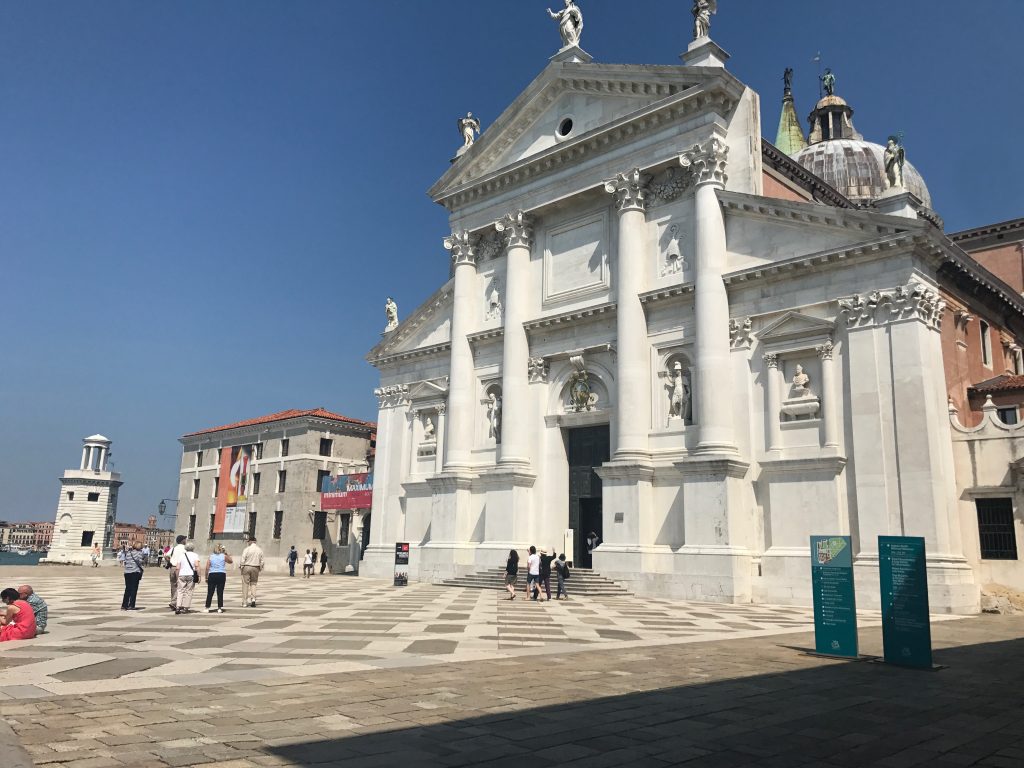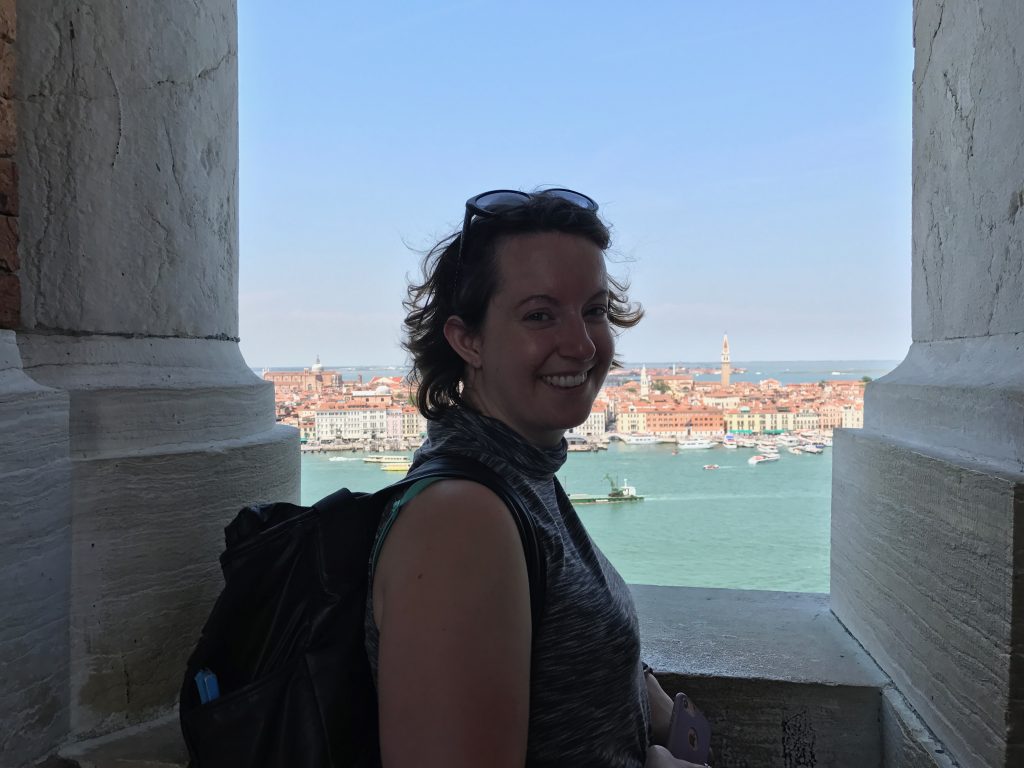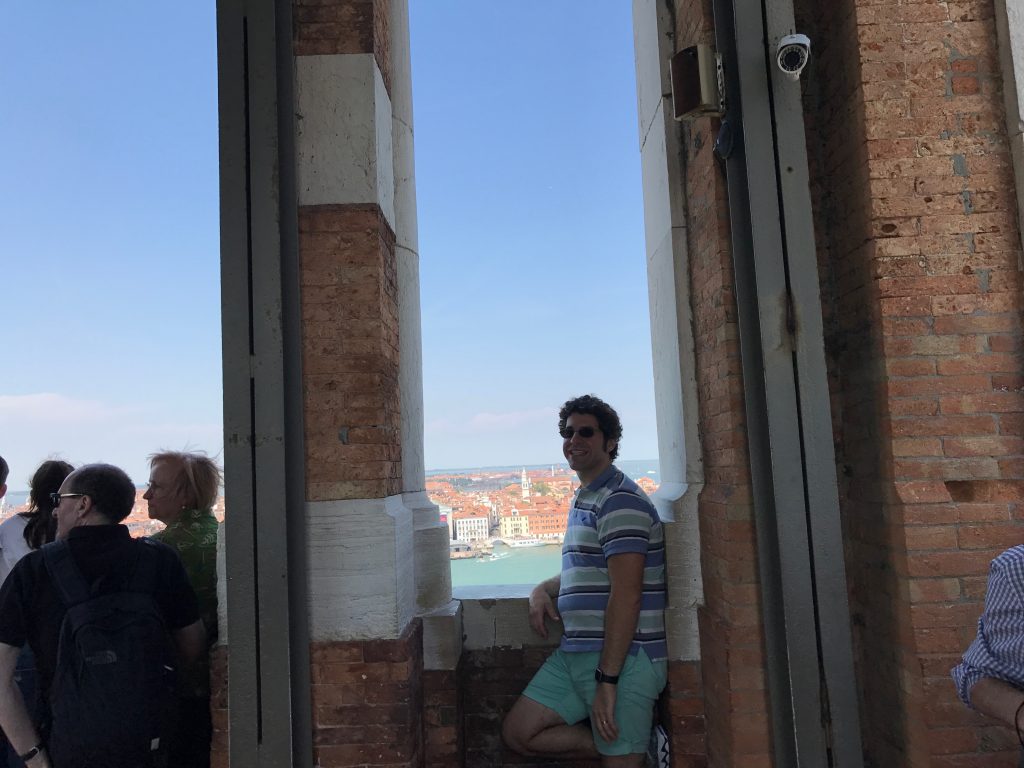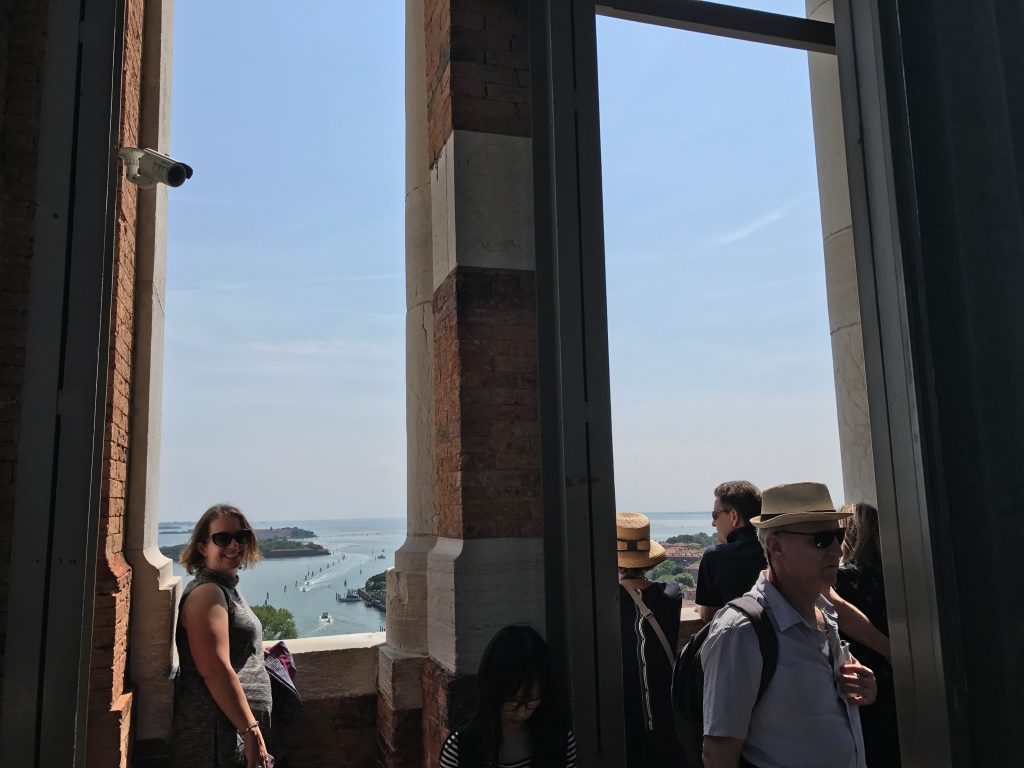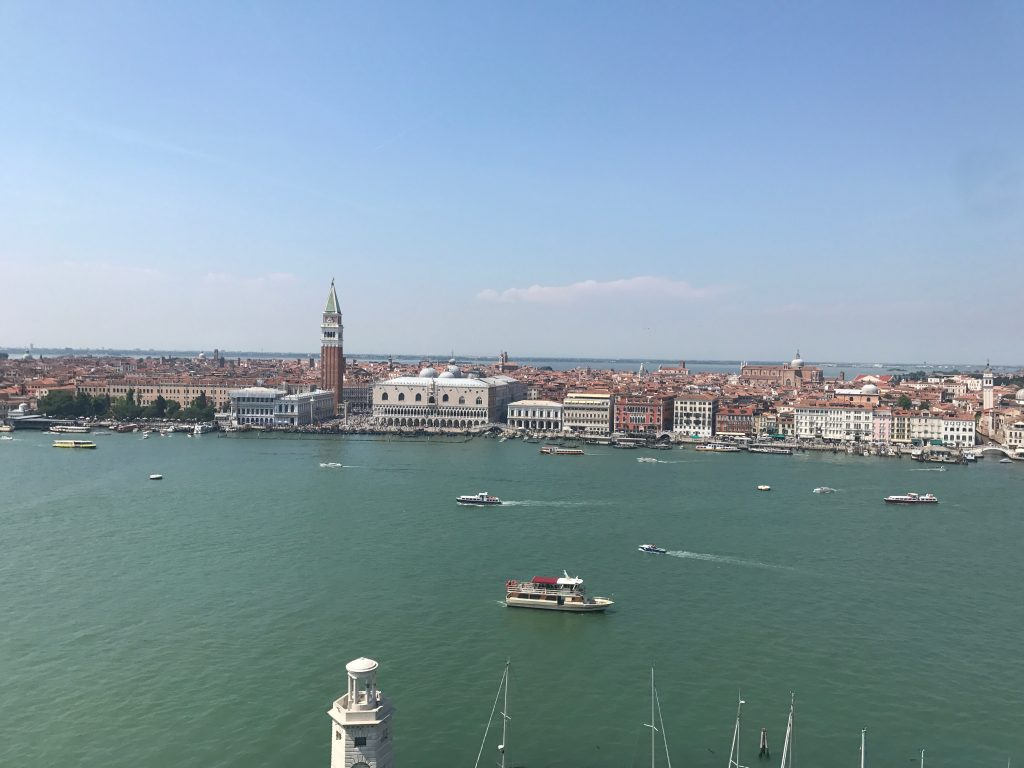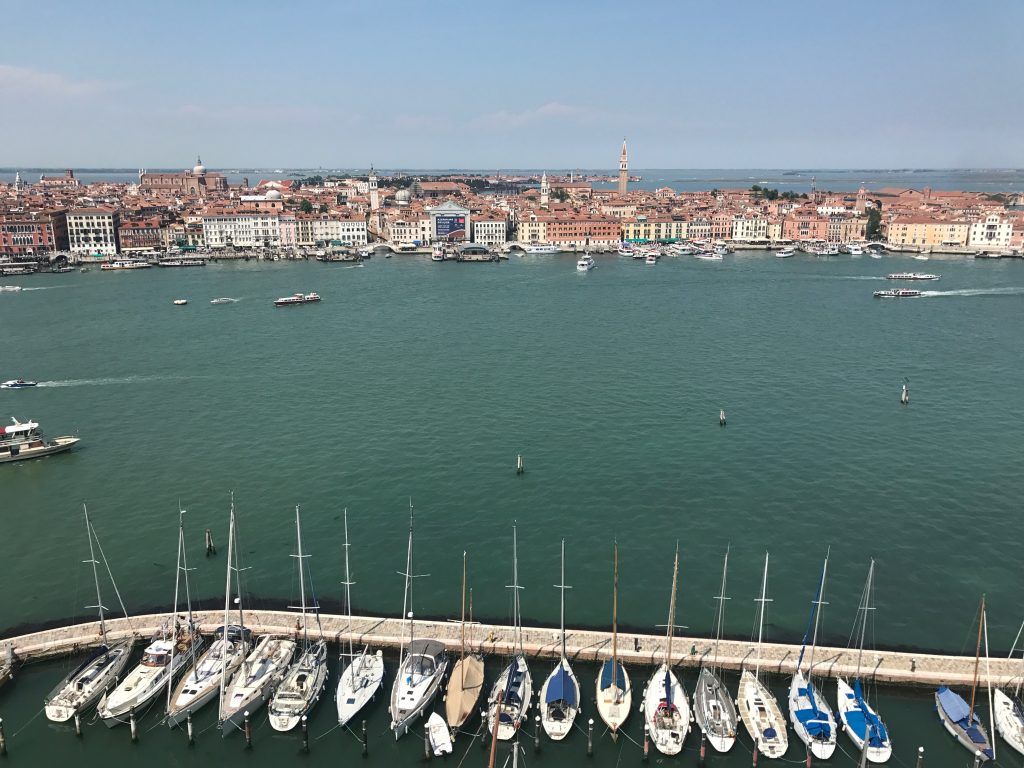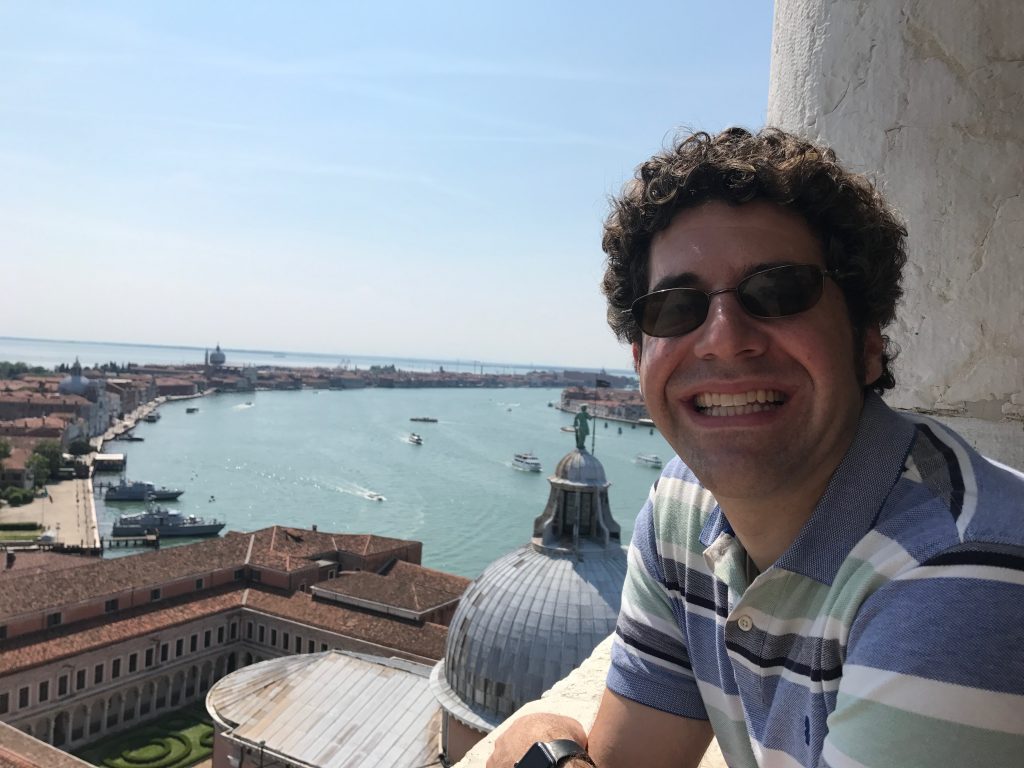 The views of traffic from the tower were rather stunning as well. We felt like Chopper 4 looking down on the lagoon below.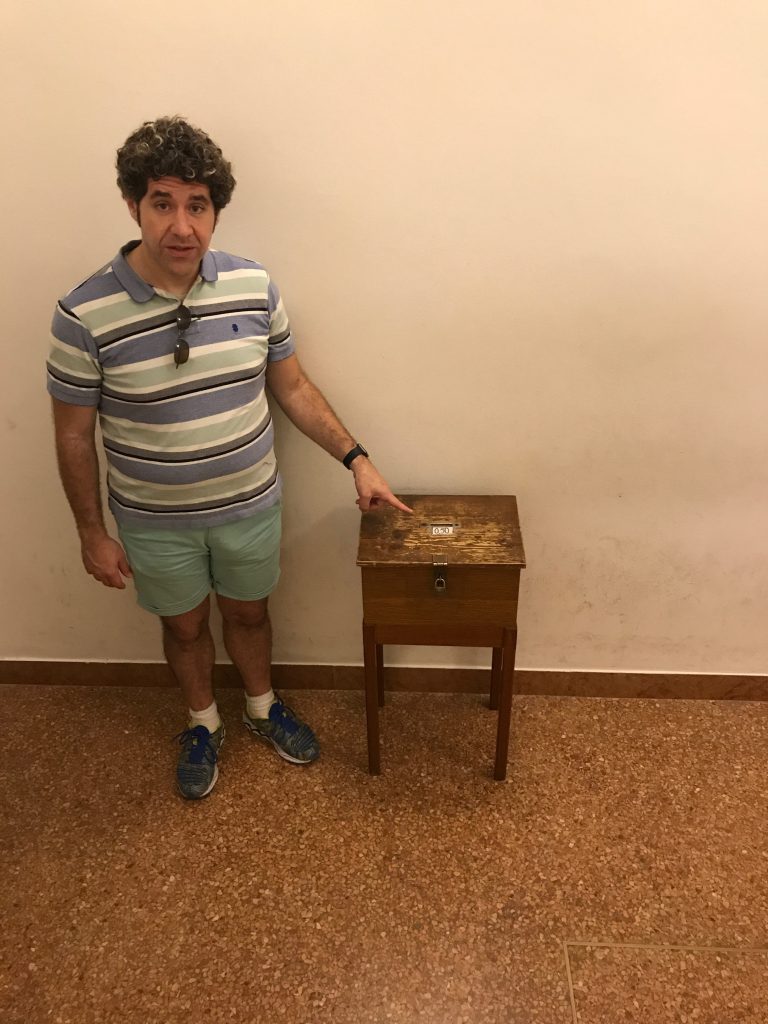 Next we headed to an old convent to see some more glass art at a local shop. It was a cool slice of local life, even if the art wasn't all that great. Nonetheless, we both indulged in a little shopping on our way back to the hotel: Dreamer got some jewelry, and Doer found some semolina in a local grocery to take back, since he was missing Cream of Wheat for breakfast.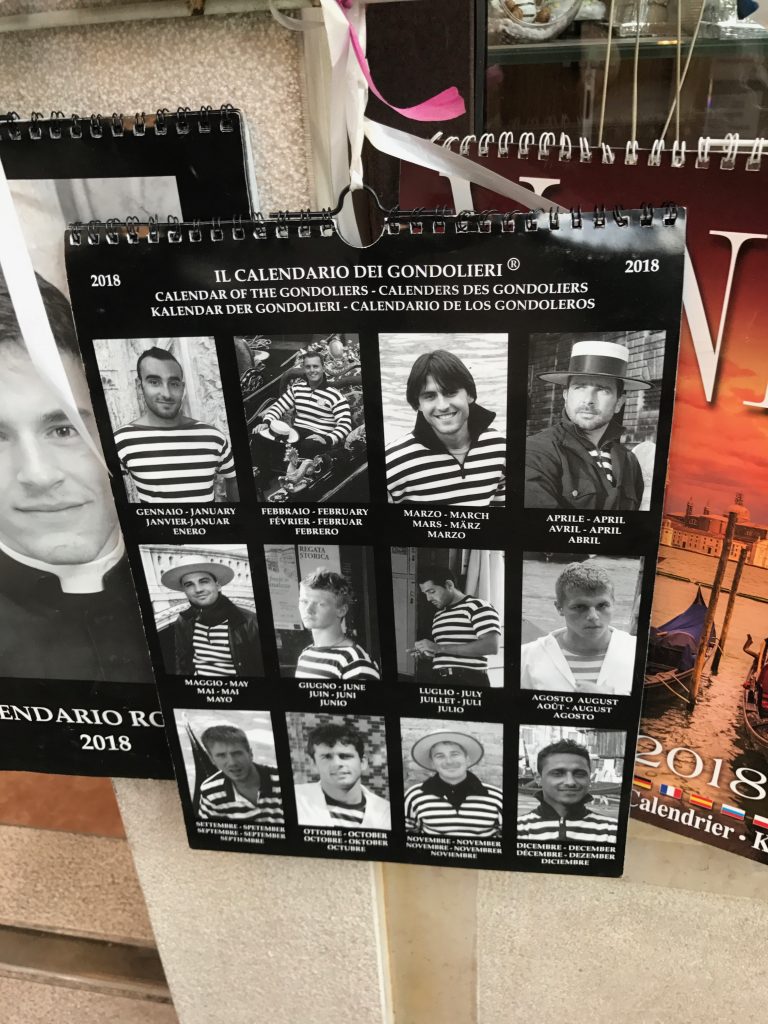 Coffee was in order. This green tea latte at a tea place was excellent! Dreamer had a nice homemade lemonade.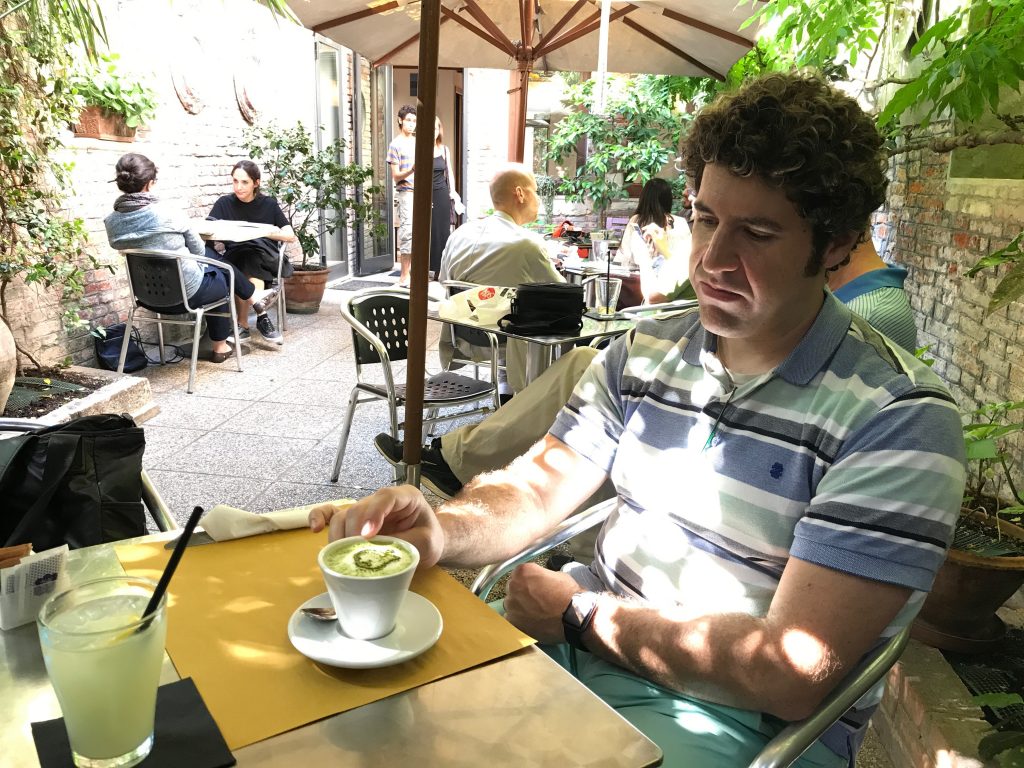 Speaking of looking but not buying, Venice is famed for its masks, especially this shop whose products were used in the Kubrick film Eyes Wide Shut. They are very generous in letting tourists touch the masks, try them on, and take pictures!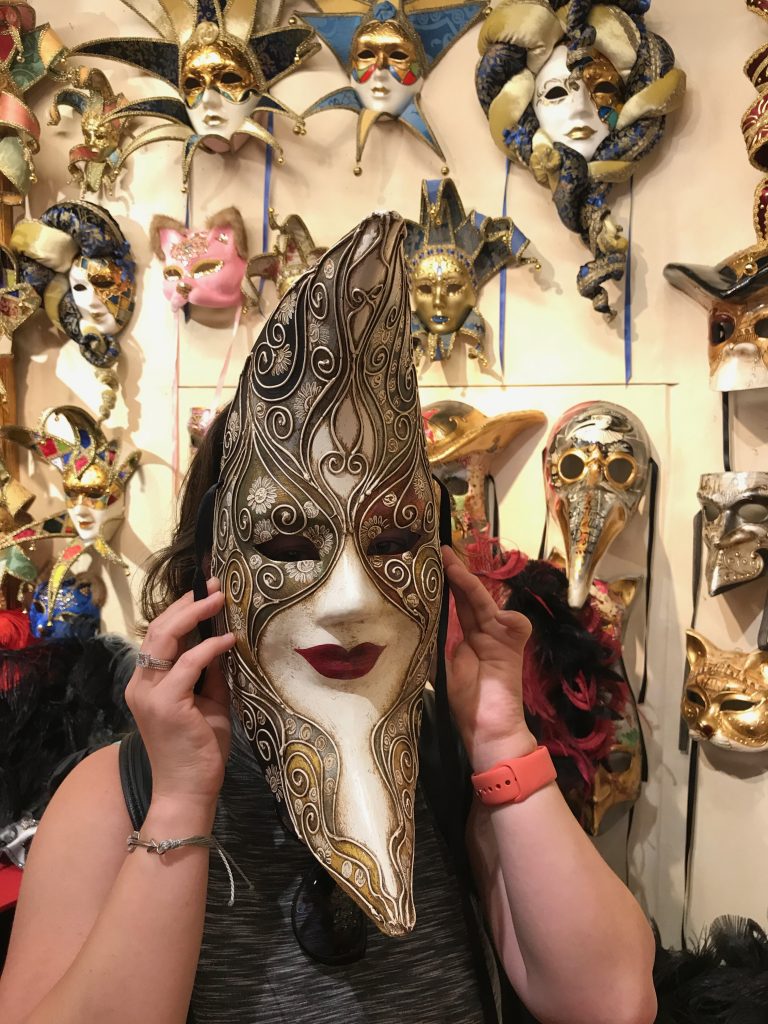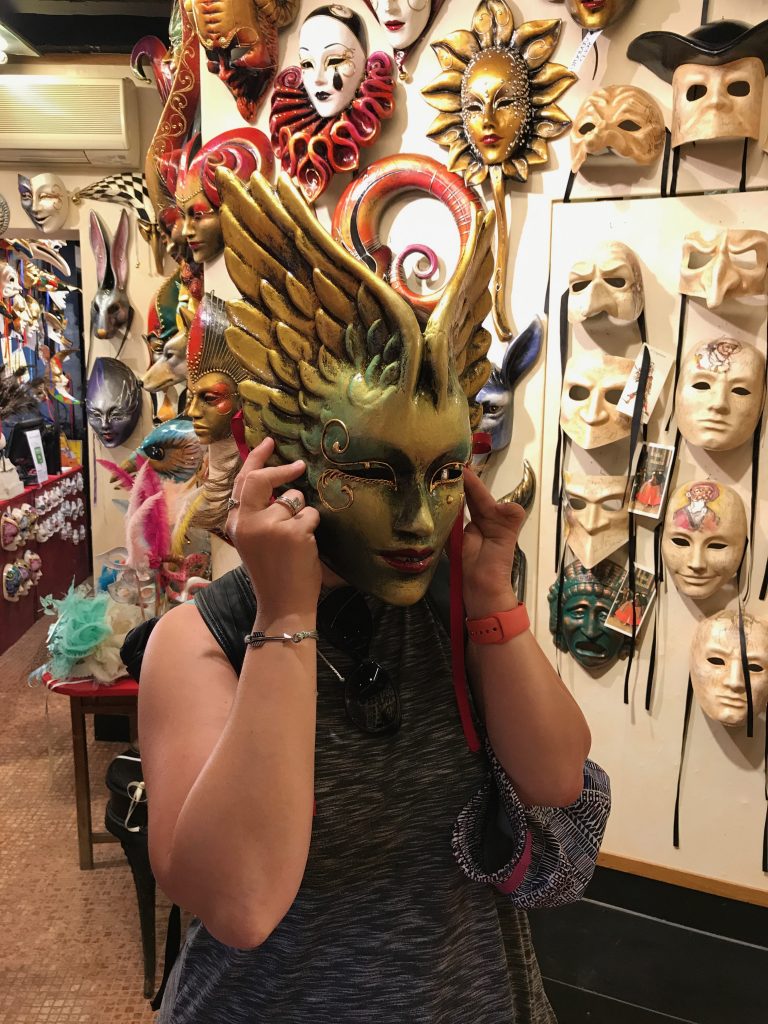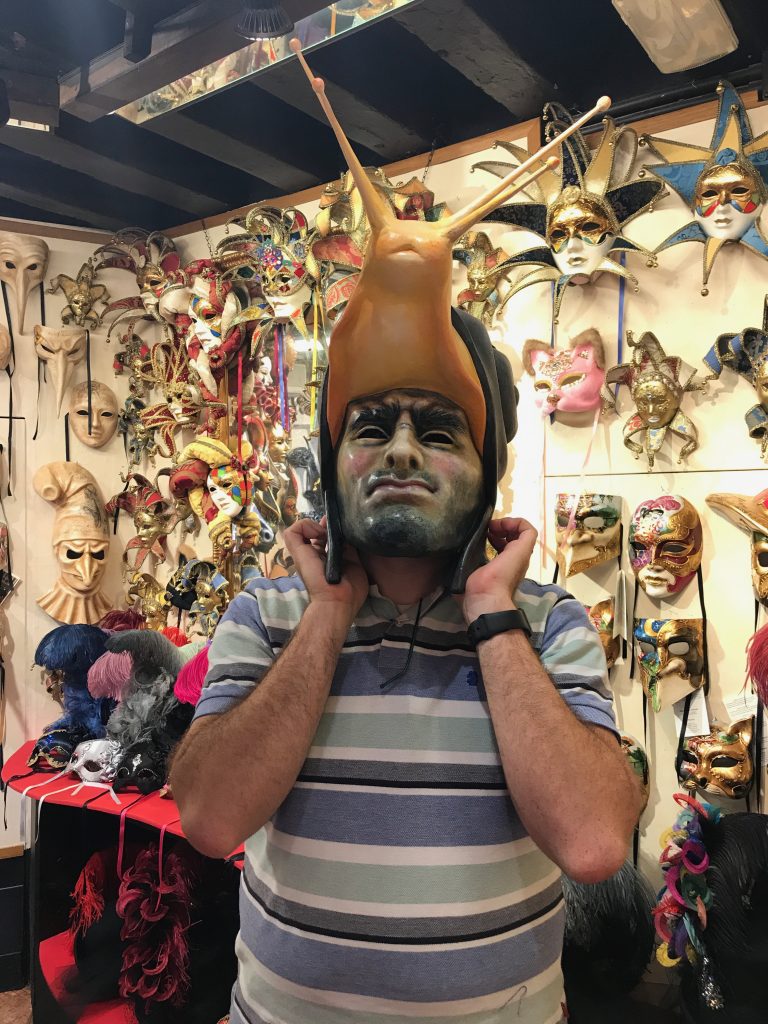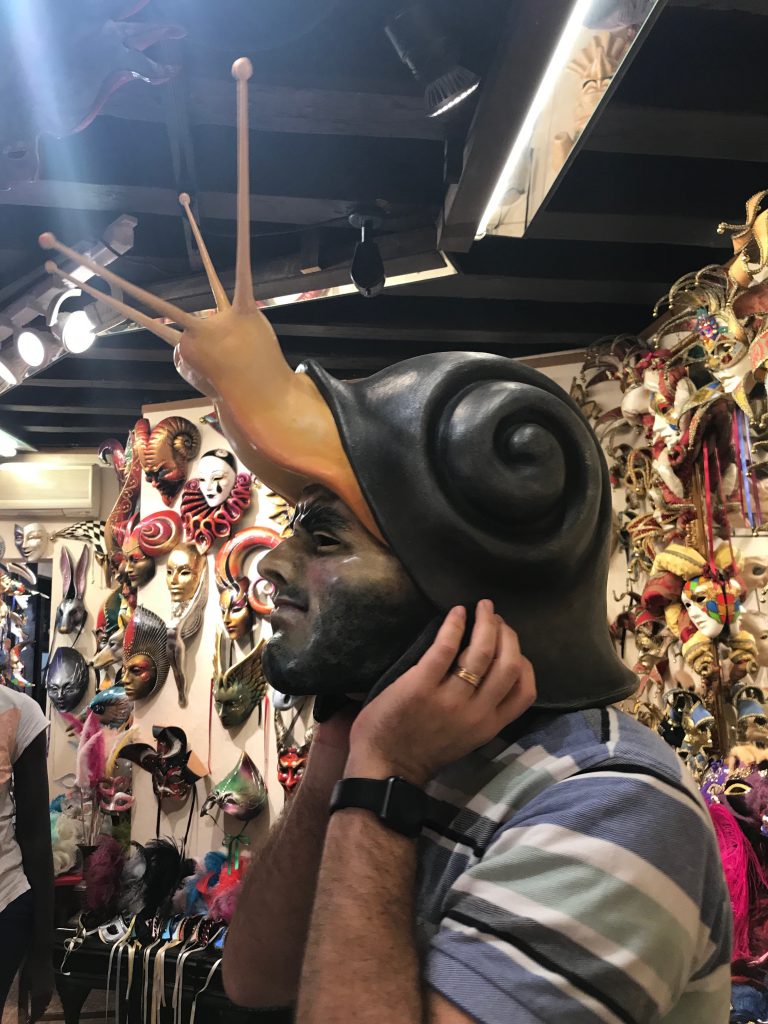 At this point, we needed another snack. Some fresh pasta to go and then back to our hotel to eat on the tiny balcony! When it came dinner time, most of the places were full… even the bacari. We finally found a place offering typical Venetian cuisine. Doer had Sarde in Saor (sardines with sweet-sour onions, a typical Venetian dish) and Liver and Onions, and Dreamer had another pizza – like you're surprised?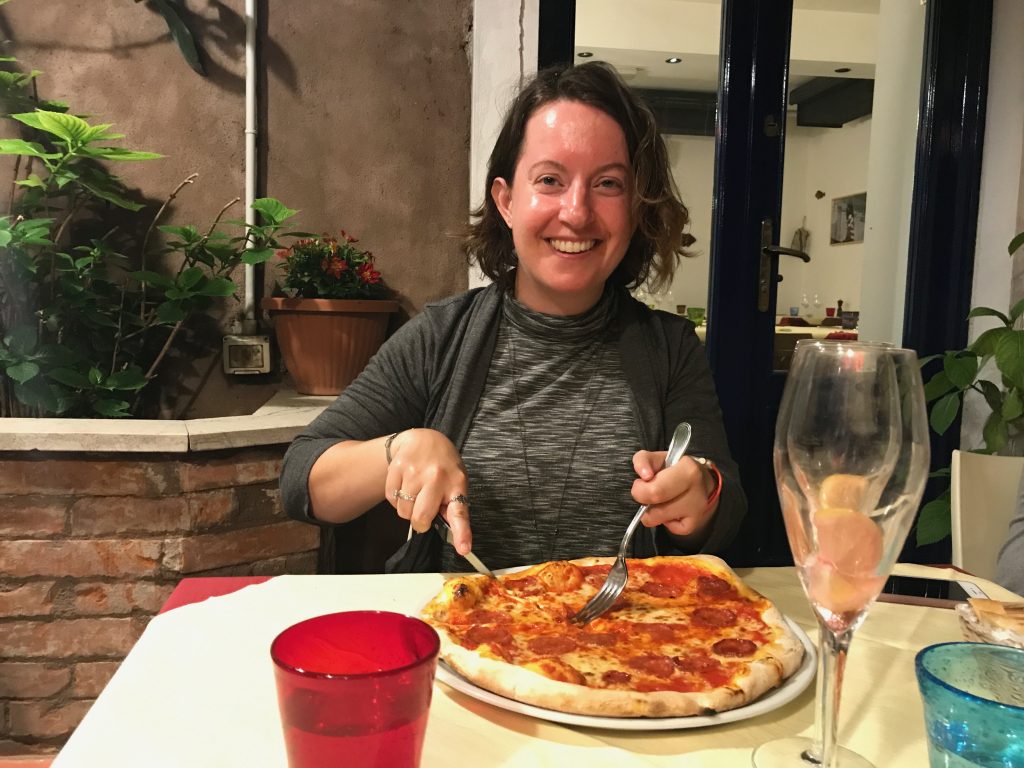 We finished with dessert: an ice cream sandwich to split at a gelato place near Venice's train station. Enjoyed on a bridge, of course!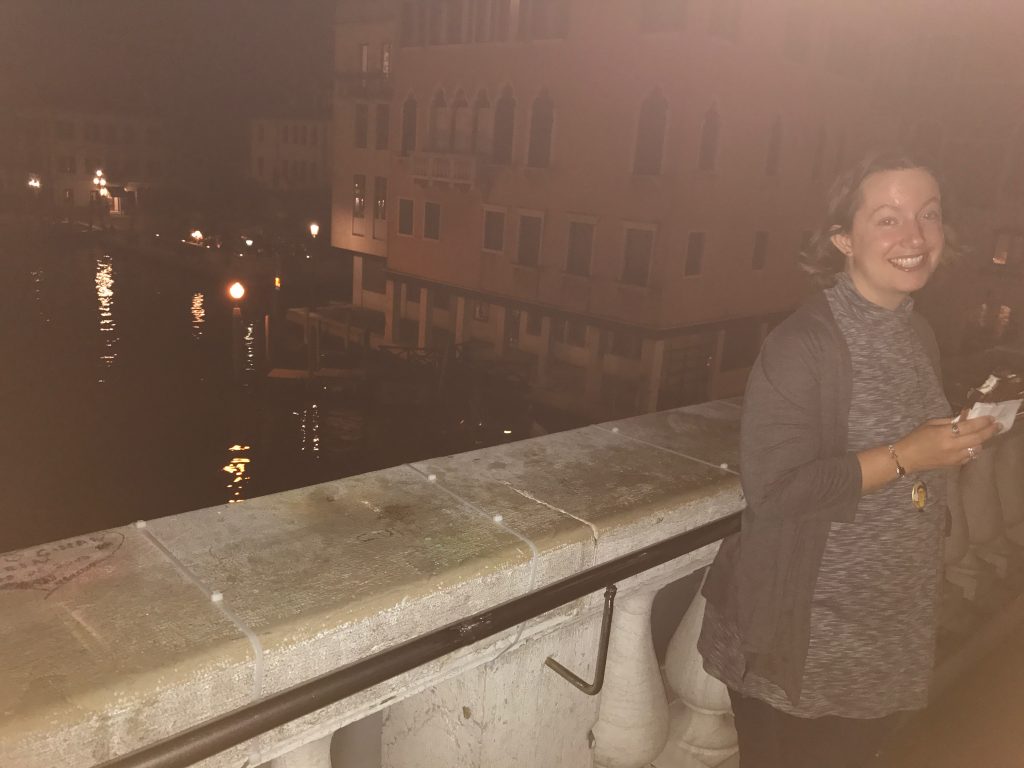 Tuesday, we headed out to see the fish market in full swing before our flight back. On our way, we stopped by Pasticceria Tonolo, which was recommended, but we had ignored the whole time despite it being right by our hotel. Doer took the recommendation of getting a bignè allo zabaione, and it was easily the single best thing he ate the whole trip. There would be another one gathered for the flight home, and boy, did the other passengers look at us with envy. Choux pastry filled with a boozy custard and topped with a crackling sugar coating – what could be better? Italians do pastry right.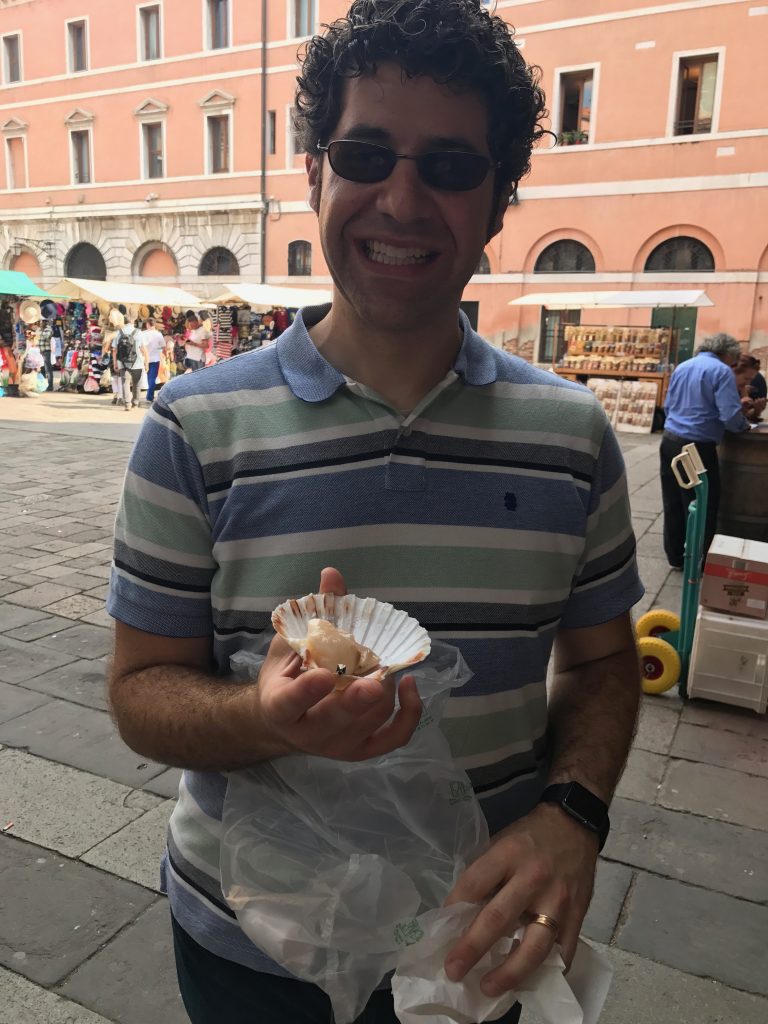 The fish market did not disappoint, either. While Dreamer went off to look at things that were more her speed, Doer downed a raw scallop that was pretty darned tasty (see above).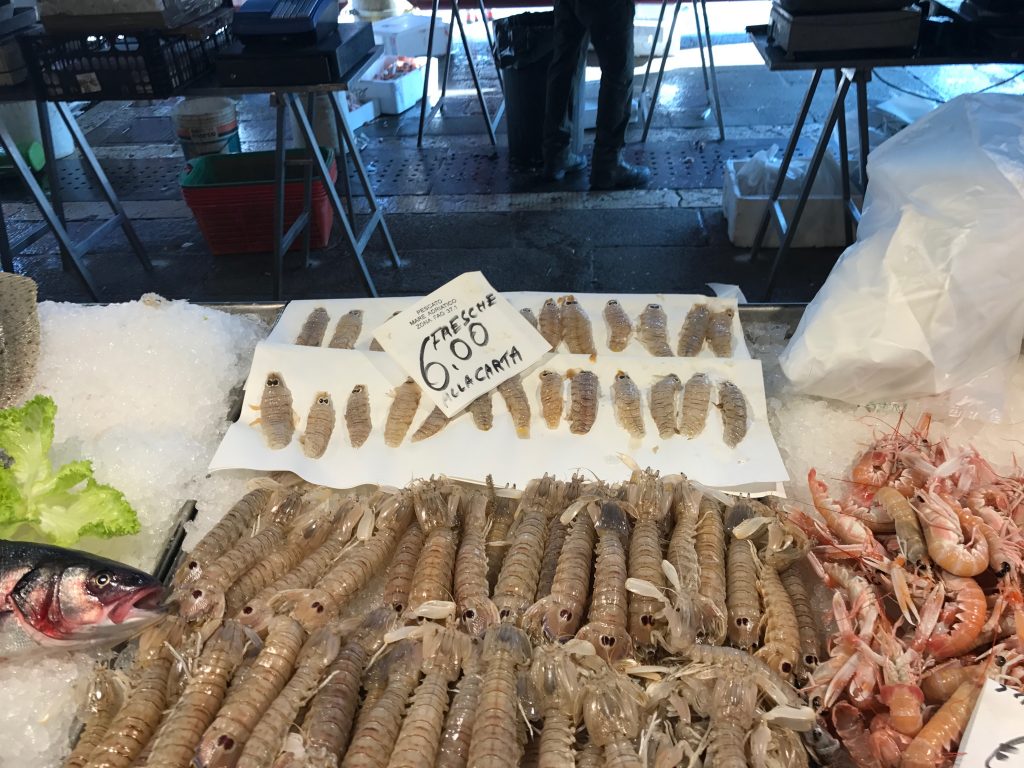 This guy admirably attempting escape.
Dreamer admired a sculpture from the Venice Biennale.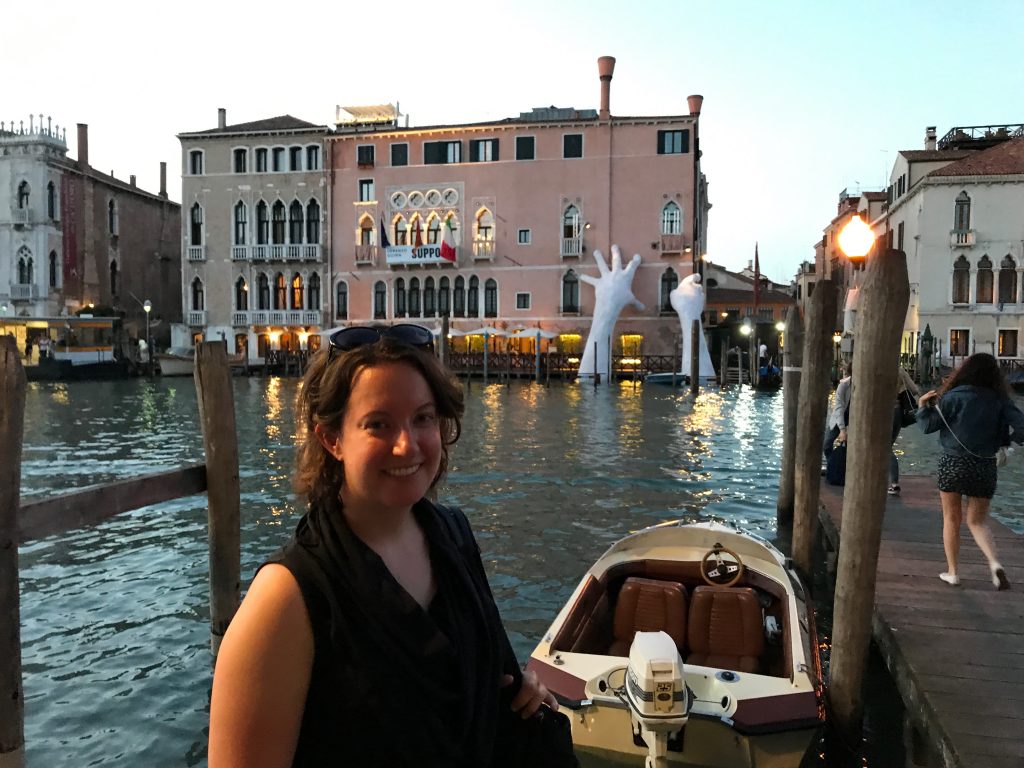 And, of course, it should come as no surprise that when you are out in public and need to use the restroom in Venice, it'll cost 'ya. €1.50, to be exact. But at least they have an attendant who keeps them clean.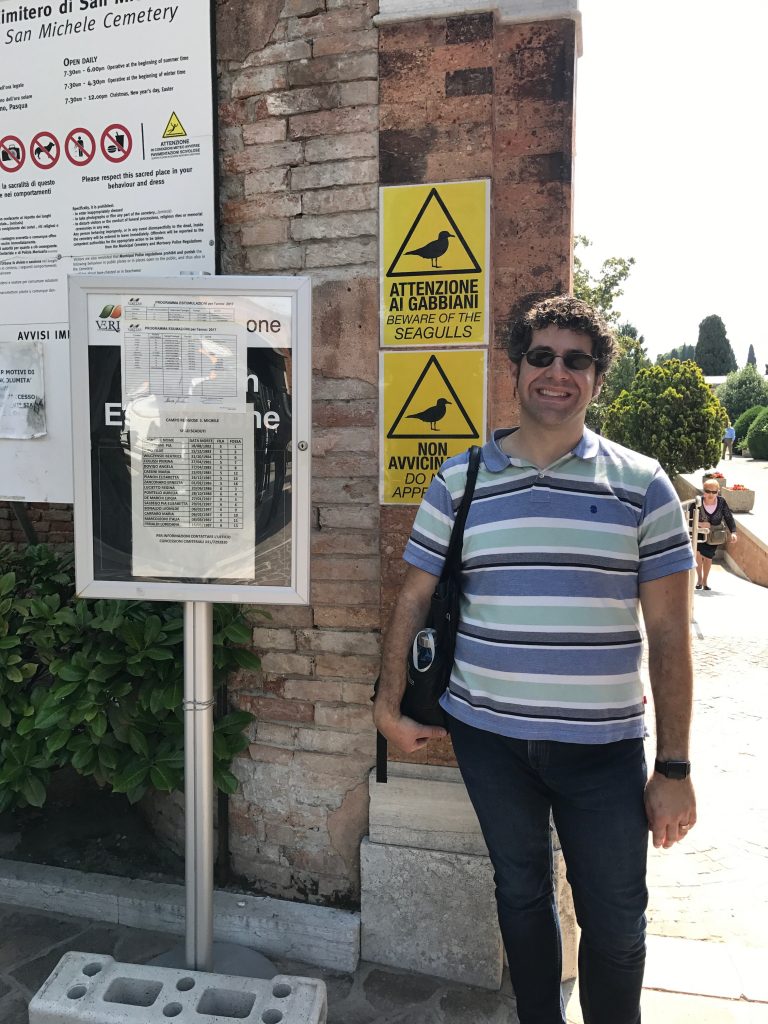 We still had a few hours before our flight, so we headed to the cemetery. As the city is famously below sea level and continually sinking, it seems to be a good thing that everything is built aboveground.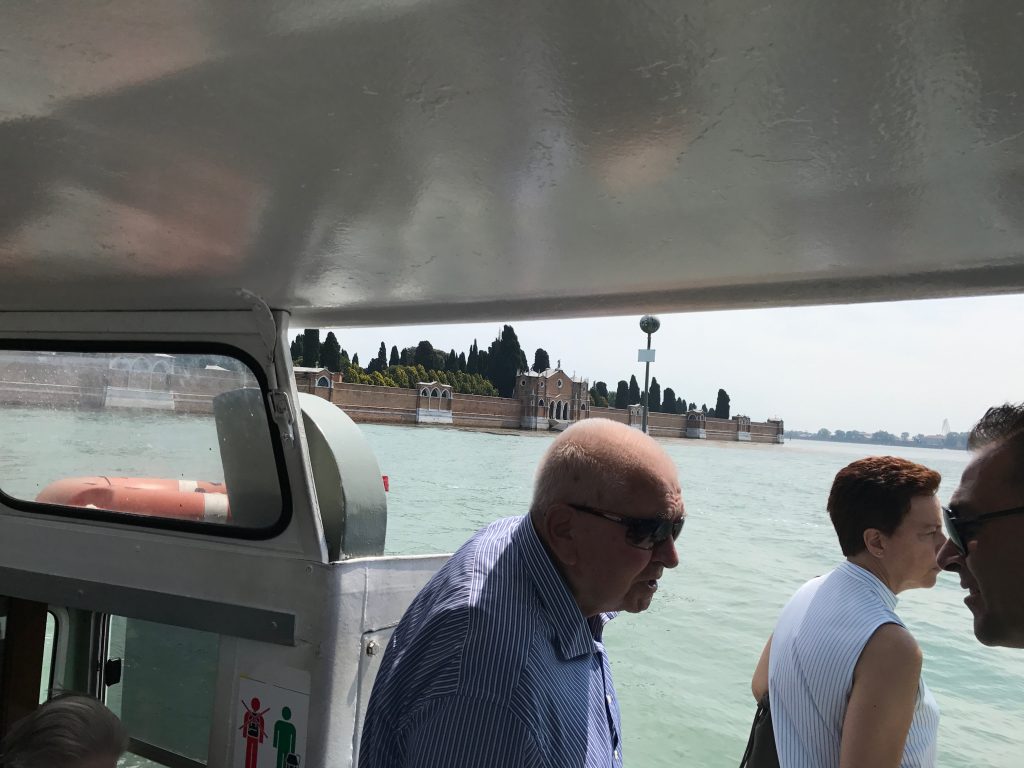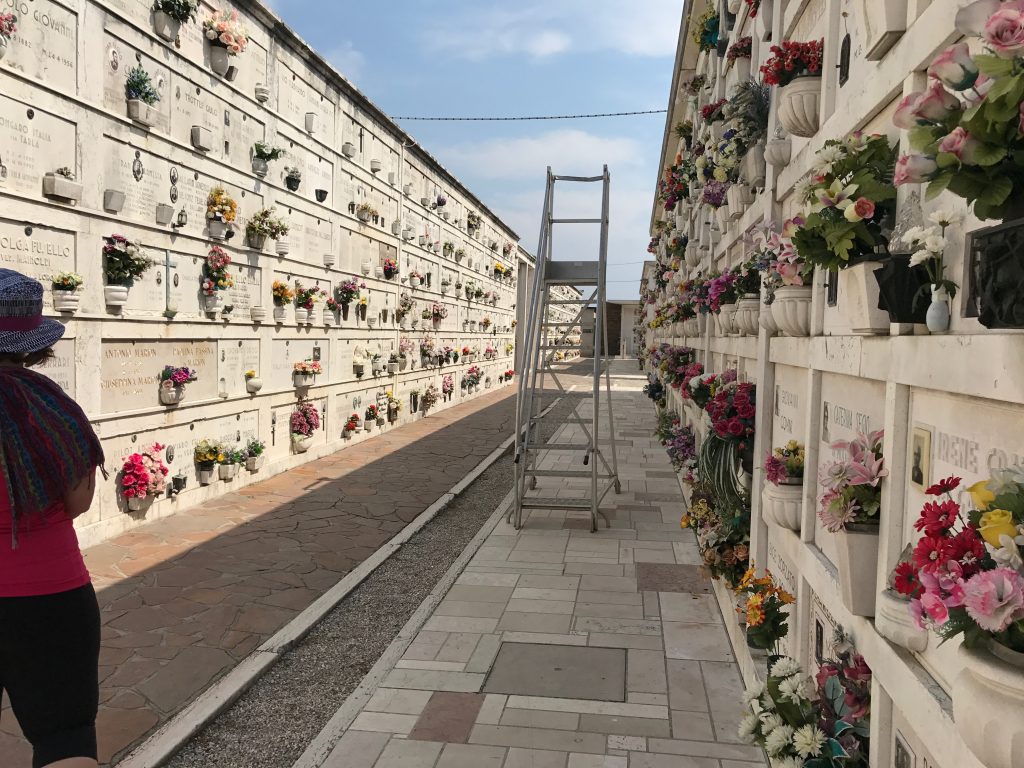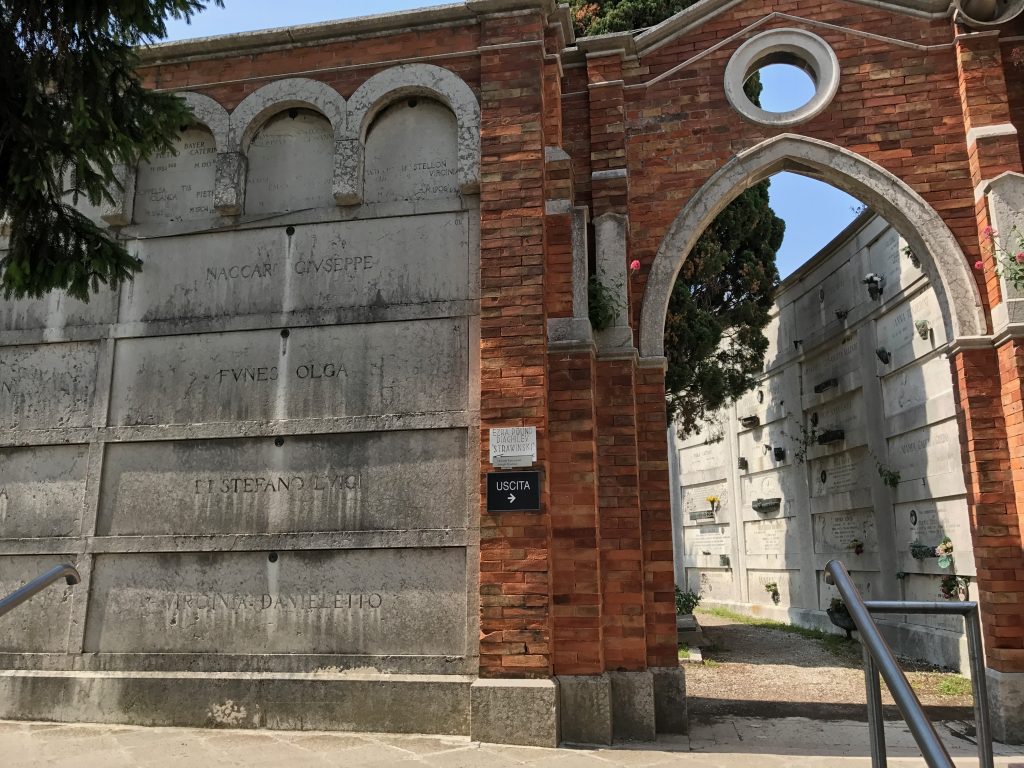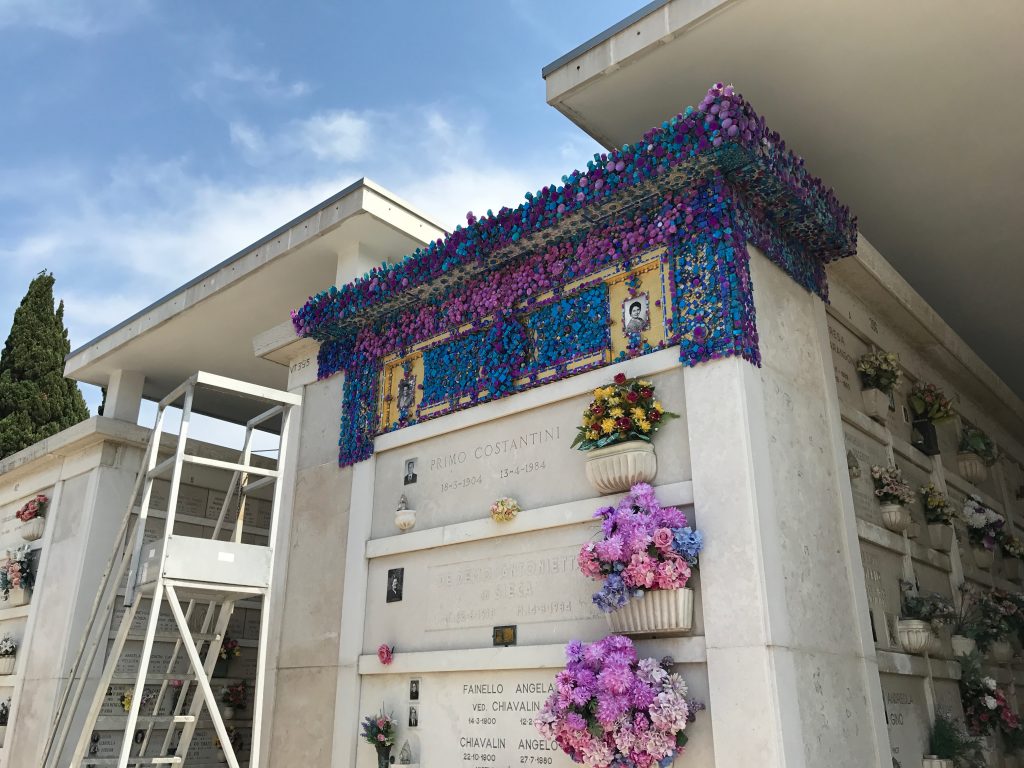 SNACK TIME! Lavazza coffee from a vending machine at the cemetery. When we docked back on the main island, more squishy sandwiches and a gingerino, which probably came before Doer's beloved Bitter Kas. There is also Sanbitter in Italy. People told us it was the same thing, but really? That's like Coke vs. Pepsi.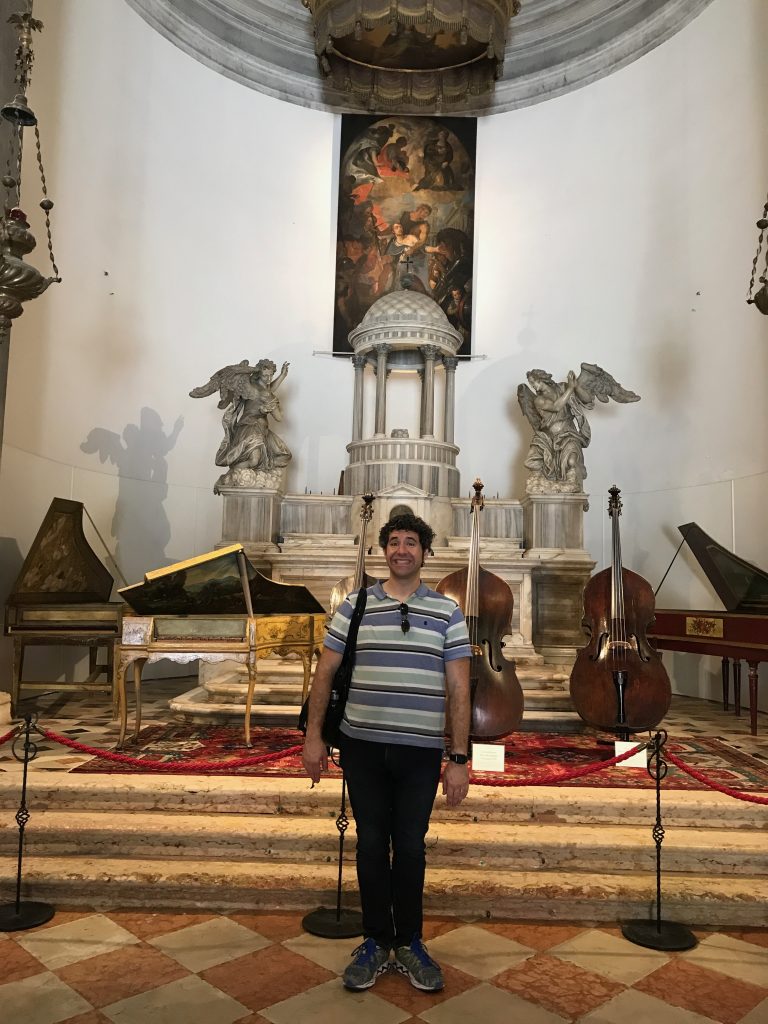 One final non-food stop at the Museo della Musica – an old church with antique stringed instruments galore that also pays tribute to Venetian composer Antonio Vivaldi (longtime favorite of Dreamer's).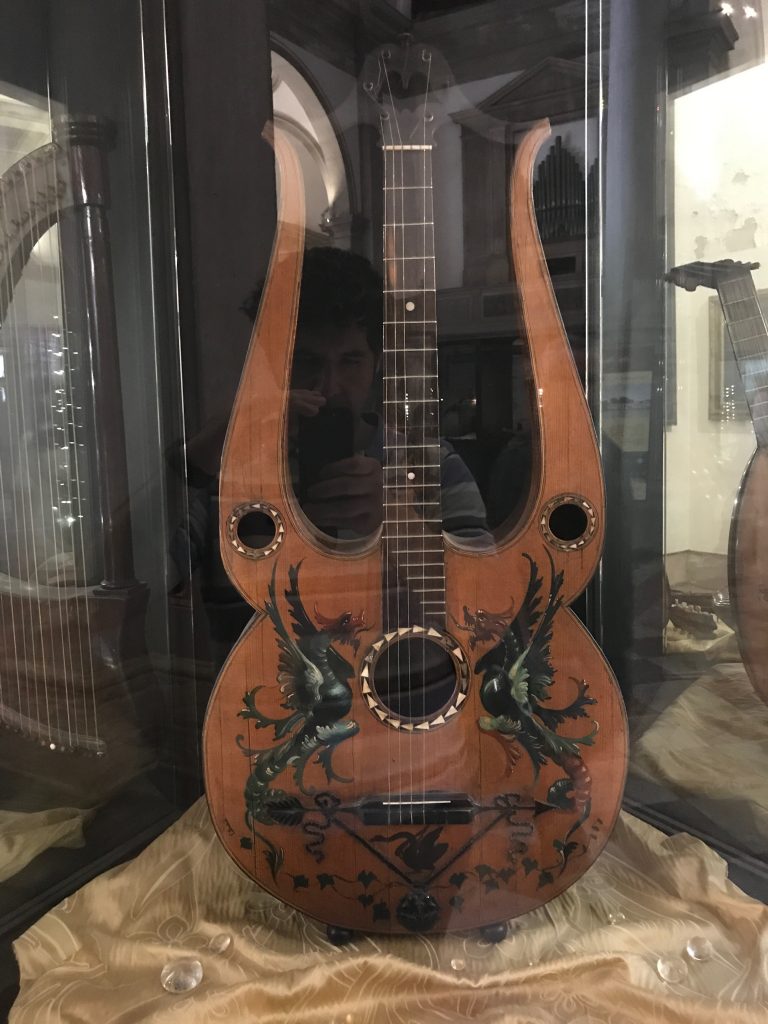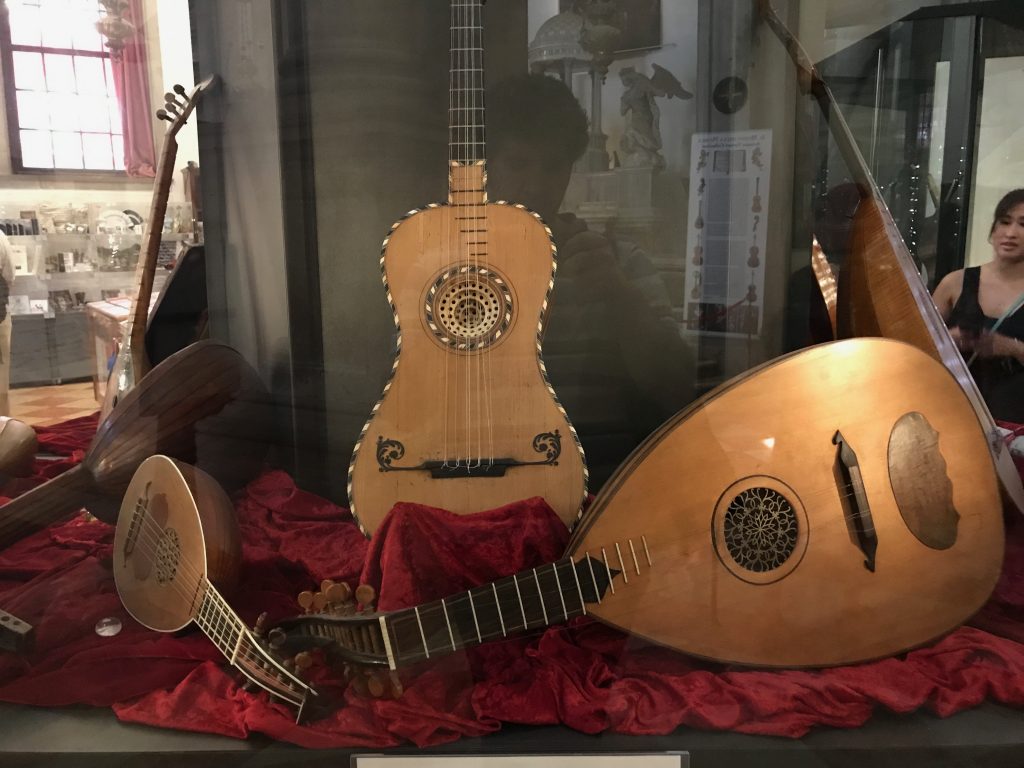 We stopped for an aperitivo at a cafe nearby because we thought we had time before our lunch reservation. Dreamer had a spritz and Doer had an Americano… but when the time to leave came, we found we were actually running 15 minutes late because Google's walking directions included, "take the 2!" That's the vaparetto, folks. Can't walk too far here without having to get on a water taxi.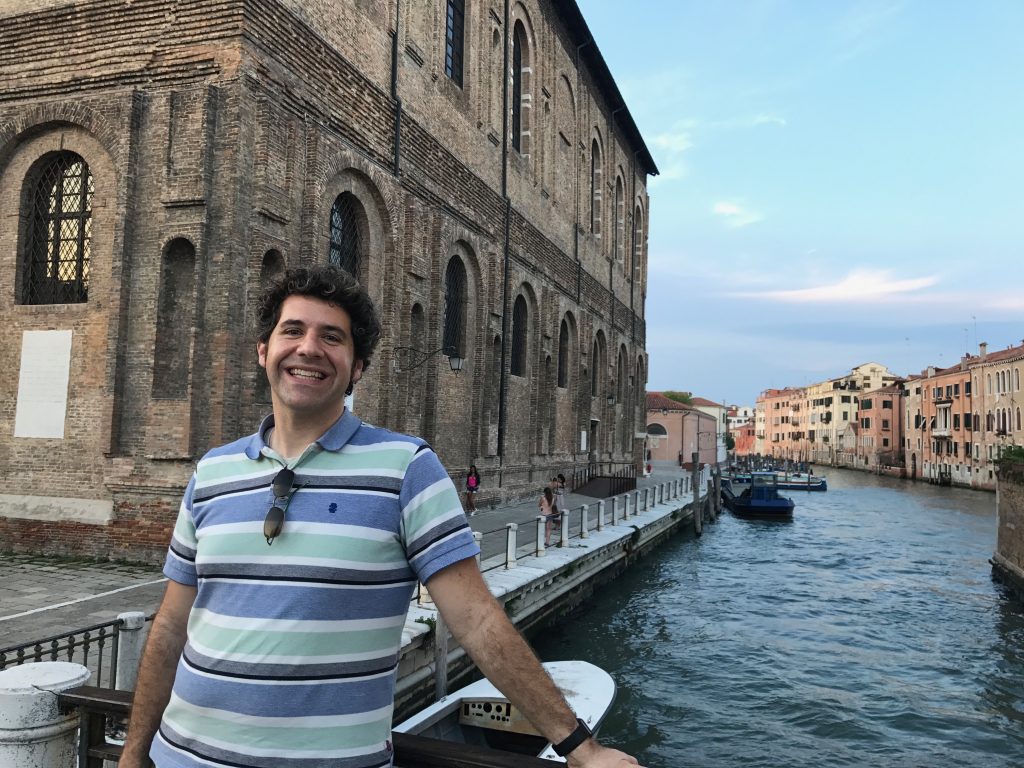 We made it to our lunch at Antiche Carampane and had some great zucchini+clam and crab pastas, plus another fritti misti. This paired perfectly with the wine our server recommended: Movia Rebula (Ribolla). Then, there was the aforementioned dash for more pastries to take on the plane and a trip back to our bus.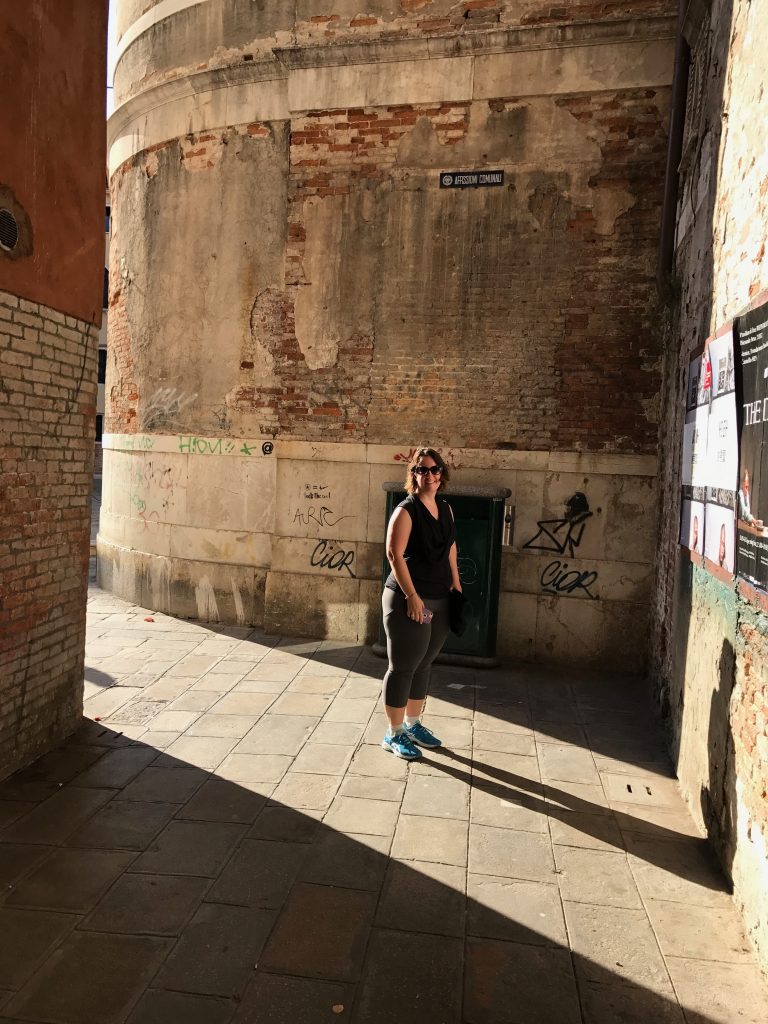 That monorail, by the way? NOT included in the €40 72-hour pass. But another €1.50 each seemed like a cheap price to pay to get back to a normal economy at this point. At least we can visit Switzerland without fear now!