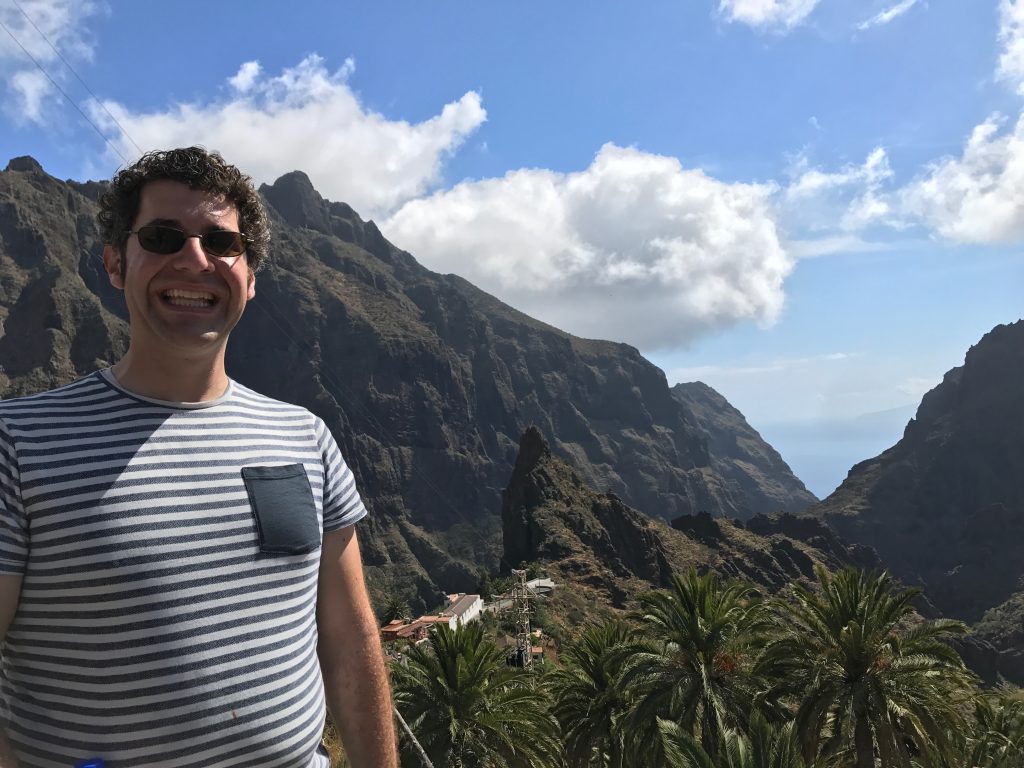 For the final leg of our long April trip, we decided to go a more traditional spring break route, finishing our adventure waaaay south, and on an island to boot.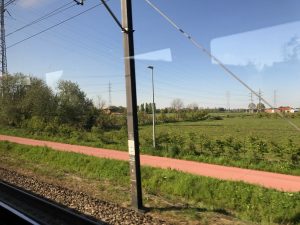 But before arriving in paradise, we had to take a train from Rotterdam in the Netherlands to the airport in Brussels, Belgium. We were delighted with how easy (and fast!) international travel proved. No advance reservations needed, even.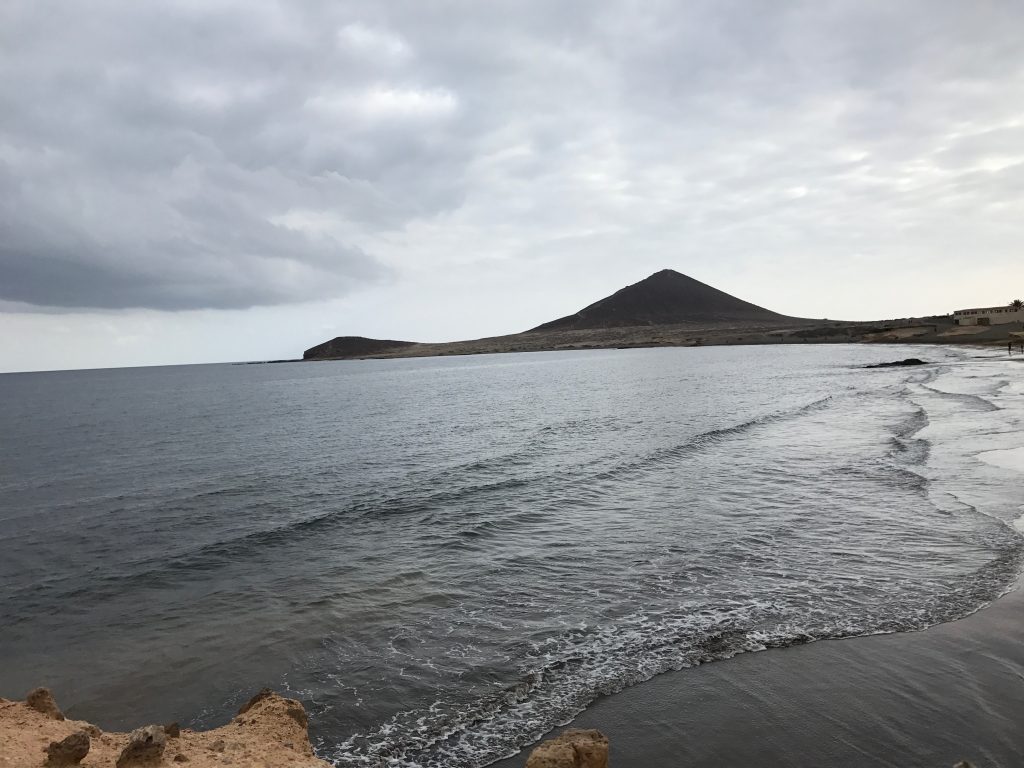 After arriving in Tenerife's southern airport, we drove our rental care about 15 minutes to our beachside Airbnb apartment in Médano Beach.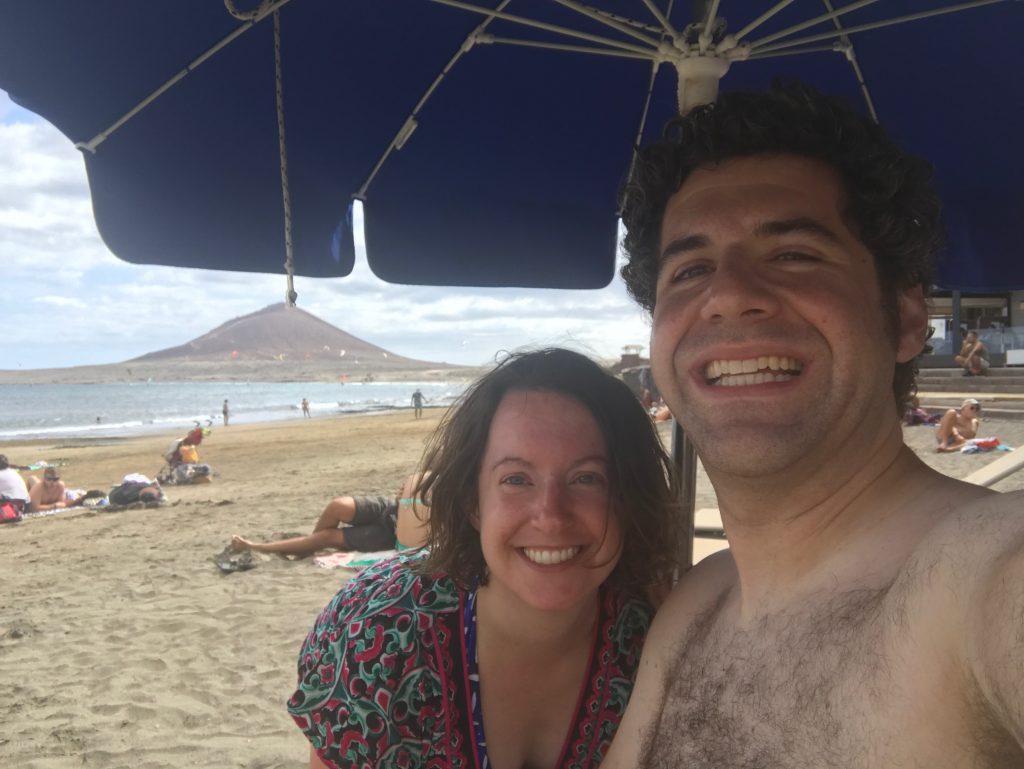 Tenerife is the largest of Spain's Canary Islands. Politically, the islands are European, but geographically, they lie south of the continent, just off the west coast of another continent – Africa.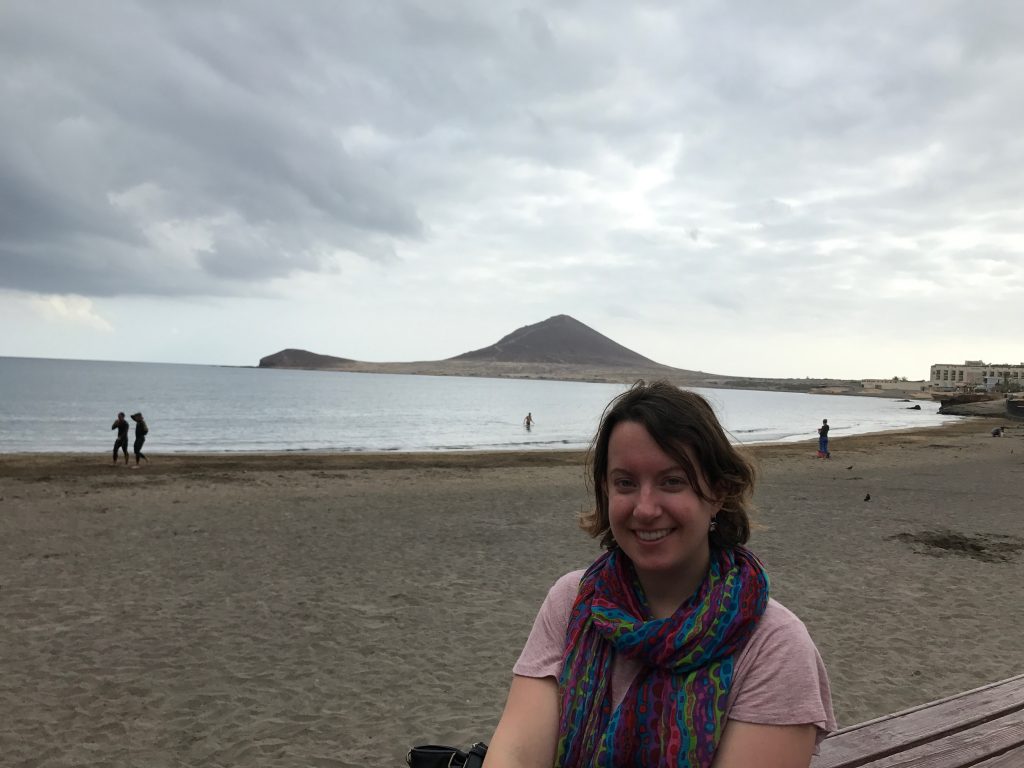 There's not much to report about that first afternoon in Tenerife because it was pretty relaxed, with Dreamer clocking some serious beach time and Doer relaxing in his own way. There was just one downside, however. We felt like Pablo Escobar was announcing his candidacy or something.
We began our first full day on the island in typical Doer and Dreamer fashion, with a visit to a local market: La Recova, or the Mercado Nuestra Señora de África, which lies about an hour north in the island's capital, Santa Cruz de Tenerife.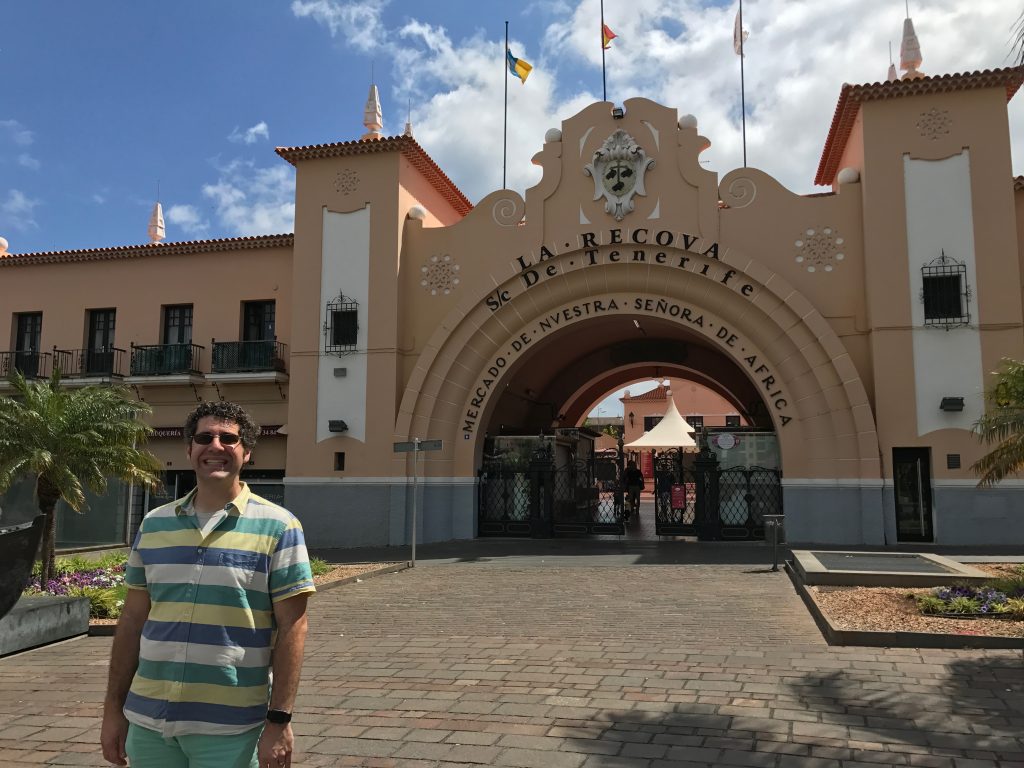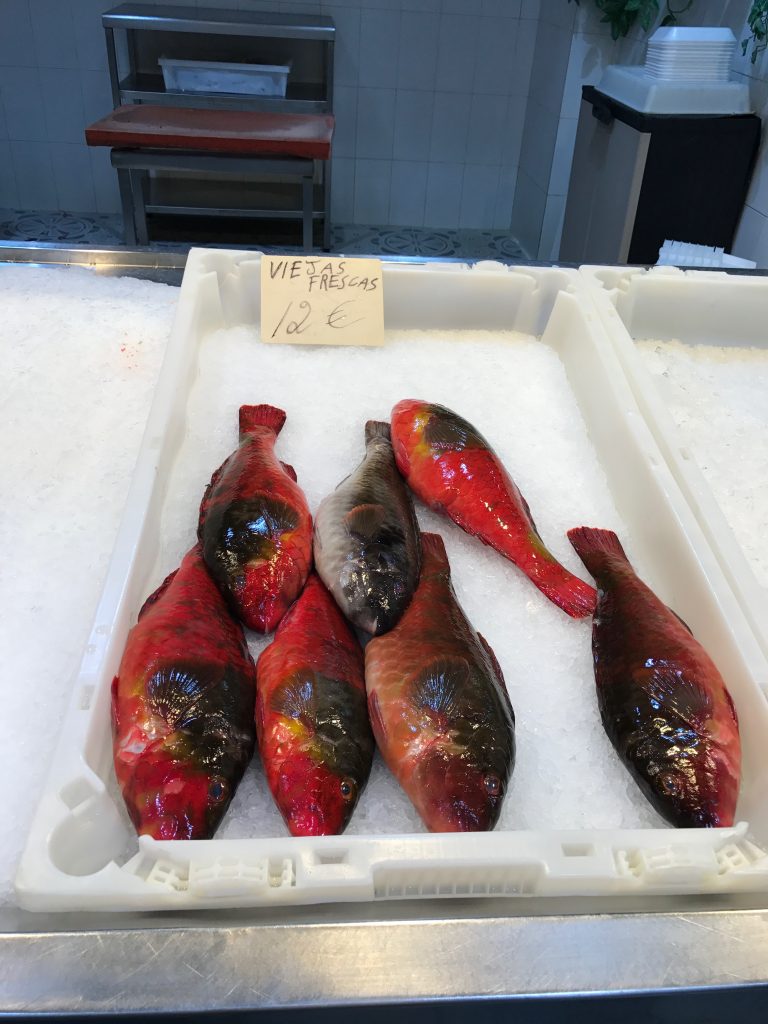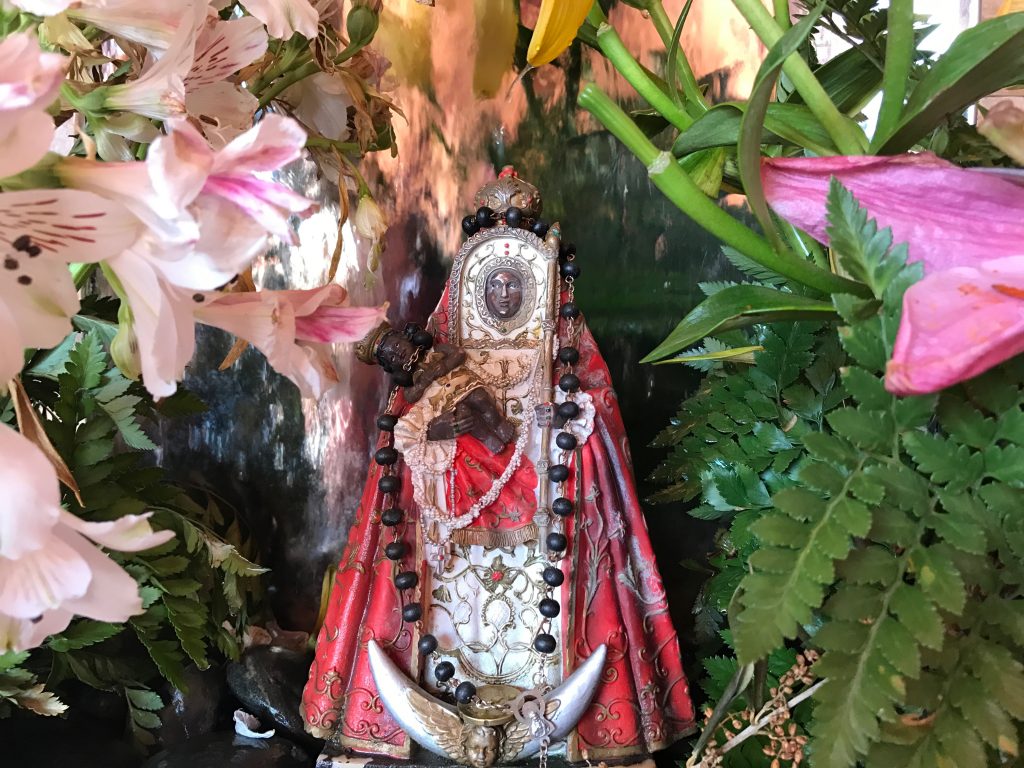 We also strolled through the lush Parque Municipal García Sanabria before enjoying an exquisite lunch featuring local seafood.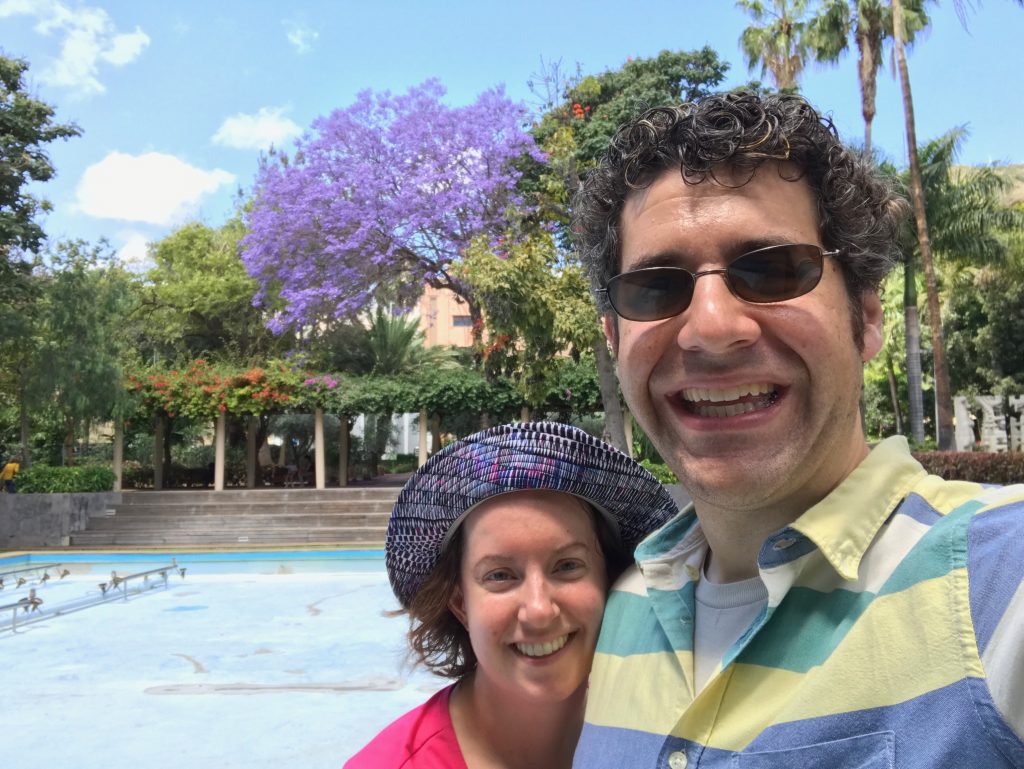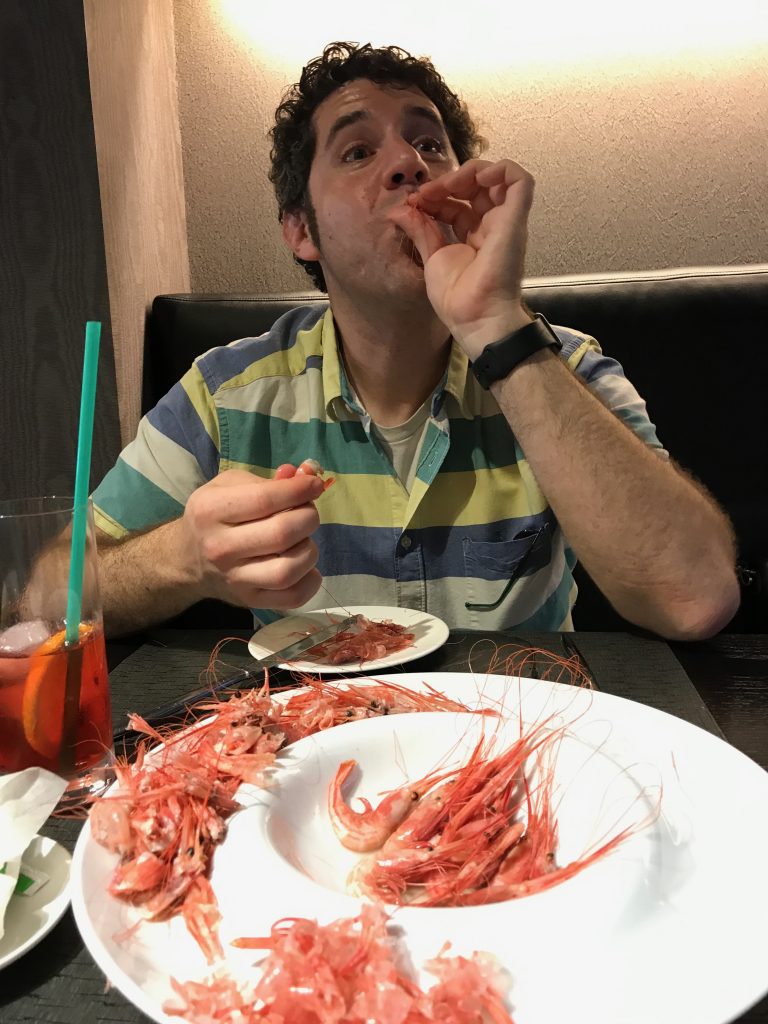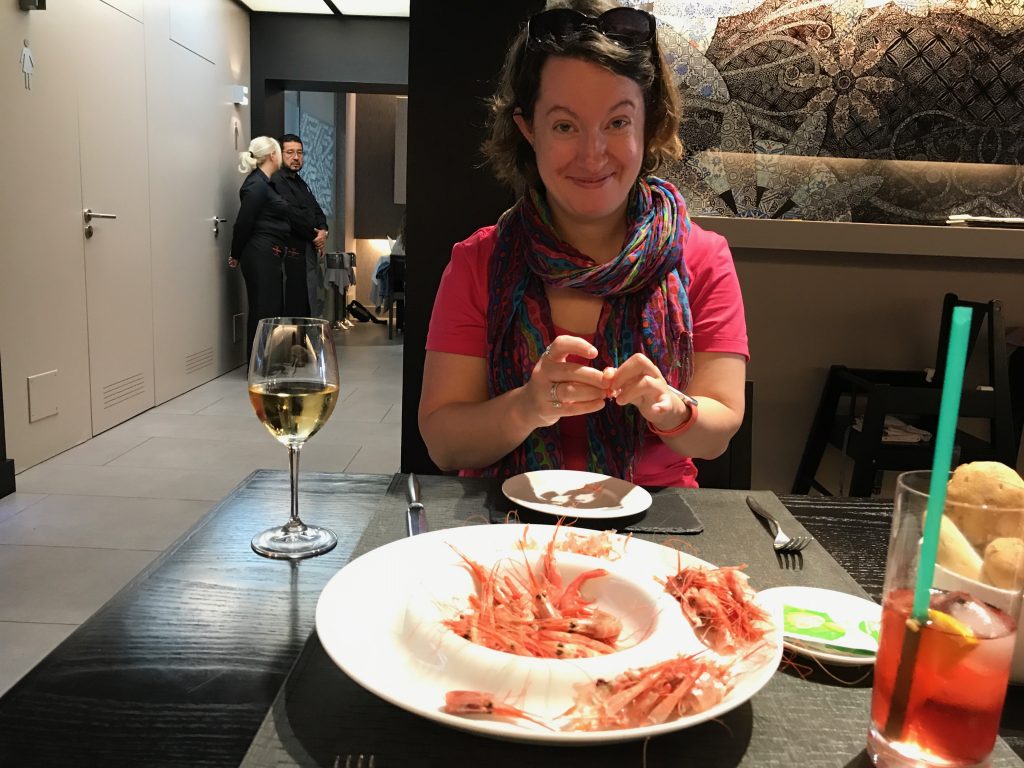 Ruh-roh… all this wine at lunch made Dreamer meep again.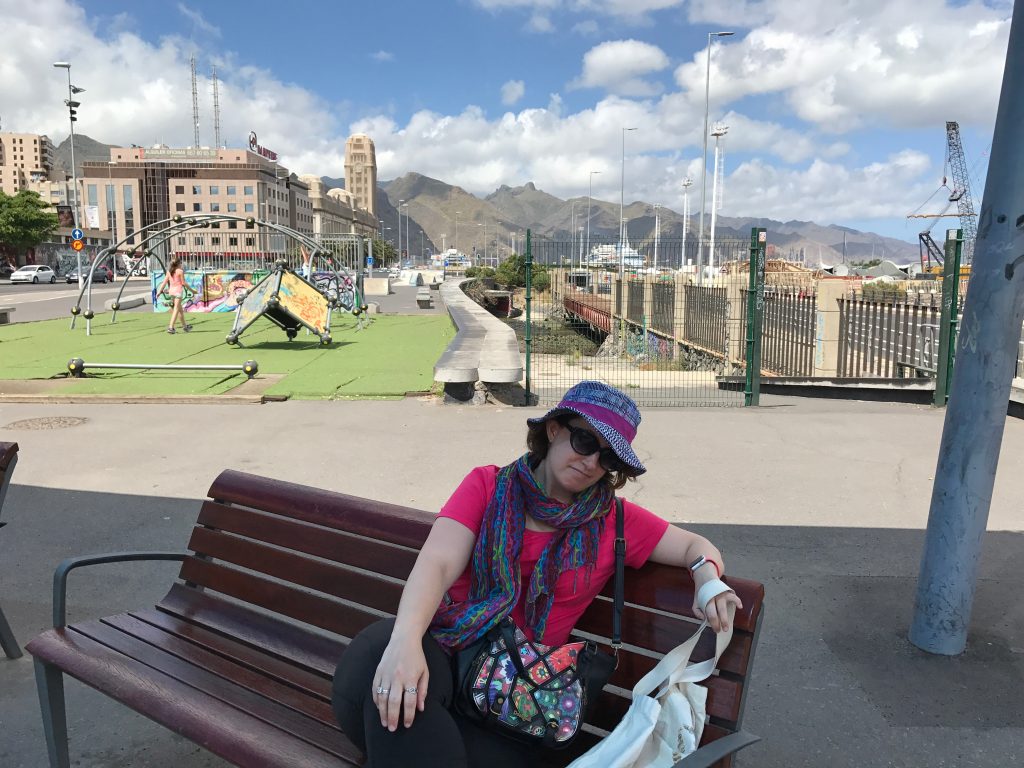 Doer convinced her to pull through and enjoy the Plaza España.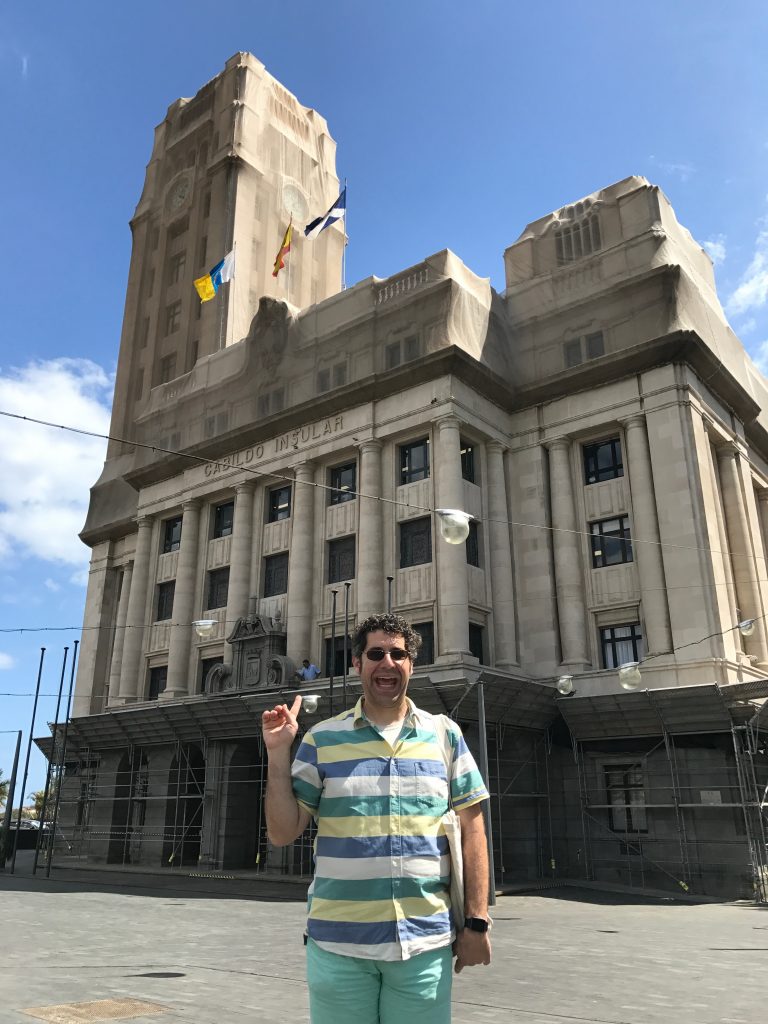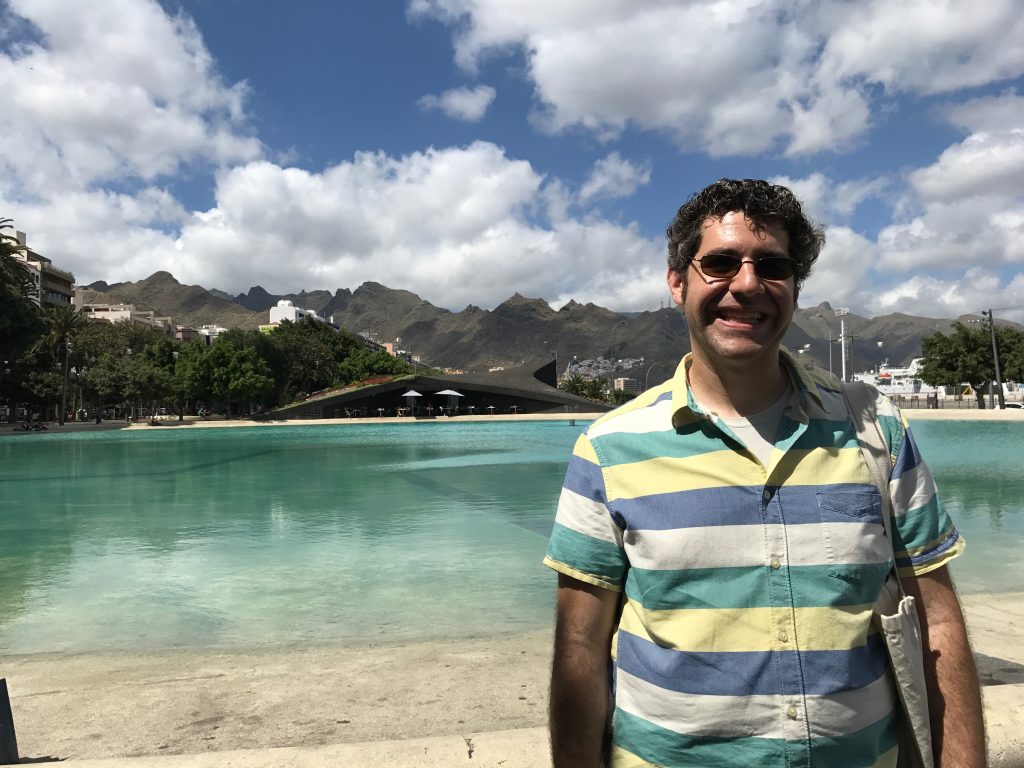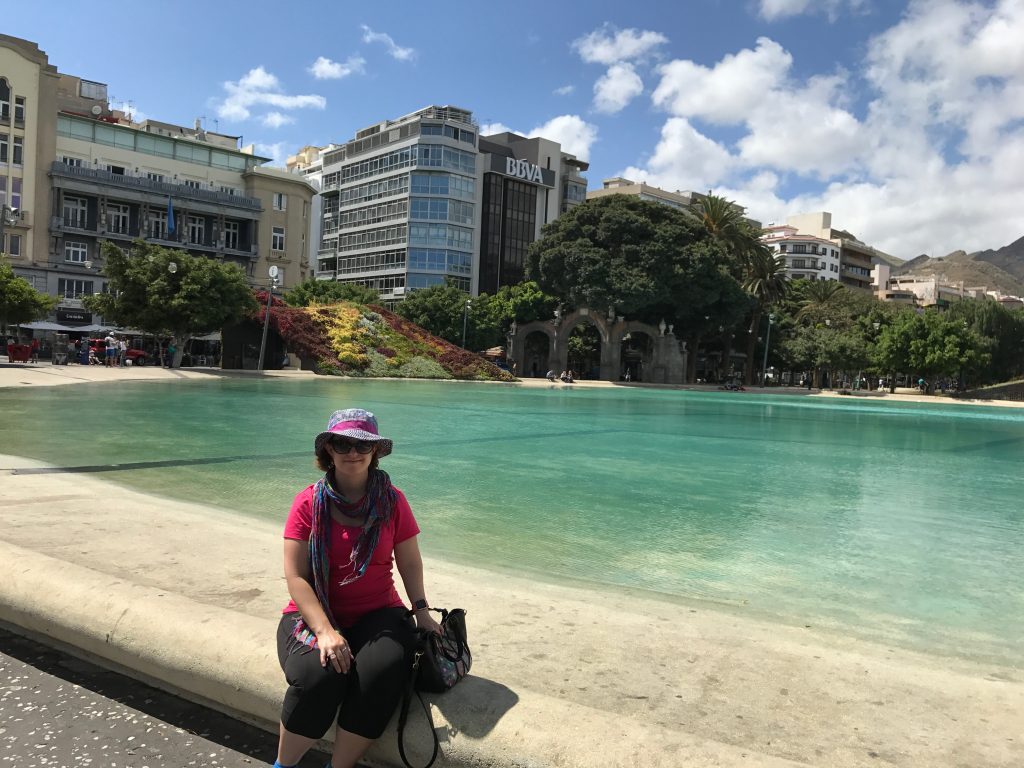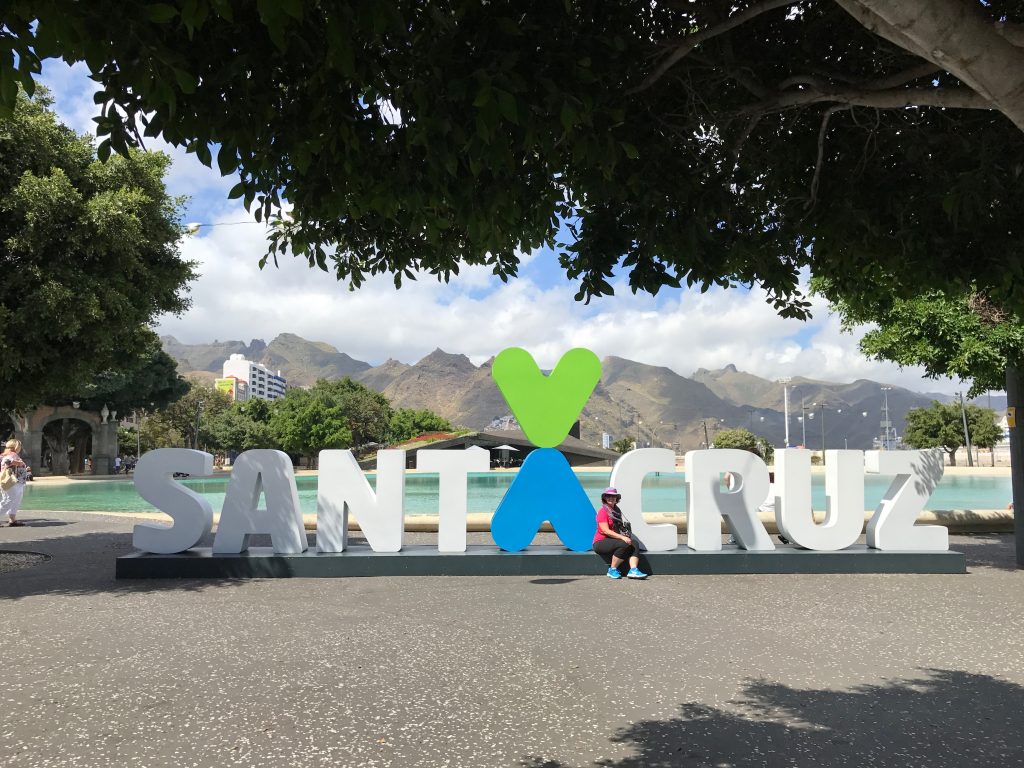 Dreamer forced Doer to pose for the below photo. It's the only thing that would pull her out of The Meeps, you see.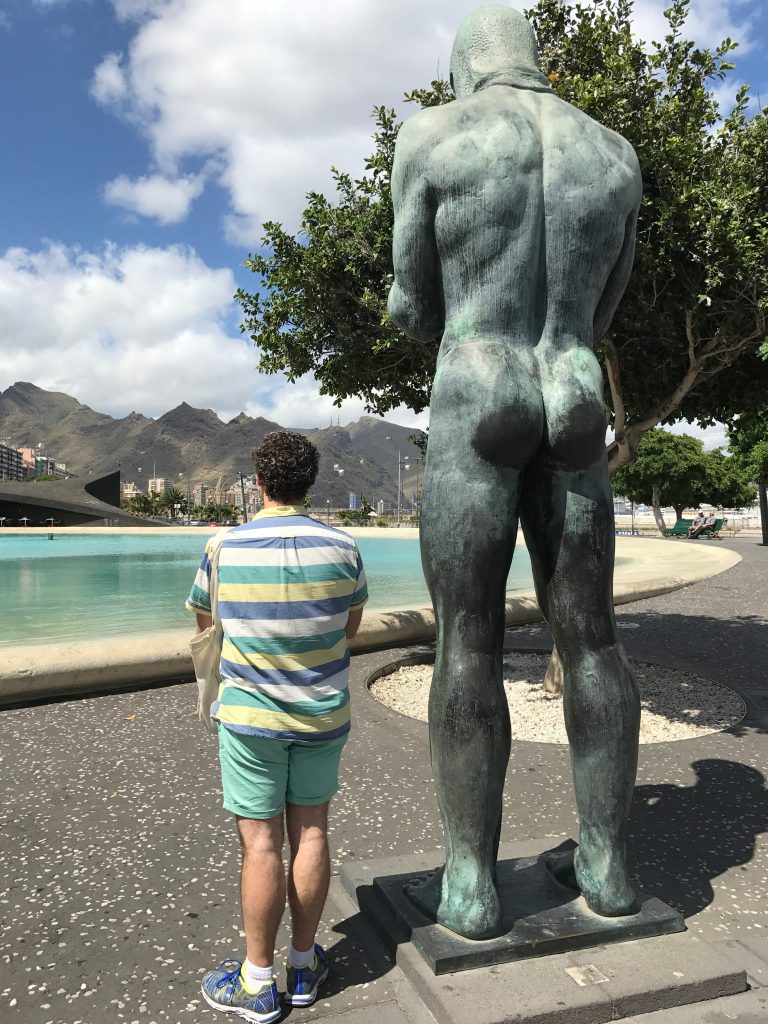 It was at this point that we also keyed in to what the island-wide bus service was called.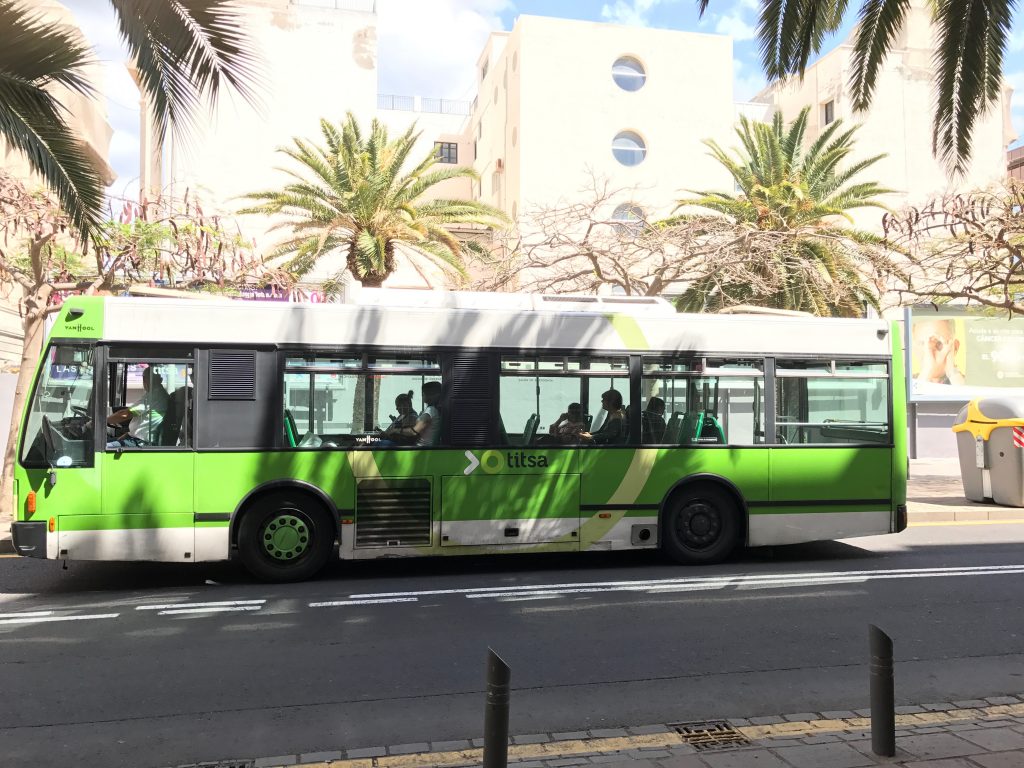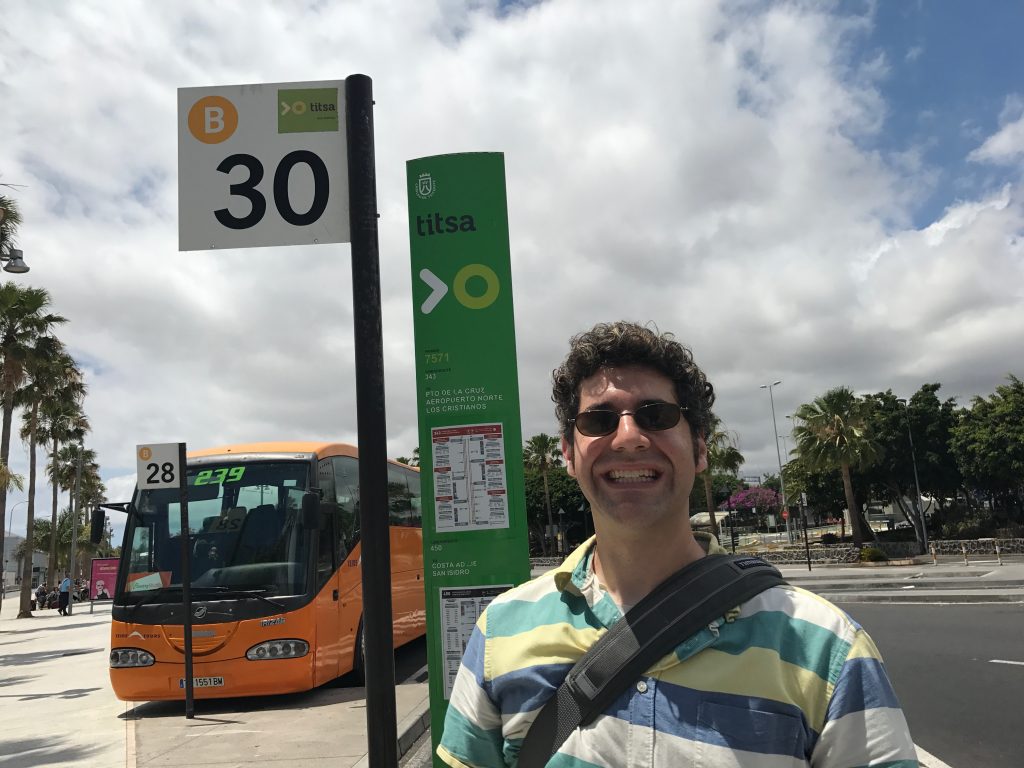 Doer thought this tractor tread being displayed as art near the central market reminded him of home, where it would not be art.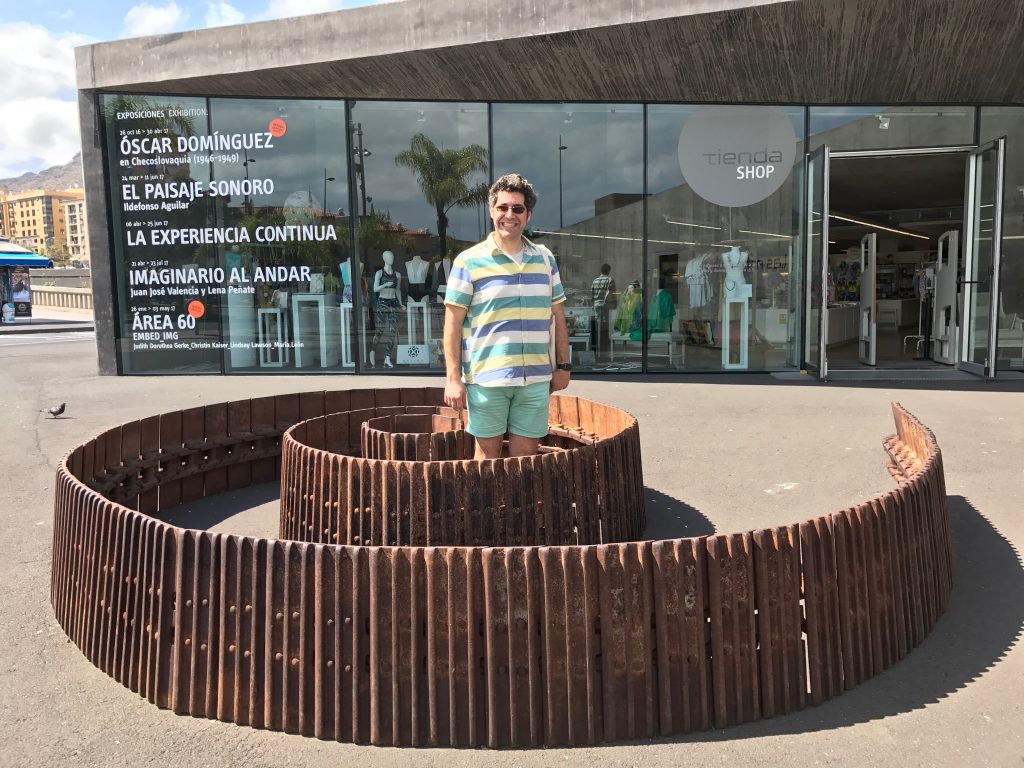 Later, the Dynamic Duo relaxed on the beach, with Doer joining Dreamer for a prolonged period of time! Although he makes a mean piña colada for his wife, Doer has more . . . specific tastes in liquid refreshment.
They are waging an advertising campaign right now because old people are the only ones left in Spain who drink it… besides Doer, of course. #MeGustaBitterKas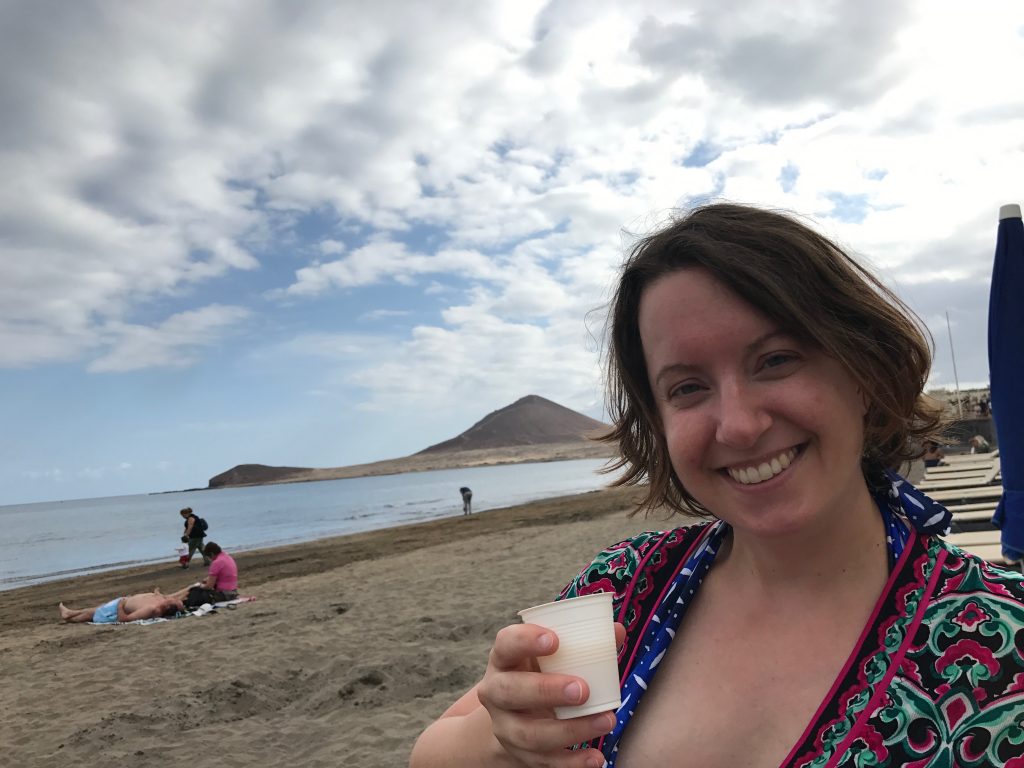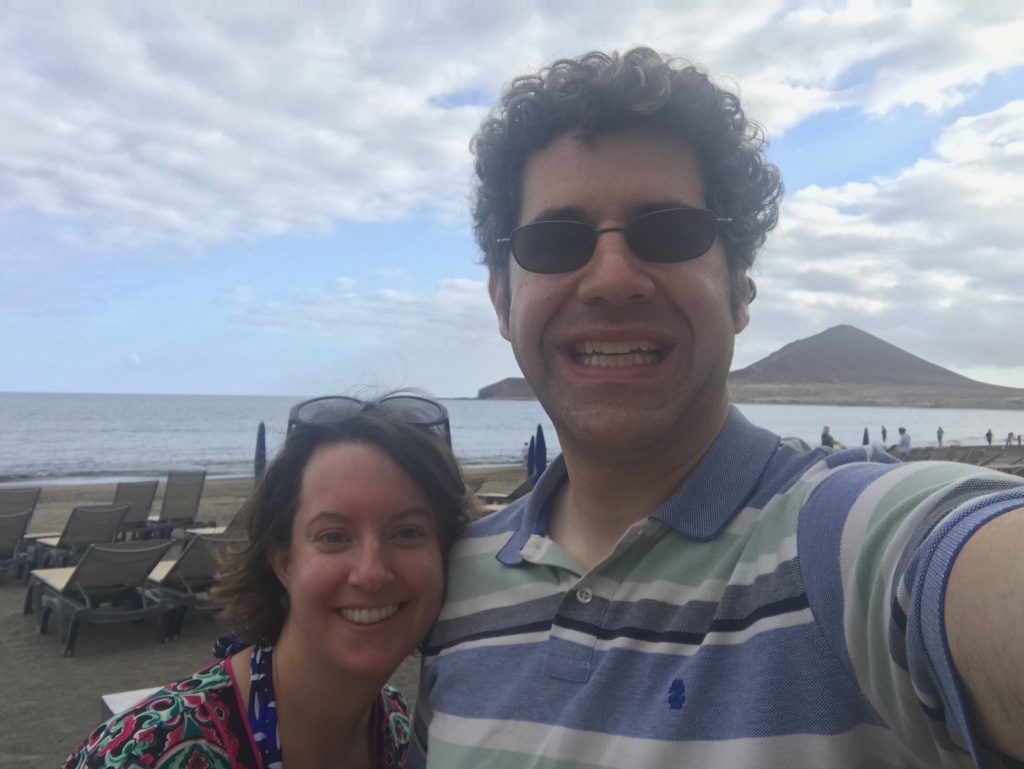 The next day, we ventured west and north – into the mountains. But not without a nutritious English breakfast first.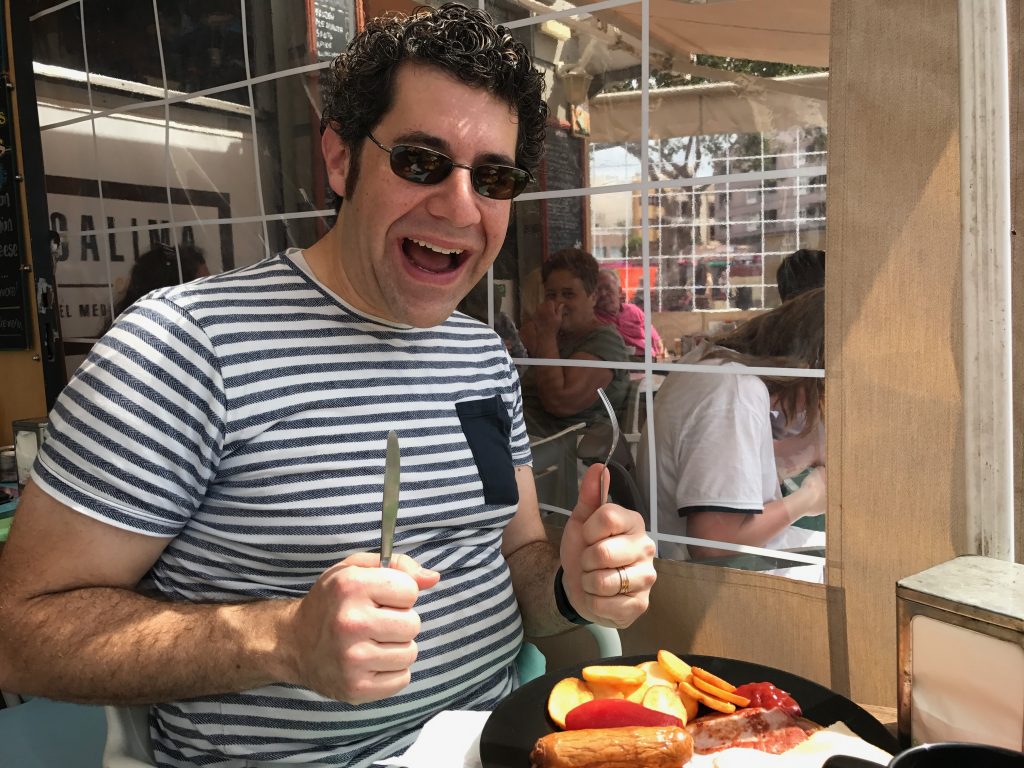 Before driving into the mountains in search of lunch, we stopped to admire the Acantilados de Los Gigantes, the Cliffs of the Giants.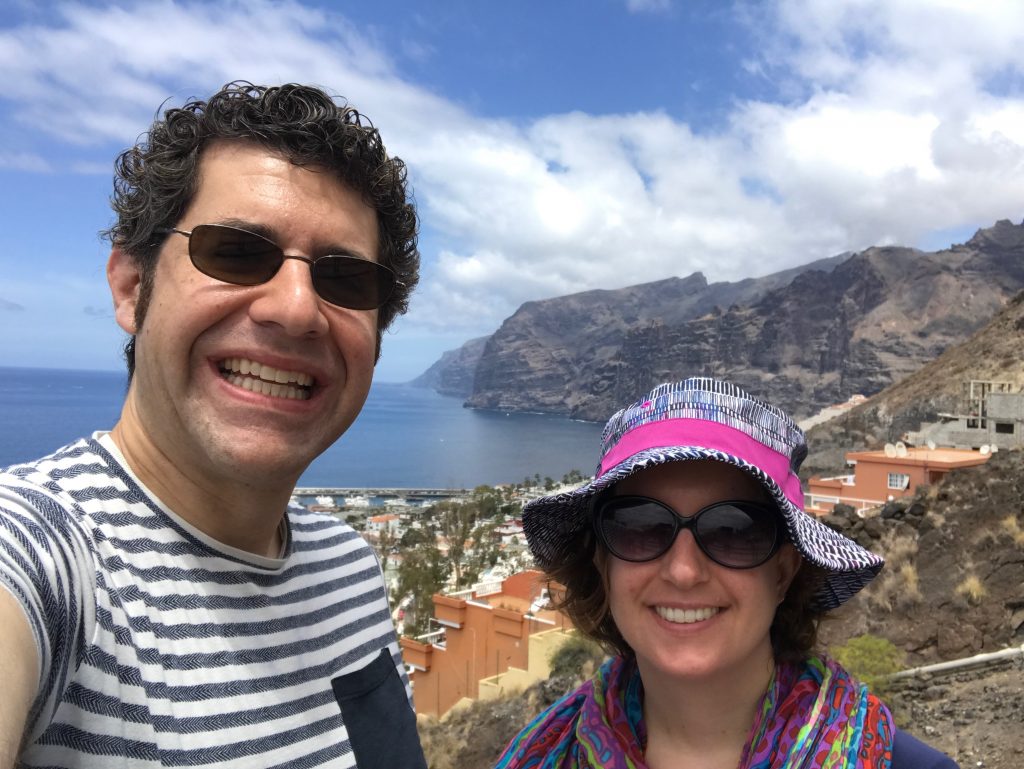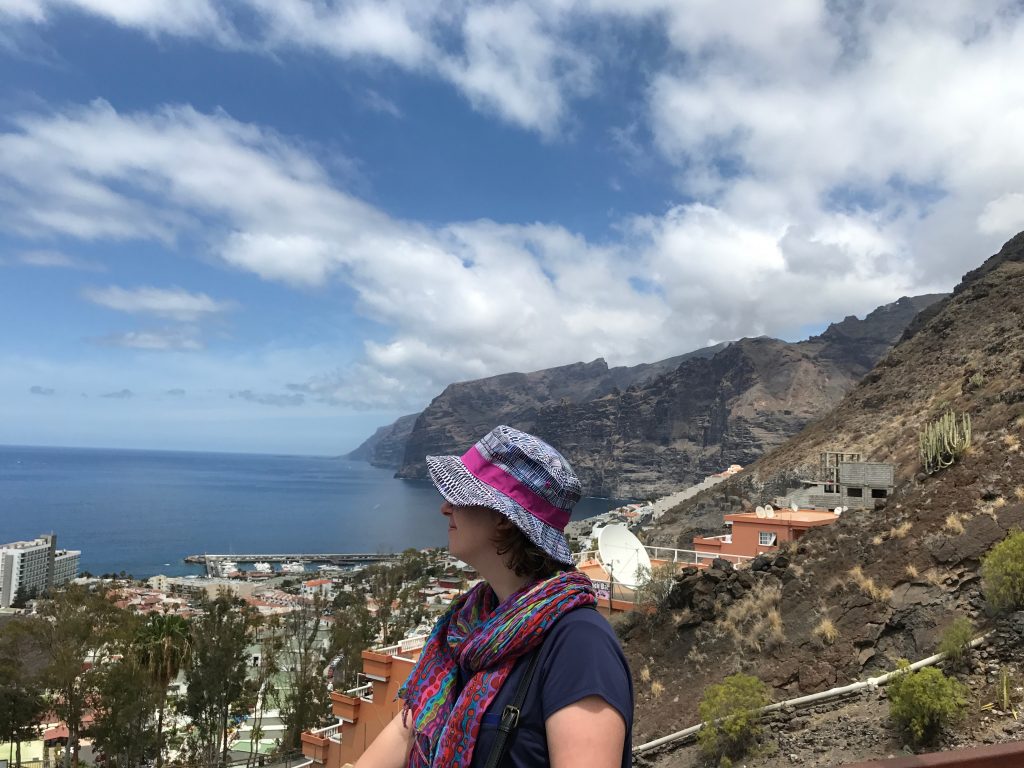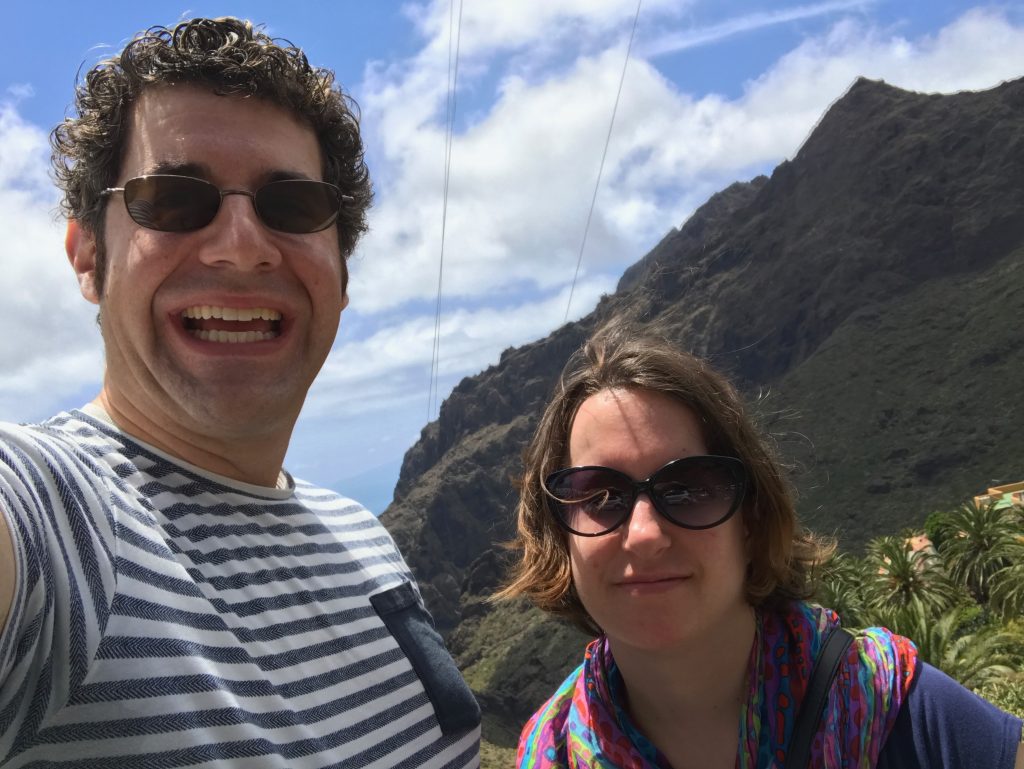 An hour driving on curvy mountain roads later, we finally reached the tiny village of Masca, where we began the downhill hike to El Guanche Alte Schule. A guanche or guanchinche is a kind of local unlicensed pop up restaurant hidden away on someone's private property, and alte schule is German for, "old school."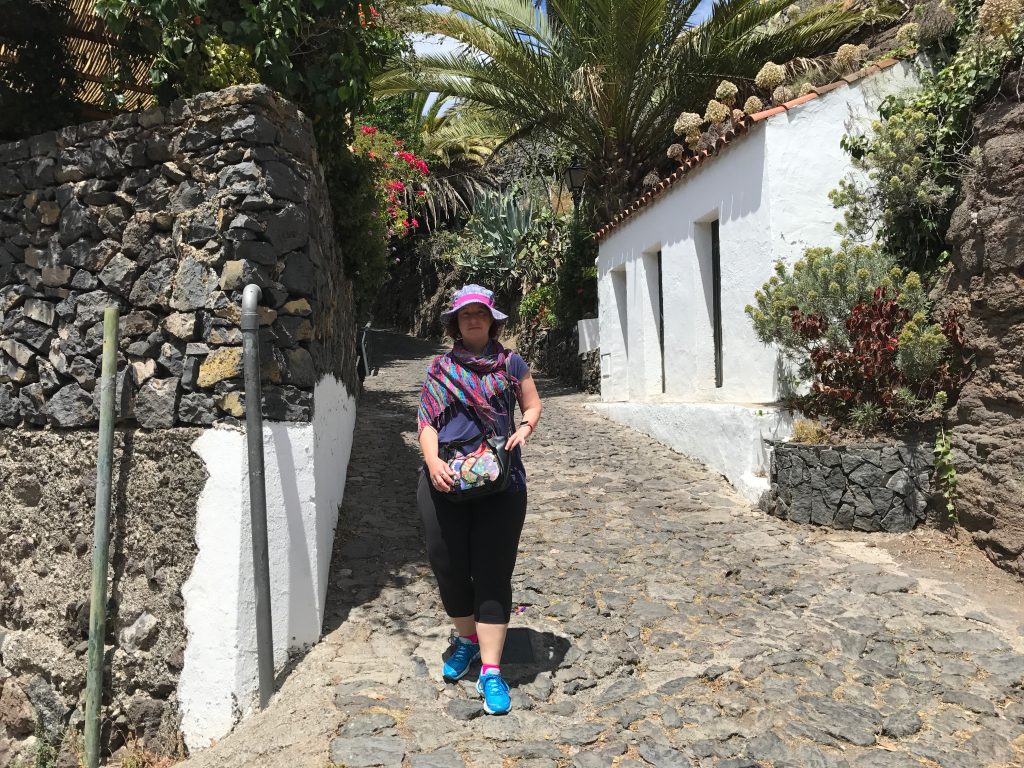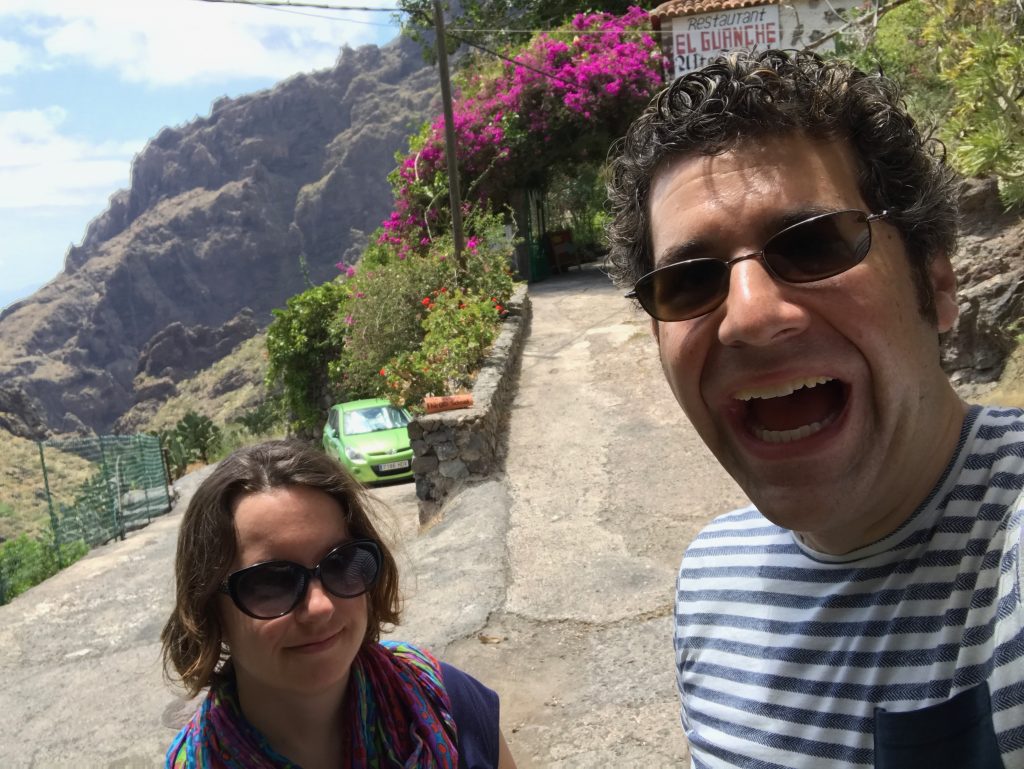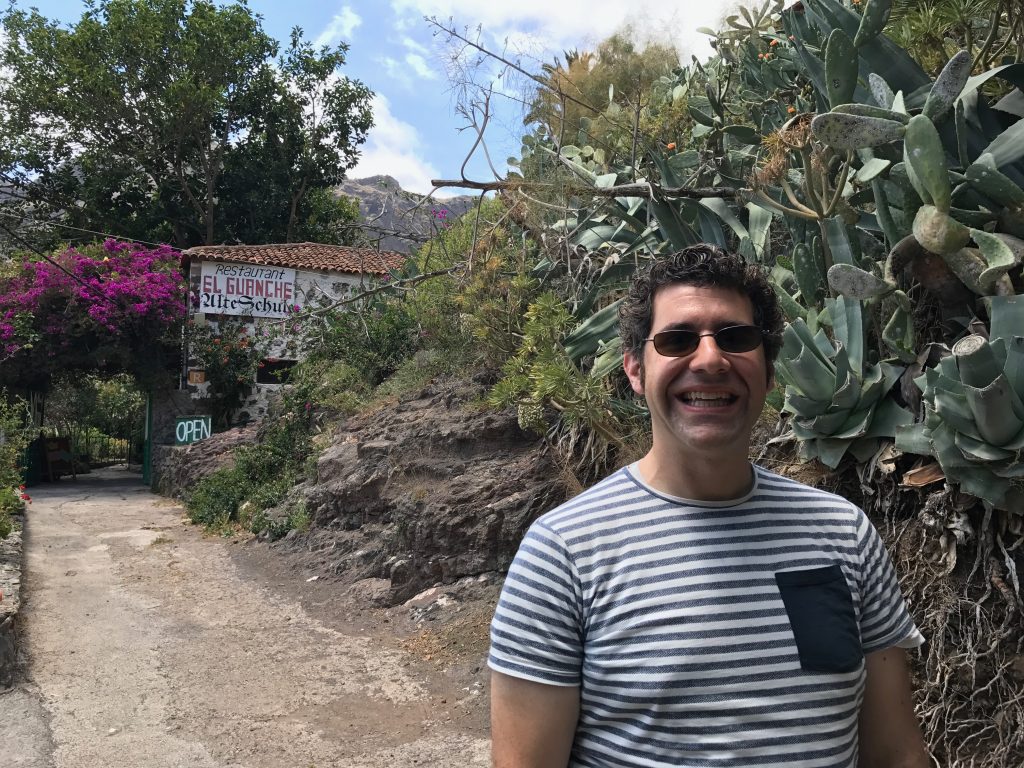 Dreamer quickly warmed to the place, though, as we found our table offered some stunning vistas.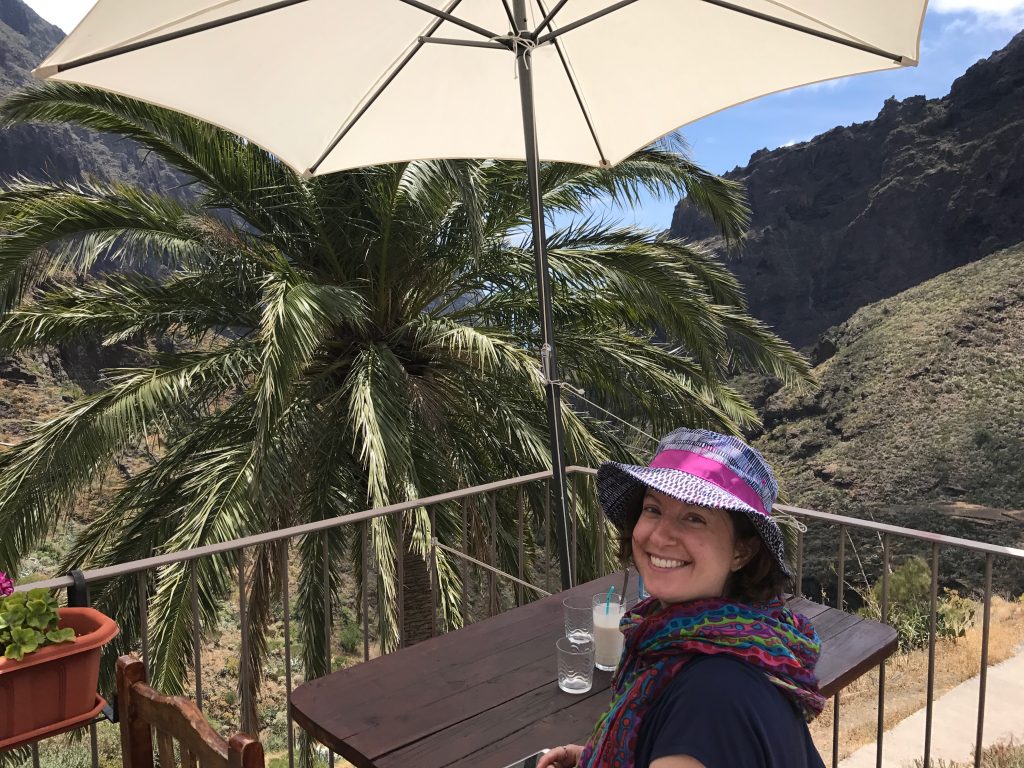 A trip to the bathrooms was in order to wash our hands before the meal.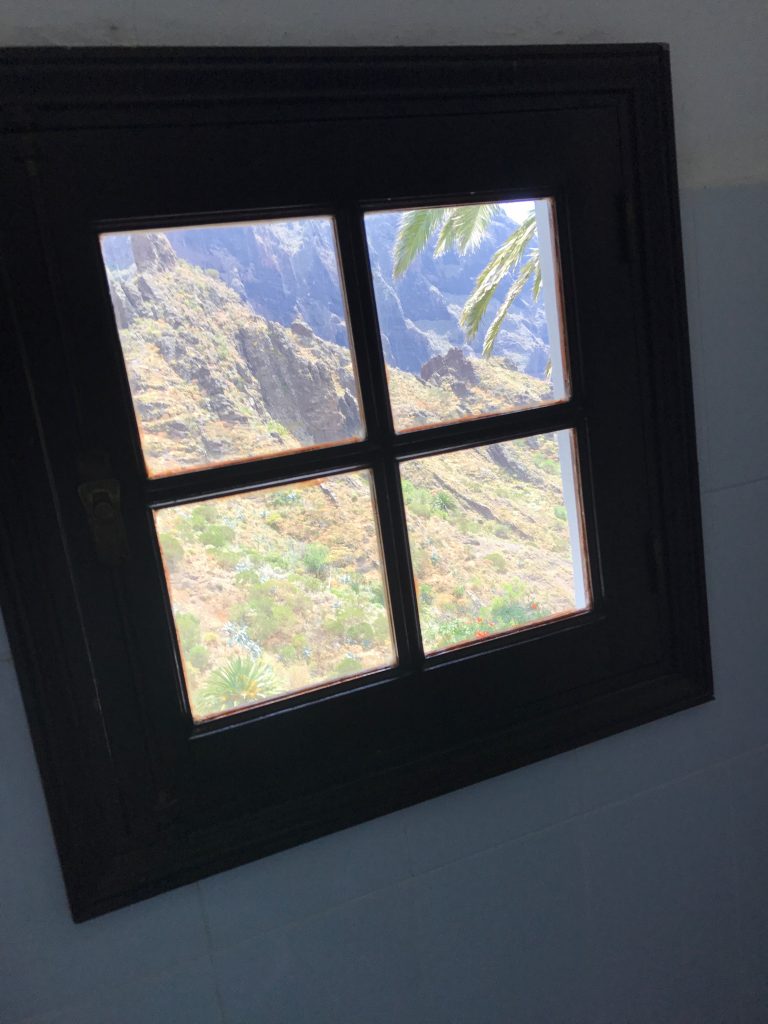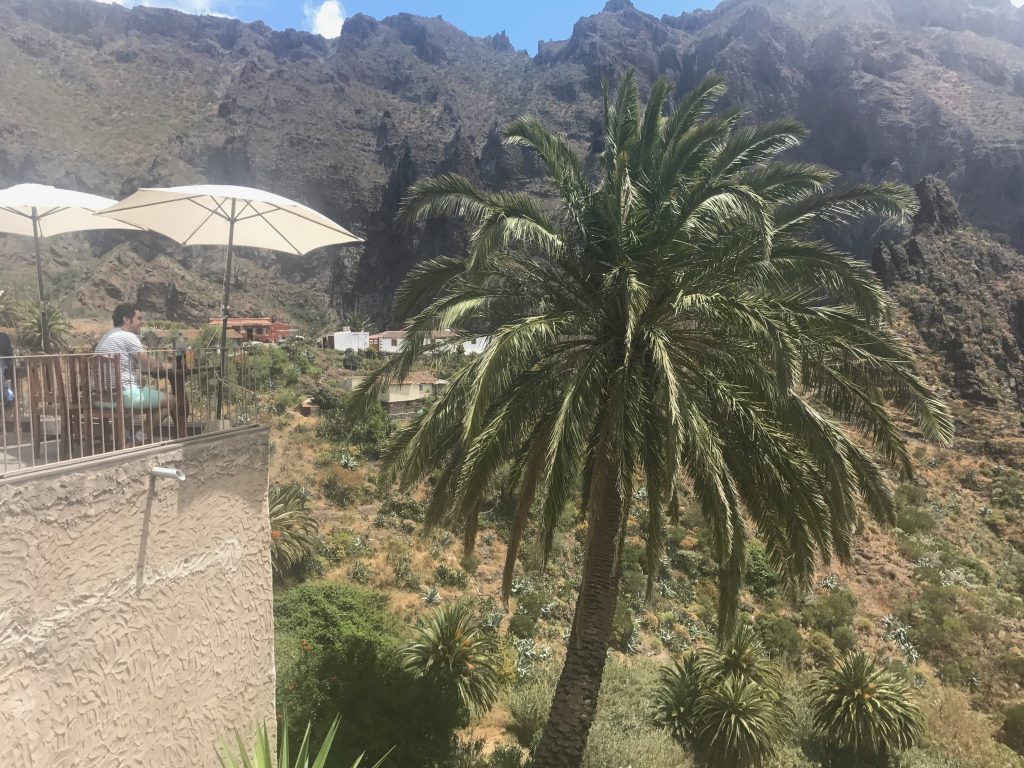 The food – a kind of German and island vegetarian hybrid – arrived and we enjoyed our lunch.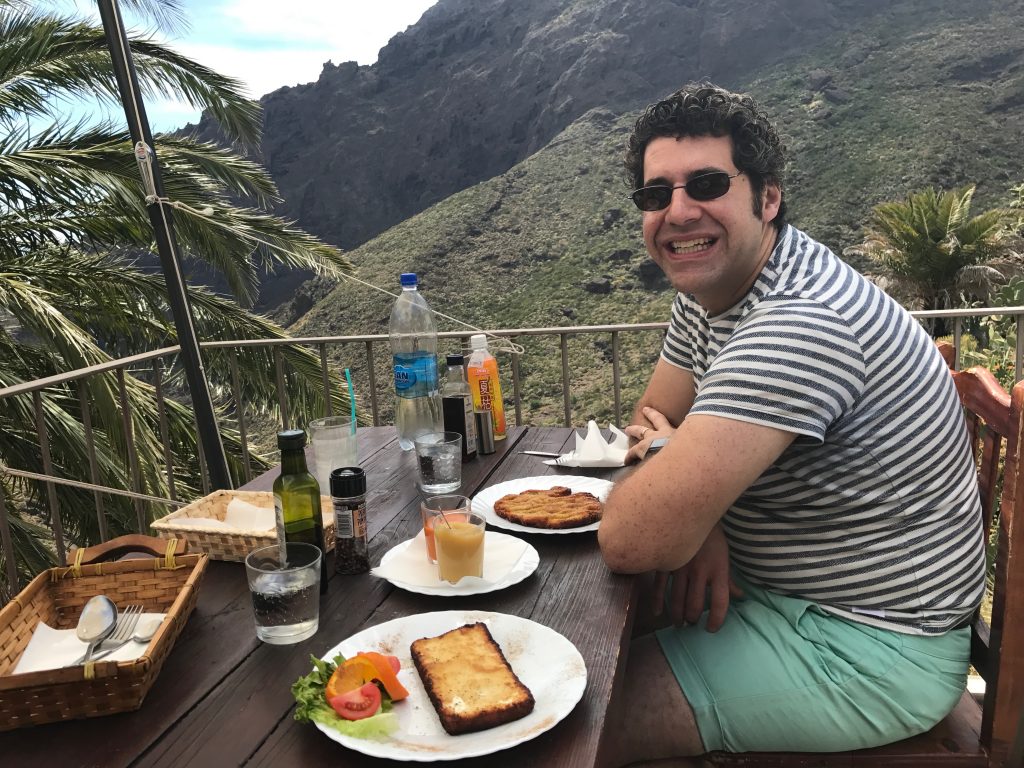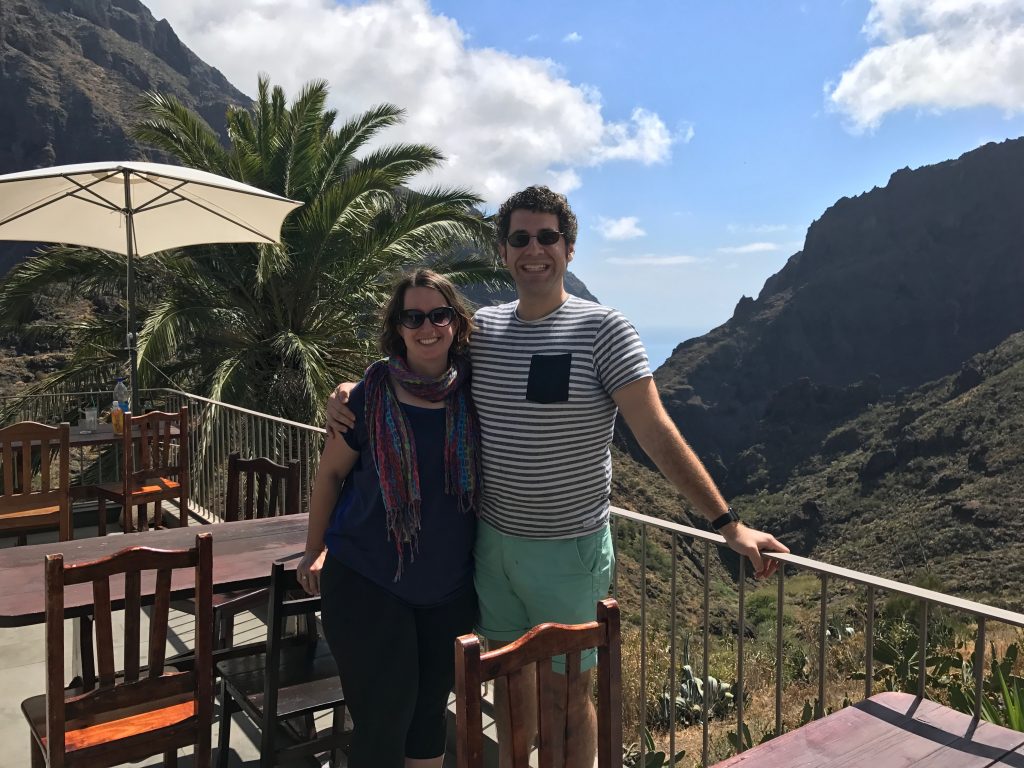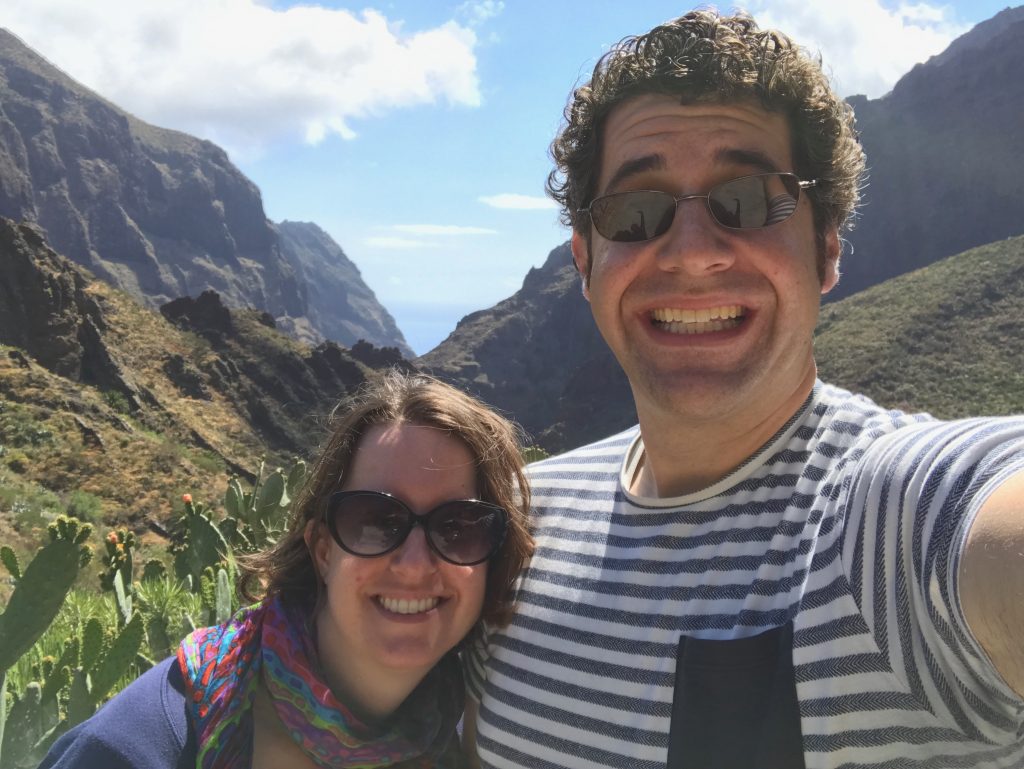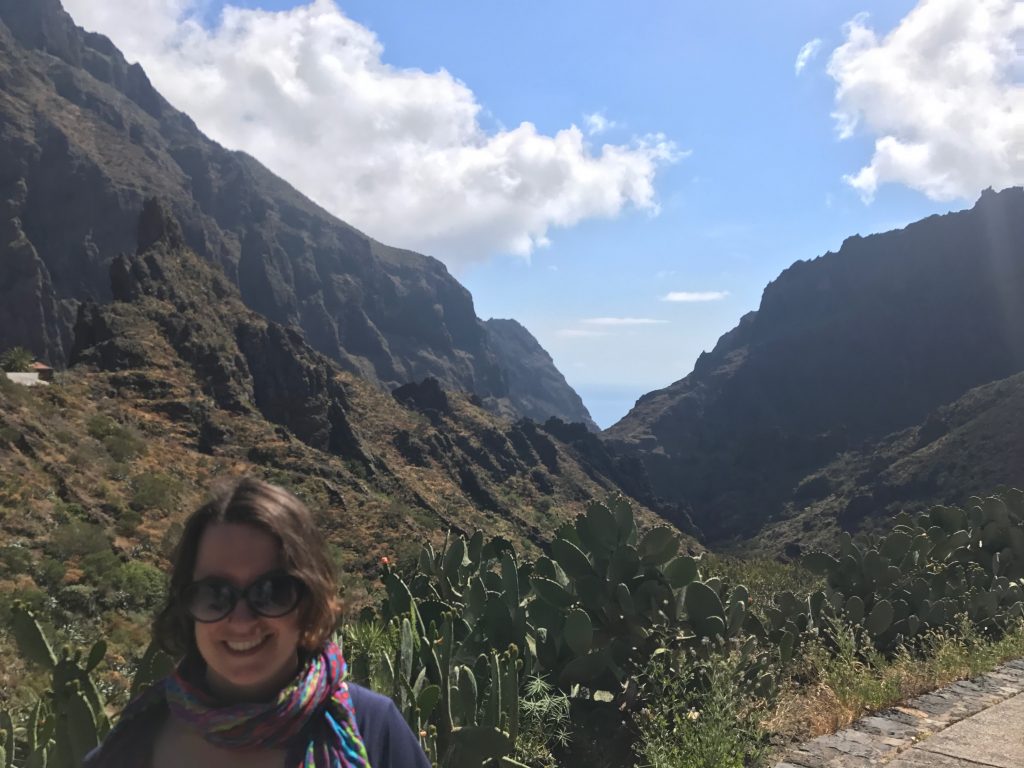 Now, to begin the hike back to our car…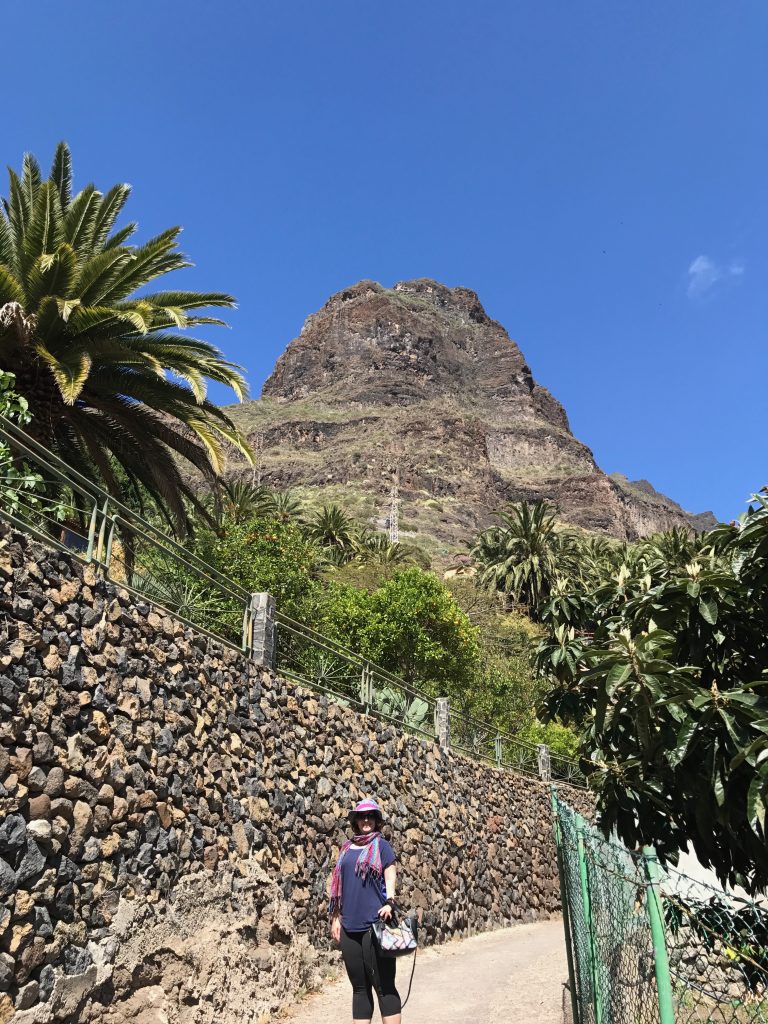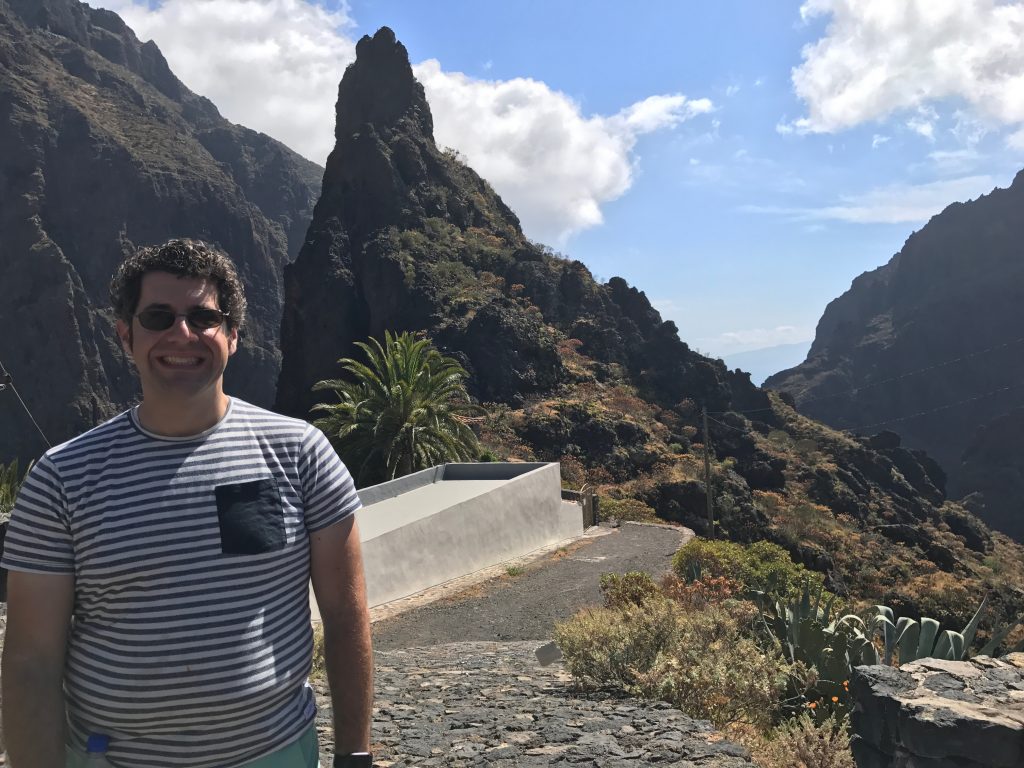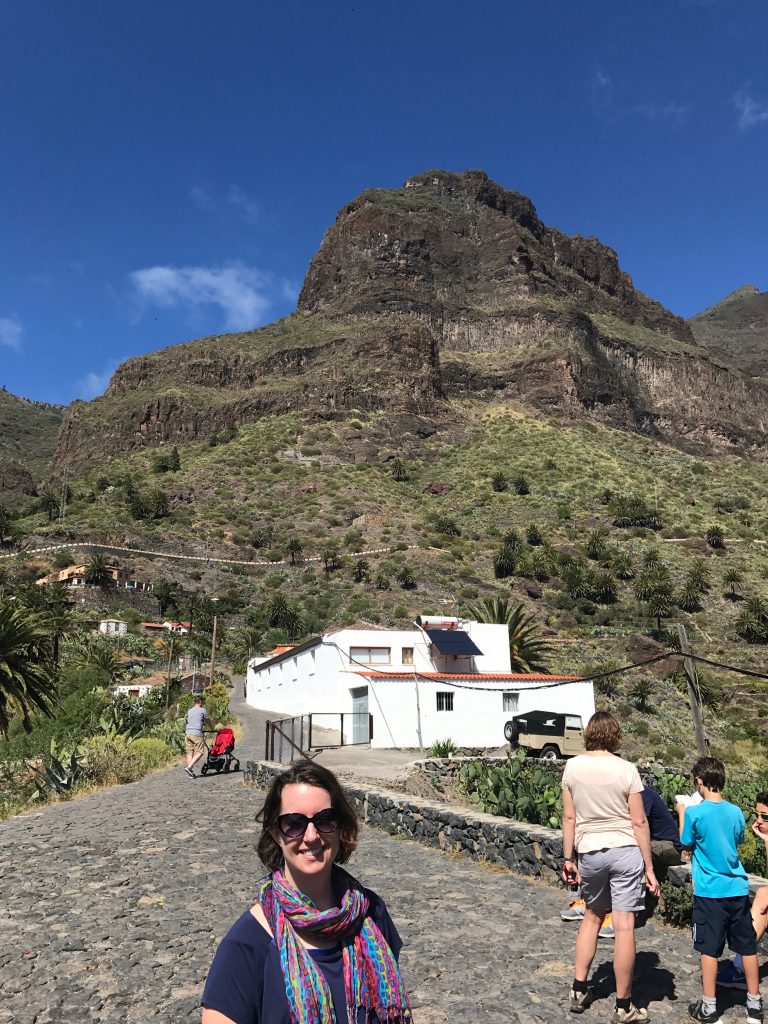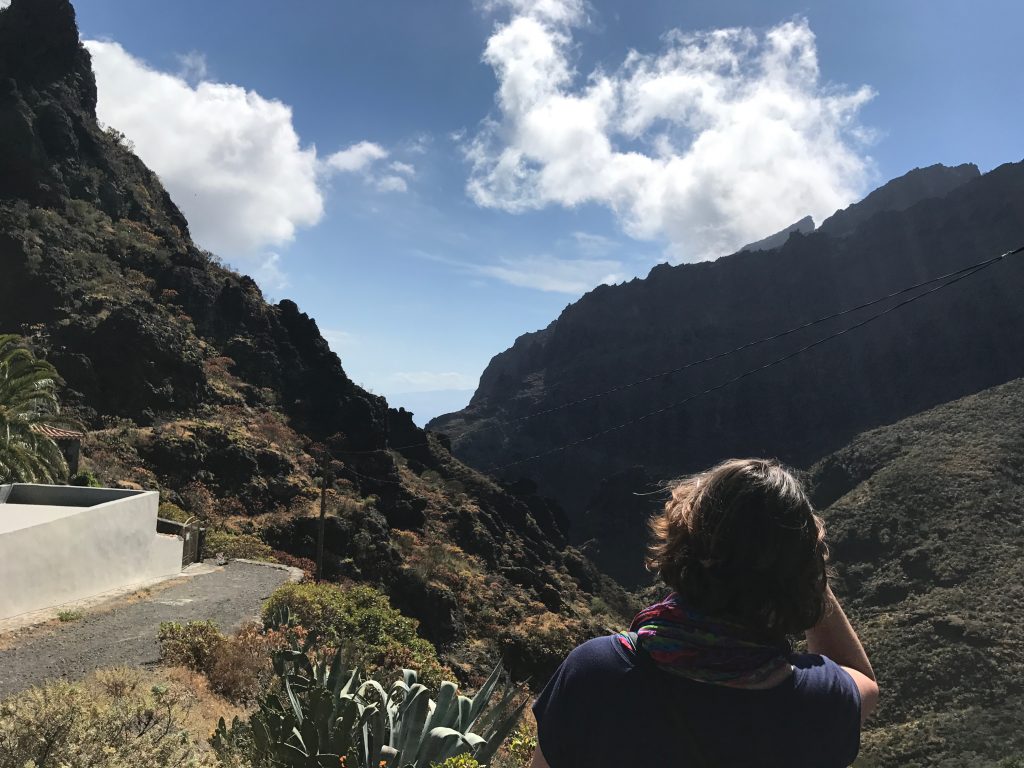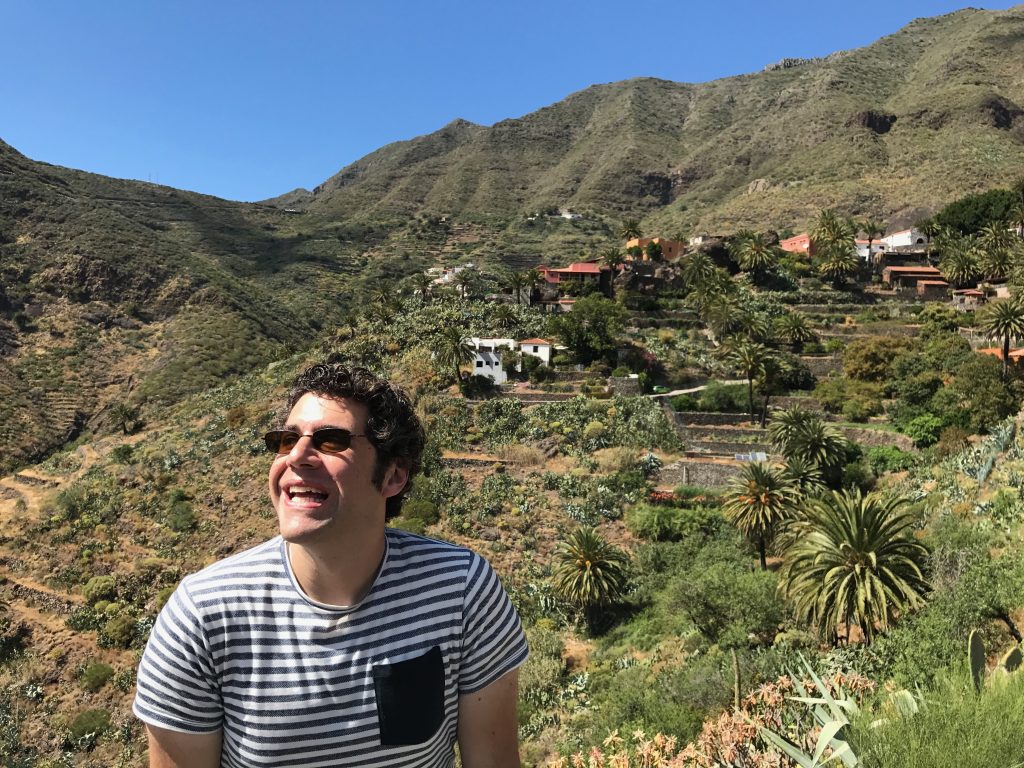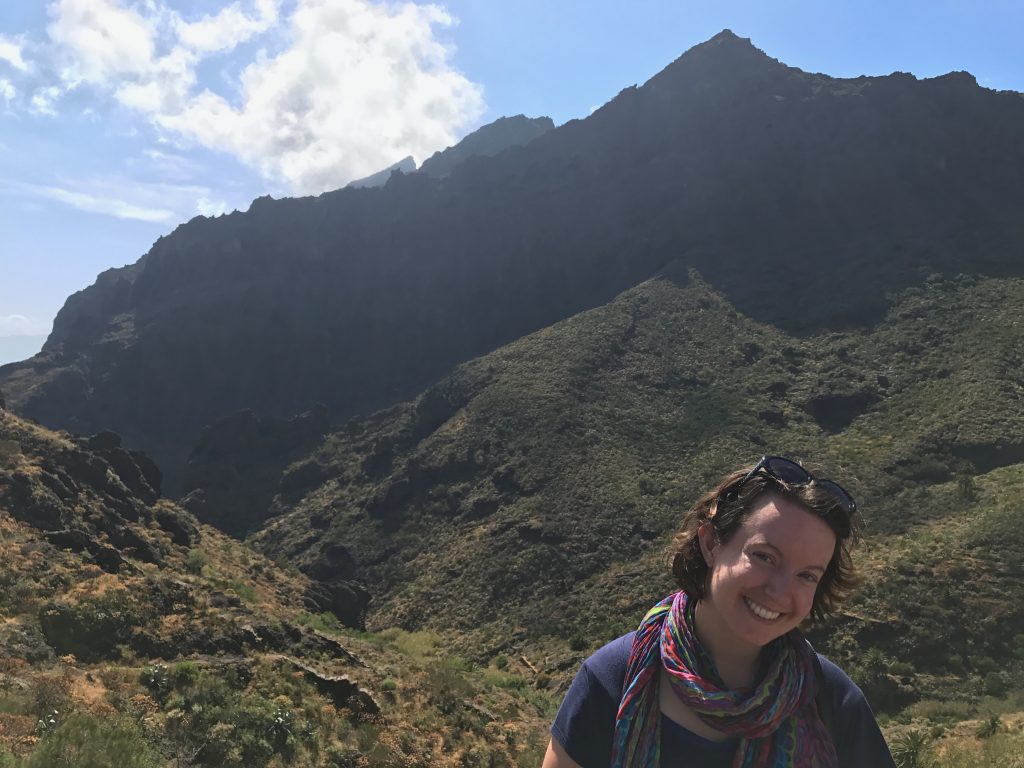 We stopped midway on the way back to take a photo of what we had driven through for memory's sake. It's basically a 1 1/2-lane road.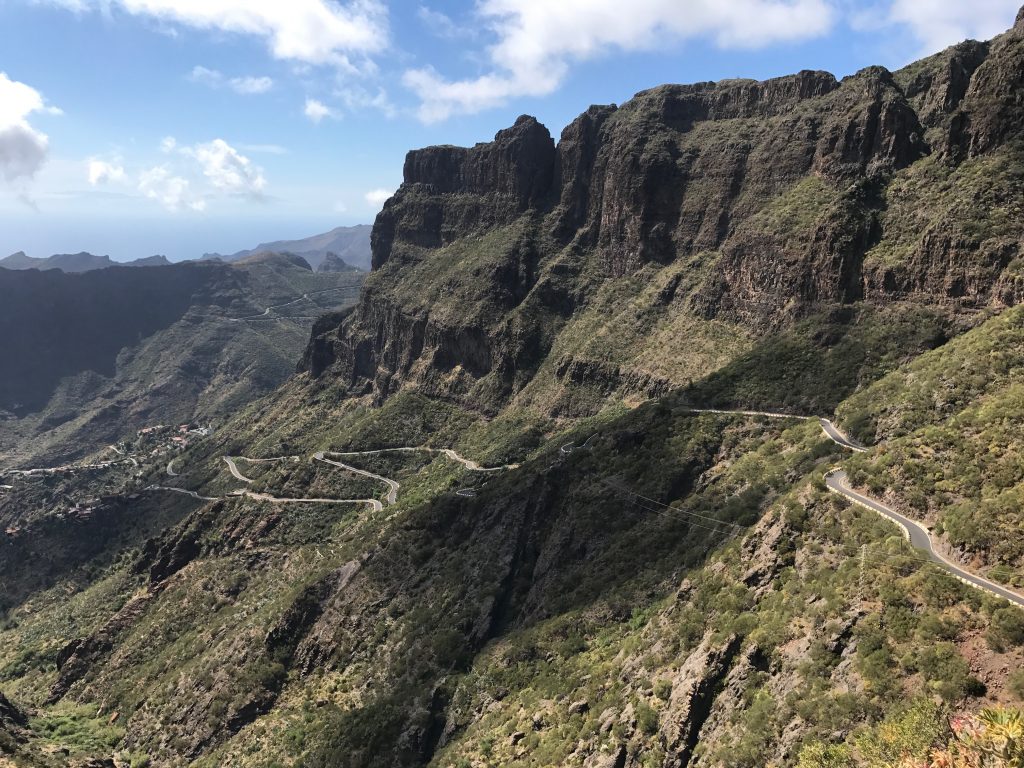 Another couple at the mirador was nice enough to take our picture.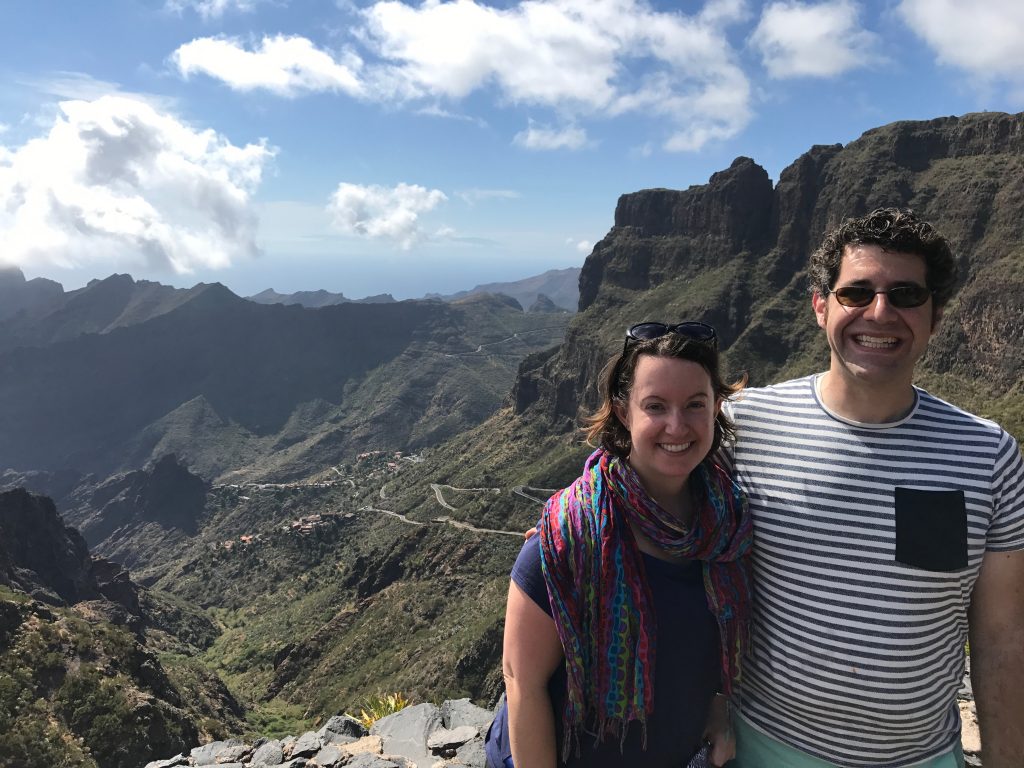 Dreamer clocked some serious beach time again – about seven hours! – on Sunday, with Doer joining her for some shorter stints. Sunday seems to be kitesurfing day on Médano Beach.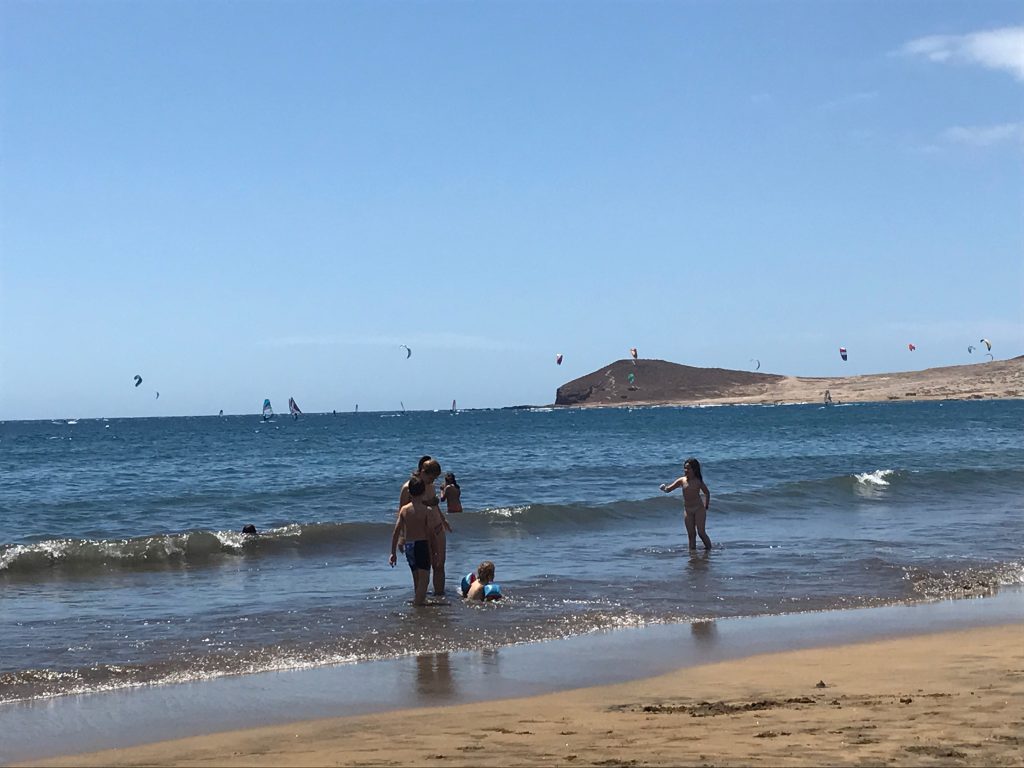 Doer just can't spend that many consecutive hours relaxing (Dreamer doesn't understand, but to each their own!), so he spent some time working on the apartment terrace, which at least had a view of the beach.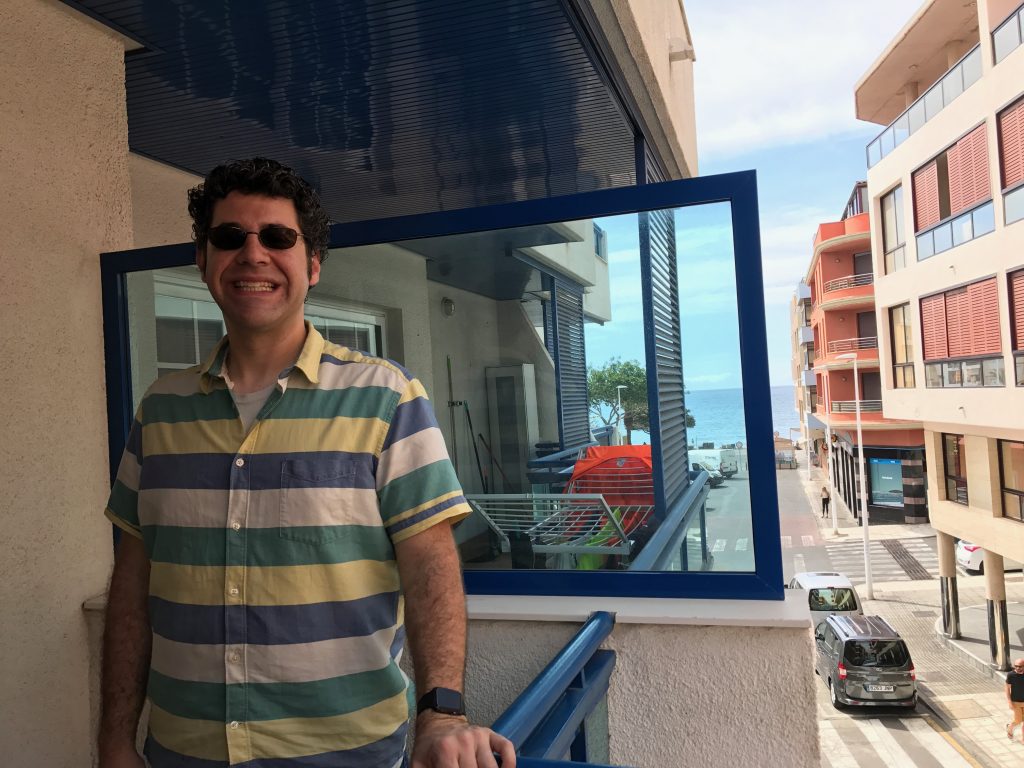 This guy got annoying, though.
Luckily, Sundays in Tenerife aren't as sleepy as they are in other parts of Spain, and Doer was able to escape to a fish market nearby. Along the way, he found this church in a cave right smack in the middle of two airport runways.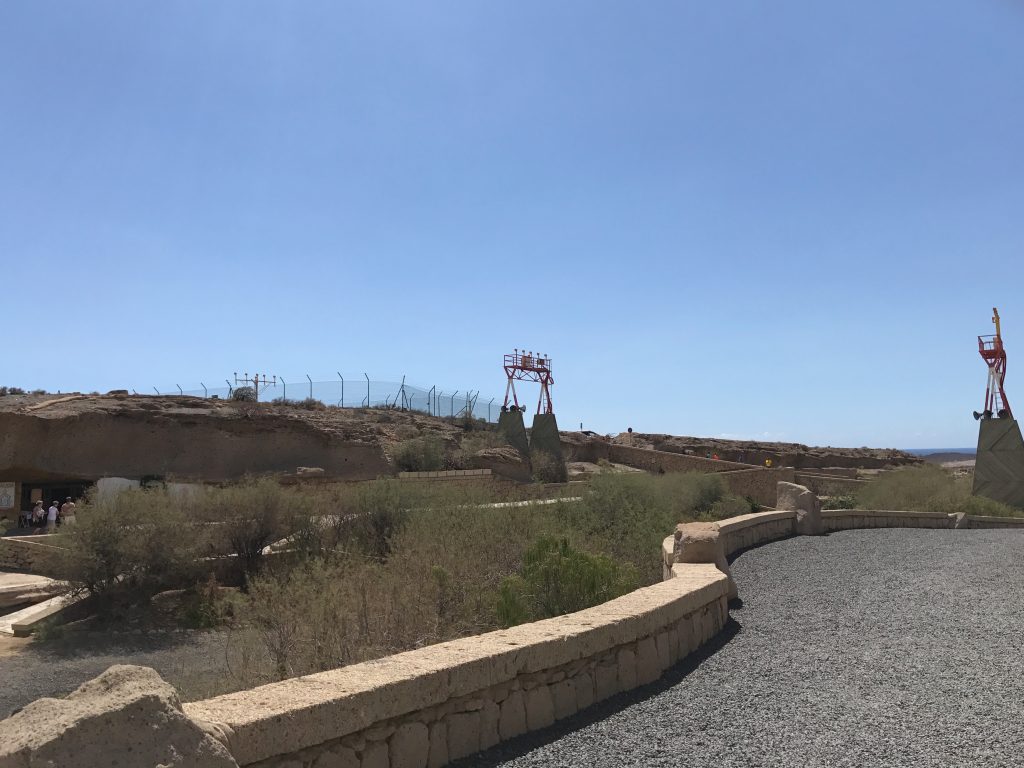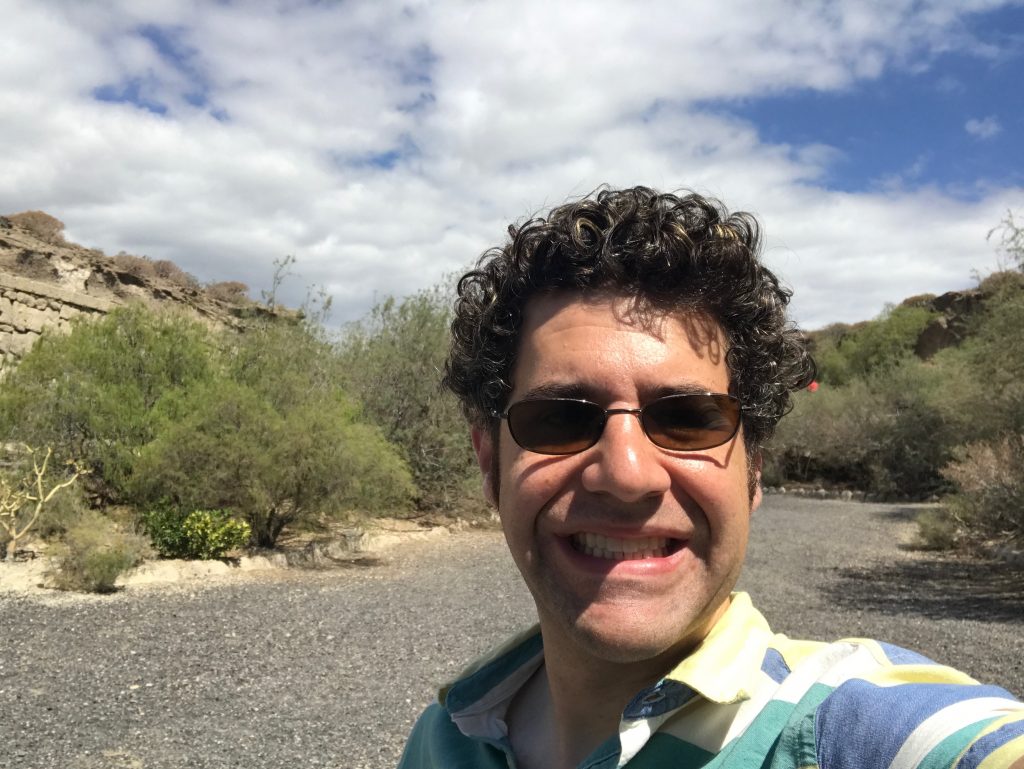 The Cave of Santo Hermano Pedro attracts over 300,000 pilgrims each year, retracing the namesake's footsteps and seeking renewal. But Doer just needs a Bitter Kas for that.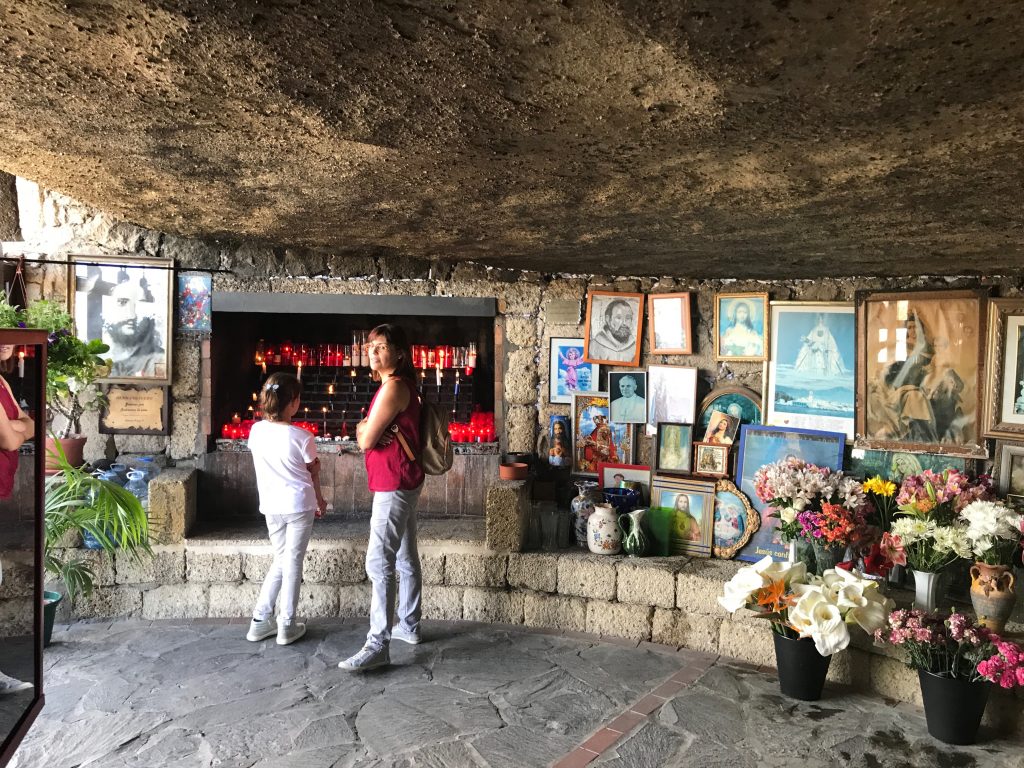 The fish market was great. Besides being open on Sunday, this was a collective effort by locals to give fisherman an outlet for their products and locals an easy way to buy prepared fish. Our little town of Burriana really needs to do this!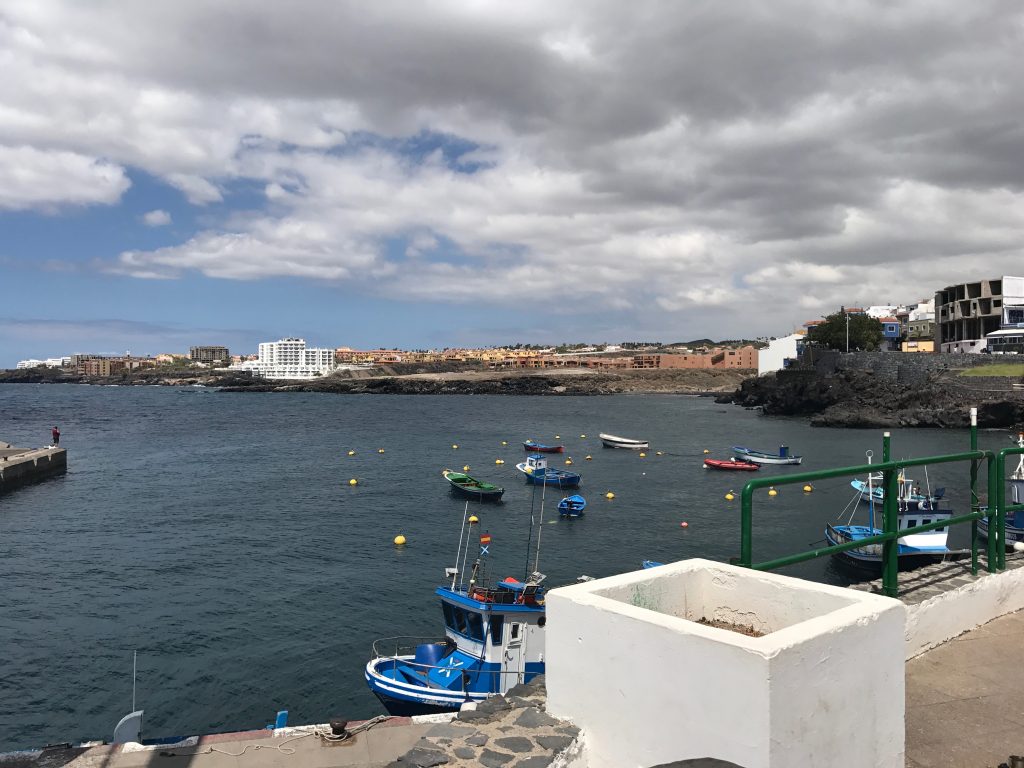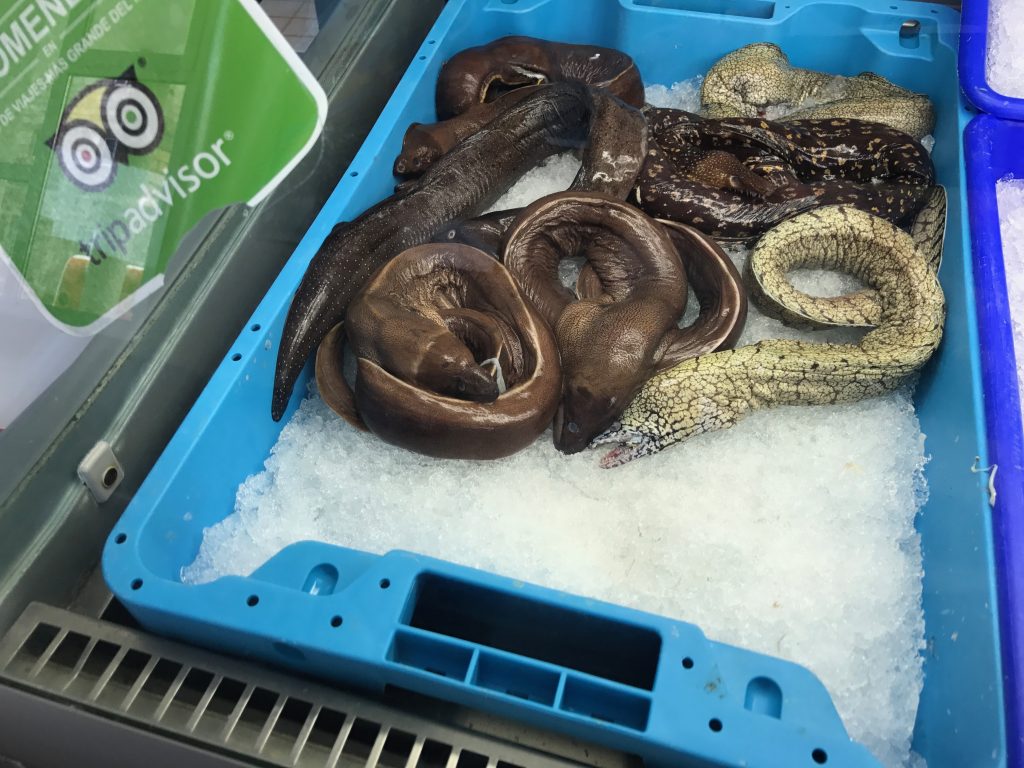 Remember that emphasis on "prepared" – this is not necessarily something you want to filet at home.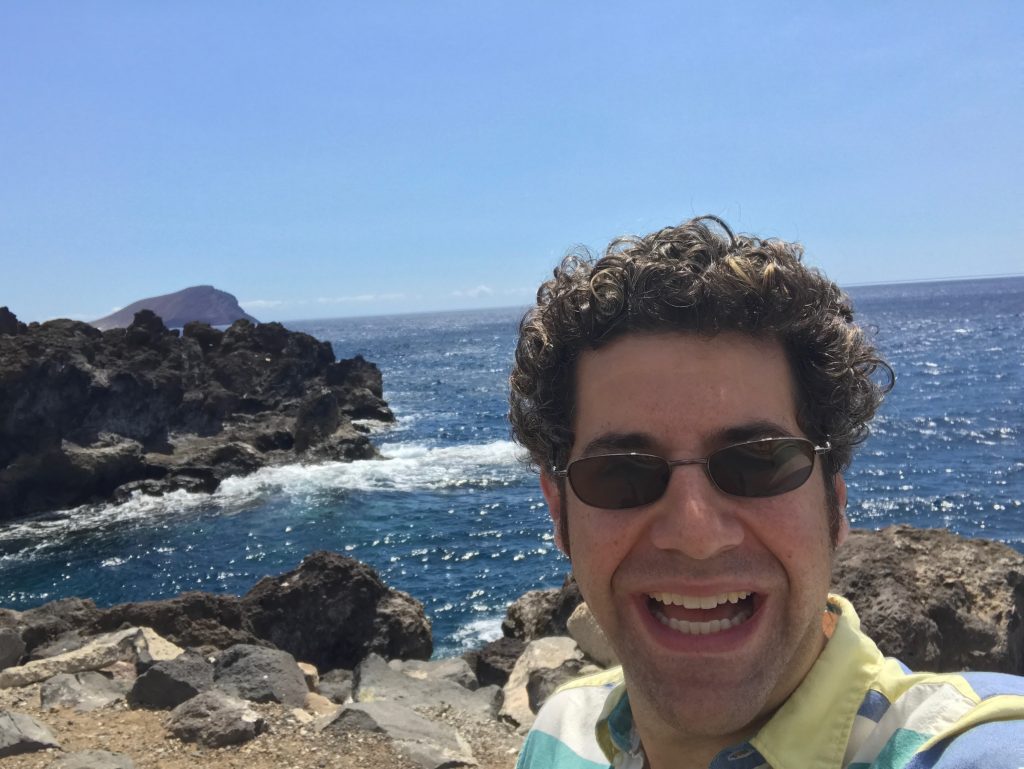 The view of Médano Beach on a Sunday from a few miles down the road was also worthy of a video.
On Monday, before we left, we visited a different black sand beach.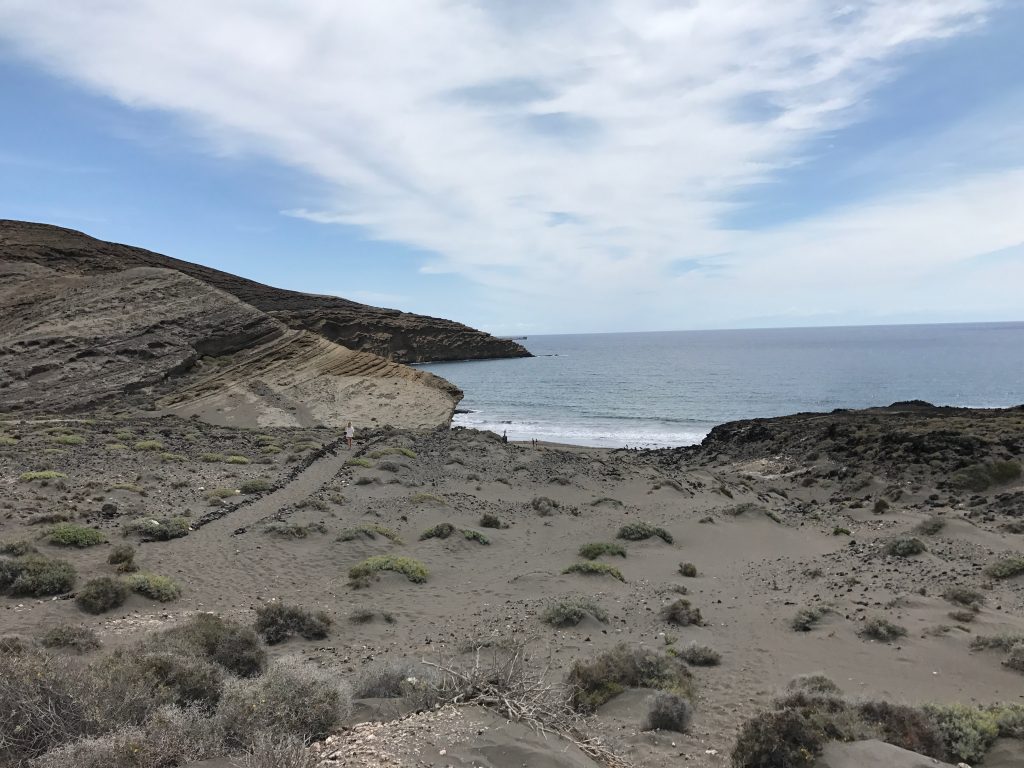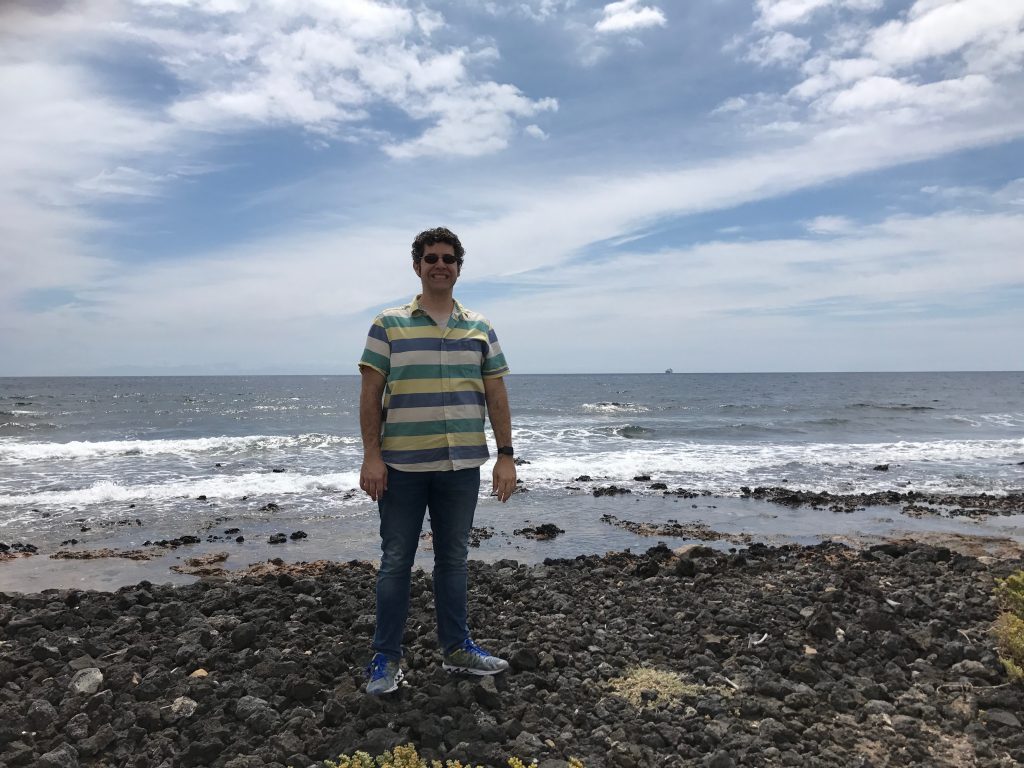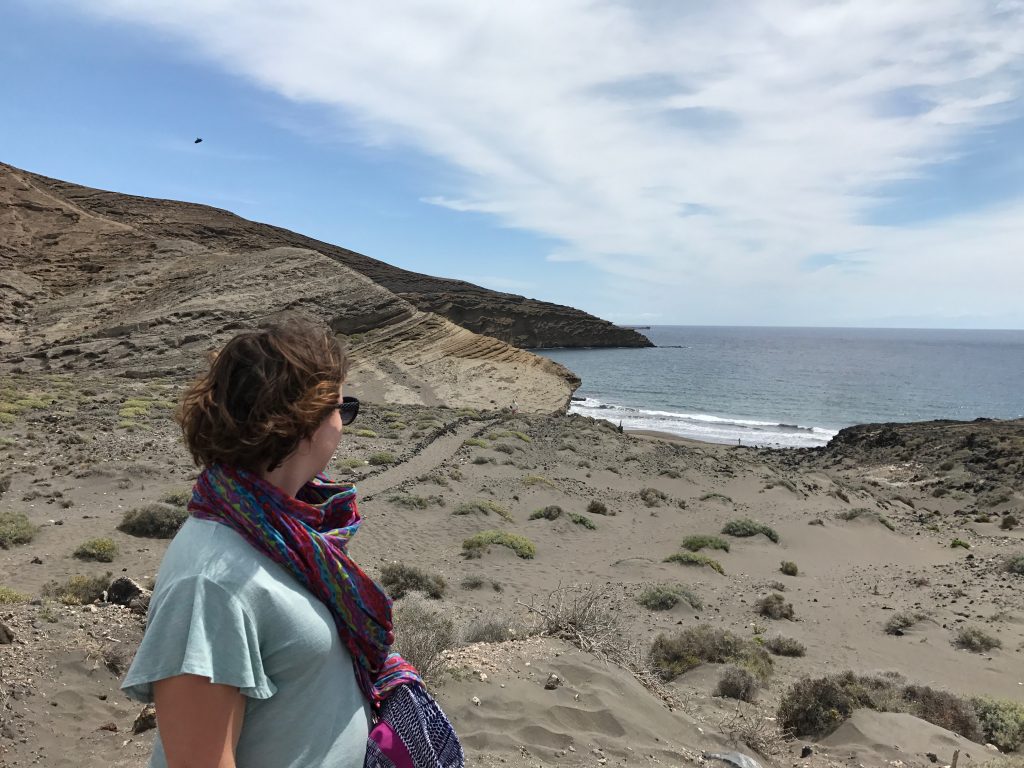 Doer is not one to waste food, or to let something like air travel stop him from enjoying a refreshing tonic. Who knew an airport chair made such a good bottle opener? Well, maybe not. Our apologies to the cleaning staff who had to wipe that extra Kas off the floor…
Dreamer sure misses that beach, though.