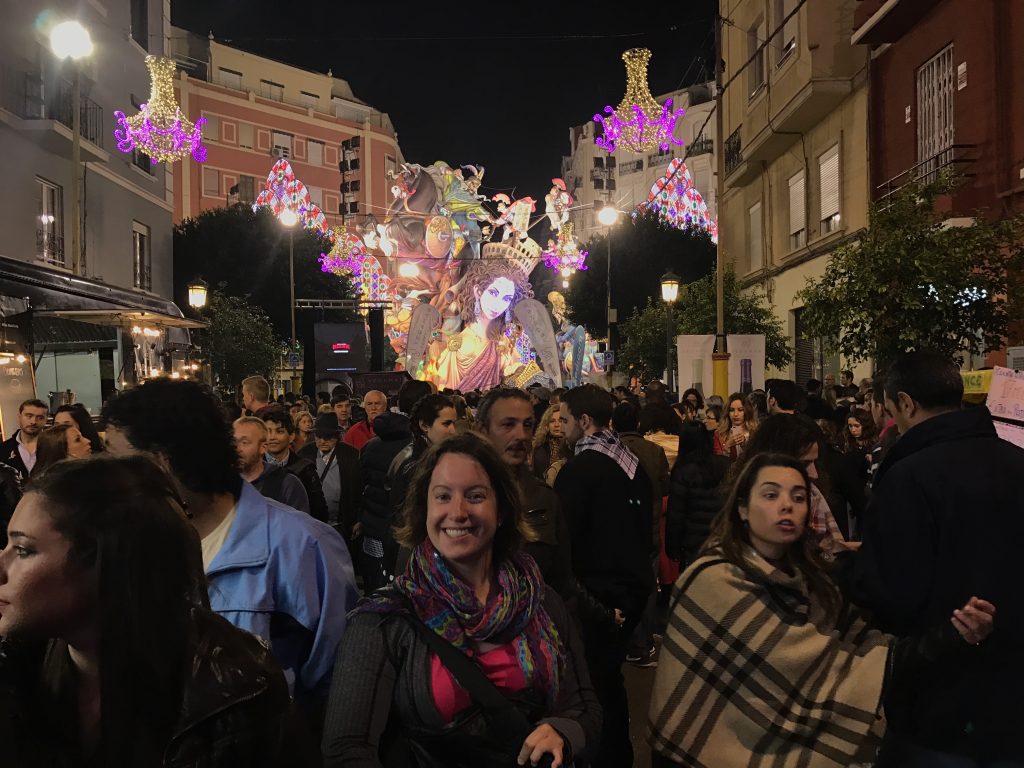 If Burriana offers a more comfortable, familiar Fallas experience, then the capital city, Valencia, provides large-scale wonder.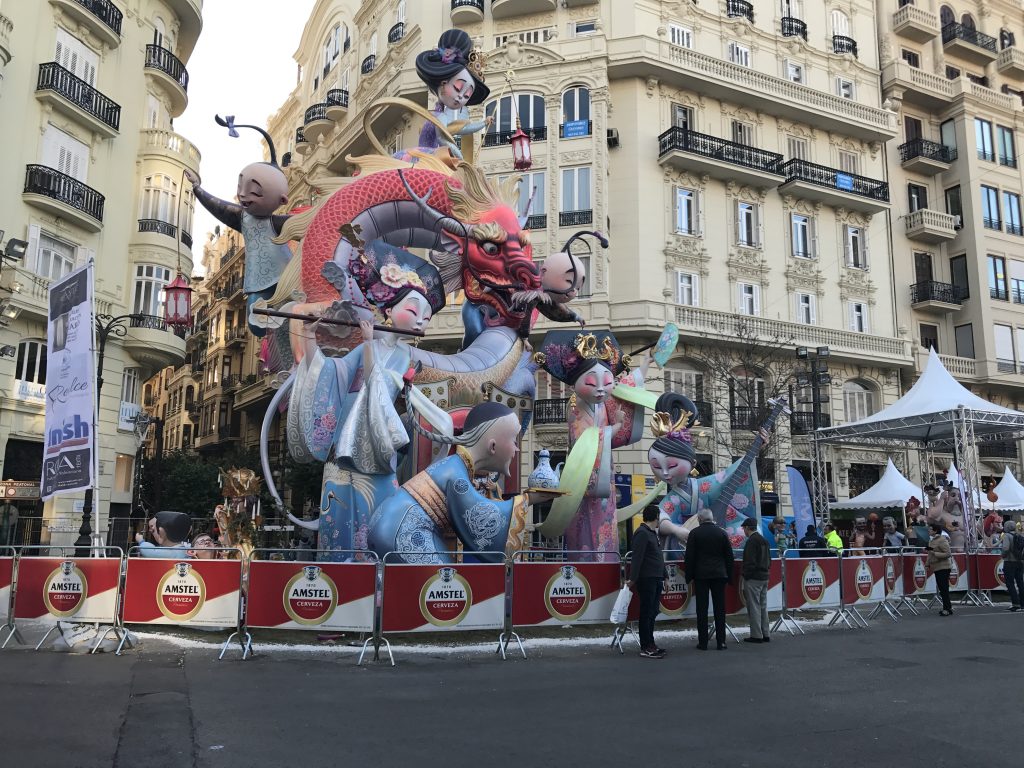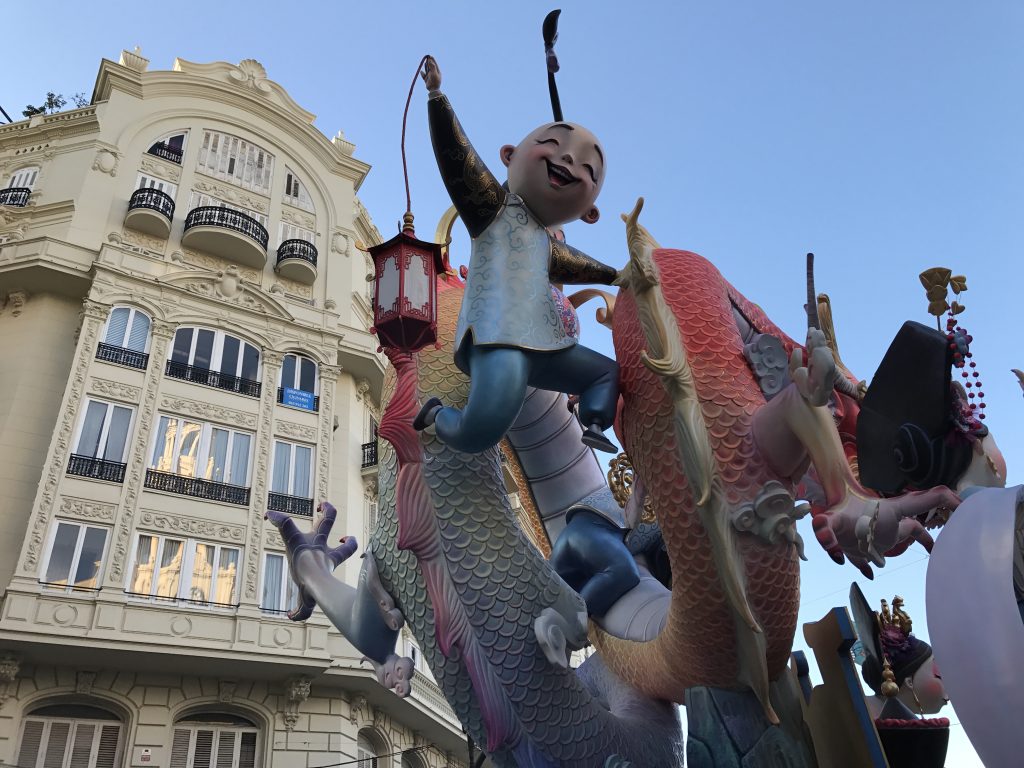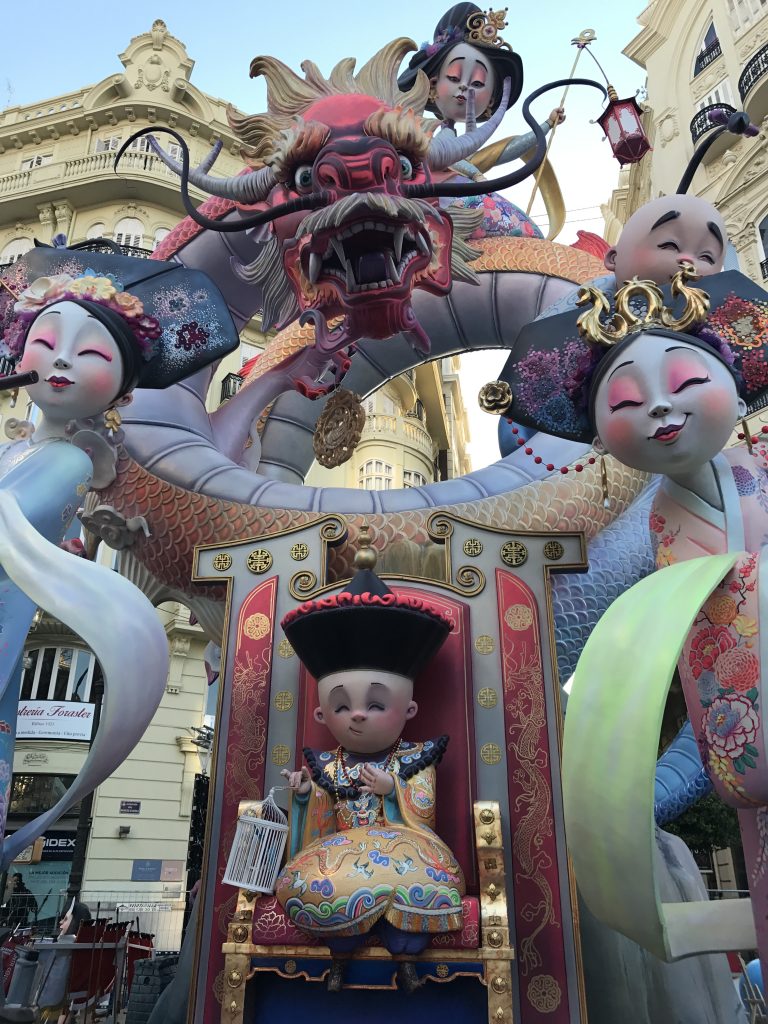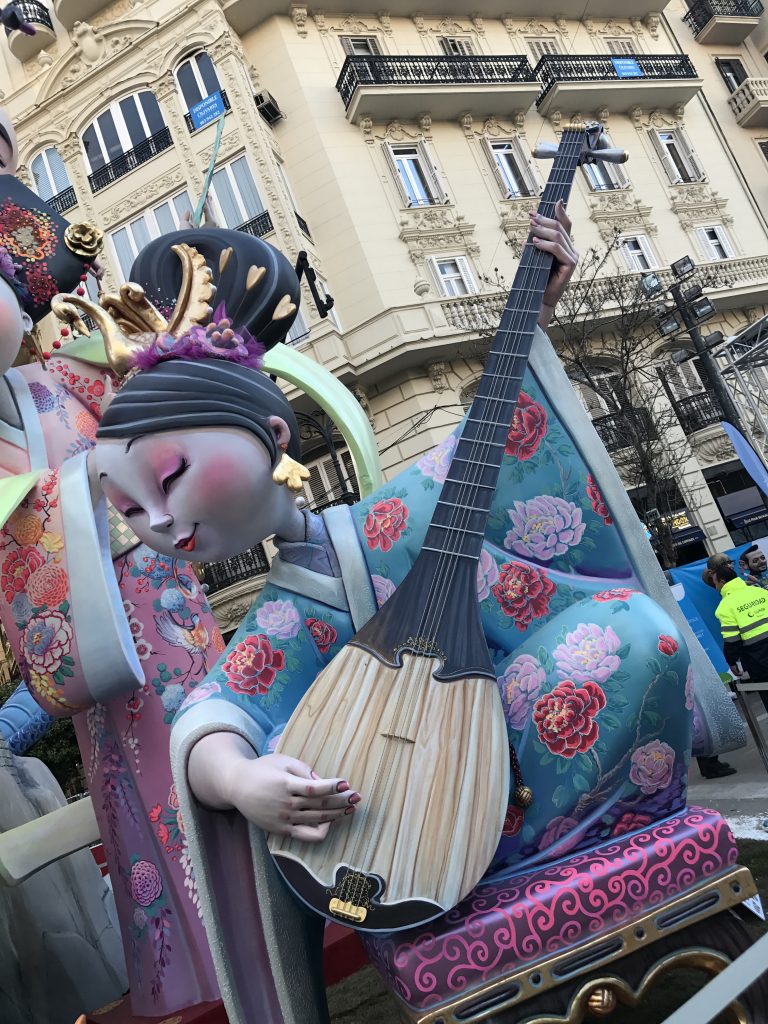 Dreamer's first visit to Valencia during the festival week with Dad and Deb (poor Doer had to work!) revealed a city completely metamorphosed into a monument to celebration.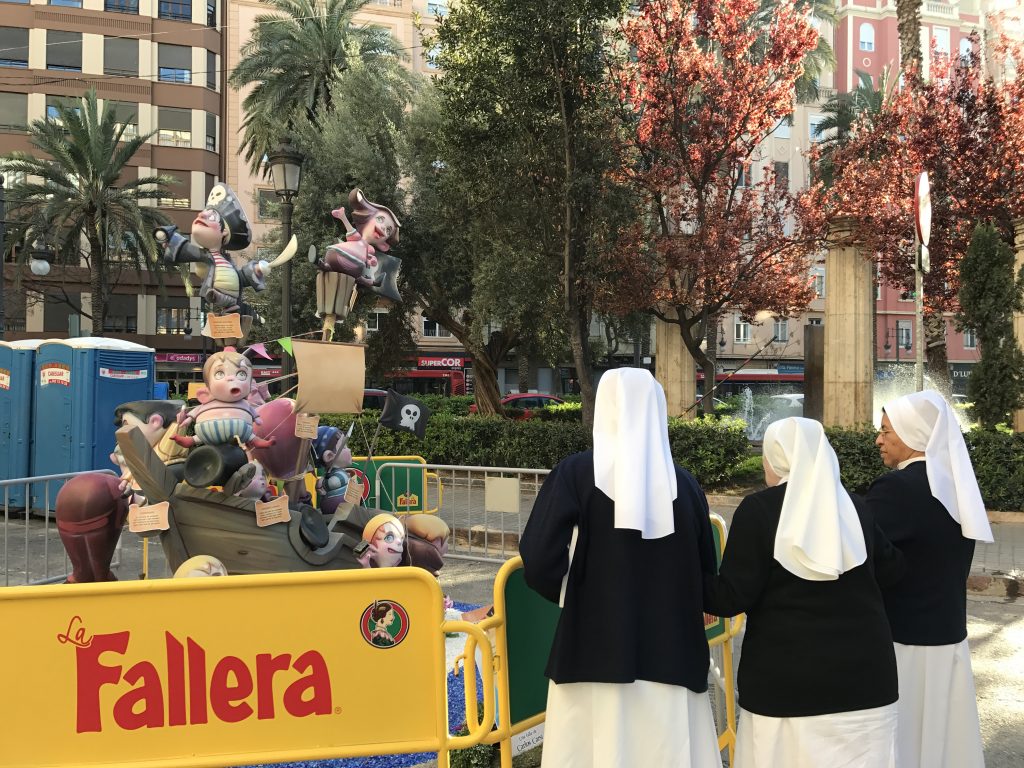 Little mojito huts had sprung up out of nowhere.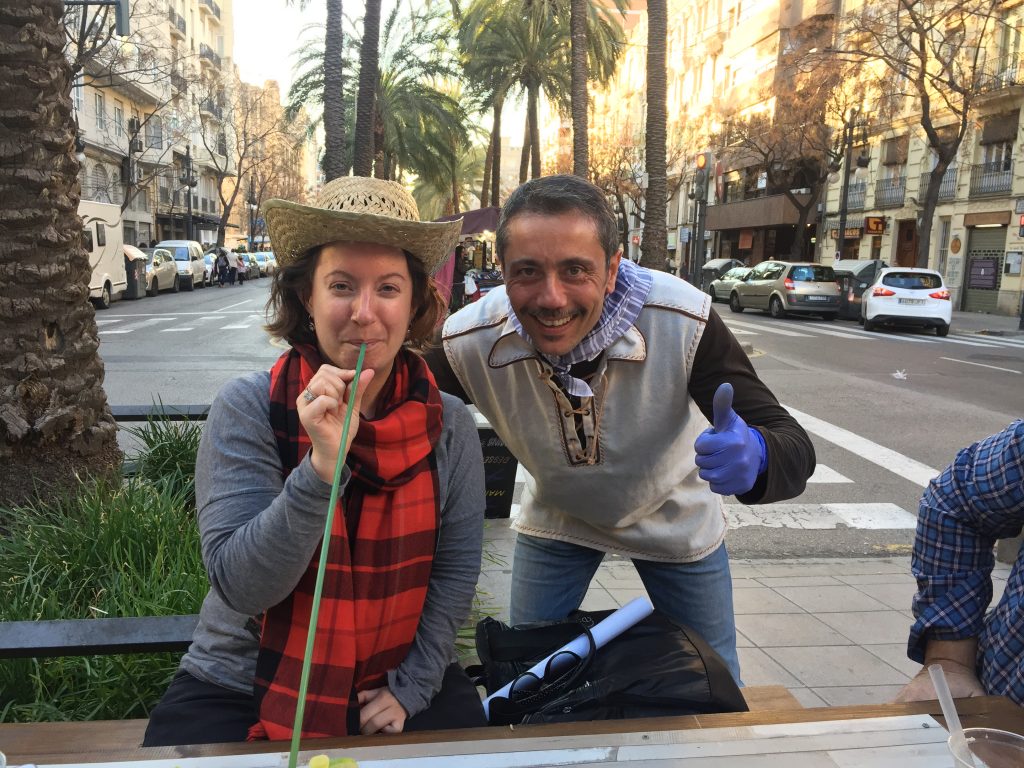 We did manage to find one area that wasn't completely overtaken by Fallas: City of Arts and Sciences, the iconic cultural complex designed by Valencian architect Santiago Calatrava.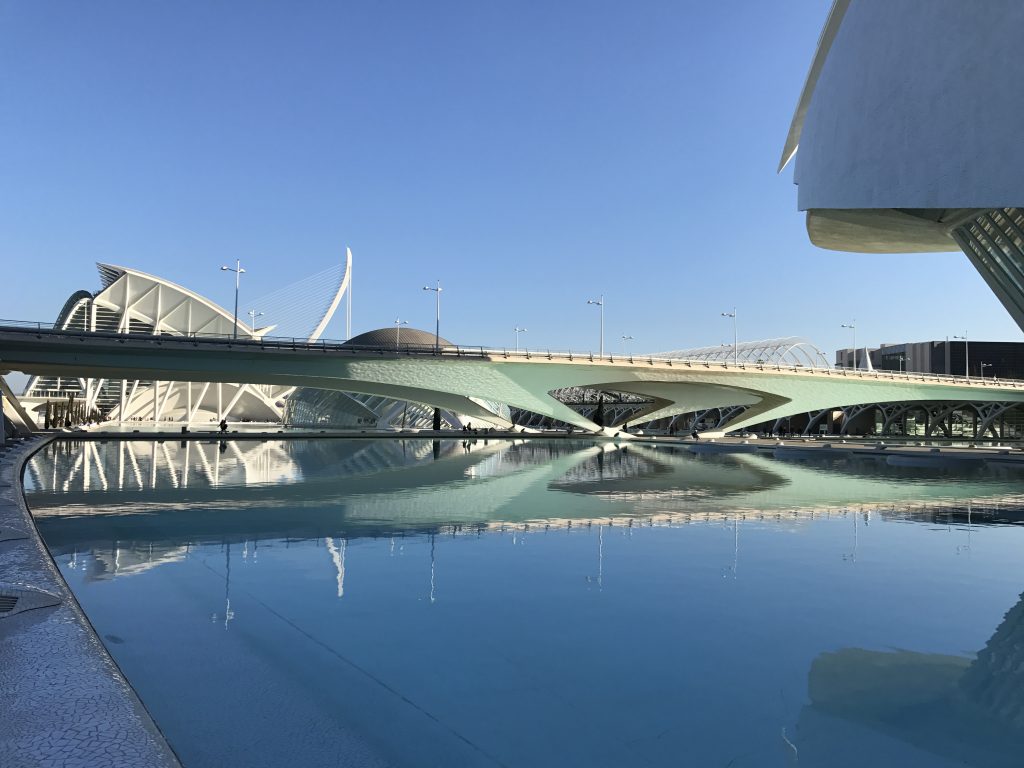 Still, you couldn't go far without running into a monument or a parade.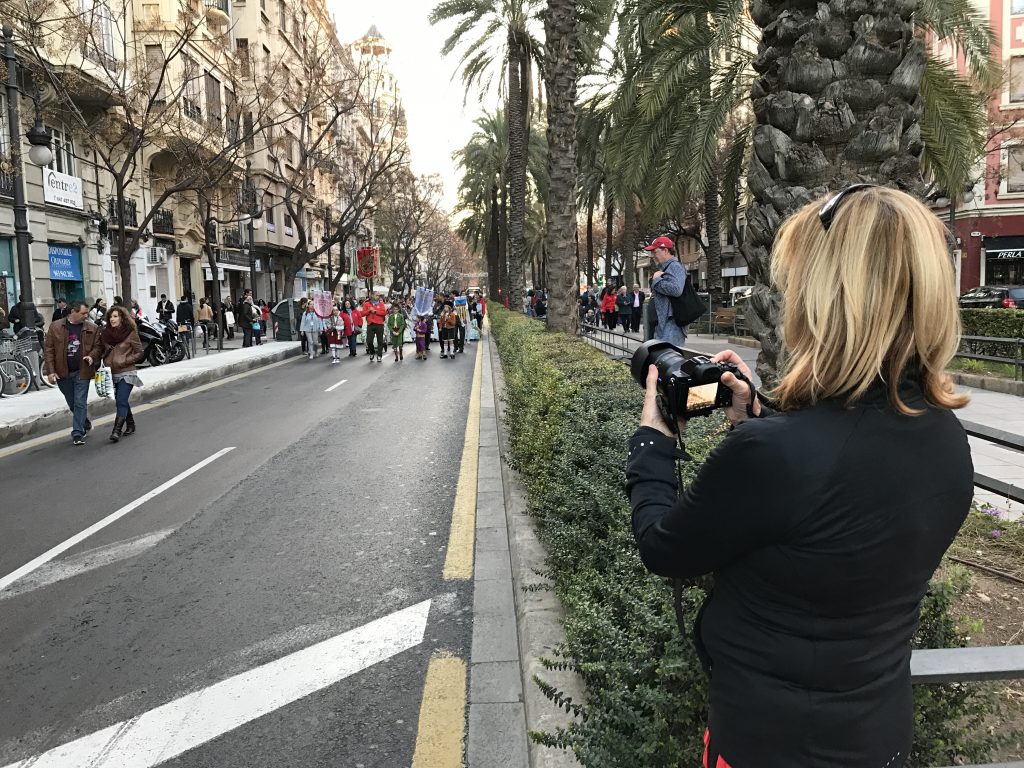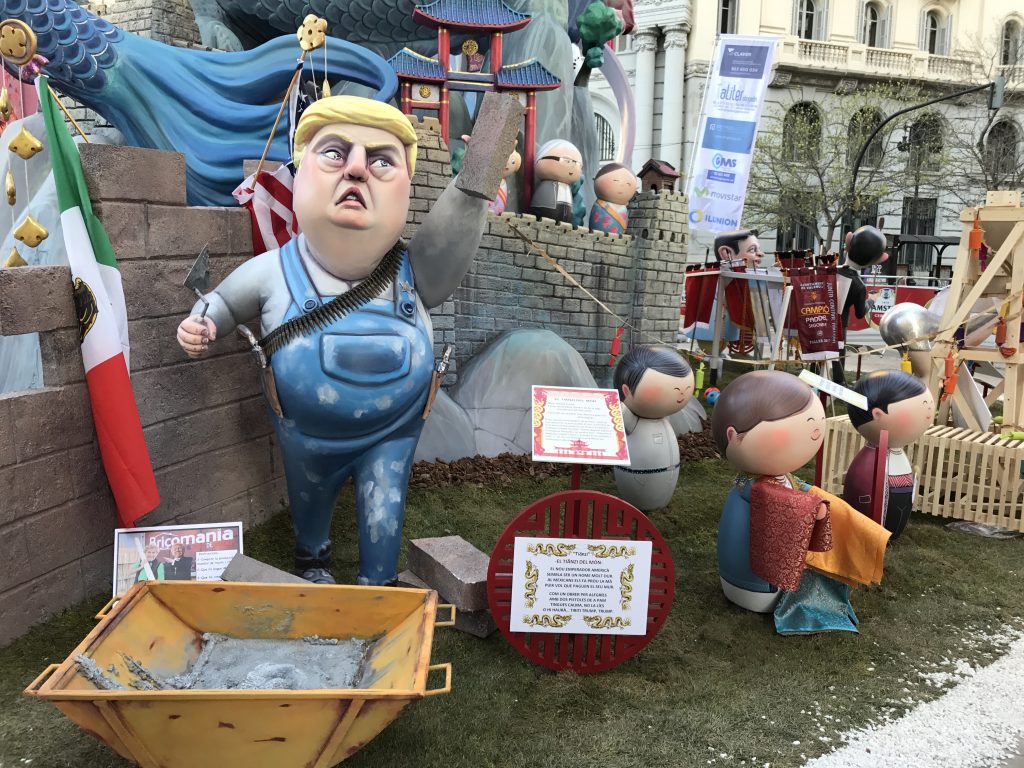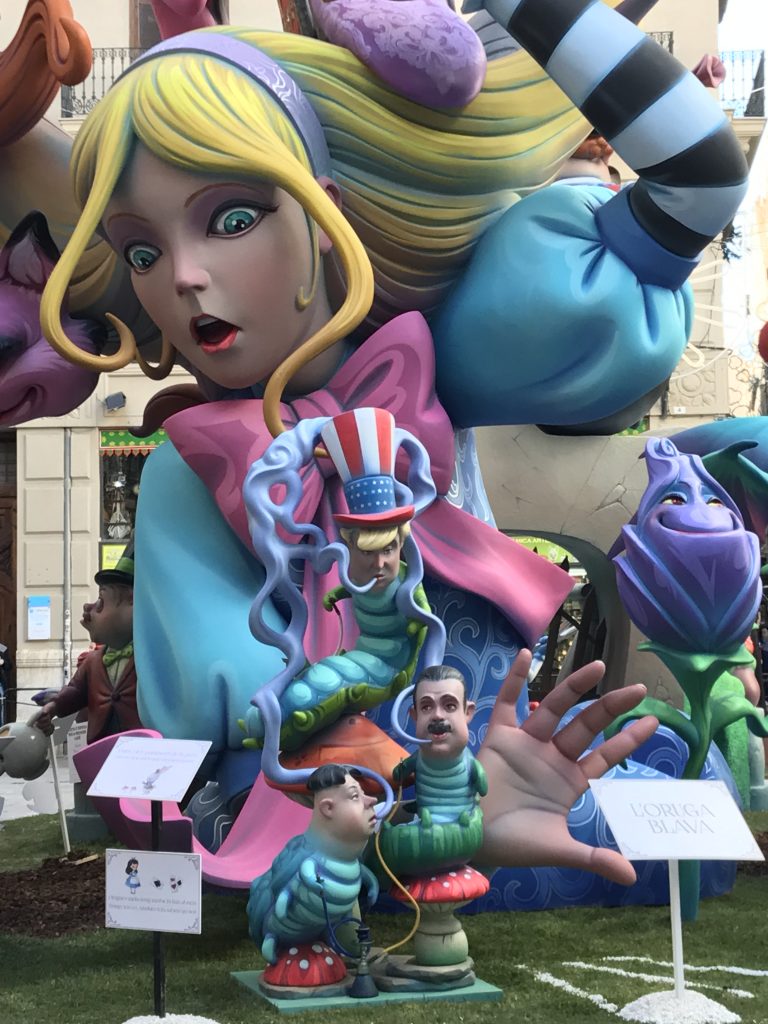 When it was time for our visitors to return home, the big party weekend was just beginning. After a late night in Burriana, we dropped Dad and Deb off at the airport in Valencia early Saturday morning, March 18, and gamely decided to park the rental car nearby (but outside of town) and take the metro into the city to see how long we could make it before crashing. Our goal was to make it to the grand fireworks show that was scheduled for 1:30 that night (no, that's not a typo).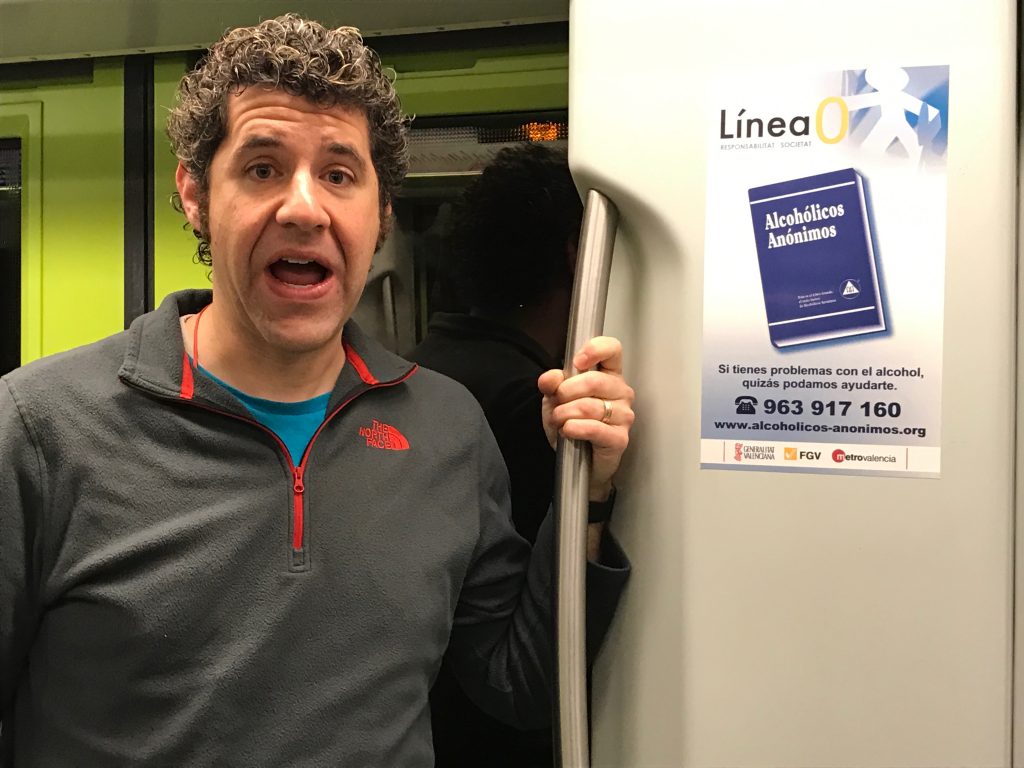 It was amazing what we could do with no people around early in the morning, but alas, everyone was still sleeping from partying so much the night before.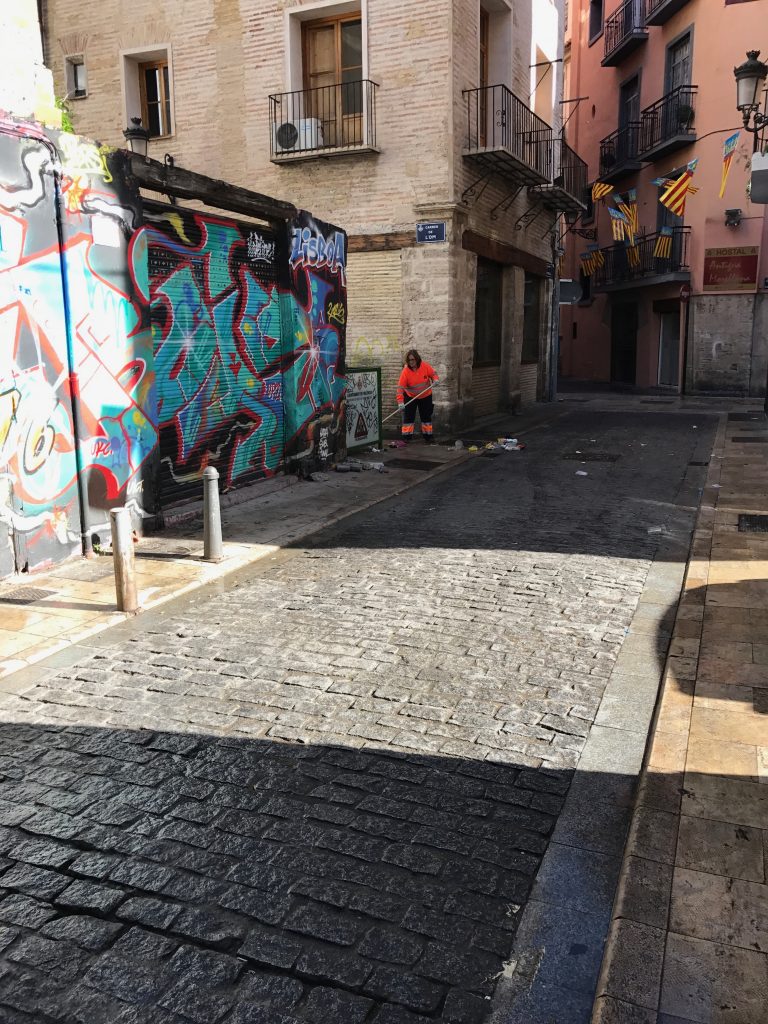 We saw all the fallas in the center of town, including the city's representation of a tower designed by the Arts and Sciences architect (Santiago Calatrava) that never saw the light of day.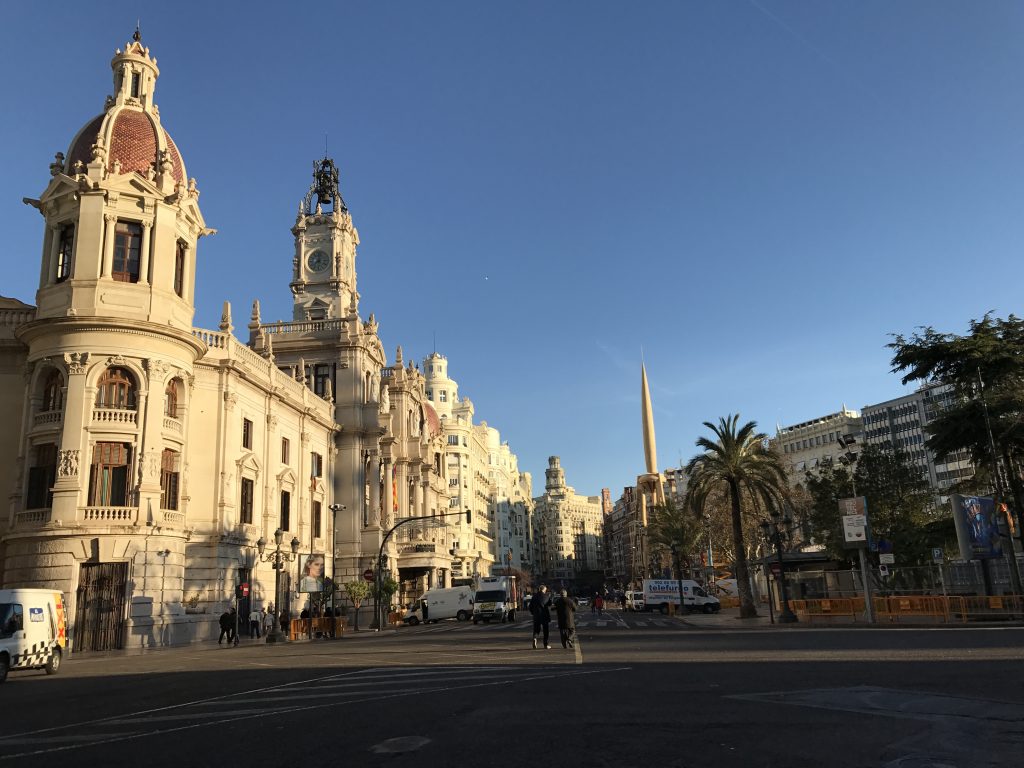 The Calatrava falla was a satirical poke at a planned telecommunications tower that never was built, and all of the obstacles that impeded its completion. Apparently, this re-creation had a budget of about 170,000 euros – remember, they burn these bad boys at the end of the week.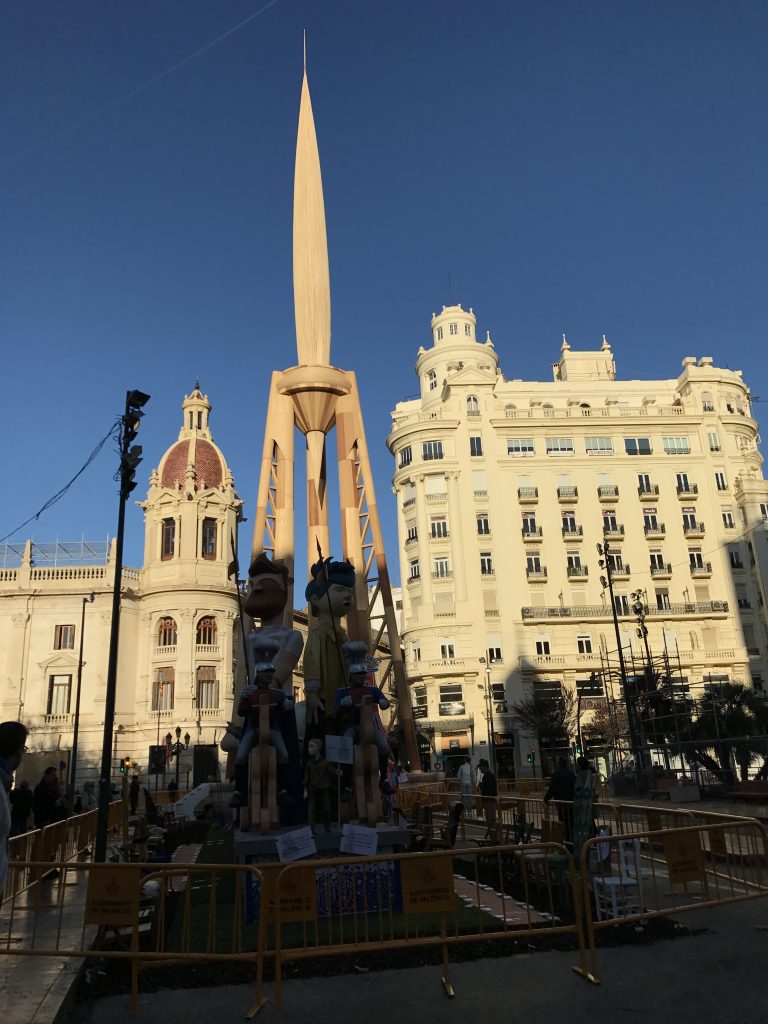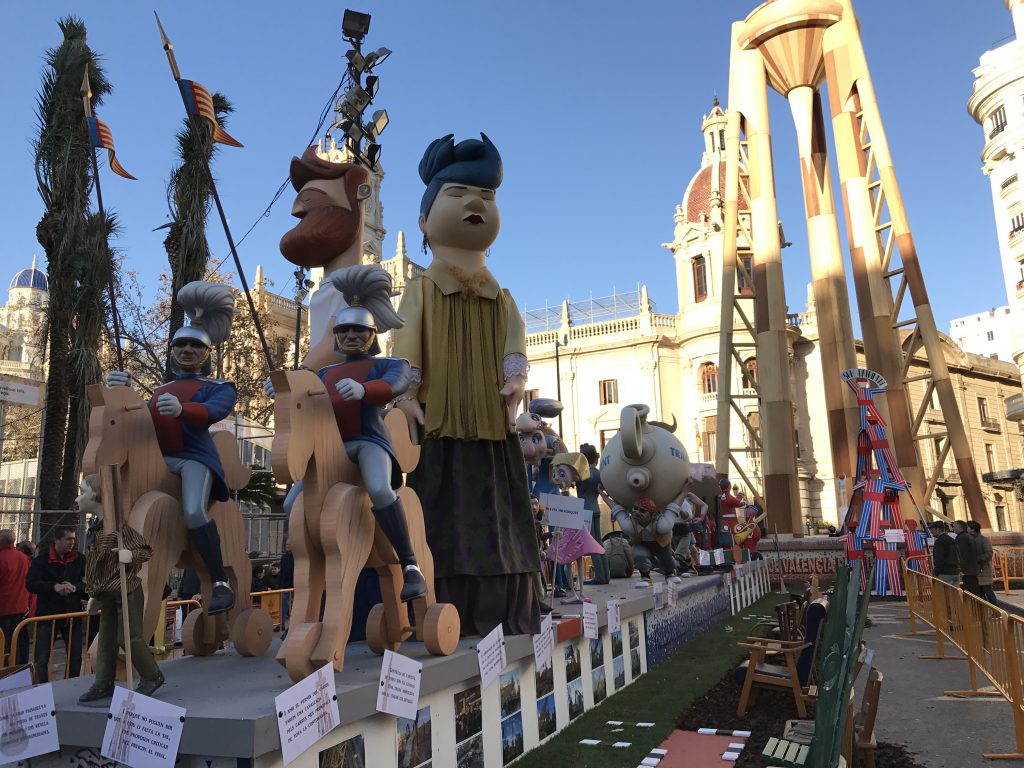 Since Valencia has 183 fallas groups, the monuments are categorized much like high school sports in the U.S. The especial category receives the most funding, then A1, A2, B1, and so forth. There are also many corporate sponsorships. Unlike Burriana, where all the fallas are easily approachable, one must pay to get in and up close to the especial entries in Valencia. We did not pay to see anything, but we still saw quite a bit from a distance since they are so big.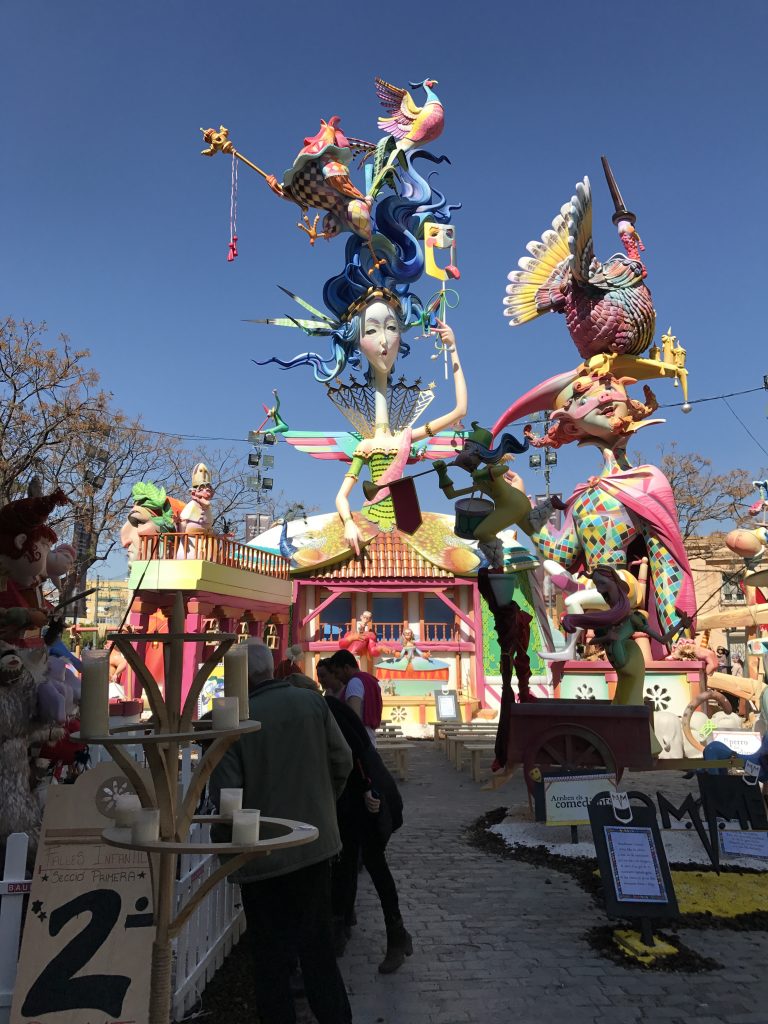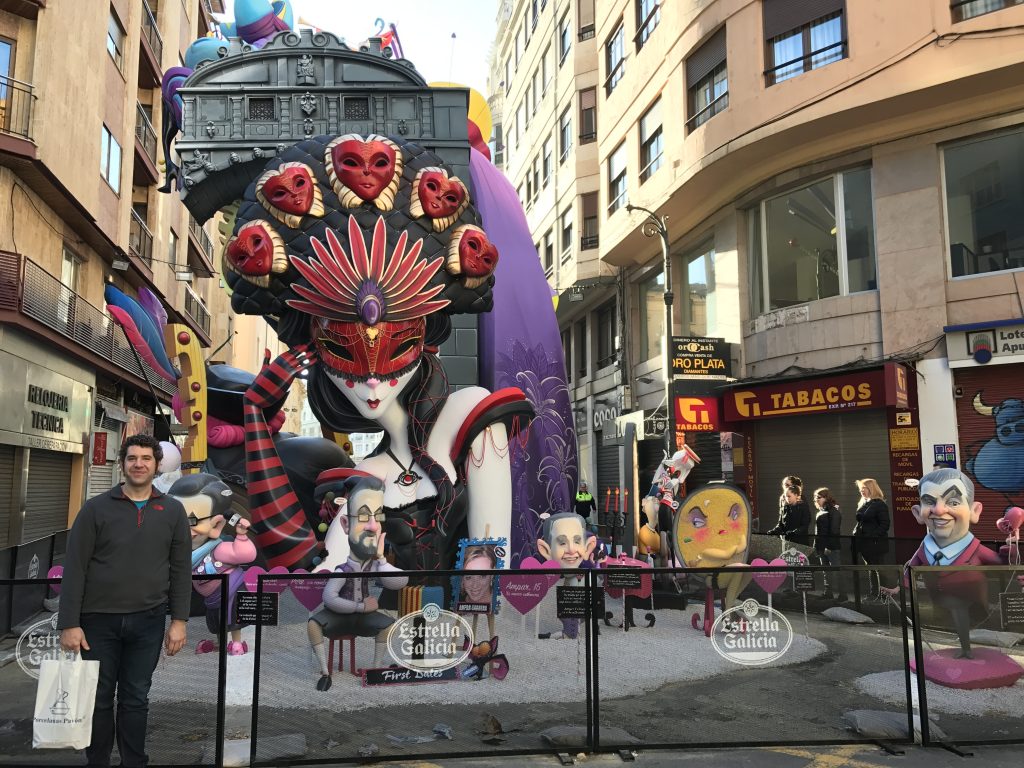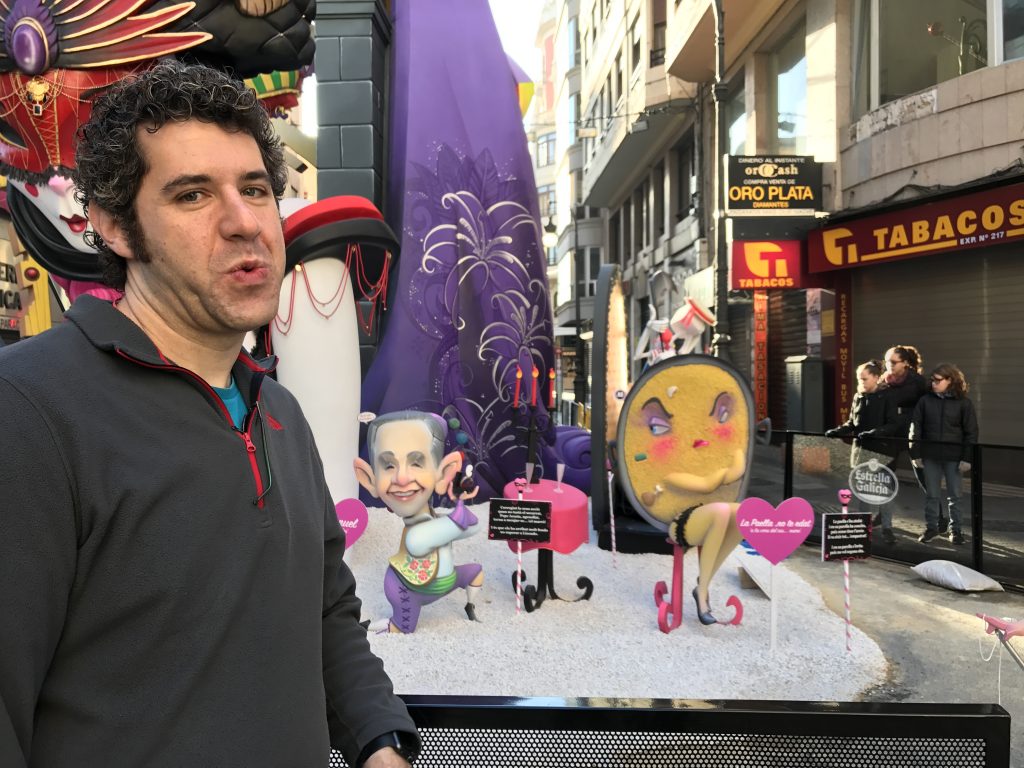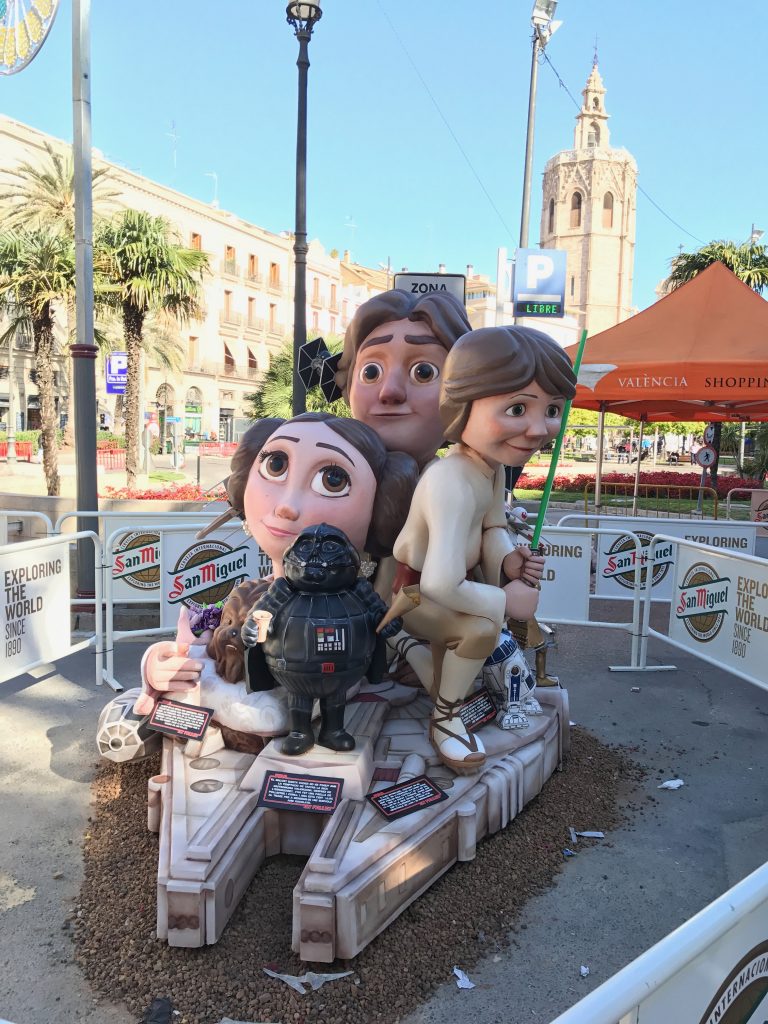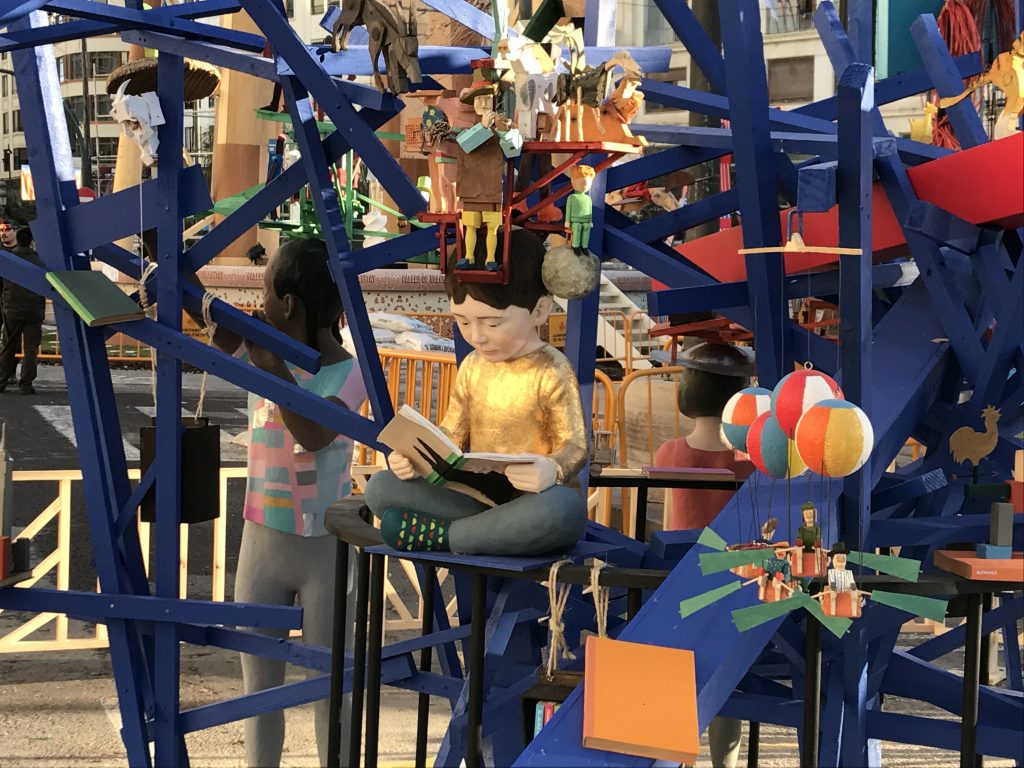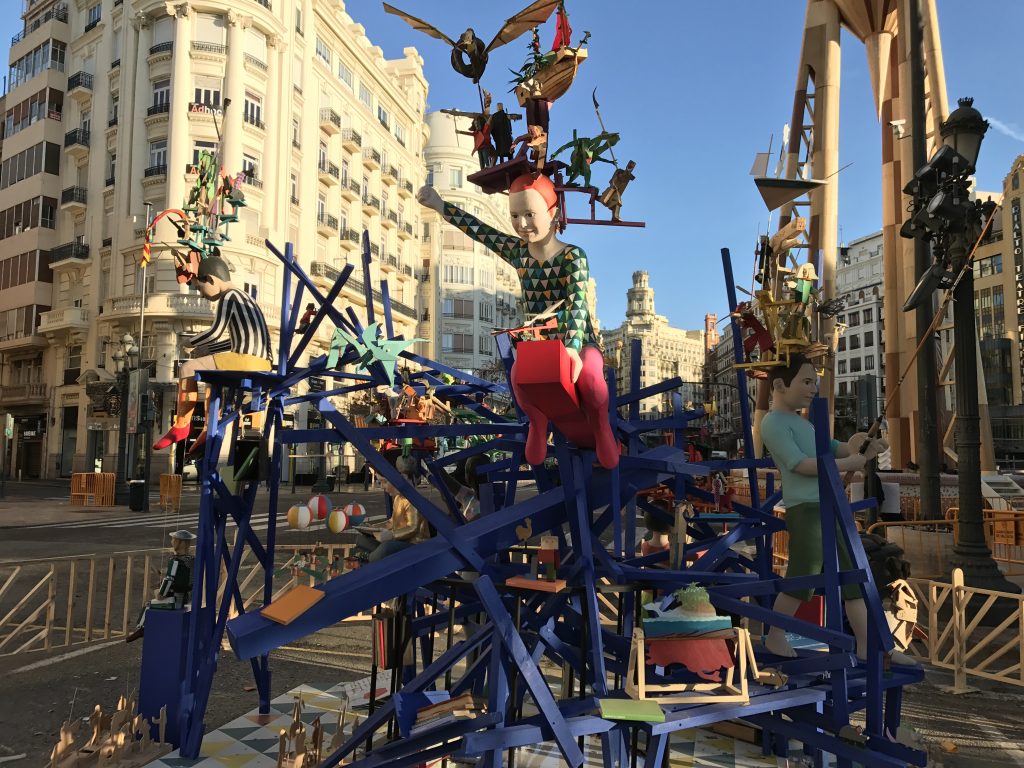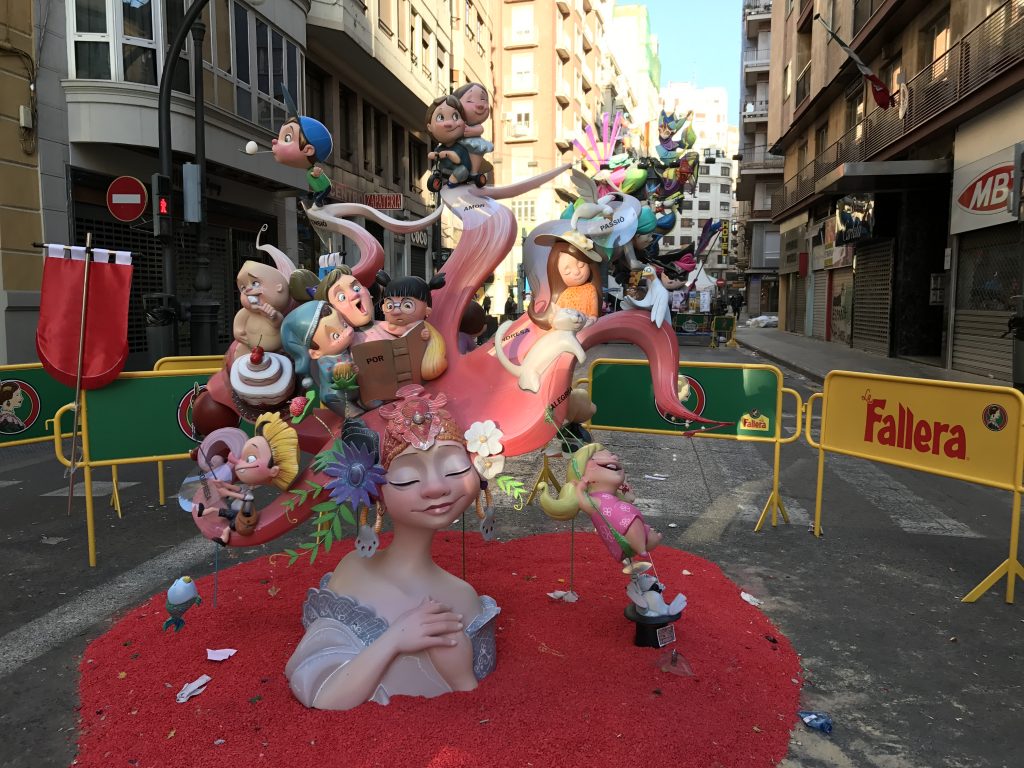 Dad and Deb can attest to the fact that there are churro and bunyuelo stands on every corner during las Fallas. Traditional bunuyelos – fritters made with pumpkin – are associated with celebrations like this. Early Saturday morning, as we walked from one falla to another, we stumbled upon an operation run by people who really looked like they knew what they were doing.
The group of runners here waiting in line seemed to support that conclusion as well: they were part of a race that goes around to all the especial-class fallas – something we're going to have to try next year!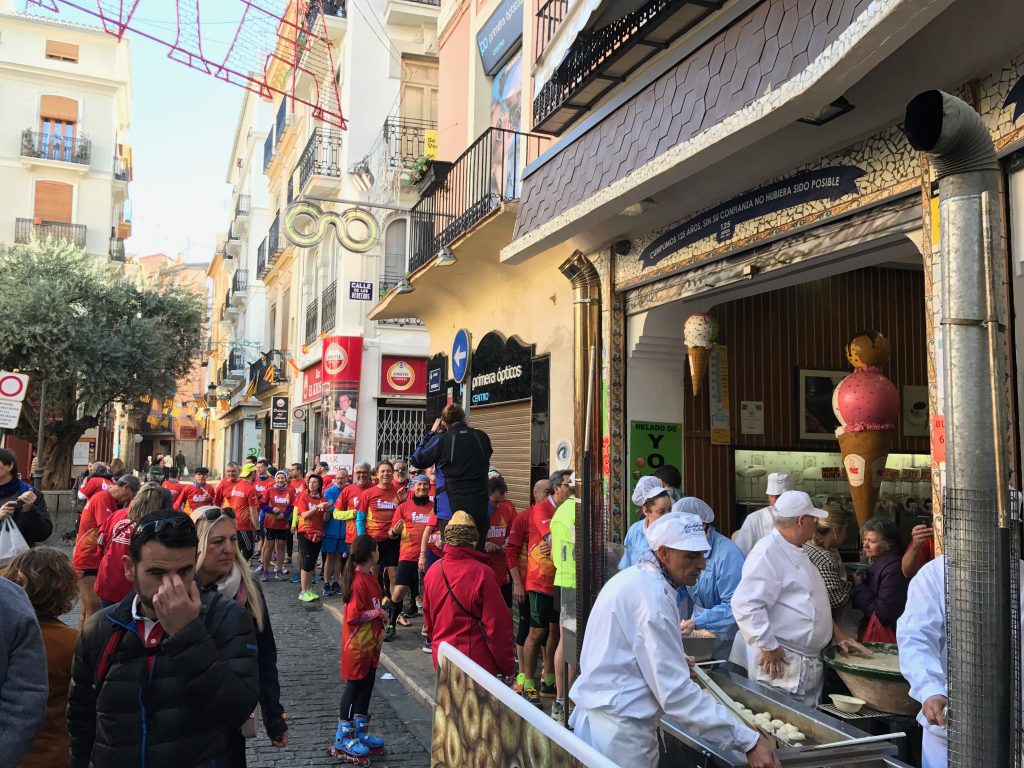 You can only look at giant monuments for so long before it's time for a break, so by midmorning we decided to go on a walking tour of the city to pass some time.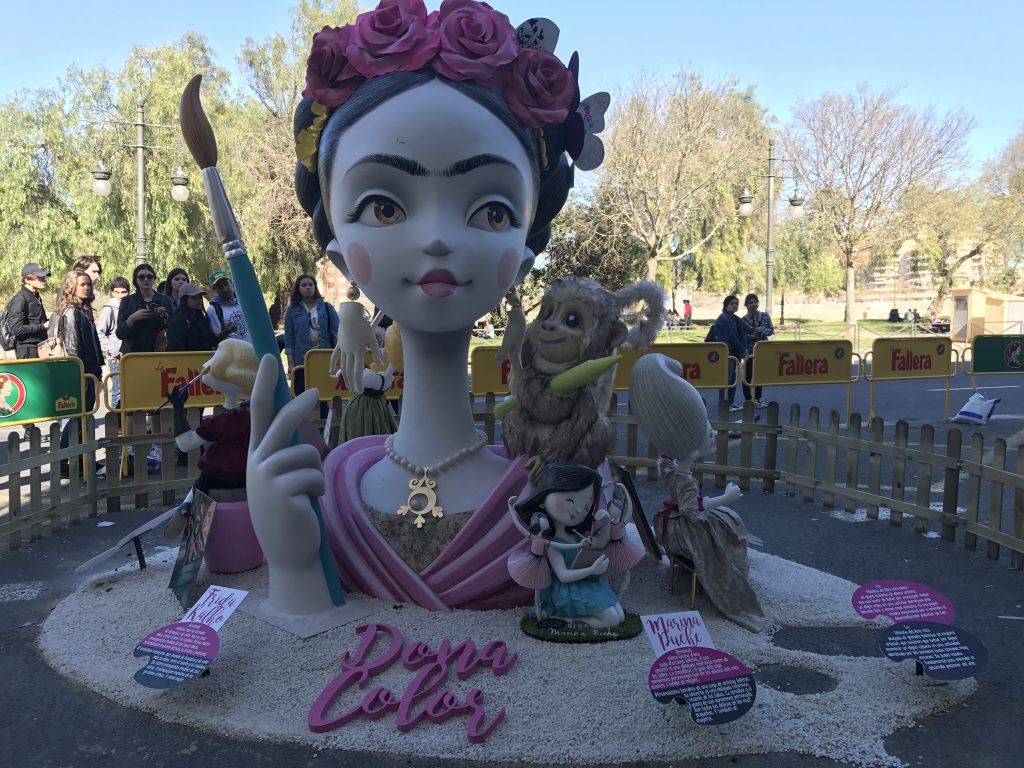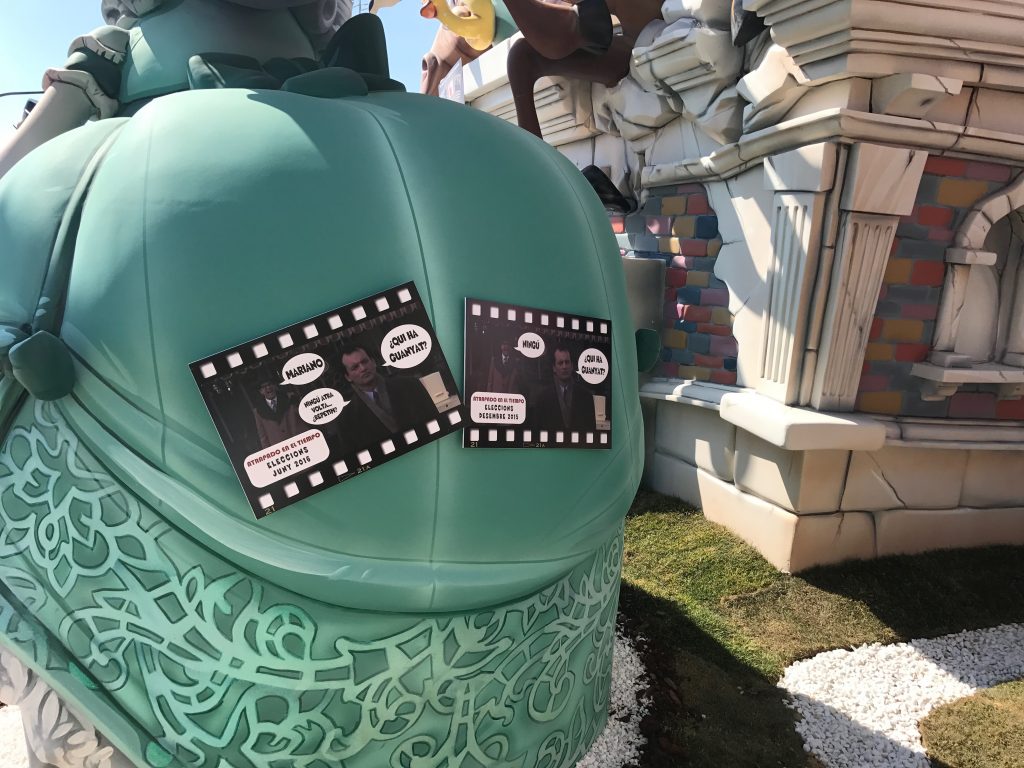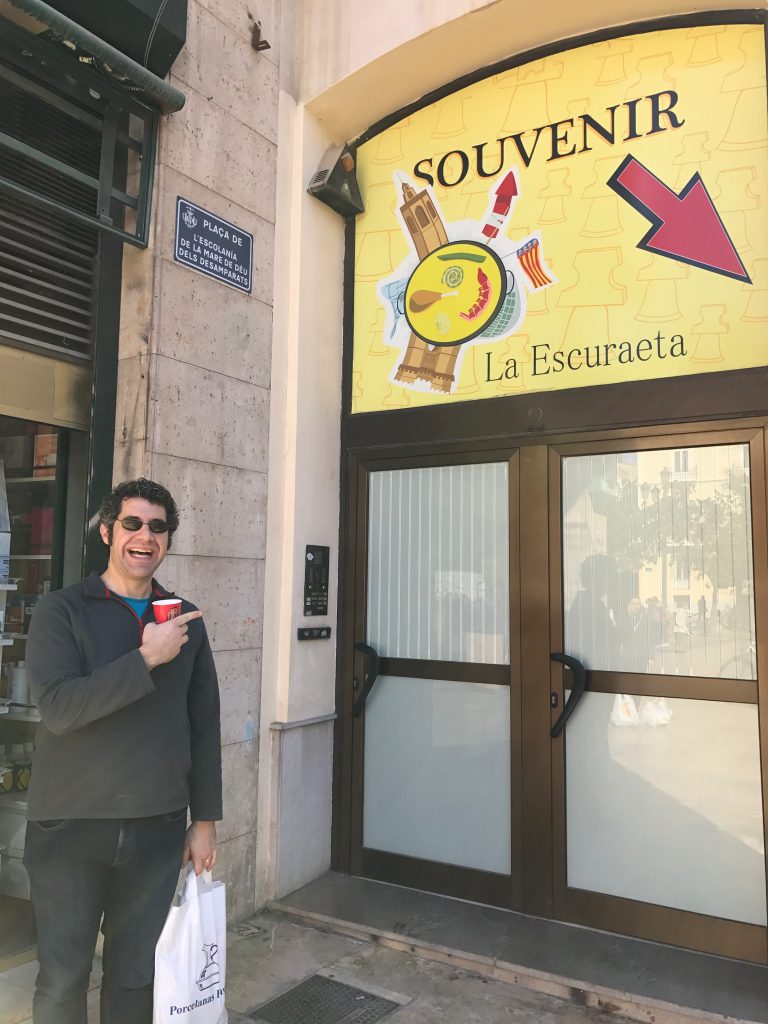 By the time we were headed to lunch, the sleepy city had awaken to something a little more hopping, and we noticed more of the fallas groups getting their parade on as they prepared to bring flowers to the Ofrenda.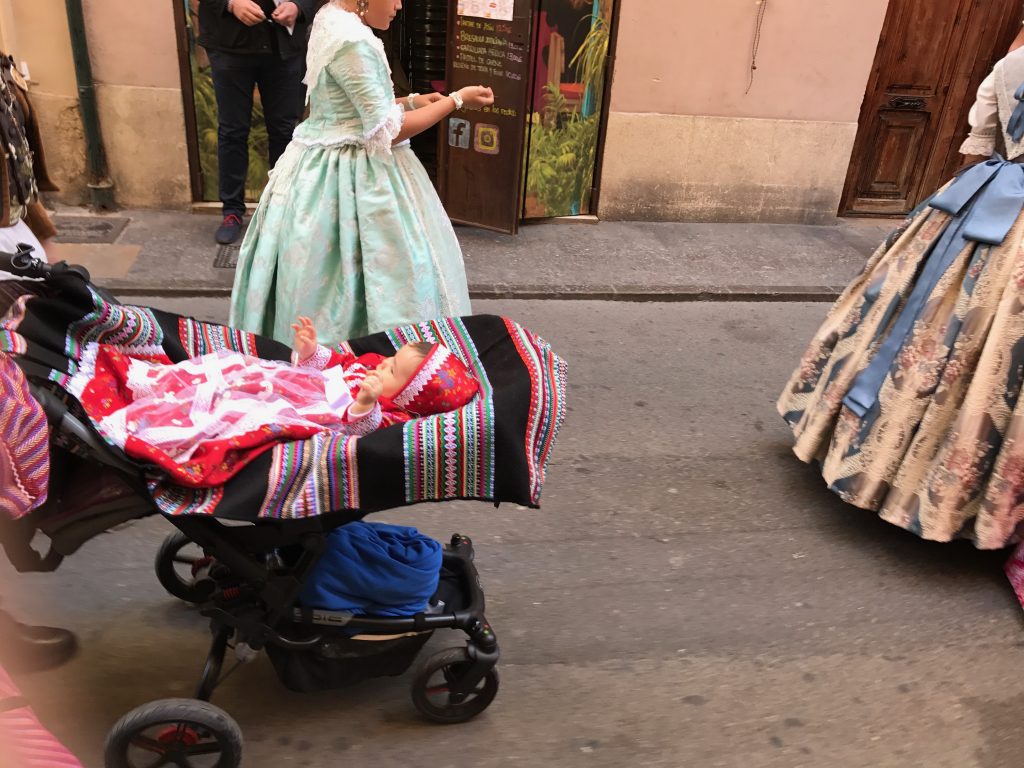 As we crossed the bridge over the Turia park in search of a restaurant that maybe wasn't bursting-at-the-seams busy, we also saw a monument honoring Saint Joseph, the patron of the Fallas. Seemed appropriate for the day.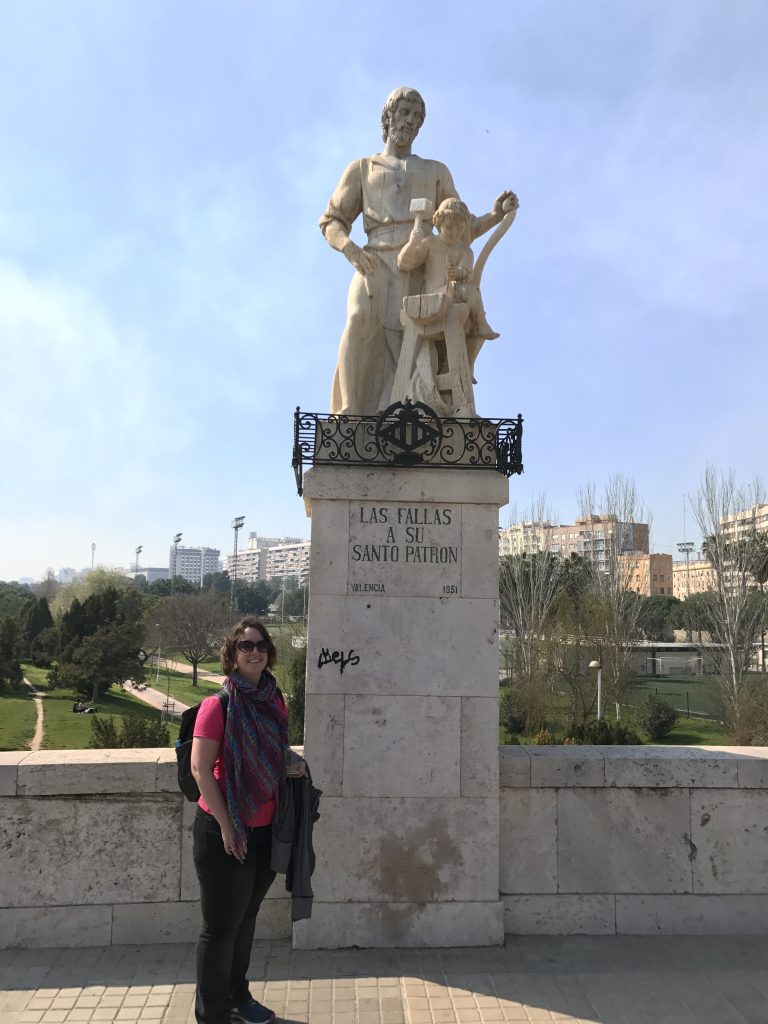 Wading through massive afternoon crowds to see the fallas proved frustrating at times, especially since the streets had been relatively empty at dawn.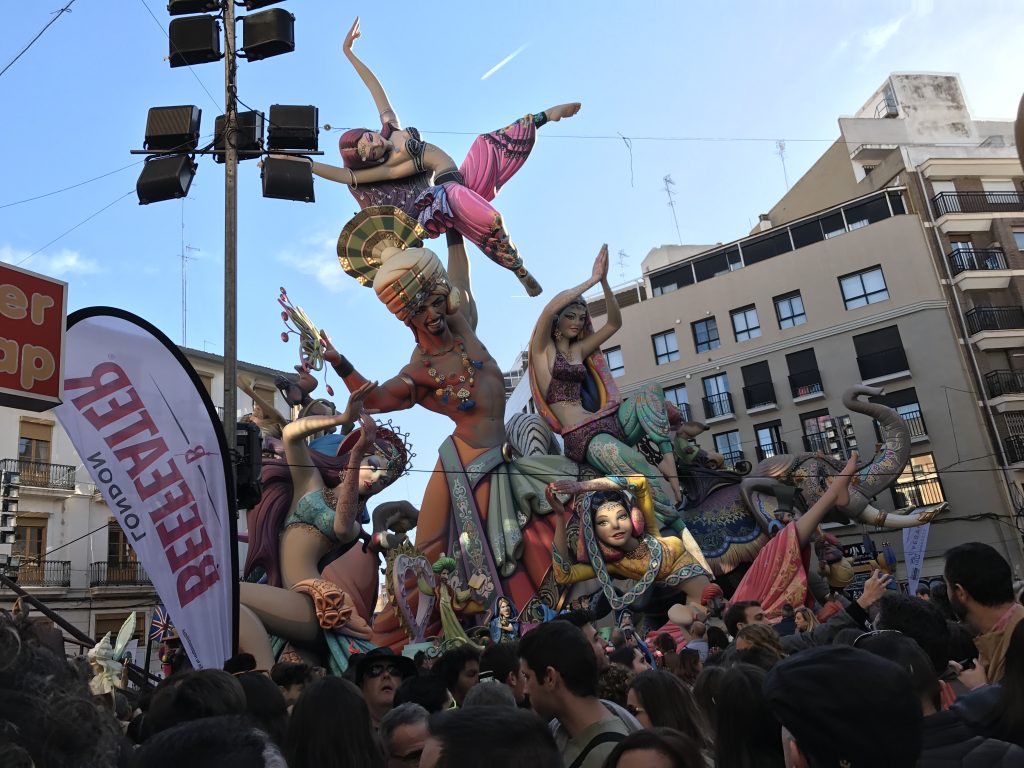 By midday, the city was so full up with people that we had to get away for a few hours.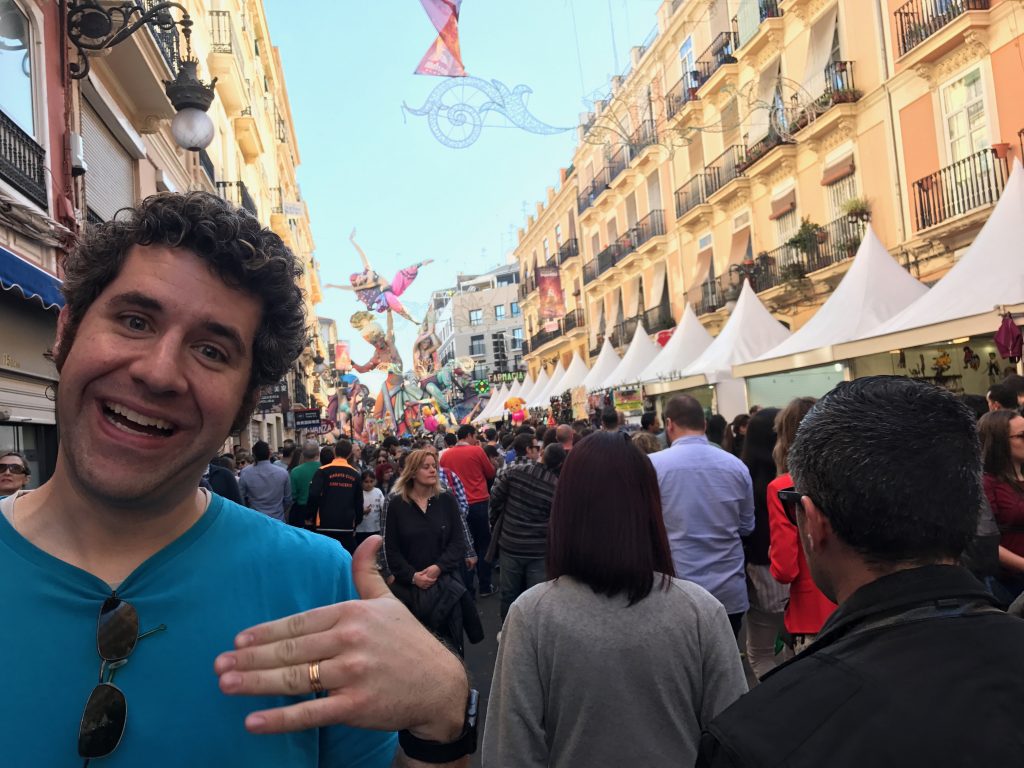 After making a detour to nearby Alboraya for some horchata, we headed back into the thick of it to see more. The fallas looked particularly dramatic at night, too.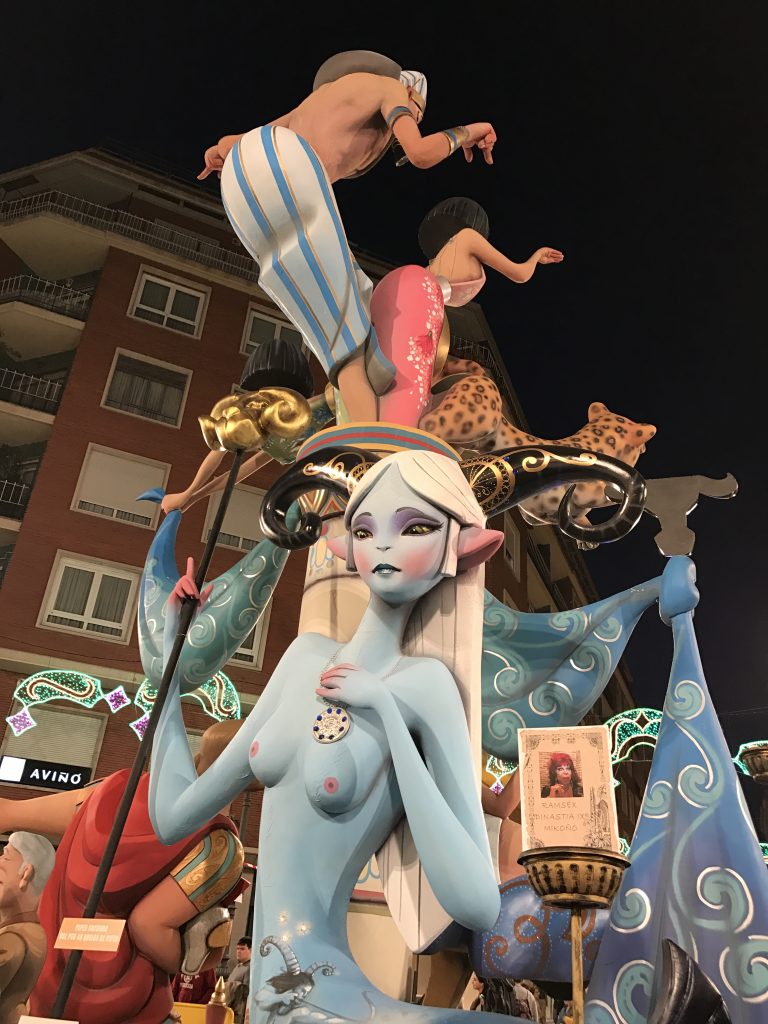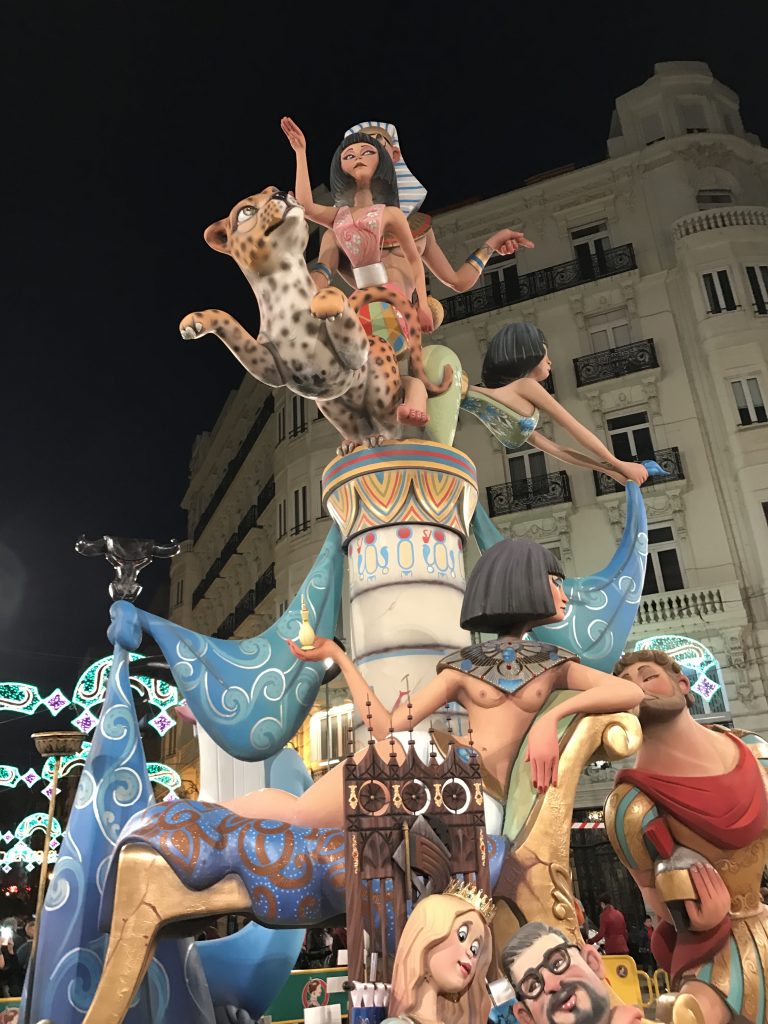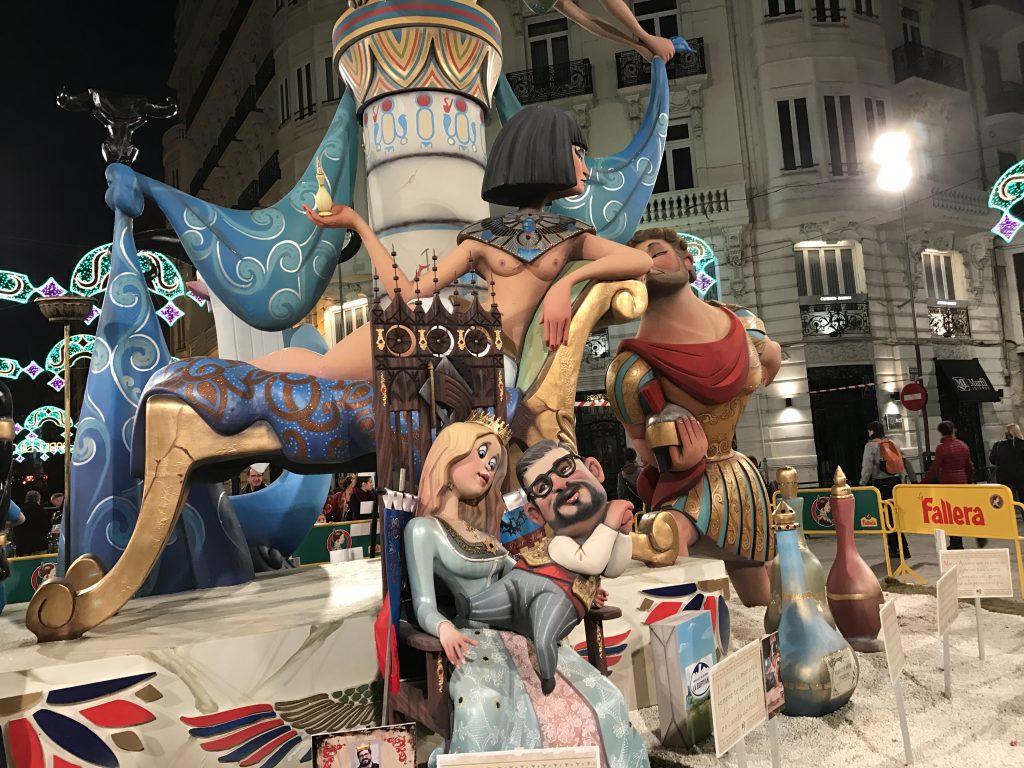 By this point, we were beyond tired – but we still had hours to go until the fireworks began. Needless to say, there was coffee involved.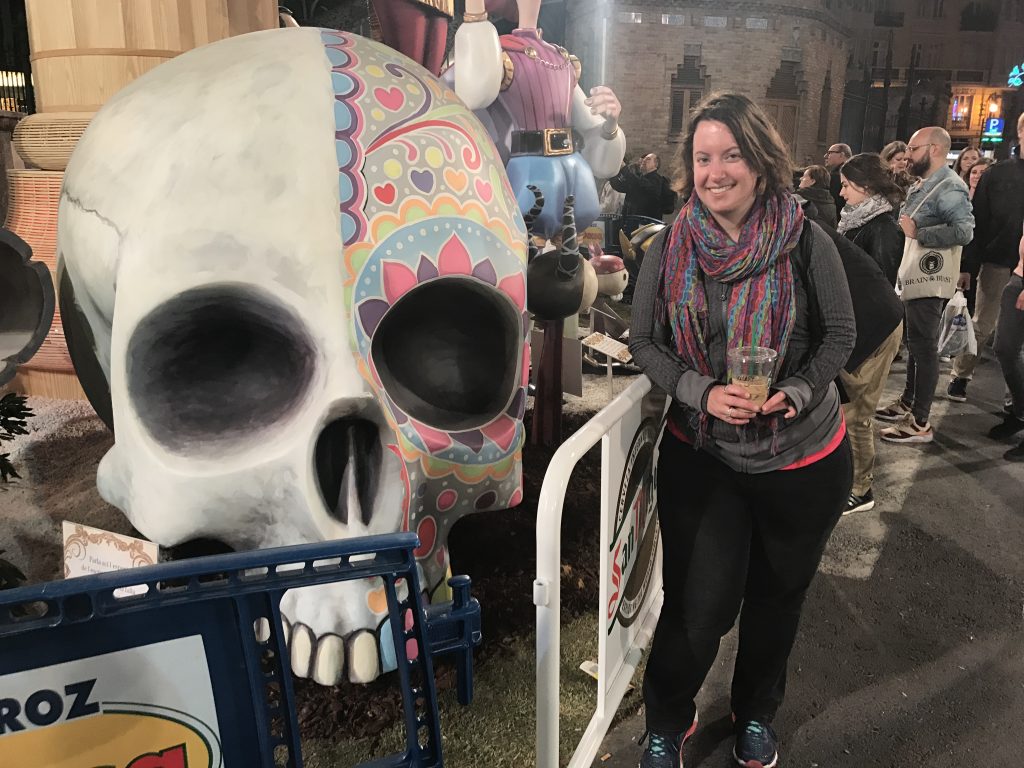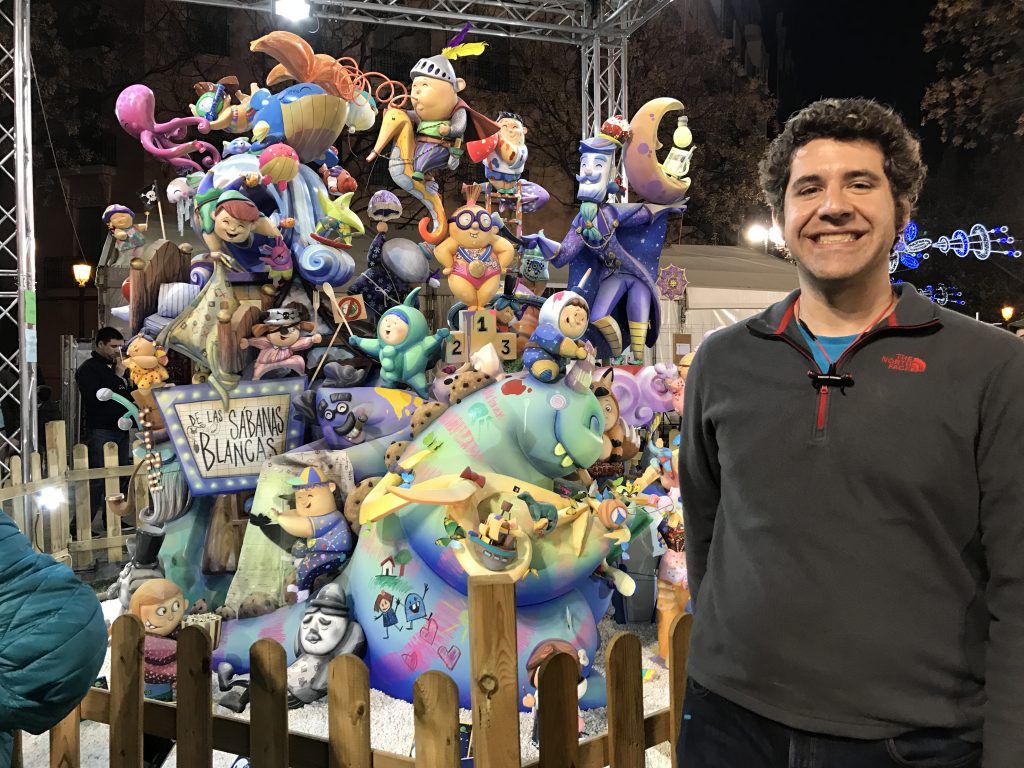 We could not believe how good some of these fallas were – and remember, nearly all of what we saw was destined to burn at the end of the festival!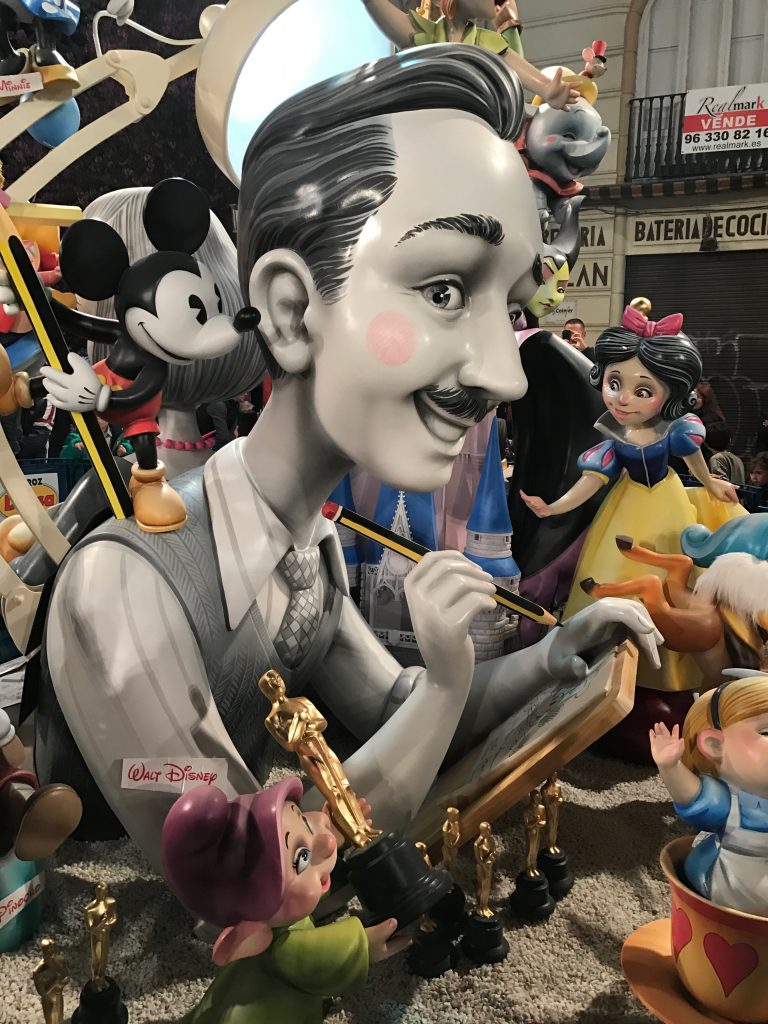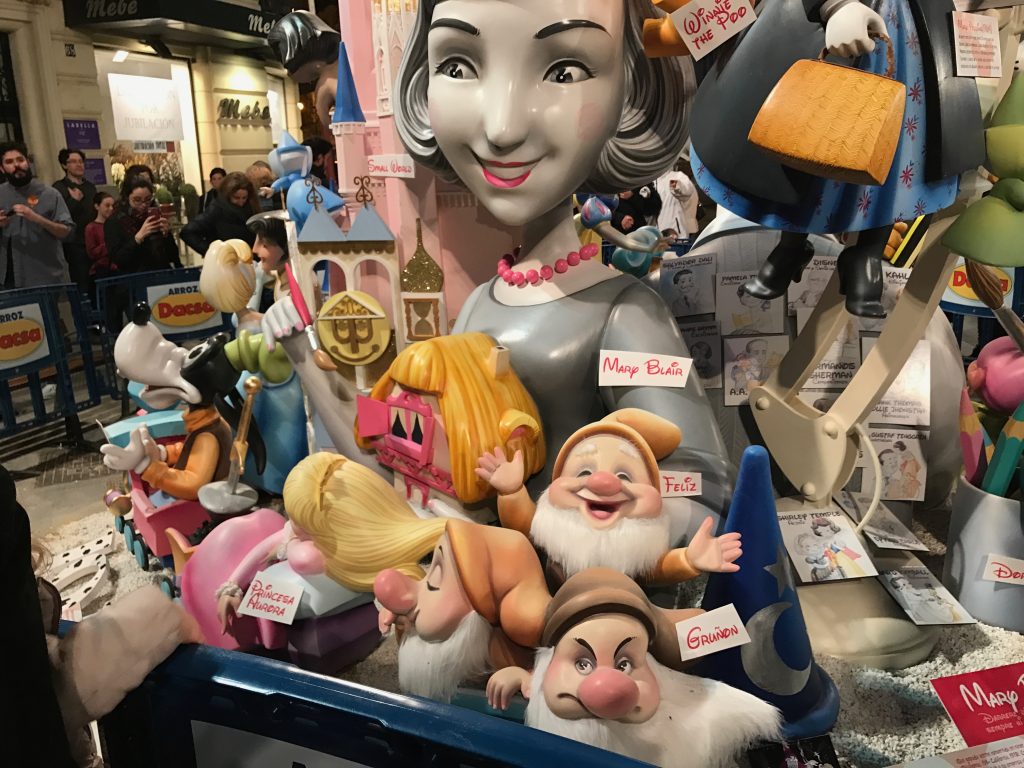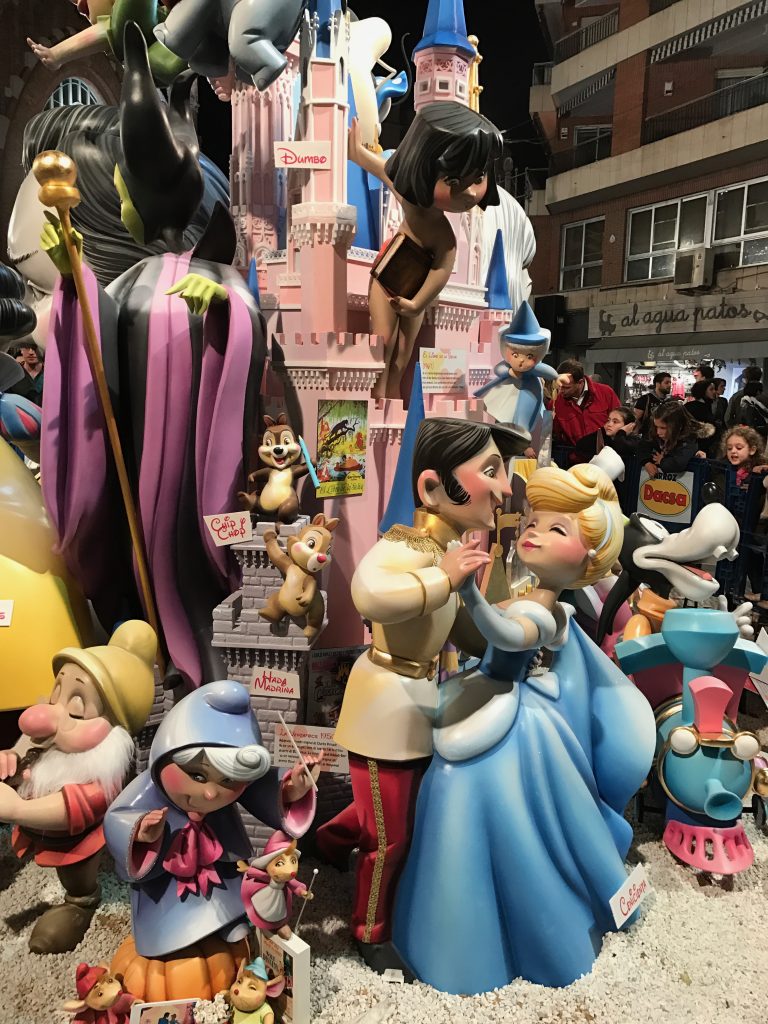 It even moved a little.
Kids made this one… kids. Granted, there was almost surely some parental involvement, but just… wow.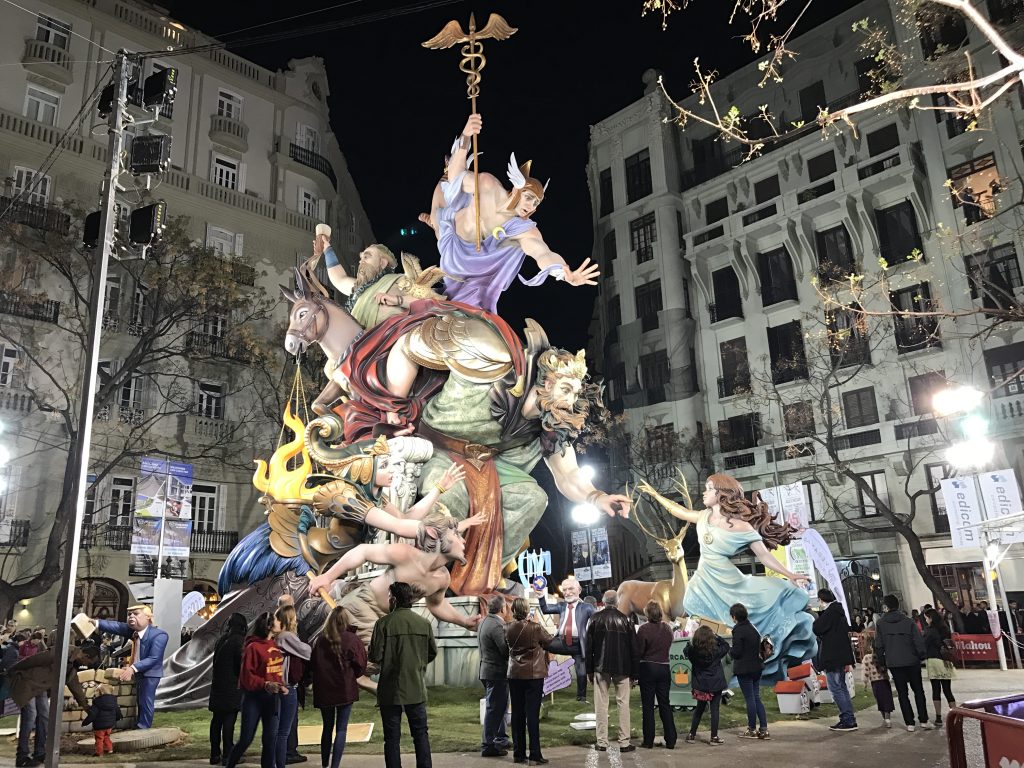 Before we get to the next few photos, we will remind you again that fallas often are satirical and sometimes full of adult content (or potty humor).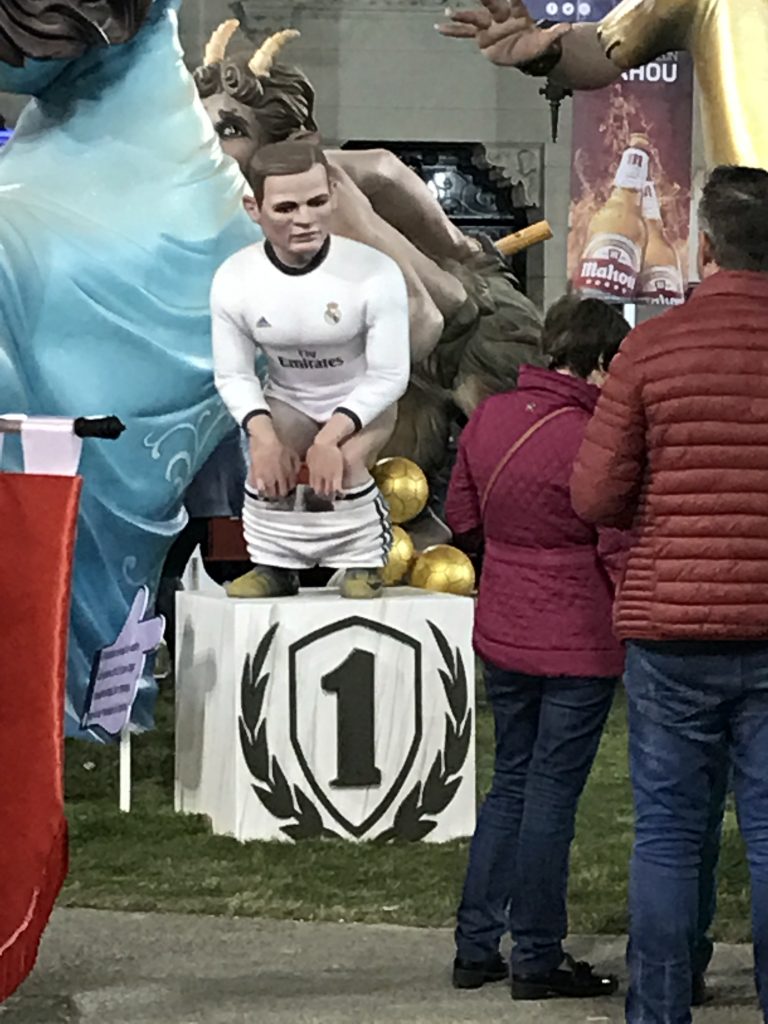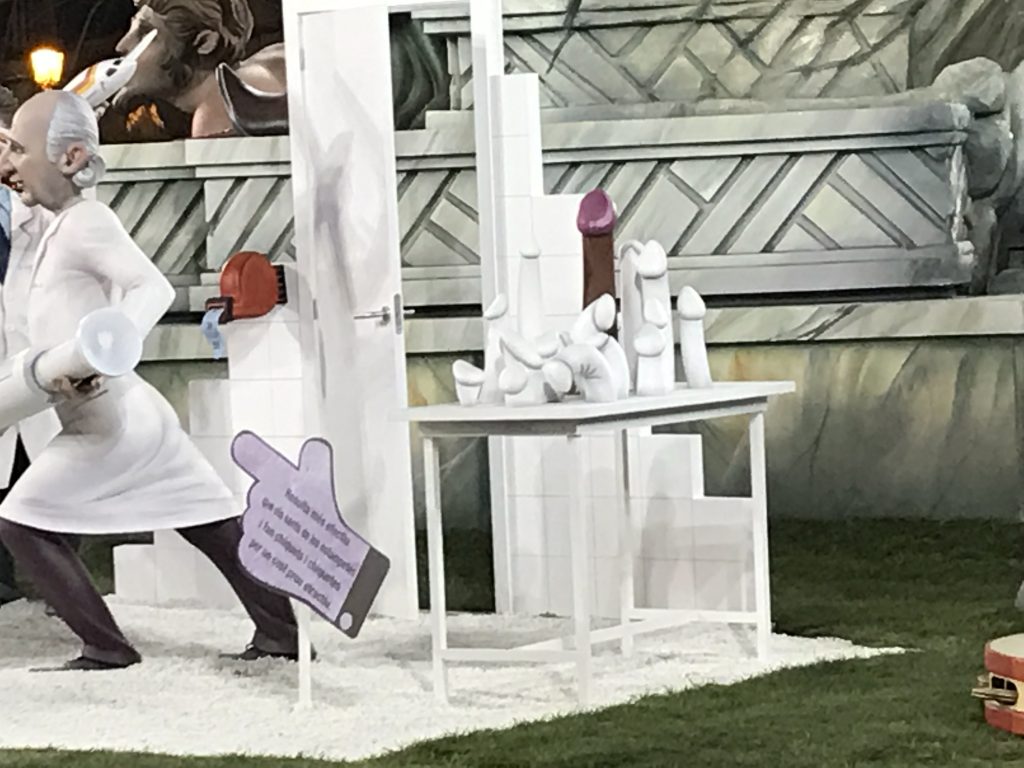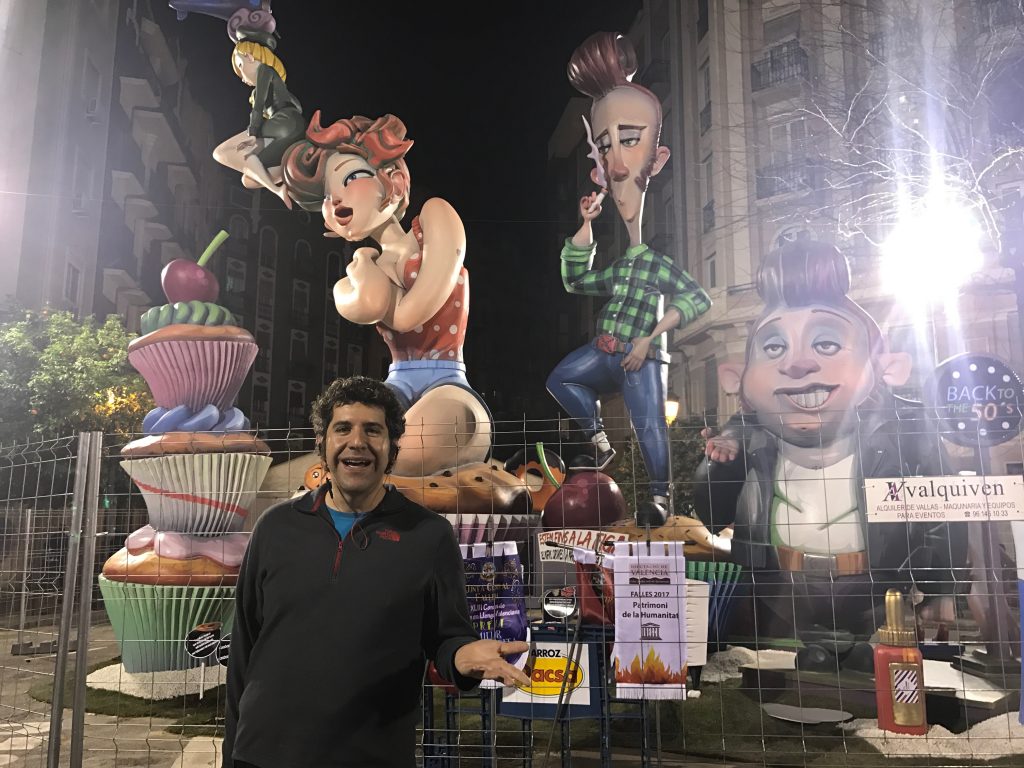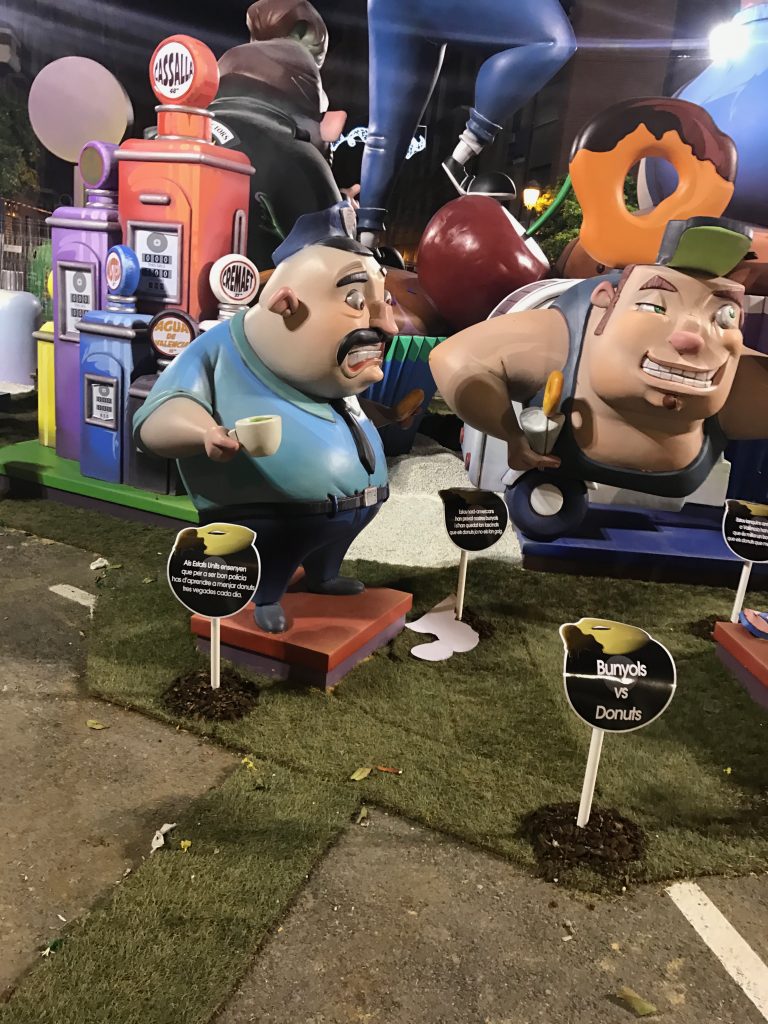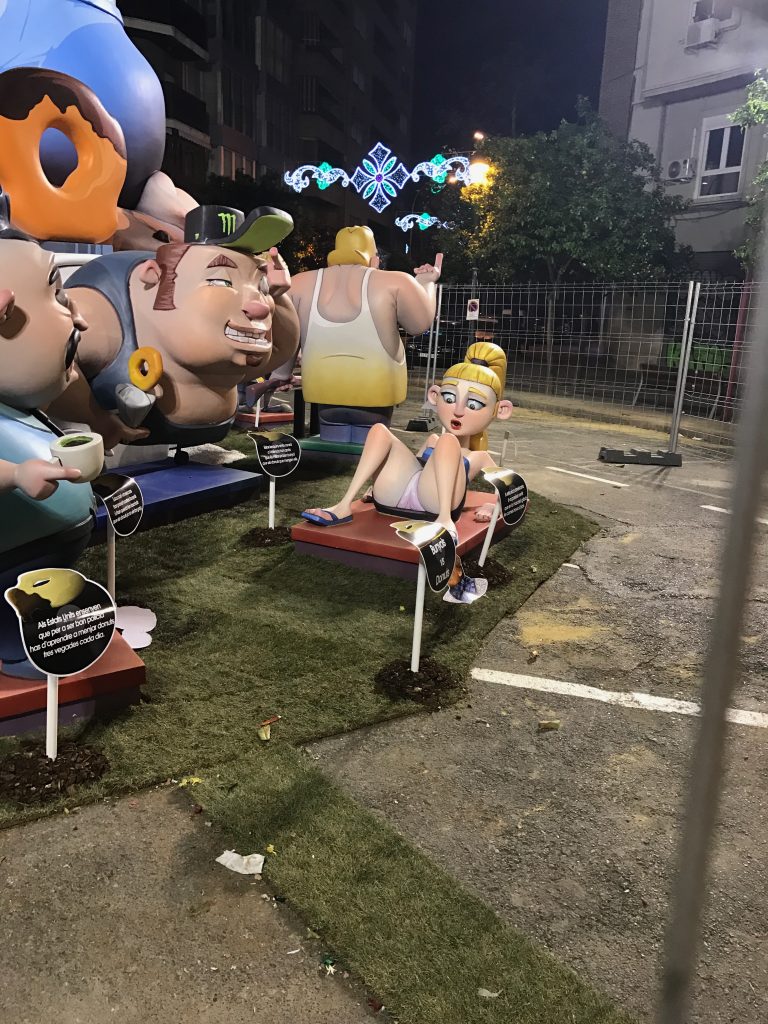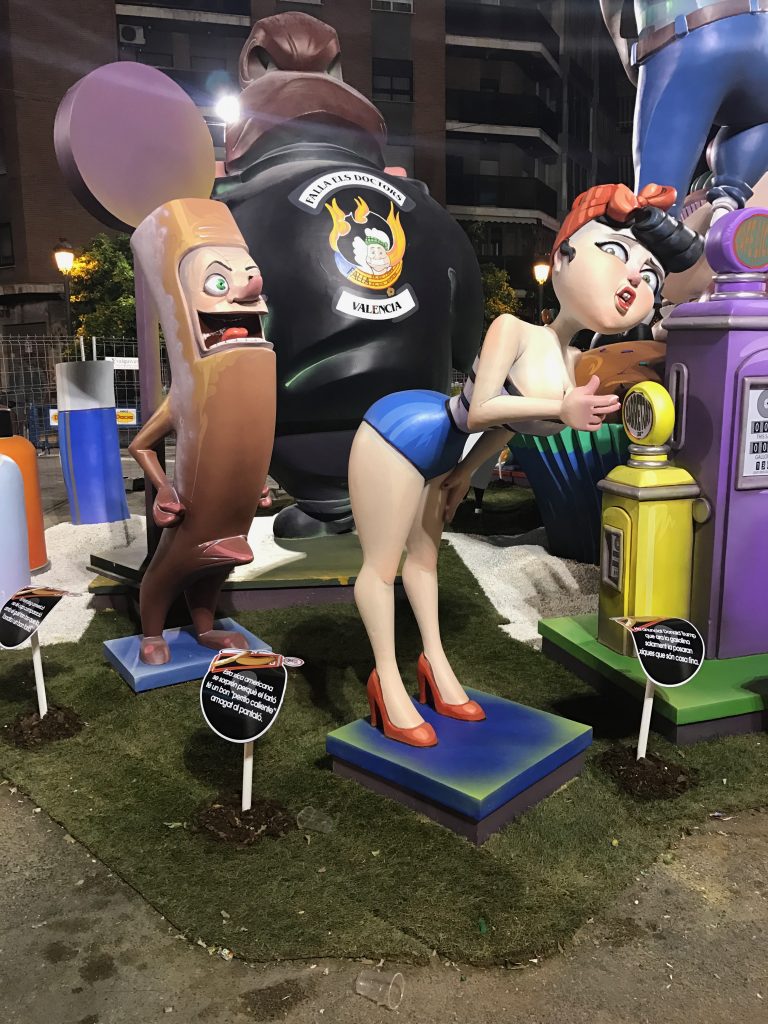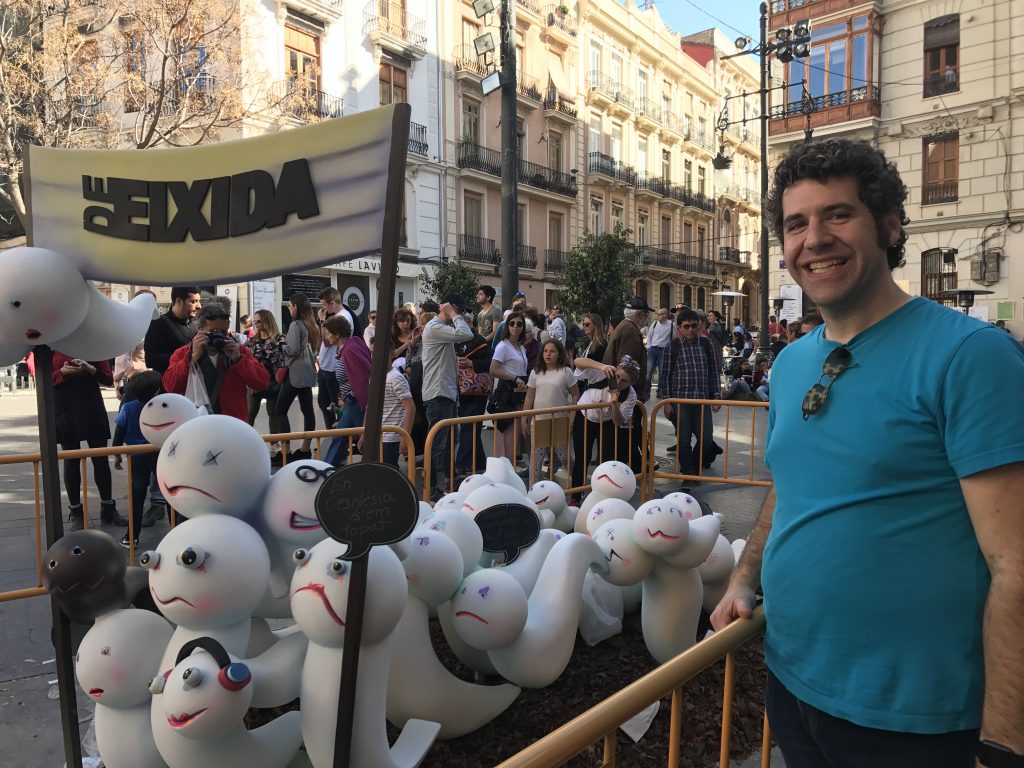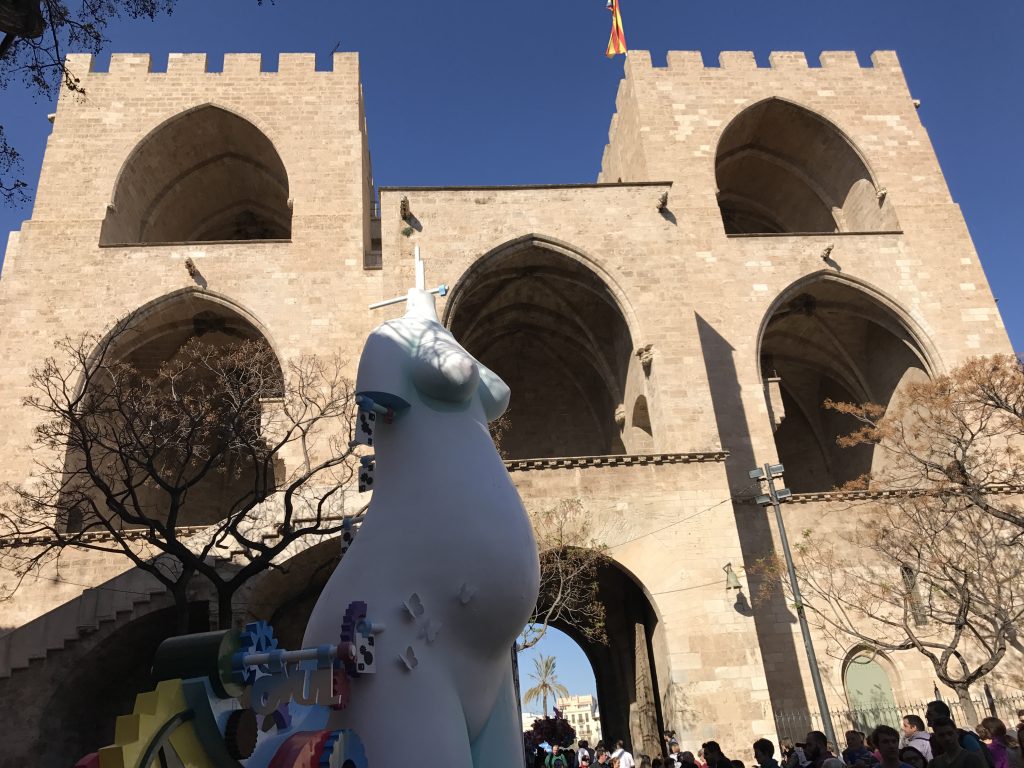 Lights are a big deal as well. Many streets are decorated and lit up at night during las fallas.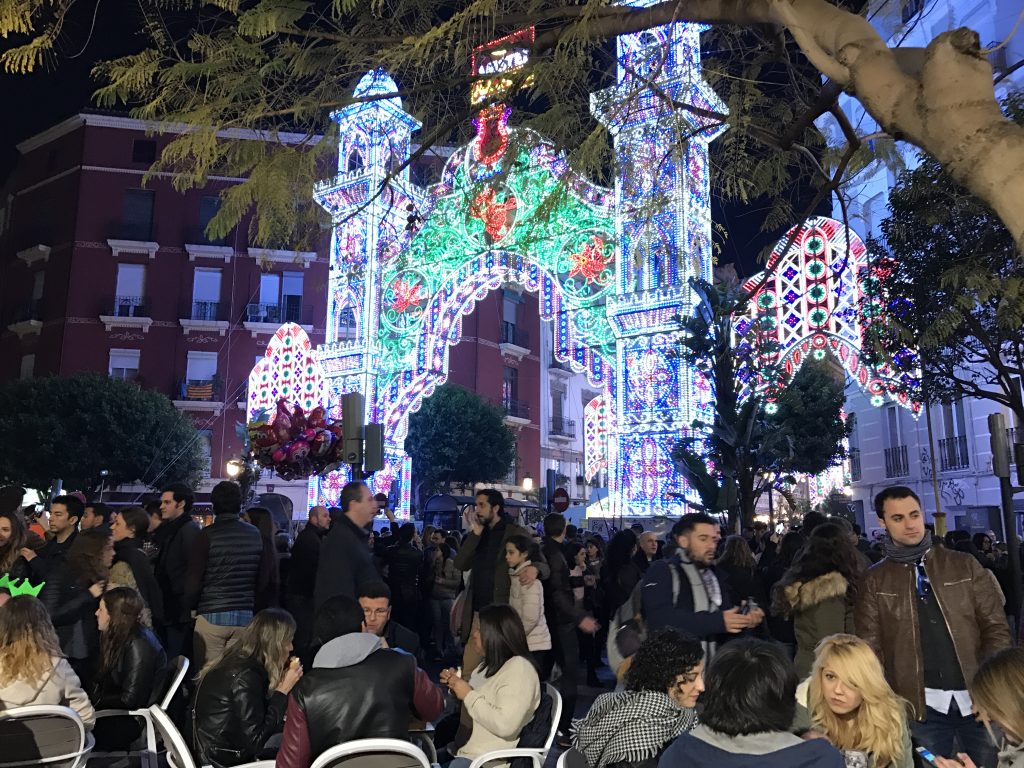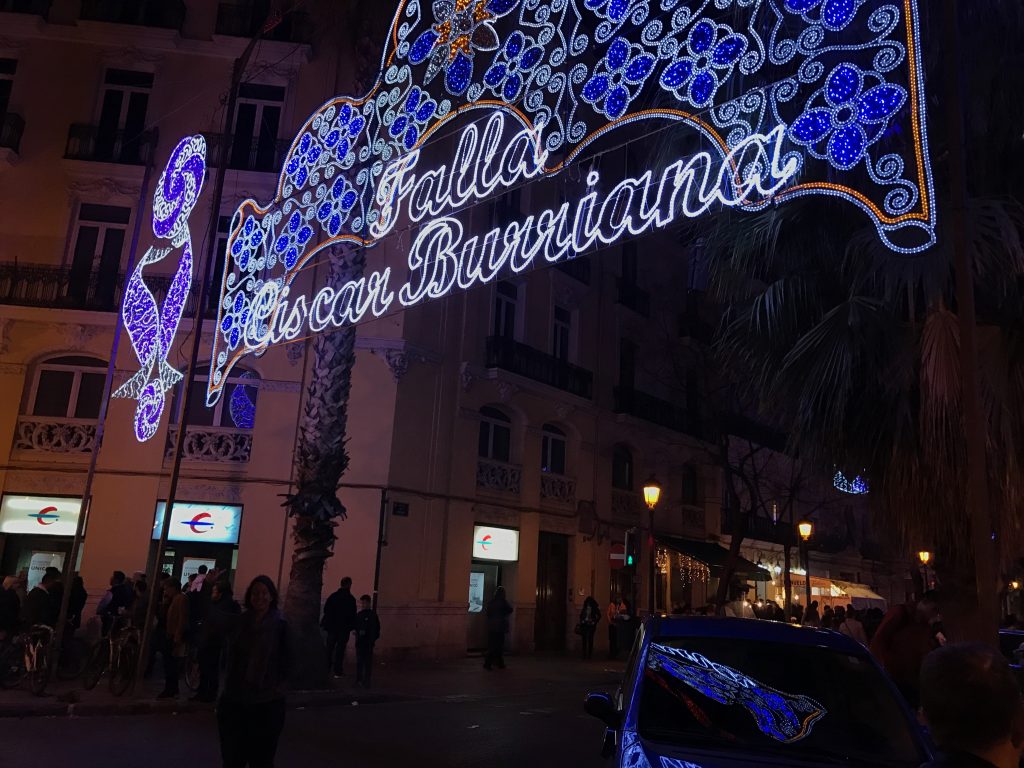 The most famous of the lit streets is Cuba Street (Calle Cuba). We weren't even able to get very close to the show, but it looked impressive (check out everyone else's phone). There was, like, an animation of David Bowie over the street and stuff. And it was all set to music, of course.
As we continued moving forward, taking in all of the different monuments and lights, we kept telling ourselves that we could make it – nay, we WOULD make it – to the grand fireworks display at 1:30 a.m. Around every corner, we were reminded of the coming grand display of pyrotechnics.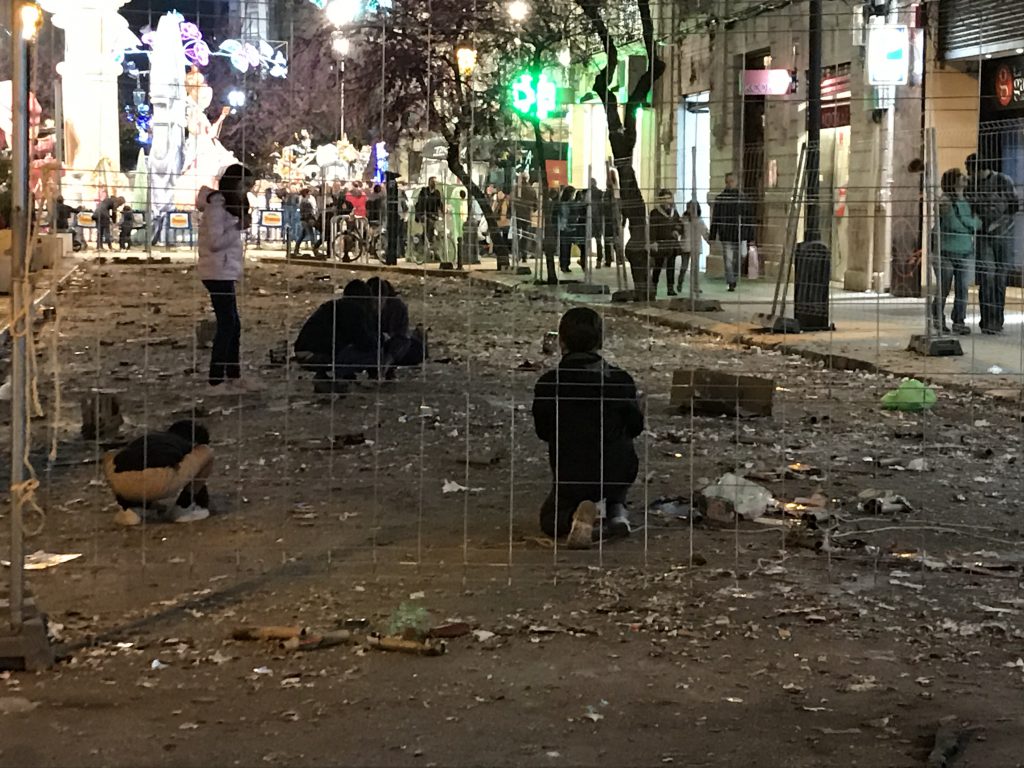 Oftentimes, the fallas themselves depict fireworks.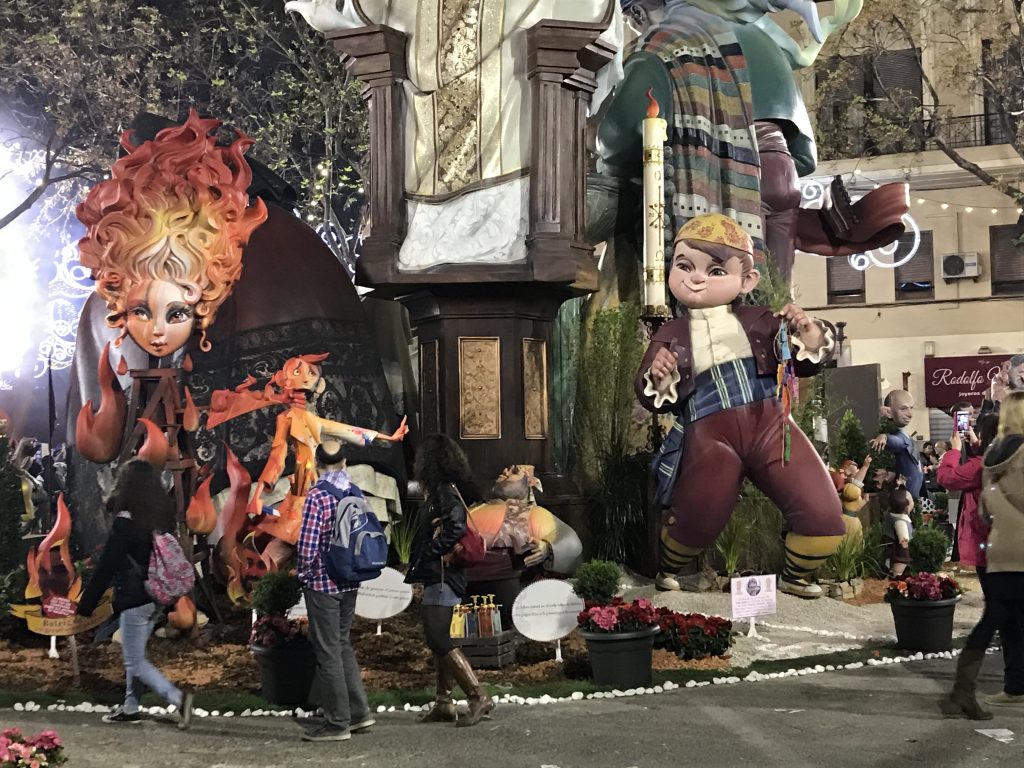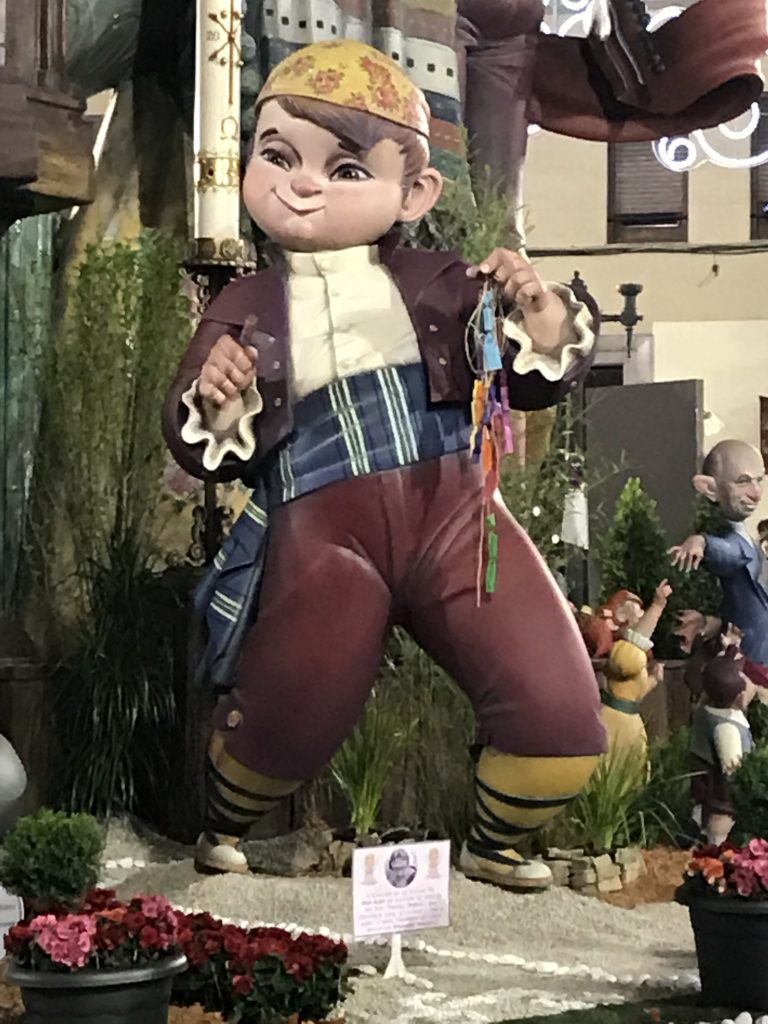 But we were sleepy. So sleepy.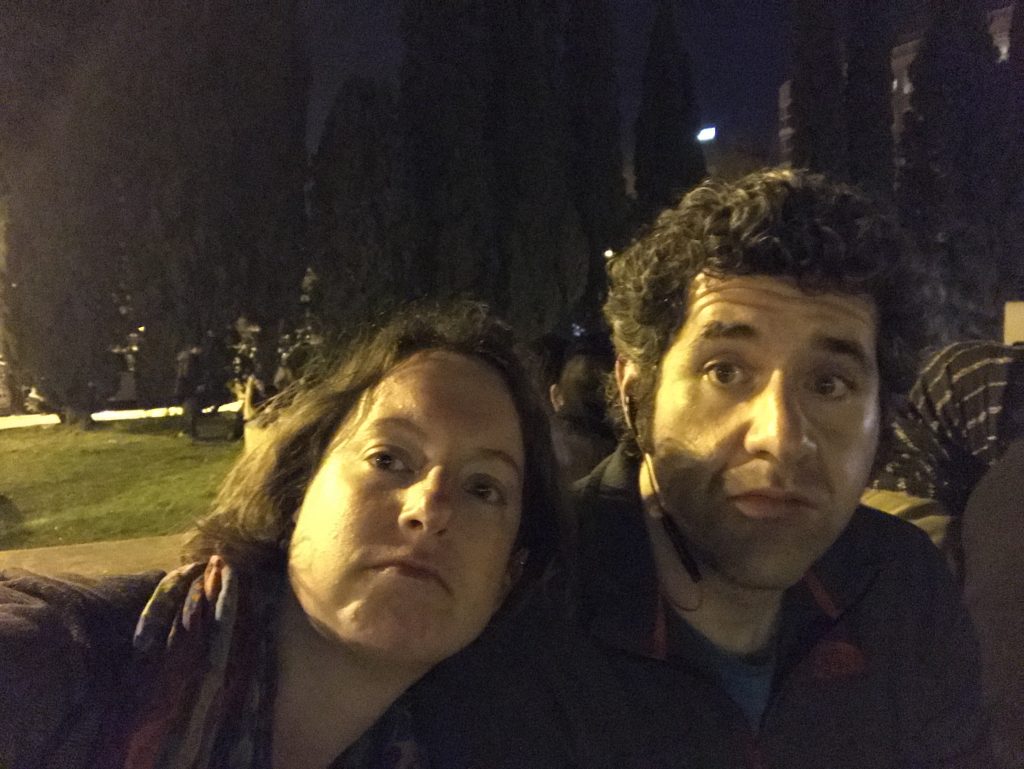 Will the Dynamic Duo, the Dreamer and the Doer, make it to the fireworks show, the Gran Nit del Foc? Stay tuned to find out!