Ever since we moved to the small Spanish city of Burriana, we have been stumbling upon longstanding cultural traditions almost every time we leave our building. Our first week here coincided with an annual festival which includes bulls running through the streets; and while I had promised myself I would never watch any bull spectacles, that resolve quickly disappeared when we needed to go to the city hall, and found bulls running in front of said hall. It was an intense week – even when we stayed home, we could hear cannons, fireworks, music, and general merrymaking from our abode.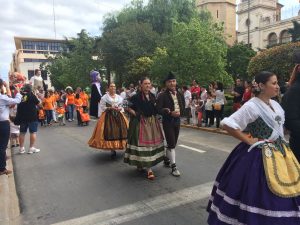 Our first festival under our belts, we thought we had some time before unusual creatures would once again roam the streets. Needless to say, we were wrong. Early in October, every community in our region celebrated Nou d'Octubre, and shortly after that we started noticing very distinctive groups of people parading through the streets. These groups usually consisted of musicians and people dressed in elaborate period clothing.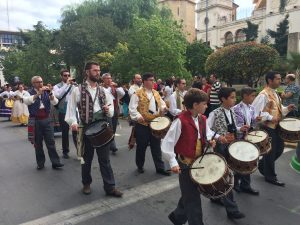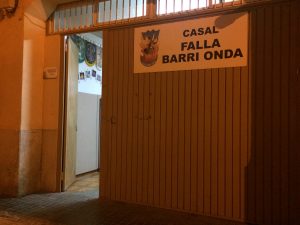 After Nou d'Octubre, also known as Day of the Valencian Community, the parades, music, and period costumes didn't stop. I learned from some teachers at my school that it's traditional for fallas groups to celebrate on the weekends leading up to the Fallas celebrations that will rock the Valencian Community in March. I was recently invited into a home to see a young fallera's dress and accessories on the eve of a major Fallas-related event in our city.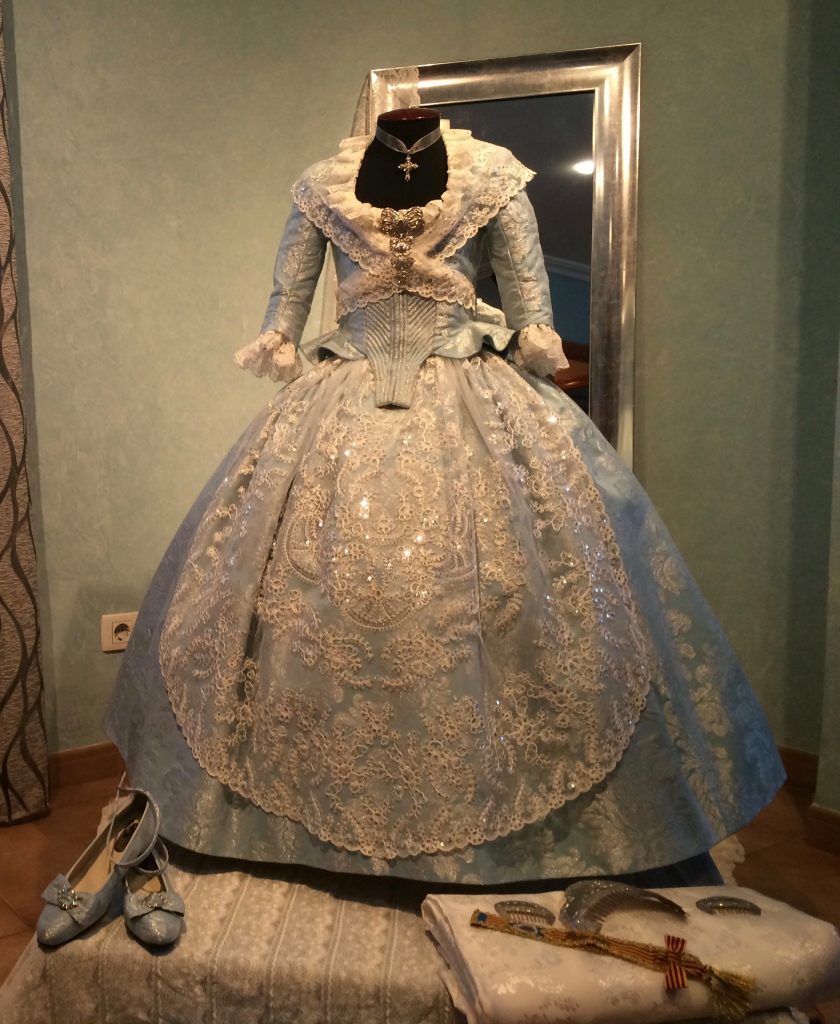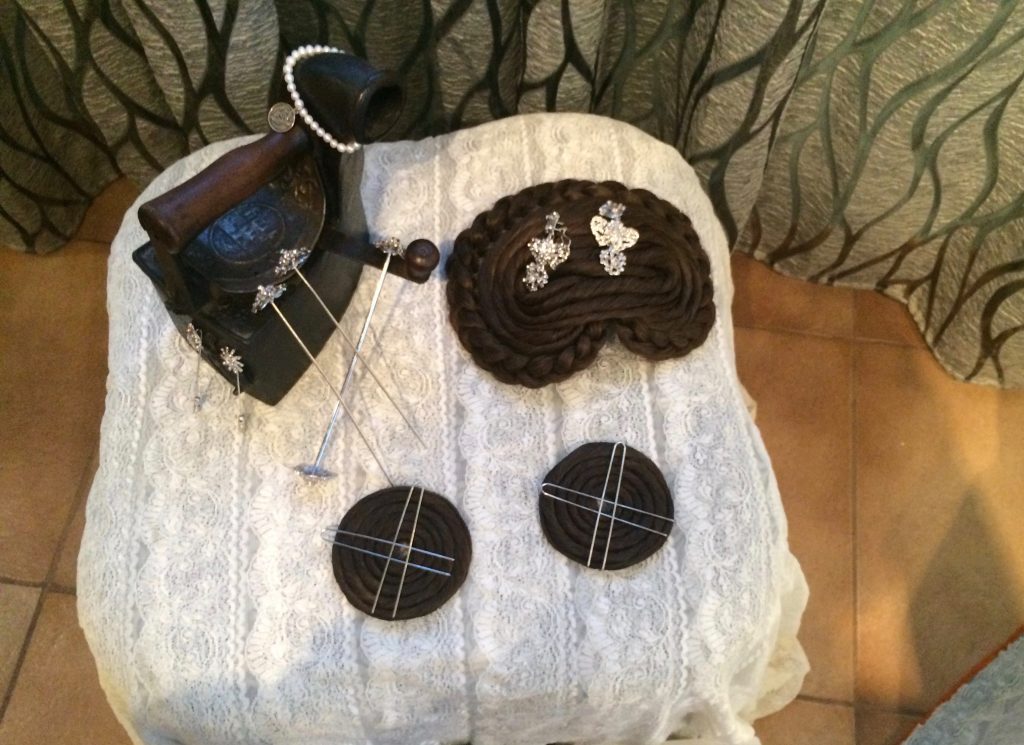 The next day, as Doer and I returned home from an outing, we were a bit surprised to see one of these fallas marches outside the front door of our building. As the band played, we waited for the young fallera to make her grand exit – only then could the procession continue. I didn't manage to capture any video of the fallera leaving the building, but I caught some footage of the group moving on – watch for Doer's cameo:
Even at this point, we didn't know anything special was about to take place, because we had become accustomed to seeing these small spectacles each weekend. However, later that night, Doer texted me from the market: "You're going to want to come see this."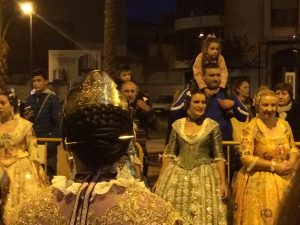 When I arrived, the largest group of falleras I'd seen in our city was lining the street in front of Teatre Paya, the local theater. Traditional musicians were playing as more and more young women joined the queue. Once everyone was in her place, the gathered falleras, musicians, and onlookers paused a few minutes to watch a fireworks display – because that's how they roll in the Valencian Community.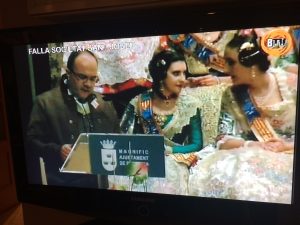 We didn't have tickets for the event in the theater, but when we got home we discovered it was being broadcast live on the local TV channel. I didn't understand everything that was being said because they were speaking valenciano, the regional language. However, it appeared the announcer was introducing the falleras one-by-one, adding information about their families and to which falla they belonged. The young women then took the stage, where they received their bandas or sashes.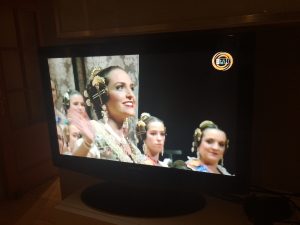 Once everyone had entered and received her banda, it was time for last year's fallera mayor to transfer the office to the new fallera mayor, who will represent the local fallera commission at events within the community and in other communities. After she received her banda from the mayor and took her seat, a number of fallera mayores from other cities within the Valencian Community were announced before taking the stage.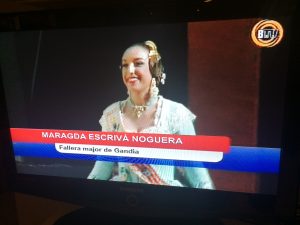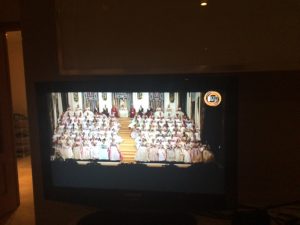 I never managed to capture video of it, but the falleras could often be seen cooling themselves with intricate Valencian fans as they waited onstage. It was a long ceremony. The small street parades haven't stopped since the big event at the theater, by the way. And it doesn't go away when you visit the bigger cities – we recently saw a fallera in the streets of Valencia. All of this, while it has become somewhat routine, also is stoking our anticipation of the Fallas festival in March. I will write additional posts with more info about the background and traditions in the future – there is much, much more to it.