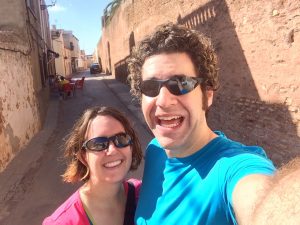 Last Saturday Doer and I explored the walled medieval town of Mascarell in our province of Castellón. This tiny hamlet is one kilometer from Nules, the municipality neighboring our own city, Burriana, and we reached it after riding about 25 minutes along a bike path, a route which took us past ceramic factories and orange orchards – the latter are about as common in the autonomous Valencian Community as corn fields are in Nebraska (maybe even more so). We encountered scores of other bicyclists along the way, leading me to safely assume that cycling through the countryside is a common weekend pastime here.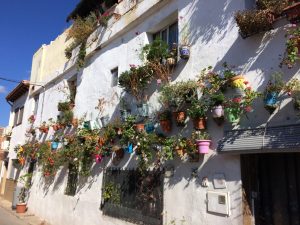 The history of Mascarell is linked to that of Burriana. When King Jaime I of Aragon (James the Conqueror) was conquering the Valencian Community, he expelled Muslims from Burriana after a two-month siege in the year 1233. (Mental math side note: We're living in a city that is more than 800 years old – how cool is that?! The United States has not yet reached 300 years of nationhood). After fleeing Burriana, the Moors established a community between Burriana and Nules – the tiny village that came to be known as Mascarell.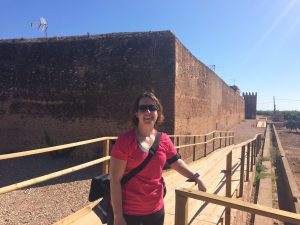 Mascarell is the only completely walled town within the Valencian Community, and it's surrounded by a moat that later on became an irrigation ditch for the surrounding orange orchards. There did not seem to be a lot going on around noon on Saturday, but we did learn the town has a big market each Sunday in the large parking lot outside the city walls, and I saw an old poster for an annual Medieval Fair, which I think will take place again this November – however, good luck finding information about it online! Just as the locals would want, I suspect.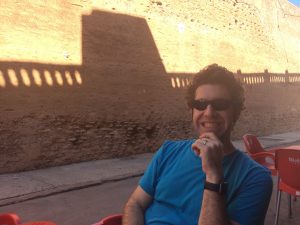 Every Spanish community, no matter how tiny, needs a bar, and we did encounter one. There were two other customers besides us, and I was disappointed to learn there was no beer in the tap. However, coffee probably was the better choice anyway, as we had a 25-minute ride home. There also was a kind of social club in the town where a couple of locals were hanging out with beverages – we were not sure if it was a business that was open to outsiders. There can't be more than a couple hundred people living in Mascarell; maybe next time we're in town we will see if we can join.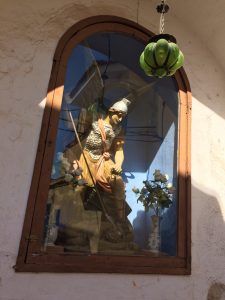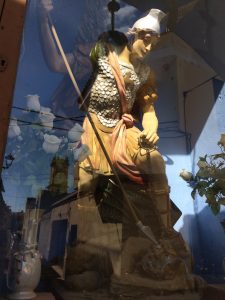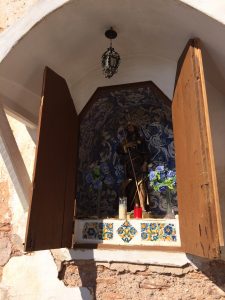 One fun feature we encountered a couple of times in Mascarell were ornate religious statues enshrined within walls. The sun was very bright when we were taking pictures, but you can see a clearer version of Saint Michael (scroll down until you see the demon with an arrow about to enter his eye) here, and a clearer Saint James here. I've seen such statues in other Spanish communities, but Mascarell is so tiny that per capita it seemed like they had a lot of holy sculptures.