"Are you going to go to a bull fight?"
This is the first question I would inevitably be asked anytime I told someone I was moving to Spain. My response to this was always along the lines of, "No, we aren't going to be anywhere near Pamplona, and that's where they do that stuff. But maybe if we travel up north, I'll have to check one out by myself, since I know Dreamer won't abide that cruelty."
I guess I should have become suspicious when, one day in Castellón, Dreamer was asked to sign a petition to stop the "bous" (pronounced like the synonym for alcohol). We both had to look up that Valenciano word to find it meant "bull" and specifically an exhibition festival of bulls in the town square. OK, so this was something they did in Castellón once a year… maybe we'd have to check it out.
Fast forward to a week later. We're finally settled in our new apartment in Burriana – about fifteen minutes from Castellón by car – and heading to the Plaza Mayor where we'd walked around previously, this time to register ourselves with the local police. Except now there are many colorful metal obstacles in our way. Seemingly overnight, the center of town – several plazas and at least a kilometer of contiguous street – has been transformed into a rink where the bulls can run. Sand has been laid down in the streets. Businesses along the route have windows boarded up or very hefty metal bars in front of doors.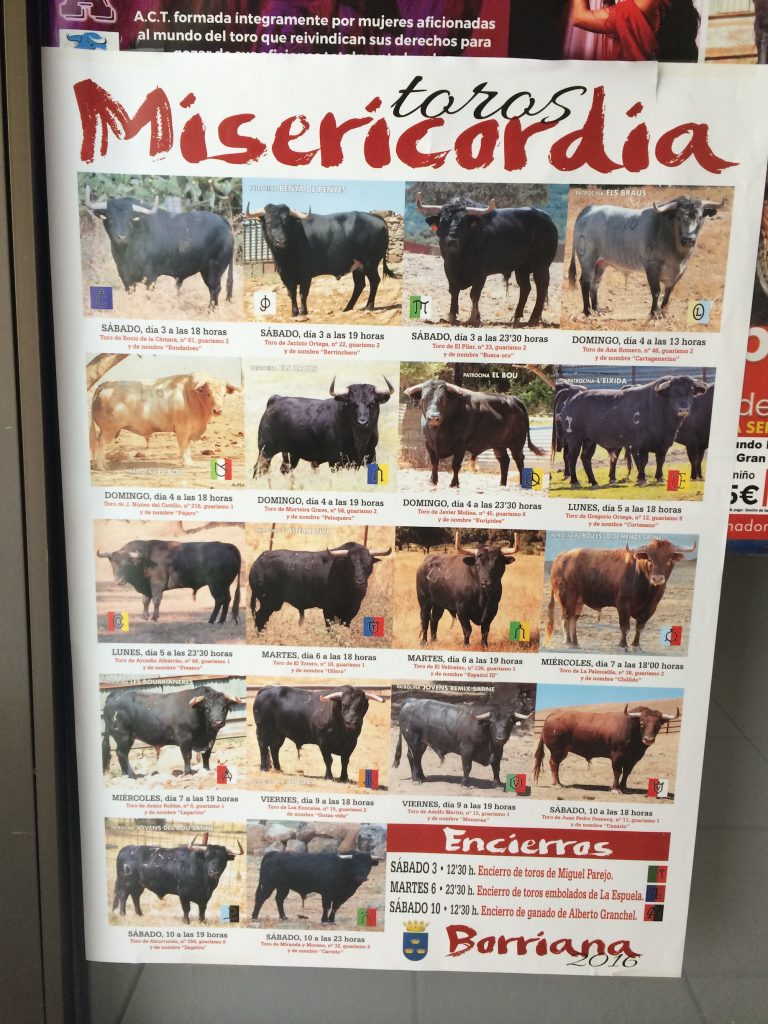 This was quite the welcome, to be sure. Looking online, it became evident this was a 10 day festival celebrating the bous… by torturing them, or at the very least, by confusing and angering them. Come every six hours and see a new bull! Come at night and balls on the bulls' horns will be set on fire! Fireworks every half hour to announce the next event! Like I said, it's been quite the induction. And we are living literally blocks from the festivities. One of the sponsoring groups is partying just down the street from us – seems right out of NoLA, no?
In the spirit of taking in as much as we can, we are trying to make it to each different type of event at least once. And to keep open minds about something so quintessentially Spanish. They revere the bull. But couldn't they do so by being a little bit nicer to it?
And of course there's food and drink. It's interesting to see what the Spanish version of a county fair is like. HINT: the food and drink are a lot better and there are no open container rules.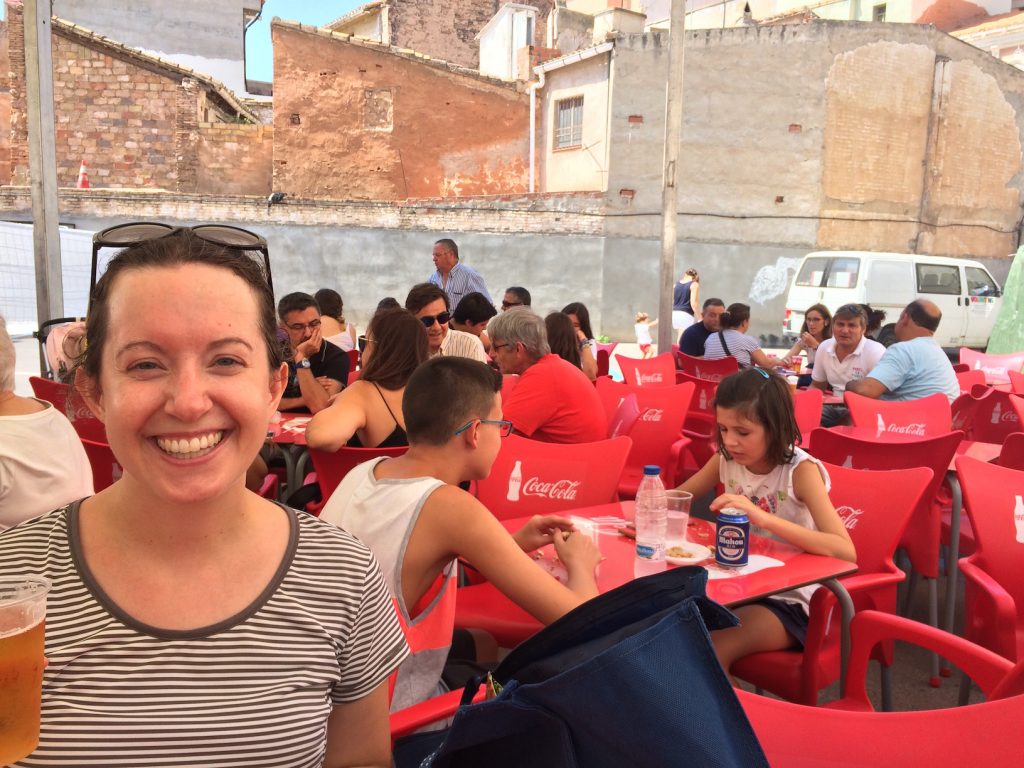 I've certainly gotten lots of mileage out of the word "bous" because it's just so darned fun to say. And Dreamer seems to have been able to throw off her concerns about animal cruelty for long enough to enjoy the festivities. After spending five minutes around the bull with horns on fire last night, it was me who wanted to leave first – not her.
But one thing is for certain: we will NOT be going on the other side of those bars like many of the locals.