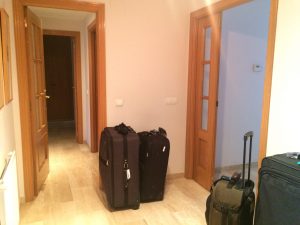 Doer and I have been expats for just over three weeks now, and we've spent a week and a half settling into our new piso in Burriana (or Borriana, if you prefer to speak Valenciano instead of Spanish), and as he already has shared, it is a relief finally to have a home. Although we love traveling, at heart we are homebodies, and hotel life is not for us. And while we like one another quite a bit, one cannot underestimate the importance of two introverts coexisting at home together, but in different rooms. 
Before we arrived in Burriana, we made a list of what our apartment ideally would have:
High-speed Internet

Washer or close laundry facilities

Air Conditioning

Dishwasher

Proximity to my school

Courtyard

Close to the sea

Parking Space
Also, we wanted our home to "feel" Spanish. In the end, we didn't get everything on our list, but the apartment definitely feels more Spanish because of it.
High-speed Internet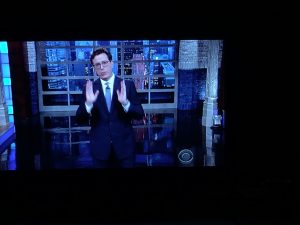 Doer made an online appointment with an Internet service provider, and they called the day before our scheduled appointment to ask if they could come a day early. Um, yes! Or, I should say, um, ¡sí! This was one of our few non-negotiables, as Internet obviously enables us to work and seek information very easily. It also has allowed us to become reacquainted with our dear dinner companion, Stephen Colbert.
Washer or close laundry facilities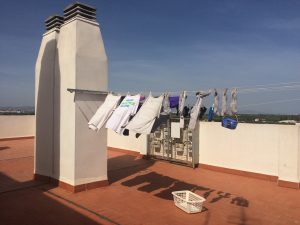 If there were another non-negotiable item on our list, this would be it. Our piso did come equipped with a washing machine – it's smaller than our model back home, but it gets the job done.
We don't have a dryer – I don't think they are as common in Spanish apartments. But I have to say, I have truly enjoyed hanging our clothes to dry on the building's rooftop clotheslines, especially because it affords some stunning views.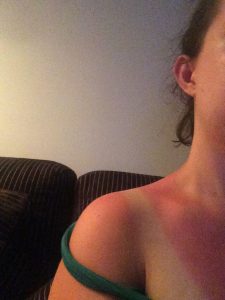 I just have to be careful not to spend too much time up there when the sun is directly overhead.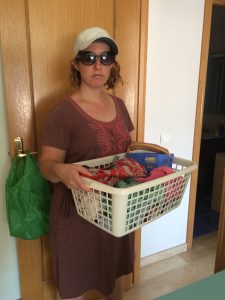 Air conditioning
This is a common American luxury that did not come with our piso. Both the owner of our apartment and my Spanish bestie from college told us that AC is not as widespread in Spanish homes as it is in the U.S. Thus, all of the windows in our place have remained open from the moment we moved in, which this allows a very refreshing breeze to blow through. I don't even miss AC anymore. Well, not all of the time. . . .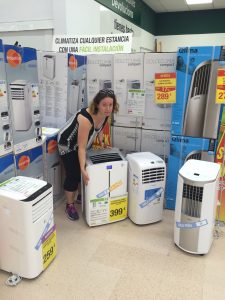 . . . Although there have been a few moments in which I have pined for the portable air conditioner we saw at Leroy Merlin (European version of Home Depot or Lowe's). In a few particularly clammy instances, I have been able to conjure exactly what it felt like to stand in front of the 399€ unit (so cool; deliciously frigid, even). We pondered buying it for the bedroom, but ultimately, Doer said, "if we get this, there's no going back. We won't adapt." I hesitated, but in the end I agreed. Spain is not entirely without AC, of course; it's very common in businesses, and in some places, like our neighborhood supermarket, it's very crisp (almost to a Trader Joe's level). Many Spaniards have it in their homes, too. However, we decided that if we remain glued to an AC while we're at home, we will have a tough time adapting to our Mediterranean environment. At least I know Leroy Merlin has a very capable little unit if we change our minds.
Dishwasher
Some Spanish families certainly have dishwashers in their homes, just like the air conditioners. Our new home did not come with one, although there is room for a small model in our kitchen. However, it seems to be more common with bigger families. When we broached the subject with one of the men who came to fix some lights in the apartment, he looked at us doubtfully and said, "¿solamente son los dos?" (It's only the two of you?) Even though Doer and I are champion eaters who can fill an American-sized dishwasher in one day (no, really), we decided to try to do without. So far, so good, as long as we don't let dishes pile up. Instead of hastily returning to our busy lives immediately after eating, we now try to wash our dishes after every meal.
Proximity to My School
I can see it from our terrace.
Courtyard
I became enamored with courtyards after prior vacations in Europe and New Orleans. Our bedroom window does overlook a sort of courtyard, which really is more of a mishmash of private patios. While we don't have a courtyard of our own, we do have a terrace, which is proving to be a fine substitute.
Close to sea
We can see the ocean at a distance from our bedroom window or from the rooftop – and if we can see it, it can't be too far, right? In reality, we are about 5 kilometers (or 3 miles) from the beach. Still, we are a lot closer to ocean front property than we were in Nebraska.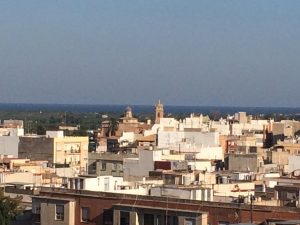 Now that we are more settled in our new home, it's time branch out and get to know that side of town.
Parking Space
Our building shares a garage with several adjacent buildings, and our place does come with a parking spot. It seems like many of the spaces in the garage remain empty, however. It was such a production to get in and out that we ended up parking our rental car on the street. Earlier this week, we returned the rental in Valencia. For the first time in either of our lives, we are without a vehicle; it remains to be seen whether this state will continue. Getting to Castellón for an important appointment today took a little more planning and shoe leather, but we were able to pull it off.
High-speed Internet

Washer or close laundry facilities

Air Conditioning

Dishwasher

Proximity to my school

Courtyard

Close to the sea

Parking Space
So there you have it. Our recent shopping splurges to further equip our already furnished apartment felt very American (complete with a post-purchasing meal at McDonald's!), but forgoing a dishwasher and (especially) an air conditioner feels very Spanish. Above all – and most importantly – we feel we are at home.