After a jet-lagged week of navigating a new culture, we were bound to feel little bites of homesickness nipping at our heels. I think it's safe to say after a week of eating out (with one exquisite exception – more on that later), Doer is ready for his own kitchen again. I'm thinking about my family after learning my grandmother passed away. This wasn't unexpected news, but it's still very sad, and it lends a bittersweet feel to the days.
Even though Spain is very different from where we're from, we keep stumbling across strange little signs of home. On our first day in Madrid, we randomly passed a diner called Nebraska.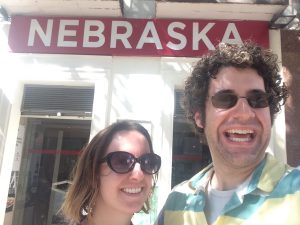 We ate there a day or two later – it's not traditional Spanish food, but we had to try it – and we learned there are six Nebraskas in Madrid. When we told our server we were from Nebraska, he did not seem impressed.
Apparently when Doer came to Spain 16 years ago, he also came across the restaurant (it's been around since 1955). Funnily enough, he had a similar experience with the staff back then.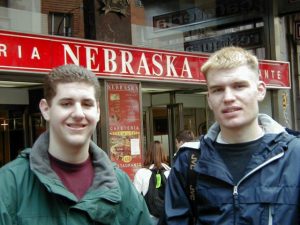 On another occasion, we passed by a different fast food hamburger restaurant and noticed a sign advertising their Angus Black Nebraska beef.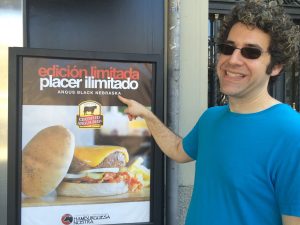 I guess madrileños take the Nebraska chain's slogan pretty seriously: De Madrid, al Cielo . . . Pasando por Nebraska (roughly translated From Madrid, to Heaven – Passing through Nebraska).
Tomorrow we head to Castellón, where we will begin to establish our new home base.