I rented a car on Wednesday to take us and all of our bags from Madrid to our home provincia of Castellón. As expected, the rental experience – from leaving the hotel to arriving back with car in hand – felt like it took several hours. Dreamer informs me she was not waiting back at the hotel with bags for quite that long. I swear it was at least two hours, maybe three.
After forgetting that the subway line to Atocha train station was closed for repairs, I had to take a taxi from a stop more distant than our hotel. Finding the rental car area after that took at least 20 more minutes. And finally, of course, I wisely asked to look first at the "minivan" size vehicle that I had reserved to make sure it would fit us along with all of our bags. Based on prior tetrissing experience, I determined we would probably be OK, but of course, this giant car by European standards was what we in the states would call a hatchback.
The 5-hour drive (3.5 hours of driving + a leisurely Spanish lunch in La Mancha) was uneventful, which is all we could ask. Very cool to see the terrain and agriculture change from dry plains in the center of the country, to mountainous, to mediterranean as we neared Valencia.
We found our way to our hotel in Castellón and stowed away the car in the underground parking (again, said with a Spanish accent: "BAR-keeng"), as most buildings here in the city tend to have. By the time we were settled in our habitación, it was only 7 PM – early by Spanish standards. We did not expect much, but headed to the nearby police station to see if we could register as foreigners.
They were closed, of course, and no hours were posted. We even asked a friendly officer on duty outside and he did not know – though he presumed, like us, that they opened at 9 AM. Returning the next morning in advance of 9 AM as Dreamer is wont to do, we were allowed to enter only after the gates had been opened at 9 AM.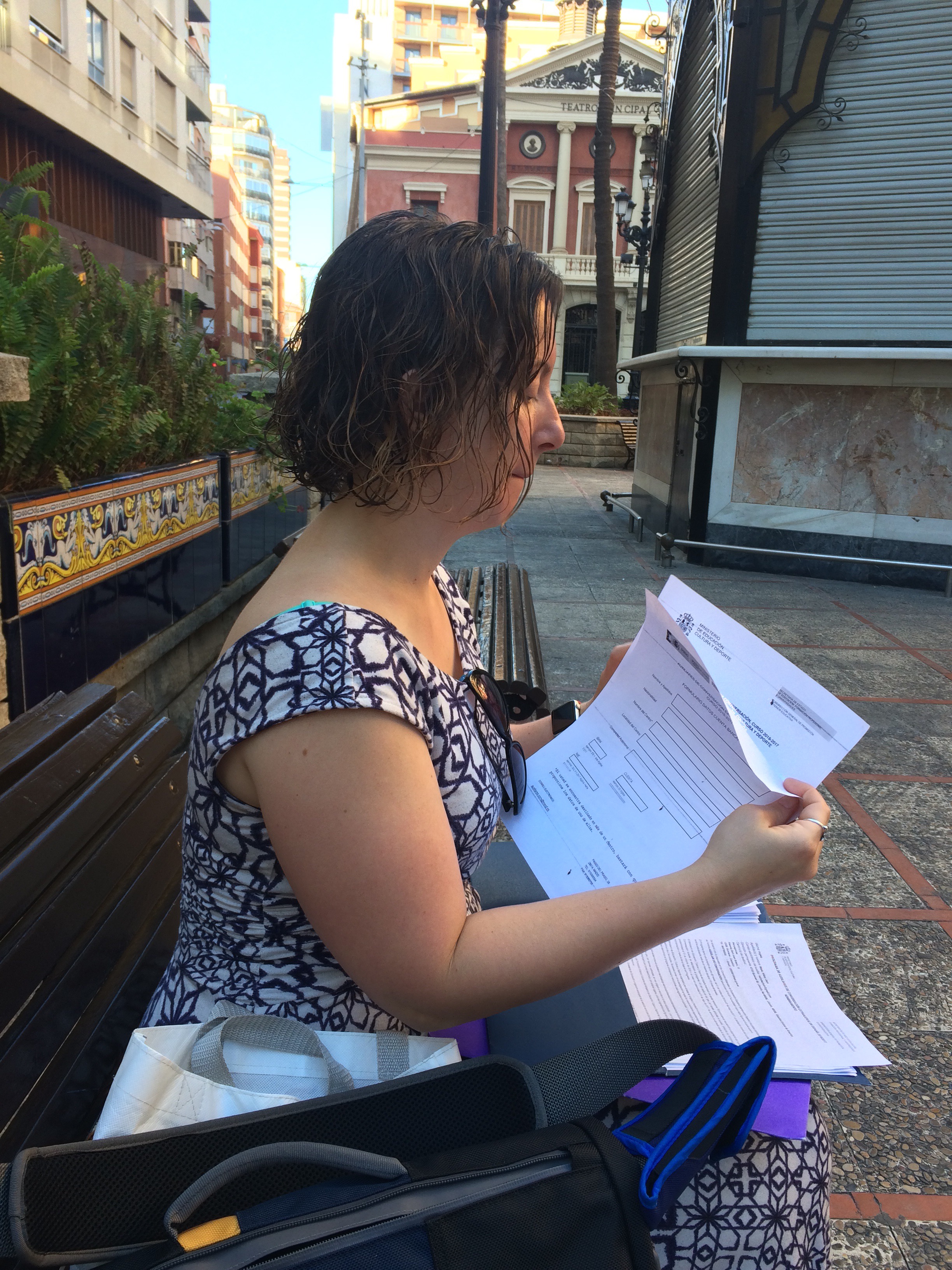 Another nice, friendly lady took us over to her desk, looked over our visas, and told us they were all good (which we knew). But we needed student cards. But she could not give them to us. And she'd try to help us make appointments. Only she couldn't. And we needed to go to the other police station to do that. We think. But really, our Spanish is not that amazing.
Have I mentioned how much nicer and friendlier the people are in this town? And how much more approachable everything is than Madrid? Yeah, we're pretty happy with our choice right now. Awesome little slice of Spanish life right here.
So we head over to the other police station in our coche, find parking, head into the waiting room with a lot of individuals who look to be waiting on their immigration status, and find the dispenser from which you are supposed to take a number. Only there are no numbers. And nobody at the information desk, because… Spain. Dreamer tried to ask one of the five officers outside smoking and chatting with each other, but you can guess what their response was.
Five minutes later, I get in a line further toward the back where it seems like people are going for information and motion for Dreamer to come join me. I explain that they're out of numbers at the front and am told there are no numbers today. Then I explain why we're here and we are redirected to the police station we visited initially. We explain that we've already been there and finally the nice man apologizes and hands us two forms with small pieces of paper attached that have web URLs on them.
"Hay que tener cita," he explains.
"You have to make an appointment." Reference this post's title to learn how to say that with a proper Spanish accent…
The nice man gestures toward the two other people working at the six desks there. Everyone is on vacation. They are short-staffed. We thank him and leave, go back to the hotel for some WiFi.
The earliest cita we could get was next Thursday Friday [Spanish calendar starts on Monday, oops]. And of course it's at the first police station we went to. Perhaps we missed the nice lady telling us this in Spanish.