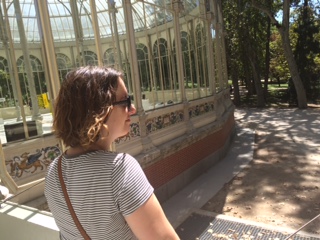 I have been a bit delayed in writing my first blog post from Madrid – we arrived Wednesday – but as we have learned in only a few short days, the art of delay is very Spanish.
(On a side note, Doer has written several posts. He's pretty good at the Doing).
Delay is apparent everywhere in Spain, from pedestrians conversing in the middle of the sidewalk to the hotel breakfast diners who linger over the coffee long after the hotel staff begin clearing the room. And unlike the fast-paced tempo of the United States, it tends to relax you – once you make peace with it and embrace it.
Delay has been a part of our Spanish experience, even before we reached the Iberian Peninsula Wednesday afternoon. But we're learning that this is not always bad. Everything about our journey here went amazingly well, until it was time to board our plane. One half hour delay turned into another, then another – apparently there were mechanical issues with the aircraft. While I'm grateful the airline took the time to address the problem, I think most passengers were not excited about the five-hour setback. However, the postponement had a silver lining for Doer and me, as we struck up a conversation with M&M, a Spanish-Irish couple who live in New Jersey. We learned they have an apartment in Galicia, and Doer and I hope to visit them before their holiday ends (M&M, if you're reading this, I lost your email address! Please send us an email!). Once our plane touched down in Spain, our late arrival put us at the airport at an odd time in which there were no other flights landing. This was great news for us! We breezed through customs, found our luggage quickly, and secured a private car to take us to our hotel (we had a LOT of luggage).
After stopping for a snack later that day, we learned that people in restaurants – both diners and employees – are not in much of a hurry. Our waiter came to our table quickly enough, and he told us, "drinks first, then food." Only he never took our food order – he left right after we asked for our drinks. When he brought our drinks, he did not stick around long enough for us to ask for food, either. Several times, I caught his eye and smiled – American code for We're ready to order, please. My eye contact did not translate, however, and we ended up asking for the check (la cuenta) because we wanted to visit a couple of phone stores before they closed.
While the relaxed Spanish attitude didn't serve us well in that particular occasion, we have been trying to embrace this unhurried approach to life in other instances. And we've had occasion to embrace it often. After ordering a drink at our hotel bar the other night, the single employee who was working brought our bill. I prominently displayed my credit card on the bill and scooted it to the edge of the table – again, clear American code for I'm ready to pay my bill. There was one other party in the bar. When he finally approached our table, he had forgotten he had brought the bill earlier, and he had a second copy.
We really started to develop an appreciation for the art of delay on Friday, when we did some sightseeing. Taking our time to slowly meander and linger over an interesting view felt much more peaceful and fulfilling than the walk as fast as you can and look at everything so you don't miss anything American approach to tourism (I've been on that vacation – many times). But this year is not a vacation. It's a journey, to be sure – but for us, it's as much about personal development as it is about physical destinations.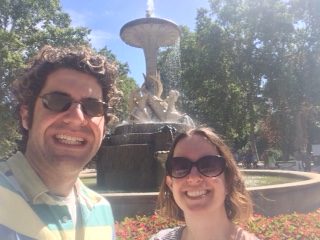 Thus, whenever we find ourselves stressing or hurried, we try to remind ourselves not to rush. Sometimes our hardwired American instincts take over, but for the most part, we are learning to slow down, to linger, and to enjoy the delay.