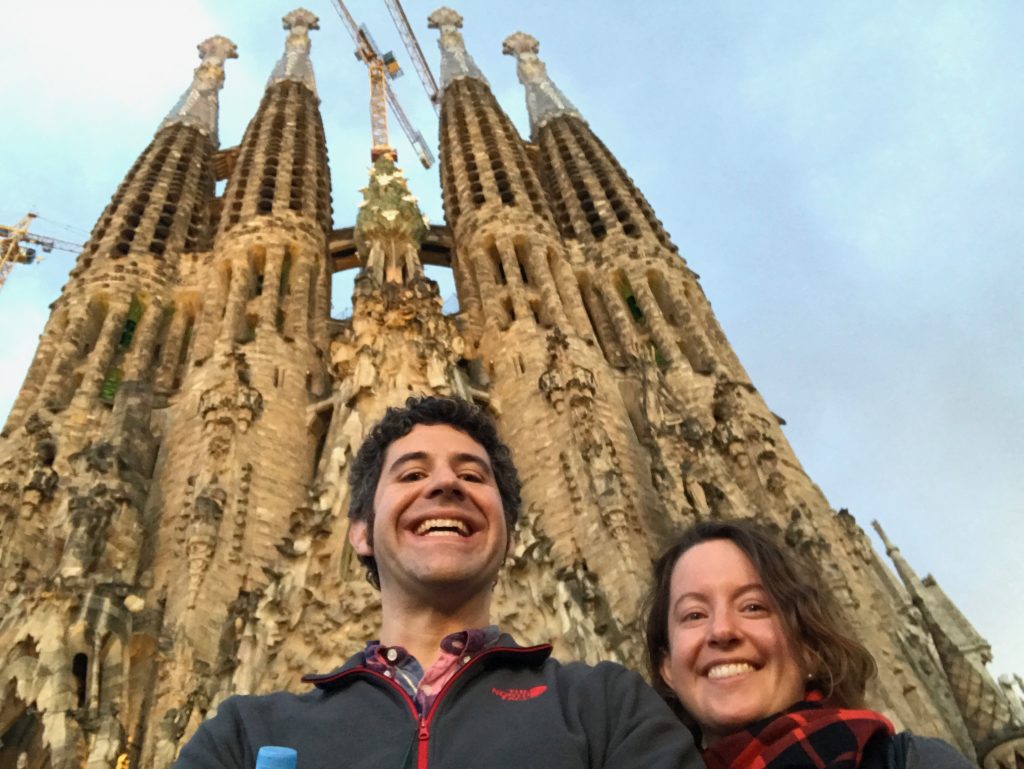 During our third visit to Barcelona, we finally saw one of the most iconic symbols of the city: La Sagrada Familia.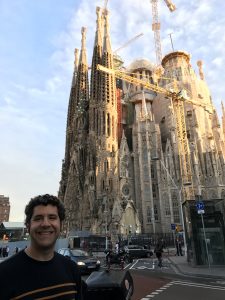 Although we also discovered the works of another master architect during our April trip, we just couldn't let a visit go by without seeing something created by our favorite Catalan modernist, Antoni Gaudí. And boy, was it something – many people (probably most) consider La Sagrada Familia his unfinished masterpiece.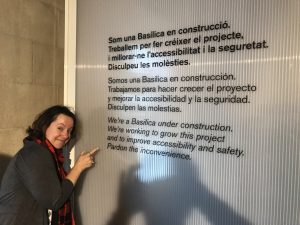 Construction of La Sagrada Familia, or The Church of the Holy Family, began in 1882, and Gaudí took over the project a year later. Even though he was completely devoted to the project in the last years of his life, it still was less than a quarter completed when he died in 1926. It's expected to be finished in 2026: 100 years after Gaudí's death.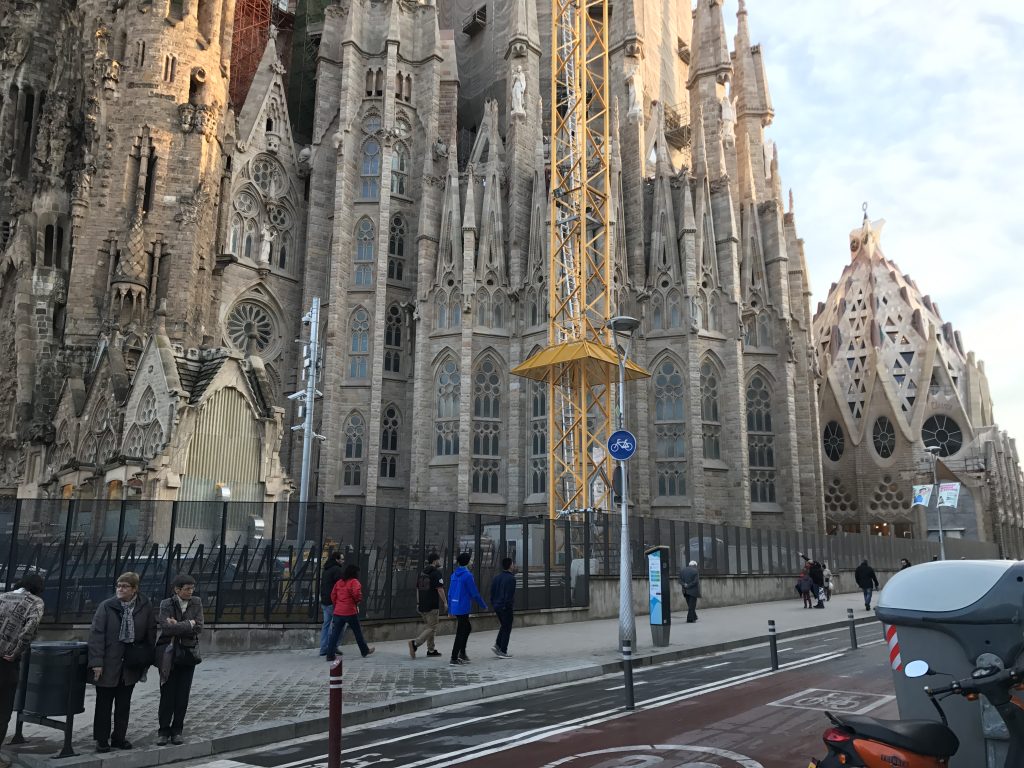 It is every bit as dominating and impressive as you would gather. As you get closer, details begin to emerge, revealing more and more intricacies until you can get no closer to the stone work. To say it's ornate doesn't even begin to scratch the surface.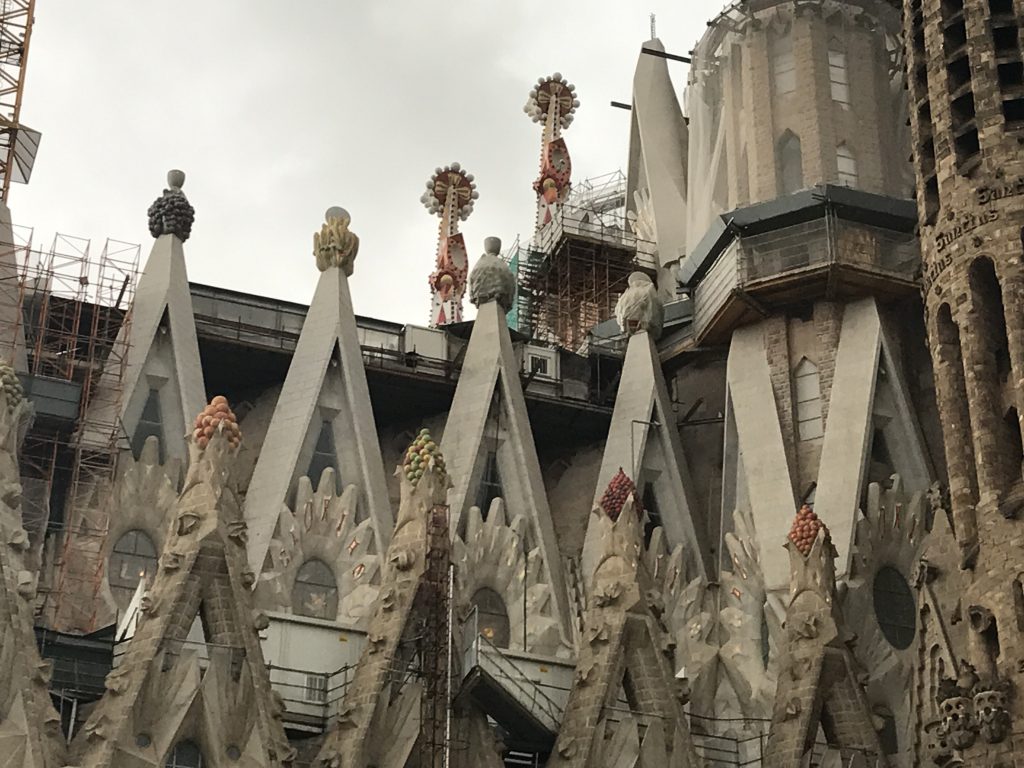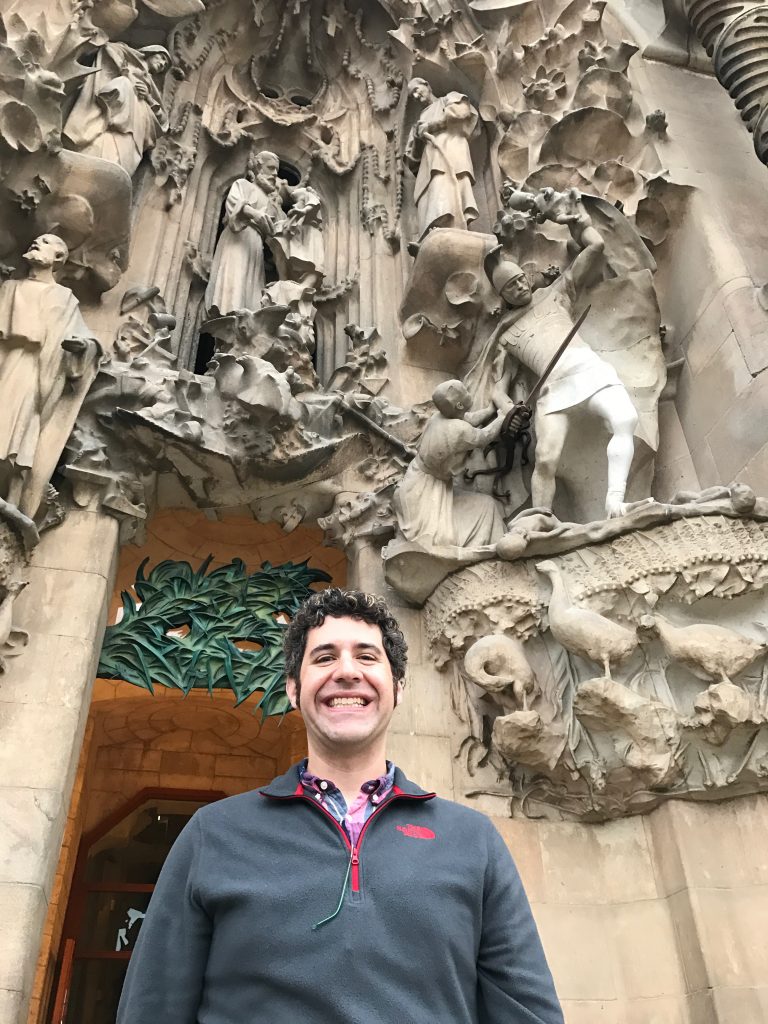 The Nativity Façade, which retells the Christmas story, was also the first to be built, so its stone is considerably darker from weathering compared to the newer Passion Façade.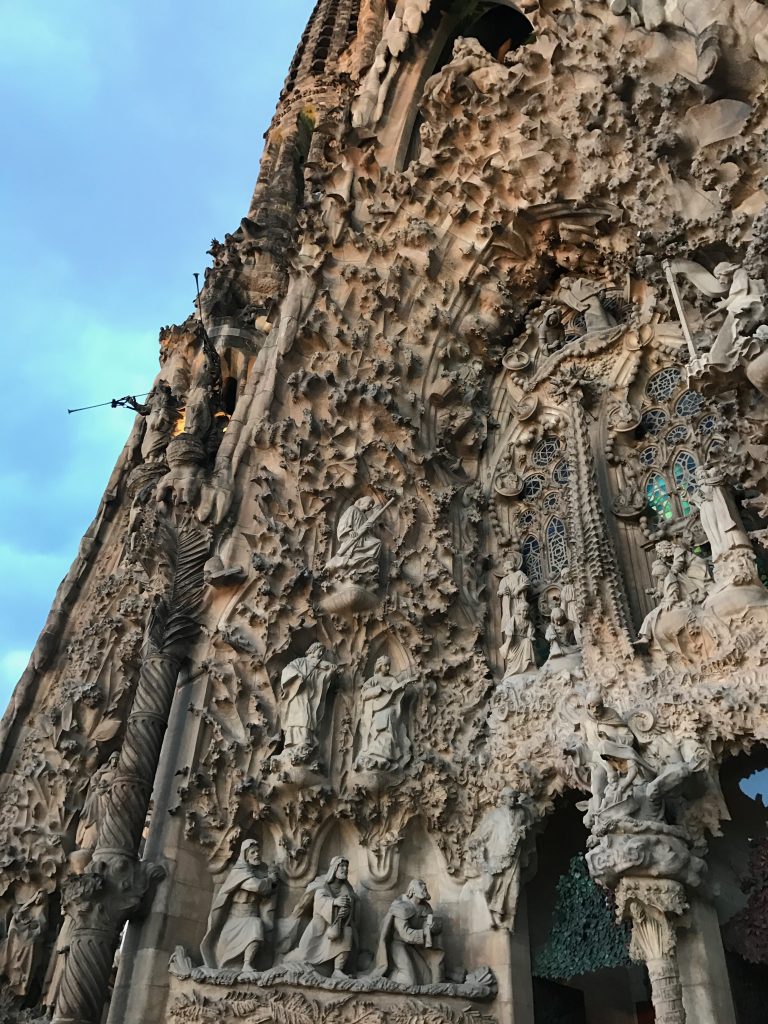 We were fortunate enough to buy 7 p.m. admission tickets, just before the last tour at 7:30. Towards the end of our visit, it seemed as though we practically had the place to ourselves. Packed with thousands of visitors when we arrived, the structure really breathed toward the end of our visit, when we could finally walk around freely. The observation deck in front of the Nativity Façade was empty! Needless to say, we got some very impressive selfies.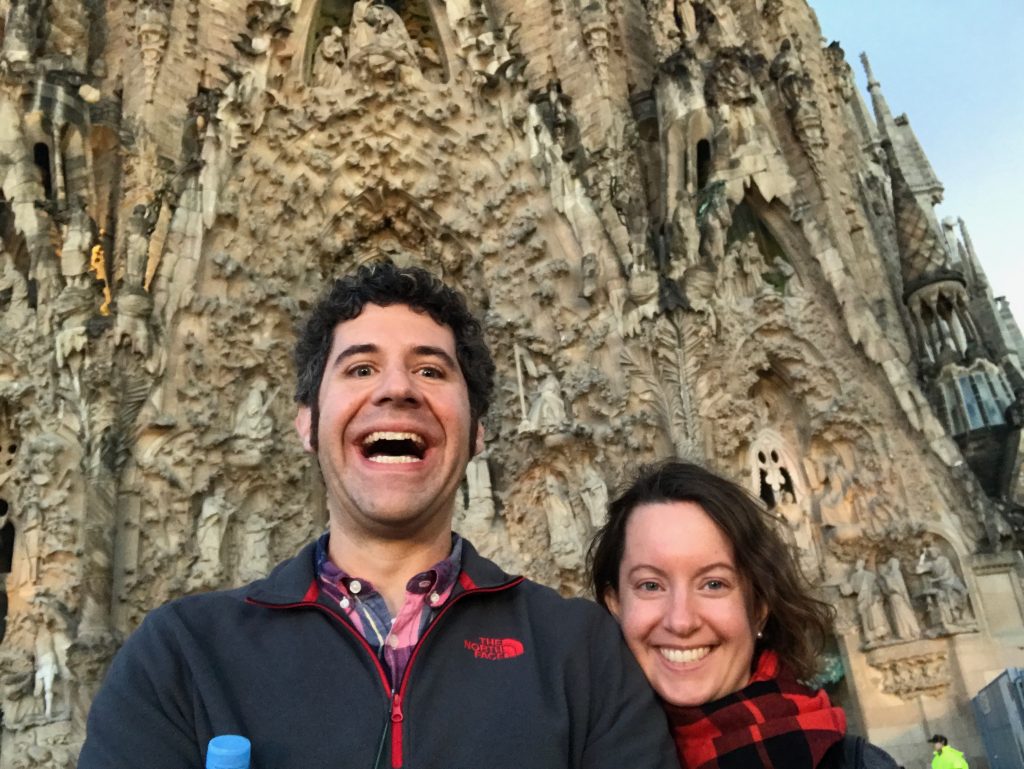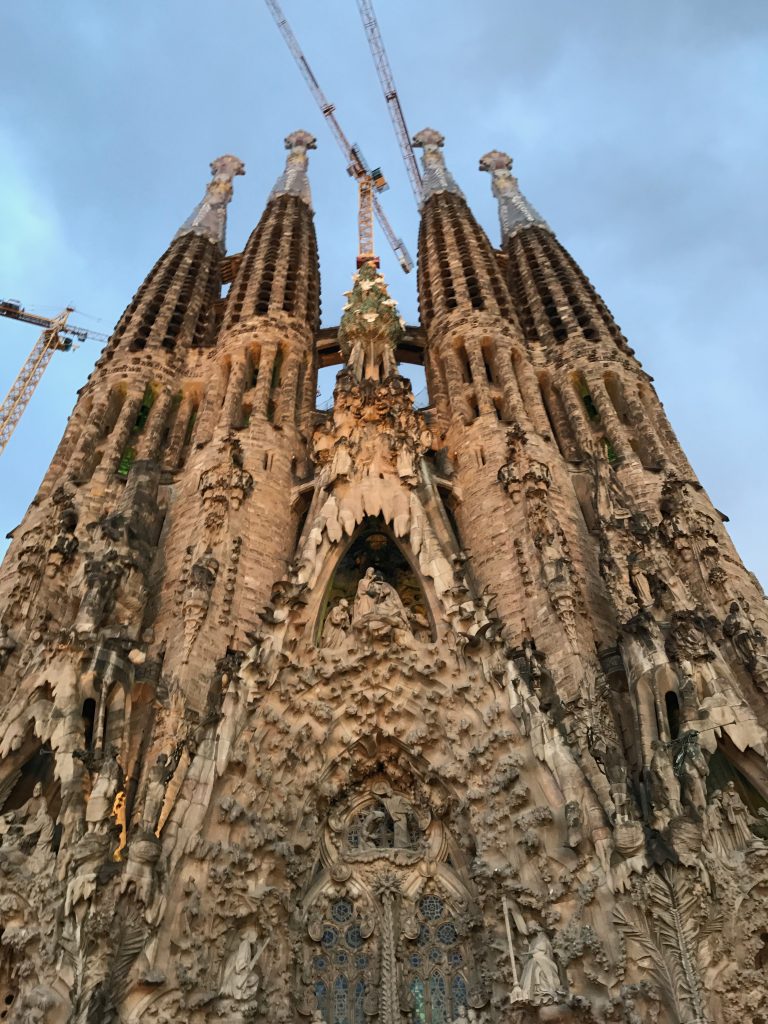 The Passion Façade, which narrates the passion, death, resurrection, and ascension of Jesus, is Gaudí incarnate. The figures look like works of his we have seen before, albeit this time not in chimney form.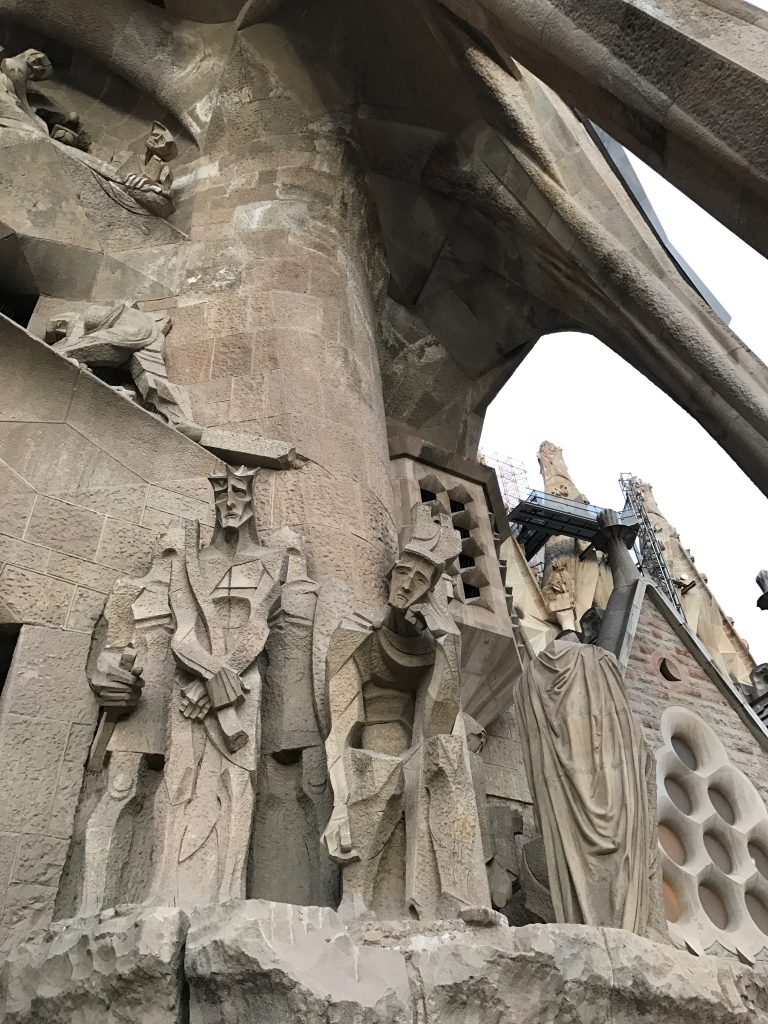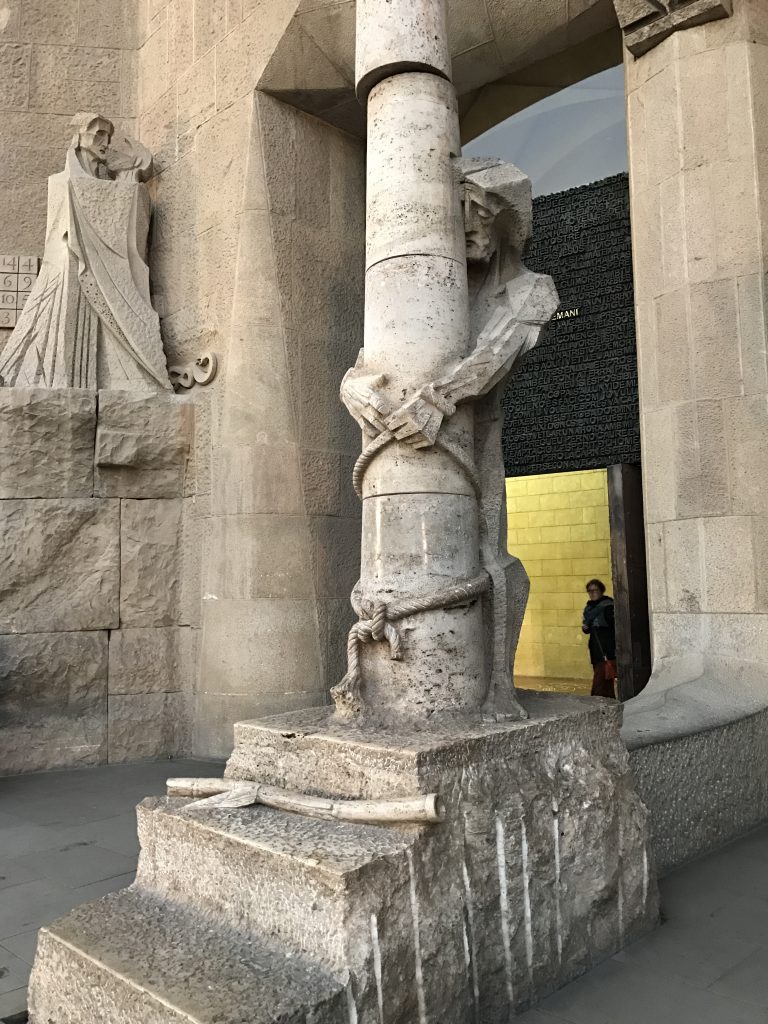 The enormous interior – meant to remind us of nature and inspire us to look inward – is equally breathtaking.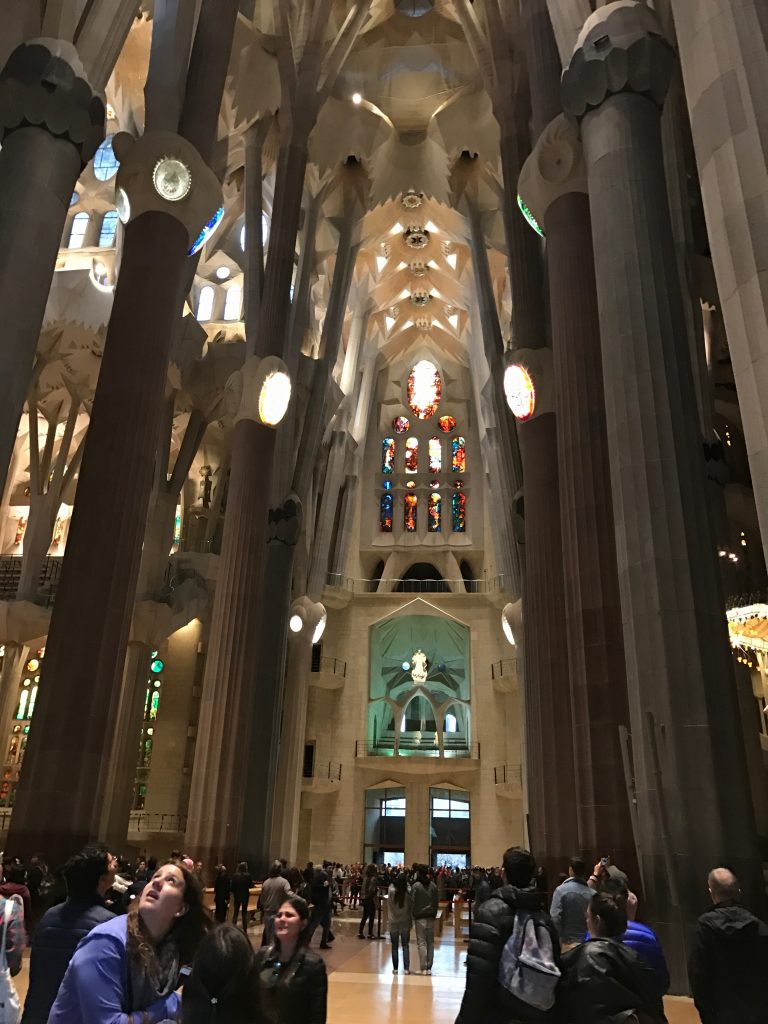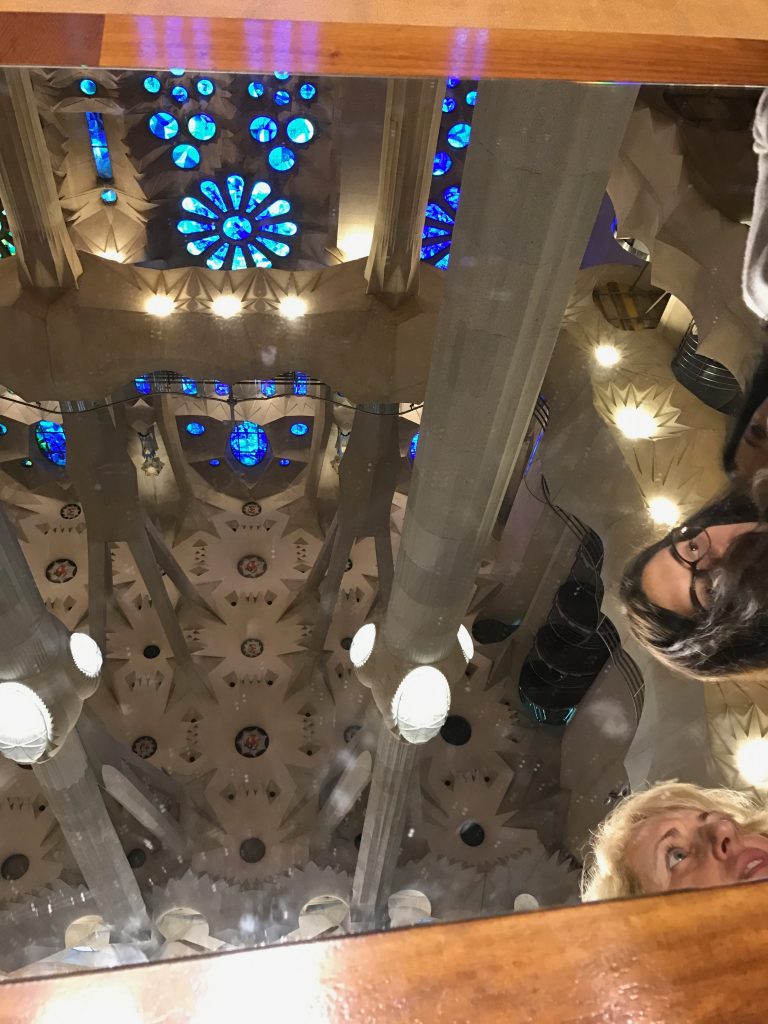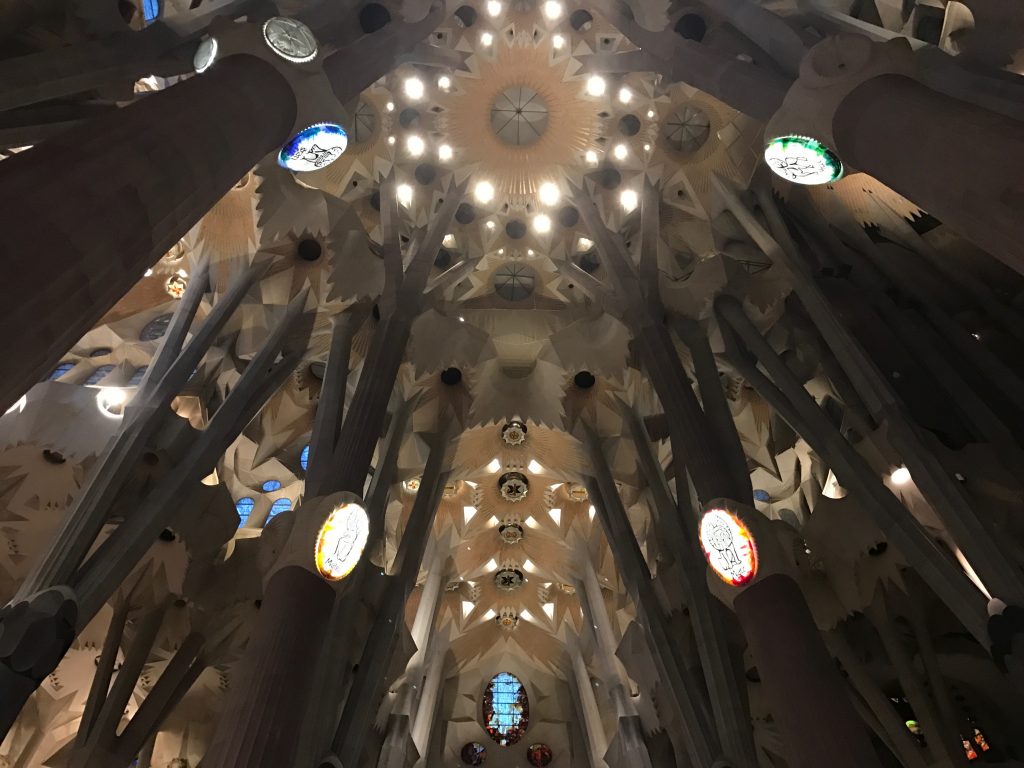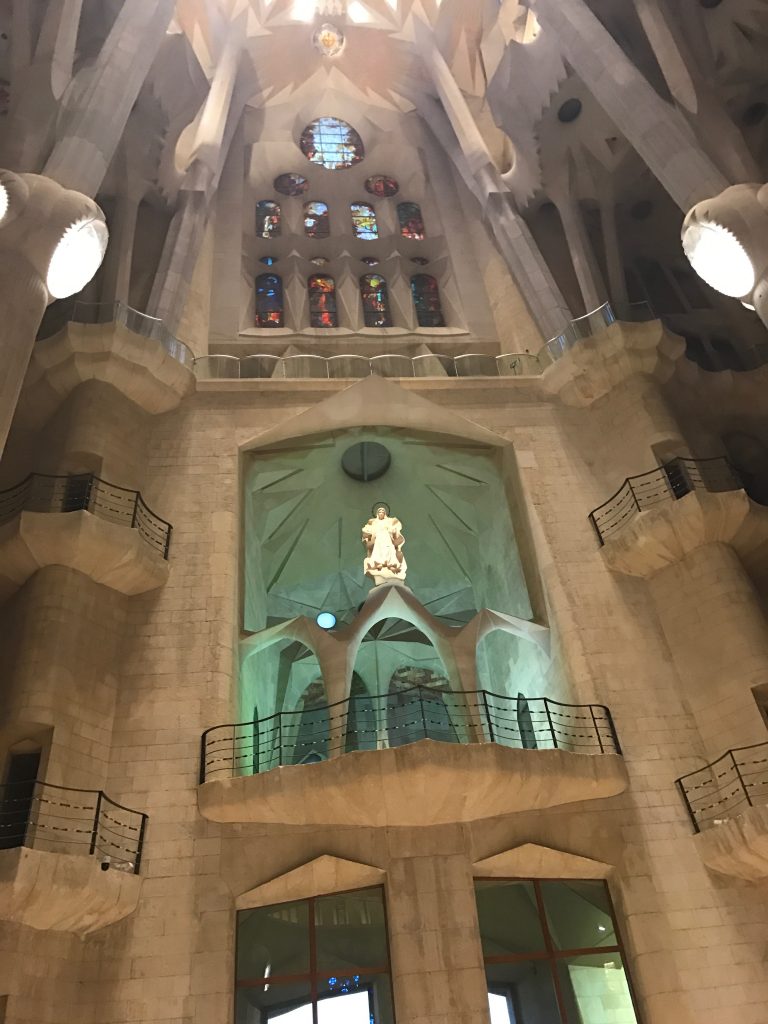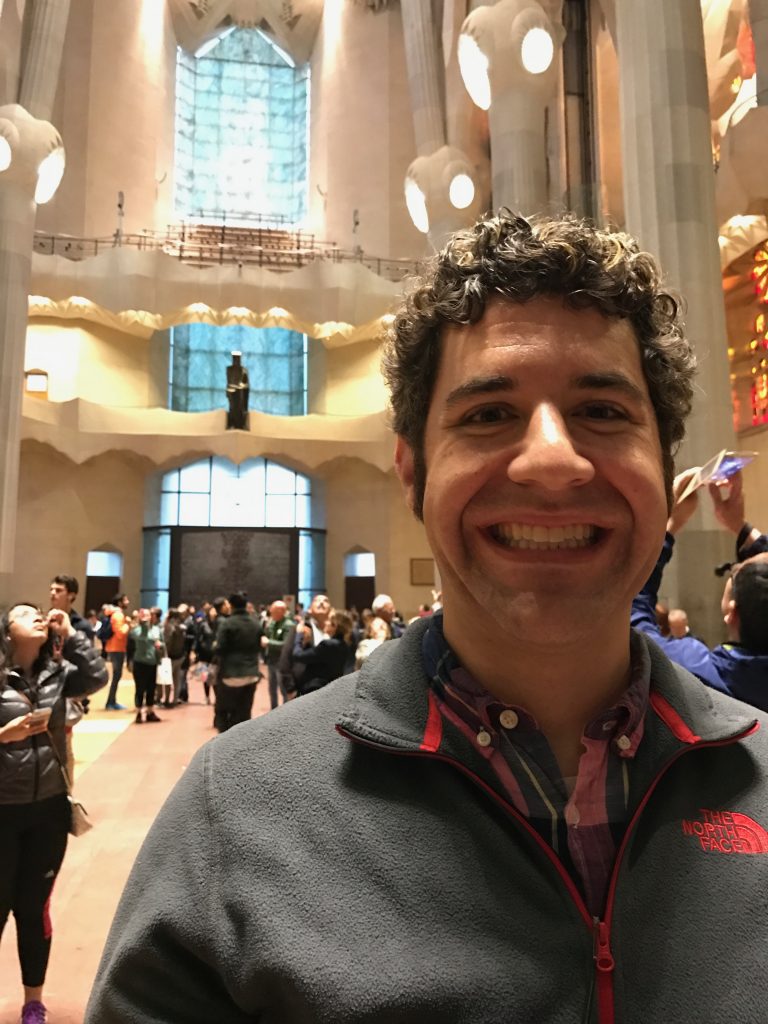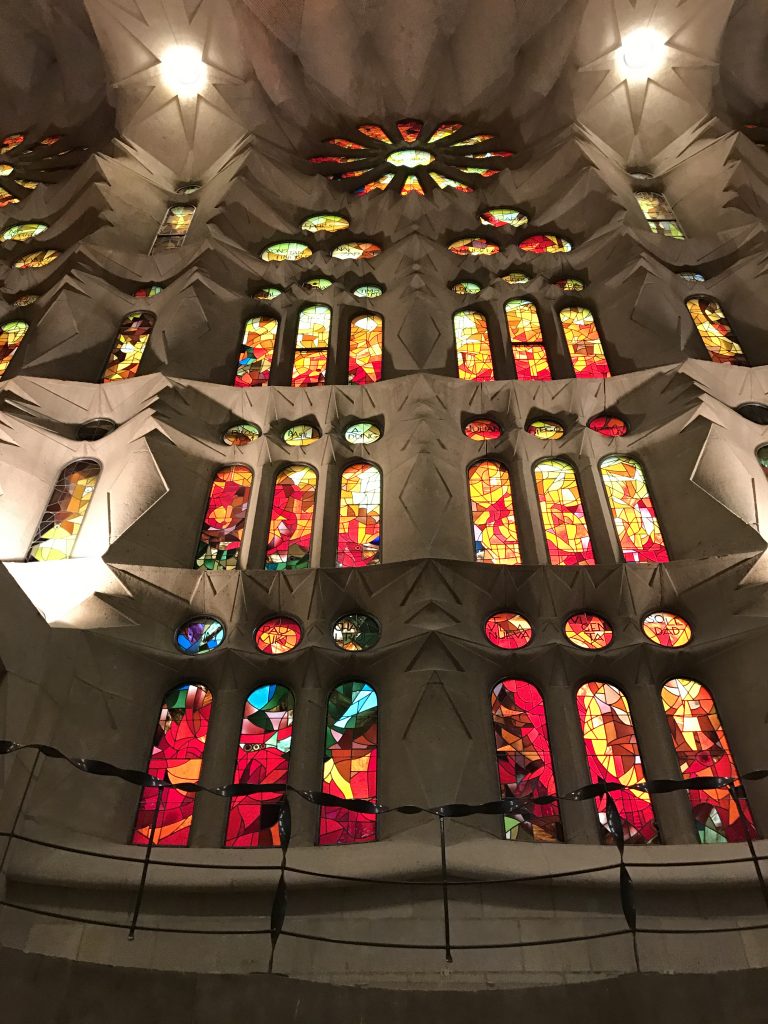 So much of the interior is inspired by nature.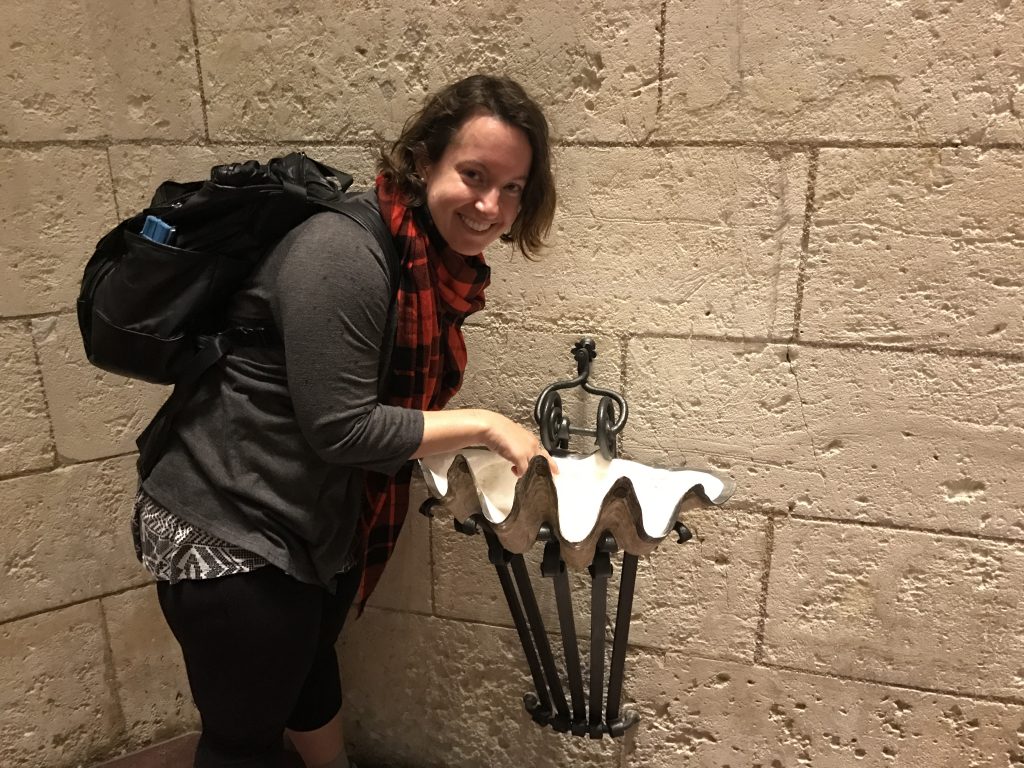 Doer really liked the spiral staircases built into the four corners of the cathedral.
And then, right in the center, we find Jesus under an umbrella!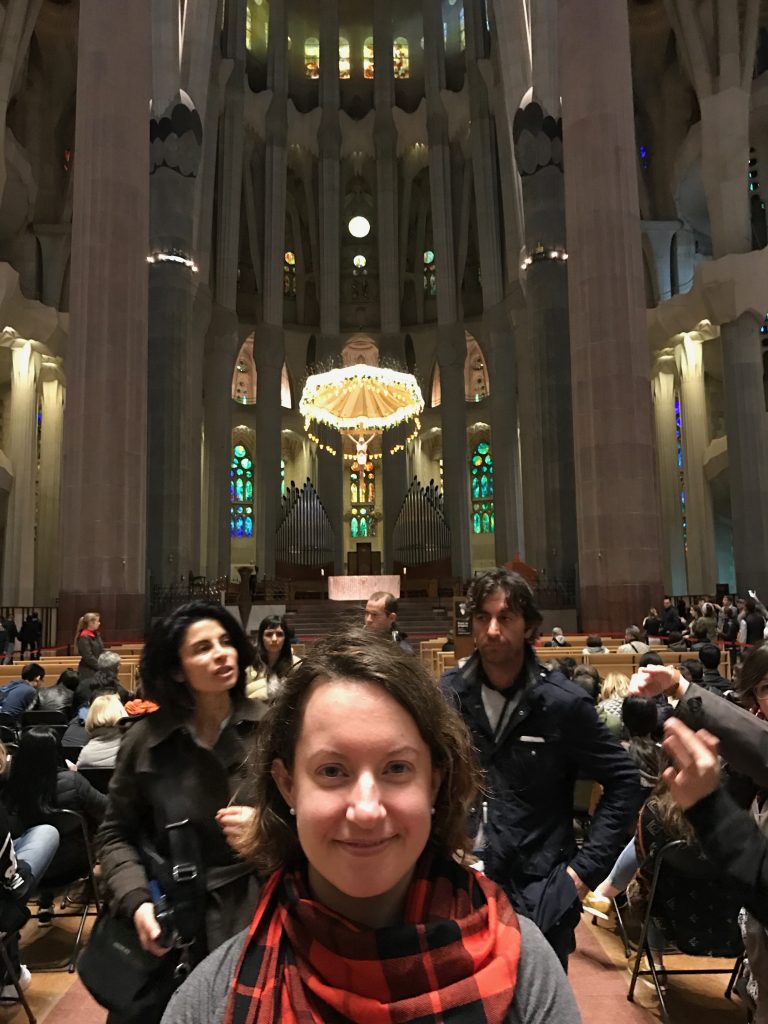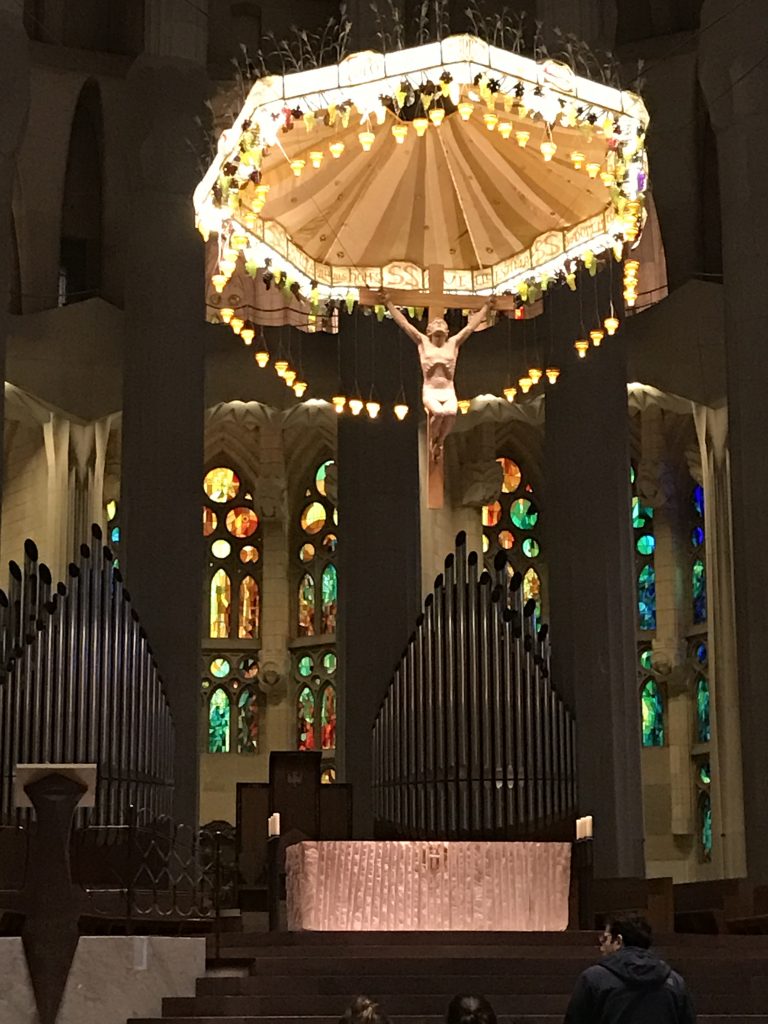 In the crypt of the church is a museum devoted to Gaudí and the construction of his master work.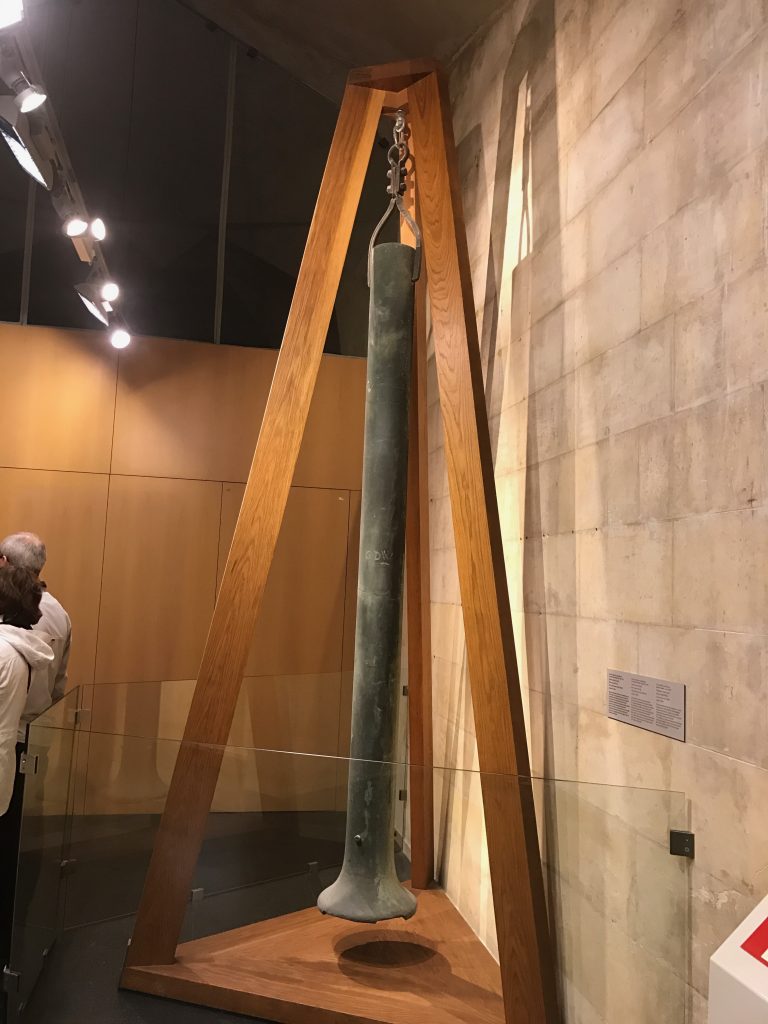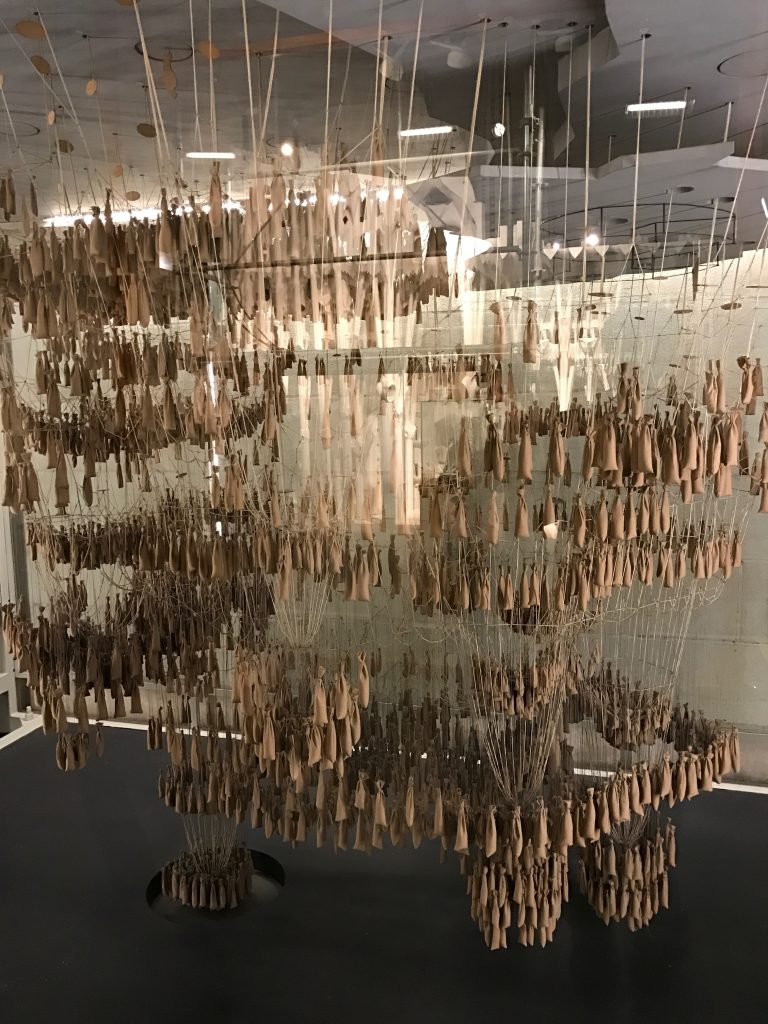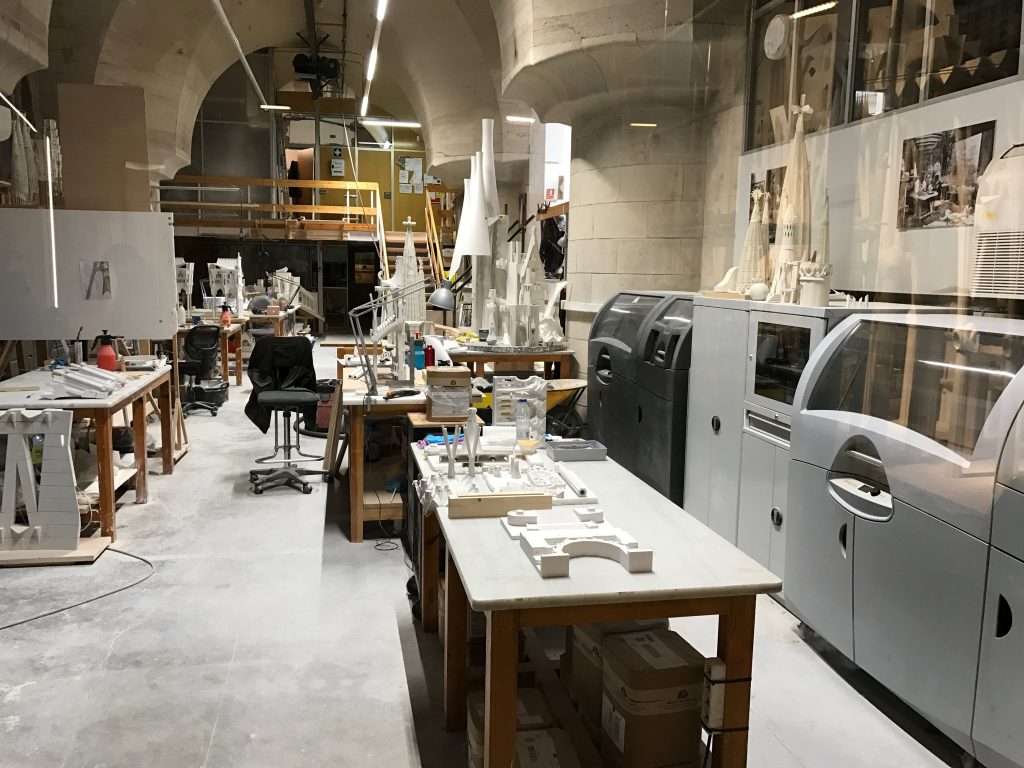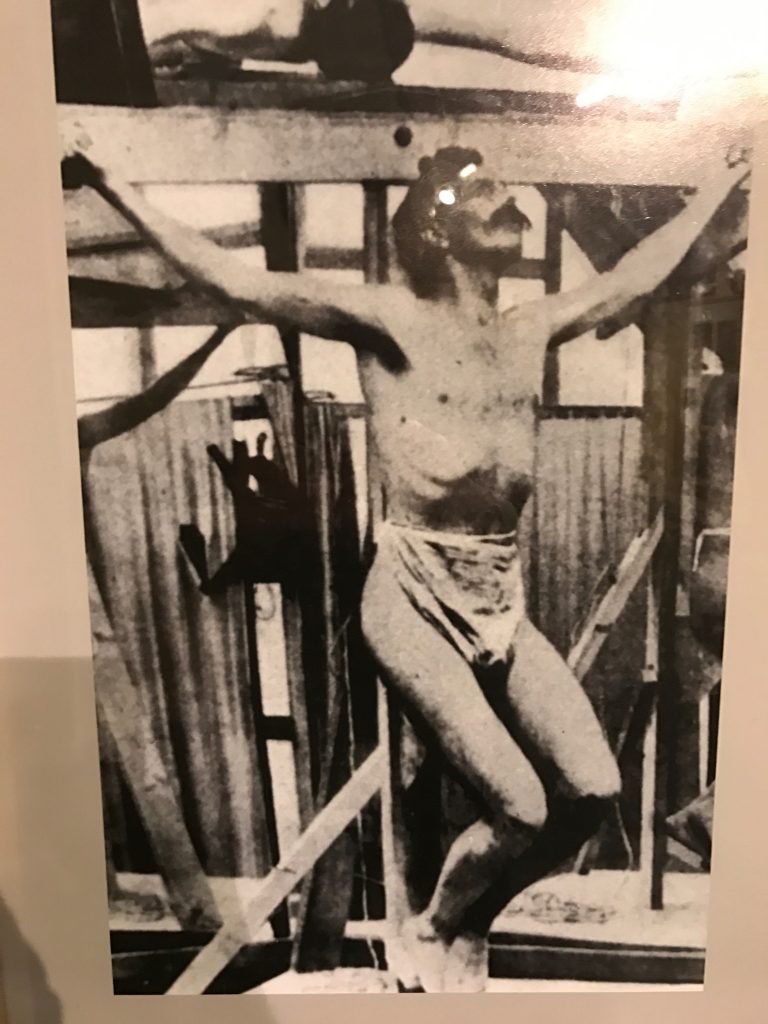 The structure's unique helical columns were highlighted.
To the side of the church on the main floor are some Gaudi-designed artifacts, too.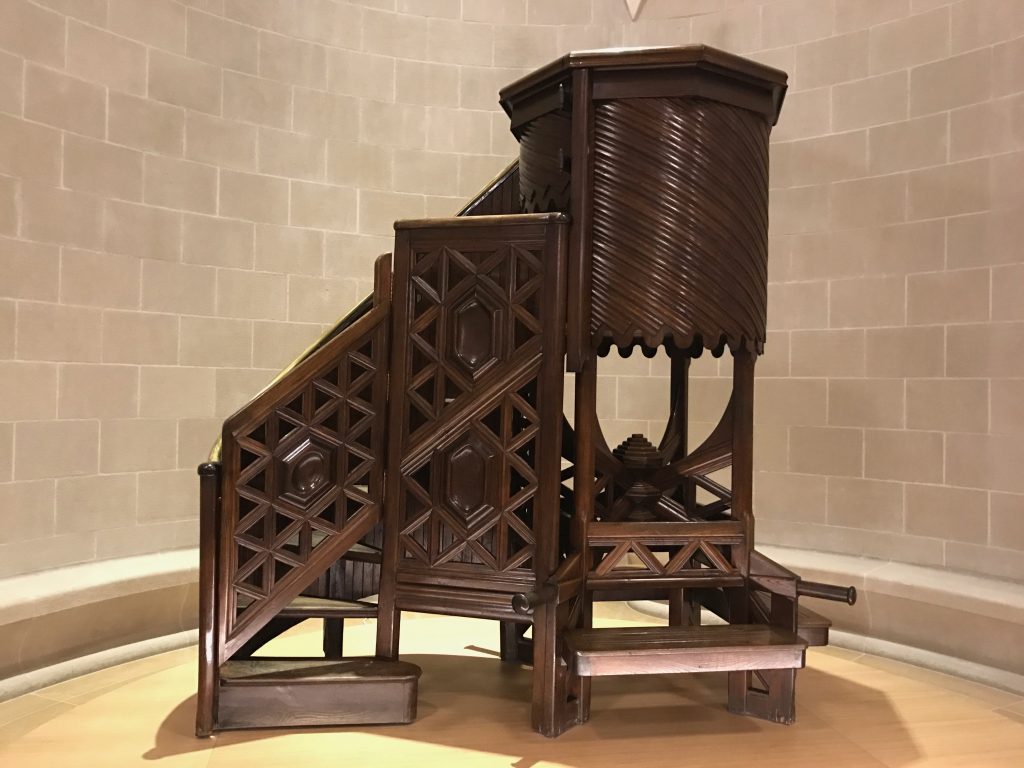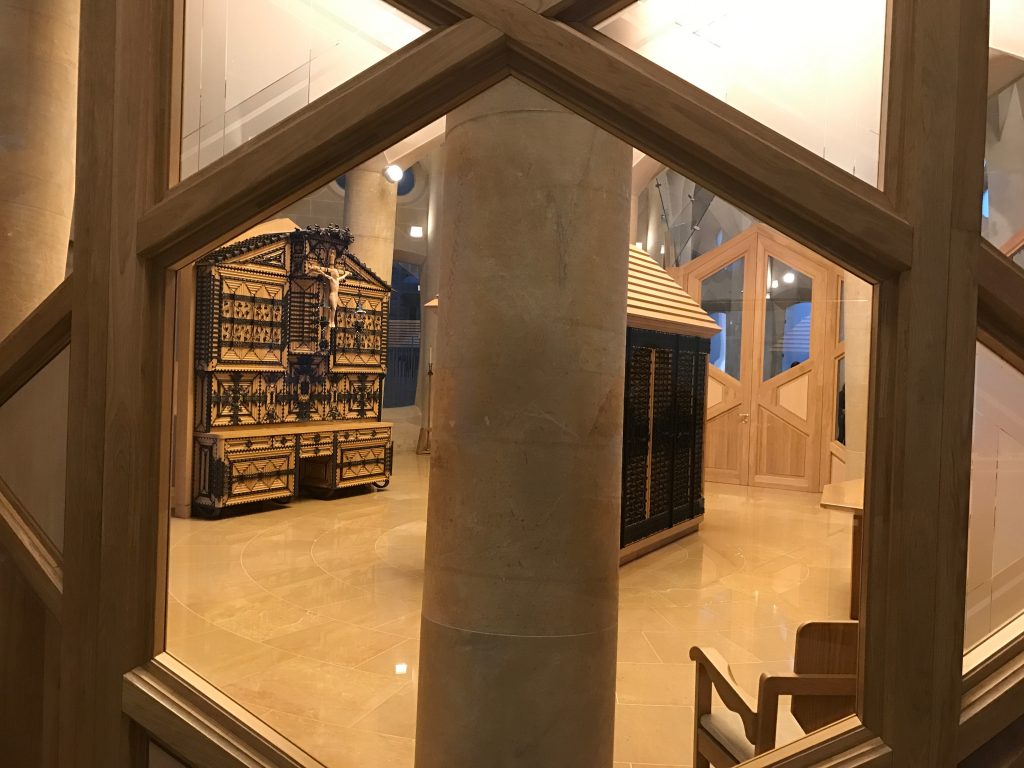 And, finally, Gaudí's old workshop has been moved here and reconstructed in a building that was formerly used as a school for the workers' children. According to information on site, it was meant to be a temporary structure, but "its constructive simplicity, geometry, functionality and formal beauty have made what was meant to be an ephemeral structure a hallmark of modern architecture."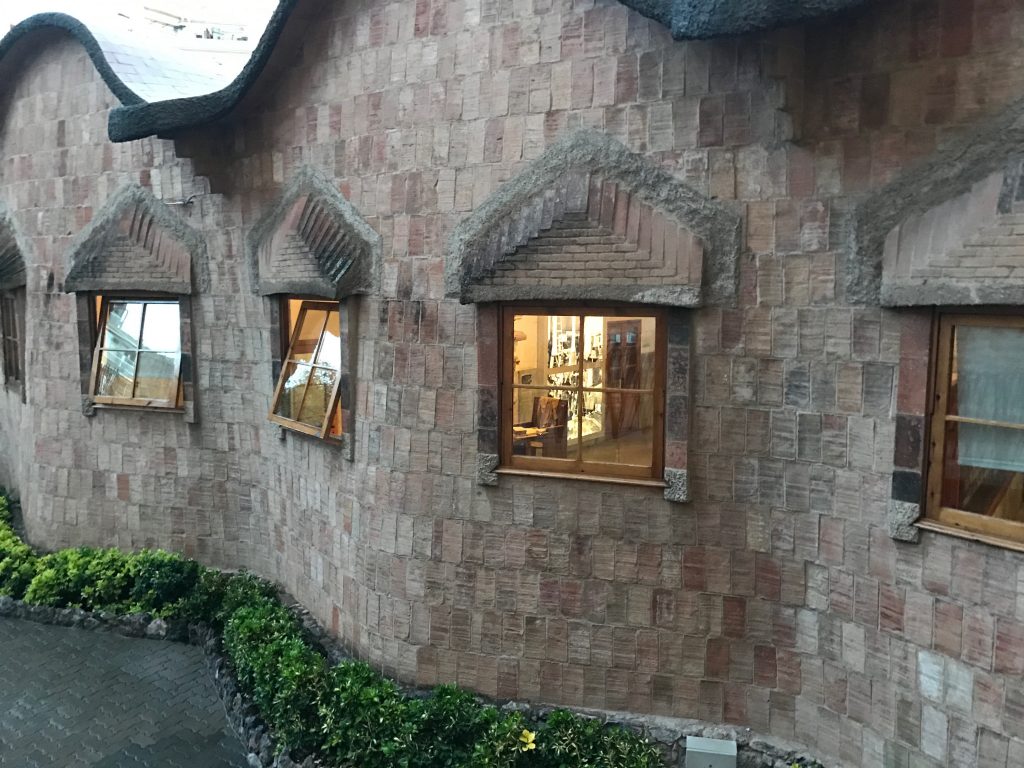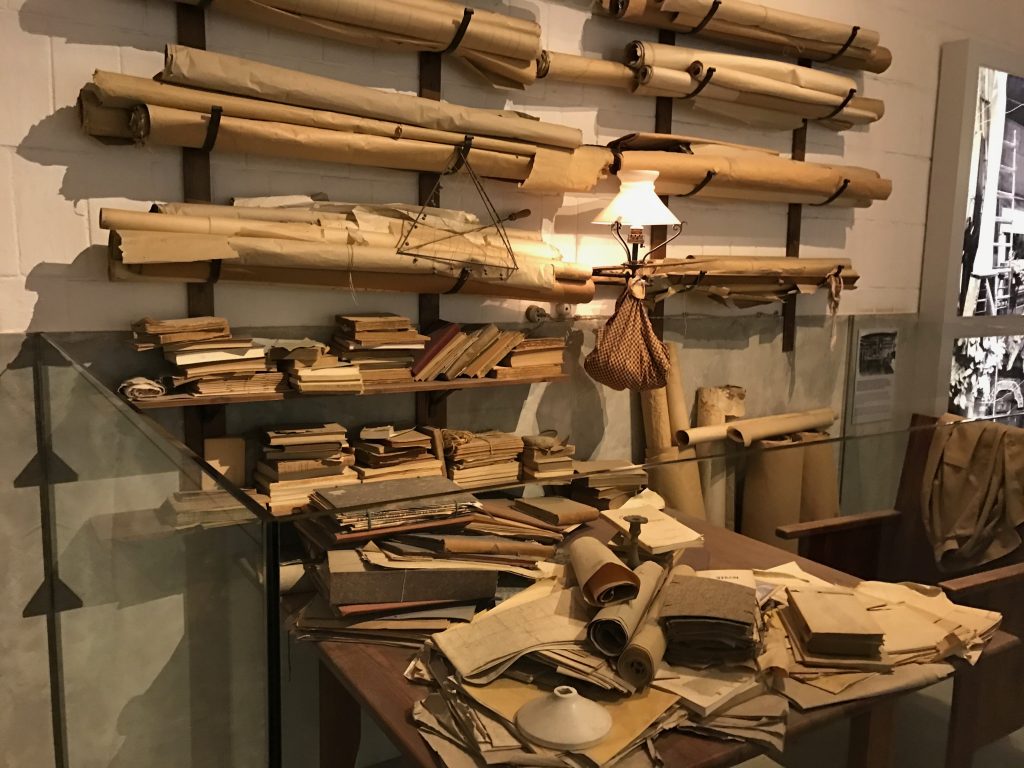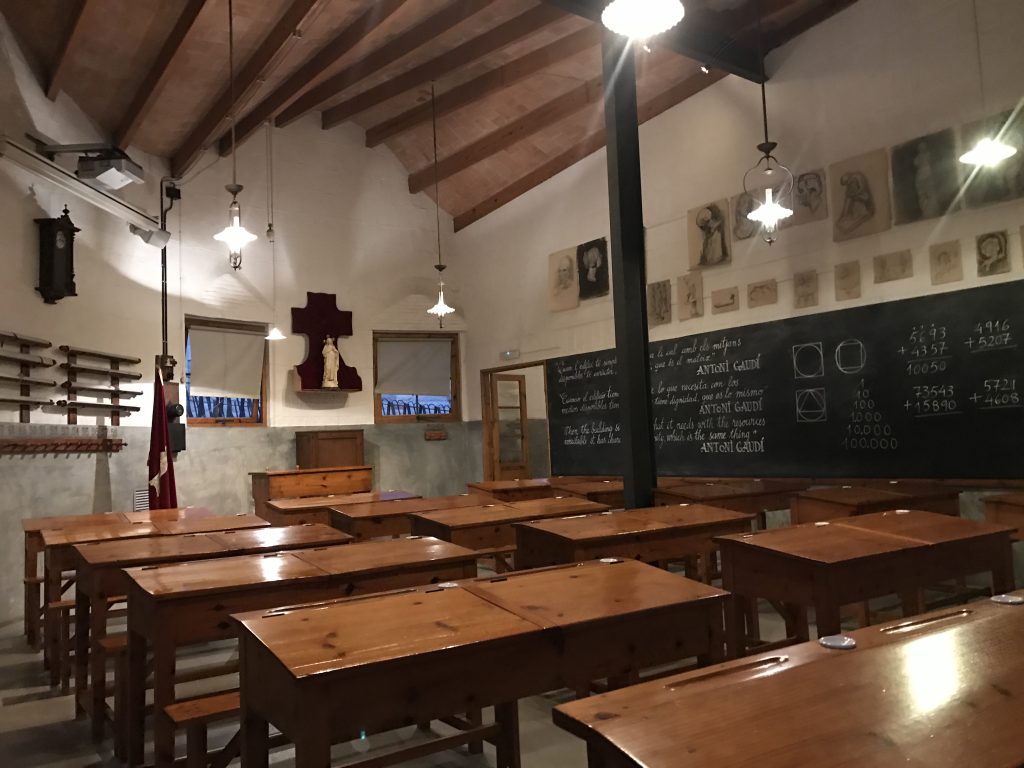 As we were leaving, we exited around the back side and saw another entrance with a security guard. As we looked confused, he made a slight gesture to usher us in. We are glad we complied, as this turned out to be the most emotional part of our visit. This entrance led to the sanctuary in the center of the crypt, where a mass was taking place. We had seen this from above, but didn't know how to get there.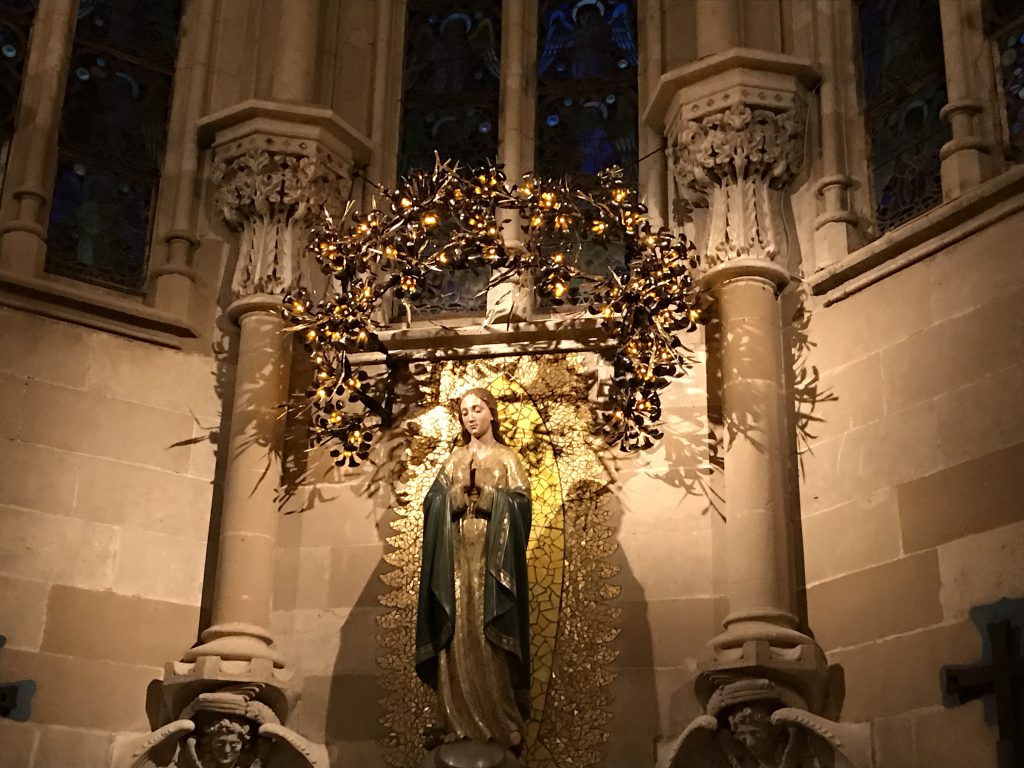 As we rounded the room with the other tourists – being cautious not to disturb the worshippers too much – we suddenly remembered: Gaudí is buried here. It brought tears to both of our eyes, truly.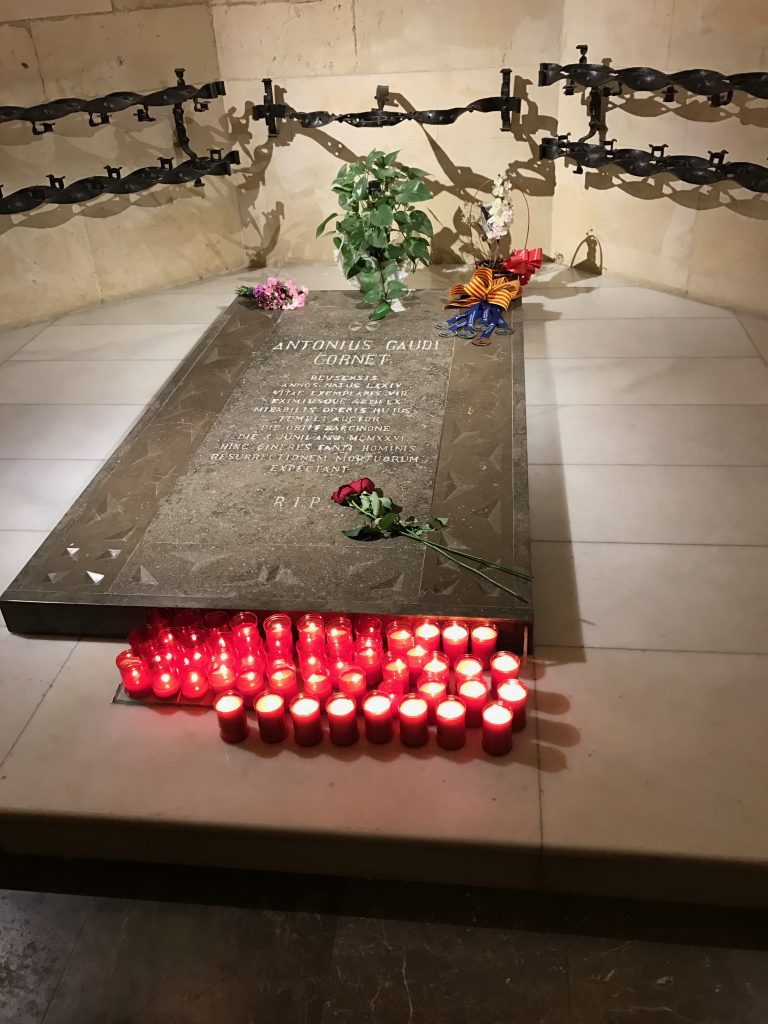 On our way out, still full of emotion, we snapped one more photo of this courtyard lit up at night.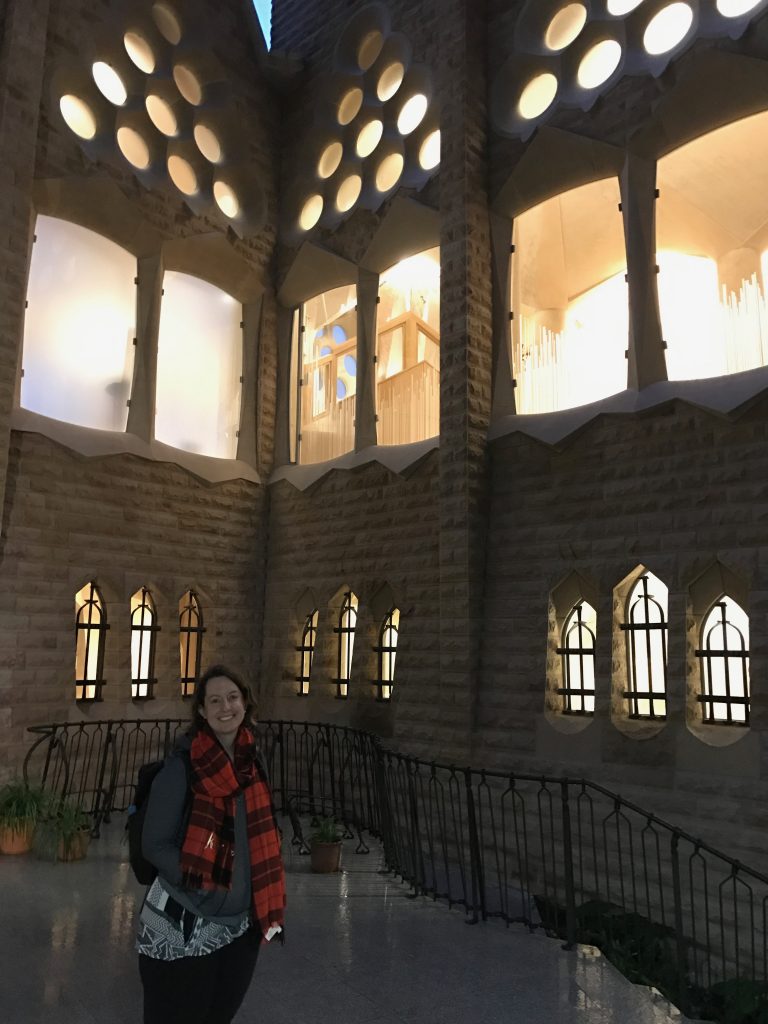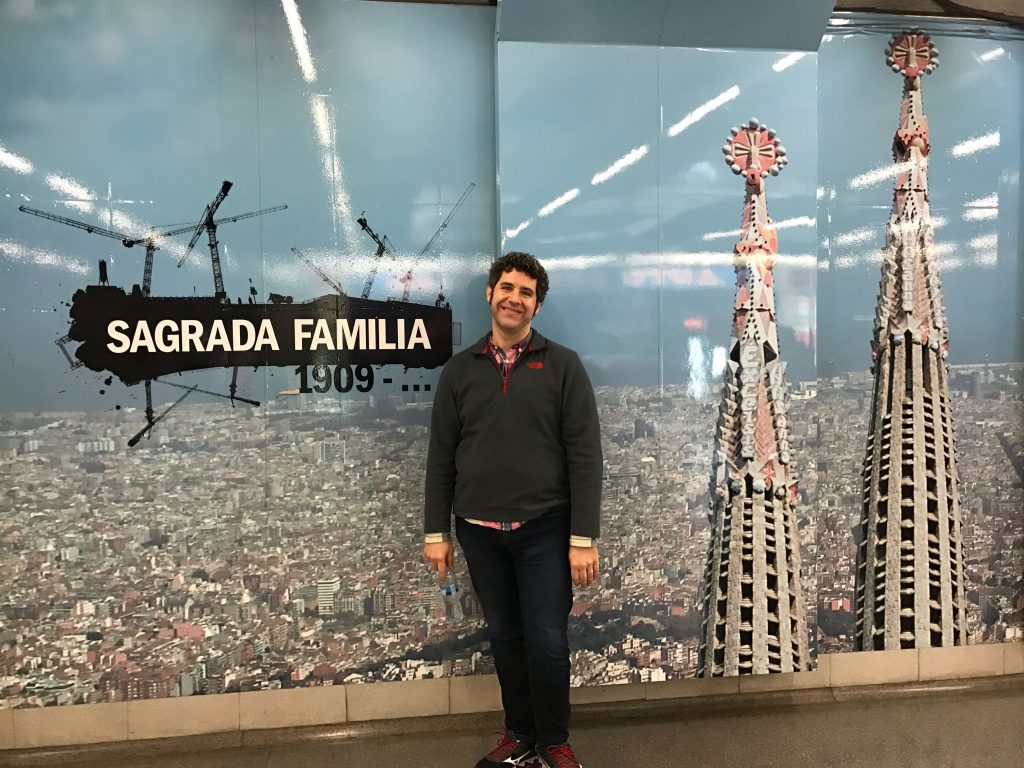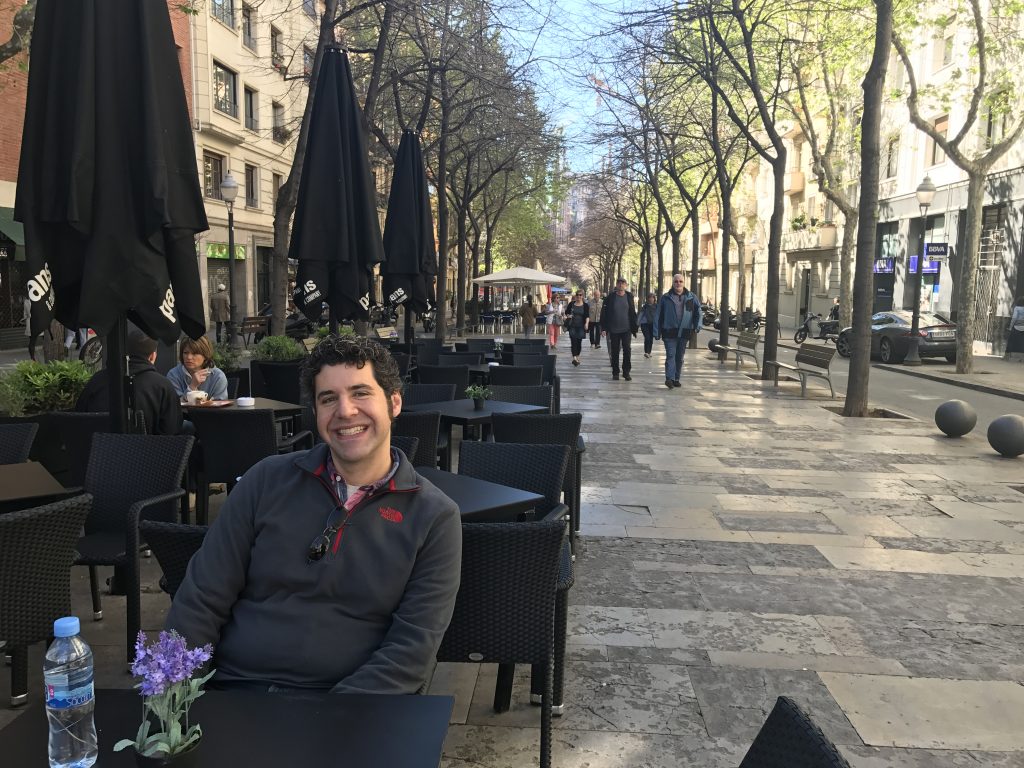 We finally got around to taking a walking tour this trip as well. Our guide introduced us to several historic sights we hadn't discovered yet.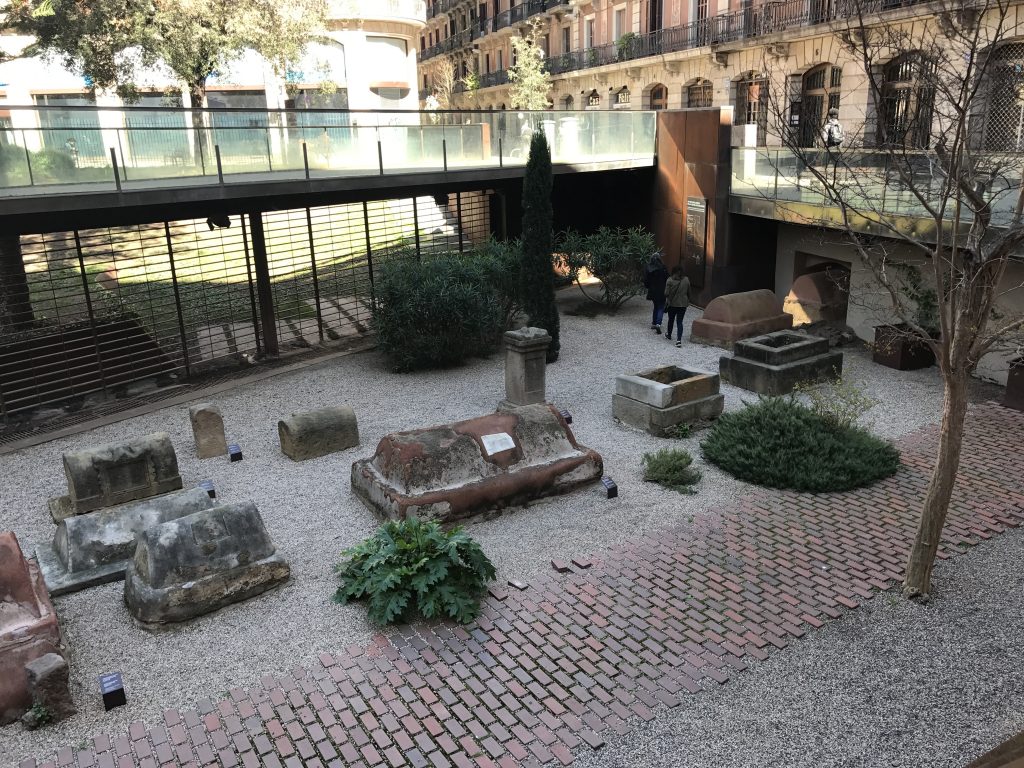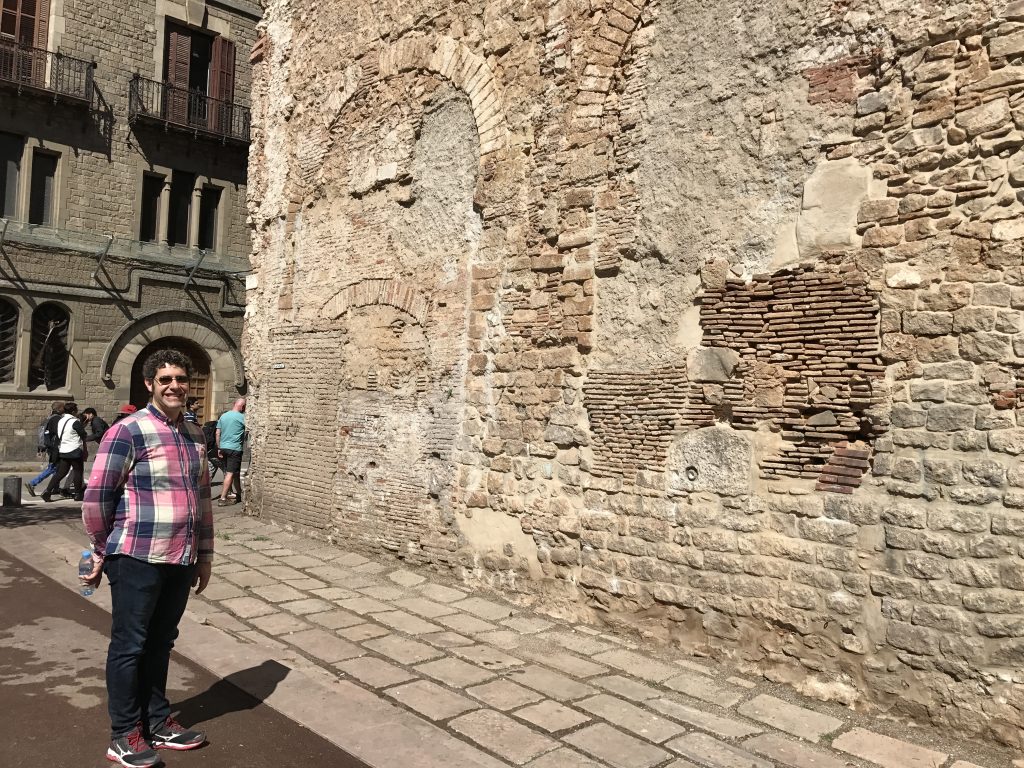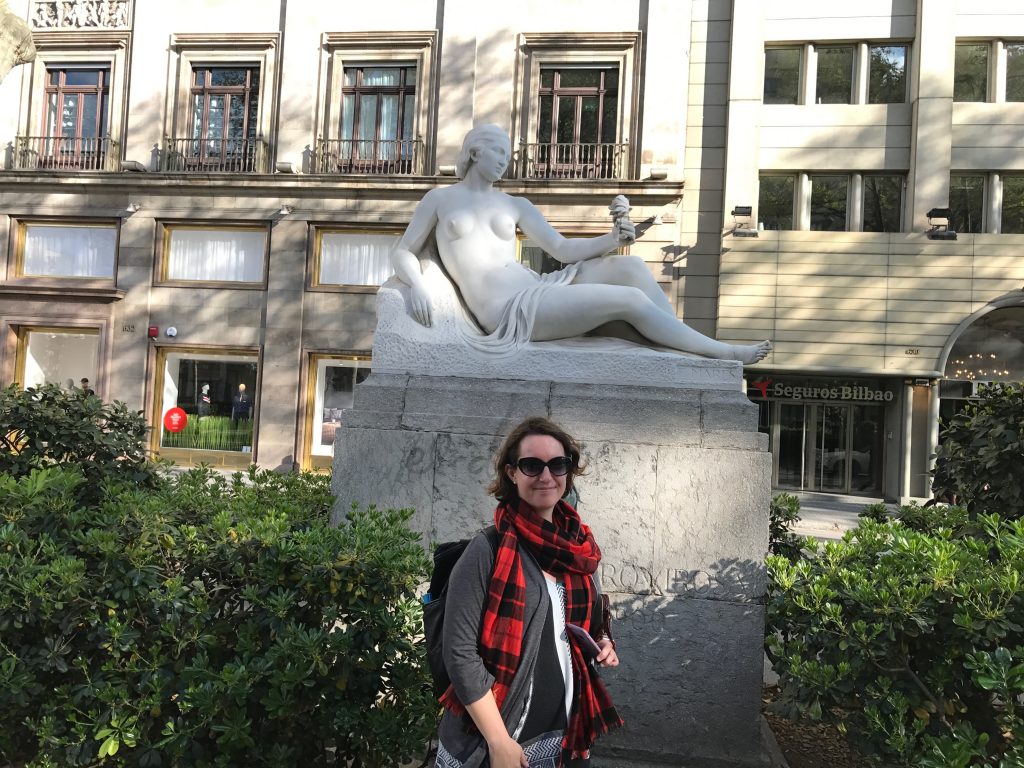 We finally made it to the waterfront this trip, too.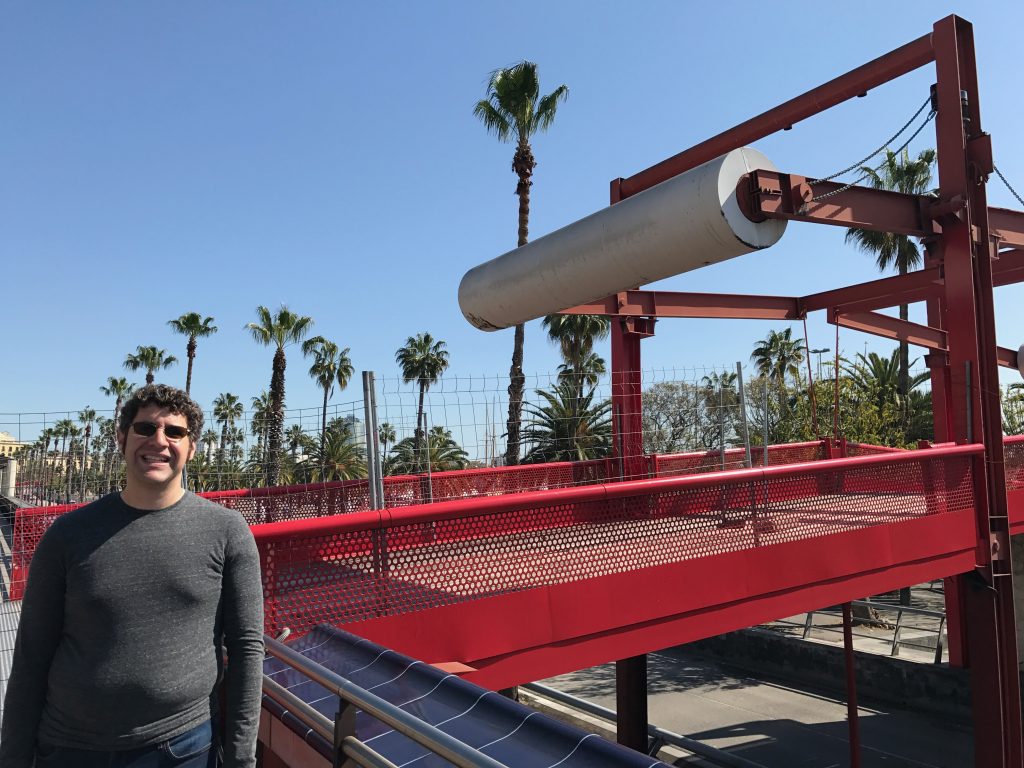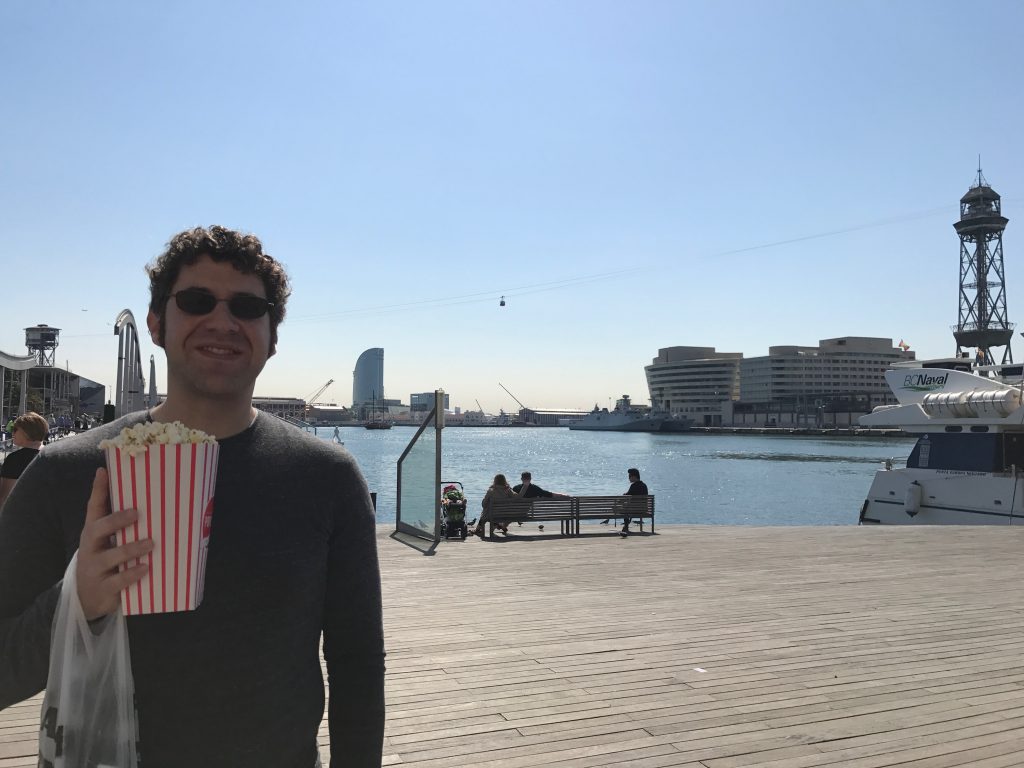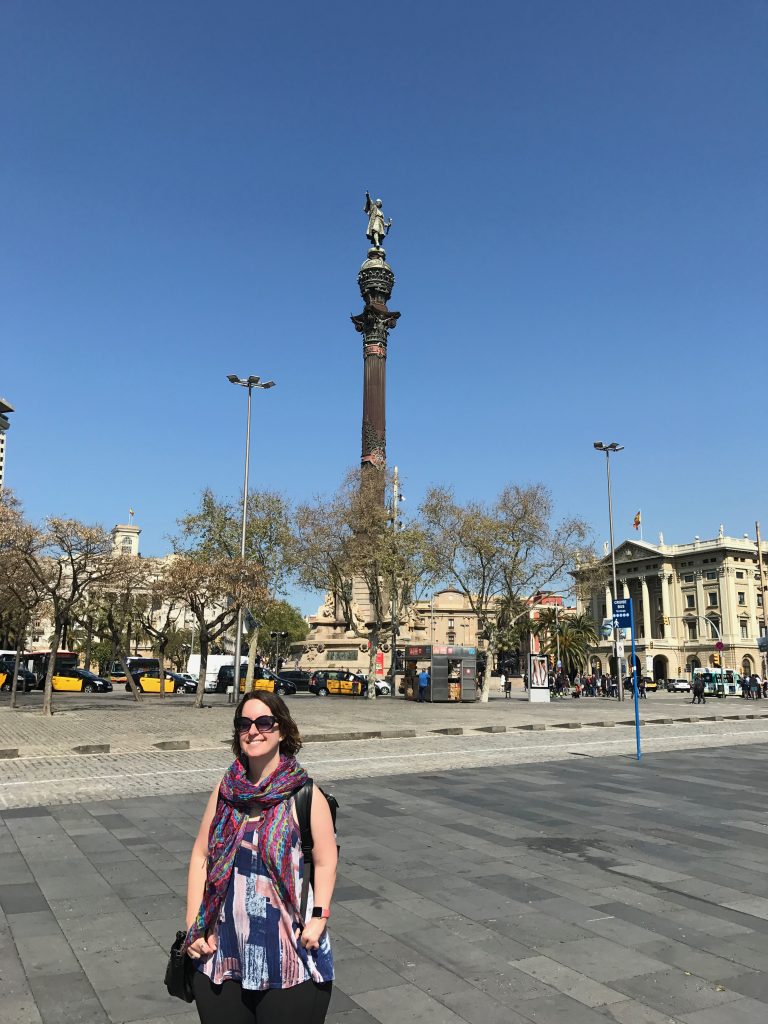 As usual, we encountered plenty of unique shopping and dining experiences in Barcelona. We started on Saturday morning at the Mercat de Santa Caterina, which is famous for its colorful, undulating roof. Luckily for us, the rain quickly dissipated.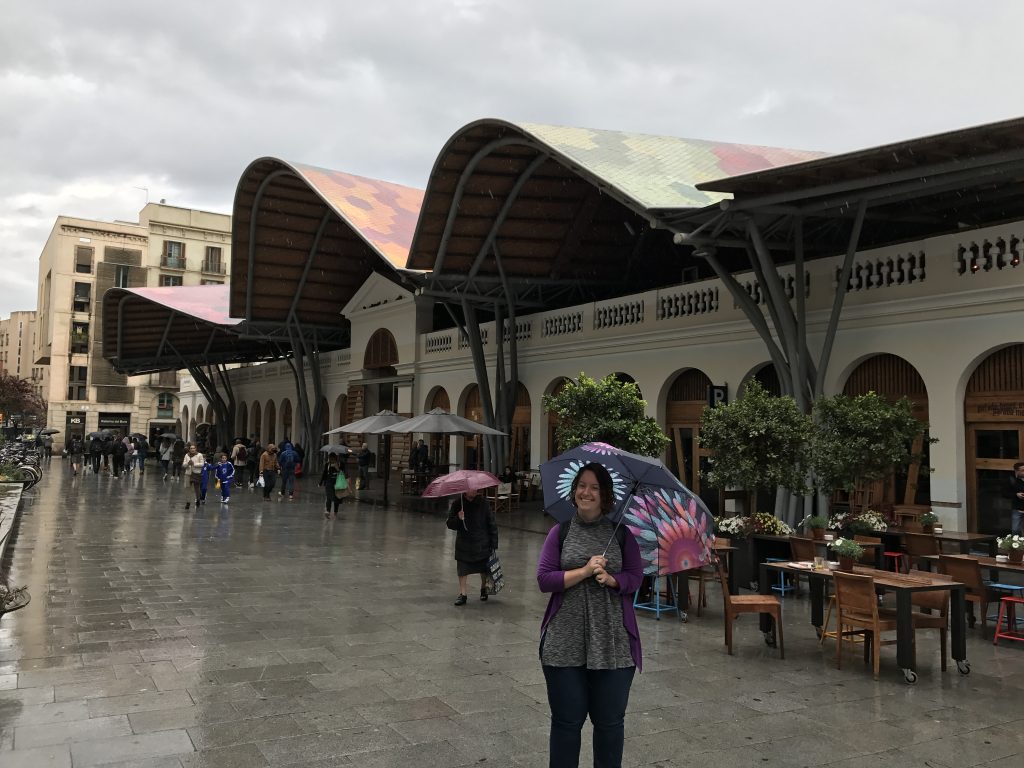 Like most Spanish markets, there were lots of delicacies on display.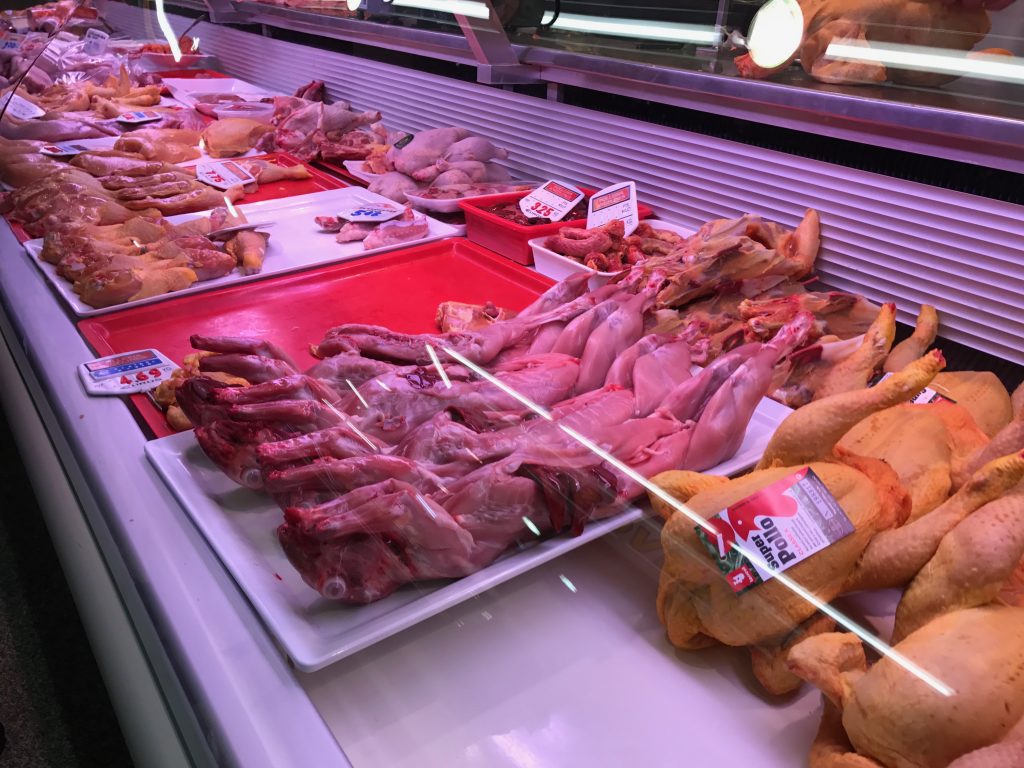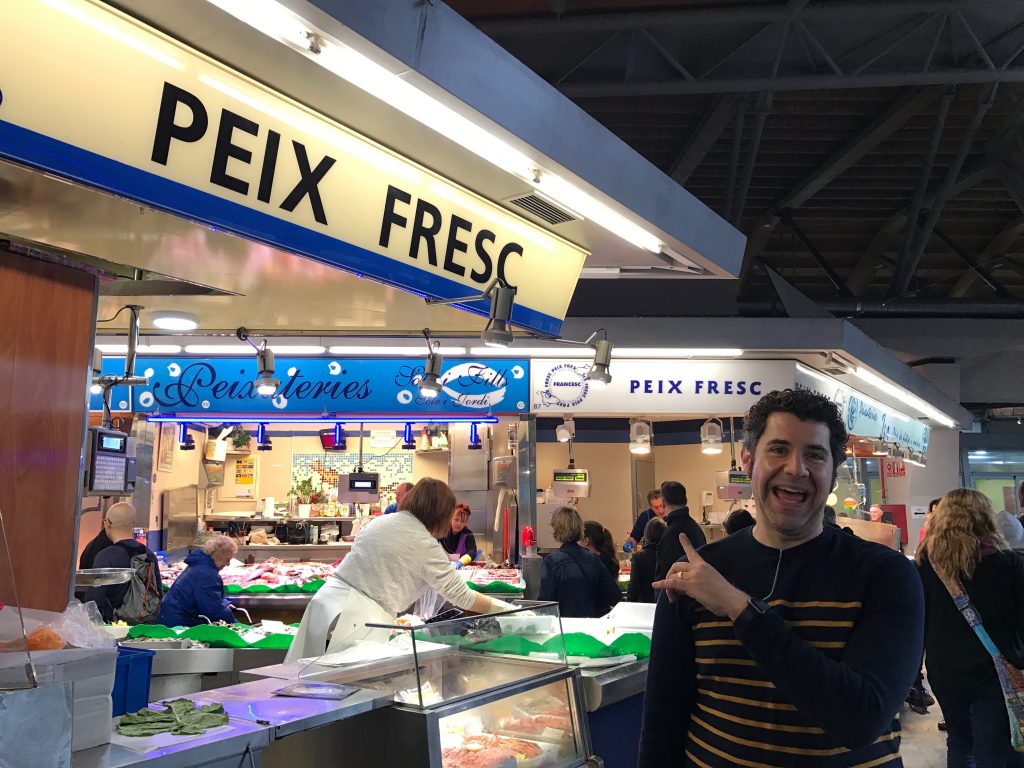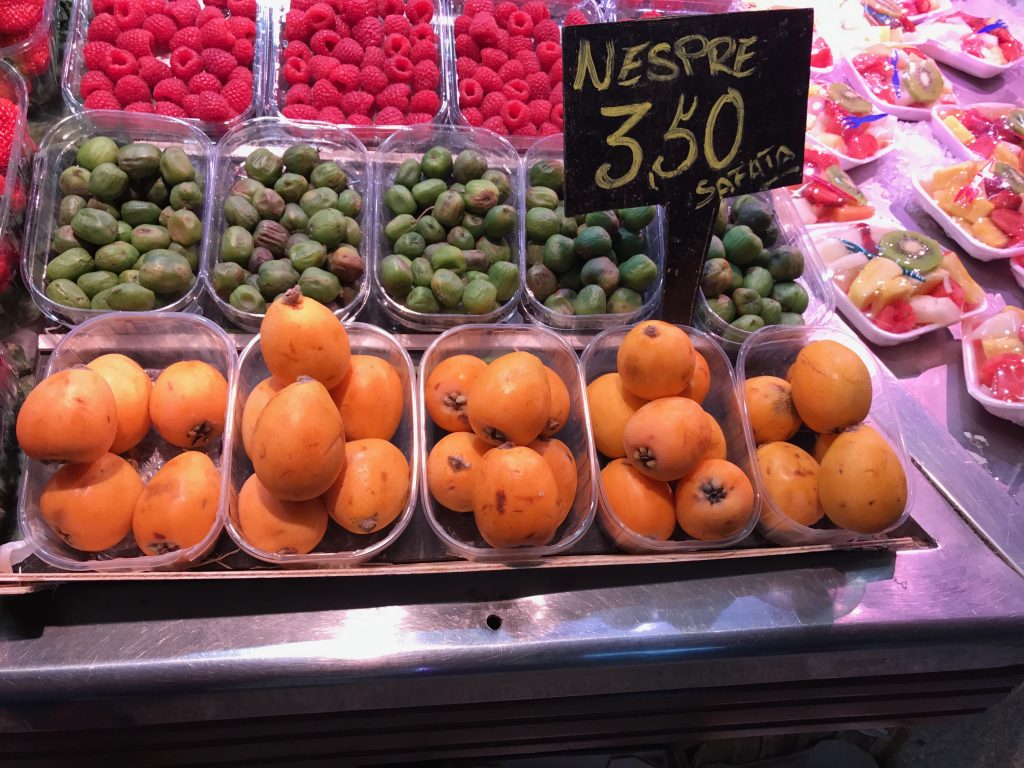 We went back to a second location of a favorite Barcelona restaurant, La Paradeta, to order as much fish as we could eat… or not eat, in this case. Surprisingly (!), we over-ordered and felt bad not finishing.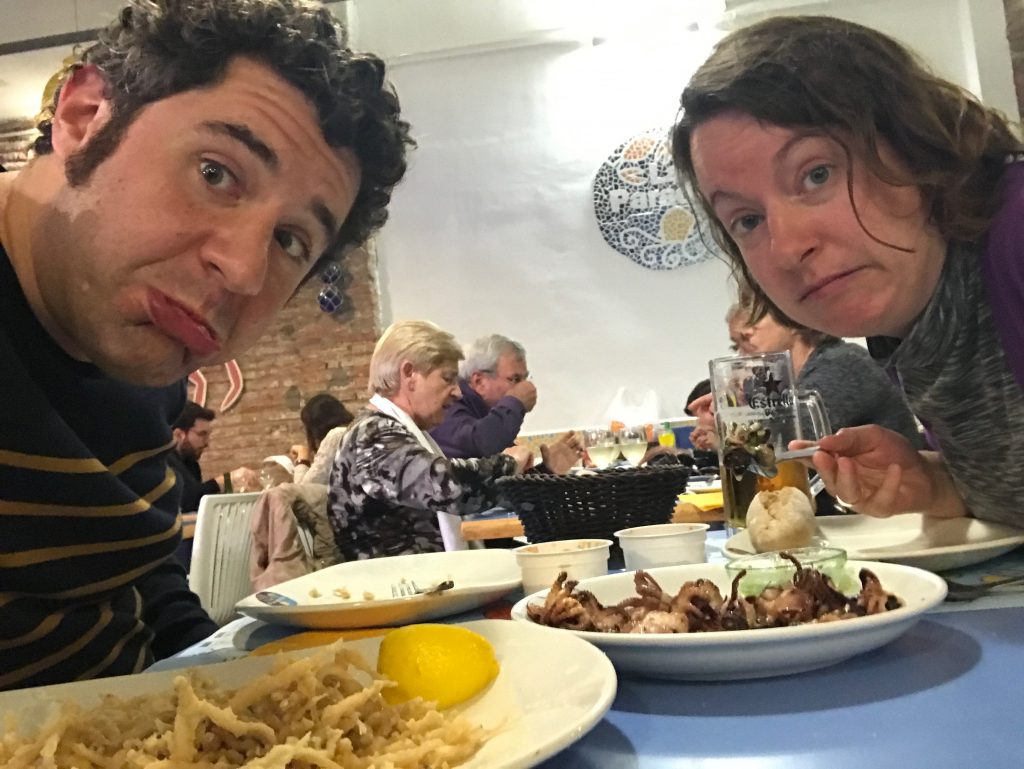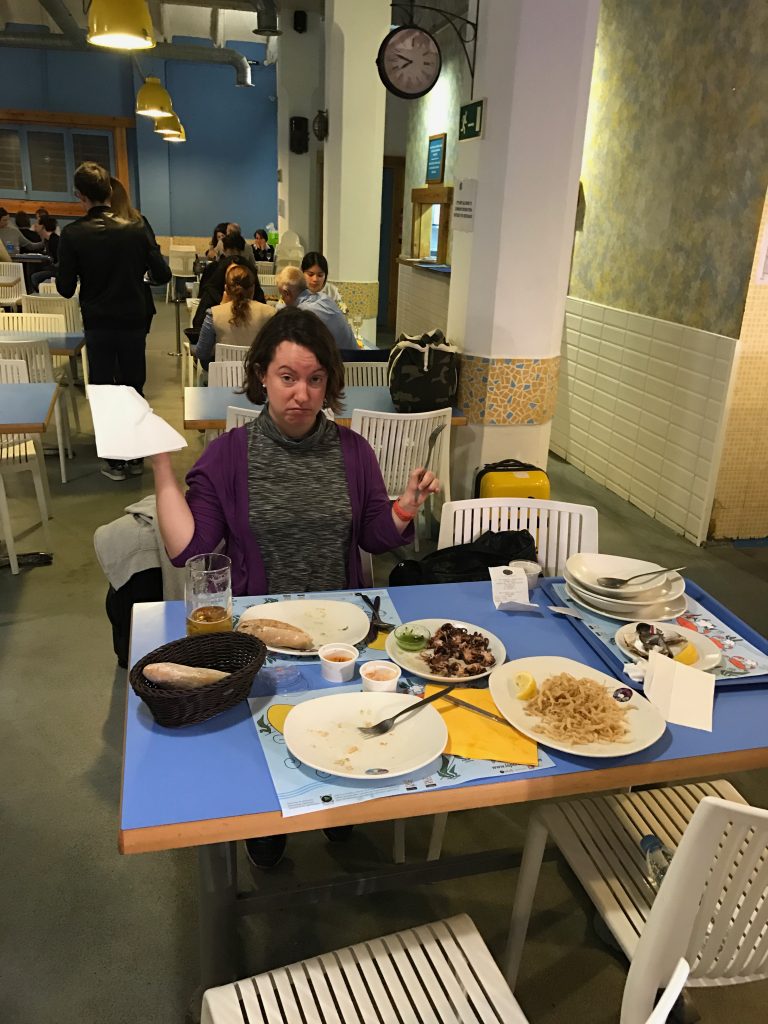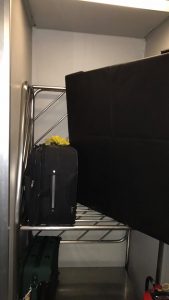 We also bought a really nice piece of art that nearly didn't make it back on the train. It is a quintessentially Spanish piece that spoke to both of us and will be right at home in our future kitchen or living room – that, we will say! Luckily, Doer found a place for it in the train car after the train people said they didn't care too much (we also offered to put it in our seats if all else failed). Try doing that on an airplane!
There were the usual litany of fun stores as well.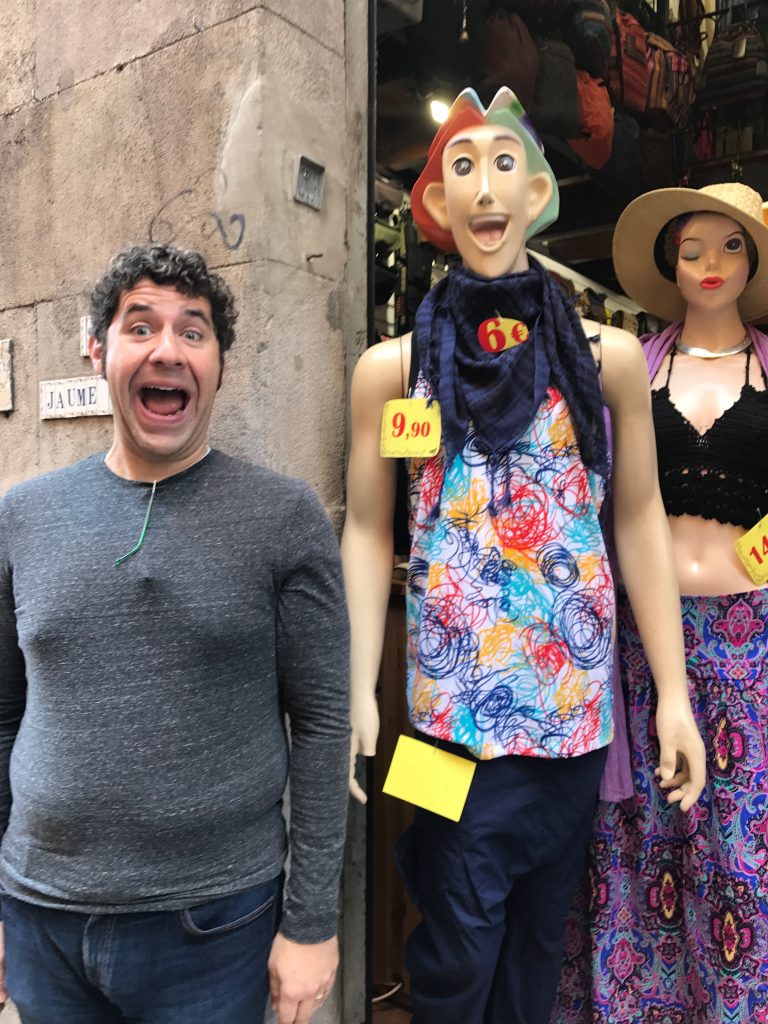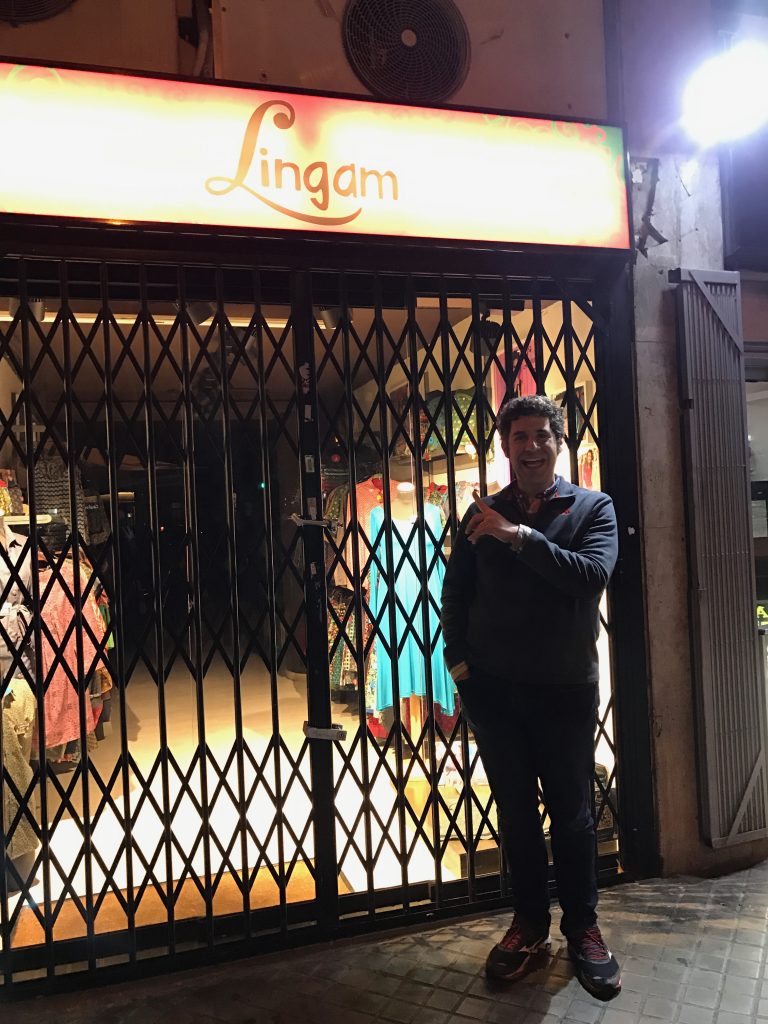 There's just so much of this city we still haven't seen. We crossed a few things off our to do list this trip, but added just as many more.