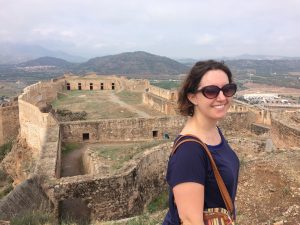 Each time Doer and I make the one-hour train journey between Burriana and Valencia, we peek out the window at the Sagunto stop midway through our route to catch a glimpse of the breathtaking Roman Iberian castle overlooking the city from a hilltop. A couple of weekends ago, we decided it was time to explore the ancient citadel.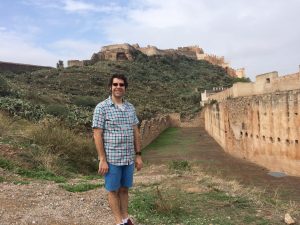 After disembarking, it didn't take us long to decide to take a taxi for the very steep climb up to the castle. It's very possible that our cab driver spends the better part of his shifts ferrying tourists to and from the castle (he gave us a business card with his phone number when we got out of the car). As we advanced through the exceedingly narrow streets (there was barely room for one vehicle, and pedestrians had to scoot very close to the buildings to get out of our way), our driver used some kind of official card to remove traffic barriers from the middle of the roadway. I felt a little guilty for being a nuisance to those who were walking, but after we finally arrived Doer and and agreed we'd made the right choice, as there was still plenty of climbing to access the castle and to explore it from one end to the other.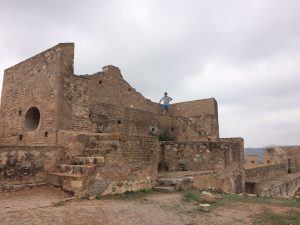 The citadel of Saguntum has a fascinating and varied history, including important roles in the Second Punic War and the Peninsular War, and more than 500 years of Muslim rule. Jewish people also prospered in Sagunto for many years (but for some mysterious reason that ended in 1492).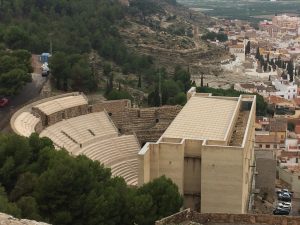 Although the castle demands attention, there is more to Sagunto than its ancient fortress. For example, right at the base of the citadel lies the partially restored Roman theater, which became Spain's first national monument, declared in 1896. It was quiet during our visit, but we could easily imagine modern concerts at the venue, especially during the summer.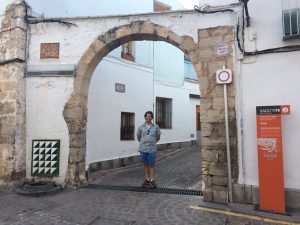 There is an old Jewish cemetery adjacent to the castle, and that's also where the narrow streets of the old Jewish Quarter, or Judería, begin. Signs indicated there was a mikvah (ritual bath) somewhere within the Judería, but we didn't find it – and by that point, our tired legs were ready to carry us down the hill to the train station.
On the way home, I was once again taken with how many treasures one can encounter such a short distance from our home in Spain.