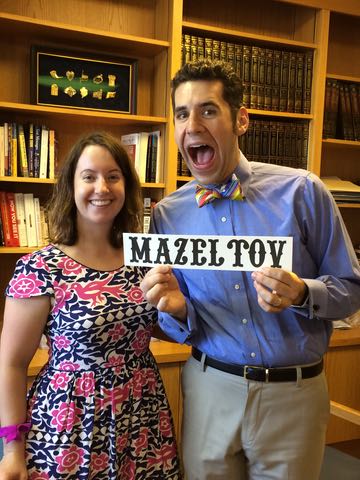 We were supposed to move to Spain today. That didn't happen. Earlier this year, I applied for a position as a North American Language and Culture Assistant in Spain. Living abroad has been a lifelong dream of mine, and after a honeymoon in France and Italy, my new groom was on board.
I had learned about the Auxiliares de Conversación program in college, but at the time I couldn't make it happen. Years later, I was delighted to learn the program was still going strong, and I submitted my application in early January. Waiting to find out if we would actually be going to Spain was tough, because we wanted to make plans before we knew any specifics. So we decided to gamble and assume I would get a position. In April, I applied for a leave of absence from work even though I had not received notice of my placement. Eager to get good rates on flights, we also purchased discounted, nonrefundable tickets to Madrid for August (cue scary music).
We waited anxiously until May 13, when we finally learned I had received a placement. While we were relieved to find out I had been placed at a school in Spain, we didn't realize that the waiting was not over.
Not even close.
It wasn't until after we booked our flight to Madrid that we read that it was inadvisable to buy plane tickets until a visa was in hand. How long could that take? we thought. Surely we'll have them by August 6.
After learning about my placement on May 9, we learned we couldn't go to Chicago to apply for our visas until after I received a letter informing me about the specifics of my placement – city and school, to be precise. At that point, we only knew that I was placed in a region known as La Comunidad Valenciana, which is along the Mediterranean Coast. I checked my email obsessively every day, and finally on June 22, the letter came. Immediately I got online to schedule us appointments at the Spanish Consulate in Chicago, and I signed us up for the earliest possible opening – July 13.
At this point, we started feeling apprehensive about realistically being able to leave the country on August 6, but we did not abandon all hope. After jumping through numerous hoops to get all of our paperwork order, the time came for us to apply for our visas in Chicago. When we explained that we already had purchased our tickets, the people at the consulate were polite but unmoved. You shouldn't have done that, they said. We tell everyone not to purchase nonrefundable tickets until they have their visas.
Thus, our original departure date has passed us by, and still we wait for our visas. It's a pretty big wrinkle, but if this is the greatest obstacle we face during our adventure, I can live with it.
And so, we wait. We did buy new tickets for later this month – but this time, we made sure we could change them.